10 Must-Watch Graphic Design Shows on Netflix, Amazon Prime Video, Vimeo and IMDb
Graphic design TV shows, documentaries and historical films always inspire, teach and help us to grow. Today there are many programs to help artists find themselves and get motivated. You can also read expert books, be inspired by interesting websites and social media channels, and watch movies that deal with the work of creators and their personal stories.
Now, we present to you 10 awesome graphic design shows on Netflix to watch this evening. These shows and films provide valuable insights into the creative process, the history of graphic design, and its impact on culture and society. Plus, it helps individuals appreciate the artistry and thoughtfulness that goes into creating everything from logos to movie posters. So, let's go!
Abstract: The Art of Design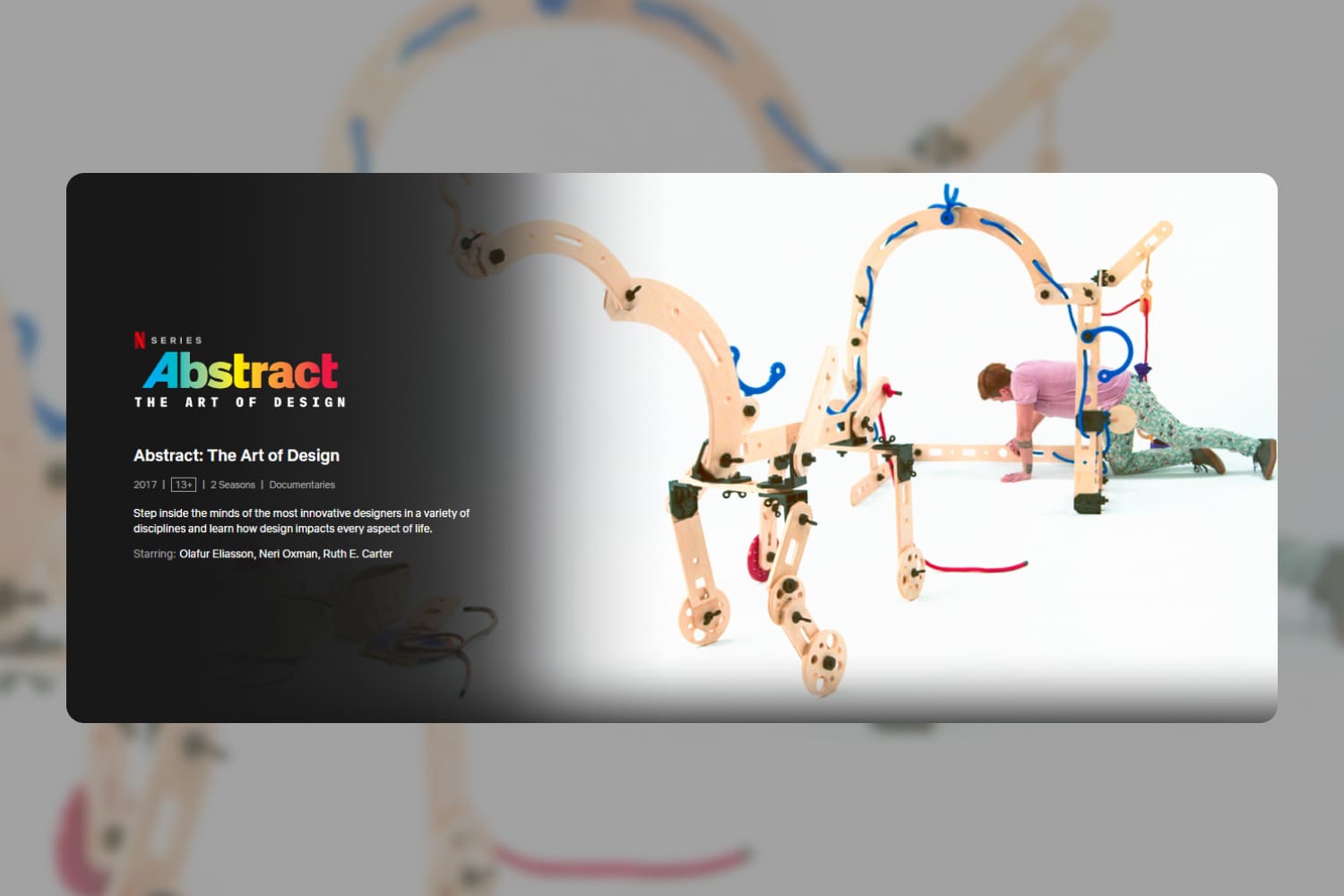 Here is one of the best design shows on Netflix. It is a compelling and visually stunning series that provides a fascinating look into the creative world. Whether you're a professional artist or simply someone interested in the creative process, this documentary is definitely worth a watch. The series covers interviews with designers and showcases their work providing insights. There are two seasons that tell the story of different heroes. The first part has eight episodes and focuses on different heroes: Paula Scher, Tinker Hatfield, Bjarke Ingels, Es Devlin, Ilse Crawford, Ralph Gilles, photographer Platon and illustrator Christoph Niemann. Start with it, and then continue with the stories of the other heroes.
The Toys That Made Us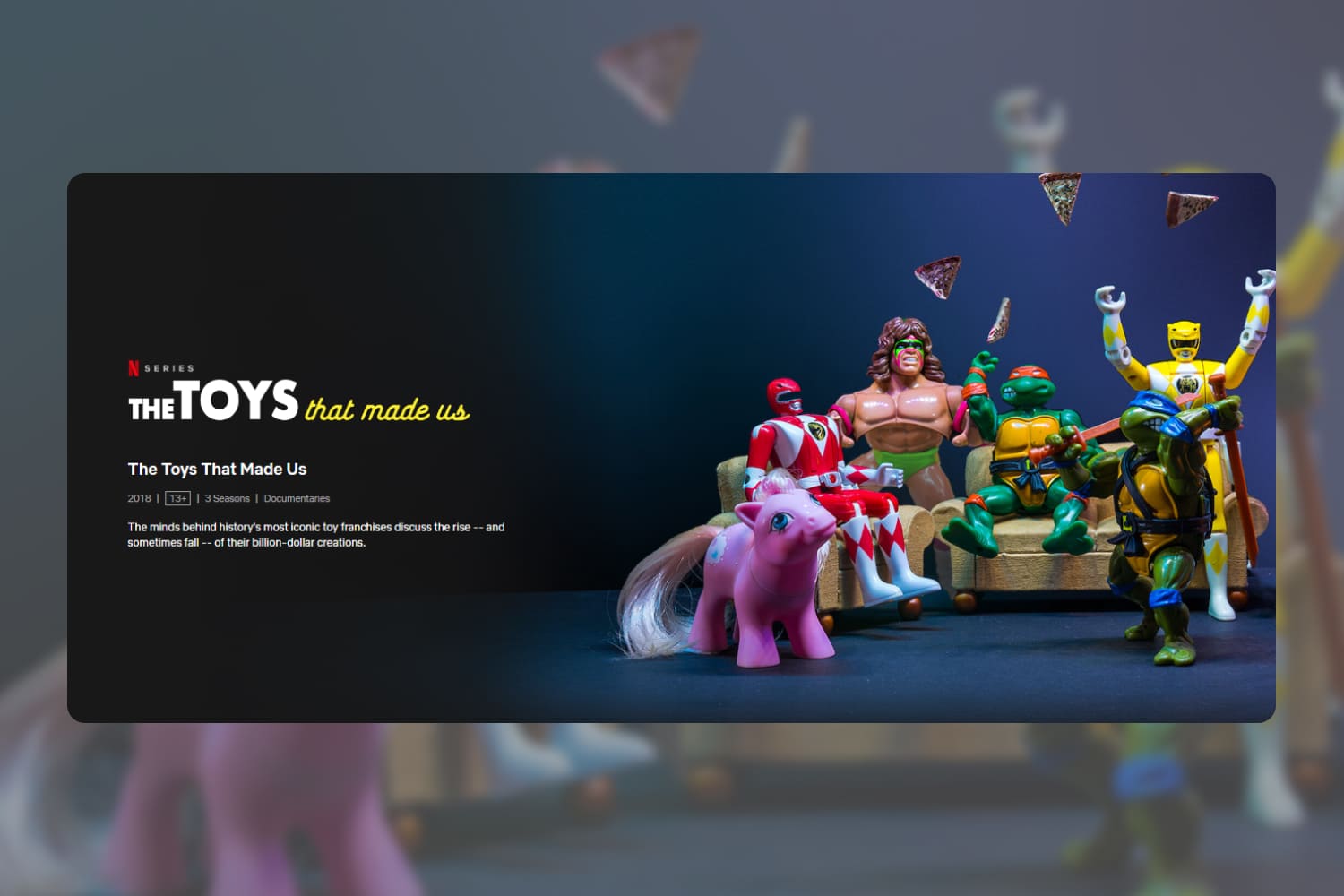 The Toys That Made Us Netflix design documentary is directed by Brian Volk-Weiss and features interviews with toy creators, collectors, and industry insiders. Each episode of The Toys That Made Us focuses on a different toy line, including Barbie, G.I. Joe, Star Wars, and Transformers. The series provides an in-depth look into the development and marketing of these toys, as well as the cultural and social impact they had on the generations that played with them. The Toys That Made Us has 3 seasons with 4 episodes in each. It is a great series for a toy collector, pop culture enthusiast, graphic designer or simply someone who grew up playing with these iconic toys.
Designing Worlds
The Designing Worlds show premiered in 2013 and has since aired over 100 episodes, showcasing how artists are using cutting-edge technologies to create new and innovative visuals. Each episode of Designing Worlds features interviews with innovators, and experts who are at the forefront of technology. The show covers a wide range of topics, from 3D printing and virtual reality to fashion and architecture. One of the key themes of the show is the idea that design can be used to solve real-world problems and improve people's lives.
Making It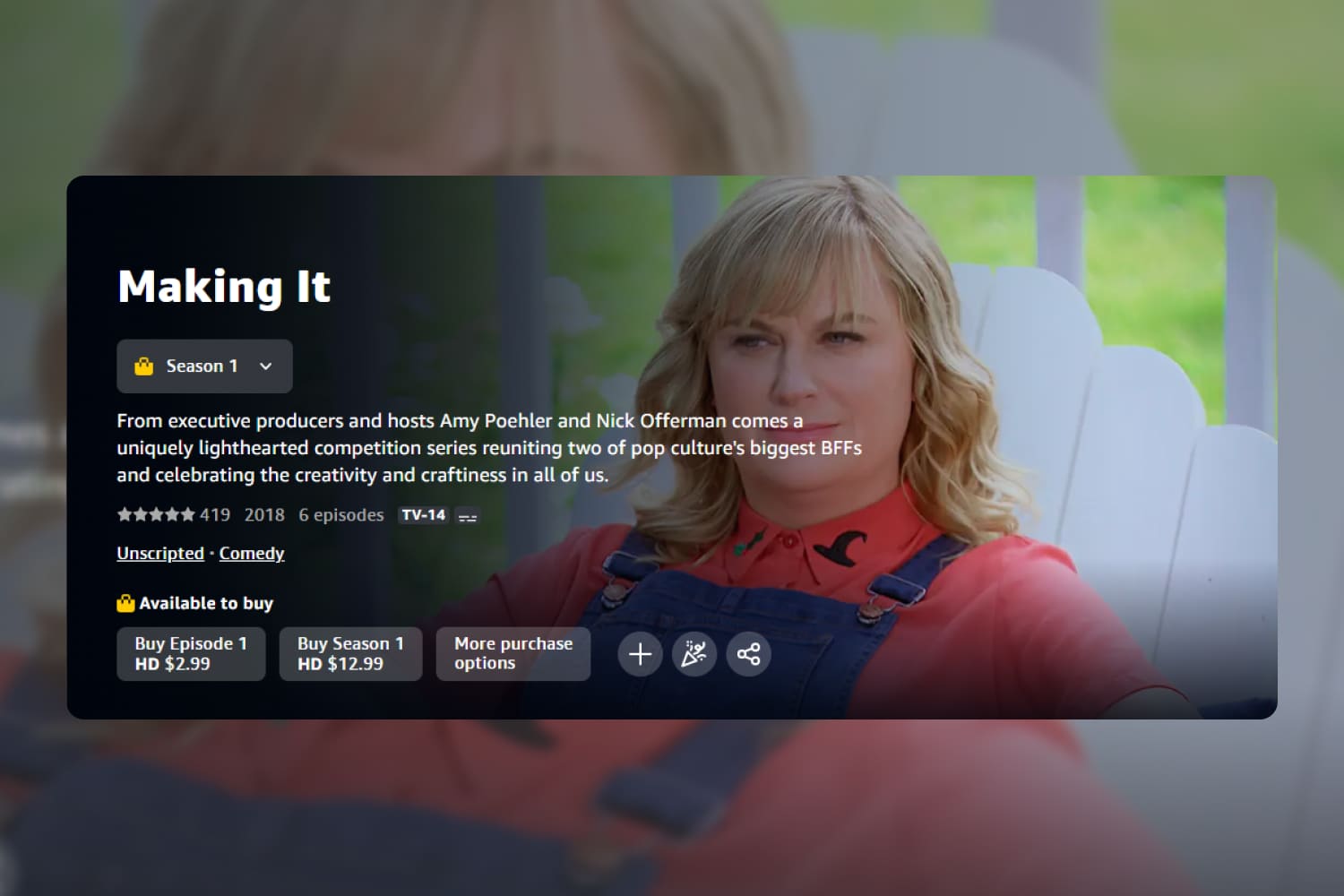 This reality competition series premiered in 2018 on NBC. The show features makers and designers competing in various challenges to showcase their skills and creativity. The show is hosted by Amy Poehler and Nick Offerman, who are both known for their work in comedy. Poehler and Offerman bring their signature humor and wit to the show, making it an entertaining and engaging watch. Each episode of Making It features a different challenge, with contestants given a set amount of time to complete their project. The challenges are created to test the contestants' skills in a variety of areas, including woodworking, paper crafts, and costume design.
High Score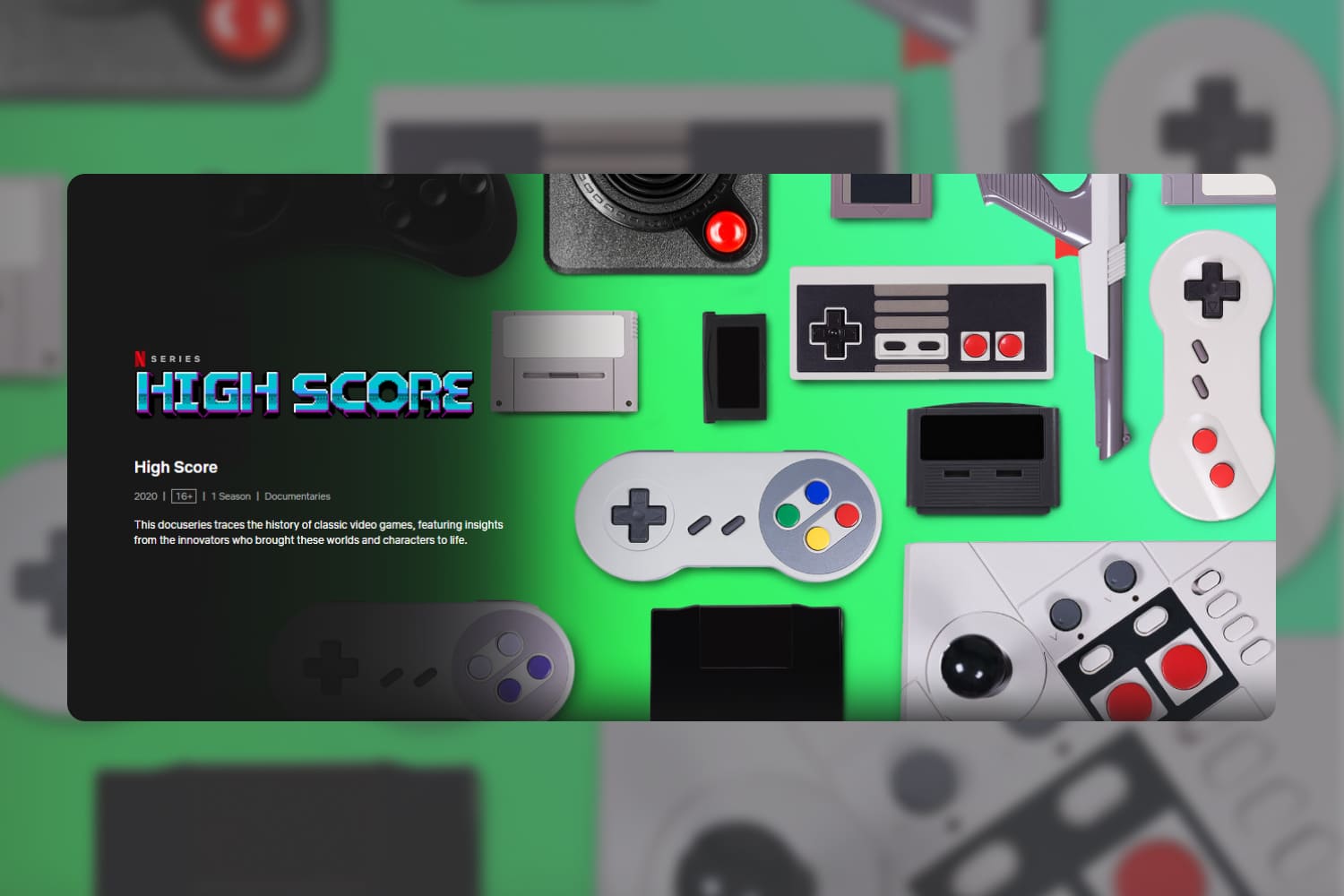 High Score is a Netflix documentary series that explores the history and evolution of video games. The show premiered in 2020 and consists of six episodes, each focusing on a different aspect of gaming culture and history. One of the key themes of High Score is the role that video games have played in shaping popular culture and society. The show explores how gaming has influenced music, fashion, and other areas of entertainment, as well as how it has been used to tackle social and political issues. Each episode of High Score focuses on a different era of gaming history, from the early days of arcade games and home consoles to the rise of PC gaming and the emergence of esports. The show also explores the cultural impact of iconic games like Pac-Man, Doom, and World of Warcraft.
Design Canada
Here is a feature-length documentary about the history of graphic design in Canada and its impact on Canadian culture. It is directed by Greg Durrell and highlights the work of several prominent Canadian designers and features interviews with historians, educators, and design professionals. The documentary begins by examining the post-World War II era, during which Canada was undergoing significant social and cultural changes. The film explores how graphic design was used to communicate these changes to the public, with an emphasis on the work of artists such as Stuart Ash, Allan Fleming, and Tom Hindman. Through their works, they helped to shape Canadian identity and create a sense of national pride. Design Canada serves as a reminder of the important role that design can play in shaping our world.
Rams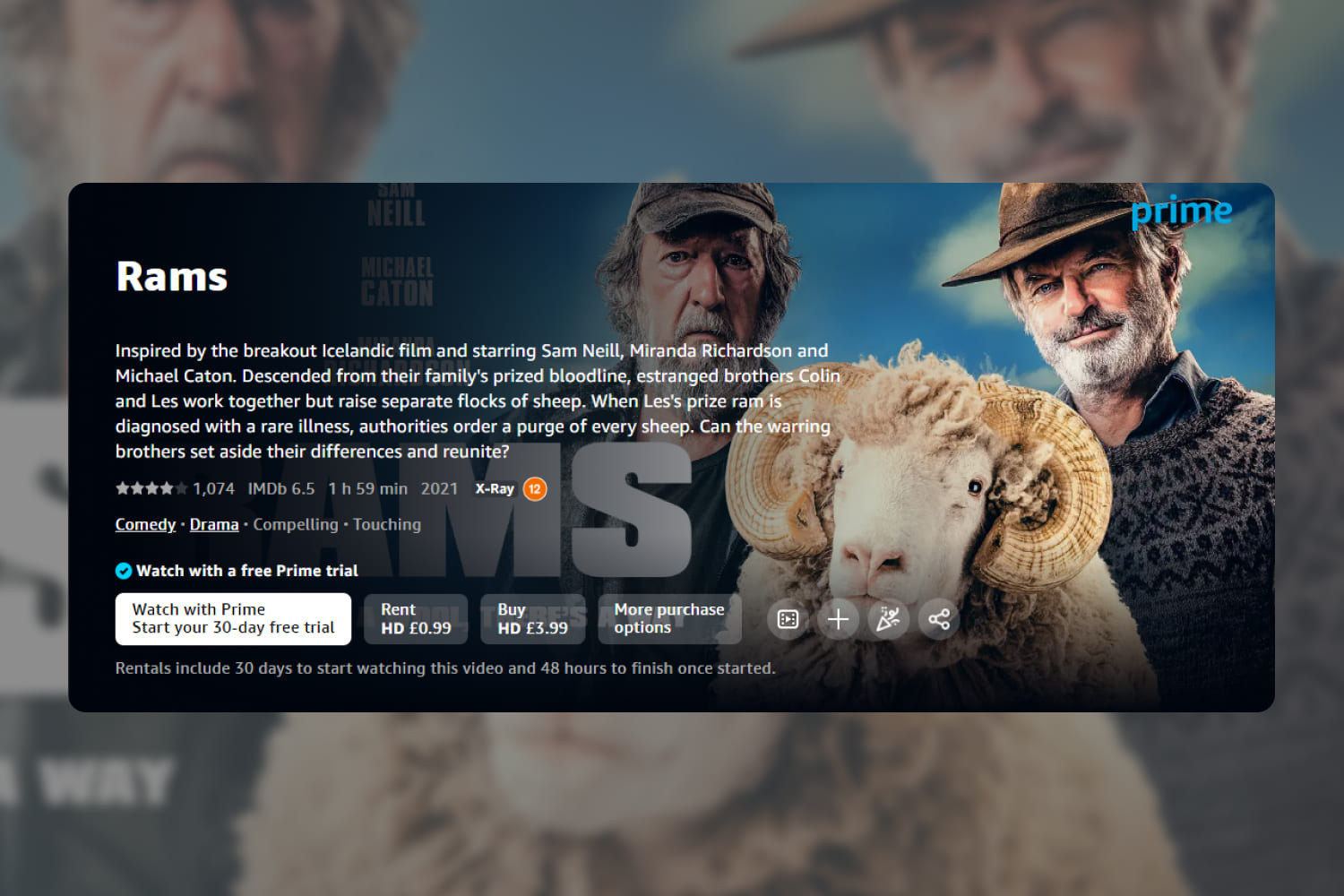 Rams explores the life and work of Dieter Rams – one of the most influential designers of the 20th century. It is directed by Gary Hustwita. The film begins by introducing Rams, who worked as a designer for the German consumer products company Braun from the 1950s through the 1990s. Through interviews with Rams and his colleagues, the film provides the principles that guided his work, such as simplicity, functionality, and sustainability. The film also examines Rams' famous "Ten Principles of Good Design," which have become a guiding philosophy for designers around the world.
Sign Painters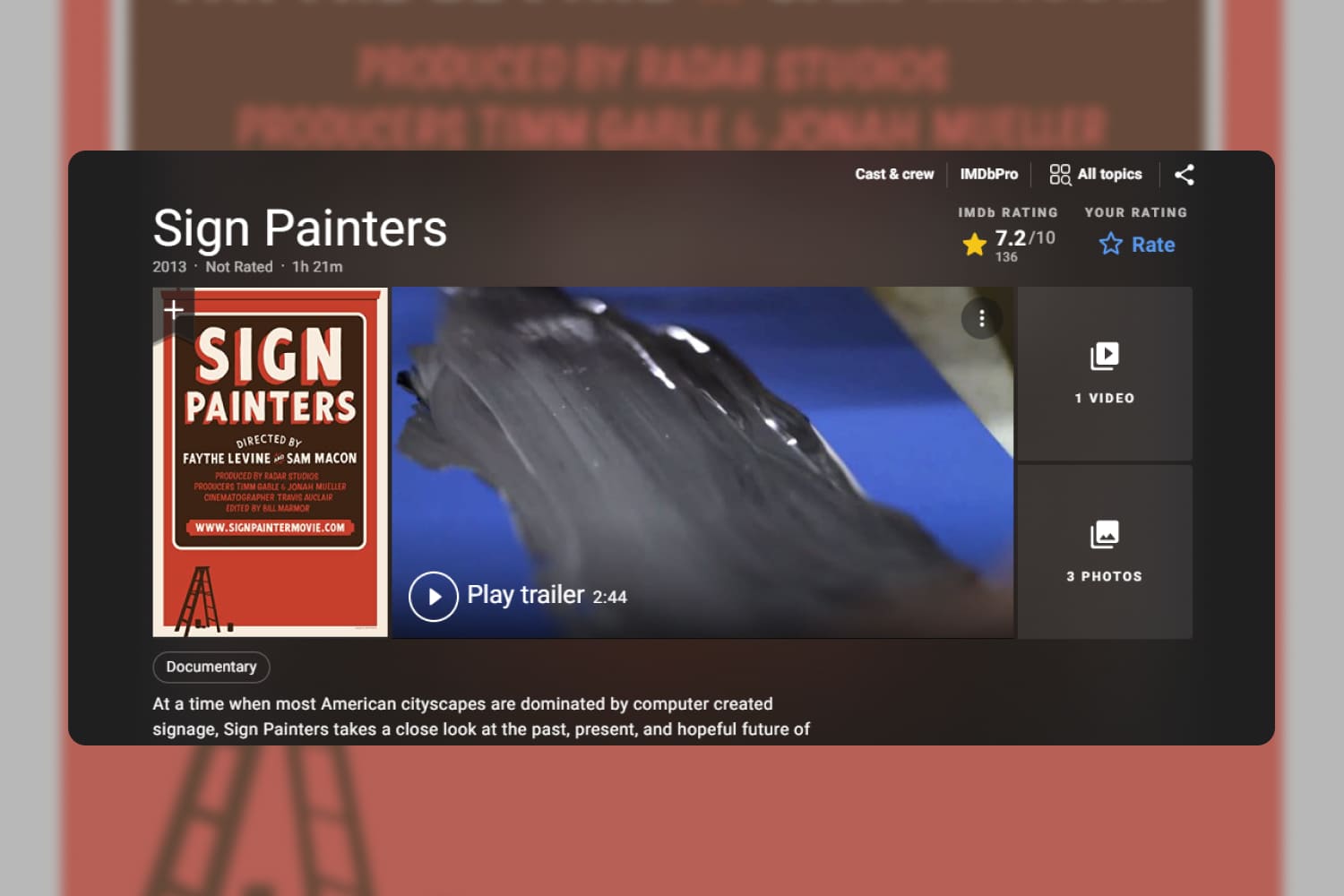 This film is directed by Faythe Levine and Sam Macon. Sign Painters highlights the artistry and skill that goes into creating hand-painted signs. The documentary delves into the world of contemporary sign painting, showcasing the work of several modern-day sign painters and their unique styles. The film covers the challenges and rewards of this craft, as well as the deep sense of pride and accomplishment that comes from creating a hand-painted sign.
The Visual Language of Herbert Matter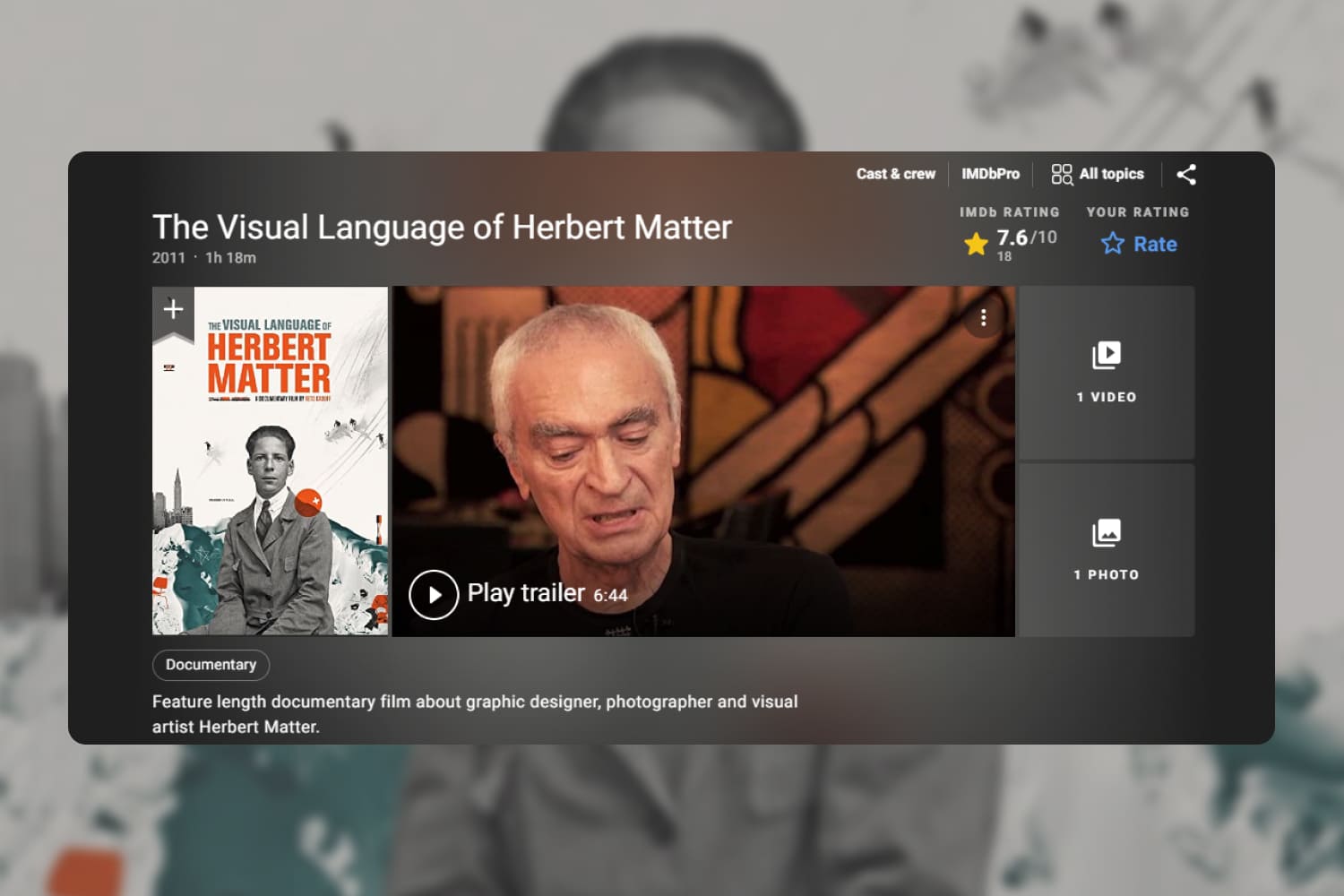 This documentary film shows the life and work of Swiss graphic designer Herbert Matter. It is directed by Reto Caduff and provides a comprehensive look at Matter's career – from his early days as a student at the Zurich School of Arts and Crafts to his later work as a designer. The film examines Matter's unique visual language, which combined his love of photography, typography, and graphic design. Through interviews with design experts, archival footage, and photographs of Matter's work, it showcases his innovative approach to design and his impact on the field.
Objectified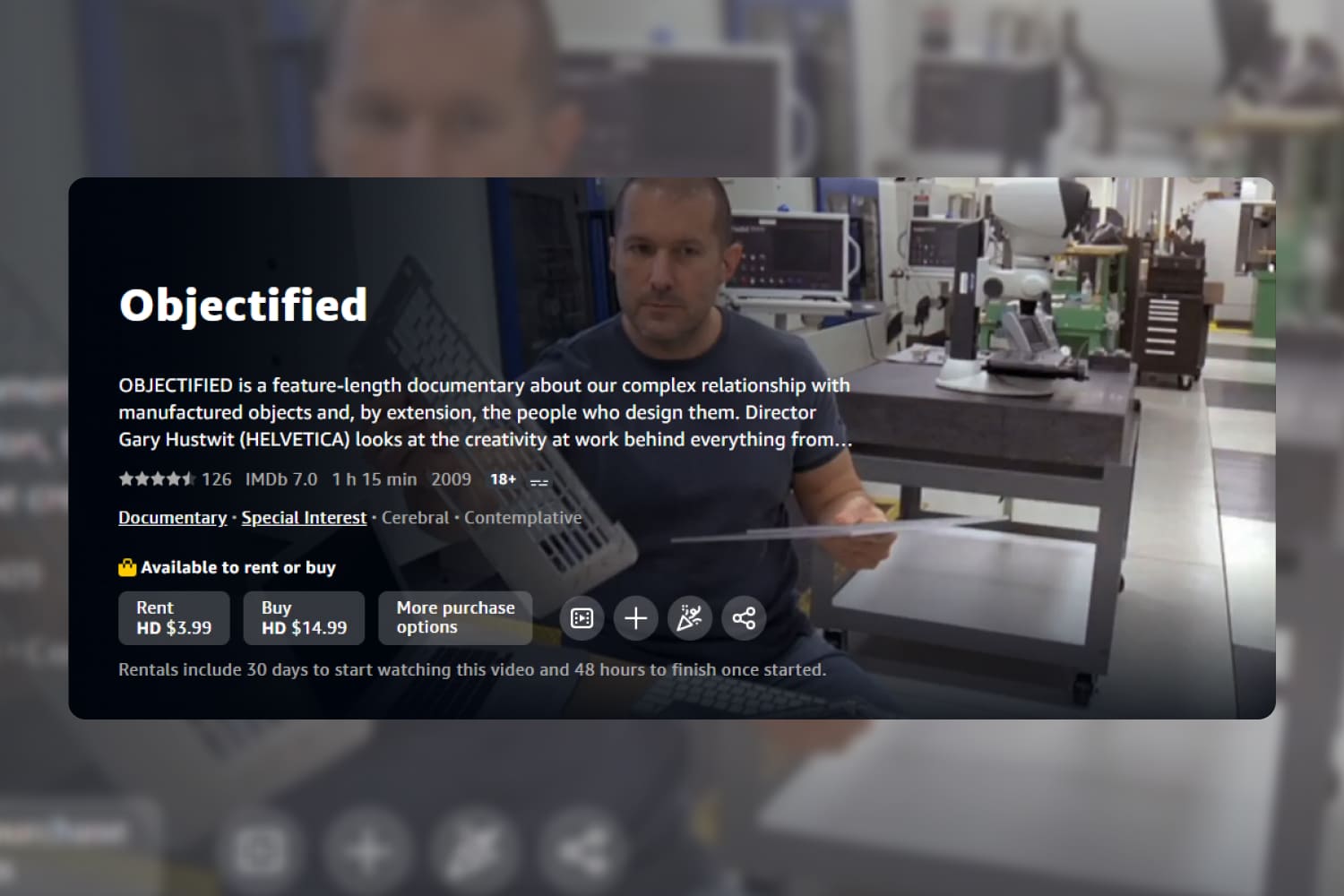 Objectified is about the world of industrial design and its impact on our daily lives. The film has interviews with some of the most influential designers in the field, including Jonathan Ive (Apple), Dieter Rams (Braun), Karim Rashid (New York-based industrial designer), etc. Through their conversations, the film highlights the importance of design in shaping the world around us, and the challenges creators face in creating products that aren't only functional but aesthetically pleasing and sustainable. It is a must-watch for anyone interested in web and graphic design, technology.
So, these graphic design shows will definitely help you get motivated and understand what an artist's job looks like from the inside. Real stories, fascinating plots and characters that don't leave you indifferent. Watch these films now and have a great time!
FAQ
Here are a few frequently asked questions about the Best Graphic Design Shows
What is the Netflix series about graphic design?
Abstract: The Art of Design is one of the best Netflix series which covers 2 seasons and has 8 episodes in each one. Each episode focuses on a different designer.
What is the reality show for graphic designers?
There are no reality shows as such. But almost all films about graphic design are based on real events and cover interesting stories of famous brands and designers. For example, The Visual Language of Herbert Matter or Rams.
Do graphic designers make TV shows?
TV shows are typically created by a team of writers, producers, directors, and other creative professionals, each contributing their expertise to the production. Graphic designers may be brought on board to help with the visual elements of the show, such as designing the show's logo, creating motion graphics, or designing the user interface for a fictional technology featured in the show.
Some Awesome Video about Graphic Design TV Shows
Abstract: The Art of Design | Paula Scher: Graphic Design | FULL EPISODE | Netflix
Step inside the minds of the most innovative designers in a variety of disciplines and learn how design impacts every aspect of life. 
Was this page helpful?
We will be happy if you decide to share this article with your friends on Facebook. Just click on the button and you're done
What are your concerns?
Thanks for your response!
You have already left your review.
Disclosure: MasterBundles website page may contain advertising materials that may lead to us receiving a commission fee if you purchase a product. However, this does not affect our opinion of the product in any way and we do not receive any bonuses for positive or negative ratings.