10+ Fresh Valentine's Day Color Palette Ideas 2023 (Free Postcard Tutorial in Figma)
What's the first thing that comes to mind when you think of Valentine's Day? With 99% probability, it is hearts, pink and red, angels, and doves. Therefore, you will most often see these elements in Valentine's designs.
So let's try to refresh this approach. I have prepared more than 10 Valentine's Day Color Palette combinations for your designs that go beyond pink and red.
You can use these color combinations not only for your commercial work but also for sending cards to loved ones. Also, take a look at the postcard examples I left for your inspiration.
As a bonus for you, I made a tutorial for Figma. Together, we will make some digital postcards. This is not suitable for commercial printing, but for personal use – it's perfect. If you are a more experienced designer, you can do the same in Illustrator.
Watch to the end because it will be interesting. I will be grateful for your support of this article. It helps me create new and useful content for you.
How to Use The Valentine's Day Color Palette
Why is it cool to use ready-made color schemes? This approach saves time and helps you get out of the creative block when you can't find the right colors for a project.
Using them is as simple as possible. To do this, you need to take a screenshot / copy your favorite Valentine's Day color palette. After inserting it into the project and using the "Pipette" tool, grab the color. That's all.
And if you don't have time for this, then it's better to use ready-made postcard templates. Designers have already created the perfect designs for you so that you can quickly get the desired result.
Tip: Each Valentine's color palette can be used for more than just Valentine's Day designs. Save your favorites. You can use them for illustrations, corporate identity development for a brand, a design for social networks, etc.
Dark Colors for Valentine's Day
Don`t want bright "marshmallow" colors? Turn your attention to any of these dark Valentine's palette combinations. These shades are saturated, deep, and at the same time very "friendly." They are a great option if the person to whom you give a Valentine's Day card does not like bright pink and red.
These colors are also suitable for a retro style. You just need to add a little grain to the design.
Pastel Valentine's Day Colors
Just look at these Valentine's Day colors! Such pleasant and soft colors will help convey all the tenderness of this holiday. And if you look at option 3 for a long time, you can almost smell the lavender 🙂
This Valentine's Day color scheme will work beautifully with offbeat trendy typography and minimalist designs like flowers.
Muted Valentine's Colors
This collection is a bit similar to the previous one, but its main feature is richer and darker colors. You can take any Valentine's Day palette, add some big typography, and the card will look very stylish.
Please note that the second option is perfect for postcards in the Gothic style:)
Bright Valentine's Day Color Palette
If you want something bright and unusual, then these Valentine's Day colors are for you. I have selected juicy colors for your design. Be careful – you need to combine them carefully to avoid color overload.
If you create illustrations, then these colors will help you create a bright and memorable illustration. It looks especially cool in the trend direction, where the proportions are distorted.
Non-Standard Colors for Love
These colors for Valentine's Day are made for a mega-unusual and interesting design. They are so interesting to combine with each other that you just have to add large lettering or apply creative typography. Do this and your postcard will look cool with little effort.
Fresh Romantic Color Palette
The classic is always in demand and universal for use. I wanted to refresh it a little, so how do you think it turned out?
By the way, the romantic color palette I added here includes the color of the year – Viva Magenta. This is the trend for 2023, and I recommend using it for your Valentine's Day postcards 🙂
Valentine's Colors for Friends
Postcards can tell about more than feelings of love. We can give them to friends, parents, colleagues, clients, etc. These neutral and interesting color palettes come in handy to convey your friendly feelings.
You can add Valentine's Day card inscriptions, illustrations of flowers, friends, pigeons and other birds, heavenly bodies, handshakes, knots, etc.
Gold Colors for Valentine's Postcards
The red heart and golden lines are classic attributes of Valentine's Day cards. And what other Valentine's Day color palette can be made with gold? Let's watch!
6 Valentine's Postcard Ideas
We figured out the colors, but what about the design itself? I leave you with several ideas for inspiration. Use them and adapt them to your Valentine's Day card designs.
Create a Valentine's Day Postcard In Figma: Free Tutorial
Are not you tired yet? Great, I have prepared a bonus for you for reading the article to the end. This will be a mini tutorial on how to create a digital postcard in Figma.
Figma is available in the browser and it's free. Figma is mainly used for web design and creating websites, applications, presentations, posters, advertising creatives for websites and social networks, etc.
It is not suitable for high-volume commercial print designs because all the designs are in the RGB color profile. Professional printing requires the CMYK profile.
Therefore, it will be perfect for you and I to make a digital postcard that can be sent over the Internet. You can also print it out to give to your loved ones, friends, and colleagues.
Let's get started!
Step 1. Log in to Figma.
Step 2. Click the + in the top left corner to create a new document. You need to select "New design file" in the blue box.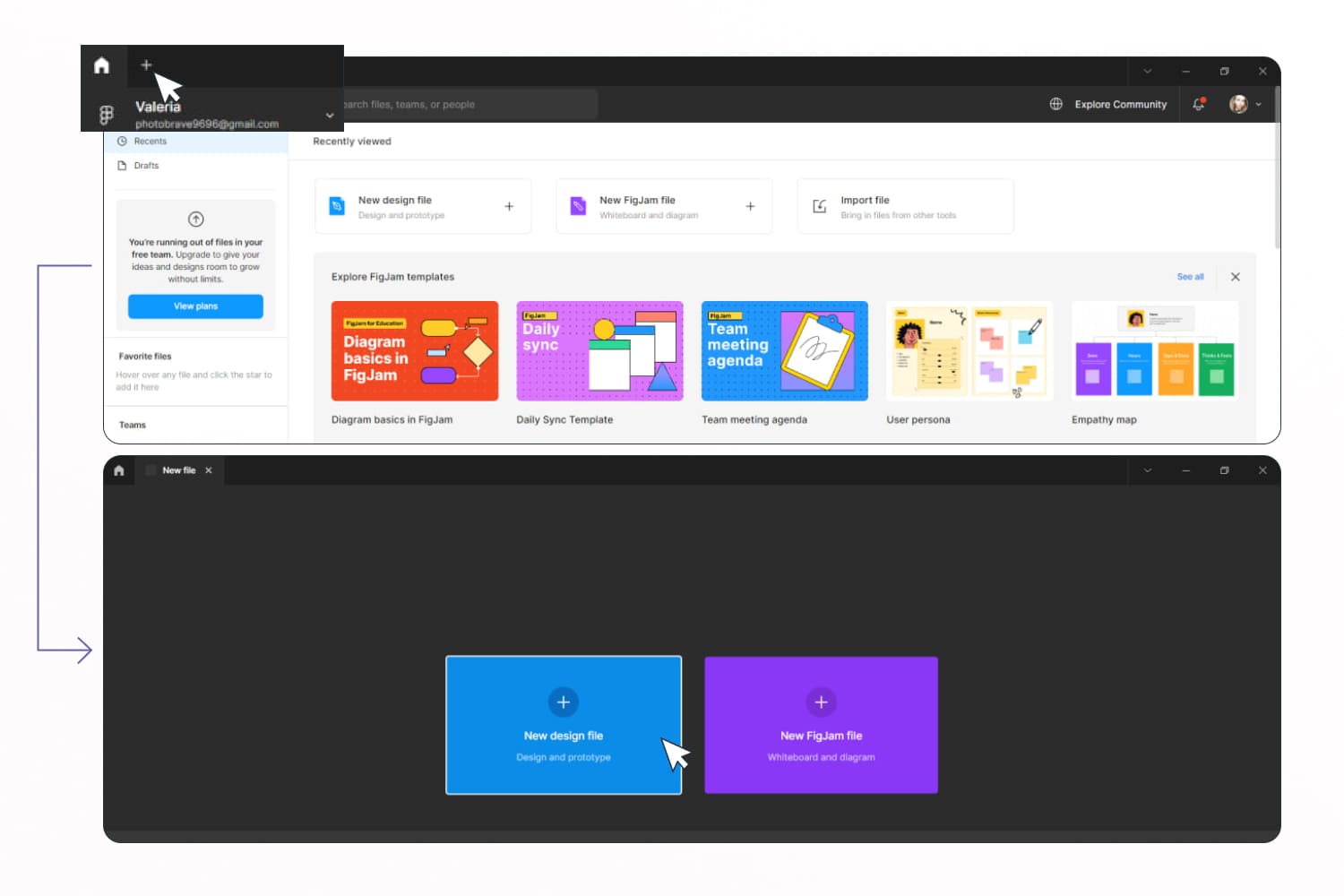 Step 3. In the top panel, select the grid or press the F key to create a frame of the desired size. On the right side, there are sets of ready-made sizes. Select the Paper section and click on A6. Great, you've got your base.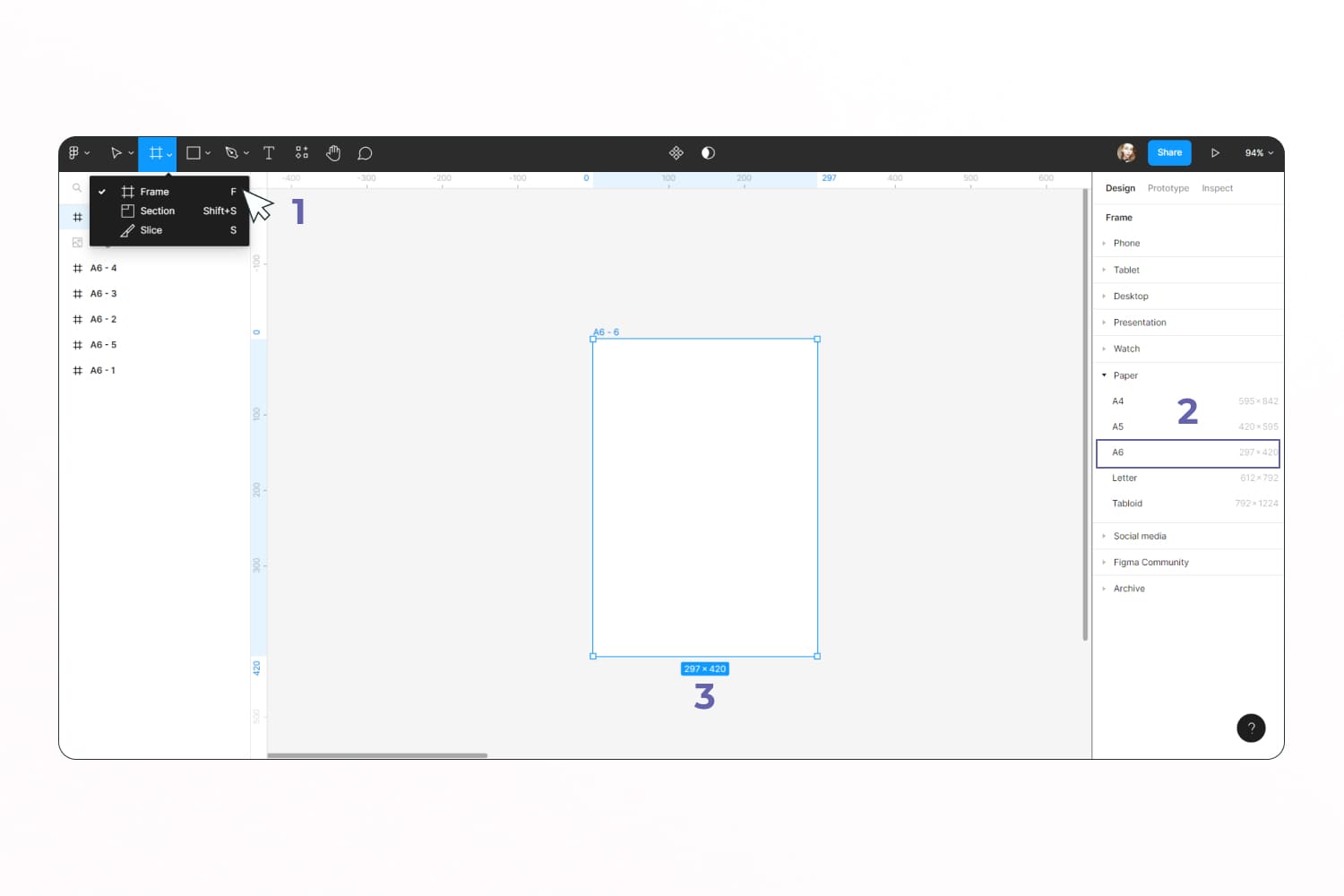 Step 4. Click on this area and in the right panel find Fill. Click on the square with the color and choose the color / pipette. I am using the pre-made Valentine's Day color palette from this article. It's convenient.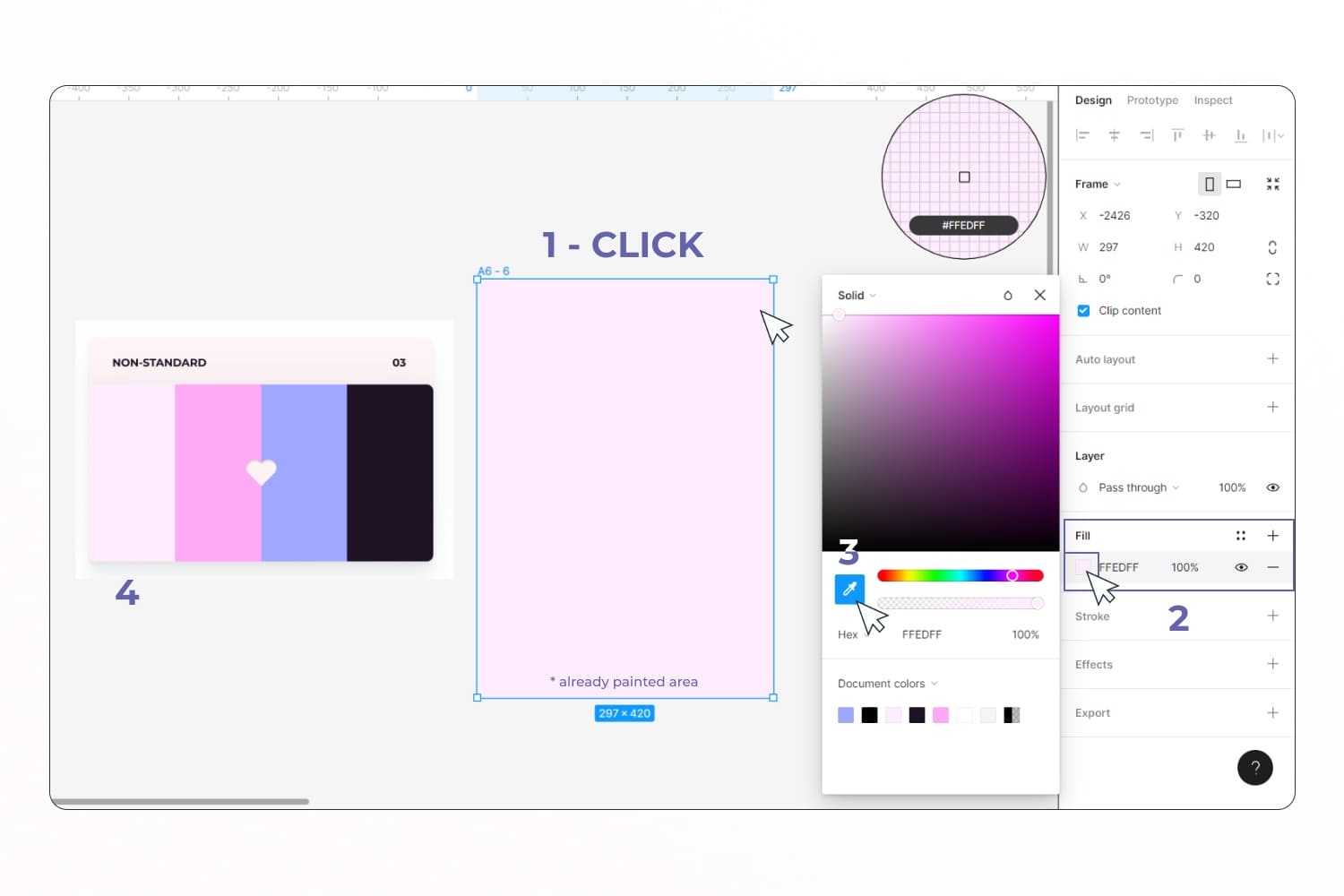 Step 5. Now you need to select the fonts. This is going to be a design with creative typography, so we'll need a few fonts. I settled on Vamoose and Antarctic. You will need to install them yourself or use similar ones.
Step 6. Click on the T button and on the workspace to write the text. Choose the font Vamoose. Insert separately the words GAME, not, OVER, as long as we, love.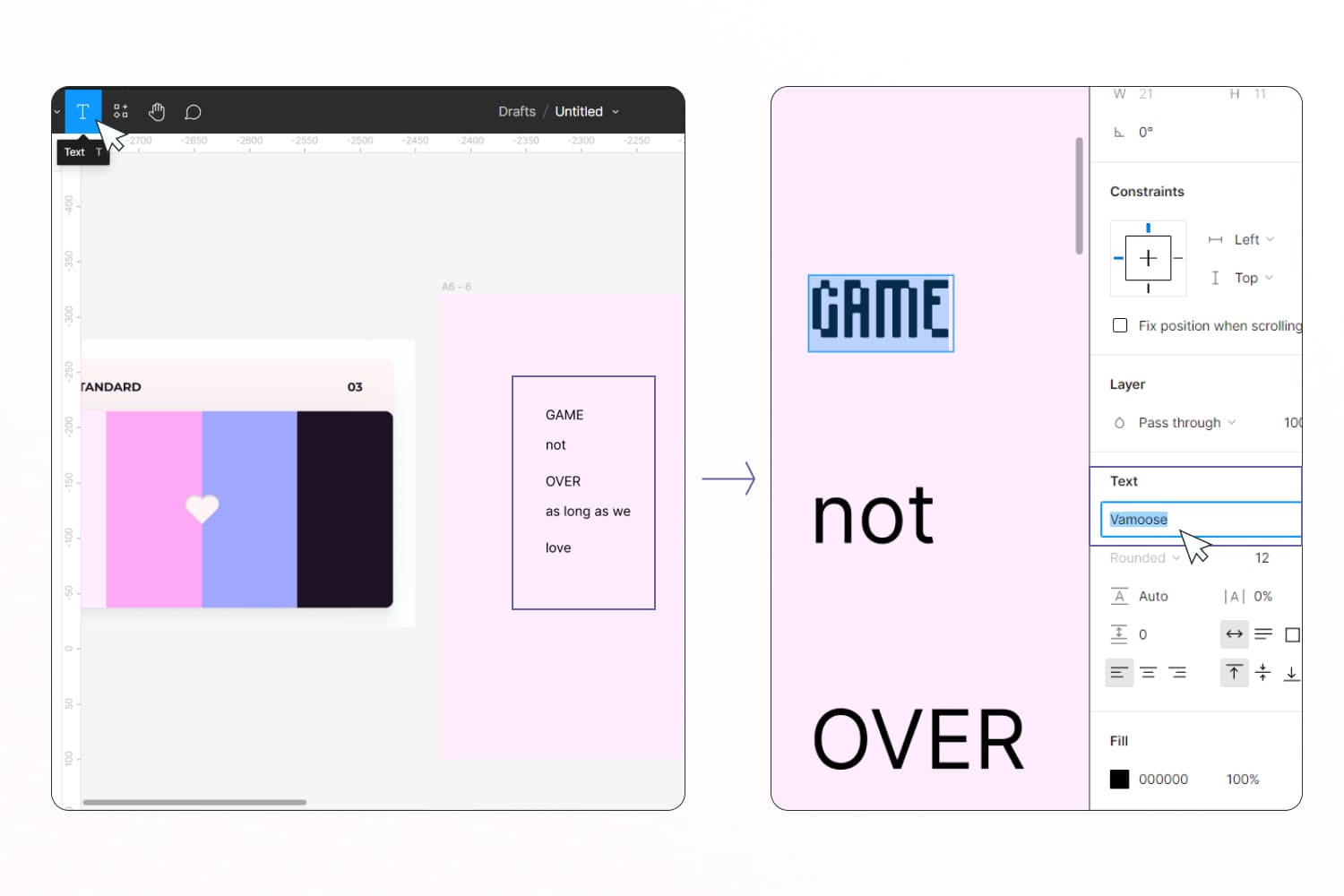 Step 7. Highlight the letter A in the word GAME and change the font to Antarctic. Do the same with the letter R in the word OVER, the word not, and as long as we.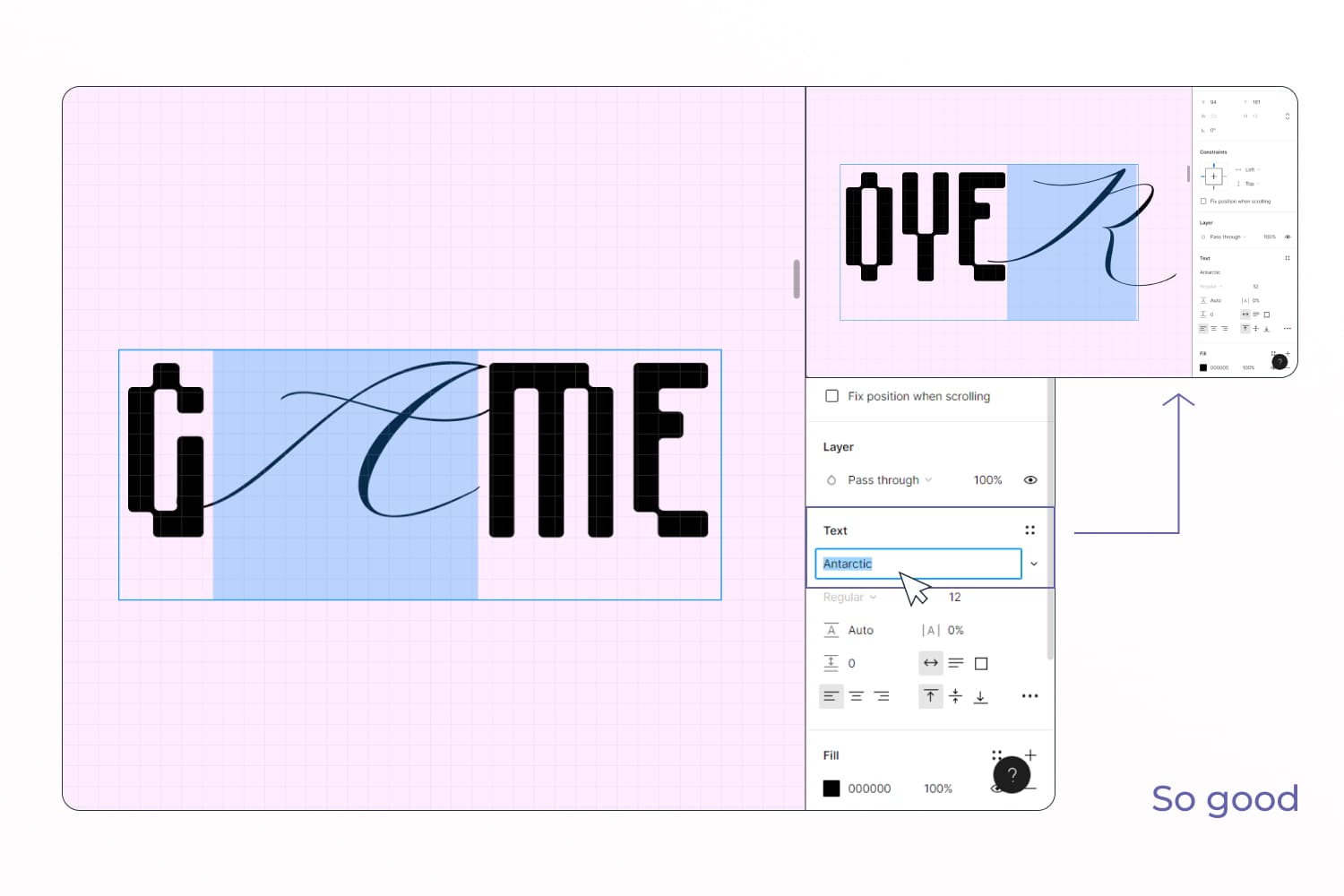 Step 8. Place these words under each other by resizing them in the right panel. Visually, it should be a rectangle of text. To do this, press the K button, hover over the word, and decrease/increase it.
Step 9. Duplicate the word NOT and GAME. Use CTRL+C and CTRL+V combinations. Change the color of the word No to the background color. Now select both words (the word GAME must be under the word NOT in the layers on the left). Click on the mask in the top bar or CTRL + ALT + M. This will make for an interesting overlay.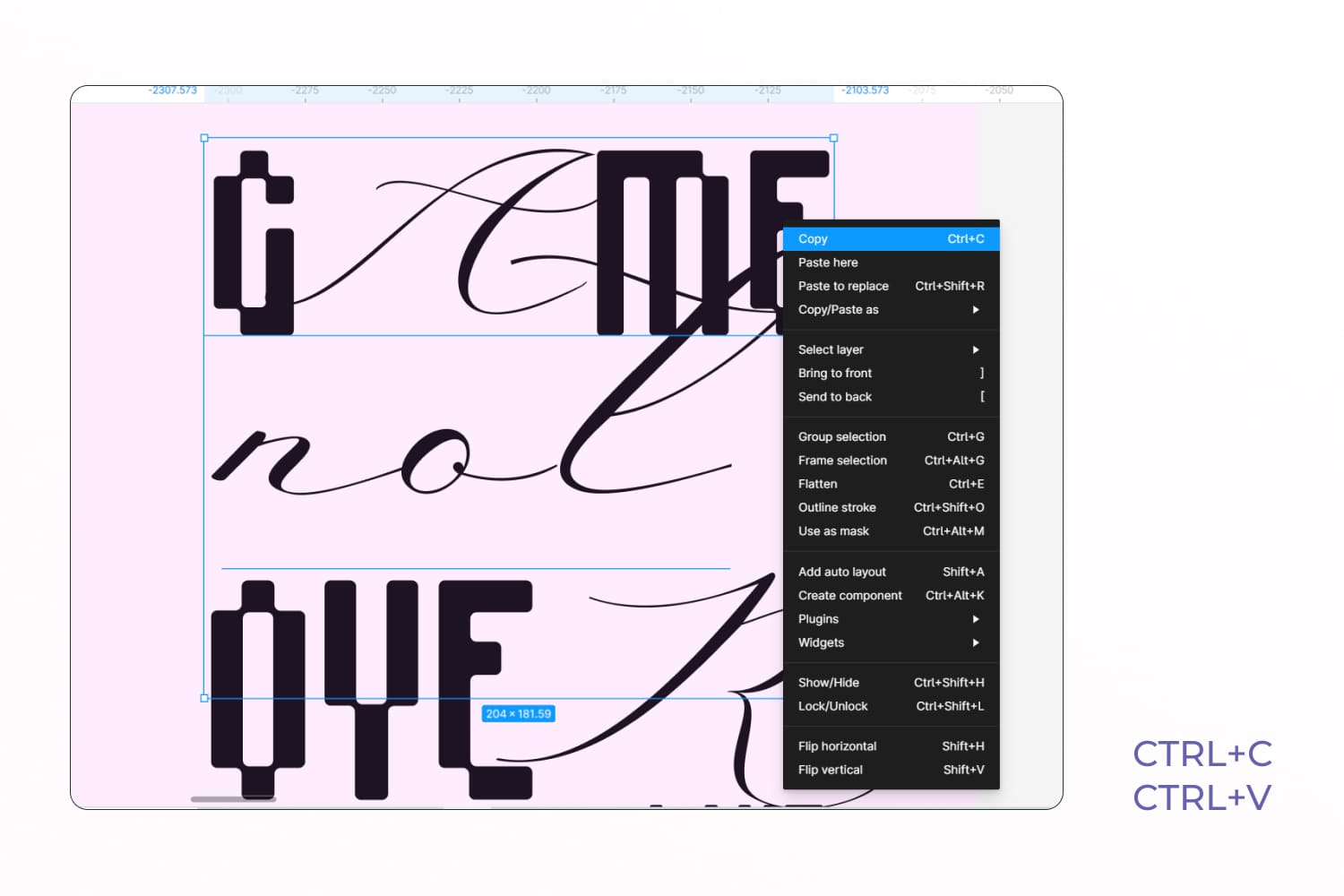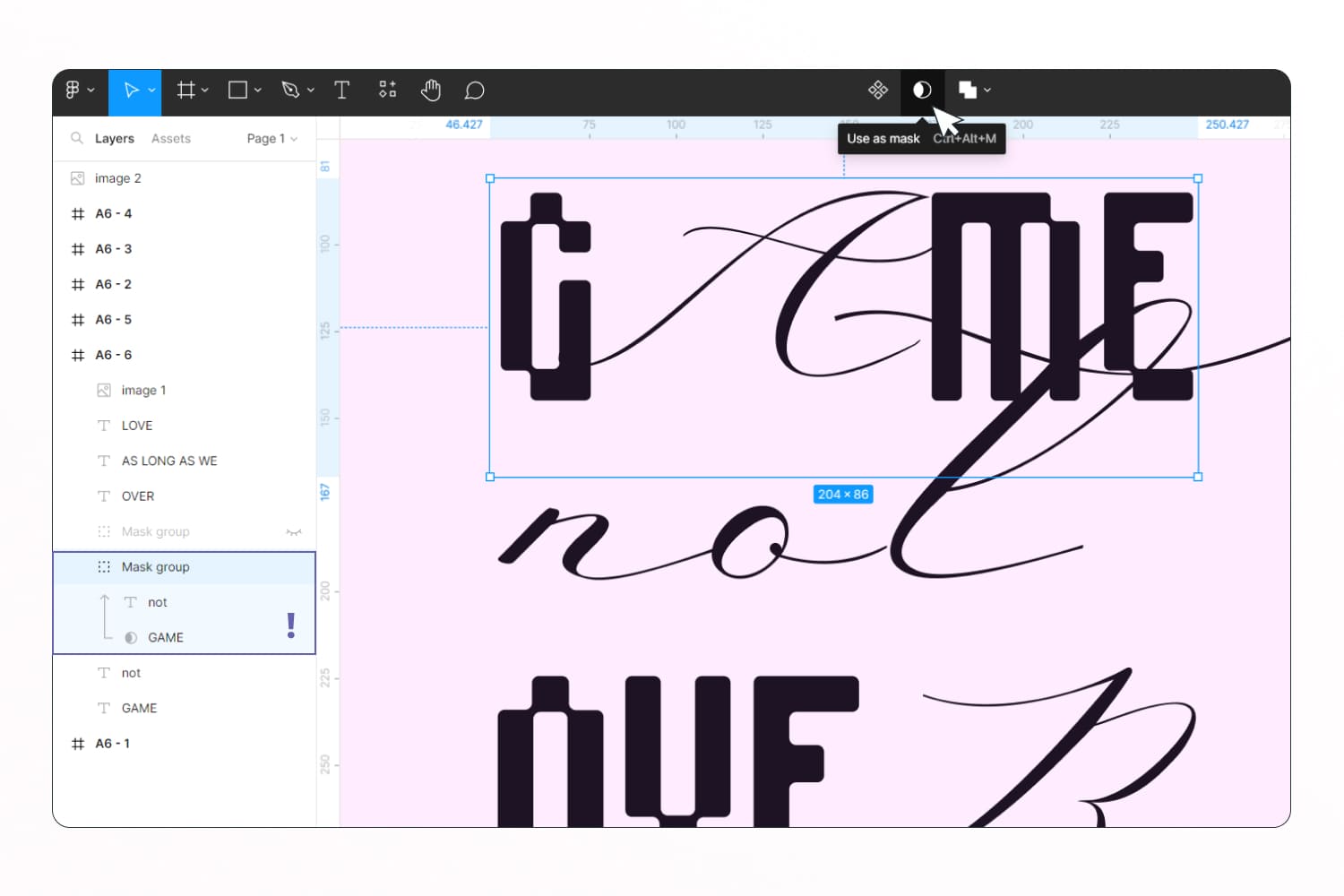 Step 10. Now you need to change the colors as desired or add some objects. I'll add a package tester. To do this, I add a photo with a texture to the postcard and select the blending mode that I like. It changes in the right pane.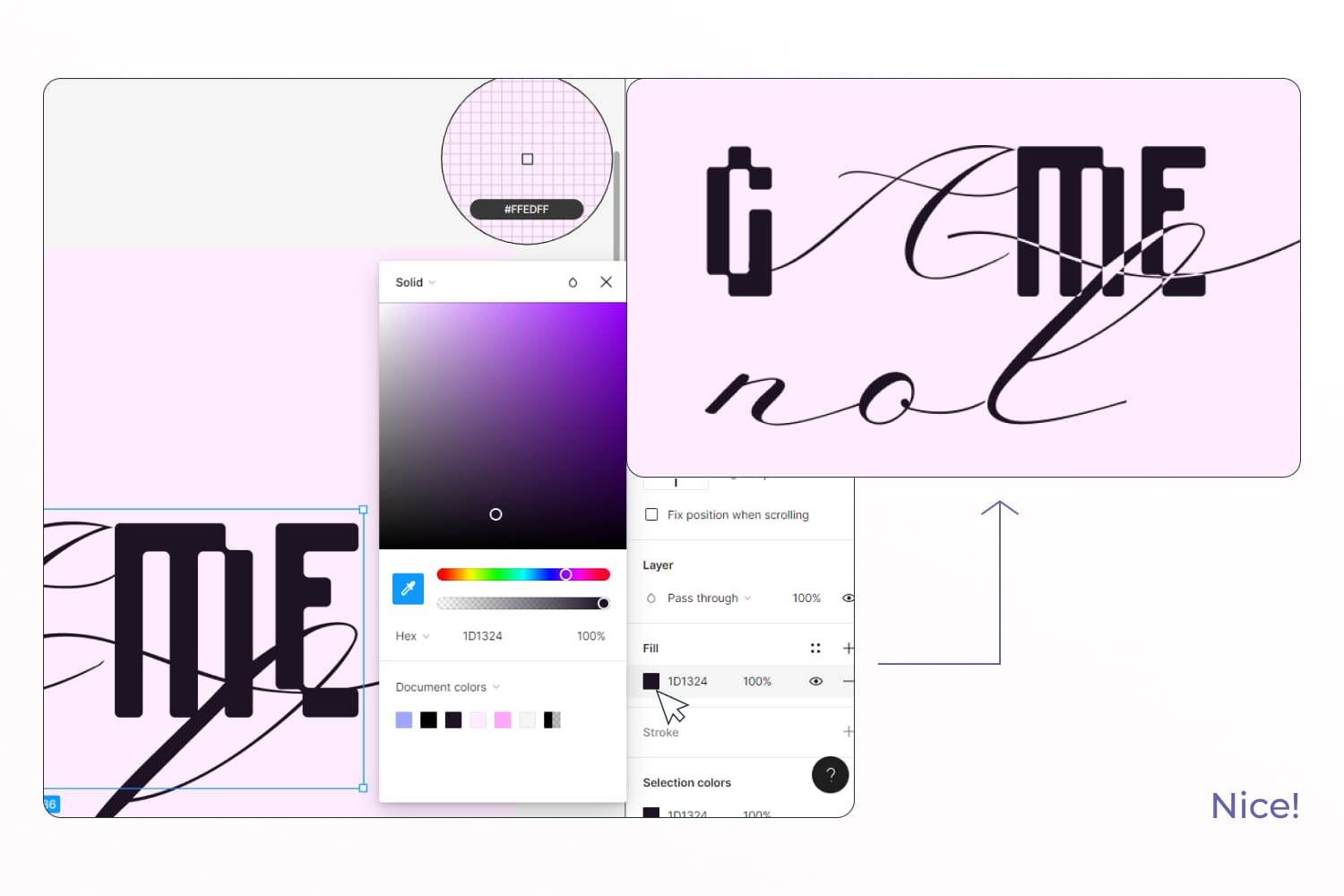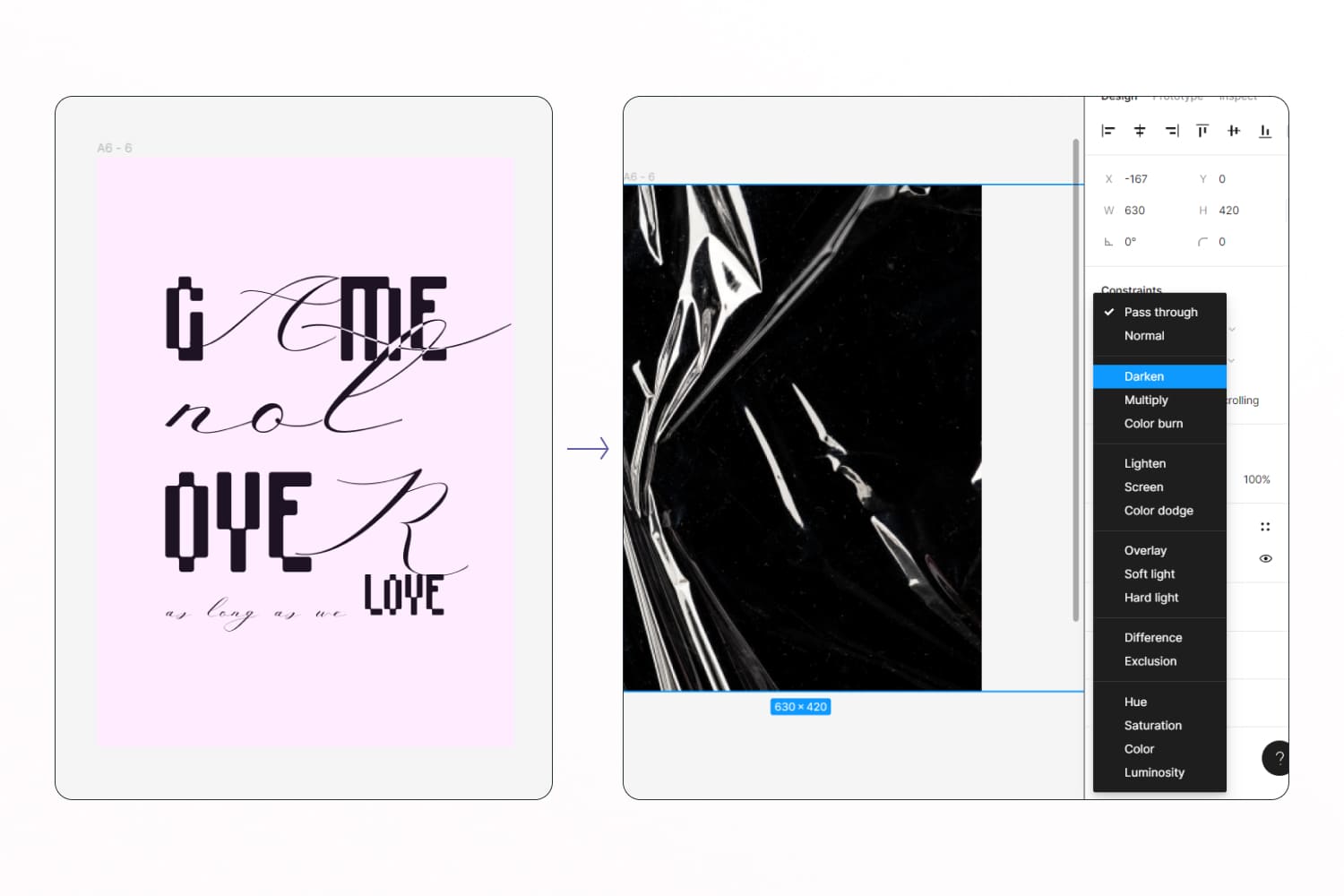 Step 11. Select a postcard and click Export in the right pane. Now it can be saved in jpeg and pdf for use. Hooray, that's all!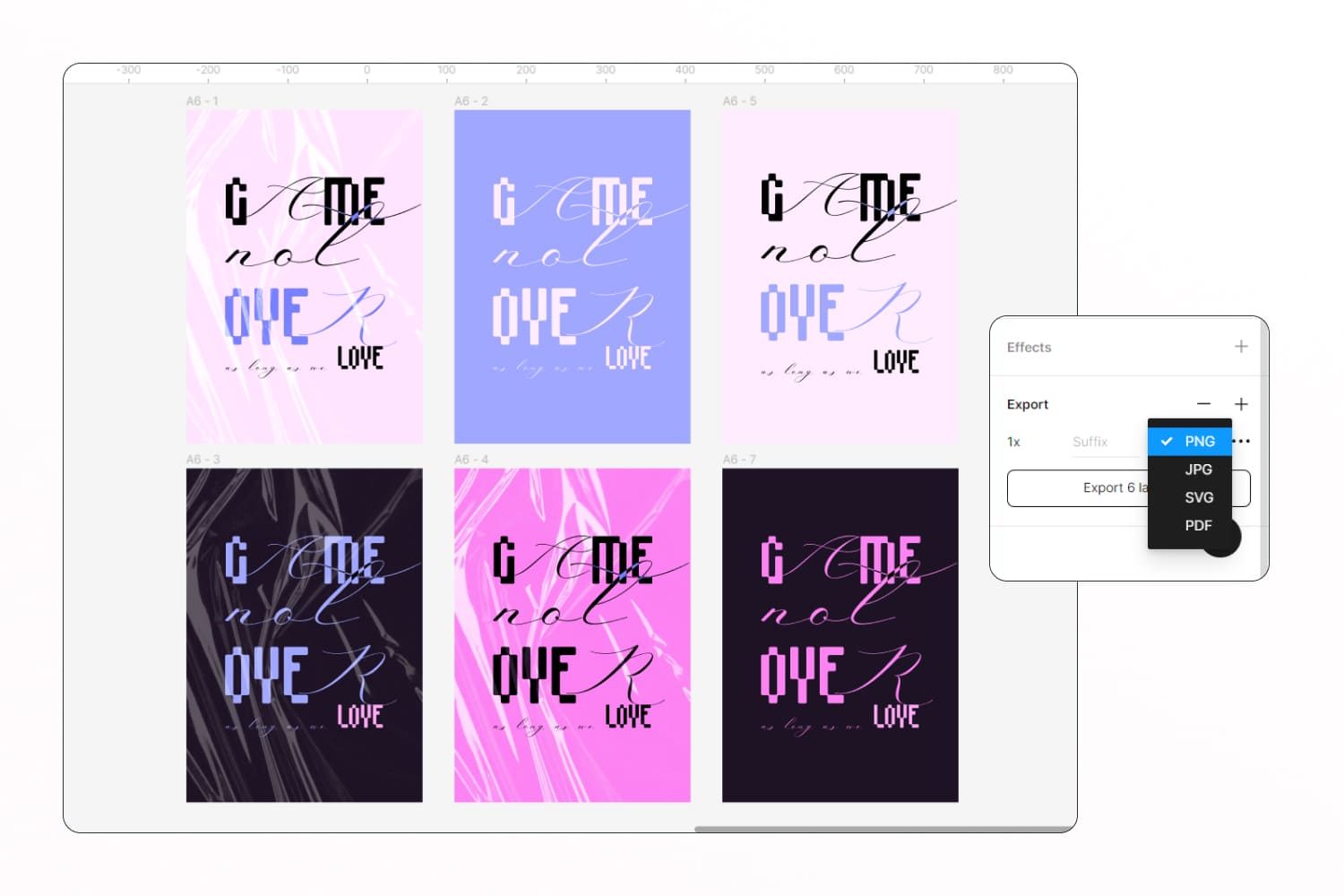 This is such a cool Valentine's Day card we made together. If something did not work out, then review the video again. And now take this postcard from the link for yourself and make your loved ones happy 🙂
If you got inspired and created a lot of cool designs and now you don't know what to do with them, contact us. Through a convenient Sell Your Deal form, you can upload works in 5 minutes. Everything is very clear and fast, and you will have a new passive income. We are waiting for you.
Disclosure: MasterBundles website page may contain advertising materials that may lead to us receiving a commission fee if you purchase a product. However, this does not affect our opinion of the product in any way and we do not receive any bonuses for positive or negative ratings.