Turn Your Digital Photograph into a Film
Turn Your Digital Photograph into a Film
Content outline:
Intro
The digital era we live in offers numerous modern technologies to take a photo. Without some of them, we can no longer imagine our existence, others are not so important but still make our life easier and more comfortable. Today it is difficult to calculate the number of modern gadgets for capturing photos. All modern smartphones have amazing cameras to eternize every great moment of our everyday life. To add more, we constantly observe new leaps in the development of digital photography, the growing popularity of this photo art and expansion in the number of new fans of this type of shooting. More and more photographers enjoy a cinematic photo in terms of post-processing.
Why is Film Photography so Popular?
Modern technology works hard to provide a fresh look of today on your picture but we still want to add a cinematic and retro style effect. Is it all about nostalgia, great memories, and favorite picturesque movies? I am sure it is. No doubt, one day you watched a movie and wished to replicate it with your camera. We like to see how much a photograph can convey and tell a story that does not exist. The drama is attractive for us, it highlights certain scenes in the pictures and the way of framing.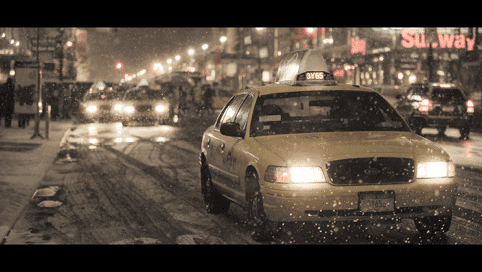 We are not surprised by HD and 4K today, we still admire old images and cinema we all have had in our lives. Moreover, a cinematic photo has a sentimental value. We are fine they are not as perfect as the modern ones but we appreciate our feelings and memories connected with an old style photo shoot.
Use Lightroom Presets to Turn Your Digital Photograph into a Film
First, before you start to process a photo, think about the particular movie scene you wish to replicate on your picture. While playing with Lightroom color scheme, color saturation, luminance, vignette, and other parameters you can turn your ordinary digital photo into a masterpiece. You may never stop experimenting and adjusting various settings but I have a better option for you. Fortunately, using Adobe Lightroom in combination with really high-quality presets, you can get amazing results right away. A lot of wonderful movie-style presets have already been created to speed up your photo editing process. Usually, you will need just one click to make your photo 85-90% processed, and sometimes one click is enough to complete the processing.
It is an amazing idea to turn a modern photo into a scene from a movie.
Cinema is something that never goes out of fashion so this type of post-processing will get more and more popularity. Finally, it is absolutely up to you what effect to choose to attract viewers' attention to your image.
Below you can find a few tips on how to get the best "Film look" effect from your images.
1. Choose Quality Presets
Lightroom presets will open a lot of creative opportunities to effectively apply different ways of processing and see what style is most suitable for a particular photo. The marketplace is full of various premium and free Lightroom presets.
To save your energy and time I would like to draw your attention to a great deal of 1000+ Retro&Vintage Lightroom Presets.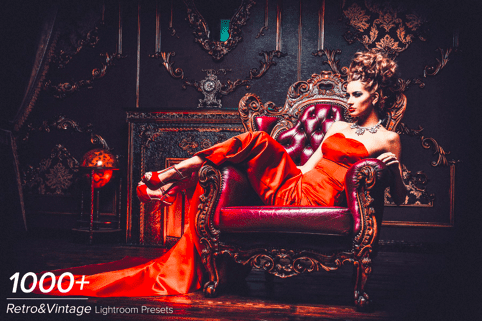 Forget about spending hours in the program adjusting numerous parameters to achieve the desired result. Just a few clicks and you will enjoy the end film looking photo.
2. Begin With 'Flatter' Images
'Flatter' image is a great option to start with before you dig into playing with Lightroom presets. This simply means your image should not be too contrasty and saturated already. Keep in mind, that presets will add more contrast and saturation themselves so your end result might become overwhelming with those effects.
To avoid any issues when using Lightroom presets try to shoot with a flat or neutral profile on your camera, producing a flatter photo with less contrast and saturation. It is just a general rule to achieve the best processing results.
In case of stock pictures, reduce their contrast and save before using Lightroom presets. Applying a preset directly to a photo without flattering first, you risk to end up with a harsh result.
3. Import Your Presets
To import a Lightroom preset just follow these simple steps: Lightroom > Preferences > Presets > Show Lightroom Develop Presets.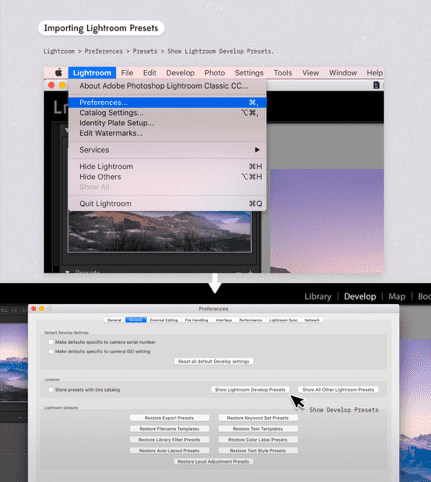 You will get to your local folder where Lightroom keeps your presets. Now you can just drag and drop your new presets into here.
4. Apply Presets & Enjoy Effects
After you choose the correct preset and your photo has already been prepared for it, you just need to click it and the changes will immediately be displayed in the photo.
Some effects can be used in combination in the presets. Be creative and experiment with different presets to create a desired picture. If you are still not satisfied with a photo, some minor adjustment may be required.
5. Basic Adjustments
Let's imagine a situation that you have already applied a preset but your end result is not exactly what you were looking for. It is quite simple to get the issue fixed with a few basic adjustments of temp, tint, and exposure. This will be the quickest solution to refine the look of your preset without getting too involved in the various settings.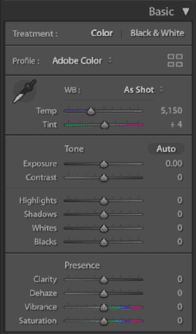 I am not able to provide you with any exact parameter values as they may vary depending on your preferences and the effect you are looking for.
Graduated Filters tool ('M' on your keyboard) will be helpful if you want to reposition fades and light leaks. Move it around to observe the result.
To summarize, let's go through the basic steps we have just discussed.
Flattening a contrasty photo to avoid overwhelming in contrast & saturation.
Export your 'flat' photo.
Import it back to the program.
Decide on the preset to use and apply it.
Adjust grain, light leaks, and fades if necessary.
Edit exposure setting if necessary.
Alter temp and tint if needed.
Press M to set up graduated filters.
That's it. As you can see, the whole process is easy enough for a beginner to cope with.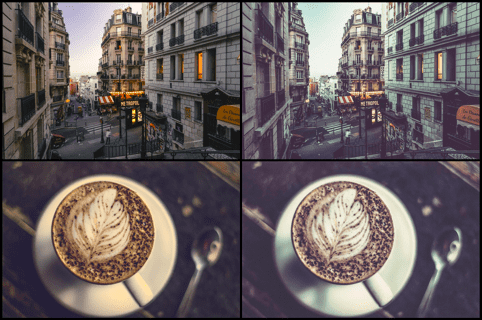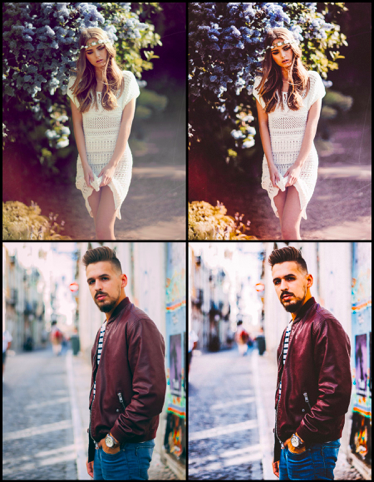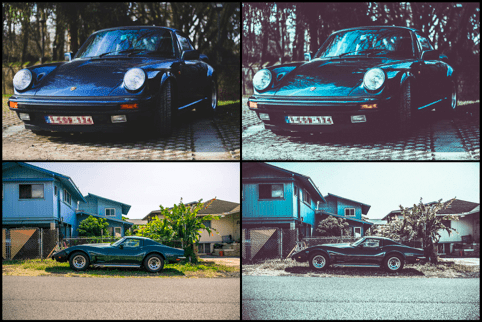 I have included a couple of 'Film look' photographs for your inspiration. Enjoy!
Conclusion
Learning any software can be scaring and time-consuming. It is really important to take proper steps to seriously explore the program but at the same time, using presets will allow you to complete post-processing right away and edit photos as easily as never before. Follow these basic instructions provided in the article to create a Hollywood movie poster.
Video About Turn Your Digital Photograph into a Film