From Amateur to Pro: 14 Best Online Photography Courses 2023
Are you looking for the best online photography courses to help you improve your skills? Look no further!
We've compiled a list of 15 top-notch courses that cater to beginners, enthusiasts, and professionals alike. Whether you're interested in mastering the basics or taking your editing skills to the next level, these courses have got you covered.
We also added a few product recommendations, including Lightroom presets and other add-ons to help you enhance your photos. So, take advantage of this chance to elevate your photography game! Keep reading to find out more.
14 Best Photography Classes Online
Annie Leibovitz Master Class by Annie Leibovitz
Annie Leibovitz is a well-known contemporary artist. She specializes in portraiture and is ready to share some secrets with you in her course. It's available in the annual MasterClass subscription that gives valuable tutorials. Or if you're interested only in this course, it costs $140.
Annie Leibovitz has shooted lots of celebrities, and you must have seen and liked her works. Her photography course doesn't mean you should follow her portraiture style. It's your chance to get acquainted with the art of photography. Don't doubt her pieces of advice are precious.
All of them are packed in 15 tutorial videos and an exercise book with educational stuff and comments from Annie and her students. Cool, isn't it?
Check the course here.
Prices: $140 or an annual subscription to MasterClass ($15 per month)
Suits: Middle-level and pro photographers
Online Courses by Nikon School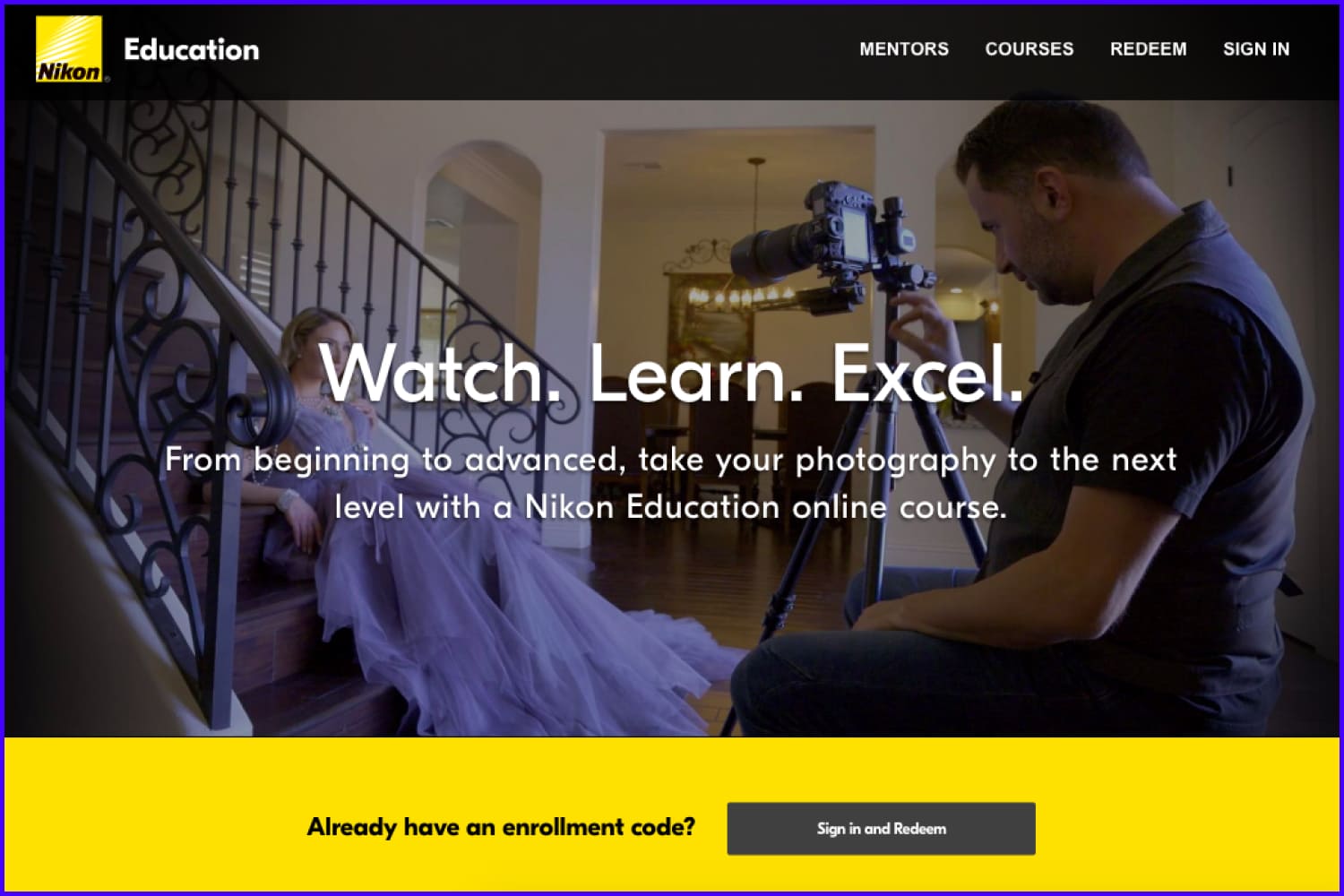 No matter what level of knowledge in photography you have. These courses are created for everyone, as everyone can find something up to their requirements here. This online school from Nikon is the right way to make photos stand out.
There are two vectors. You can choose the Fundamentals of Photography or Beyond the Fundamentals of Photography. Each of them is worthy of your attention and time. Check it on your own!
Check the courses here.
Prices: start at $14.95
Suits: Beginning and experienced photographers
Online Courses by Kelbyone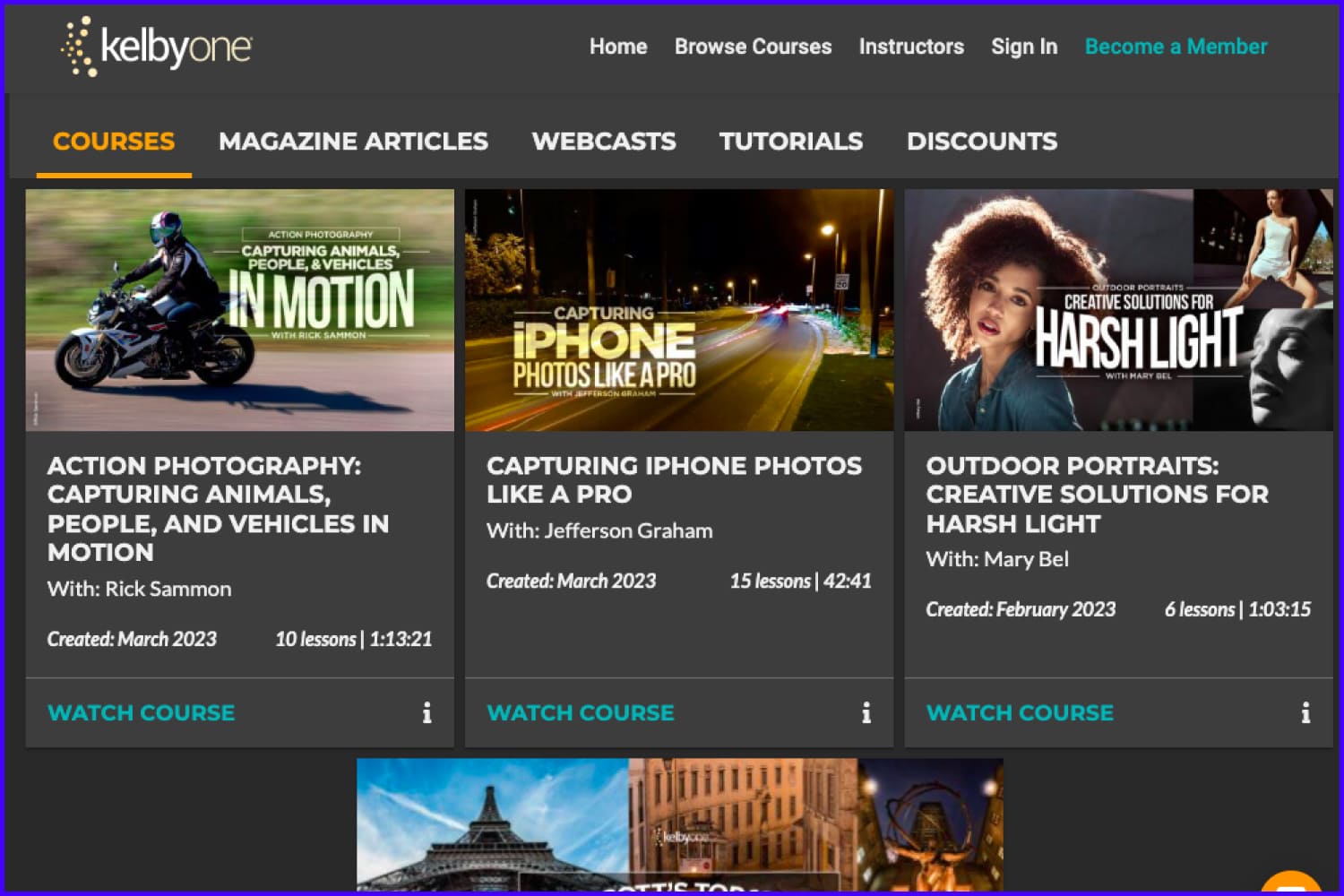 Check out courses on action photography, iPhone photography, and outdoor portraits, and learn the top 10 travel locations for photographers. You can buy lifetime access to the courses or pay monthly. You will discover excellent tips and tricks from hosts like Rick Sammon, Jefferson Graham, and Mary Bel.
Check the courses here.
Prices: depends on the course
Suits: middle-level photographers
Beginner's Guide to Astro Landscape Photography by Peter Baumgarten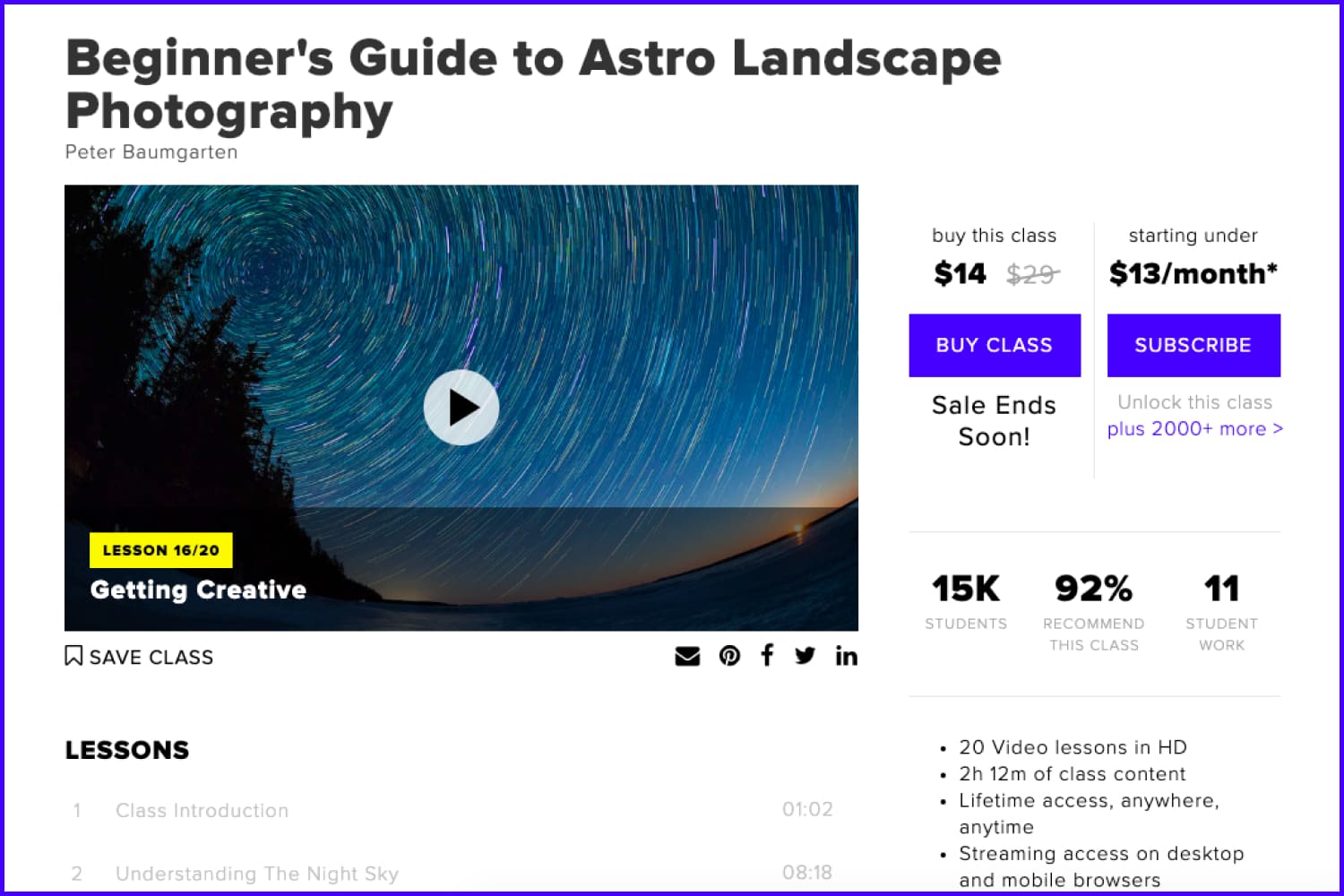 As it gets darker, shooting becomes challenging, and its quality suffers. However, professional photographer Peter Baumgarten shares a few critical secrets for successful night photo shoots. Before you, one of the online photography courses for beginners with practical tips for proper shooting at night.
There are 20 HD-quality video lessons and more than 2 hours of content. The photographer will teach you to understand the night sky and capture meteor showers, planetary parades, and glittering panoramas.
Check the courses here.
Prices: $14
Suits: Beginners
Macro Photography: Insects and Plant Life by Chris McGinnis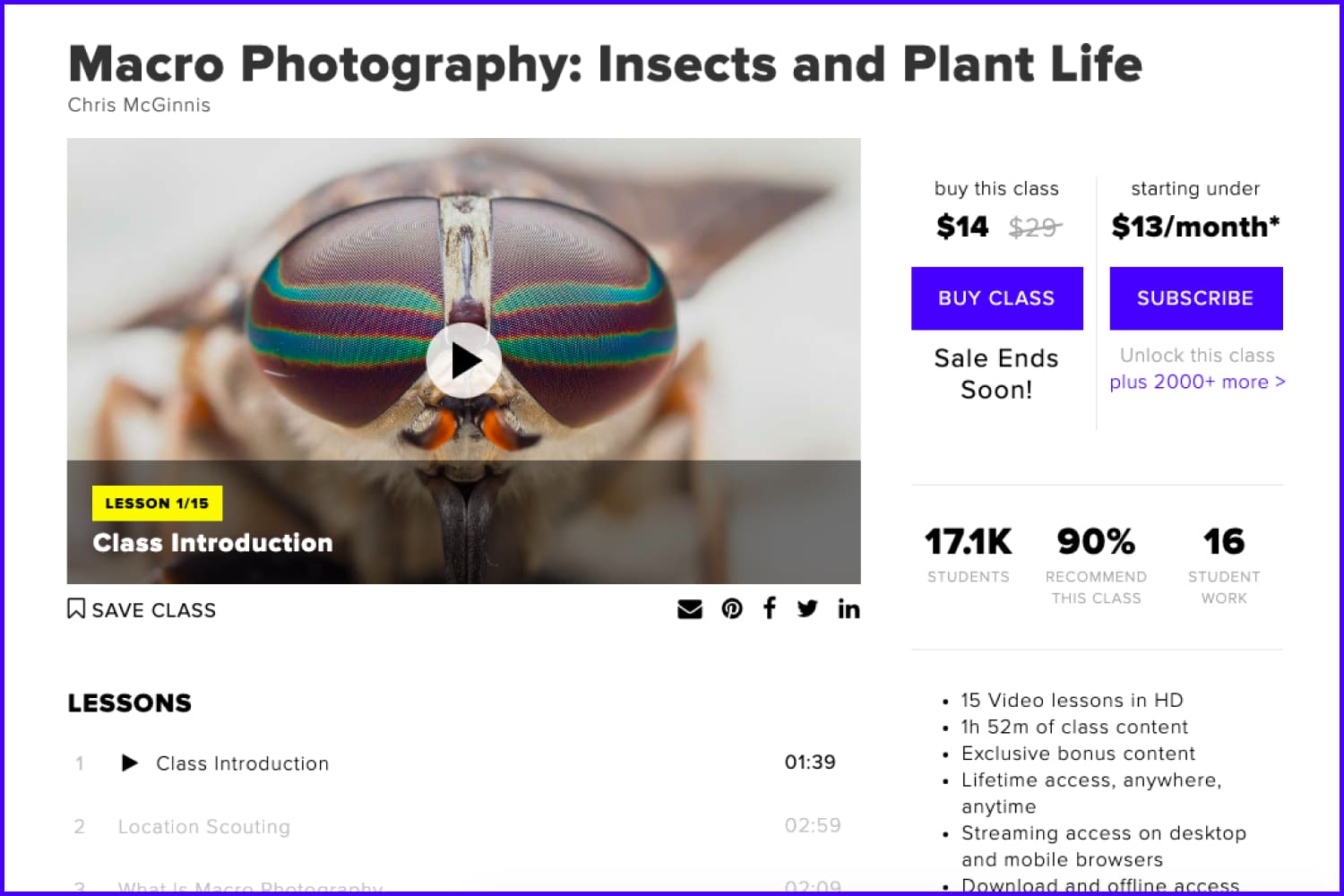 Please check out one of the best photography classes for beginners. Focusing on the minor details? Dreaming of taking quality macro shots of plants and even moving insects? No problem! Photographer Chris McGinnis will show you the ins and outs of macro photography and teach you camera settings.
The speaker walks you through the process step-by-step, from the essence of macro photography to post-processing. Hurry and check it out!
Check th course here.
Prices: $14
Suits: Beginners, Macro Photographers
Master Mobile Photography Bootcamp by Lisa Carney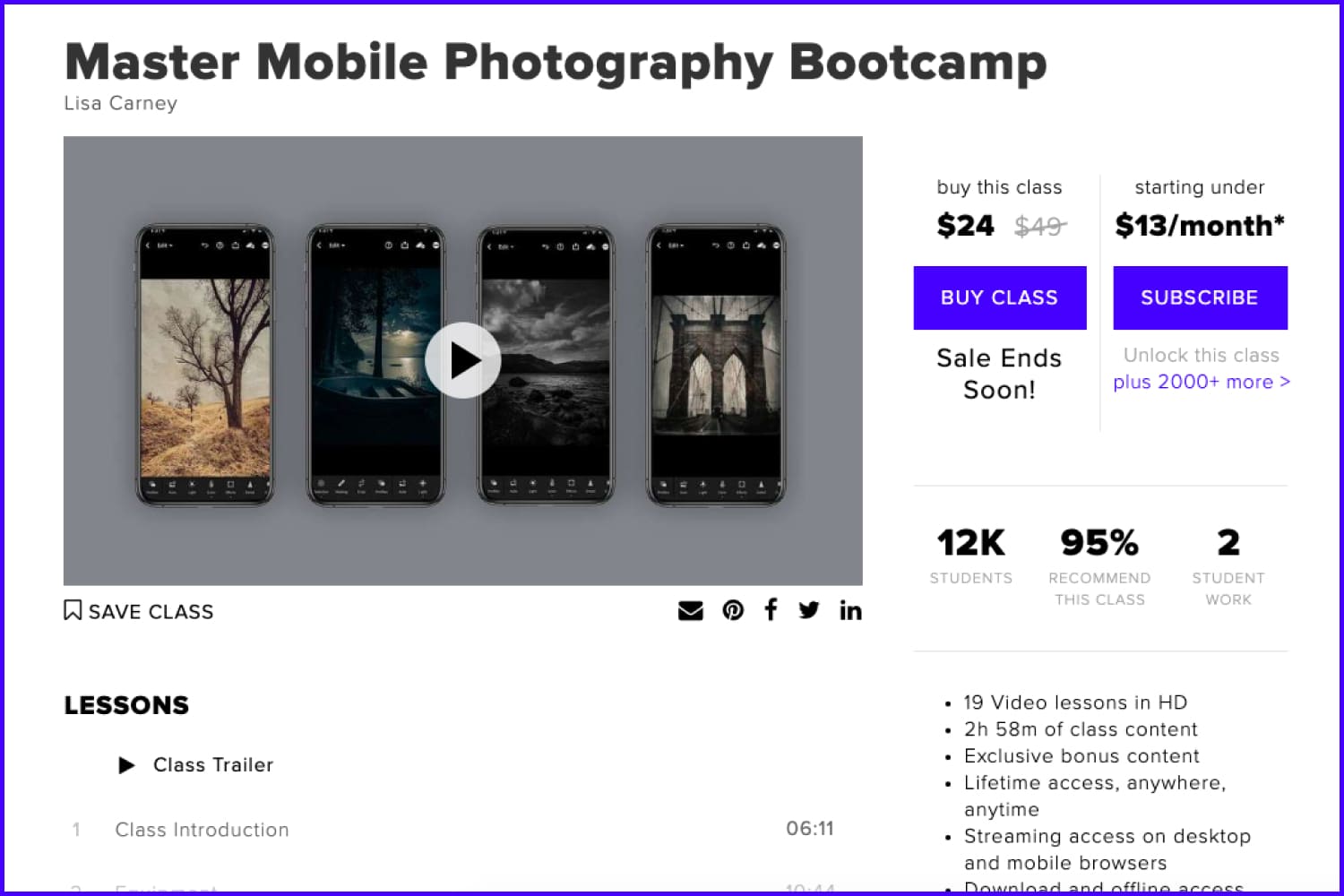 Have you already found out that high-quality photos do not require special equipment? Lisa Carney helps you unleash the rich potential of your phone's camera to the fullest. This iPhone photography class is divided into 19 video lessons, with a total duration of 3 hours. Over this time, you will learn how to take stunning pictures on the iPhone camera and edit them.
This guide will help you get the most out of your device. It will show you how to create art without professional gear. Take advantage of this how-to guide!
Check the course here.
Prices: $24
Suits: Phone photographers
Adobe Photoshop Fundamentals by Daniel Walter Scott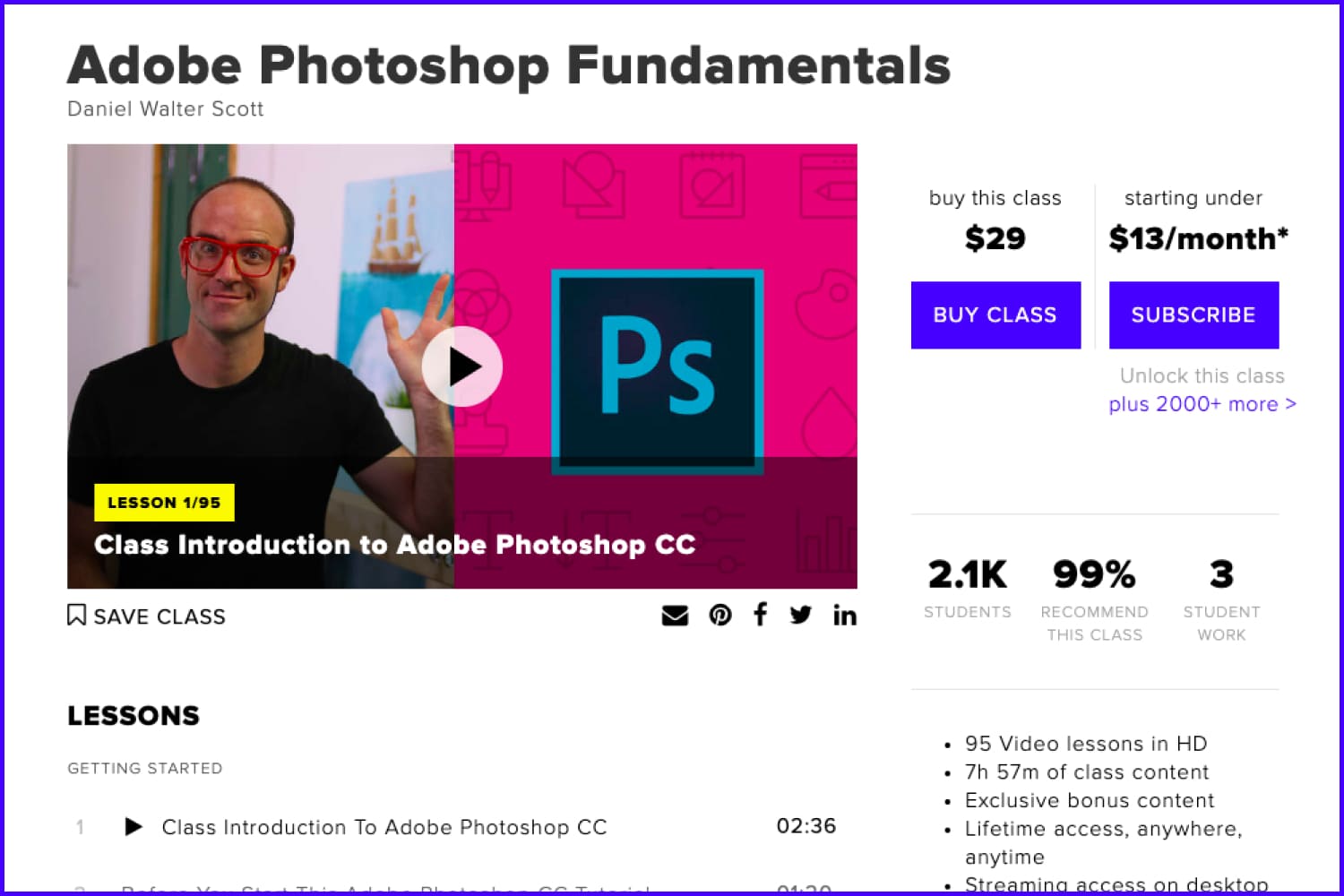 You will face shooting in real life when digital photography classes are over. No surprise, but making a good shot is only half the job. The final success always depends on the processing. That's why Daniel Walter Scott's guide is highly relevant for beginners and experienced photographers alike.
There are 95 video tutorials available for you with unique content from the pro. It will immerse you in the world of professional photoshop. It will introduce you to the subtleties of retouching and editing.
Check the course here.
Prices: $29
Suits: Beginners
The Landscape Photography Workshop by Taylor Burk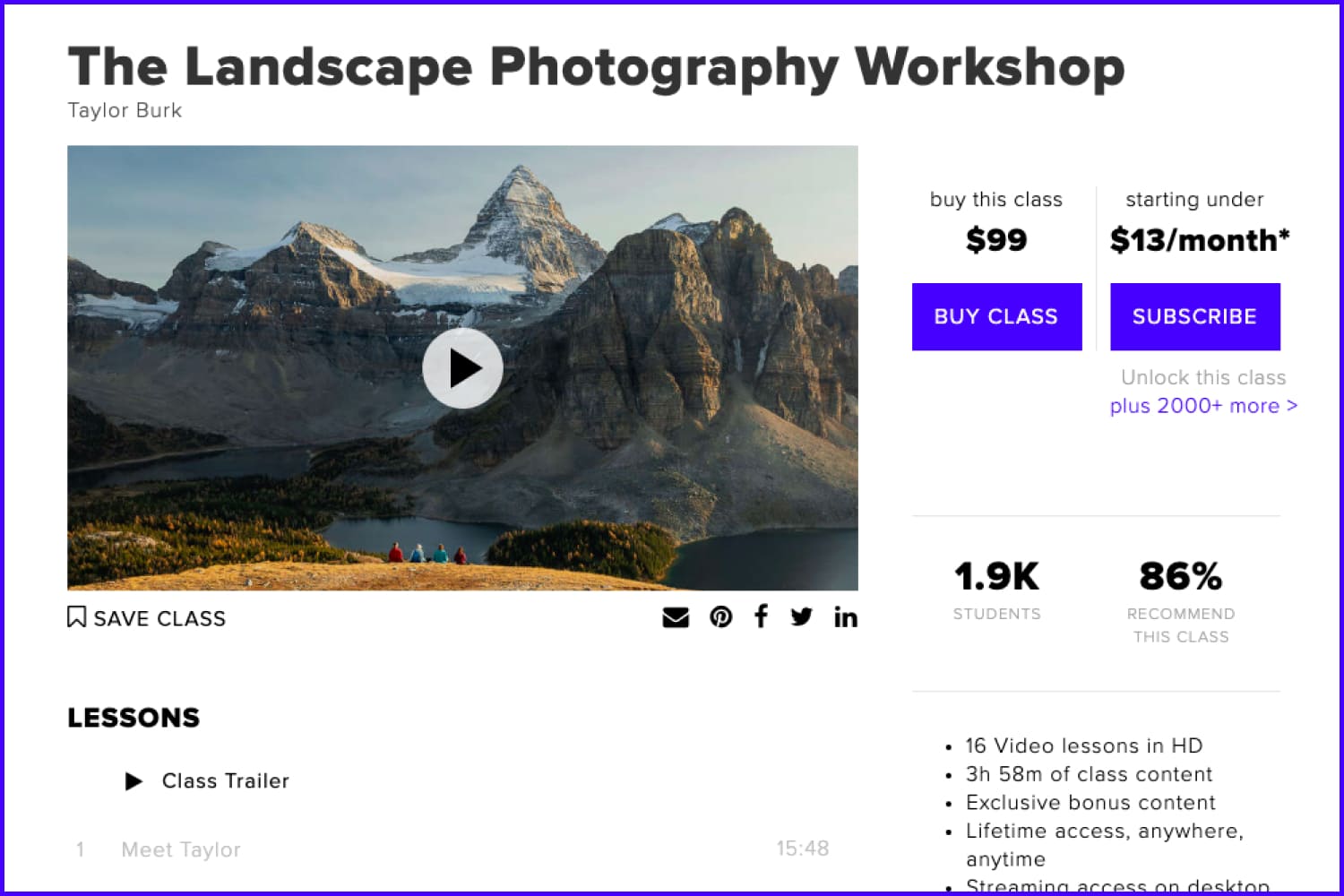 This fundamental photography masterclass for novices and experts reveals new facets of landscape photography. British travel photographer Taylor Berk opens the door to the undiscovered world of landscape photography.
Find out how to plan a photo shoot, set up your camera, shoot and edit HDRs & panoramas, and much more. Enjoy 16 detailed video lessons in HD quality. These 4 hours will pass unnoticed, as the information is relevant and engaging, and the story is logically structured.
Check the course here.
Prices: $99
Suits: Beginners, Middle-level & Pro-level photographers
The Essential Aerial Photography Workshop by Chris Burkard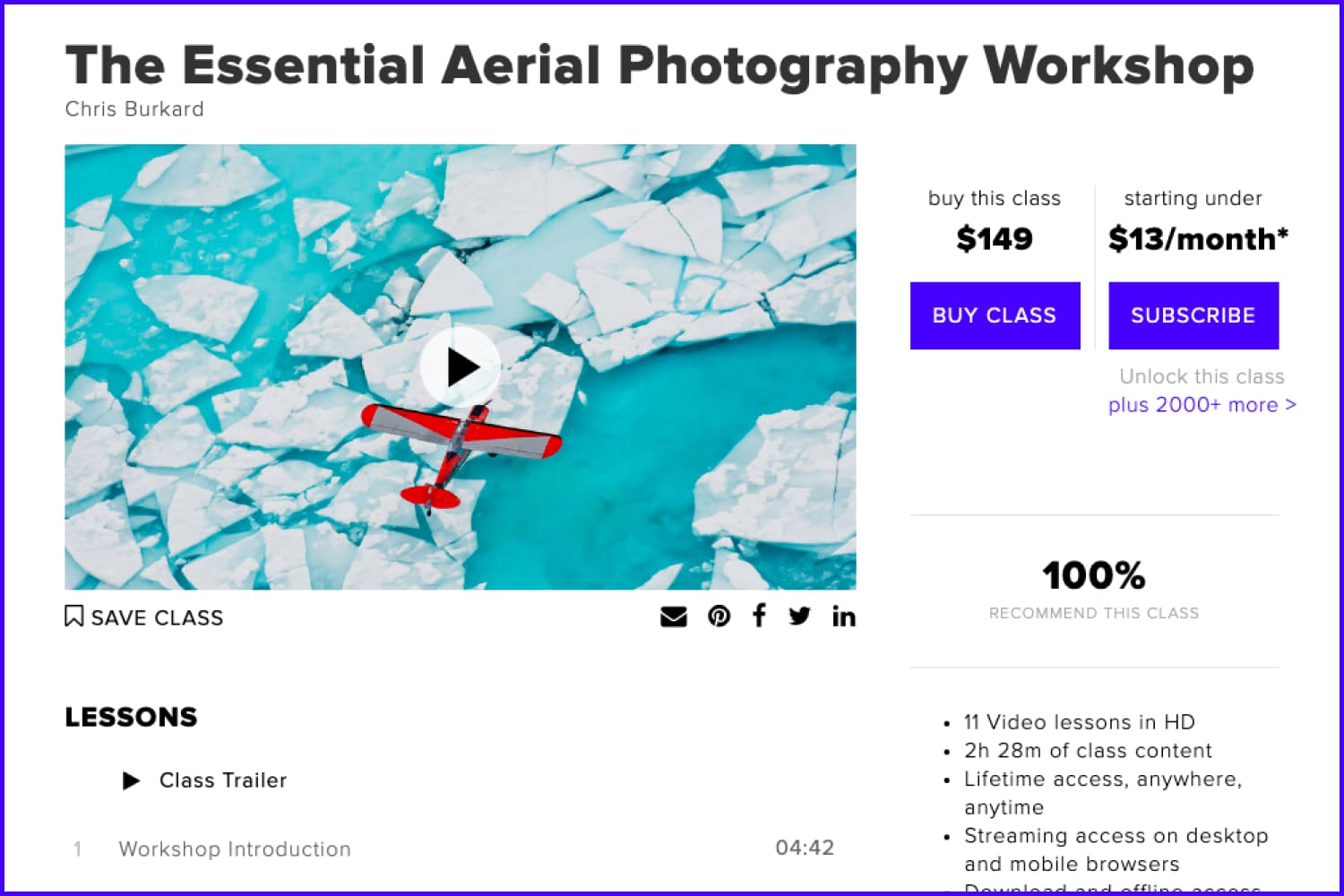 Chris Burkard's aerial photos are inspiring and breathtaking. Would you like to master the same skill? You're in the right place. Choose among the best photography classes online through this guide. Learn the techniques to take great photos and start creating them sooner.
This course contains 11 instructional videos with numerous hints and tips on capturing stunning aerial shots. A bit of theory, drones, and helicopter shots — these are all included in this workshop.
Check the course here.
Prices: $149
Suits: Middle-level & Pro-level photographers
How to Become a Freelance Photographer by Isaac Johnston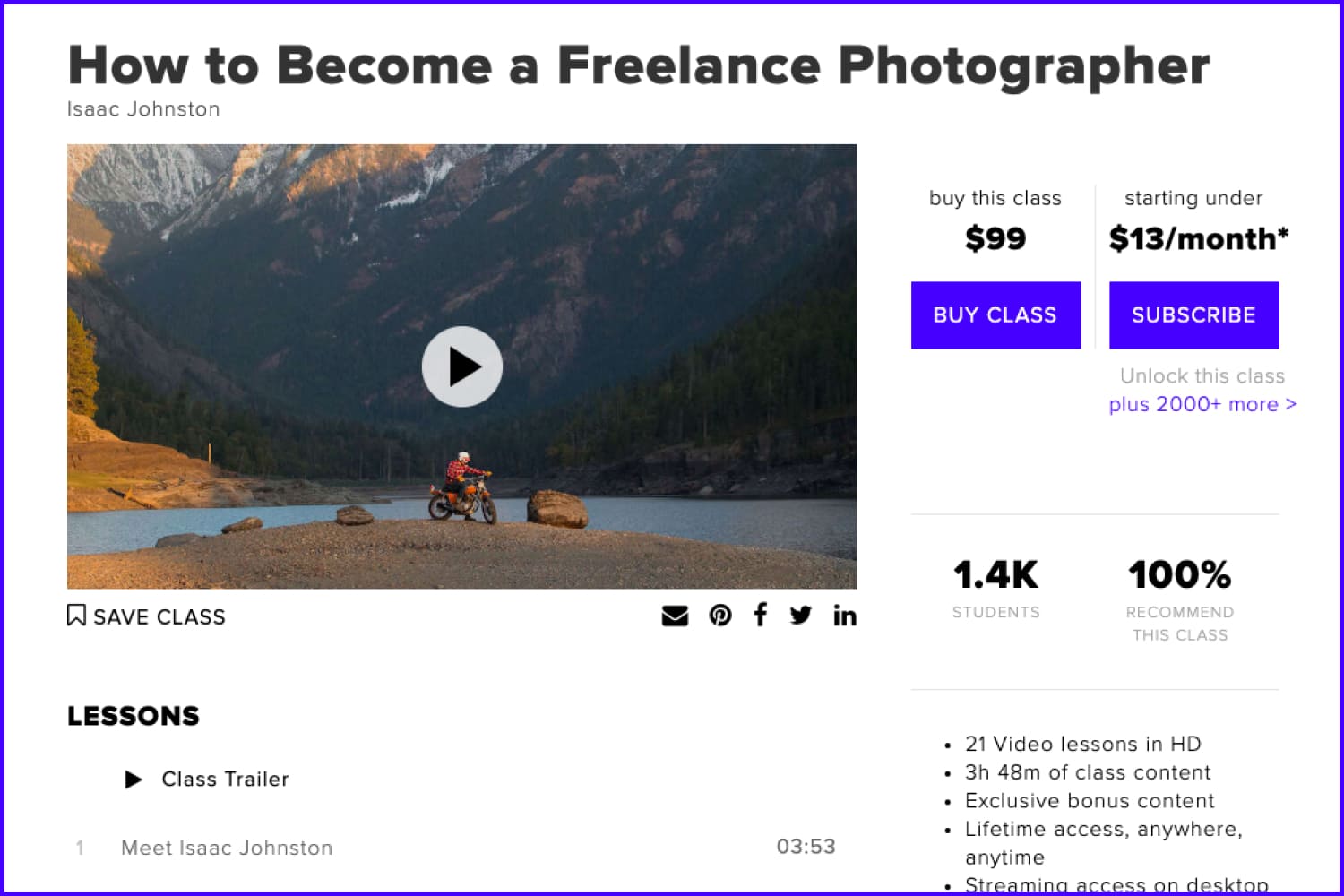 The time for a change is now! Turn your hobby into a full-time job! Isaac Johnson's strategy for turning an amateur photographer into a professional worker. Does this learning photography provide detailed answers to common questions, such as how to meet clients? How to establish a personal brand? Where to get ideas? What are the techniques and strategies for a freelance photographer?
Watch 21 video lessons, and feel free to make your dream job a reality.
Check the course here.
Prices: $99
Suits: Beginners, Middle-level & Pro-level photographers
How To Create Beautiful Portraits By Simplifying Light by Audrey Woulard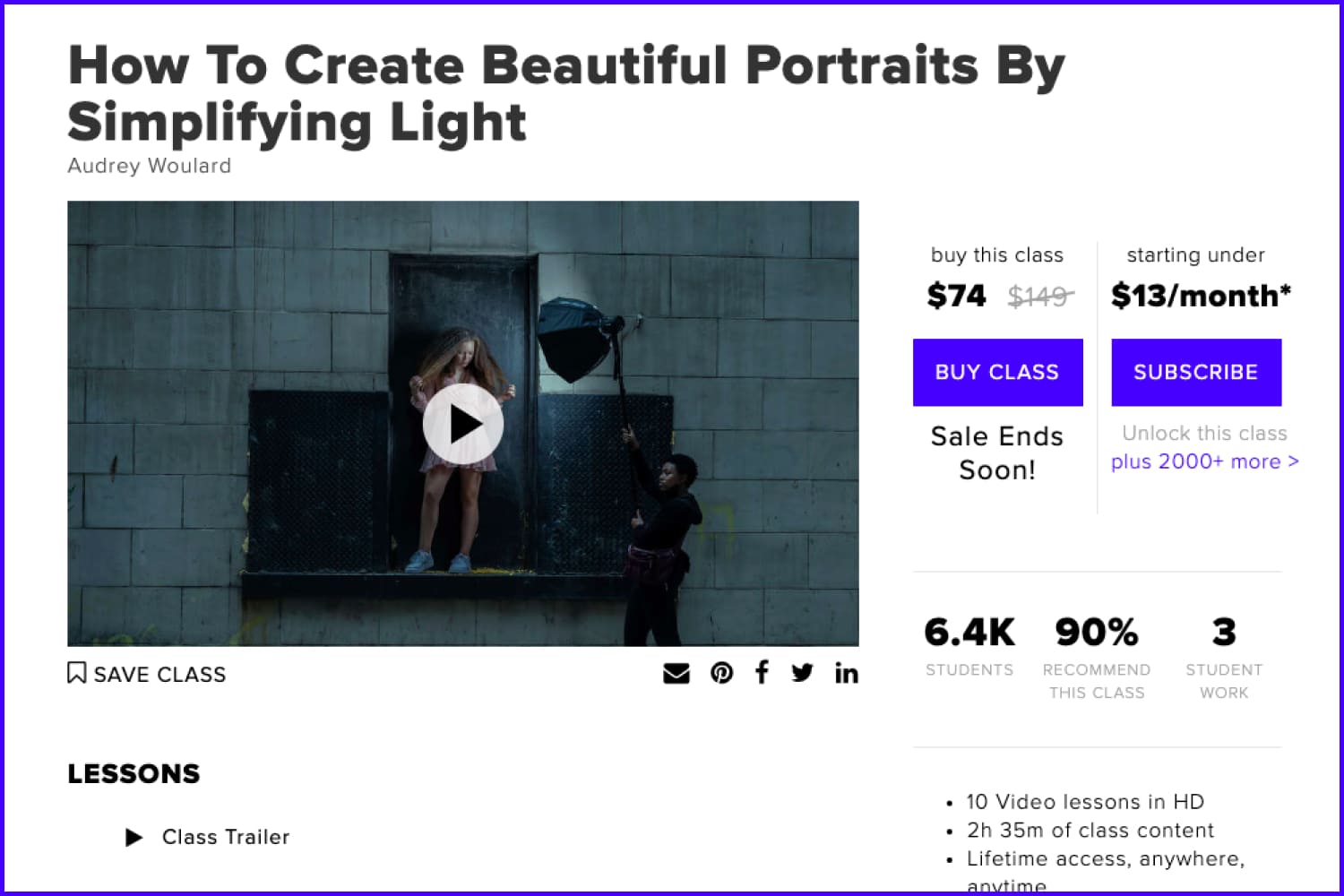 Portraiture is one of the most challenging tasks for a photographer. Lighting, shadows, colors, equipment — everything matters and affects the resulting quality. Photographer Audrey Woolard has enormous experience. She has been photographing for over 15 years. Your background doesn't matter for an online photography degree.
This online digital photography class is designed for anyone wanting to hone their skills or learn portraiture from scratch. You will get lifetime access to 10 informative video lessons. Hurry up!
Check the course here.
Prices: $74
Suits: Beginners, Middle-level & Pro-level photographers
Art Photography: Capture Beautiful Artwork by Sean Dalton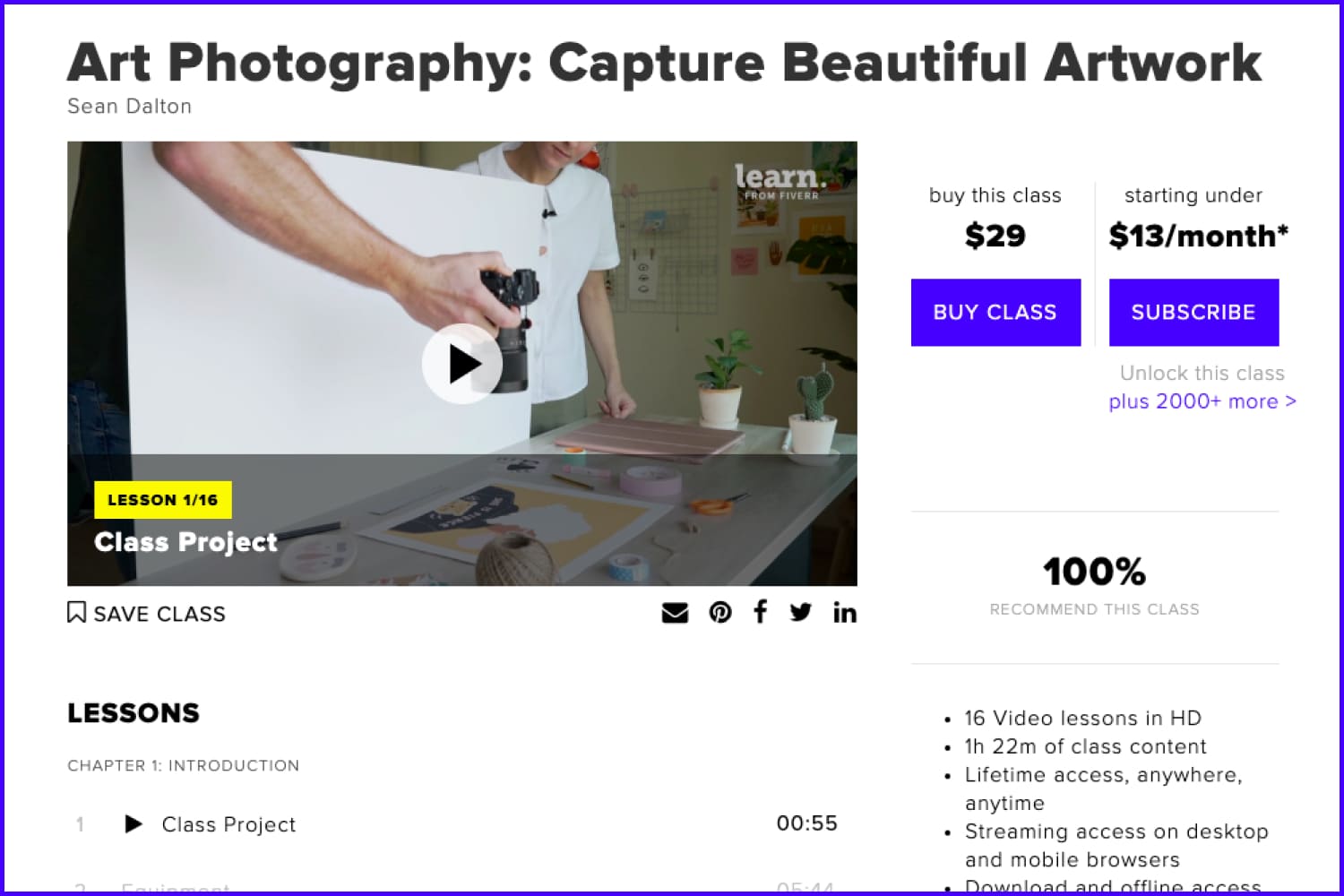 Your gadget is an excellent alternative to a camera. This workshop teaches you how to manage your camera and settings like a pro. This schooling for photography will teach you about the many nuances of staging, styling, lighting, and photo processing.
Freelancers, marketers, taggers, Influencers, and creatives will be OK with training in editing images for social media, for example. This is one of the best modern digital photography courses online. Don't miss the chance!
Check the course here.
Prices: $29
Suits: Beginners, Middle-level photographers, Mobile photographers
Dramatically Improved Masking In Lightroom Classic by Ben Willmore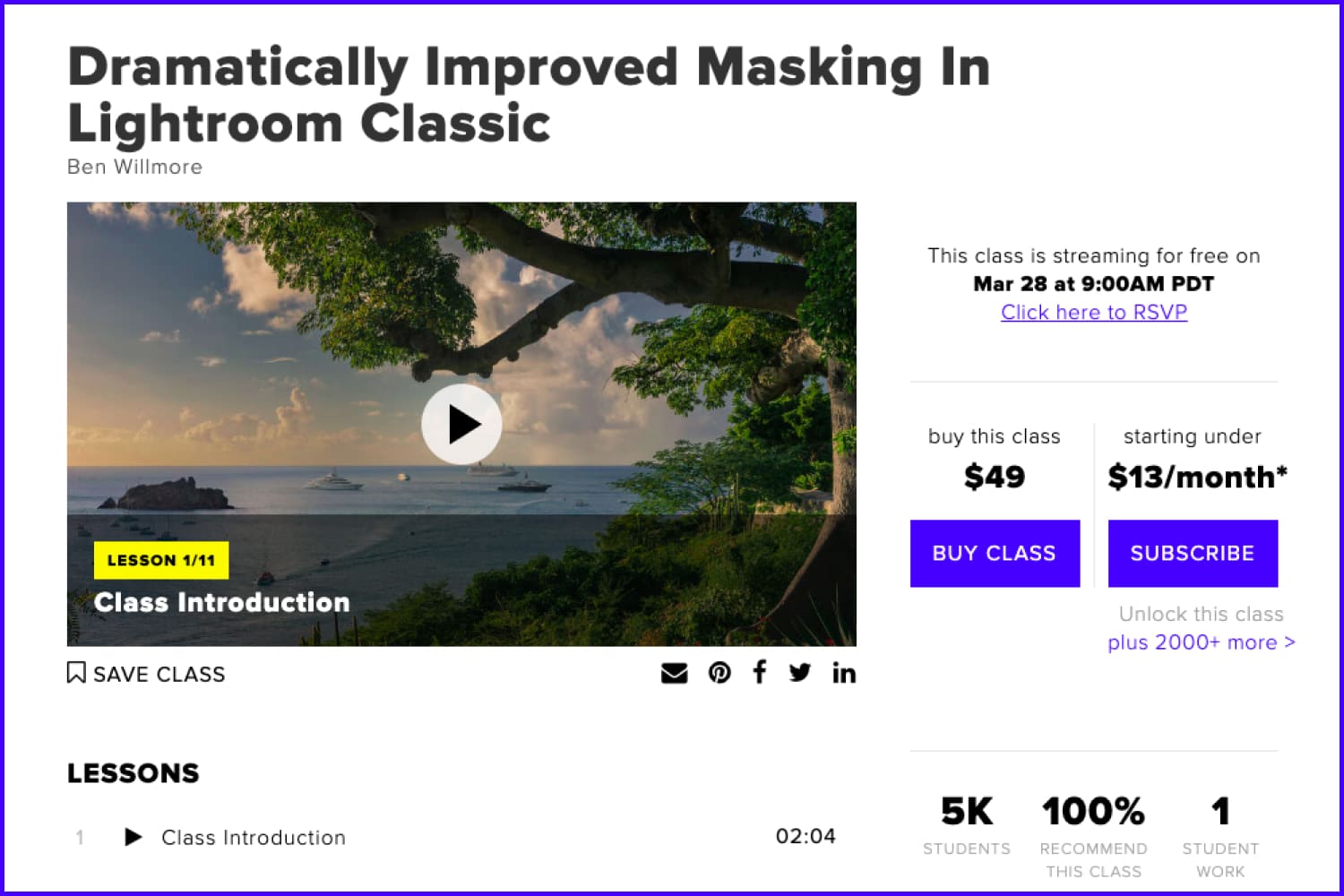 As a photographer and creative person with an imaginative approach to photography, Ben Willmore knows the value of quality processing. In his masterclass, he offers variations on how to work in Lightroom to achieve mind-blowing quality images. Eleven video tutorials totaling up to 2 hours are the best way to get online photography certification. Don't hesitate!
Check the course here.
Prices: $49
Suits: Middle-level & Pro-level photographers
The Photographer's Guide to Resiliency by Alex Strohl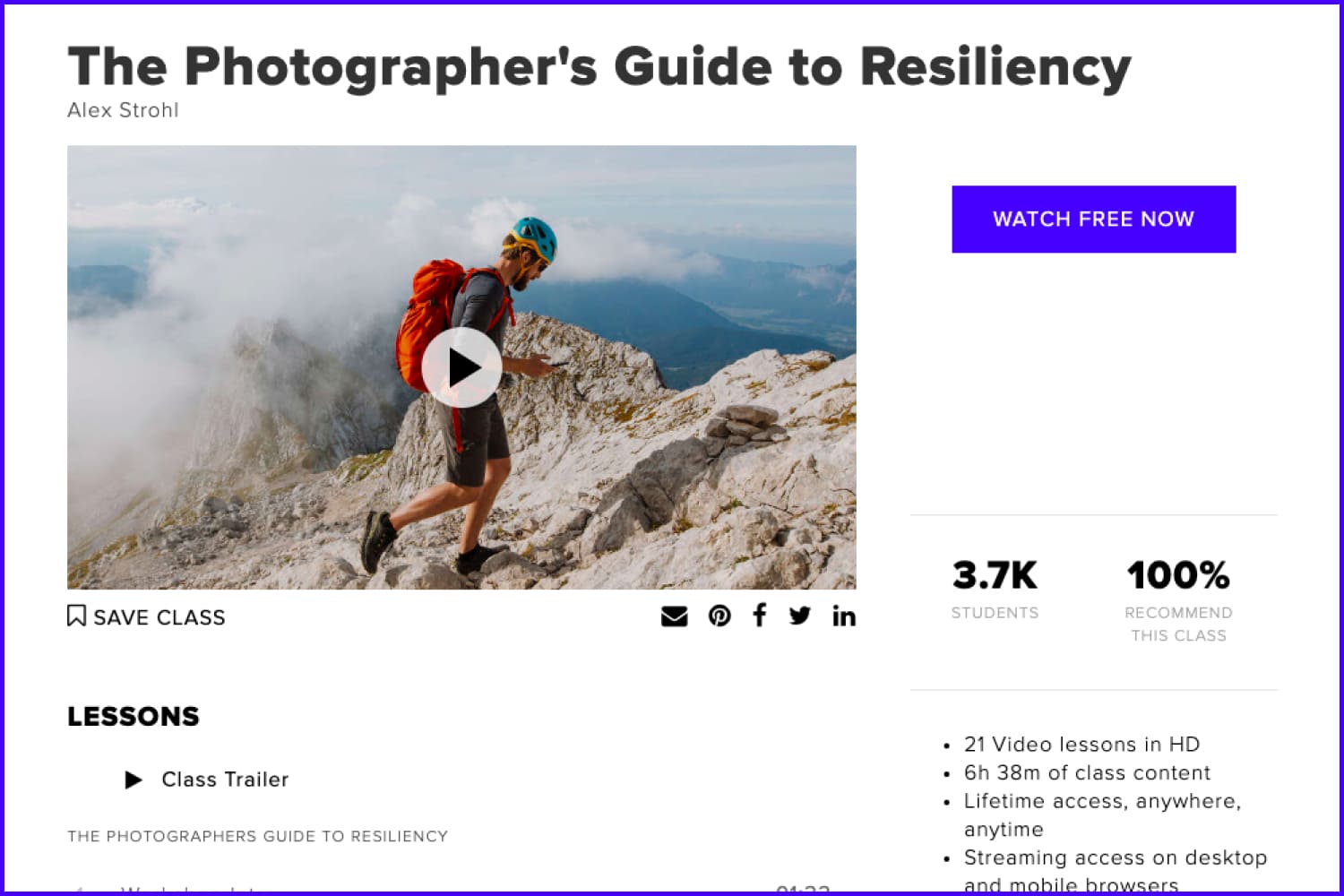 The Photographer's Guide to Resiliency is one of the best free online photography courses. Stay on top, have a great sense of style, create a business card, build a successful business, find new clients, and keep being a demanded photographer. Alex Strohl's class will help you stay afloat and successfully compete with other photographers.
Check the course here.
Prices: free
Suits: Beginners, Middle-level & Pro-level photographers
10 Lightroom and Photoshop Add-ons for Photographers
MasterBundles has something to offer for photographers as well. Check out the collection of advanced modern add-ons for Lightroom and Photoshop. Is it essential for you to get an impressive and high-quality photo? You definitely can only do with these tools!
We hope this post was useful and entertaining for you. So, if you're still not sure if online courses are the right decision for you, look at some benefits:
online photography courses allow you to study at your usual speed;
nobody takes control over you, but you're welcome to pass quizzes when you feel it is right;
such type of studying gives you multi-vector knowledge without leaving your home;
in one course, you can disclose the secrets of prominent photographers;
moreover, it's possible to complete online courses from any place in the globe where you can connect to the Internet.
And there are only a few of the most prominent features. Their list can be continued. So, don't wait too long. Start improving your skills as a photographer already today!
If you are a freelance photographer or creator of stock content, presets, brushes, overlays, etc., join MasterBundles! Become a vendor and get high profits from selling your goodies! Upload your works using our Sell Your Deal form.
Have you already taken the online course for photographers? Share your own experiences in the comments.
Disclosure: MasterBundles website page may contain advertising materials that may lead to us receiving a commission fee if you purchase a product. However, this does not affect our opinion of the product in any way and we do not receive any bonuses for positive or negative ratings.