Can you imagine social media marketing without using hashtags? Me neither. Hashtags are an irreplaceable part of the Instagram eco-system.
Some studies show that posts with at least one hashtag receive 12.6% more engagement. As a rule, there are controversial opinions that prove that hashtags don't increase engagement significantly but they do help to make the posts visible to the target audience as 70% of Instagram posts don't get seen!
Anyway, with the right strategy, hashtags can turn into a powerful tool that can enhance the recognition of your business/blogging activity on social media and more likely boost the engagement of the target audience.
In this article, you will find out the key principles of using Instagram hashtags and examples of implementing them in practice.
Still, let's familiarize with some interesting statistic about hashtags beforehand.
How to Use Instagram: The Definitive Guide
Hashtags are a word or phrase preceded by a ⧣. Marking messages with hashtags, netizens tag them and enable other users to find thematic information through a search. This kind of labeling was borrowed from Twitter.
Hashtags are used to:
Highlight the main message thought using keywords
Group information by topics
Provide a quick search on a topic a person is interested in
How to write hashtags?
The word you are going to use as a hashtag should follow the bars without any space
Leave space between different hashtags
If you need a hashtag that includes more than one word, write all words without spaces
In general, igers search on trendy hashtags. The most popular Instagram hashtags are always monitored. In such a way you can google for those hashtags. Try to do it from time to time.
There are also unique hashtags. They are connected directly to some (only one) account on Instagram. Those hashtags contain a user's nickname and are representatives of a profile.
However, long rows of hashtags under photos don't look attractive. Moreover, there are many people that consider them irritating. So, don't trust hashtags unconditionally, as it can cause disappointment.
Here, there are some more secrets about hashtags:
As a promotion method, hashtags are not effective. Especially be attentive with the most popular of them. These hashtags can attract mass-trappers to you
Check in the advanced statistics whether your hashtags work or not
You can put 5 and 10 or even 30 hashtags. But the more of them – the harder it's to determine which one works
Both, in a post or comments, hashtags are indexed in exactly the same way. If you put hashtags in comments, do it immediately after the recent publication. To get into top, every post should be new
Shadowbans are not real. That's proved officially. If your hashtags don't work there are must be some technical bug. OR, someone has complained about your publication. The only thing you need to do is to wait for some weeks or create new hashtags
Yes, hashtags can be copy-pasted and work the same, as were put manually
Don't forget to change hashtags, at least their location. Otherwise, in each post, a part of the text will be repeated, which reduces its uniqueness, and, therefore, coverage
Hashtags are not a panacea. Don't blame shadowbans or Instagram, pay more attention to your content quality and try other ways of promotion

Read more in our cool eBook How to Use Instagram: The Definitive Guide

Top Instagram Hashtags Stats: Taking Stocks of 2019

These are not just numbers. This information gathered by numerous of the case studies can help you to organize your social media activity in the proper way.

For instance, did you know that:
the most appropriate number of hashtags per a post is somewhere between 8 to 14 (according to the report made by TrackMaven that analyzed 65,000 social media posts including those on Instagram). More hashtags might irritate the users and look spammy;

longer hashtags that contain 21 to 24 characters work better – they are more specific, unique and convey the idea better (according to the aforementioned research):

For instance, you can put #icecreamlover hashtag in the caption of your post. Still, a more detailed variant #lovepistachioicecreamgrom or just #pistachioicecreamgrom will contain more information:

you love ice cream;
your favorite flavor is pistachio;
your favorite ice cream store is Grom.

7 out of 10 hashtags on Instagram are branded hashtags (according to the research made by SproutSocial). If you own a business, it will help to create a specific information channel for those, who look for it. Plus, if you want to measure the success of your brand or a campaign, you can use such social media analytical tools as SocialBakers or SimplyMeasured to analyze the popularity of your branded hashtag and the feedback it causes.
This interesting fact won't help you in practice but did you know that Chris Messina, currently a Developer Lead at Uber, is considered to be the inventor of the hashtag?

By chance or on purpose, back in 2007, this smart guy launched a trend that turned out to be a social media phenomenon with its peculiarities and spheres of influence.
So, let's familiarize with the major rules of using Instagram hashtags in 2019 and making them an efficient part of the marketing strategy!
5 Steps toward Creating the Right Hashtags Strategy
1. Analyze the Efficiency of Your Hashtags
If you switch your Instagram profile to a business account, you will receive an opportunity to analyze the engagements of your publications. For this purpose, just click "View Insights" button at the bottom of your post.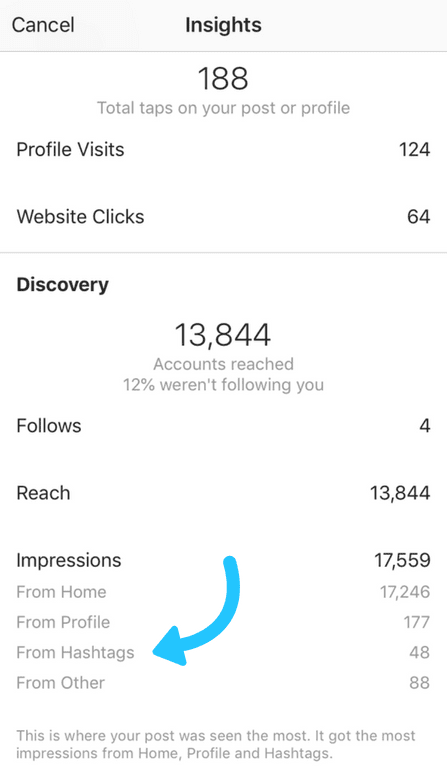 It gives information about how many people saw this post, where the traffic comes from, how many people saw this post from Home, Profile, or Hashtags. If the hashtag works, people will follow it, look for publications with its help, etc.
2. Add Active Hashtags to the Biography of Your Profile
Instagram gives an opportunity to paste clickable hashtags and usernames not only in the post caption but in the bio as well. It is a great chance to highlight the branded content or promote a business or a campaign.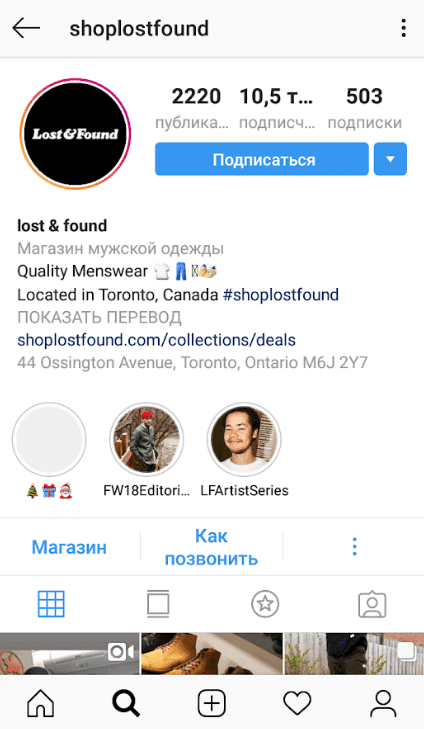 Branded hashtags in bio let the users find information easier. For instance, if you own an online fashion store, you can add hashtags for clothes, makeup, delivery terms, etc. Plus, if you have a new collection, you can also mention it in the bio and leave a hashtag to find a post with detailed information.
3. Add Hashtags to Instagram Stories
Another cool feature that came up after the recent update is the ability to add hashtags in stories. Firstly, they are clickable. It means that if you have other posts with this hashtag and the person is interested to find out more information, he/she will find the post quite easy.
Secondly, everyone can your story by searching it by the hashtag in Search & Explore page. Once, a person does it, your story comes in the queue with other stories with the same hashtag.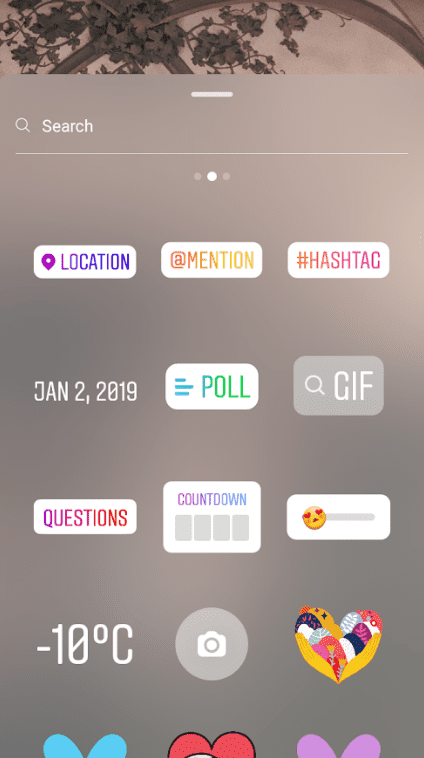 To add a hashtag to your story, just swipe up and click on the Hashtag button.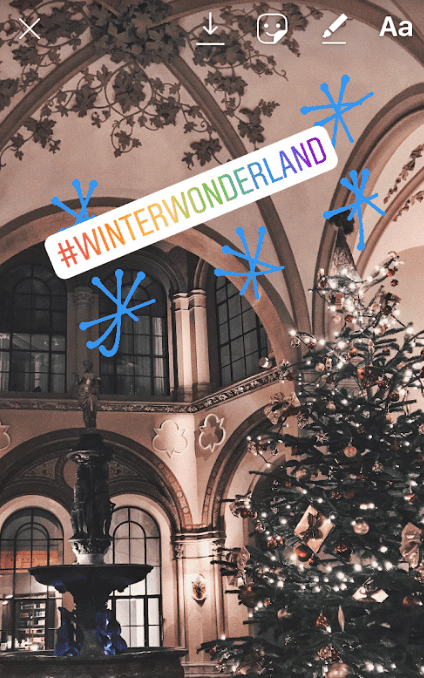 4. Encourage People to Follow Your Hashtags
One more great thing about the recent update is the ability to follow hashtags. When you follow one, you just open a particular page and see all new posts that contain this hashtag in the caption. This way, it is possible to keep up with the relevant posts in a couple of clicks.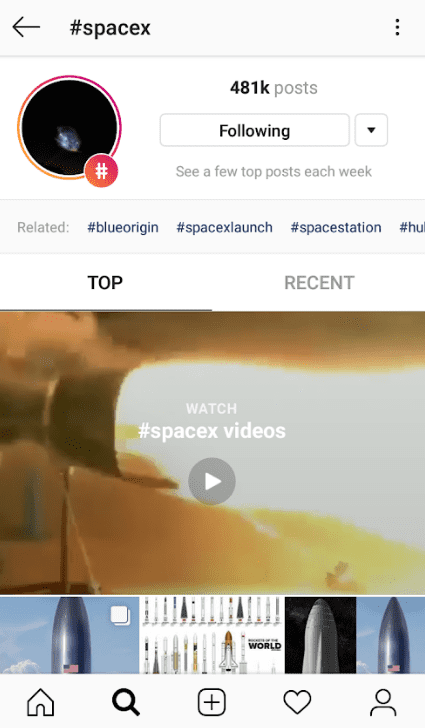 It would be cool if people keep following your hashtags because it increases the recognition of your business and forms a target audience.
Still, don't overdo with encouragement. Instead of asking subscribers to follow the hashtag, create a useful subject heading with unique content under certain hashtag and people will more likely follow it to stay tuned because 70% of Instagram posts don't get seen! You can mention this fact once in a post, by the way 🙂
5. Understand What Kind of Hashtag to Choose
Understanding what sort of hashtag to choose for your account and what are the peculiarities of each type will help to use it efficiently. So, there are three key groups of hashtags on Instagram:
If you use Instagram for business, then it makes sense to use branded hashtags. They don't always contain the name of the company, though they often do contain it. They might reflect the specifics of the company.
For instance, natural sneakers company AllBirds has its own branded hashtag #weareallbirds that both contains the name of the company and gives an overall idea of the brand.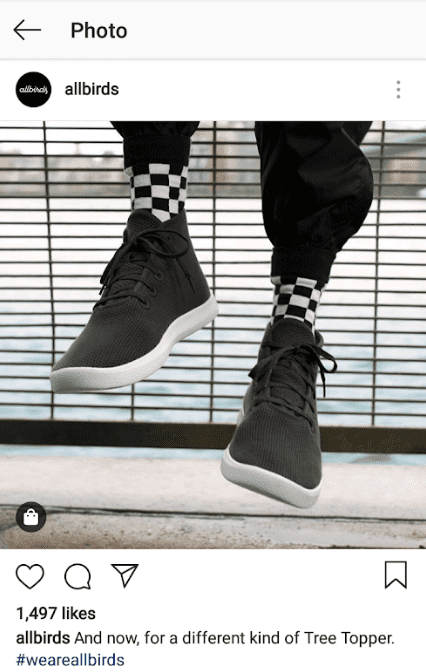 To create UGC, some brands launch giveaways. A famous underwear company CalvinKlein created one under a hashtag #mycalvins, which took root seriously and is used till now (even by cats):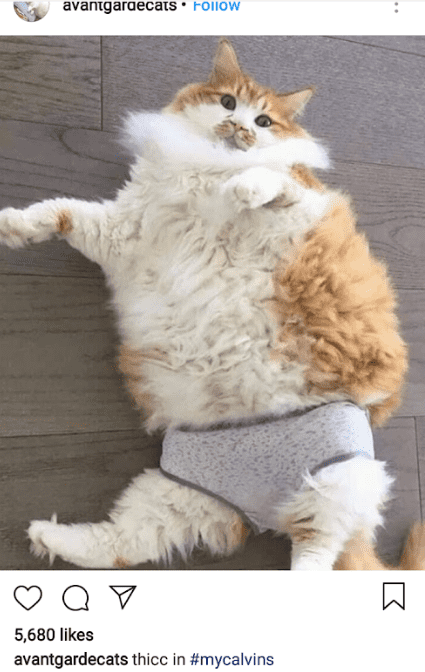 Community hashtags are created to convey the message of your activity. There are plenty of different spaces on Instagram that gather like-minded people with the help of hashtags. For instance:
#IHaveThisThingWithPink for people that adore rosy-toned things;

#UrbanJungleBloggers for people that dedicated all of the free space at home to growing plants;

#FilmIsNotDead for people, who still support camera film;

#GirlsWhoTravel for girls, who share travel content.
Community hashtags reflect the major idea of certain activity clearly.
Campaign hashtags are short-term because they are usually dedicated to the specific event and contain its name. If its new collection of lipsticks, a hashtag might contain its name and the year, for instance: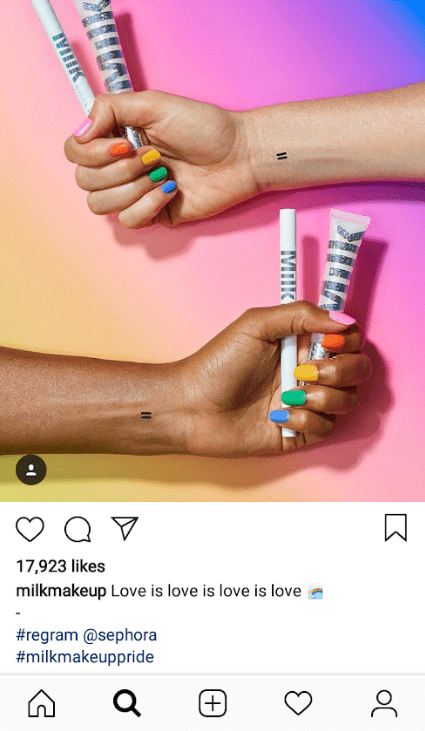 Once you define the specifics of your account, you will be able to brainstorm the hashtags that will work.
How to Pick up the Right Hashtag for Instagram Account?
One of the best ways to understand what hashtags to use on Instagram is to check out what hashtags use:
competitors
reputable representatives of the niche
target audience
If you pick up a wide-spread hashtag such as #love, #travel, #blogging, you will compete with a larger audience. For instance, there are 1.4 billion posts under #love hashtag. They appear in a matter of minutes or even seconds. The chances of being noticed are miserable.
Therefore…
Try to be Specific.
Let's say you attended Rihanna's show and want to write a brief review and get noticed with the right hashtag. If you put #rihanna, you will have to compete with 11.9 million posts. If you choose #rihannanavy, the number of publications reduces to 1.9 million, for #rihannafenty – to 518k, for #rihannafan – to 70.3k! The chances of getting more engagement with the last hashtag grow.
The same happens other situations when you choose what hashtag to paste.
Use Specialized Tools
There is a great tool created by a well-known visual marketing platform Later that helps to get fresh ideas about new hashtags and organize them in a proper way. Unfortunately, the service is paid but the prices are quite affordable starting from $19 per month for a business account and $9 for a private one.
In order to get hashtags ideas, just open a post and write a hashtag that you would like to add. The service will generate a couple of other hashtags in descending order by relevance.
After that, you can move to the organizational part of the process called Saved Caption feature. With this option, you will be able to create different hashtag lists based on your previous activity. It is possible to create categories and stuff them with hashtags that you will manage to copy and paste latter.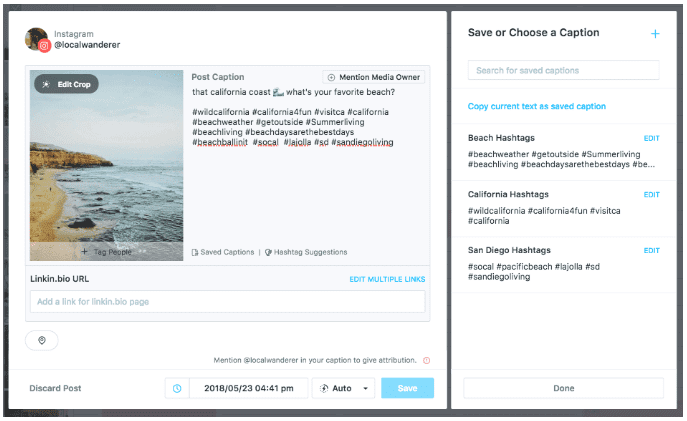 The interface of the service is intuitive and user-friendly.
Using such tools is faster and more convenient than using Google Sheets, for instance.
Try Related Hashtags
When it comes to marketing strategy, there is no single approach. It's crucial to try different solutions and check out how the target audience responds to them.
Therefore, try implementing related hashtags. When you type a hashtag in the search bar, you will see other variants in the drop-down menu. There might be some other trendy solutions that could work.
If the hashtag works, you will at least get to the Top page and it is already an achievement because thousands of new people will see your post. A bigger part of these accounts might be potential representatives of the target audience because Top page is formed on user's likes, subscriptions, search inquiries, etc.
Two factors influence Instagram's decision of taking the publication to the Top page or not: the amount of engagement (likes and comments) and the time the post gets feedback. If the post didn't become popular in the first 24 hours, it has almost no chances of being seen by the large audience.
Yes, this is a stark Instagram reality. This social media platform became super selective these days.
Brief Summary of How to Use Instagram Hashtags in 2019
So, let's sum up a little bit the key principles of using Instagram hashtags in the new year:
1. Choose the Right Hashtags
Make sure the hashtags you pick up meet the type of your account, reflect the goal you set, and reach to the target audience (convey the right message).
Be specific. Don't add random hashtags such as #car, #makeup, #fashion. Understand the conception of your campaign, specific features of your company and micro niche. Try to think the way your potential customers or client could think.
2. Research and Analyze
Don't hesitate the knowledge of your competitors and reputable leaders of your industry. See what hashtags they use and which of them are popular among their subscribers.
Analyze what hashtags work and which one just irritate the users. You can do it by simply checking out the Instagram insights below the post or by using specific tools.
3. Use the Opportunities of the New Instagram Version
Try to add hashtags in your bio and stories, encourage people to follow them to keep up with news, etc.
4. Boost Engagement Smartly
A hashtag itself won't really boost an engagement. You can do it yourself by sharing useful or exciting content that is followed by the right hashtags. For instance, you can show the subscribers "behind the scene process" and tell a story of how their favorite products are made, for instance.
In addition, you can gather UGC with a help of different surveys and contests. A good idea would be to ask the customers to upload a photo with a good they purchased in your store or any other simple photo and tag your account with the help of your branded hashtag.
Don't be spammy. It is so easy to overdo with hashtags.
Well, that was the last tip for today. I hope that you highlighted a couple of fresh ideas to implement in your marketing strategy in 2019! Thanks for your attention 🙂
Top 5 Instagram Templates Bundles