Is a Postcard Still Alive?
The Importance of Postcards
Paper cards with messages had been created and posted by individuals since the beginning of postal services. Originally, it was one of the means of postal communication. Now the functions of the postcard have changed a little, and today it is more an attribute of care, celebration, and congratulation.
Someone will say that in the era of the Internet, and mobile phones it seems that such a wonderful tradition of sending postcards sunk into oblivion. However, postcards are still a romantic and fun way to keep in touch with the ones you love. Surely, it will put a smile on anyone's face as a postcard is more eloquent than any words. The properly chosen text of the card along with its design will express all the emotions you are trying to deliver.
You may come across the following postcard types:
+ an advertising postcard is a great marketing tool to deliver promotional messages to potential clients;
+ a business postcard is a necessary attribute of a modern business culture, it is a great unobtrusive advertising of your own company to develop further corporate relationship;
+ an invitation postcard is not just a reminder of the upcoming event but also its silent characteristics and announcement;
+ a congratulation postcard reminds that there is always a reason for congratulations: from a banal holiday to a sure way to improve your mood;
+ a travel postcard is a wonderful memory from the places you visit with a short friendly text 'Wish you were here' for the one you love.
So, there are no excuses not to send a postcard. Brighten someone's day and send him a postcard!
Best 5 Postcards in MasterBundles
| Product Image & Rating (Out Of 10) | Product Name | Price |
| --- | --- | --- |
| | Happy Birthday Sexy Postcard | |
| | Happy B-Day, Hot Chick Postcard | |
| | Happy BDay Postcard for Beloved | |
| | "Love Lives Here" PostCard | |
| | Darth Vader Valentine card [Star Wars] | |
Send Postcards Without Leaving You Home

👋 Watch the video to find out how you can send a postcard to any person you love without leaving home. We'll carefully sign it with tender words. Warm your loved ones with emotions.
Where to Buy Postcards?
Many people who just started collecting postcards wonder where can they get lovely and one of a kind postcards. Well, finding postcards nowadays is a rather challenging task since very few people still use those. It might sound a little bit depressing, but this adorable tradition to send postcards is slowly dying out and due to that, fewer manufacturers produce these cards, which leads to the difficulty to find them. However, there are still some places where you can find lovely postcards for your collection or for a present. So let us have a brief look at these places.
Post Offices
Well, this one is perhaps the most traditional place to find postcards. Fun fact is that the post offices in various cities, states, and countries sell different postcards. So if you are hunting for some unique ones, make sure to check out local post offices while you are traveling.
Airports
Another location connected with traveling is the airport. Gift shops in airports all over the world sell great postcards that will no doubt become gems in your collection. Well, next time you travel somewhere by plane, don't forget to look for some postcards in airports.
Gift Shops and Museums
If you are that kind of a traveler who explores new cultures through museums, then you might as well explore the postcards they sell there. In fact, museums' gift shops, as well as the ones located around popular tourist attractions, are famous for the most unique and beautiful postcards. Besides, such a postcard will not only be a good addition to your collection but also will convey sweet memories of your travel.
Book Stores
Not surprisingly, book stores are among the places one can find postcards as well. So next time you will be choosing something interesting to read in your local book store, make sure to take a closer look at the postcards they offer.
Stationery Stores
Another place where you can purchase some postcards is stationery stores. Well, if you haven't checked your local stationery stores for postcards yet, it is the very time to do that.
Magazine and Newspaper Kiosks
Well, a magazine and newspaper kiosk is another classic place to find some dope postcards. Besides, if you live in a big city, you know that these little stores are on every street corner, so finding those would not be a problem at all.
Convenience Stores, Supermarkets, and Truck Stops
These kinds of stores are among the ones you definitely visit every day, so you probably already know that you can find postcards for your collection there. However, if you didn't know that, next time you go grocery shopping, don't forget to check out whether your local store offers postcards.
Amazon, eBay, or Any Other Online Stores
If you belong to that category of people who do not like wasting their time hunting for postcards all over the city (or sometimes all over the world), you probably would be interested in getting those online. Such multi-brand stores as Amazon or eBay are among the most popular places to look for some lovely postcards. Apart from that, you can simply google "postcards purchase" and find a whole bunch of other stores that offer unique postcards. Just be careful in order to avoid a scam.
Well, these are pretty much all the places where you can find new postcards for your collection, so go ahead and get some new gems.
Popular Marketplaces to Buy a Postcard Online
Nowadays there are numerous places where you can buy a creative postcard. Postcards are usually offered in post offices, museum shops, bookstores, newspaper kiosks, supermarkets, tourist locations, and etc.
If you prefer online resources, I would like to highlight a few popular ones.
Amazon is one of the first Internet services focused on the sale of real goods, the largest company in the world in terms of turnover, selling a variety of goods and services via the Internet. Certainly, Amazon can boast of some good deals in postcard sets and boxes.
The website itself is very easy to navigate. At the right, you can use the category menu and all the filtering options. For example, you can select a postcard occasion, recipient, feature keywords, feature brands, average customer review, condition, price, availability, and etc. The product page shows more details about the item – description, price, shipping information, availability. When shipping within the contiguous U.S., your order will arrive within 4-5 business days if your choice was a standard shipping.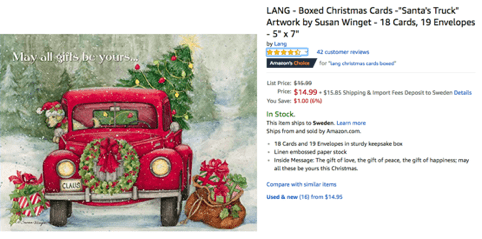 Etsy is another online platform that allows people from all over the world selling their goods online. In addition, this resource allows people to earn on their hobbies. If it is handcrafted, vintage, custom, or unique, it is on Etsy.
The project was launched in 2005, and today it is already a huge online market with several million sellers and countless products. Sellers at Etsy are usually people of art – artists, photographers, designers of clothing and jewelry, illustrators, and etc. Etsy accepts payment by credit card, debit card, Etsy gift card, Etsy Credit, some bank transfer services, PayPal, Apple Pay, and Android Pay.
Millions of handmade and vintage postcards are available on the world's most imaginative marketplace. Product details page shows a product overview, price, shipping status, shipping, and returns policies, and other information.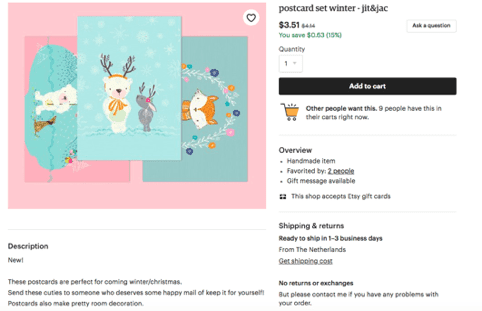 eBay is the world's most popular online trading platform with a huge number of sellers and with an even larger selection of products. eBay offers absolutely different product categories, ranging from collectible items of antiquity and ending with everyday goods. No need to say, you can find a great choice of beautiful postcards there.
eBay interface is rather clear and convenient. At the right, you can choose any filtering options, like occasion, gender, brand, card recipient, theme, type, condition, price range, and etc. Browse the best collection of the postcards for your most imaginative friends and family members.
The estimated delivery date is based on the seller's handling time, the shipping service selected, and when the seller receives cleared payment. The product page will display all the necessary information including shipping, delivery, payments, returns, and guarantee terms.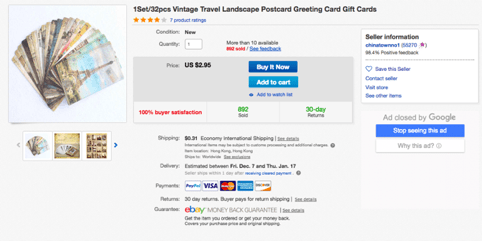 Zazzle is the world's leading platform for quality custom products. The mission of the company is to give people the power to make anything imaginable. You need to visit Zazzle to make sure everything they do is an expression of love.
Here you can choose a product category, price, orientation, event and occasions, add filtering and sorting. Their products include everything from apparel and paper goods to fabric and food, and of course, they are offering the highest quality custom products in the world.
A huge collection of postcards is waiting for you at Zazzle. Moreover, you can personalize any option you like. Whether it is a thank you postcard to your loved ones, a vintage travel postcard, or the one announcing your special date, Zazzle marketplace has something perfect to get the message across.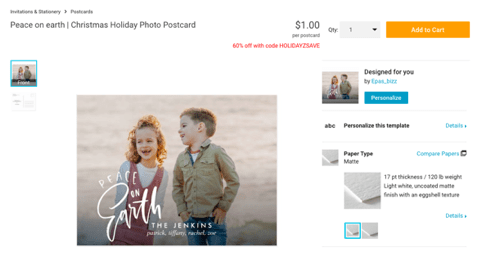 Bonanza is another online marketplace with an awesome choice of different creative items. Here you can find everything but the ordinary. In 2016, Bonanza was voted "Most Recommended Marketplace" over eBay, Amazon, Etsy and all other contenders by over 50,000 sellers in the largest seller survey online.
Along with other creative things, beautiful postcards are offered at Bonanza. On the left pane, you are welcome to choose a category, color, condition, type, postage condition, price, and etc. The website accepts different types of payment, and the orders are usually shipped within 3 business days.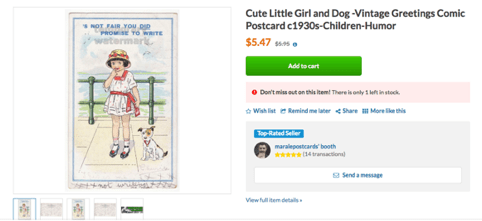 ArtFire.com is a marketplace, craft and maker community where people from around the world come together to buy, sell and interact. Visit this resource to find unique items and handmade gifts for special occasions, your home, family, and friends. You can make purchases not only by standard categories but also filter them by color and occasion.
If you have not been able to find what you need, the site offers 'Wanted'. So, just write what you dream about. Talented designers will quickly turn your idea into a finished object.
Artfire postcards are divided into handmade and vintage ones. Payment methods depend on a seller and his preferences. Sellers can also accept payments via PayPal or Amazon. You can include a note to the seller about your order. If you need to specify any custom details or options, you can definitely do that.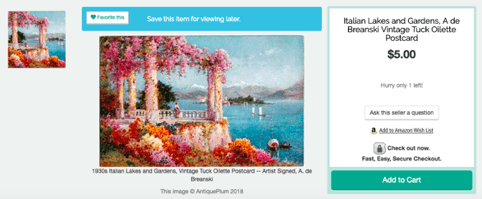 Create Your Own Design of a Postcard
Whether you wish to promote your business, inform the world about your event, or just create a fun and personal way to share your artwork, start with an awesome postcard. Postcard builders are a perfect choice to create something special to attract your target audience. Isn't it cool to be a designer of your custom postcard?
Numerous services over the Internet offer to create your own brilliant postcard to match your style and preferences. Let's have a look at a few of them.
Canva is a free online postcard maker. It will not take more than 5 minutes to craft your custom postcard.
Adobe Spark makes it easy to make your own postcards for free. No design skills needed.
Design your own postcard in three steps – choose a template, customize your design, and print your ready postcard.
It is the easiest and fastest way to design online. Nothing can capture your recipient's attention better than a creatively designed and well-written postcard.
You can now design your advertising message online and have it mailed. This is a perfect solution for effective advertising messages and private purposes.
It is a great tool if you need to create unique cards that are ready to mail. Publish your design online, order prints or send via direct mail.
Crello is a free online postcard maker, and it lets you work with more than 3 500 free design elements.
A DIY postcard maker to design postcards. Choose from loads of templates.
Make it special, make it personal with FunkyPigeon.
Create eye-catching and customizable postcards for free with Fotor's postcard maker to spread your own feelings and messages for all occasions effectively.
Comic Postcards
Vintage Comic Book Covers Postcard Bulk Pack of 25
Price: $9.99
Naruto & Become Hokage for a Day & Yu-Gi-Oh! Postcards, Set of 3 Promotional Postcards from Comic-Con 2015
Price: $9.99
Battle Postcards: 100 Postcards (Classic Comics Postcard Collection)
Price: $12.28
70s Girls Comics: 100 Postcards (Classic Comics Postcard Collection)
Price: $28.41
The Art of Vintage Marvel: 100 Collectible Postcards
Price: $147.69
Blank Postcards
Personalized Wooden Postcards for Birthdays, Anniversaries, Mother's Day, Father's Day, Holidays
Price: $18
CafePress Vintage Fishing, Rainbow Postcards (Package of 8)
Price: $6.99
Gladys Leach Set of 40 Vintage Postcard Scenes of Dublin Ireland
Price: $14.99
Postcard Set 24pcs Bikes Cycling Vintage Ads Posters Art Deco
Price: $6.99
Caspari Edwardian Garden Blank Boxed Note Cards, 32 Cards & Envelopes
Price: $34
Old Postcards
Postcard Set 24 cards Vintage Travel Posters Beach Holidays
Price: $6.99
Postcard Set 24 cards Film Noir Vintage Movie Poster Hardboiled Detective
Price: $6.99
Postcard Set 24 cards Film Noir Lady Vintage Hardboiled Movie Posters Ads
Price: $6.99
Postcard Set 24 cards Flowers Vintage Seed Pockets Gardens and Roses
Price: $6.99
Postcard Set 24pcs Absinthe Campari Vintage Alcohol Advert Posters Art Deco Ads
Price: $6.99
Free Postcard Templates
It is not always necessary to buy a fancy postcard if you wish to market your business or develop personal relationships.
Pinterest is a social service on the Internet; photo hosting, which allows users to place images in thematic collections online and share them with others. It is an ideal place for inspiration and free printable postcards.
There are a lot of postcard templates available out there but I would like to familiarize you with a few ones that met my eyes.
Here you go.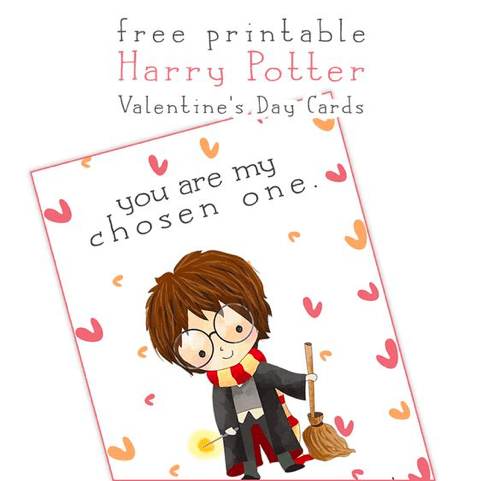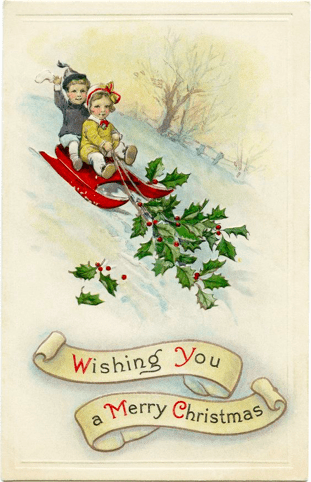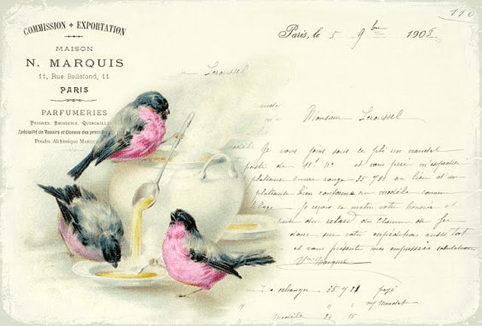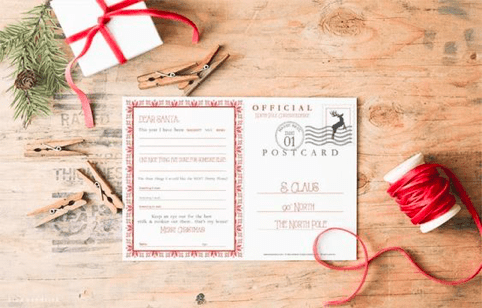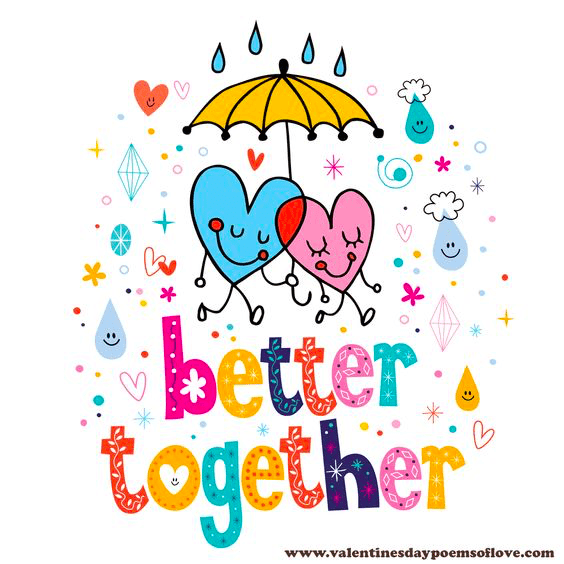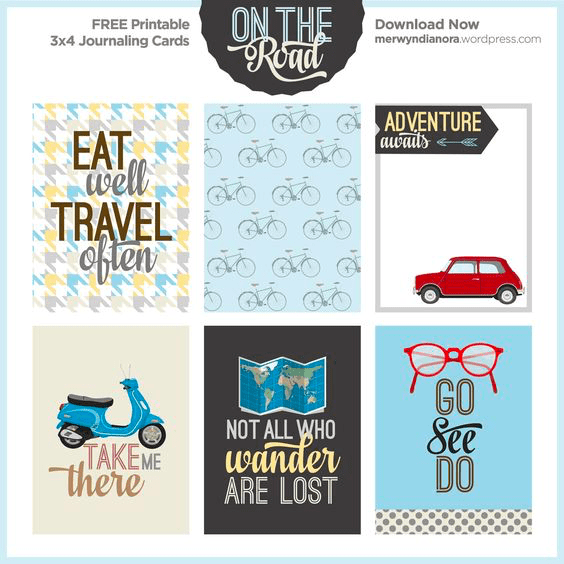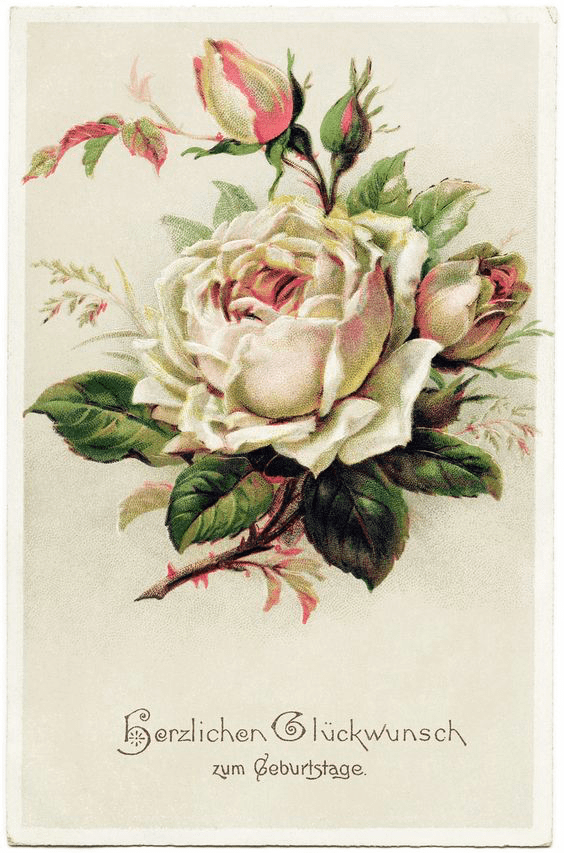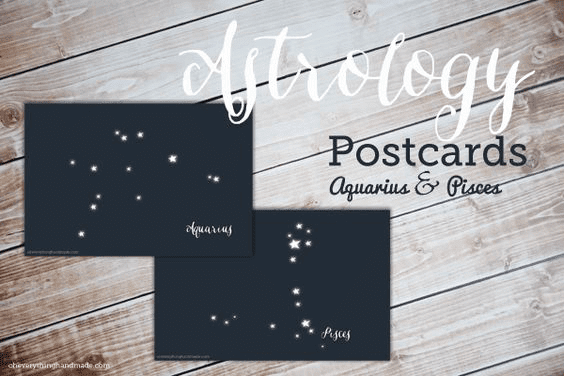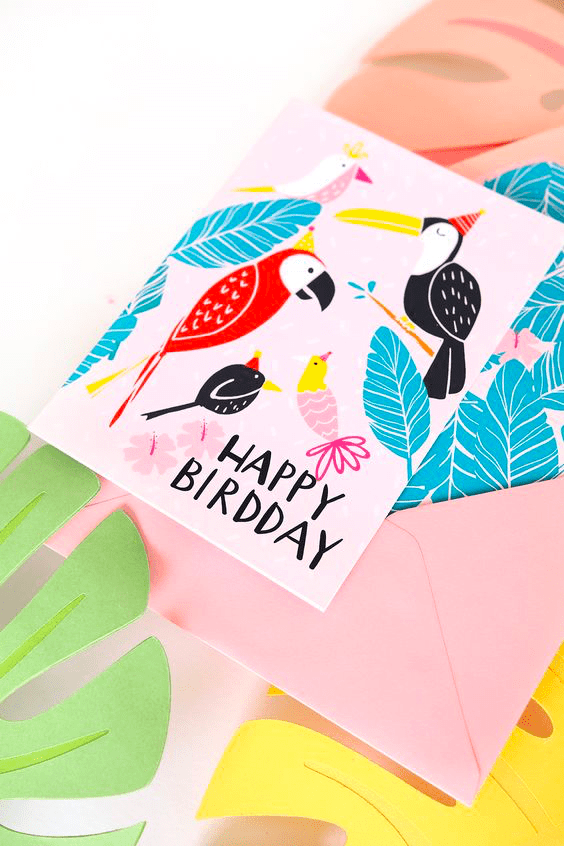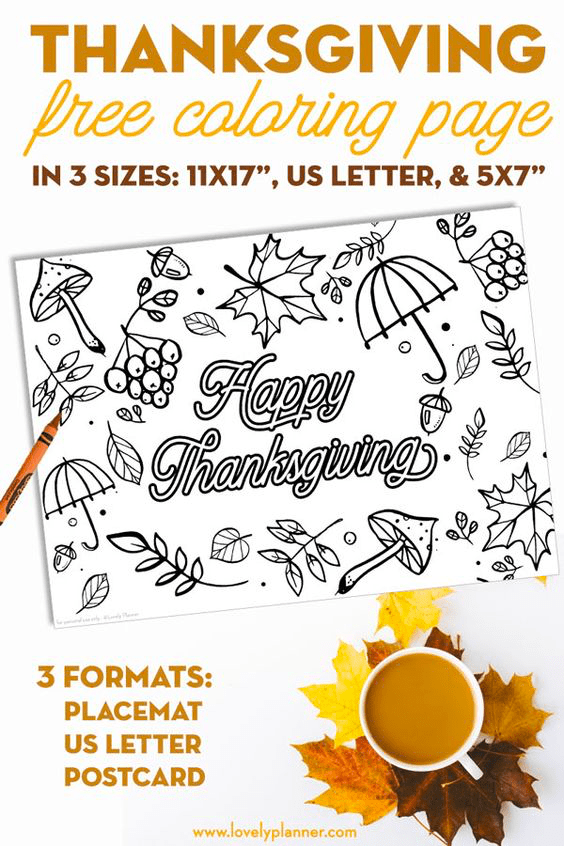 Postcards with delivery option
Conclusion
Since ancient times, people present postcards to express their feelings or show sympathy towards a certain person. Today there is a huge number of various cards for any occasions. These cards can be either added to the gift or sent separately. You can definitely use a postcard to promote your business, service, or event. A postcard will never be out of fashion. Show your friends, colleagues, and loved ones you care!
Video About Postcards: Creates and Buy Online + Free Postcards Templates
Postcards FAQ
💌 Where can I find affordable vintage postcards?
When it comes to purchasing vintage postcards, one must be extremely careful in order to avoid a possible scam. You can try and look for such postcards on Amazon or eBay, but before purchasing anything check out the review section and what people say about the seller you are going to get a postcard from. Only when you are completely sure that the seller is trustworthy you can safely buy your dream postcard.
💌 How much should genuine vintage postcards cost?
Genuine vintage postcards can be rather expensive. As you might have noticed from our list, some postcard packages cost over $100. In fact, the price of an old postcard depends on many factors that include a postcard's age, its rarity, the country it was produced in, as well its state. So prices vary from $10 to $1000.
💌 Is there a place where I can create a custom postcard?
Yes, there is. In particular, MasterBundles offer custom postcards for reasonable and affordable prices and deliver those all over the world. So if you would like to create a custom postcard to make your parents, siblings, or significant other happy, follow the link above and find out how you can make the one and only postcard for your loved ones.
Please take a moment to pin this post to Pinterest.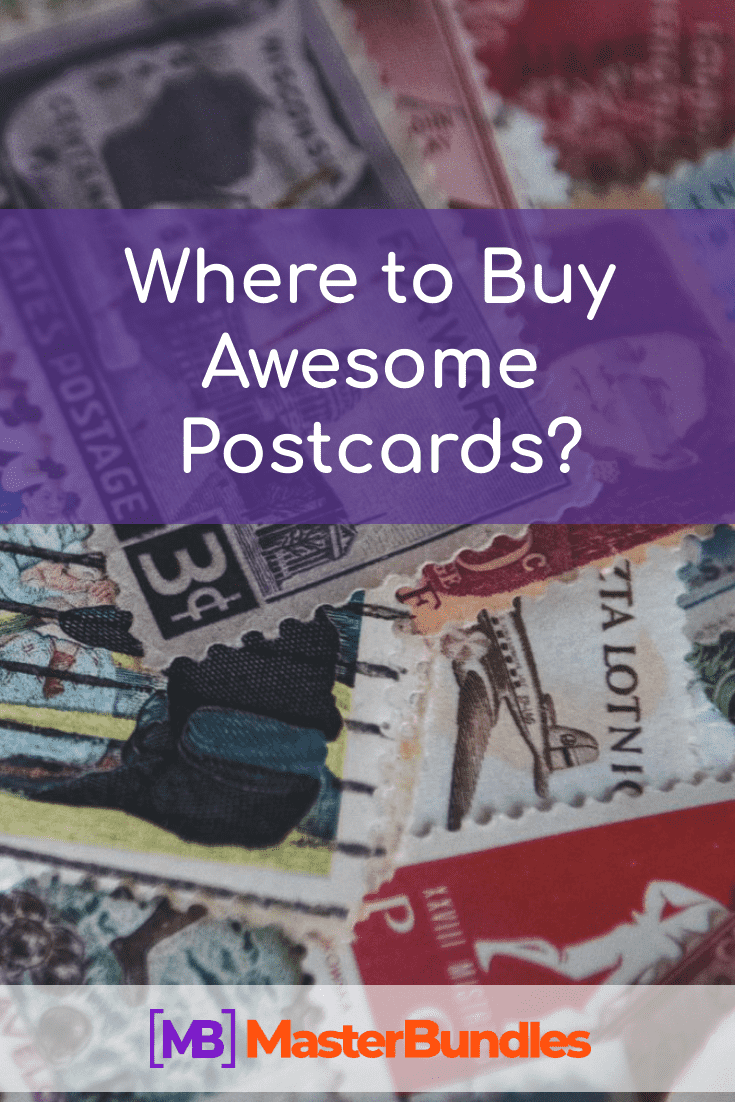 The search for postcards, as well as resources for their purchase is not an easy task. One of the reasons is that customers are always looking for an unusual, fresh and outstanding product. Therefore, in this article you have become acquainted with resources that are constantly evolving, and offer novelties adhering to fashion trends of nowadays. Inspiration for the choice of postcards, their templates and resources were articles with a huge amount of interesting and useful information.
6 Reasons Why Postcards Are The Travel Trend You Need To Catch Onto RN! (thehauterfly.com/lifestyle/postcards-travel-trends/)
Writers' & Artists' Yearbook 2020. Bloomsbury Yearbooks; 113 edition; 2019.
Color and Space. Gingko Press, Berkeley, CA; 2012.
Top 5 Trends in Postcard Marketing. (presortfirstclass.com/blog/top-5-trends-postcard-marketing)