It's Important to Learn and Persevere – Mechaso, NFT Artist from Argentina
Are NFTs a cryptocurrency fad? Just an extremely elaborate scam? An amazing new horizon for artists?
NFTs have been circling the digital world for 8 years now, but it was in March 2021 that their popularity exploded: Beeple, a previously little-known artist, sold a digital artwork for $69 million at auction. According to Christie's auction house, this sale positions him "among the top three most valuable living artists".
By now, most artists have heard of NFTs and are probably wondering how to capitalize on these digital assets. They are indeed a fantastic vehicle for artists in the digital world. If you have works available that you are the sole author of, and they are not yet licensed to any third party (gallery, publisher, etc), then you can proceed with their tokenization!
One of the most obvious benefits is to connect artists directly with their public, skipping the need for galleries that, beyond the commission charged on a sale, were in charge of deciding which art was worthy of being exhibited and which was not. Talking about democratizing art!
The other benefit is that NFTs allow creators to continue receiving benefits with each future sale of their art. Just think that in the past, if an artist sold a painting at a low price and then made a name for her or himself, he didn't get a penny when the owner of the painting resold it at an exorbitant price.
Unfortunately, getting started can be a very complicated task: there are still many questions, even though NFTs are growing fast. The sooner you gain experience in the world of NFTs, the more likely you are to win when the trend settles down.
To learn more about this wonderful world, we consulted Mechaso, an Argentinian artist who has been experimenting with Digital Art NFTs for some time.
Interview with Mechaso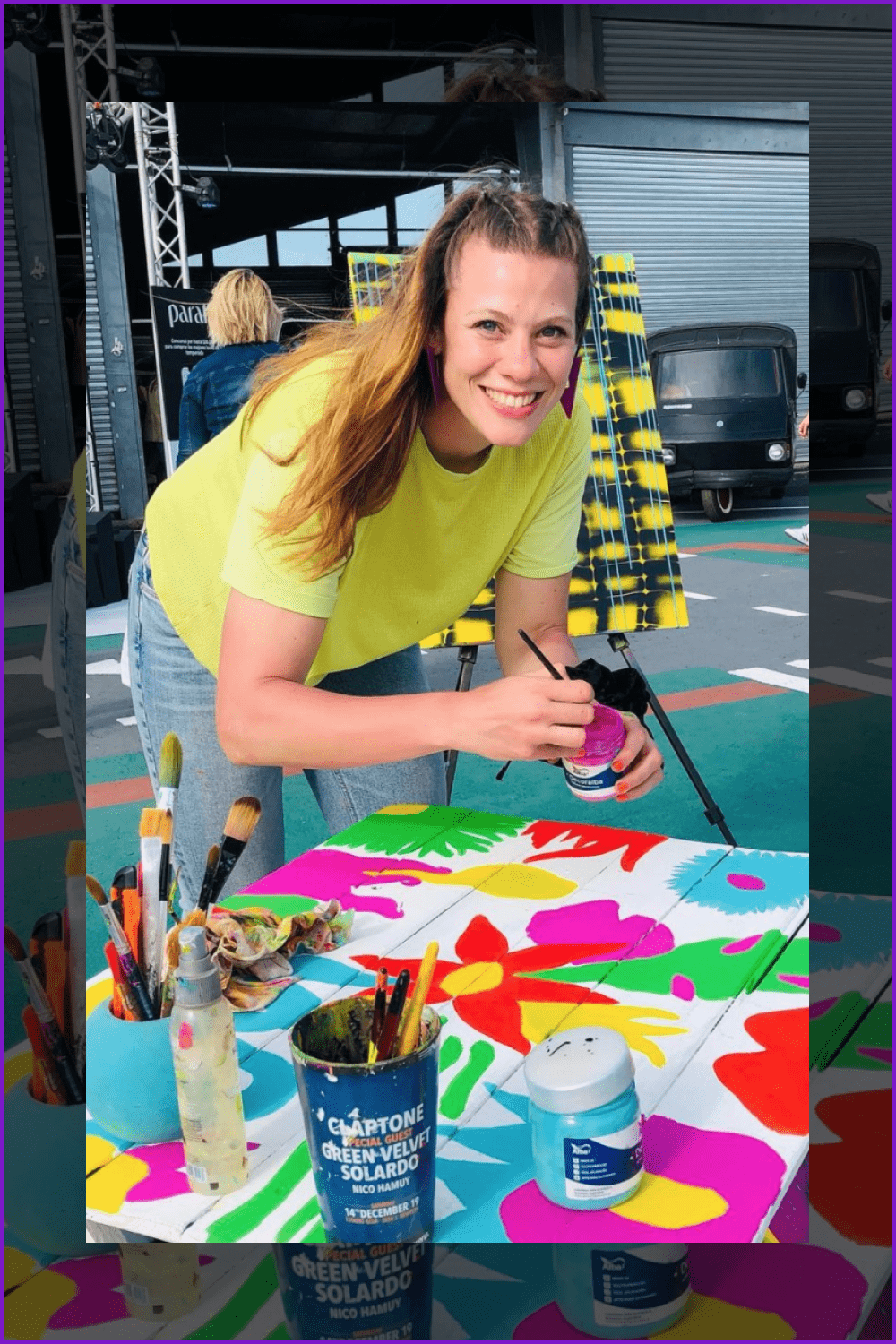 ---
Mecha is a full-time illustrator and muralist, from La Plata, Argentina. In addition to making commissioned murals, she sells hand-painted products and decorative prints. She also facilitates group gatherings to paint, collage, and connect with creativity.
She is inspired by women, animals, and plants.
She describes herself as "vibrant like strawberries and dynamic like pop music. I like clementines and you can smell me in a pineapple. I have a gift that I use when I need it: I am like modeling clay."
Follow her on Instagram and Twitter.
---
How did you get introduced to the world of NFTs?
In the beginning, it was difficult for me to understand the crypto world. At the end of 2021, I began to get involved in Telegram, Twitter, and Discord communities. There is a lot of information being shared, and people are very supportive of those who are just starting out.
Besides already being an artist, what did you have to learn to get started?
I had to learn mainly about Defy, web3, and blockchain. Also, I had to start using Twitter, because until that moment I just used Instagram to show my work.
Note of the author: Many artists say that Instagram is not a very supportive social media for NFT artists. They point to Twitter and Discord instead, as great places to build a community around digital art.
Motivate Yourself, NFT digital art by Mechaso
What are the main benefits you have found in NFTs to monetize your art?
The main benefit I have found in developing my own NFTs versus doing other types of commissioned work is that by working with NFTs I can receive a commission every time my work is resold. Imagine if Leonardo da Vinci had sold the Mona Lisa like NFT! Also, unlike most licensing agreements, in NFTs, the artist retains full copyright of their works.
I have more freedom to create, and a broader public to offer my art. Besides, I get to know great artists. I believe that it is a great opportunity for all artists!
The main benefit I have found in developing my own NFTs versus doing other types of commissioned work is that by working with NFTs I can receive a commission every time my work is resold. Imagine if Leonardo da Vinci had sold the Mona Lisa like NFT!
What blockchain and NFT platform do you use? Why?
I started using Opensea, which runs on ETH, because it was the world's first marketplace. And now I am testing Carnaval Art, it works with BTC and with Ibero-American artists, which gives me more chances of being seen.
What software and hardware do you use to create your art? Why do you choose them?
Generally, I use my IPad with Procreate. I also use Adobe Illustrator or Photoshop to make my NFTs, but the iPad is just perfect for making art wherever you are.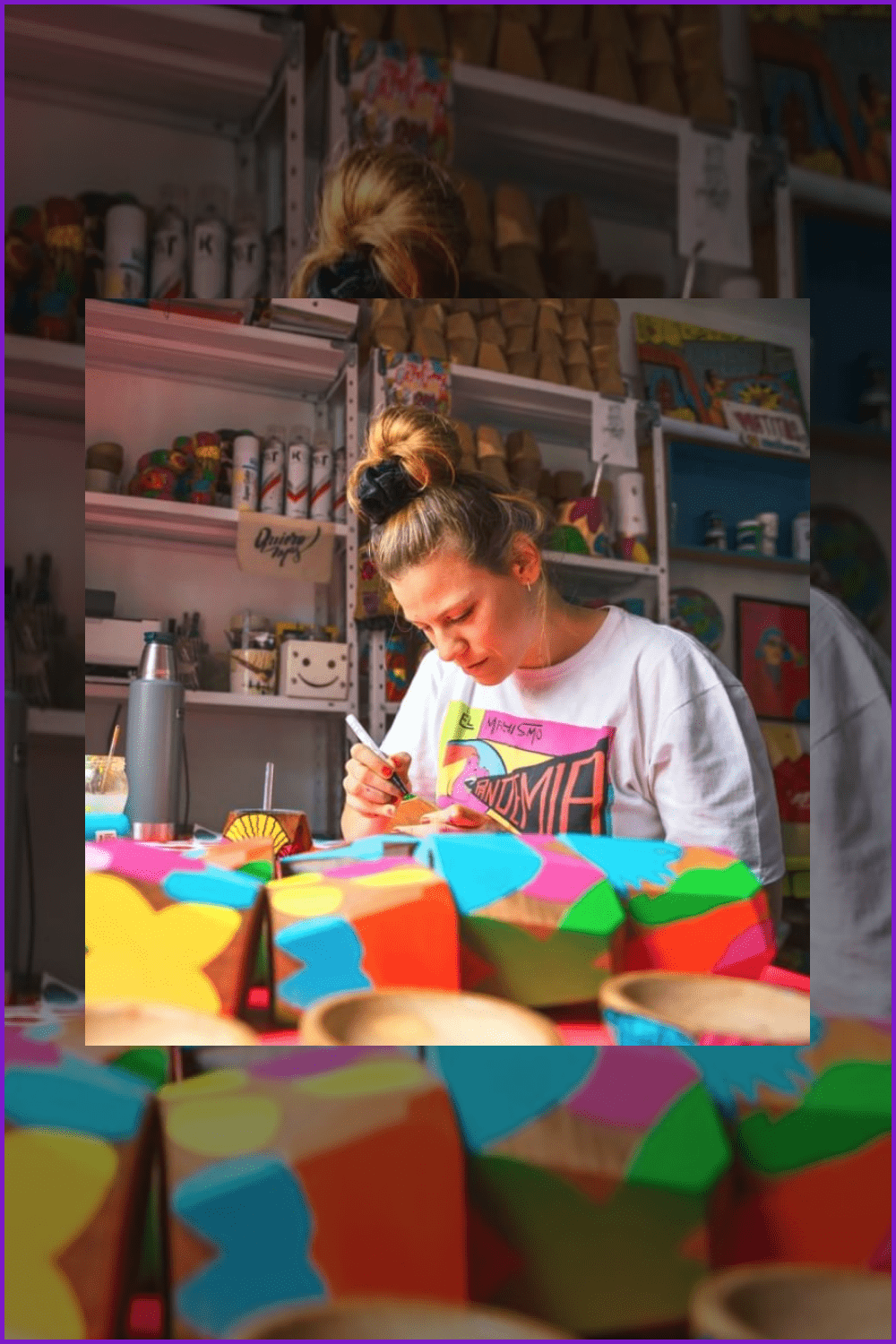 Mechaso also designs hand-painted products, especially mates
Women seem to be a great inspiration for your art, how did you decide to focus on that subject?
Naturally, they are my muse. The curves, the power, the place they have around the world and throughout history. Everything regarding women ends up being interesting for me.
How would you define your graphic style? What are your sources of inspiration?
From a very long distance, you can tell that my style is quite pop art! I love the colors, the topics, and the way of telling ideas.
I am inspired by Andy Warhol, Jeff Koon, Dalí, and Marta Minujín. They sold their art and their personal brand as well, it's great. Art is a business too, you know?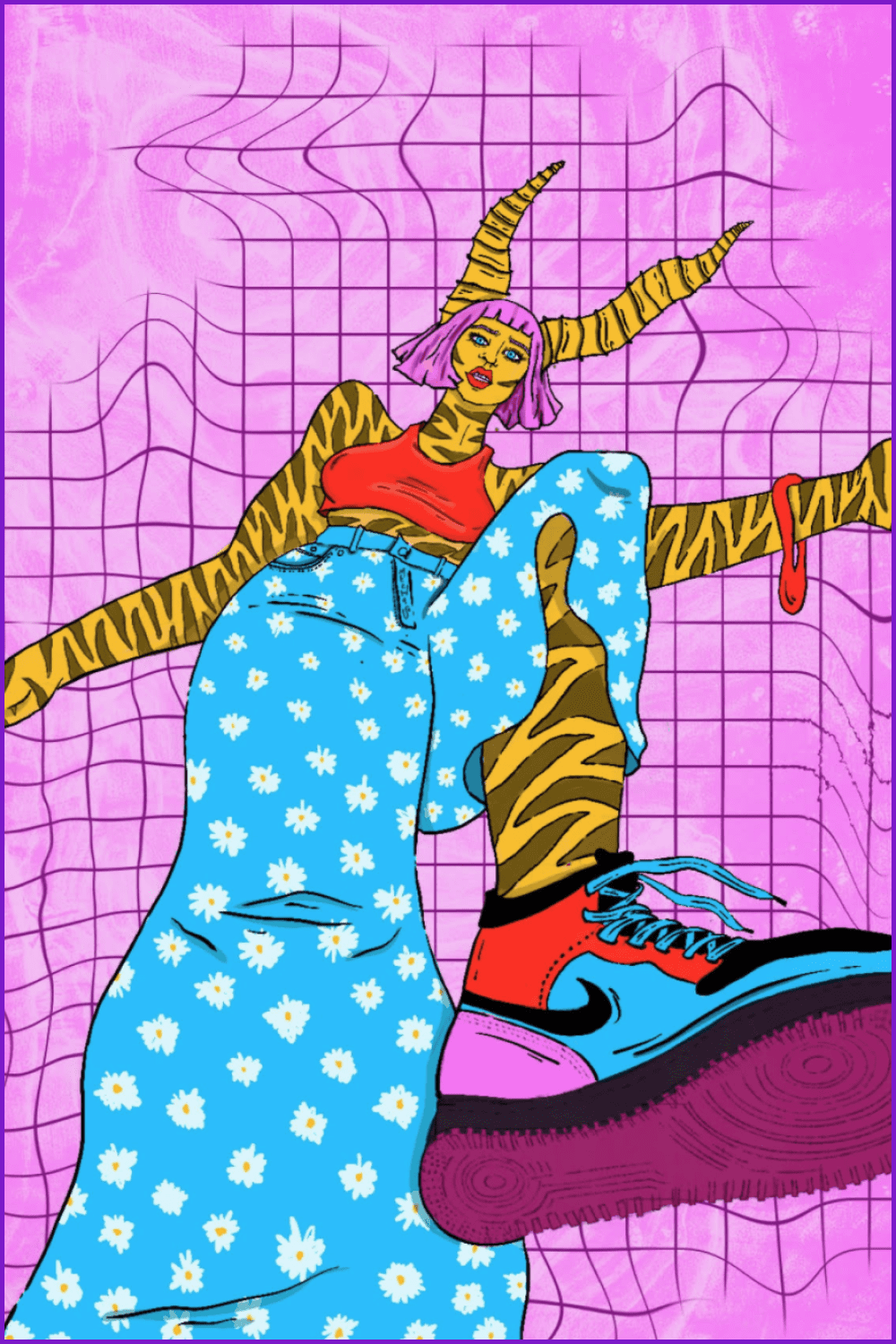 Dar el paso, digital art by Mechaso
Have you ever thought of creating a collection of NFTs (where there is a single character with different features that are modified)?
No, but it's a great idea! I always try to do different works, so from now on, I'll start to think about it!
How do you promote your NFTs, beyond the platform where they are sold?
I participate in different communities, on Twitter or Telegram, where I show my behind-the-scenes.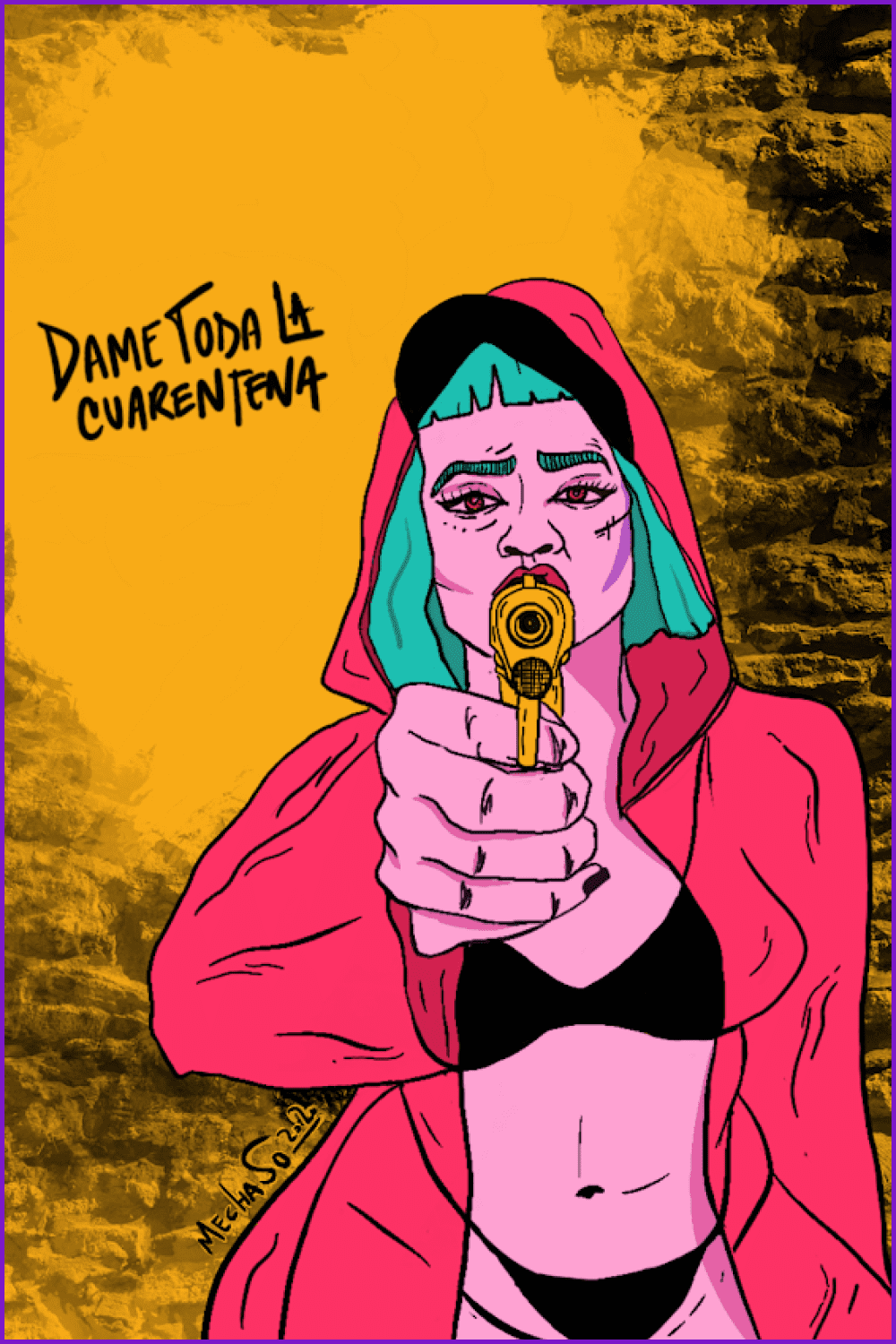 Dame toda la cuarentena, NFT digital art by Mechaso
Do you invest in NFTs yourself?
My idea is to sell a couple of NFTs first and buy some. I'm in love with the work of Eysar Vargas.
What advice would you give to artists who are just starting out on this path of minting NFTs?
It's important to be part of different communities because there you can learn and gather a lot of information. It's great to make collaborations with other artists too.
What recommendations would you give to someone who wants to start collecting NFTs?
I think that it is important to learn and persevere!