10 Graphic Design Project Ideas For Portfolio in 2023
A perfect graphic designer portfolio should showcase a range of high-quality work that demonstrates the skills, abilities, and art style. It should be tailored to the target audience and career goals, presenting works that are relevant to the types of jobs or clients they are seeking. Plus, it should be regularly updated with new and relevant work, and it should be accompanied by clear and concise descriptions of each project, explaining the designer's role and contributions to the project.
And now let's break down the best graphic design project ideas for portfolio that will prove you to be a true professional.
What Kind Of Projects Should You Include In Your Portfolio?
The goal of a graphic design portfolio is to showcase your abilities to potential clients or employers. So, choose projects that are relevant to the jobs you're seeking and that highlight your strengths. Always keep your info up-to-date and well-curated to ensure that it accurately represents your skills and experience. Here are 10 incredible project ideas for graphic design portfolio that will win you and your employers over.
Branding and Identity
Create a brand identity system for a fictional or real company. It must include a logo, typography, color scheme, and other brand elements. Showcasing your ability to develop it is essential in demonstrating your ability to design a cohesive and visually appealing brand.
Packaging
This is also in some way about the brand's styling. Design a unique package for a product, including the box, label, and any other necessary components. Demonstrate that you draw attention to the mission of the company, and its purpose and reflect it as much as possible, even in the packaging.
Infographic
Create an informative infographic that presents complex information in a visually appealing and easy-to-understand format.
Website
Design a responsive website for a small business, non-profit organization, or personal project.
Poster
Create a poster for an event, concert, or conference that captures the mood and message of the event.
Book Cover
Design a book cover for a classic novel, a new bestseller, or a self-published work. It doesn't have to be a real task from a book publisher. No one forbids you to experiment. If you haven't had such an order, but you want to design covers, then take on the task yourself. Come up with the perfect cover for your favorite book. Don't wait for assignments, make them yourself and show your interest.
Illustration
Create a series of illustrations for a children's book, holiday, presentation, editorial feature, or personal project. Boost your creativity by being inspired by others' work, observing trends, and using the latest tools.
Social Media Graphics
Create a set of social media graphics for a fictional or real brand that includes profile images, post graphics, and other elements.
Advertising Campaign
Develop an advertising campaign for a real or fictional product or service, including print and digital ads, billboards, and other promotional materials.
Motion Graphics
Create an animated video or motion graphics piece for a brand or a personal project, demonstrating your skills in animation, visual storytelling, and design.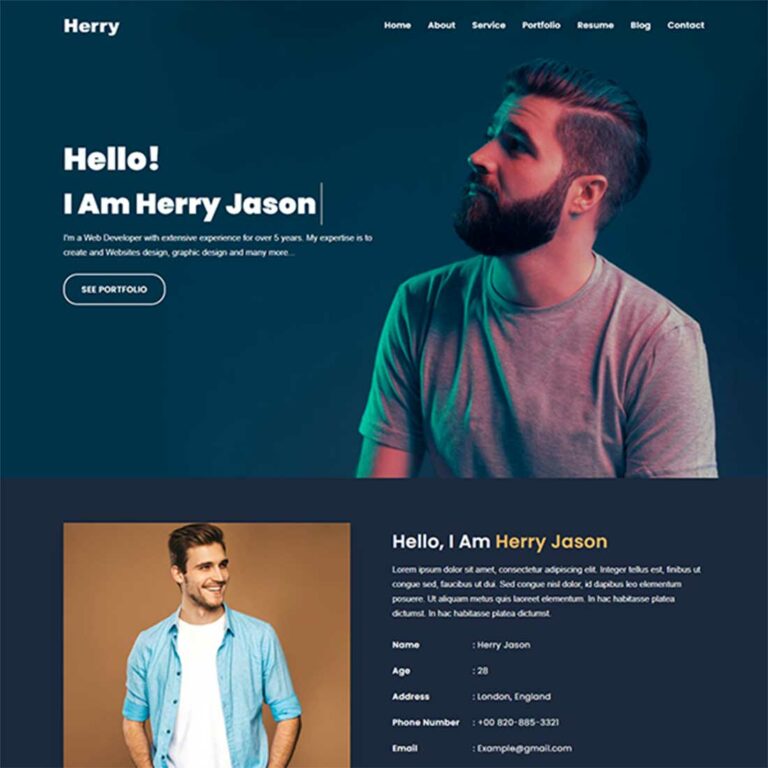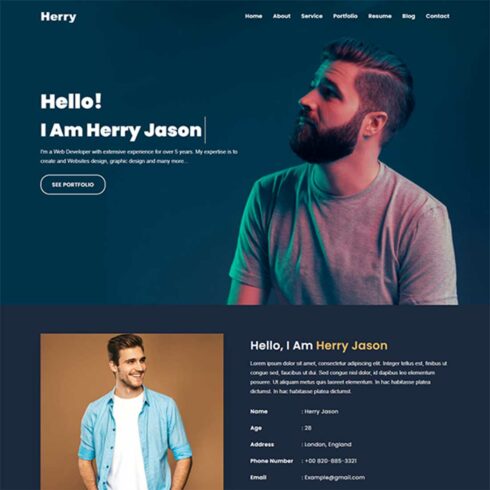 Web Designer Portfolio Resume Template
What Makes a Good Portfolio?
Want to know how to make a portfolio? A good graphic design portfolio is one that effectively showcases the designer's skills in a clear, concise, and visually engaging way. Plus, your self-presentation must be of high quality. To save time, use ready-made landing page templates. These products are developed specifically for posting your work, referring clients or visitors to your other platforms. It's an awesome and modern way to introduce your projects. Now, let's consider some key elements for your works presentation:
Quality. It should include high-quality examples that demonstrate your expertise.
Variety. It should include examples of branding and identity, print design, web design, illustration, and other relevant projects.
Organization and presentation. Make it well-organized and easy to navigate. It should include clear descriptions of each project, highlighting the designer's role and contributions.
Personal style and voice. A web designer portfolio must reflect your style and creative voice. It should showcase their unique approach and their ability to communicate visually.
The perfect graphic design portfolio demonstrates the artist's skills, creativity, and professionalism. It shows your ability to create visually appealing and effective projects that meet the needs of your clients and audience. Using our ideas for a graphic designer's portfolio you are sure to succeed. Remember that you aren't limited in your experiments or forms of expression. Create, express yourself, and show your best side to potential employers.
FAQ
Here are a few frequently asked questions about the best graphic design portfolio
What projects should be in my graphic design portfolio?
It should cover branding, print and web design, illustration, posters as well as projects that are most relevant to the position for which you are applying.
What is a typical project for a graphic designer?
Such artists work on a variety of projects, depending on their area of expertise and the needs of their clients. Typically they work on development for brands. This covers business card visuals, packaging, advertising, logos, and other elements
How should I make my graphic design portfolio?
Use ready-made portfolio landing page templates. Such websites simplify the info presentation and allow you to show your abilities already at the platform creation stage.
How many projects should be in a graphic design portfolio?
Typically, a graphic design portfolio should include at least 6-10 works. It's important to ensure that the portfolio includes a variety of project types to demonstrate your flexibility.
Some Awesome Videos about Grpaphic Design Portfolios
My Senior Graphic Design Portfolio (With Tips!)
In this video, I walk you through and share some tips from my senior year graphic design portfolio I put together during my last semester in college studying Visual Communication design. I hope you enjoy! 
My Graphic Design Portfolio | Tips, Walkthrough, & Update
As a freelance graphic designer, I've gotten lots of questions online about my design portfolio and just online portfolios in general. So in this video, I am going to be walking you through some of my design projects, the thinking that went into them, and how they are presented on my site, as well as update some new projects and give you all some overall tips on setting up your portfolios the best way possible. 
Was this page helpful?
We will be happy if you decide to share this article with your friends on Facebook. Just click on the button and you're done
What are your concerns?
Thanks for your response!
You have already left your review.
Disclosure: MasterBundles website page may contain advertising materials that may lead to us receiving a commission fee if you purchase a product. However, this does not affect our opinion of the product in any way and we do not receive any bonuses for positive or negative ratings.