Getting Out of Creative Stagnation: 6 Ways to Boost Your Creativity
Creativity in design is not an innate gift, as you might think. This is a skill that can be developed through regular exercise. And you can do it very easily. Soon, creative design ideas for projects will easily come to you.
Everyone can learn to look at familiar things from an unexpected angle and find non-obvious solutions to familiar problems. But you must admit that the recommendation to just "develop creativity" is not the most understandable. You hear this and feel like Homer, who has a monkey in his head that beats cymbals 🙂
To show you what "develop creativity" means practically, we have prepared specific tasks for you to practice that will help with developing creative thinking.
We have more exercises in stock, so we need your feedback. Your likes and comments will help us to understand if you need more content on this topic – we will gladly generate it. Let's go!
Oh, if you're in a hurry, check out our infographic at the end of the post – all information is organized there.
"There is no doubt that creativity is the most important human resource of all. Without creativity, there would be no progress, and we would be forever repeating the same patterns." - Edward De Bono
What Is The 8th Wonder of the World?
Creativity is not just about art. This is a special kind of thinking in which a person can create something new, offer bold ideas, and find non-standard solutions. Doctors, teachers, and locksmiths can be creative, but we'll talk specifically about designers here.
Creativity as competence is becoming more in demand as simple everyday work will be performed by robots. Non-standard situations and a rapidly changing environment require quick creative solutions.
For example, in the 1970s and 1980s, a group of management consultants asked their clients to solve the "9 dots and 4 lines" problem. The objective of the problem is to connect 9 dots using no more than 4 lines, without lifting the pencil from the paper or drawing the same line more than once. To complete the task, it is necessary to mentally go beyond the limits set by the points, as shown in the figure.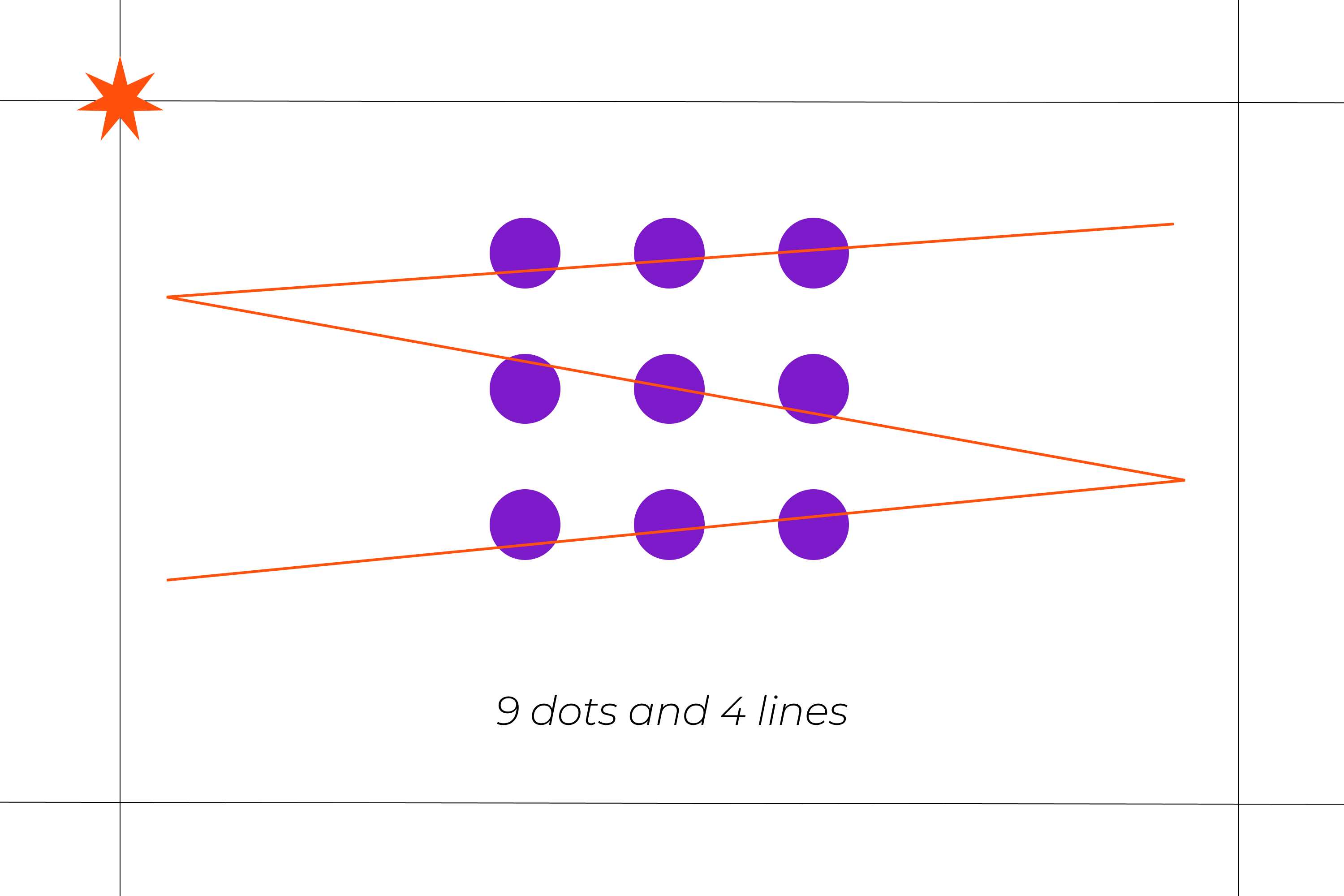 Clients are more willing to go to a creative designer for non-standard solutions that their competitors do not make.
Creativity is available to everyone if it is developed. For example, you go to the gym so that your body is healthy. You can see your work when you get large muscles. You make an effort and you get results. You don't say, "Well, I wasn't born a jock, so I won't have the body I want." So, it is with creativity and hard work that you are successful in the gym. When you start to act, and practice a lot, you will also learn how to be a good graphic designer.

How to Be Creative in Design
Collect cool works
Spend 1 hour on relaxed browsing and watchfulness. You can go to Behance, Dribble, etc., and save those items that make you feel creative.
After you have chosen a few works for inspiration or taken a finished project, then analyze what touched you with the design, font, or colors, and what you didn't like. This practice will help you find your style.
Create a bank of references for various niches and tasks, so that you can look there at any time for inspiration.
Brainstorm
Before starting work, set a timer for 15-20 minutes and just write down all the ideas for the project that come to mind. Do not analyze them, do not criticize them—let your rational thinking rest a little. You can even make sketches, it will help a lot in your work.
Initially, it can be difficult and feel awkward, but it's worth it. Then take a short break and critically look over all of the ideas. This will help you to not only focus on one idea and look for different solutions for creating creative concepts in graphic design.
On MasterBundles you can find ready-made solutions for different niches and types (logos, websites, illustrations, and much more from design creativity). This saves time when there is no inspiration for work, and the customer is already waiting for the design. There are many freebies, but there are also paid ones for different budgets.

Ask yourself "Why?"
Take your own or someone else's work and break it down into its components. Now ask yourself a lot of questions. For example, "Why is this button here?" "Why is this color selected?" "Why is this title big?" Get to the bottom of it, and that's how you make a conscious design. So, if you delve into the design, you can find different solutions.
SCAMPER methodology
The SCAMPER methodology is about different ways of thinking that helps solve a problem or see it in a new light. The method was first proposed by advertising director and "father of brainstorming" Alex Osborne in the 1950s, and his idea is still relevant today.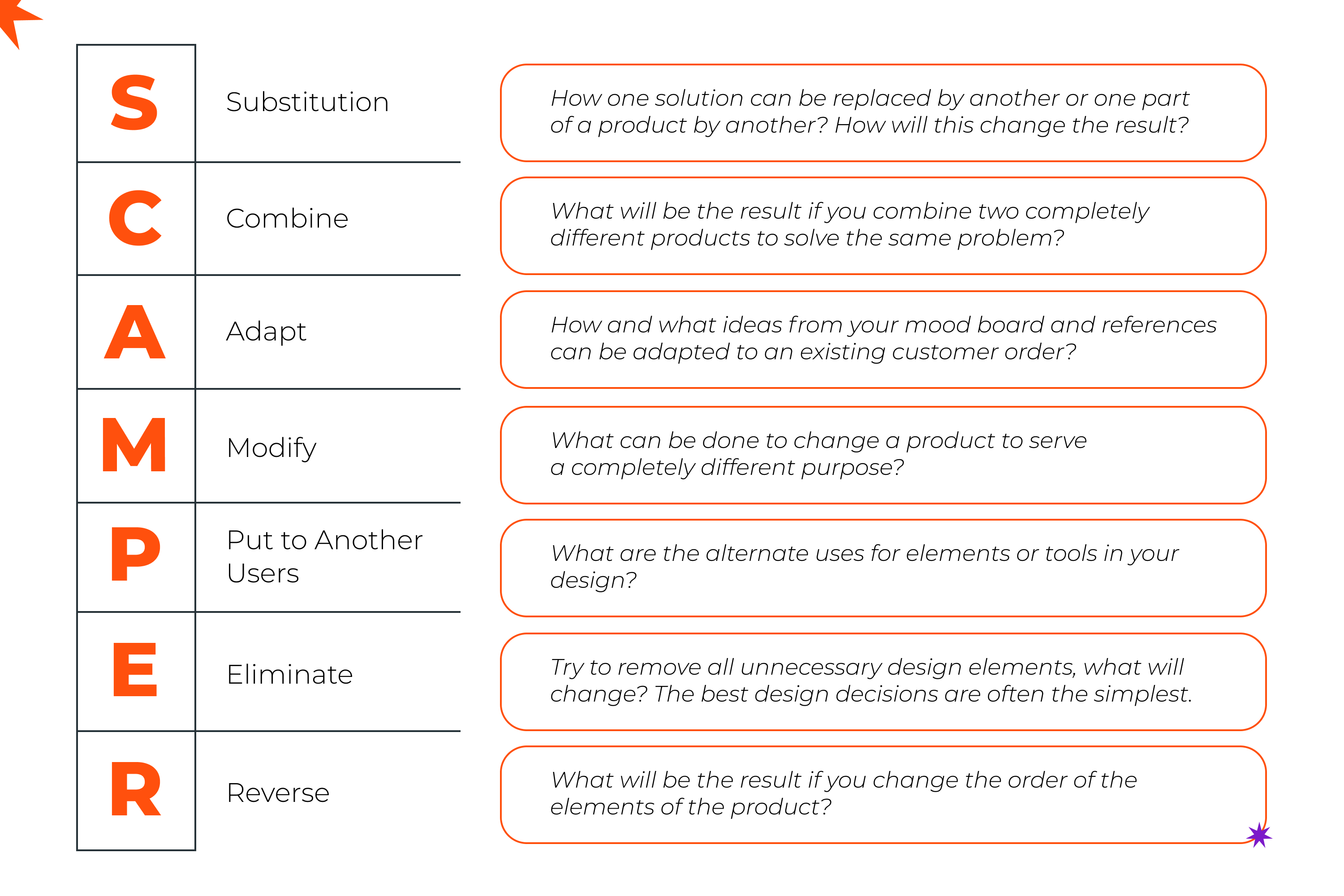 Try writing answers to these questions for your project. This method will help you discover new ideas and inspire you to refine them according to your creativity. It will also help to remove everything unnecessary from catchy graphics in your design.
Here's how graphic designer Ashley T. Bjornsrud used the teaspoon running method.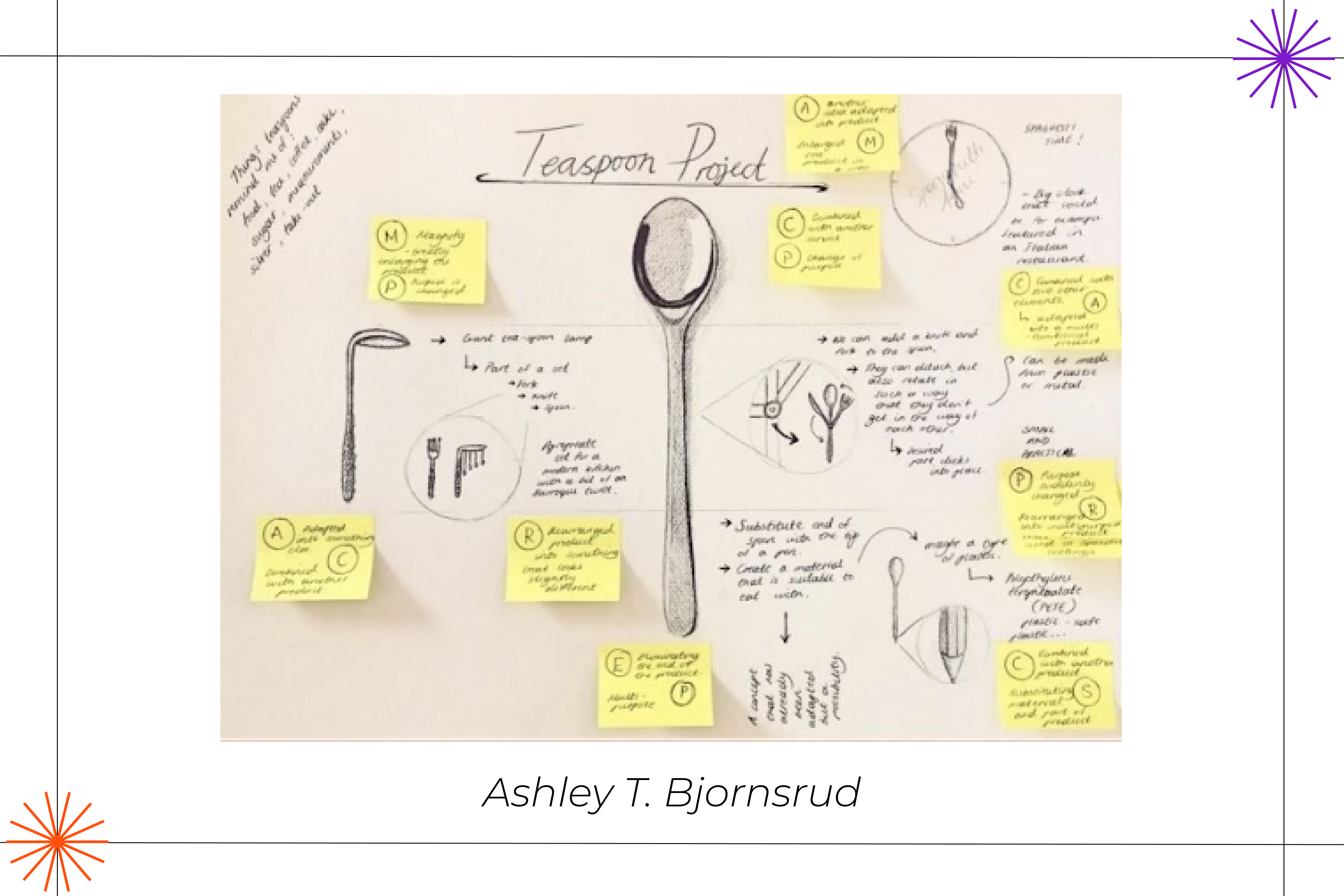 Collect adjectives
This is a very simple exercise that expands the boundaries of consciousness and creativity in design.
Select 1 object, for example, a table.
Write 10 adjectives that describe it. For example, "wooden" and "stable."
Write 10 adjectives that no one ever uses to describe a table. For example, "heavenly" and "sad."
It will be fun and not as easy as you think it is! 🙂
10 hearts
Your task is to come up with and depict symbols of love. Write yourself 10 meanings that you need to convey: strong, selfish, for cats, for design, etc. The result should be 10 icons.
Use any tools and methods you have access to for implementing these ideas. And it's even better to limit yourself on time so as not to stretch it for too long.
Tell your friends about the project. Were they able to decipher your visual statements?
This exercise can be adapted to other objects and symbols. And to get the most out of this exercise, you can create illustrations, patterns, logos, etc. on this principle and sell your work.
If you are looking for a platform to sell your designs, consider MasterBundles! We welcome designers of any skill level and from any niches. We promise fast moderation, seamless payouts, and a cozy atmosphere. If you are ready to upload your products, do it with our Sell Your Deal form – it's as easy as a breeze and won't take more than 5 minutes.
6 Ways to Boost Creativity in Infographic

Conclusions
This idea of creativity is not as scary as it seems at first glance. Try all the exercises that you learned about in the article. Choose the ones you like the most and tell us which ones you chose in the comments. We are very interested!
Give every day to your creativity, develop your outlook, relax, practice, and your work will become much cooler.
These exercises will help you get out of the dull, habitual mode that is currently limiting you. You can find new ideas for your work if you know where to look. We believe in you!
FAQ
Here are a few frequently asked questions about creativity.
How do graphic designers develop creativity?
They practice and do exercises to develop creativity. For example, they spend time on thematic platforms looking for cool design projects. Check out the article for more exercises.
What makes a designer creative?
What makes him creative is his thinking and ability to generate non-standard ideas.
How do designers get inspiration?
Inspiration is individual and it can be drawn from different sources. For example, it can be music, nature, people, or design platforms.
What habits make you creative?
We would classify these habits as taking the time to exercise to improve creativity, generating lots of ideas for a project, and being bold in design decisions.
Some Awesome Video About How to Boost Your Creativity
20 Ways to become a Better Designer and to be More Creative

There are dozens of ways you can become a better designer! Everything from studying graphic design, to capturing inspiration, to learning how to really listen, can be paths to being a better and more effective creative professional. So get better at being a designer, it's not all about pushing a mouse. 
Getting Out of Creative Stagnation: 6 Working Ways to Boost Your Creativity
Related Product Categories
Was this page helpful?
We will be happy if you decide to share this article with your friends on Facebook. Just click on the button and you're done
What are your concerns?
Thanks for your response!
You have already left your review.
Disclosure: MasterBundles website page may contain advertising materials that may lead to us receiving a commission fee if you purchase a product. However, this does not affect our opinion of the product in any way and we do not receive any bonuses for positive or negative ratings.