Latin Font
Latin Font. Introducing Bestseller Font Collection Vol.02
This collection contains serif, sans serif and display typefaces with 8 fonts in total and multilingual support. It's a very versatile font that works great in large and small sizes.
Bestseller collection is perfect for branding projects, home-ware designs, product packaging, magazine headers – or simply as a stylish text overlay to any background image.

BlueGold.otf
Enchants(1).otf
LotusEater-SansSerif.otf
Propaganda(1).otf
Propaganda-Light(1).otf
Propaganda-Bold(1).otf
Propaganda-Black(1).otf
Unreal(1).otf
In this Latin Font collection you will find :
Enchants – Magical font + Extras
Uppercase, numeral,punctuation & Symbol
3 animal designs and nature elements ( black and in color )
Cyrillic support – Russian, Ukrainian, Bulgarian and more
Alternate glyphs
Multilingual support
Blue Gold sans serif font + Extras
Blue Gold sans serif font with tons of alternative glyphs and multilingual support
26 Black Gold ornaments
40 Nature elements in PSD, EPS, Ai, JPEG formats
20 Ink marks in PSD, EPS, Ai, JPEG formats
10 Photoshop styles in ASL format
6 Watercolor Elements in PNG format with transparent background
Uppercase,lowercase, numeral,punctuation & Symbol
Cyrillic support – Russian, Ukrainian, Bulgarian and more
Alternate glyphs
Ornaments
Multilingual support
Unreal serif font – Latin & Cyrillic
Uppercase, numeral,punctuation & Symbol
Total 1060 glyphs
Cyrillic support – Russian, Ukrainian, Bulgarian and more
Alternate glyphs
Multilingual support
Uppercase, numeral,punctuation & Symbol
Light
Regular
Bold
Black
Ligature glyphs
Alternate glyphs
Multilingual support
How to access alternate glyphs?
To access alternate glyphs in Adobe InDesign or Illustrator, choose Window Type & Tables Glyphs
In Photoshop, choose Window Glyphs. In the panel that opens, click the Show menu and choose Alternates for Selection. Double-click an alternate's thumbnail to swap them out.
Latin Font previews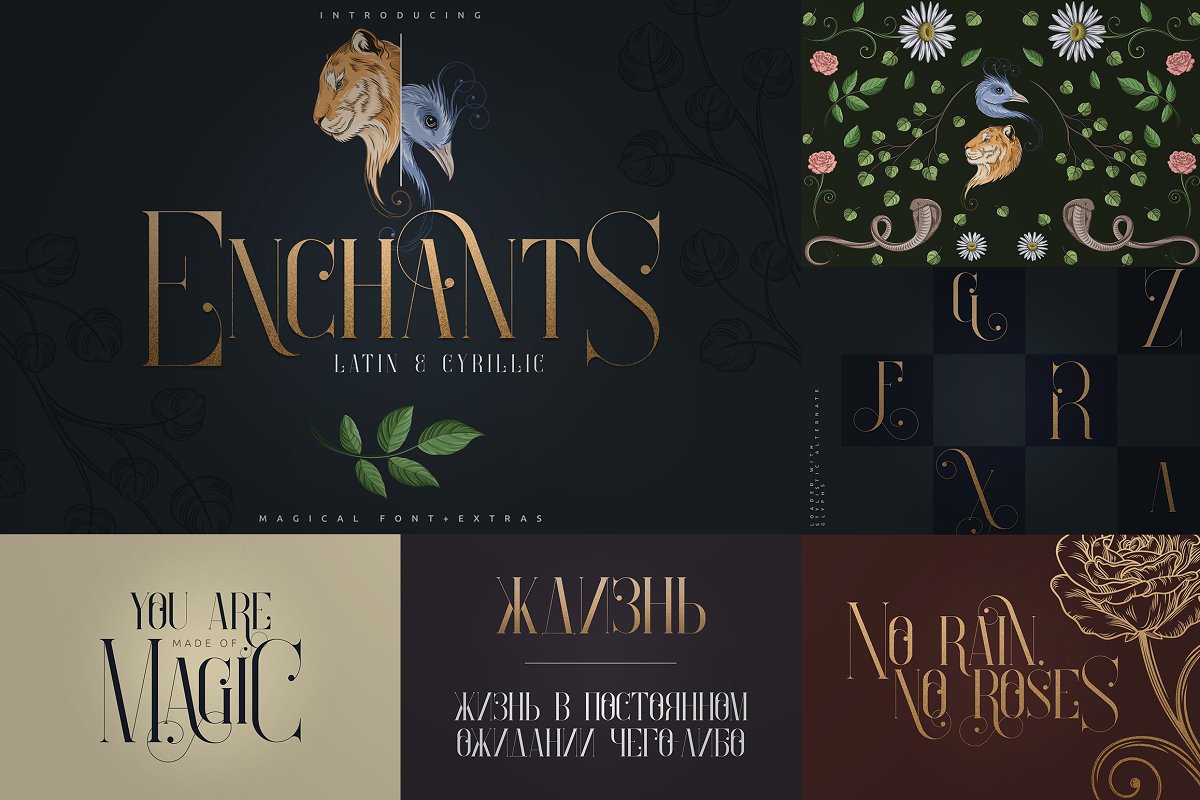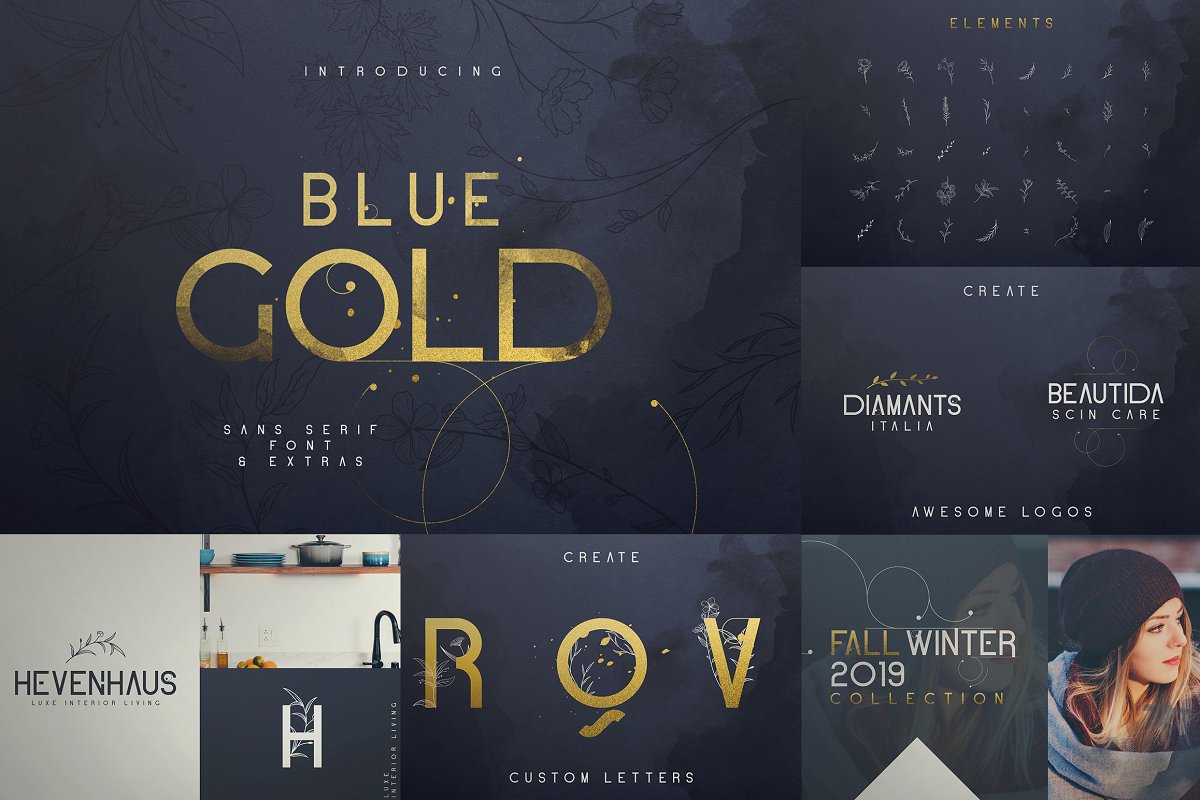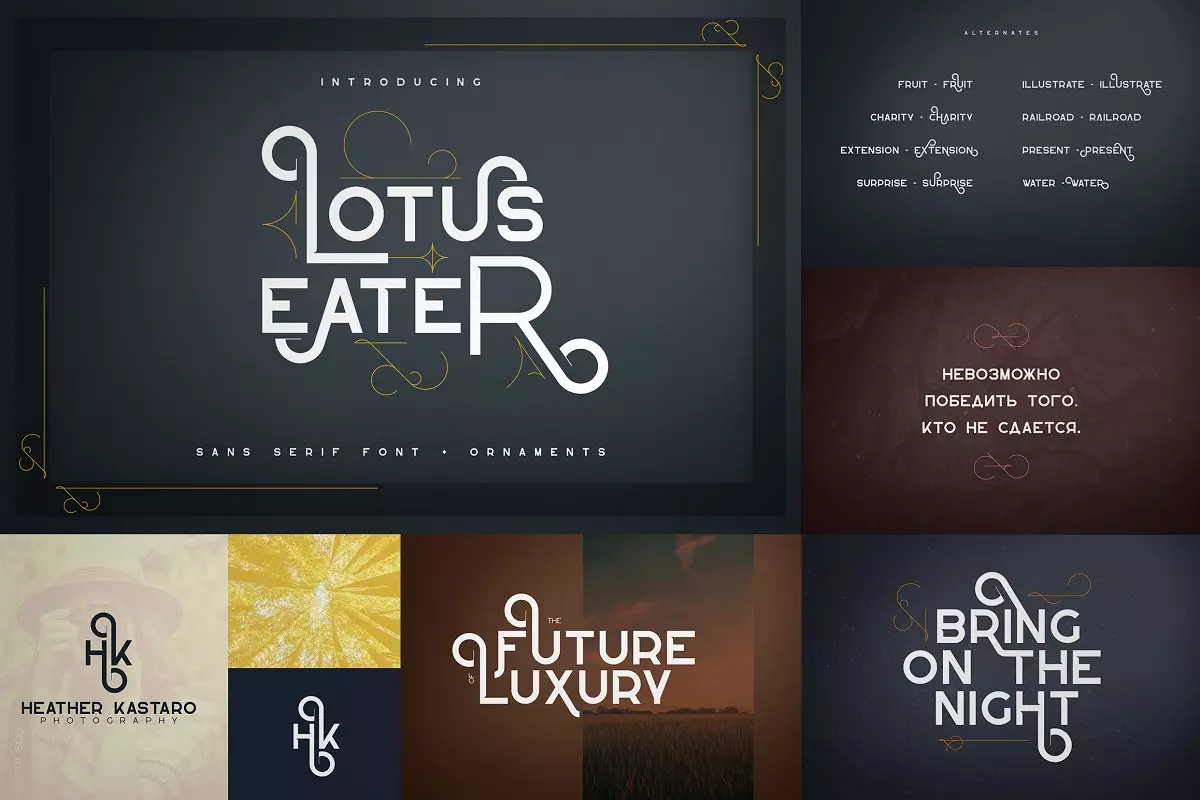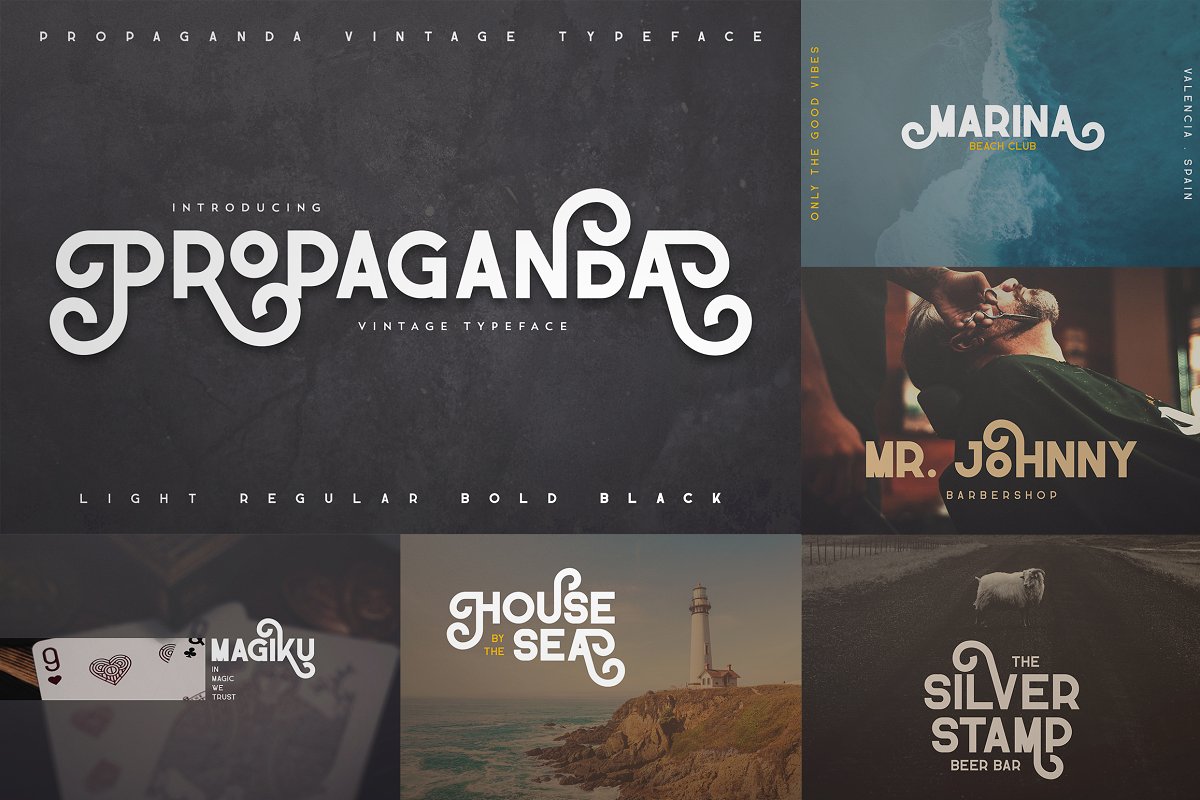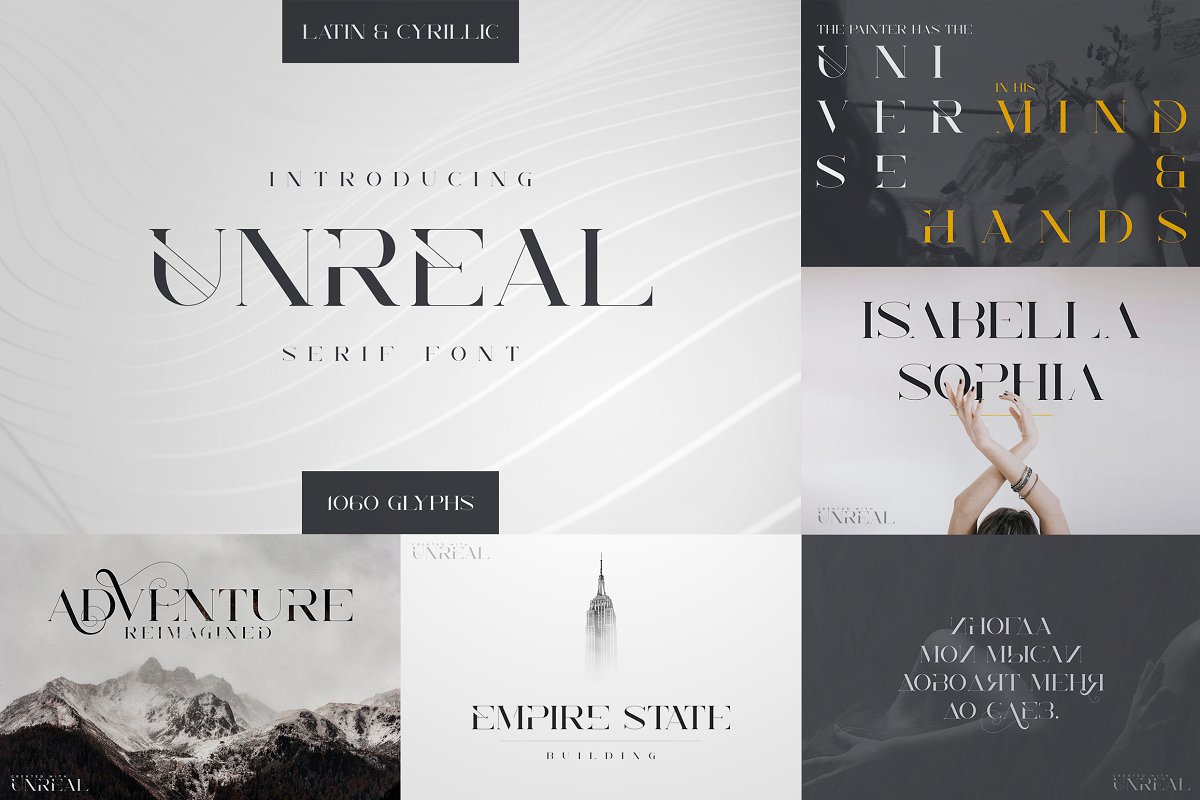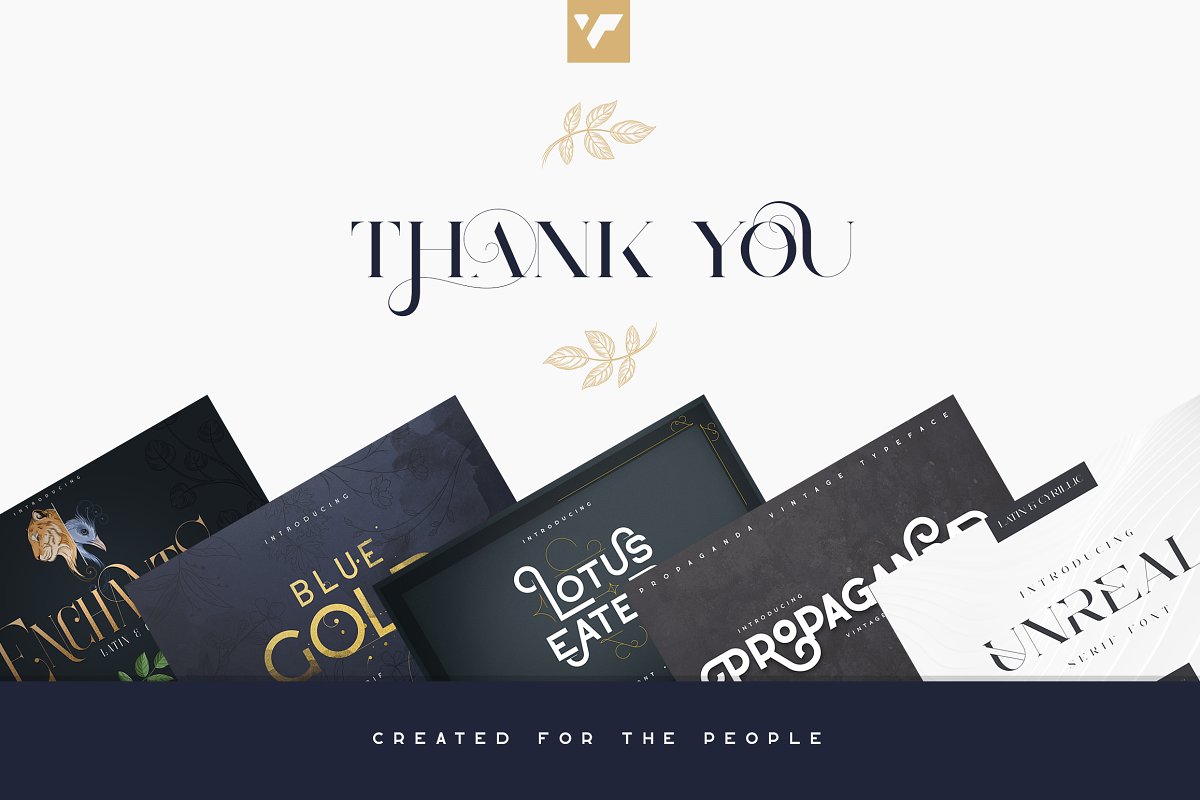 Best Related Latin Font Deals
What Are Fonts and Why Are They Important?
Font is a graphic representation of text. It could also be identified as a design pattern of a collection of letters and characters. With various styles, point sizes, font weight, and shade, fonts routinely determine the appearance of overall design. The pricing on a single font vary from about $7 to $100 based on the marketplace and publisher. Latin Font
How Can Web Fonts Impact Impression of the Goods or Service?
In the case of setting up banner ads, one needs to take the choice of web font rather seriously. Advertising banner designers should select those kinds of fonts that will match the feeling of their ad.
The web font itself does not only carry info but also fills it on an emotional level, as long as one is chosen properly. Generally, the promo text gives the reader a sense of the company's service, which implies a properly-selected font will only contribute to the desired aesthetic impact.
What Are The Kinds of Web Fonts?
There exist 5 types of fonts. Serif fonts tend to be more traditional, they can be easily spotted via small lines attached to characters. Sans-Serif fonts are modern, and letters will not have small "feet" . Slab-serif fonts look blocky and chunky, they add more substance to the overall design. Scripts resemble hand-writing and also have interweaved characters. Stencils are identified by round edges and thin strokes, one can use them to make a creative headline.
What Are Font Kits and How Much Do They Cost?
A web font package is basically a collection of various two to fifteen fonts sold at a greatly lowered cost. The best part of buying units is that they cost you just a little bit higher than a single font does, provided they are on discount. The typical price of a web font set on our website is only $2-20. But be quick: the life period of every bundle goes on for only five days.
How Can Fonts Influence Perception of the Product or Company?
The standard of typography is what determines the way buyers comprehend and understand content. Fonts make it possible to capture curiosity and determine structure. Fonts set the atmosphere and create business identification. Marketing experts know that fonts can create or ruin just about any visual ad, business logo, or brand visuals. Whenever one uses sloppy or commonly used typography, users consider the style and design as cheap and do not pay attention. Whenever the font is difficult to read, the whole original venture fails to achieve its aims.
I Have Not Found Any Suitable Fonts in This Package Deal. What Should I Do?
In case you haven't spotted the right font in this package, do not lose hope! There are actually tons of product bundles provided by the very best graphic designers on our site. Take time to run through them all and you will definitely discover the perfect deal! It's extremely rewarding to eventually discover the deal that fits your creative and professional needs.
What is MasterBundles.com?
Masterbundles is an internet marketplace. On our resource, professional graphic designers offer for sale their masterpieces at the best prices. We provide you with the very best deals on the market, and our deals are well praised by customers. Take a look at our blog, it truly is full of useful material for professional web designers. Additionally, if you subscribe to our newsletter, you're going to be the first to find out about our special discounts. There's always coupons and promotional codes available to reduce the price to a bare minimum.
Please Take a Moment to Pin This Bundle to Pinterest