Canva Review. Canva is one of the most widely used complementary builders with ready-to-customize samples. It also has an easy-to-utilize mobile application for iOS and Android, free to download from App Store or Google Play. Besides, Canva is straightforward in installation. There is an opportunity to compose anything you need with Canva, from websites to mini ads. Let's learn more about the service with our Canva review.
Canva for All Types of Projects
Canvas is a design-builder that helps you compose high-quality covers, presentations, social media posts, various banners, and more. No special knowledge is required to work in this editor. To start working, you need to get an account. The rest of the steps will be intuitive. Therefore, the service will be useful to a wide audience, such as:
School or university students. The service provides many opportunities for student work design – reports, presentations, schedules, lesson plans, etc.
Business entrepreneurs. The platform enables you to design impressive flyers, letters, and other web products.
Web designers. Sometimes a design layout for a client or an outline for a project is needed urgently. And the online editor is always at hand.
All kinds of bloggers. Thousands of social media items help you style posts, stories, account covers, and more.
SMM specialists. Sometimes, it isn't easy to promote an account on a different social network without a beautiful design. The first thing to do before promoting is to design a profile and think about the style.
Various experts. If you are an expert in some field and advertise your trademark, you must have a quality design, whether it's a website or a blog on Instagram.
The constructor will be convenient not only for professionals but also for new web skins. Everything is as simple and straightforward as possible. You might need Canva if you wish to build an original design quickly, but you don't want to bother with coding. Let's discuss in detail its advantages and disadvantages in this Canva review.
Advantages of Canva Builder
Easy to start
To launch your project open the collection of pre-made web assets. Tab "Browse items ."In the panel on the left, select the type of template. You may choose one of 50,000 ready to use samples, adjust details and colors, drop your pictures there. You may also build a design from scratch without using items.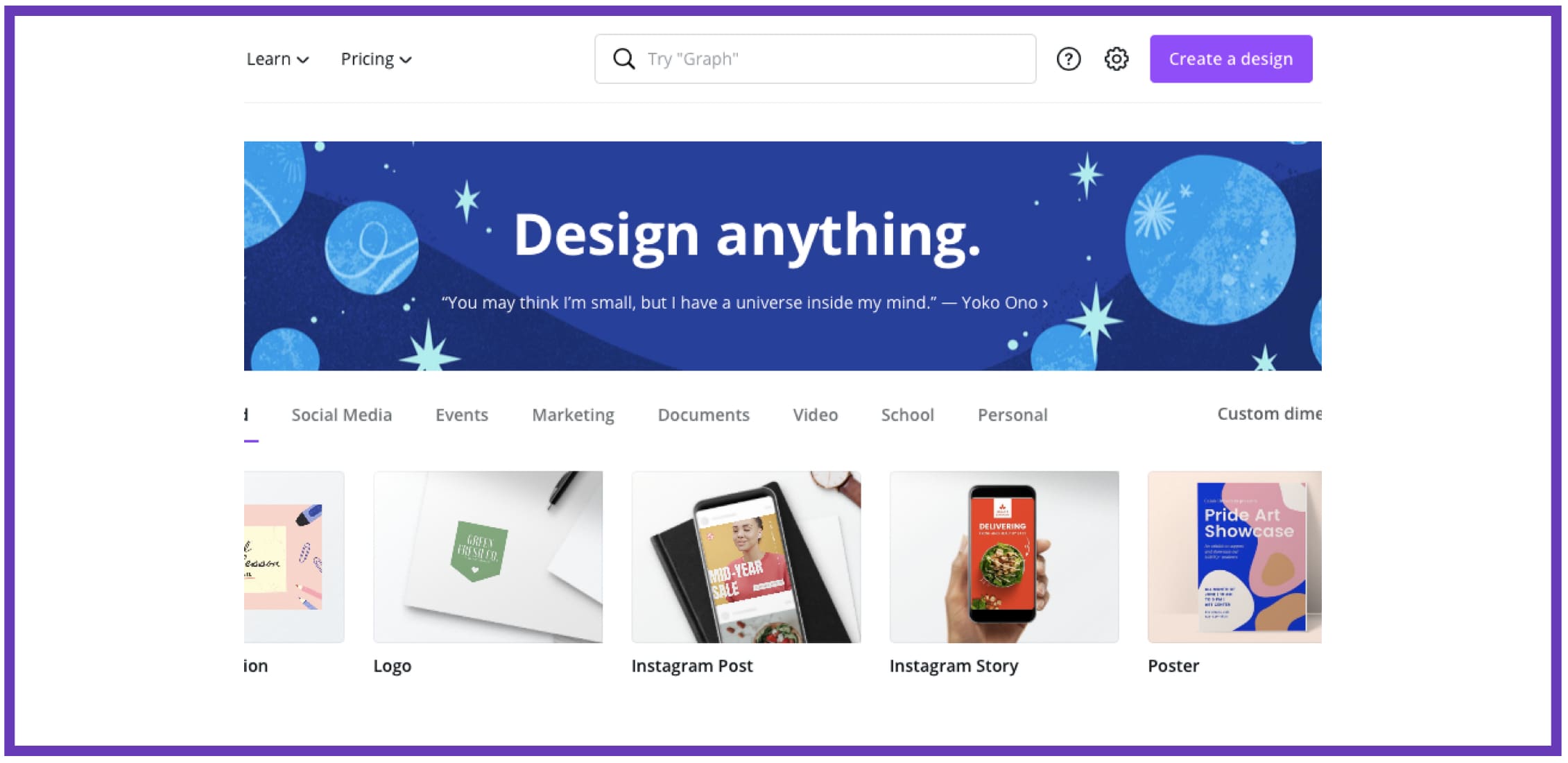 Rich collection of complementary photos
If you need high-quality images, but there is no time to take them personally, download them from the library. The pictures can be edited, cropped, and used to create graphics. Remember, it is a complementary pictures library.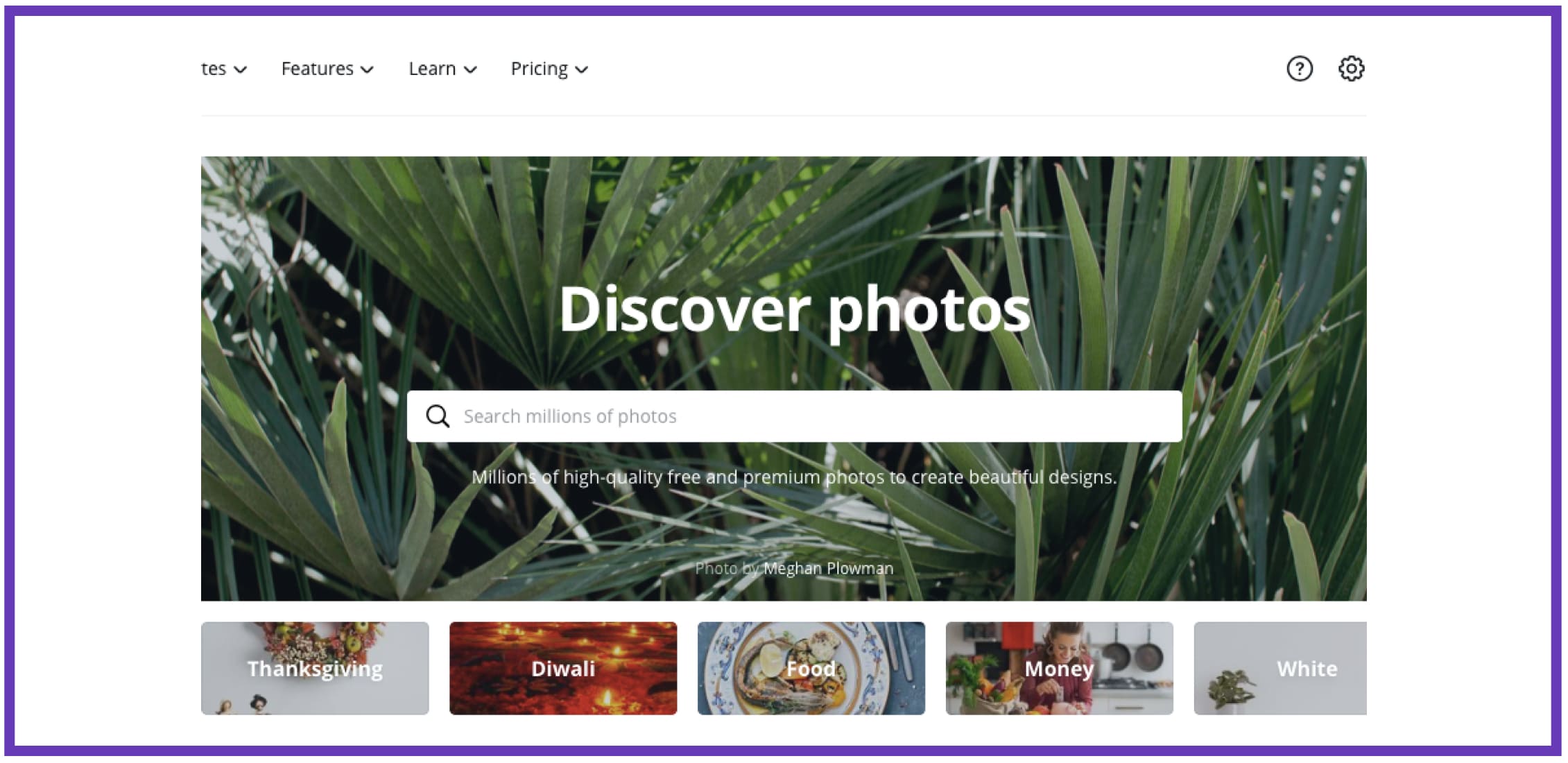 Team designing
The site has a function called "create a team." You might need it if you are doing a project together with your teammates. It will be especially useful for advertising agencies and web studios. To start a team, paste the participants' email addresses into a special window, and voila! Now share your thoughts, sketches, and folders with your colleagues. But remember, it is a paid option. You will have to spend around $ 12.95 per month per team member to enjoy this feature. The first 30 days of use are free. If you are happy with the service, subscribe. There are many other benefits you should discover with a premium enrolment. But if you work alone, the "create a team" option is not needed.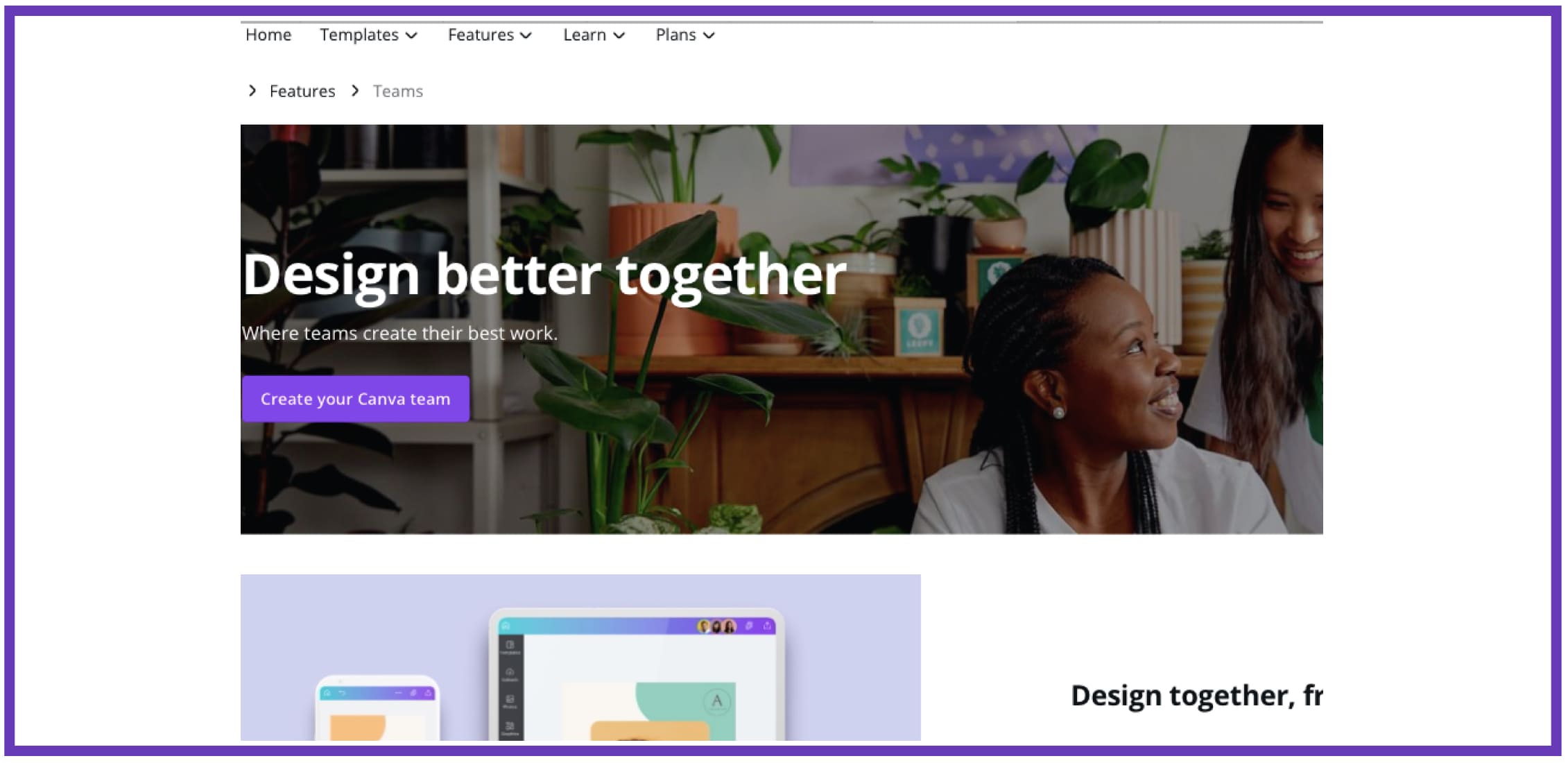 Brand section
In the "Brand" section, download all the company's necessary attributes – corporate shades and fonts, logos. It is very convenient. You do not need to search for materials on the computer every time to do your company projects. They are always at hand there waiting for you.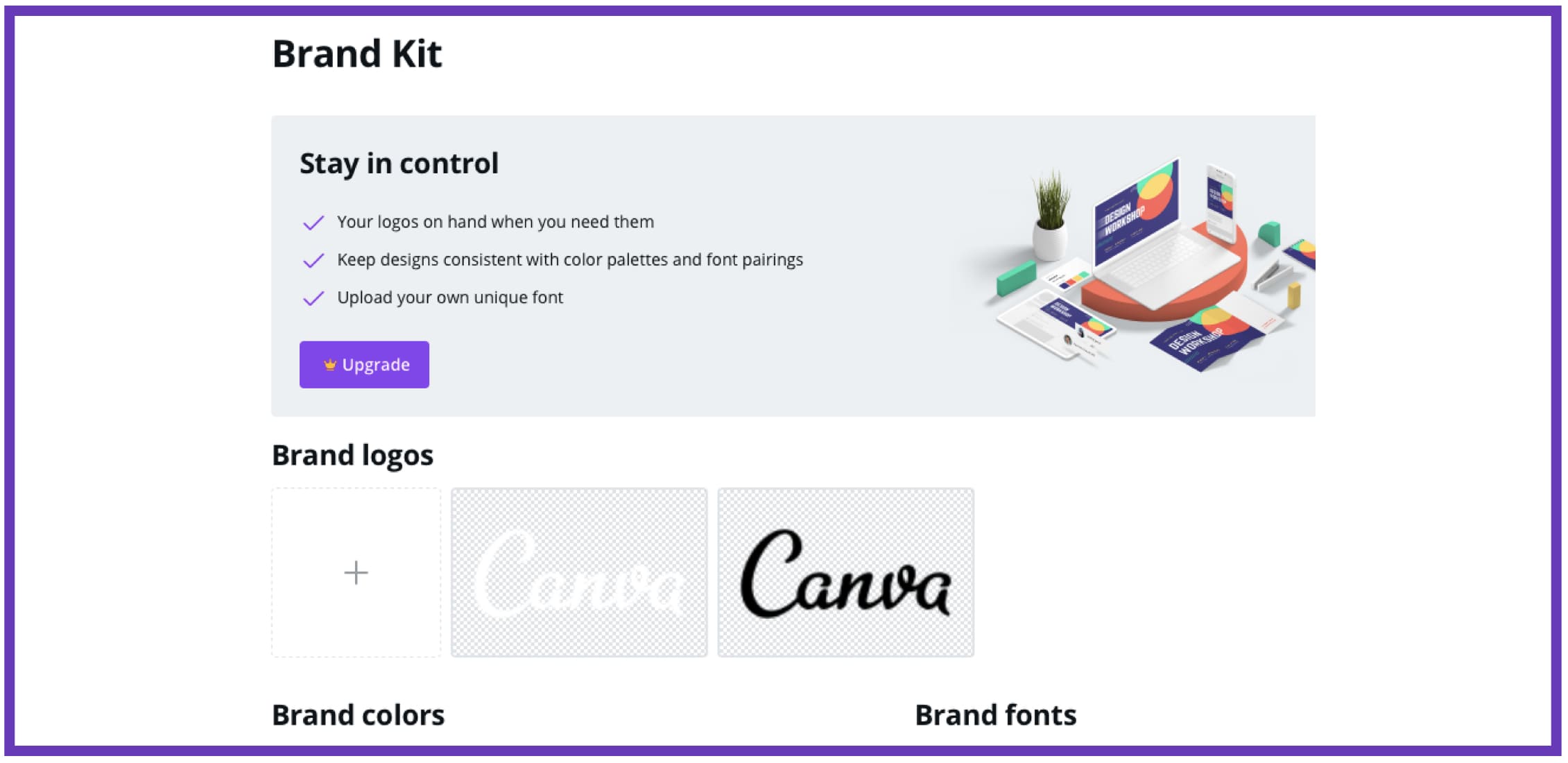 Folders
It is another handy feature of the builder. To avoid confusion among layouts, make new folders in your account and sort them. Modify, adjust, or delete it anytime. This way, you will organize your work and avoid a mess.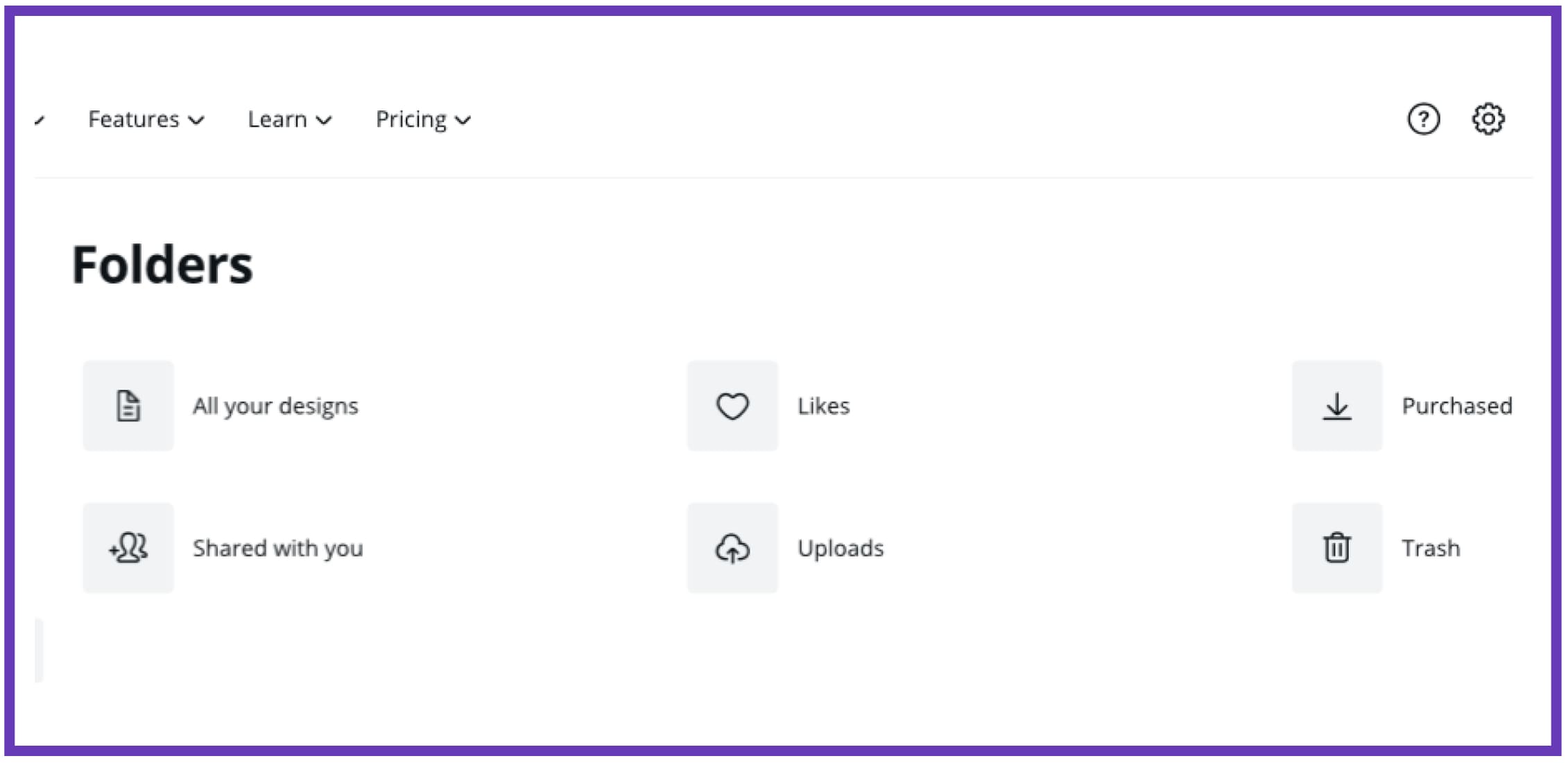 Ideas from users
When there is no inspiration at all, this section comes in handy. There you may watch the work of other users, comment, and like the ones you find original. There is no sin in trying to see what other webmasters do and try to be better. Do not be shy to copy some of the elements you liked. In the end, you will get something different anyway.
Color palette generator
With a palette generator's help, you extract the shades you want from any photo and use them to adjust your template. Just upload any image, and the generator will automatically detect the main colors. Copy and save the color numbers. This feature is handy because you do not need to decide on colors each time manually. After all, it is very difficult to do since an exact hit is almost impossible.
Graphics editor
The built-in graphic editor enables any user to process photos directly on the site. To do this, the editor has 13 filters, tools for cropping, resizing, and rotating.
Combinations of fonts
In this tab, there are many fonts that you may choose for your purposes. But most of them support the Latin alphabet only.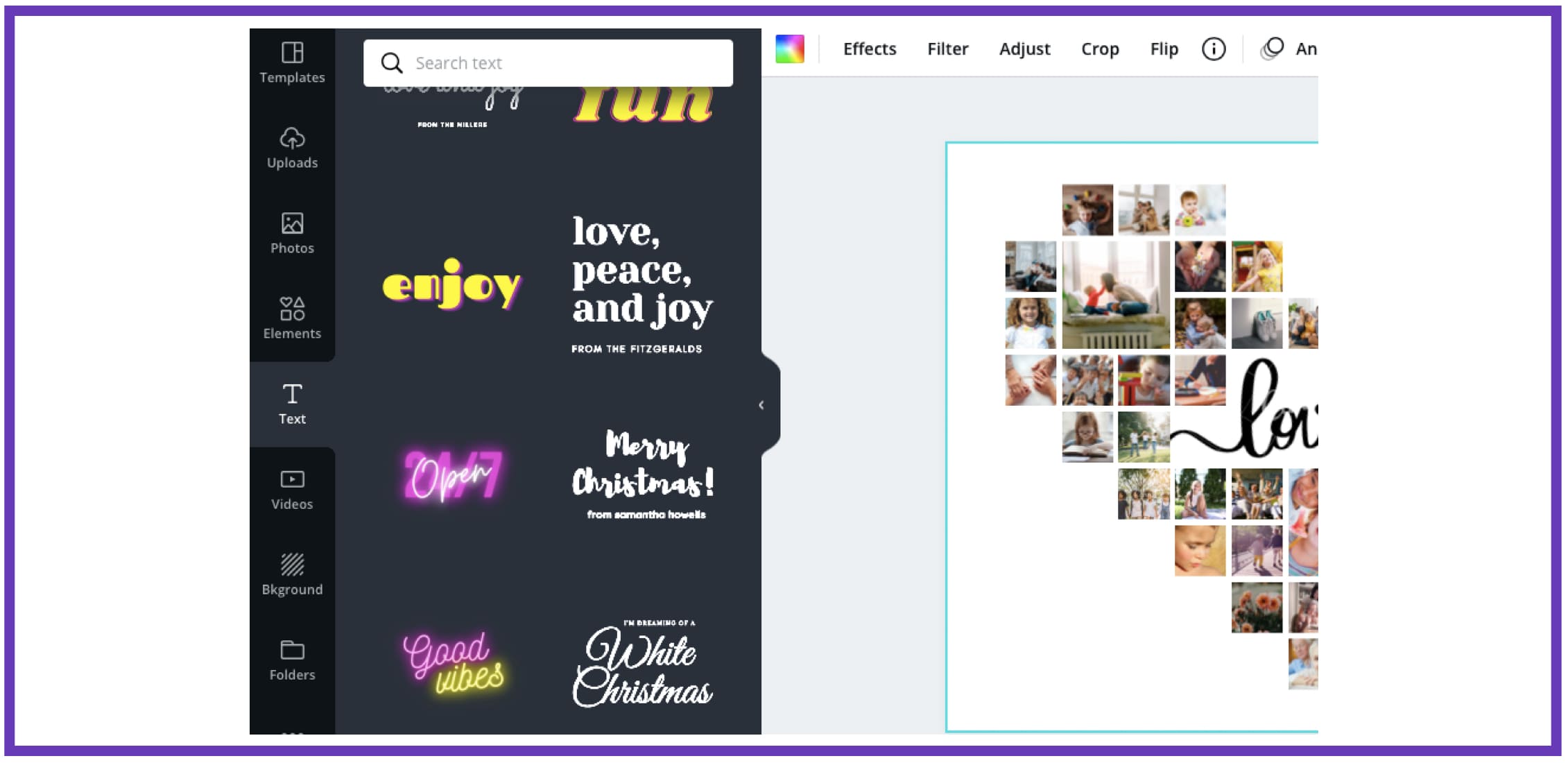 Tips & Tricks
For those who are working with the service for the first time, there is a help section. The Learn tab has several helpful guides and videos on processing. The only big disadvantage is that this section is available only in English.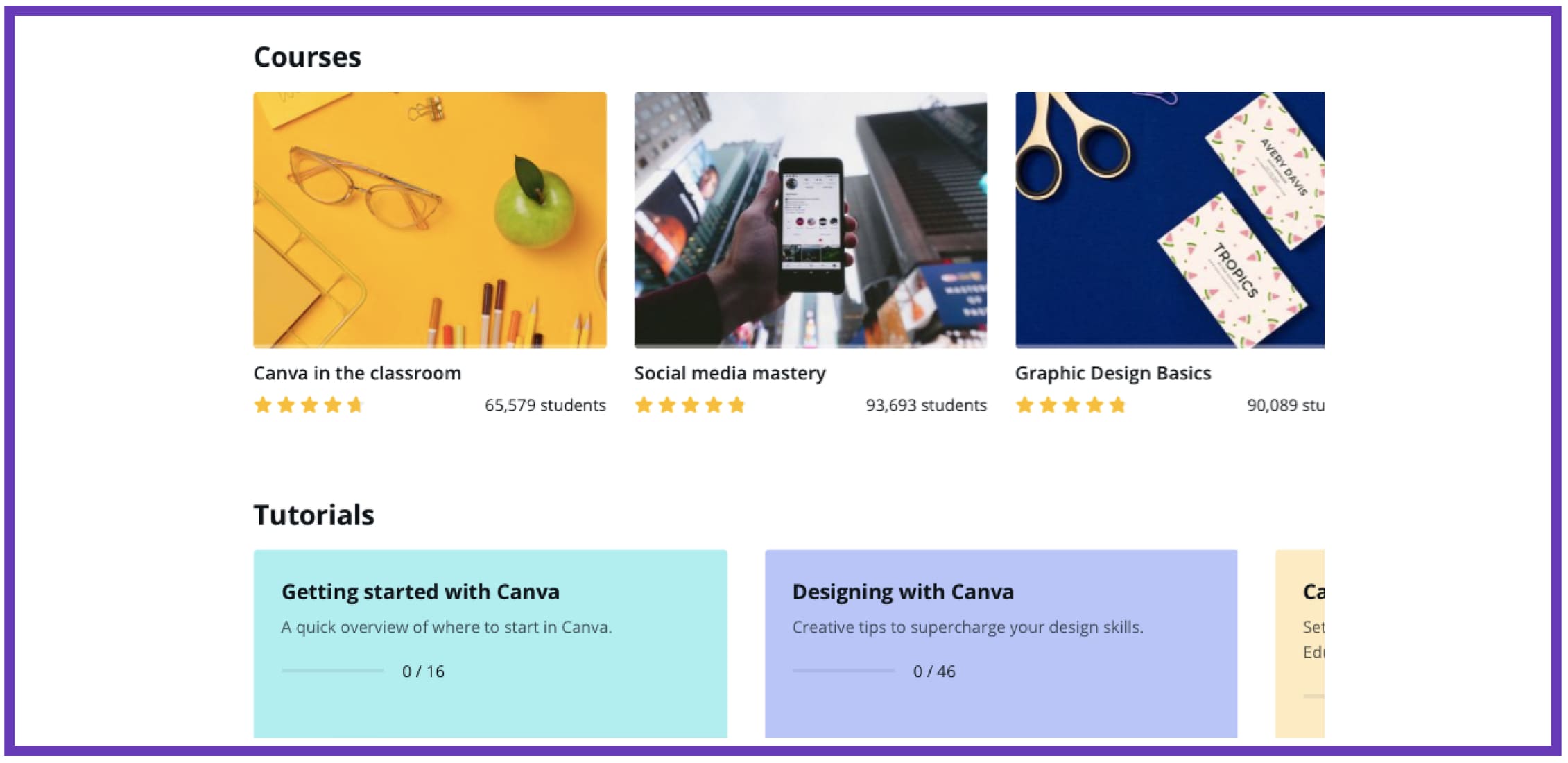 Diagrams
We want to emphasize that Canva enables you to create diagrams. Pie, histogram, graphs – choose any to fit your project perfectly.
Badges
A huge number of icons, both paid and free, you may use to build your layouts. There are various icons to make Instagram Stories Highlights covers if you want to learn about the most trendy fonts for Instagram, check this review.
Canva Review: Key Features
Let's look at the site's functions. There are more than forty types of items (there is much more choice here than in the application) with the ability to change elements of things, add your text, adjust colors, use inline pictures or upload your own. As you can see on the screenshot, you can access various design elements – complementary photos, grids, shapes, charts, illustrations, icons, lines, frames.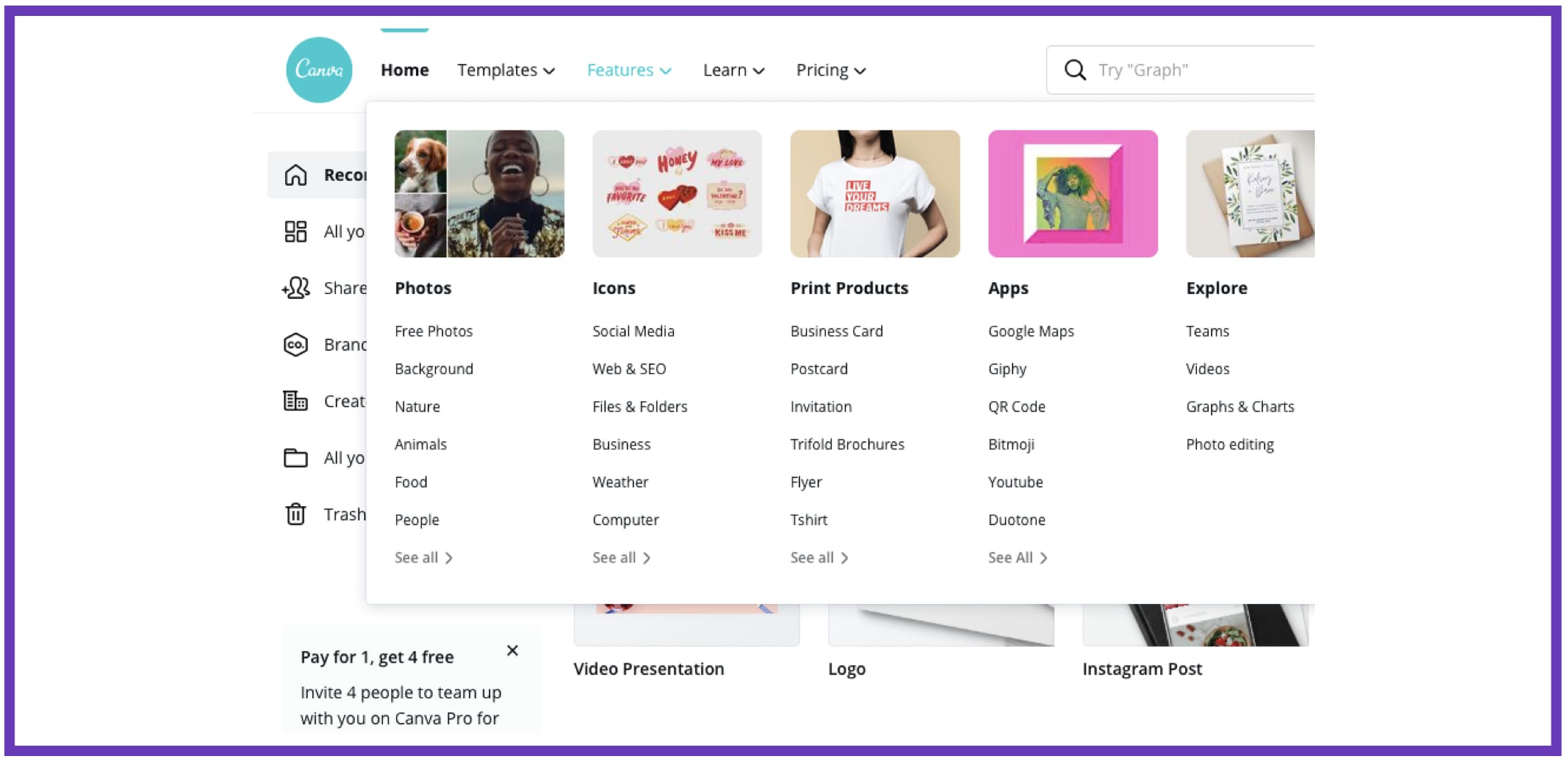 Features also include all kinds of items for printing products, and various apps.
Canva For Work Package
Access to the package is paid, but there is a free trial period – 30 days. Advantages of this premium option are:
1. Animation. Create GIF images and videos.
2. Sorting ready-made designs allows you to simplify your work with folders.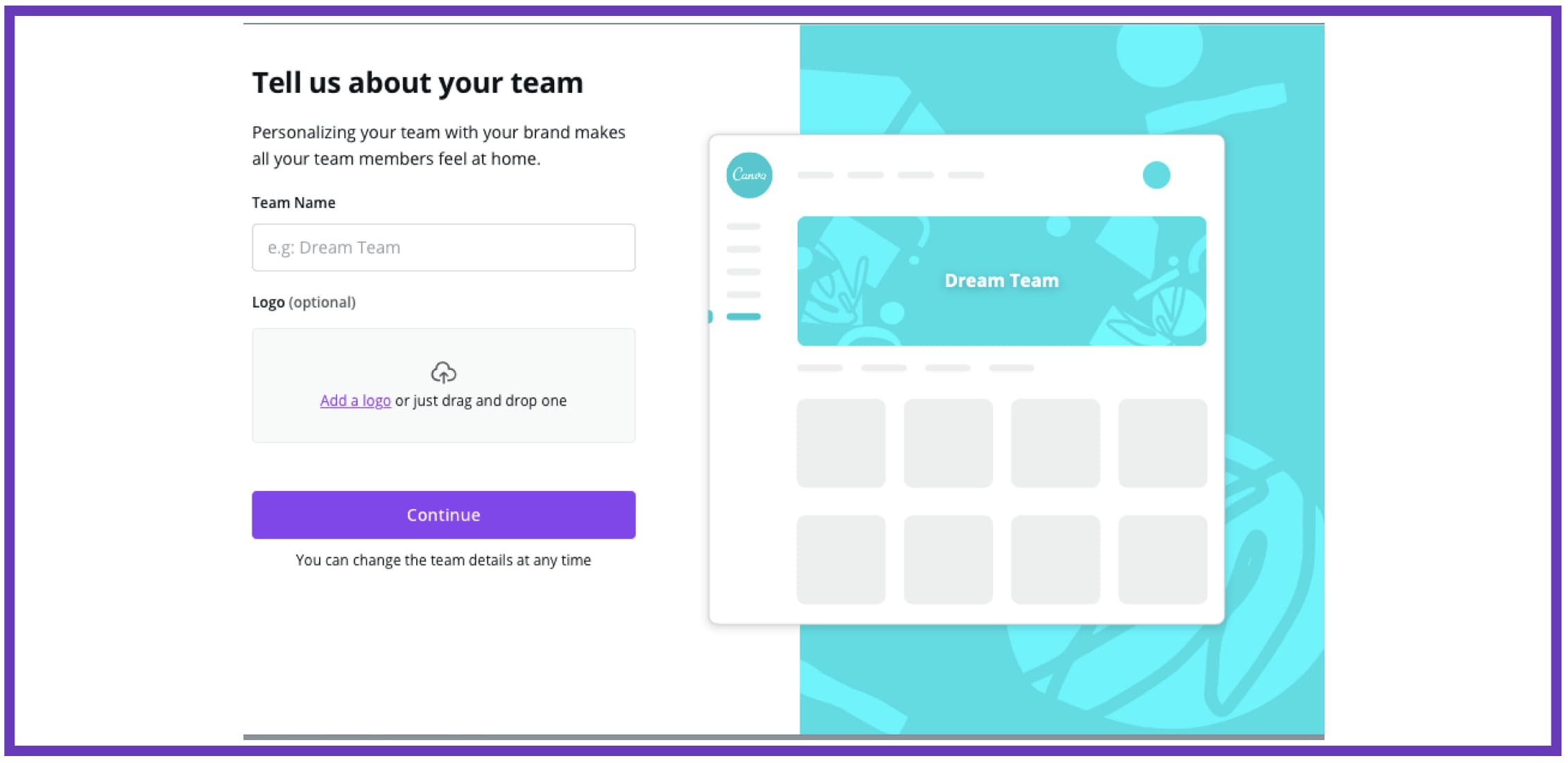 3. Fonts for the pros. You can select not only suitable fonts but also upload your own. The limit is 25 downloads. It is possible to set fonts that will be used by default.
4. Magic resizing. Instantly change the aspect ratio in one click. No need to adjust the crop tool; choose the format you want.
5. Images for the pros. Access to over 500,000 photos, illustrations, and special icons. All pictures are available directly on the site; you do not need to search for them on the Internet. Plus, they are free.
6. Transparent background. Ability to create PNG images with transparent backgrounds you may use as icons, logos, buttons, and stickers.
7. Post planner. Publishes posts to social networks at the appointed time, even if the user is not online.
Canva Mobile App
In addition to the online maker, Canva has a mobile app. It is even easier to work with it than with the computer version of the editor. The application has much fewer functions. The developers have left only the most important. See below how the main page of the mobile application looks. Make a new design by selecting one of the blanks or going to the materials you created earlier. Click on the "Show All" button, and more presets will open. Or find the desired layout through the search at the top of the page.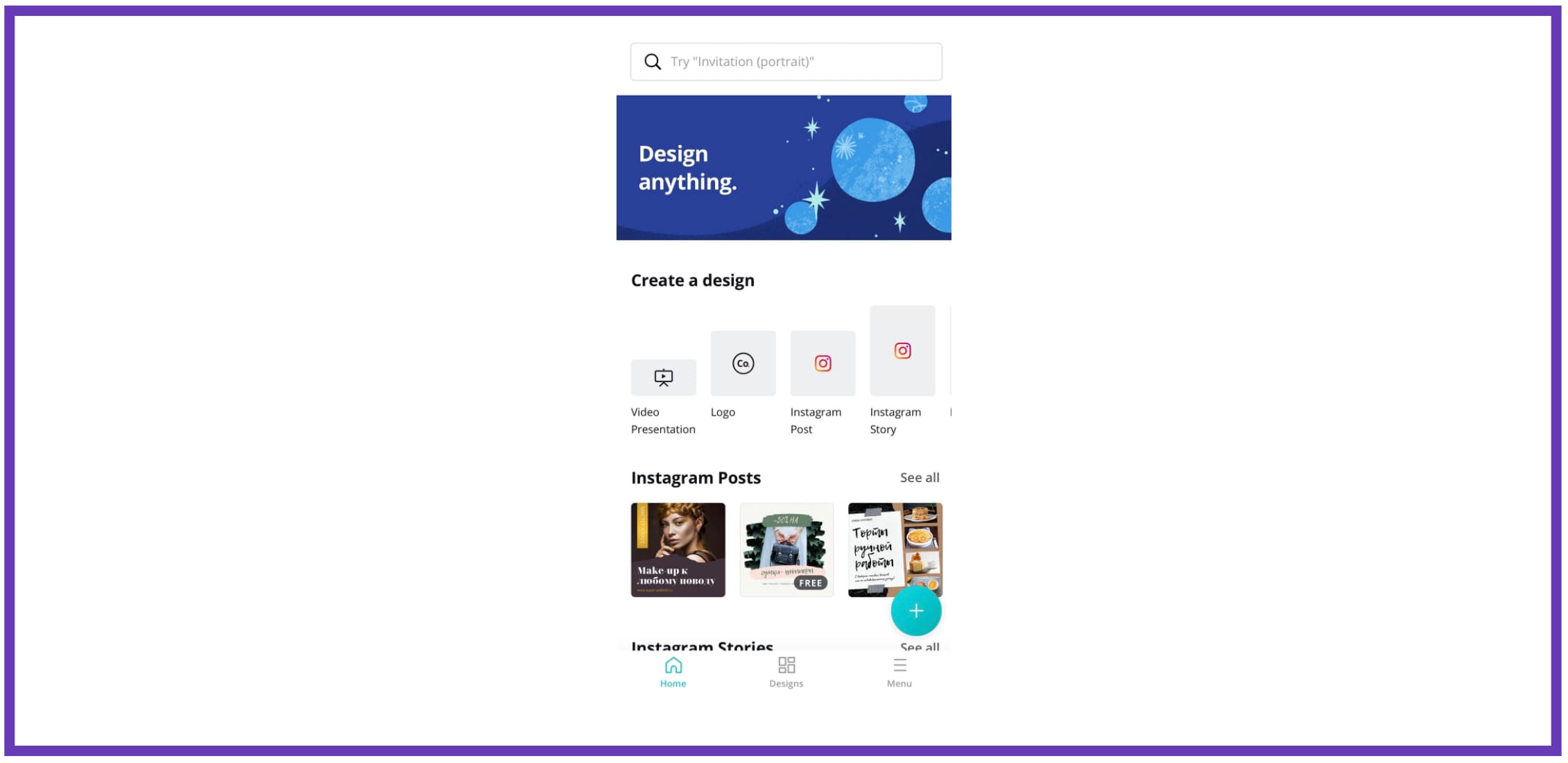 Using the application, you have an opportunity to create:
Post to Instagram, Facebook, Twitter, or another social network.
Background for Facebook and Twitter.
Photo collage.
Poster.
Flyer.
Invitation.
Postcard.
Blog banner.
YouTube channel thumbnail and artwork.
Pinterest Chart.
Book or CD cover, etc.
The editor itself is a little more modest than its computer version. But all the basic tools are there.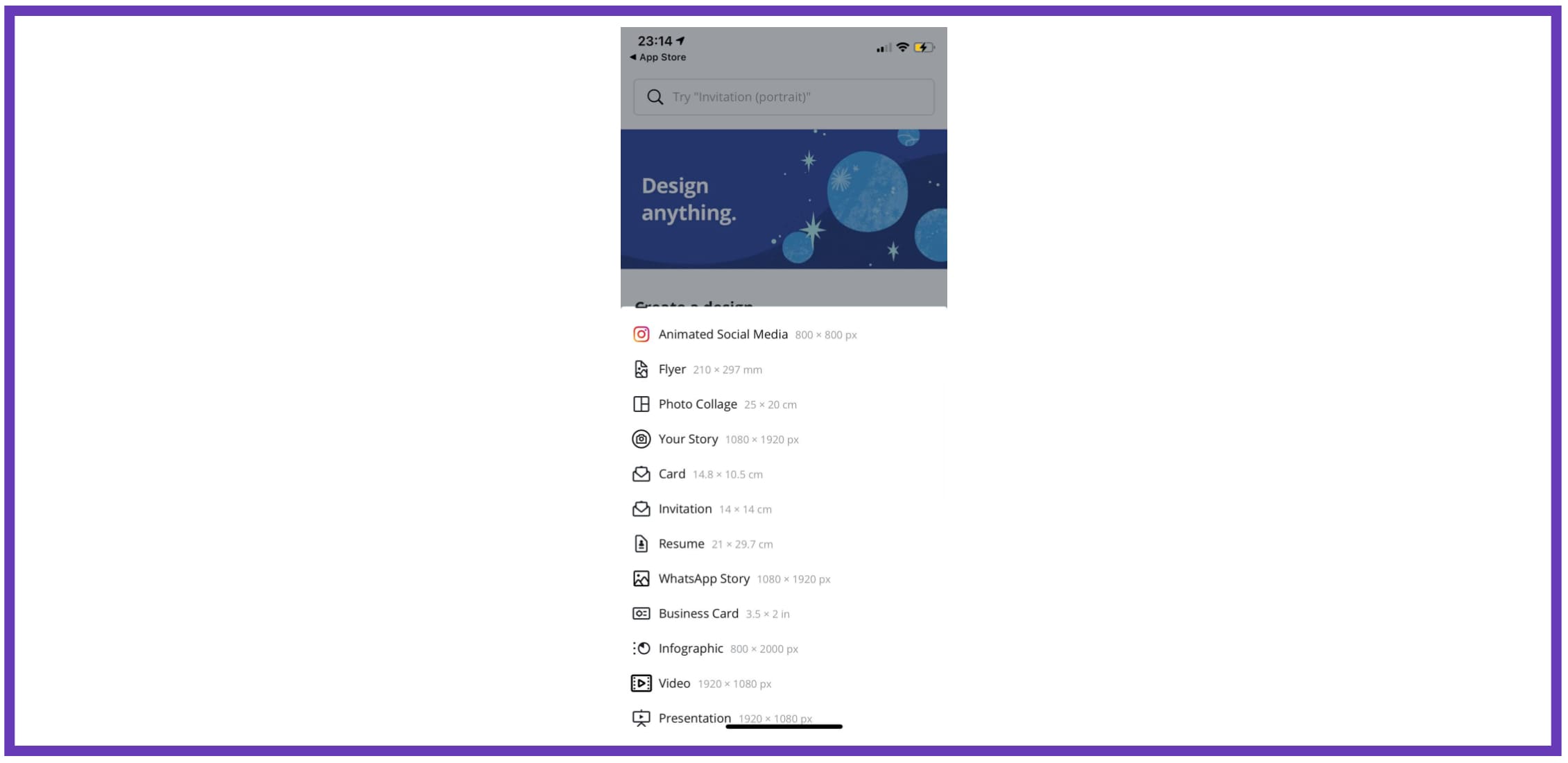 How To Design in Canva Using the App?
Download the application, register. Or log in with your Google or Facebook account. On the main page, options for the developed items will appear. Choose the format you want and the layout you like, start working in the editor. For example, choose the "Post to Instagram" format.
Change the inscription and font, upload your image, and decide on a different color. Let's experiment while making a post. Let's say we need to make a Christmas sale post. If you plan to create a printable card for this Christmas, you should check out our review of other design services suitable for this purpose. But for now, let's come back to Canva. Enter your text, adjust the font and color. Here it is possible to change letter-spacing and line-height. In the screenshot, you can see the elements that help you will design your project.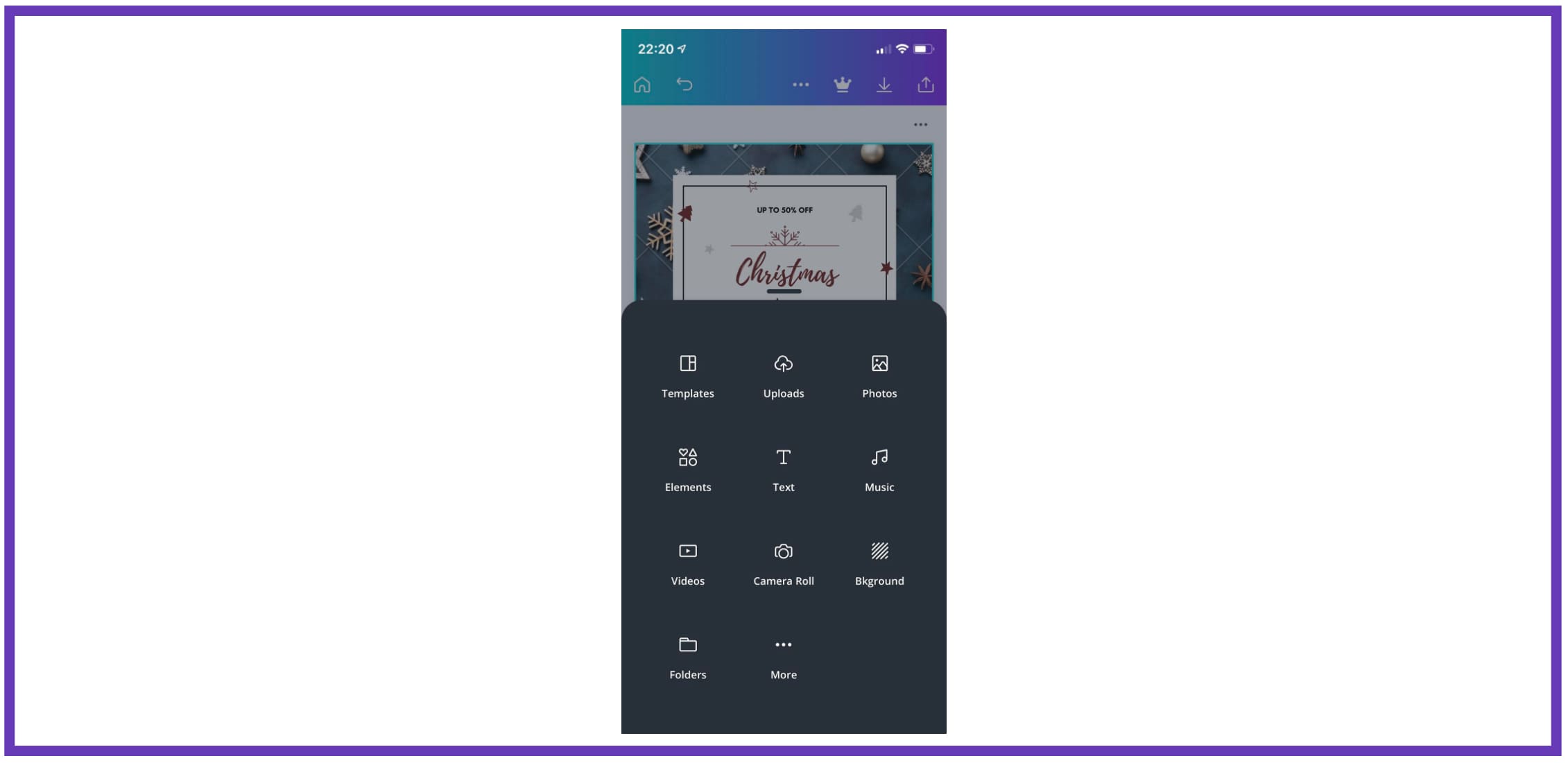 Next, load the image. To do this, you need to select the "Gallery" tab to upload pictures from your device. Or "Photos" to view the options for photos that the service offers us. If you wish to use images provided by Canva, type a keyword and pick up the one you like.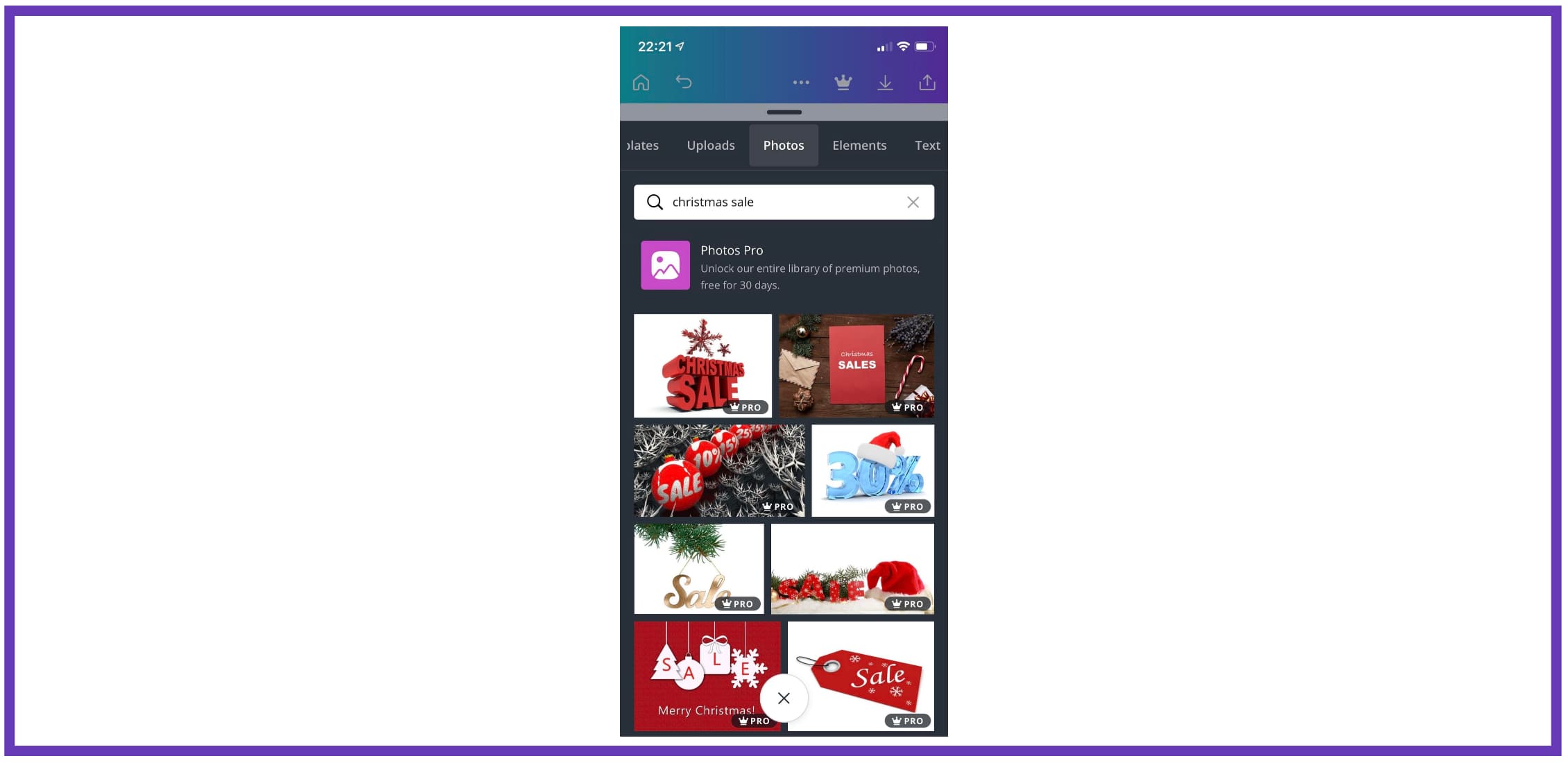 Open the "Filters" tab. Select the first one, which says "Delete," and the image takes its natural look. You can also apply another filter you like. If you don't like the shade or the frame's tint, you can change it too. Just click on the edge. Select the "Color" section. You will see the options from a ready-made palette. Customize your shade or enter the desired color code in the window with ease. The color system here is HEX.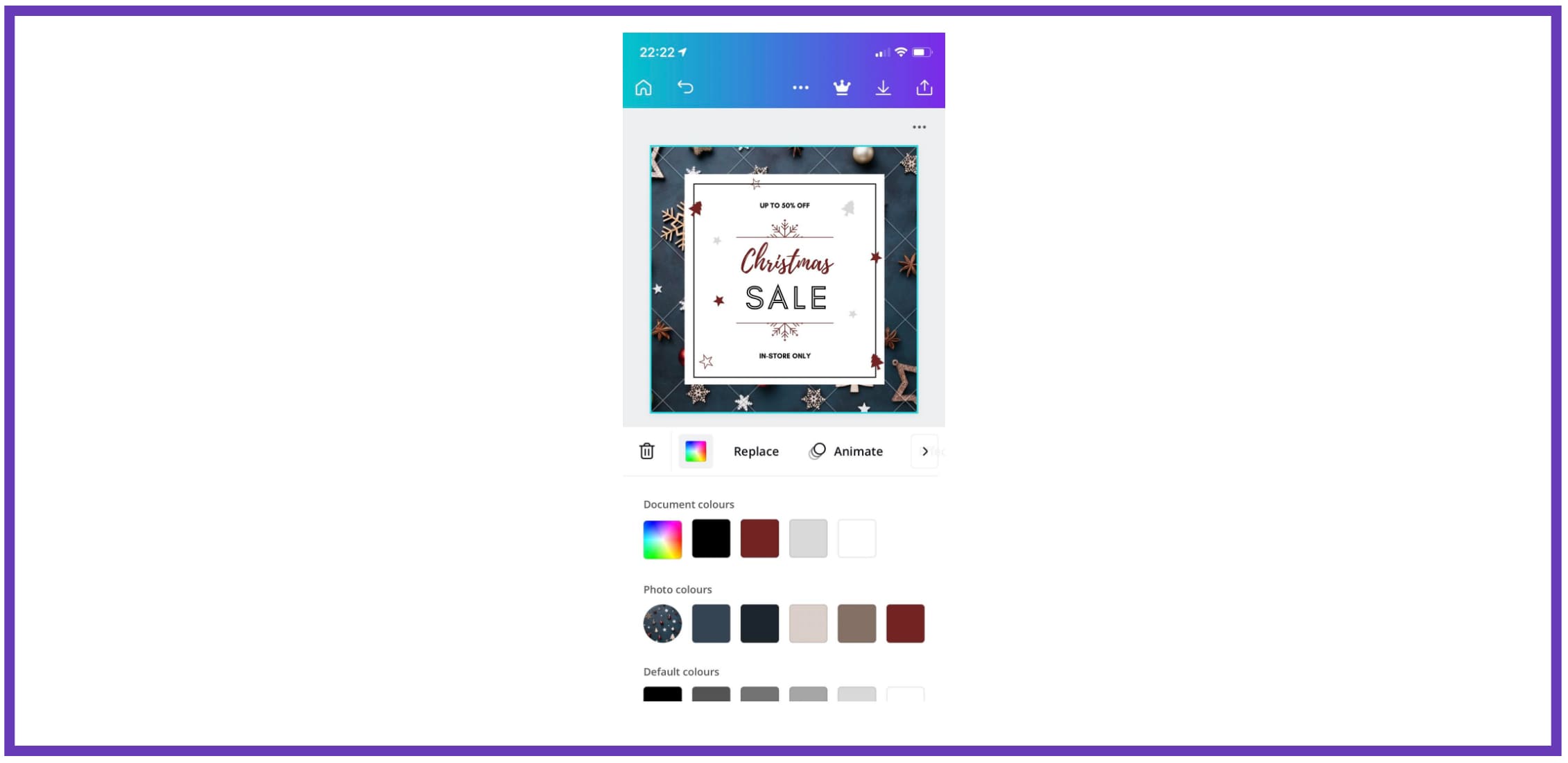 Just decide which format you wish to get your end product, customize it, and the design is ready. If the application's functionality does not impress you, work on your PC with the full version of the site, it gives you much more possibilities.
How To Create a Project with Canva Using PC
You need to complete an easy registration to work with the online service. In the main menu, we see the panel on the left. Click on "Browse templates." A large library of ready-made layouts opens. To find the most suitable one, you can use the search. There is also a panel on the left that will help you determine the format.
Take a layout to create a logo for a coworking space, for example. In the window that opens, we see a ready-made design for logos. Add a keyword, and you will see the options you have. You can edit all available samples provided by Canva. To start editing, click on the desired item, and start customization.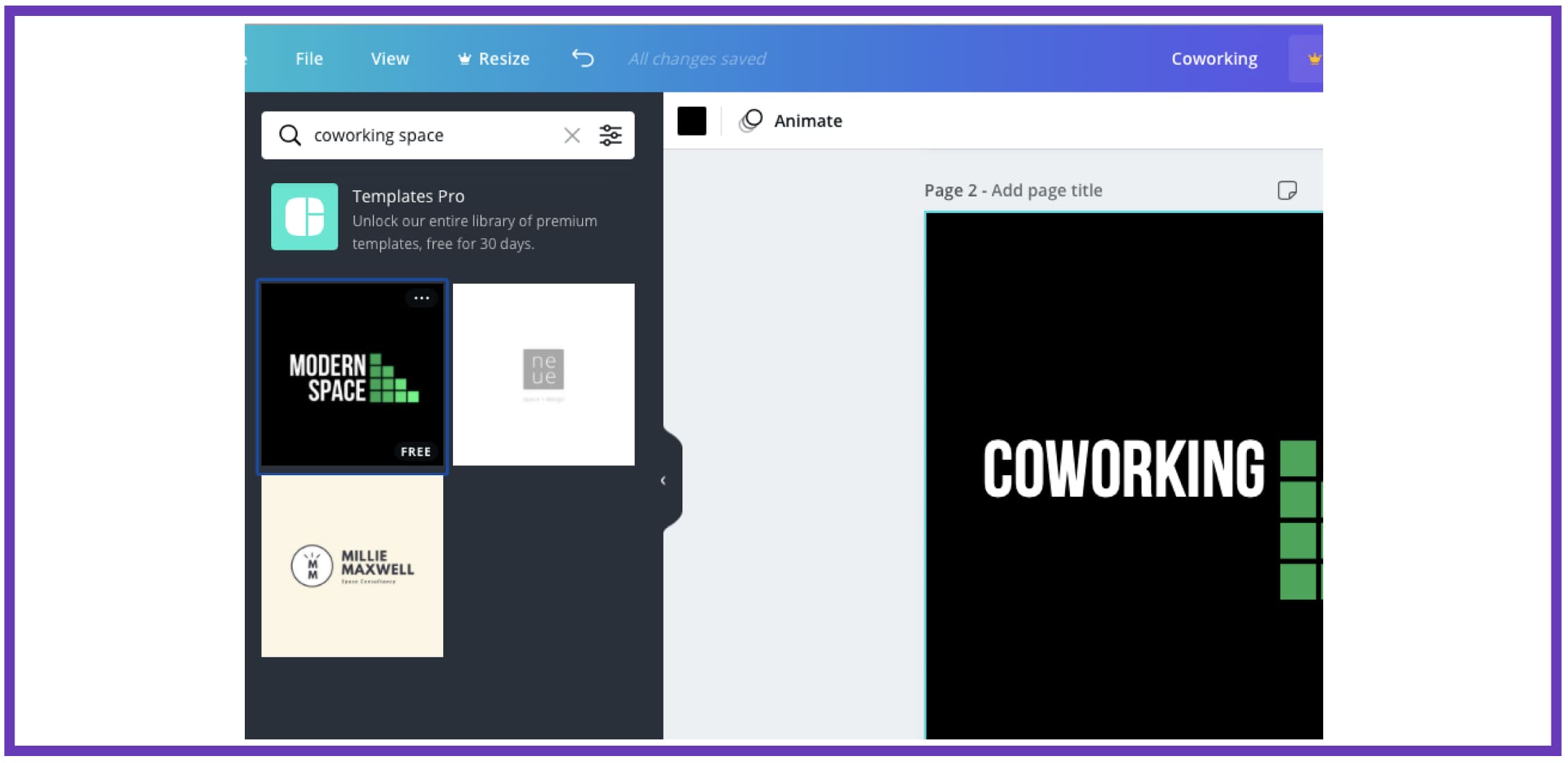 As you have noticed, Canva gave you limited possibilities for a coworking logo. To build the corporate identity for your platform, you will have only three options available. That is why if you are serious about your startup and have enough budget, you should consider a pro version. It has a 30 days free trial.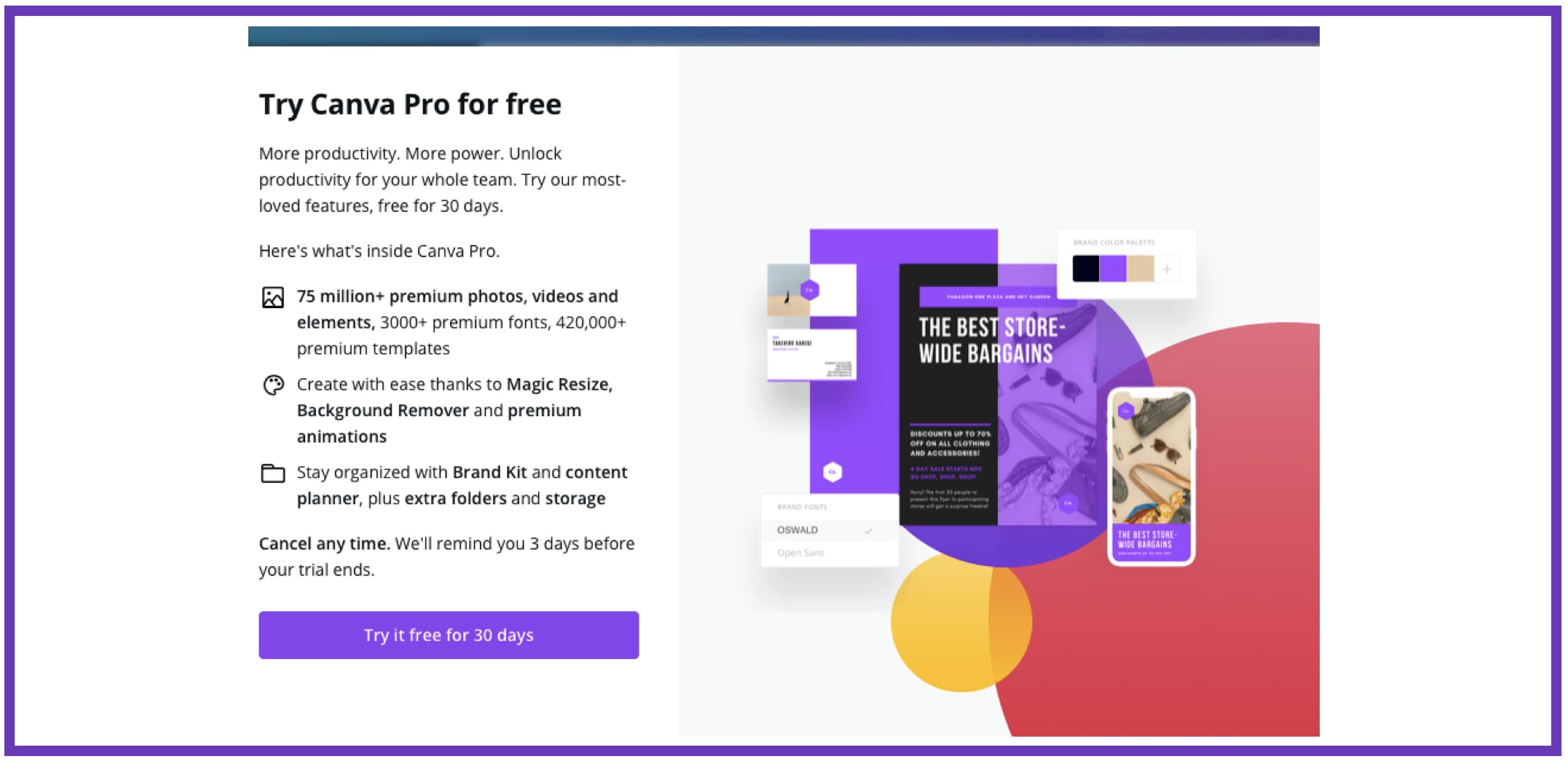 If you don't need premium items, you can simply remove them and insert free ones. To do this, click on the selected item, the trash can icon will appear on the top panel. You may delete any item effortlessly. The upper menu enables you to:
Show guides/margins/ruler or print bleed;
Make a copy of a logo;
Download your project;
Or save it to the existing folders, etc.
If you wish to resize your logo, you will have to purchase a pro version. Still, with the free version, you can adjust the background or its color. To do this, click on the background. A square with color will appear at the top left.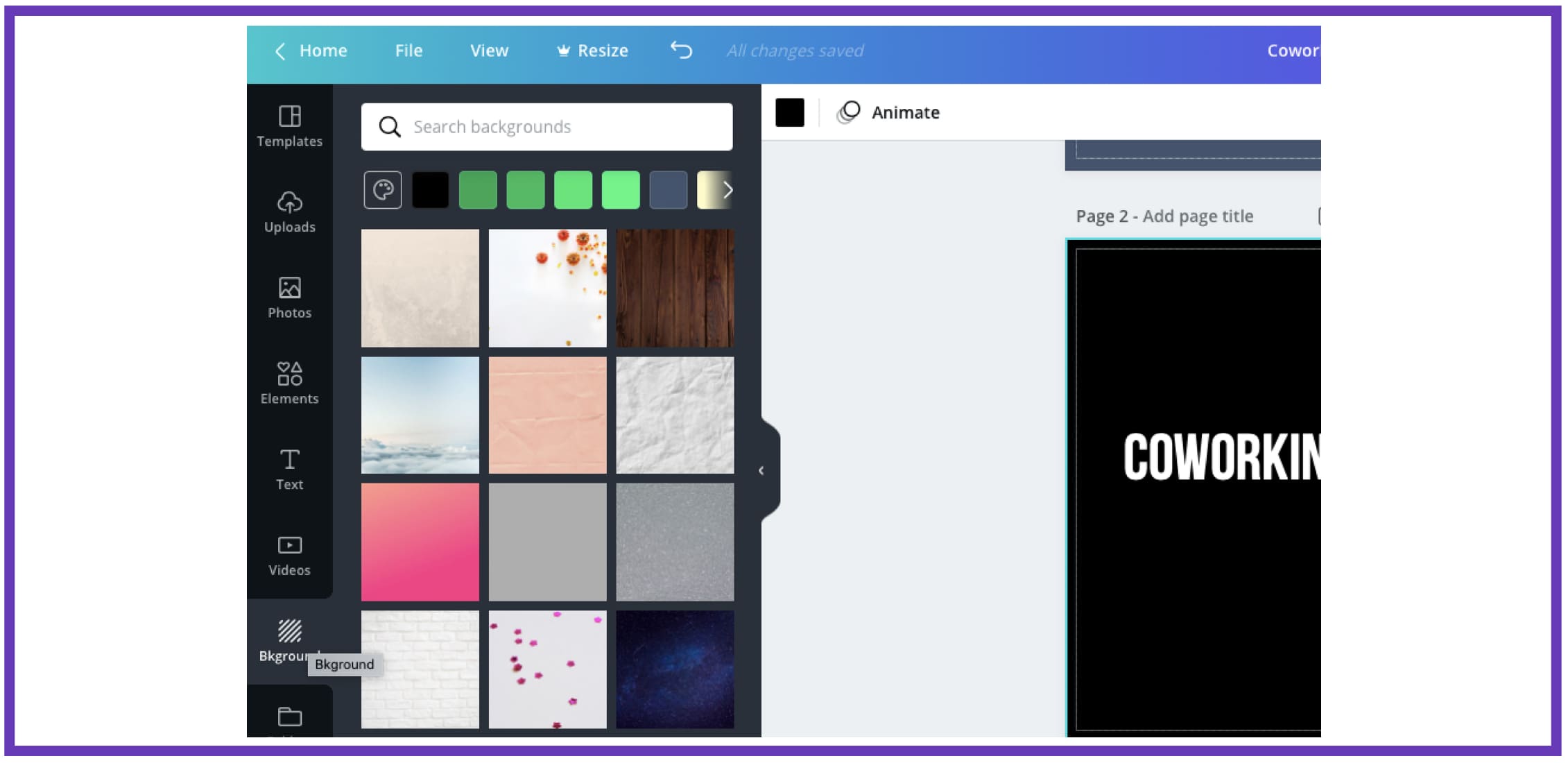 The ability to add/edit corporate company colors is not available in the mobile application. It is possible to do it in the full version only. The color changes only on one page. You can make them multi-colored. To apply the edit to all pages, check the box next to "Change all."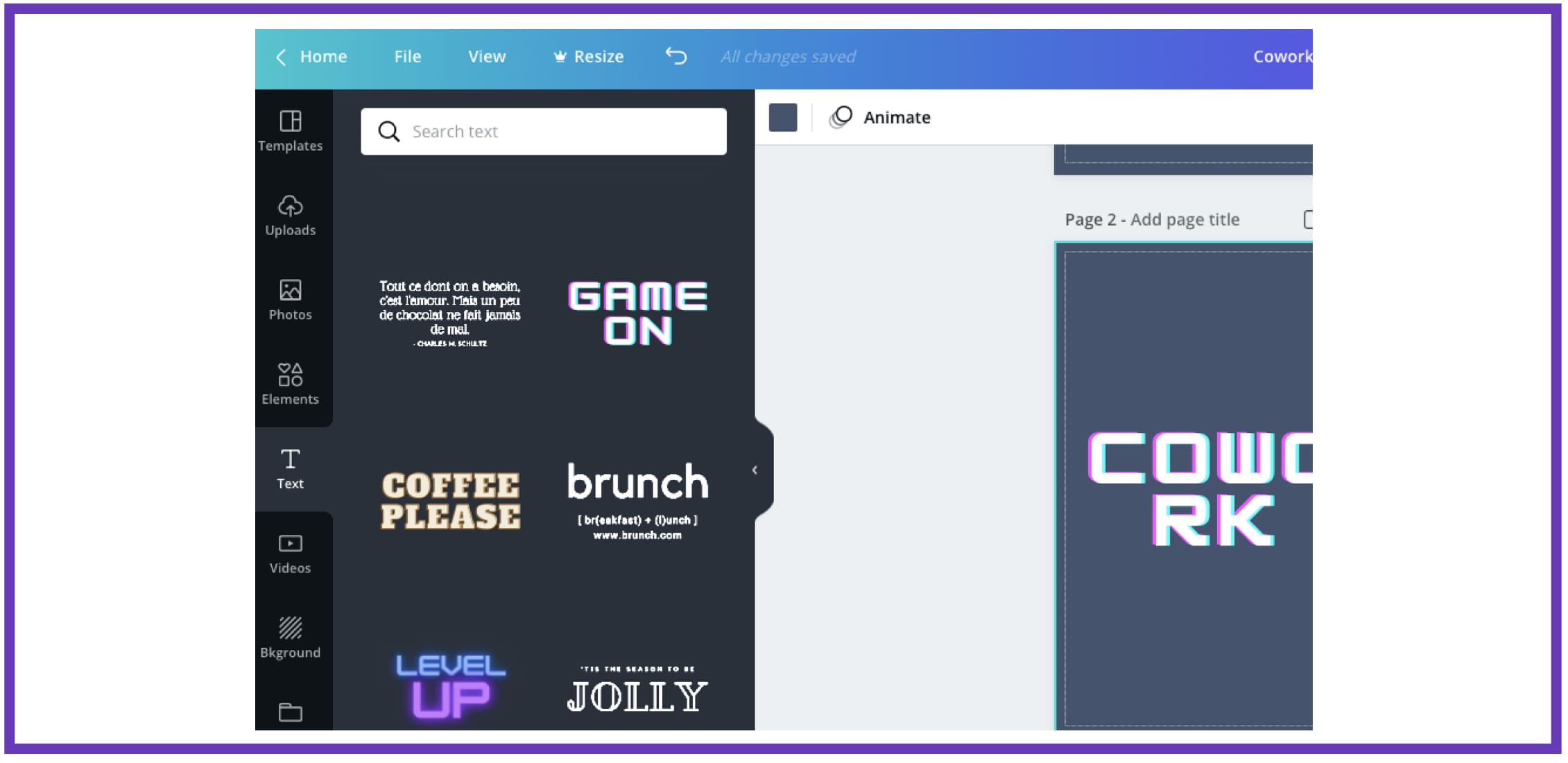 Next, let's work with the text. On the left, you will see a toolbar for working with text. There are options for:
Use ready-made font options, or upload your own. You may download your font with the "Canva for Work" package only.
Text size.
Color.
Bold and Italic.
Alignment.
Uppercase letters.
List.
Spacing – letter spacing, line height and text box anchor.
Also you may change the transparency of the text and add a link to the site.
If you want to set text parameters and do the same with dates, click on the first line, hold Shift, and select the rest—next, the "Group" button. Otherwise, you will disconnect each line from the rest of the text. You will have to change the color of the text on each slide manually.
Left Toolbar
Let's take a look at the left panel tools. There are eight of them:
1. Templates. You can search for other templates in this tab and apply them if the previous one does not fit.
2. Uploads – they show all uploaded photos, videos, or audios.
3. Elements – there are free icons, shapes, charts, illustrations, lines, frames, etc.
4. Text – there are blank labels. You can use them or create your text by clicking on "Add text field".
5. Videos- here, you may select various videos relevant to your project.
6. Background – here, you can use color and a texture or image as a background for a layout. There are many free backgrounds in this section.
7. Folders – 2 types. For purchase and liked. Also, you can create a new folder and give it a name. They are designed for convenience so that the materials you need are easier to find.
8. The final tool is a set of additional options that include all you need to compose a successful project. Once you click on one of the extra features, you will automatically add it to the left toolbar for your convenience. You do not need to add it again while working on your logo this time, but next time you use the service, it will likewise provide you with standard eight options.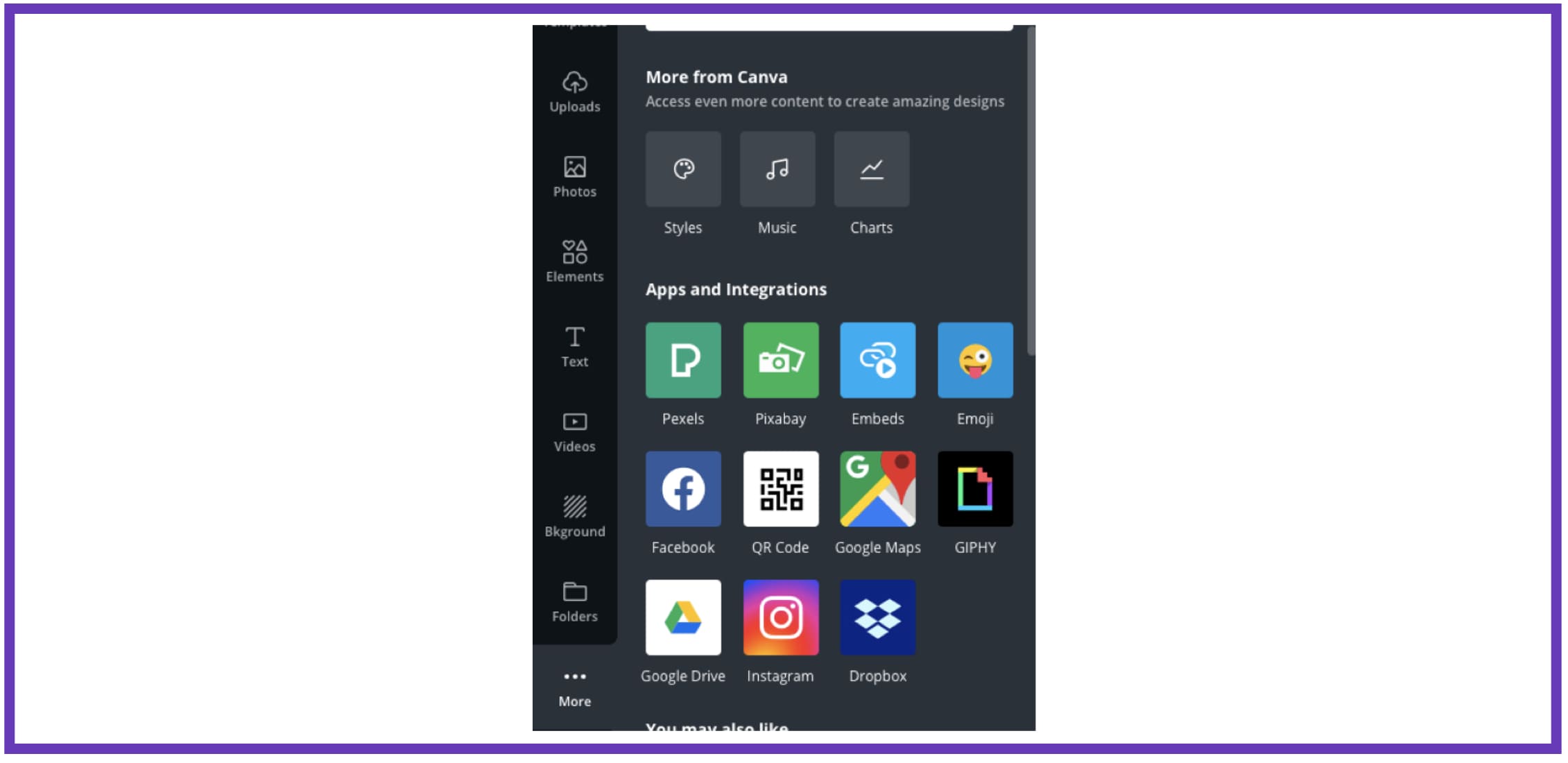 Publish the end product on your social network and a website, save it on a device in image or presentation format. By the same principle, using the service, you can create presentations for study or work. You can compose so many things with Canva. You should try it today!
Canva Review: Pros and Cons of Canva
The service has many obvious advantages over other complementary builders. But there are also disadvantages. Below we will consider both of them in more detail in our Canva review.
Pros:
Intuitive interface. Of all the builders for working with infographics, Canvas is the simplest. All important functions you find in the main menu. Once on the site, the visitor will not get confused in incomprehensible tabs.
Autosave last changes. All layout edits the service saves automatically. This feature will prevent you from losing your project if you accidentally close a browser tab or have problems connecting to the network.
Large selection of complementary items and elements. Even the standard complementary toolbox offers great possibilities. To get an interesting design, it is not necessary to pay for access to the site.
All skins correspond to the latest trends. These are not the old boring items that people often encounter. Here you will find an unusual and interesting solution for any project.
Creation of presentations. Make a presentation directly on the website. There is no need to save individual pictures and then add everything together on the computer.
Availability. Use the constructor from both a computer and a smartphone. Just log in with your account, and you will have access to all the skins you have developed, no matter what device you used to build them.
Teamwork. Connect corporate access for collaboration. If several people are working on a project, this option will be useful. All team members will be able to view and share their work.
Ideas for inspiration right on the site. When there is a lack of ideas, open the design feed, and see what other users create. You can also share your work with other participants.
Cons:
Watermark on premiere elements and items. You can remove it by paying for a premium item or a subscription. There are quite a few paid items.
You can't resize pictures while editing. Sometimes it turns out that you have selected the wrong size. If this happens, you will have to do it all over again, choosing a different size. Unfortunately, you cannot resize the layout you are working on.
There is no possibility to use elements of one template in another. A piece you like in one template cannot be copied or transferred to another template.
High price. Paid access costs $ 12.95 per month per member. If you want to use it annually, then you have to pay $119.40. It is around two times more expensive than a subscription to other services.
There is no filtering of paid and complementary clipart. It would be much more convenient if the paid ones were in a separate tab.
Final Thoughts
All in all, Canva is a great companion for anyone looking for quality visual content without a professional's help. In this constructor, everyone can make their ideas come true – from a student to a web businessman.
Canva will not provide a unique design for you because all items have ready-made layouts. But this service will save you time and make your life easier. If you haven't tried working with graphic content yourself, start today. Dealing with Canva is easy even for those who have no idea how to make a web item. We hope that this Canva Review was useful for you, and now you know how to use it in the app or your PC.
Q&A Session To Sum Up
⚙ Is Canva better than Photoshop?
It depends on the level of your skills. If you have been in web design for a while, then Photoshop is your best option. If you are a beginner, then Canva will be easy to master.
⚙ Why is Canva so good?
Canva is a very popular editor because it has a straightforward interface and does not require any special coding knowledge. Anyone who wants to create something quick and beautiful can master Canva.
⚙ Is there anything better than Canva?
There are many alternatives to Canva. It would be best if you tried some of them. Start with PicMonkey or Stencil. See which interface is more comfortable for you to work with and what set of features you would like to see in your toolbar. Create one or two free projects and decide for yourself whether to stay with Canva or to switch to other editors. If you need to compose a resume, consider reading our article on the other free resume builders.
⚙ Is Canva better than InDesign??
They are almost the same. Try to design something simple with both editors and see which one corresponds to your requirements.
Some Awesome Videos About Canva
Canva Free vs. Canva Paid

Is it worth paying for Canva Pro? In this video I break down Canva Free vs. Canva Paid, showing you the primary benefits of the paid version so you can decide if you need it.

How To Create Videos Using Canva

In this video, I'll show you how to create YouTube video intros and even full videos using Canva. Even though Canva can be used for a whole lot more, I've been using it to create YouTube intro videos for marketing and local marketing videos.

Canva Warning! | Top 3 Reason NOT To Use Canva Graphic Design Software For Social Media

Canva Danger! Watch this video before you choose Canva as your go to image editor. I'm a big fan of the product, but there are some major drawbacks every entrepreneur should be aware of.

Was this page helpful?
We will be happy if you decide to share this article with your friends on Facebook. Just click on the button and you're done
Thanks for your response!
You have already left your review.
Disclosure: MasterBundles website page may contain advertising materials that may lead to us receiving a commission fee if you purchase a product. However, this does not affect our opinion of the product in any way and we do not receive any bonuses for positive or negative ratings.