Canva Review: Advantages, Pricing, and More
Canva is one of the most widely used complementary builders with ready-to-customize samples. To use this tool for all power, read our Canva review. In addition, there is an opportunity to download a smartphone program for iOS and Android. Let's discover all the exciting features, mobile app characteristics, and photo editing possibilities.
Canva for All Types of Projects
Canvas is a design-builder that helps you compose high-quality covers, presentations, social media posts, banners, and more. No special knowledge is required to work in this editor. To start working, you need to get an account. The rest of the steps will be intuitive. Therefore, the service will be helpful to a wide audience, such as:
1. School or university students. The service provides many opportunities for student work design — reports, presentations, schedules, lesson plans, etc. Canva for education is free; you just need to choose a proper plan and use it to boost your projects.
2. Business entrepreneurs. The platform enables you to design impressive flyers, letters, and other web products.
3. Web designers. Sometimes a design layout for a client or an outline for a project is needed urgently. And the online editor is always at hand.
4. All kinds of bloggers. Thousands of social media items help you style posts, stories, account covers, and more.
5. Non-specialist users. Need to create a funny card for a friend's birthday? Or want to save money on a wedding or party invitations? This tool is all that you need. You can use free Canva templates and create a unique design for several minutes.
6. SMM specialists. Sometimes, promoting an account on a different social network isn't easy without a beautiful design. So the first thing to do before promoting is to design a profile and think about the style.
7. Various experts. If you are an expert in some field and advertise your trademark, you must have a quality design, whether a website or a blog on Instagram.
The constructor will be convenient not only for professionals but also for new web skins. Everything is as simple as possible. You might need Canva if you wish to build an original design quickly, but you don't want to bother with coding. Let's discuss in detail its advantages and disadvantages in this Canva review.
Advantages of Canva Builder
Easy to start
To launch your project, open the collection of pre-made web assets. Tab "Browse items ." In the panel on the left, select the type of template. You may choose one of 250 000 ready-to-use templates, adjust details and colors, and drop your pictures there. You may also build a design from scratch without using items.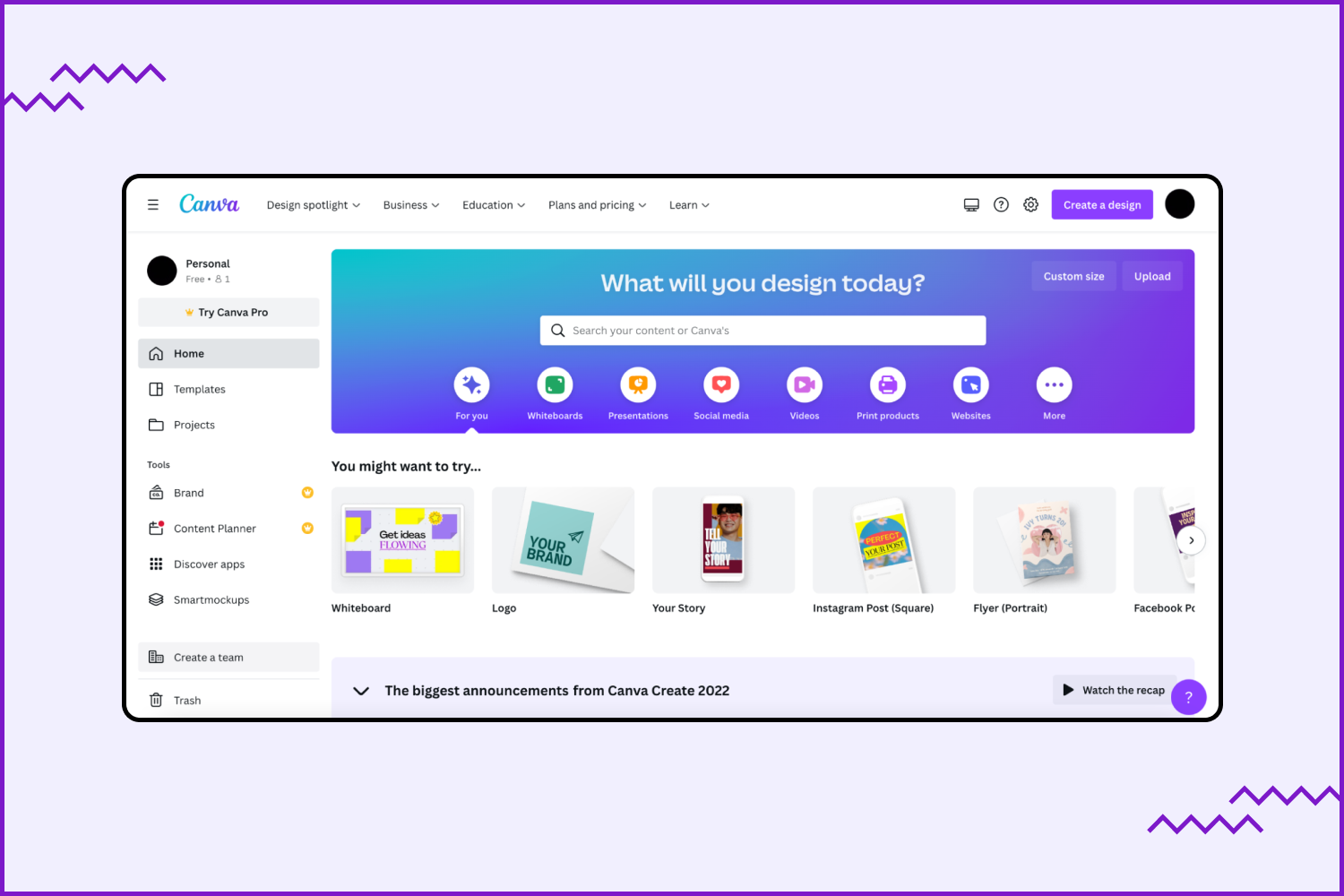 The rich collection of complementary photos
If you need high-quality images but have no time to take them personally, download them from the library. The pictures can be edited, cropped, and used to create graphics. Remember, it is a complementary picture library with more than 1 million free images. Below is the Canva Pro review, where you can read more about what you can do with pictures.
The team designing
The site has a function called "Create a team." You might need it if you are doing a project with your teammates. It will be beneficial for advertising agencies and web studios. To start a team, paste the participants' email addresses into a special window, and voila! Now share your thoughts, sketches, and folders with your colleagues. But remember, it is a paid option. You will have to spend around 14.99 dollars per month per 5 team members to enjoy this feature. There are many other benefits you should discover with a premium enrolment. But the "Create a team" option is unnecessary if you work alone.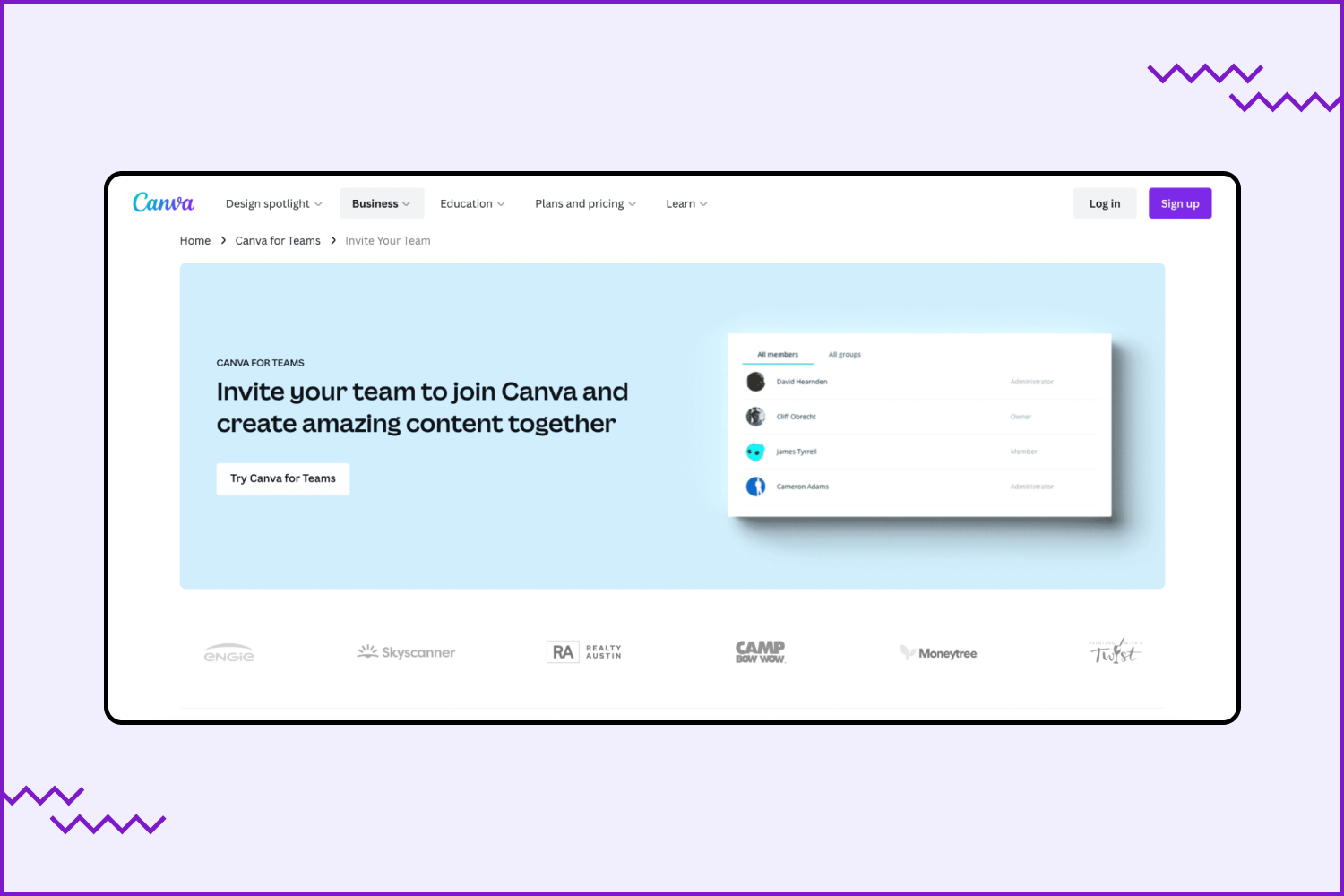 Brand section
In the "Brand" section, download all the company's necessary attributes — corporate shades and fonts, logos. It is very convenient. You do not need to search for materials on the computer every time to do your company projects. They are always at hand, there waiting for you. In addition, all brand templates are reusable, and brand kits can be used for all types of content.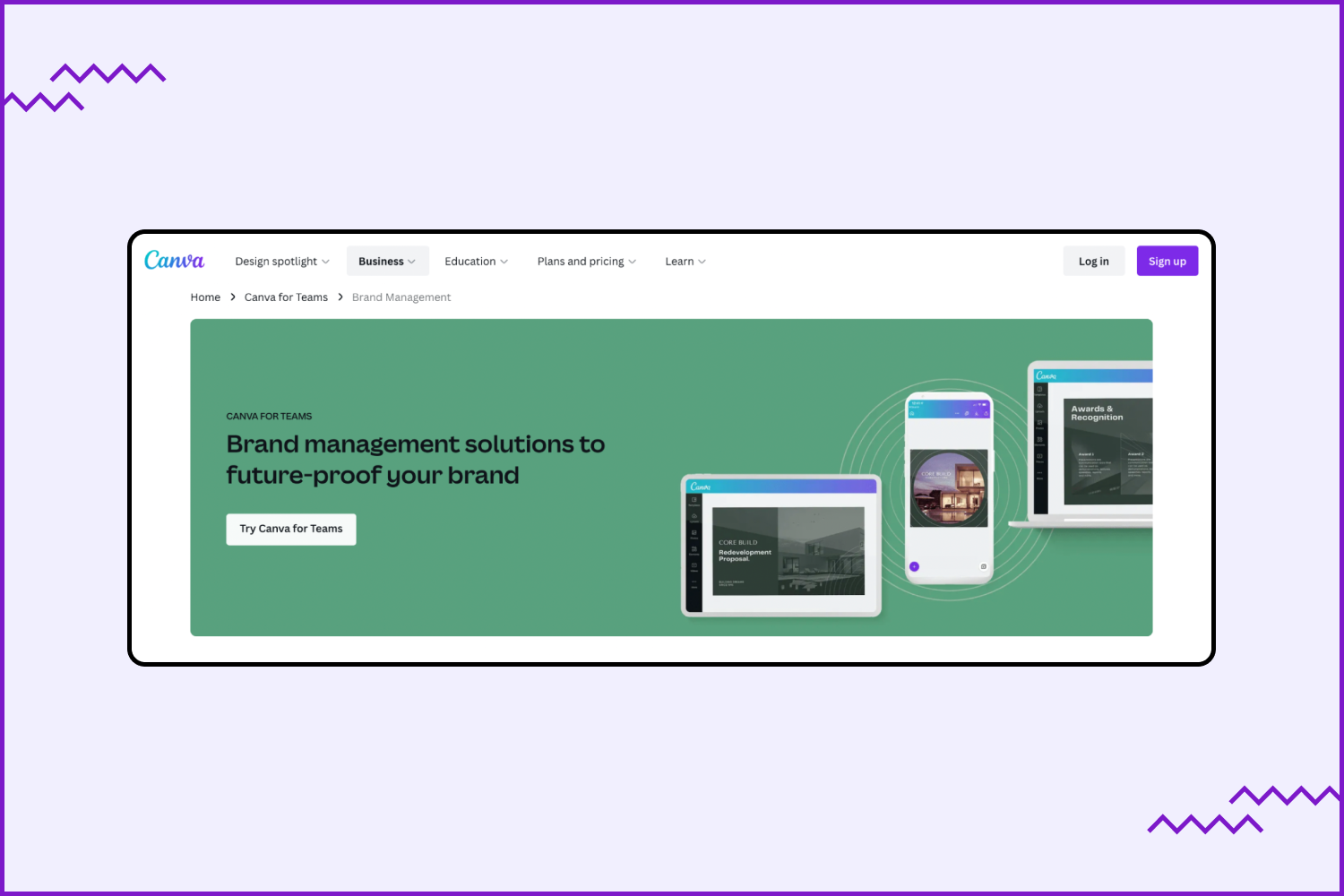 Folders
It is another handy feature of the builder. Make new folders in your account to avoid confusion among layouts and sort them. Then, modify, adjust, or delete it anytime. This way, you will organize your work and prevent a mess.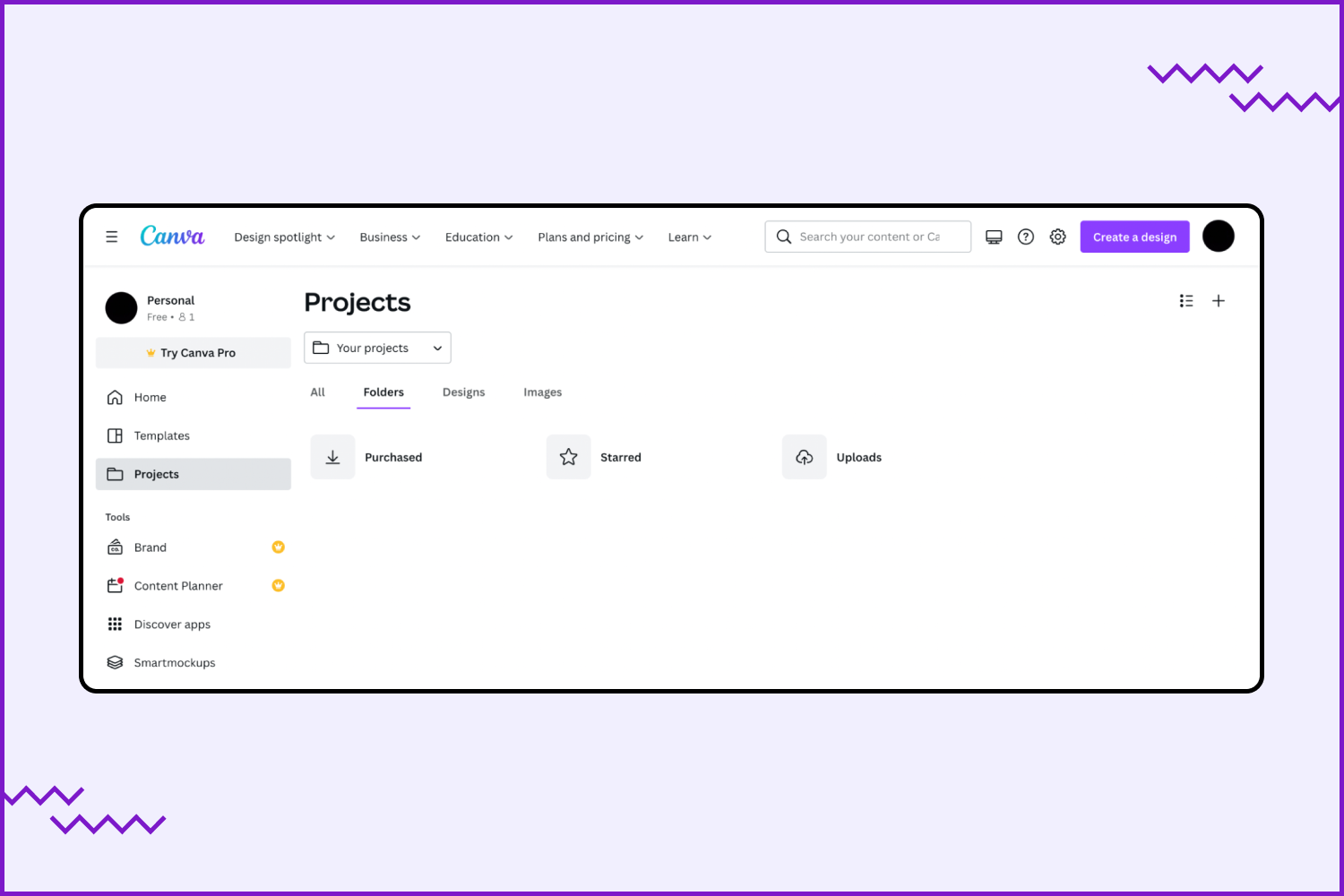 Ideas from users
When there is no inspiration at all, this section comes in handy. There you may watch the work of other users, comment, and like the ones you find original. There is no sin in seeing what other webmasters do and trying to improve. Do not be shy to copy some of the elements you like. In the end, you will get something different anyway.
Color palette generator
With a palette generator's help, you extract the shades you want from any photo and use them to adjust your template. Just upload any image, and the generator automatically detects the primary colors. Then, copy and save the color numbers. This feature is handy because you do not need to decide on colors manually each time. After all, it is tough to do since an exact hit is almost impossible.
Graphics editor
The built-in graphic editor enables any user to process photos directly on the site. To do this, the editor has 20 filters, tools for cropping, resizing, and rotating.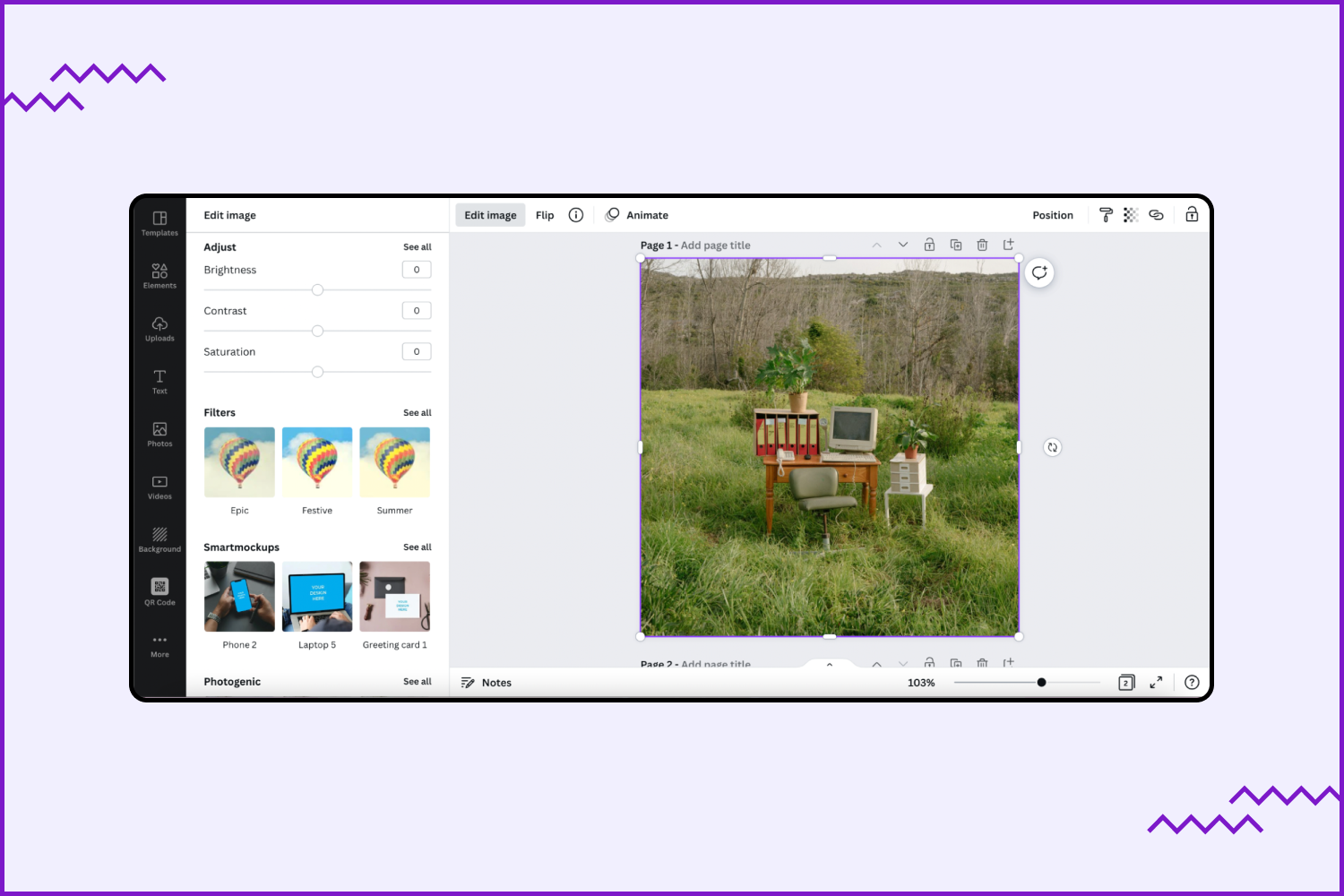 Combinations of fonts
In this tab, there are many fonts that you may choose for your purposes. But most of them support the Latin alphabet only.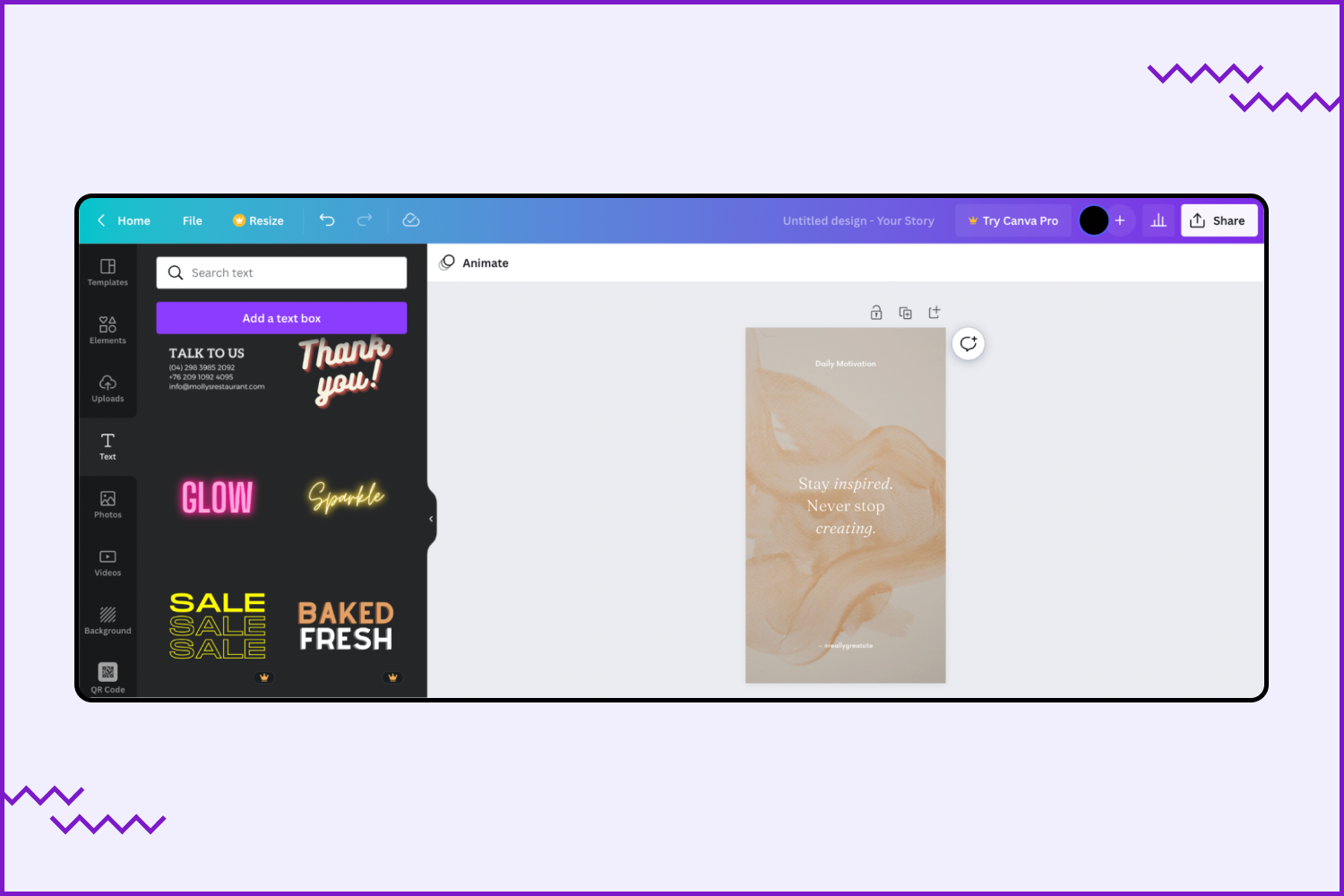 Tips & Tricks
For those who are working with the service for the first time, there is a help section. The Learn tab has several helpful guides and videos on processing. The only significant disadvantage is that this section is available only in English, but it's an excellent opportunity for non-speakers to learn or improve a new language.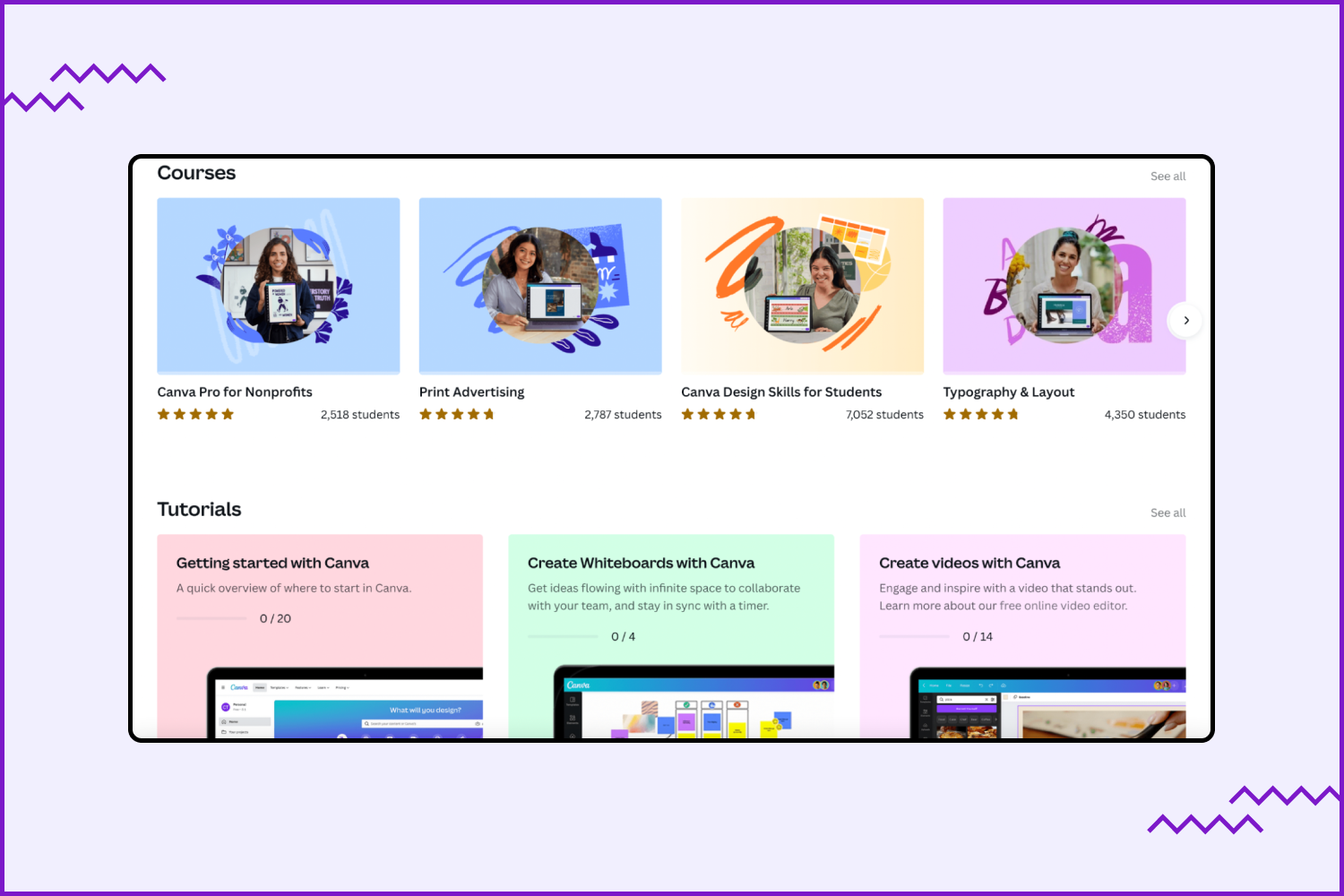 Events
In Learn tab, you can find the latest information about upcoming events. It's free webinars from worldwide experts in design. So don't miss the chance to keep up with the times and do your job better.
Diagrams
We want to emphasize that Canva enables you to create diagrams. More than 15 options (Pie, Histogram, Graphs) — choose any to fit your project perfectly.
Badges
A huge number of icons, both paid and free, you may use to build your layouts. There are various icons to make Instagram Stories Highlights covers if you want to learn about the most trendy fonts for Instagram, check this review.
Videos
Canva video editing is a new feature that was released in 2022. Users can only, with one click, change or remove the background and create animated projects. It's the easiest way to make a high-quality video for a short time without deep design knowledge.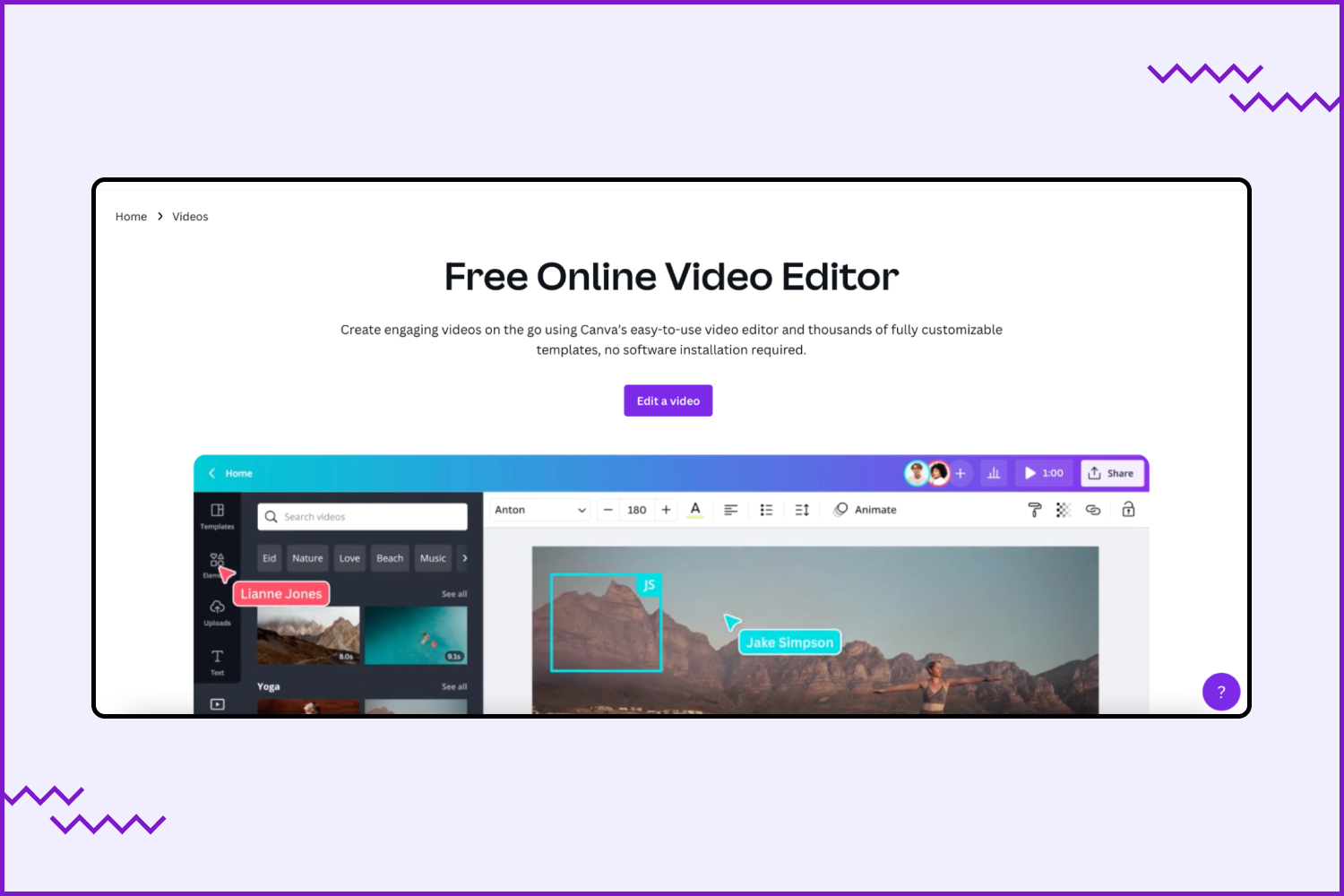 Small instructions
If you don't know how to create one or another product — Canva will help you. First, on the main panel, choose Design spotlight, then select the option you need (Logo, Flyer, Poster, and so on). After that, you will have a big instruction with tips.
Docks
Canva Docs is a document creator that helps add videos, pictures, and graphs to documents. Unfortunately, this function is unavailable now. However, you can join a waitlist and be the first who will test this new product.
Websites
One more cool option is website creation. Change layouts and choose from the templates library what you need.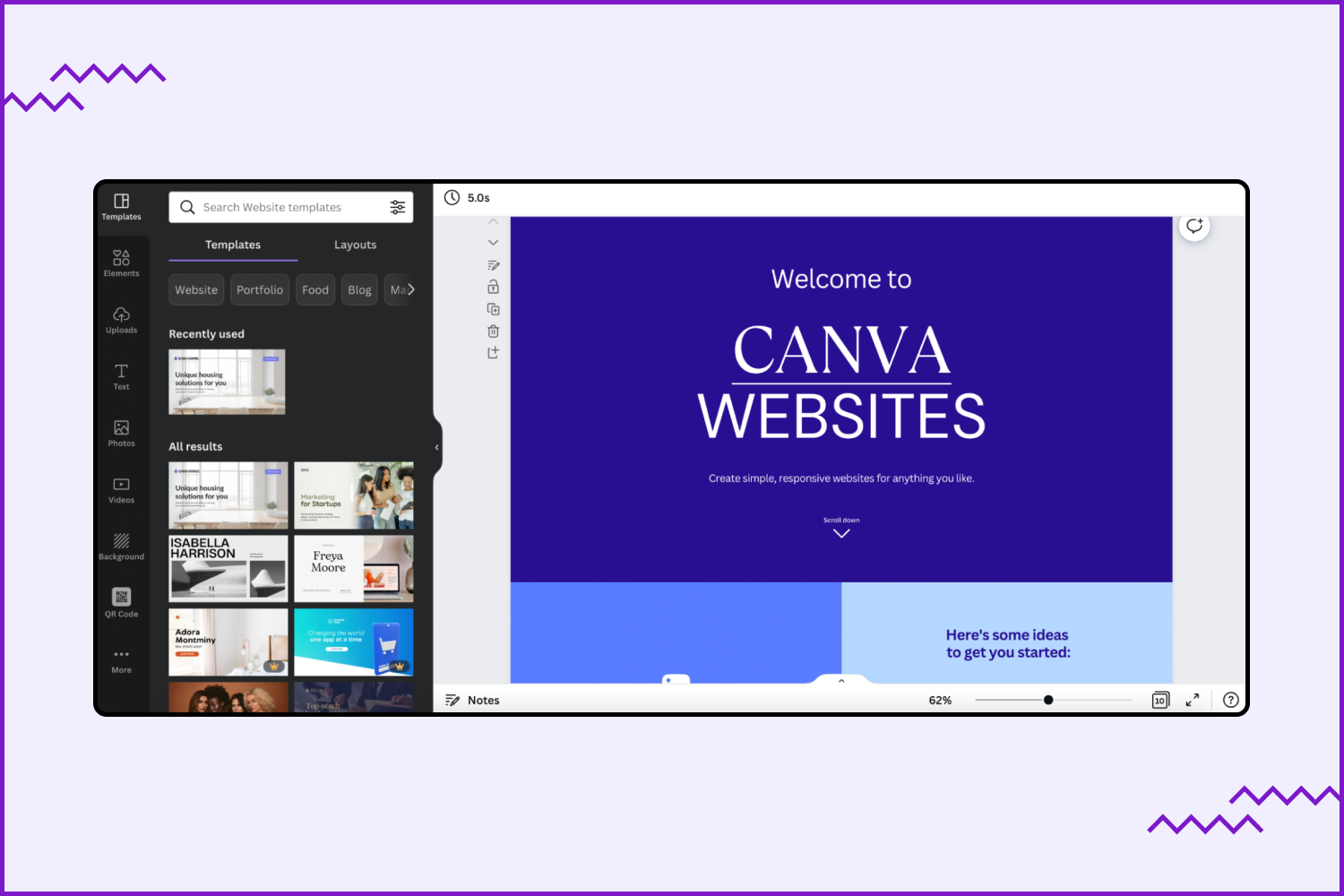 Whiteboards
This section includes timelines, calendars, concept maps, to-do lists, and other templates.
Canva: Key Features
Easy to start
To launch your project, open the collection of pre-made web assets. Tab "Browse items ." In the panel on the left, select the type of template. You may choose one of 250 000 ready-to-use templates, adjust details and colors, and drop your pictures there. You may also build a design from scratch without using items.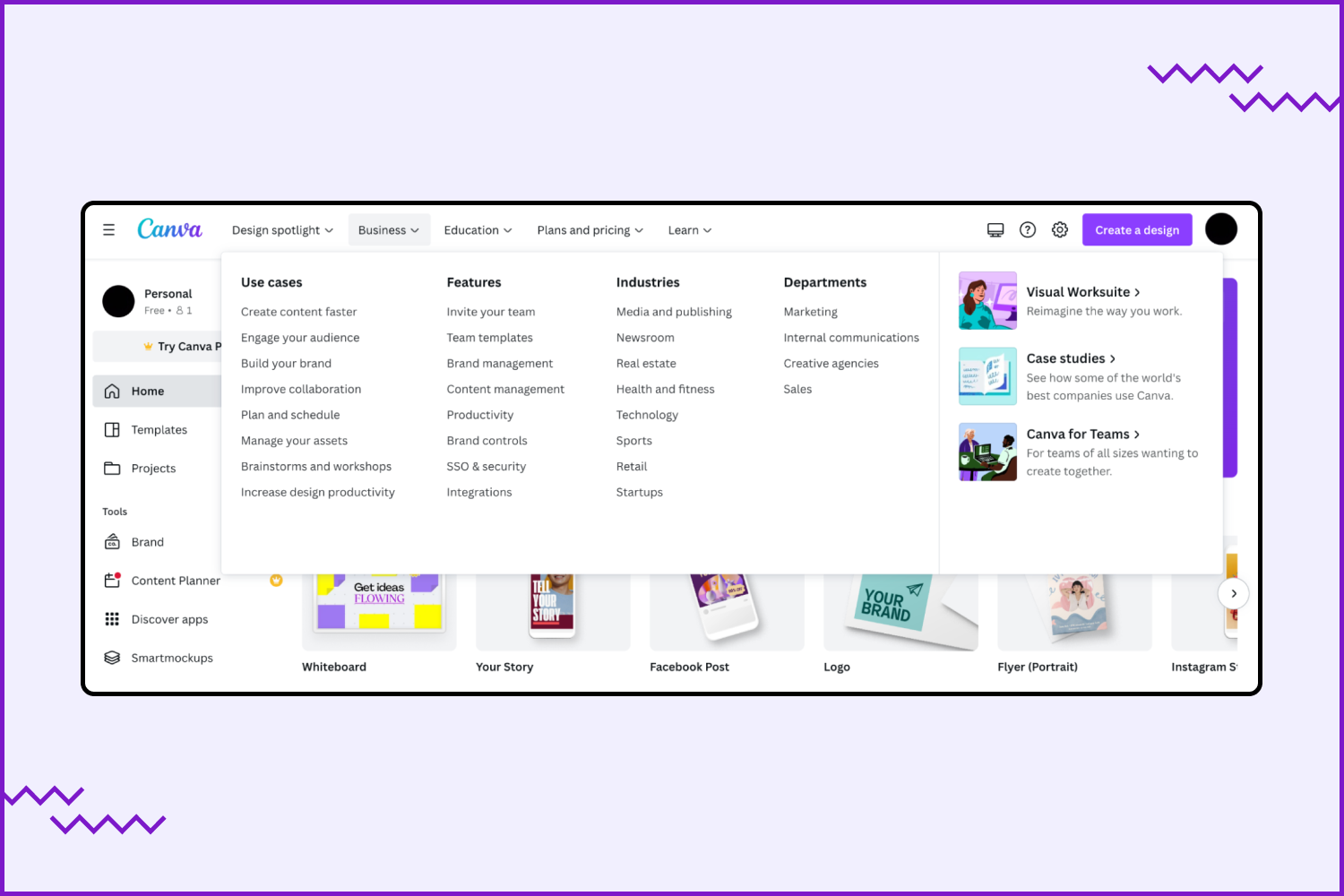 Features also include all kinds of items for printing products and various apps.
Canva Pro review
Access to the package is paid, but there is a free trial period of 30 days. The advantages of this premium option are:
Animation. Create GIF images and videos. You don't need experience with it — just use templates and photos to create short videos.
Magic resizing. Instantly change the aspect ratio in one click. No need to adjust the crop tool; choose the format you want.

Background remover. Remove the picture's background only with one click. It helps create unique projects and play with design.
Images for the pros. Access to over 100 + million photos, illustrations, and special icons. All pictures are available directly on the site; you do not need to search for them on the Internet.
Transparent background. Ability to create PNG images with transparent backgrounds you may use as icons, logos, buttons, and stickers. You can combine photo parts with other picture elements.
Post planner. Publishes posts to social networks at the appointed time, even if the user is not online. This function is available on eight platforms, including Facebook, Instagram, Twitter, and LinkedIn. There are all likes, comments, and reactions in the analytics planner. It's very comfortable to see which materials are posted and which are only planned.
Brand kits. Canva has 100 Brand kits with unique logos and fonts. Have your brand? Use ready ideas to develop your company and make it memorable.
Templates. A Pro version allows the use of more than 600 000 stylish designs; new templates are added daily. So if you have a lot of orders, you can be sure that good templates will never end.

Support 24/7. Canva customer service is available around the clock. So if you have some problems even at 2 a.m. (hello, owls), you can be sure that professionals fix everything.
Canva app review: mobile version
In addition to the online maker, Canva has a mobile app. It is even easier to work with it than with the computer version of the editor. The application has much fewer functions. The developers have left only the most important. See below how the main page of the mobile application looks. Make a new design by selecting one of the blanks or going to the materials you created earlier. Click the "Show All" button, and more presets will open. Or find the desired layout through the search at the top of the page.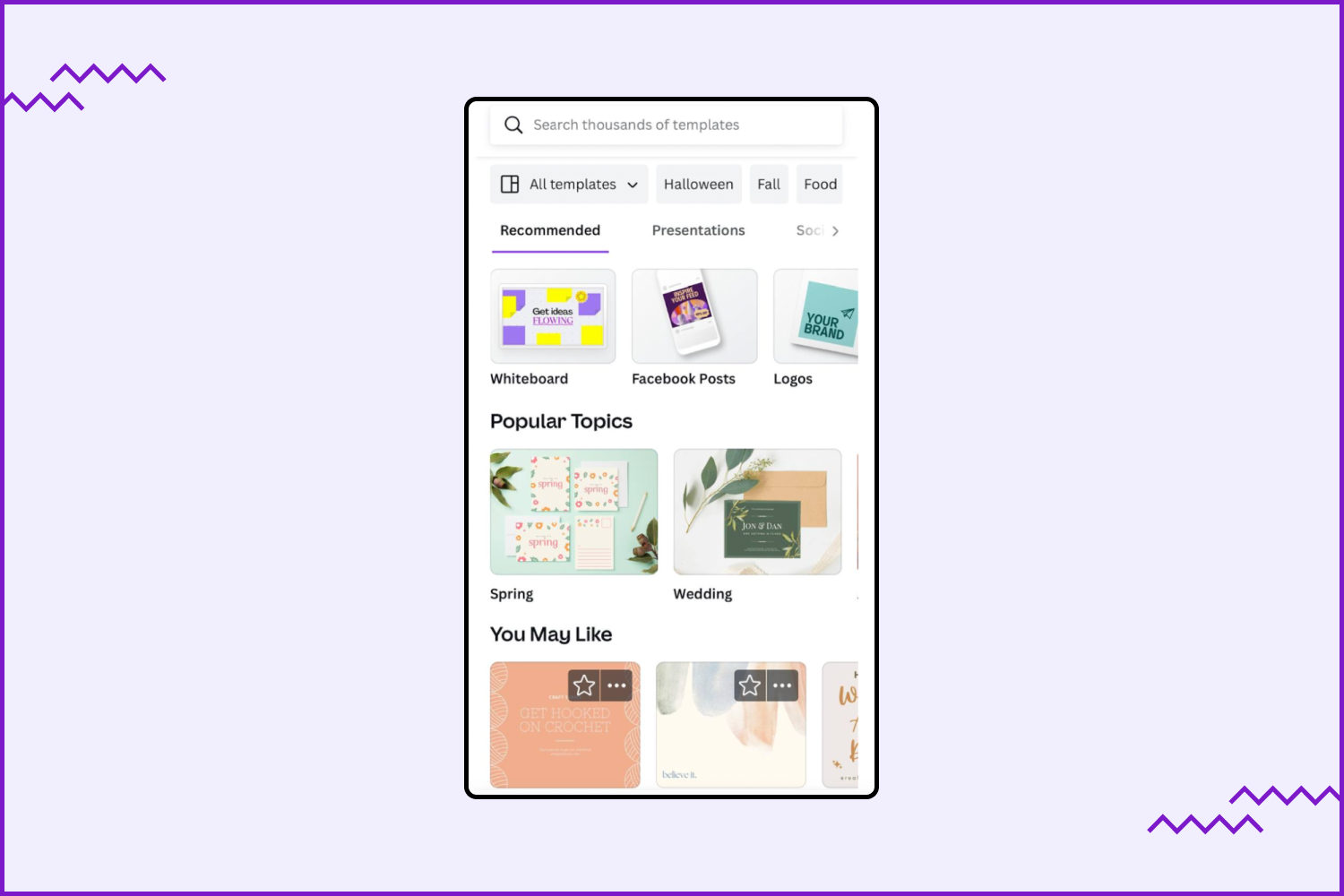 Using the application, you have an opportunity to create:
Post to Instagram, Facebook, Twitter, or another social network.
Background for Facebook and Twitter.
Photo collage.
Poster.
Flyer.
Invitation.
Postcard.
Blog banner.
YouTube channel thumbnail and artwork.
Pinterest Chart.
Book or CD cover.
Desktop wallpaper.
Graph.
Mind map.
Magazine cover.
Zoom virtual background.
Worksheet.
Planner.
Comic strip.
Class schedule.
Concept map.
Tag.
Invoice.
Lesson plan.
Bookmark.
Phone wallpaper.
The editor itself is a little more modest than its computer version. But it still has interesting options:
Siri. Do you want to work faster than you do now? Use Canva with Siri. You can ask Siri to find specific images in this tool. For example, "Siri, find birthday invitations in Canva" or "Siri, search for Halloween party templates in Canva," and that's all.
Font pairing. Choosing good-looking together fonts can be difficult, but not in Canva. Instead, developers created a vast library with more than 100 balanced pairings. So your heading and text won't clash.
Live camera. Are you surprised by this feature? The live camera allows posting bright and stylish stories to Instagram and Facebook for a few minutes. You can experiment with texts and colors.
Filters. Canva App has a bigger range of filters than the desktop version. You need to choose a filter and click the " Advanced " button (there are options for brightness and contrast). Plus, there is an opportunity to add different effects, such as blurred or vignetted.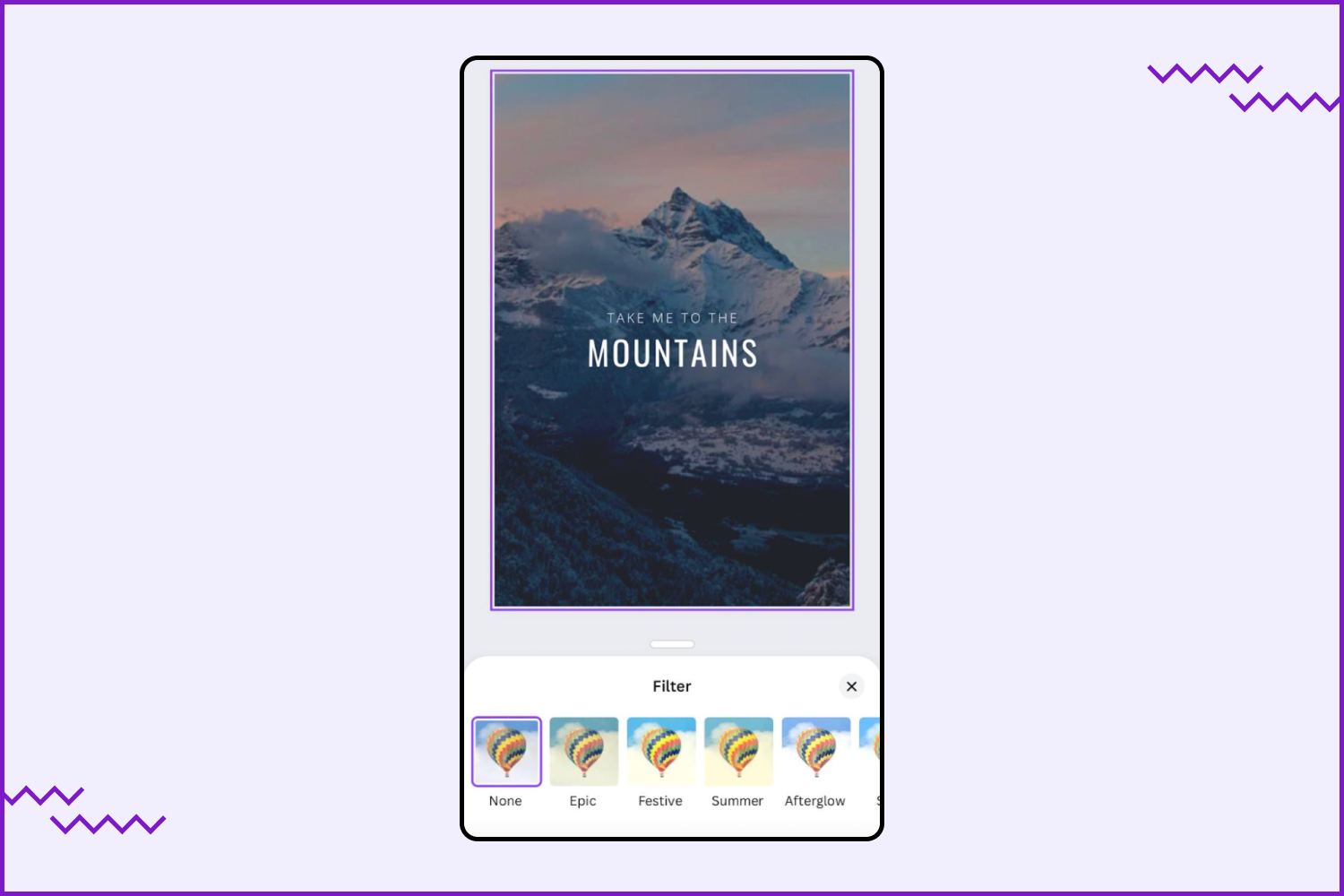 Canva for nonprofits
This plan is an easy way to make materials for a wide audience. Canva for Nonprofits program gives access to all premium instruments. That is why you can create powerful marketing campaigns for free. With this software is possible to work on presentations, reports, webpages, flyers, and so on. This subscription proposes:
More than 400 000 templates.
75 million+ images.
Over 3 million graphic elements.
Magic Resize function.
Unlimited folders.
Cloud storage for 100GB.
Animations and GIFs creation.
Work in a team.
Free short guide videos.
How to get all these features for free? First, you should feel the application on the website. Then you need to wait until specialists check all information and send an email confirmation.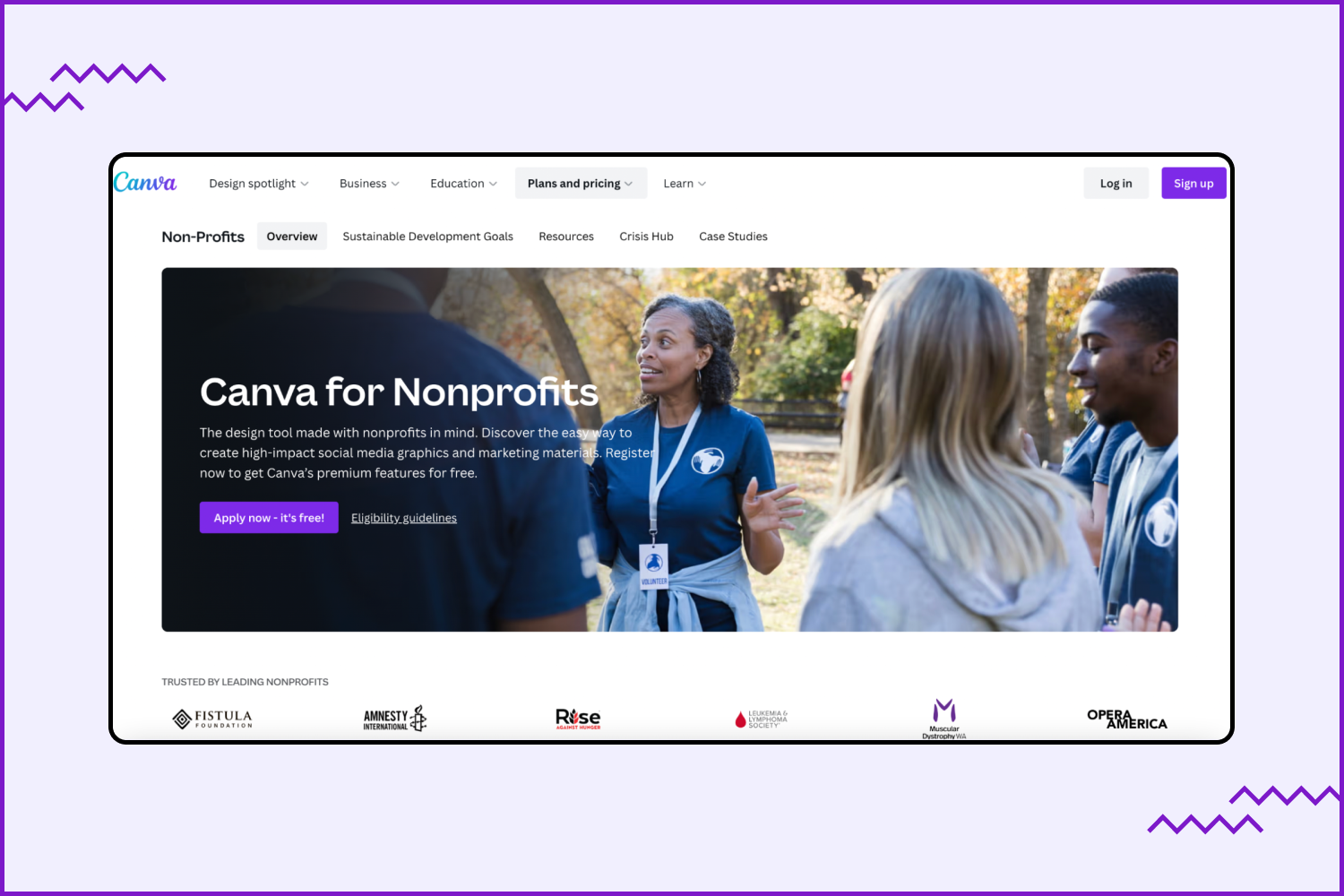 How To Design in Canva Using the App?
Download the application, register, or log in with your Google or Facebook account. On the main page, options for the developed items will appear. Choose the format you want and the layout you like, and start working in the editor. For example, choose the "Post to Instagram" format.
Change the inscription and font, upload your image, and decide on a different color. Let's experiment while making a post. Let's say we need to make a Christmas sale post. If you plan to create a printable card for this Christmas, you should check out our review of other design services suitable for this purpose. But for now, let's come back to Canva. Enter your text, and adjust the font and color. Here it is possible to change letter spacing, line height, format, position, and effects. In the screenshot, you can see the elements that will help you design your project.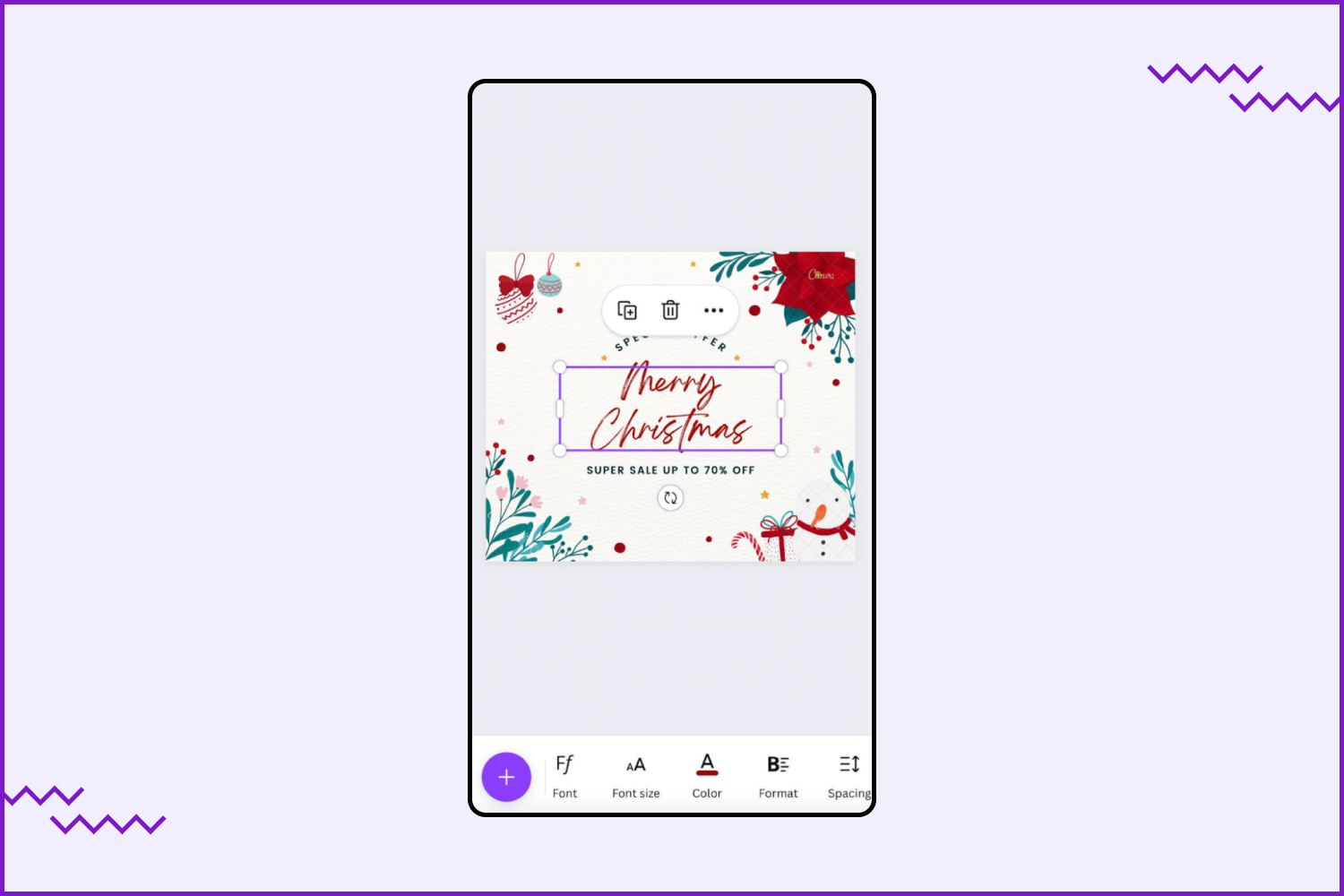 Next, load the image. To do this, you need to select the button "+" and select a photo from Templates, Uploads, or Camera Roll. Then, if you wish to use images provided by Canva, type a keyword and pick up the one you like.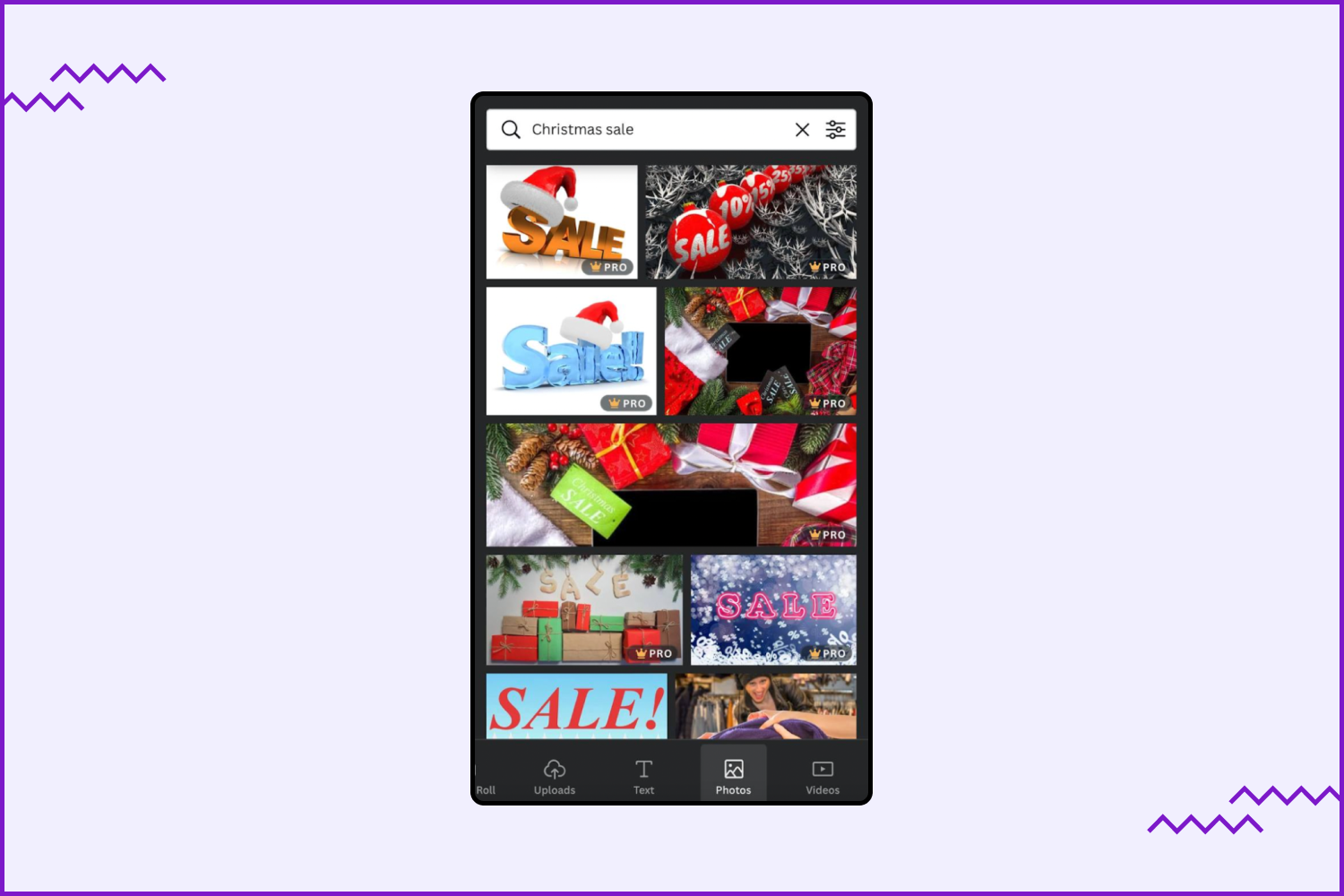 Open the "Filters" tab. Select the first one, which says "None," and the image takes its natural look. You can also apply another filter you like (Epic, Festive, Summer, Solar, Cali, Peony, Dare, Rosie, and so on). You can change it if you don't like the shade or the frame's tint. Just click on edge. Select the "Color" section. You will see the options from a ready-made palette. Customize your shade or enter the desired color code in the window easily. The color system here is HEX. Canva photo editor is great both for beginners and professionals and can be helpful for most design products.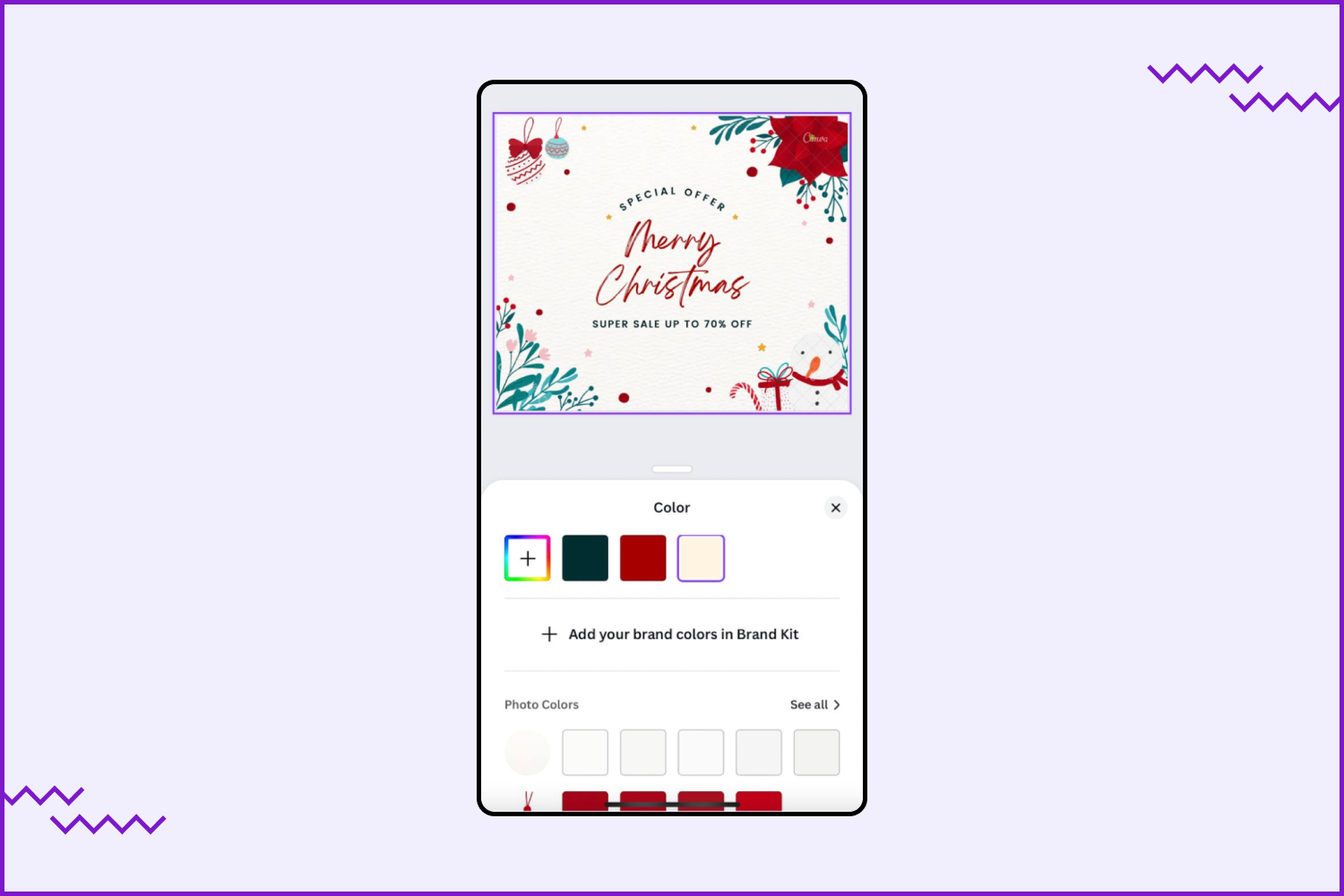 The mobile version has three folders: Purchased, Starred, and Uploads. They help to organize your projects and templates.
Just decide which format you wish to get your end product, customize it, and the design is ready. If the application's functionality does not impress you, work on your PC with the full site version, giving you many more possibilities.
How To Create a Project with Canva Using PC
You must complete an easy registration to work with the online service. In the main menu, we see the panel on the left; click on "Templates." A large library of ready-made layouts opens. To find the most suitable one, you can use the search. There is also a panel on the left that will help you determine the format.
Take a layout to create a logo for a coworking space, for example. In the window that opens, we see a ready-made design for logos. Add a keyword, and you will see the options you have. You can edit all available samples provided by Canva. To start editing, click on the desired item, and start customization.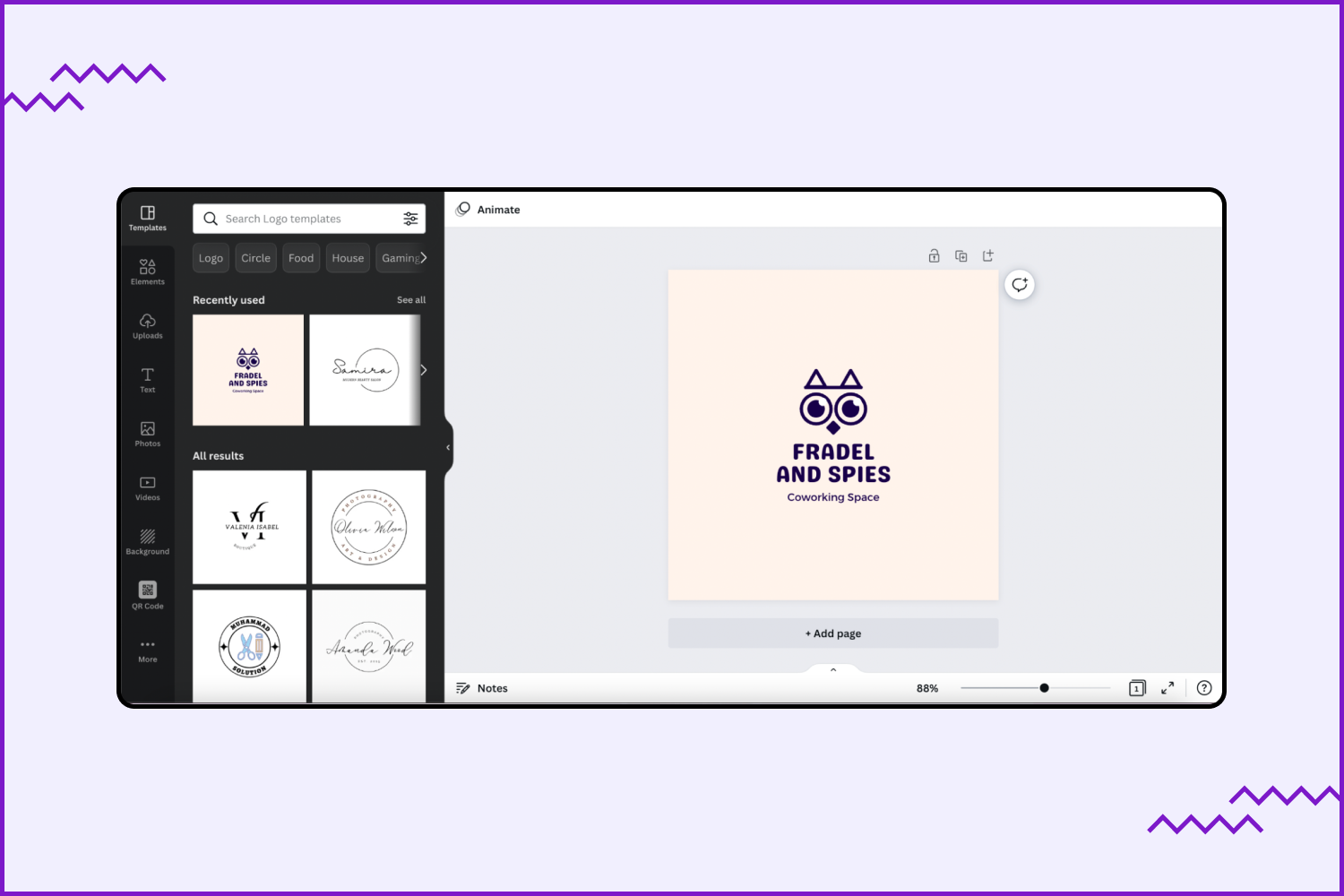 As you have noticed, Canva gave you limited possibilities for a coworking logo. To build the corporate identity for your platform, you will have only a few options available. That is why if you are serious about your startup and have enough budget, you should consider a pro version. The upper menu of the PC version enables you to:
Show guides/margins/ruler or print bleed.
Make a copy of a logo.
Download, share, or save your project.
Order a print design.
See insights (Pro version).
Type a project name.
View all comments.
Use resize (Pro version).
Undo and redo signs.
Add/edit corporate company colors are also available in the mobile application. It is possible to do it in the full version, also. The color changes only on one page. You can make them multi-colored. To apply the edit to all pages, check the box next to "Change all."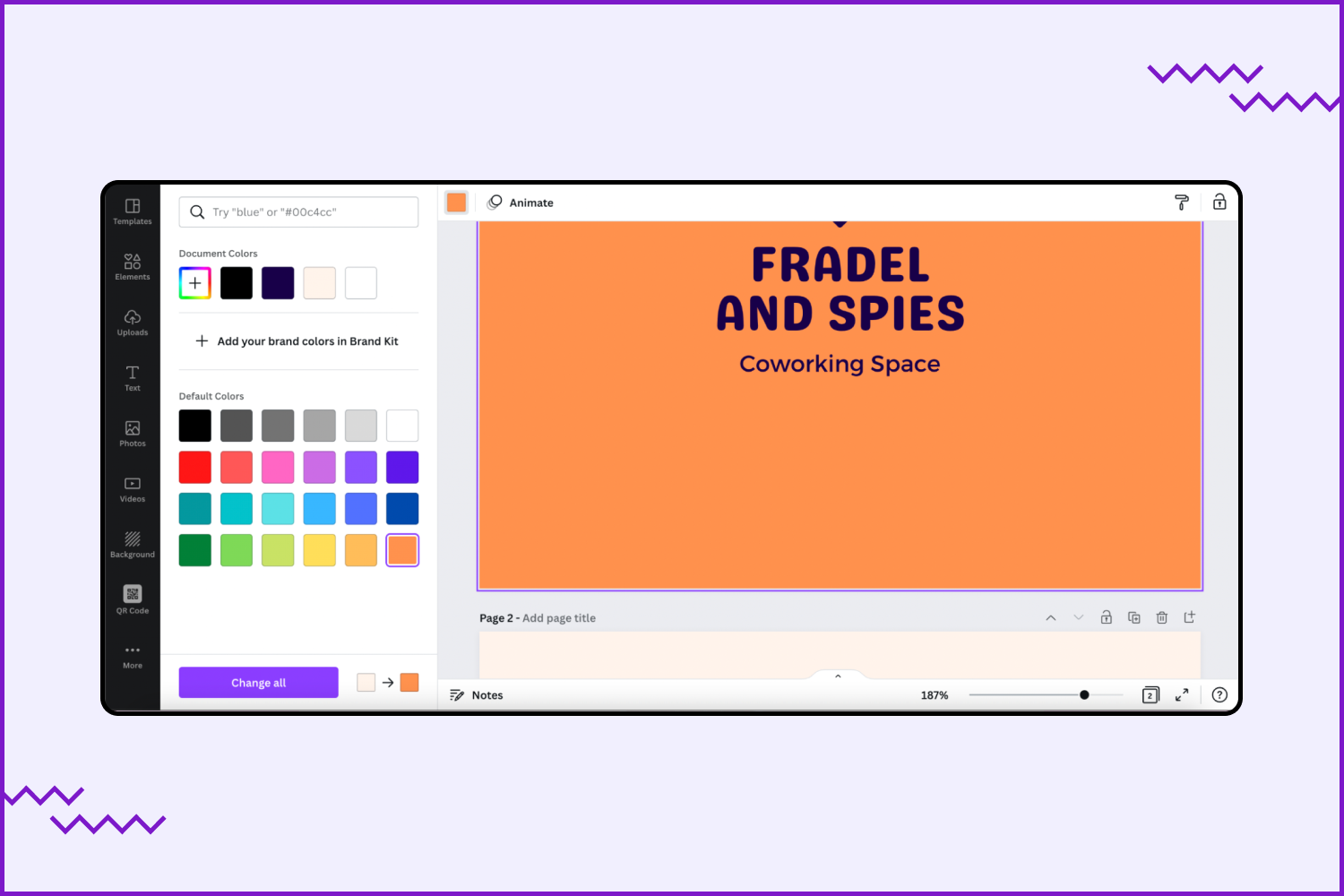 Next, let's work with the text. On the left, you will see a toolbar for working with text. There are options for:
Use ready-made font options, or upload your own. You may download your font with the "Canva for Work" package only.
Text size.
Color.
Bold and Italic.
Alignment.
Uppercase letters.
List.
Effects (9 styles and 2 shapes are available).
Animate option (3 types: basic, writing, and exaggerate).
Spacing — letter spacing, line height, and text box anchor.
Also, you may change the transparency of the text, lock it, and add a link to the site.
If you want to set text parameters and do the same with dates, click on the first line, hold Shift, and select the rest—next, the "Group" button. Otherwise, you will disconnect each line from the rest of the text. You will have to change the text's color on each slide manually.
Left Toolbar
Let's take a look at the left panel tools. There are 6 of them:
Templates. You can search for other templates in this tab and apply them if the previous one does not fit.
Elements. There are free icons, shapes, charts, illustrations, lines, frames, videos, audio, stickers, tables, and graphics.
Uploads. They show all uploaded photos, videos, or audio.
Text. There are blank labels. You can use them or create text by clicking on the "Add text field." You can add headings, subheadings, and body text.
Background. Here, you can use color, texture, or image as a background for a layout. There are many free backgrounds in this section.
More. The final tool is a set of additional options that include all you need to compose a successful project. There is a list of programs where you can import your designs. There are more than 30 options. Also, there is a button called "Discover content from." What the new in 2022 is the ability to create a QR code with the help of a URL. Canva has a beta version of Text to image. You describe with a few words what you need and then choose a style (drawing, 3D, painting, pattern, and concept art). Are you ready for a real bomb? You can draw in Canva! Draw (beta version) has a pen, marker, glow pen, highlighter, and eraser. Users can regulate size, transparency, and color.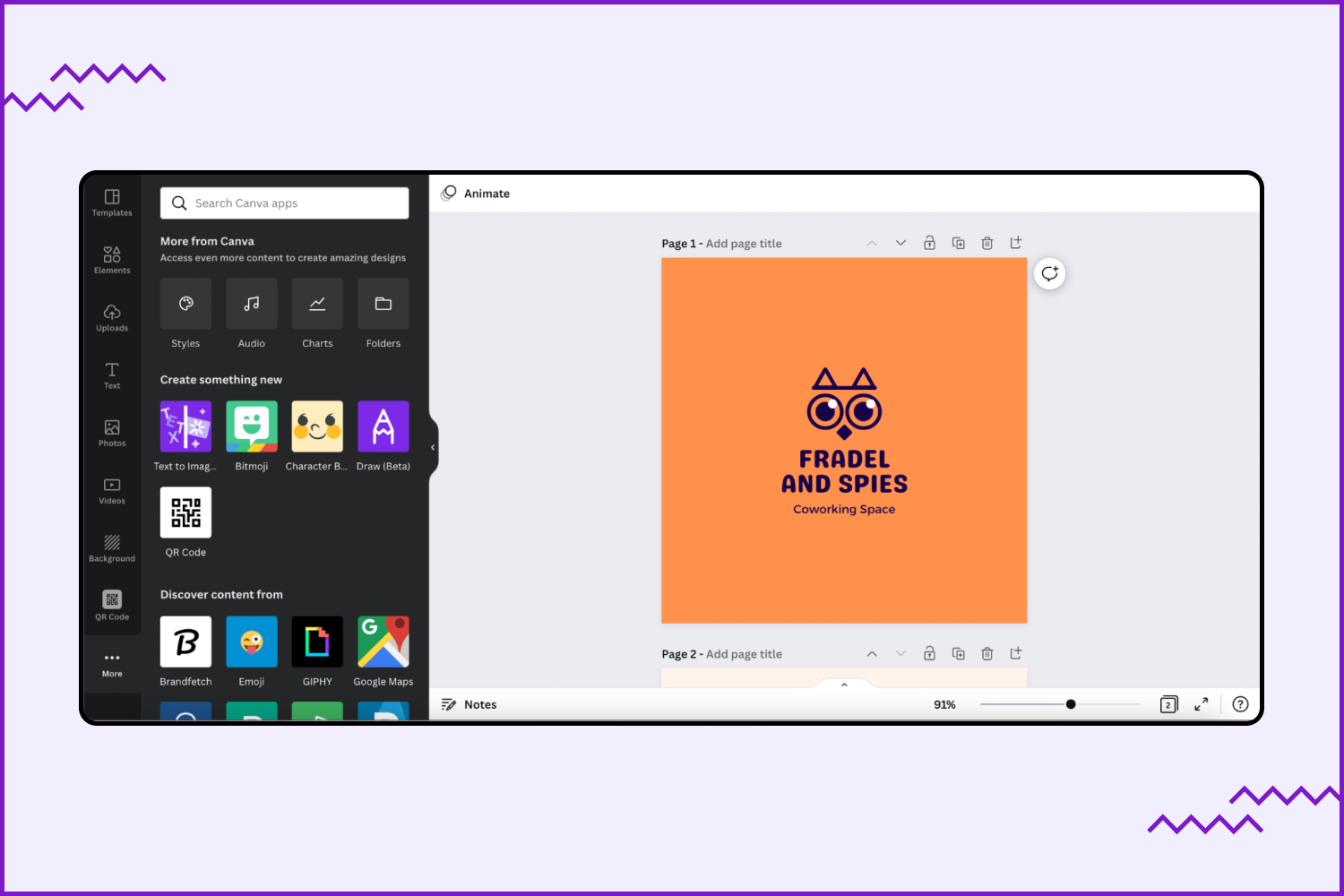 Publish the end product on your social network and a website, and save it on a device in image or presentation format. By the same principle, using the service, you can create presentations for study or work. You can compose so many things with Canva. You should try it today!
Canva Review: Pros and Cons
The service has many obvious advantages over other complementary builders. But there are also disadvantages. Below we will consider both of them in more detail in our Canva review.
Canva pros
Intuitive interface. Of all the builders for working with infographics, Canvas is the simplest. All essential functions you find in the main menu. Once on the site, the visitor will not get confused by incomprehensible tabs. But if you have some difficulties, there are blogs on the website where you can find interesting ideas and instructions.
Autosave last changes. The service automatically saves all layout edits. This feature will prevent losing your project if you accidentally close a browser tab or have problems connecting to the network. Also, all your previous works are saved in Canva base. You can return to them even after a few years on the condition that you have the same account.
Large selection of complementary items and elements. Even the standard complementary toolbox offers great possibilities. To get an interesting design, it is not necessary to pay for access to the site.
All skins correspond to the latest trends. These are not the old boring items that people often encounter. Here you will find an unusual and interesting solution for any project. New photos and templates are downloaded on the site every day! So all new trends are at your disposal.
Creation of presentations. Make a presentation directly on the website. There are ready presentations with cool designs, types, and backgrounds. You can change all elements or leave them, add texts, and other elements. You no longer need to save individual pictures and then add everything together on the computer.

Availability. Use the constructor from both a computer and a smartphone. Just log in with your account, and you will have access to all the skins you have developed, no matter what device you used to build them.
Teamwork. Connect corporate access for collaboration. This option will be useful if several people are working on a project. All team members will be able to view and share their work. In addition, users can leave comments, assign tasks, report, and see all changes.
Ideas for inspiration right on the site. When there is a lack of ideas, open the design feed, and see what other users create. You can also share your work with other participants.

Free courses. Beginners have access to free classes on basic themes, which help them to start their careers and learn all essential instruments. There are some of them: Canva for Nonprofits, Typography and Layout, Canva for Beginners, Print Advertising, and others.
MP4 Converter. This feature helps to share and edit videos easily. MP4 converter tool works with videos in MOV, GIF, MPEG, MKV, or WEBM formats to MP4 files. If you need to convert a large file — compress it into a ZIP.
Canva cons
Watermark on premiere elements and items. You can remove it by paying for a premium item or a subscription. There are quite a few paid items.
There is no possibility of using elements of one template in another. A piece you like in one template cannot be copied or transferred to another.
High price. Paid access costs 12.99 dollars per month per member. If you want to use it annually, you must pay 119.99 dollars. It is around two times more expensive than a subscription to other services.
No PSD files. Canva supports different file types. But you can't work with PSD images. It creates some difficulties in projects, and many professionals are concerned about that.
No phone support. This tool has online customer support 24/7, but phone support is absent. So if you need quick to explain your problems in conversation — it will be impossible.

Limited tool choice. The free version provides a huge variety of tools, but it's not enough for some users. All cool instruments are in paid subscriptions. In addition, people who use Canva daily for work tasks can feel a lack of icons on the control panel.
Only online access. Without the Internet, it's impossible to use all of Canva's advantages. Thoughtful planning helps to do all work on time.
Canva Pricing
Canva has three main subscription plans:
Canva Free. This subscription is free for everyone. It proposes more than 250 000 templates, 1+ million photos and graphics, and cloud storage for 5G.
Canva Pro. It's a good option for freelancers, solopreneurs, or small companies. Canva Pro pricing is 12.99 dollars per month or 119.99 dollars per year.
Canva for Teams. Here it is if you are interested in the Canva enterprise plan review. Small and big companies can use this plan. All business owners find something useful. For example, with this subscription is possible to organize smooth teamwork, despite time zones and countries. You can assign roles, check designs, make edits and leave feedback. Here users have the same cloud storage capacity and amount of photos and other digital content as in Canva Pro. Other cool features: branded templates, brand kit, the possibility to schedule social posts, Single Sign-On (SSO), and Two-Factor Authentication (this function helps to protect your materials). The cost is 14.99 dollars per month and 149.90 dollars per year. Pay attention that its pricing is for the first five people.
The Canva Pro and Canva for Teams have a 30-day trial period. After that, you can cancel this subscription anytime you need. This tool proposes plans for teachers and students. It's 100% for K-12 (primary and secondary) educators and their teachers. This subscription includes all Canva for Team features and something new: LMS integrations, assignment sharing, and templates for educational materials.
Canva discounts
It's possible to get a Canva discount when you decide to activate some subscription plans. For example, when you choose a free trial period, you can get a deal up to 30% for the annual packet. The average discount is around 16%.
Also, for subscriptions, you can use a referral link from other people. It saves up to 36 dollars. Users will get a one-off commission if their friends/colleagues subscribe to the annual Canva Pro. For a monthly subscription, it's possible to get a monthly commission for the first two months.
If you want to get Canva coupons, you can do it during promotional events. So all available discounts you will get directly on your email. Primarily, Canva proposes offers on print orders. So you can print your favorite designs and receive them at your post office or home address.
Pay attention that each code you can apply only once. It's possible to use only one discount per order. All codes have an expiration date, so use them at the right time. If something goes wrong — write to customer support.
Canva Review in Infographic

Final Thoughts
Overall, Canva is a great companion for anyone looking for quality visual content without a professional's help. Everyone can make their ideas come true in this constructor — from a student to a web businessman.
Canva will not provide a unique design for you because all items have ready-made layouts. But this service will save you time and make your life easier. If you haven't tried working with graphic content yourself, start today. Dealing with Canva is easy, even for those who have no idea how to make a web item. We hope our Canva Reviews were helpful to you, and now you know how to use them in the app or on your PC.
Some Awesome Video About Canva
Ultimate Canva Review 2022
My review of Canva including who it's best for and why I continue to use it year after year.
Canva Review (2022) — Pros and Cons & Key Features
In this Canva review, we look at all the pros and cons of an increasingly popular browser-based graphic design tool
Have 10 minutes? I'll make you a designer! | Canva for Beginners + Small Business 2022
Have 10 minutes – let's learn Canva! The best part, it is FREE!
FAQ
Here are a few frequently asked questions about Canva
What are the disadvantages of Canva?
In review Canva appears as an ideal tool, but it has some disadvantages. The free version is good, but it's impossible to use images with transparent backgrounds. It's an online graphic instrument, and that's why you can't work with pictures without access to the Internet. Canva works with many file formats but doesn't support PSD — it's a problem for many designers and photographers.
Can we trust Canva?
Security is a top priority for Canva. Their products are designed to protect users' data. Developers use a CDN to prevent attacks on the network. In addition, Canva provides SSO and MFA options for account safety, so it will be hard for scammers to steal your private information.
What are the pros and cons of Canva?
There is a lot of information about the pluses and minuses of this tool. In a few words, here are Canva's pros: good value, easy to use, free version, brand kit option, mobile app, and thousands of free templates. Canva cons: lack of backup projects function, no transparent backgrounds in the free version, and no access to the files without the Internet.
Is Canva better than Photoshop?
This two software have some differences. Canva is an online tool with a big template library for easy and quick designs. Meanwhile, Photoshop is an app that proposes advanced instruments for professionals. So there is no one answer. Using each software depends on your needs and knowledge.
How do I redeem a promo code on Canva?
You can use the promo code on print orders. To redeem it, create a print design, then adjust it for your needs with the help of the order dialogs. After it, open the Confirm and pay page. Select Add coupon code, enter it and push Apply. In the end, type payment details.
Is there a Canva student discount?
There are a lot of questions about whether is Canva free for students. Yes, Canva for Education is 100% free. However, you must sign up with a study email address or upload proof of your education. If you're a primary or secondary student, your invitation will be organized by your teacher.
Was this page helpful?
We will be happy if you decide to share this article with your friends on Facebook. Just click on the button and you're done
What are your concerns?
Thanks for your response!
You have already left your review.
Disclosure: MasterBundles website page may contain advertising materials that may lead to us receiving a commission fee if you purchase a product. However, this does not affect our opinion of the product in any way and we do not receive any bonuses for positive or negative ratings.