15 Best Midjourney Prompts to Speak the Same Language with AI Assistant
MidJourney is a valuable and modern tool that designers, content creators, stylists, artists, and marketers need. Simply put, it is an AI that helps generate an image based on text. There are prompts to make it easier for you to create images with MidJourney. These are out-of-the-box commands that specify the settings for generating. We have already described what a prompt is and why writing clear prompts will contribute to a better result. In this article, you will find a collection of the best Midjourney prompts you can use for your projects. And at the end of the article, you can find tips to help you make your image generation more accurate and the result better.
If you know how to create cool and modern prompts, take advantage of the opportunity to earn with them. You can sell your prompts on MasterBundles. You can quickly and easily upload them with the Sell Your Deal form, which has many native prompts for designers, content specialists, marketers, SEO specialists, bloggers, social media managers, and more.
Best Midjourney Prompts: Our Top Picks
In this collection, you will find the best Midjourney prompts in high quality. They are straightforward to use and customize to your taste.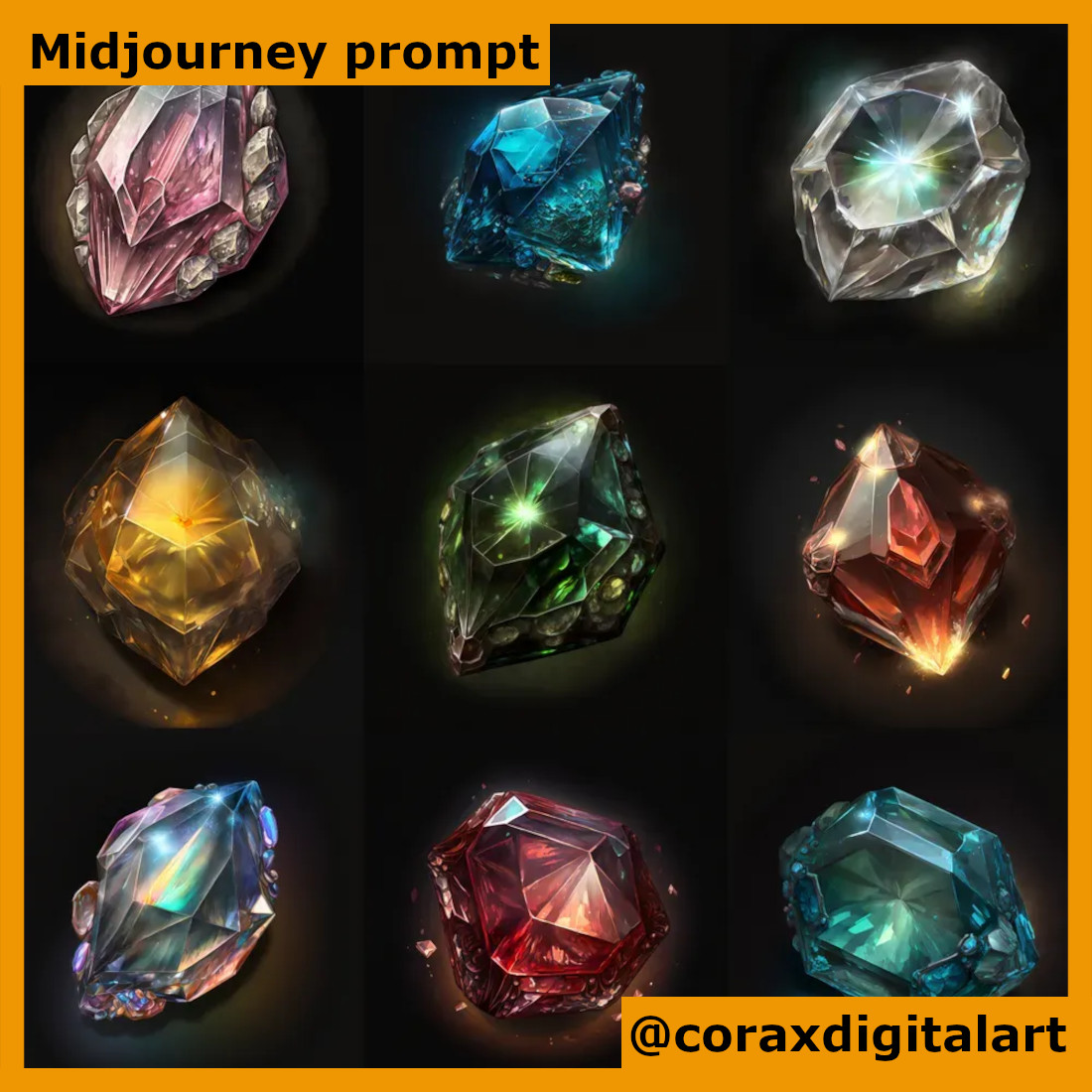 Fantasy Gem Game Assets prompt for Midjourney
Price

$5

File type

TXT

Date

March 27 2023

Colors

black

brown

orange

yellow

Rating
With this Midjourney prompt, you can create quality and vibrant gemstone art. You will get a text file to help you create original and authorial art.
Show More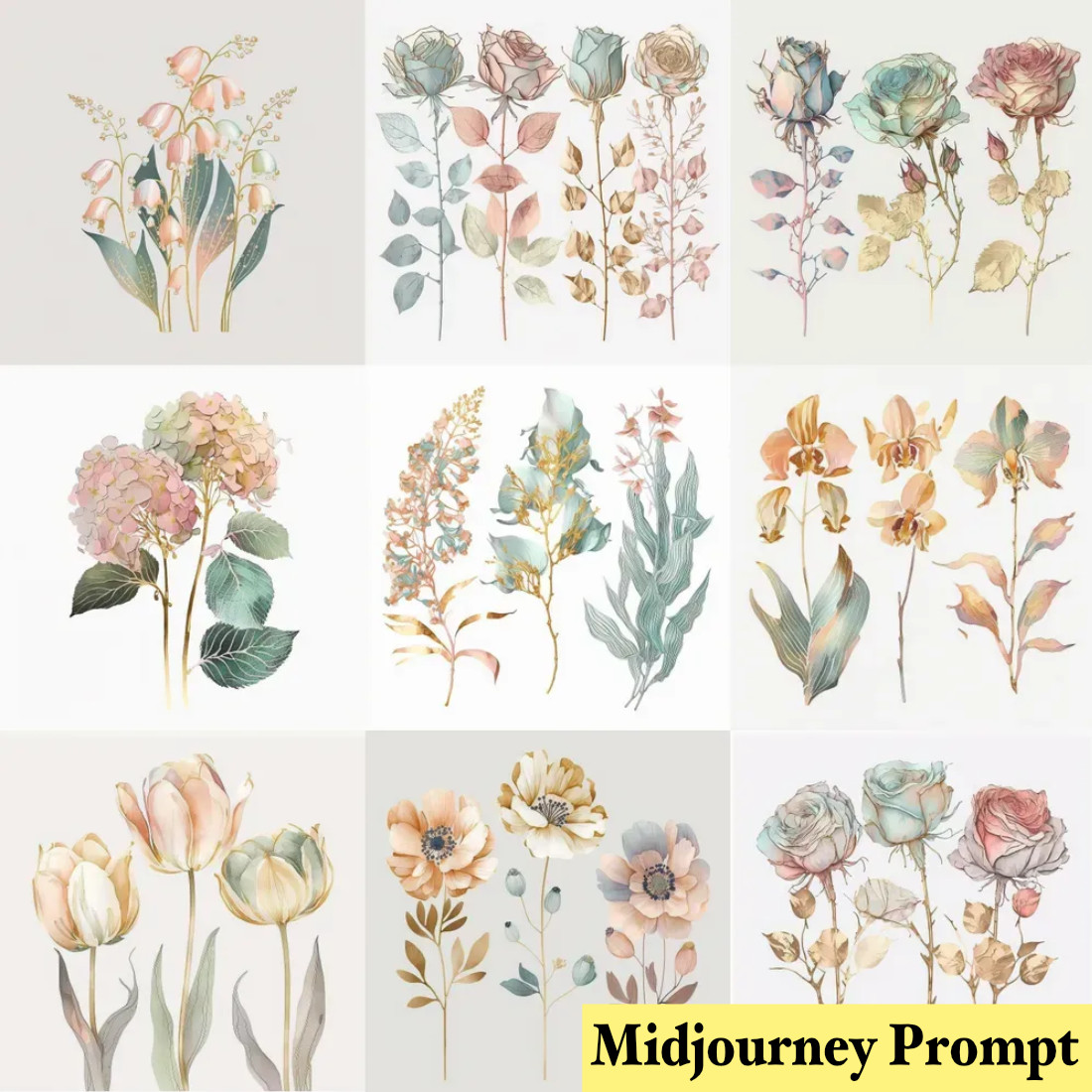 Elegant Watercolor Flowers Midjourney Prompt
| | |
| --- | --- |
| Price | $5 |
| File type | PDF |
| Date | March 29 2023 |
| Colors | |
| Rating | |
Generate a delicate, light, and elegant floral design with this product. Use it for greeting cards or event invitations. Add your adjustments to make the design unique. It's effortless to use because you get detailed instructions to help you figure it all out.
Show More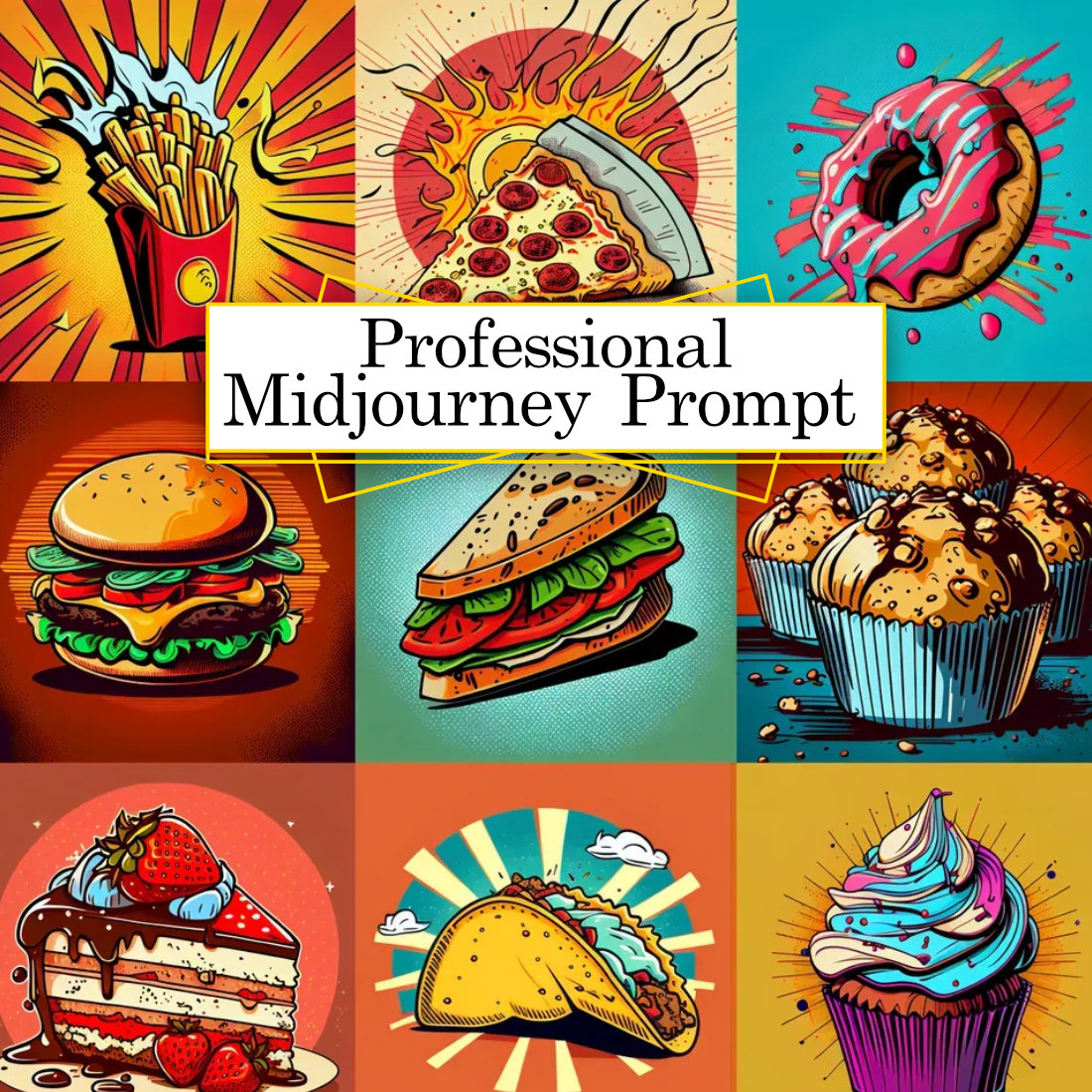 Cartoon Comic Style Food Midjourney Prompt
Price

$5

File type

PDF

Date

March 29 2023

Colors

blue

green

orange

red

yellow

Rating
Do you need comic-style food images? Then this product is perfect for you. You'll be able to generate bright, colorful food art that looks like it's from the pages of popular comic books. They will be perfect for posters, stickers, collectible cards, and greeting cards.
Show More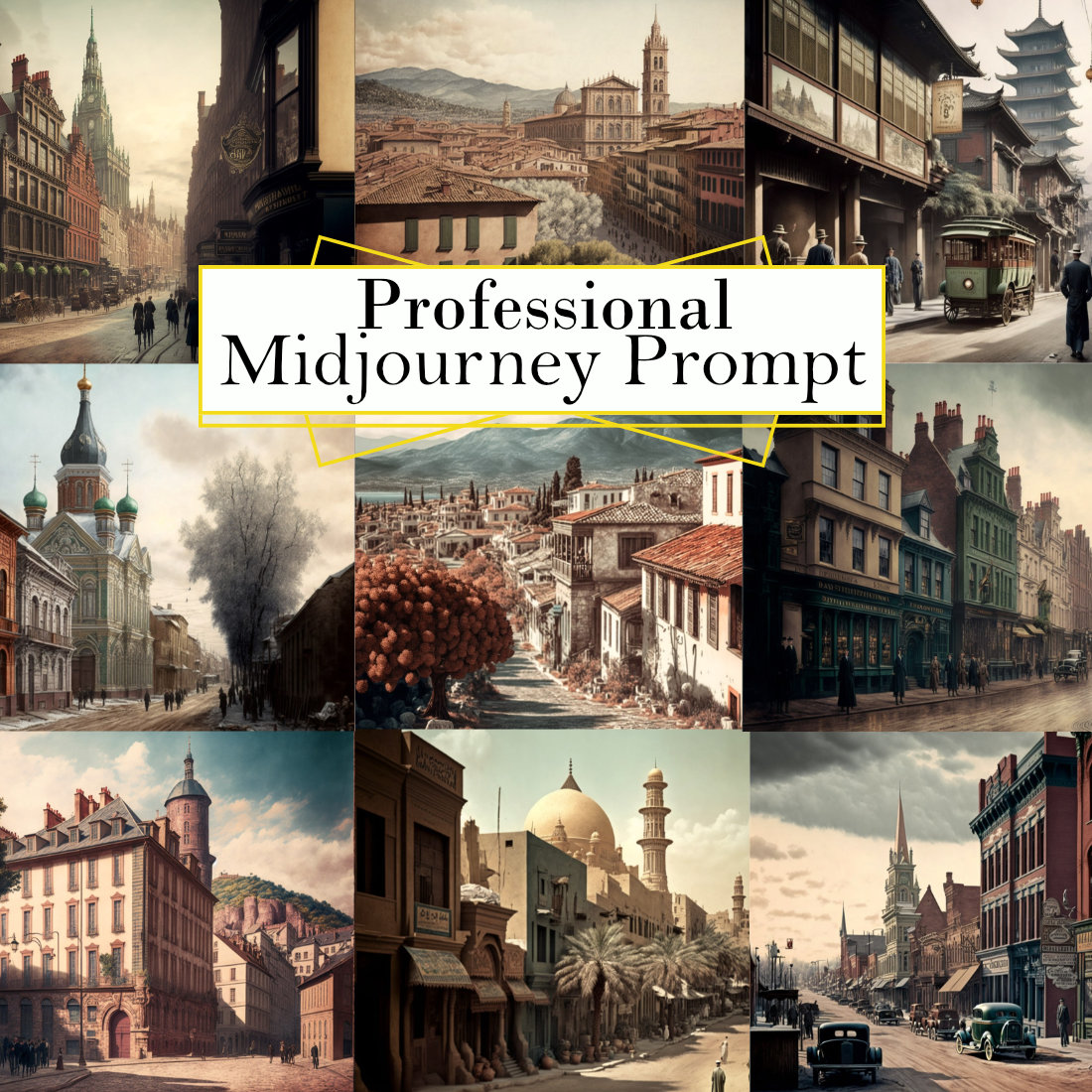 Old Century Cities Midjourney Prompt
| | |
| --- | --- |
| Price | $5 |
| File type | PDF |
| Date | March 30 2023 |
| Colors | |
| Rating | |
If you were looking for a way to generate a photo in the style of the last century, take a look at this option. With its help, you can create vintage pictures of old cities that convey the atmosphere of the past. You can change some details to your taste to make the result unique.
Show More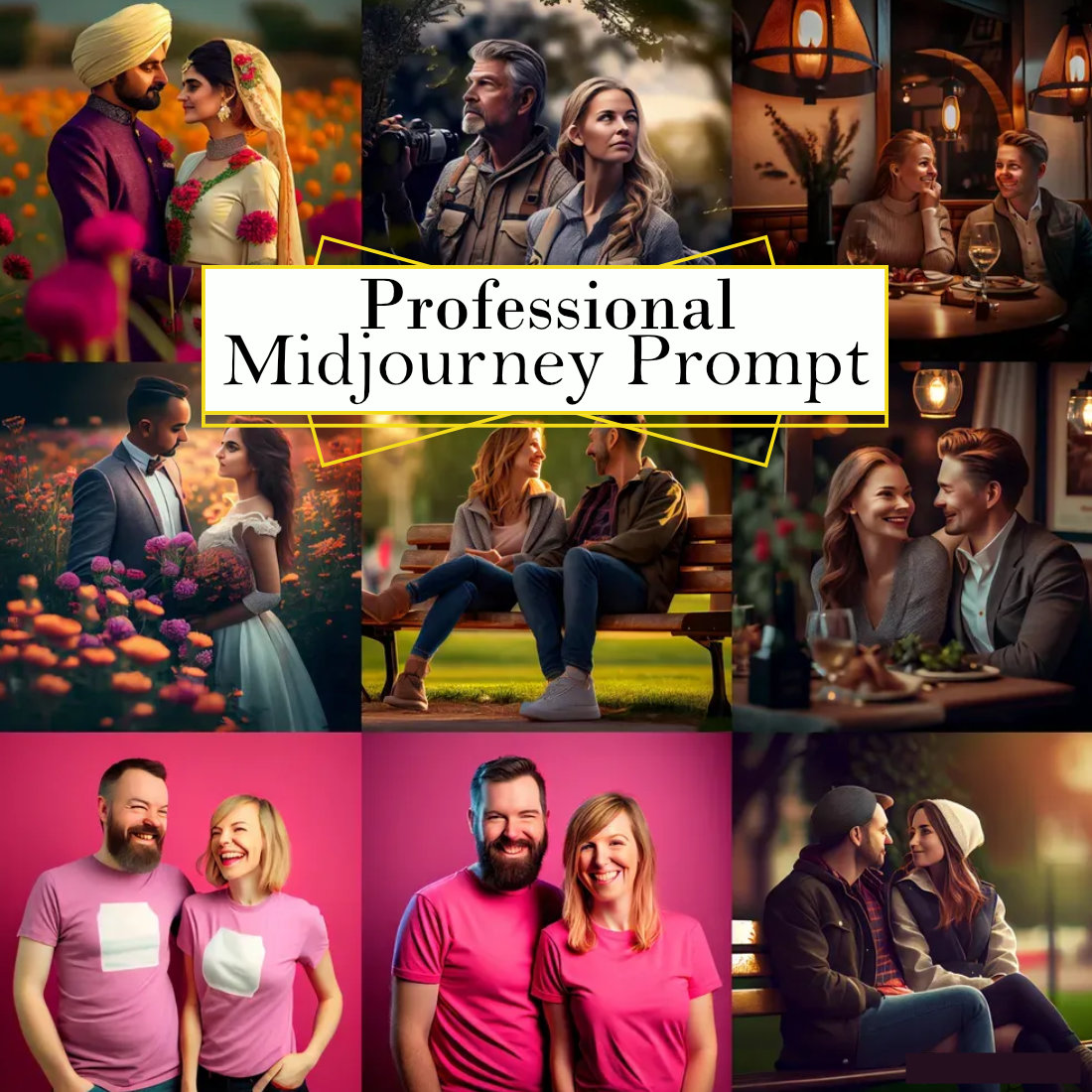 Couple Portraits Midjourney Prompt
| | |
| --- | --- |
| Price | $5 |
| File type | PDF |
| Date | April 4 2023 |
| Colors | |
| Rating | |
Generate bright and attractive portraits of couples with this excellent prompt. You will be able to create a lot of unique and high-quality portraits of couples that you can use in designs or for social networking.
Show More
Hyperrealistic pictures Midjourney prompt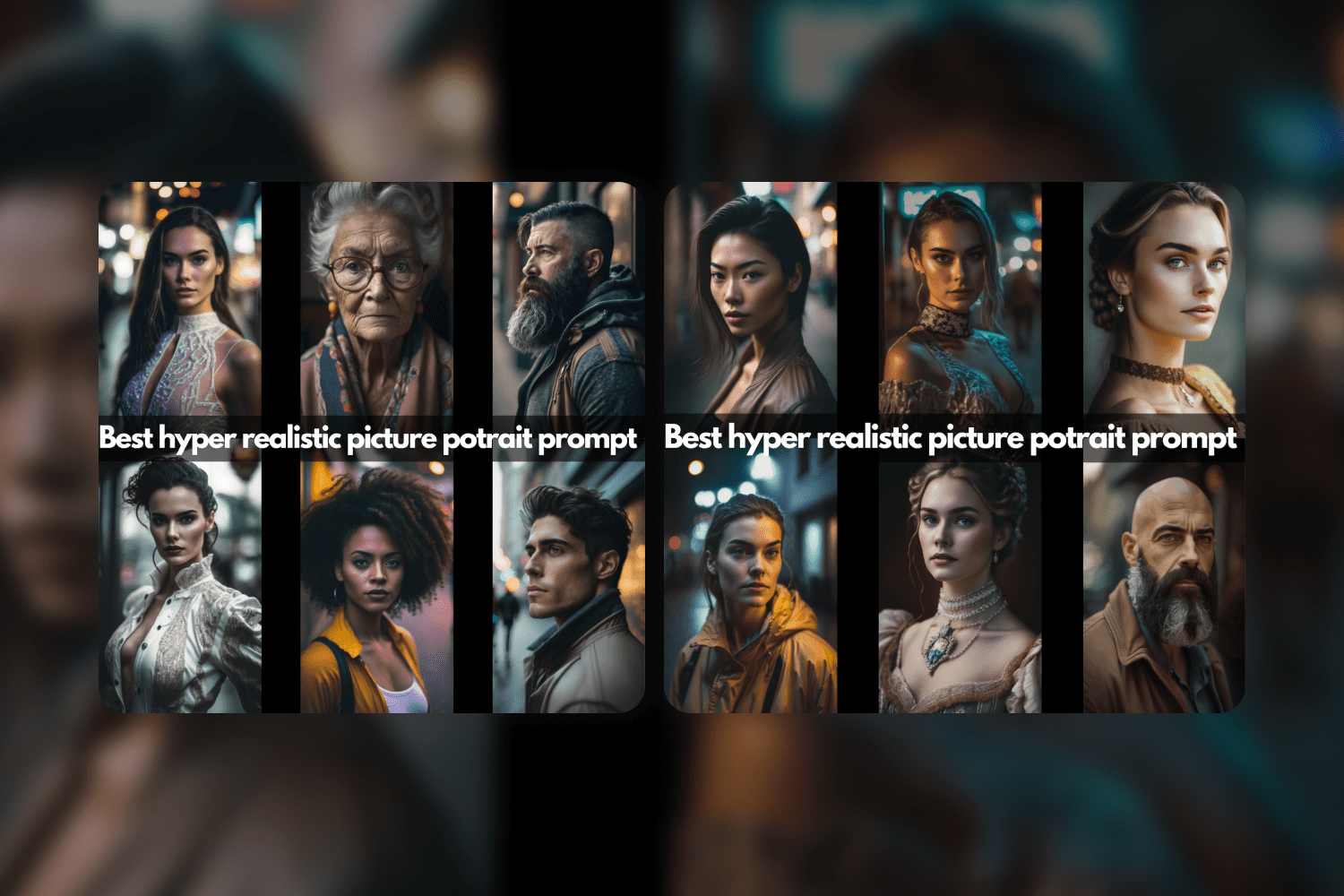 With this product, you can create very realistic and attractive portraits. You can easily modify the details to create variations for your projects.
Professional High Quality LookBook Models Generator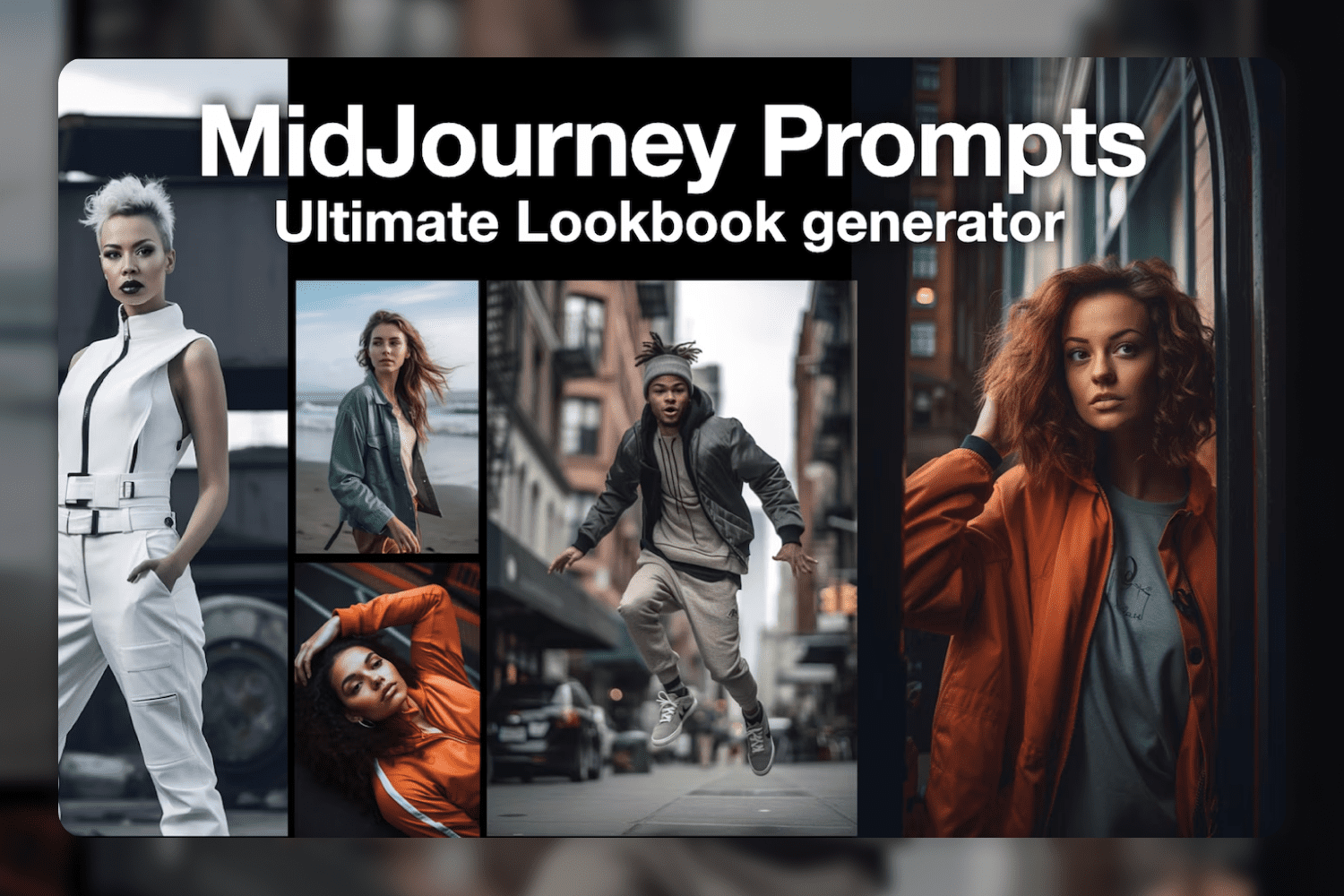 Use this prompt to create stylish, modern, unique lookbooks. You'll be able to use the high-quality images you make for your designs, as well as for inspiration and visualization ideas. This product is suitable for designers, stylists, and models.
Comic NFT Profile Pictures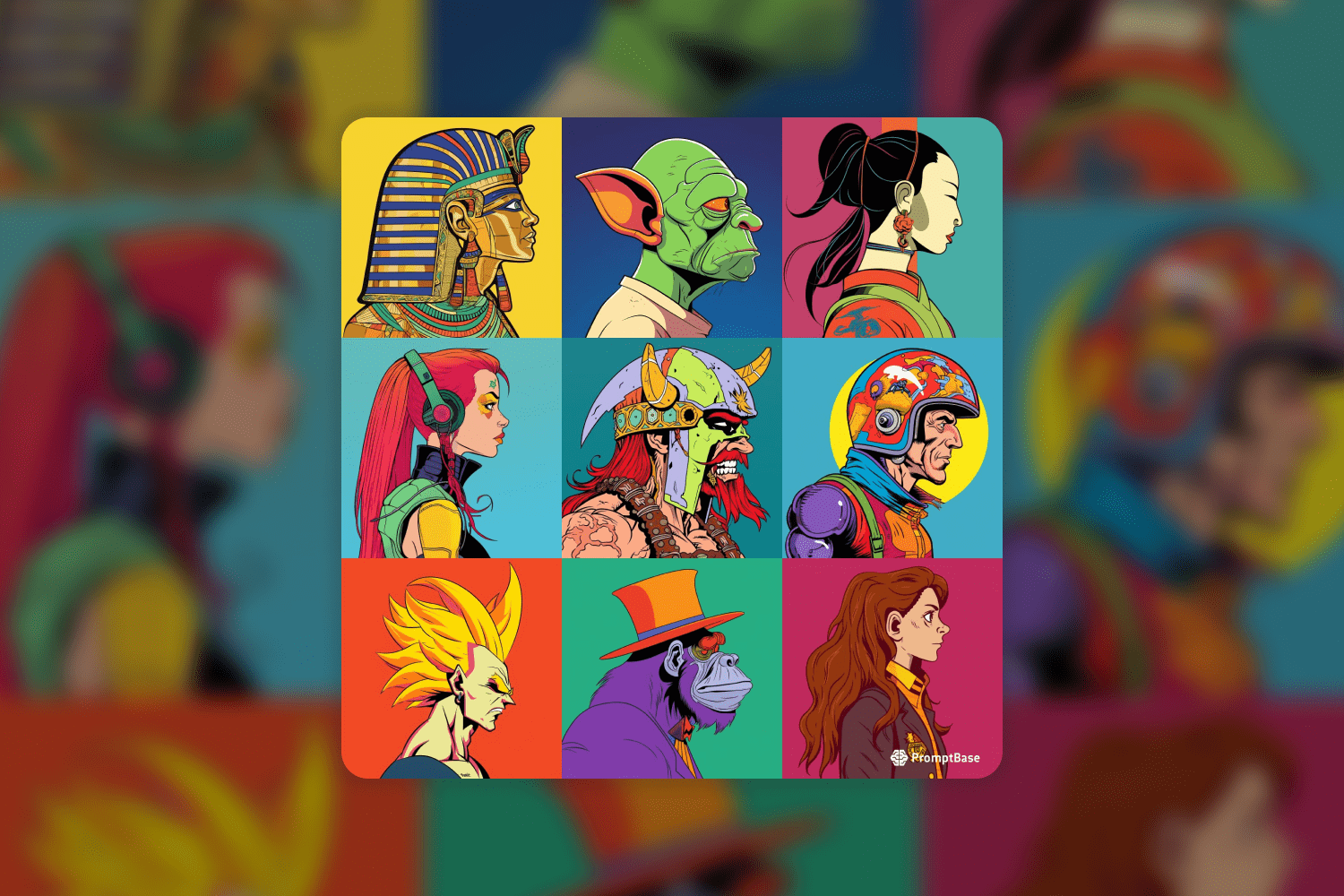 Bright, colorful, attractive comic-book-style pictures you can create with this prompt. Beautiful and stylish characters will be the main highlight of your project.
Disney Characters 3D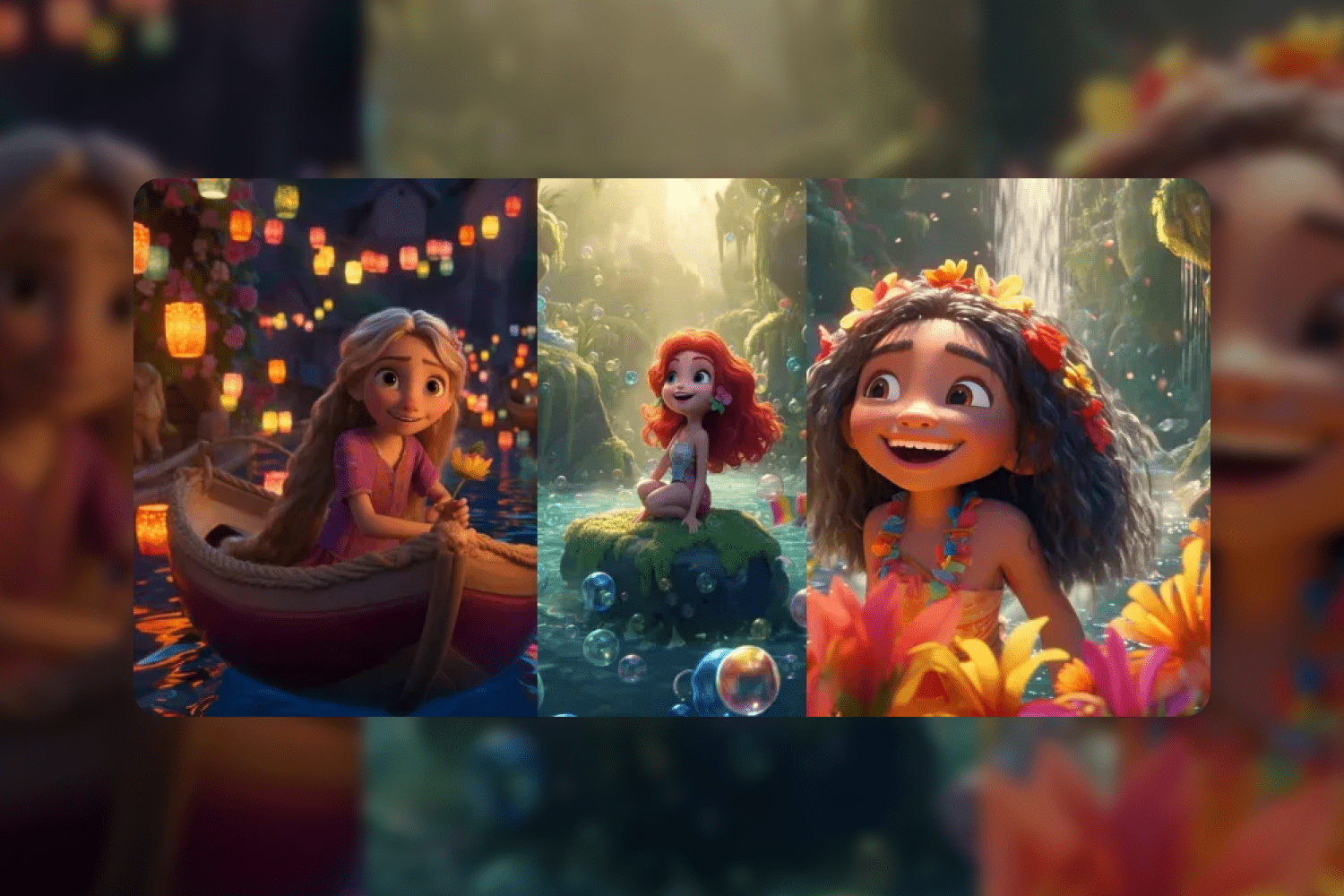 Create fantastic and high-quality Disney-style images for your projects. You can generate your favorite characters in recognizable and famous cartoon scenes. You'll be able to customize these images and make them unique.
Midjourney Prompts for Generating Animals
Here, you will find bright and realistic animals Midjourney AI art prompts. Thanks to them, you can generate high-quality and attractive images of animals.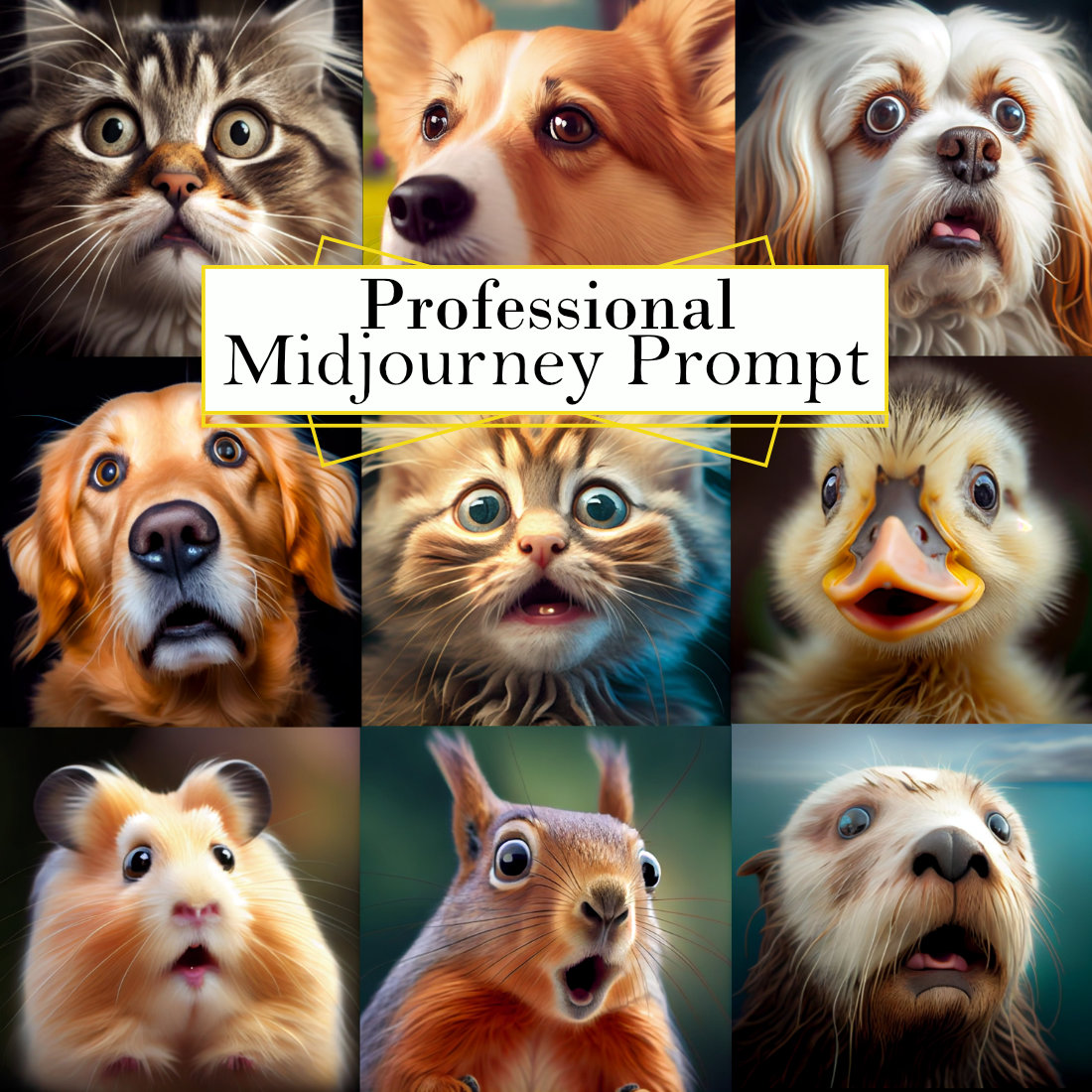 Animal Meme Faces Midjourney Prompt
| | |
| --- | --- |
| Price | $5 |
| File type | PDF |
| Date | April 3 2023 |
| Colors | |
| Rating | |
If you like funny animals that evoke laughter, choose this prompt. It will allow you to generate fantastic, funny animal memes that attract your audience's attention. All images are very high quality and realistic.
Show More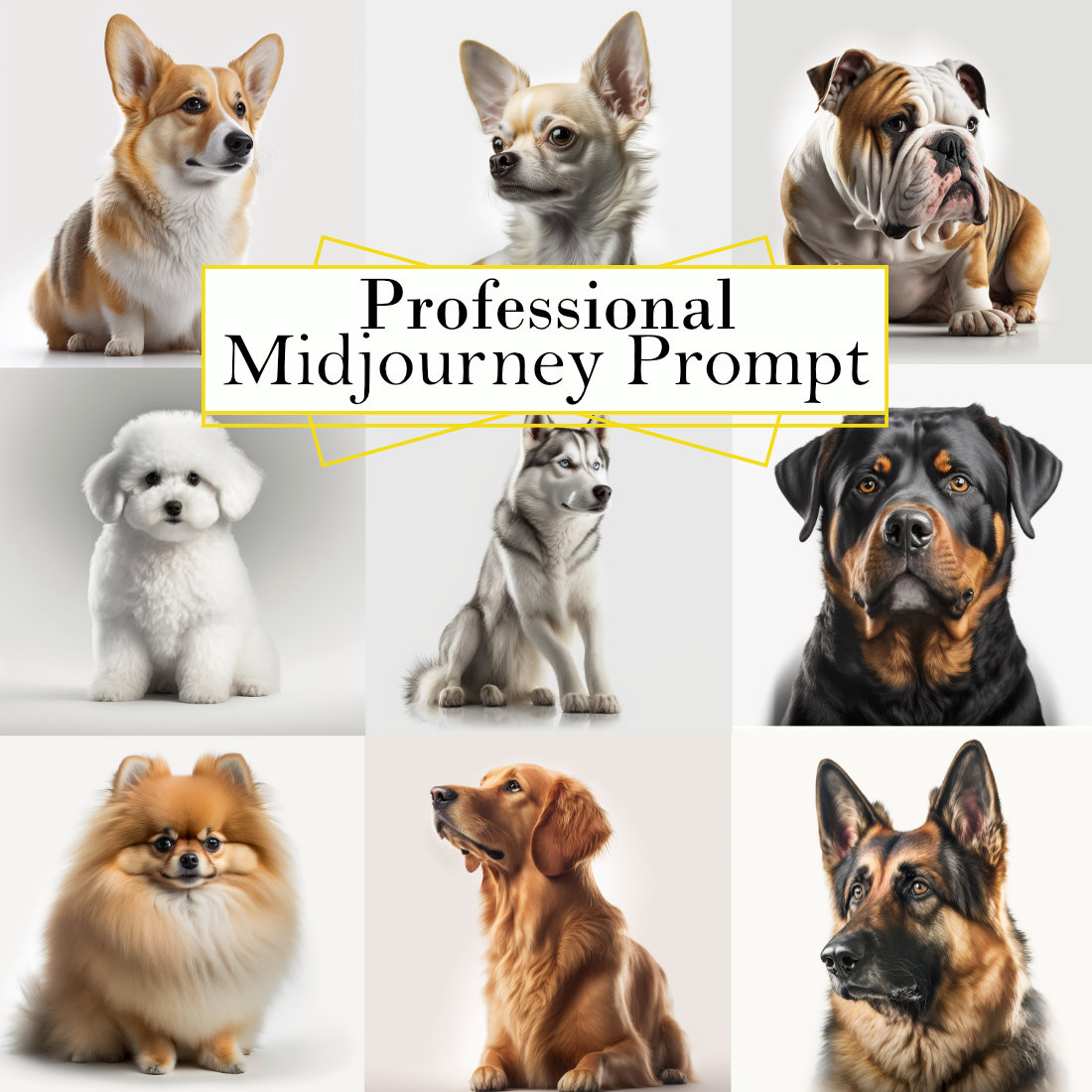 Different Dog Breeds Midjourney Prompt
Price

$5

File type

PDF

Date

March 31 2023

Colors

brown

orange

white

yellow

Rating
Generate funny, cute, and amusing doggies with this product. This is a handy prompt for different projects: posters for veterinary clinics, pictures for the blog of a dog breeder, and photos for pet care-themed advertisements.
Show More
Different Cat Breeds Midjourney Prompt
Price

$5

File type

PDF

Date

March 31 2023

Colors

brown

orange

white

yellow

Rating
These cute cats attract attention from the first seconds. You can generate high-quality, realistic, beautiful pictures with cats yourself. Such images will perfectly complement your blog or design project.
Show More
Realistic Cartoon Animals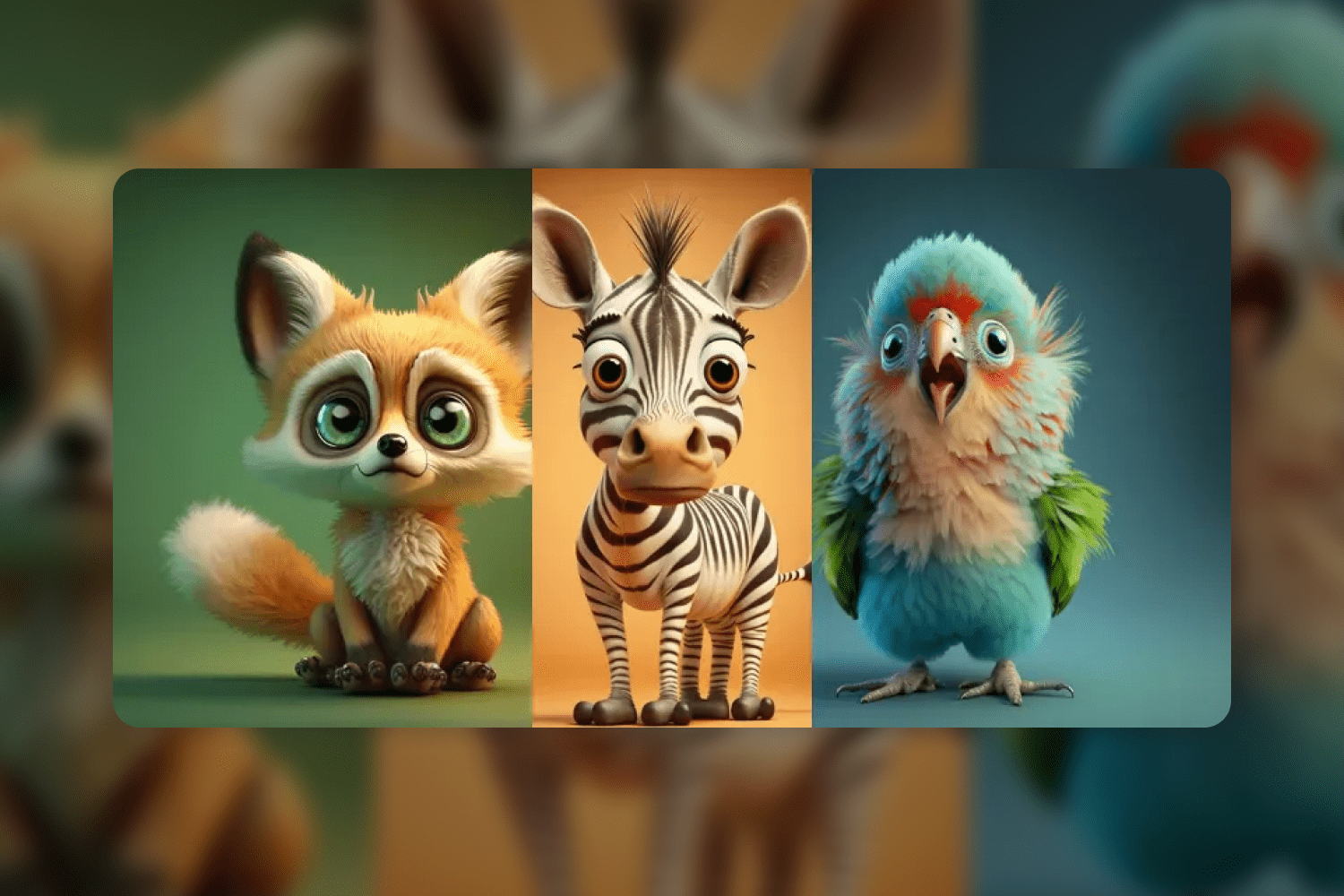 Generate cool and high-quality images of animals with this product. You can create cartoon-style animals that you can use easily in your projects.
Cartoon Animal Illustrations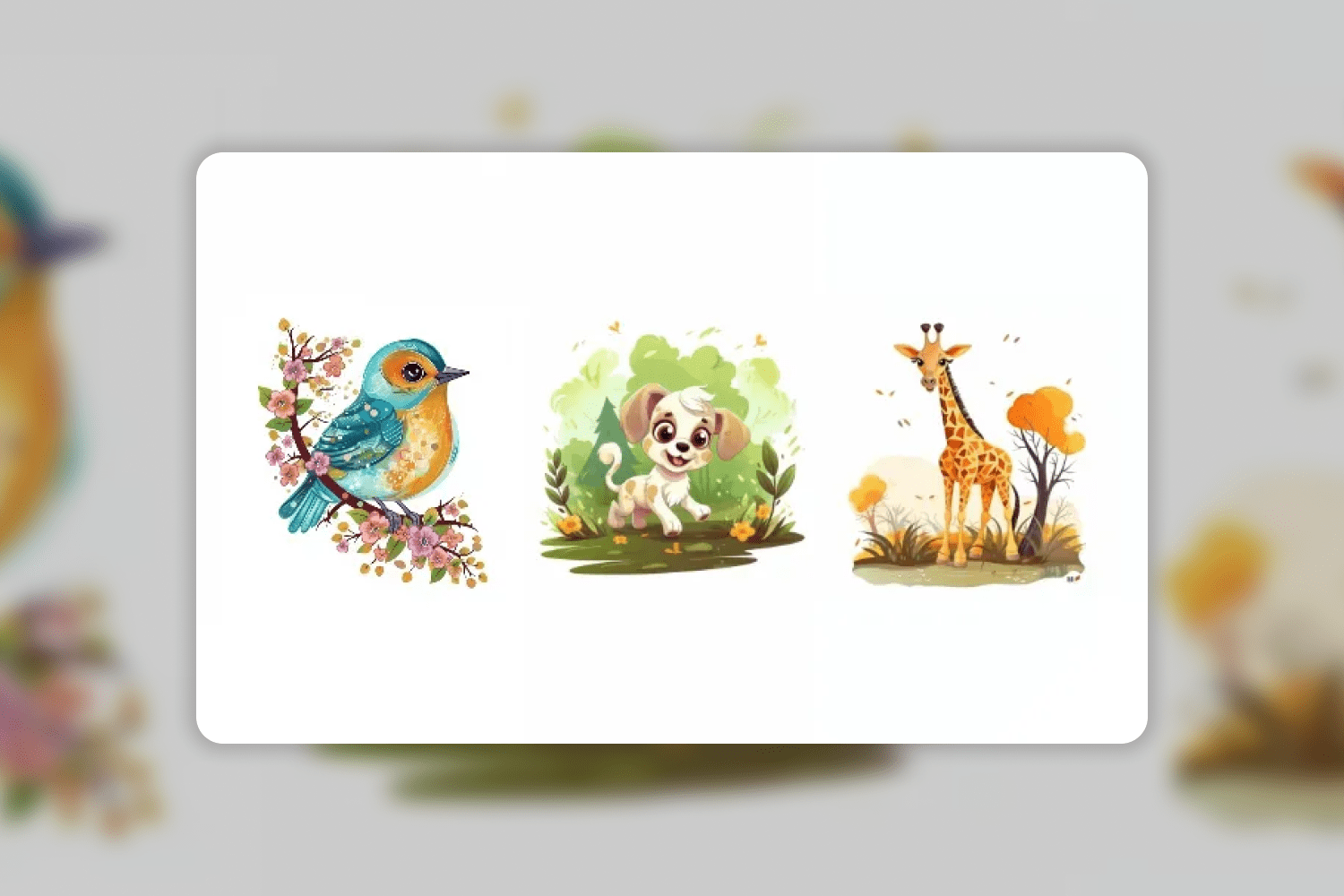 This product allows you to create colorful and colorful illustrations with cute animals. These illustrations are excellent for children's books and magazines, greeting cards, etc.
Baby Sea Animals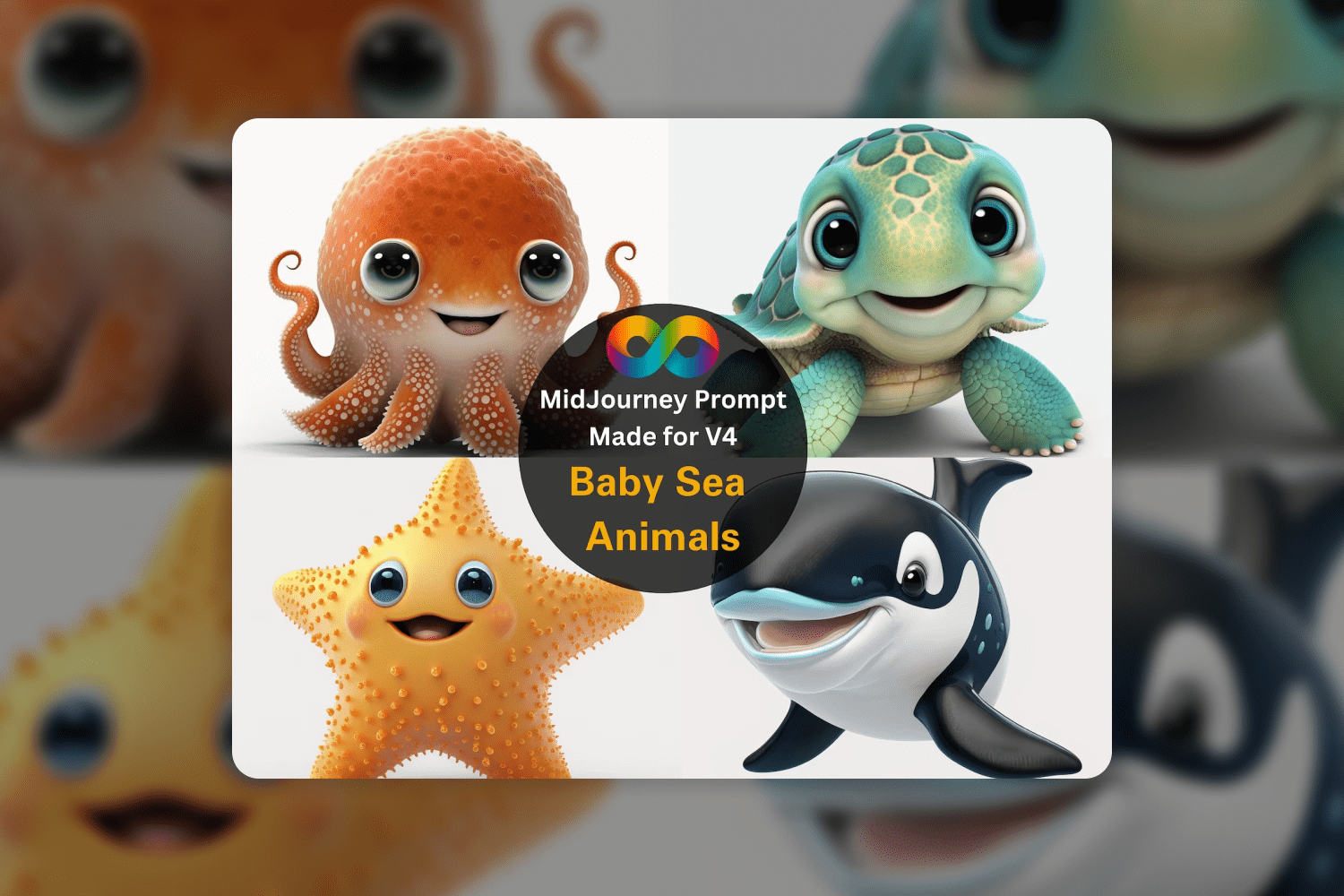 Generate cute underwater inhabitants that appeal to children and adults alike. You can create high-quality, eye-catching illustrations for posters, postcards, or online publications.
Why Does Using Midjourney Prompts Make Results Satisfying?
It is essential to be clear about the queries to get the best result when generating an image. The clearer you enter the query, the better and more specific the picture you can get. Here are some tips to help you get the best results:
In the query, write the main keywords on the query—for example, flowers, dogs, or cakes.
Thanks to the available options, you can adjust and clarify the request. In the "Style" section, choose what style the image should be rendered in cartoon, hand-drawn, watercolor, or comic strip. The "Chaos" section helps you adjust the level of abstraction. You should select a value from 0 to 100 to set the desired level. You can also choose the "Resolution" of the future image, such as 4K or very detailed.
If you have an image that you are inspired by, you can use it as a prototype. Then type the URL in the search bar to get a similar result.
But the main rule is clarity. The clearer and more detailed your query, the better quality results you will get. This is what prompts are for — a text set of key queries that will help to get the desired result.
Conclusion
Prompts are handy tools to help you when generating images with AI. You can use Midjourney prompts for realism, modernism, pinup, mouth painting, and other styles. This article contains the best prompts to help you generate quality, modern and stylish content! If you have the skills, you can make money from them. Create and sell unique author prompts to have a source of passive income. Hurry up while the competition is low at MasterBundles.
FAQ
Here are a few frequently asked questions about best Midjourney prompts
What are the best prompts for Midjourney AI?
Midjourney allows you to generate unique, high-quality, and attractive images using AI. To simplify the generation process and get the best quality results, you can use Midjourney prompts. This sets the command for rendering, so you get great results.
Here are some stylish, modern, and high-quality prompts to try:
Pixel Game Assets — indispensable for creating video games or designs inspired by gaming culture.
Watercolor Indoor Plants & Succulents — elegant and attractive watercolor-style houseplants suitable for creating stationery, posters, and cards.
Sweet Foods Photographs — realistic, bright, high-quality food that whets your appetite.
What prompts to use on Midjourney?
It is important to choose the right one thematically when choosing the right one. So read each product description carefully to find the perfect one. MasterBundles has many products with entirely different themes. Here are some cool themed products with different themes:
If you're looking for food and grocery-themed options, try Realistic Fast Food Photographs;
If you are looking for Midjourney architecture prompts, then this product is perfect — Old Century Cities;
To find Midjourney photorealistic prompts, check out this product: Golden Hour Photography;
How do I get the best result from Midjourney?
A few universal and useful tips will help you get the best possible quality and good results when using a prompt:
To get good results, it is important to formulate your request as precisely and clearly as possible. For example, write down the main keywords, and use additional filters to add important details.
In the "style" field, enter the style you want the result: watercolor, grunge, pin-up, hand-drawn, electrician, comic, etc.
As a prompt, you can use an existing image that you were inspired by. You can enter a link to the image to get a similar result.
What is an example of a Midjourney prompt?
To try AI image creation in action, you can try some simple, beautiful, and Midjourney realistic prompts:
Long Shot Photography — is a modern and stylish way to create realistic photos.
Pixel Road View Landscape — this is a vivid prompt that allows you to make vintage landscapes.
Was this page helpful?
We will be happy if you decide to share this article with your friends on Facebook. Just click on the button and you're done
What are your concerns?
Thanks for your response!
You have already left your review.
Disclosure: MasterBundles website page may contain advertising materials that may lead to us receiving a commission fee if you purchase a product. However, this does not affect our opinion of the product in any way and we do not receive any bonuses for positive or negative ratings.