15+ Best Fire Overlays in 2021: How to Make the Most of Fire Overlay
When it comes to creating art, conventional methods are no longer acceptable and you always have to think outside the box in order to come up with something truly valuable. In terms of photography, perhaps the best way to come up with something exceptionally unique and one-of-a-kind is by means of editing. However, which particular effects will help you create a breathtaking image that will mesmerize millions of people all over the world?
Well, among the most magical Photoshop effects are definitely add-ons and various types of overlays. These semi-transparent effects envelop your picture like a magical veil and make it mysterious and mesmerizing. Thus, some hypnotizing overlays is no doubt a must in your effects collection. Fire overlay is one of the most popular and at the same time the most difficult to work with. In fact, not every photo will look good with such an overlay, yet there are cases when fire overlay can turn a regular image into a masterpiece.
Fire sparks overlay will work for movie posters, cosplays, as well as some vintage shots. So how do you work with this very effect in order to create a photography masterpiece that will not look cheap? Well, here are some basic tips and tricks that you might want to keep in mind:
Keep it natural and realistic;
Be careful and do not overdo it;
Use a premium product, if possible since those are more realistic.
As you can see, these tips are pretty simple and following those will not be a trouble for you, which means that we can proceed to the next section, which is applying this effect to your images.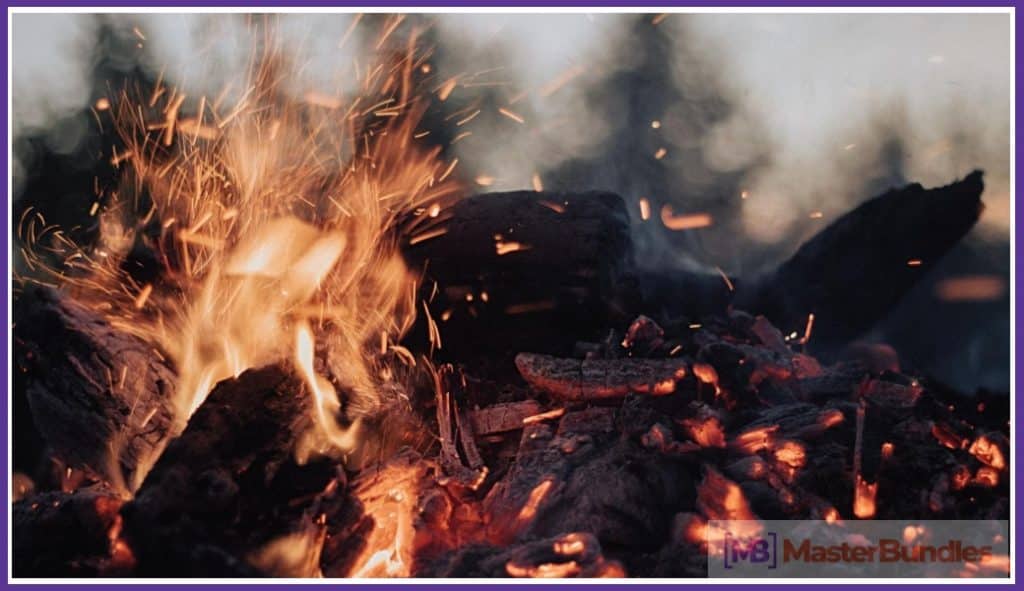 TOP 6 Fire Overlay Bundles in 2020
| Product Image & Rating (Out Of 10) | Product Name | Price |
| --- | --- | --- |
| | 56 Fire Photo Overlays | |
| | Phoenix Graphic Bundle: Alphabet & Overlays | |
| | SPECIAL OFF 98% – over 11 400 Glorious Overlays Bundle | |
| | Golden Fireflies Photo Overlays | |
| | 40 Fire Overlay Transparent: Fire Entity Bundle | |
| | 40 Fire Sparks Overlay: Fire Flare PNG | |
How to Apply Fire Overlay
Working with overlays in Photoshop is actually rather easy and does not require any specific skills or knowledge. So in order to apply a fire overlay to your image, follow these steps:
1. Download the overlay you would like to utilize;
2. Open Photoshop, head to File and select the picture you want to add an overlay to;
3. Open your overlay;
4. Go to Image > Image Size in order to resize your overlay image so that it fits your original picture;
5. Copy your overlay and paste it onto your original image (Select > All > Edit > Copy > Paste);
6. Set the Screen Mode;
7. Adjust the opacity in order to make your fire overlay transparent;
8. Utilize the Eraser or Mask as well as soft brush in order to edit your picture;
9. Merge your layers;
10. Save the final photo.
Well, as you can see, everything is super easy and will take you only a couple of minutes, so why not experiment with some fire overlays in your further projects?
Where to Purchase a Fire Overlay Collection
Since you have already decided that you need to get some fire overlays for your effects collection, you might have a rather common problem, which is finding a trustworthy marketplace that offers premium products, which would meet your demands. Certainly, you want to get the best product especially if you are going to pay money for that, so I found some marketplaces that offer decent products for affordable prices for you. Well, these online marketplaces are MasterBundles, Creative Market, and Stock Photos. Of course, there are other platforms that offer both free and premium products, but these three are the ones that I trust and prefer over the others.
In terms of pricing, a fire overlay will cost you approximately $5-$10. You can also get it for free within subscriptions that most marketplaces offer, but if you don't need any other design elements, just get your overlay and do not bother about getting a membership. You can also get a royalty-free overlay in case you are not sure if you want to spend money on that, but premium products are certainly better.
Fire Overlay PNG Examples
Finally, let us have a look at some of the loveliest fire sparks overlays that I found for you. So get ready, here they come.
40 Fire Overlay Transparent: Fire Entity Bundle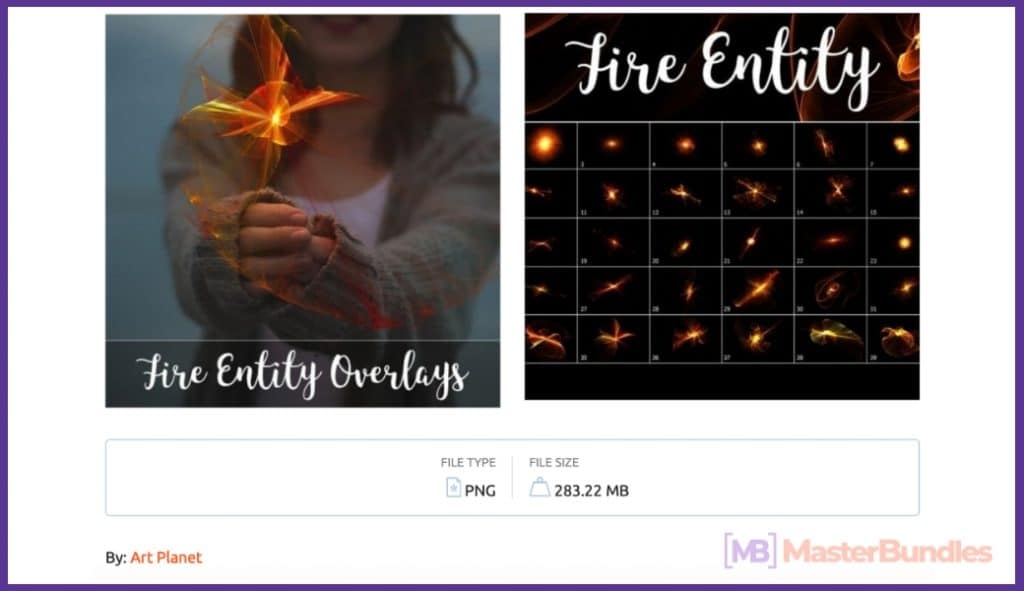 Price: $5
Fire Overlays with transparent background are waiting for you here!
40 Fire Sparks Overlay: Fire Flare PNG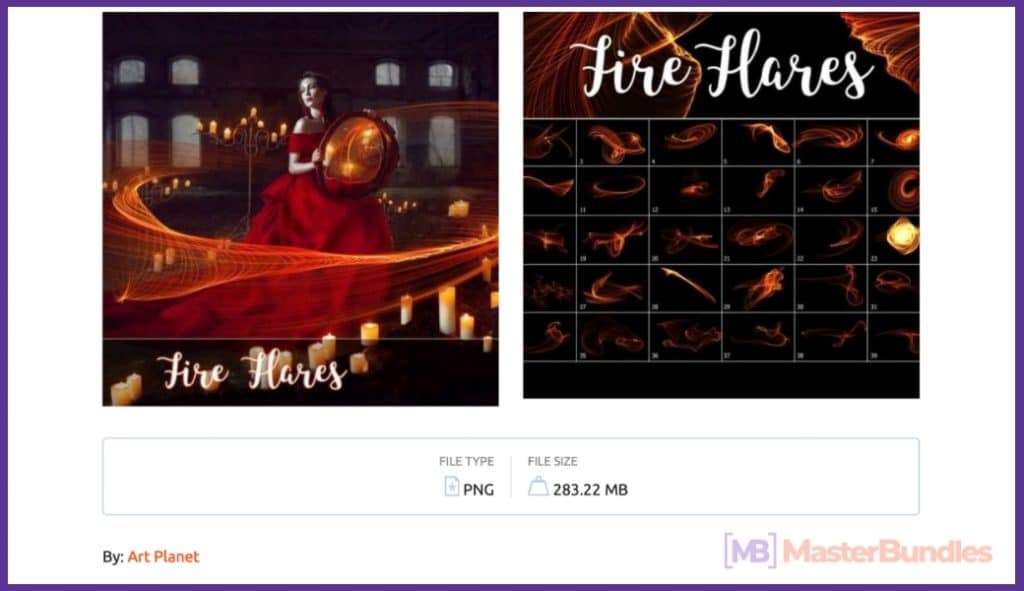 Price: $5
Check this lovely collection of Fire Sparks Overlays for $5 ONLY!
Golden Fireflies Photo Overlays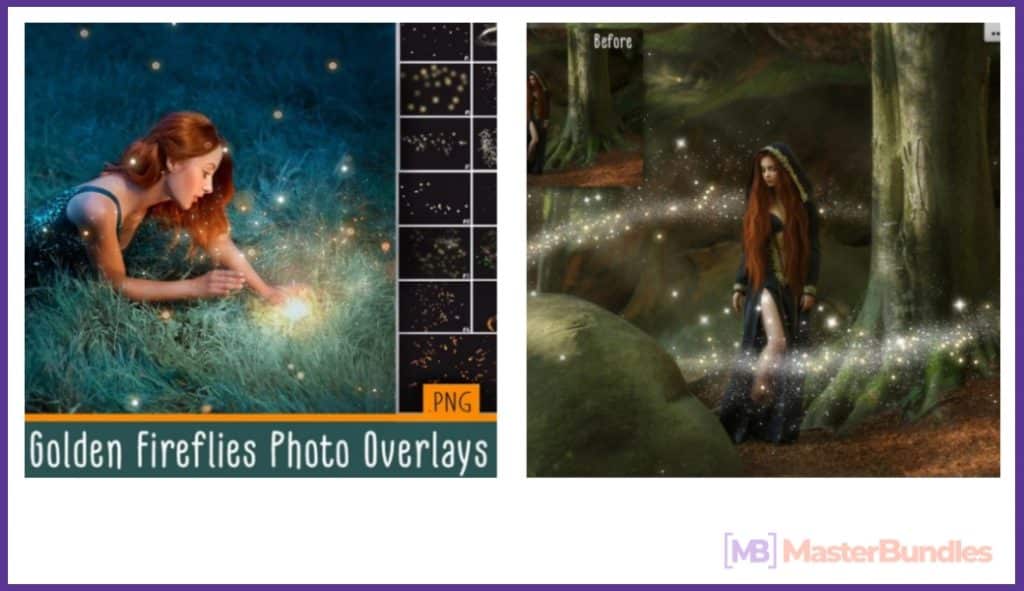 Price: $9
A truly magical collection that you definitely do not want to miss.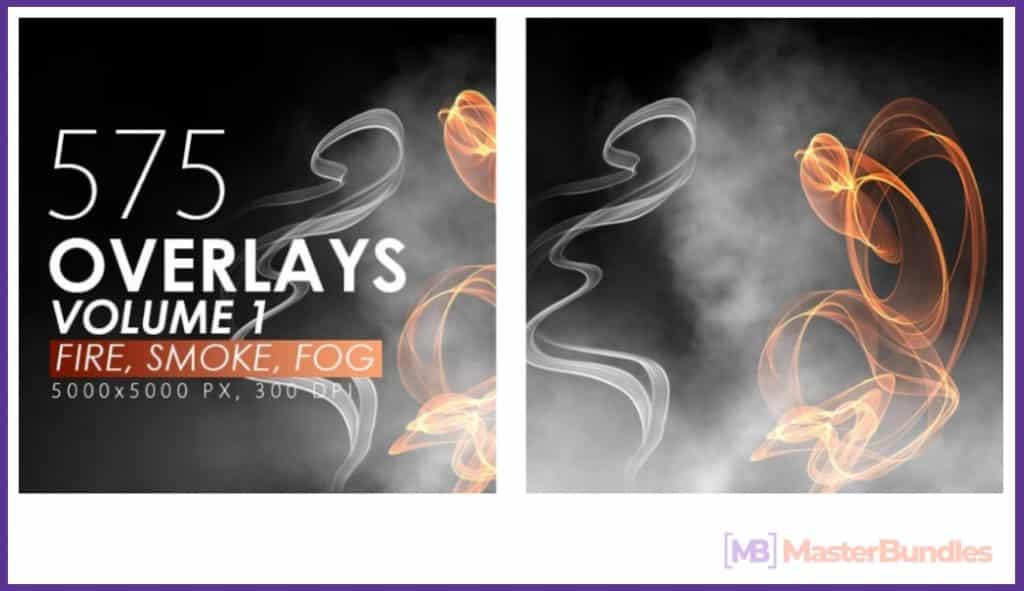 Price: $15
This one is a huge bundle that will back you up in any situation, so do not hesitate and take and a closer look at this gem.
137 Fire Effect Photo Overlays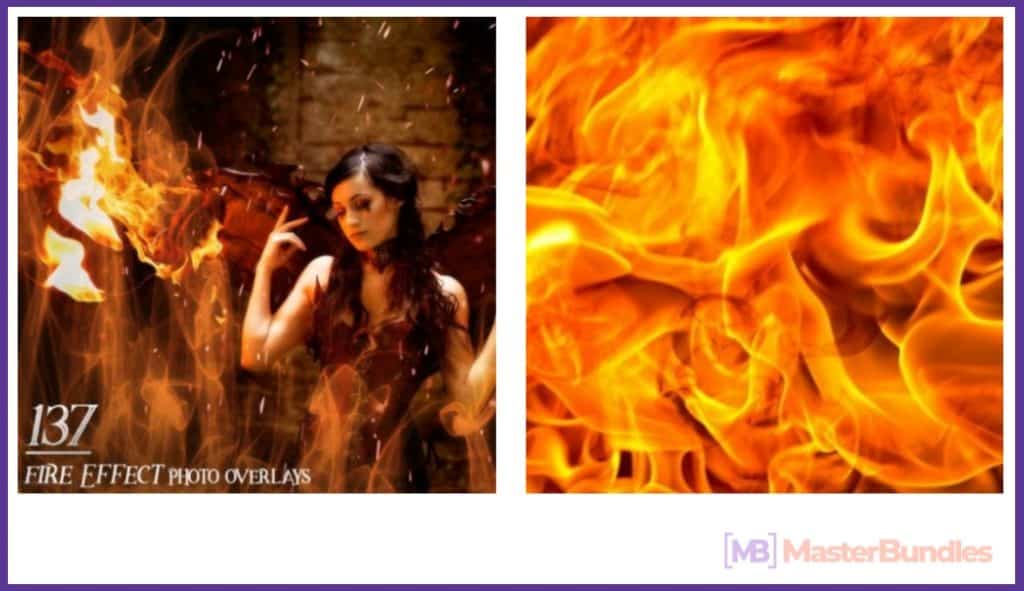 Price: $9
Another decent option for those of you who want to get a high-quality product.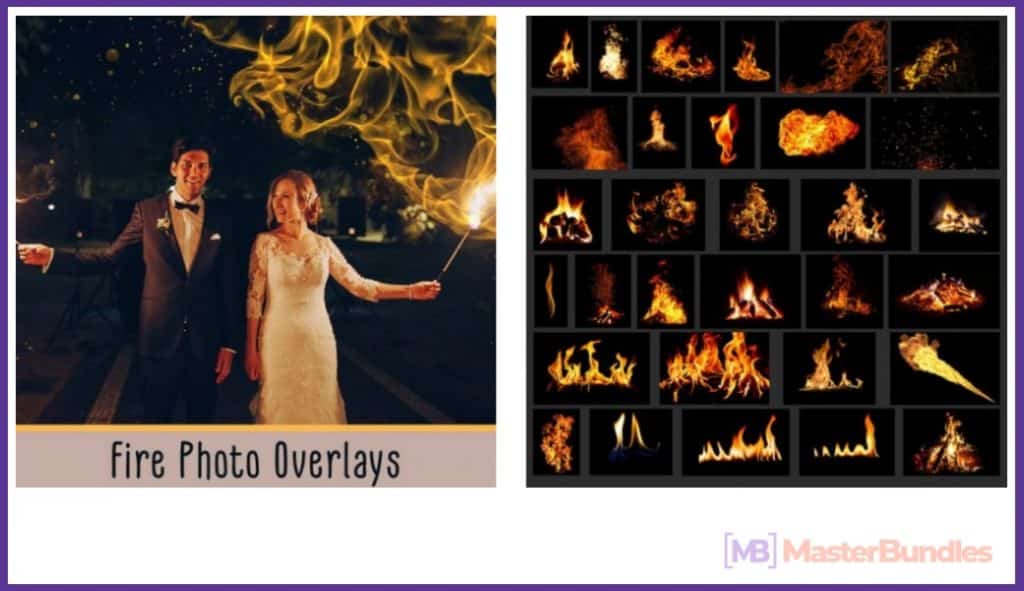 Price: $9
A mesmerizing collection that will no doubt win your heart.
Free Abstract Fire Photoshop Brushes 4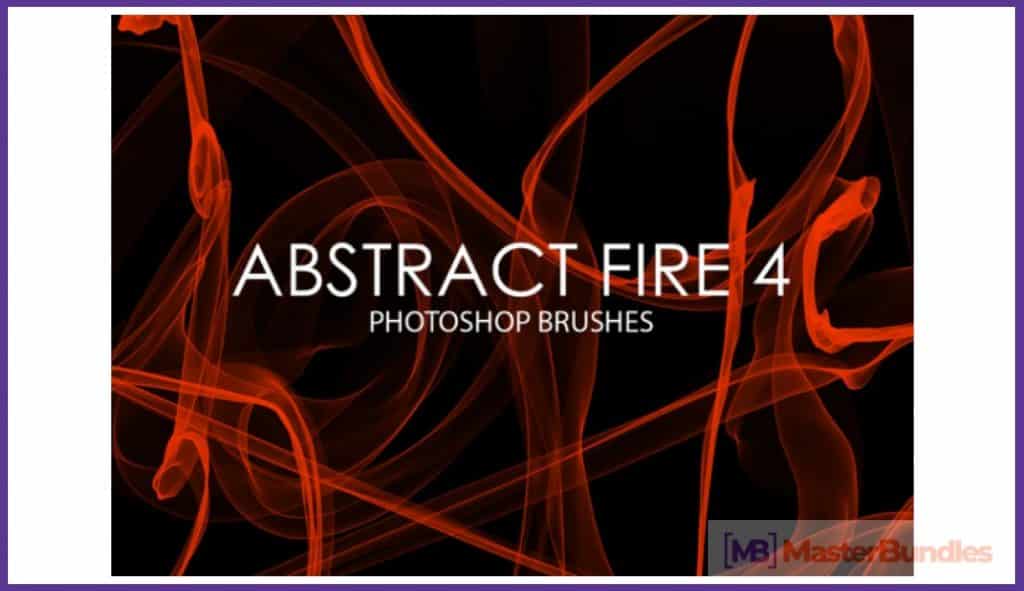 Price: free
A futuristic abstract option that you need to check out, so go ahead and download it, it's completely free.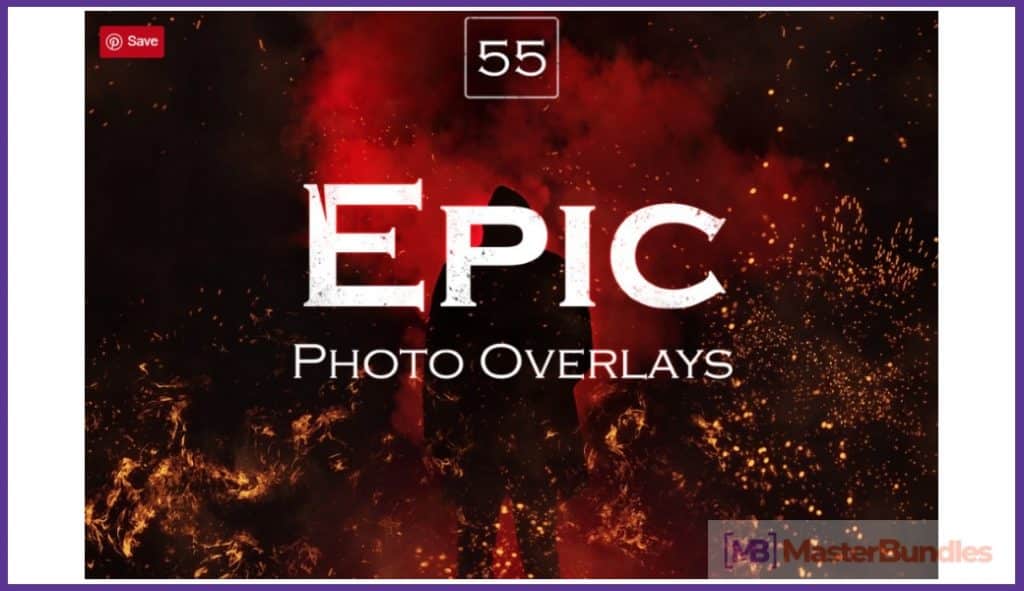 Price: $11
This one is perhaps the best solution for movie posters, so if you are currently looking for something like that, make sure to check out this epic collection.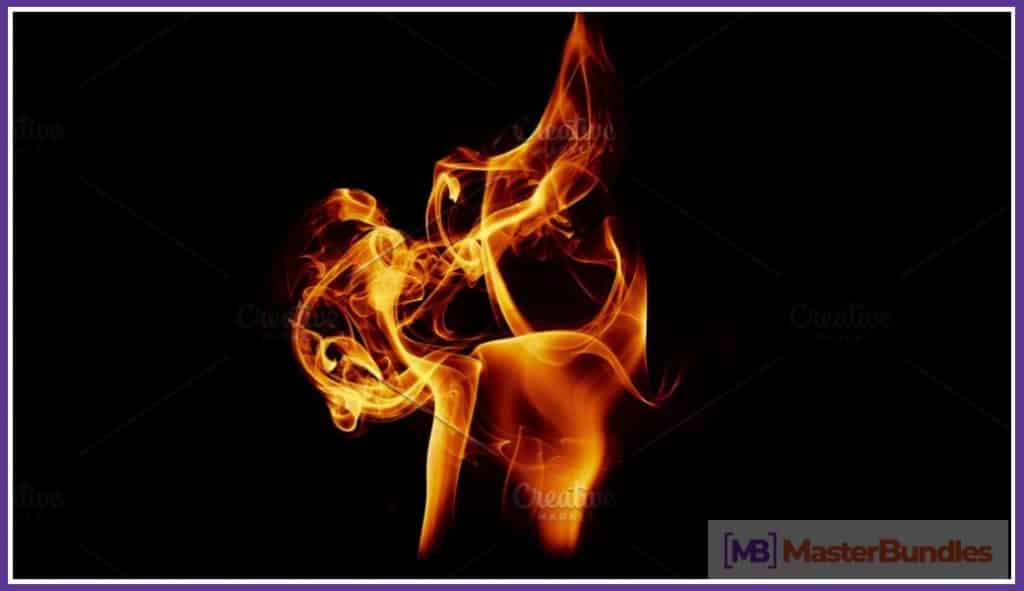 Price: $6
A rather realistic option that will perfectly work for various types of projects, which means that you surely want to have a closer look at this one.
Fire Flames Texture on Isolated Black Background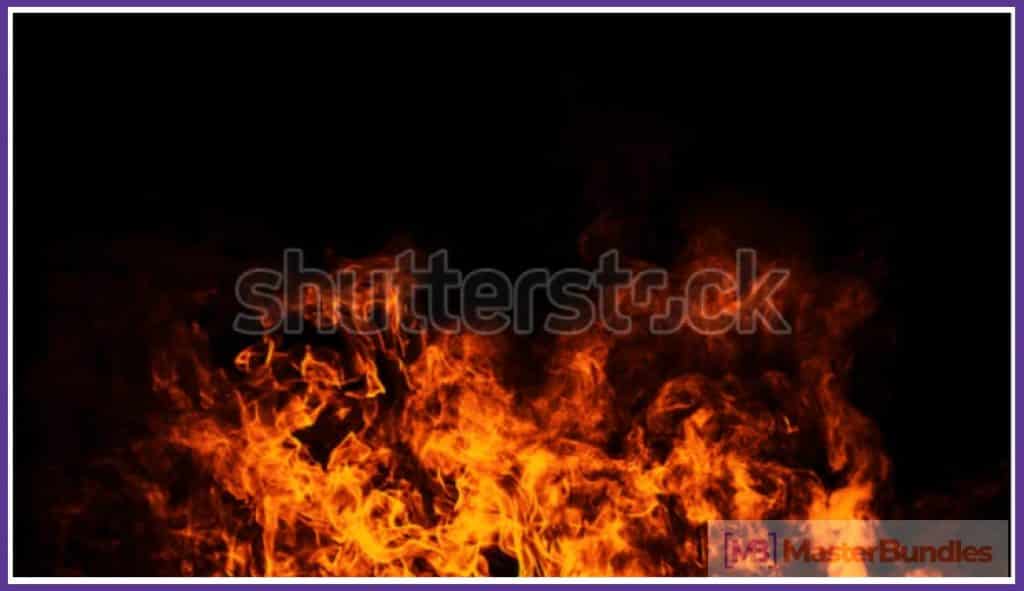 Price: available within Shutterstock subscription
The one that will set your project on fire, so go ahead and give it a try because it's definitely worth a shot.
Perfect Fire Particles Embers on Background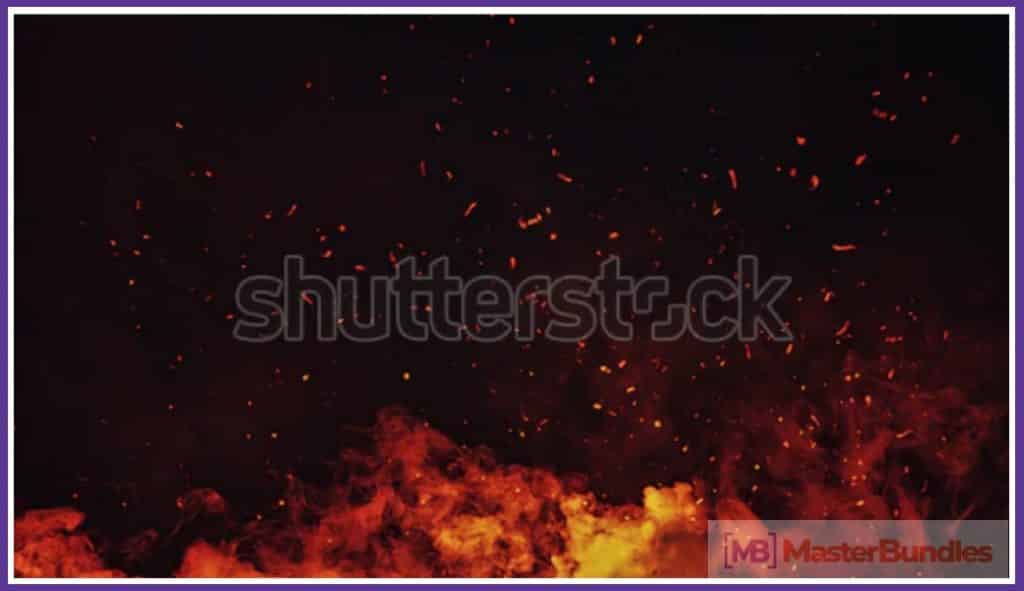 Price: available within Shutterstock subscription
Another realistic option that will be handy for pretty much every photographer.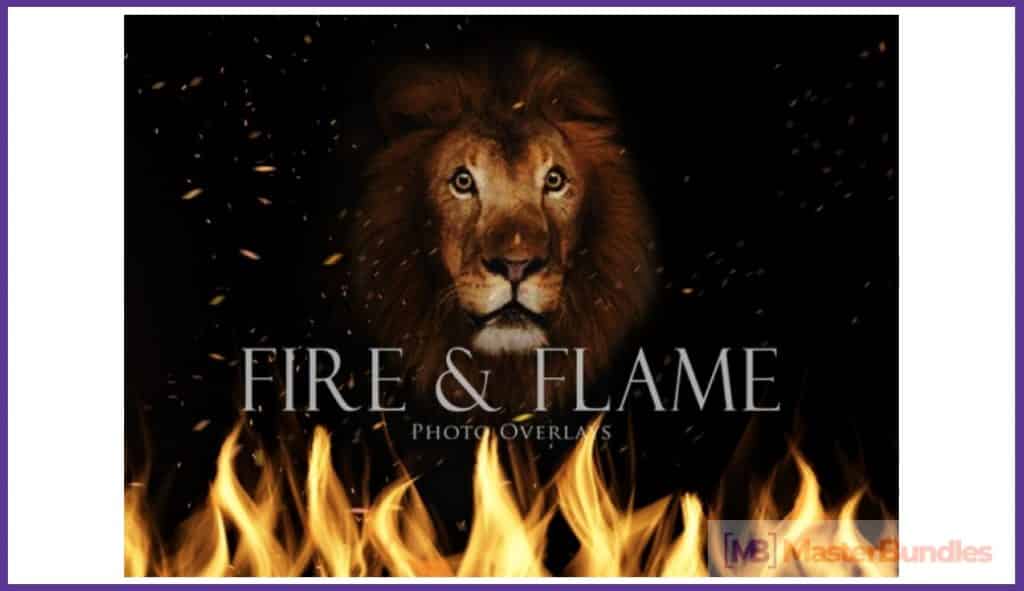 Price: $7
Last, but not least, a collection that has a magic power to turn a simple picture into a true masterpiece.

Final Word
Editing and various Photoshop effects bring the art of photography to a brand-new level. Nowadays, any self-respecting photographer should know how to edit a picture so it looks mesmerizing and mysterious. Thus, knowing how to apply overlays is a must for you no matter if you are a pro or just a photography enthusiast. So look through our guide one more time, get a lovely fire overlay, and create your hypnotizing masterpiece.
What do you think about the usage of overlays? Let us know in the comment section down below!
FAQ
🔥 Free or premium?
If you are working on a serious project, then definitely premium. If you are an enthusiast who simply wants to experiment with various textures and effects in Photoshop, go with a free one.
🔥 Where can I get decent free overlays?
Check out such platforms as Videezy, Fix the Photo, and Brusheezy.
🔥 Is fire overlay still relevant in 2021?
Yes, it is. Yet you have to be careful with the pictures you use it on. For example, fire overlay will work for movie posters and some cosplay photos. In other cases, be super careful while using this very effect.
Please take a moment to pin this post to Pinterest
Was this page helpful?
We will be happy if you decide to share this article with your friends on Facebook. Just click on the button and you're done
What are your concerns?
Thanks for your response!
You have already left your review.
Before starting this article, I tried to do my best in order to carefully study this topic. So I've read lots of articles and books dedicated to photography, main trends in this field, as well as Photoshop guides. Thus, as my inspiration, I used the following sources:
Barnbaum, Bruce. The Art of Photography: An Approach to Personal Expression. Paperback, 2010.
D'Averc, Rhiannon. "How to Install and Use Overlays in Photoshop." Summerana, 2017, www.summerana.com/install-use-overlays-photoshop/. Accessed 3 Apr. 2020.
"Fine-art photography." Wikipedia, en.wikipedia.org/wiki/Fine-art_photography. Accessed 3 Apr. 2020.