Consider Only the Best Chemistry PowerPoint Templates in 2022
Conveying your idea is simple when you have the right tools, and even a complex subject might be presented as easy and understandable with visual cues using an effective chemistry PowerPoint template. Some people who aren't well-versed in the sciences have a nervous reaction when hearing the word "science," and explaining it to them might require a bit more than a few words.
Any subject, easy or complex, might be difficult or easy to follow depending on the explanation. When people are nervous about STEM disciplines such as chemistry, they are simply misinformed about the beautiful science of materials and reactions and have formed an incorrect idea about the unapproachable science they won't get, ever! Don't repeat the mistakes their previous teachers might have made. Approach this subject with intelligence and creativity with the help of any of the chemistry slides templates you might find on our list.
These days, it isn't necessary to simply repeat age-old formulas or try to explain complex matters using only vocabulary exercises. These methods will definitely not impress your audience. A better idea is bright, varied illustrations presented using a chemistry PowerPoint template or chemistry Google Slides theme that will help to present exciting discoveries about the way our world works. And who knows, you may inspire someone to understand exactly what they want to do in the future based on what you're trying to convey.
Don't forget to add some informative content and conclusions in addition to easy-to-understand pictures, and your presentation with a chemistry slides template will be a success. You must agree: it is much more effective to study complex matters when you can clearly see the image, the reaction, and the results of the described formulas.
Such methods attract attention and hold it for much longer. Just check out the chemistry presentation templates we've picked up, and these will be your best chemistry PowerPoint templates!
Chemistry Presentation Templates Bundle: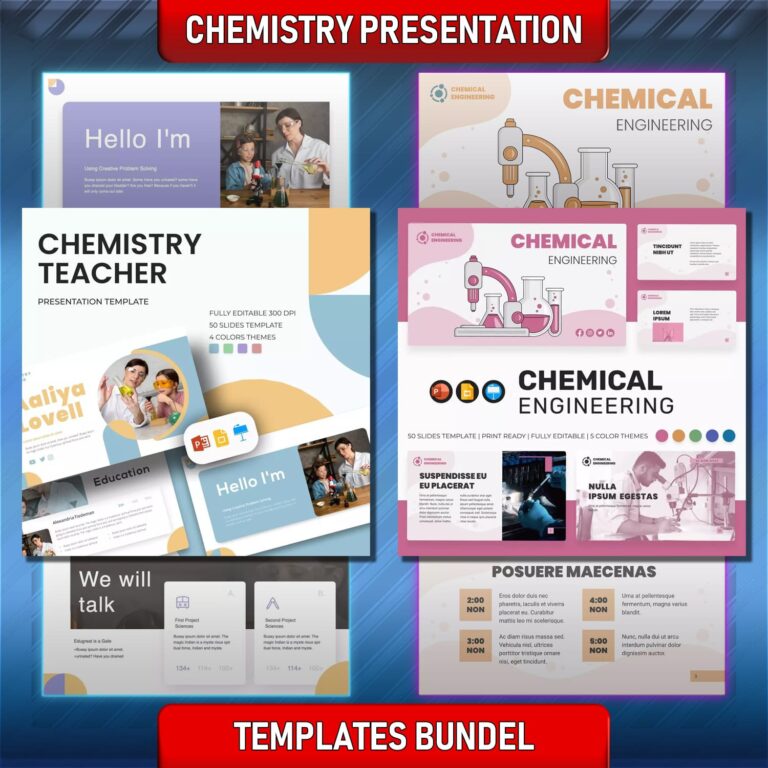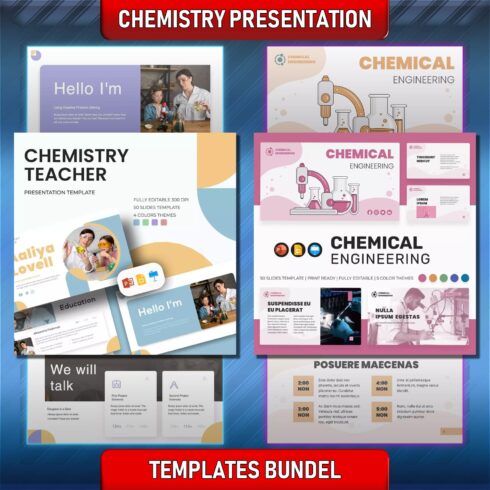 Chemistry Presentation Templates Bundle

2022 Design Trends Important to a Chemistry PowerPoint Template
Design trends for scientific slides do not change significantly throughout the years, but as nothing exists in isolation from global tendencies, the way scholars and businesses present their chemistry slide templates is still influenced by the visual language relevant for today.
There are three components to the modern design trends finding their way into any chemistry Google Slides theme and chemistry PowerPoint template featured on our list: minimalism, glassmorphism, and 3D elements with motion graphics.
Minimalism has been a global design principle for at least the last 10 years, and it conveys a simple thought – why overcrowd the space in your presentation when it distracts attention from the main focus of the chemistry PowerPoint template? Thus, we recommend picking a chemistry presentation template based on clean, crispy designs with fewer text boxes and icons ideal for representing your topic.
Glassmorphism continues the legacy of neomorphism and skeuomorphism in combination with minimalistic designs in 2022 and is perfect for a chemistry Google Slides template aimed at describing a certain material or reaction. Background blur puts the design element you want in the top spot, attracting the audience's attention, so it's a great way to highlight a formula or a result you want to focus on over your PowerPoint chemistry background.
Integrating 3D elements with motion graphics is a fantastic solution if you seek a way to make a presentation look professional. Having a themed, chemistry PowerPoint background with rotating flasks and animated reactions is probably the most visually striking way of using a chemistry PowerPoint template to present a project.
By the way, check out our post about the hottest graphic design trends for 2022 and let your designs be splendid!
Aesthetically Pleasing Premium Chemistry PowerPoint Templates
Here are the top chemistry presentation templates we could find online – get these trendy and modern slides for 2022 today!
Chemical Engineering PowerPoint Template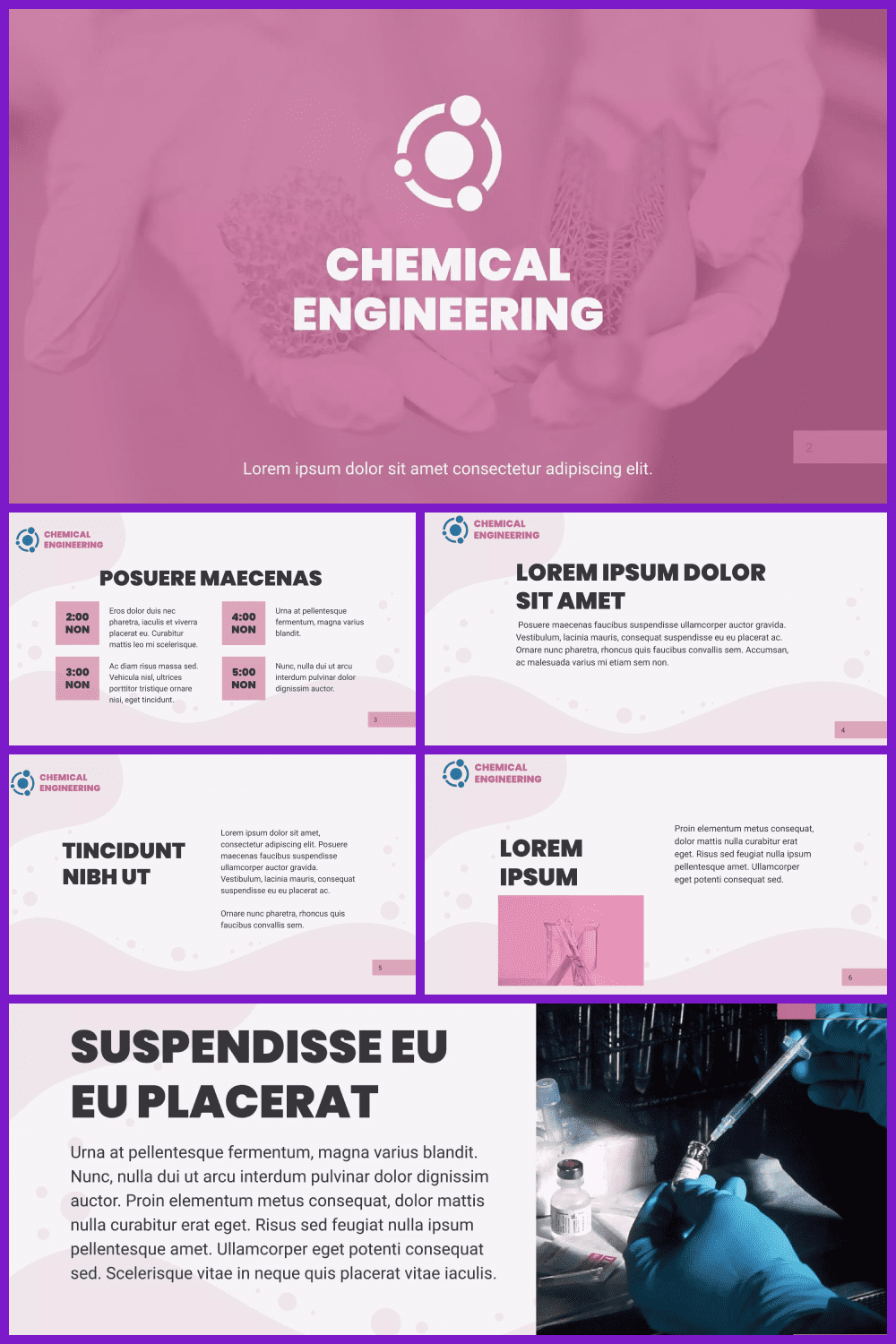 This is probably the best and crispest chemistry PowerPoint template on our list. Professional and clean looks are combined with just enough space to fit both pictures and text boxes. Slides are balanced, have enough stock photos and illustrations to make the presentation feel alive, and come in five color schemes – from warm pastel colors for making it audience-friendly to green and blue, traditionally associated with STEM disciplines, making it a multipurpose chemistry PowerPoint background.
Best Science PPT Template 2021. 50 Scientific PowerPoint Slides And Google Slides & Keynote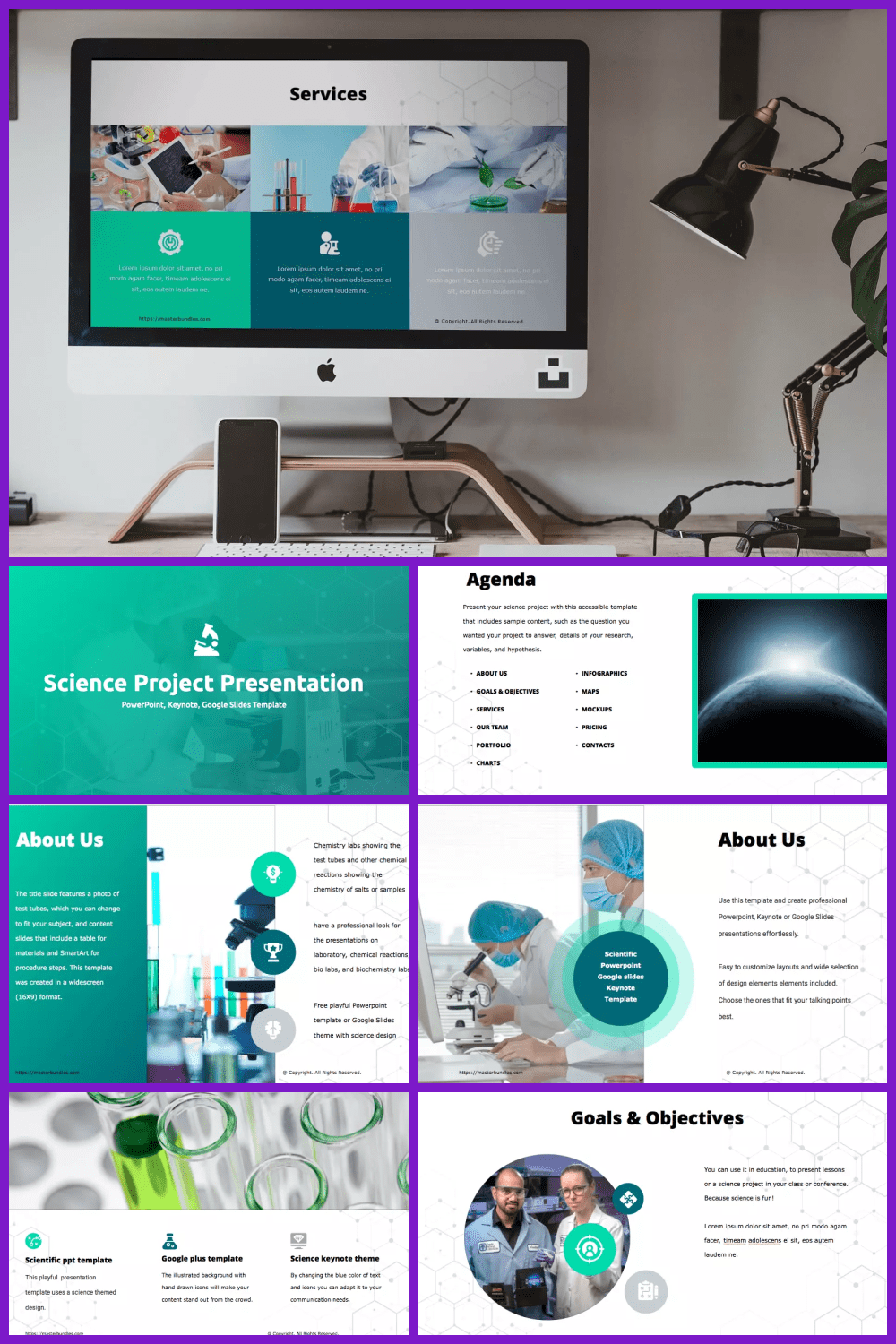 Jack of all trades amongst both chemistry themes for PowerPoint and Google Slides chemistry themes. A brilliantly designed, gigantic, 50-slide strong presentation with a recognizable pattern of chemical structure could be used for many purposes, from presenting a business project to explaining complex matters to a student group. You can get everything you need from chemistry PowerPoint templates in this single presentation, namely:
Customization of text, photos, colors, and fonts.
Multiple icons fit for visualizing any scientific project.
Multipurpose format: works with PowerPoint, Google Slides, and Apple's Keynote.
A set of chemical equipment PowerPoint Template & Infographics Slides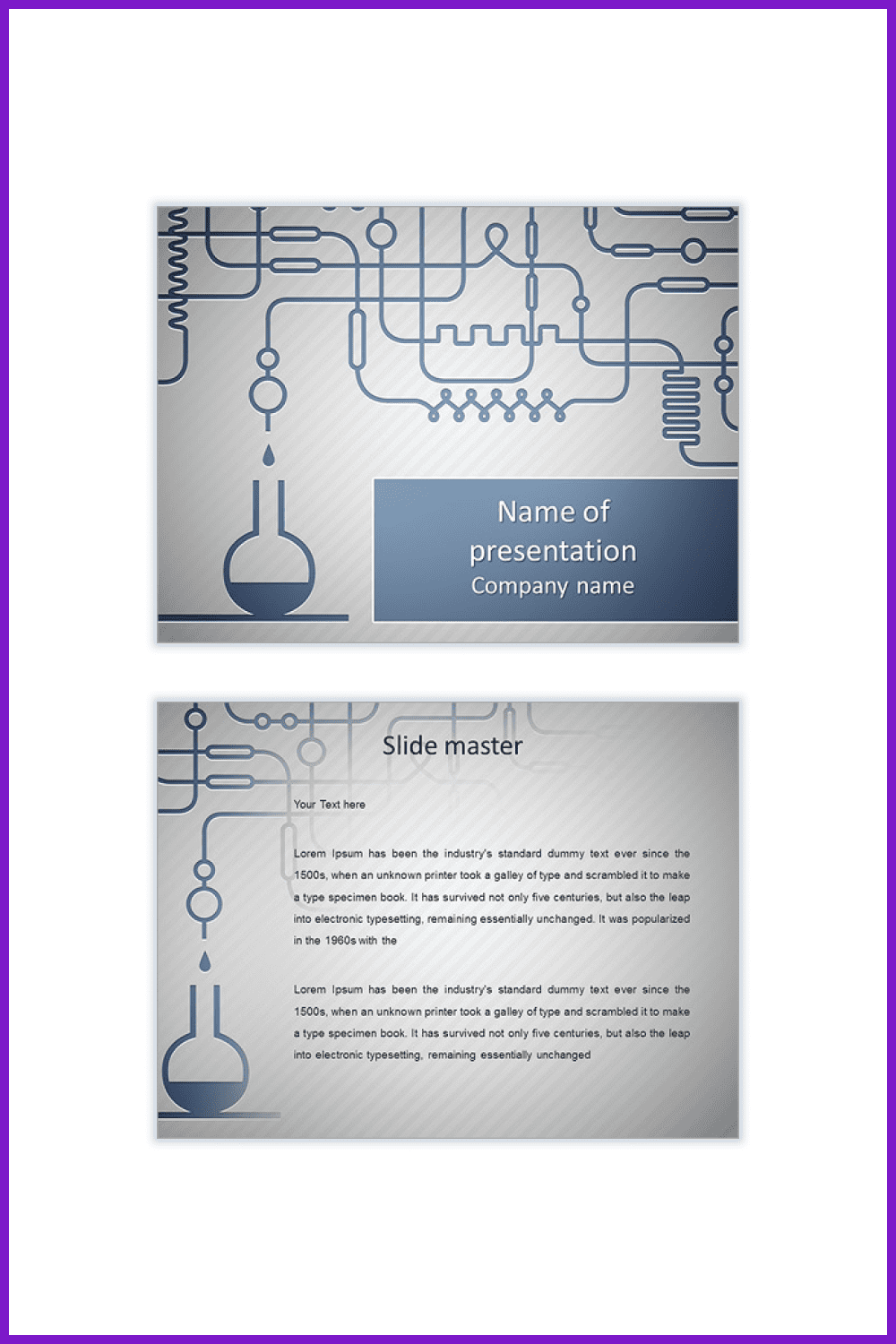 Small, stylish, and functional – we love this chemistry PowerPoint background for its focus on functionality and hard data. Enjoy many visualizations, like graphs and pyramids greatly incorporated in lab-themed white and blue cold design that's perfect for representing a serious subject on any chemistry slide you decide to use.
Slick and Functional Free Chemistry PowerPoint Templates
Free Microscoping Materials PowerPoint Templates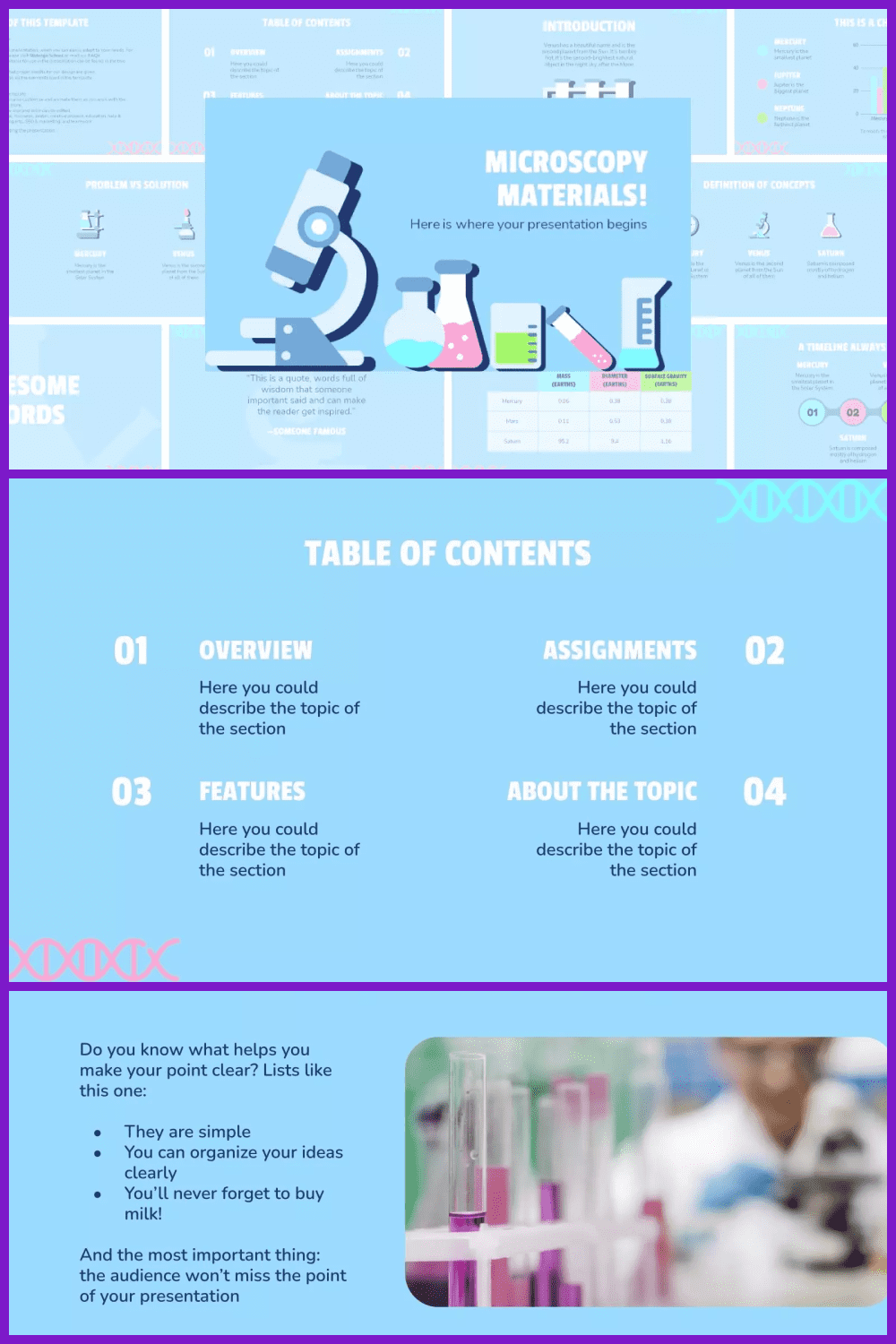 Dedicated to one of the most important tools in chemistry and chemical sciences, the microscope, this free chemistry PowerPoint template (for a limited time while this blog is being made) is a brilliant collection of slides for educational purposes. Slides are well-equipped with graphs, illustrations, and icons that build up an education-friendly visual language that can be used for explanation of any issue in the microworld—from cells to basic and complex chemical elements.
Science Subject for Middle School – 8th Grade: Atoms, Elements, and the Periodic Table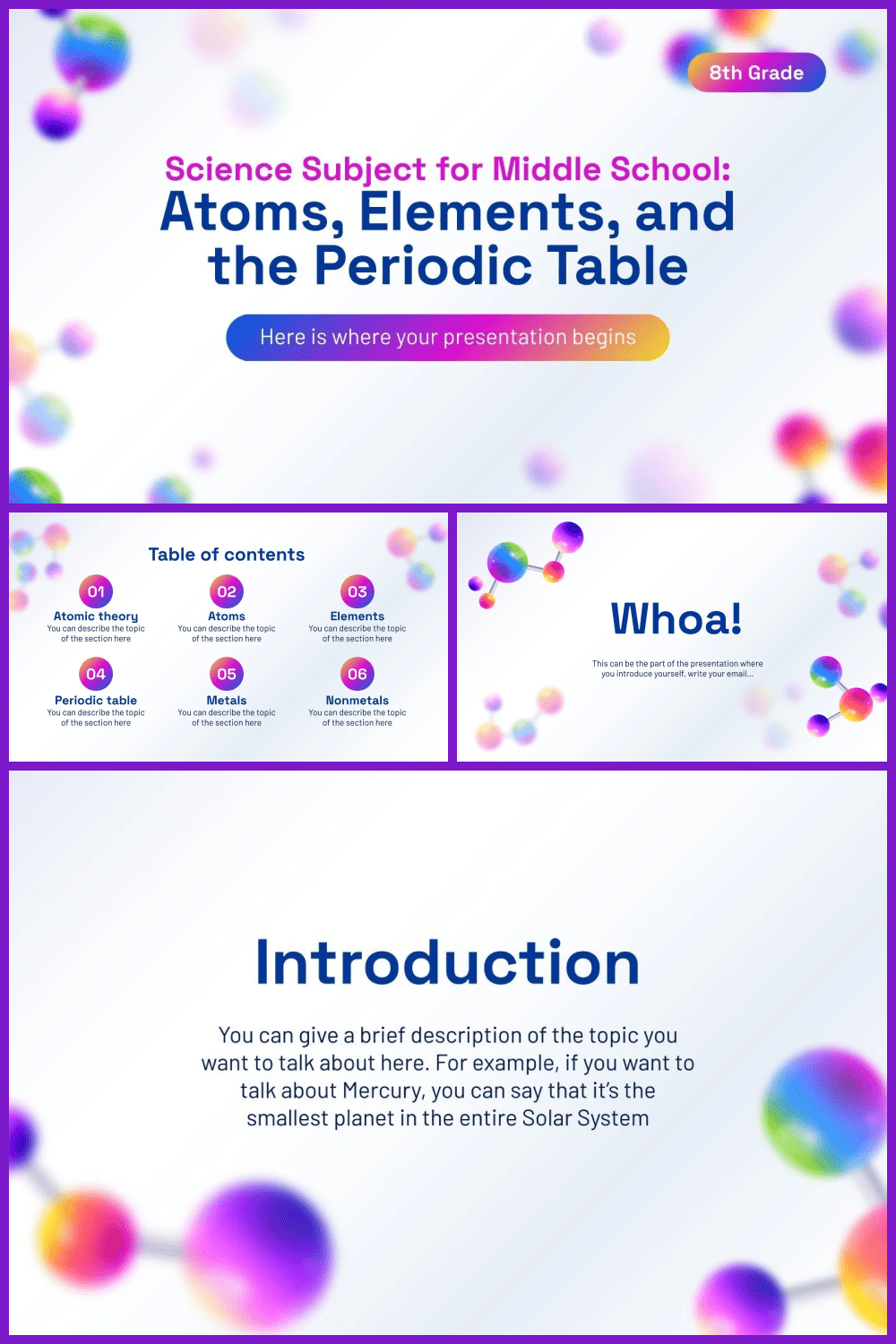 Don't be fooled by its name, as this chemistry PowerPoint template presentation isn't only fit for middle school classrooms. Incorporating many of the modern design elements, such as glassmorphism and extensive use of gradient, this education-focused collection of chemistry slides is fit for explaining everything about periodical elements and particles for all ages.
Research Methods Lesson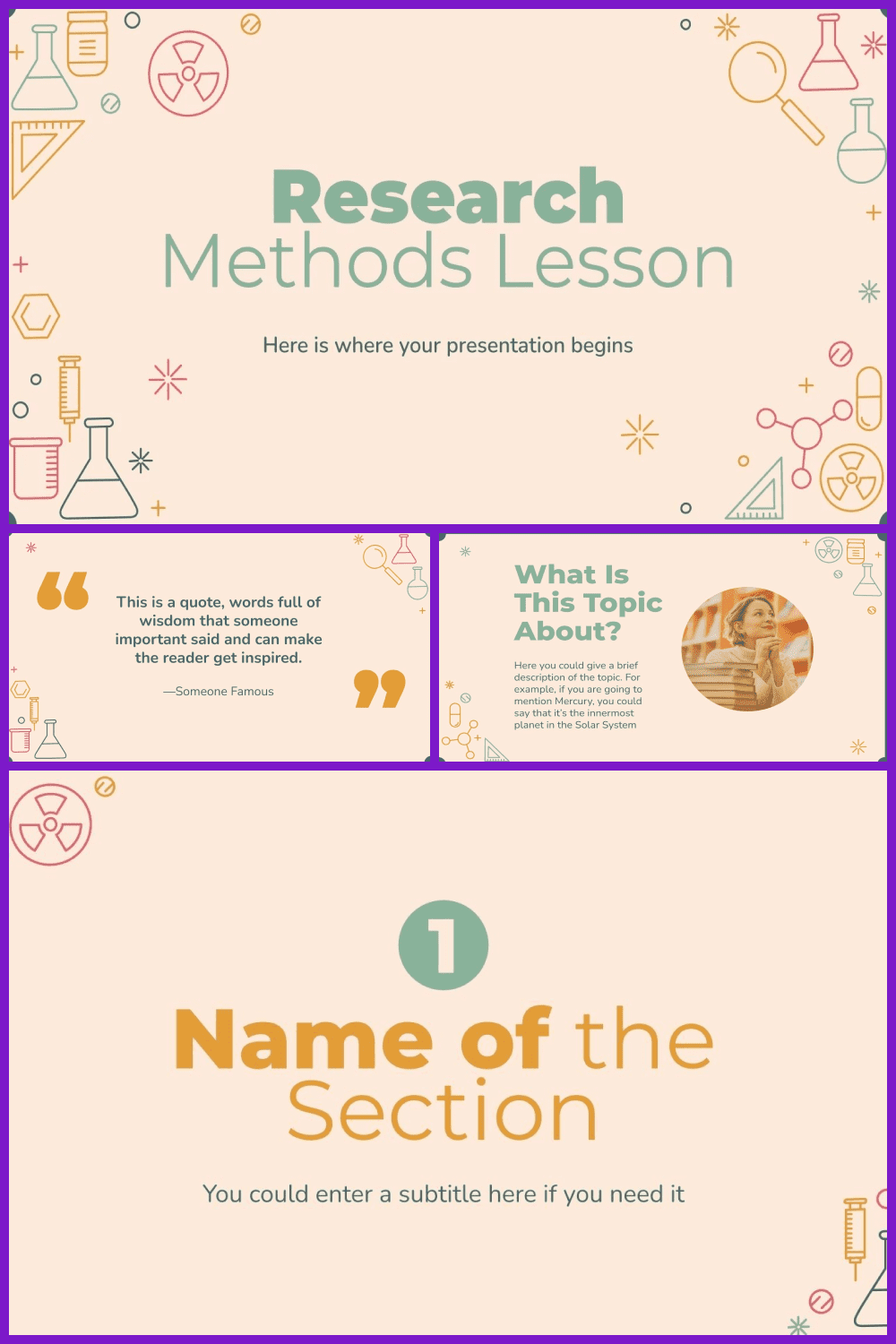 Stylish, retro-themed, and almost hand-drawn, this collection of chemistry slides is not only beautiful but also functional. With everything from graphs and tables to icons and a great balance between information and pictures, not only can this chemistry-themed presentation be used to illustrate a project at university, but it also might be ideal in a workplace or even a lab.
Flat Test Tube Infographic PowerPoint Diagram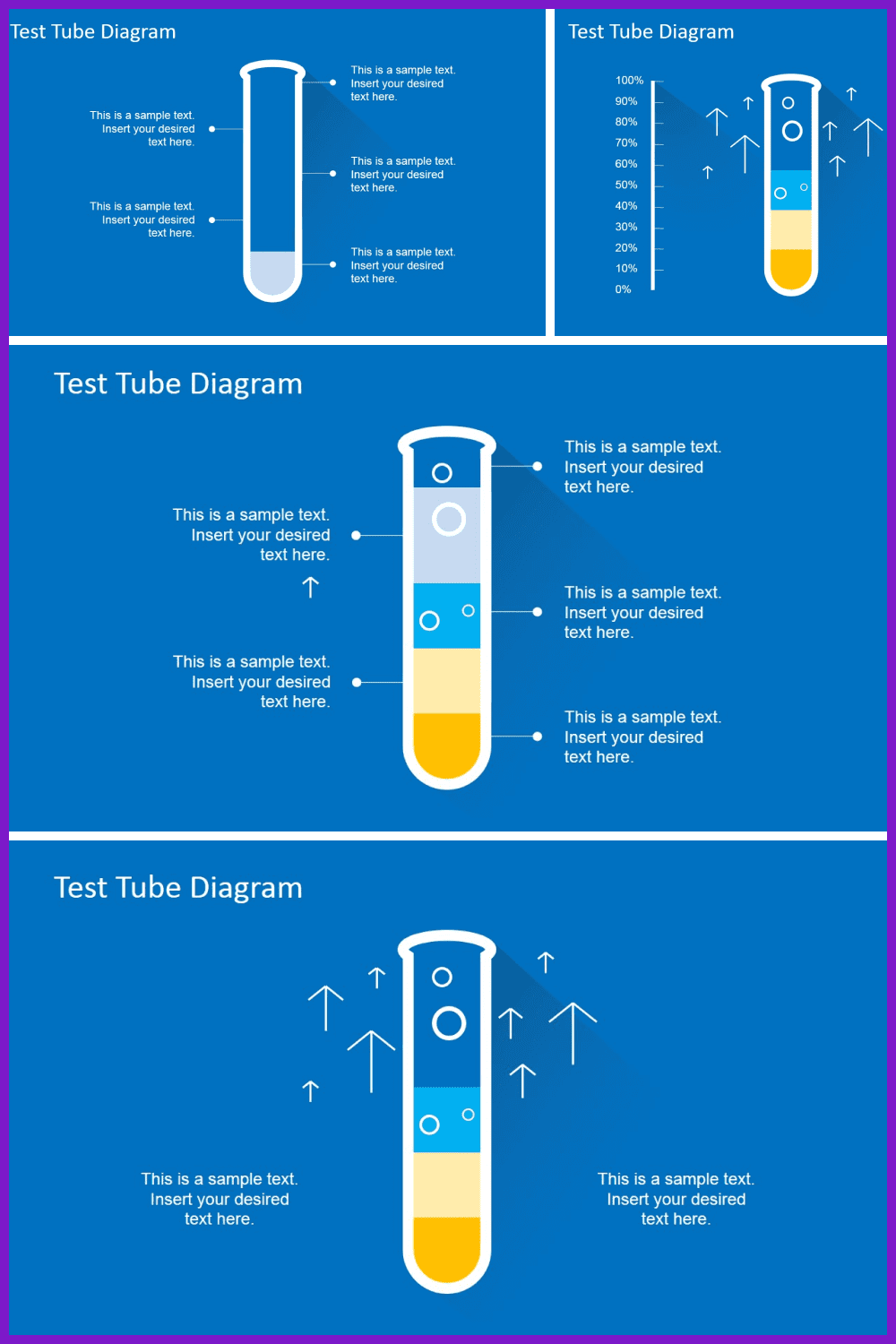 Looking for a small presentation to explain the results you achieved with a couple of slides? This chemistry PowerPoint template (which also works as a chemistry Google Slides theme) might be just what you need. It focuses on a single reaction in a test tube and might be used as a representation of ingredients used and the reaction obtained.
Biochemical Technician CV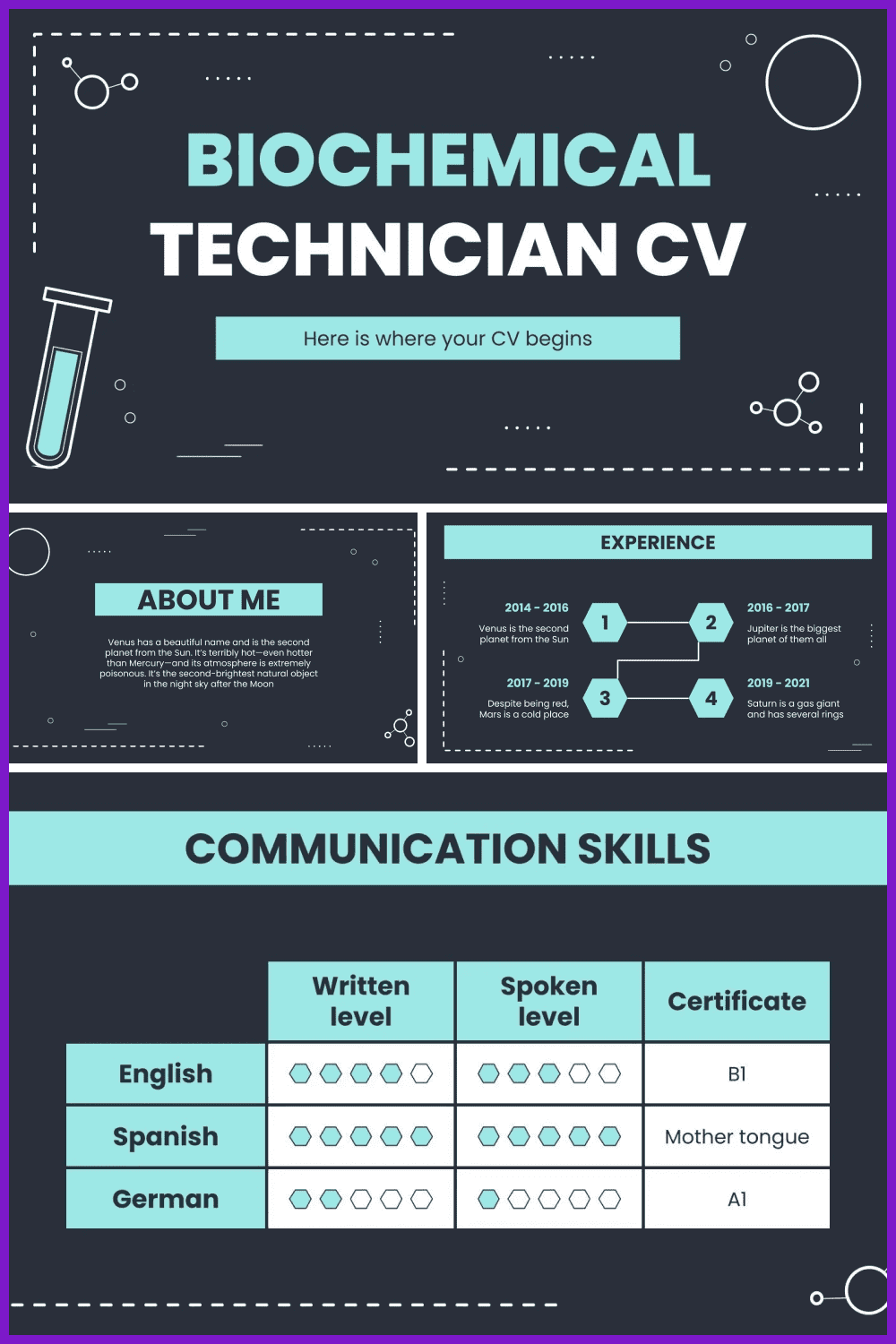 Not only is it useful to rely on chemistry presentation templates when trying to convey a serious subject at school or work, but one might also use it to present themselves in relation to chemistry. Using a dark-themed presentation with contrasting blue strokes, this theme is guaranteed to attract the attention of any employer looking for an expert on chemistry—just don't forget to present your skills looking like a million bucks too!
Animated Chemistry Lesson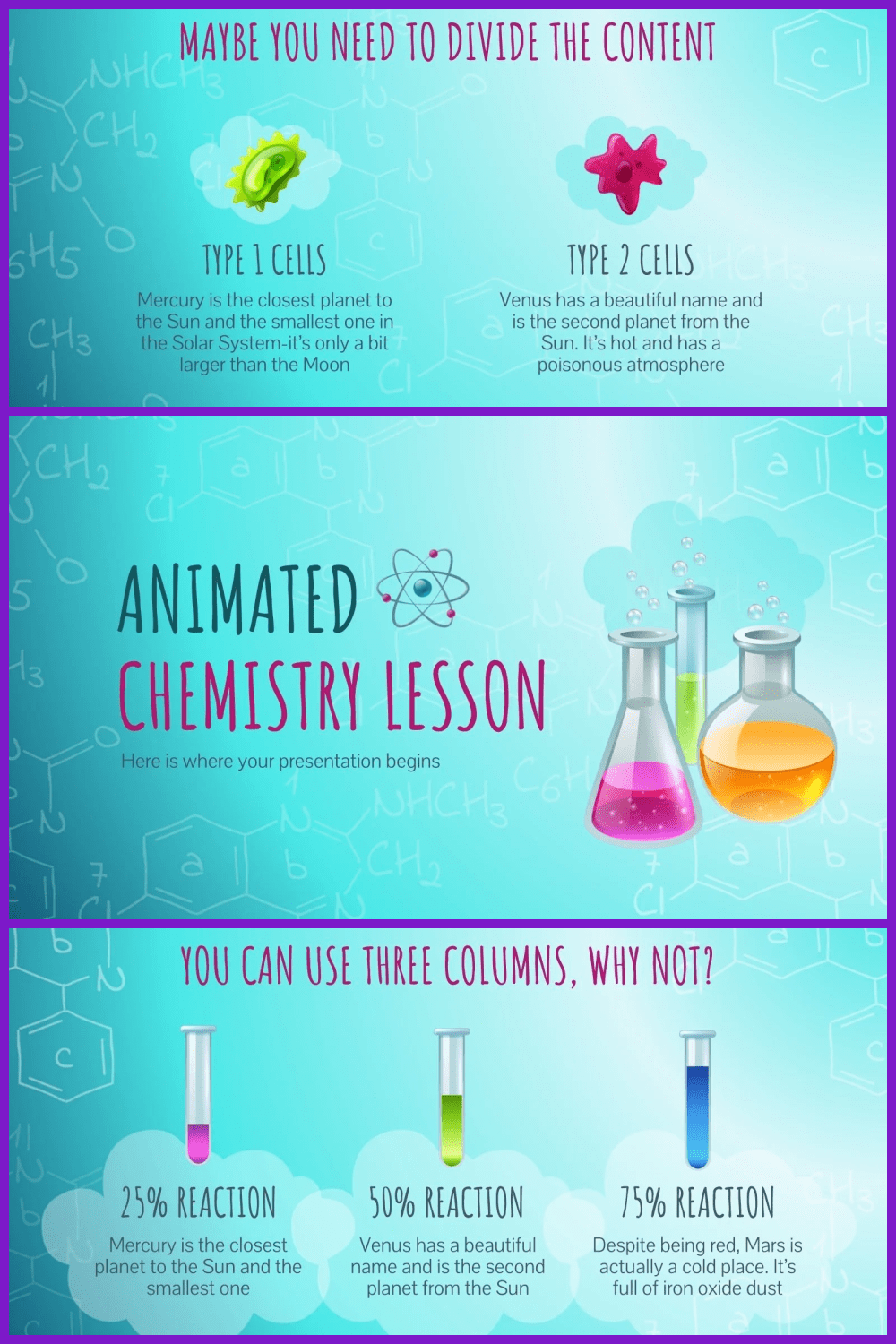 This chemistry PowerPoint template is a little silly, but it works! Cute graphics and animated elements are a bit cartoony, so this one is perfect for telling younger kids everything about chemistry basics, periodic elements, and lab equipment they might use later in their education. The most effective way to make someone interested in science is by explaining the basics and how interesting they were to them when they were young, and this collection of slides might be a great helper in that.
Chemical Industry Shapes for PowerPoint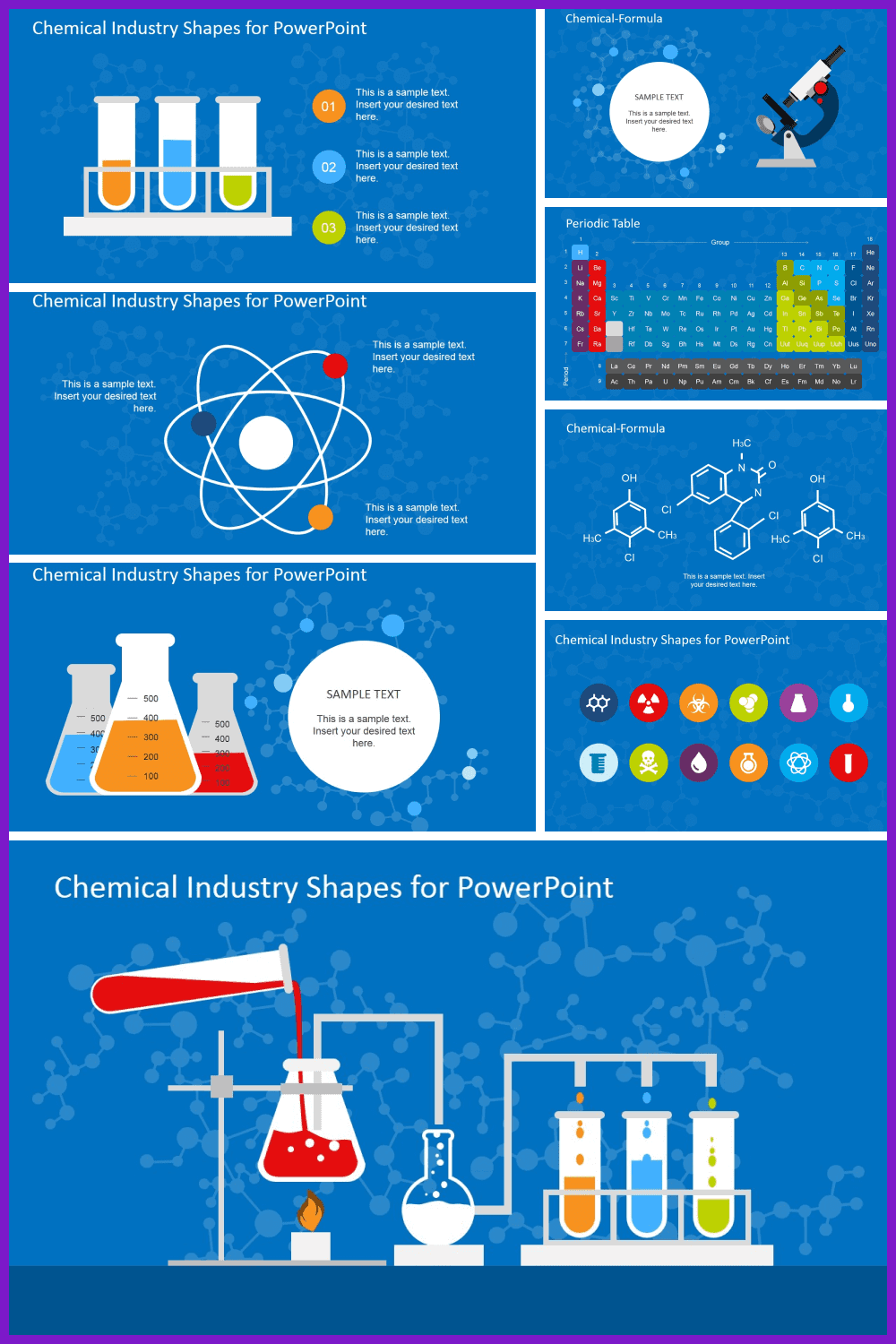 Fun, contrasting, and cartoony—this is a chemistry presentation template at its finest. Made in hints of blue with articulate shapes of illustrated chemical equipment, this presentation is a lifesaver for both teachers and students seeking a canvas to create a beautiful tale about the beauty of using top-notch technology and both common and rare materials for creating wonders in their class.
Share Your Creativity: Upload Your Works to MasterBundle
If you haven't found a presentation you were looking for on our list, then you can design one and share your creativity with the world! Not only will you help multiple people looking for a template to hold their creative and useful scientific ideas, but your work also won't be left without monetary compensation. Read the details on our Sell Your Deal page and start profiting off your brilliant ideas for presentations.

Chemistry PPT Template #12 | Animated Slide Easy Simple

Chemistry PPT Template #12 | Animated Slide Easy Simple in a free access.
Was this page helpful?
We will be happy if you decide to share this article with your friends on Facebook. Just click on the button and you're done
What are your concerns?
Thanks for your response!
You have already left your review.
Disclosure: MasterBundles website page may contain advertising materials that may lead to us receiving a commission fee if you purchase a product. However, this does not affect our opinion of the product in any way and we do not receive any bonuses for positive or negative ratings.