Apple Watch Faces. A watch is an essential accessory for nearly every person. Therefore, it should be concise, simple, and easy to use. A watch is more than just a piece of jewelry. Apple Watch's are commonly being replaced for traditional watches as it helps keep track of time and also shows blood oxygen levels, measures your pulse, activity, sleep quality, and keeps you updated with social media.
Now that Apple Watches have become a must-have everyday accessory, it is clear that you would want a wallpaper to diversify each of your looks.
The Apple Watch is very easy to set up, and with our collection of outstanding designs, you can change the watch faces and complete your outfits with such a small and trendy accessory. So, check out this sought-after selection and be extraordinary with us!
How do faces work on the Apple Watch?
In a nutshell, a .watchface is a file that contains a template with data. In particular, about base dial, set of colors, and complications that are used in the design of the custom dial. It's also worth noting that personal user data is not contained in the watch face template.
For example, the watch face with activity rings and calendar does not retain information about schedules of different events, but displays them. It will show the relevant data only after installation on the specific Apple Watch.
The Best Apple Watch Faces 2022
Cool Apple Watch Faces
Elegant Apple Watch Faces
Christmas Apple Watch Faces
Halloween Apple Watch Faces
Funny Apple Watch Faces
Fitness Watch Faces
How do I add faces to my Apple Watch?
Starting with iOS 11, there is a new option in the Photos application called "Share", which allows you to create your own faces from photos. This works as follows:
Open the photo you want and select "Create a watch face" from the Share menu.
Select Photo or Kaleidoscope mode 3. Set up the watch face and select the Add button.
How do I share an Apple Watch face?
With the release of watchOS 7, users now have the ability to download Apple Watch watch faces, and share them with friends. However, this is only possible within the Apple ecosystem.
There are several ways to share watch faces, which increases the choices.
Apple Watch
The easiest way is to send your favorite watch faces directly from the watch, which is done as follows:
Tap on the Apple Watch screen and hold until the dial selection window appears.
Tap the "Share" icon next to the "Edit" button.
Enter the name of the contact you want to send the face to.
Press "Send."
iPhone
Apple gives you the ability to share watch faces on your iPhone in the Watch application, which requires you to:
Open the Watch app on your iPhone
Select a watch face in "My Faces," and tap the "Share" icon at the top right
Choose where to send the watch face
Social Networks
The methods described above concern the transfer of watch faces between users of Apple devices. For those who want to share watch faces, for example, on social media, you will need to get the .watchface file from your iPhone to send it:
Open the Watch app on your iPhone and select a watch face
Tap the "Share" button
Find the "Save to files" section in the share menu
Choose a location for the .watchface file and click "Save"
How to Change Your Apple Watch Face
Selecting a watch face directly on the Apple Watch is possible by doing the following:
Click on the title screen, where a face is selected
Wait until the press causes a "drop" in the menu with graphic settings
Swipe the screen to the right or left several times until you find a suitable option from the choices provided.
Need some inspiration? Update your watch with our diverse selection of apple watch backgrounds. Everyone wants their Apple Watch to look its best, and cool faces and sophistication are the easiest means to achieve that goal!

Some useful videos about Apple Watch faces
How To Install Custom Apple Watch Faces | Clockology Tutorial | Hermès, Casio, Rolex watch faces

How To Install Custom Apple Watch Faces | Clockology Tutorial | Hermès, Casio, Rolex, Omega, IWC… watch faces for Apple Watch

Apple Watch: 3 Watch Faces You NEED To Use!

With the thousands of possible Apple Watch watch faces combinations, I'm sharing what I think are the BEST watch faces for the Apple Watch and what I think are the best Apple Watch clock faces that you should use! With the new Apple Watch watch faces comes a lot more features readily available on your wrist.

Exploring All The New Apple Watch Faces (WatchOS 7)

WatchOS 7 just officially debuted and along with it comes a variety of new Apple Watch faces. Some I really like, some are meh. In this vid, we check them out and I'll let you know which ones I think are worth using (or skipping).

FAQ
Please take a moment to pin this post to Pinterest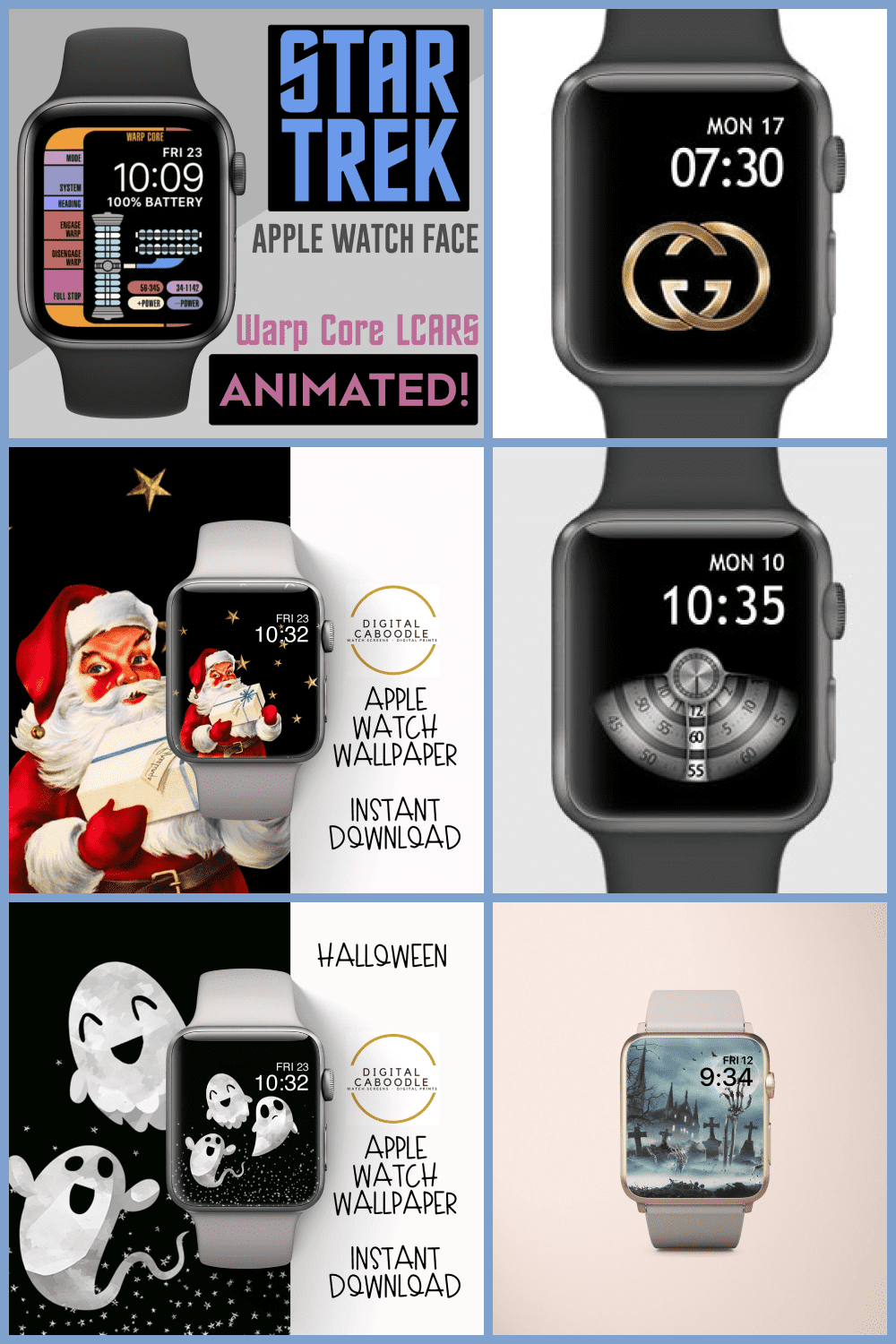 Disclosure: MasterBundles website page may contain advertising materials that may lead to us receiving a commission fee if you purchase a product. However, this does not affect our opinion of the product in any way and we do not receive any bonuses for positive or negative ratings.