10+ iPhone 12 Mockups: Mini, Pro, Max. Free and Premium. Be In Trend With New Technology
iPhone 12 Mockups. The Apple company for many years continues to surprise with its awesome products. New technology, trendy design and high-quality speaks for itself. And no matter how awful and frightening the year 2020 is, there are still reasons for happiness. And one of them is the event of October 13, which was eagerly awaited by all ardent fans of Apple products – online presentation of new devices.
Impressive New Generation iPhones
American company Apple introduced the new generation smartphones iPhone 12. As in previous years, there are several models in the line, which differ in prices and characteristics. The presentation was held fully online, due to events in the world. You can see it in the record on this link: Apple Event – October 13.
The iPhone 12 mini, iPhone 12, iPhone 12 Pro and iPhone 12 Pro Max, the compact HomePod mini speaker and MagSafe were presented. All new products are available with 64GB, 128GB and 256GB memory. Now you will find out more about each product and we provide you with a listing of the hottest Iphone 12 mockups.
iPhone 12 Mini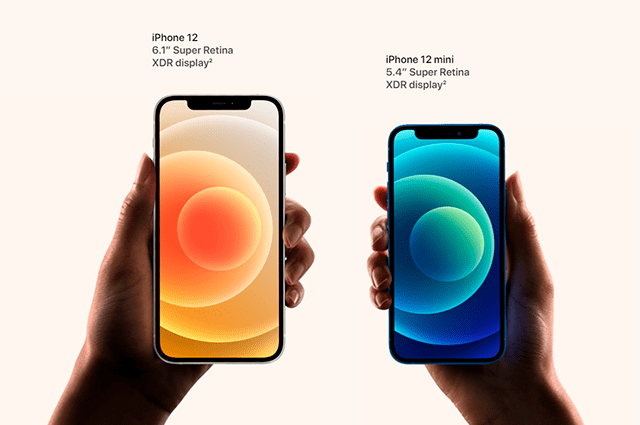 This smartphone does not differ much from the iPhone 12. But it has the most compact iPhone with 5G. And it is so impressive. The iPhone 12 Mini is slightly smaller than the previous ones. The display diagonal of the 12 model is 6.1 inches, and its mini version is 5.4 inches. All other features are the same as in the previous version. The price of iPhone 12 mini starts from $699. On sale beginning from November 13th. More Details.
iPhone 12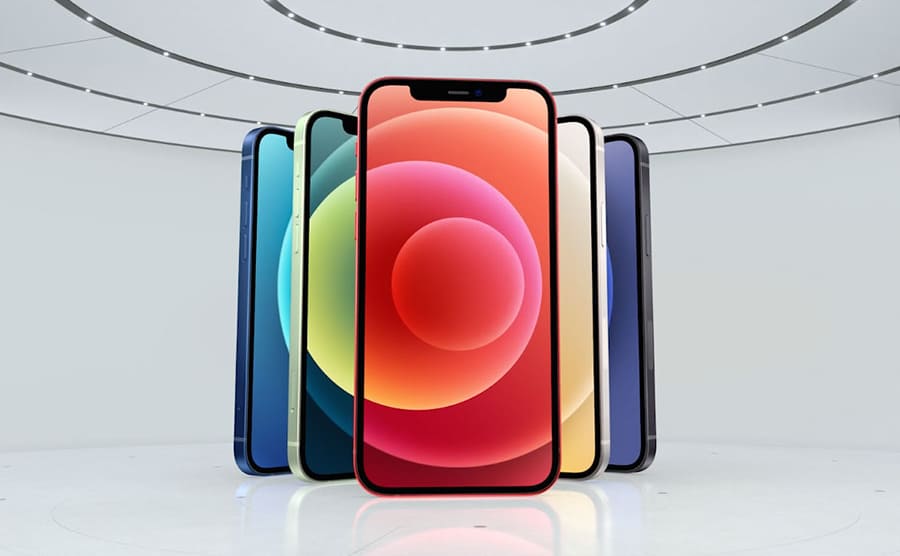 This powerful smartphone is available in five colors: black, blue, product red, green and white. Now iPhone 12 features the strongest display in the industry with Ceramic Shield glass protection technology. This makes it more durable. Another innovation is official 5G support. It is the ideal technology for crowded areas, and large cities. And as the company said, now there will be no point for users to connect to Wi-Fi, because the Internet is super fast and safe. Another key feature is the six-core Apple A14 powerful processor, which is as much as 50% faster than the previous one. The smartphone also has a magnetic MagSafe connector, which allows you to attach accessories to the device. For photo lovers, there are also major changes: the main camera in low light began to take up 27% more light. The ultra wide camera is now able to shoot more clearly. And both cameras are now working in night mode. By the way, you can charge your smartphone with Apple Watch. In addition, the iPhone 12 box will no longer have a power adapter and headphones, only cable and smartphone. Starting price for iPhone 12 begins at $799. It will be on sale from October 23rd. More Details.
iPhone 12 Pro and iPhone 12 Pro Max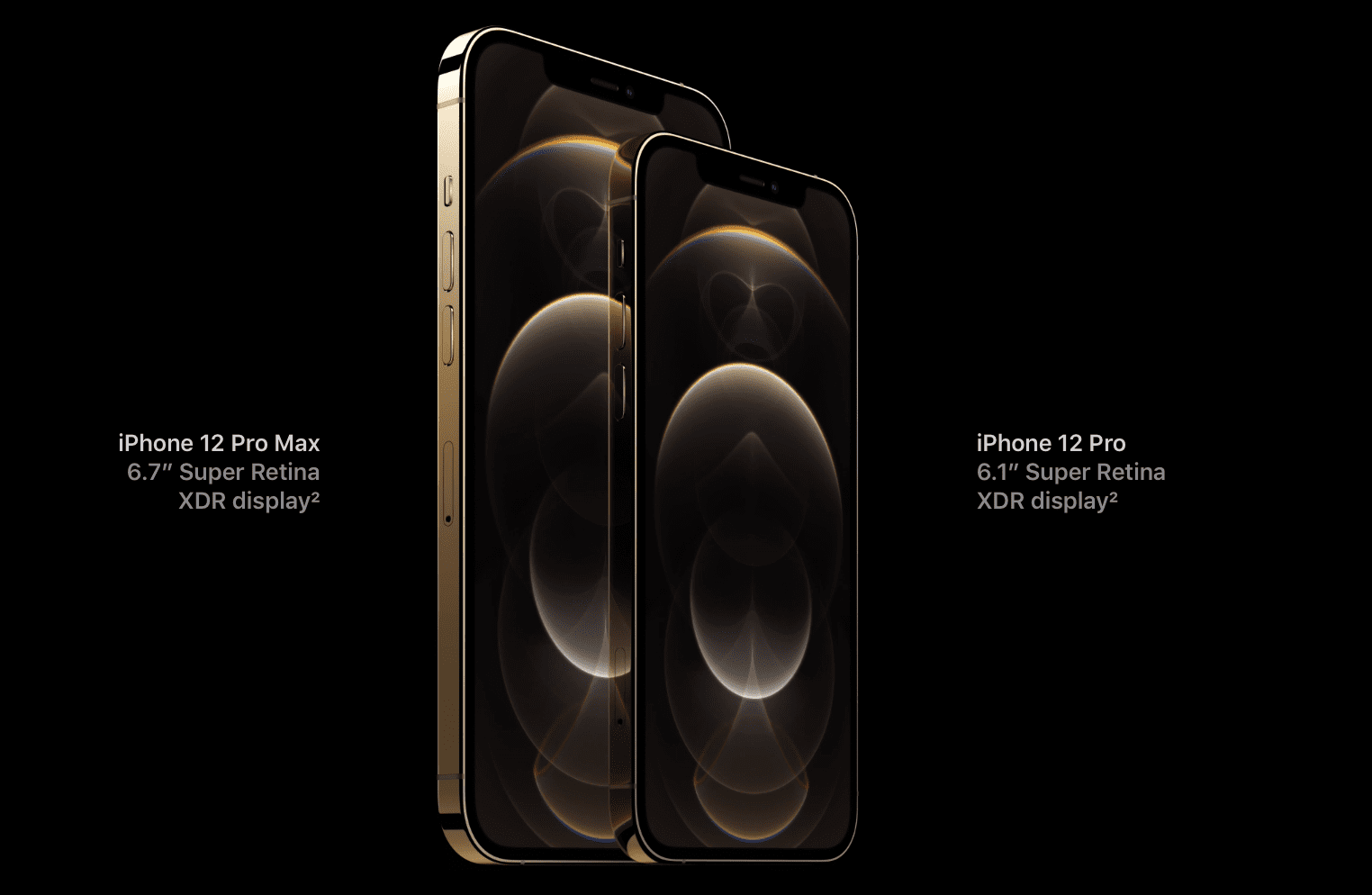 This is another 2 versions of the new iPhones. And here the differences are already more noticeable. They are provided in four colors. You can choose among black, white, gold and blue. The iPhone 12 Pro Max now has a 6.7-inch screen. The chic cameras support Deep Fusion. Optical zoom has also been improved, now it is 2.5x. The main camera sensor is 87% better than the iPhone 11 Pro Max, and also shoots in low light conditions. Another feature is the ability to shoot 10-bit HDR and Dolby Vision HDR videos. And you can also edit the video on the smartphone itself. All other functions are the same as in iPhone 12. Start price of iPhone 12 Pro – from $999. In shop may be found since October 23rd. Starter price of iPhone 12 Pro Max is $1099. It will be on sale from November 13th. More Details.
Best iPhone 12 Mock-Ups
Ready-made iPhone 12 mock-ups allow you to see a realistic model of your project even before the main Apple products of the year start selling. Choose the best option, upload images and get a professional result in a few seconds.
iPhone 12 Mockup 5.0 (Concept)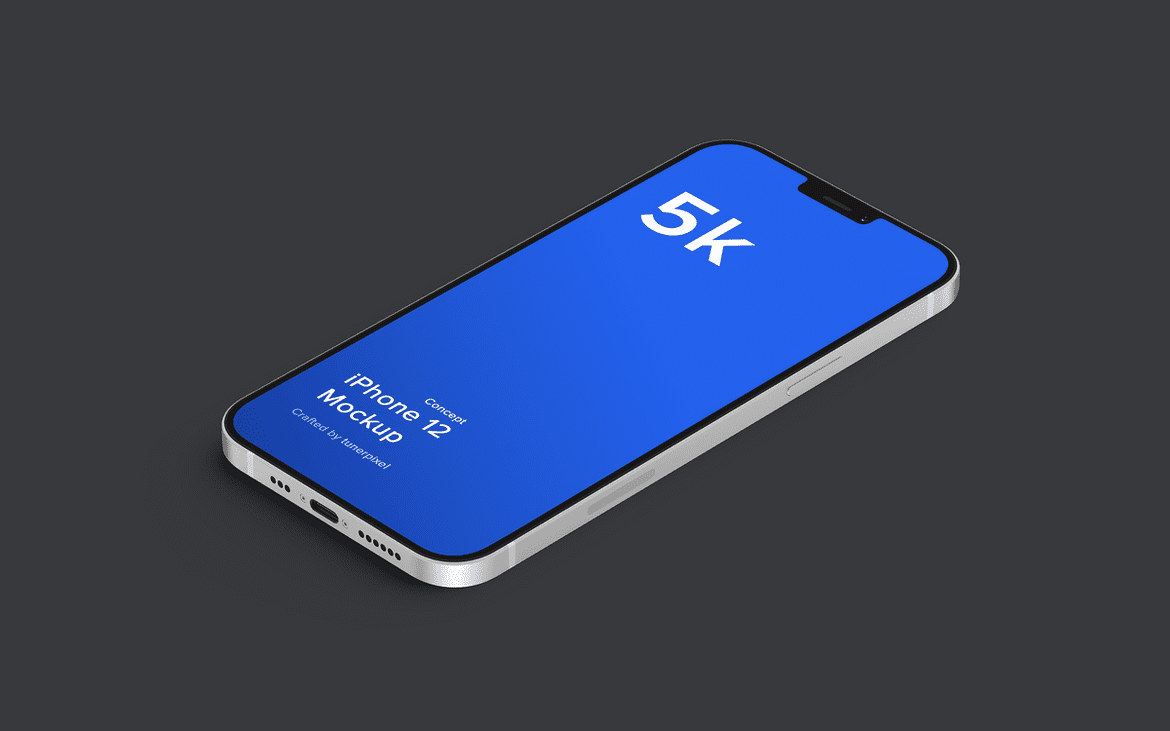 This is a high quality product that will help you display your project in a great mock-up. All the subtleties of the new iPhone model have been taken into account, so you are provided with: transparent customizable background, the ability to quickly edit and place the design through Smart Object, 5k screen resolution, various variants of shadow, etc.
Price: free (you only need to subscribe for downloading).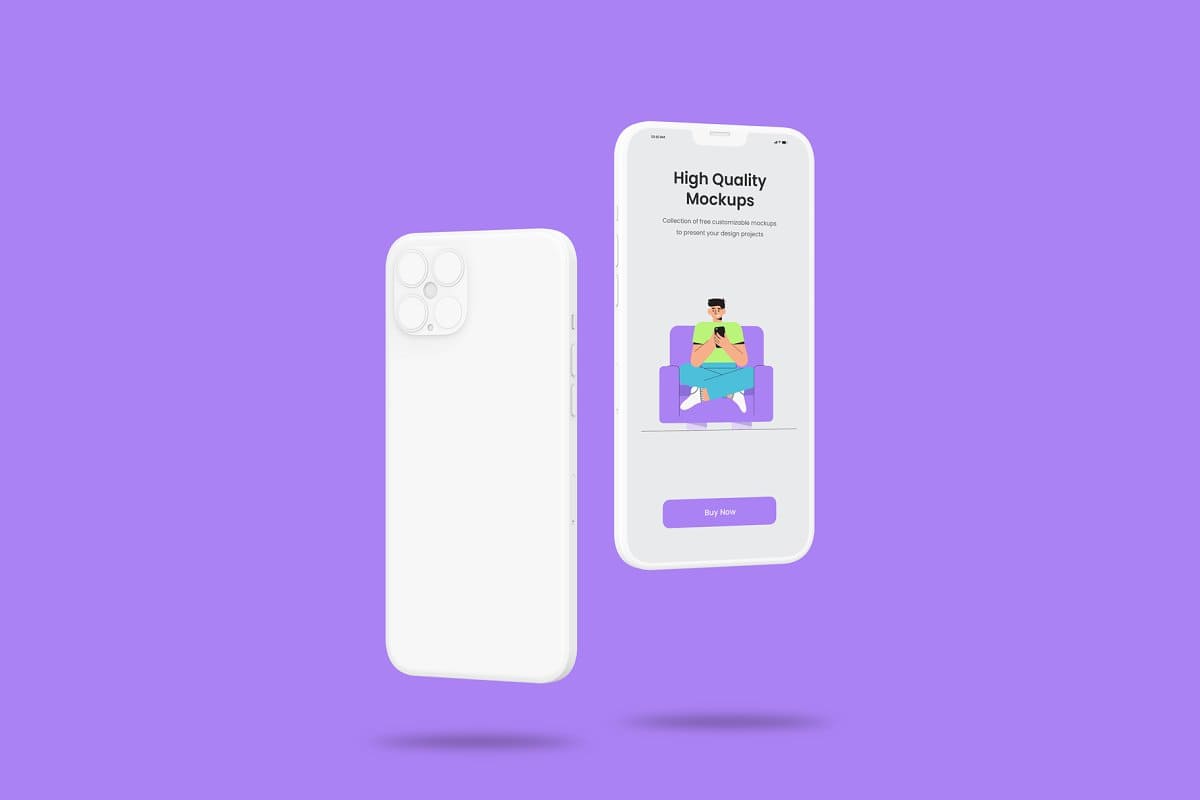 PSD mock-ups help to show your chic designs on a realistic next generation iPhone model. You just need to make a purchase and surprise your audience with the best design. With the help of this mock-up you will be able to show how a particular project will look like even before the start of iPhone 12 sales. So easily change the color schemes, screens, backgrounds and gradients. You also get a high resolution screen.
Price: starts with $12.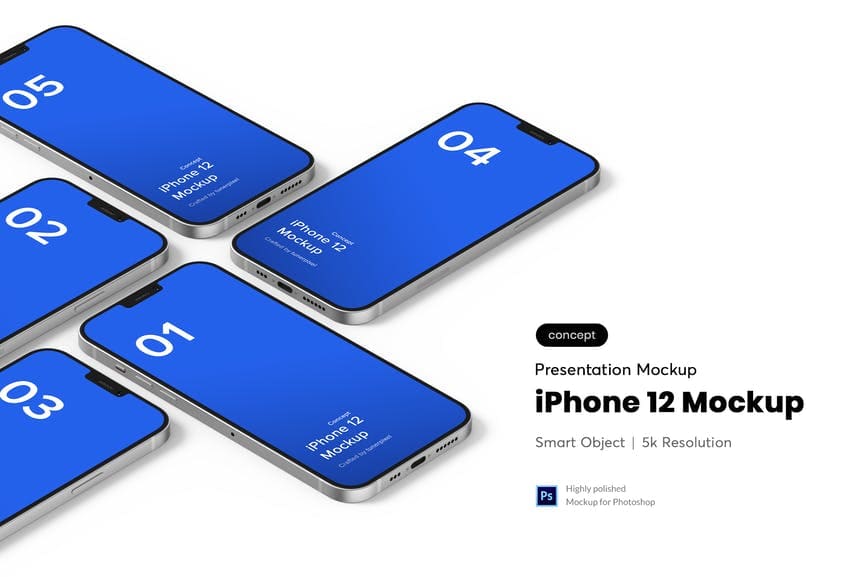 This is another high quality and realistic mock-up you can attach through the Smart Object. Your project will be awesomely displayed due to the high-resolution 5120 x 3200 screen. In addition, you get a transparent background for editing, a detailed help file. Moreover, editing is allowed with Adobe Photoshop.
Price: free.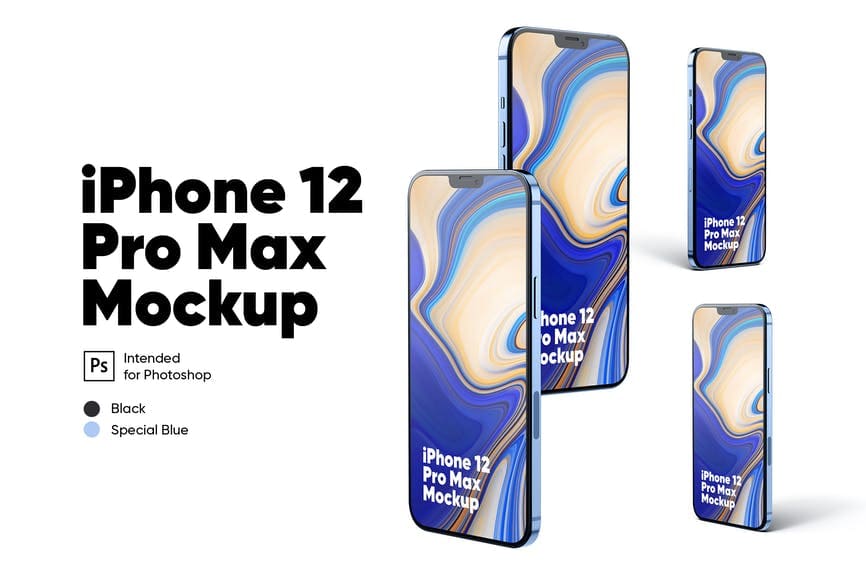 This mock-up is available in black and blue colors. It is easy to edit in Adobe Photoshop, and you can add your design using the Smart Object. As in other listing products, you get a transparent background and the ability to change color schemes
Price: free.
iPhone 12 Mockup 1.0 (Concept)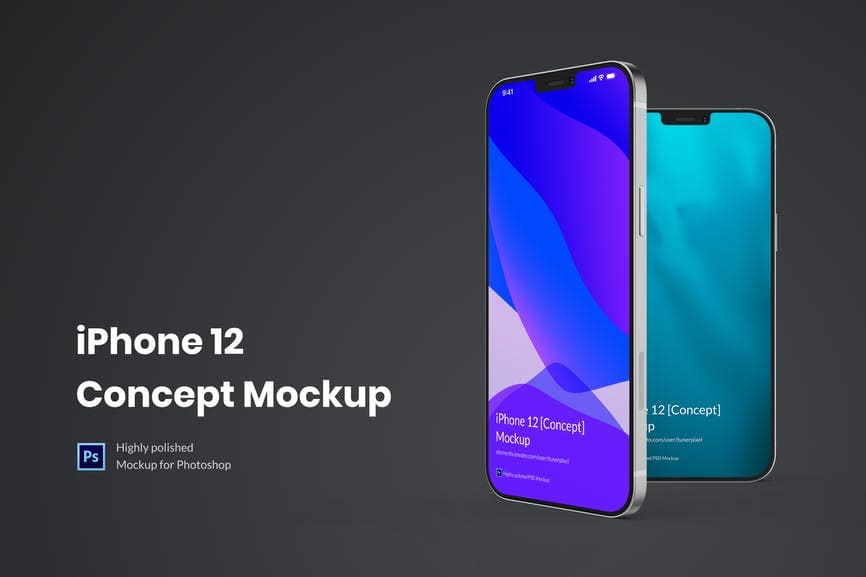 Work with this mock-up will be very fast and the result is qualitatively realistic. And all due to 3 built-in files, high screen resolution, Smart Object function, customizable background and detailed support-file.
Price: free.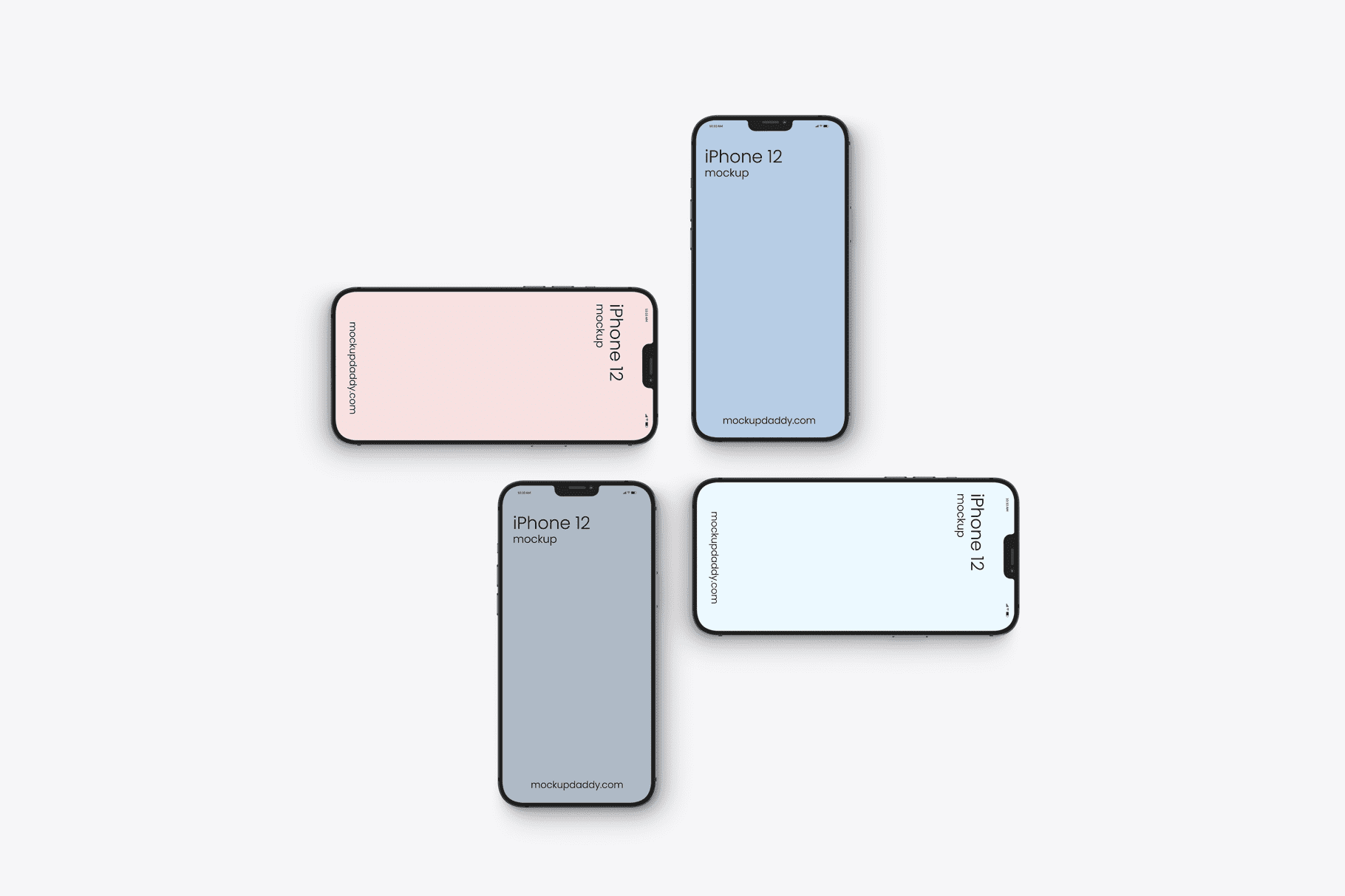 This product includes 8 ready-to-use scenes, 18 files, change colors, background, gradients, high resolution screen. Editing is allowed with the help of Adobe Photoshop, and adding design using the Smart Object.
Price: $12.
Best iPhone 11 Mock-Ups
Using mock-up you can beautify any presentation, add photos, use them for banners, etc. For the presentation of something on your phone often use devices from Apple, so here are the best iPhone 11 mock-ups.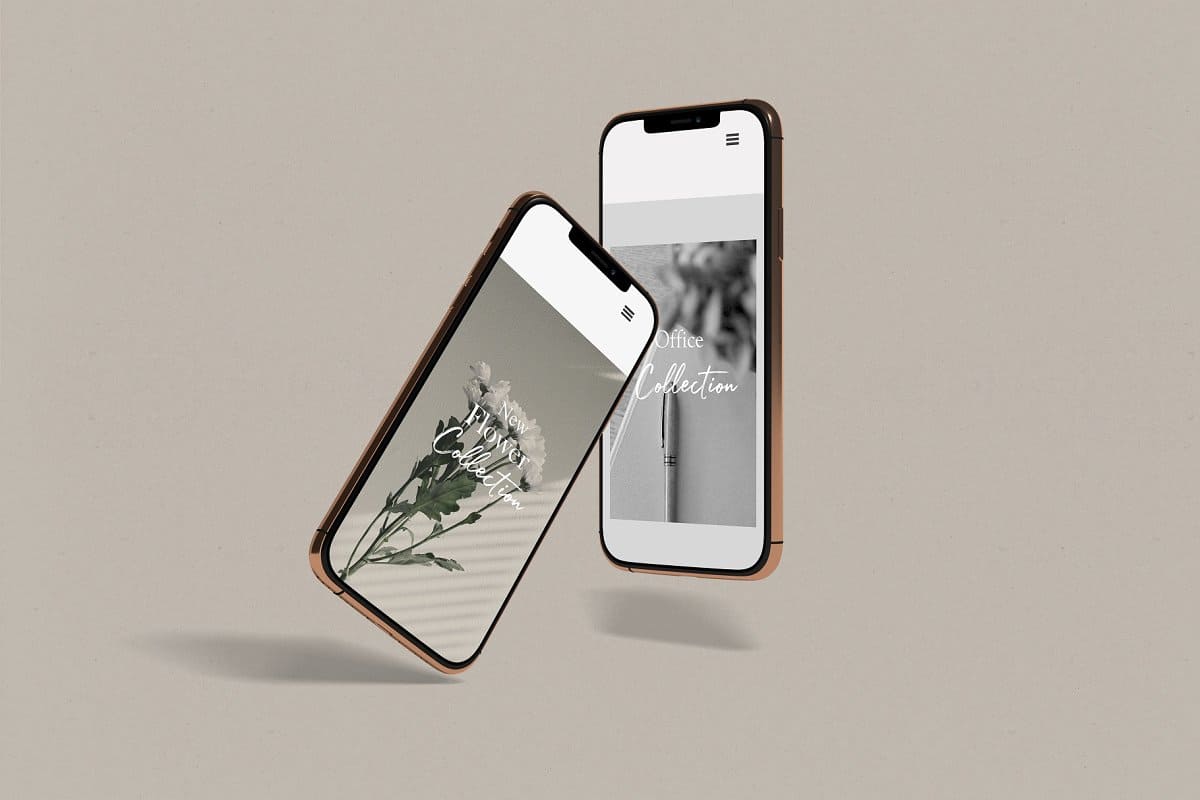 Sophisticated model with 12 ready-to-use PSD files, Smart Object function, high screen resolution, and fully customizable design in Adobe Photoshop. For your convenience, there is also a help file with detailed documentation.
Price: starts from $14.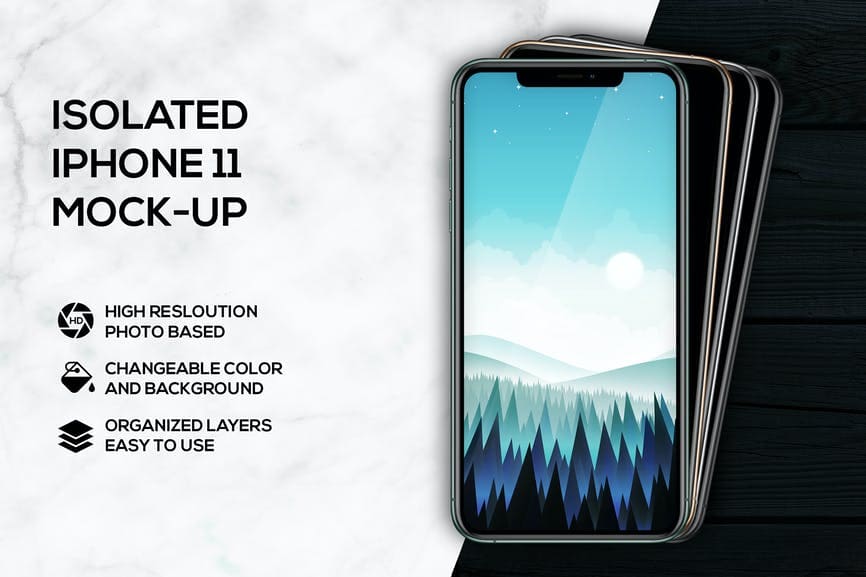 Easy to use mock-up is quick to edit and has many useful features. Among them are compatibility with Adobe Photoshop, shadow options, transparent background for user-friendly adjustment, and adaptable color schemes.
Price: free.
iPhone X, iPhone 11 Flat Mockup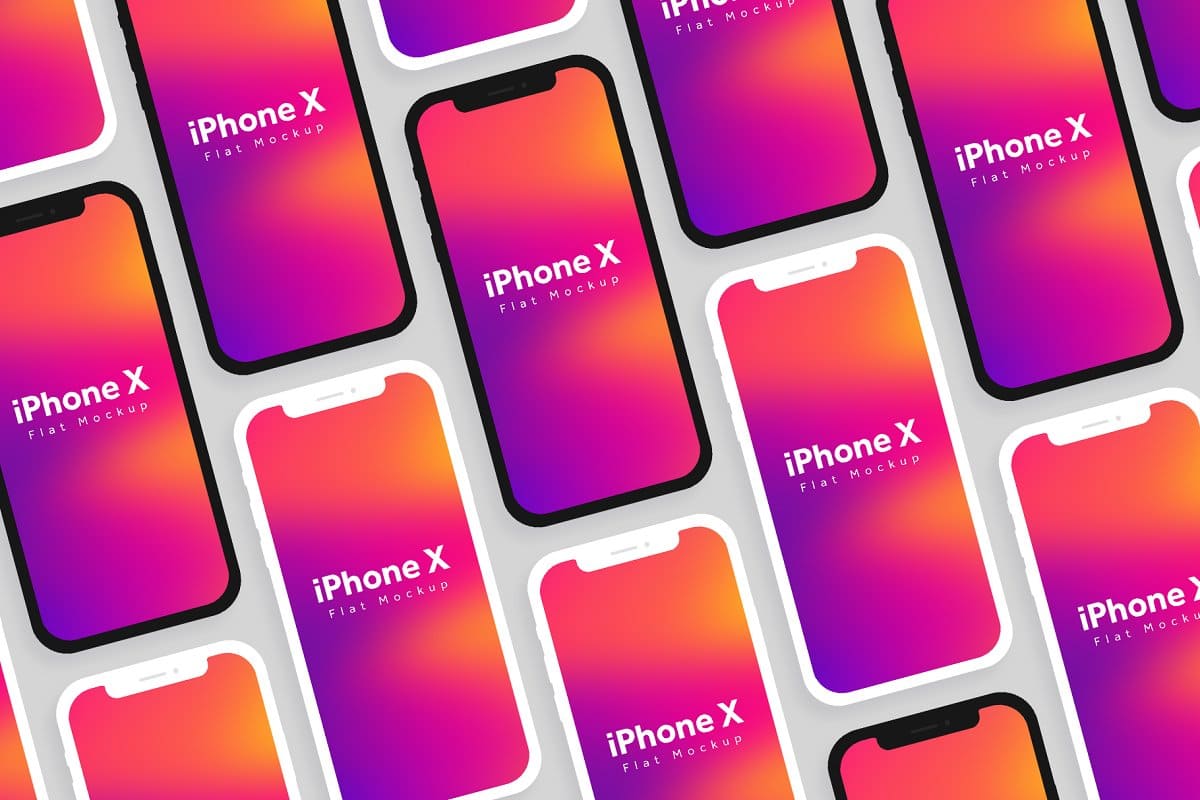 Product with solutions for two iPhone models at once. It is also easy and fully editable, with a black and white color scheme and detailed documentation. In addition to design changes, you can also make adjustments to the placement of objects.
Price: starts from $4.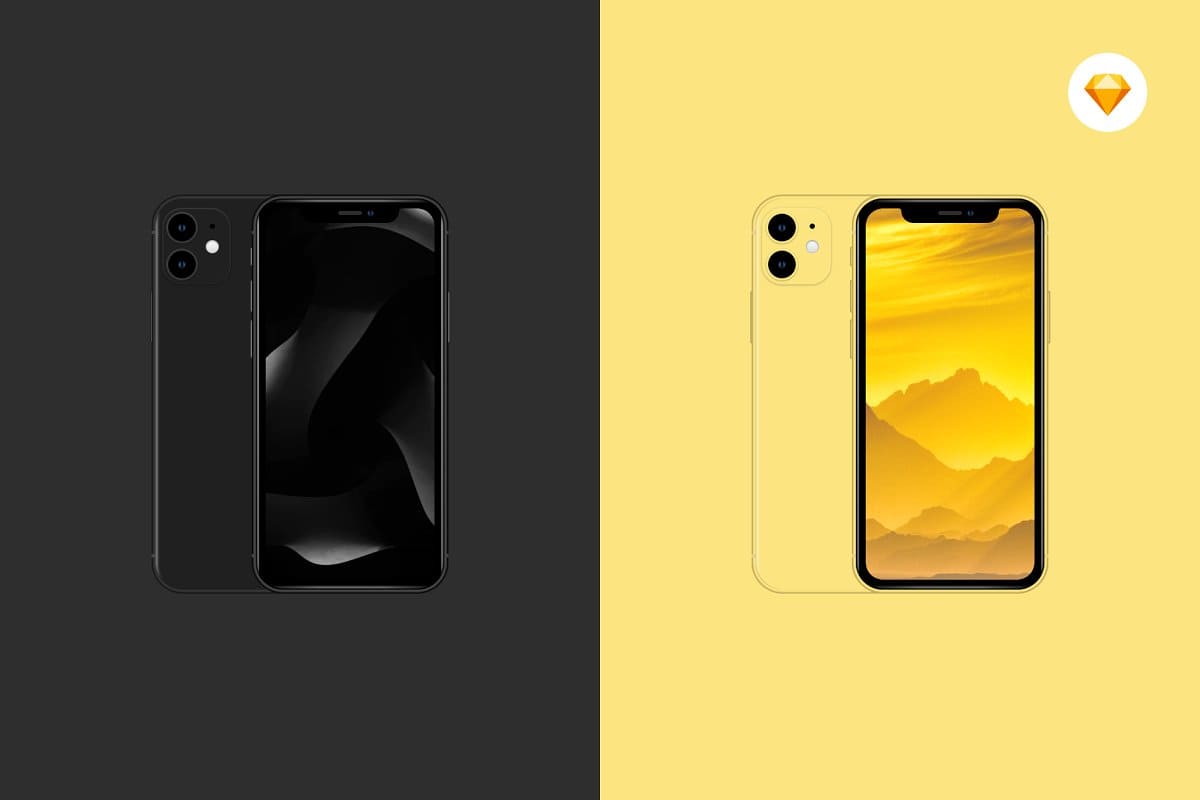 You are provided with mock-ups in 6 colors: black, white, red, green, yellow, violet. All elements are flexible to edit, because the product is compatible with Adobe Photoshop.
Price: starts from $15.
iPhone 11 Pro – Mockup Scene Creator
It's a chic offer with 12 different views, realistic images, the ability to change already prepared colors, high resolution, clear documentation and Ps compatibility.
Price: starts from $12.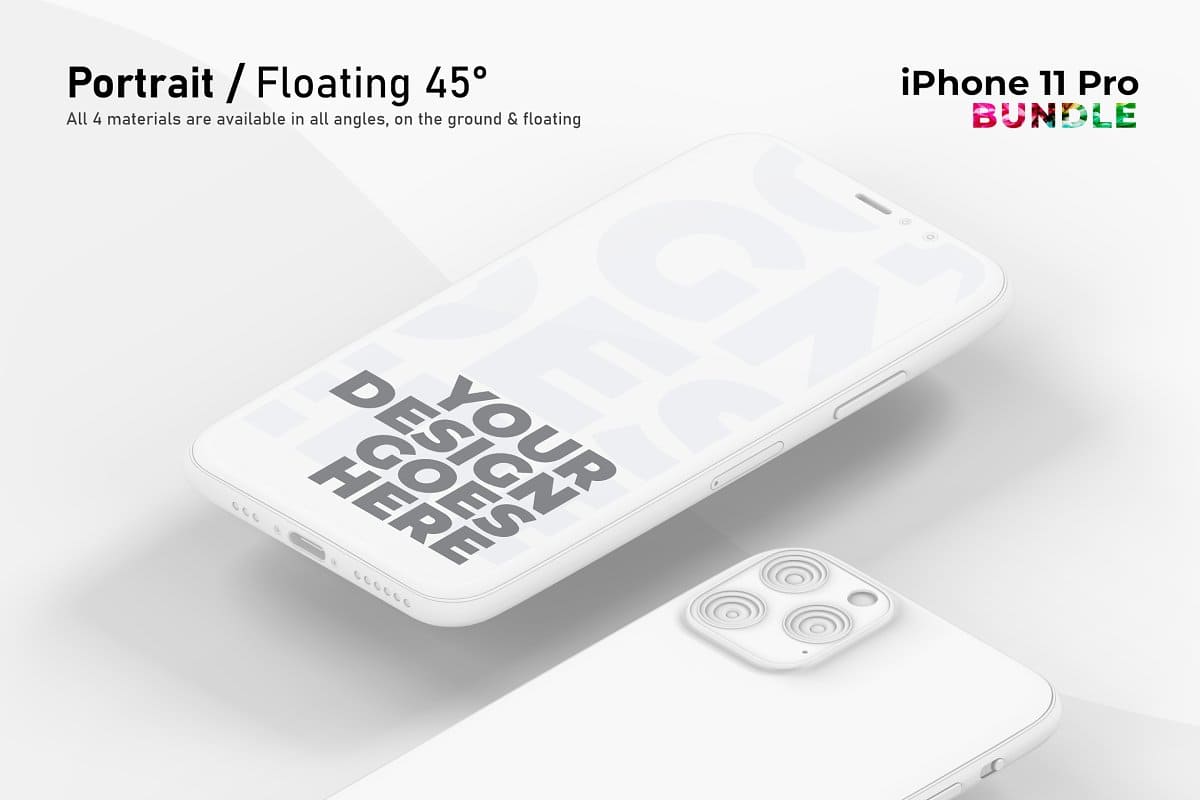 It is a whole collection of high quality mock-ups with 36 front and 12 back views. Each element is changed with Adobe Photoshop. You can edit the color, location and general appearance of your presentation.
Price: starts from $18.
Make the best of your presentations along with the stunning and high-quality iPhone 12 mock-ups. Style and innovation is up to you!
Please take a moment to pin this post to Pinterest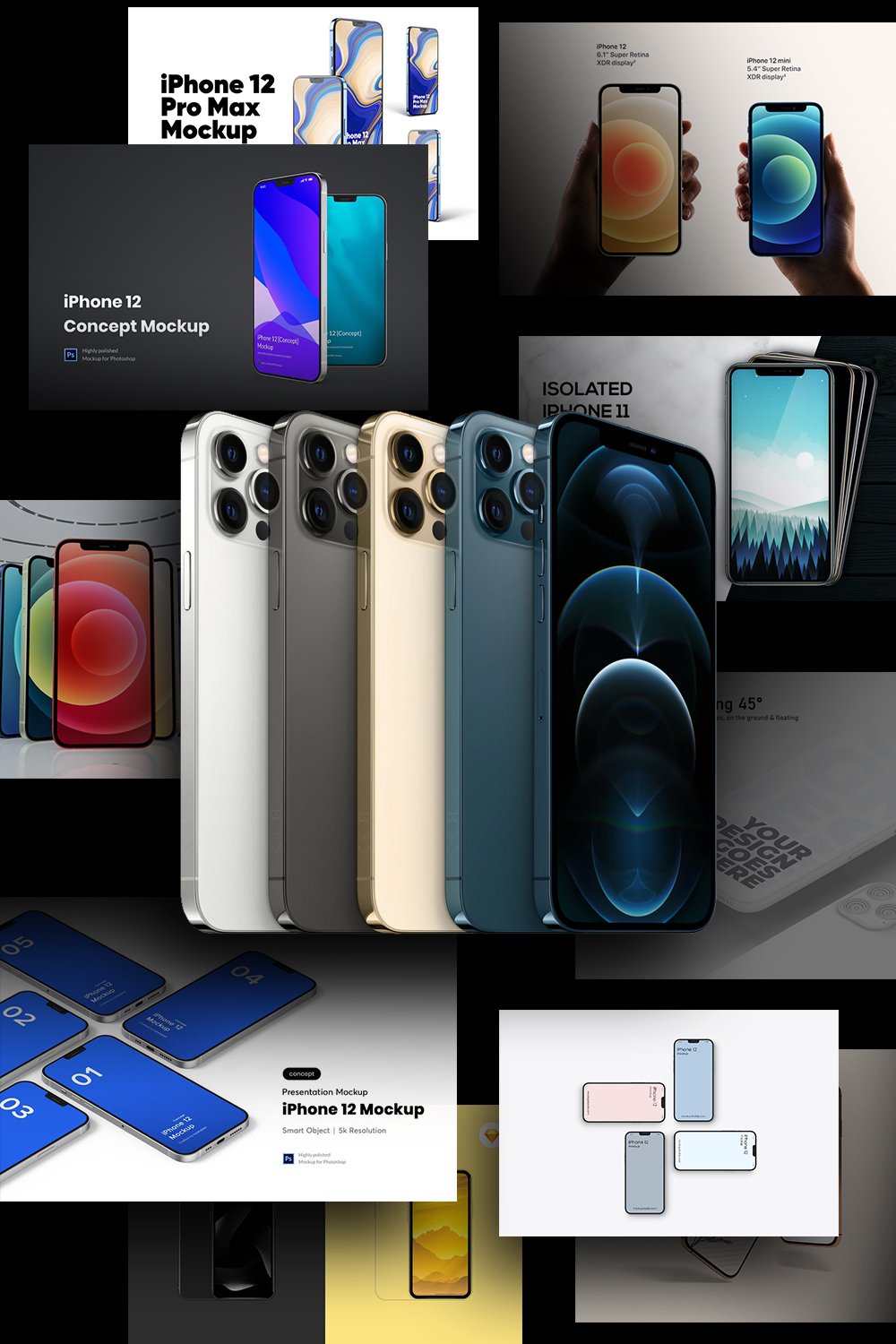 Disclosure: MasterBundles website page may contain advertising materials that may lead to us receiving a commission fee if you purchase a product. However, this does not affect our opinion of the product in any way and we do not receive any bonuses for positive or negative ratings.
Was this page helpful?
We will be happy if you decide to share this article with your friends on Facebook. Just click on the button and you're done
What are your concerns?
Thanks for your response!
You have already left your review.
Related Product Categories
Apple.com
Creativemarket.com
Envato.com