Best Fall Graphic Elements – Autumn Clip Art for 2022
Tired of looking all over the internet for the best fall clipart for 2022? MasterBundles has a brand-new autumn clipart collection for you. Hurry and check it out now. With the help of this bright and interesting clipart, you will be able to make the external design of any object sophisticated and unforgettable. We hope you find the perfect autumn clipart in this selection.
Consider Visual Trends Choosing Autumn Clipart in 2022
Visual trends for autumn clipart 2022 are a contrast between nostalgia and futurism. Trying to recover from the difficult present-day situations, creators draw inspiration from the past and look toward the future. Nowadays it's all about meta universes, NFT tokens, TikTok, and, of course, zoomers, which now make up one-third of the world's population and set the tone for visual communication. The pandemic, as the main trigger, has not gone anywhere, but the focus has shifted slightly, so we will still see a few additions to last year's trends.
According to many color experts, the graphic trend for using calm pastel colors will continue in 2022. These are mainly green and blue colors, which reflect natural tranquility and peace, at the same time charging with energy. Naturalistic motifs will be highly popular, so don't forget about the leaves, flowers, and birds created in a soft, warm color palette. Minimalistic watercolor illustrations and all the possible associated clipart will still be highly popular among many designers.
The 2000s were an era of digital breakthroughs and techno-optimism—the heyday of the Internet, smartphones, and video games. The largest in recent decades, generation Z warmly recalls their joyful, bright, and cheerful childhoods. The Y2K can be expressed in pastel shades of pink, yellow, blue, and green, as well as the influences of film photography and grainy frame effects.
Premium Autumn Clipart
Considering all these 2022 visual trends, let's find the best autumn clipart from the collection below.
40+ Autumn Vector and Raster Illustrations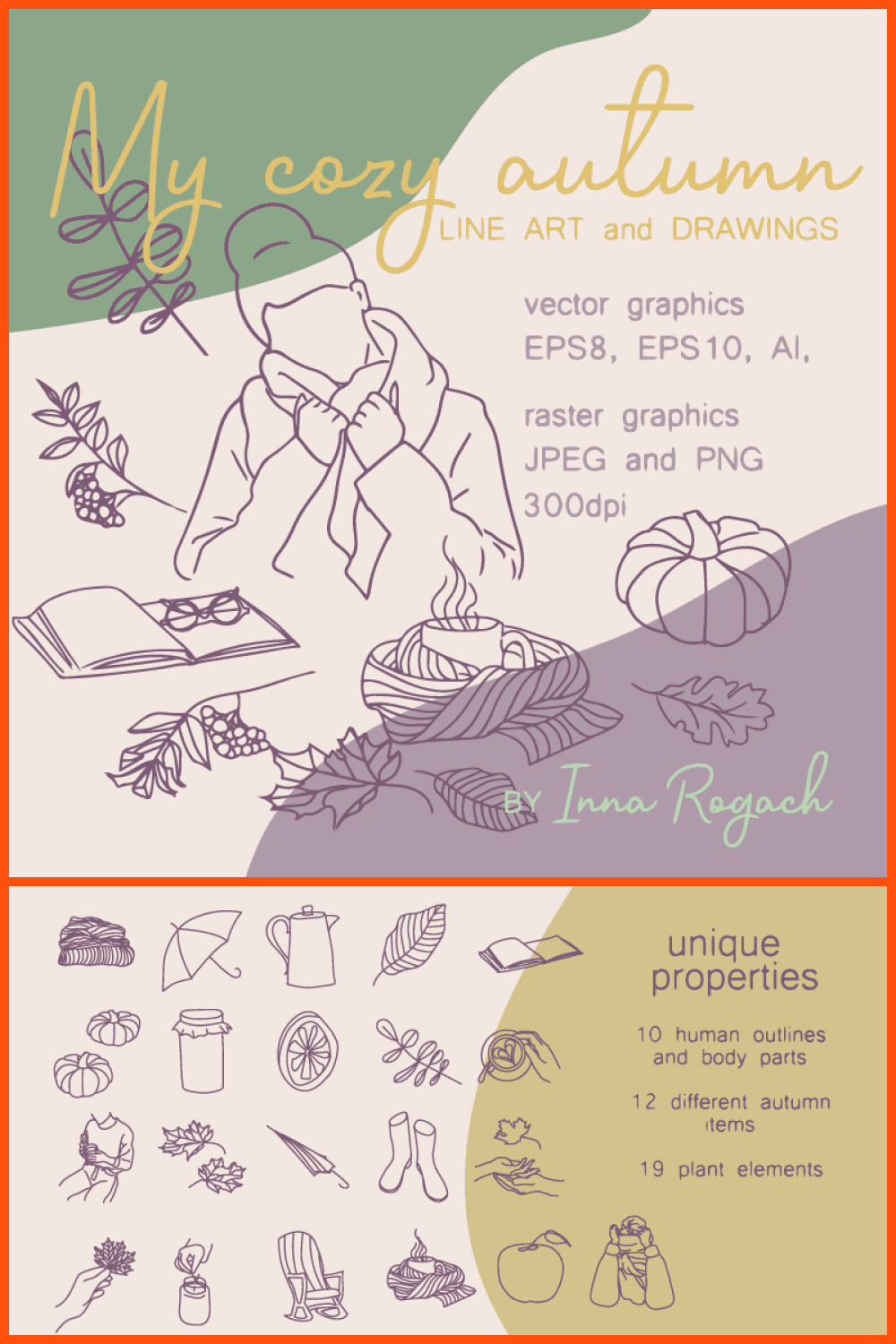 This fresh autumn clipart looks so elegant and chic that it will immediately win your heart.
It includes 40+ autumn vector and raster illustrations that can be used for restaurant menu design, postcards, invitations, leaflets, posters, etc.
Cozy Collection of Home Decor Elements and Female Characters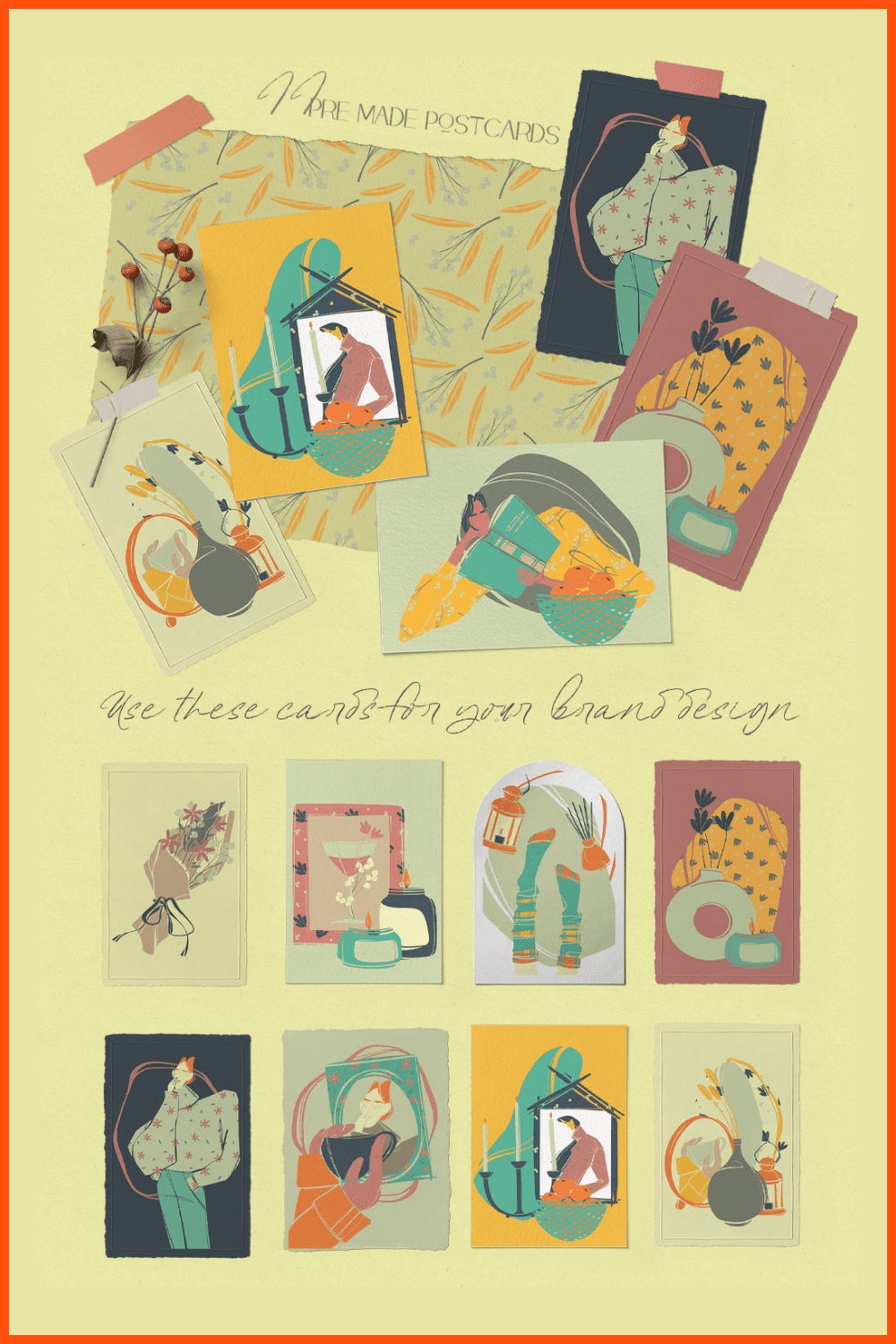 Meet one more cozy collection of cute fall clipart that warms the soul and brings joy to the eyes. Each element of this collection is presented individually on a transparent background. You can use them separately or mix a few elements together in your most creative designs.
Fall Greeting Cards: Printable Thank you, Birthday, and Autumn Cards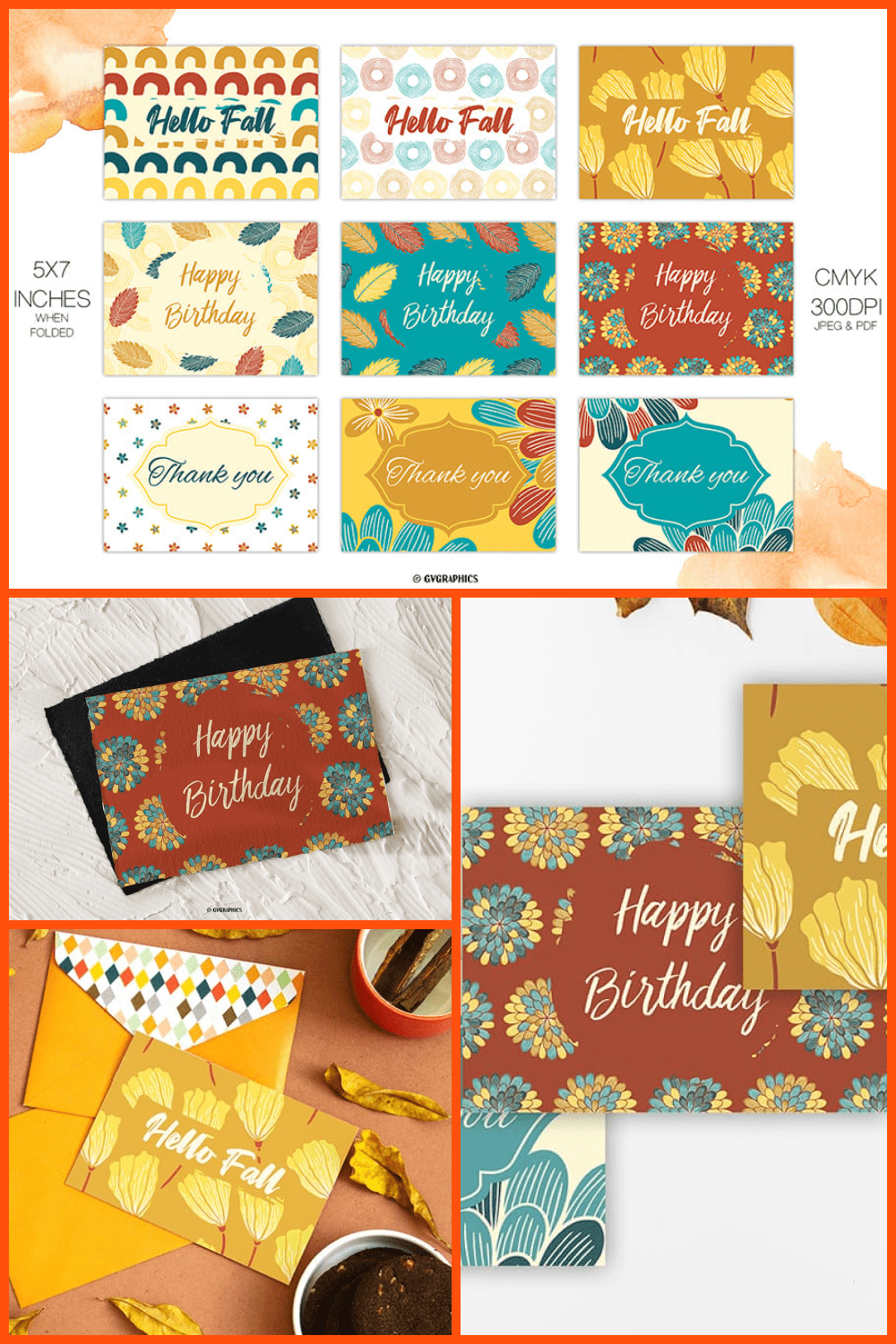 The best collection of awesome autumn greeting cards that you can just print out and present to your dearest friends and relatives. These cards were created in a warm and adorable color theme so they are definitely pleasant to the eyes.
Autumn Air Balloons, Rainbows and Leaves Vector Patterns and Seamless Tiles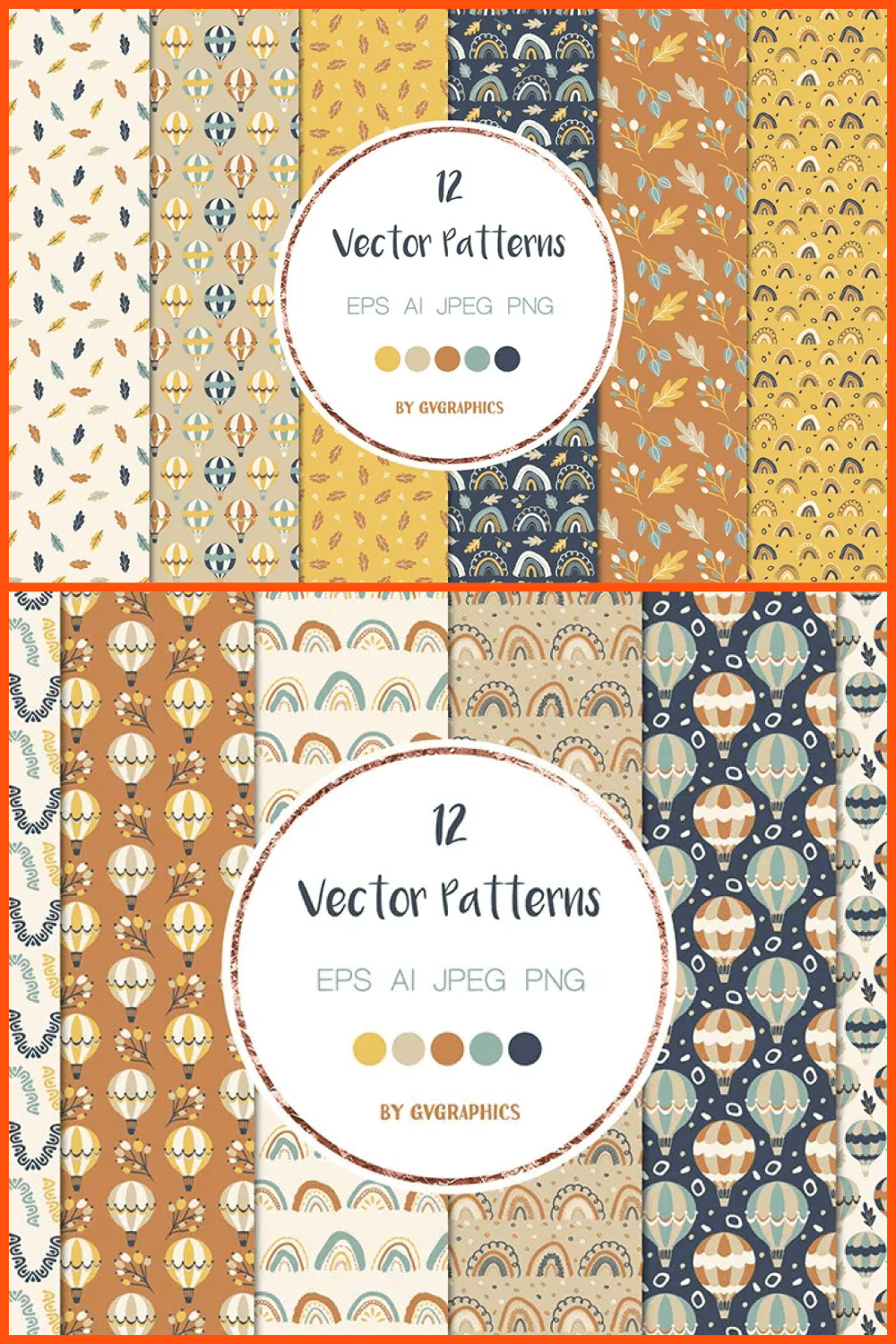 If you were looking for a few outstanding autumn patterns and tiles, you have found them right here. You can create wedding invitations, greeting cards, present packaging, and many more designs using these 12 seamless patterns.
Autumn Sale Promotion Graphics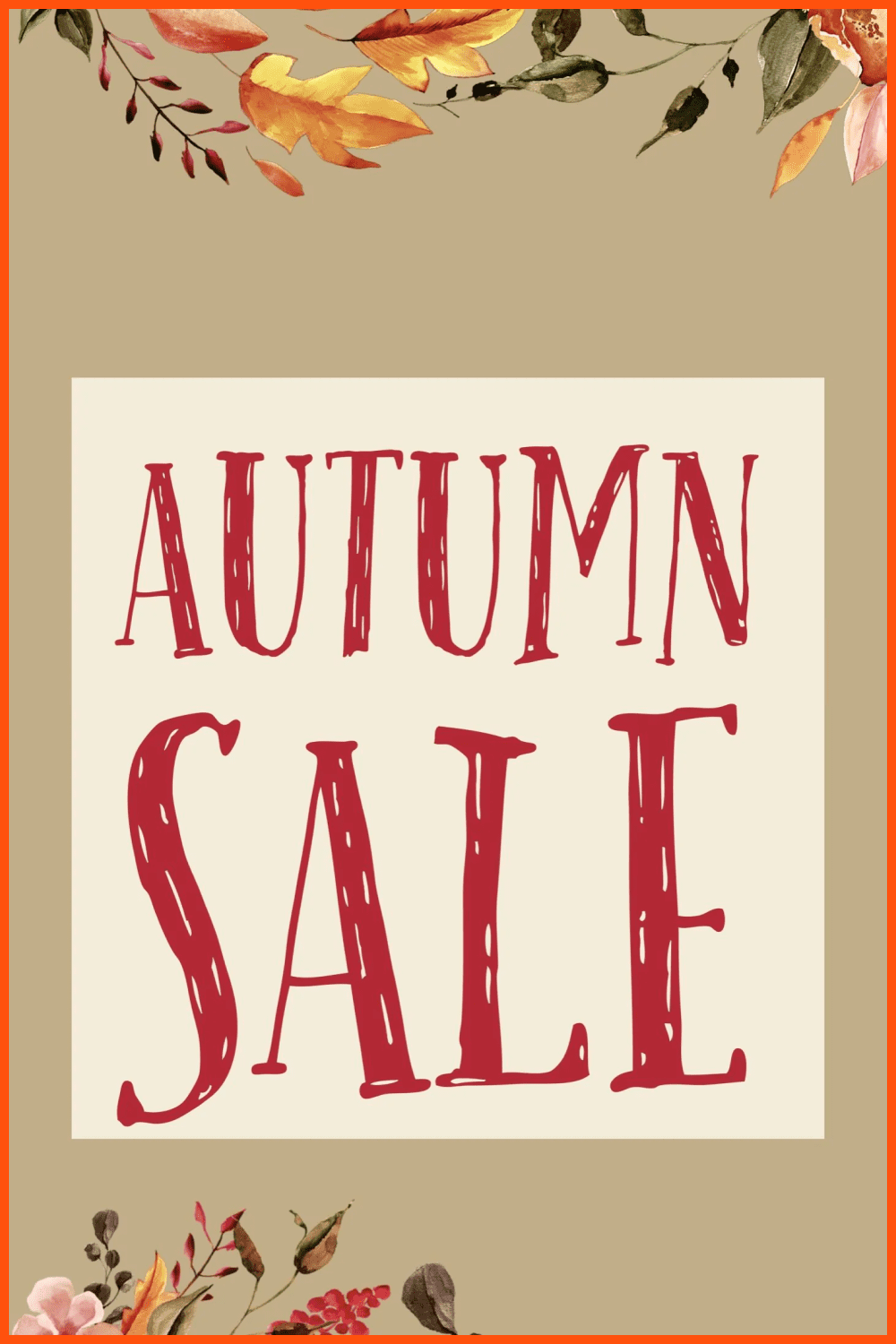 This art will suit any shop that wants to give a shout out about their autumn sales and promotions. Use it for posters, leaflets, or even postcards to express your creative mood 🙂
Fall Leaves Scene Creator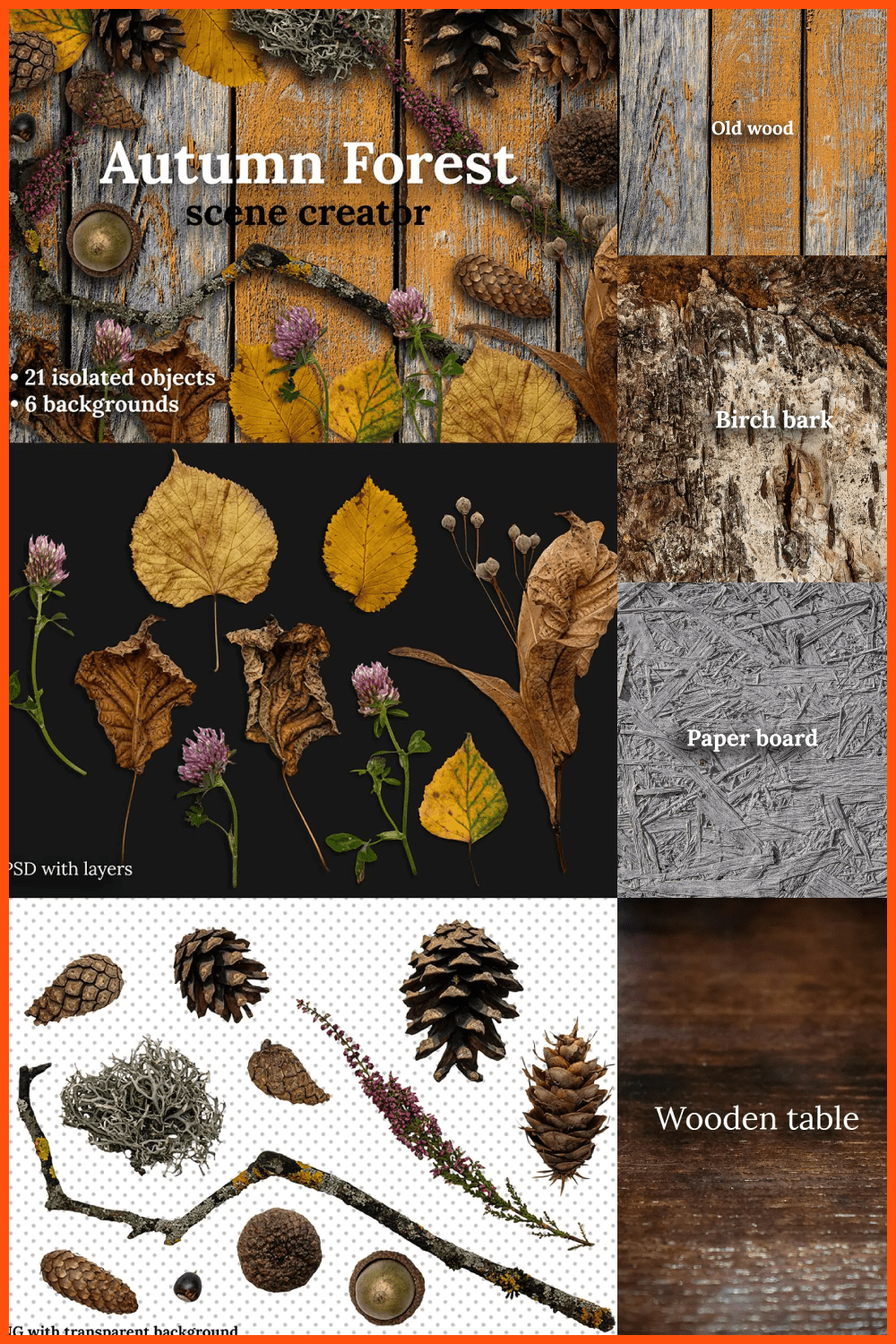 This amazing set of autumn leaves and flowers can be used for cards and posters decoration. Thanksgiving cards with such naturalistic elements will look very original and charming. The set includes 21 isolated photos in PSD on layers, with shadows separately; PNG of 21 elements with transparent background; and 6 JPEG images of various nature backgrounds.
Fall Pumpkins Patterns and Elements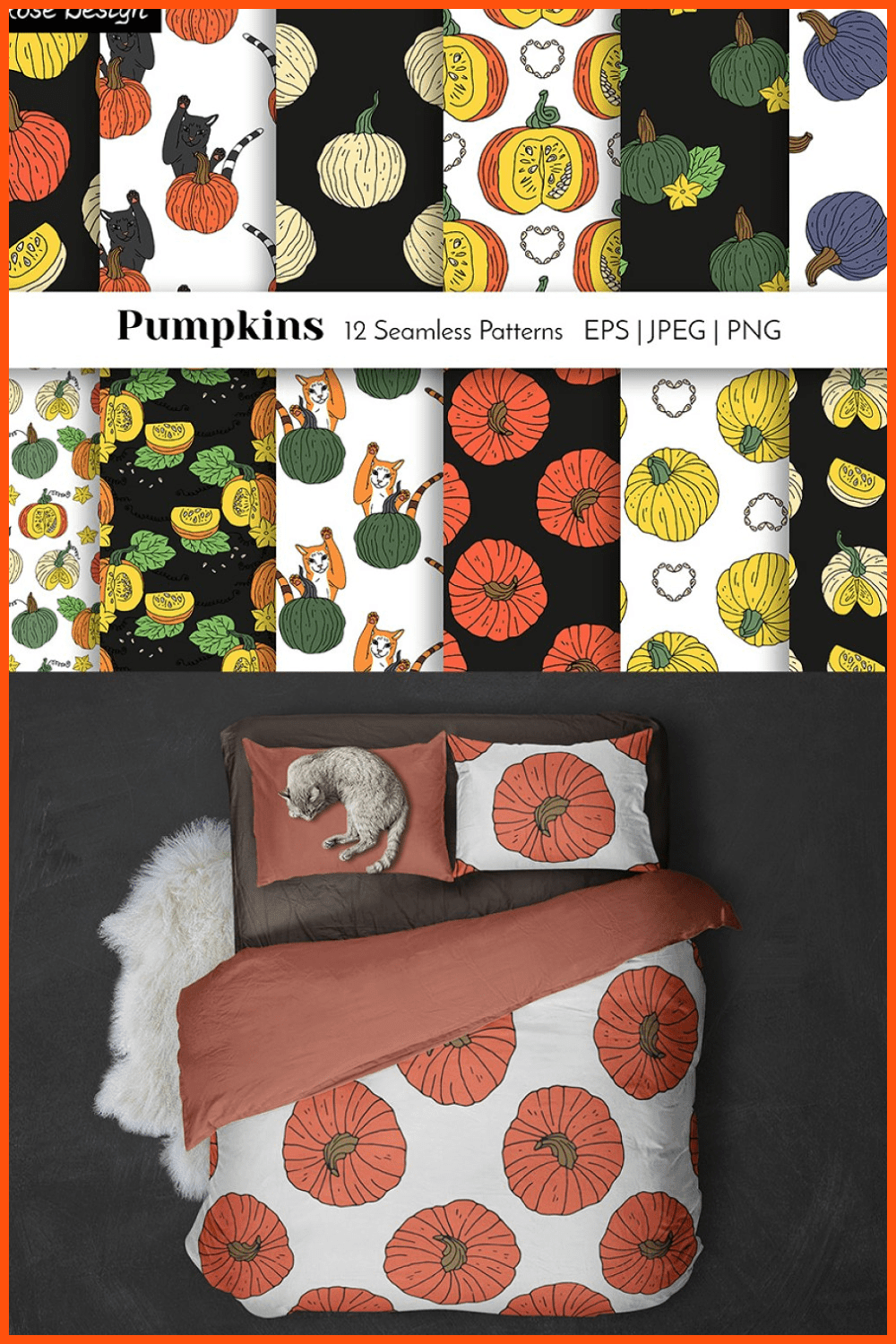 Brand-new clipart that includes:
22 colorful design elements JPEG on white background, PNG with transparent background (300 dpi) .
26 black outline design elements JPEG on white background, PNG with transparent background (300 dpi).
1 Adobe Illustrator CC 2017 vector file.
2 EPS10 files.
This collection was created to charm you with the autumn mood and bring some warmth to your heart. So don't hesitate to make some amazing designs using this collection of cozy fall illustrations.
Autumn Splendour: 129+ Hand Drawn Elements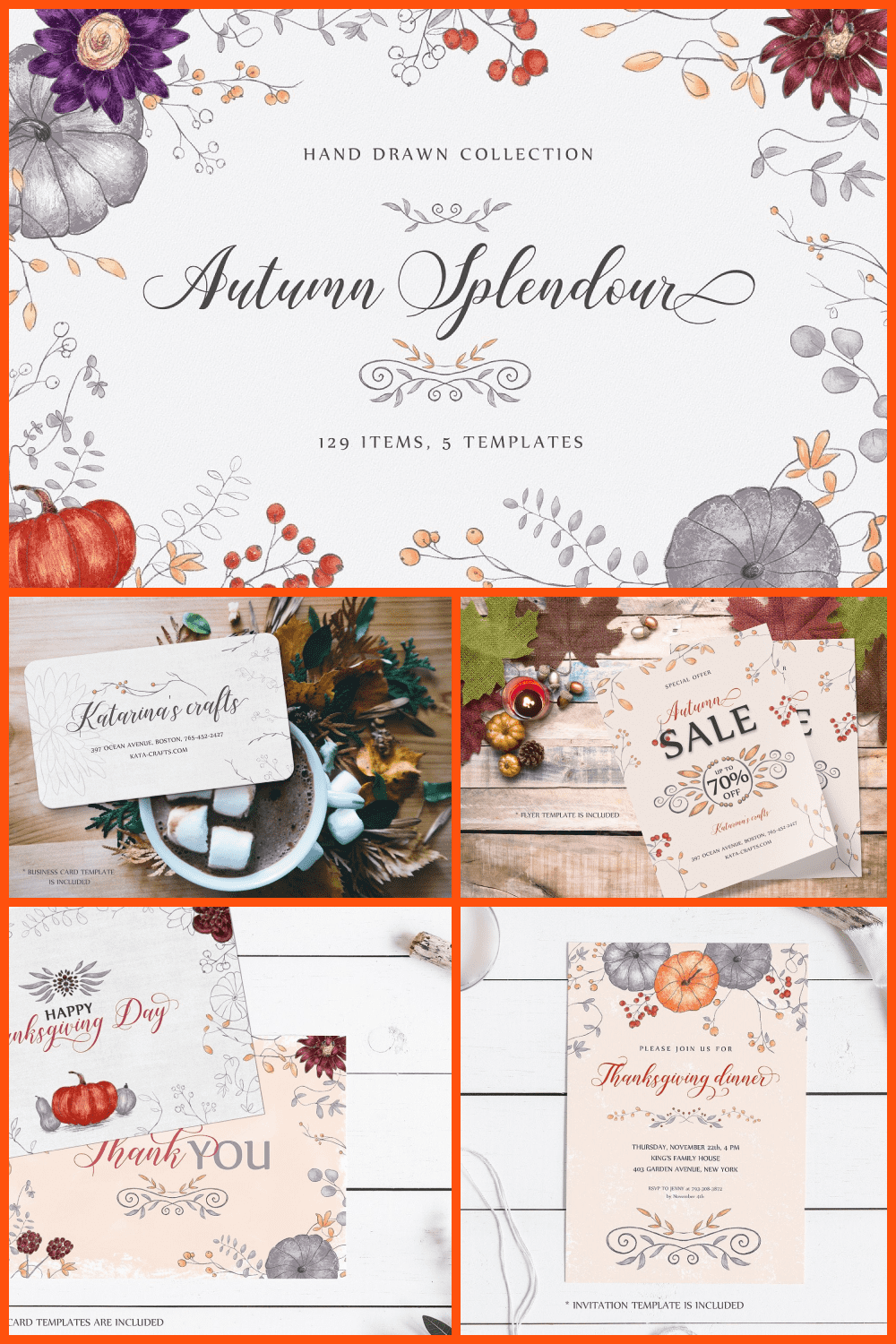 Autumn Splendour is a tender and stylish set of hand drawn clipart. Each element looks very natural and cute. Autumn Splendour includes 129 items and 5 templates. Among the templates:
business card templates;
flyer template;
invitation card template;
two types of postcard templates for Thanksgiving.
The design is done professionally, and fonts on the pictures are selected to attract attention. They are very unique and fascinating.
You can edit and change the images in any editing program.
If you are looking for gentle, sophisticated, amazing, and attractive images with different size variations, then this collection of clip-arts is for you!
Autumn Roses PNG Watercolor Set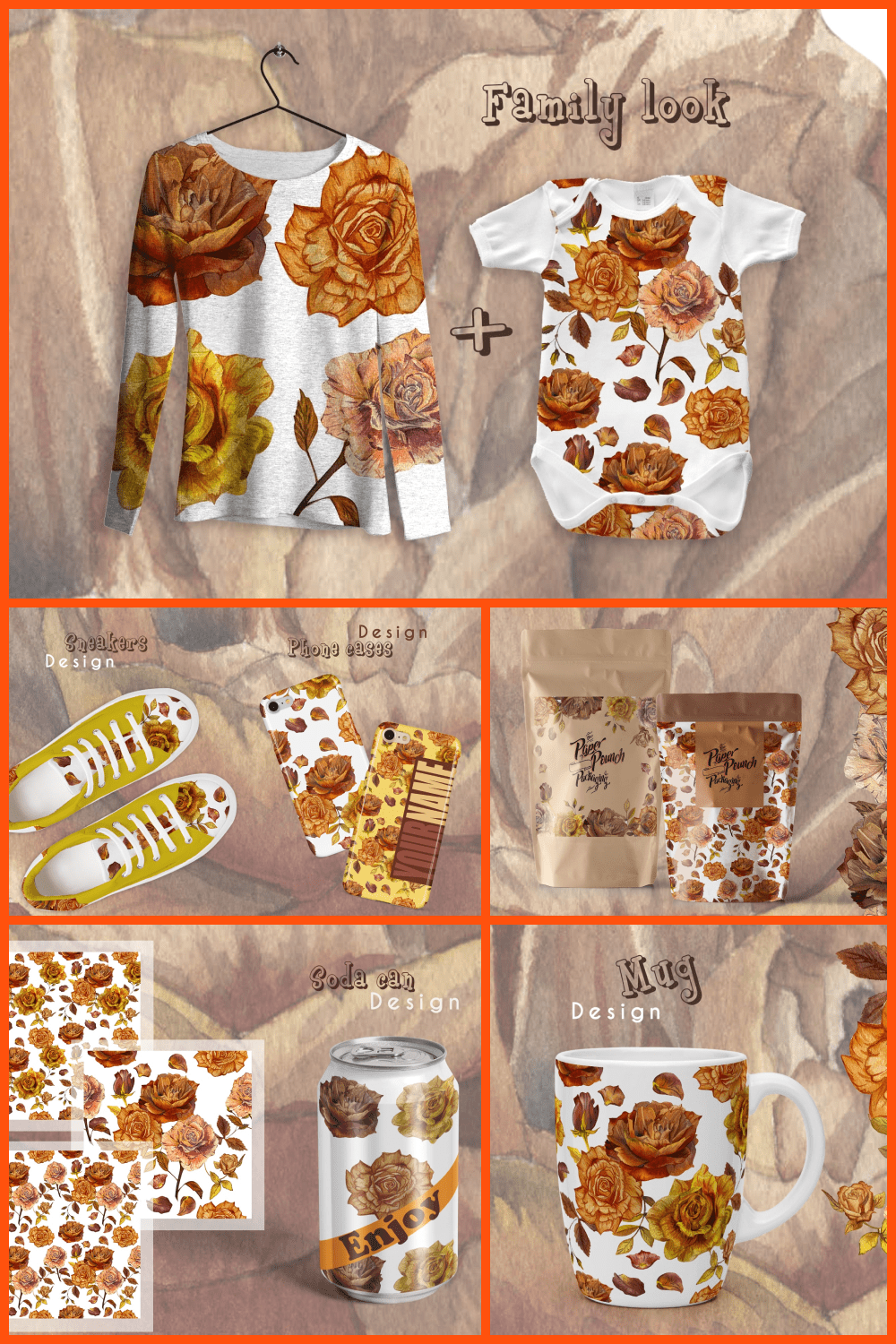 This wonderful set of autumn watercolor roses will be a great solution for you. The gentle design can be applied under any requirements of your next project. For example, you can run a collection of cases for phones, cups, magnets, pens, and in general any things with any images that this set provides.
All elements are hand drawn. They look very natural. Also, this autumn clip-art can be used for banners, advertisements, posters, headlines, invitations, business cards, bright ads, etc. What you want to accomplish can be done in such a wonderful and original style.
The autumn set consists of 57 files. You can choose the best options for your project. All of them can be easily customized. For example, you can change the color and size of each image.
120+ Autumn Leaves Clipart and Flower Elements. Autumn Hand Lettering Bundle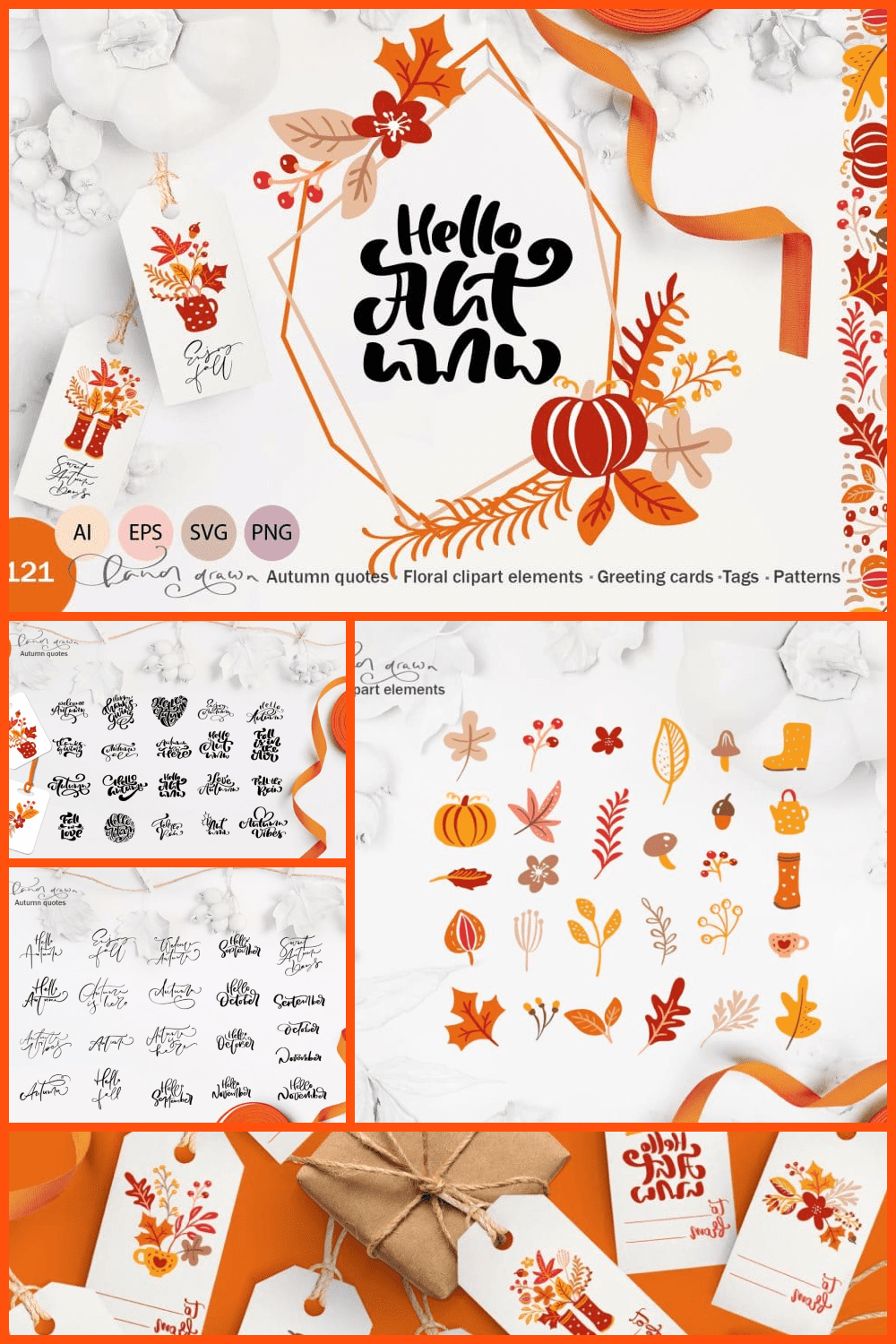 This is a huge bundle with more than 120 unique elements that will help you in the creation of more than just one project, so do not think too long about it. Take a closer look at this colorful collection.
99 Autumn Vector Bundle. Monoline Floral Elements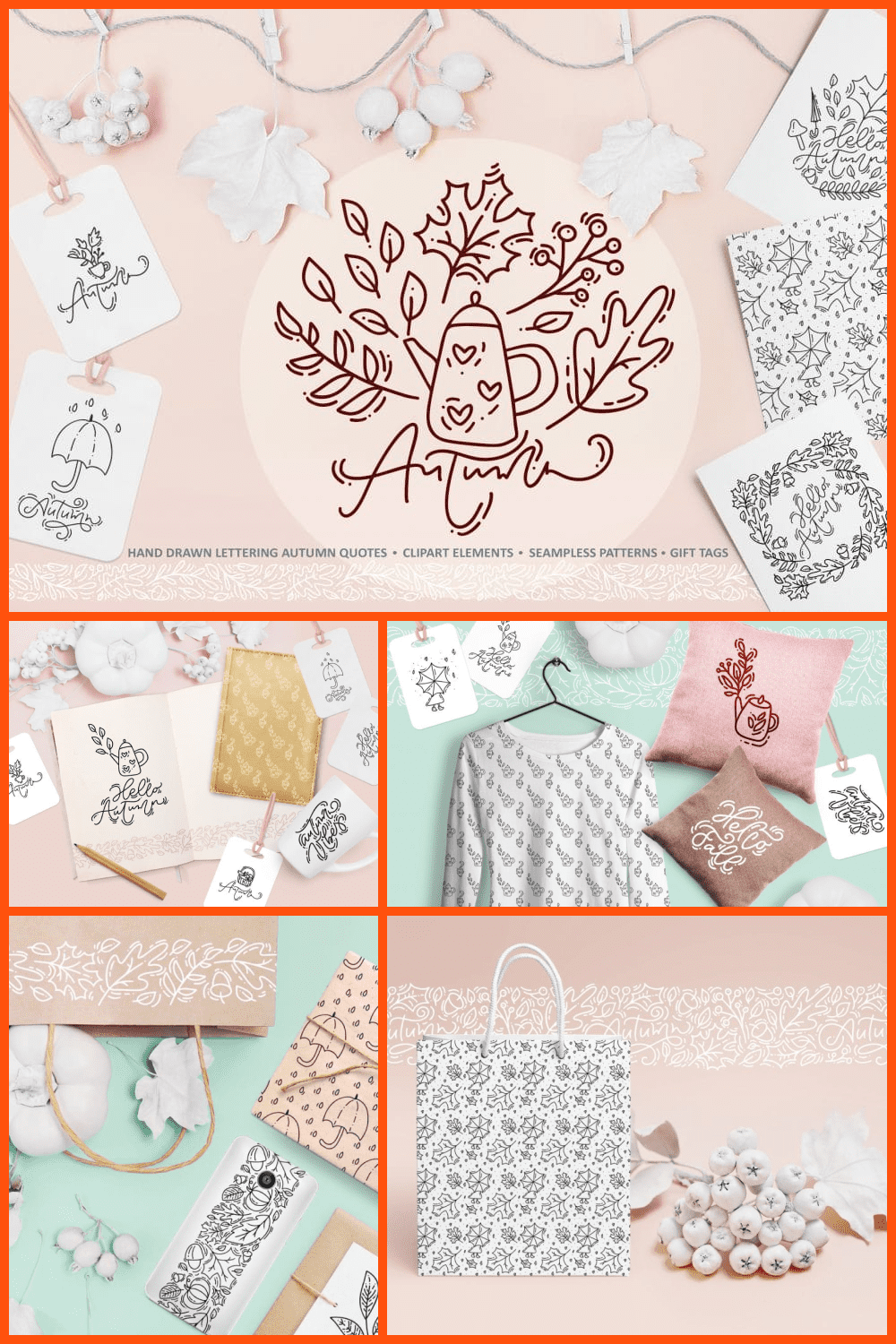 If you are looking for some lovely autumn vectors, then this collection is no doubt the way to go for you, so go ahead and check it out.
Thanksgiving Clipart Bundle: Happy Thanksgiving Vector Pack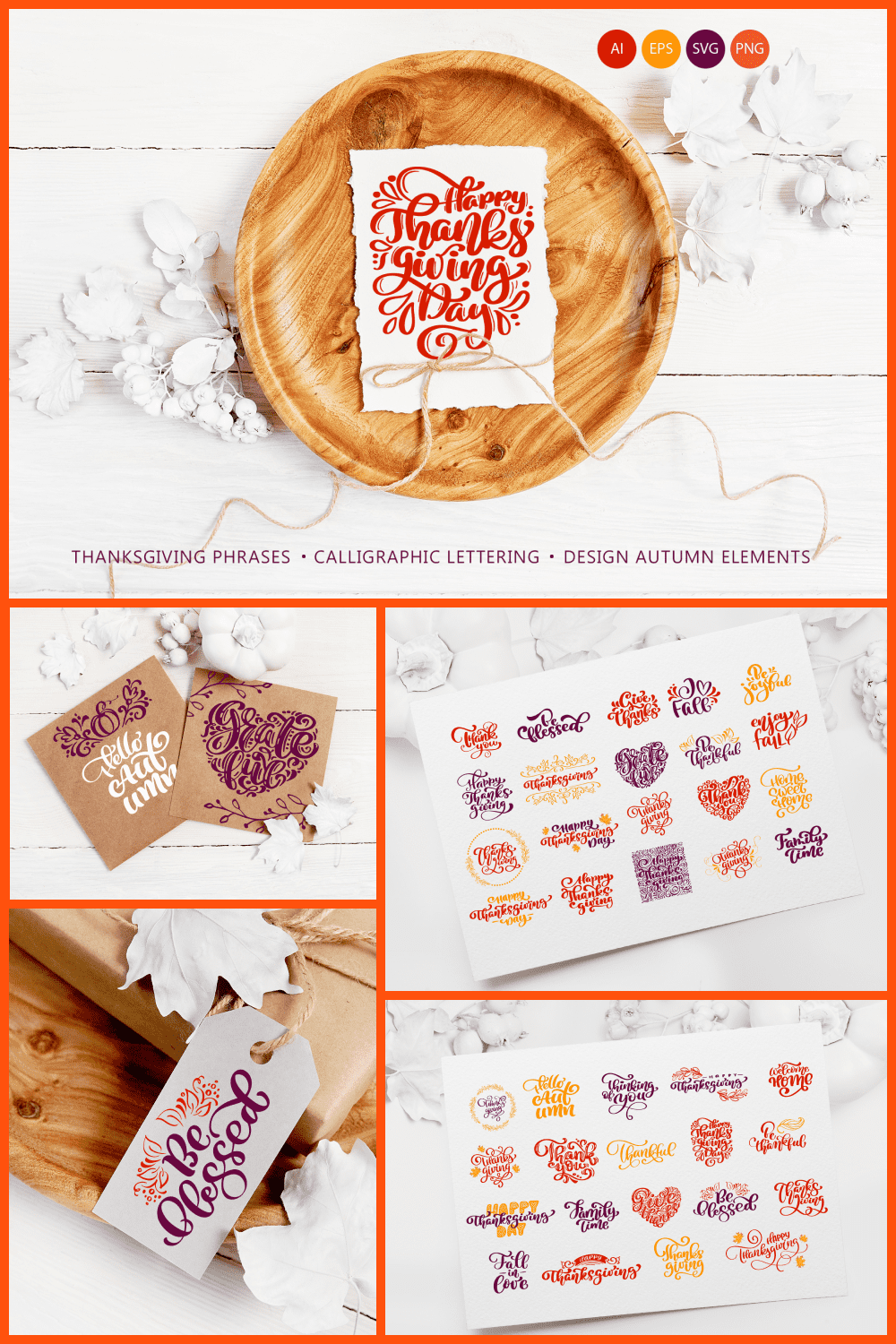 Can you imagine autumn without Thanksgiving? Me neither. Well, stop hesitating and get this amazing Thanksgiving bundle.
Watercolor Autumn & Winter Bundle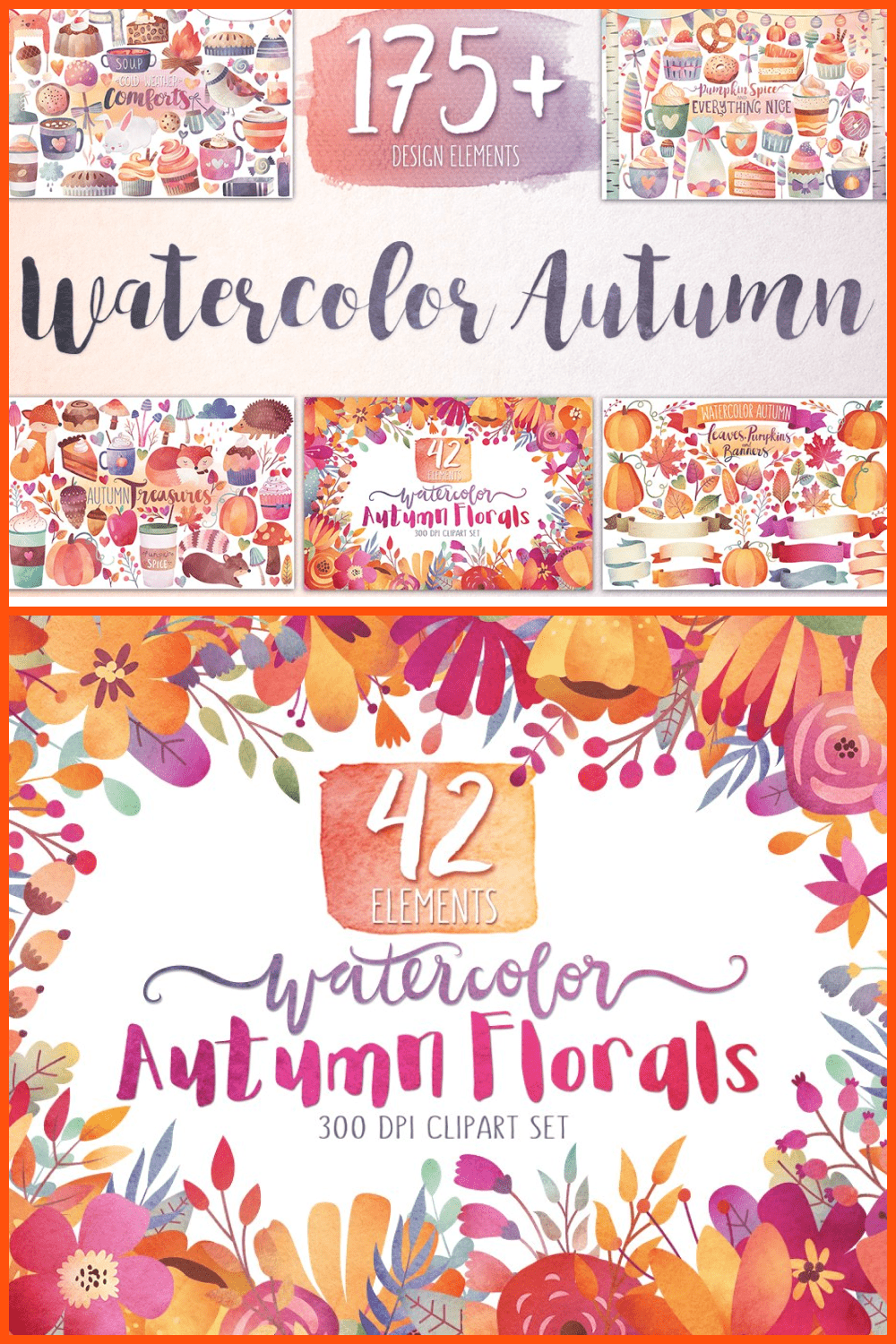 Another huge bundle that contains a large variety of one-of-a-kind elements for literally all occasions.
Hello Autumn – Watercolor Collection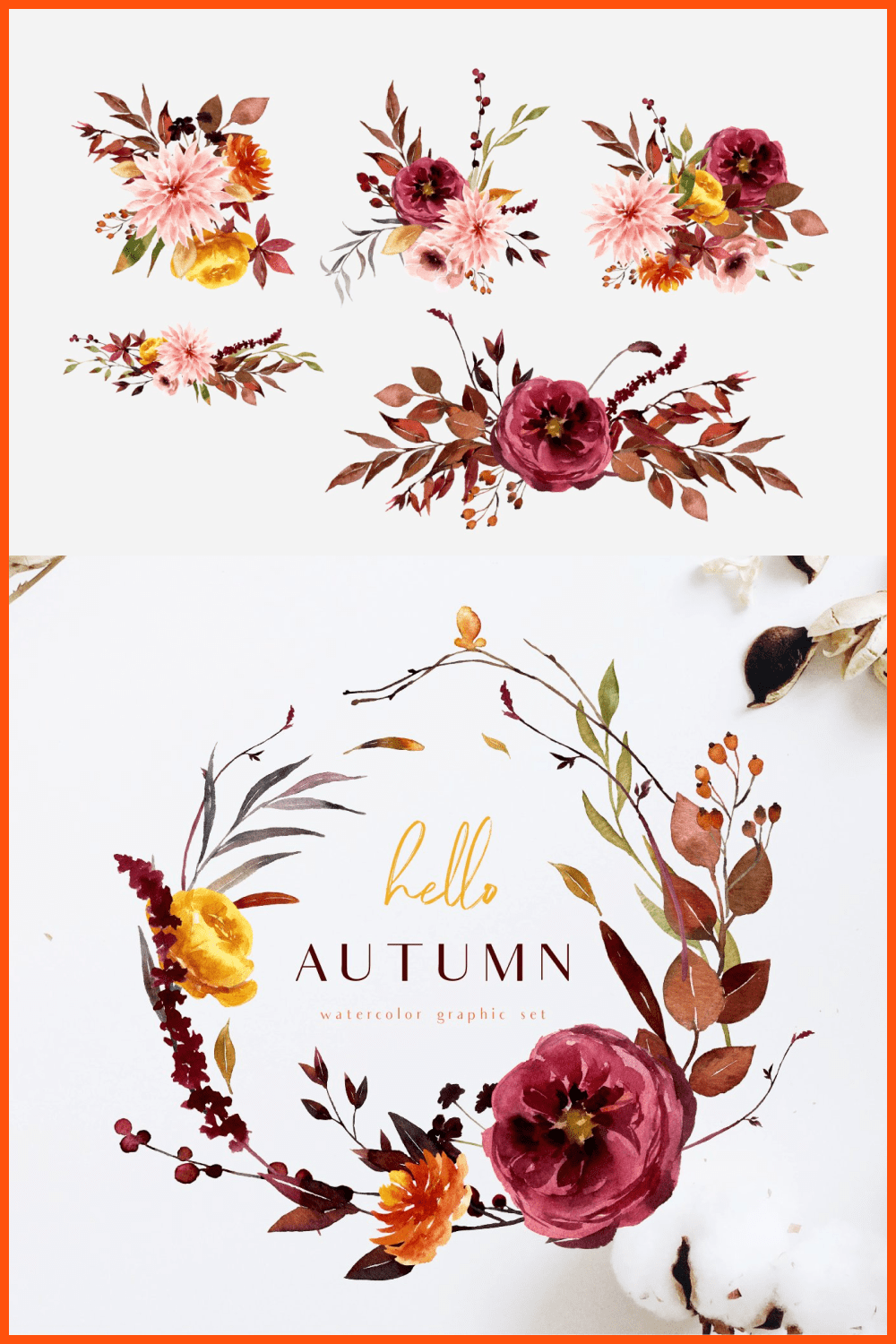 This is a mesmerizing watercolor collection that will help you create a whole bunch of simply magical projects, so make sure to check it out.
Watercolor Flower Clip Art-Marsala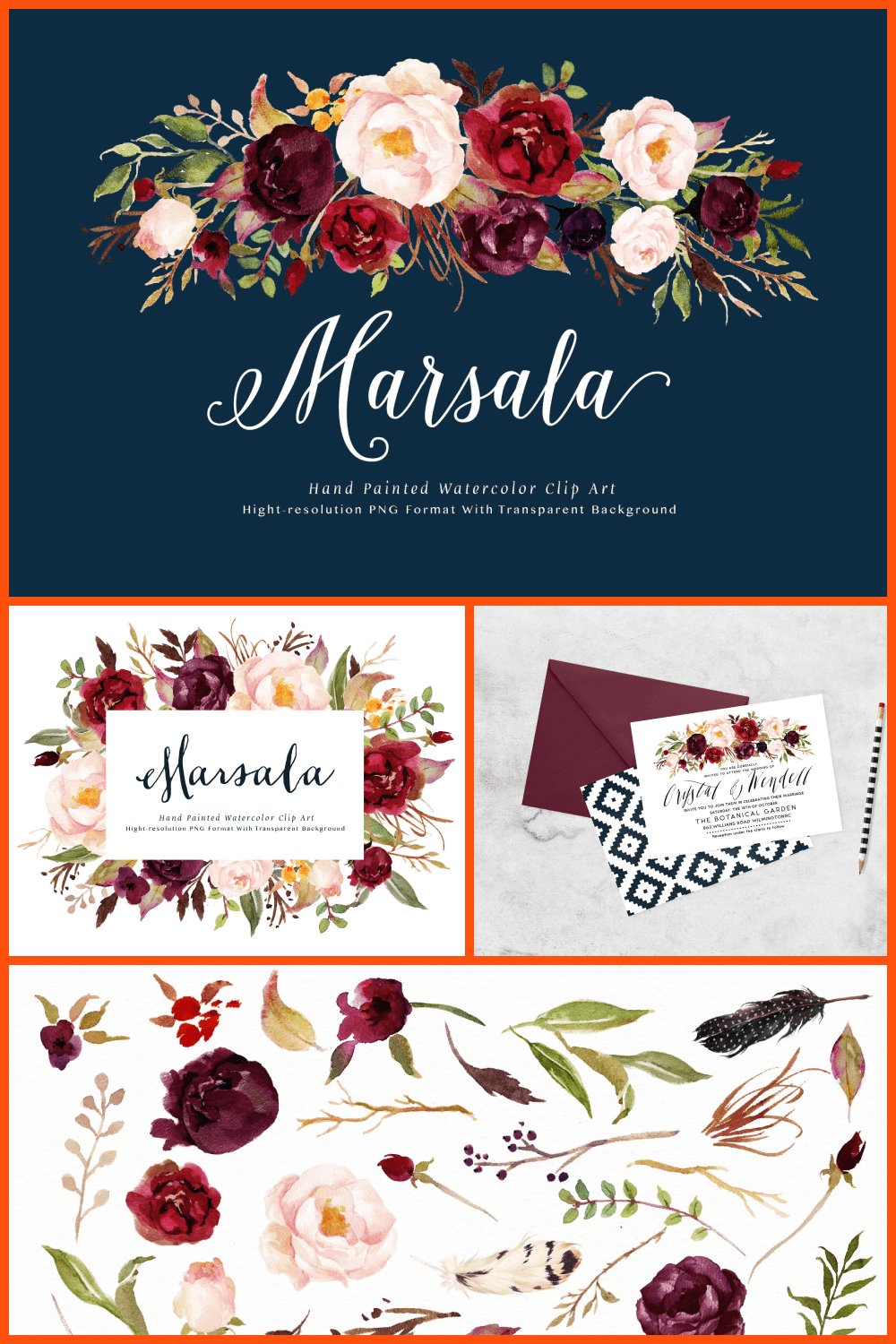 There are never enough beautiful watercolor autumn flowers, so why don't you take a look at this absolutely lovely collection of the best ones.
Autumn Leaves Vector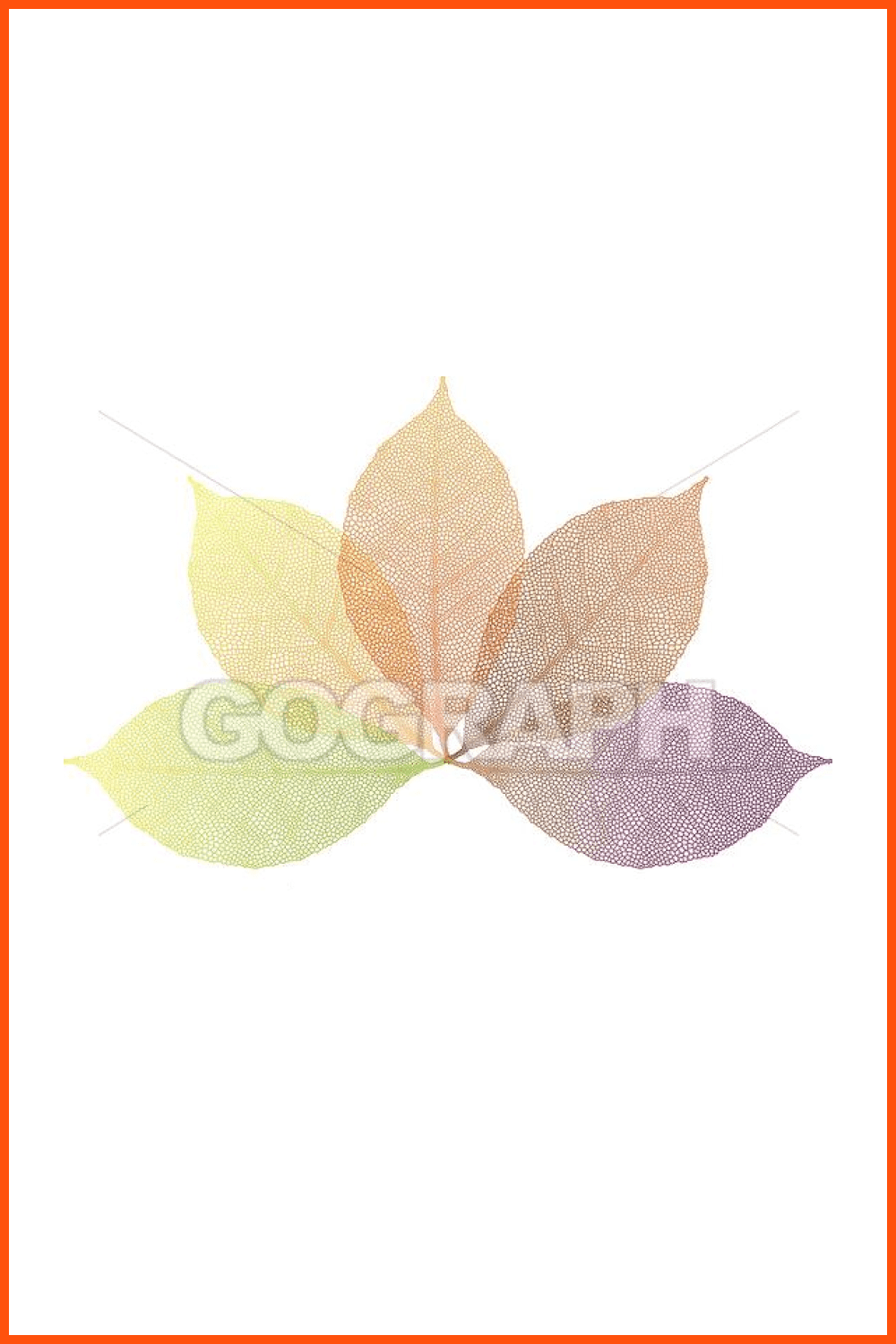 Sophisticated and minimalist autumn leaves are definitely among the must-haves for your graphic elements collection.
Free Fall Clipart
Free Autumn Leaves Vector 5 Graphic Design Clip Art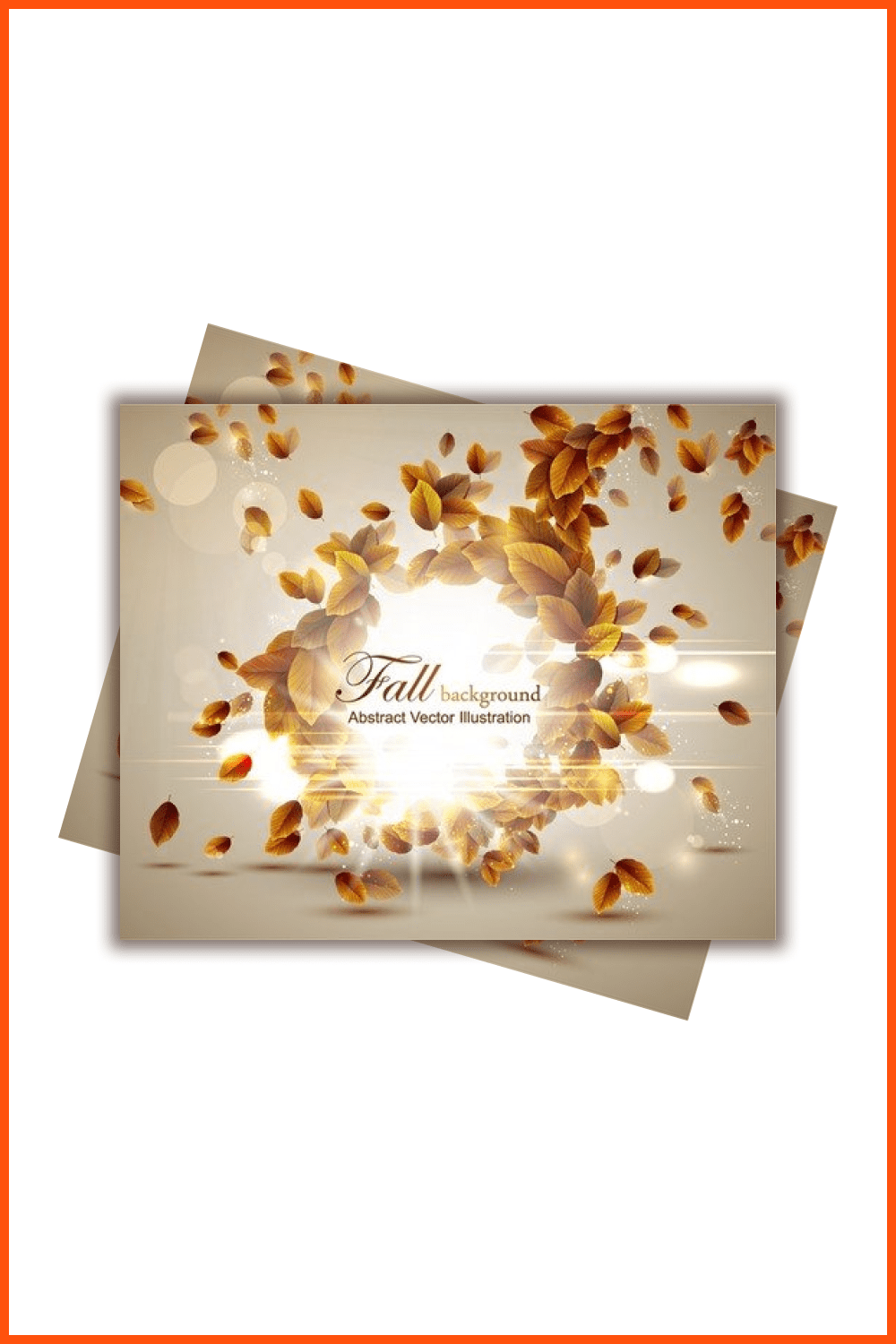 Here's another cool and free autumn clip art option, which will come in handy for pretty much every graphic designer. Simply follow the link above and get it while you can.
Free Autumn Clip Art and Images on Digi Stamps Clip Art 3 Clipartcow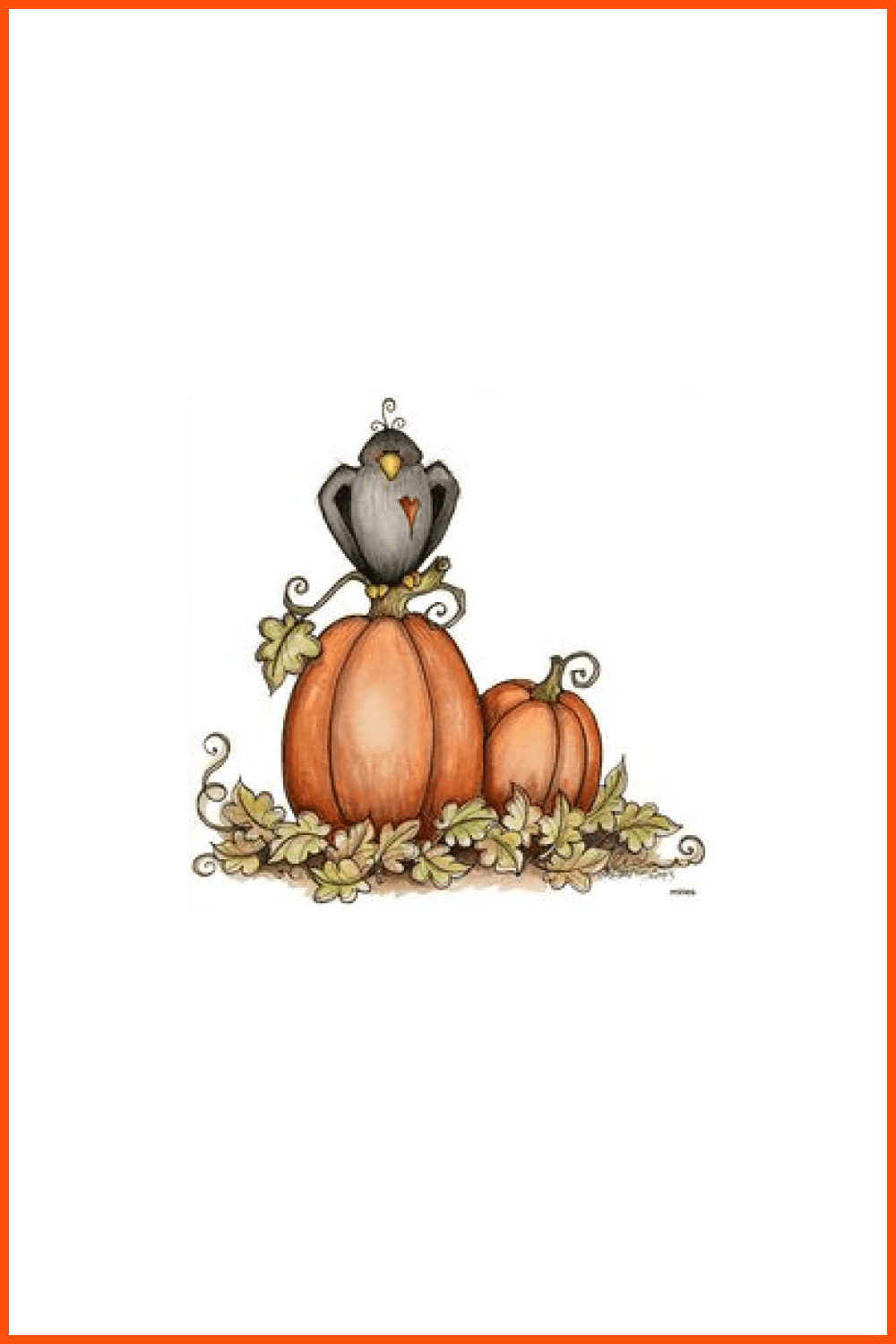 Another truly adorable freebie for your cute autumn projects is right here, so make sure to check it out, because it's free and it surely wouldn't hurt to add it to your collection. Don't wait; download this clipart immediately 🙂
Autumn Clip Art and Images on Digi Stamps clip Art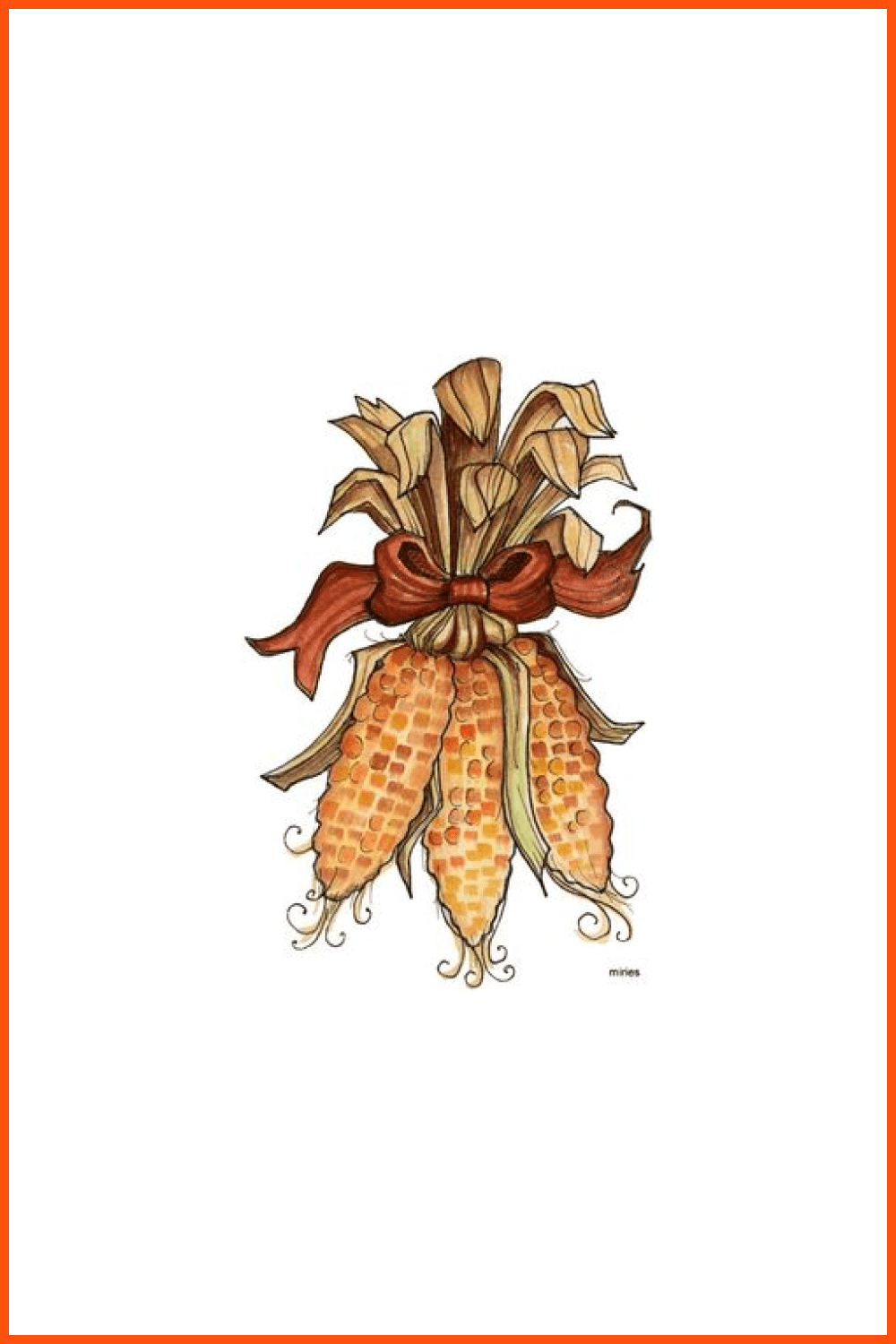 Here's one more sweet option that will perfectly work for a variety of autumn projects.
Halloween Clipart
Merry Halloween 11 Patterns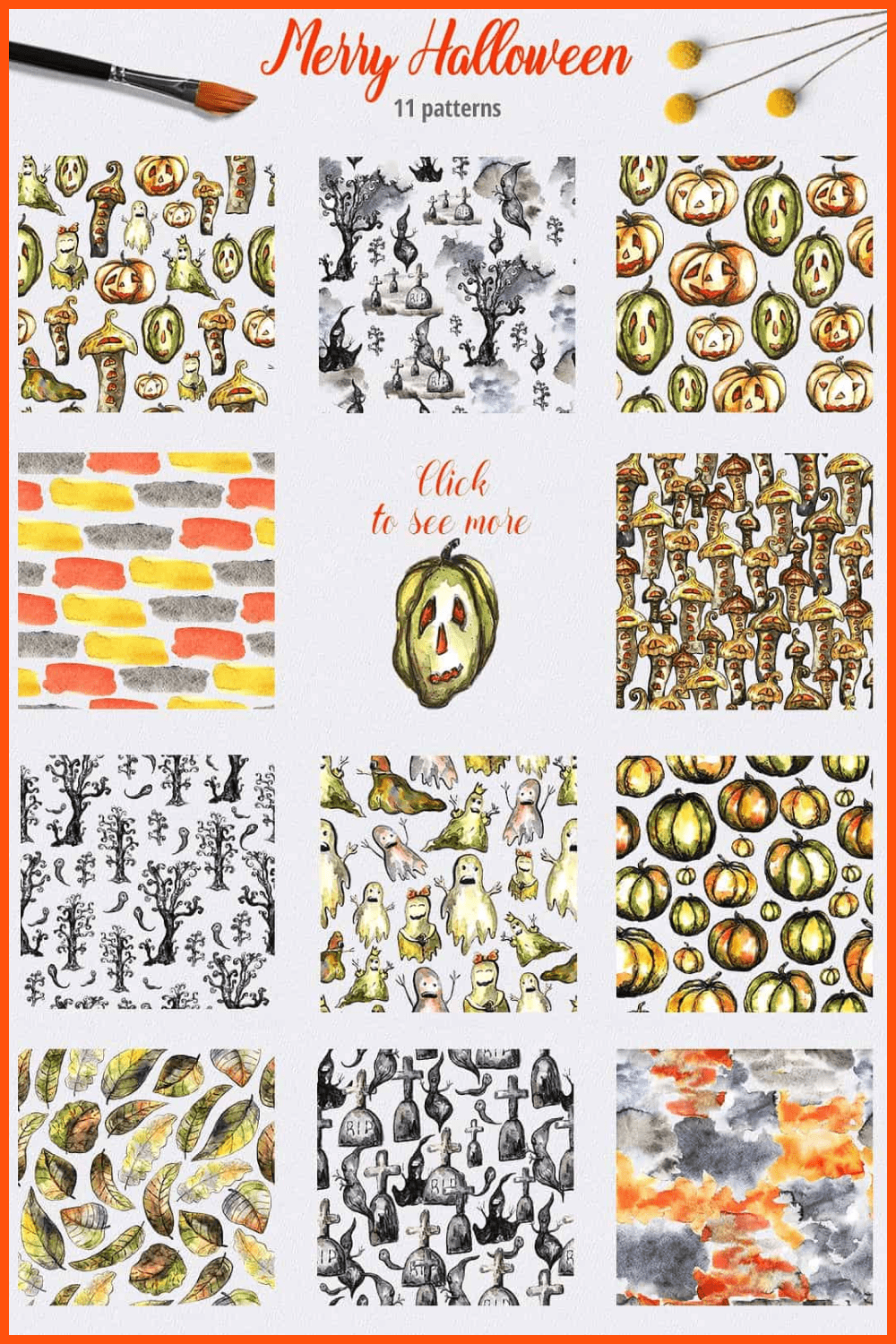 Merry Halloween is a cool autumn clipart collection. This set of patterns is very original and definitely diverse. They can be used for completely different projects. For example, use them for textile design, packaging, backgrounds, and various other stylish autumn products.
The good news is that these patterns in the style of Halloween can be used in different formats! PSD is ideal for adjustable color casting, PNG provides a transparent background, and the familiar JPG format is an all-purpose option. All patterns of this fall clip art are high resolution, so you don't have to worry about the quality of the displayed elements.
If you are looking for an unusual and bright solution for Halloween things then this set is exactly for you!
Happy Halloween Bundle: 29 illustrations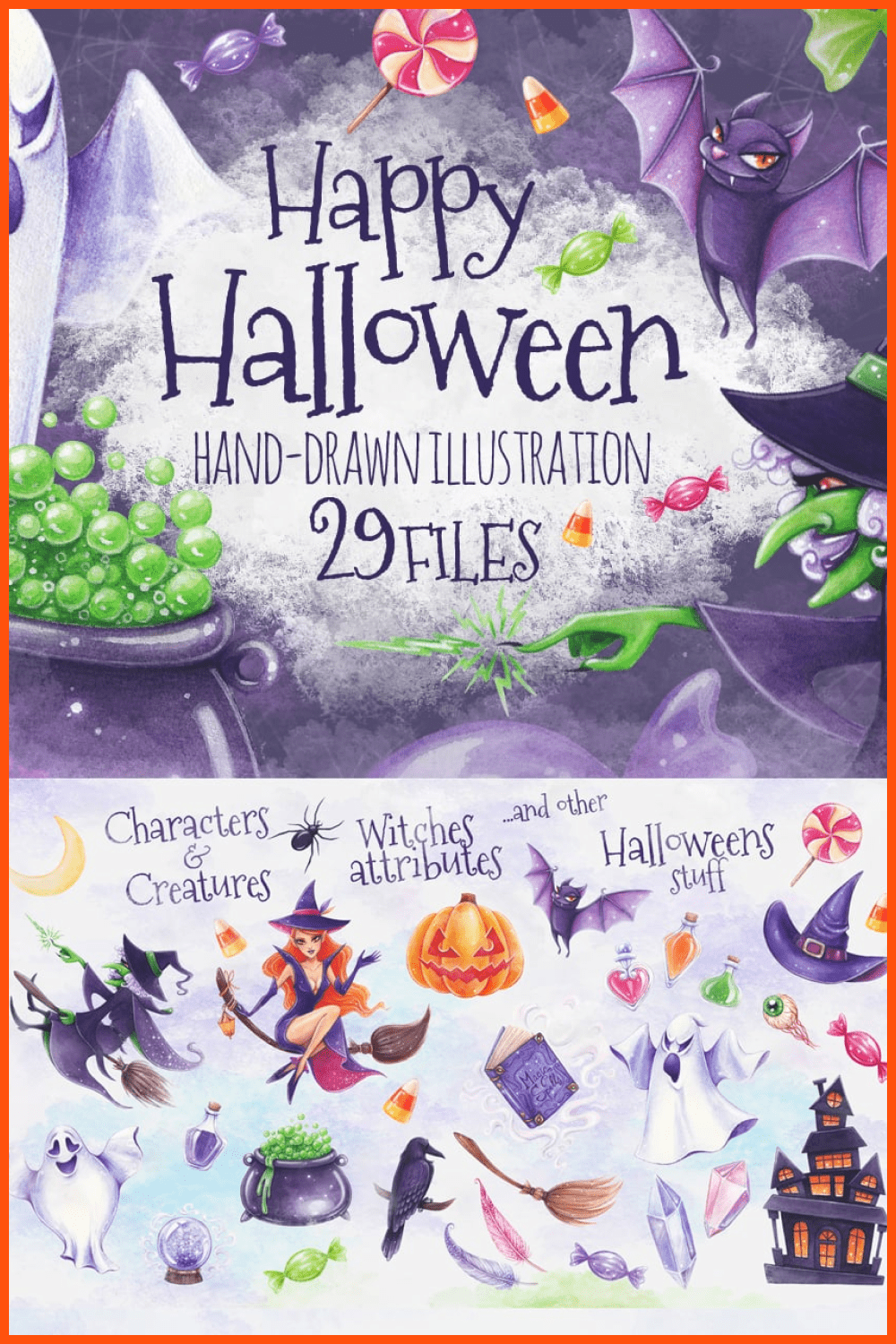 Looking for a great solution for invitation cards, posters, ads, book illustrations, and various product packages? Then this Happy Halloween Bundle is perfect for you! Very beautiful and charming design with potions, bats, witches, magic books, inscriptions, and ghosts looks very stylish and cute. All drawings are high quality and professional.
This fall clip art set includes 29 illustrations. You will be able to choose among them the variants suitable for your purpose! Pay attention to the fantastic fonts as well. They look very stylish. You can even use these illustrations to decorate a children's party at Halloween.
All 29 files are presented in PNG format with a transparent background. You can also alter the illustrations in any editor.
Luxury Witchcraft: 109 Graphic Elements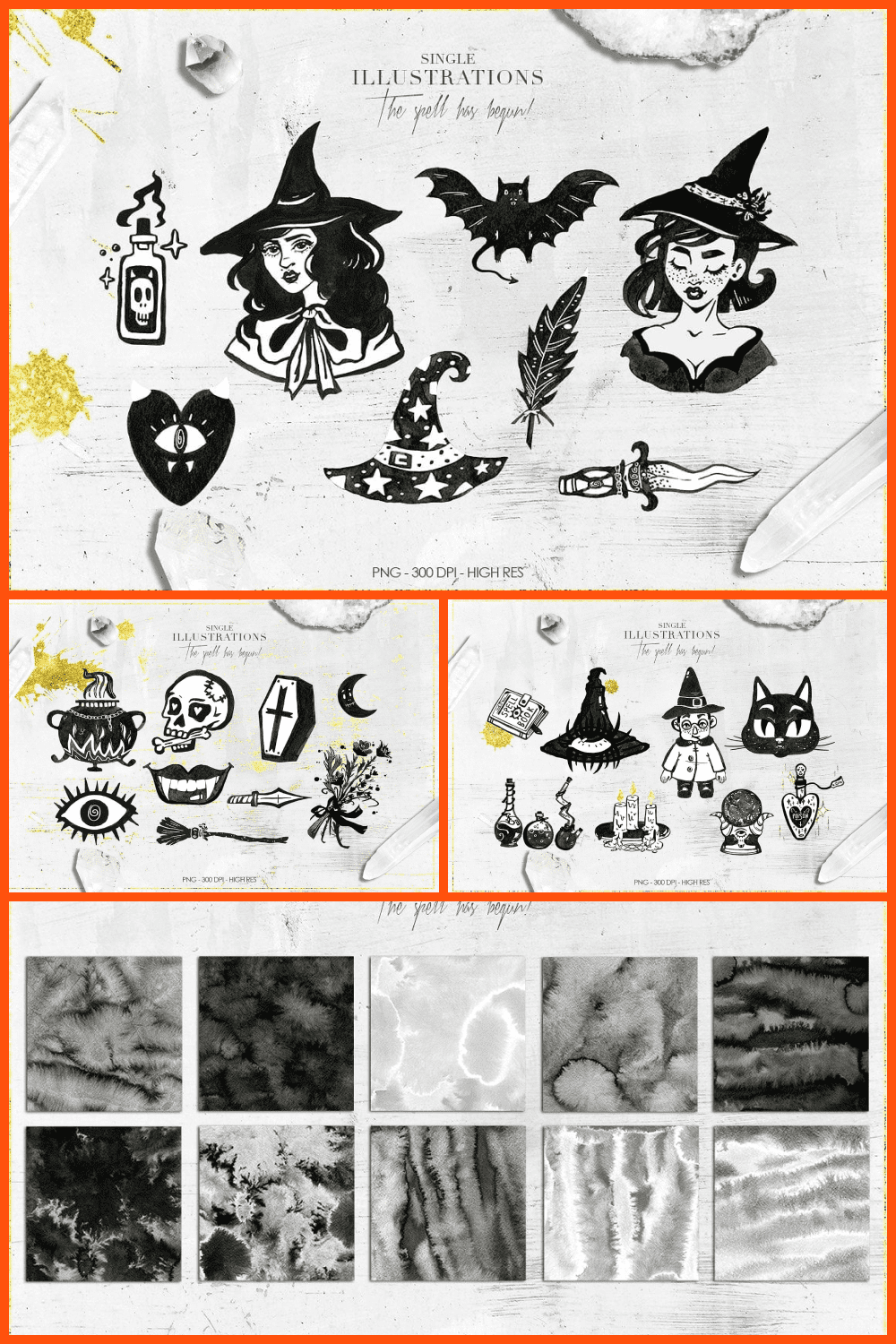 Luxury Witchcraft is a wonderful set of 109 stylish graphic elements. Quality drawings and black and white style can be easily combined with other colors and elements. Mesmerizing illustrations are suitable for any purpose. These can be: product packaging, book illustrations, a background for banners, advertisements or flyers, packing of stationery, and much more. Basically, any of your projects can be made great with this wonderful set of witchy clipart.
This set of 109 images includes illustrations of witchcraft, hand painted ink textures, ink shapes, seamless textures, and other different textures. The quality drawing of each element helps to make the image clear and natural.
23 Halloween Patterns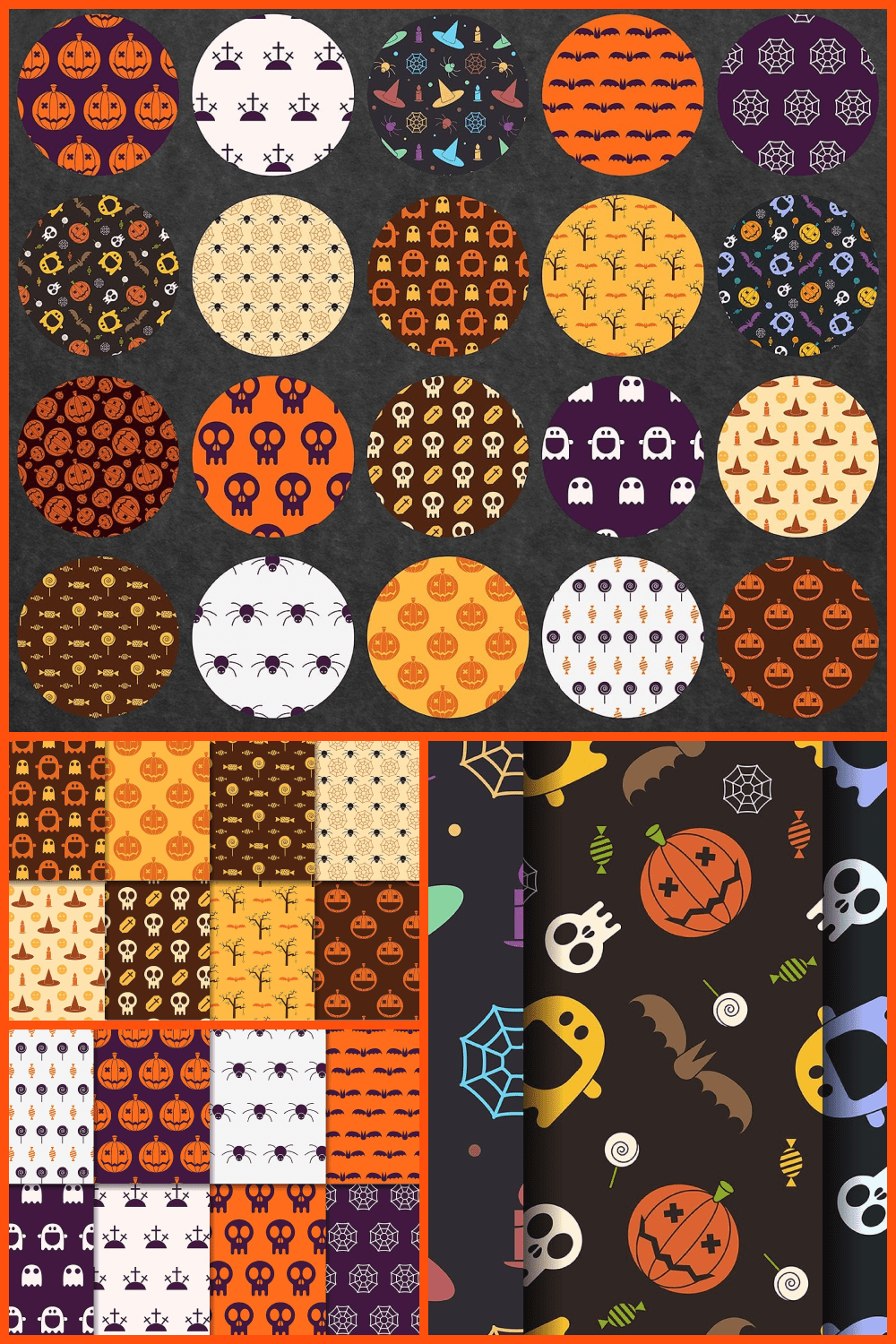 Halloween Patterns is a set of 23 high-resolution PNG and JPG files. All samples are easy to use. It is easy to change the color and size of each object. This set of autumn clipart is perfect for any idea you have. It really can be everything! The images are bright and beautiful enough, so you can easily combine them with other colors and textures.
As a bonus, you are offered file formats for AI CS and EPS10 with 18 Halloween objects.
In this set, there are the patterns with pumpkins, spiders, spider webs, hats, and bats. They look very nice and not too scary. Such patterns are suitable even for a children's party at Halloween.
MEGA Halloween Graphic Bundle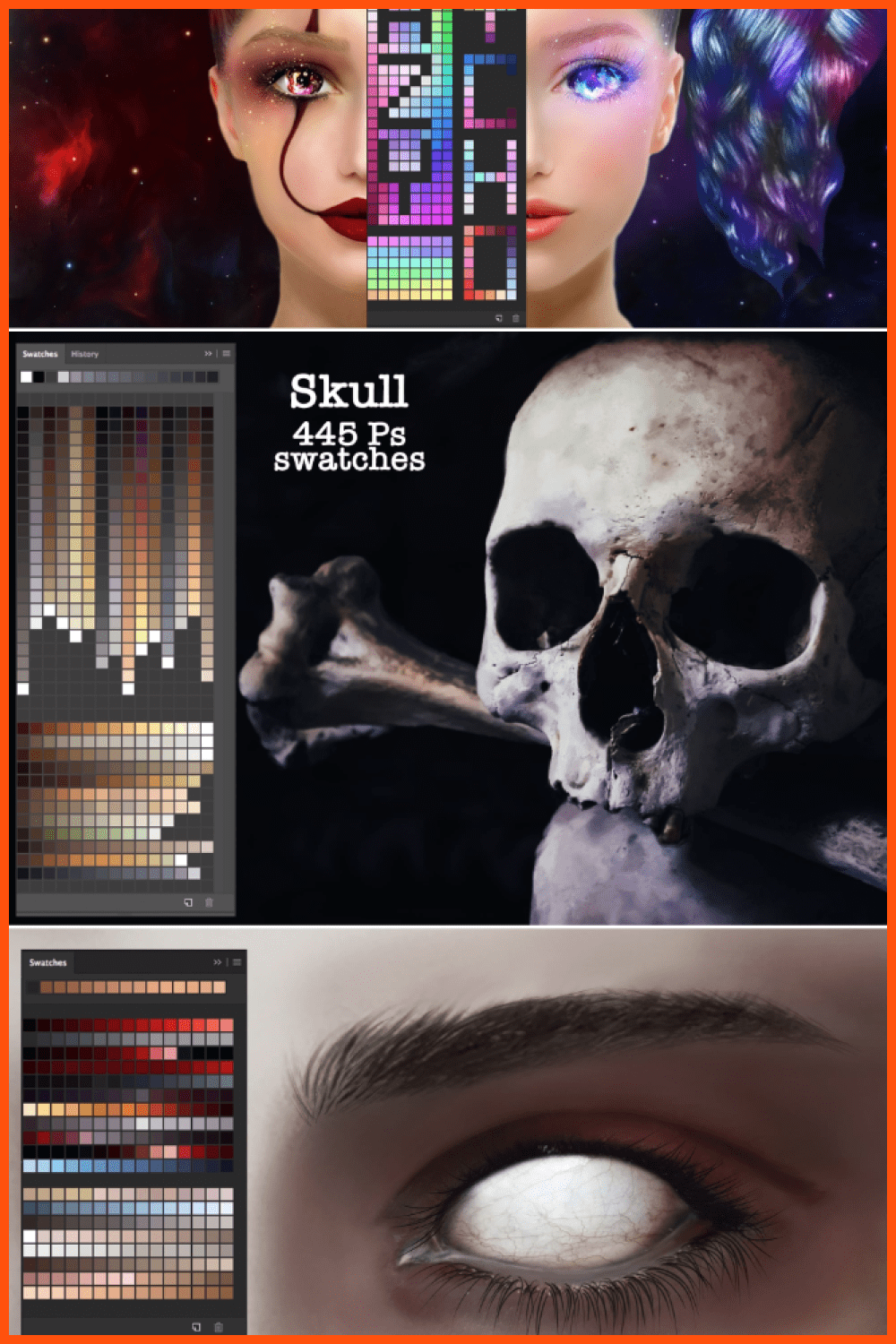 This is a terribly cool graphics package for Halloween. It includes an astonishing 4491 elements! It contains transparent backgrounds, swatches for Adobe Photoshop and Adobe Illustrator, Lightroom presets, backgrounds, objects, etc. You can easily add something new or change the images to suit your projects.
Halloween Graphic Bundle includes creepy effects with bloody drips, changing backgrounds, images, creating terrible eyes, adding spiders, spider webs on clothes, snakes, different variants of the gray and mysterious sky, interesting fonts, textures, and patterns.
Well, we hope that you like this little collection of the best fall clipart and are going to use some of the products in your next creative projects with pleasure!
Upload Your Products on MasterBundles: Easy as a Breeze
Have you created some awesome autumn clipart and don't know where to sell it? Upload it on MasterBundles! Upload your designs in a few minutes and start earning money to get the most out of your creativity now!

FAQ
Is autumn clipart still relevant in 2022?
Yes, it is. Moreover, this is one of the classic design elements that will be in trend all the time. Just make sure the very element you are going to use in your project fits the ongoing trends. If you are not sure how such a clipart should look like, just take a brief look at our list once again.
Where can I purchase autumn clipart?
There is a really huge variety of online marketplaces that offer both separate clipart and bundles for literally all occasions. Thus, make sure to check out such marketplaces as MasterBundles, Creative Market, Shutterstock, or iStock.
What kind of projects would benefit from this type of clipart?
If you are not sure in which particular projects it is appropriate to use autumn clipart, here are some ideas for you:
Thanksgiving advertising banners and leaflets;
Online tests, videos, or sale banners dedicated to Halloween;
Black Friday banners and ads.
Certainly, there are many more ways to utilize this very clipart, so be creative and feel free to experiment.
Is there an example of a perfect autumn clipart?
Some Awesome Video About Fall Graphic Elements
Please Take a Moment to Pin This Post to Pinterest