Intro
Cliparts are a set of pre-created images or drawings that the user can insert into a document, edition, etc. Clipart is any image used for illustrative purposes. As a rule, such images are drawn manually or digitized in a simplified style, which allows you to use them for various purposes. The clip-art can be a single object, or a complete photo.
Autumn clipart is the best solution for today. Autumn is coming soon, and this means that different images, photos, and bright autumn elements will be necessary and relevant. For someone autumn is a sad time, so you need to create joy with your own hands! With the help of bright and interesting clipart you will be able to make the external design of any object sophisticated and unforgettable.
I hope you will find the perfect clipart in this selection.
Fall & Autumn Clipart in 2021
Design trends come and go every season and sometimes it's rather hard to keep up with them, yet we are always here to help you with that. So autumn clipart – when do you use it and is it still relevant in 2021? Let's figure it out together.
Certainly, autumn clipart is still relevant in 2021, otherwise, we wouldn't dedicate an entire article to it. At the same time, design trends and tendencies change every season, which means that the way a particular clipart or other design elements look changes according to the dominant trends. So how does an autumn clipart look like in 2021? Well, first of all, you have to keep in mind that for the last couple of years the prominent trend in web design and not only is minimalism. Thus, every vector, pattern, clipart, or any other item has to be designed according to the basic minimalist rules.
TOP 3 Autumn Design Bundles
| Product Image & Rating (Out Of 10) | Product Name | Price |
| --- | --- | --- |
| | Autumn Splendour: 129+ Hand Drawn Elements | |
| | 150 Big Autumn Stock Photo Bundle | |
| | Autumn Roses PNG Watercolor Set | |
The so-called "rules" of minimalism are pretty much clear: the less details – the better. So autumn clipart in 2021 has to be minimalist, elegant, and subtle. Luckily, modern digital marketplaces keep up with the trends and offer the products that totally meet the requirements of modern designers. In other words, finding a minimalist up-to-date clipart definitely would not be a problem for you. Thus, let us take a look at some of the loveliest examples that I've found for you. So get ready, here they come.
120+ Autumn Leaves Clipart and Flower Elements. Autumn Hand Lettering Bundle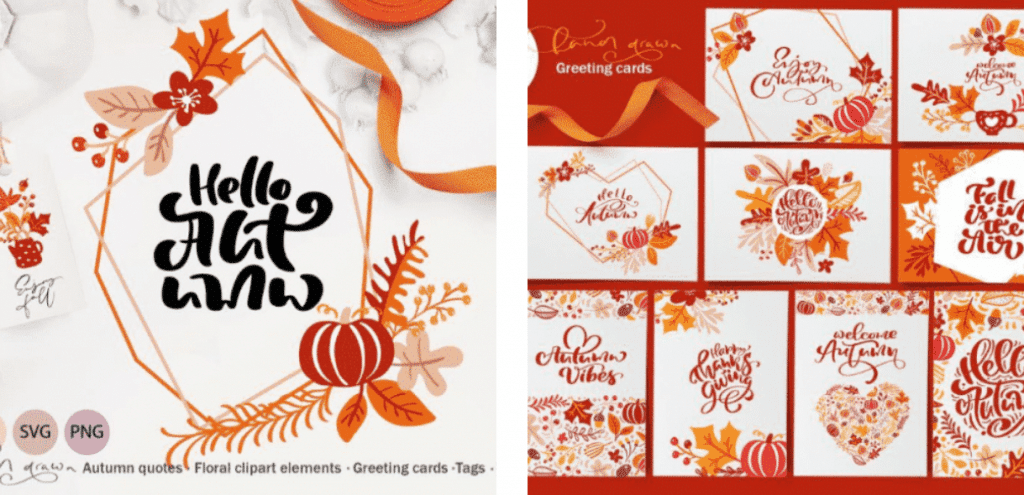 Price: $11
A huge bundle with more than 120 unique elements will help you in the creation of more than one project, so do not think too long and take a closer look at this very collection.
99 Autumn Vector Bundle. Monoline Floral Elements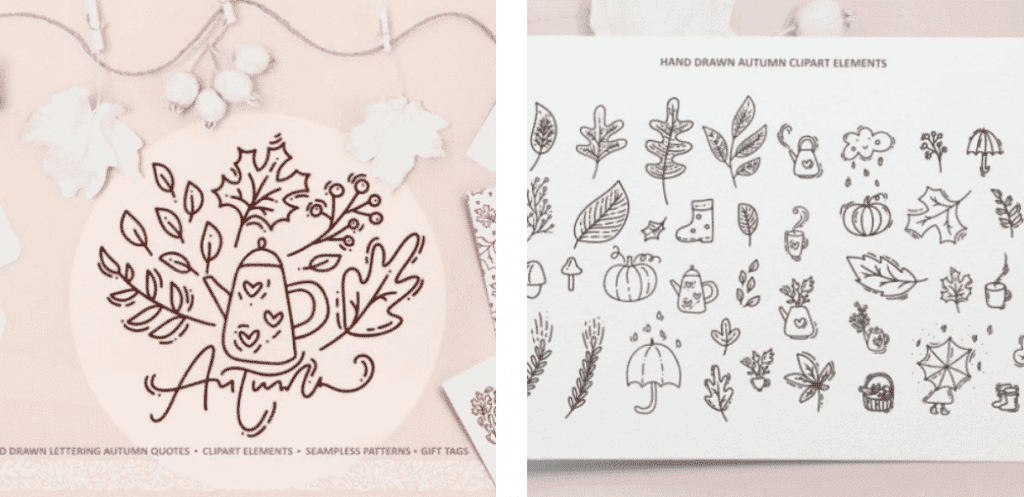 Price: $9
If you are looking for some lovely autumn vectors, then this very collection is no doubt the way to go for you, so go ahead and check it out.
Thanksgiving Clipart Bundle: Happy Thanksgiving Vector Pack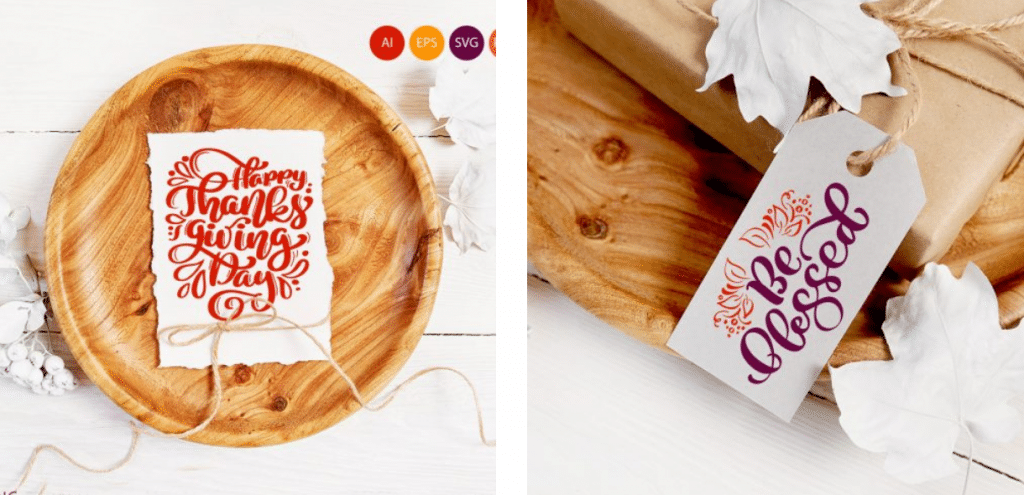 Price: $11
Can you imagine autumn without Thanksgiving? Me neither. Well, stop hesitating and get this amazing Thanksgiving bundle.
Watercolor Autumn & Winter Bundle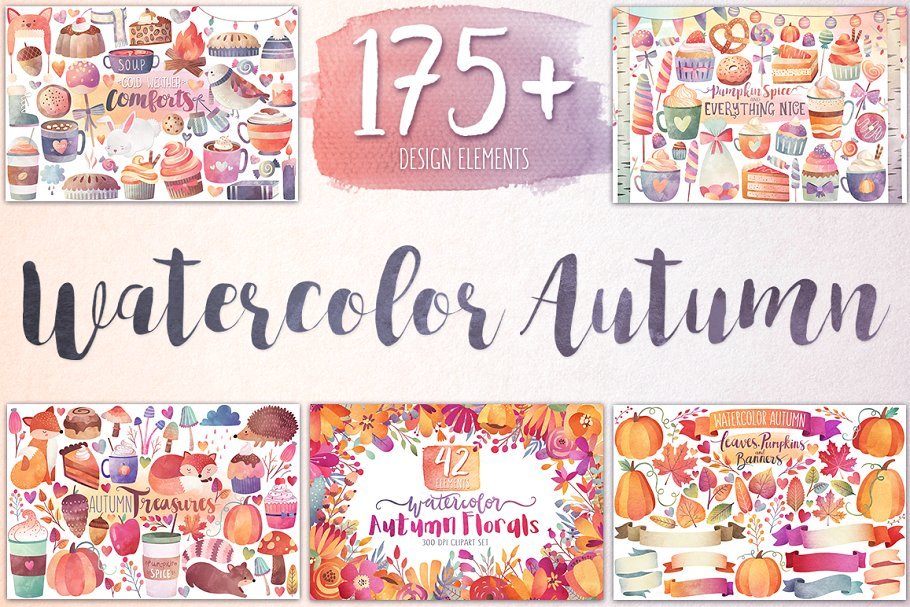 Price: 25
Another huge bundle that contains a vast variety of one-of-a-kind elements for literally all occasions.
Hello autumn – watercolor collection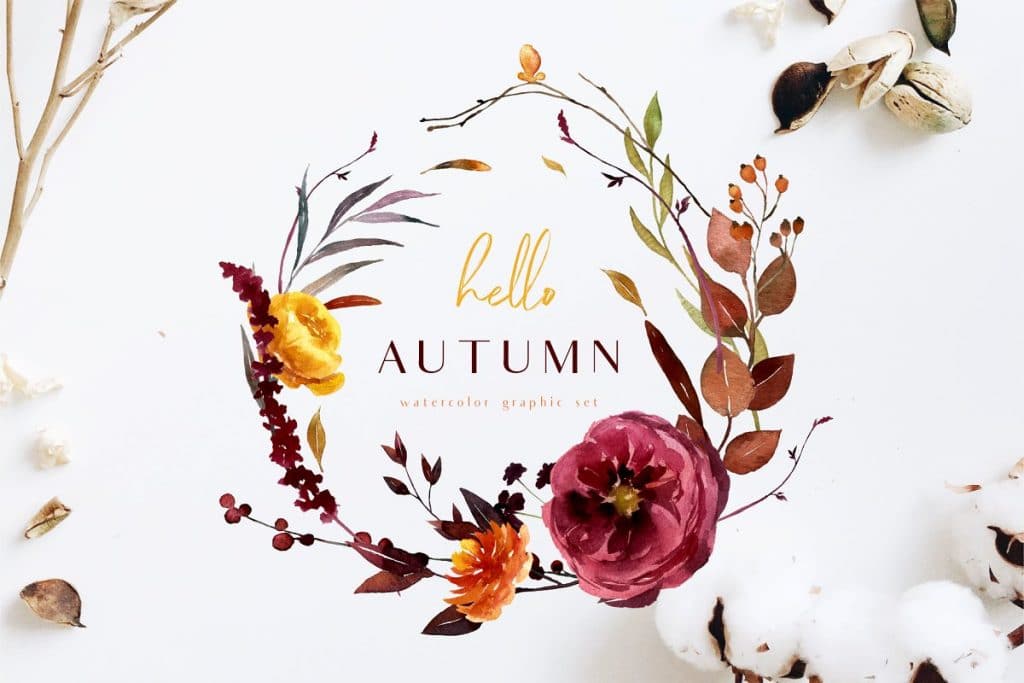 Price: $18
A mesmerizing watercolor collection that will help you create a whole bunch of simply magical projects, so make sure to check it out.
Watercolor flower Clip Art-Marsala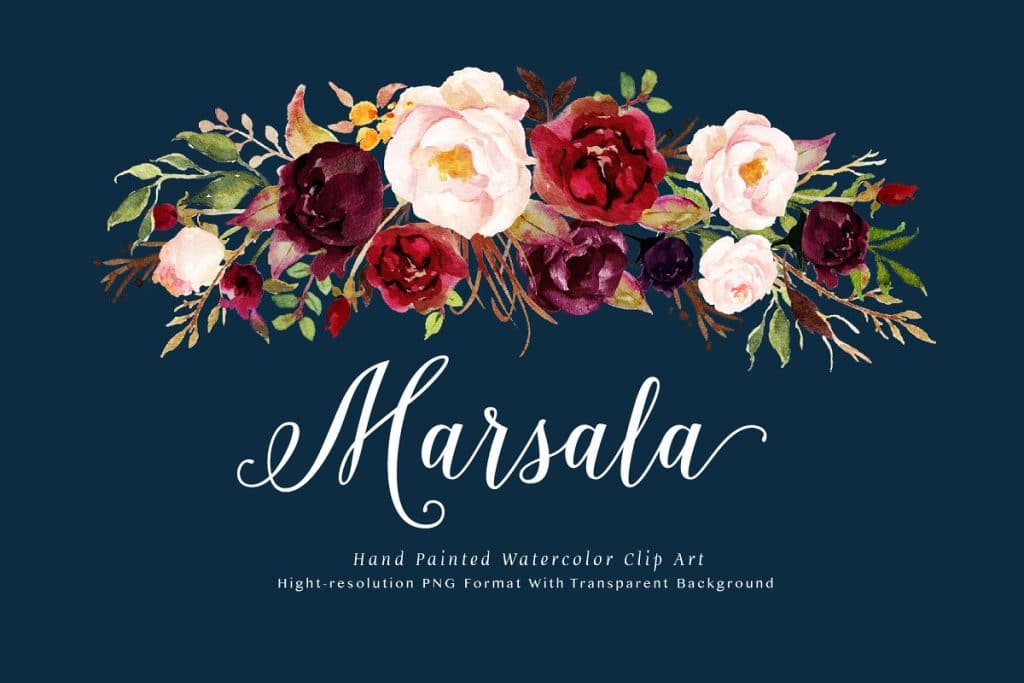 Price: $68
There cannot be enough beautiful watercolor autumn flowers, so why don't you take a look at this absolutely lovely one?
Thanksgiving Pumpkins Stock Illustration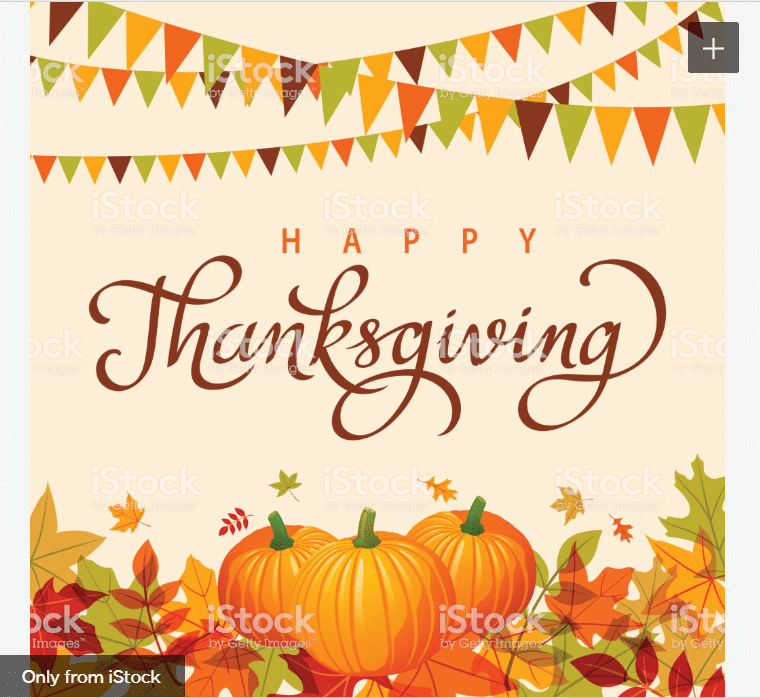 Price: $9.99
One more adorable Thanksgiving option that you will simply fall in love with, so give it a try.
Autumn Floral Set. Colorful Floral Elements for Fall Floral Clipart. Flowers, Owl, Pumpkin, Apple, Floral Bouquet Vector Stock Illustration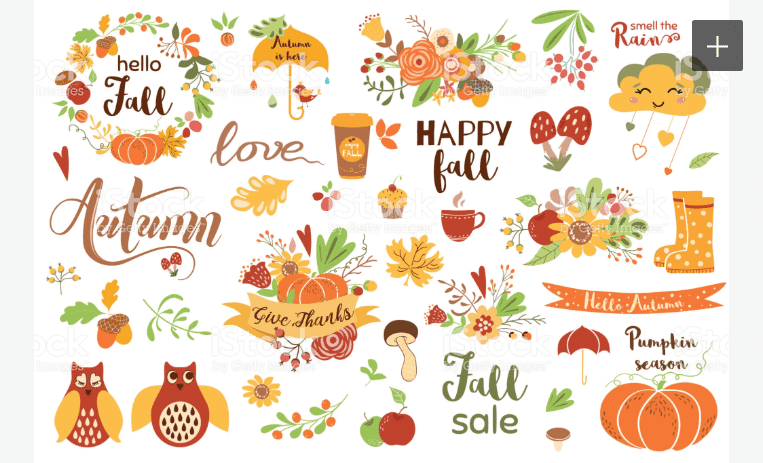 Price: $9.99
Another warm, cozy, and cute option that you cannot miss. Well, go ahead and get it, it's worth a shot.
Free Brown Autumn Tree Clip Art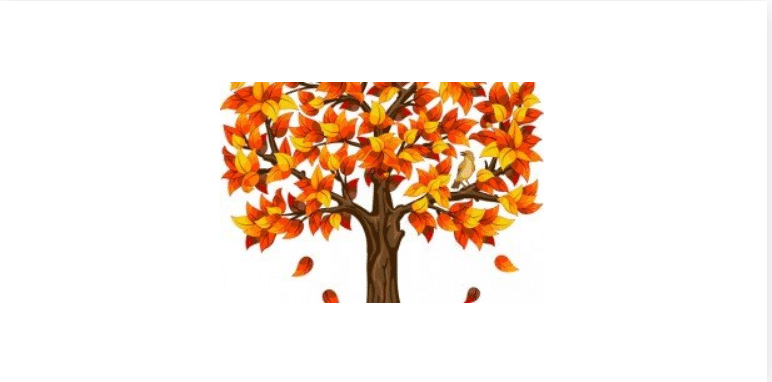 Price: free
An amazing freebie that will no doubt conquer your heart. Well, just download it, it's completely free.
Free Autumn Leaves Vector 5 Graphic Design Clip Art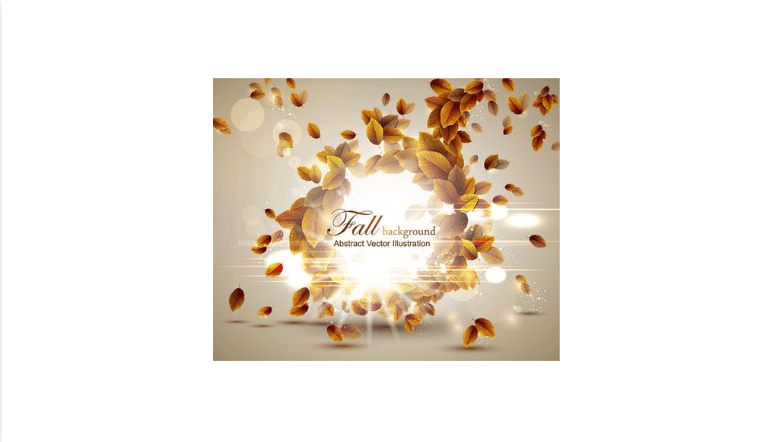 Price: free
Another cool free option, which will be rather handy for pretty much every graphic designer. Well, follow the link above and get it.
Fall Autumn Clip Art and Images on Digi Stamps Clip Art 3 Clipartcow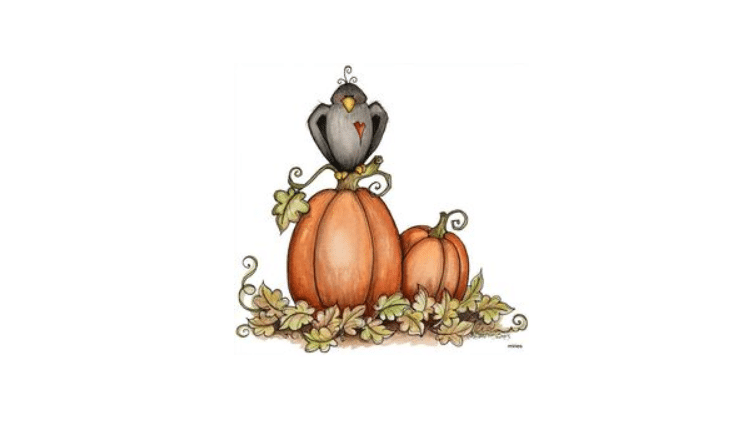 Price: free
A truly adorable freebie for your cute autumn projects, so make sure to test it, it's free and it surely wouldn't hurt you.
Autumn Clip Art and Images on Digi Stamps clip Art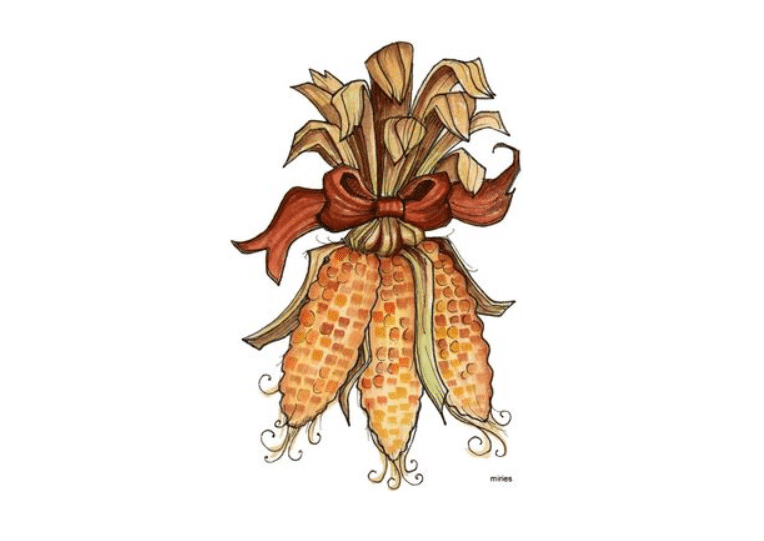 Price: free
One more sweet option that will perfectly work for a vast variety of projects.
Autumn Fall Clipart Free Clipart Images Clipartcow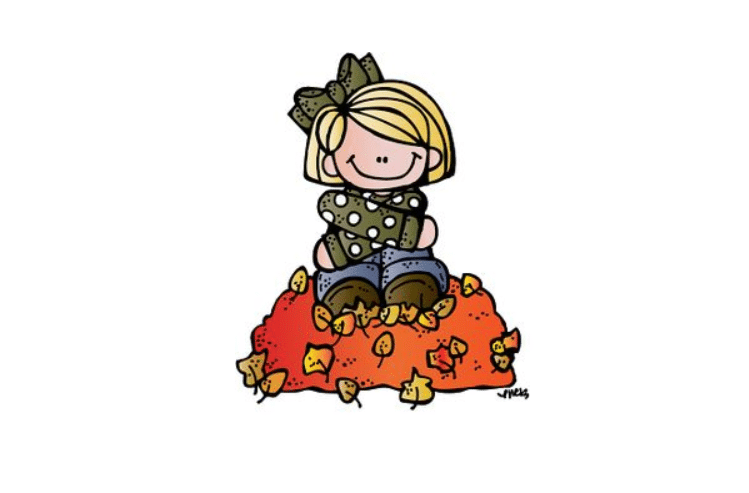 Price: free
If you are currently looking for something exceptionally sweet and simply adorable, then you definitely want to take a brief look at this cutie.
Collection of Gold Decorative Elements in Oriental style with Moon, Stars, Clouds, Tree Branch, Lotus Flowers, Grass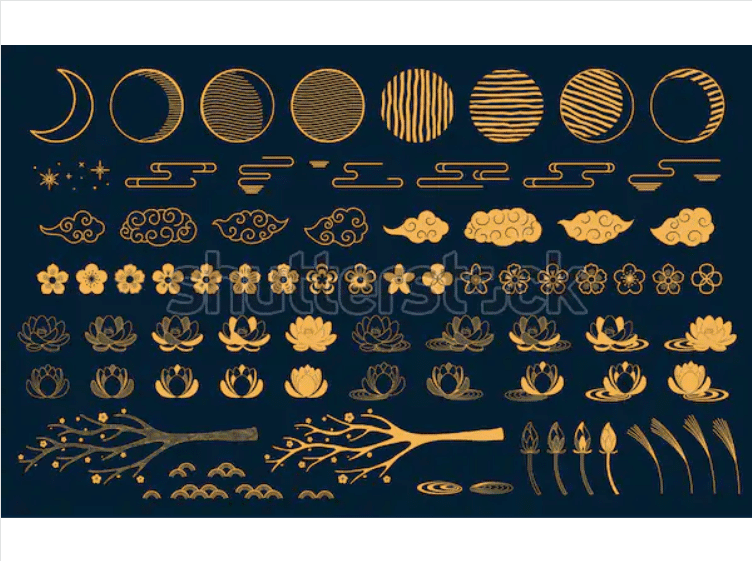 Price: available within Shutterstock subscription
A truly mesmerizing option that will hypnotize you with its unique beauty at the very first sight.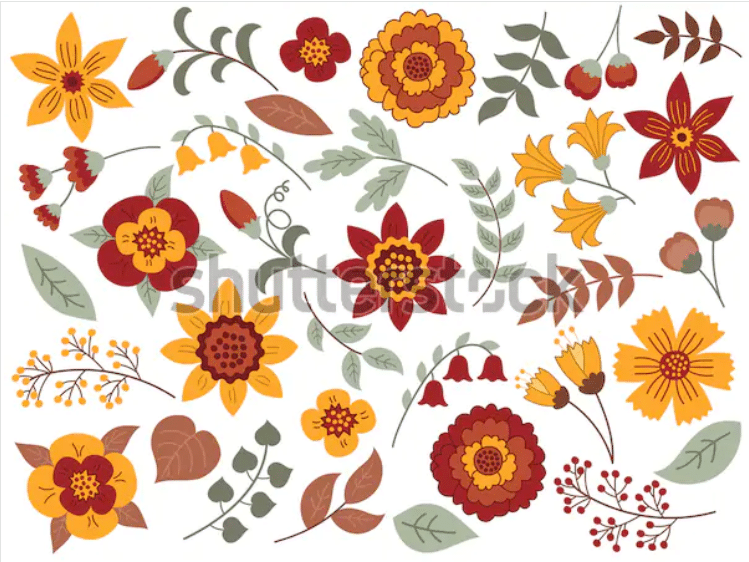 Price: available within Shutterstock subscription
A collection of lovely autumn flowers is the ultimate must-have for pretty much every graphic designer, so go ahead and get this cutie.
Big Autumn Set with Cute Animals, Sheep, Bunny, Dog, Hedgehog, Leaves, Food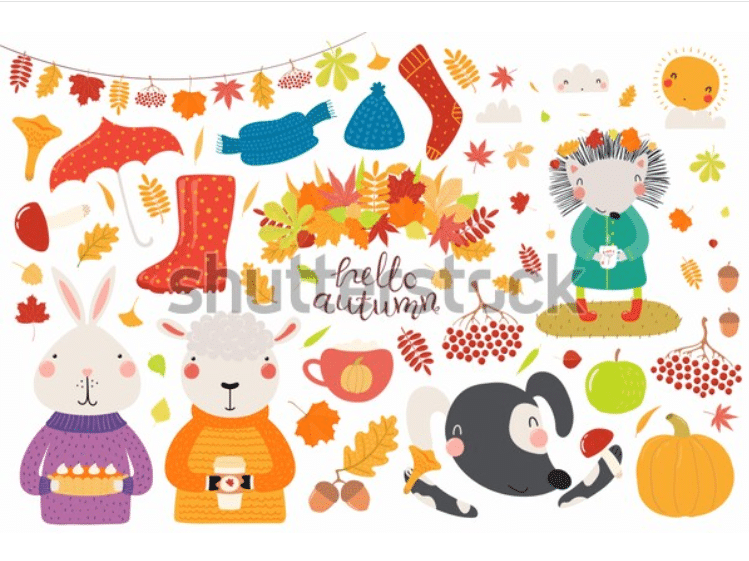 Price: available within Shutterstock subscription
Another huge collection of cute autumn elements will simply melt your heart, so follow the link above in order to take a closer look at it.
Breadfruit with Its Leaves Vector Clip Art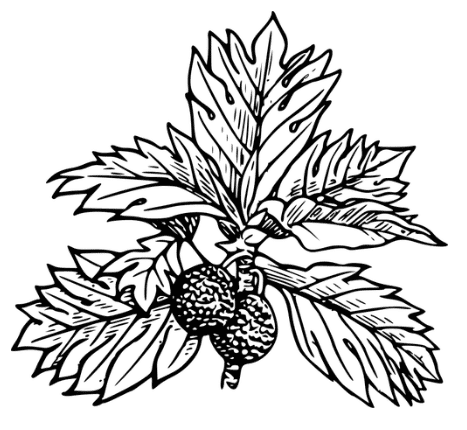 Price: free
An elegant minimalist option that will surely mesmerize you. Well, go ahead and download this very freebie.
Beautiful Autumn Tree for Your Design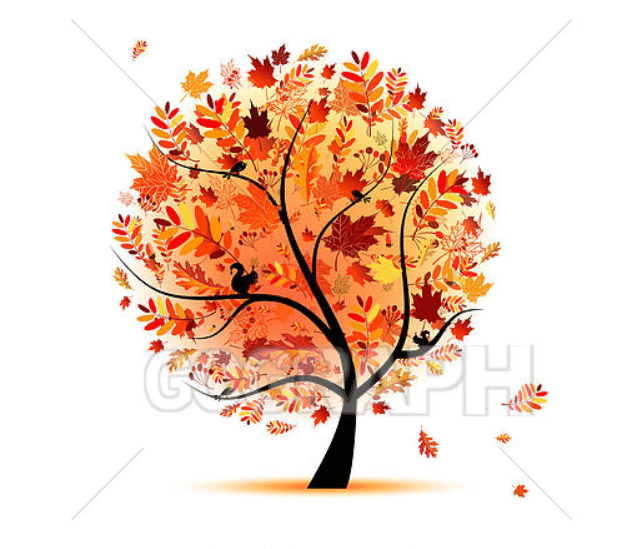 Price: $3-$12
If you are looking for a magical autumn tree, then stop your search because this elegant beauty is already here.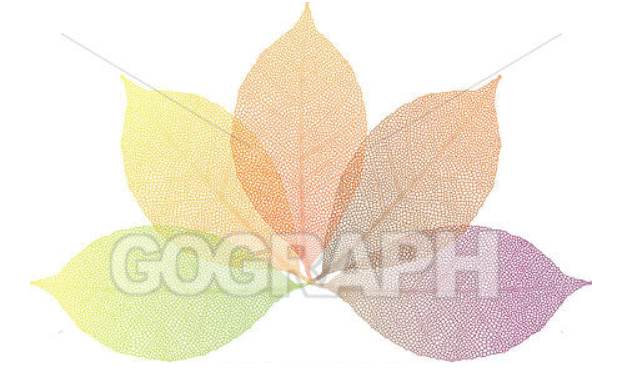 Price: $3-$12
Sophisticated and minimalist autumn leaves are definitely among the must-haves for your graphic elements collection.

Price: free
A cute freebie for those of you who feel like they need some adorable pumpkins.
Autumn Leaves Creator Kit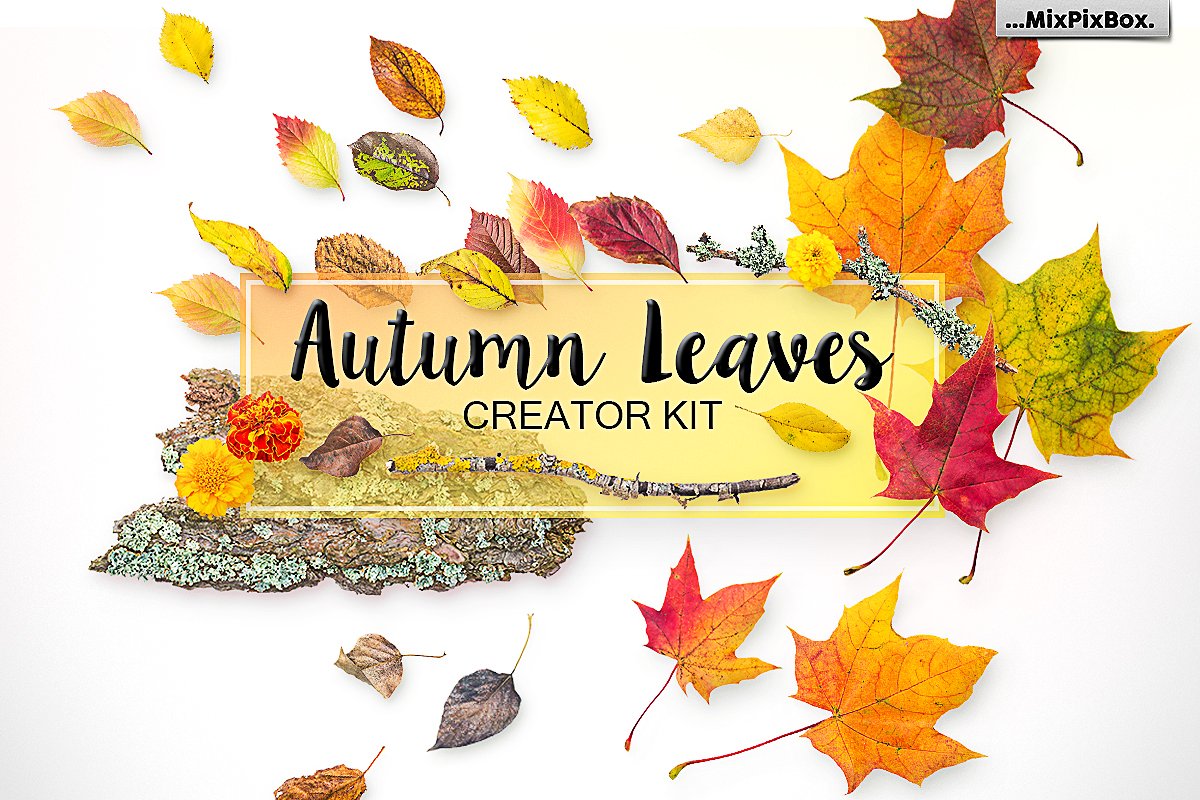 Autumn Leaves is a cool and bright set of autumn clipart. You can use them for any purpose! For banners, presentations, backdrops, as a background for Facebook, and Instagram. Here you will find cliparts with images of wedges and oak leaves, a few images with the bark of trees, and thin sticks ( by the way, it looks very unusual and stylish), as well as images with marigolds flowers. Some pictures (e.g. with falling leaves) create a dynamic picture.
You can easily change the size of the provided images, and adjust various effects.
Autumn Leaves Creator Kit contains 84 pictures of autumn leaves, and 13 designs. With their help you will be able to give any of your project lightness and romanticism.
Autumn Splendour: 129+ Hand Drawn Elements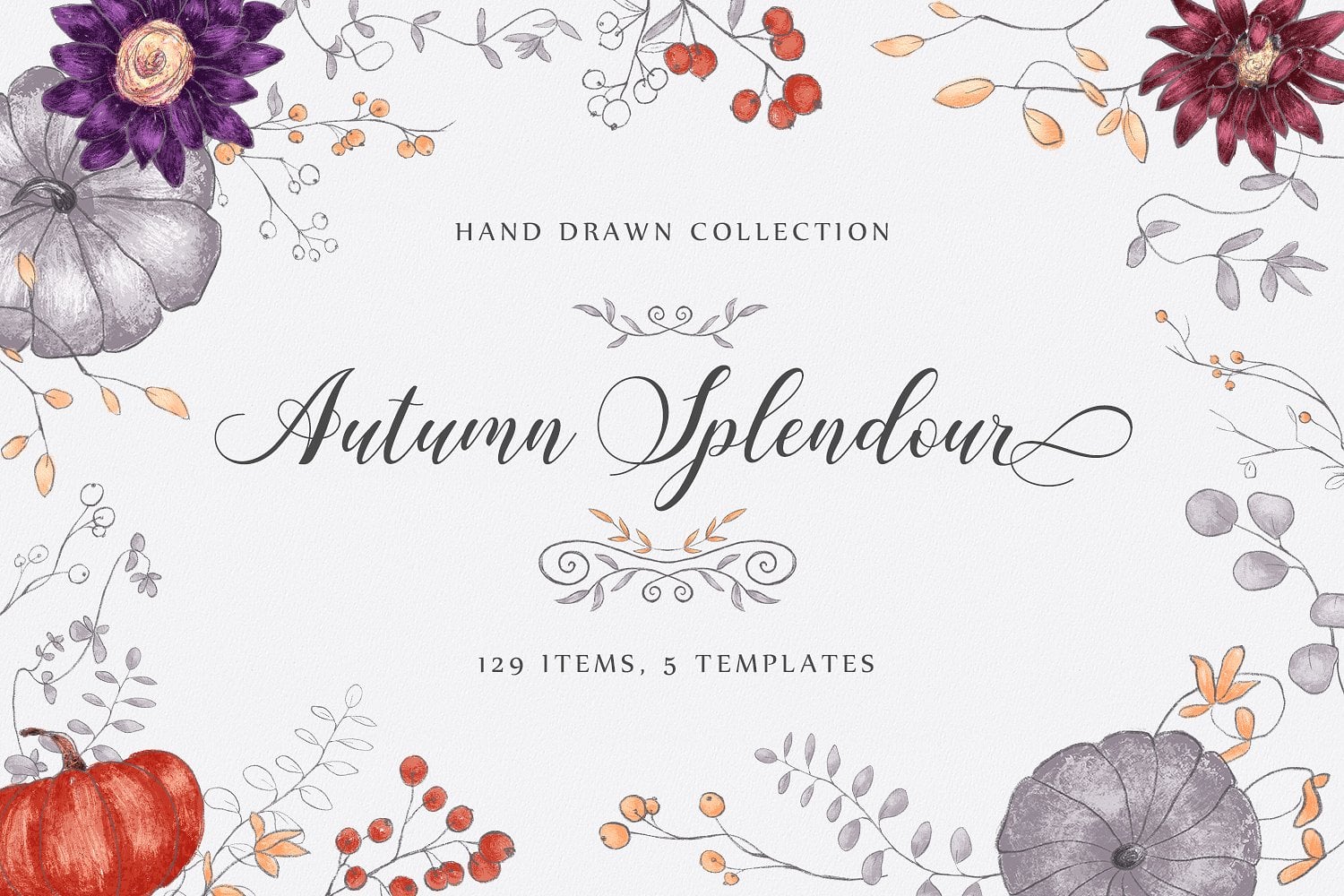 Autumn Splendour is a tender and stylish set of hand drawn clipart. Each element looks very natural and cute. Autumn Splendour includes 129 items and 5 templates. Among the templates:
business card templates
flyer template
invitation card template
two types of postcard templates for the Thanksgiving
The design is done professionally, fonts on the pictures are selected to attract attention. They are very unusual and fascinating.
You can edit and change the image in any editing program.
If you are looking for gentle, sophisticated, amazing and attractive images with different size variations, then this collection of clip-arts is for you!
Autumn Roses PNG Watercolor Set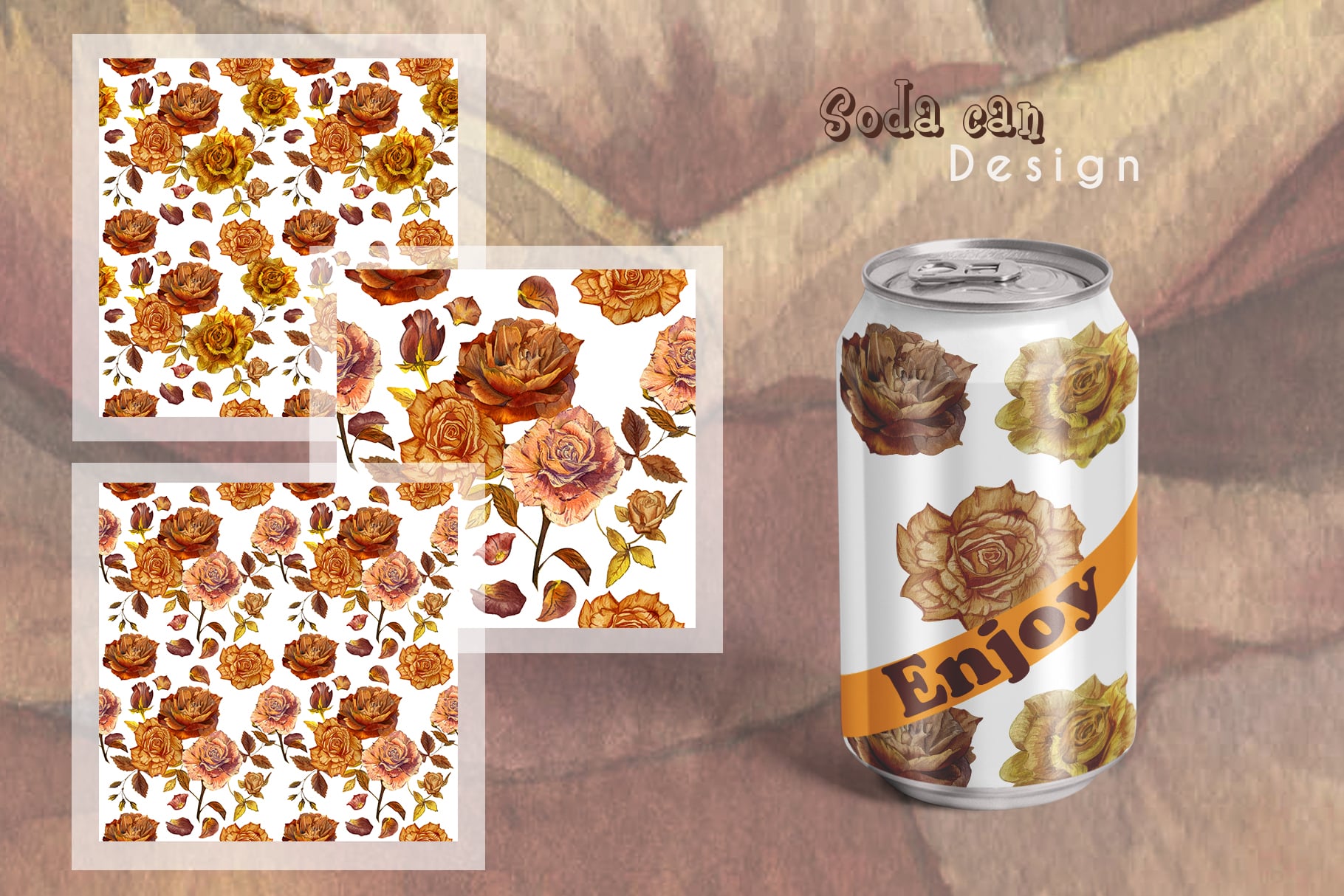 A wonderful set of autumn watercolor roses will be a great solution for you. The gentle design you can apply under any of your project. For example, you can run a collection of cases for phones, cups, magnets, pens, and in general any things with any images that this set provides.
All elements are hand drawn. They look very natural and tender. Also this autumn clip-art can be used for banners, advertisements, posters, headlines, invitations, business cards, bright ads, etc. What you want can be done in such a wonderful, and original style.
The autumn set consists of 57 files. You can choose among them the best options for you. All of them can be easily customized. For example, you can change the color and size of the image.
5 Halloween Flyers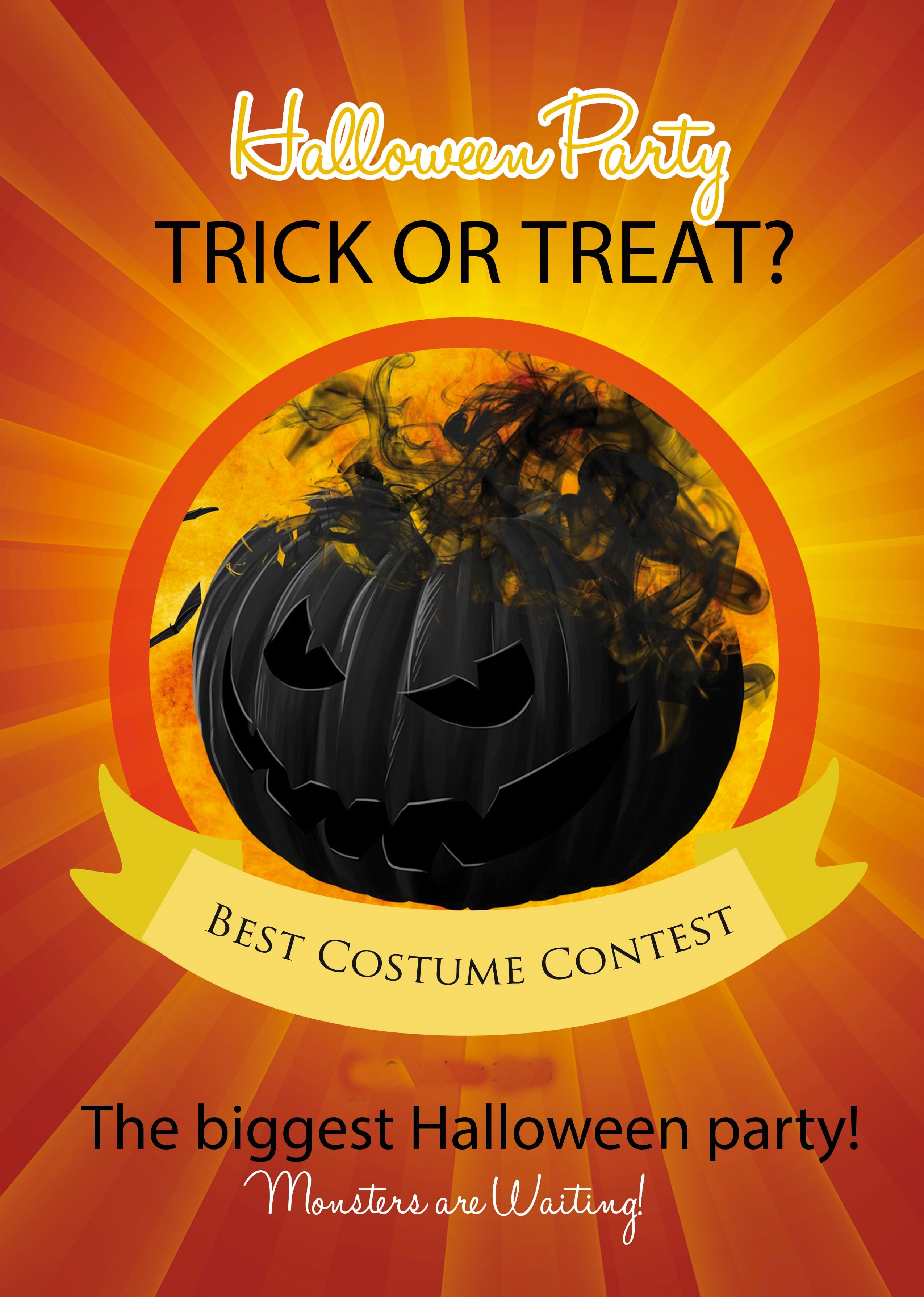 This is a cool and original set of flyers for Halloween. Do you love Halloween and celebrate it? Then it is a great solution for you.
If you are organizing a party, the Halloween-style leaflets will be a necessary attribute.
Among the five completely different flyers you will find exactly what you need. From the light design with pumpkins to the eerily attractive flyer with grey background and spiders. It all depends on your imagination, and the risk!
Buying this set of flyers you will save your time on the development of your own design. All flyers you get in high resolution in PSD format. If it is necessary, you can also easily edit Halloween flyers.
It seems to us that these flyers will help to surprise your guests and interest them!
Merry Halloween 11 Patterns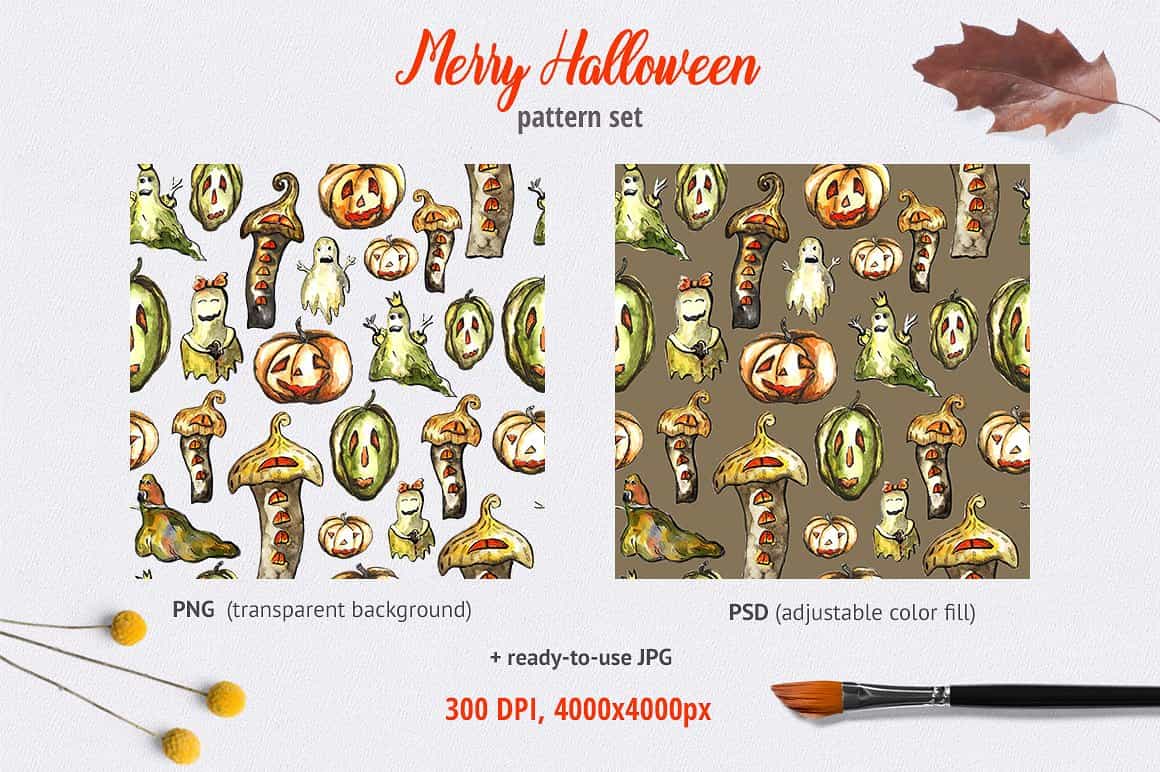 Merry Halloween is a cool autumn clipart. This set of patterns is very original and diverse. They can be used for completely different purposes. For example, for textile design, packaging, backgrounds, and various stylish autumn products.
The good news is that these patterns in the style of Halloween can be used in different formats! PSD is an adjustable color casting, PNG provides a transparent background, as well as a familiar JPG. All patterns are high resolution, so you can not worry about the quality of the displayed elements.
If you are looking for an unusual and bright solution for Halloween things then this is exactly for you!
Happy Halloween Bundle: 29 illustrations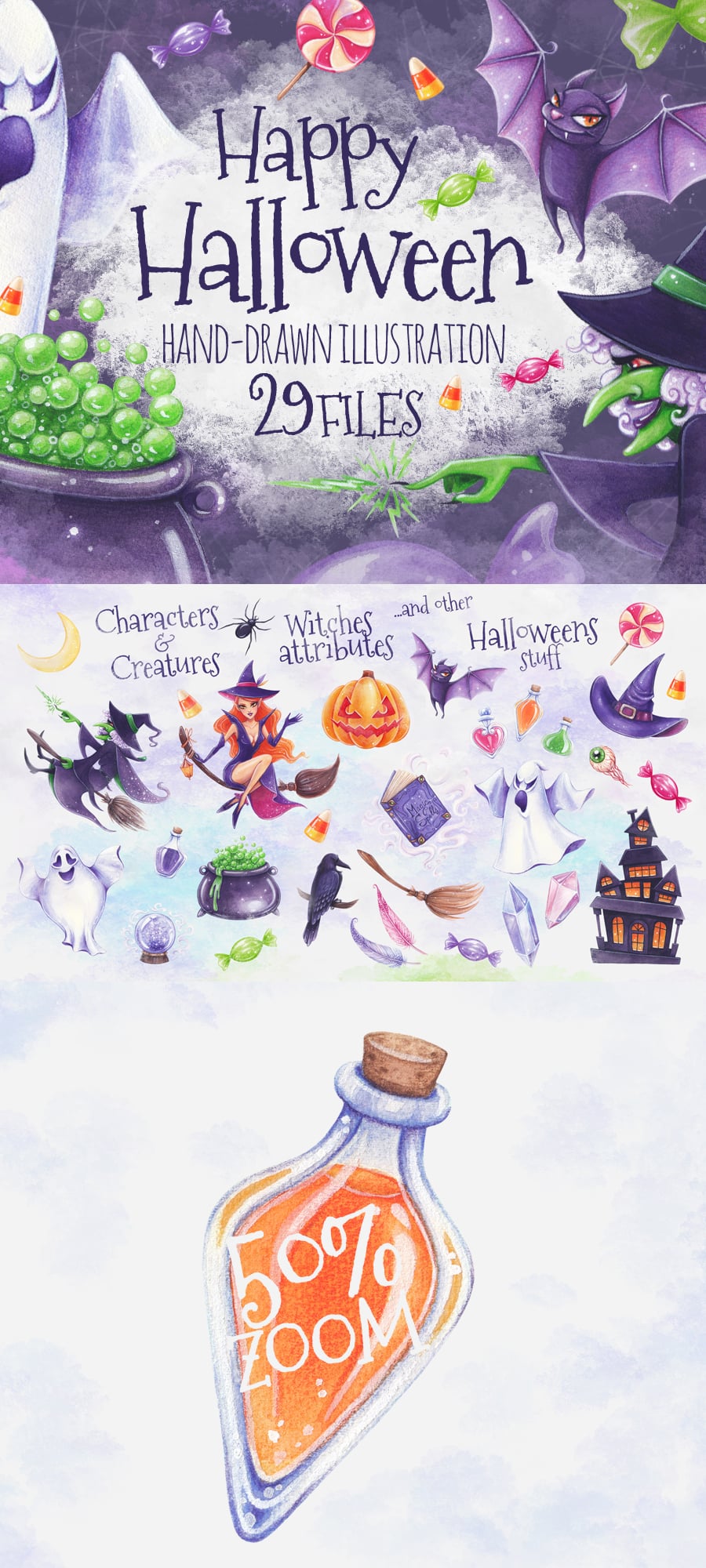 Looking for a great solution for invitation cards, posters, ads, book illustrations, and various product packages? Then Happy Halloween Bundle is for you! Very beautiful and charming design with potions, bats, witches, magic books, inscriptions and ghosts looks very stylish and cute. All drawings are executed qualitatively and professionally.
This set includes 29 illustrations. You will be able to choose among them the variants suitable for your purpose! Pay attention to the fantastic fonts as well. They look very stylish. You can even use these illustrations to decorate a children's party at Halloween.
All 29 files are presented in PNG format with a transparent background. You can also change the illustrations in any editor.
Luxury Witchcraft: 109 Graphic Elements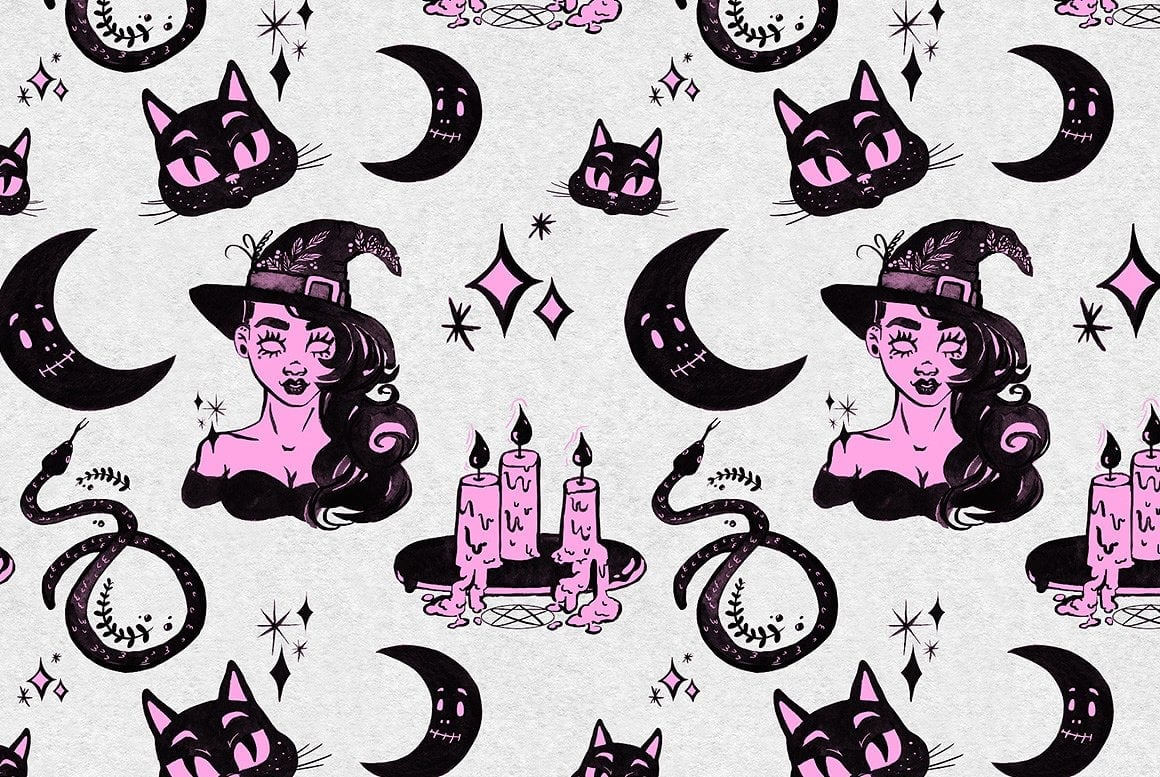 Luxury Witchcraft is a wonderful set of 109 stylish graphic elements. Quality drawings and black and white style can be easily combined with other colors and elements. Mesmerizing images are suitable for any purpose. These can be: product packaging, book illustrations, background for banner, advertisement or flyers, packing of stationery and much more. Basically, any of your projects can be great with this wonderful set of autumn clipart.
109 images include illustrations of witchcraft, hand painted ink textures, ink shapes, seamless textures, and different textures. The quality drawing of each element helps to make the image clear and natural.
1053 Spectacular Overlays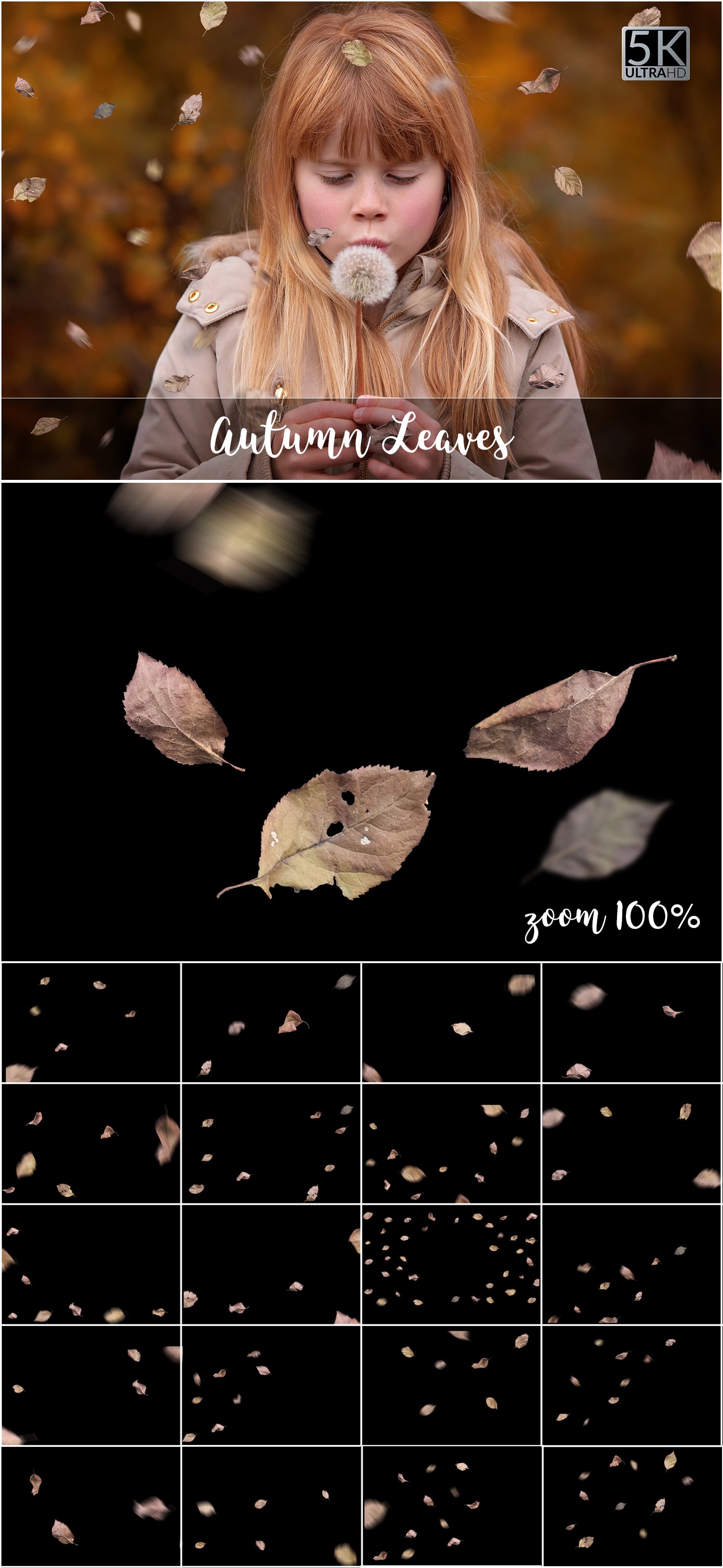 These overlays are a truly stunning find for photography enthusiasts, or for a professional photographer. With Spectacular Overlays you can have a beautiful background not only on photos, but also on banners, advertisements, business cards, for example. Basically, wherever you want! Professionally executed design is the first thing that comes to mind, looking at this chic set of autumn overlays.
You will get 1053 variants of various autumn overlays. These include: overlays with leaves (different texture, location, and color), ladybugs (blurred ladybugs, different location, different number of ladybugs in the image, etc.), a huge number of exciting images of the sky (for the background), gold texture, design toolkits (different colors and textures), patterns and much more.
All elements are of high quality and high resolution. It seems to us that this is an excellent set, especially for such a price!
Autumn Clipart Set – 4 in 1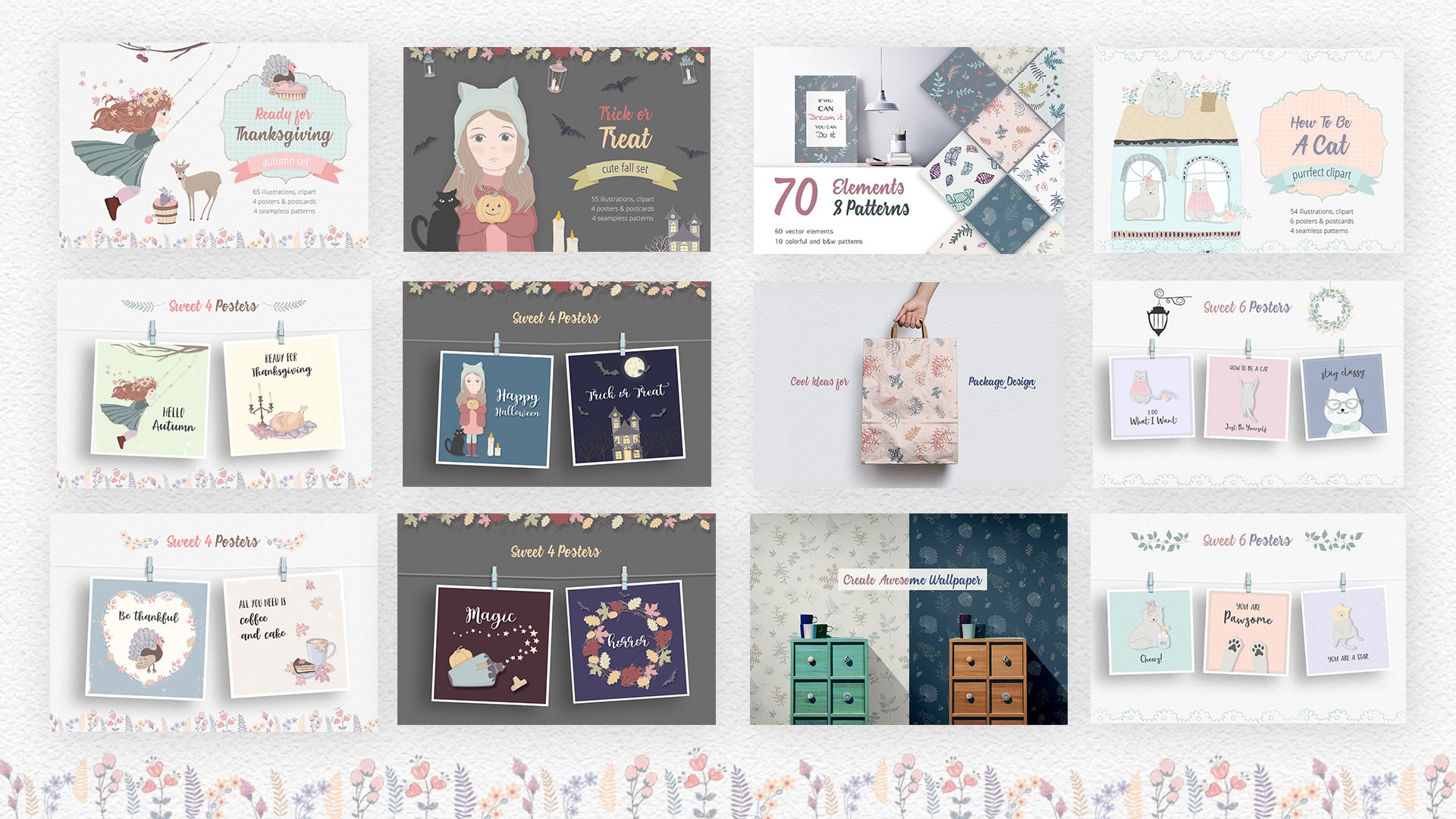 This is wonderful 4-in-1 clipart. Autumn Clipart Set is 234 clipart elements, 14 posters and 22 seamless patterns.
Autumn Clipart Set includes 4 different sets. These are clipart sets for Thanksgiving Day, Halloween Fall, Floral Textile and How To Be A Cat. All the images are made with high quality. They are also all in high resolution and ready to print. Very gentle and beautiful elements are hand-drawn (leaves, flowers, birds). There are also various flower patterns available in Autumn Clipart Set. They are not very bright, which means that they will combine well with any colors.
In the How To Be A Cat set you will find 54 elements. These are drawings of seals, paws, bows, fish, food, various cute pictures of cats, etc. Also for each set there are posters and unique patterns.
270 Horror Overlays+ 4 actions – Halloween Bundle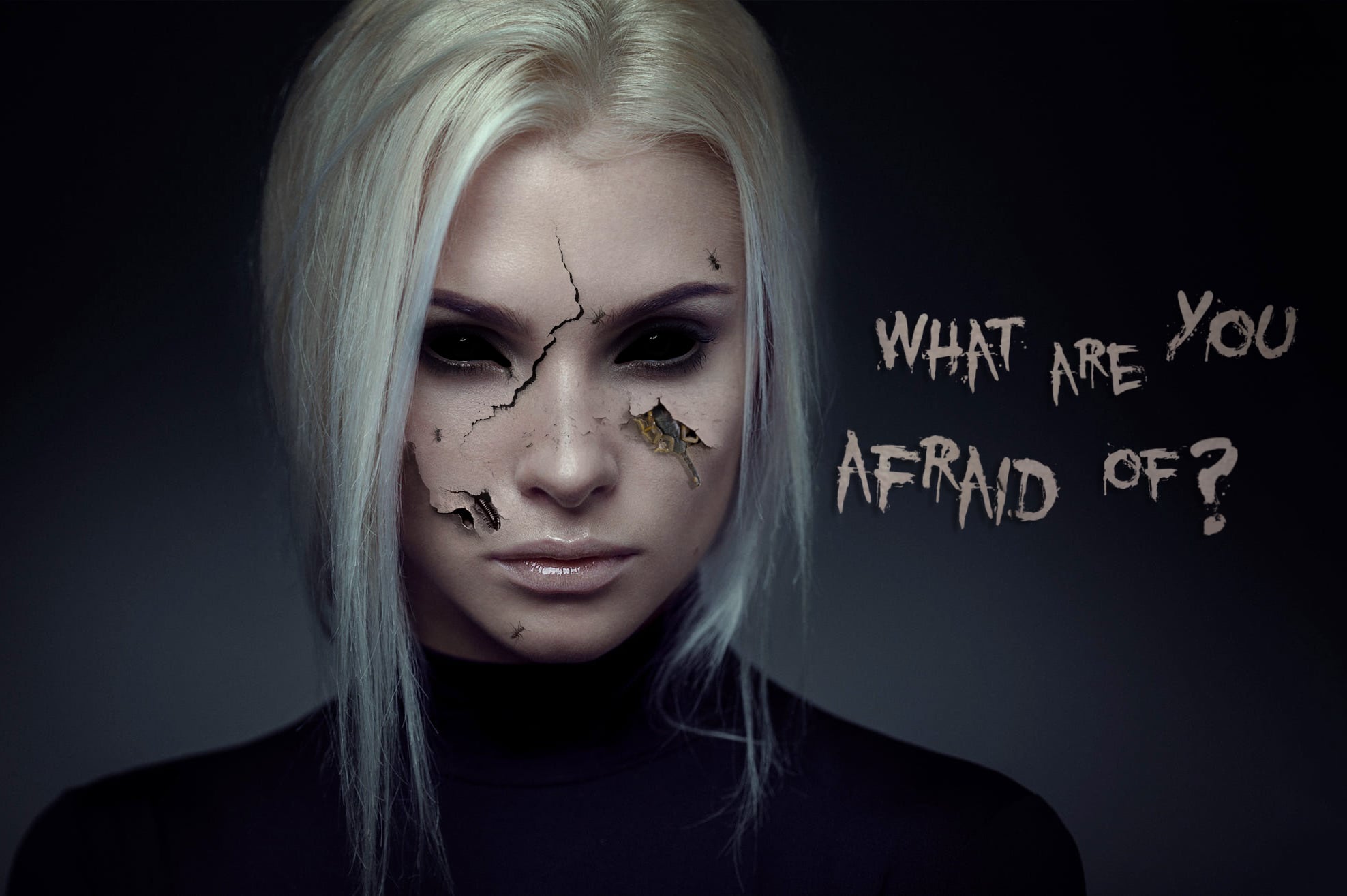 This is probably one of the most creepy, but at the same time interesting set of overlays on Halloween. All the images are made very professionally and look quite natural. It will be difficult to say that it is a overlay. With the help of this set you can diversify your photos for Halloween, create intimidating invitations to parties, create a leaflet or flyer to the quest room, etc. The set includes eye overlays (changing their color and appearance), scars (scars with spiders, etc.), blood droplets (of different sizes and locations on the picture), black bees, flying black rose petals, 50 images with a transparent background, face change, etc.
All these images really look very realistic and horrible in a good meaning!
Tricks no Treat: 40+ Hand Drawn Halloween Illustrations


Tricks no Treat is a great solution for you at Halloween. Creepy, but at the same time beautiful and fascinating pictures, and the elements look great and are ready to become a part of your project. These autumn clipart are quite bright and clear. Tricks no Treat contains of:
21 hand-drawn illustrations. These are skulls, candles, pumpkins, hats, bats, ghosts, skeletons, crows, wreaths, etc. These elements are made in different colors and sizes.
6 watercolor swashes.
9 master tiles (with skeletons, pumpkins, skulls).
6 ready-made patterns (any pattern).
This chic Halloween set you can use for any purpose. For example, gift wrapping, postcards, invitations, banners, background photo, signage, book illustrations, magazine pages, etc.
23 Halloween Patterns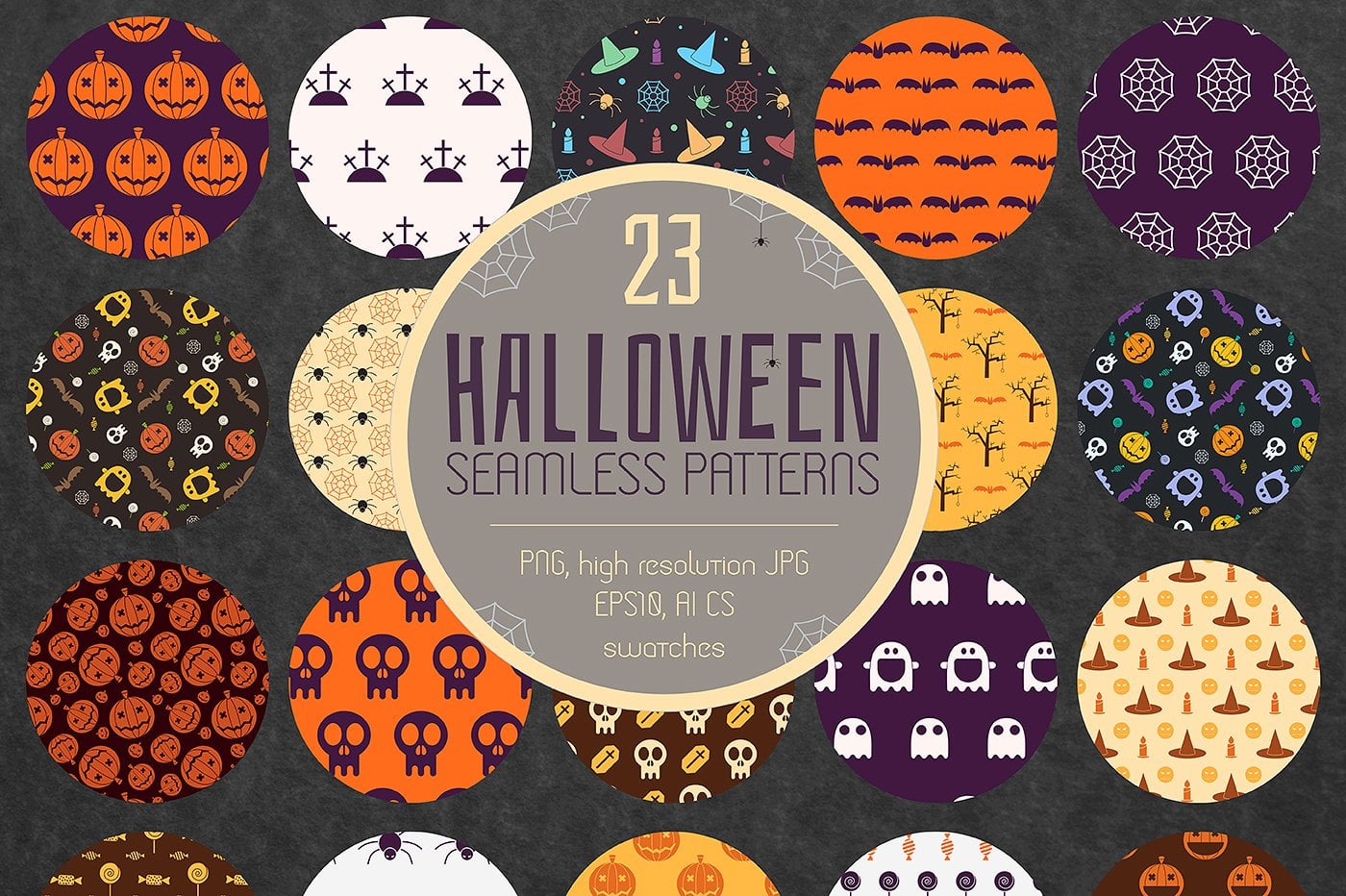 Halloween Patterns is a set of 23 high-resolution PNG and JPG files. All samples are easy to use. It is easy to change the color and size of each object. This set of autumn clipart is perfect for any idea you have. It really can be everything! The images are bright and beautiful enough, so you can easily combine them with other colors and textures.
As a bonus you are offered a file AI CS and EPS10 with 18 Halloween objects.
In this set there are the patterns with pumpkins, spiders, spider webs, hats, and bats. They look very nice and not scary. Such patterns are suitable even for a children's party at Halloween.
MEGA Halloween Graphic Bundle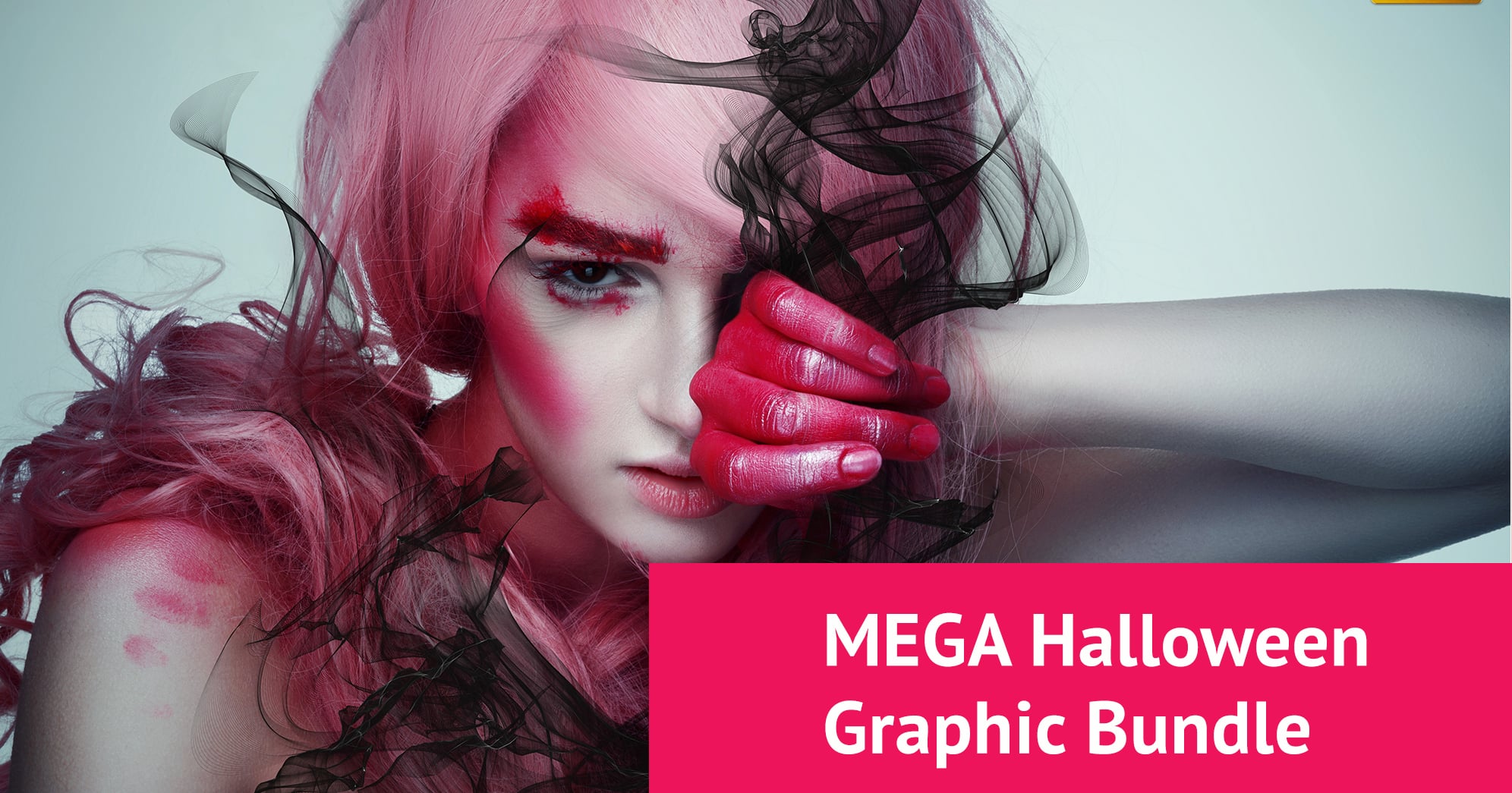 It's a terrible graphics package for Halloween. It includes 4491 elements! It contains transparent backgrounds, swatches for Adobe Photoshop and Adobe Illustrator, Lightroom presets, backgrounds, objects, etc. For this price, it's just an unrealistically steep amount of elements available. You can easily add something new or change in the image.
Halloween Graphic Bundle includes creepy effects with bloody drips, changing backgrounds, images, creating terrible eyes, adding spiders, spiders, spider webs on clothes, adding snakes, different variants of gray and mysterious sky, interesting fonts, textures, and patterns.
1260+ Halloween Overlays Bundle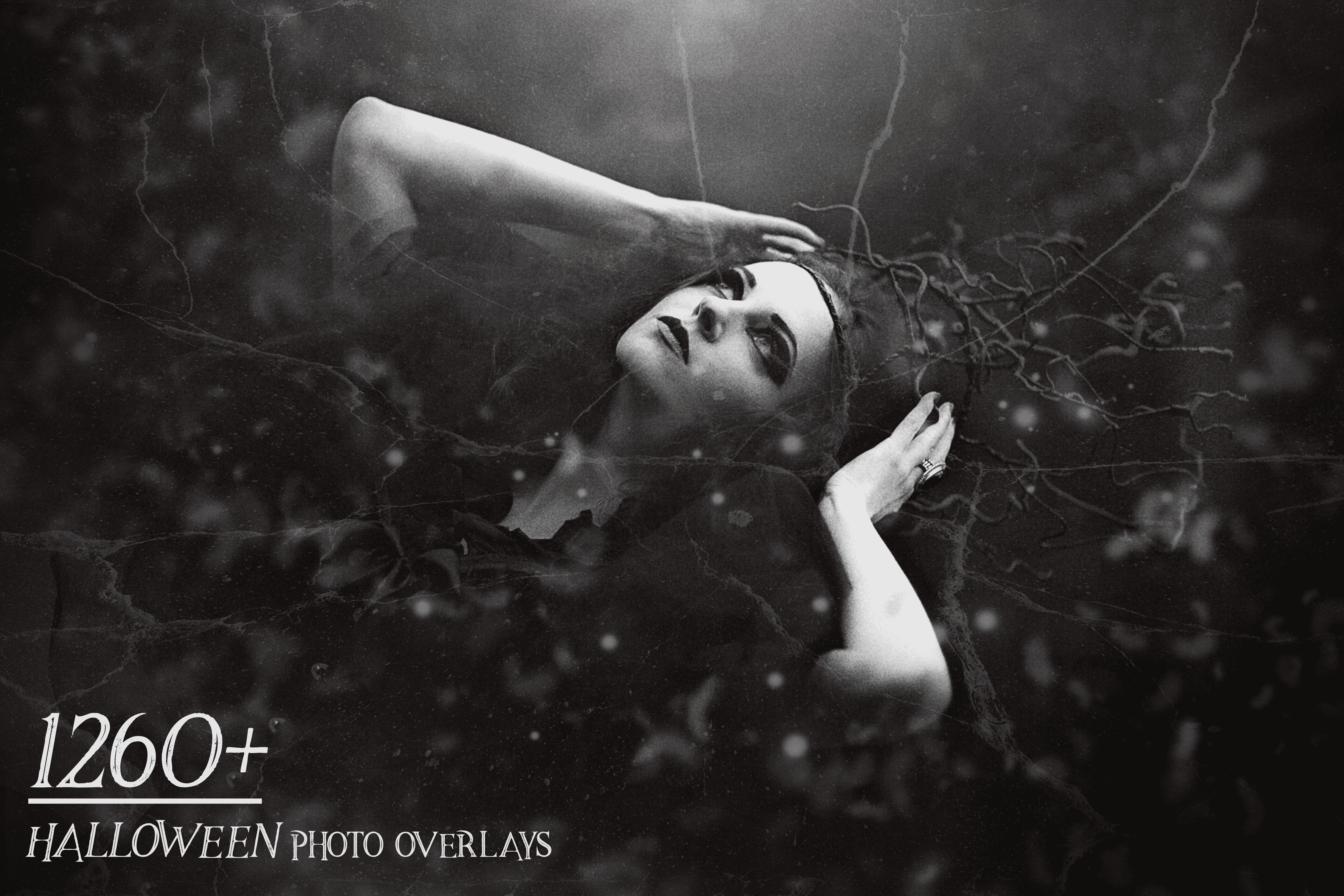 Halloween Overlays Bundle is a great set in which you will find the overlays to your liking.
Halloween Overlays is more than 1200 overlays for any purpose. These are 100 fascinating gold dust overlays, 160 rain overlays ( look very realistic), 20 funny bats overlays, 65 smoke overlays on the photo (the color of smoke can be changed), 239 fog variations (the overlays look very mysterious and magical), 161 lightning overlays (very spectacular and natural), 137 fire effects. This is only a small part of all the overlays, but we are sure you already wanted to buy them. It is a really super set for Halloween for such a price.
By the way, all the overlays are in high resolution. They can be easily edited and changed!
Happy Halloween Scary Logo Bundle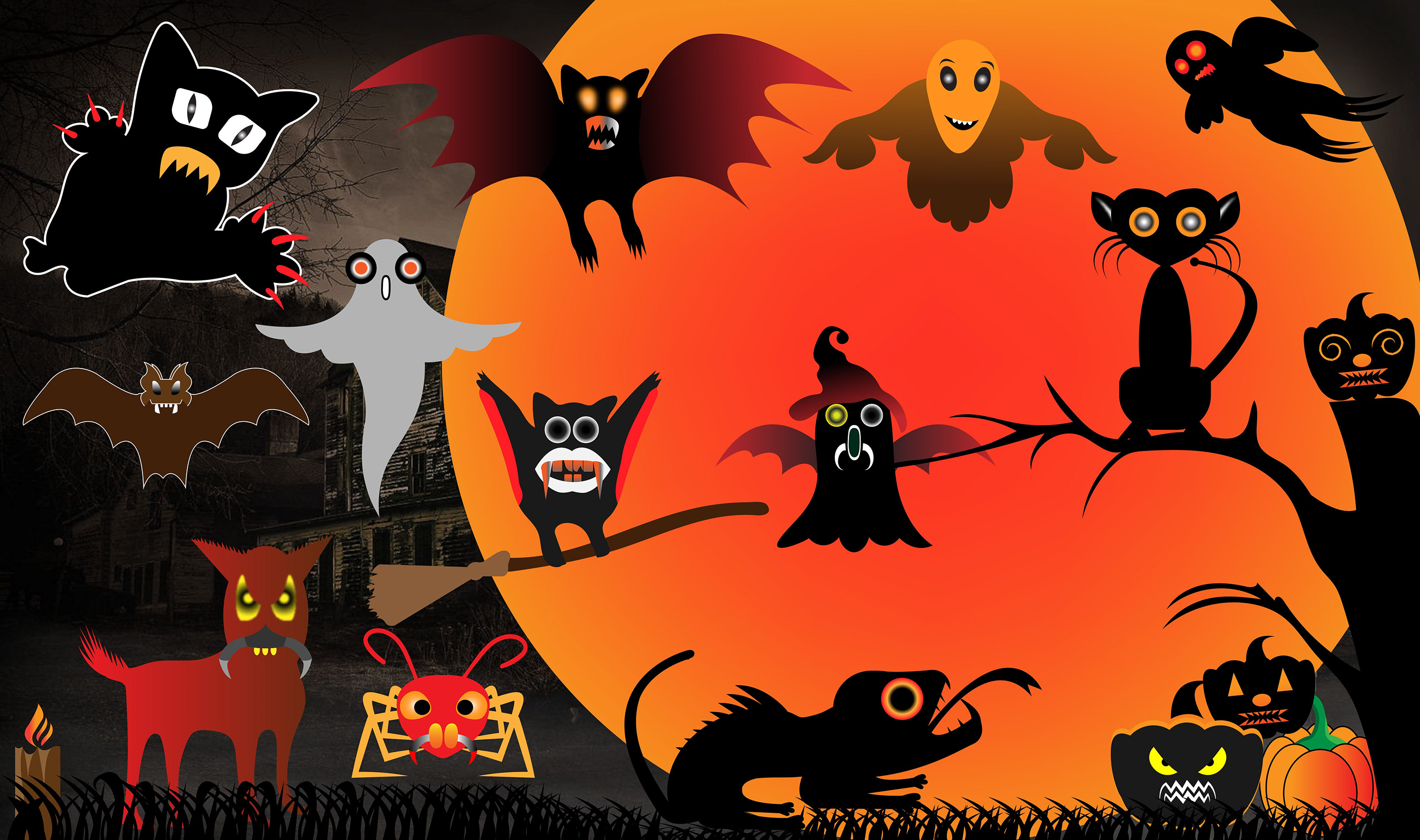 Excellent options for the Halloween-style logo. You can use these clipart for banners, ads, advertisements, etc. These logo options are very cute, and not as scary as it may seem. There are logos with pumpkins, bats, ghosts, unusual cats, spiders, moons, etc. You can easily resize the logo. All options are available in SVG, EPS, PNG, JPEG, Ai formats.
You can also use these logos for children's parties. Because they are quite interesting and fabulous!
Best Related Clip Art Posts
Some Questions You Might Have
🍁 Is autumn clipart still relevant in 2021?
Yes, it is. Moreover, this is one of the classic design elements that will be in trend all the time. Just make sure the very element you are going to use in your project fits the ongoing trends. If you are not sure how such a clipart should look like, just take a brief look at our list once again.
🍁 Where can I purchase autumn clipart?
There is a really huge variety of online marketplaces that offer both separate clipart and bundles for literally all occasions. Thus, make sure to check out such marketplaces as MasterBundles, Creative Market, Shutterstock, or iStock.
🍁 What kind of projects would benefit from this type of clipart?
If you are not sure in which particular projects it is appropriate to use autumn clipart, here are some ideas for you:
Thanksgiving advertising banners and leaflets;
Online tests, videos, or sale banners dedicated to Halloween;
Black Friday banners and ads.
Certainly, there are many more ways to utilize this very clipart, so be creative and feel free to experiment.
🍁 Is there an example of a perfect autumn clipart?
Please take a moment to pin this post to Pinterest
Was this page helpful?
We will be happy if you decide to share this article with your friends on Facebook. Just click on the button and you're done
Thanks for your response!
You have already left your review.
Before starting this article, I did my best to study the current design trends as well as to investigate the modern digital design market. Thus, in order to get some inspiration and up-to-date data, I utilized the following articles, YouTube videos, and books:
Cure, Sophie, Barbara Seggio. Graphic Design Play Book: An Exploration of Visual Thinking (Logo, Typography, Website, Poster, Web, and Creative Design). Laurence King Publishing, 2019.
Dabner, David. Graphic Design School: The Principles and Practice of Graphic Design. Wiley, 2017.
Habraken, Joe. "Working with Clip Art." InformIT, 2010, www.informit.com/articles/article.aspx?p=1649256&seqNum=5. Accessed 10 Apr. 2020.
Lupton, Ellen. Graphic Design: The New Basics: Second Edition, Revised and Expanded. Princeton Architectural Press, 2015.
"Selling Clipart as Passive Income (How Much I've Made!)." Wooly Pronto, 2019, www.youtube.com/watch?v=RPjBf9jWxdA. Accessed 10 Apr. 2020.