Simple Google Slides Themes. Did you know that nowadays, there are more than 500 million PowerPoint users? The product was revealed to the public back in 1987, and since then, it has become a significant platform for presenting everything, from class projects to billion-dollar start-ups. Regardless of what people might say, PowerPoint has been and always will be a fantastic product just because it lets you easily create incredible things.
There is no wonder why Google saw the immense potential in this product and decided to make its cloud service compatible with the Microsoft Office package, and PowerPoint in particular. Google Slides, a top-rated product, is currently outdistancing PowerPoint simply because it is more comfortable and easier to use.
Creating a simple presentation that will engage your audience is not as easy as it might seem to be. Sometimes, people mistakenly infuse their presentations with as much information as possible. Somehow, they think it will make them sound and look more persuasive. Still, as we're moving into the third decade of the 21st century, it is simplicity and informativeness that people appreciate most of all.
Simple presentations are great because they can relay a lot of information in less time. Given that people today are often pressed for time, they would surely appreciate it if you presented what you intend swiftly and succinctly. If you want to look cool and serious, you have to be a down-to-earth presenter. Thus, choosing simple Google Slides themes for your presentations in 2021 will be a good idea.
Tips on How to Create a Simple, Yet Efficient Presentation
Before we talk about Google Slides themes, let us first plunge into the very method of creating a simple presentation that will amaze your audience. There are four simple rules to follow:
Put the right semantic emphasis
A good presentation never talks about the person who created it. So, make sure that the semantic emphasis of your presentation is made on your audience. Everyone looking at your slides must feel like the presentation was created specifically for them.
Keep your color palette down to earth
Where there are too many colors, the audience starts losing the words and numbers on your slides. Make sure to use no more than four or five colors in your presentation. The general rule of thumb is to have one major color and 2-3 supplementary ones.
Use different fonts, but not too many
Just like with colors, a combination of fonts will help you highlight the information you need your audience to pay attention to.
Make it coherent
The process of crafting a simple and yet informative presentation can remind you of writing a paper or a report. Follow a logical order when relaying information to your audience. That is, make an introductory statement, then move on to the main information block, and wrap it all up with a concise conclusion.
So, if you're ready, let's move into the world of splendid and simple Google Slides themes that will allow you to create impressive presentations to step up your public speaking game.
5 Best Simple Google Slides Bundles in MasterBundles
| Product Image & Rating (Out Of 10) | Product Name | Price |
| --- | --- | --- |
| | Google Slides Templates for Teachers in 2021. Bundel Template Paste | |
| | 50 Slides Newspaper Templates Powerpoint + Bonus: Google Slides Newspaper Template | |
| | Space Presentation Template. Best 50 Slides: Powerpoint, Keynote and Google Slides | |
| | Star Wars Powerpoint Templates + Bonus Google Slide & Keynote | |
| | 20 Premium PowerPoint and Keynote Templates | |
35 Best Premium Simple Google Slides Themes for 2021
There are many positive things that people expect from 2021. We want our businesses back; we want our ordinary lives where we can hug the people we love whenever we want; and we want to travel and enjoy entertainment again. Hence, let's visualize our dreams and start with imagining how great our businesses will look this year.
Top 7 Simple Google Slides Themes for Business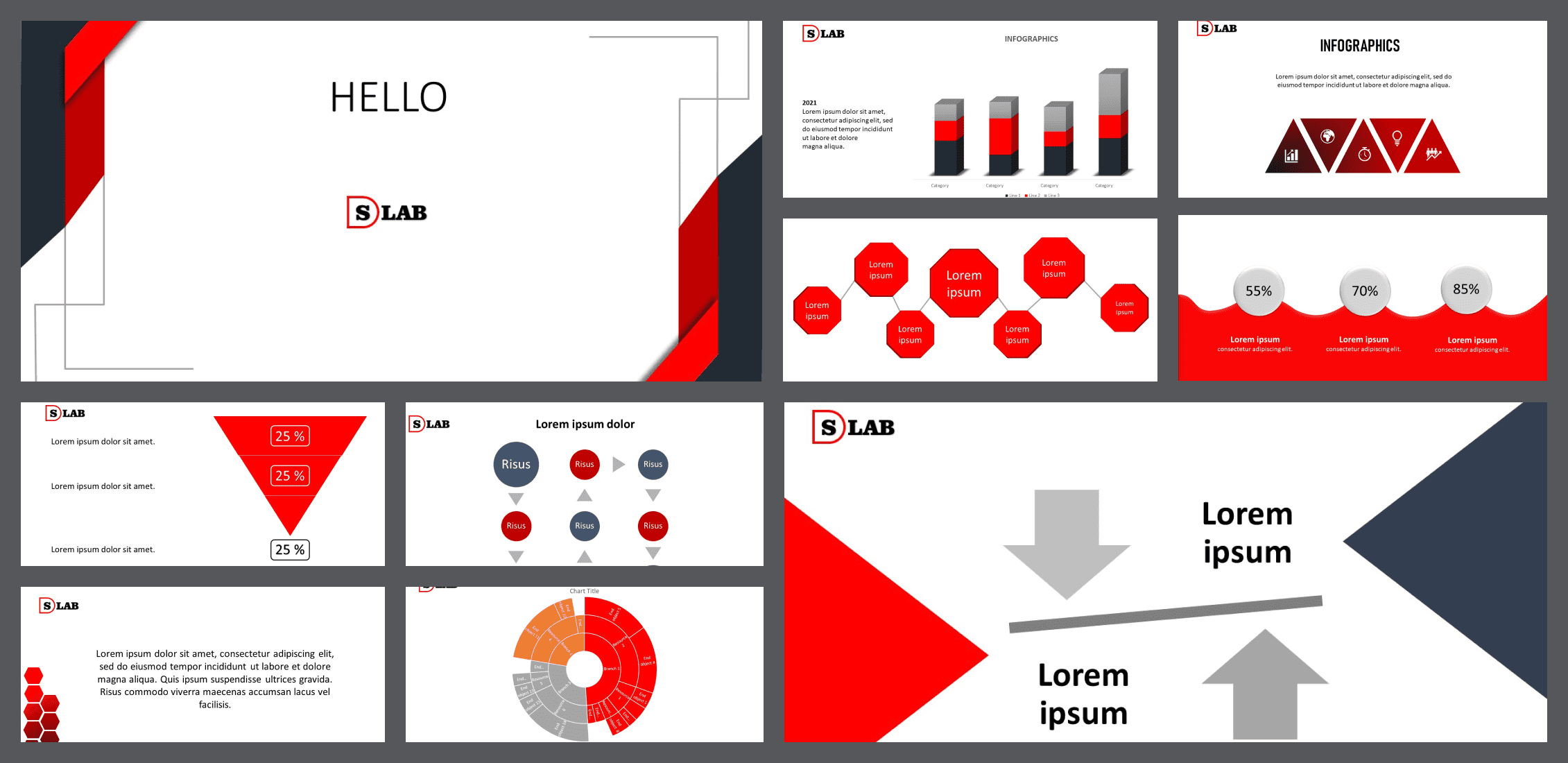 Price: $15. One of the customers' favorites, this extensive bundle comes at a low price while offering 70 slides that you can use for creating more than one presentation. This is the set to buy if you know you'll be working with presentations quite often.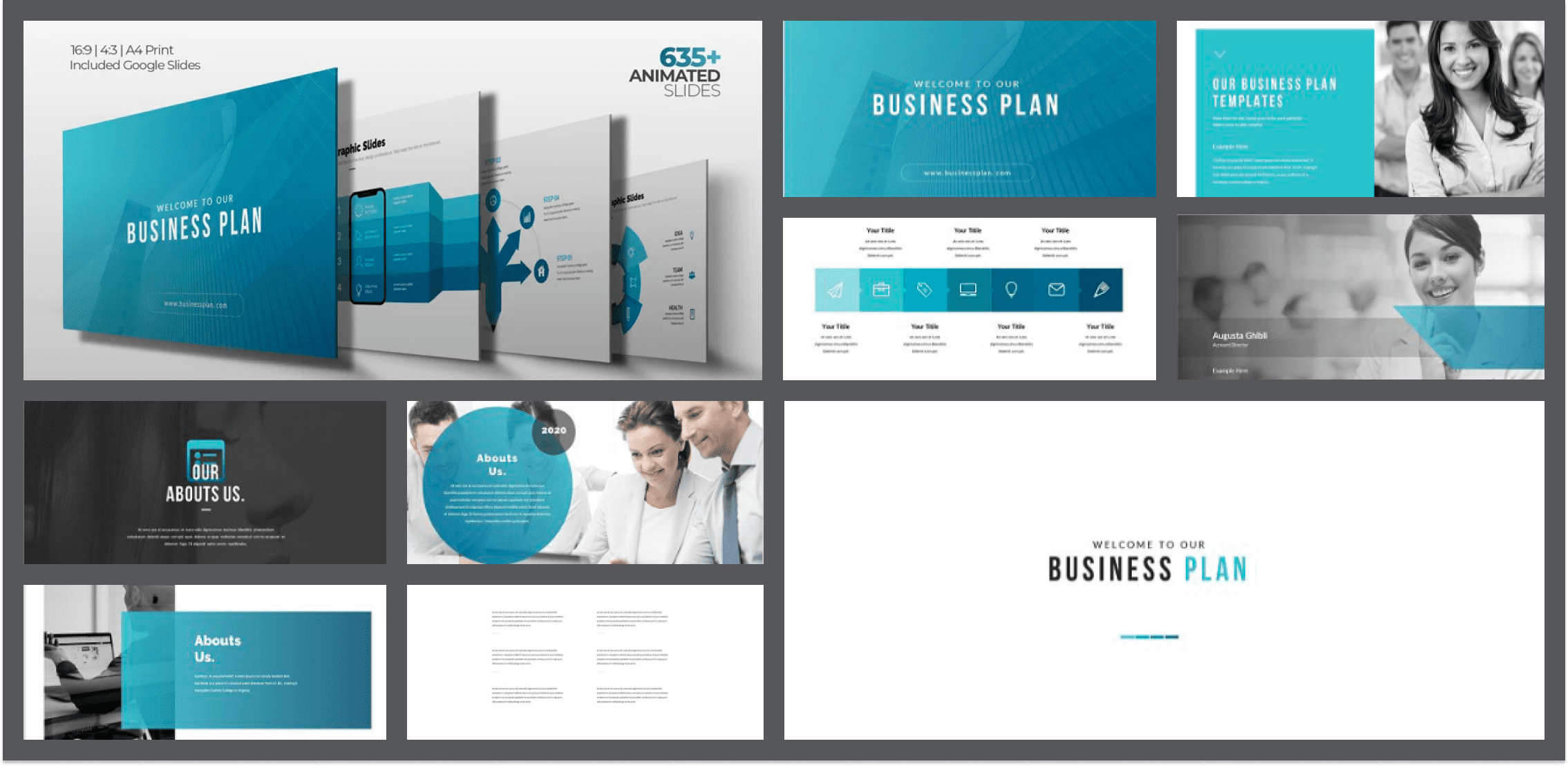 Price: $20. This set of more than 30 slides is a perfect template to opt for when you need to present your business plan to investors or partners and convince them of the rightness of the business path you have chosen.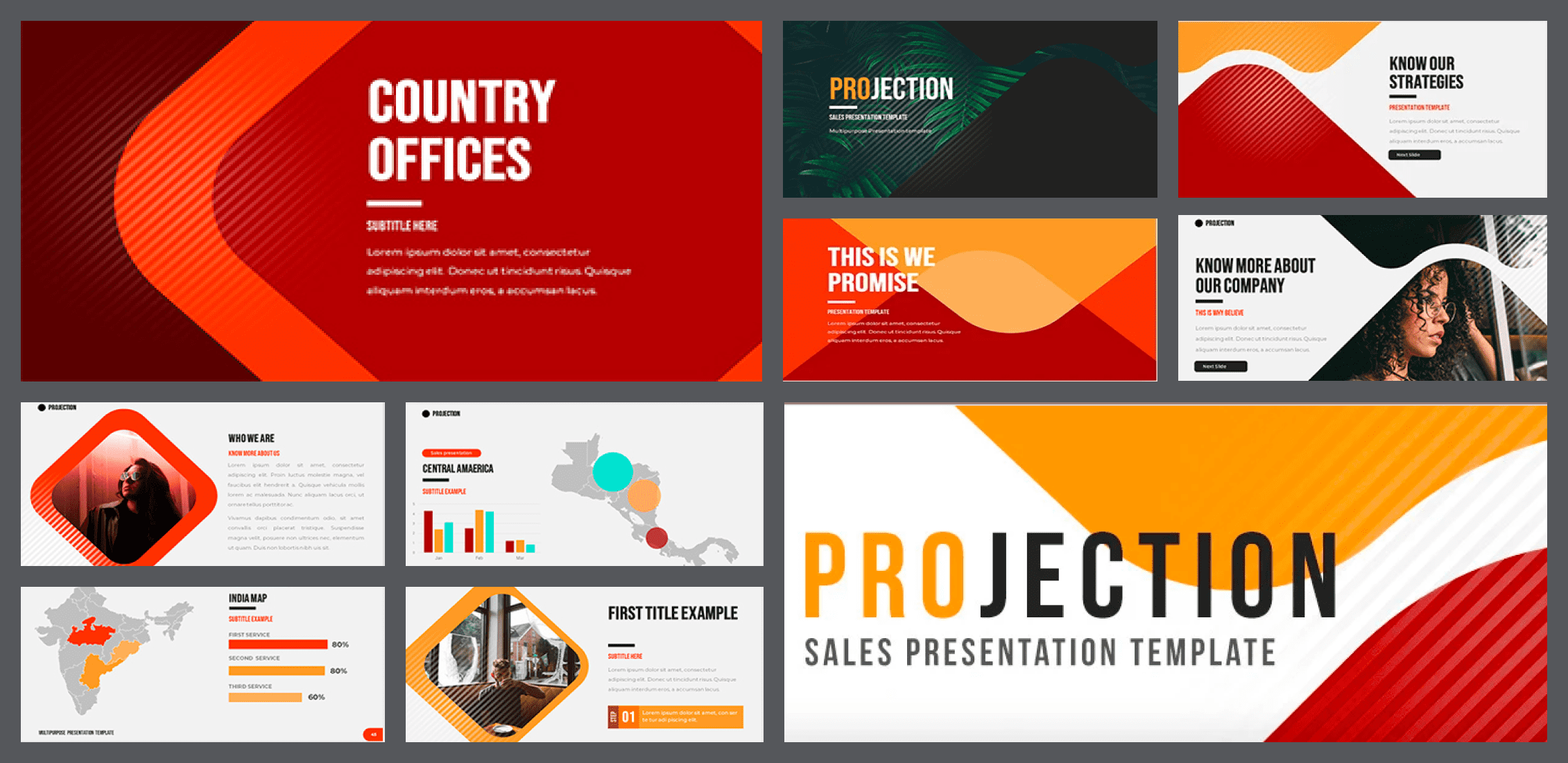 Price: $13. Doing business without efficient sales is impossible in 2021. This presentation template provides you with a splendid set of slides filled with versatile graphic elements to ensure your team understands your company's sales plan to the bits.
4. Book Presentation – 50 Google Slides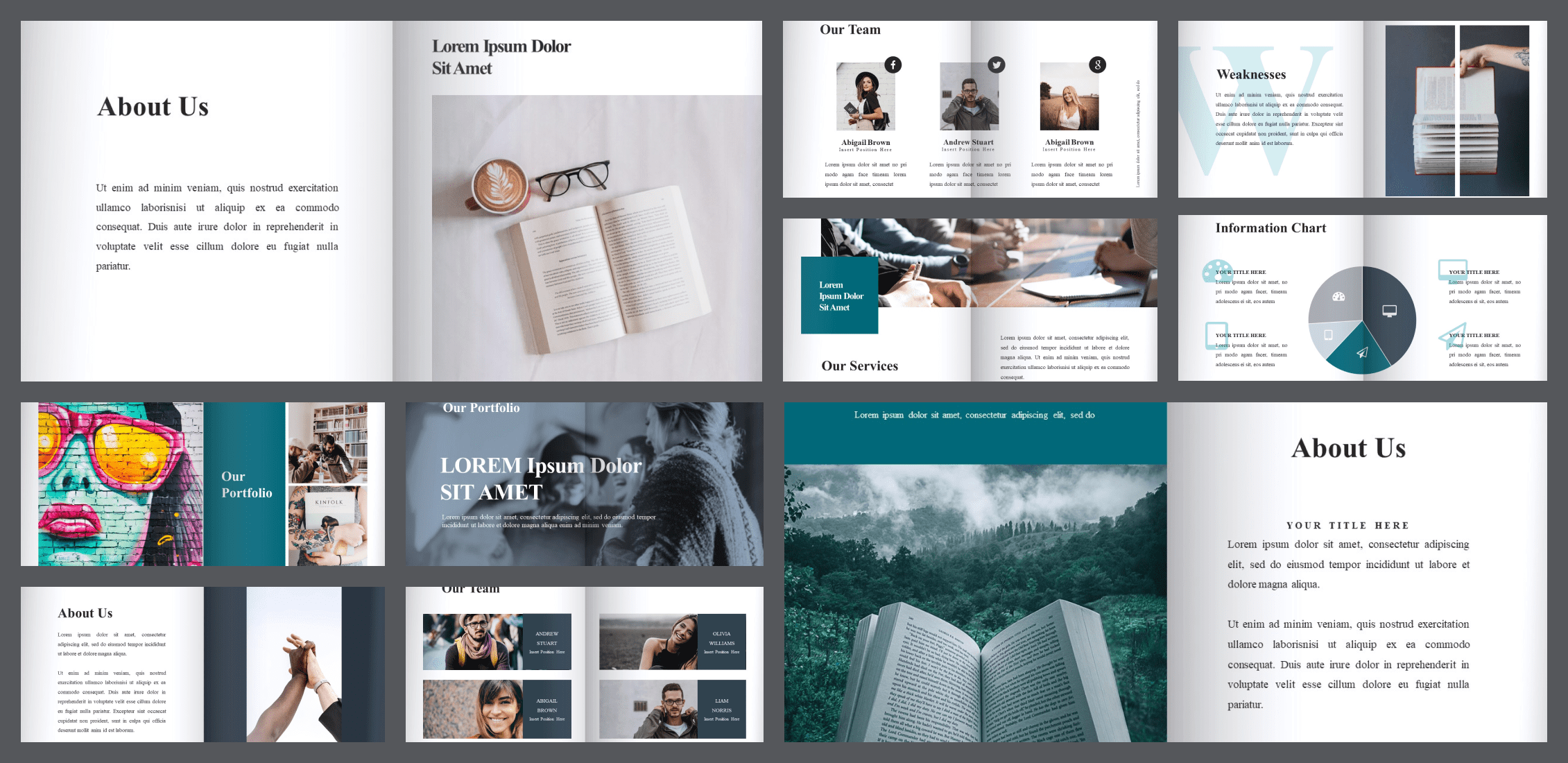 Price: $15. Hopefully, 2021 will become the year of the publishing market rejuvenation. Book festivals will aspire to the heights they used to soar at before the lockdown, and book presentations will once again become popular. This set of slides is nothing but the best that you can get to present your book in the most simplistic and yet stunning manner.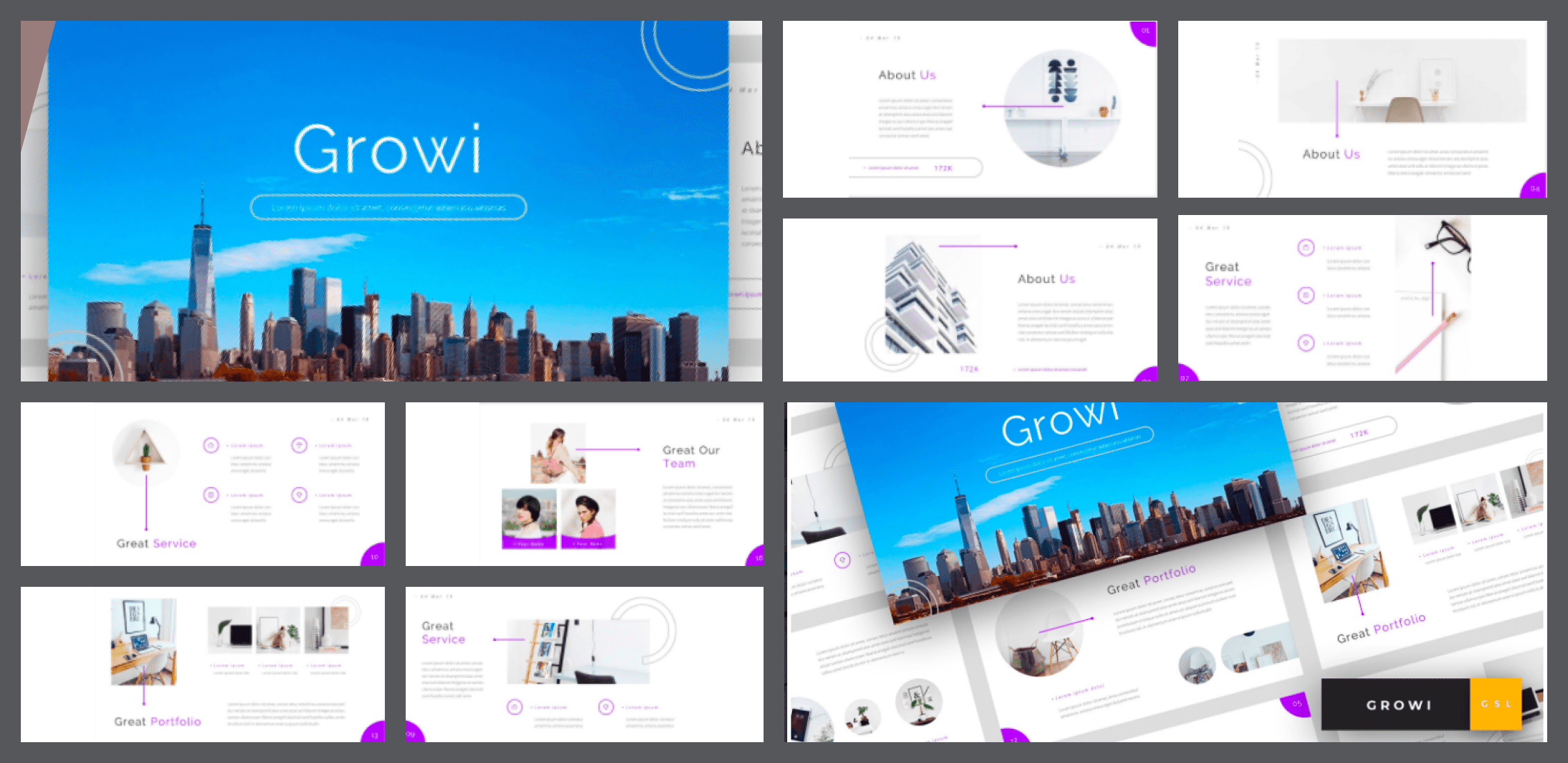 Price: $20. This futuristic yet simple Google Slides theme is the one you need if you're looking for a classy white presentation for business with slight tints of purple.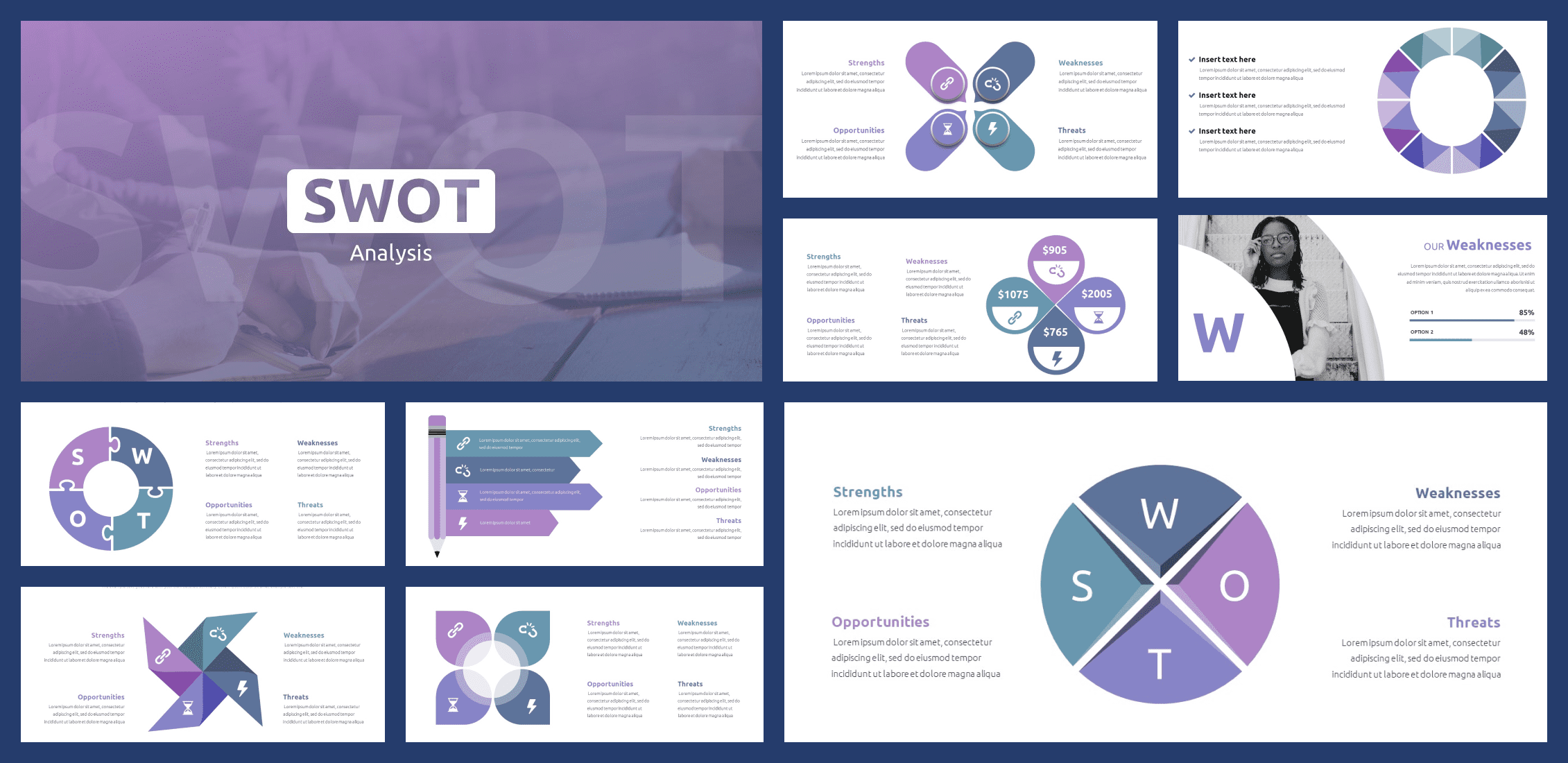 Price: $15. While the SWOT analysis remains one of the core operations in today's business world, having a proper Google Slides template might be a good idea. Here, you get 40 unique slides to use when you're up for a simple presentation of your magnificent SWOT analysis.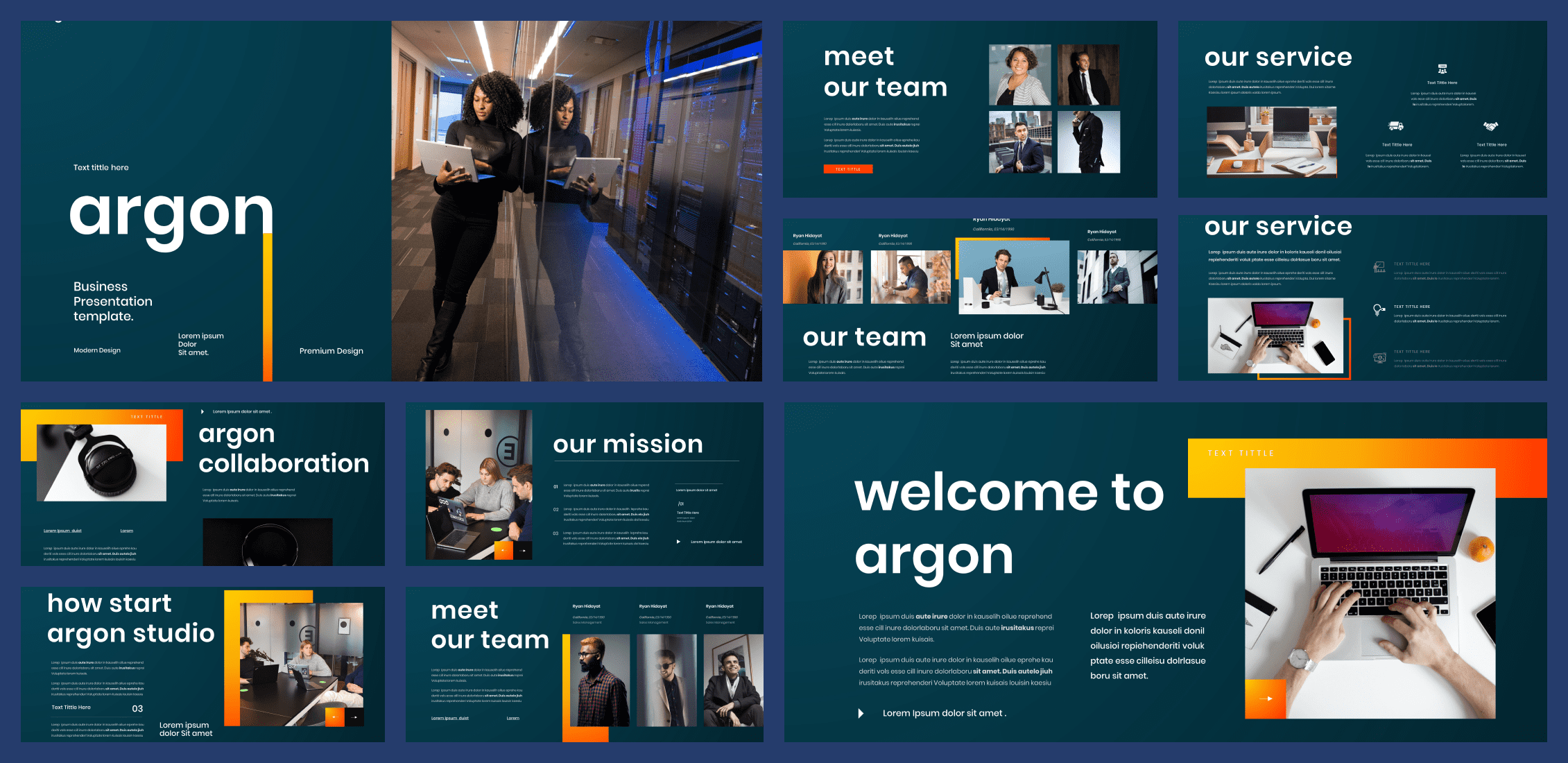 Price: $16. This is one of the best simple Google Slides templates to use when presenting your company to new customers and partners. The dark green/cobalt-based theme, coupled with bright orange accents, is a perfect solution to opt for when you need your audience to stay focused on your presentation.
Top 7 Sports Simple Google Slides
Hopefully, we will also see stadiums and sports venues worldwide full once again in 2021. Here's our take on the best sport Google Slides themes to use this year.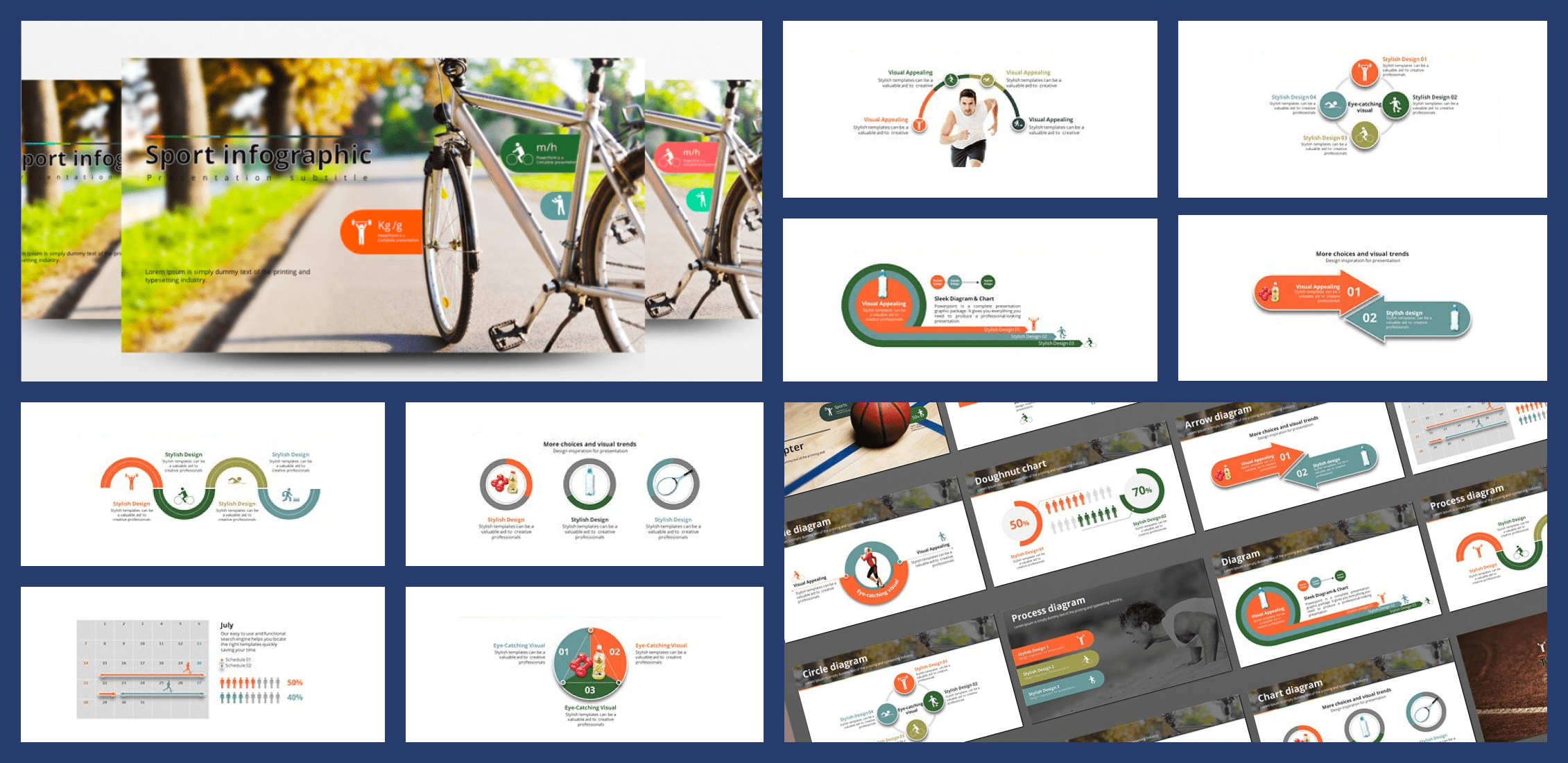 Price: $22. Can you imagine a bundle of 120 slides to choose from? This set gives you immense freedom when it comes to crafting an incredible presentation that contains a lot of infographic information. Furthermore, you can modify all the elements, shapes, colors, and charts.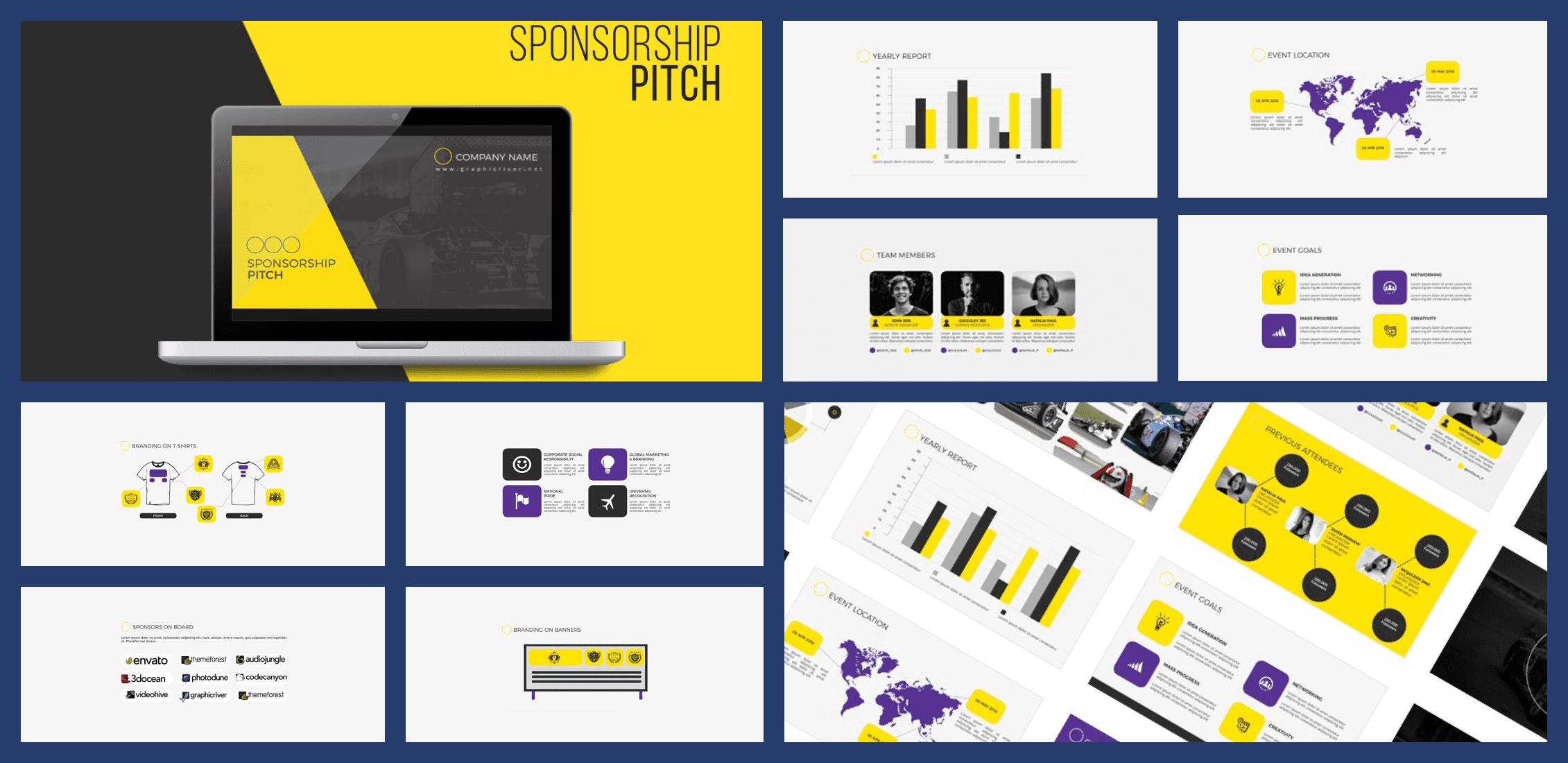 Price: $18. This exclusive slides bundle features 40 unique slides to use when you're looking for sponsorship opportunities. The theme is full of ready-made slides to talk about team members, the team's background, market analysis, events, yearly reports, etc. This is a solid pick for anyone willing to grow in 2021.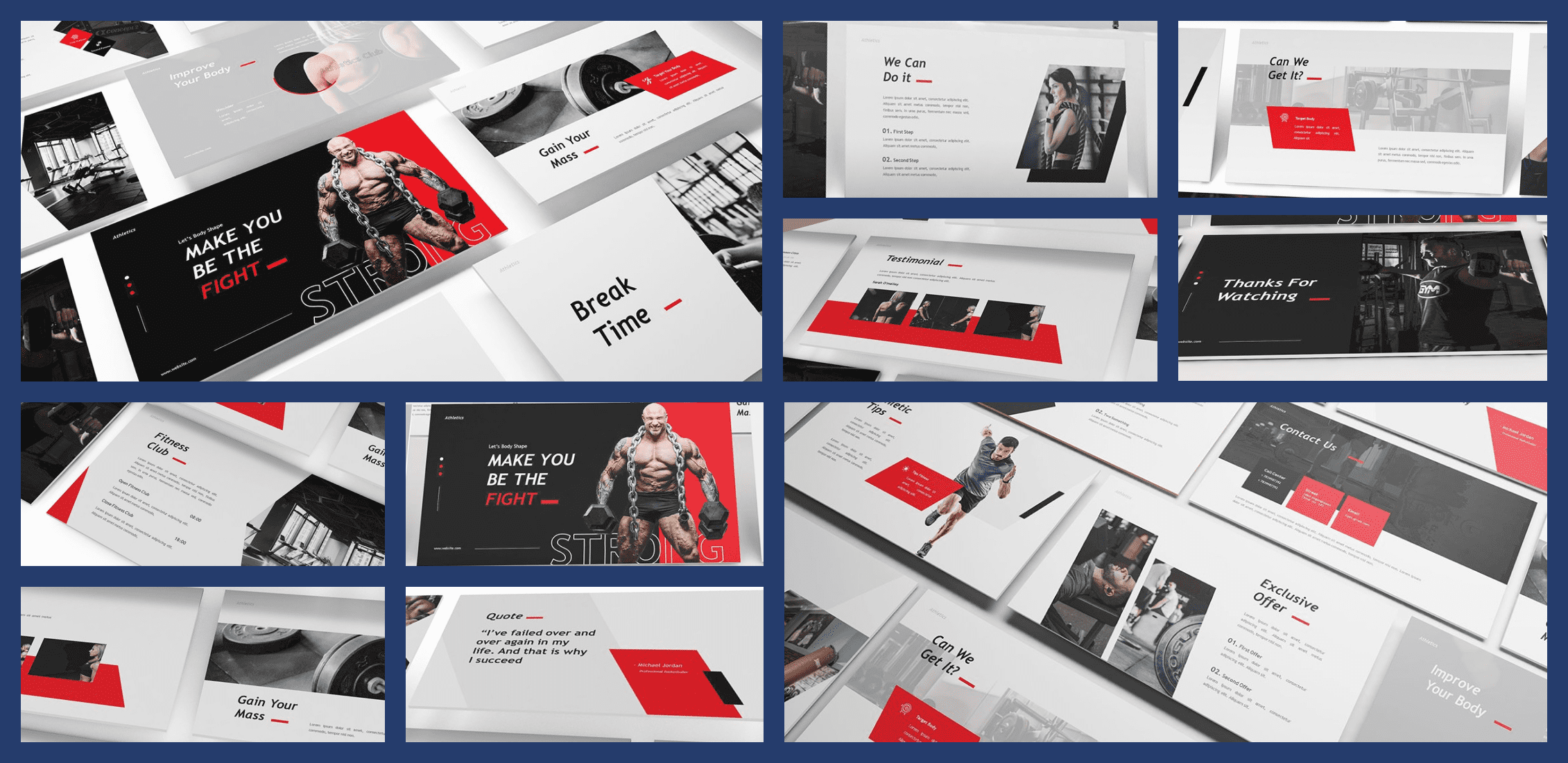 Price: $20. This is a theme of Google Slides that features 30 unique slides presented in Full HD format. Only free-access fonts have been used when designing the theme, and the help guide is included in the bundle. Furthermore, there are cool animations and transitions to use.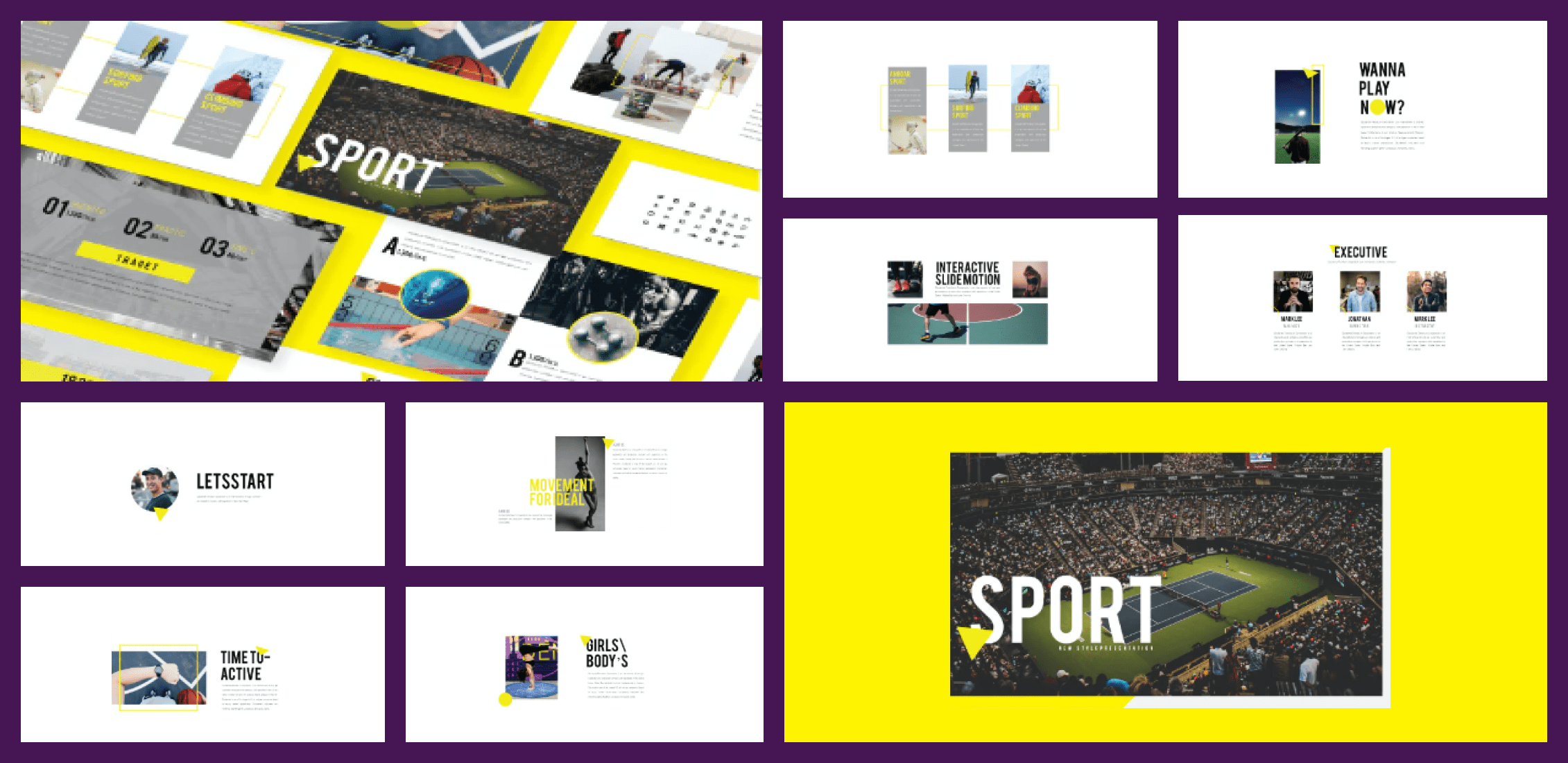 Price: $15. This is an extensive bundle of slides dominated by vibrant yellow coloring with a lot of interesting features. For example, you can drag and drop images here, while all the charts are editable. Furthermore, it has predefined text styles, meaning you won't have to spend time dealing with fonts.
Price: $15. A template with 30 slides to use when you need to present any business info in a captivating and, at the same time, simplistic manner. While using this theme, you can change colors, images, etc.
6. Personal Trainer Presentation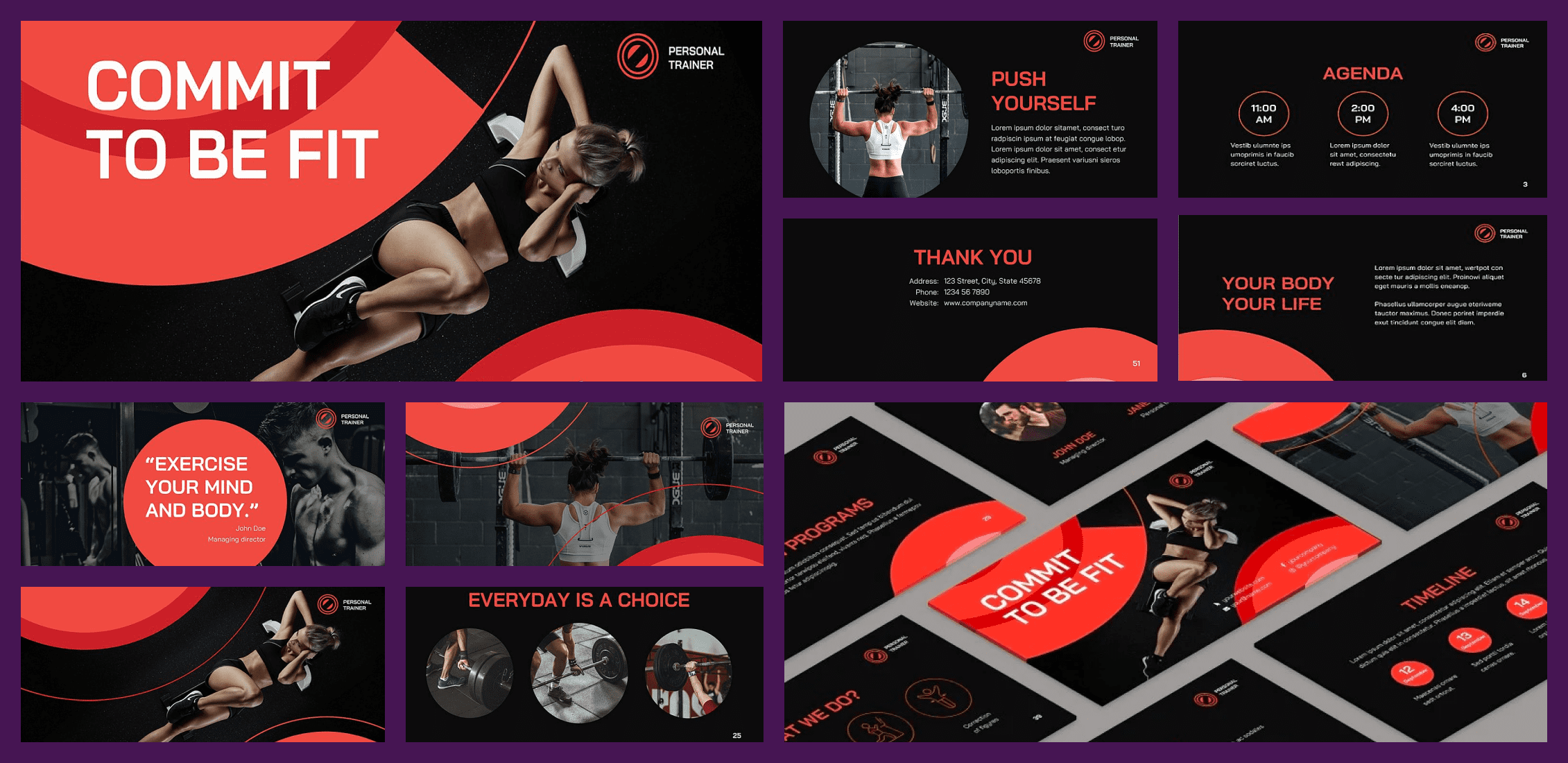 Price: $19. When purchasing this theme, you get 51 unique, simple, and surely eye-catching slides in full HD resolution. All of them are fully animated, and all the images are replaceable.
7. Sport & Fitness Business Workout

Price: $13. There are 36 slides to use in this bundle. Take advantage of the included illustrations, resizable and editable graphic elements, and a 16:9 ratio.
Top 7 Elegant Simple Google Slides
Elegance and simplicity go hand in hand when it comes to creating efficient content. Here are seven of the most elegant and yet simple Google Slides themes.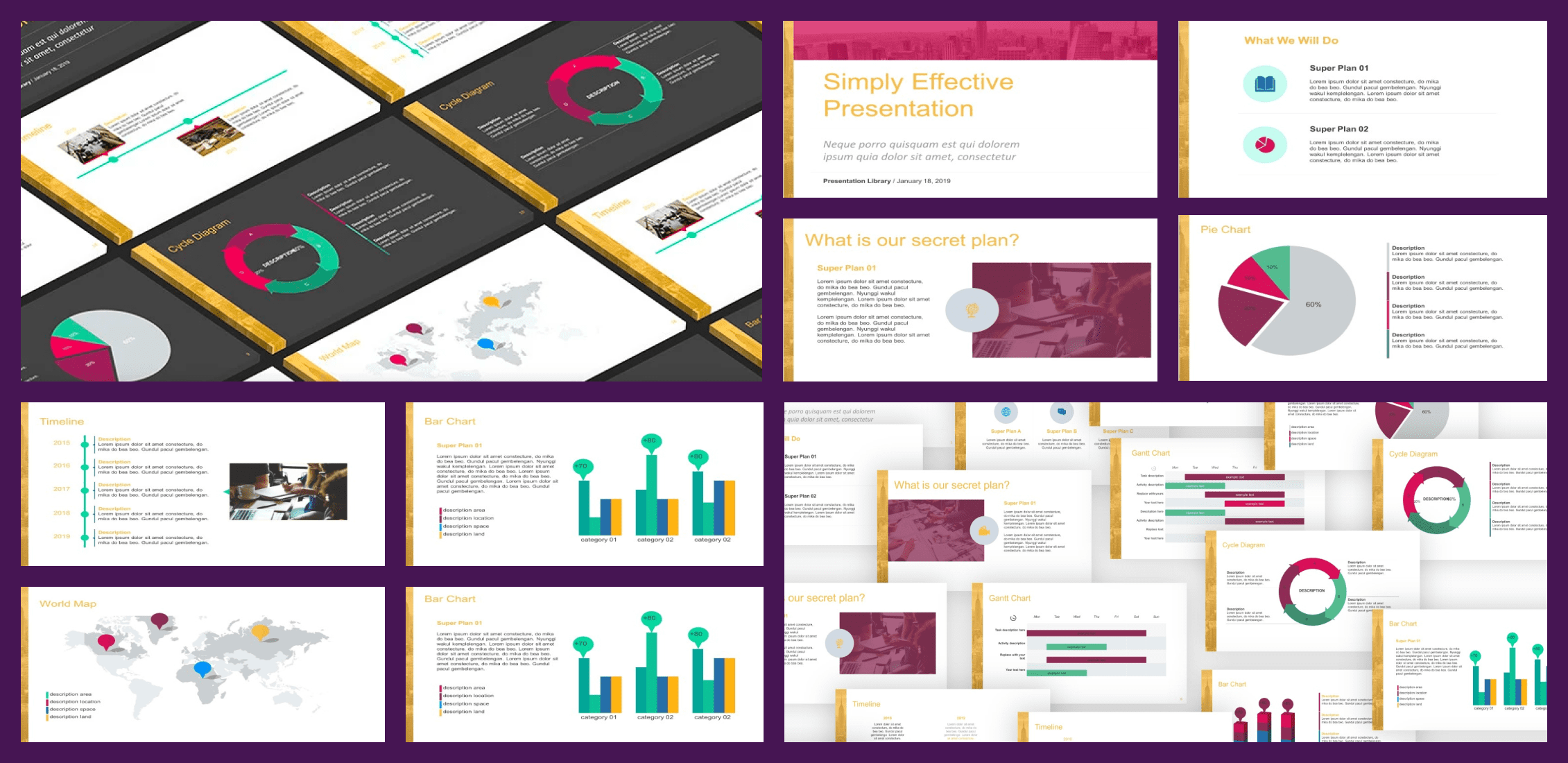 Price: $20. Fully compatible with both PowerPoint and Google Slides, this is a bundle of fully editable slides, both non-animated and animated. Furthermore, only free fonts are used in this presentation – an elegant template to use whenever you need a genuinely elegant presentation.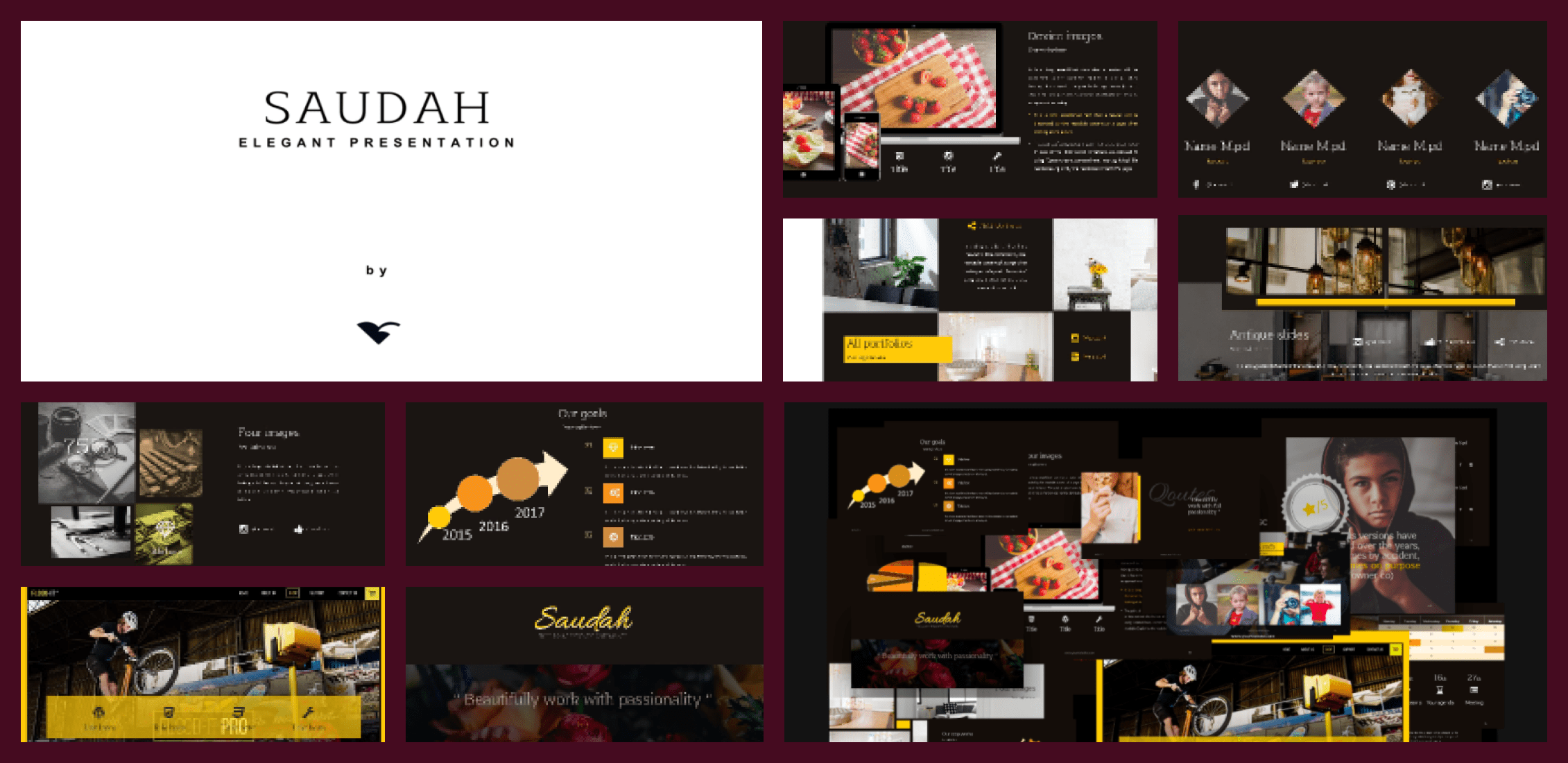 Price: $12. Among 50 slides in this pack, there are 40 master slides. Furthermore, you get free icons and fonts that work perfectly well with the elegant animations.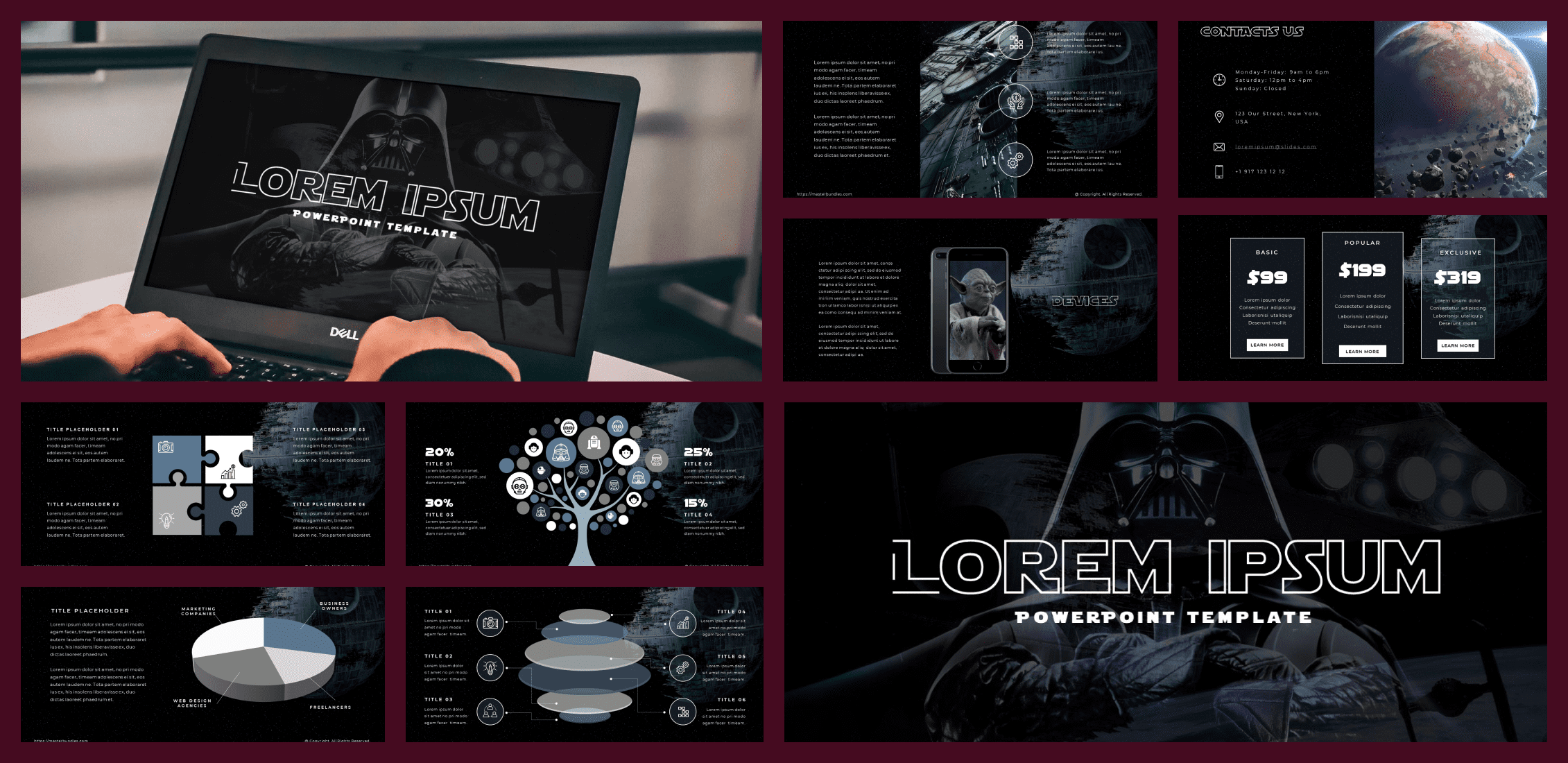 Price: $20. Whatever folks would say, there are not many stylistic frameworks that would be more elegant than the Star Wars bundle. Fifty unique slides with charts, icons, and designs – all fully resizable and editable.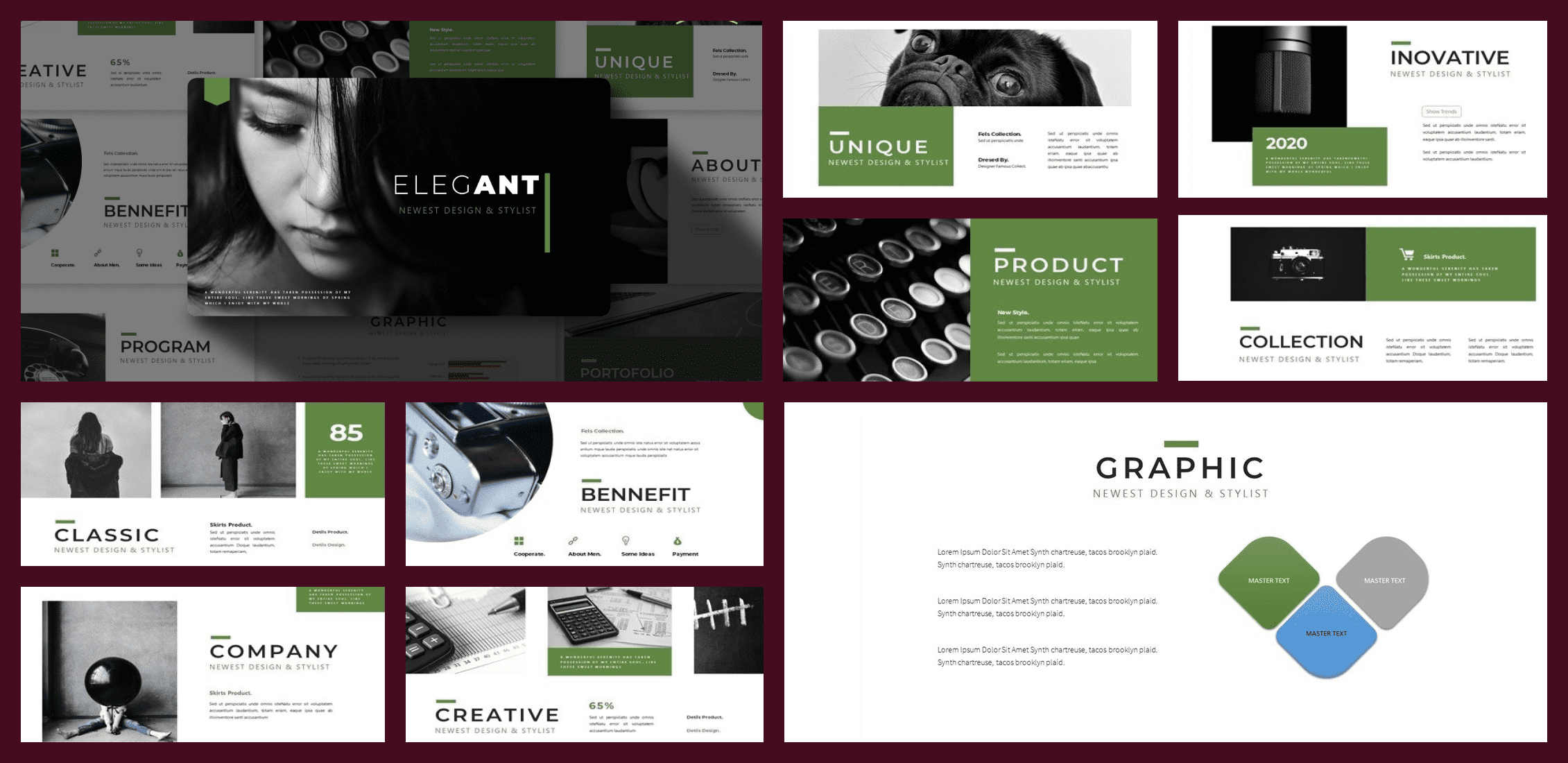 Price: $8. Get to crafting genuinely impressive Google Slides with more than 150 unique slides in this bundle. You get five color variations and custom infographic editable elements, along free web fonts that will take you to a new level of simplicity when creating powerful presentations.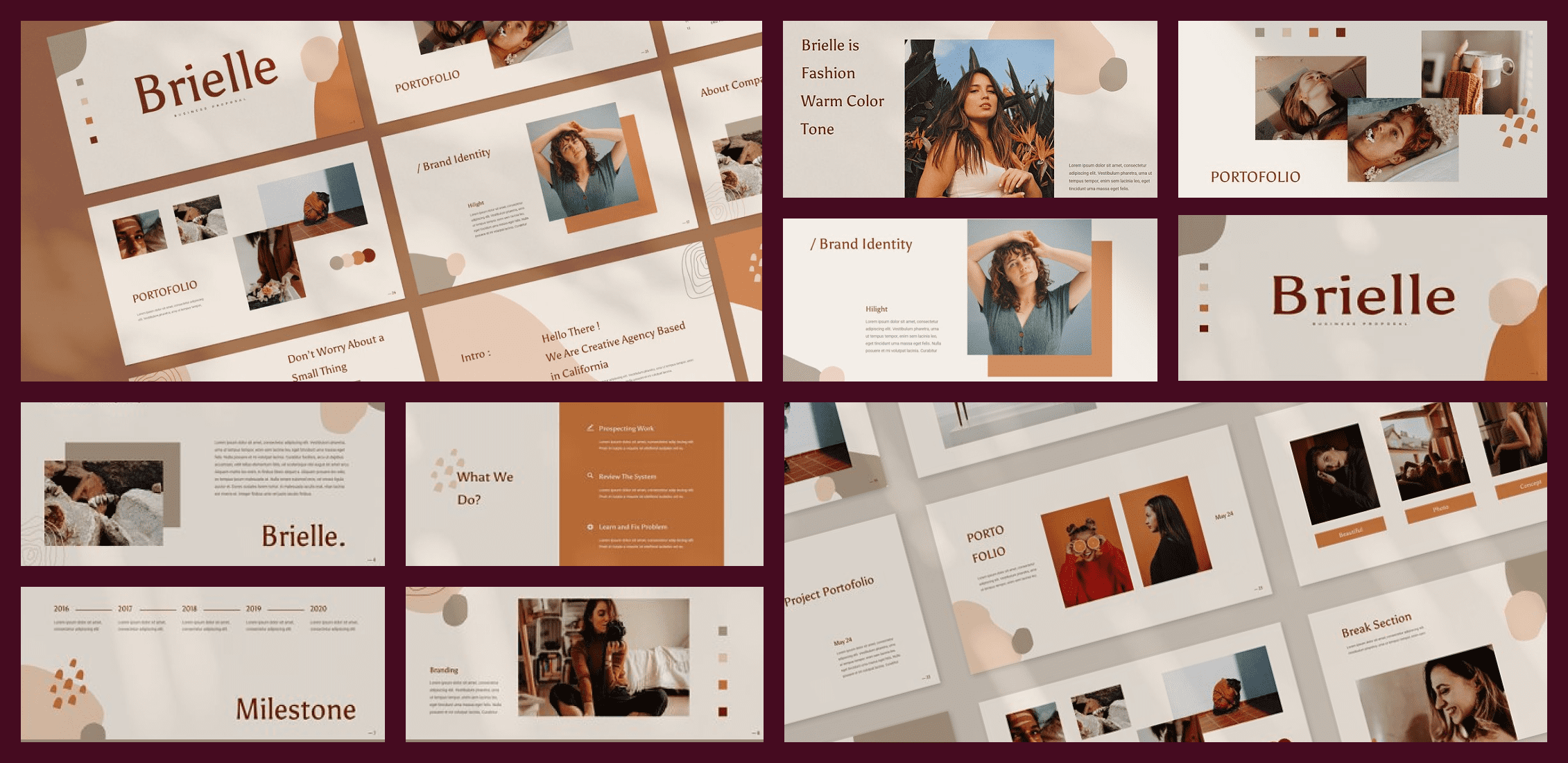 Price: $15. A refined set of thirty-five slides that were designed to bring modernism, creativity, and simplicity to your presentation. Resizable and editable graphic elements will turn the experience of creating a presentation into a fascinating yet pleasant journey.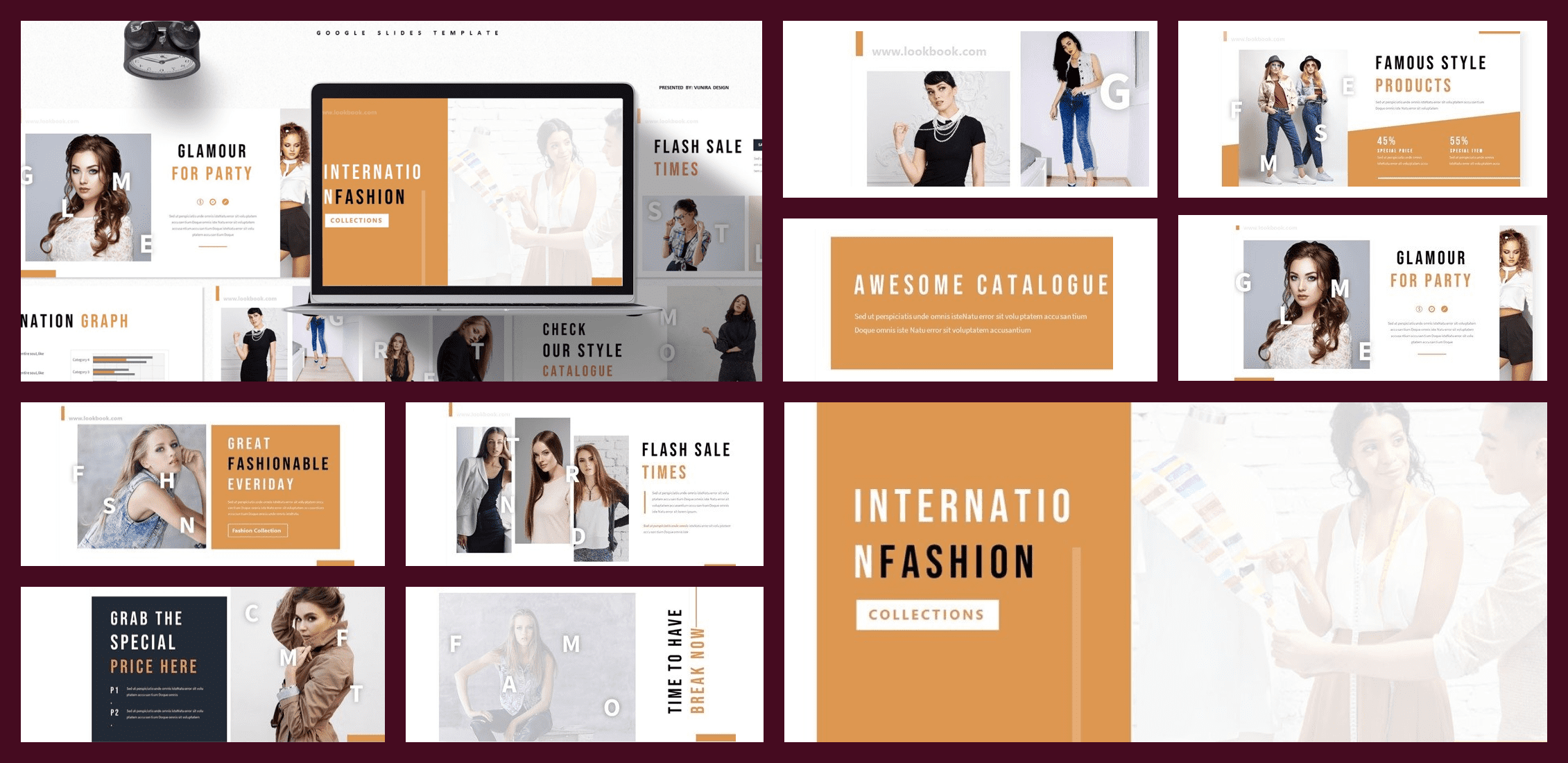 Price: $8. When purchasing this bundle, you get more than 150 slides to choose from when it comes to creating a state-of-the-art fashion presentation. Fully customizable graphic elements will help you achieve the result you want.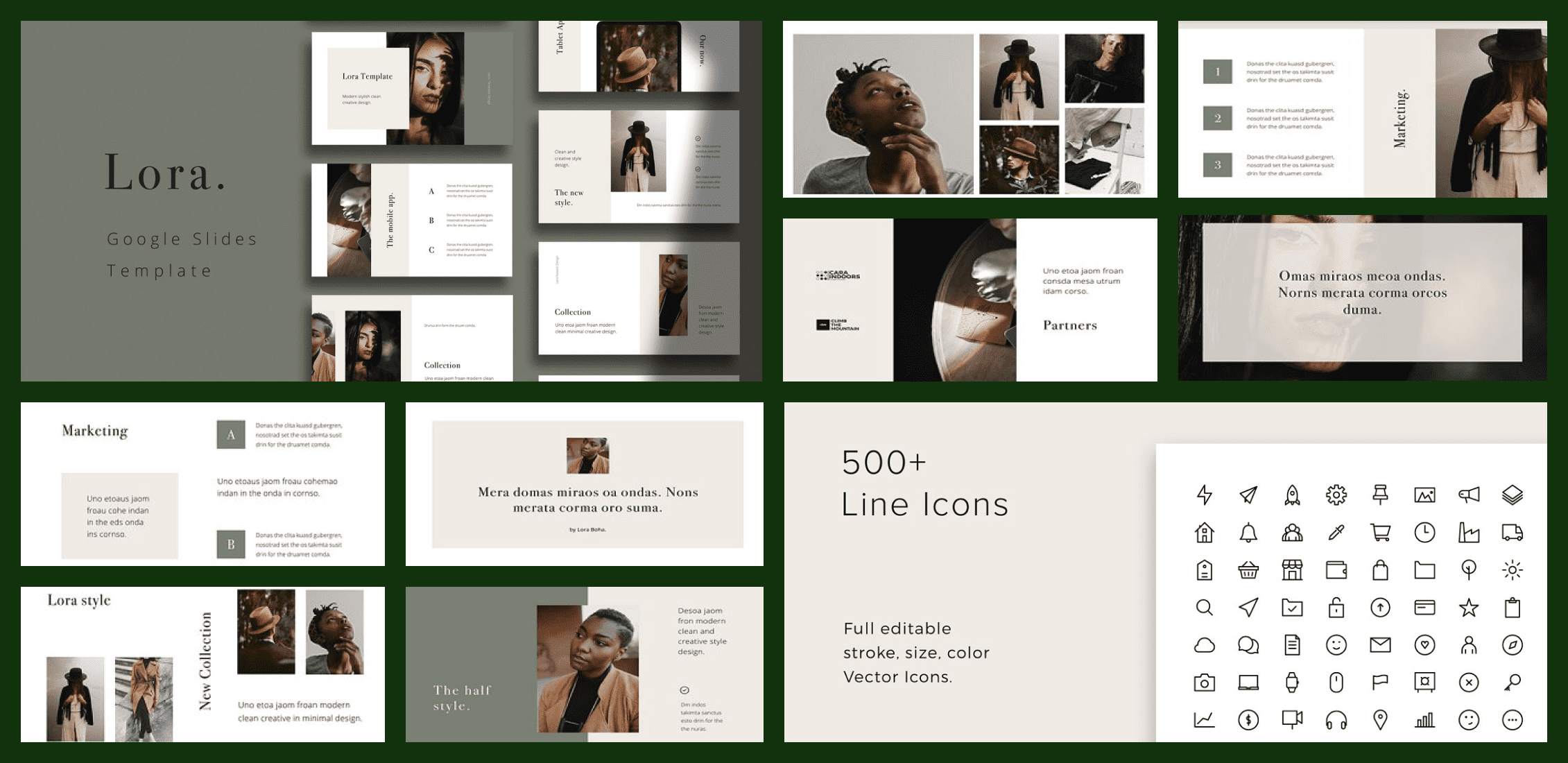 Price: $15. Here, you will find more than seventy unique and refined Google slides, filled with vector devices and icons that will help you create an unforgettable presentation.
Top 7 Nature Simple Google Slides
Nature views and sceneries are always a good choice when it comes to creating steadily efficient content. Below, you will find seven simple and beautiful Google Slides themes.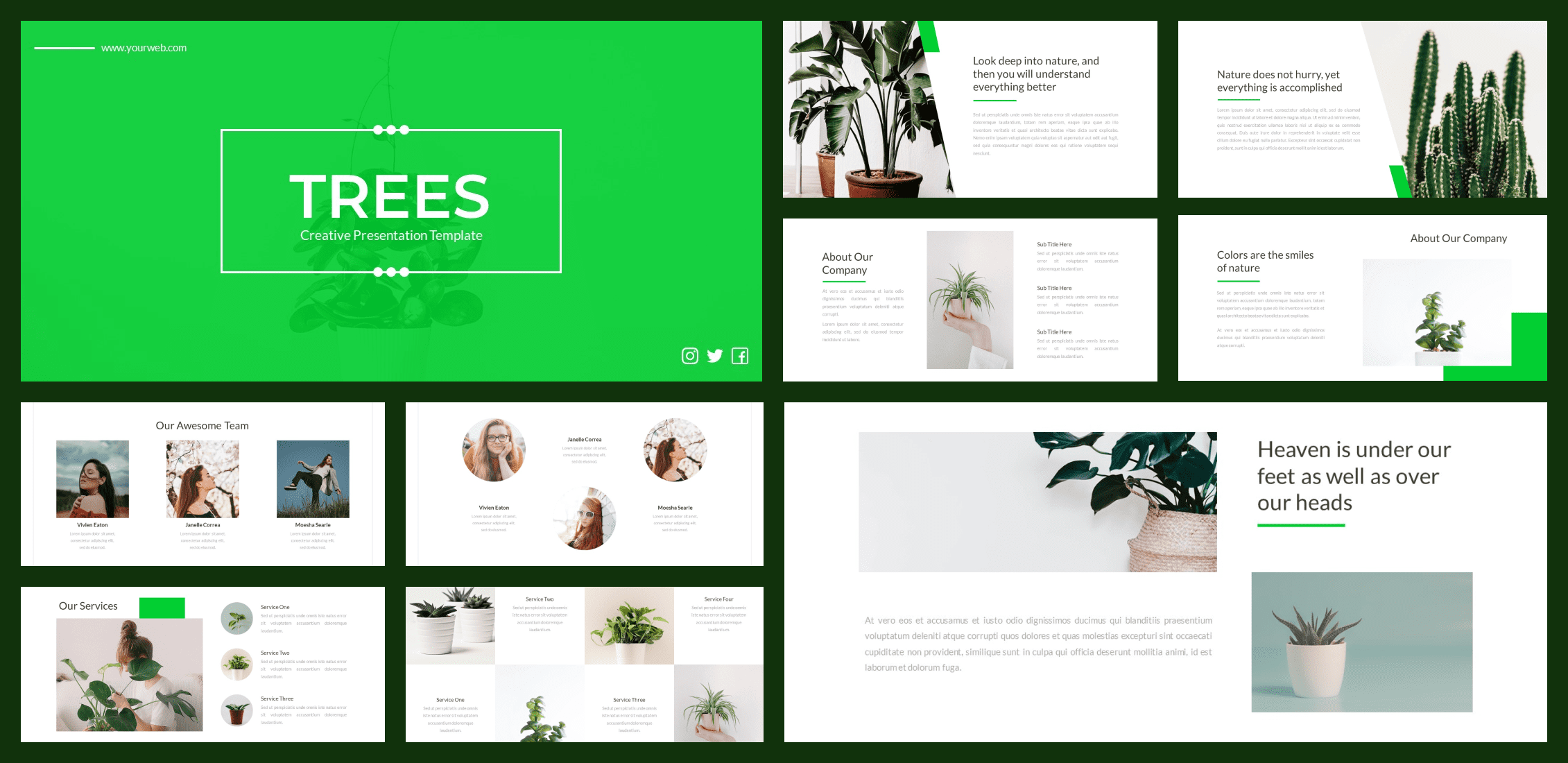 Price: $16. A truly splendid set of 32 editable slides. This presentation can be used to present simply and efficiently.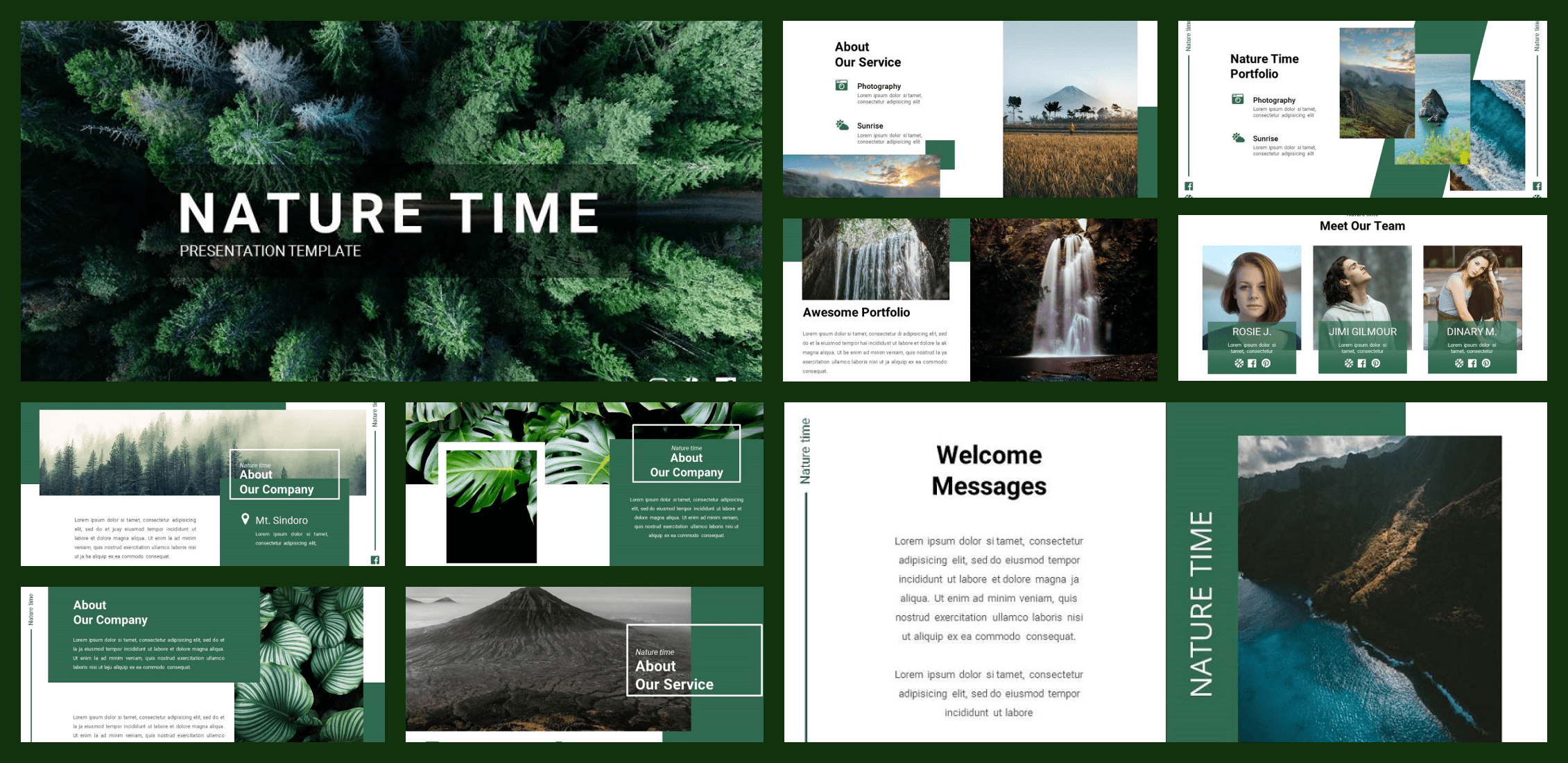 Price: $13. A wonderful presentation template that includes 32 slides with a picture placeholder included. Free fonts, coupled with easily editable graphic elements, ensure a pleasant experience of creating simple and effective presentations.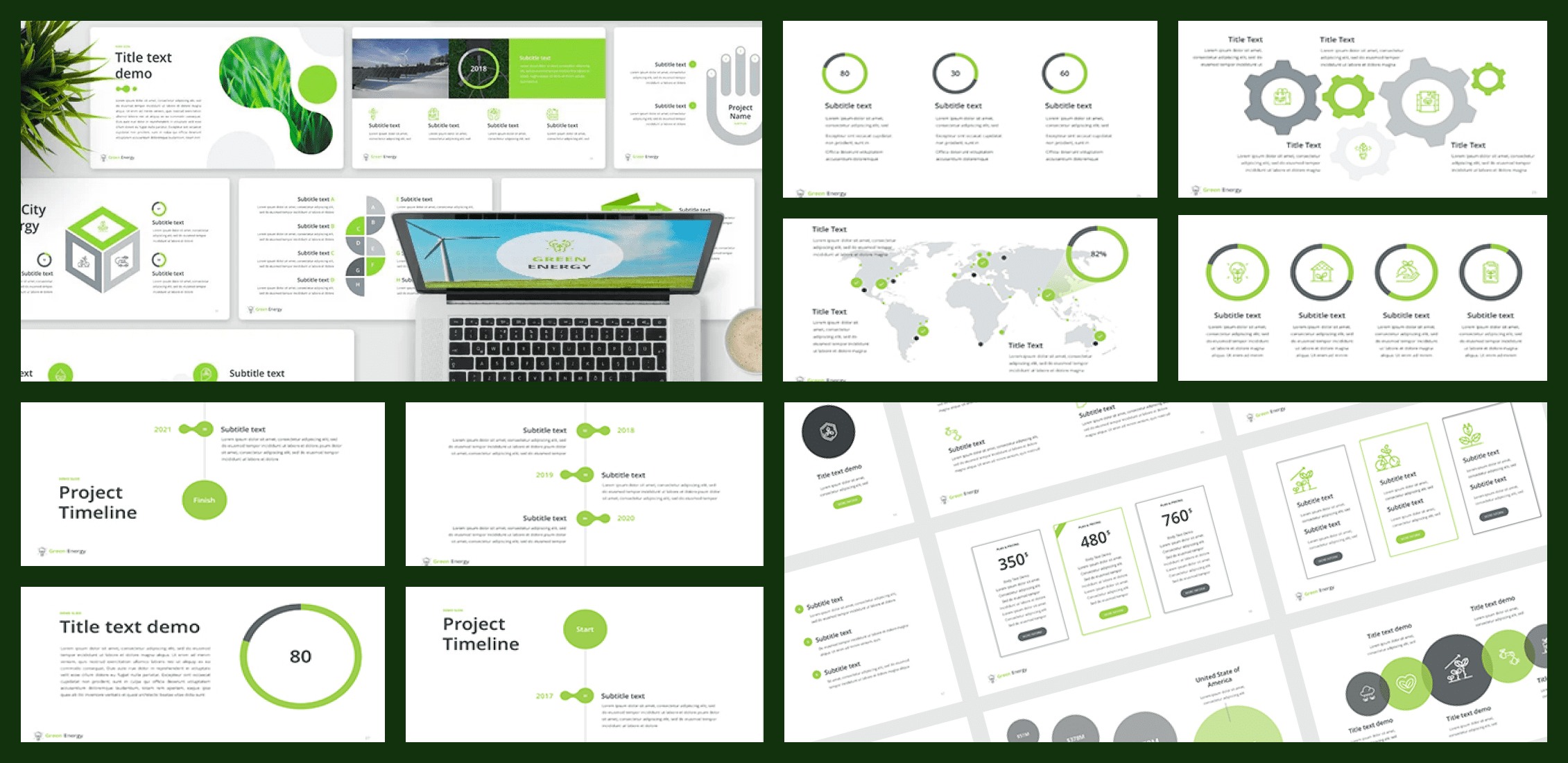 Price: $18. Green energy will be one of the major trends in 2021. Thus, these 50 unique slides will surely be a hit with audiences in 2021. Full HD, free fonts, and a shape icons pack are exactly what you need.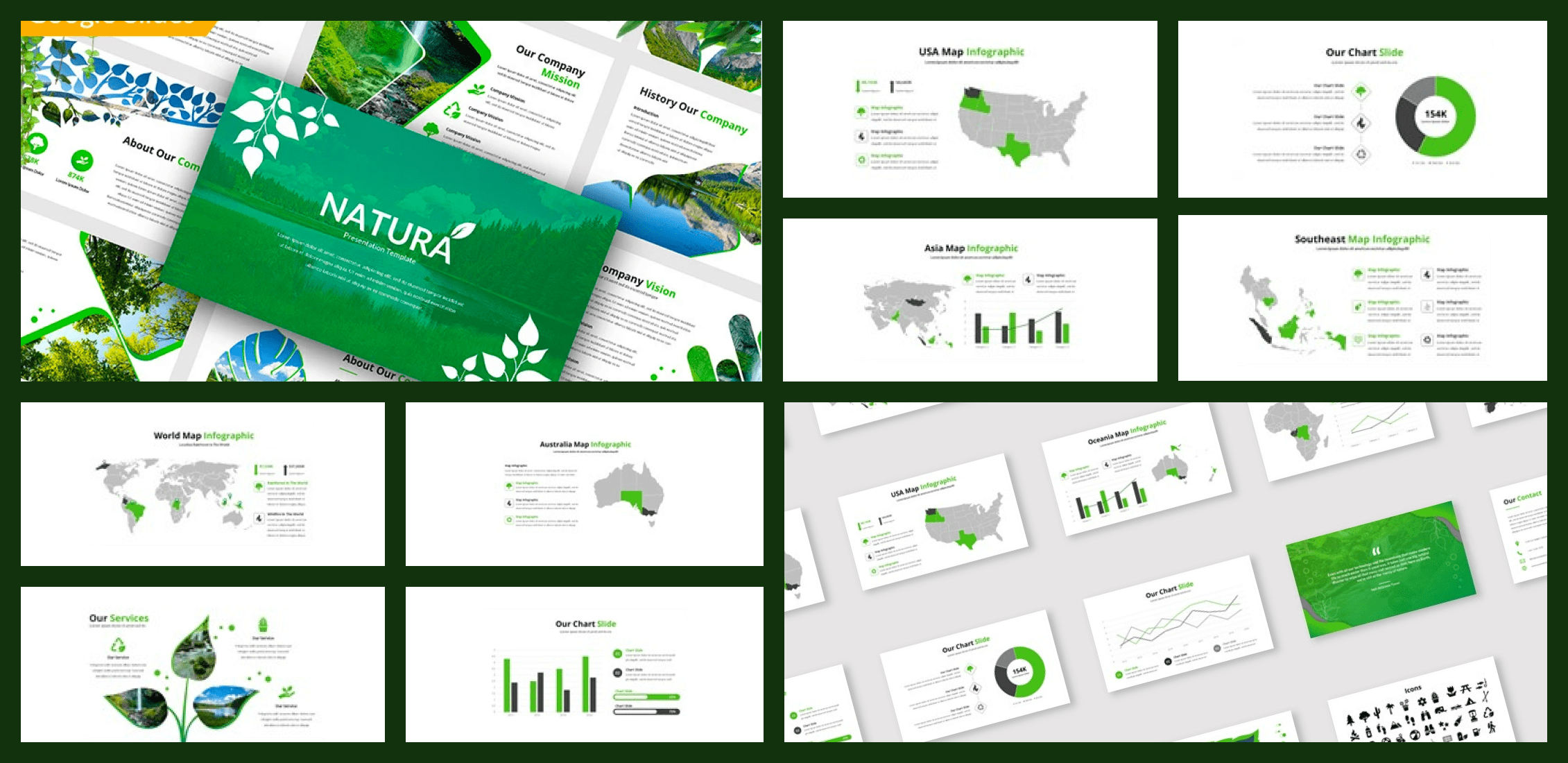 Price: $17. An extensive pack of 58 slides + 1 slide with icons to use wherever you need them. Free web fonts and the drag and drop image manager are clearly something to let you make your presentation easier and more pleasant to comprehend.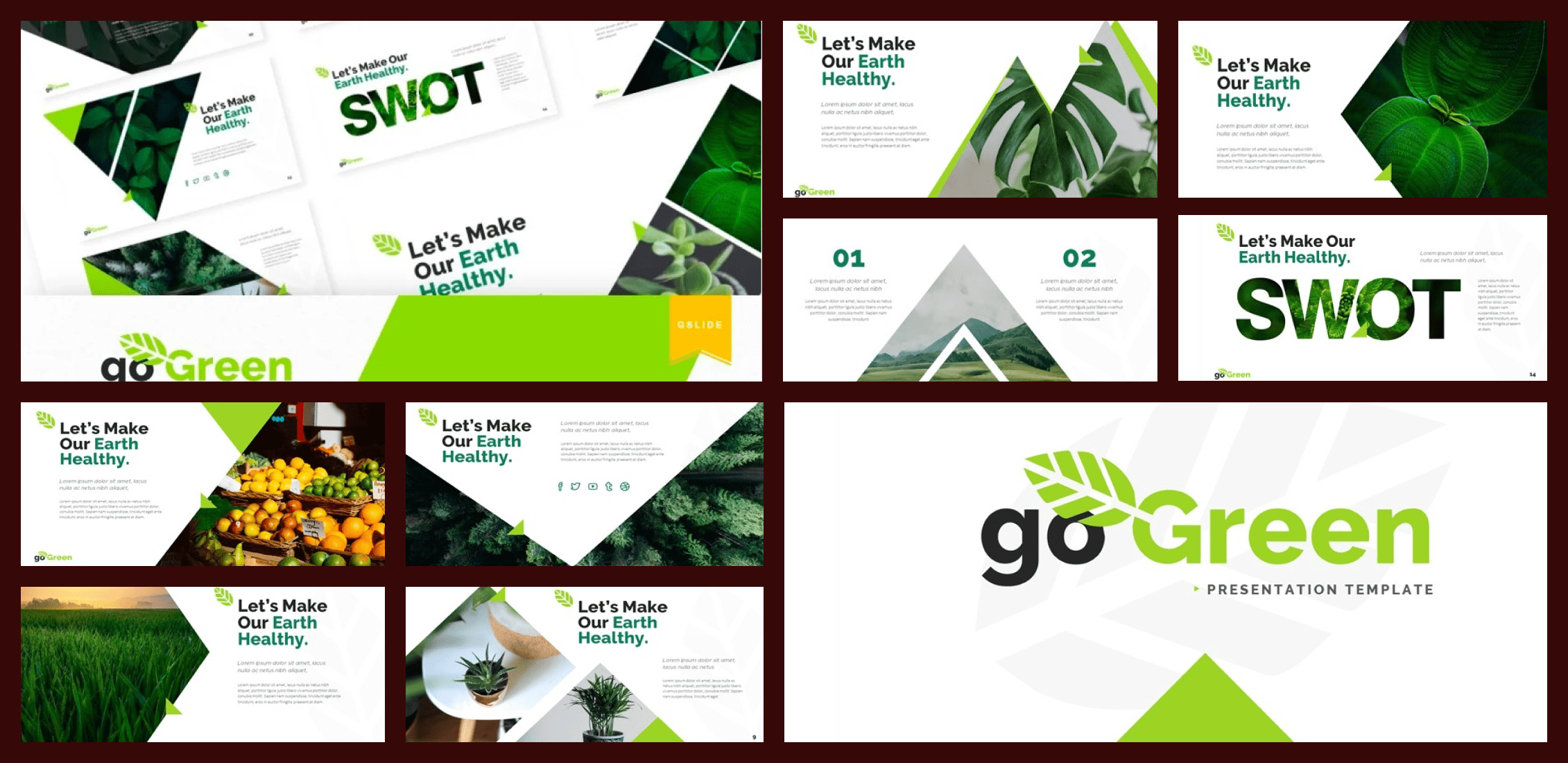 Price: $13. The time has come for conducting a SWOT analysis of the way we treat nature. Here, you have 30 slides, 5 color variations, and handcrafted iconographic elements to do just that.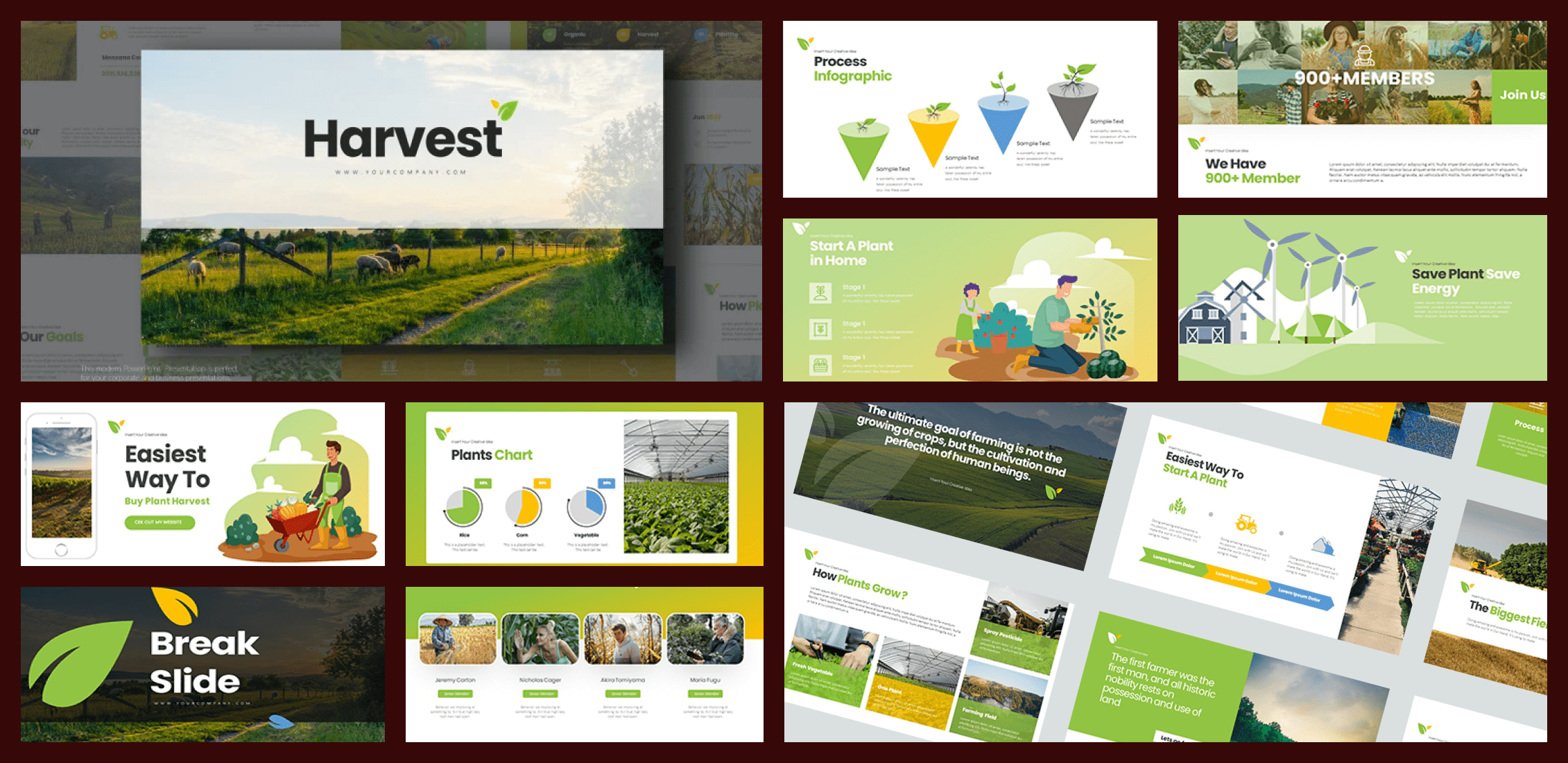 Price: $15. Out of the 60 slides in this bundle, 30 are unique. There are vector icons and free fonts to use. All the graphic elements are replaceable and editable.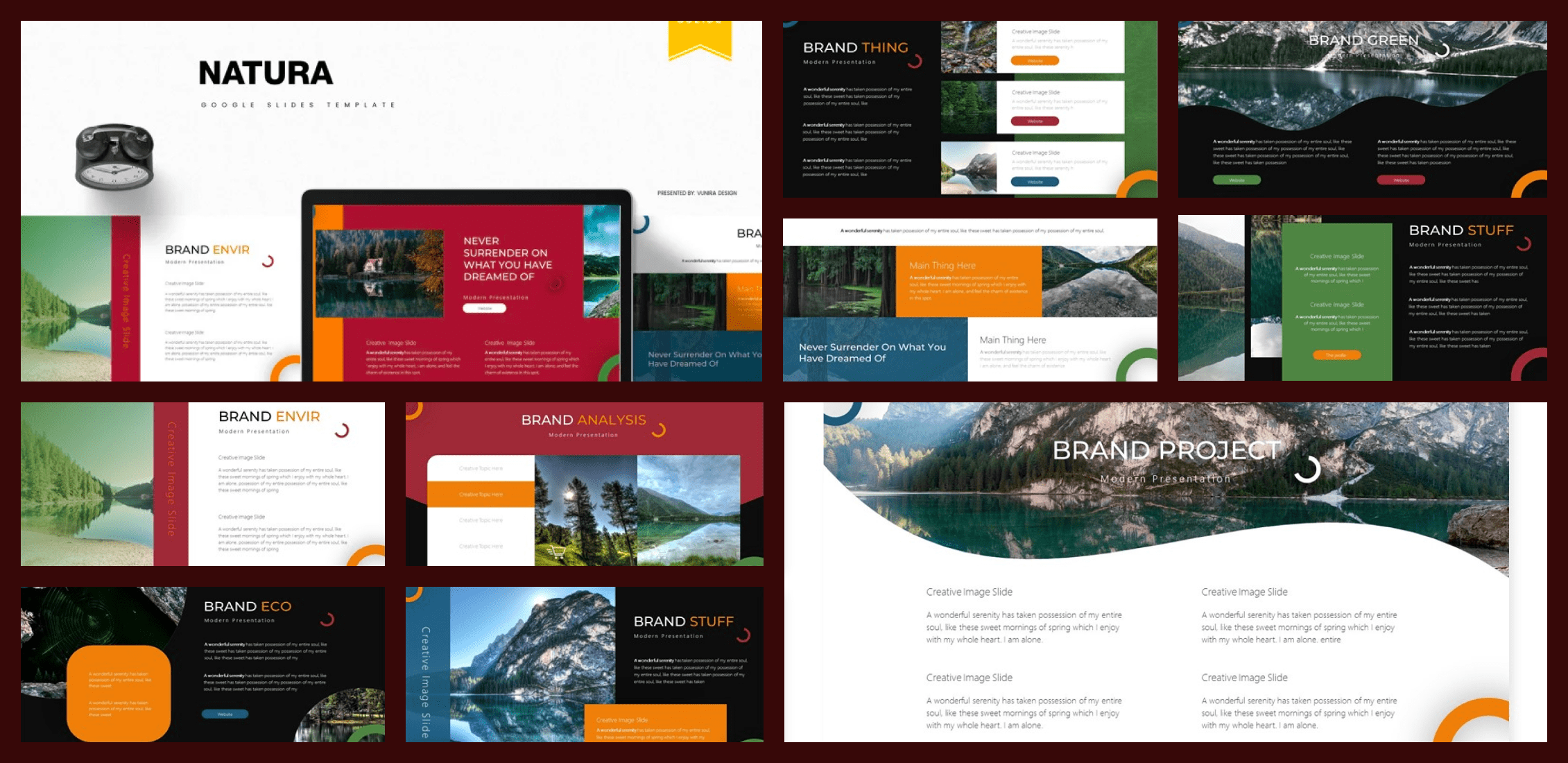 Price: $13. This is quite an extensive slide set to use, as it contains more than 150 slides designed in 5 premade colors. Section break slides are included, as well as icons and graphic elements to boost your spectators' experience.
Top 7 Technology Simple Google Slides
This year, we are all looking to technologies to save us from copious bewilderments that have befallen us during 2020. Technology-bound presentations will be aplenty this year. Now, meet the best seven of the simple Google Slides themes.

Price: $20. These are nothing but 36 slides coming at an affordable rate. Editable and resizable graphics, coupled with the opportunity to drag and drop images. A perfect option for high-end technology presentations.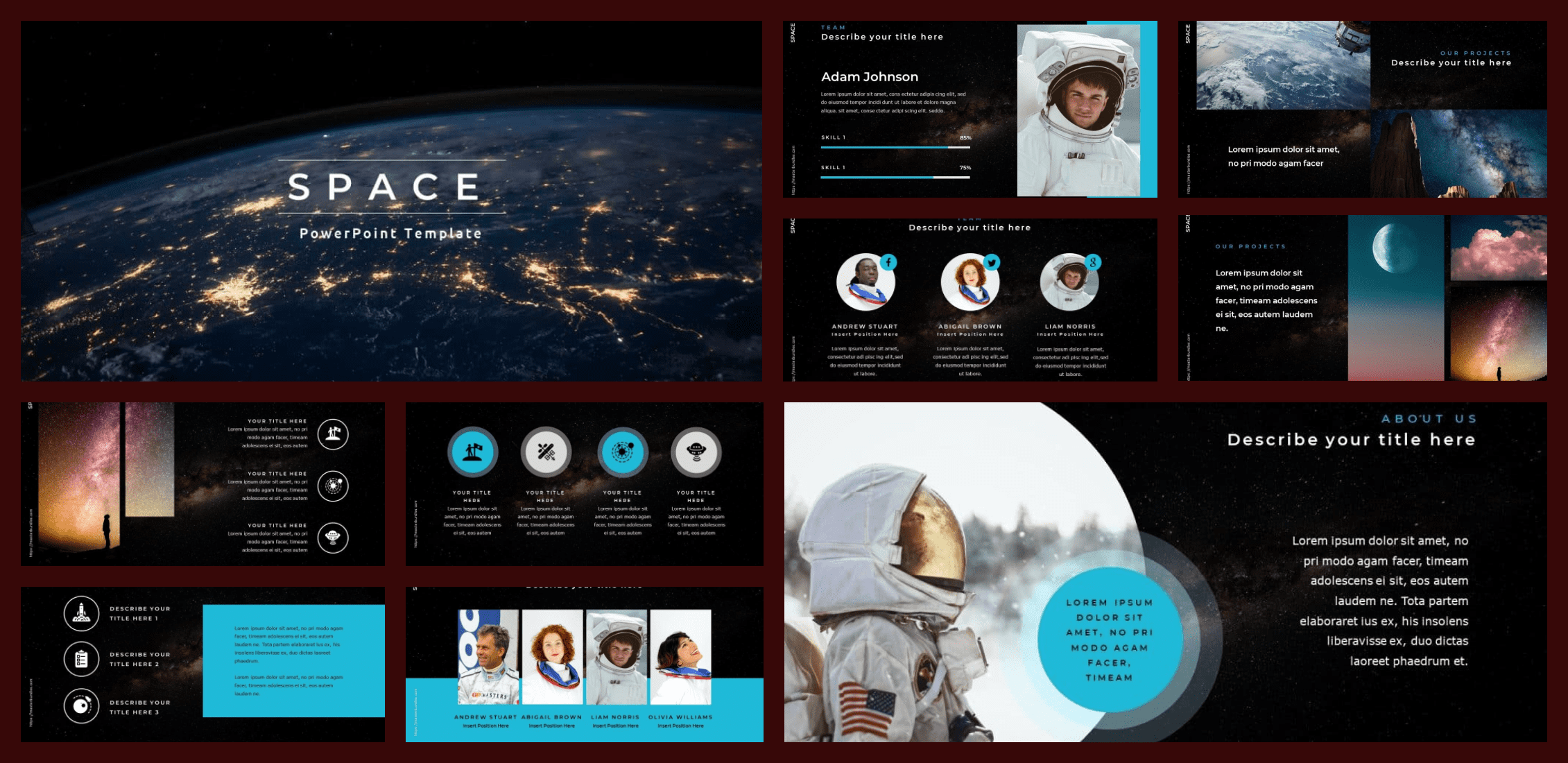 Price: $15. This is a fully editable slides pack that contains 50 various slides. Charts, tables, and graphs are all editable, as well as colors, photos, and, of course, the text of the presentation.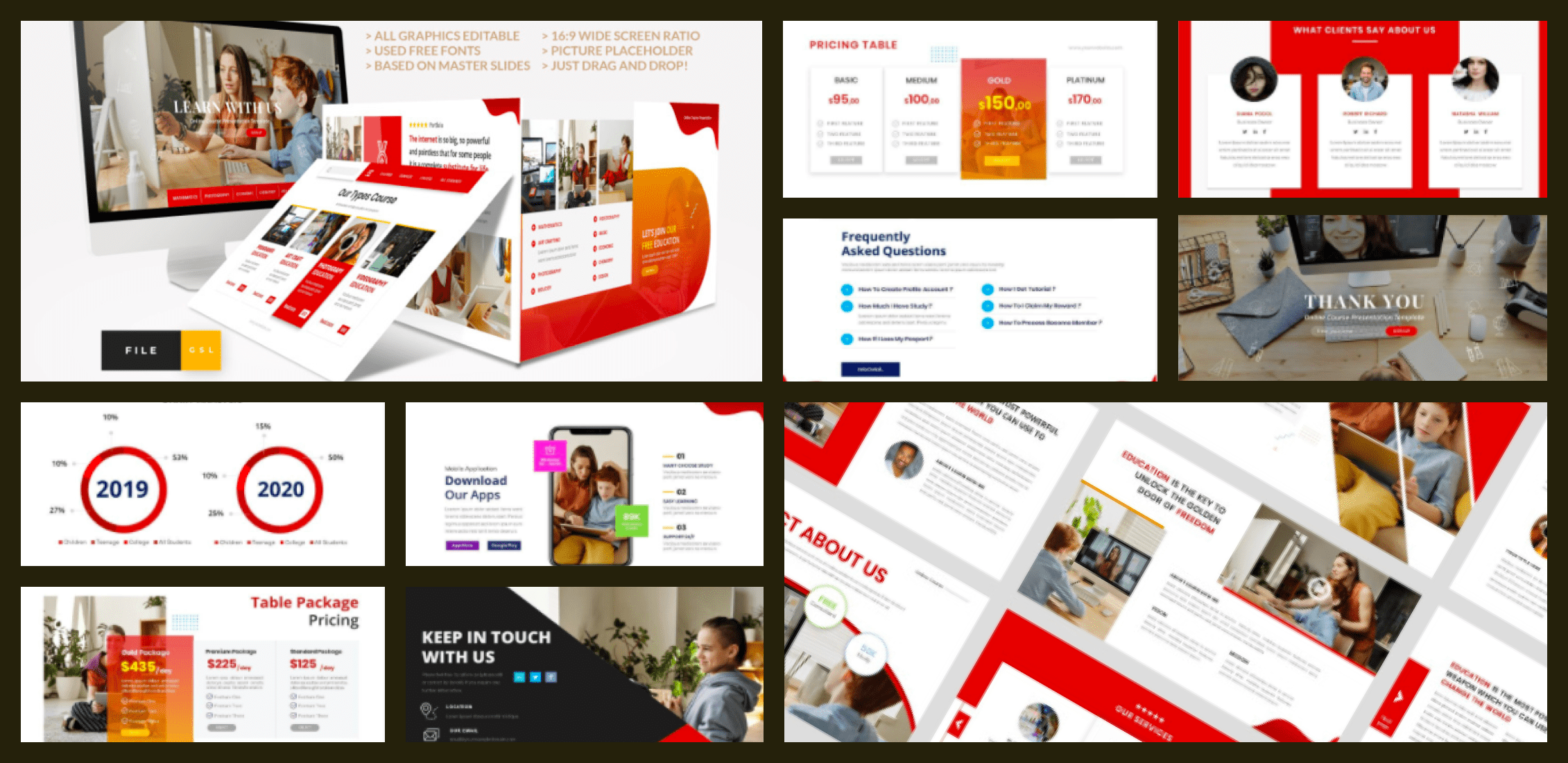 Price: $5. This is a perfect slides bundle for presenting your online courses, which are quite popular these days. There are 36 resizable and editable slides in 16:9 widescreen format with free fonts included.
4. IT Technologies & Solutions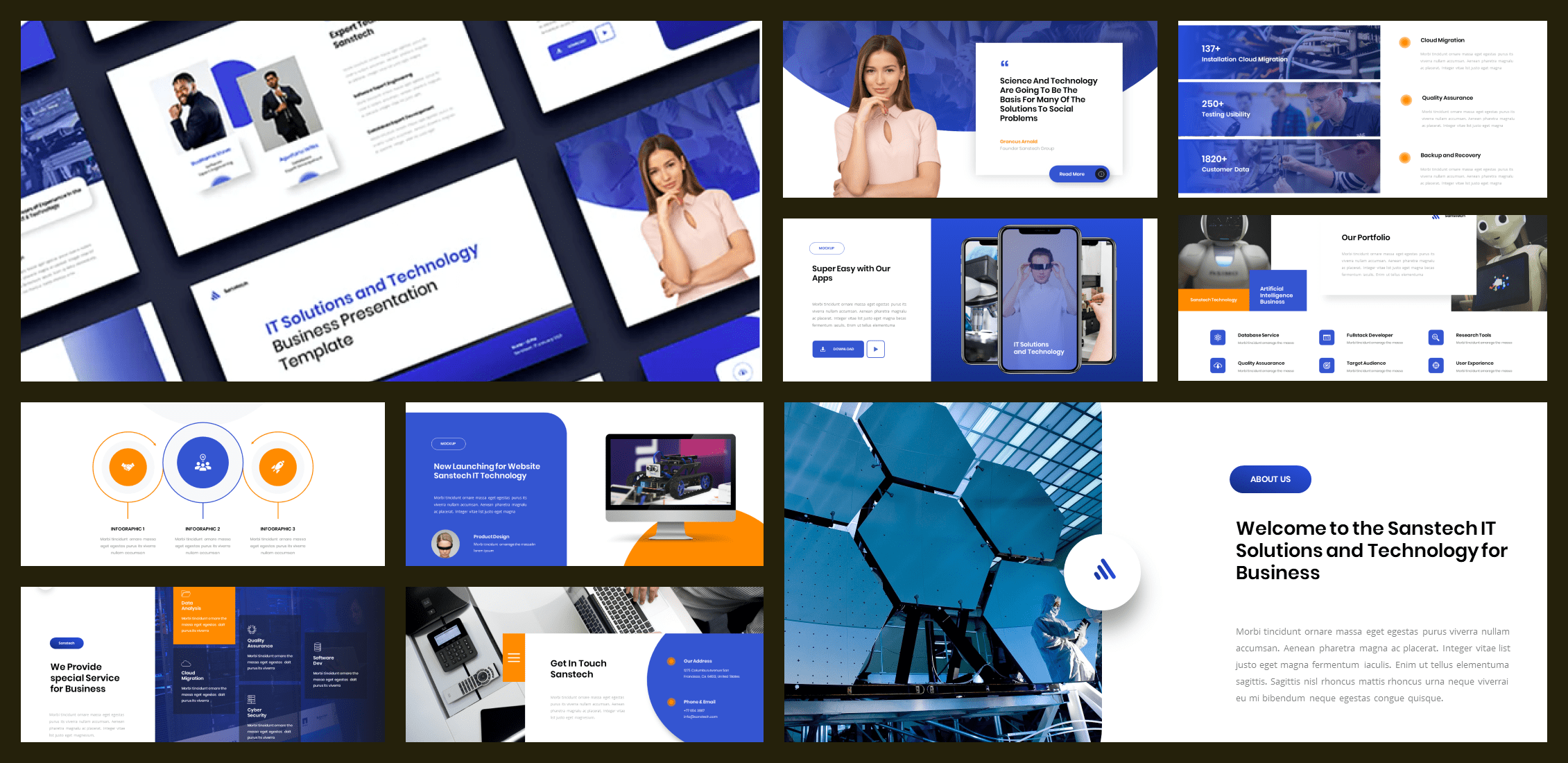 Price: $16. When purchasing this bundle, you get 40 unique slides with a strong focus on usability and typography. All the slides are modern, clean, and neat with free fonts. By the way, you can drag and drop images here.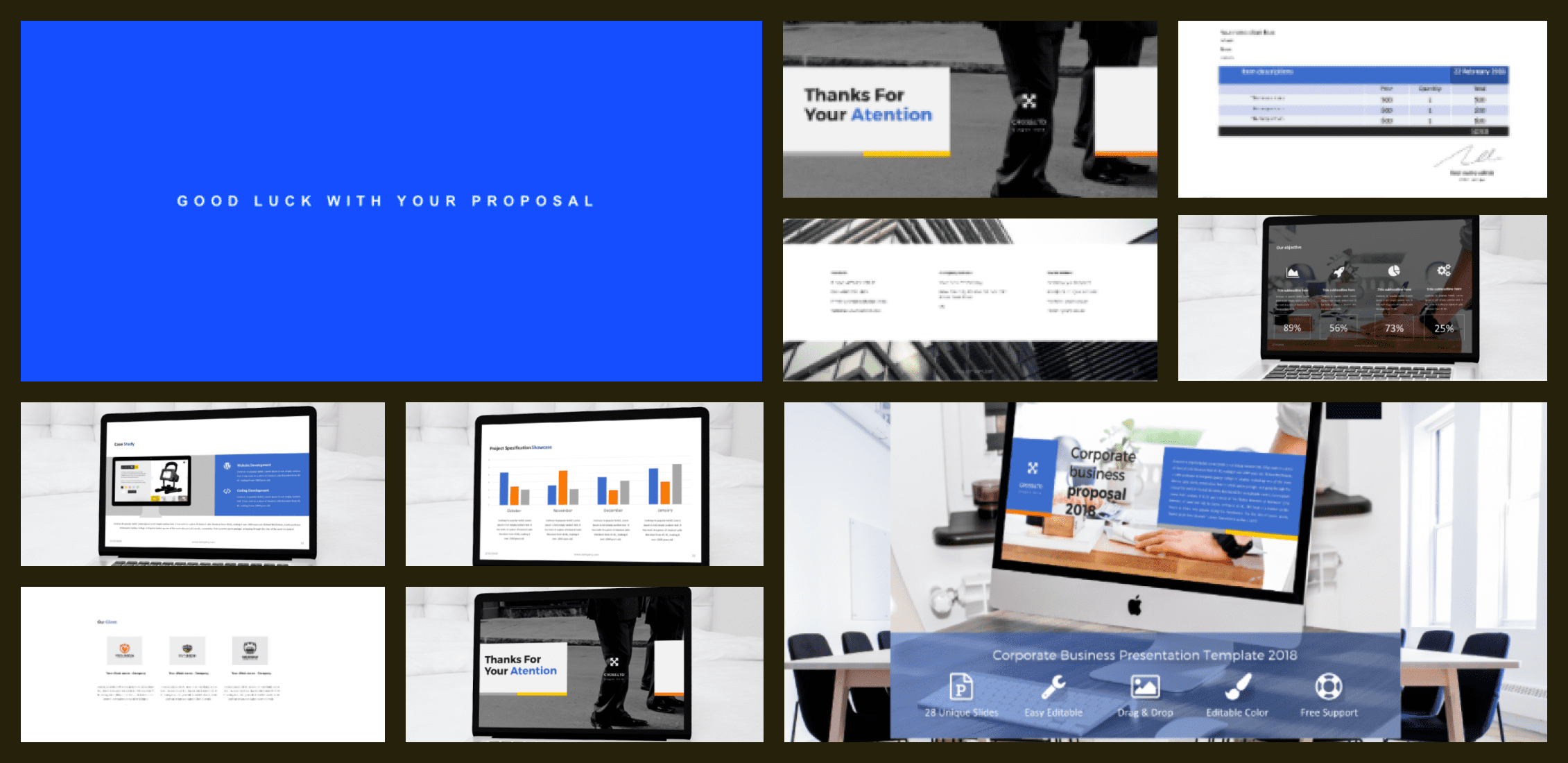 Price: $12. 28 unique slides waiting for you to come and create a fantastic presentation on your technology business. The presentation design can be classified as fascinating and clean with free icons to use for your presentation's improved visual design.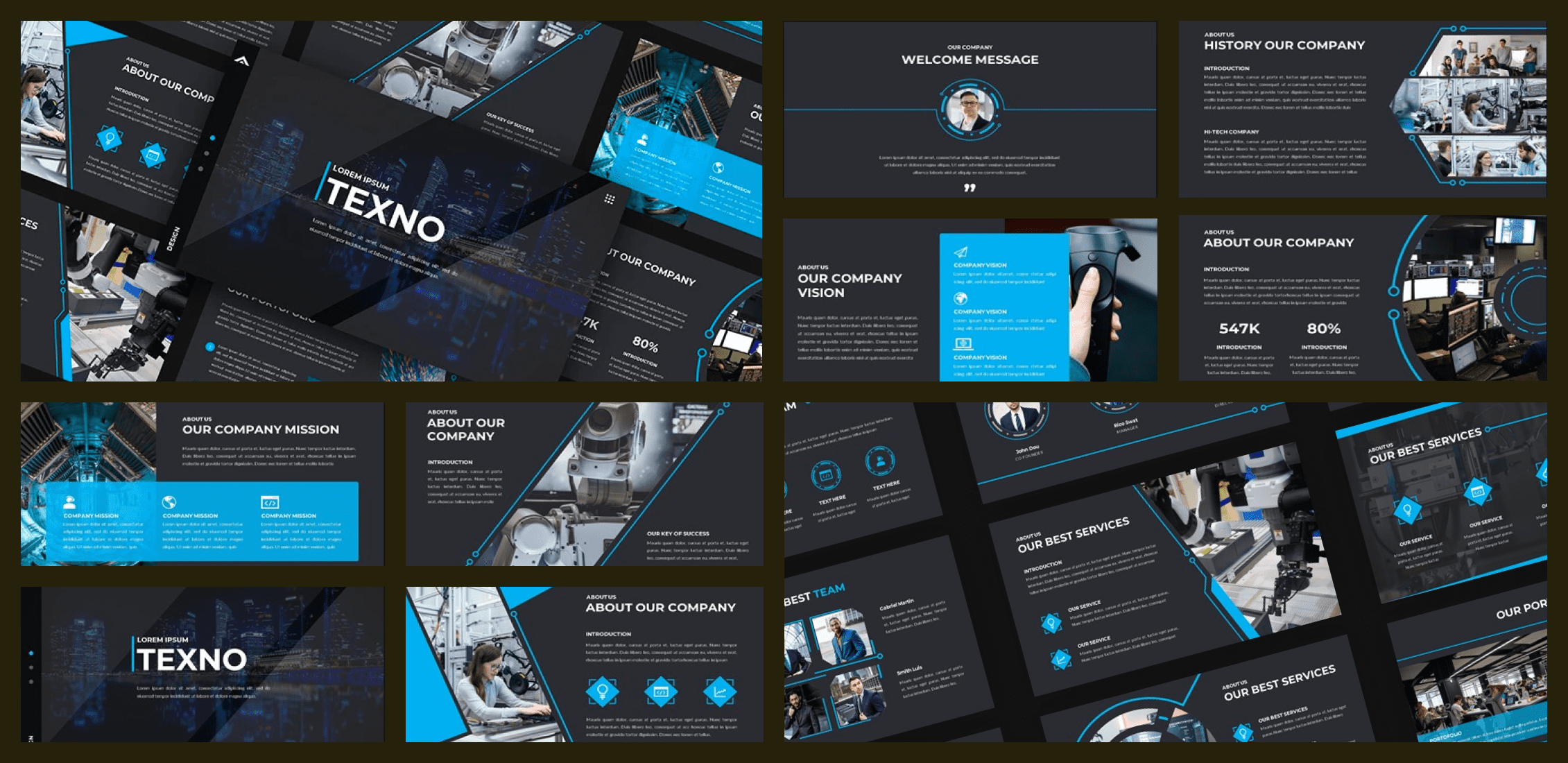 Price: $17. A neo-futuristic presentation theme for those who are really into making this world a better place to live. A total of 40 slides in full HD format with editable and resizable graphic elements are there for you to amaze your audience with simplicity and outstanding design.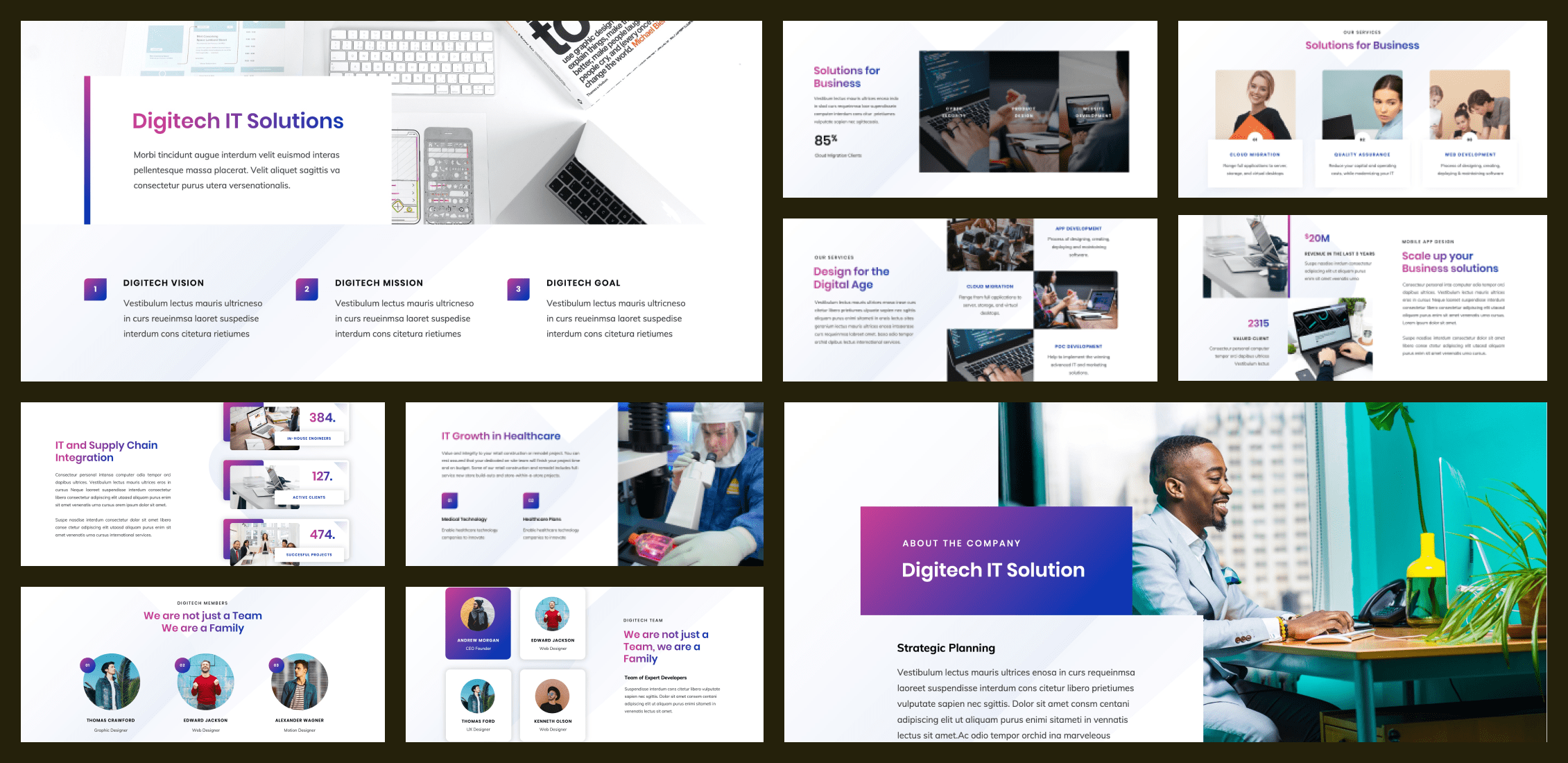 Price: $19. These 37 slides will amaze you and your audience with how easy they are to manage and how pleasant it is to look at them. All the elements are editable, and free web fonts are included.
15 Best Free Simple Google Slide Themes for 2021
5 Free Yellow Simple Google Slide Themes
You might wonder why we have opted for yellow slides. Why not red or green? Well, the year 2021 is globally considered the year of hope. The whole planet stands still in its awe of hope that things are going to change for the better. Meanwhile, the International Pantone Institute has named yellow the official color of 2021. So, off we go to the five best yellow simple Google slide themes to use for your presentations full of hope and useful information.
1. Trinculo Presentation Template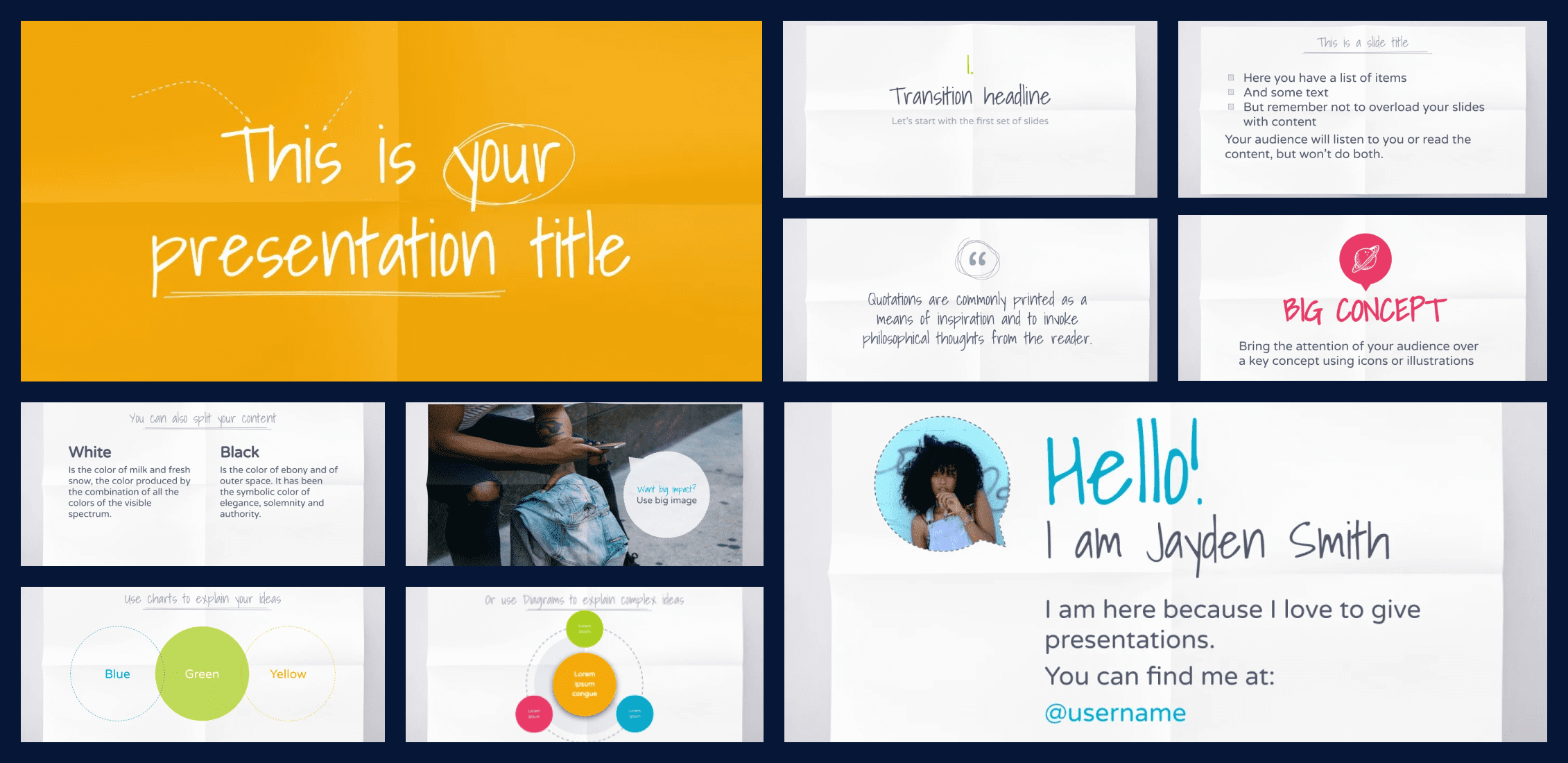 As simplistic as they come, the Trinculo presentation theme is nothing but a splendid set of 30 slides to use when crafting an informative presentation. Coupled with white and grey colors, the abundance of graphic elements in it will surely help you succeed with your project.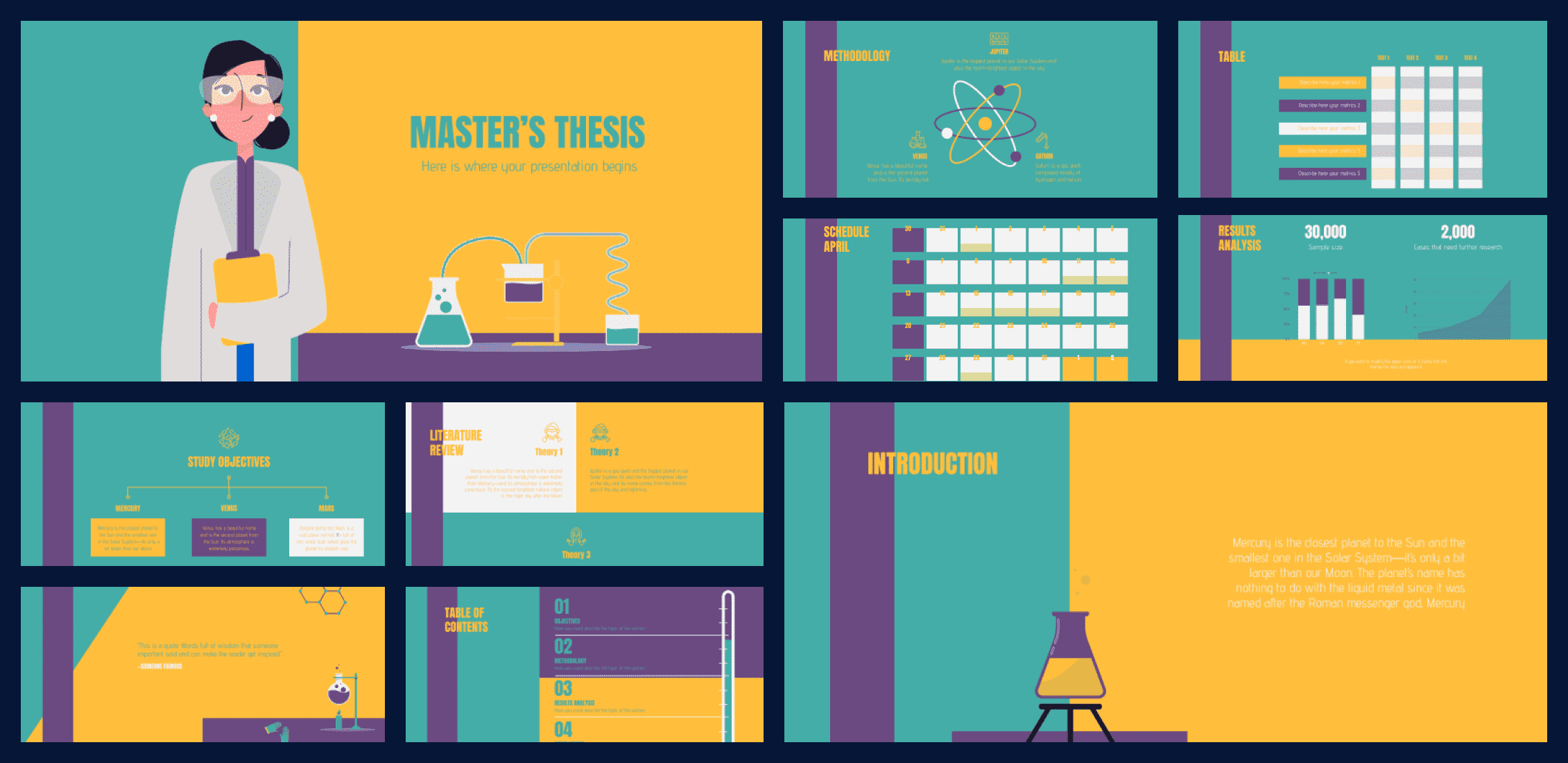 You don't have to be a scientist to make good use of this template. You'll find 31 slides filled with vibrant yellow, green, and purple colors that will surely serve every student with a science project just perfectly.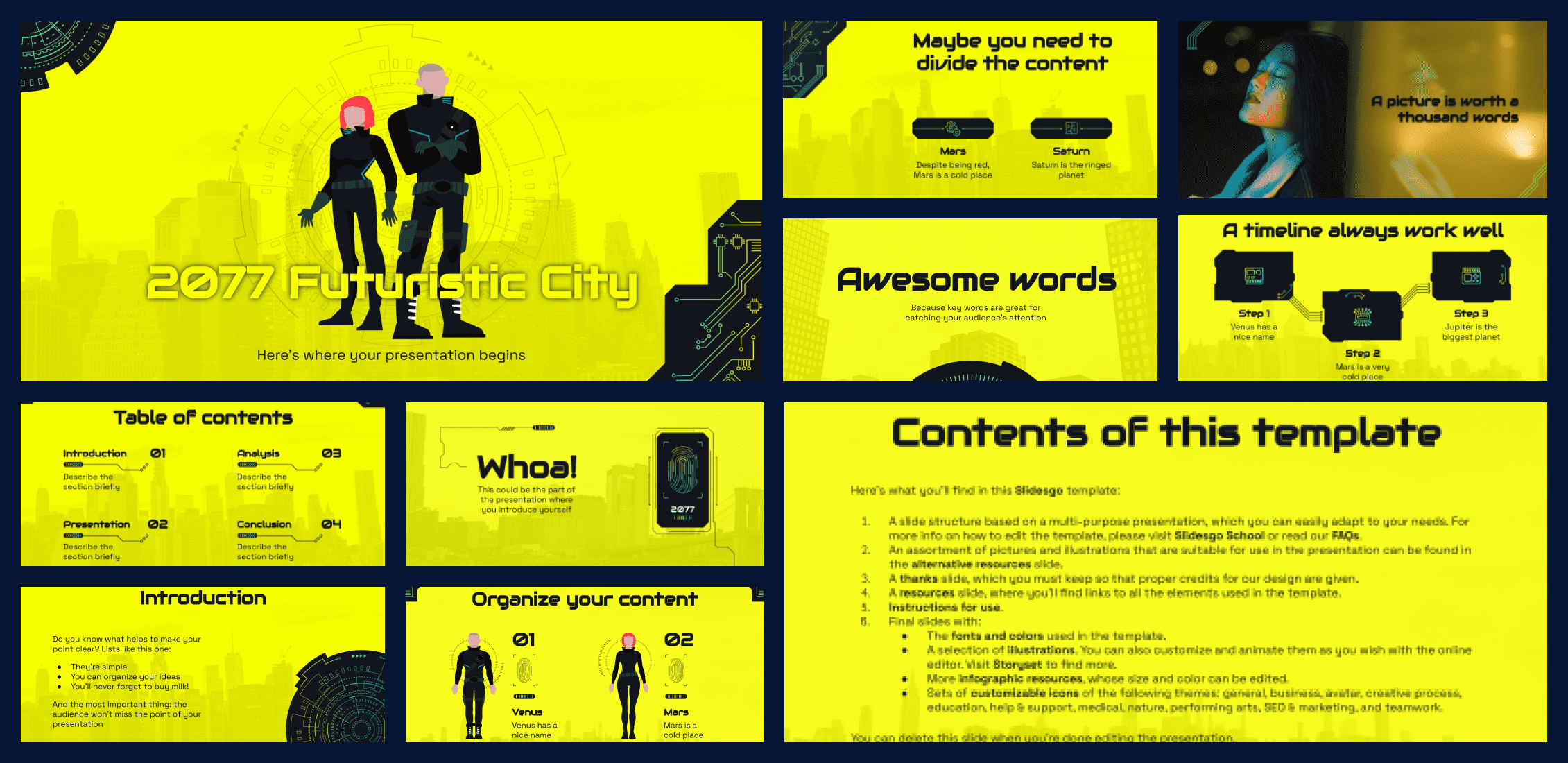 Even though the CyberPunk video game has failed to meet the expectations of games worldwide, this presentation will surely not let you down if you're planning on delivering a simple, yet efficient presentation. This is a multi-purpose set of 54 slides to use for a variety of informational occasions.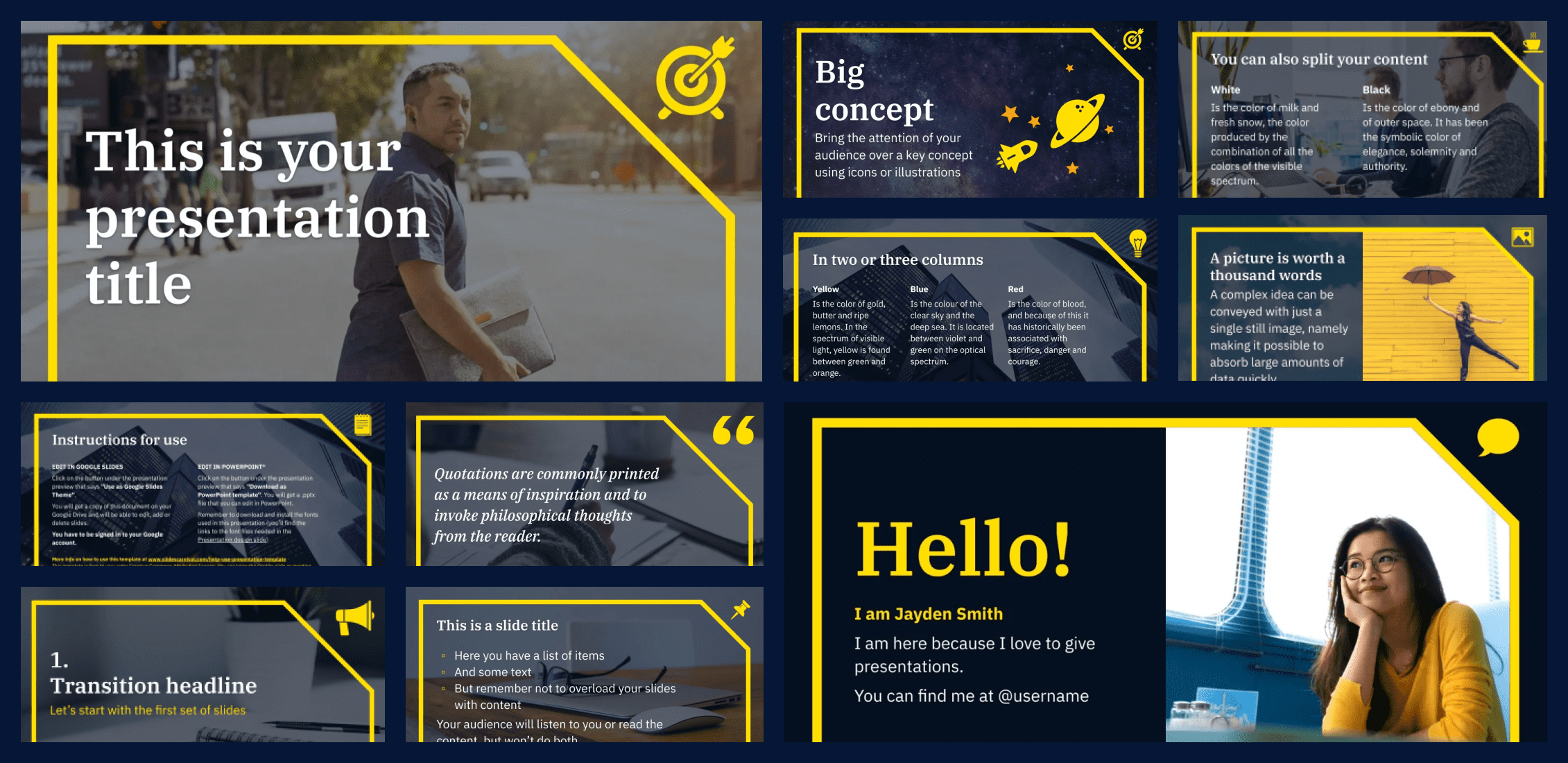 Believe it or not, not every audience is capable of sitting through a presentation of more than 35 slides. This theme includes 29 slides that are rich in fully editable infographic elements, which makes it perfect for a business presentation.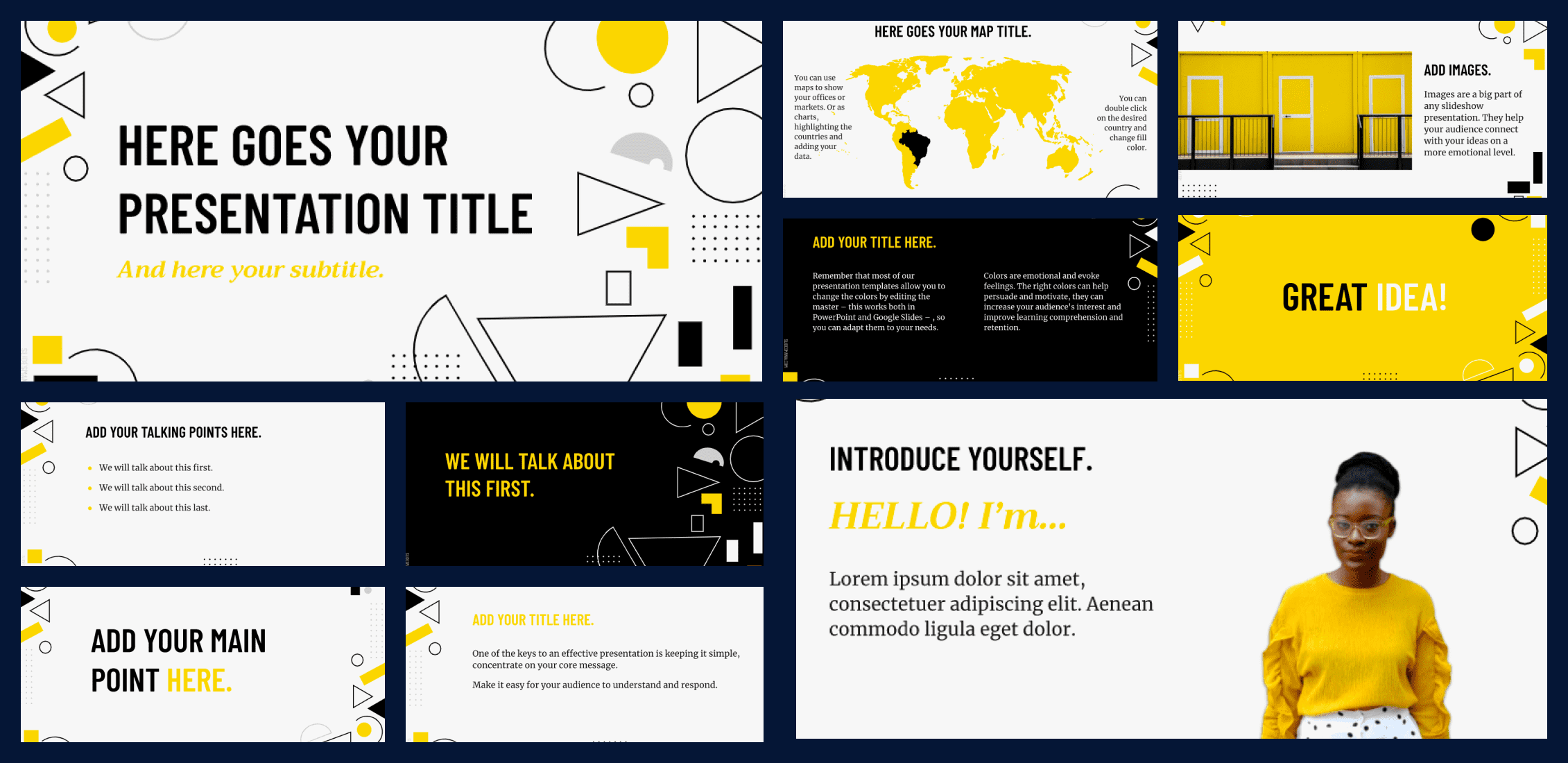 Here's a modernistic combination of yellow and black will be perfect for presenting any idea that must look fresh and clean. The theme's simplistic design will help you embody even your boldest ideas on more than 20+ awesome slides.
5 Free Black Simple Google Slide Themes
Black is surely not the color of hope and rejuvenation. Nonetheless, black goes with everything, and black is the ultimate color to choose when you don't know which style to opt for.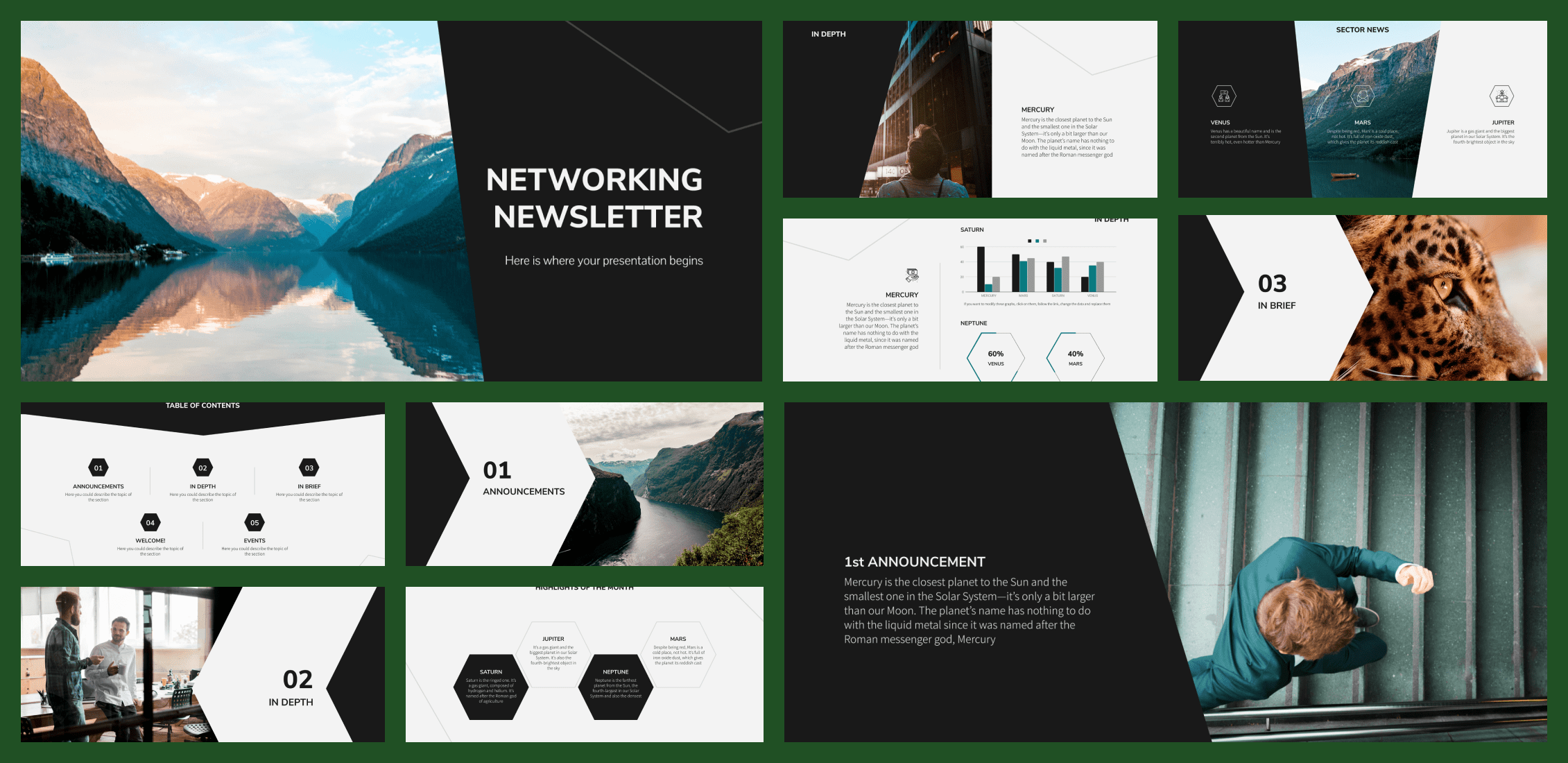 This theme is represented with 37 slides that are full of neoteric design that will please the eye of even the most whimsical audience. The abundance of simple graphical elements renders this theme the one to use when looking to create concise yet visually appealing presentations.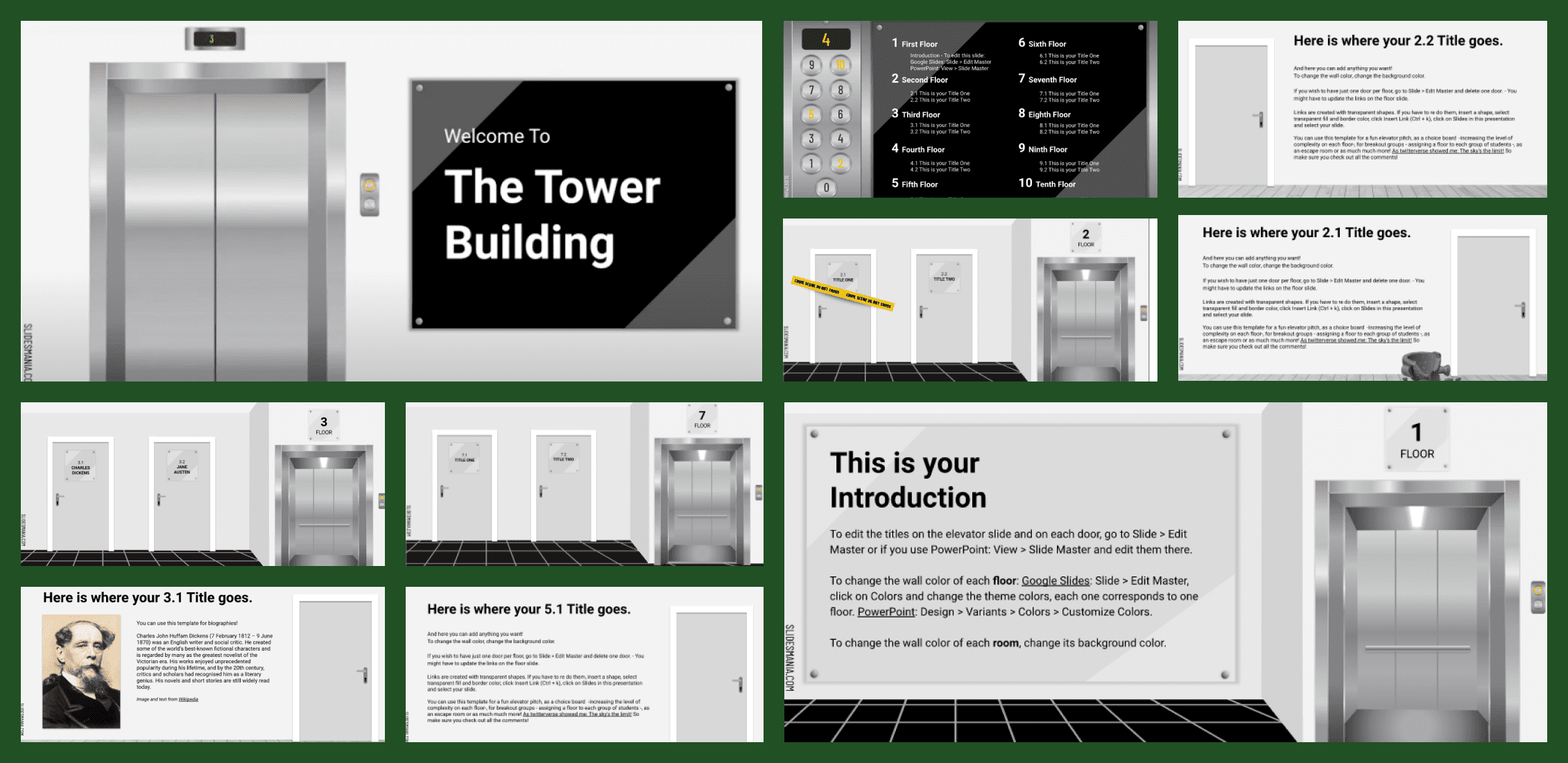 This is a perfect black-out variant to use when you need to take your spectators on a fascinating step-wise journey of delivering the messages and information you have.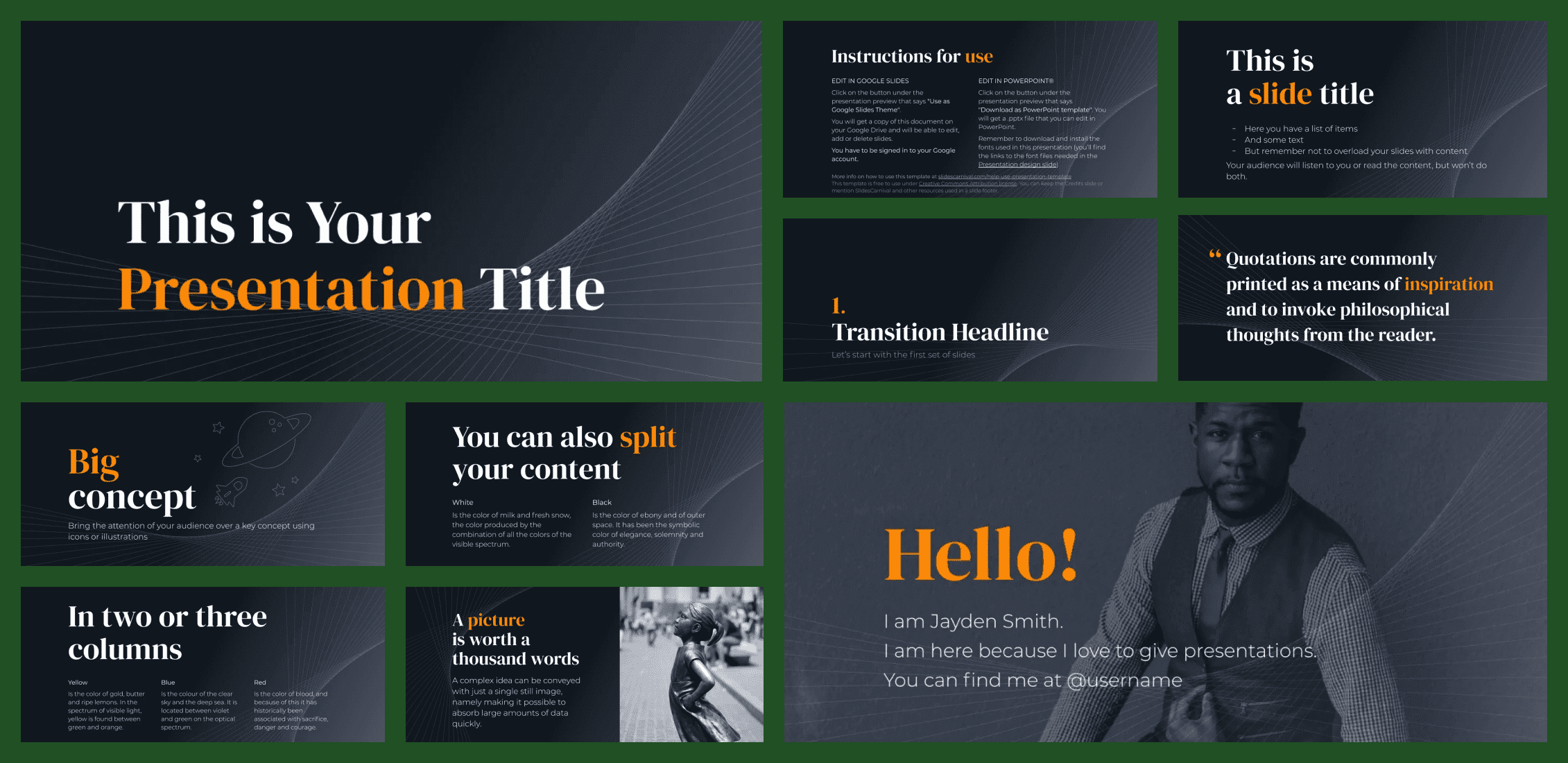 The Mutius template is a set of 29 minimalistic slides. Filled with the dominant black and supportive shades of grey, this theme helps you keep your presentations easy-to-follow.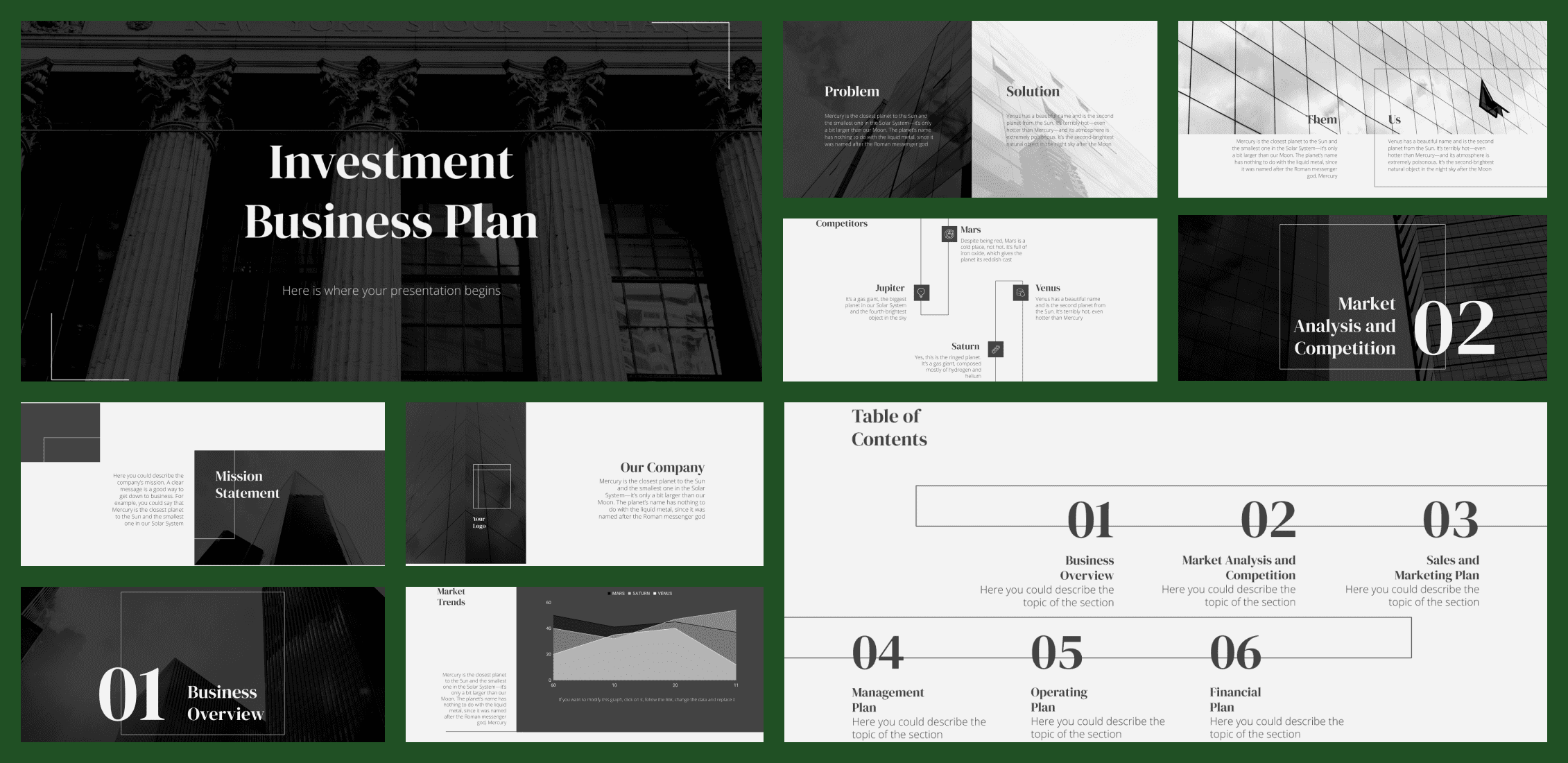 When you want somebody to invest in your business plan, you have to look solid. At least, the presentation of your project must look solid. This set of 49 slides is a relatively easy-to-follow presentation template that fulfills your spectators with nothing but the sense of stability and security about investing in your business.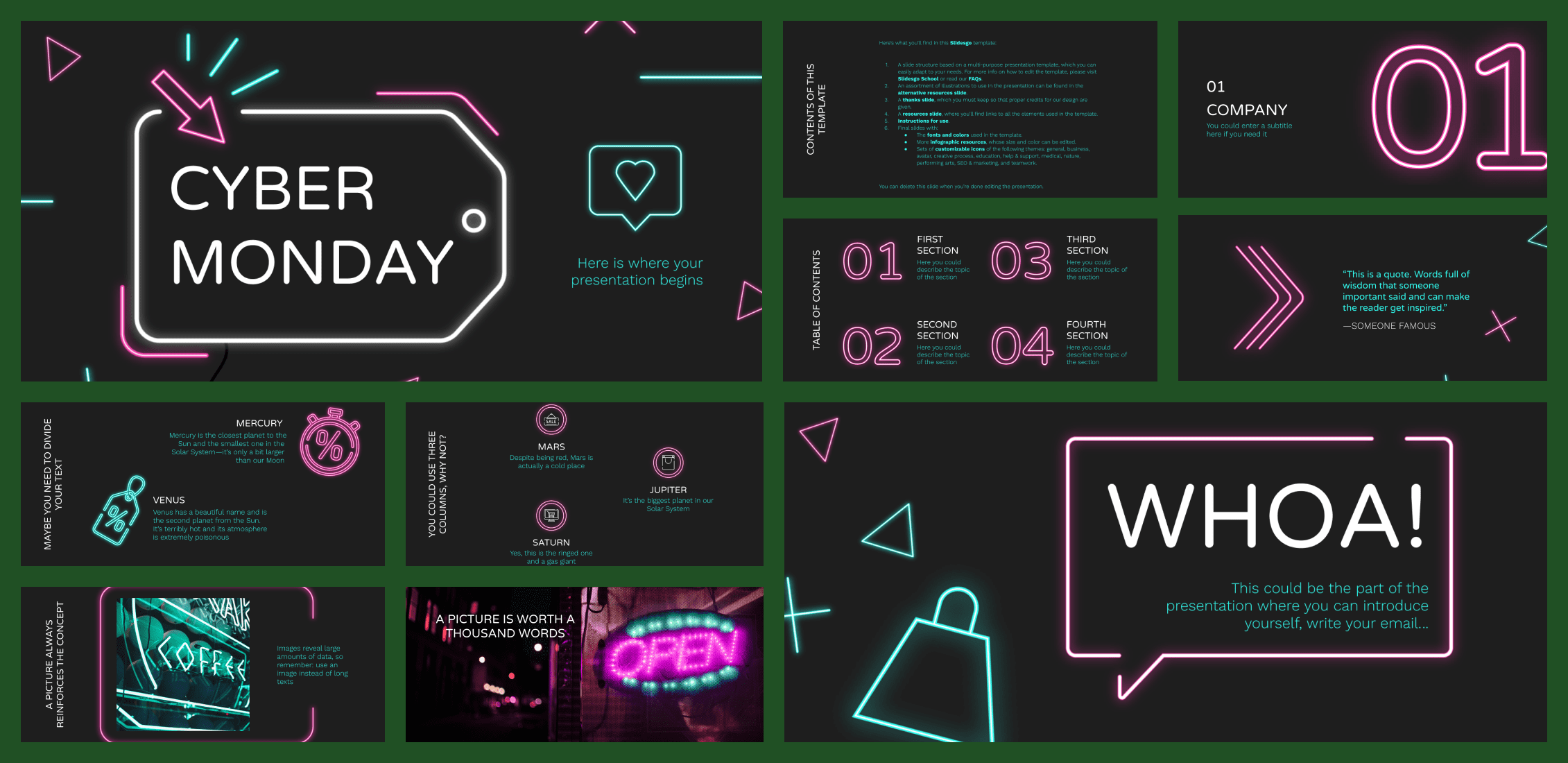 There is nothing much to say here. You get 53 slides filled with pure futuristic bliss, designed in an explicit manner that will let your audience follow your presentation with precision. If you're into presenting anything related to technologies, this one will do just fine.
5 Free Red Simple Google Slide Themes
Why red? Everything looks great on a red background, literary everything. At least, you will have your audience chained to the screen.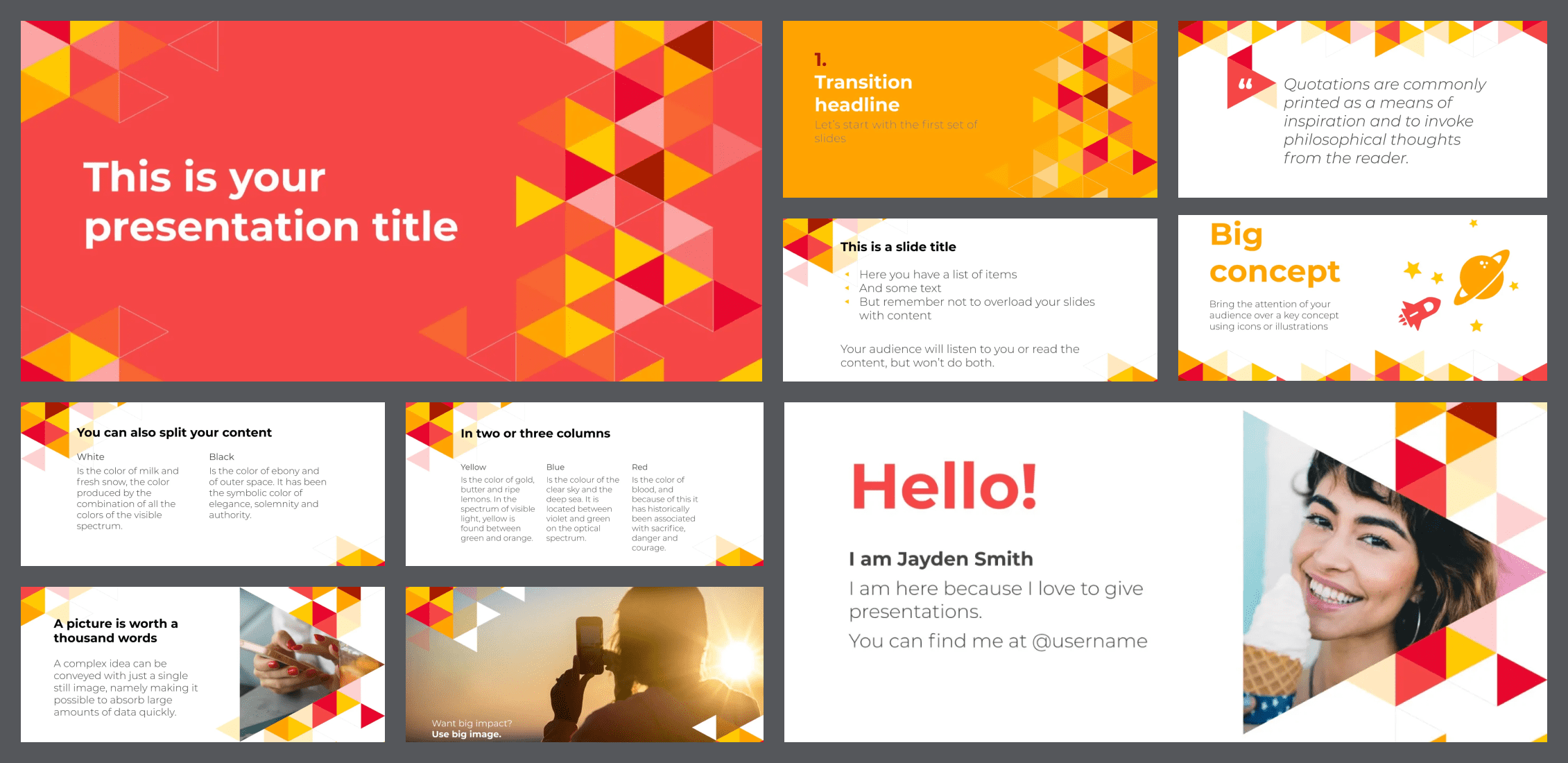 This is a set of 29 slides with a design that is as simple as it gets. The dominant white background is merged with warm shades of red, yellow, and orange, leaving a lot of space for your text and figures.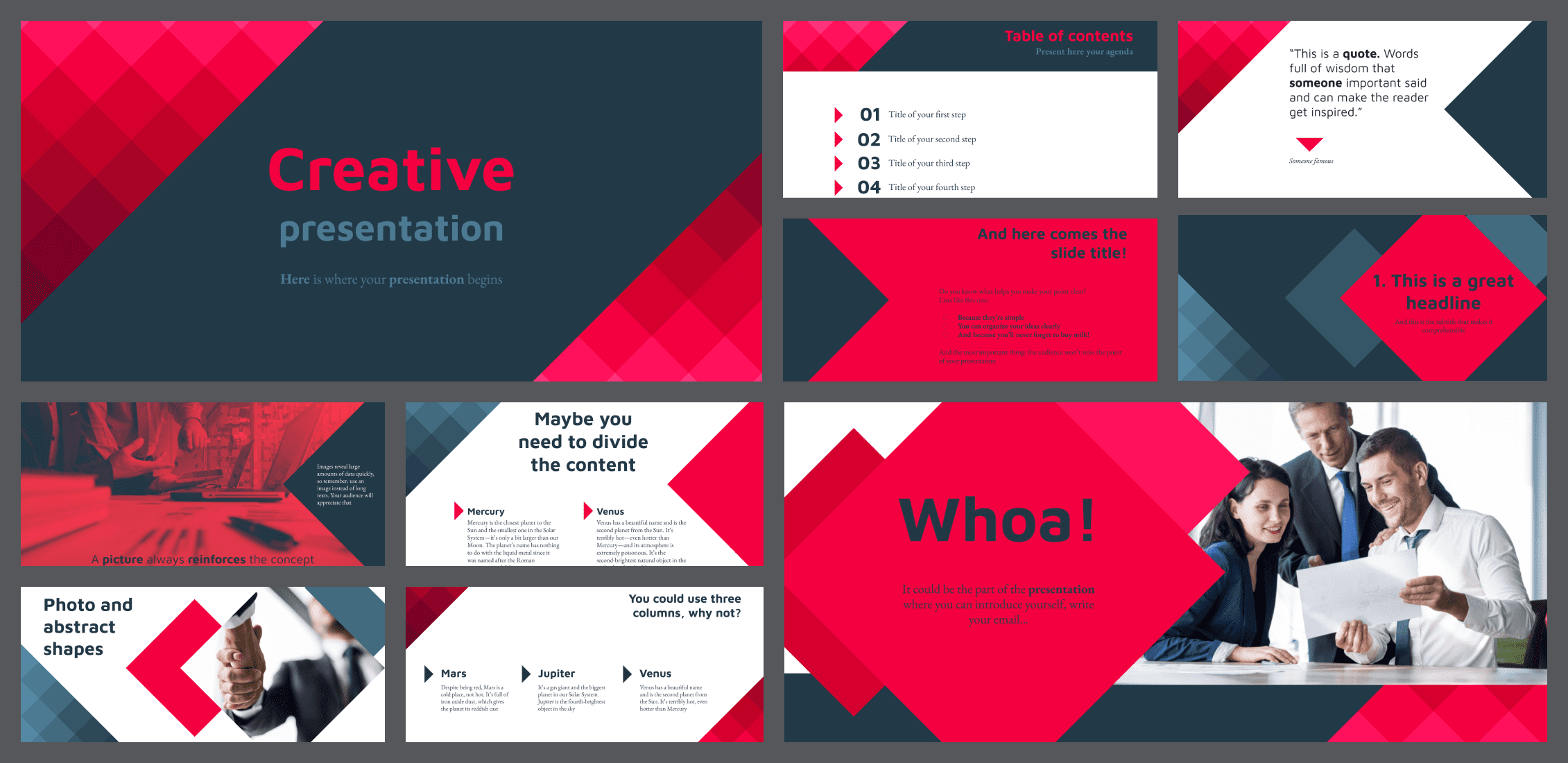 The combination of red and black, topped with a silvery shade of white, has never been an odd choice. If you want to look serious and creative at the same time, these 47 slides are just what the doctor ordered for you.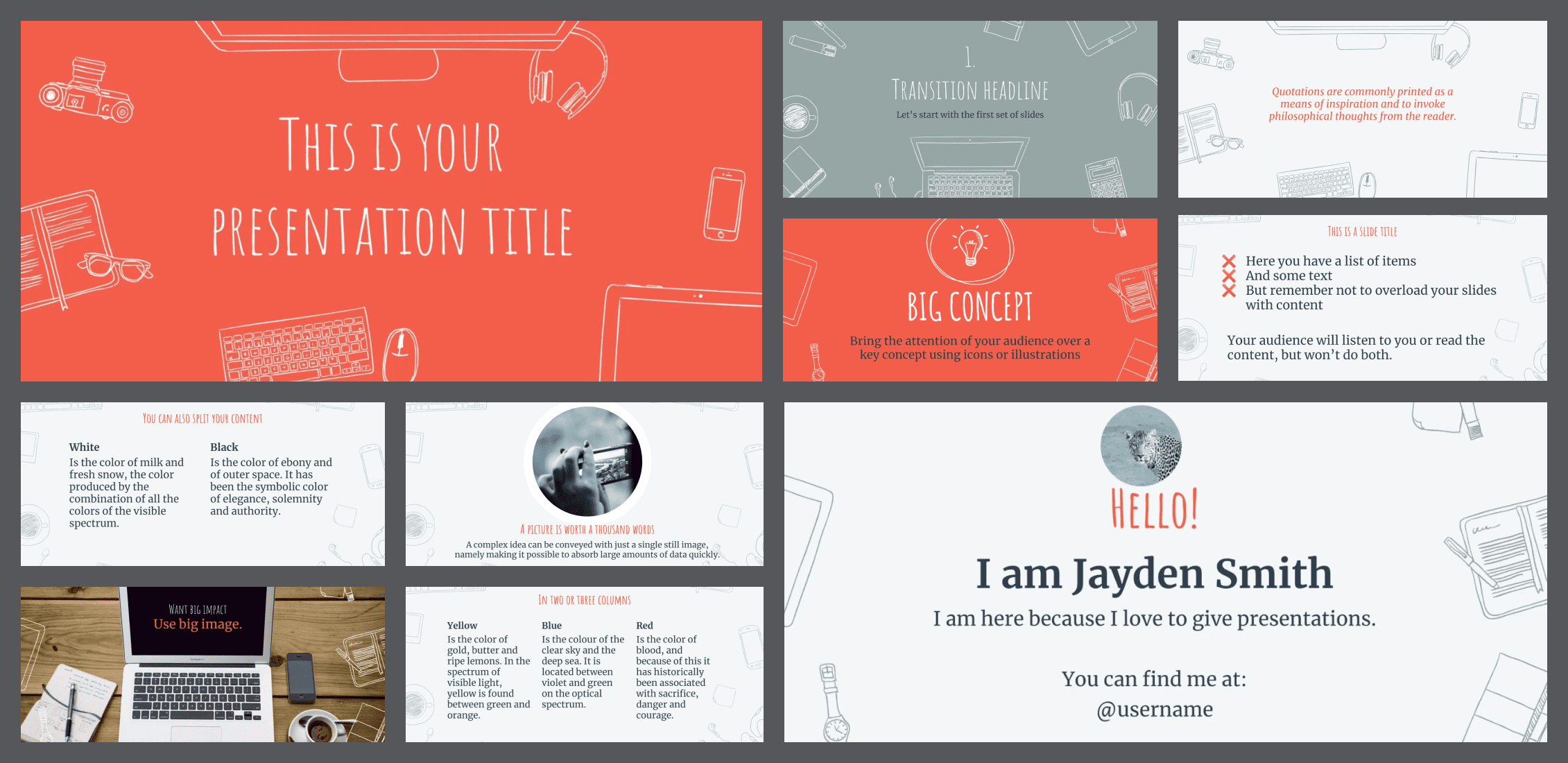 There are 30 fully editable slides in this Google Slides theme. Furthermore, every slide contains removable tips on how to improve your presentation.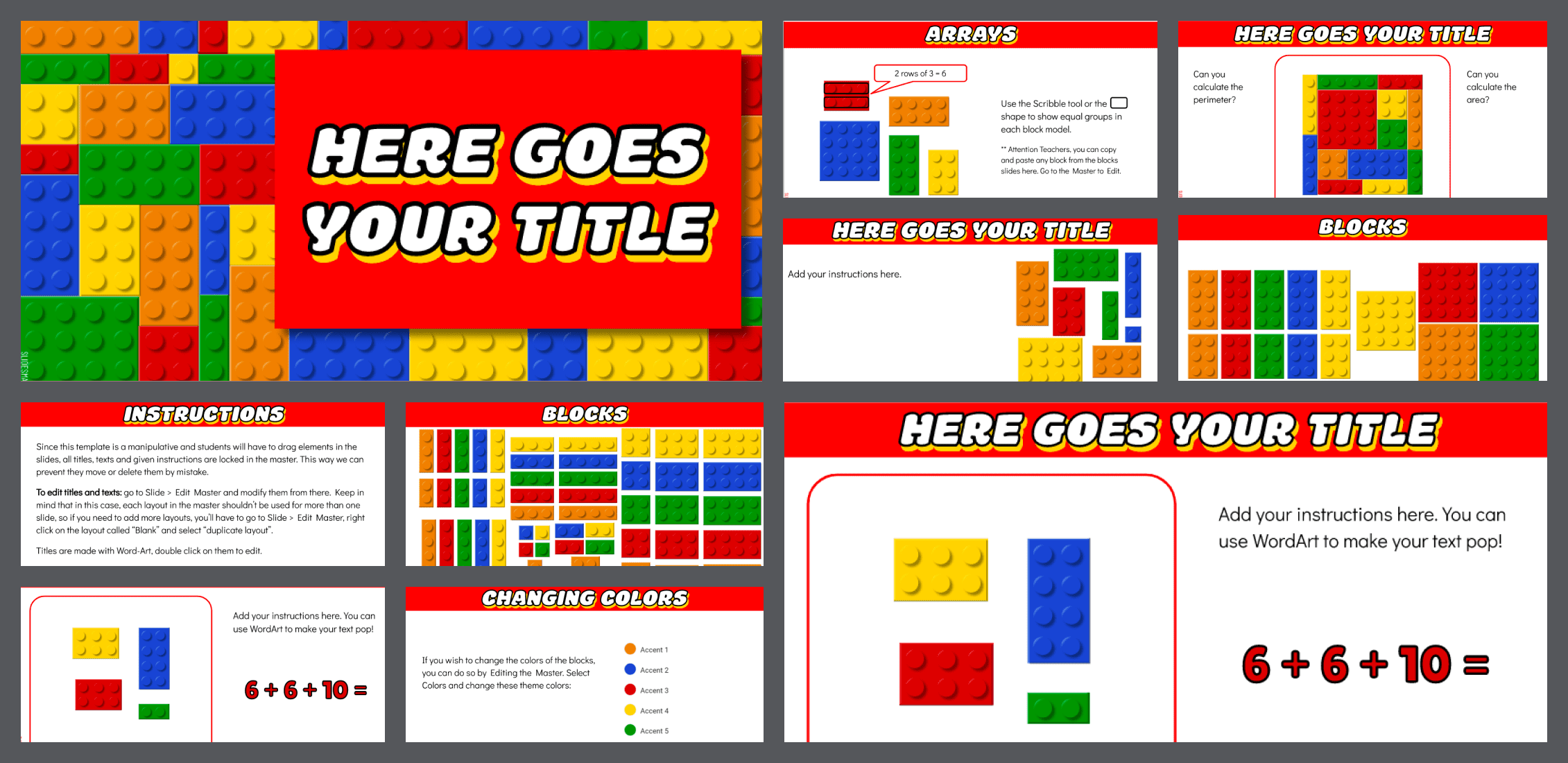 Utterly creative and at the same time simplistic, the LegoMania template will be of great help to anyone planning a presentation on math, science, geometry, etc. The abundance of colors will keep the spectators' eyes glued to the screen.
5. Revolution – History Lesson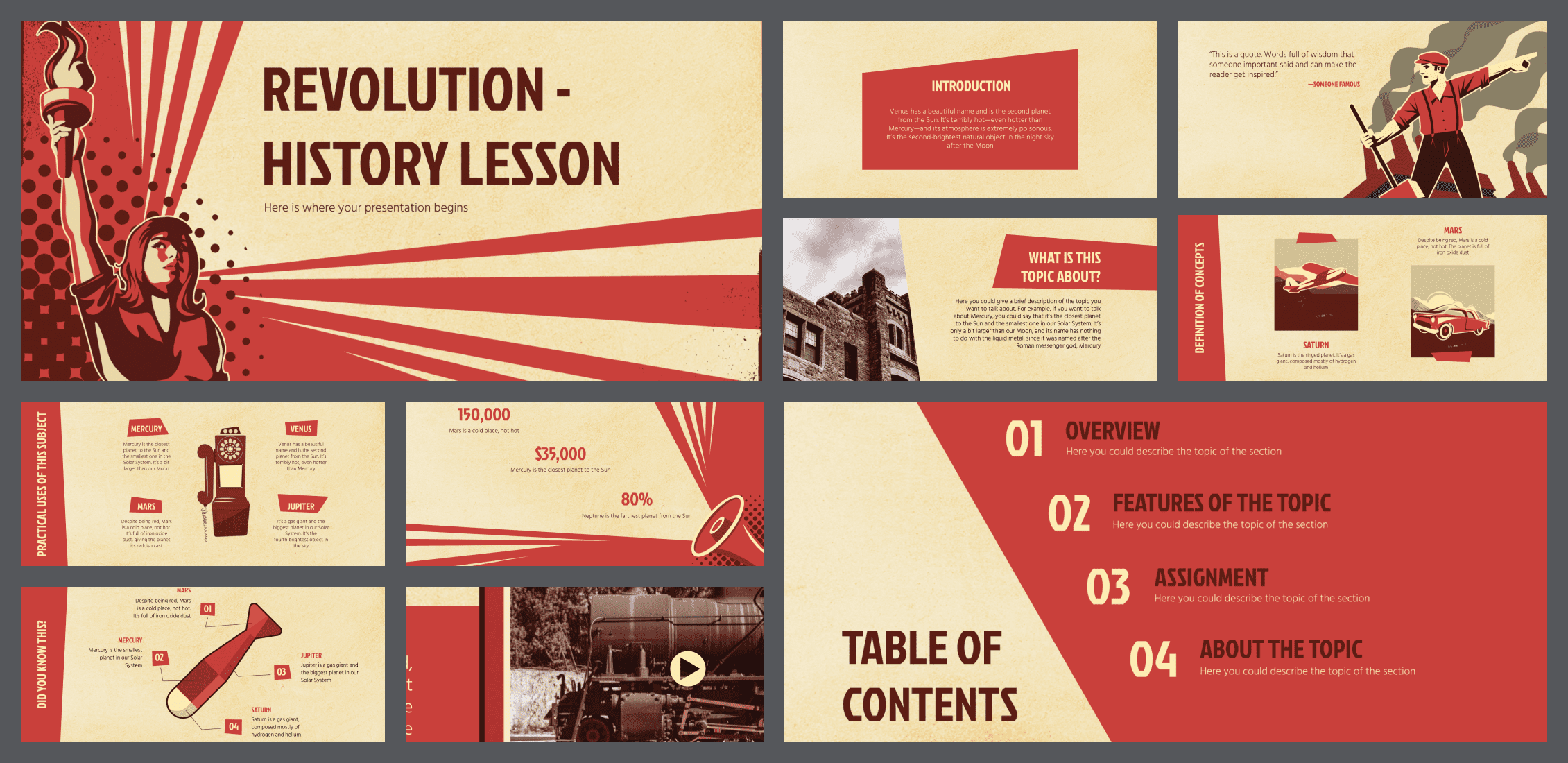 This set of slides is a solid option for anyone willing to embark on a solid history or sociology presentation. While designed in the 1960s pin-up style, the slides look quite simplistic yet simultaneously captivating.
Conclusion
There is not that much to add here, as you can see how diverse the Google Slides are. There are templates for any occasion, and using them, you will end up hearing a round of applause at the end of your presentation. With these templates, you spare yourself a lot of time, which you can use for providing quality content to your presentations instead of racking your brain over the form and design. Hopefully, our selection of the best 50 simple Google Slides themes will be of great help to you.
Some Videos About Simple Google Slides Themes
Simple Google Slides Presentation
Complete Beginner's Guide to Google Slides

This Google Slides tutorial for beginners is a complete crash course, taking you by the hand and showing you step by step how to make some amazing and mesmerising GoogleSlides slideshow presentations. It's short, to the point, no time wasted, so you can get straight to work!

How To: Quick Tutorial for New Google Slides Presentation

This video will show you how to use Google Slides like a Google App expert!

FAQ
💻 Is it worth paying for a Google Slides theme, while there's a lot of free templates to use?
Yes, it is. The premium Google Slides themes are unique and easier to manage. Also, they contain more graphic elements to use when presenting your idea.
💻 Can I use the Google Slides for free?
Of course, there are a lot of Google Slides themes you can use free of charge.
💻 Is there a sound alternative to Google Slides?
There is a lot of software you can use. Nonetheless, it has been proven that the Google Slides is the most convenient tool for creating simple and simultaneously stunning presentations.
Please take a moment to pin this post to Pinterest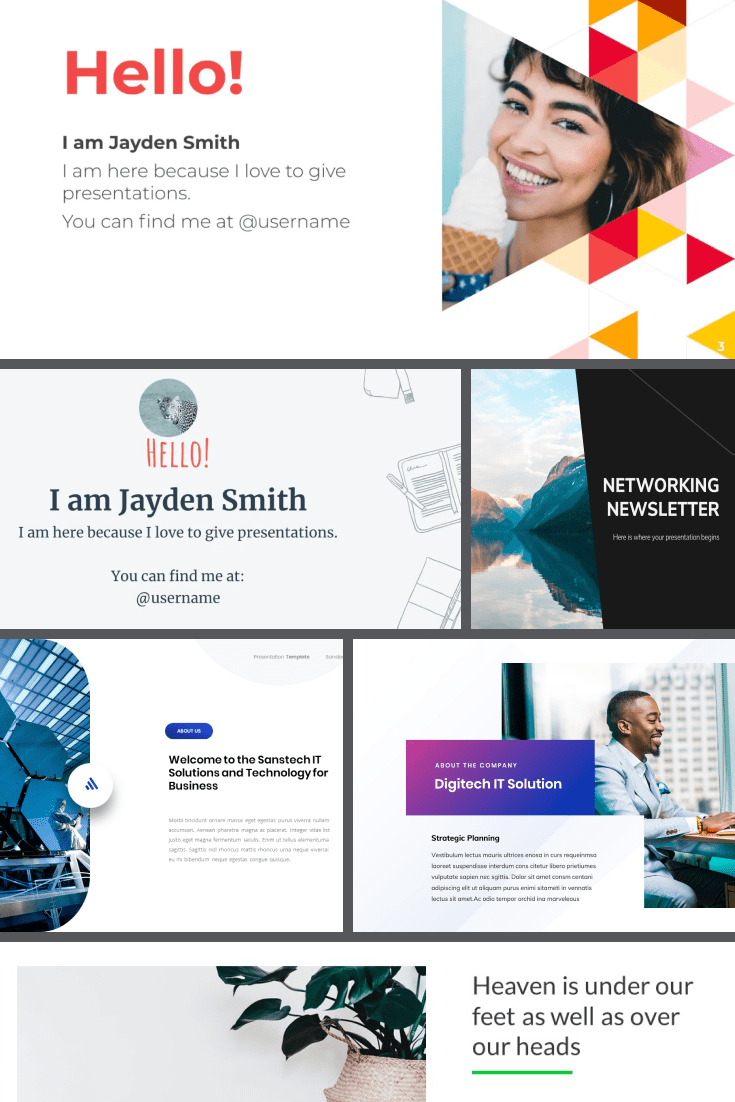 You will find the list of sources that were used for writing this article, which we dearly hope you enjoyed reading.
5 Reasons to Replace PowerPoint with Google Slides | Inside Higher Ed. (2021). Retrieved 28 January 2021, from https://www.insidehighered.com/blogs/technology-and-learning/5-reasons-replace-powerpoint-google-slides
Benigni, M. (2021). 6 Reasons You Should Be Using Google Slides Instead Of PowerPoint. Retrieved 28 January 2021, from https://tlt.cofc.edu/2016/09/05/6-reasons-you-should-be-using-google-slides-instead-of-powerpoint/
Google Slides. (2021). Retrieved 28 January 2021, from https://en.wikipedia.org/wiki/Google_Slides
Master the Steps to Make a Simple PowerPoint Presentation. (2021). Retrieved 28 January 2021, from https://www.thoughtco.com/make-an-easy-powerpoint-presentation-1856944
Disclosure: MasterBundles website page may contain advertising materials that may lead to us receiving a commission fee if you purchase a product. However, this does not affect our opinion of the product in any way and we do not receive any bonuses for positive or negative ratings.