Monster ONE Review. The Internet nowadays is the primary source of tools for web designers and developers. Using the templates for the project is a trend, as it eases the process in general: you don't need to spend your time on mockup creation, looking for new inspirational ideas and daily coding to make it up and running. But at the same time, it is more expensive to buy the models one-by-one, as there are restrictions on licenses for use, the template may not fit and will need to be replaced, and you need to purchase a new model for each new project. That is why we decided to resolve these issues at once and create an attractive solution for templates' fans. Meet Monster ONE – the all-in-one solution for versatile design options!
So, where does history start? Primarily, we decided to pick up all the best templates of the most popular platforms in one subscription pack. We included HTML, CMS, and graphics in a yearly membership. We started with only around 6 000 items and offered our beloved customers to test it. We received positive feedback from users; it was much more convenient and economical. That is why we decided to give a powerful impetus to it by launching a life-time membership service and granting it the status of an independent project. We gave it a new home – monsterone.com – and began a new page in the history of ONE.
All You Need Is ONE Or Who Will Benefit From It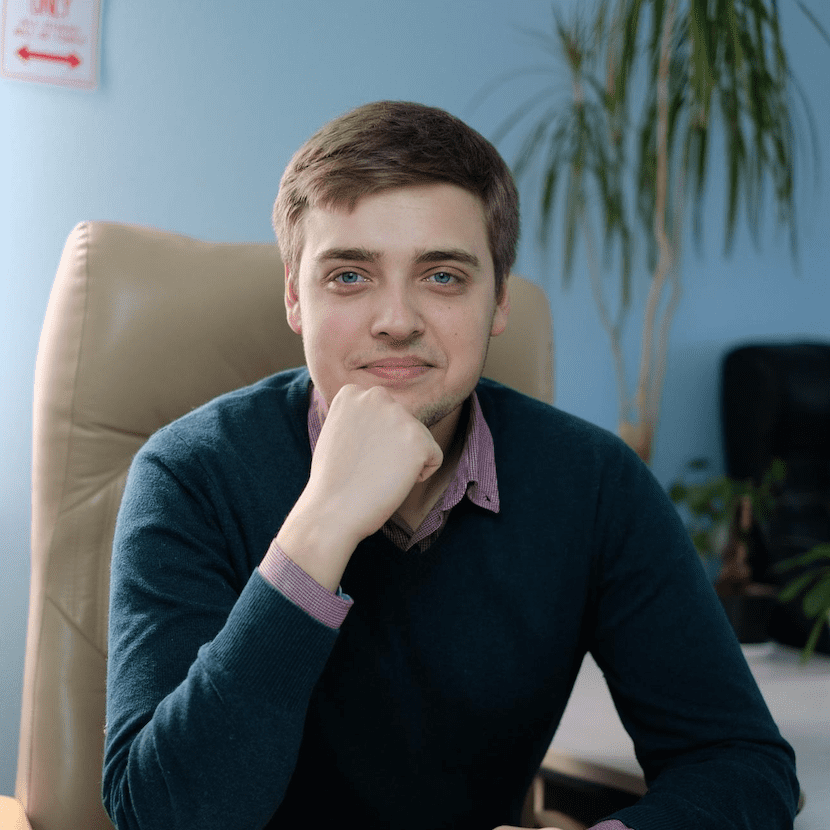 We have transferred the experience from working with the TemplateMonster with care to our brainchild ONE. Polite and responsive operators, with whom you can share your problems or new ideas, greet you in the chat around the clock. We are happy to receive your requests because they give us an idea of where to go next and what we need to do further. Due to your feedback, we grow and improve, making the assortment wider, providing affordable prices and better support. ONE is something that will be useful to every digital worker.
Why Is ONE A Solution For You?
Web Developers & Web Designers. The people who are always searching for the fully-functional and fancy solutions based on variable platforms – HTML, WordPress, and eCommerce themes. It is crucial to have quick access, check at once if the template is suitable for the client, and not lose a second on the development – time is always a lack! Moreover, the overall design is usually not enough, so here comes another whim – small graphic elements as icon sets, fonts, images. That is why we have placed all the necessary components in one great resource – you can quickly find anything you need and download it in a few seconds.
Web Studios and Agencies. It is essential to optimize the overall process of project development from the very beginning. It allows doing more tasks in less time. That is why the template choice should be cost-effective and comfortable. If you are tired of the low-quality products and endless search of the price and quality win-win, ONE is an optimal solution.
Small Business Owners. At the primary steps, the aim to use the budget most effectively is the main concern. The online business allows you to grow and promote your business, gaining more sales and new leads permanently. That is why creating a web page is a must-have step. But design creation from scratch, functionality development, and marketing cost a fortune. With ONE, you will get all the necessary tools – modern templates, images of high resolution, plenty of graphics, audio, and video assets that you can use for your perfect website creation. Moreover, as ONE member, you are getting many extra bonuses, as discounts on the services and high-quality tech support. It will help you optimize the budget and get a ready-made website with creative SEO-friendly content in the shortest terms.
Content Makers. When creating content, it is crucial to use various templates because this will significantly help you save your time and qualitatively diversify your content. You no longer need to search for royalty-free templates because we have collected thousands of these types of products in Membership. A new post on a social network, a blog post, a news broadcast, or a video – templates of all kinds from frames to audio and video assets will help you make a new product exciting quickly and efficiently.
Besides the cost-effective items, we always increase the collection with new templates and improve the client's interface. Supporting you is a matter of high priority to ONE team. Every day we diligently check your feedback, support requests, and questions and are truly proud of your appreciation.
We resolved more than 3 500 tickets in 2020;
Received 15 000 excellent rates in online chats with you;
We customized more than 300 online customer projects.
Once you are a ONE member, you become a part of a vast digital family. We are happy to meet new people in our community and gladly accept all your ideas and remarks. Our caring agents quickly find a solution and pass all the offers. You see the result immediately – we are expanding the range, improving website options, and making the product even more accessible for everyone who wants to develop in a digital design branch!
Versatile Design Solutions For Everyone
Our way started from a relatively small project in which we collected templates from the most popular authors and platforms. At first, we included only website templates. Focusing on trends, we have added HTML, WordPress, and various eCommerce platforms in Monster ONE subscription – Shopify, Magento, PrestaShop, and OpenCart. CMS templates, such as WordPress and Shopify, have always been in great demand. Being the handiest and the most understandable for every user, they required special attention and development. So we have diversified the niche assortment of themes with exceptional functionality. Moreover, we had decided not to be stuck in one place, and every month we uploaded more than 100 new WordPress models.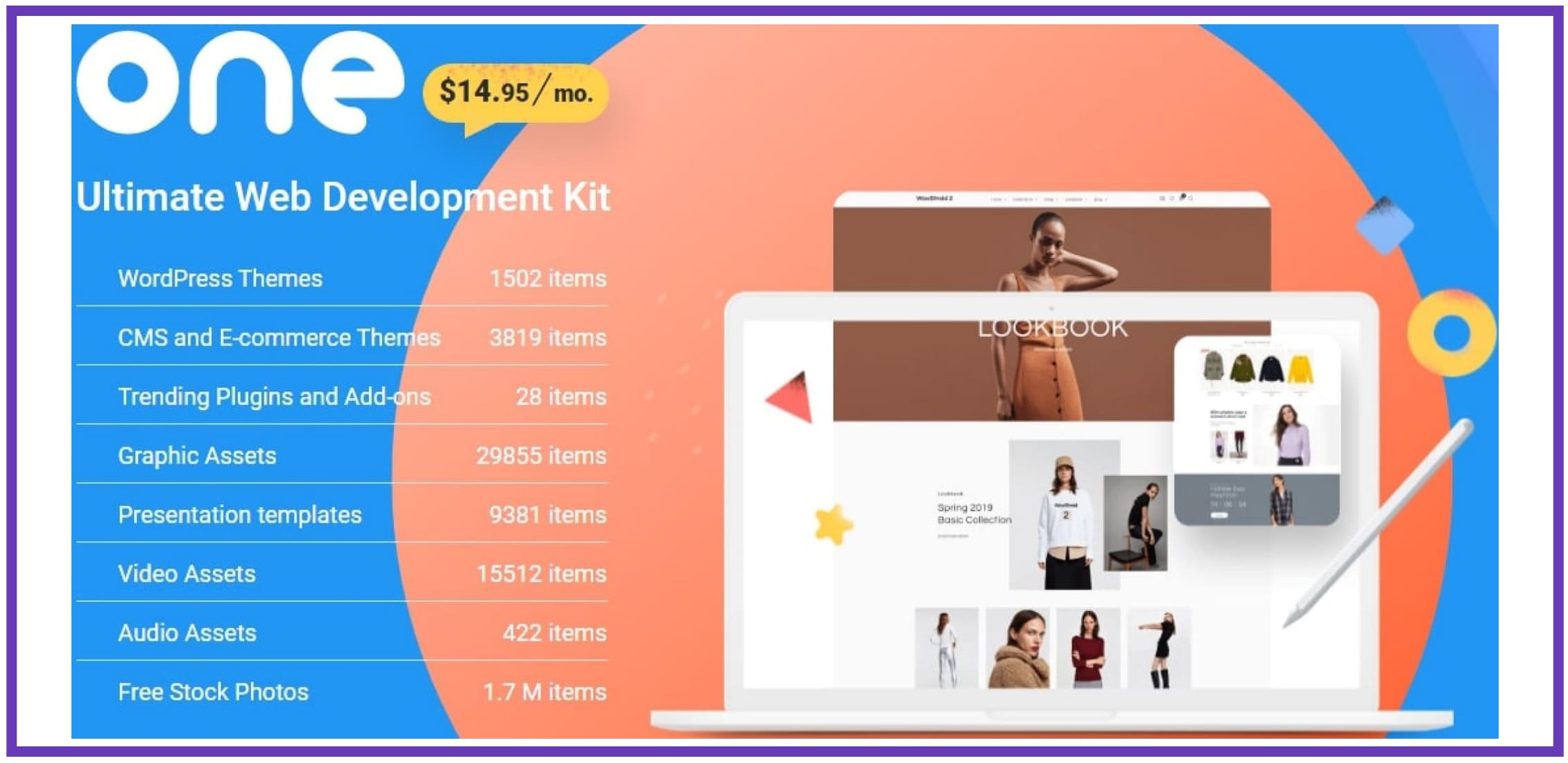 Over time, we began to receive frequent requests to add another essential component – graphics. It is quite understandable because the basic design was not enough for the development of the project. Therefore we gladly satisfied the whim of our clients. Product categories such as icon templates, patterns, design documents, resumes and CVs, presentation templates, and high-quality images for any need – all these became available for any current subscriber with no extra charges. Currently, the Membership covers the following categories:
WordPress and WooCommerce themes and plugins;
Joomla and VirtueMart templates;
Magento themes,
PrestaShop modules and designs;
Shopify;
OpenCart;
HTML templates: website, landings, newsletter;
Graphics: PPT, PSD, keynote, Google Slides, fonts, logos, social network covers;
Audio, video, premiere pro assets;
After effects;
Hi-rez images collection;
3D models.
This year we opened three new categories – audio, video assets, and 3D models. Thus, clients can do thousands of different projects from one account because all the necessary tools are available; they are just a few clicks away. Besides, the convenient mockup tool included in the subscription solves many problems – you can immediately make a visual layout of the project, provide it to the customer, and get started.
Over the past year, we have added over 50,000 new products in various categories and platforms to our subscription. Now we continue to update the collection, adding more than 4,000 items every month. All these are automatically available for all the active subscribers, without any extra payments. A member can simply log in to the account and download any of the included products at any convenient time.
Monster ONE Pricing – Cost-Effective Investment In Your Business
Of course, the initial impetus to launch such a project was that retail purchases were gradually losing relevance in regular users' eyes – they had to spend more than one hundred dollars a month to buy everything they needed for their projects. By creating the graphic design subscription, we did not set ourselves the goal of chasing sales. We tried to make it as convenient for our clients as possible – it is handy to download, use, and beneficial for budget managing.
Currently, we have three web design subscription plans. Each of them contains specific categories of templates that are suitable for different projects.
ONE Creative – $82/year
We have developed this plan for our most creative clients. You can find different graphics, audio and video assets, hi-rez images, keynote, Google Slides, and PowerPoint templates. It will be an excellent option for graphic designers and content makers, as they regularly use high-quality graphics, royalty-free products for unique content creation.
All-In-One – $179/year
This option is the best solution for developers. There you will have all the advantages of the Creative plan, and besides templates and plugins for various CMS:
WordPress and WooCommerce themes and plugins;
Joomla and VirtueMart templates;
Magento themes,
PrestaShop modules and designs;
Shopify;
OpenCart;
HTML templates: website, landings, newsletter;
All-In-One ∞ – $599 (one-time fee)
This plan includes everything All-In-One has, but with unlimited access in time. It means that you pay once and use and download any included templates now, in a year, and even in ten years. And all this, with lifetime updates for all products and no recurrent fees – just enjoy the benefits and multiple design options.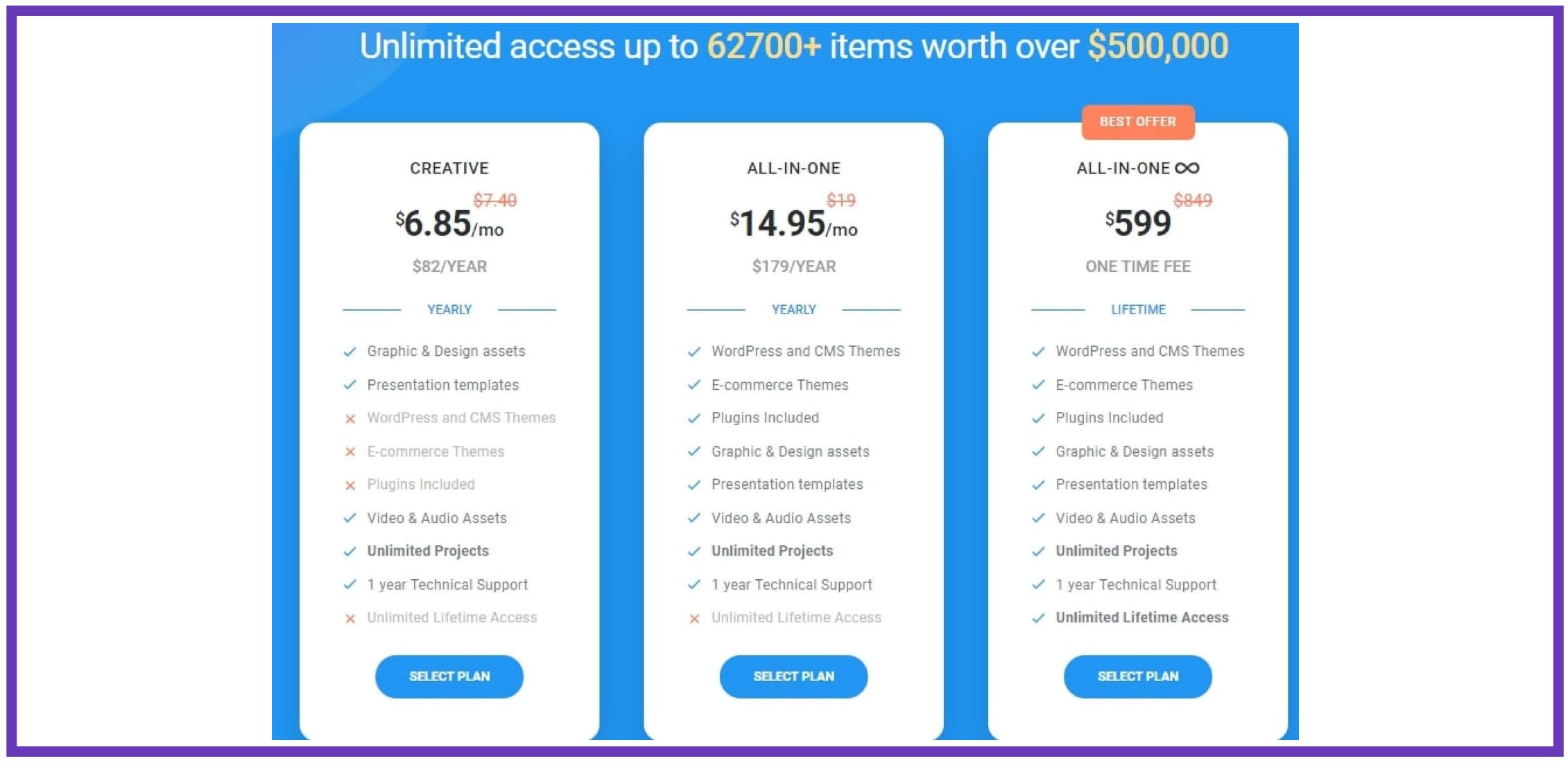 And that is not nearly all! This year we have made a step forward and decided to make Monster ONE affordable for literally everyone. We have launched a free ONE Membership for all who want to join the community. The free account creation is fast and straightforward – we do not require any billing information, so all you need to do is sign up with your email and password. After that, you get access to all the obligation-free items.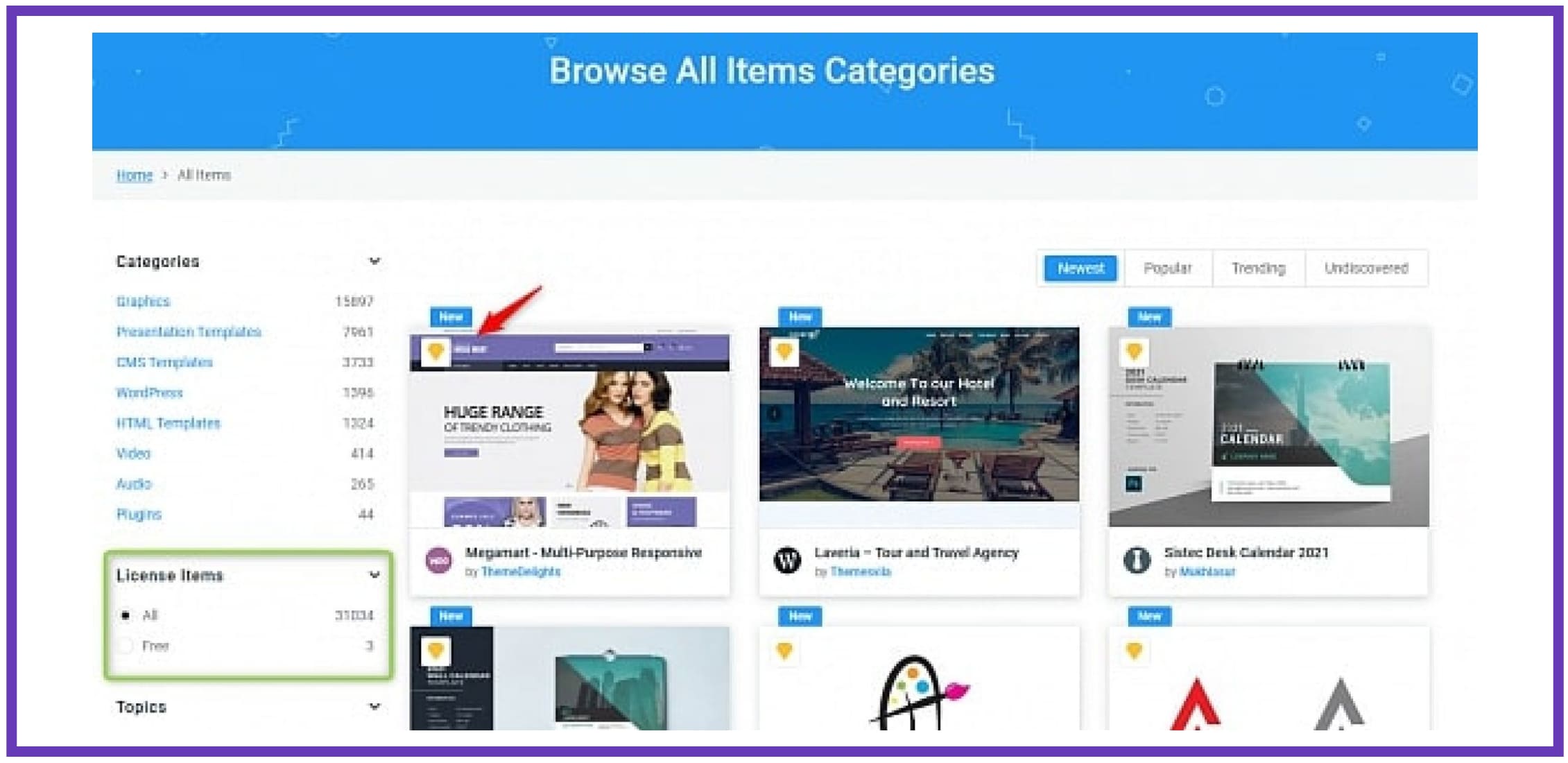 Moreover, if you decide that ONE is what you need, you can upgrade your free account to any plan from the checkout page for an attractive price. Or you can upgrade step-by-step by paying the difference between your current subscription and the desirable plan.
When the ONE member gets the paid subscription expired, his plan is changing to the Free ONE automatically to download the free products with the same account. Besides, you can subscribe to the particular newsletter offers and be the first to know about our specials for membership!
A Bunch Of Benefits With ONE Plan
In addition to the broadest range of products, buying a subscription gives you much more than just products. High-quality templates, affordable prices, and valuable support are the basis on which we build our large ONE family. And of course, we are happy to provide additional benefits for those who work and develop with us.
Regular Website Improvements And Updates
Our team strives to make the usage of Membership as comfortable as possible for everyone. That is why we regularly collect feedback and develop new features to do the search and downloading effortlessly.
1. Improved on-site search algorithm and increased its relevance. Now you don't need to manually check all the themes to determine which one would be the most suitable. We have added the necessary attributes to all the items and made the keyword search faster and more relevant.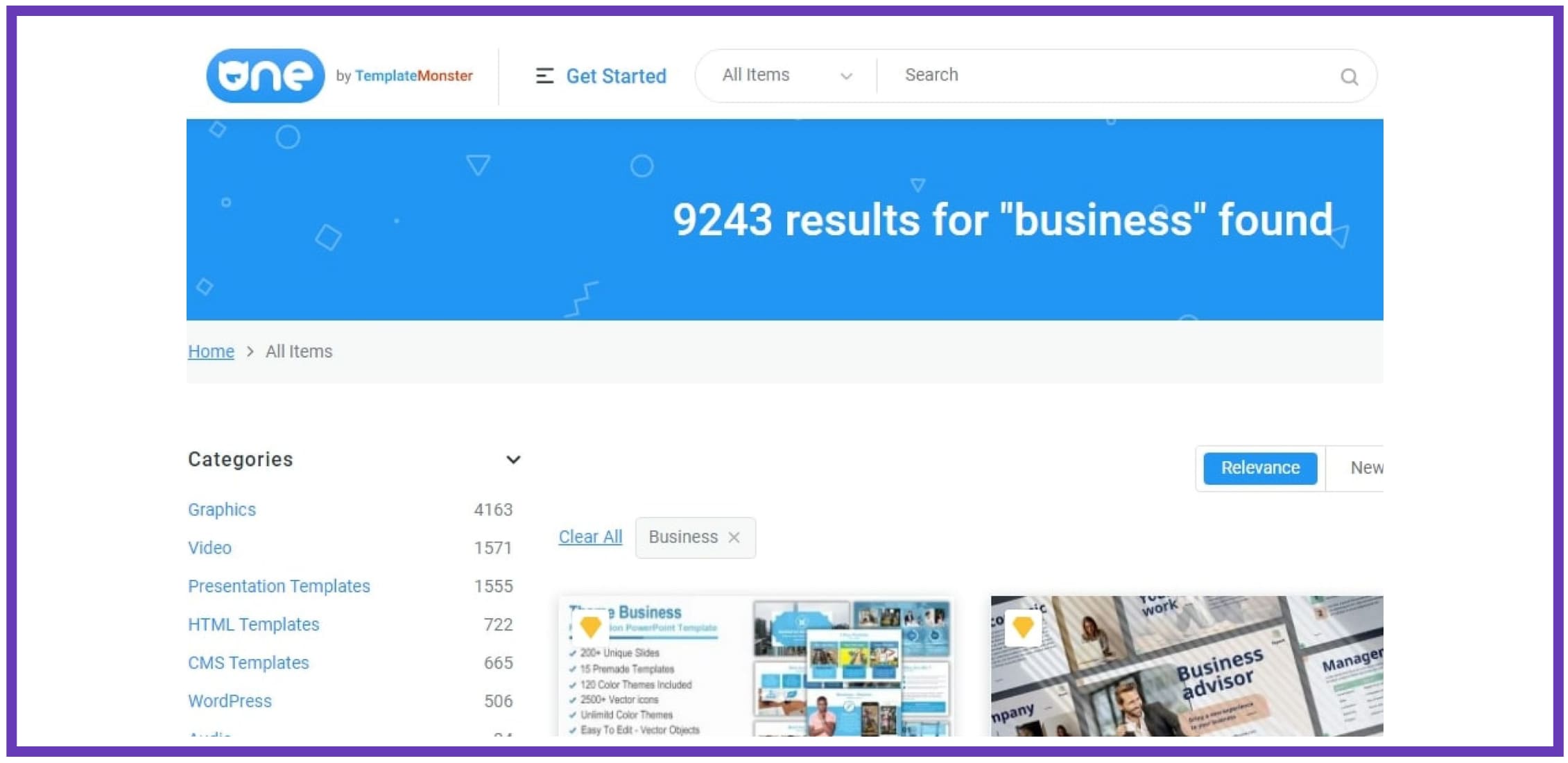 2. Updated navigation filters to fit product categories. You can easily choose the necessary page builder and check all the themes in a few clicks. For example, if you work with the WordPress platform and use the Elementor Page Builder, you need to choose "WordPress" and you will see the builder options. By selecting the category, you will see all the templates based on this editor, and further, you can sort them by tags and additional features.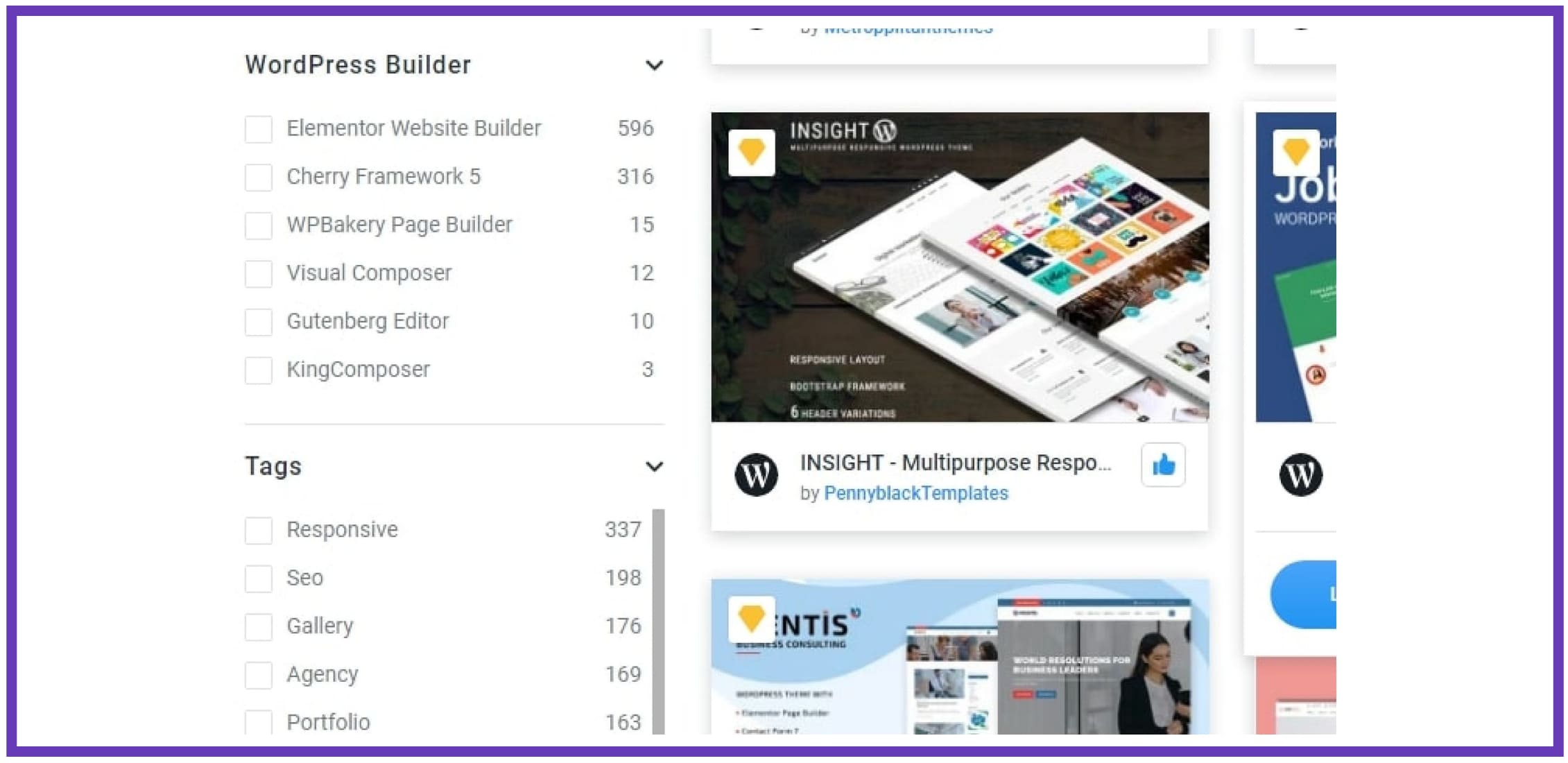 3. We have launched a new account page. The working interface has become more intuitive and straightforward. You can find your recent downloads, export the transactions' invoice, contact the support team, and see the current offers from the account.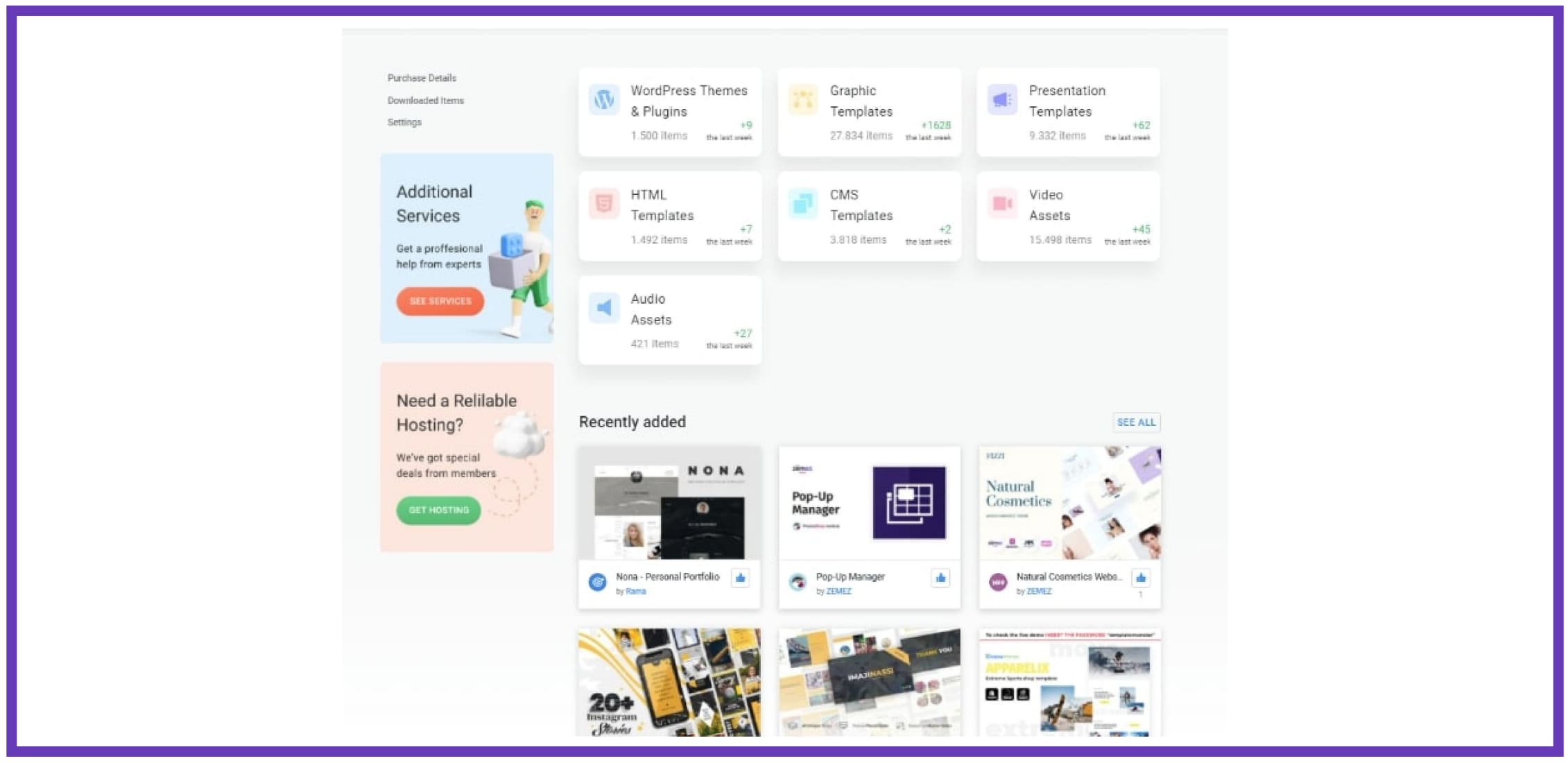 4. Collections feature. There is no need to create a separate file with favorite templates. All you need to do is log in to your account and add the templates you like to your collection.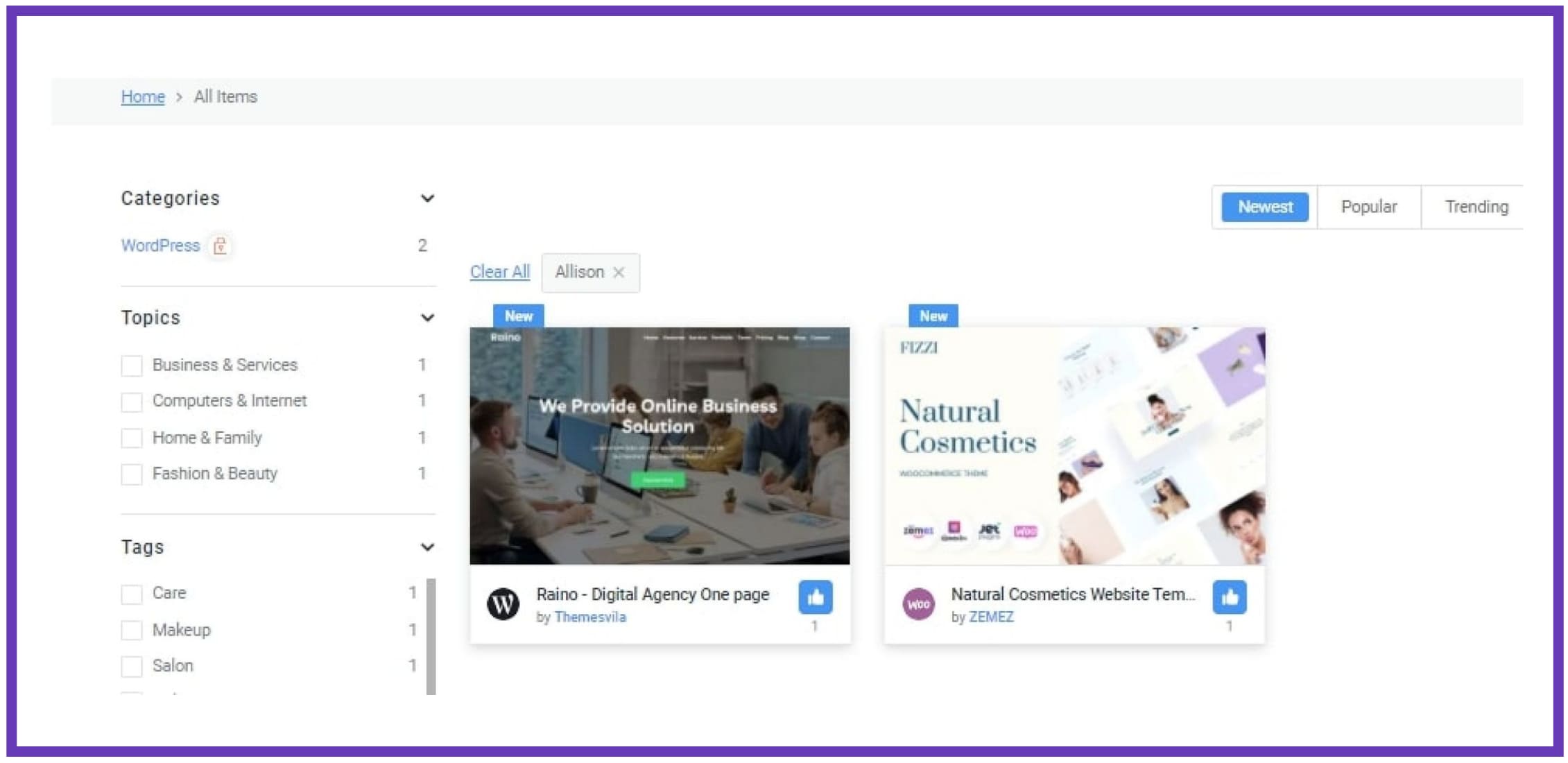 5. We've added social media sharing buttons to the product page. Now you can share with the theme's page on your social networks in a few clicks only, so your subscribers will be able to check it out quickly.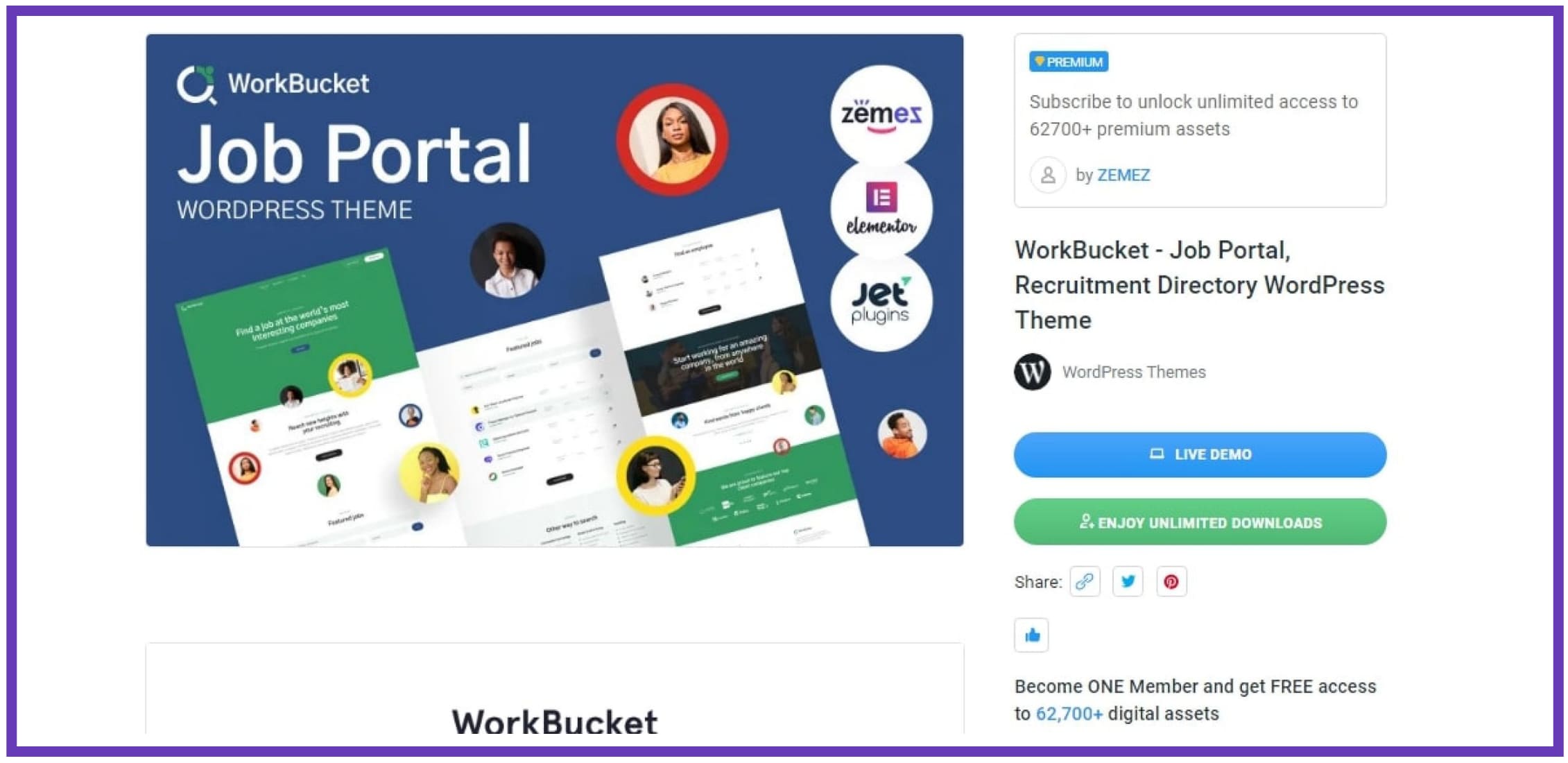 Author Diversity In ONE
We are always glad to new authors who want to sell their masterpieces with us. You can easily submit your product for review, get approval, and start earning high commissions on your template's sales. Moreover, it is unnecessary to be an author on TemplateMonster to sell products in ONE, so you can apply your developer's portfolio independently. Check out the instructions on how to become an author for ONE and join our community on the most favorable terms.
Affiliate Program
By purchasing a subscription, you can use templates for projects and earn money from your subscription. Due to our flexible affiliate program, you can get a commission from every new ONE subscriber. Its size depends on the plan that your client purchases. To receive money, you just need to share your affiliate link, which you can get here. Earn and grow with your subscription!
Discounts and Partner Offers
To make the subscription as profitable as possible for you, we regularly expand our partners' circle and make agreements on beneficial cooperation, which you can use. Thus, the subscription includes a year of free use of the tool for creating mockups – Draftium, high-quality images, and much more. As our dear subscriber, you can get an additional discount on the necessary website building tools:
Website hosting
Hosting is the first step in website creation. It should be fast, reliable, fully compatible with the themes to avoid conflicts. You can get excellent hosting from our partners with a discount and save your money on other essential aspects. Moreover, the providers are fully compatible with our templates, so you can be sure everything will work fast and smoothly.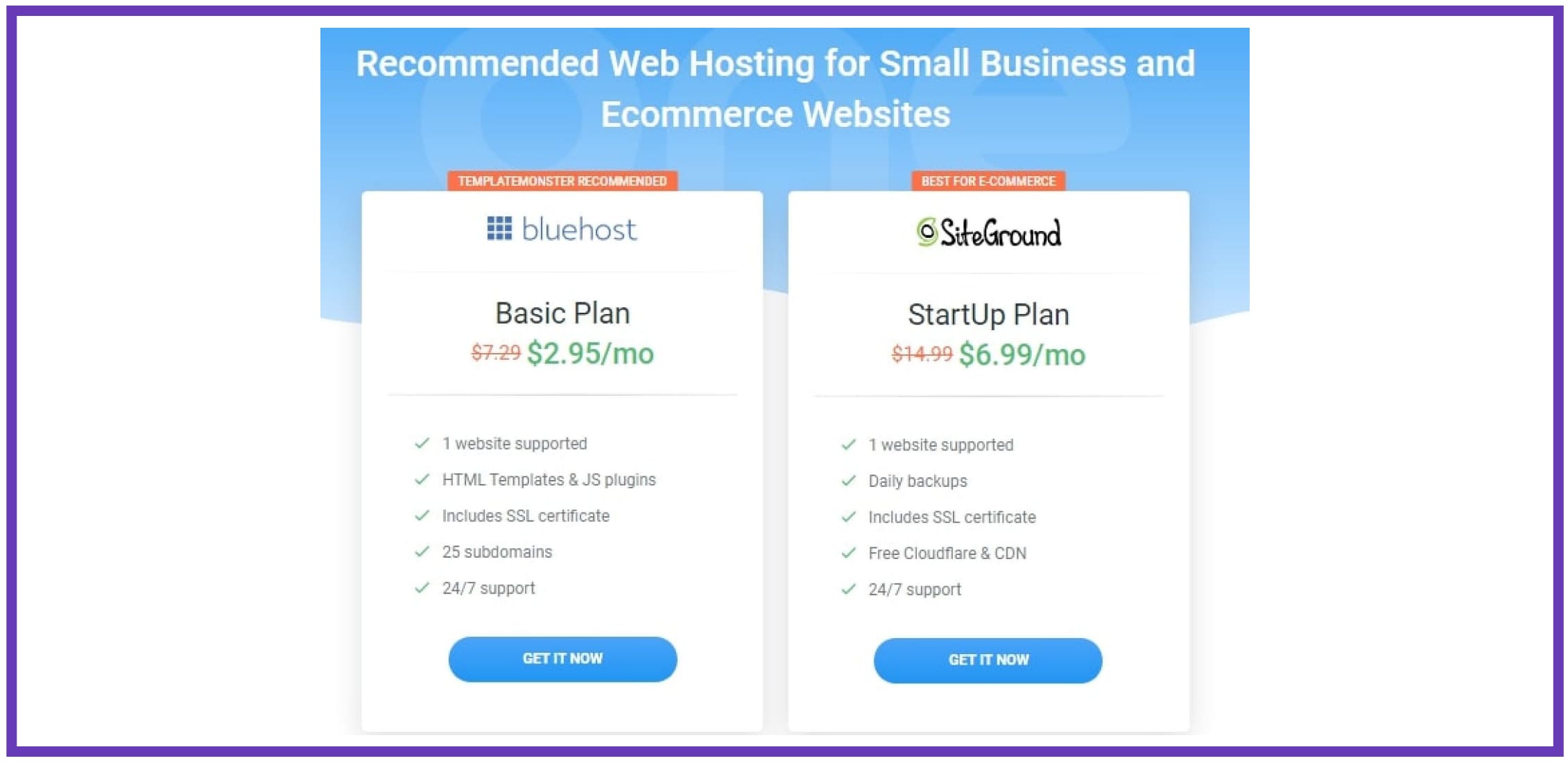 Additional launching services
The lack of time or experience is not a problem anymore! Need to launch the project and save your time on it? Our team will be glad to help you. With our additional services, we will set up the website in the shortest terms possible. And as ONE member, you can hire them for the best price. You are saving $60 on the Ready-To-Use service and at least $100 on the All-In-One packages.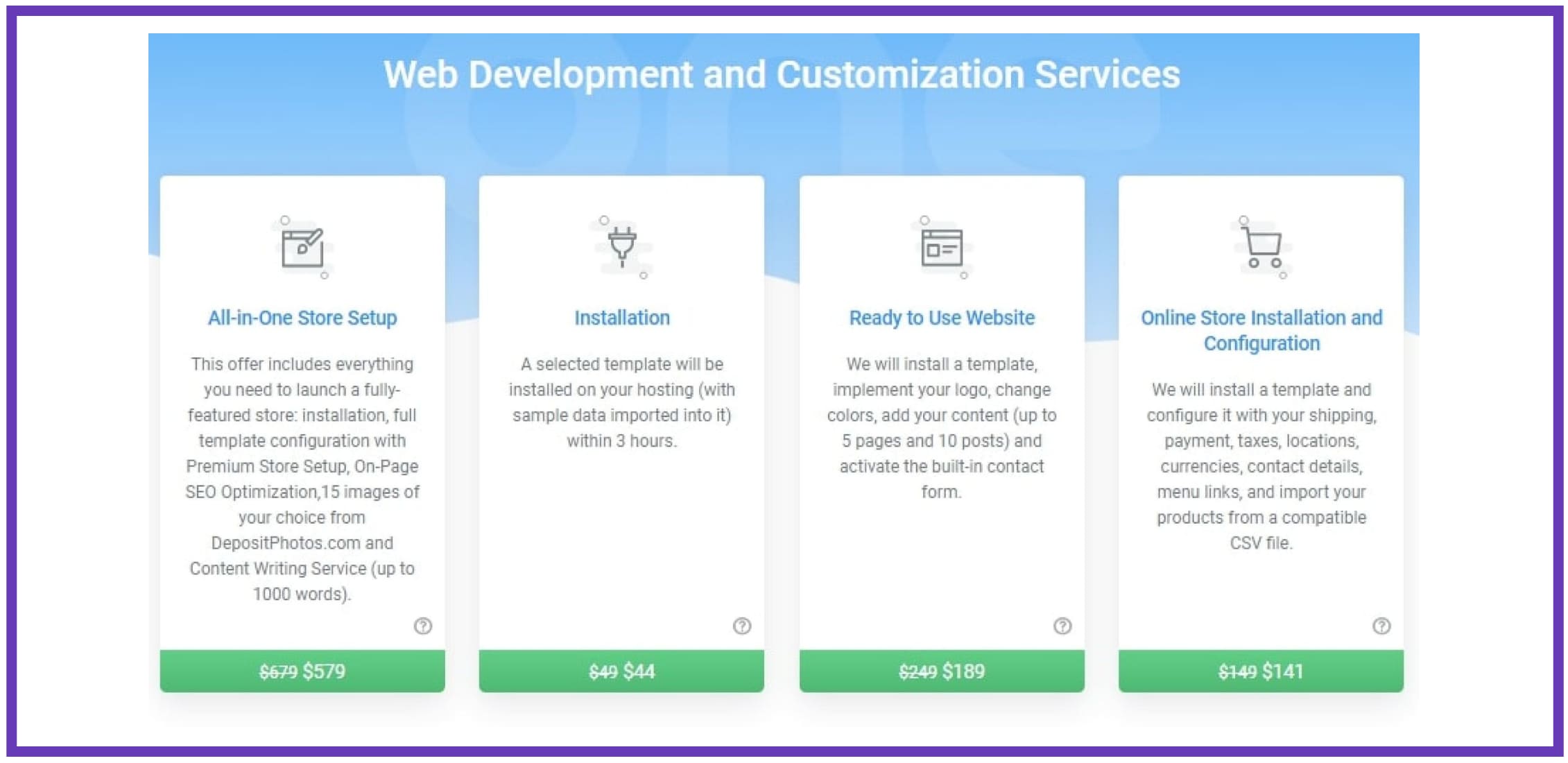 Some Awesome Videos About Monster ONE
ONE by TemplateMonster. Everything for Building Websites in One Subscription
Try it today at only $14.8/month or pick the Creative Plan for only $6.8/mo.. Also, One Subscribers can get the products at TemplateMonster Marketplace at almost half price! Unlimited downloads for an unlimited number of projects!
What is One by TemplateMonster?
ONE is an absolutely new subscription service and a real website development factory.
Summing Up
Monster ONE is a project that was created due to clients and for clients. It has everything you need for full-fledged website creation, from discounted hosting to complement sites' visual effects. The subscription is regularly updated, and we keep it competitive by expanding the collection, setting affordable prices, and providing quality service for everyone.
We diligently improve the interface and monitor the quality of products to make your projects better and help you in development. To verify this, you can test the free subscription right now – make sure that downloading the products is easy, no additional fees, and that the products provided are of high quality.
If you decide to join the Membership with any paid plan, we have a special offer. With the promo code MasterBundles10 you will get 10% off for any tariff on your choice. Get all the benefits of ONE Membership with the best price and open new opportunities with a top-notch digital design subscription!
Article References
This article was written according to Novi builder official website information, real and honest customer reviews and Novi builder community.
Monsterone.com
Facebook Community TemplateMonster: https://www.facebook.com/TemplateMonster/
Disclosure: MasterBundles website page may contain advertising materials that may lead to us receiving a commission fee if you purchase a product. However, this does not affect our opinion of the product in any way and we do not receive any bonuses for positive or negative ratings.