30+ Best Infographic Templates in 2021: Free, Premium, Made By Yourself 💹
Infographic Templates. Visual content really rocks and for the last years, it's mostly an axiom. If you want to promote your online business efficiently, then the question of creating infographics will be point-blank, anyway. Here are some reasons backed by facts why this is so:
1. The majority of people on Earth are the visuals who perceive and remember information that they see very easy 🡇
2. Every person receives 90% of all information through visual perception channels, and 70% of sensory receptors are concentrated in the eyes. About 50% of the brain's neurons are involved in processing this data 🙀
3. Visual content on the Internet gets more views, likes, and sharing than a simple text. Half of the users follow the link that leads to infographics, and third shares it ❕
4. We remember 80% of what see and only 10–20% of what we hear 😵
No matter, what you're working on or involved in for the current time. Infographic is your chance to be in trend and avoid informational pollution. Use it in your educational presentations or pitch-decks. Infographic looks nice and the most important well-readable on every office boards and in handouts.
In a few words, infographics are the way of brief visual presentation of information. It really helps to explain the main idea, saving time and space on slides, boards, web pages or even CVs.
Free Infographic templates in 2021: Strategy
Today, creating infographics is a very useful skill for web designers and we also will point on it later. And, now, better save for yourself and share with friends free infographic templates!
Yep, it's not a joke and these catchy items are ready for your use 💯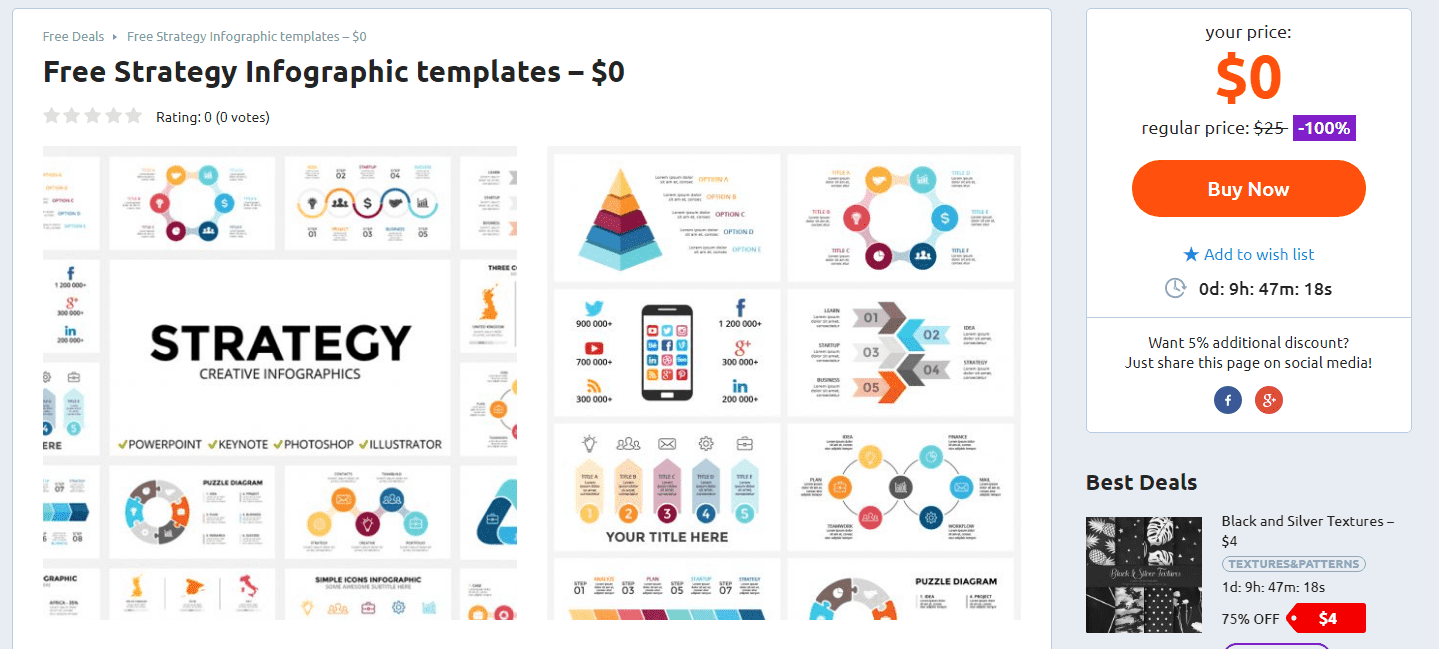 Infographic Template Free Download
This bunch of infographics gives its owner an array of opportunities to represent their company's strategy or a startup plan. Here, you'll find lots of elements, like charts, social icons, comparison of tables, data curves, and blocks for any purpose.
A few more features:
Background-Free Design
Pixel-Perfect Quality
Fully Editable
For Boosting Marketing Campaigns
Free Tools for Creating Infographics
If you have enough time and a will to learn how to create infographics, there are enough of everything on the Web to help you. Moreover, if another reason is your professional interest, this skill can help you to enhance your career chances. First of all, read some recommendations and articles on the same topics, watch tutorials. Get assured that you know at least the most common kinds of the modern infographic. In such a way you can determine what one you or your clients need for the specific project. Some of them are listed below:
Timeline Infographic
Charts Infographic
Pie Charts Infographic
Process and How-to Infographic
Geographical Infographic
Comparison Infographic
Number Infographic
Resume Infographic
Also, it's necessary to follow the next steps:
Develop a concept for future infographics. Study statistics, gather interesting facts and place them in a consistent system of arguments. Then simplify everything as much as possible
Decide what a format is more suitable up to your purpose: a graph, scale, diagram, diagram, tree, map, comparison, etc. Don't represent information in a large amount. Step by step, highlight the main and minor details
Choose an infographic template and make a sketch, storyboard, branding. Pick out a color scheme
To make your infographics sample ready for print, create a single layer of text and pictures. If your infographic is supposed to be only digital, add animation effects, sound, interactive
To ease and hasten the process of infographics creating, modern online services provide everyone with a vast choice of tools. According to this, I've gathered the best of them. Enjoy!
Top 10 Free Tools for Creating Infographics
Piktochart
Piktochart is a tool using which you can create a modern infographic without a professional background or even good painting skills. The only thing you need is a modern browser and an Internet connection. The basic version is free and comes with a free infographic template, the extended requires payments.
Canva
Canva boasts of a wide templates assortment. With this free tool, you can create even multi-page infographics. It's also not a problem to add or delete any element, as well as browse images from your computer. All your work can be saved and downloaded in a PNG or PDF extension.
Infogr.am
Infogr.am is very user-friendly. Just upload your data to the site and automatically create an infographic with a few mouse clicks. 2+ million infographics have been created with this infographic maker. Dealing with it, you don't need knowledge of coding or web design.
Visme.co
Visme.co is available as a beta version. Still, it allows you to create animations, mockups, banners, and infographics. The tool includes free editable infographic templates. The main options are available in free mode. There is also an extended premium version of Visme.co.
Easel.ly
Easel.ly allows creating modern infographics without troubles. It provides users with stylish fonts and different templates. Everything can be customized as you want dragging-n-dropping.
Venngage
Venngage can be compared to Canva from the first view. Still, they are not the same. Due to this free tool, you can make reports, posters, and even infographic brochure. There are infographic design templates: for maps, graphics, and comparison tables. Infographics can be collected by inserting your favorite pictures, icons or logos.
Vizualize.me
Vizualize.me is a good option for you when you want to boost your CV. This service turns your LinkedIn resume into an infographic. Here, you can get varied infographic templates free.
Creately
Creately looks not only up-to-day but is very helpful for making infographics. It provides users with 7 languages for confident work. Choosing this tool, you'll also get enough free infographic elements.
Draw.io
Draw.io is a very handy online table infographic. It's absolutely free. This tool allows you to search Google for a proposed photo for backgrounds and infographic elements, which is great.
Google Charts
Google Charts. What can be more usual than just to ask for the help of Google? Google Charts is a very simple tool that allows you to create all kinds of charts, maps, bars, and more.
Premium Infographic Bundles
Visual demonstration and simple content are the main features of every good infographic. First of all, it's engaging, and for sure looks modern and beautiful. Creating infographics, pay attention that it should explain even the most difficult for understanding information.
So, how to choose the appropriate style for your infographic? Everything depends on the information that you need to add to it. As well, your target audience is also very important.
Supposing to reach many people and get the maximum response from them, you can ask for the help of experienced specialists. Or, just pay less and purchase a ready-to-use infographic bundle, like 1500 items – $29 🙀 It's also a flawless way to save your time and get a guarantee for high quality.
Commonly, there are plenty of diverse infographic templates on the Web. I also can't but share some polished alternatives that are ready for use without troubles. Grab them for hot special prices!
Top Infographic Bundles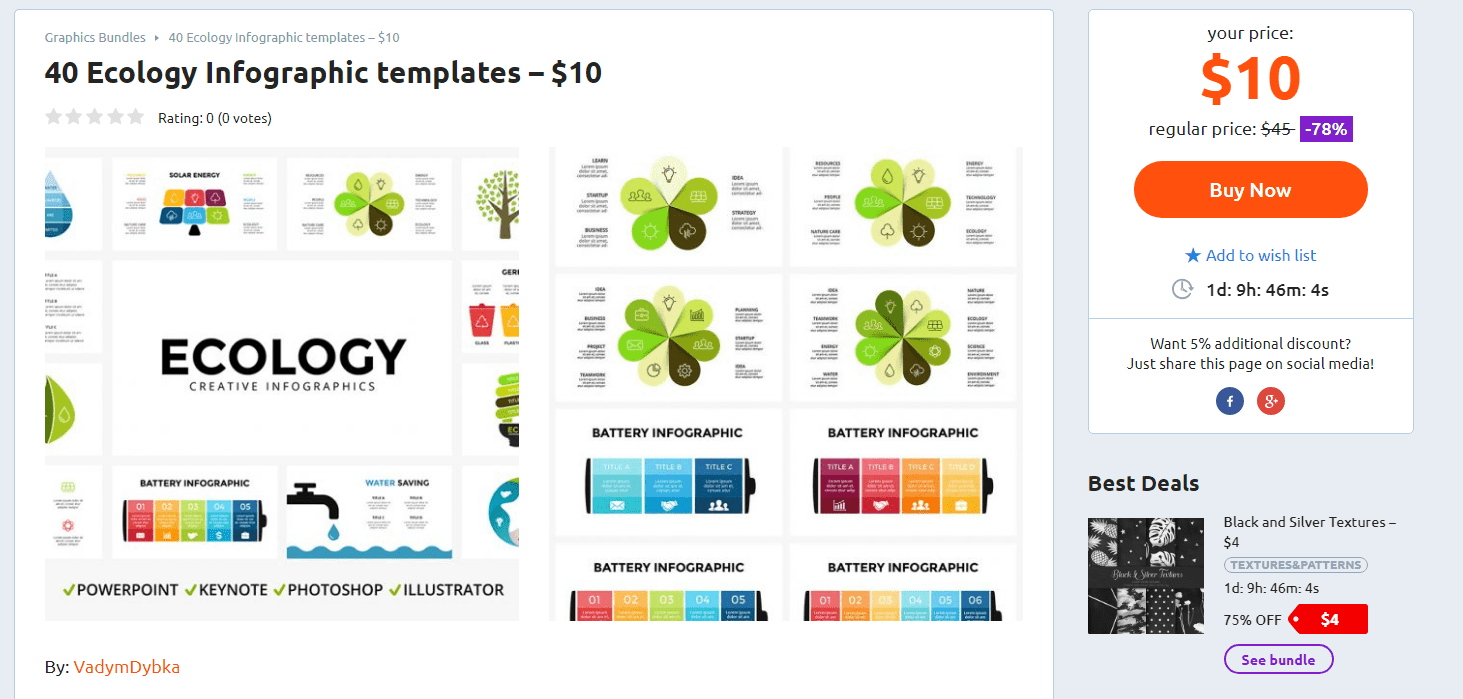 Buy Now
Any eco project won't be complete without these lovely infographics! In this pack, you get 40 unique elements. The main emphasis is placed on the green color and nature markers, like trees, leaves, flowers, weather, water, and more. All items are completely editable (you can change text, numbers, icons with gradients and hard shadows). Check it!
A few more features:
16×9 Aspect Ratio
PPT, PPTX, KEY, PSD, EPS, AI, and JPEG files
Quick Support
Price: $10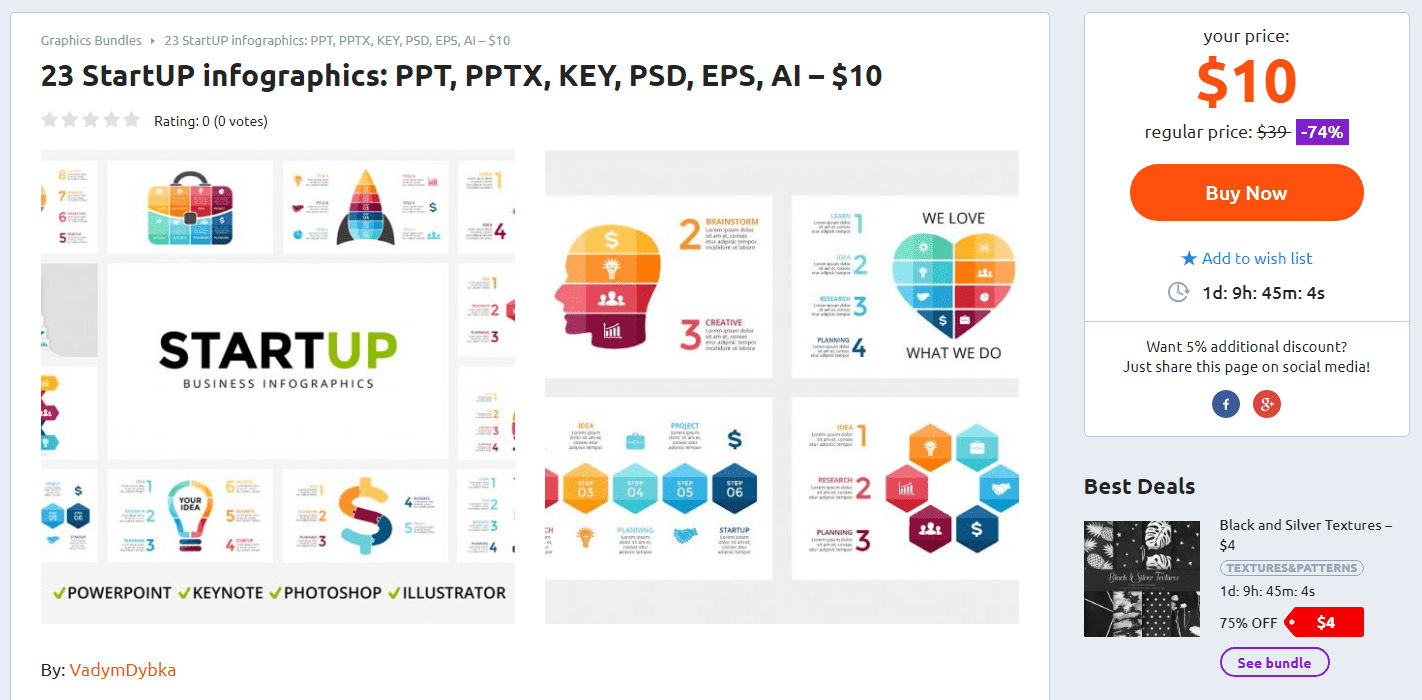 Buy Now
Discover this offer! 20+ different startup infographics are here. With them, you can decorate any pitch-deck or documentation. Just imagine, everything from charts and table comparisons to business vectors and other creative elements in one pack!
A few more features:
PPT, PPTX, KEY, PSD, EPS, AI, and JPEG files
16×9 Aspect Ratio
Effective Support
Price: $10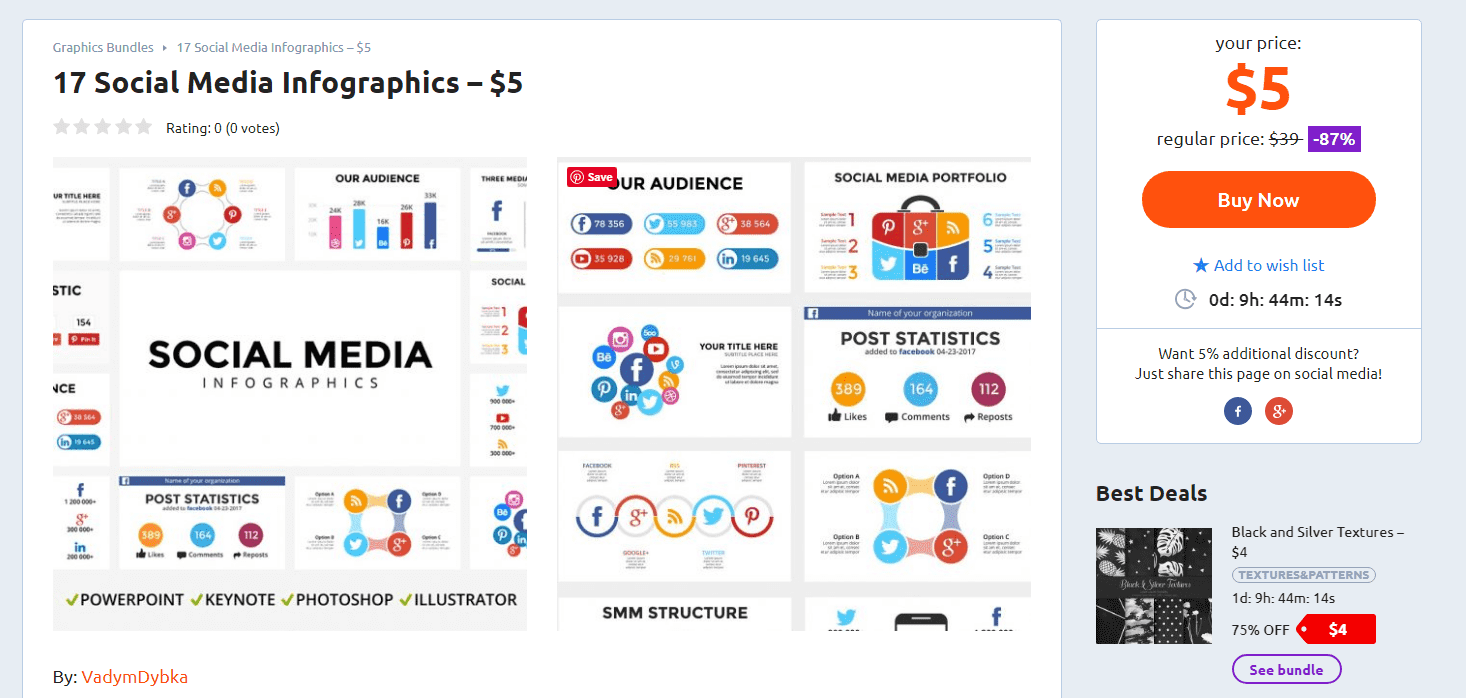 Buy Now
Today, social media is an essential part of every business activity. To realize that your business is backed by a strong social presence is rather important. These cool infographic assets are created just to support this idea. Pick any element you like and add it to your website and presentations!
A few more features:
PPT, PPTX, KEY, PSD, EPS, AI, and JPEG files
User-Friendly
Price: $5
Abstract Infographic Templates

Buy Now
Don't miss this multipurpose infographic bundle! Being colorful and bright, it provides you with lots of helpful elements and blocks that are decorations themselves. Be sure that any of the projects powered with these tinies will look absolutely stunning and alluring.
A few more features:
PPT, PPTX, KEY, PSD, EPS, AI, and JPEG files
Editable Elements
19 Items in One Pack
Price: $5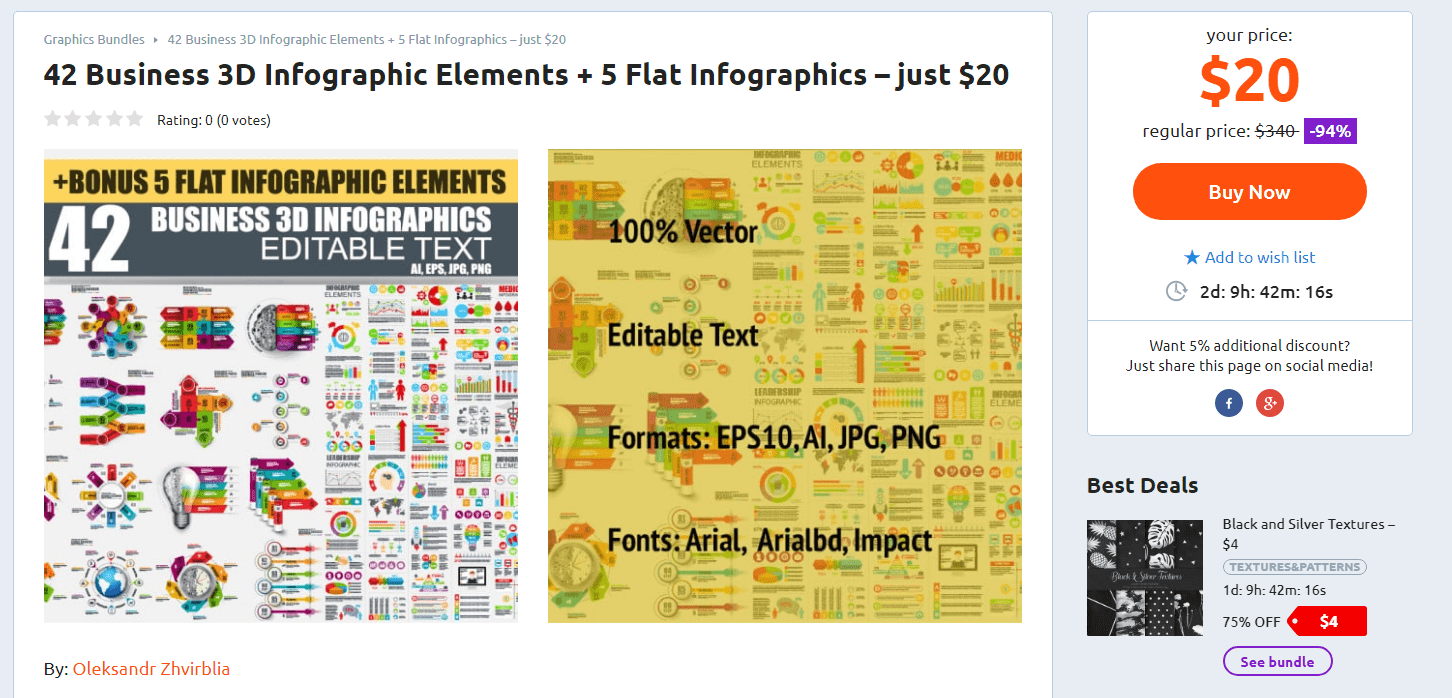 Buy Now
Massive forms and impressive results – that is how this huge infographic stash can be described! In this pack, you'll find 42 business infographics. The most important is all they are made in the modern 3D effect. Choose them to underline every inch of your projects!
A few more features:
Fully Editable
BONUS: 5 Flat Infographics
Provided by Support
Multipurpose Designs
Price: $20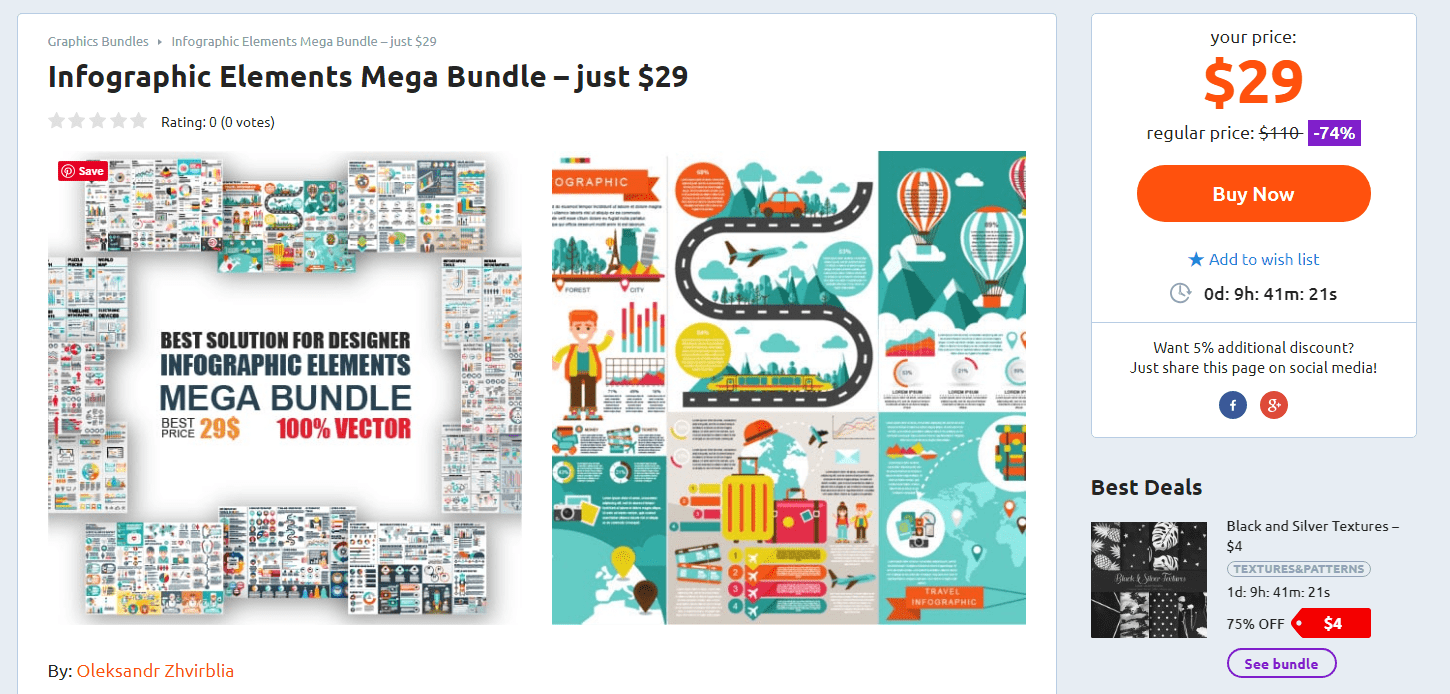 Buy Now
That just the moment when you buy once and use for countless times. This infographics bundle is a must-have for both, a web designer and marketing manager. Get it and won't regret, as it's supplied with elements for the most required topics. Here you'll find 1000+ catchy items. They are divided into business, travel, medical, and other infographics.
A few more features:
Varied Fonts
EPS10, AI, PDF, SVG, JPG images 300dpi, PNG images 300dpi files
Price: $29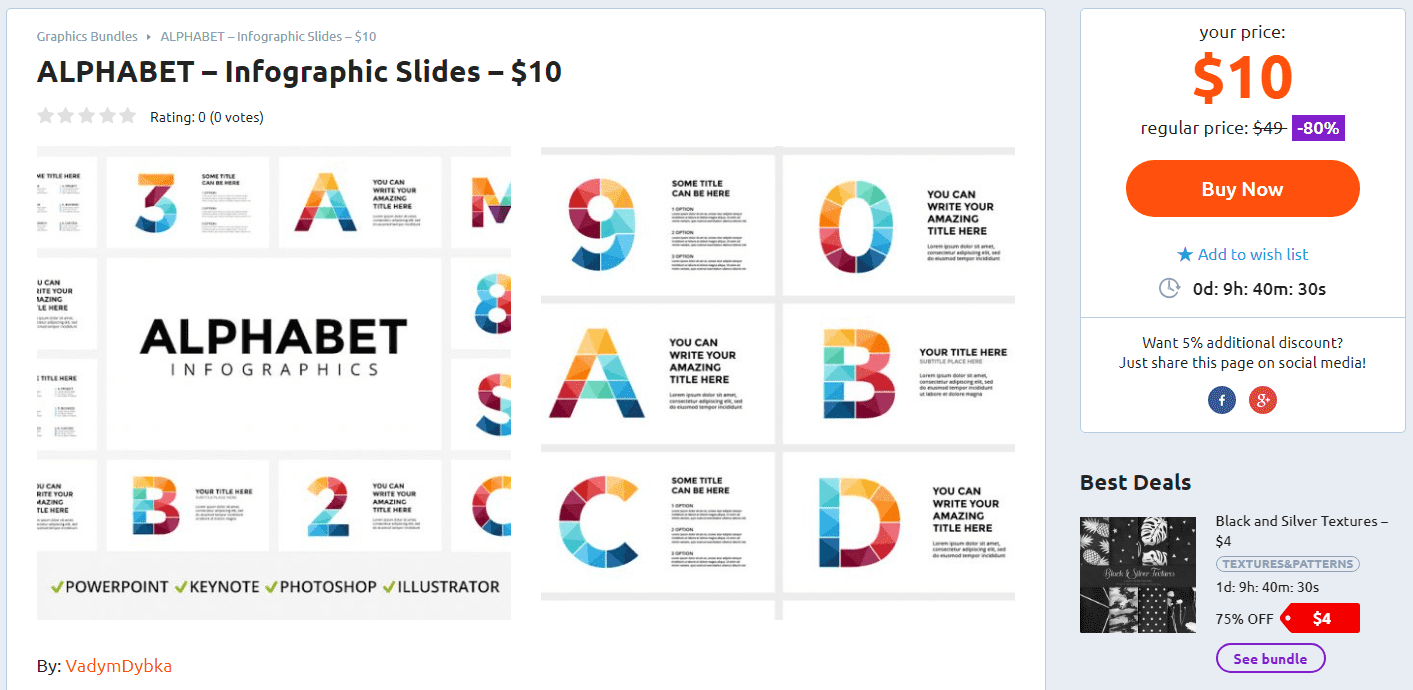 Buy Now
That is a very cool set of alphabet infographics. With it, you'll get 37 items for your comfortable use. Each element is highly detailed and designed up to the latest trends. You'll also like the beautiful colors combination of these infographics.
A few more features:
PPT, PPTX, KEY, PSD, EPS, AI, and JPEG files
16×9 Aspect Ratio
Price: $10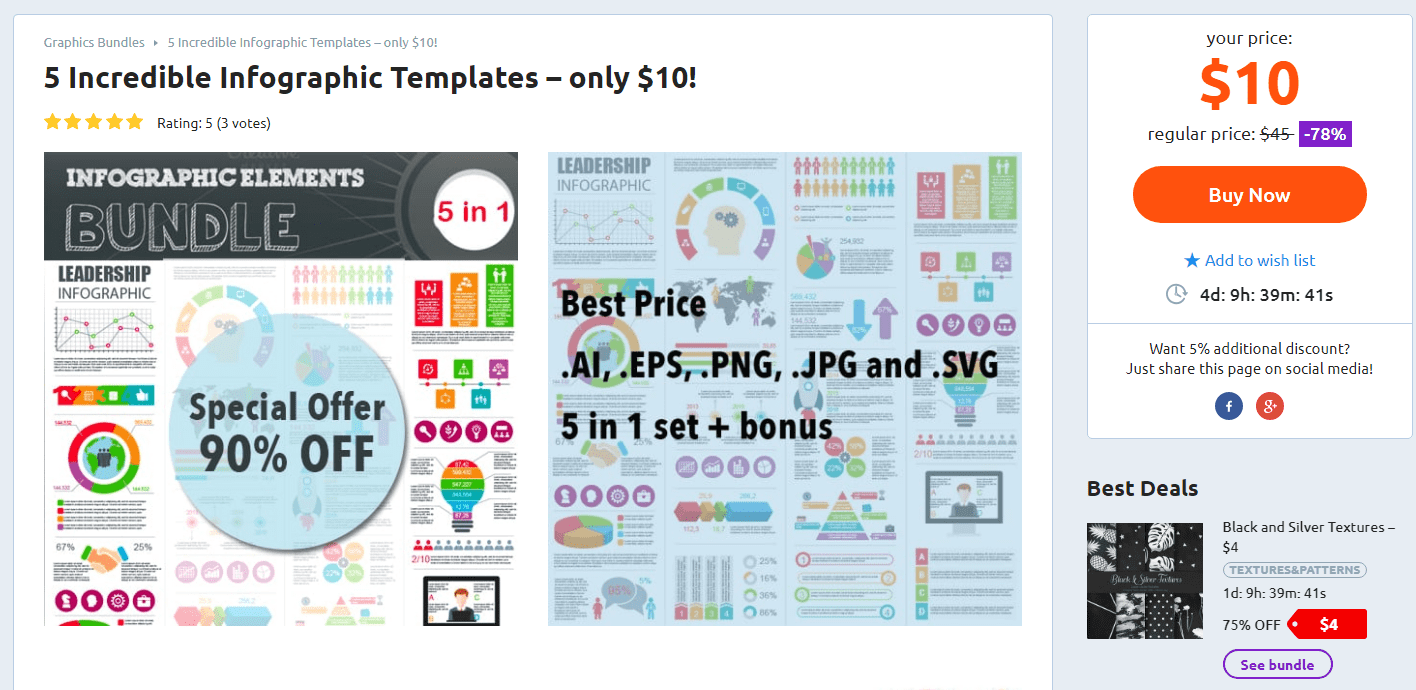 Buy Now
This bundle is more than one infographics template but 5! Each of them is created to suit the most spread marketing tasks. With them, you can visualize any idea and power lots of varied projects. All items in this free bundle, including infographic vector elements, are bright and catchy. The most important is they are very easy-to-use.
A few more features:
.AI, .EPS, .PNG, .JPG, .SVG
BONUS+
Price: $10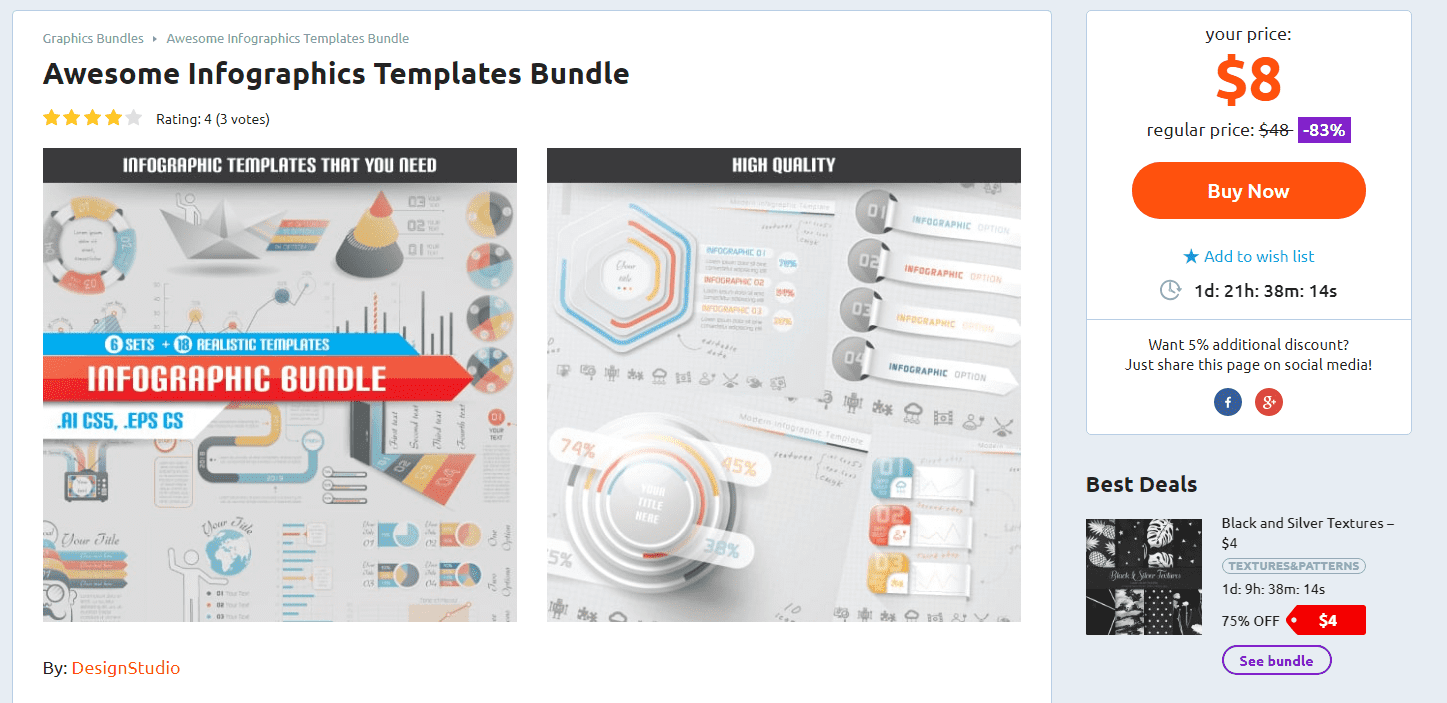 Buy Now
Better don't miss this versatile Infographics Templates Bundle! It can handle lots of your tasks and bring a unique touch to your projects. Colorful and saucy, it's absolutely handy. You won't lose a minute customizing it.
This bundle is packed with everything for such topics, as:
newspapers
magazines
resumes
websites
advertisements
e-mails
flyers
corporate brochures
A few more features:
6 Sets
18 Templates
Multipurpose Designs
.EPS, and .AI vector files
Price: $8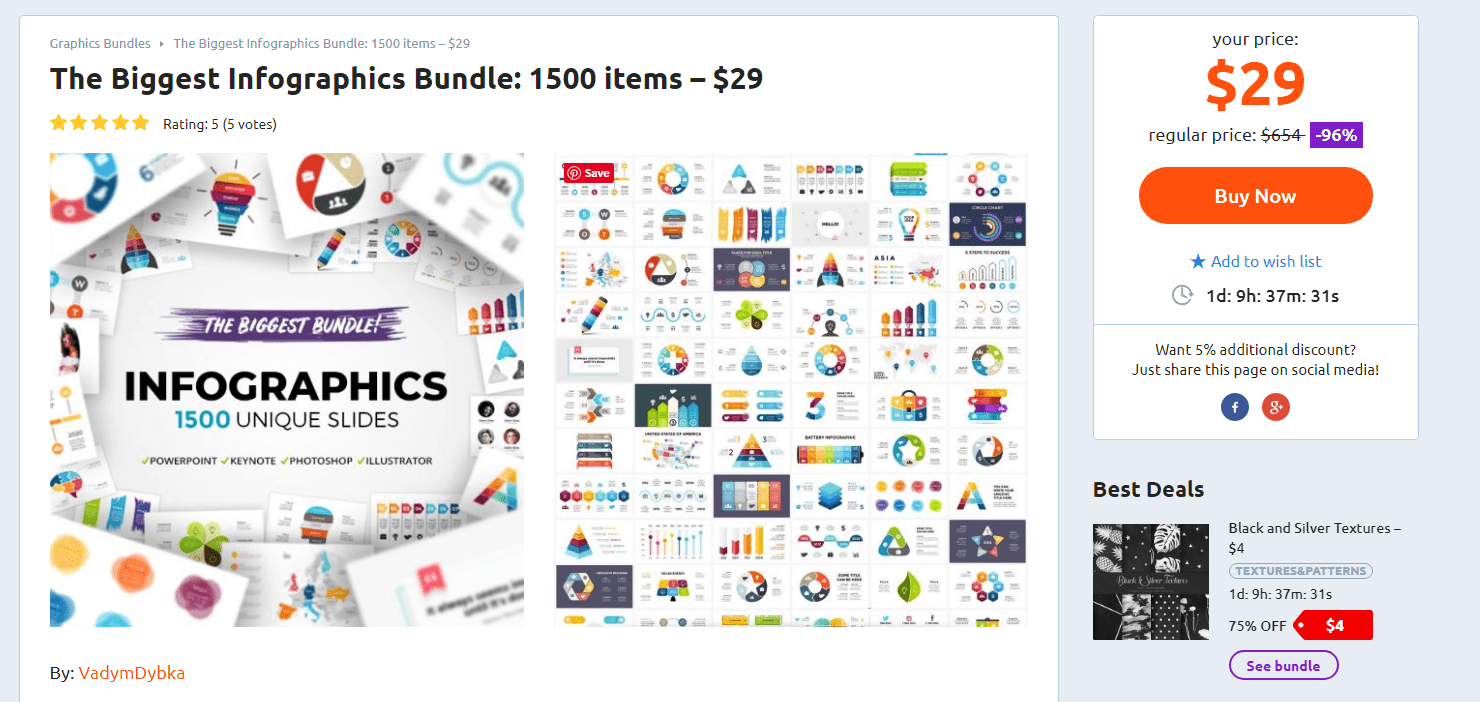 Buy Now
Get this absolutely big infographics bundle! It's the answer to all your question! Thousands of items (1000+!) are ready to supplement your presentations, reports, startup and other digital projects. Moreover, they are already adjusted for print.
So, buy once and get countless usage! This pack is loaded with all possible business, education, and social media infographic assets (charts, vectors, table comparisons, maps, icons, banners, timelines and more). All products are divided up to topics.
Ppt, Pptx, Key, Psd, Eps & Ai
BONUS Slides
Super Easy to Edit
Free Updates
Coming Soon Infographics
Price: $29
What Do You Need Infographics for?
How often do you read the full reports, presentations, and pdfs that you receive on your email? Let me answer this one for you – never. You don't ever do it simply because you are a busy person, just like anybody else. Certainly, for those who sent you these materials, this is a real problem because those materials were supposed to provide you with important for both you and the sender information.
It's one thing when you create content for a person who is waiting for it, for example, a report on an advertising campaign for your boss. But it's totally different when you have to prepare the materials for an audience that is not interested in those at all. For example, a presentation of a new product or a PowerPoint presentation about the changes in your company for your employees or co-workers. Well, this is how you face a common problem when your materials do not give the desired effect.
Infographics are perhaps the best way to increase engagement with your target audience. Of course, this is not the only format, but it is surely one of the most effective ways of conveying your messages, ideas, achievements, as well as important thoughts.
PR managers often have to work on the ideas on how to explain complex topics to the press, partners, or clients. Pretty often it's rather hard to show the production process, explain the financial results and business sustainability, as well as demonstrate the safety of products for the environment. If you try to describe it by means of text, then you'll only waste your precious time, as this text will be difficult to read to the end as well as to actually understand it. Infographics provide many ways to present large amounts of complex data in a simple and understandable way. One infographic can replace 2000 words and 20 graphs and this is exactly why you have to know how to work with these useful tools.
Infographics and Social Media
People recognize and remember visualizations better and faster than text, which is why infographics often become more popular than articles with texts (even though they are well-planned and visually attractive). The ability to say a thousand words without actually saying them makes infographics an important tool for social media. Platforms such as Twitter or Instagram do not allow their users to write long posts but they allow people to upload images with infographics that contain pretty much all the necessary information you need to provide your followers with.
We can observe a similar situation on YouTube. Although the platform allows you to upload long videos, it is recommended to make short videos (5-10 minutes) because nobody is going to watch your hour-long marketing analysis. The use of infographics can significantly shorten your video as well as make it easier to digest. In general, infographics are commonly used in social media posts because they attract users' attention and present the data in an easy-to-understand way.
Key Rules for Creating High-quality Infographics
In case you are currently working on infographics for your future projects, here are some ground rules you want to follow in order to use infographics properly:
1. The infographic should directly answer the question (e.g. Where does your coffee come from? Brazil – 32%, Vietnam – 18%, Columbia – 9%, Indonesia – 7%, other countries – 34%);
2. Use the right proportions that will help you compare the prices;
3. Simply adding text and percentages to an image is not creating an infographic;
4. It should be visually attractive;
5. Double-check your data, you have to be 100% sure that you are using accurate numbers and statistics;
6. Highlight the primary information and set aside secondary data;
7. Don't use infographic if there is no actual need for it;
8. Use pre-made templates that will save you a bunch of your precious time.
Top Infographic Templates 2021
Doodle infographics presentation by Abert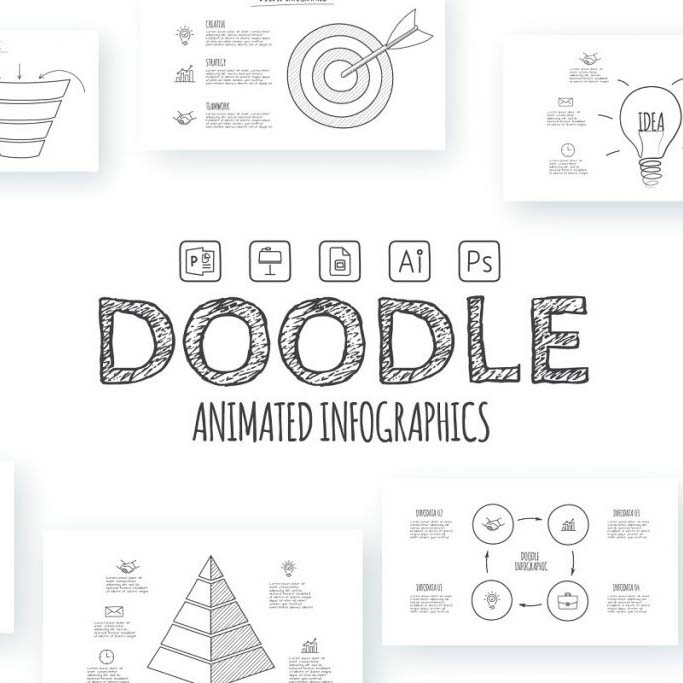 Price: $19
COVID 19 vector icons + Infographics by Paper Cards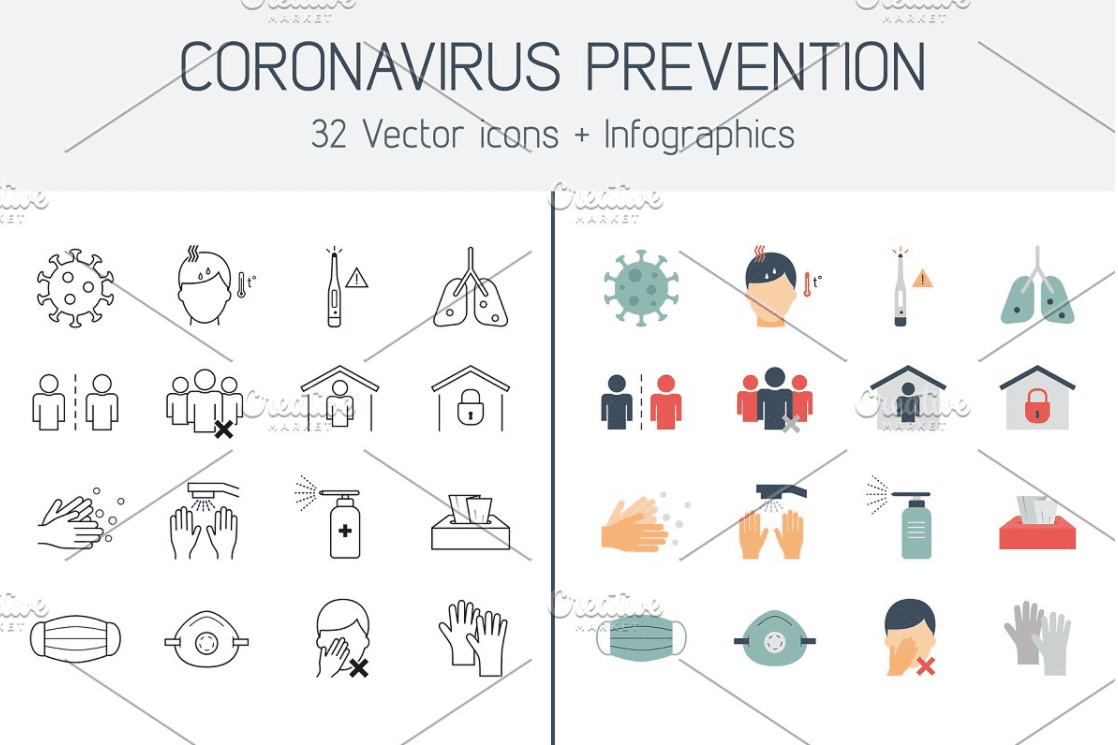 Price: $9
Business Plan Infographic PowerPoint by WhiteGraphic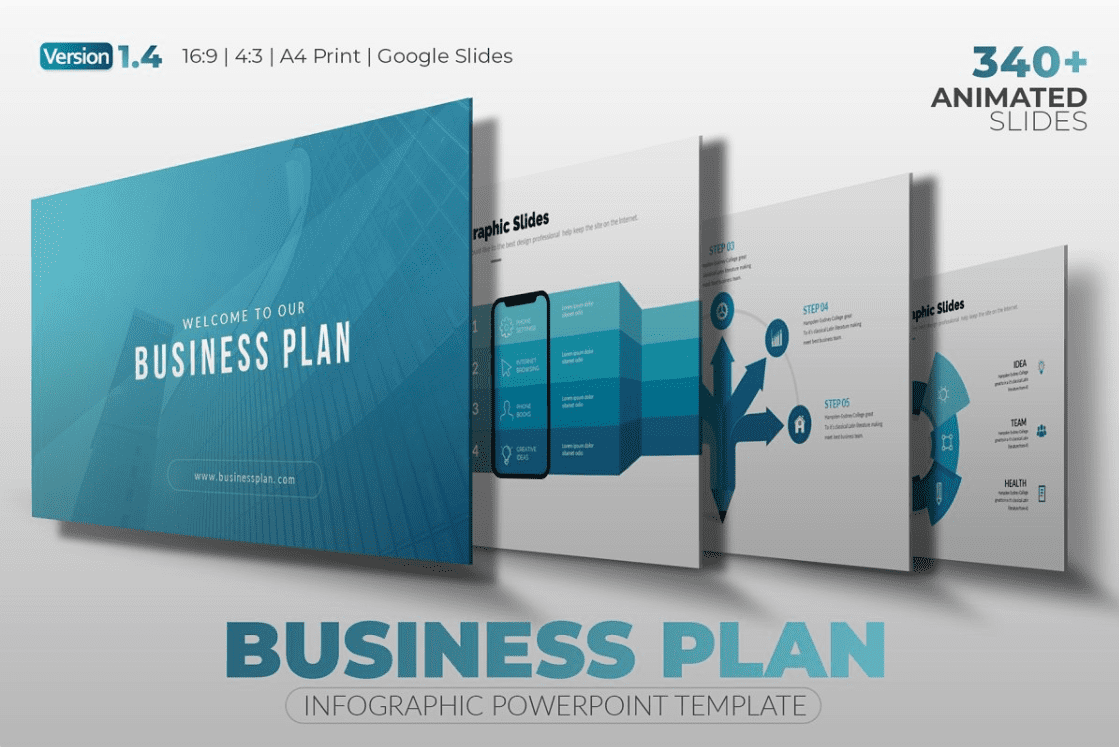 Price: $35
Iceberg infographic by blauananas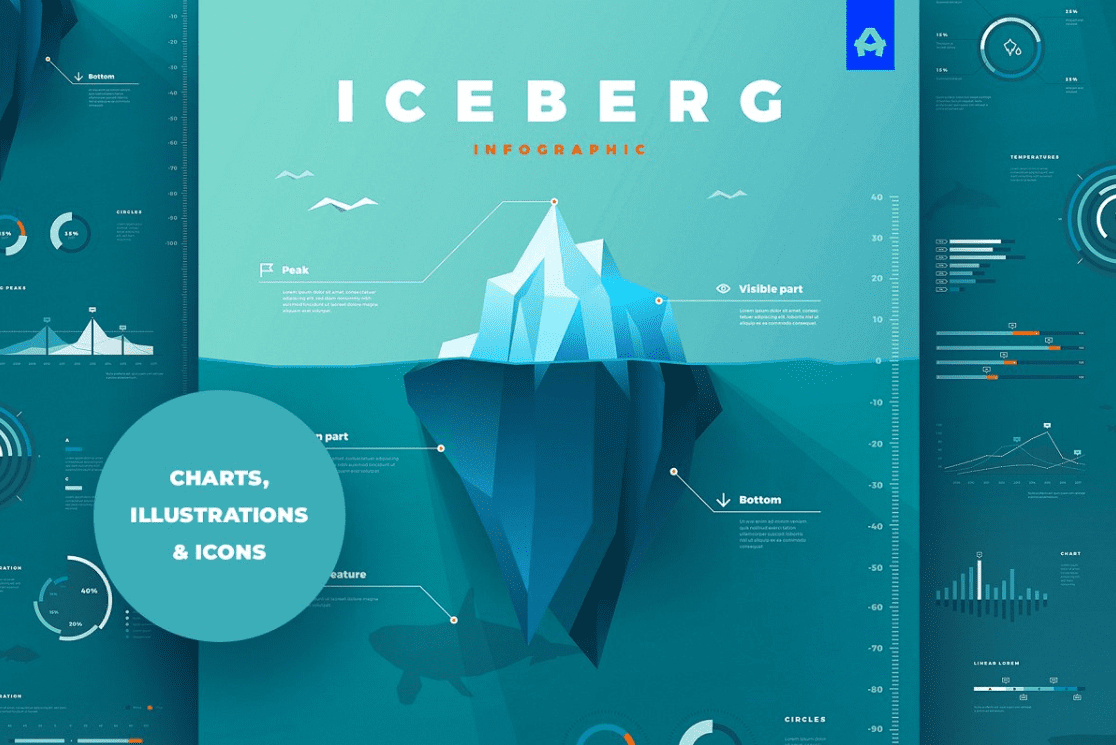 Price: $17
Dental Clinic Isometric Infographics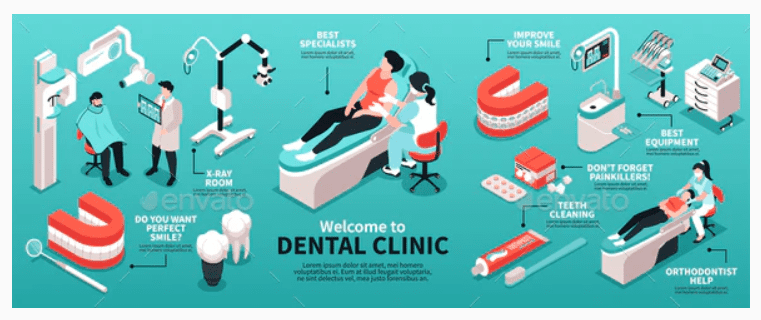 Price: $8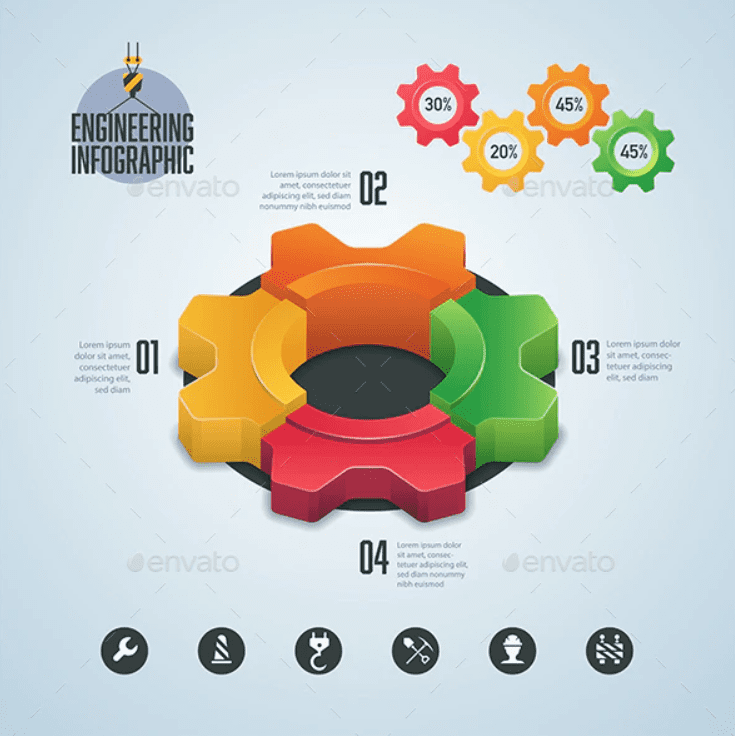 Price: $8
Infographic Elements + Template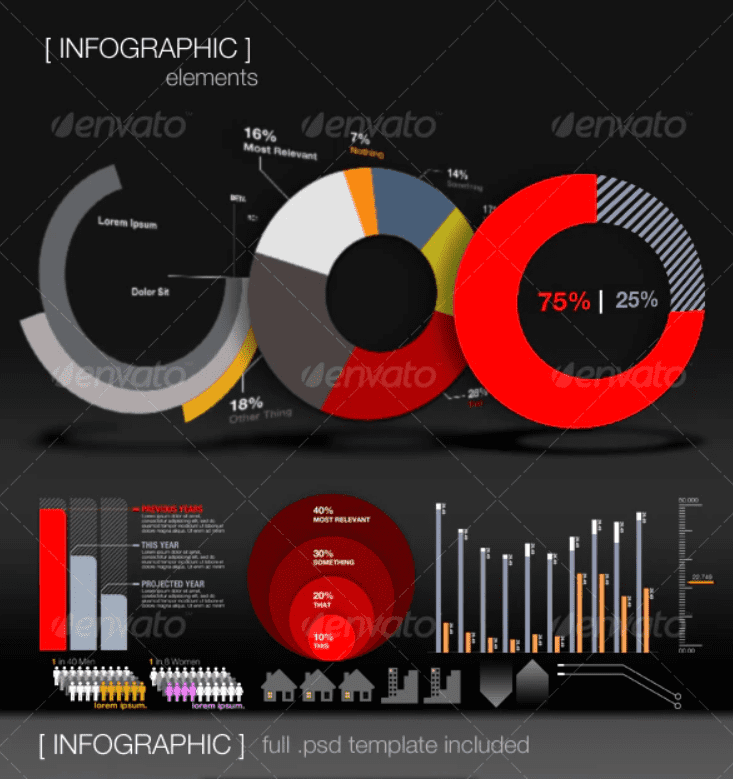 Price: $13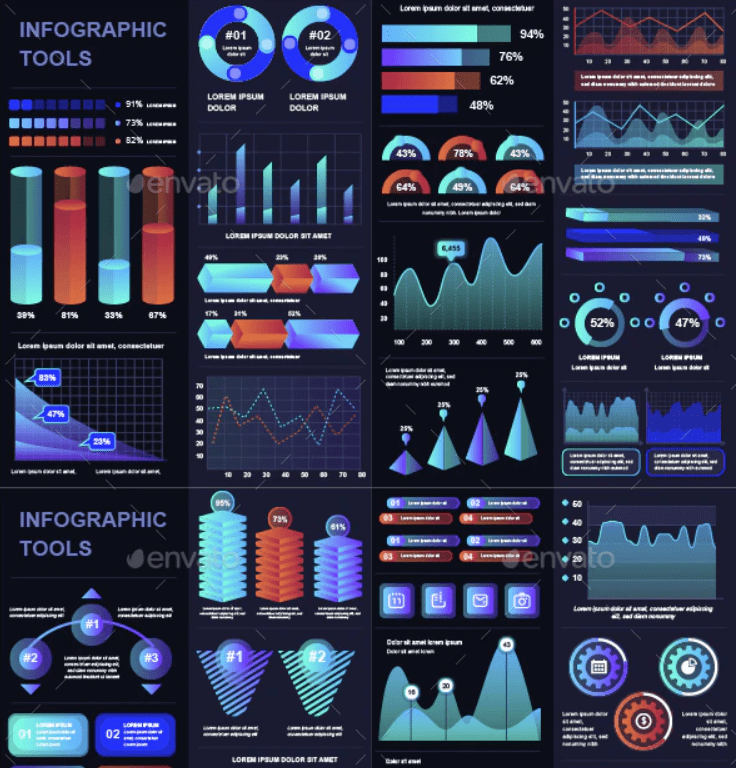 Price: $9
Business infographic template Premium Vector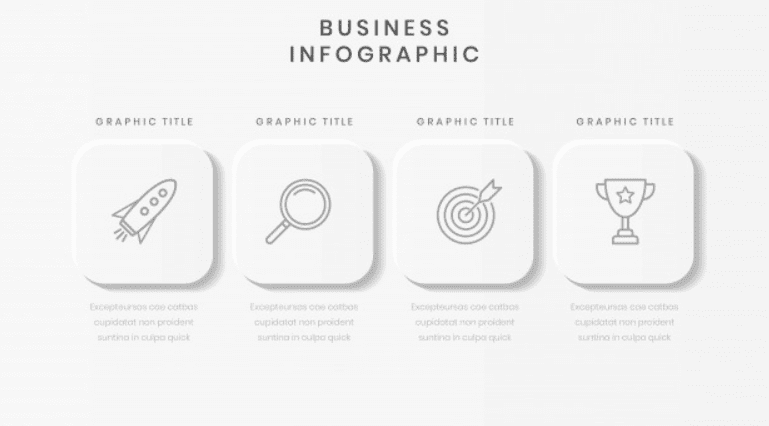 Price: available with Premium Freepik License
Infographic elements for content with icons. Premium Vector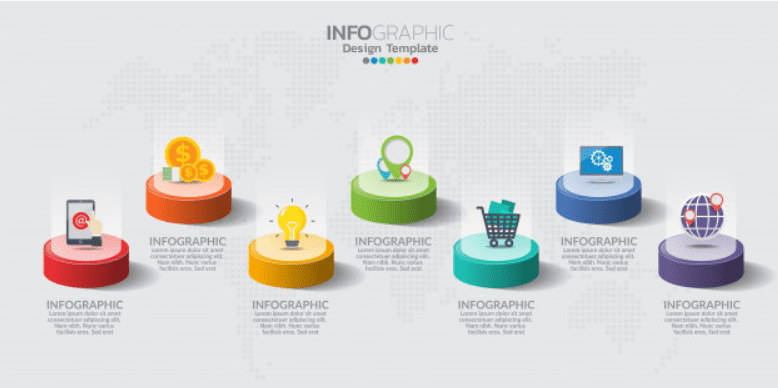 Price: available with Premium Freepik License
Vector infographic design template with five options or steps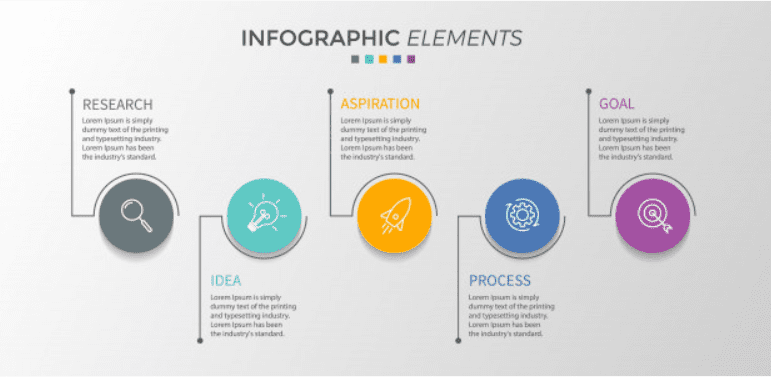 Price: available with Premium Freepik License
UltiPro – Business Infographic Keynote Presentation Template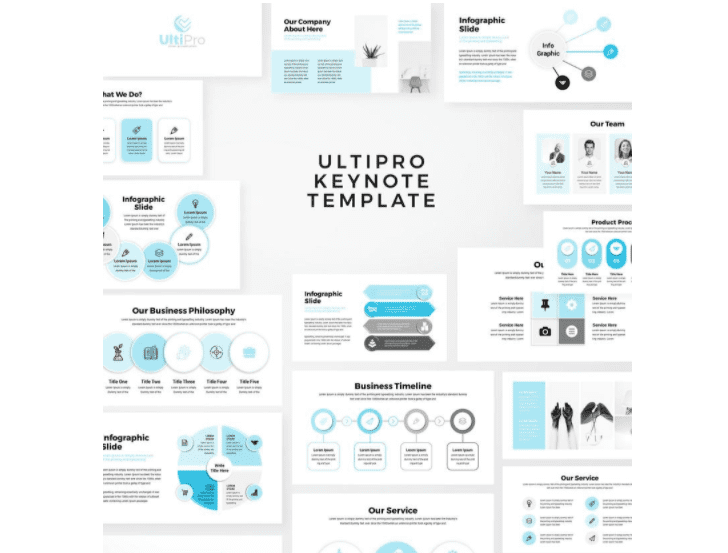 Price: $15
Love Story Infographic Anniversary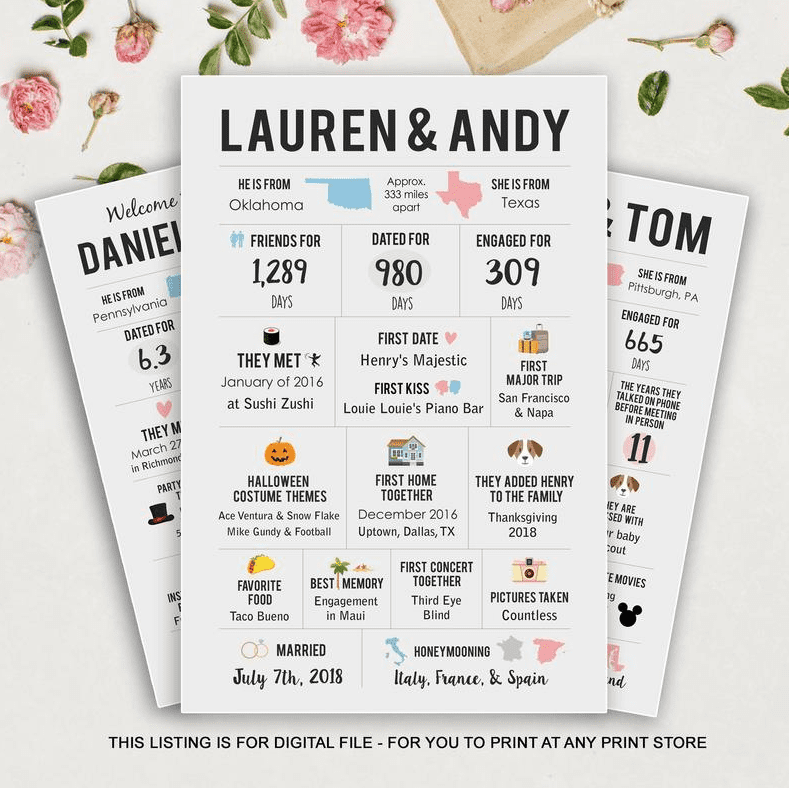 Price: starting at $22.50
Vegetables – Nutrition infographic poster – Vegan guide – Digital Download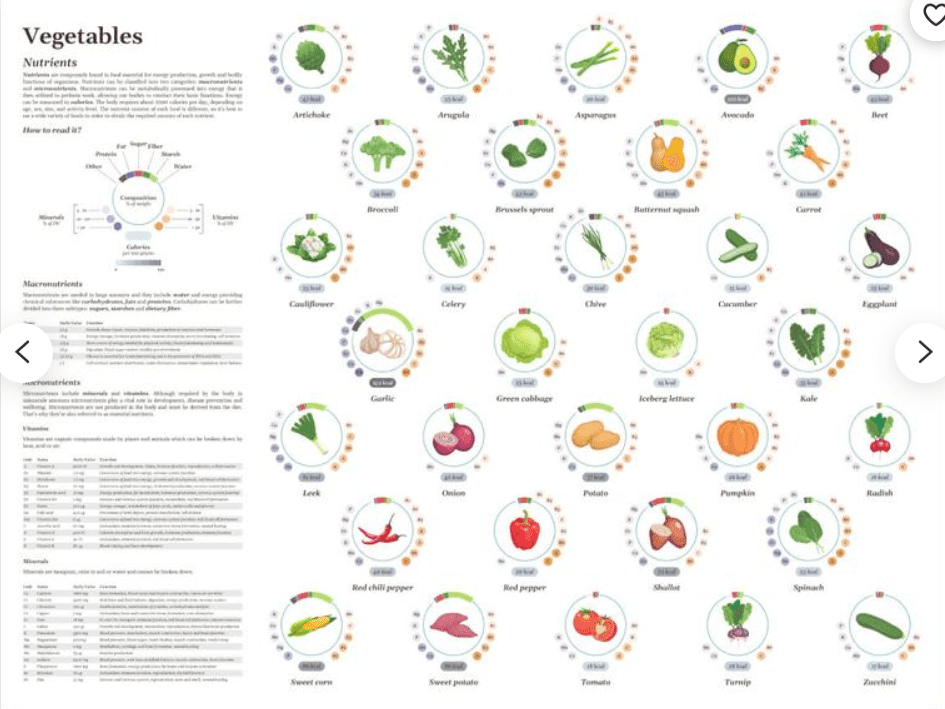 Price: $5.92
Food infographics compatible with PowerPoint, Keynote and Google Slides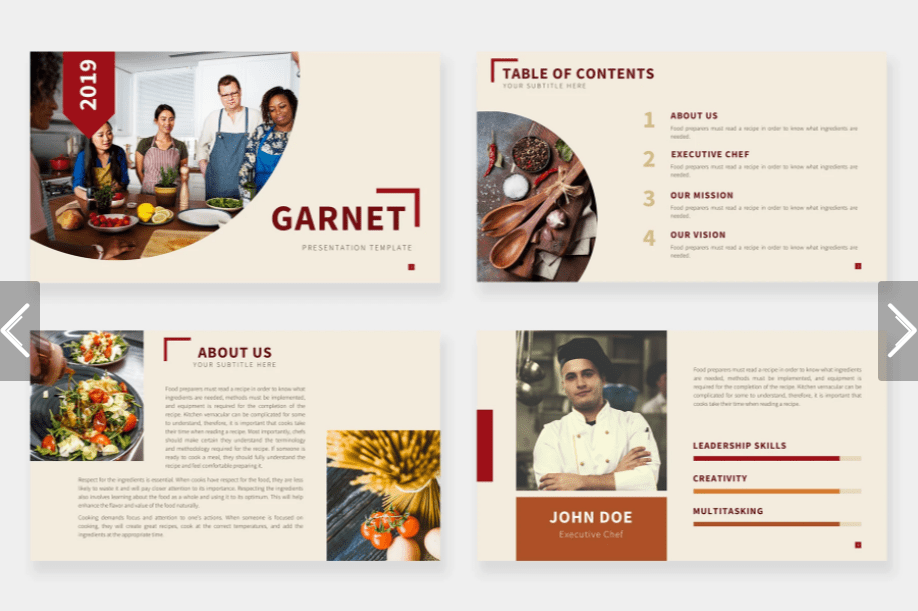 Price: available with Infograpia subscription
Milestones infographics compatible with PowerPoint, Keynote and Google Slides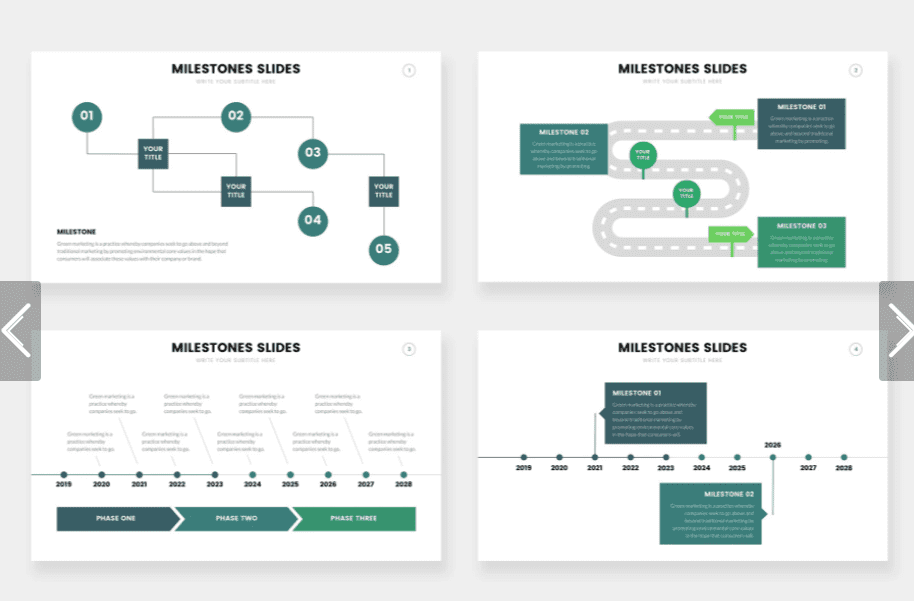 Price: available with Infograpia subscription
6 Steps To A Zero-Waste Lifestyle Infographic Template
Price: available with Venngage subscription
Left and Right Brain Comparison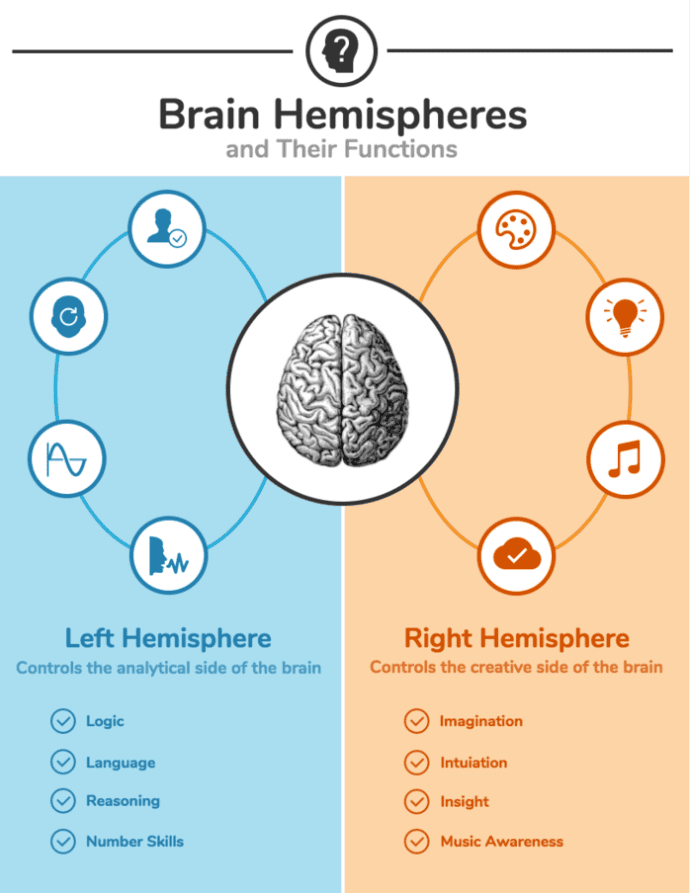 Price: available with Venngage subscription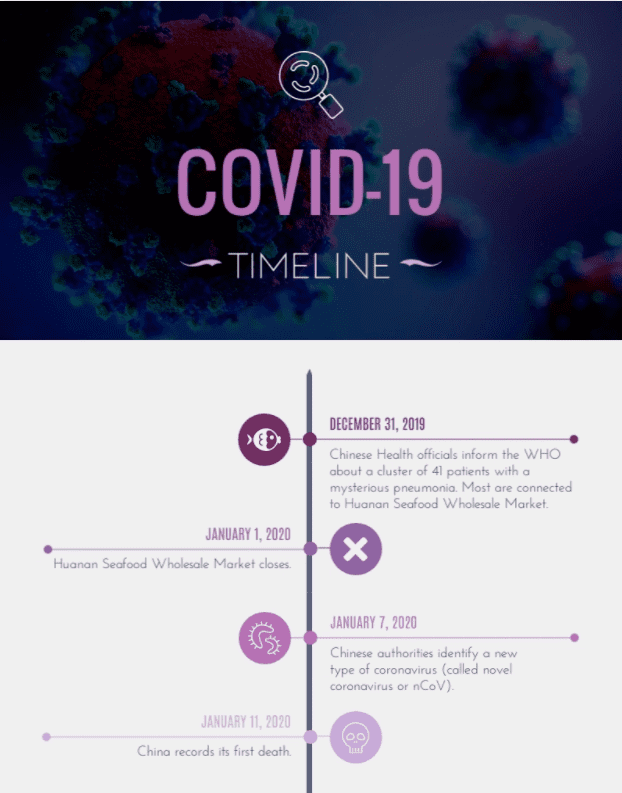 Price: available with Visme subscription
Customer Journey Map Timeline – Infographic Template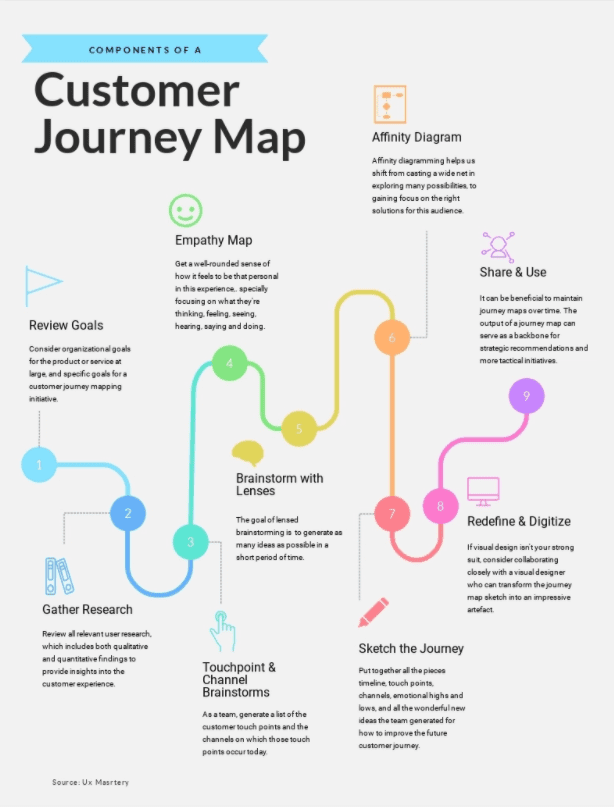 Price: available with Visme subscription
Final Thoughts
Good infographics can actually work miracles, which means that it is an essential tool for every marketer, startup founder, entrepreneur, or blogger. Luckily, today you don't have to make everything from scratch, instead, you can use a lovely pre-made template and create a stunning presentation, report, or social media post in literally no time. So go ahead and grab an infographic bundle you liked the best, fill it in with your data, and complete your project today.
How often do you use infographics? Let us know in the comment section down below!

Related Product Categories
Recommended Posts For You