Strategic Planning for Vendors: How to Plan Your Work Wisely & in Good Time
The design communities are growing, but even with the rapid increase in the number of users, we can still observe several groups of designers — they differ in their approach to creating graphic objects. One of the groups tries to follow a strict plan, stick to deadlines, and use proven techniques and styles in their work. The other group, on the contrary, cannot work effectively when such limits hold back creativity — their ideas are just a flight of fantasy that falls on the canvas.
But sometimes these two approaches are combined into a unique and balanced one. In fact, both of these concepts need each other, but not everyone can handle it. Today, we will share with readers the principles of design planning, telling you how to stay creative and keep your discipline at the same time.
What Is Design Creation Planning On Marketplaces?
Generally, creating a design content plan is the very first tool that helps you come up with trending and relevant products that later will generate more sales and views for your works. This allows the designer to plan the month in such a way as to stay on the topic of business and not lose a sense of the client's needs. Most designers create only on inspiration — on such an occasion, the result may not justify itself, therefore, all the hard work will not pay off, and the artist won`t have financial support.
So, planning is really important and the plan itself may look like a list of products and their subjects that you need to create in a month. However, having a list of ideas doesn`t guarantee their implementation, so more often it will look like a planned calendar with certain tasks.
How Can A Designer Create a Design Content Plan?
To clearly understand when and on which products designers should work, they need to analyze their free time and fill in the calendar in accordance with the results obtained. A small graphic object can be left for 1-2 free evenings, while a larger project will be distributed over a longer period. Assess your capabilities realistically so that later you don't find yourself trying to do everything in a critically short amount of time.
In order to effectively use your time, as well as describe and plan tasks, start using any calendar that allows you to create events and comments, and sort tasks by day. It can be Google Calendar, Notion, or any other offers on the market, such as:
Microsoft's Outlook Calendar
Apple's iCloud Calendar (for MAC users)
Zoho Calendar
Teamup
Trello
Basecamp, etc.
In addition, it can be a simple notebook or planner that you use every day, or a calendar with notes on your refrigerator — anything, that will be convenient for you.
Example Of Proper Planning
Now let's try to practice! The given example of planning is just one of the effective approaches, so by applying it to yourself, you can make any innovations that will make the process easier and better for you.
However, the basic sequence of planning stages looks like this:
Before noting each task separately, a designer should find out and determine which themes will be popular in the next month to make future products trendy and demanded. This can be done using our calendar — download it for free.

Product Calendar for Designers

| | |
| --- | --- |
| Price | $0 |
| Date | January 22 2022 |
| Rating | |

It's a calendar that will help you to understand what products to design and what products to promote in a particular month. It includes vast categories, for example, "spring", and designs for holidays and special occasions, for example, New Year or Black Friday.

Show More

Estimate your average productivity and the amount of free time to find out how many products you can create in the planned period.
Start creating separate events in the calendar for each of the products — one or two per day or the other amount, depending on the permissible load. If your calendar allows you to add different properties, indicate the Product Name, Deadline, Artist (if you`re working in a team), References, Tags, Status, Product Description, and a comment section. This will simplify the process of creating a product because the plan will be created in advance.

You can see how the idea design tab looks in MasterBundles:

The effectiveness of this approach is that the process of planning and preparation becomes routine — the designer doesn't have to go through the experience of describing qualities every time.

After you have distributed your workload for the month and planned the number of ideas, analyze each tab created and fill it with the properties that you have at the moment.
A more detailed analysis of keywords and SEO optimization should be carried out at the planning stage. So, prepare the titles for products, and if possible, think about the description of the works that you will create. You can always edit it later, but the preliminary preparation will give you a better idea of what you need to create. More useful information can be found in our article about SEO optimization
And once you have a calendar filled with detailed ideas, the creation process will be easier, and it will also be much simpler for the designer to maintain discipline. On the day on which the product is scheduled to be made, you don't have to panic and think about where to start, because there will already be a plan in front of you.
All you need to do is open the calendar, find the desired event, study the plan, work on creating the product, and slowly fill in all the free fields. As soon as the work is completed, the scheduled task will look like a product that is ready to be implemented. And again, this is how it will look in Notion: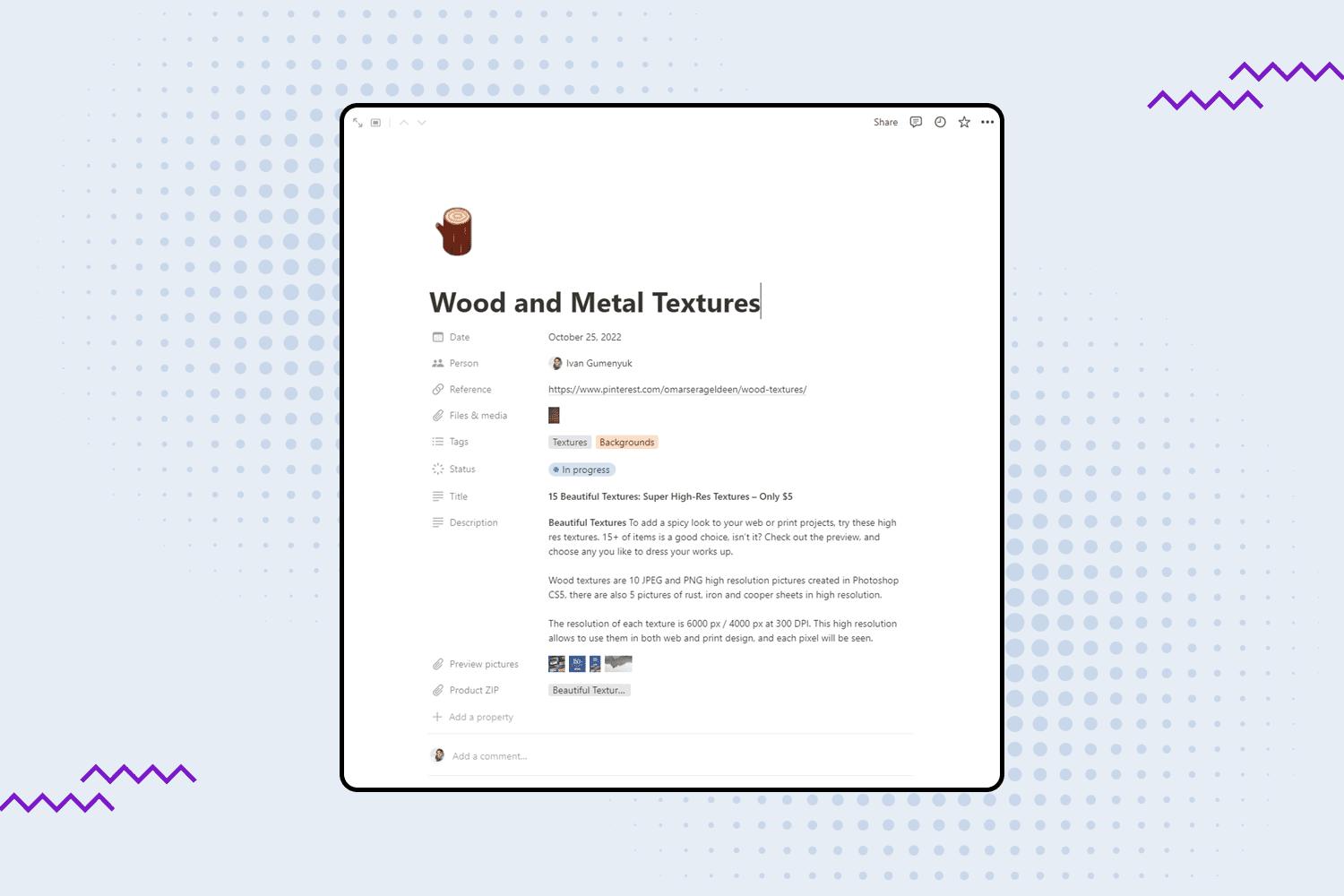 Secrets of Finding Some Inspiration for Next Month's Plans
Some designers enjoy the process of planning, but as time goes on, creativity becomes more difficult — it seems that every month it becomes harder and harder to generate ideas and plan. Also, it happens that an artist may need inspiration for the first planning, too. What can you do?
Be sure to look outside of your head for inspiration! Here are five tips for coming up with great ideas and beating creative blocks:
Follow other designers. Find users who work in your field or successful artists who regularly generate content relevant to you, and follow their accounts and blogs on all networks where they publish; for example, Behance, Instagram, and Tumblr. You can also explore vendors` shops on MasterBundles.
Pay attention to the seasonal designs of various websites and stores. On the eve of almost every holiday or seasonal event, brands try to attract customers with themed designs — a winter theme, Black Friday, New Year's or Christmas design, a Halloween theme, and so on. Study rebranding, logo, and label changes, which will allow you to understand current trends.
Be interested in global events and holidays. In order to combine interesting world events and design, the expert team recommends taking a closer look at Google Doodle. It is a visualization of the Google logo with various themed features, which can be useful if you create a design for a particular event or holiday.
Consider every piece of news as a reason to create an original and relevant design. Each news item has an emotion, mood, slogan, quote, or certain item. Let's take COVID as an example. As soon as this news became popular, many vectors and illustrations with the image of the virus appeared. And there are quite a lot of such analogies — they need to be noticed. Train yourself to pay attention to such things. This will allow you to develop a flair for the trend and understand what may be of interest to the modern user.
Visit Pinterest, Instagram, and other similar places. The algorithms of these services allow users to enjoy themed boards. Here, you can find splendid color combinations, analyze what styles are in demand now, and what type of graphic objects customers might like.
And, of course, to achieve new ideas for fruitful planning, designers need some additional training and permanent development of their skills — this is useful even if you have been working in this field for a long time.
Be sure to attend seminars, master classes, and courses, but try to choose not only various art programs but also topics related to creativity, making advertising, and developing a personal brand. Use the experience of those designers who have explored the market up and down before you — this will allow you to create the perfect plan without spending a lot of time and effort.
Final Thoughts About Design Creation Planning
Planning is what makes the creative process more grounded, organizes artists, as well as allows them to get more profit from the sale of products. And if you want to create not just attractive designs from time to time, but also achieve real career success in selling such works on marketplaces regularly, then implementing design planning through various calendars will be a great development method.
Use our tips and steps, change and improve them following your needs, and you will definitely get your own recipe for successful planning!
Article Reviewed By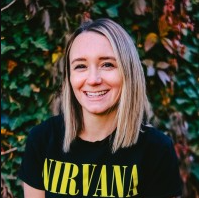 Was this page helpful?
We will be happy if you decide to share this article with your friends on Facebook. Just click on the button and you're done
What are your concerns?
Thanks for your response!
You have already left your review.
Disclosure: MasterBundles website page may contain advertising materials that may lead to us receiving a commission fee if you purchase a product. However, this does not affect our opinion of the product in any way and we do not receive any bonuses for positive or negative ratings.