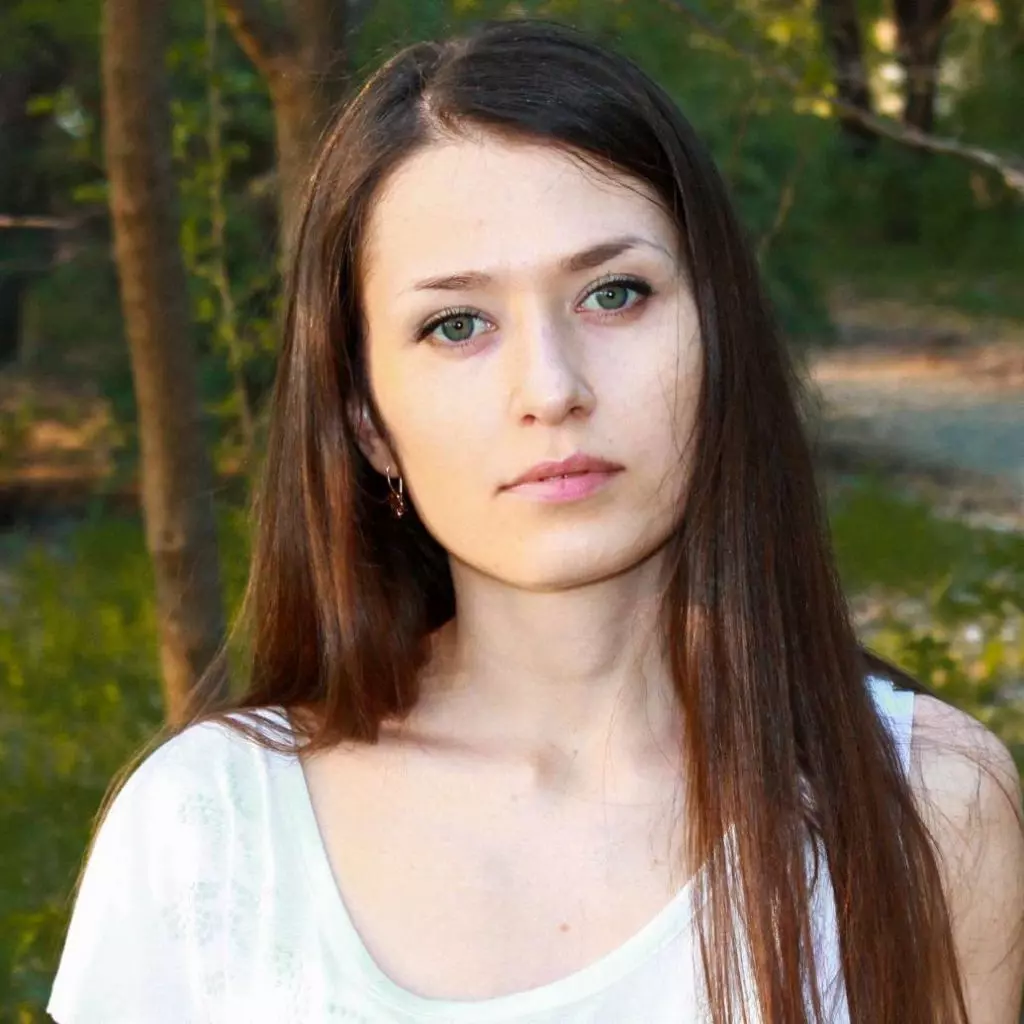 Article reviewed by
on June 15, 2020
6 years goes hand-in-hand with WordPress. Manages a team of WordPress-obsessed developers and designers. Has released dozens of plugins and thousands of templates.
Learn about comment
Intro
Gutenix Review. What is Gutenix subscription? Is it true that you can work with it to build a full website, or even a bunch of projects?
Perhaps you've first heard about the free Gutenix theme in May 2020. Yet Gutenix subscription is completely different from the free theme it provides.
It is a whole set of products aimed at helping you in creating a website.
Gutenix team has started out in February 2020, launching a top-notch addon for Gutenberg editor called ZeGuten. It was a simple yet spectacular tool with a dozen of blocks, complete with an all-encompassing set of stylization and content options.
Since then, the plugin has received a dozen more new blocks for building more content types, which are a great addition to the arsenal of any Gutenberg user.
A bit later Gutenix team has launched a course dedicated to building content with Gutenberg that can assist people new to WordPress in creating a landing page with Gutenberg.
Finally, the free theme was here to try out. But still Gutenix team was looking for more opportunities to simplify experience of people who work with different page builders, and especially with Gutenberg.
On the 2nd of June Gutenix subscription became available for pre-order. It was clear that the team has prepared a product, that covers most of the needs for people that are into building websites.
The subscription combines ZeGuten plugin, Gutenix free theme, and makes these two products exactly fit in the puzzle of creating a site, adding to the powerful tandem of functionality a huge part of high-class designs you can use.
You might say you've seen something similar provided by Astra, yet Gutenix takes working with Gutenberg to a totally new level, dramatically expanding the functionality and making your work on design as easy as you'd ordinarily do it with Elementor.
What's more important, on pre-order the price tag of the whole subscription is more than affordable. The yearly subscription which includes the full set of products starts from $49, which is a really small price compared to the value one gets.
So let's look a little closer at Gutenix subscription and check how it all works together.
Top 5 Premium WordPress Themes Bundles
| Product Image & Rating (Out Of 10) | Product Name | Price |
| --- | --- | --- |
| | JetElements Offer: Best 8 Jet Plugins + 10 Landing Page Designs | |
| | 29 Premium Responsive WordPress Theme Mega Bundle | |
| | Best Real Estate Landing Page Template. Free Download | |
| | Stream WordPress Theme | |
| | Mega WordPress Theme Bundle | |
What Gutenix can offer?
When you purchase Gutenix subscription, you get access to your personal account where you find all the products you've got.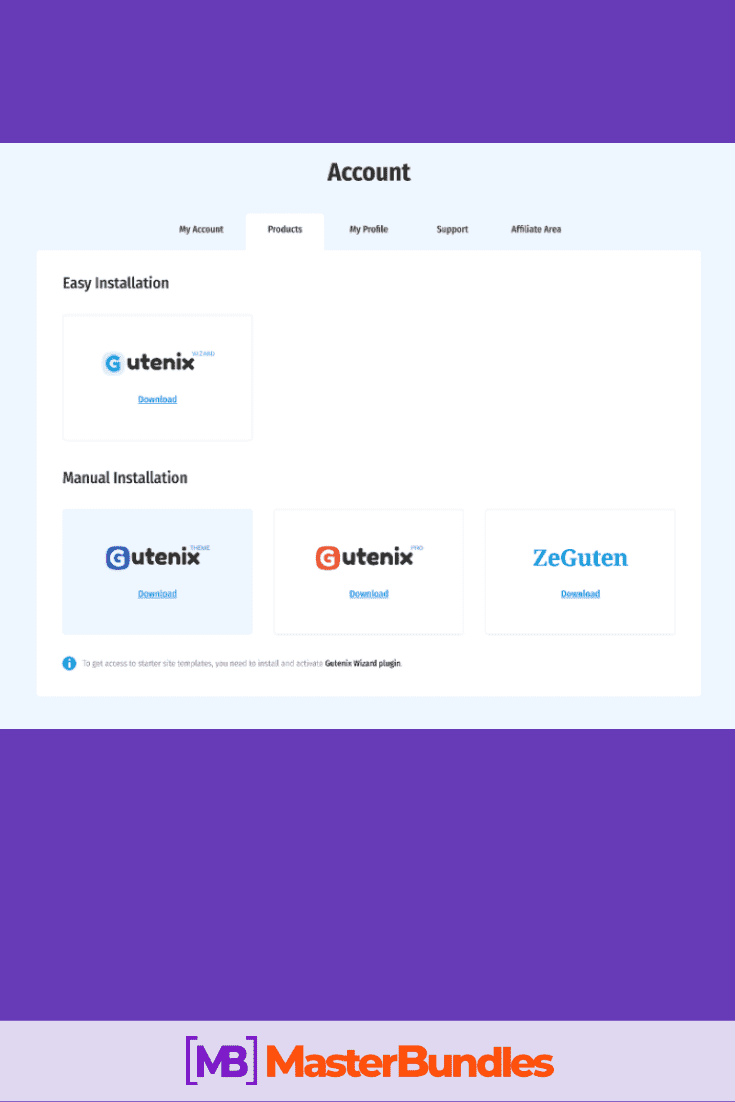 Here's a short list:
Gutenix Wizard — the tool that provides access to easy installation, import and export, and updates for all the products included in the subscription.
The Wizard also gives you access to a full library of pre-designed templates for Elementor, Brizy and Gutenberg editor. At the start there are 30+ templates made for different page builders from which you can easily choose the design and topic fitting you the most.
ZeGuten — an addon for Gutenberg editor with over a dozen blocks, that allows building content with the native WordPress editor on an intuitive level.
Gutenix theme — a free theme that's a base of Gutenix subscription. It's lightweight, SEO-friendly, and fits the WCAG standards.
GutenixPro — the plugin that extends Gutenix theme with more features and functionality. It's a must-have tool to have for the header and footer styles as well as Blog, Single Post and WooCommerce Archive and Single product pages layouts.
With all these products working in sync it's easy to start building with Gutenberg even if you haven't tried it yet, because you receive the pre-designed templates which give you a full idea of how the pages and different kinds of content can be built.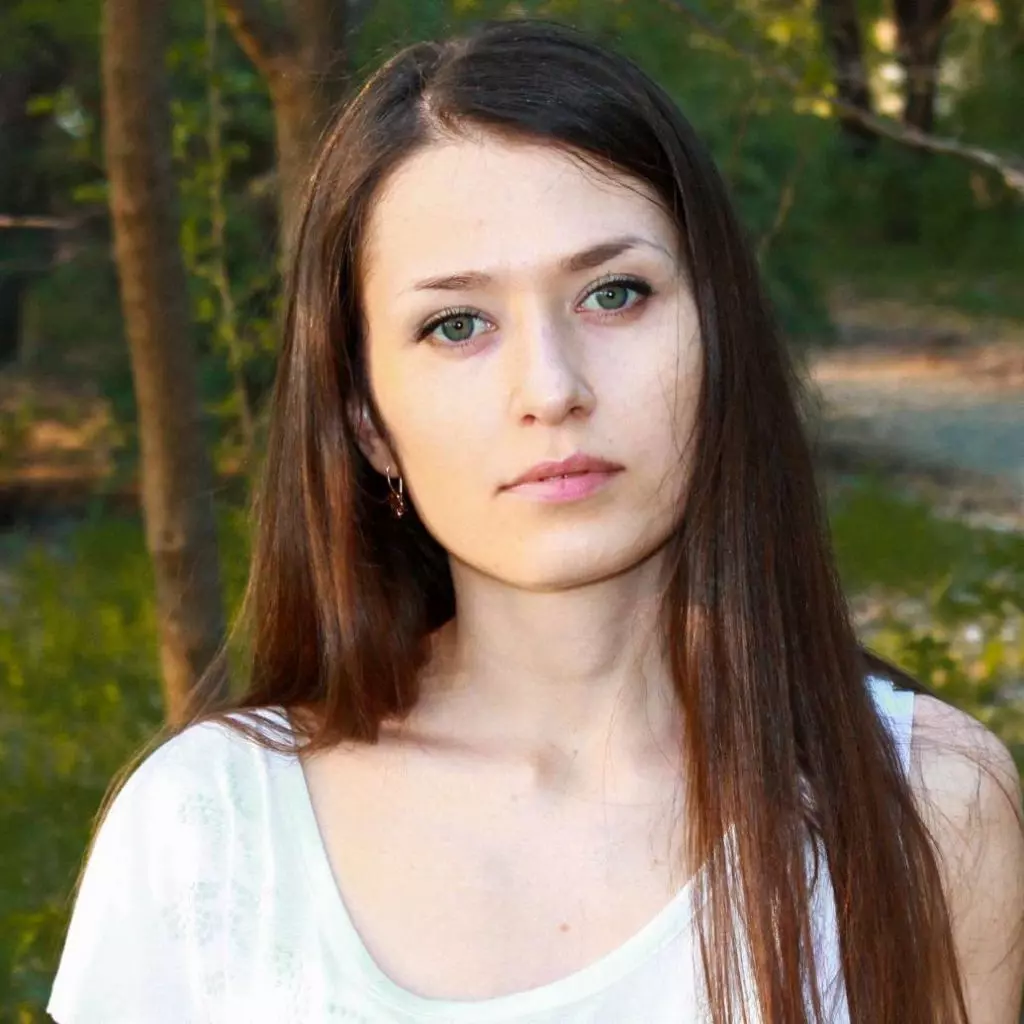 6 years goes hand-in-hand with WordPress. Manages a team of WordPress-obsessed developers and designers. Has released dozens of plugins and thousands of templates.
How it's installed?
To start your work with Gutenix subscription, we recommend using Gutenix Wizard. This is the only way to install the pre-designed templates.
If you're not sure if the Wizard will install you only the products you want to be installed and are afraid of any other products being forced upon you, there's no need to have any concerns in this case — Gutenix Wizard is an ultra flexible tool where you can easily skip steps if perhaps you have already installed the theme, or ZeGuten.
You'll also be able to disable some of the plugins from being installed in case you don't need them. E.g., if you have chosen one of the Gutenix pre-designed templates for Elementor, and already installed and activated Elementor before you launched the Wizard, you can just disable it from installation and it will be skipped.
What's more important, when you use Gutenix Wizard, there's no chance you can miss anything from being installed as every step is meticulously described.
The installation journey starts when you activate the Wizard in WordPress Dashboard.
1. The first screen you see is offering you to try Gutenix subscription in its free version in case you haven't got a license key. This option is useful in case you have registered a free account at Gutenix.
However, to have the full access to all the options and products we describe, you'd need to have a Yearly or Lifetime subscription plan.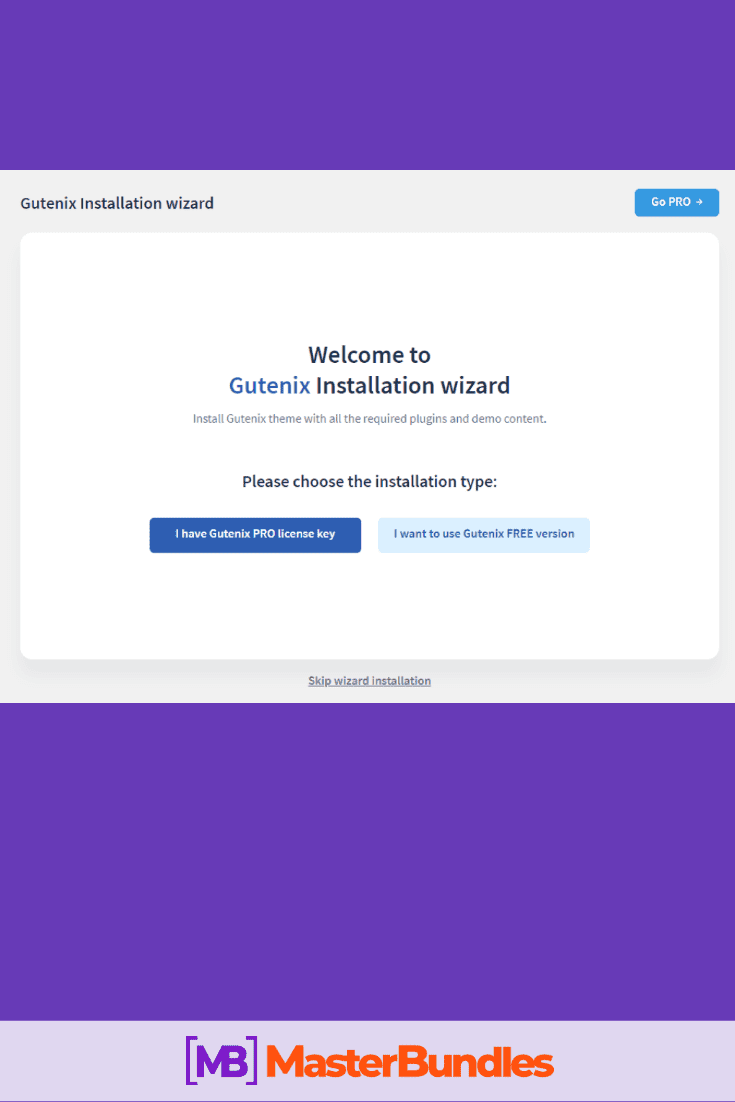 2. The next step is license key validation. There are two license types in Gutenix, and each of them allows using Gutenix on as many installations as you need. The only difference is that the Yearly license plan enables you to use Gutenix products only for one year, and the support service and updates are also provided for one year. Then you'll need to prolong the license to keep using the products.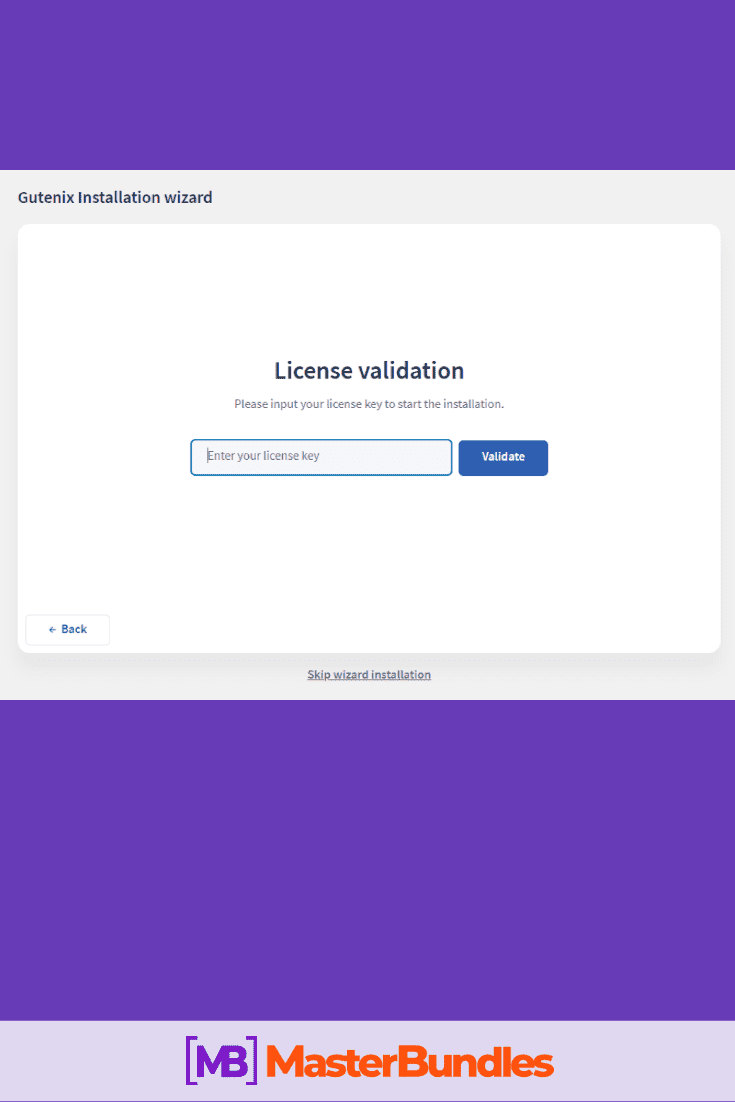 3. After the license is active the next step will be to install Gutenix theme. You will see the Skip option if you already have the theme installed, or you can use it perhaps if you want to use the subscription with the theme you're more accustomed to.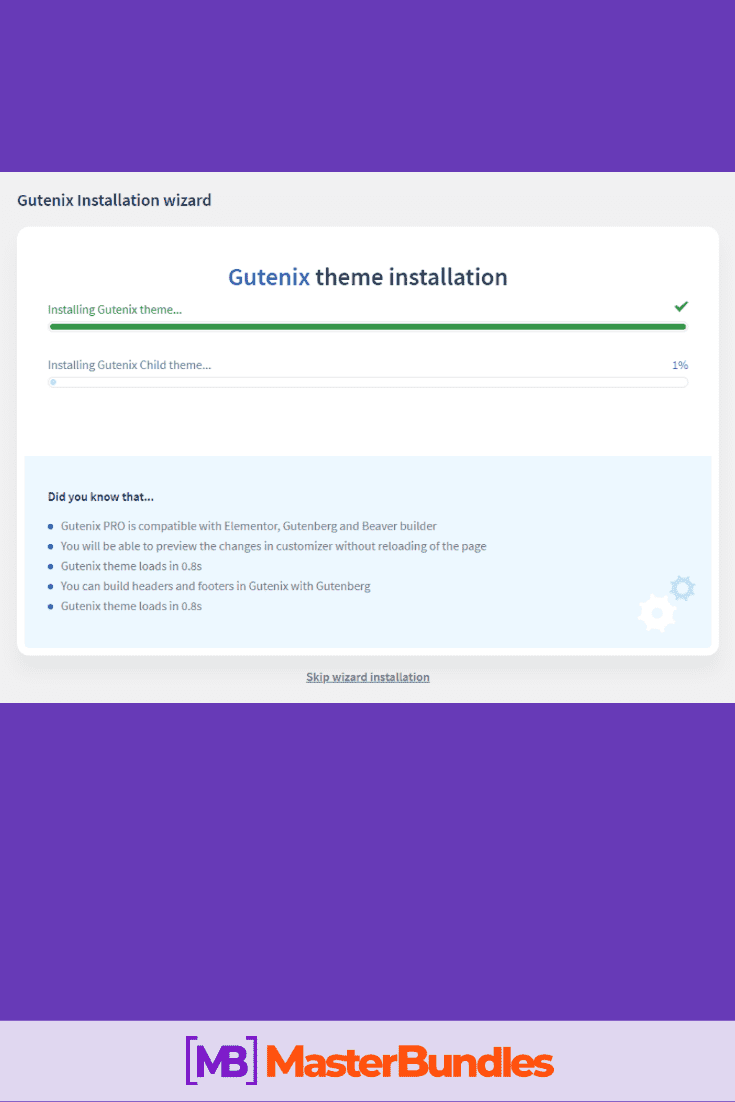 4. If you stick to classic installation process, Gutenix theme will be installed, and you'll also be able to install a Child theme. It's a good thing to have it ready at hand because as you need to make any changes in functions or styles of the theme, you need to be sure these changes won't be overwritten with the next update. The Child theme dives you this confidence.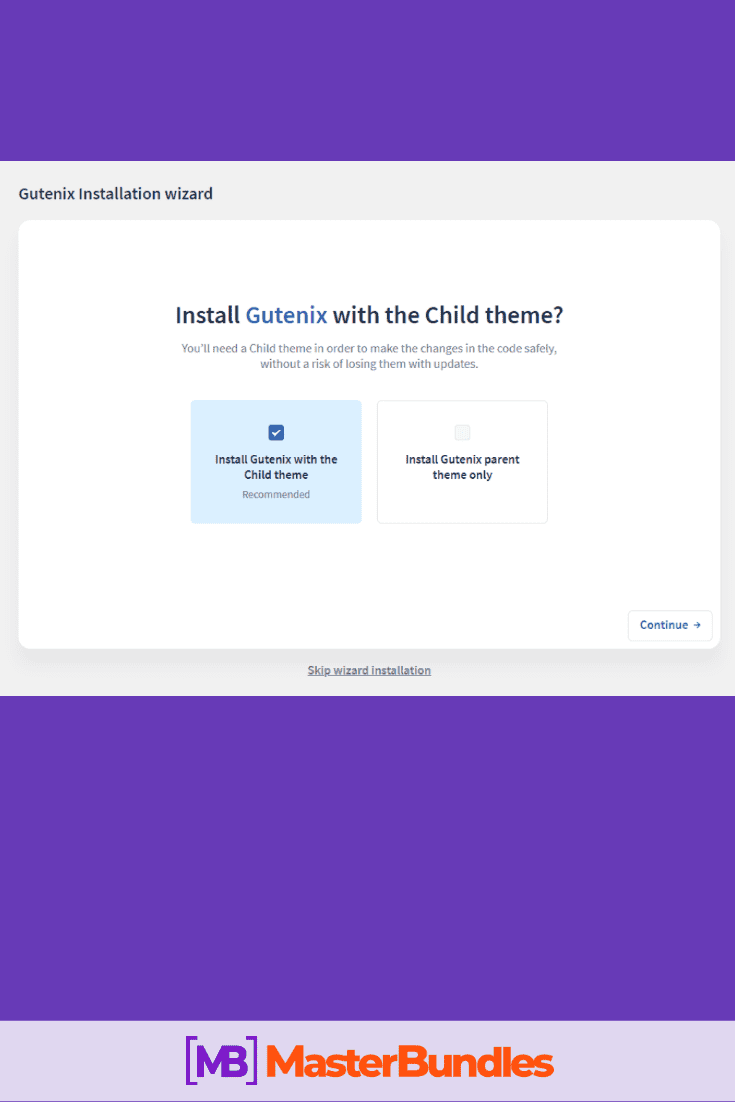 5. We go further with the installation process and the Wizard offers us to choose the pre-designed template to use. Here you'll see the categories and the builders for which you can pick a template. You can view the demos to see how they will look on your site. Also, if you still haven't chosen with which builder you'd use the template, here's the right time to make a decision.
6. As we choose one of the templates, we are offered to add the new demo content to existing content, or to completely overwrite it. Surely, the last option is equal to your existing content loss, so be cautious on this step.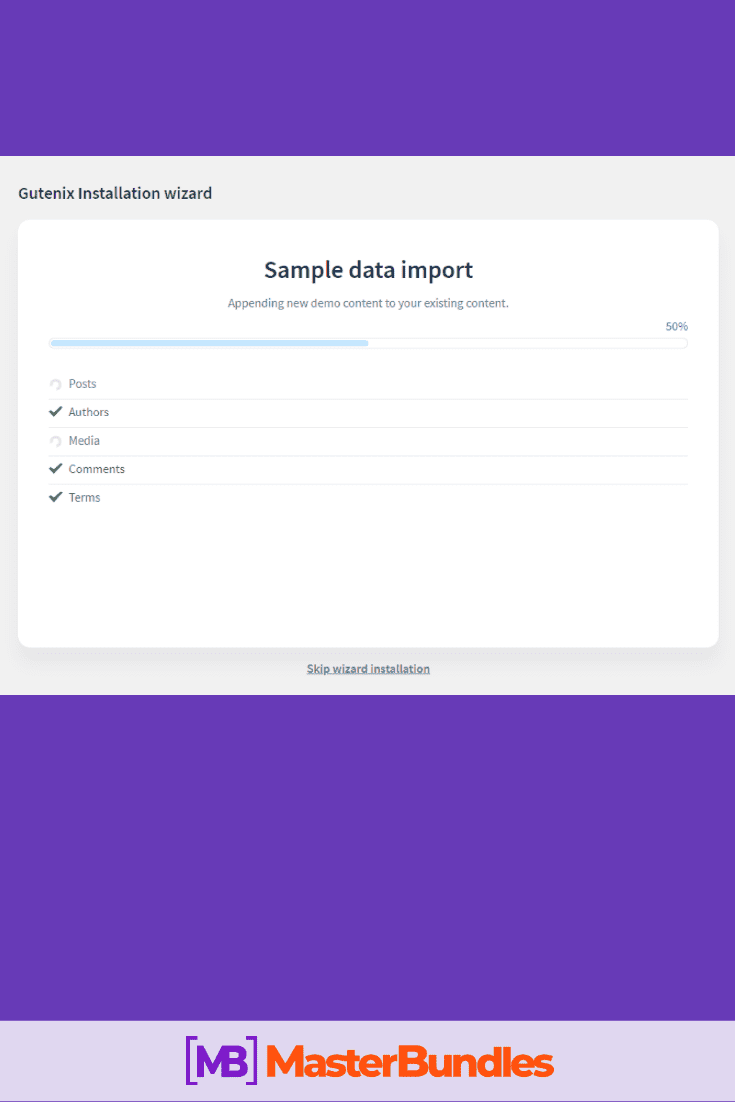 7. After that the installation takes place almost automatically. You'll be offered to choose the plugins to install, and some of them can be unchecked, but if you do it, there's a risk that the important content won't lok as on demo. So make sure not to skip the plugins installation.
The whole installation process took us less than 3 minutes, it was smooth and really clear.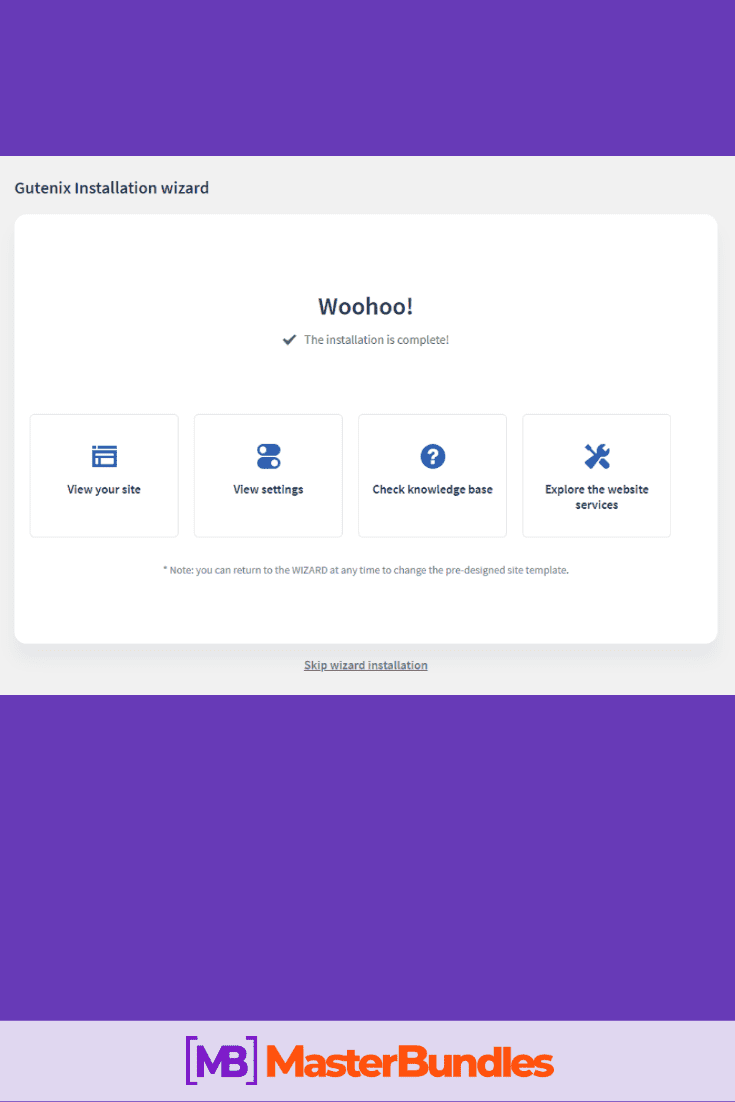 How easy it is to work with?
What is we need to try on another pre-designed template, or even use a separate page from it? In this case, Gutenix Dashboard will be of immense help.
You can always find it under Gutenix Wizard tab on your admin panel, unless you have uninstalled or deactivated the plugin.
The Wizard dashboard allows you to view your license information, quickly check for updated of Gutenix theme. You'll also be able to create a backup for the theme in case you make any significant changes in the theme and need to keep its previous version at hand just in case.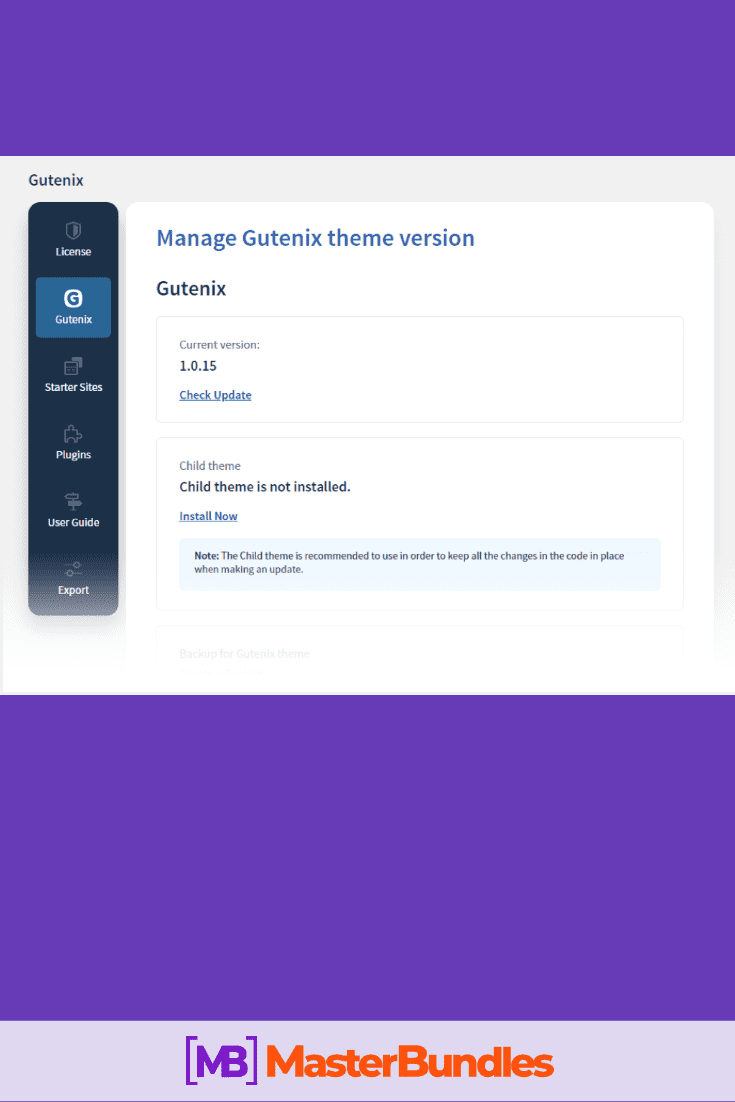 The Starter Sites tab will let you pick another pre-designed template from the list, and install it. And, if you want to keep both templates, make sure to use the button "Add demo content to my existing content". As a result, you'll have several variations of Home, Services, and other pages at once, and it will be your decision which page to keep.
Use Plugins tab to check for updates for the plugins included in Gutenix subscription. You can also find there the plugins that weren't installed at first because they weren't required for the template you've chosen, or they were skipped for some reason.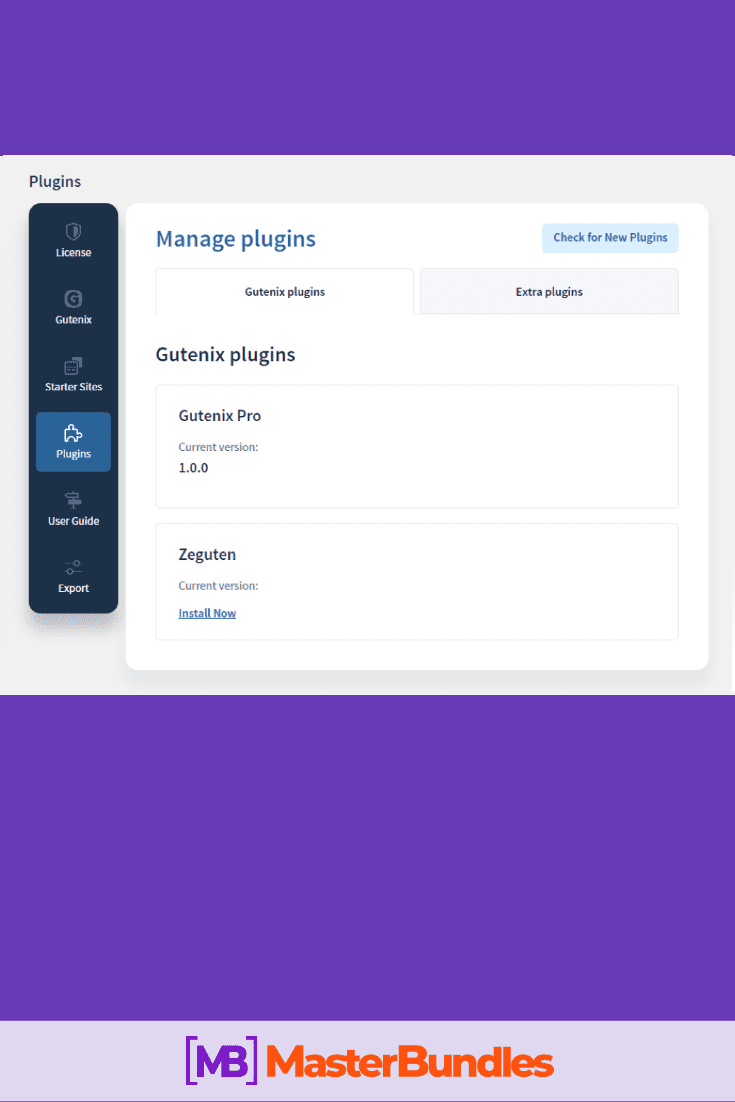 The next tab is called User Guide, and it's dedicated to the sources where you can find tutorials, documentation and other nitty-gritty things to help you through your first days with Gutenix.
Finally, you can see the last tab called Export. It's a cool option that will let you export and import the website's content in order to create fast backups while you work.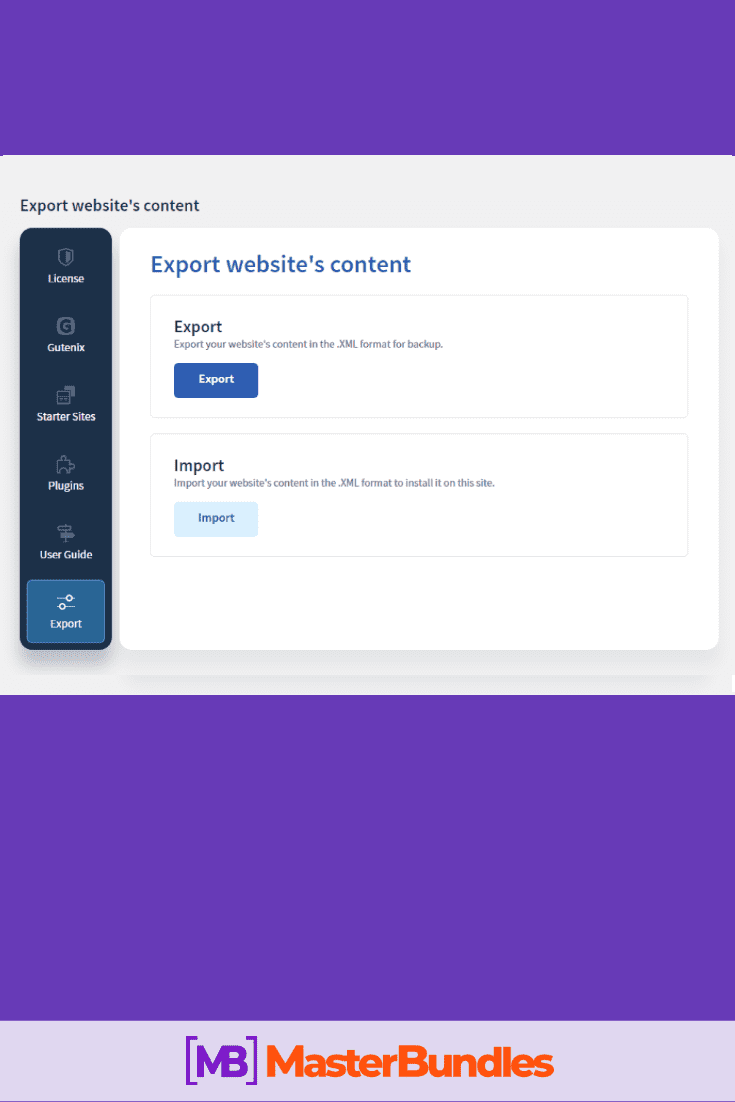 Does Gutenix work with different builders?
Gutenix subscription is aimed at making your work with Gutenberg simple. Yet some of the pre-designed templates also work with Elementor and Brizy.
The good news is that you won't need a Pro version of any builder to import and use the template to its fullest. Gutenix theme and GutenixPro plugin will help you overcome the most frequent difficulties when you're building something with just Free Elementor and you don't have access to header and footer builder, or you can't build an Archive page for publications.
When you use Gutenix with GutenixPro, you have header styles and tons of options for editing a header to make it look the way you want. You'll also discover plenty of menu settings, and will be totally able to implement a hamburger menu.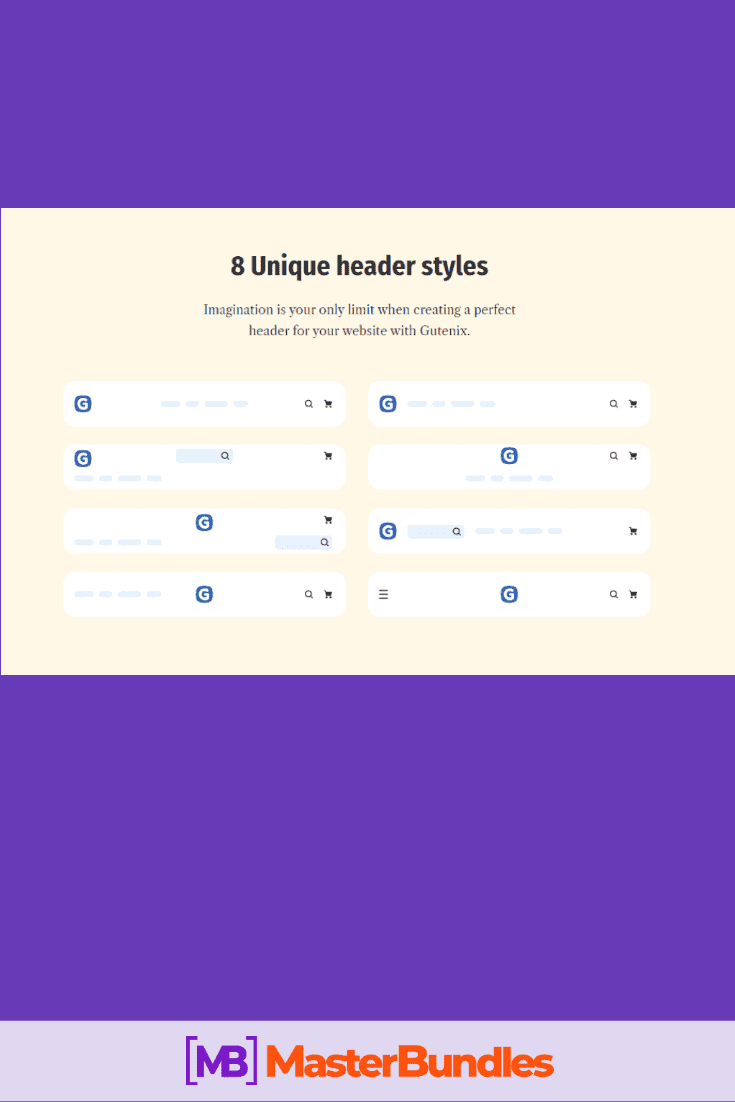 So, yes, you don't need to buy a PRO builder version somewhere to use Gutenix subscription and its designs. While you use Gutenix theme, the header and footer templates will look as on demo and you'll be able to edit them using super-fast AJAX Customizer, which is a really astonishing tool in this case.
While you use Brizy free or Elementor free builder, just pick any pre-designed template that fits your topic and apply it to your website. The Wizard will make sure the builder is installed and everything is imported correctly.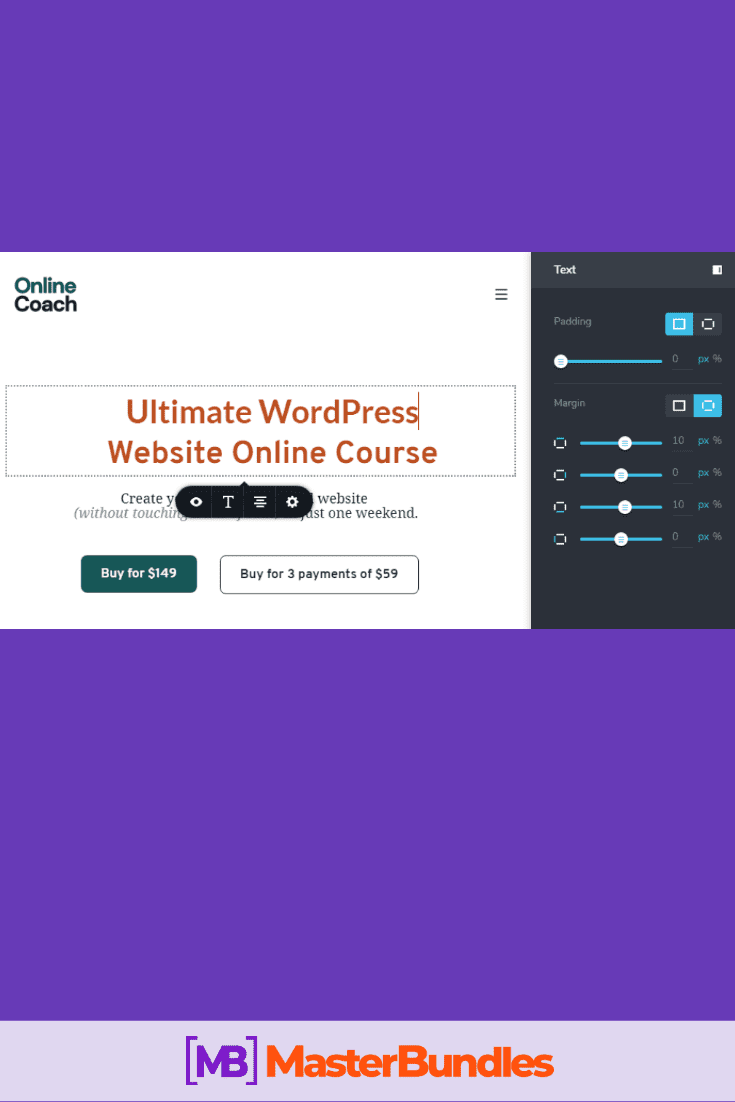 If you plan to work with Gutenberg editor, you might also consider if it will be enough to build a website. To make sure it's more than possible, view the pre-designed website demos to see what you can create with Gutenberg and ZeGuten plugin using Gutenix subscription.
All of the templates you'll see there are available for import.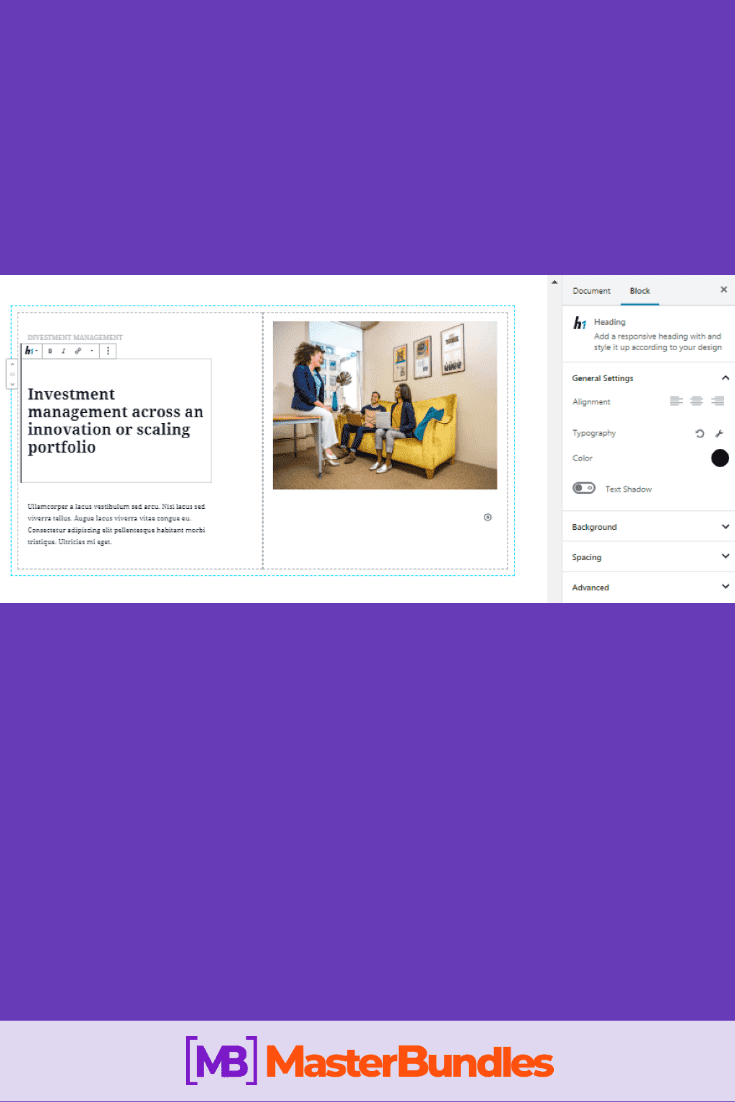 If you think you don't have the skills to build a website or your first project with Gutenberg, make sure to use the pre-designed sites. They will be a helpful addition leading you into the world of Gutenberg editor and will help you get accustomed to it much faster.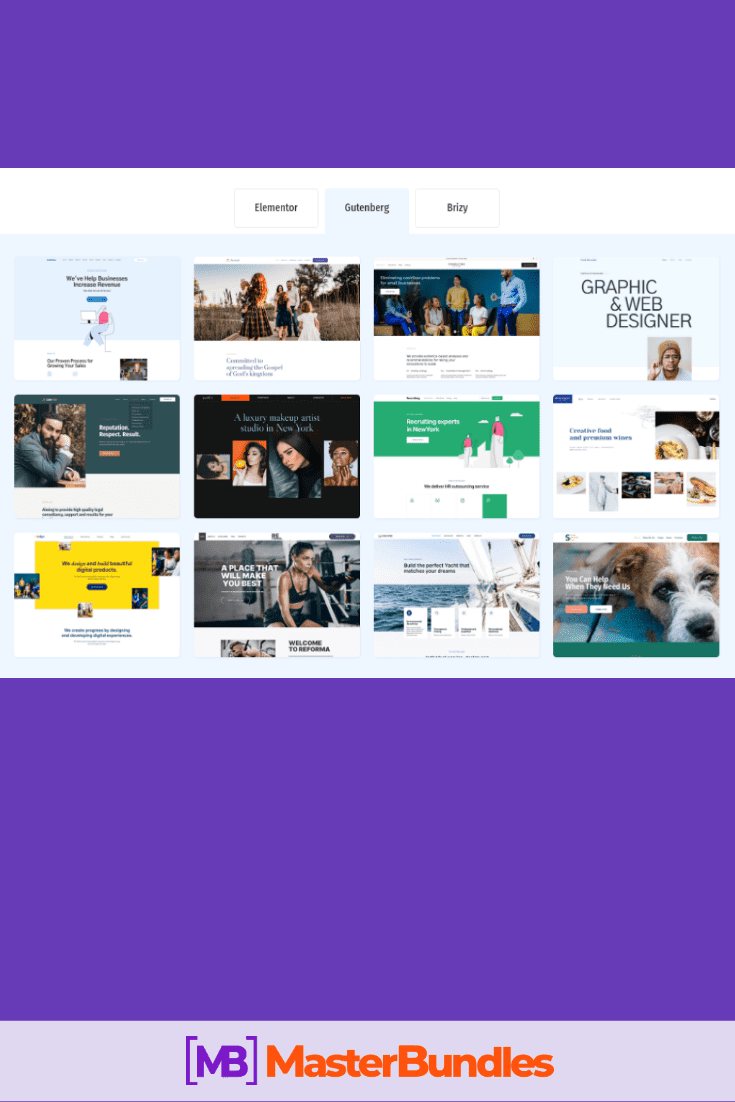 For now, there are a dozen templates for Gutenberg, Brizy and Elementor. Each template consists of a set of pages required for a specific topic, such as Home page, Services, About, Gallery, and even 404 page. Each part of the template is fully editable and doesn't require you to be efficient at coding.
ZeGuten addon for Gutenberg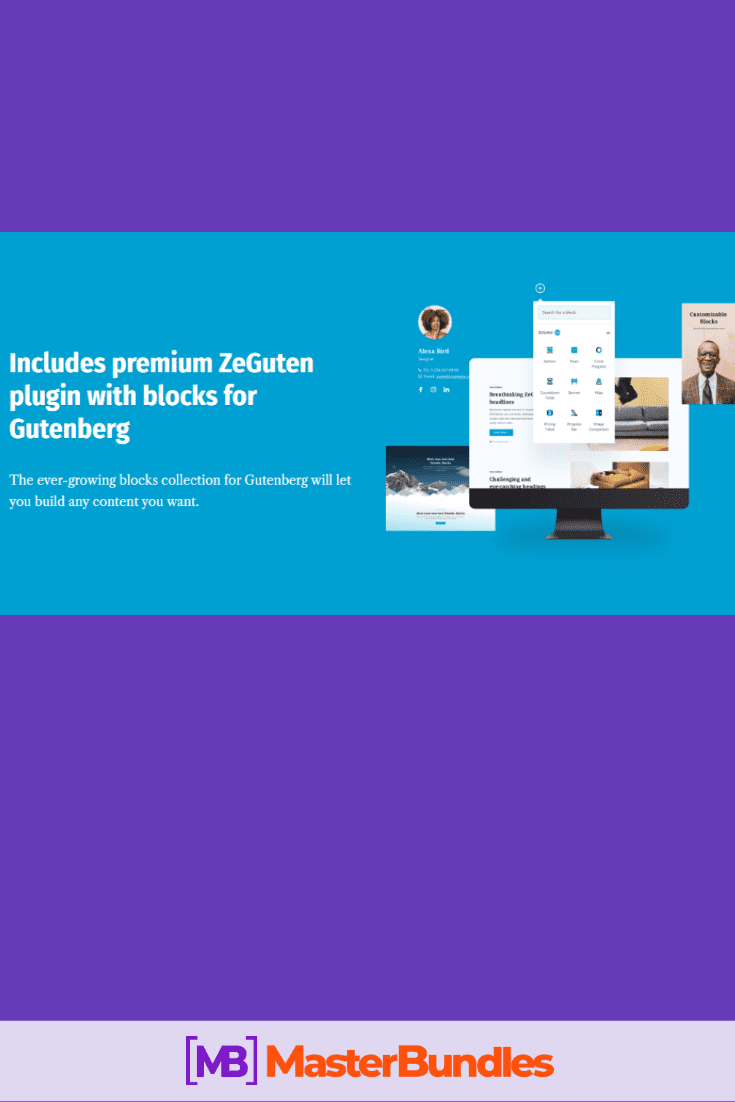 The plugin is a key to working with Gutenberg. It evolves with each update, acquiring more and more blocks for easy content editing.
Right at the moment there are about 18 unique blocks for Gutenberg you can use, each provided with extensive content and stylization settings.
Posts
Posts for Guteniberg is a 5-in-1 block, that makes it possible to build a Posts Grid, Posts Masonry layout, Posts Carousel and Posts Slider, or use an uneven posts layout. The extensive stylization settings will let you arrange publications in the most attractive manner, making them more eye-catching.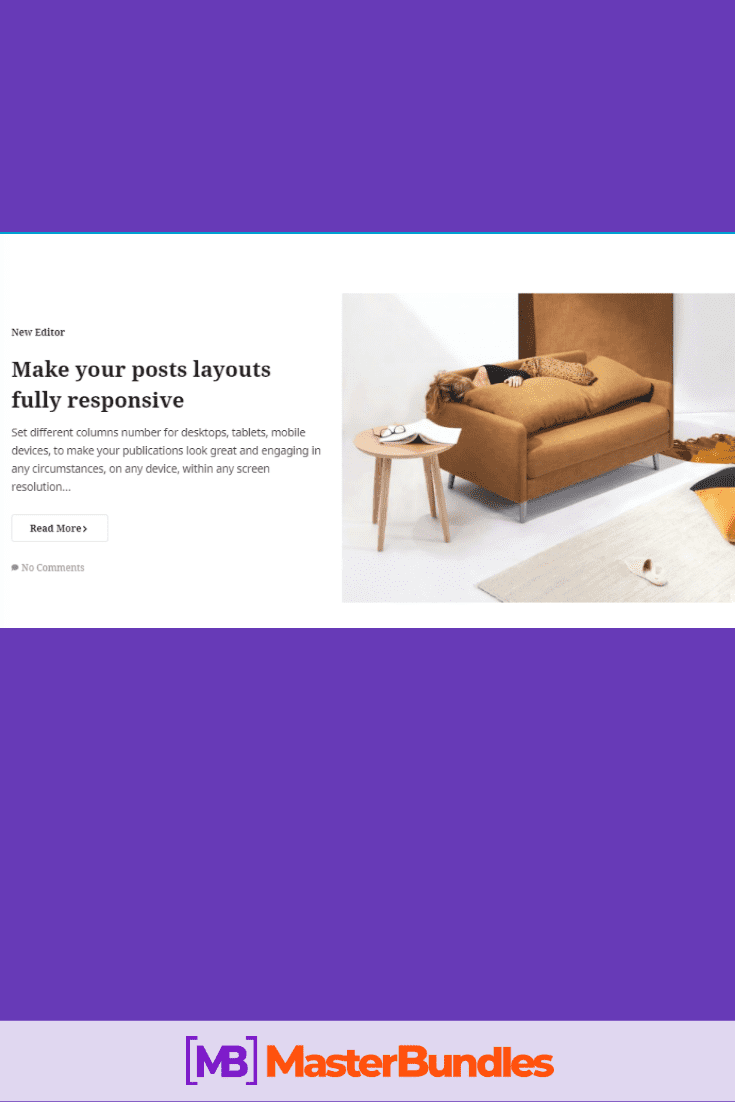 Content organization blocks
Section and Tabs blocks are each different yet both will help you with a task of organizing your content.
The Section block is a super tool to use when you work with the layouts and backgrounds and need your sections to be fully responsive.
Here you'll find an extended Columns option that allows building fully responsive columns, work on column gap, padding and background settings much like in Elementor.
The other thing you can accomplish with Section block is to set a shape background, or use any other background type you want.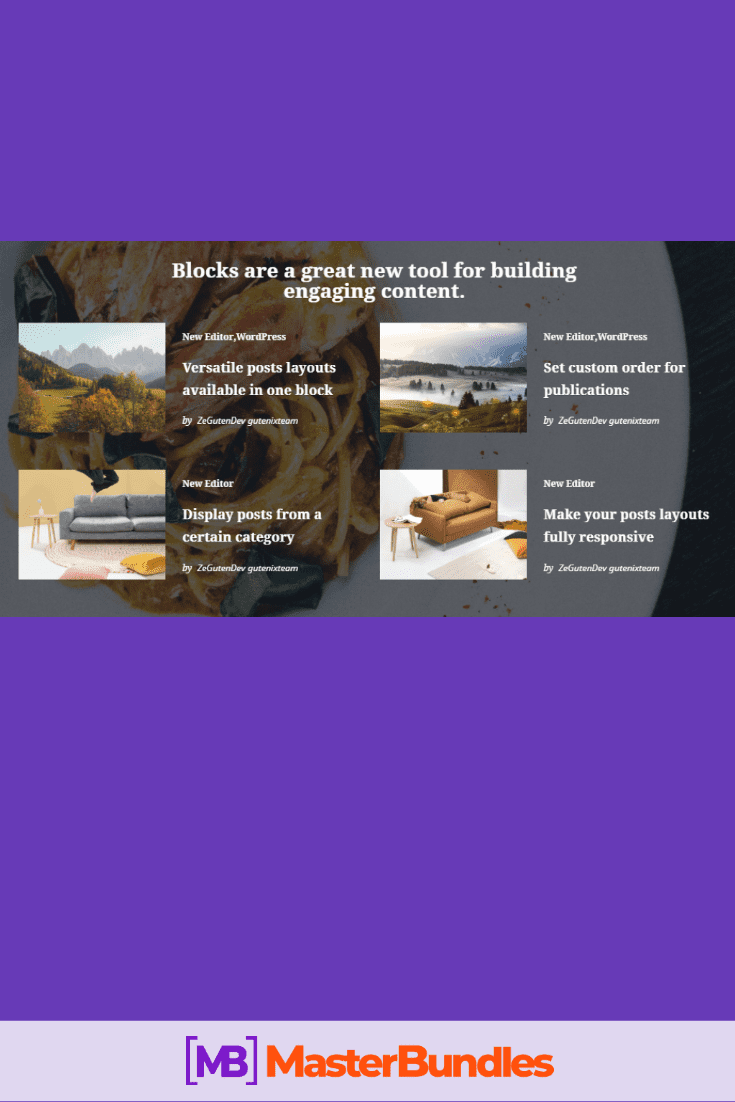 The Tabs block for Gutenberg is another tool that will come in handy when you have lots of content and don't want it to occupy much space on the page. The tabs will help you keep your content well-structured and easy to access.
Blocks for infographics
If you need to create content that relies heavily on infographics, ZeGuten will help you show numbers using Circle Progress, Countdown Timer, Icon List and Progress Bar blocks. Using them, you'll see how easy it is to deliver accurate information in an engaging way. Different layouts, animations and hundreds of stylization options will let you get the needed effect.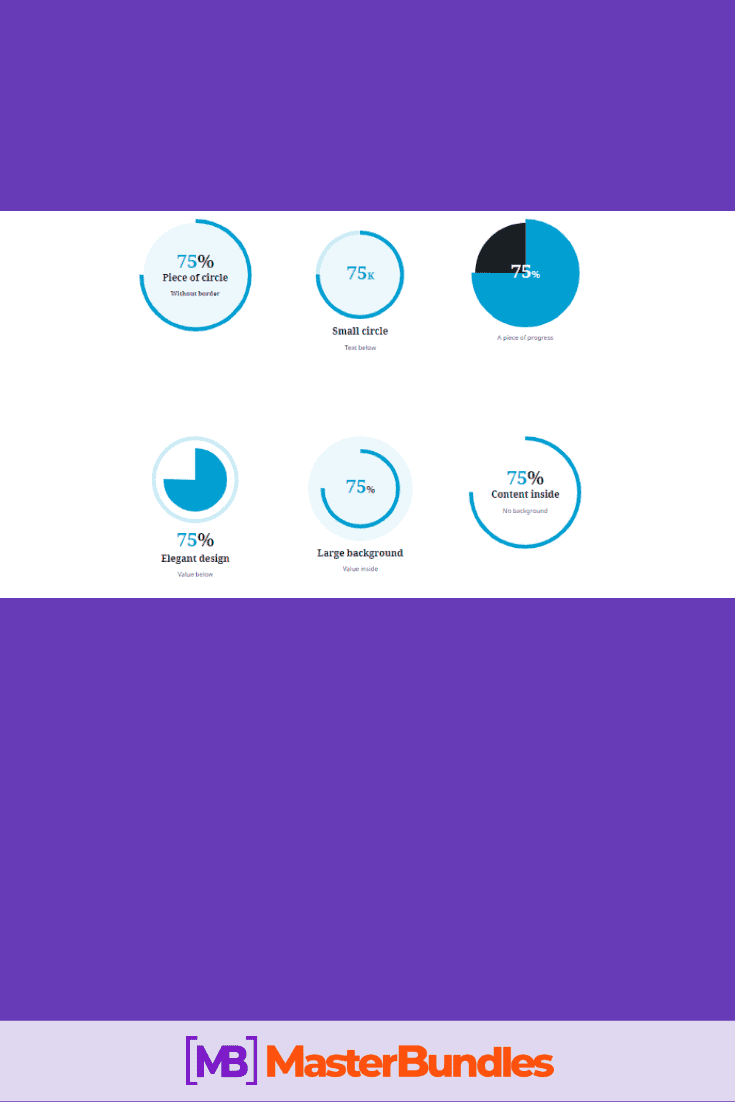 Visual blocks
You need to make your content eye-candy, and that's where the blocks for delivering visual information come into focus. ZeGuten provides Banner, Blurb, Heading, Image Comparison, Carousel and Animated Box blocks for you to unleash your creative streak. All of them are different but share the same treat: they are easy to use and have lots of stylization options and variations allowing to build almost any design within your content area.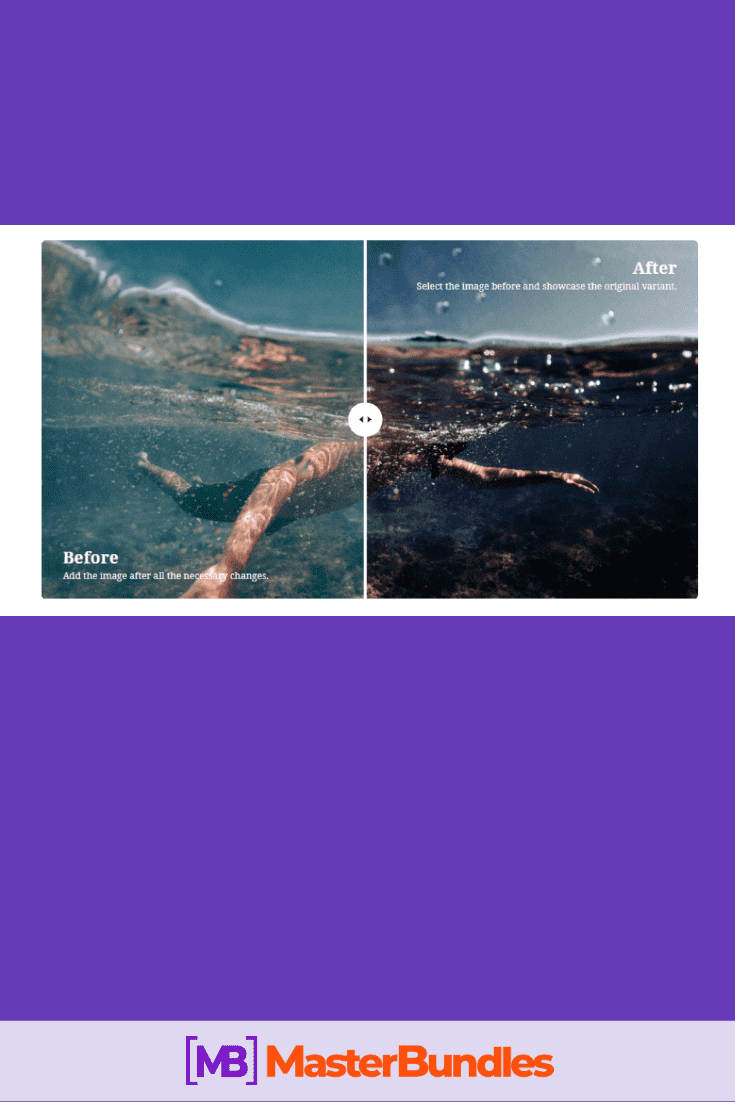 Integration blocks
You can't imagine a website without the things like a contact form or a subscription form. ZeGuten makes integration with Contact Form 7 and MailChimp as smooth at it can get with the two blocks made for these specific purposes.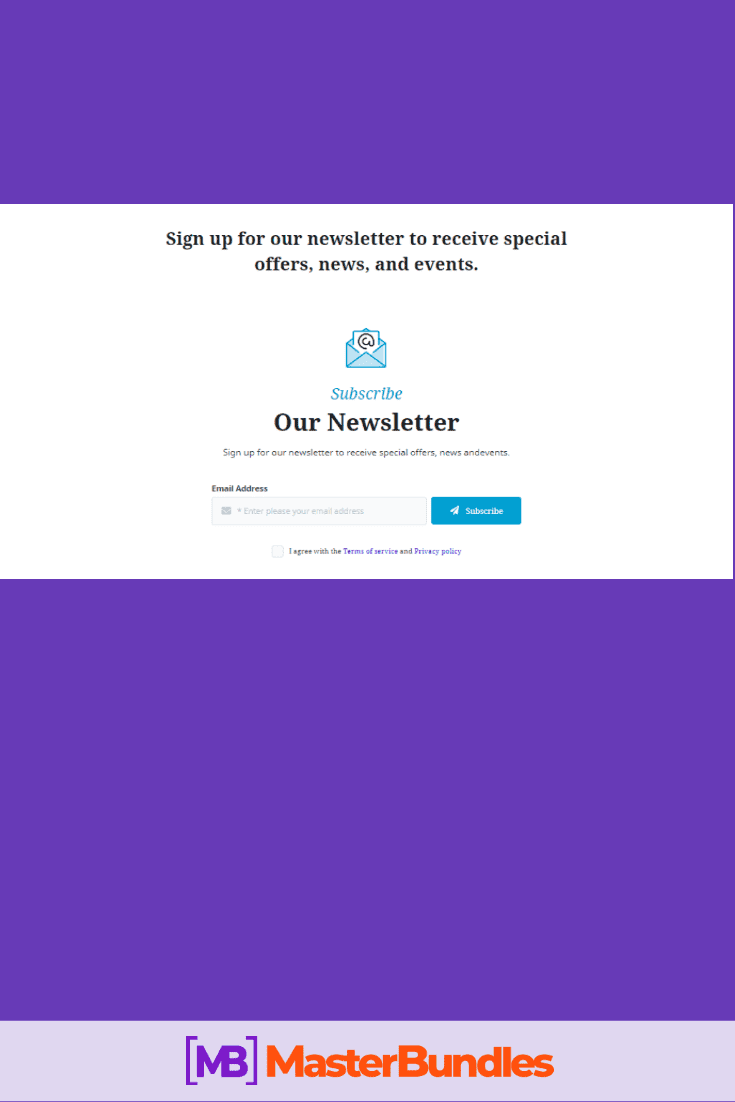 Gutenix free theme and GutenixPRO: meant to be together
Gutenix free theme is another irreplaceable part of the subscription. Even if it's available in the free version to use, it still brings value to those who work with Gutenix subscription.
In order to increase the functionality of Gutenix theme, you'll need GutenixPro plugin that comes with Gutenix subscription.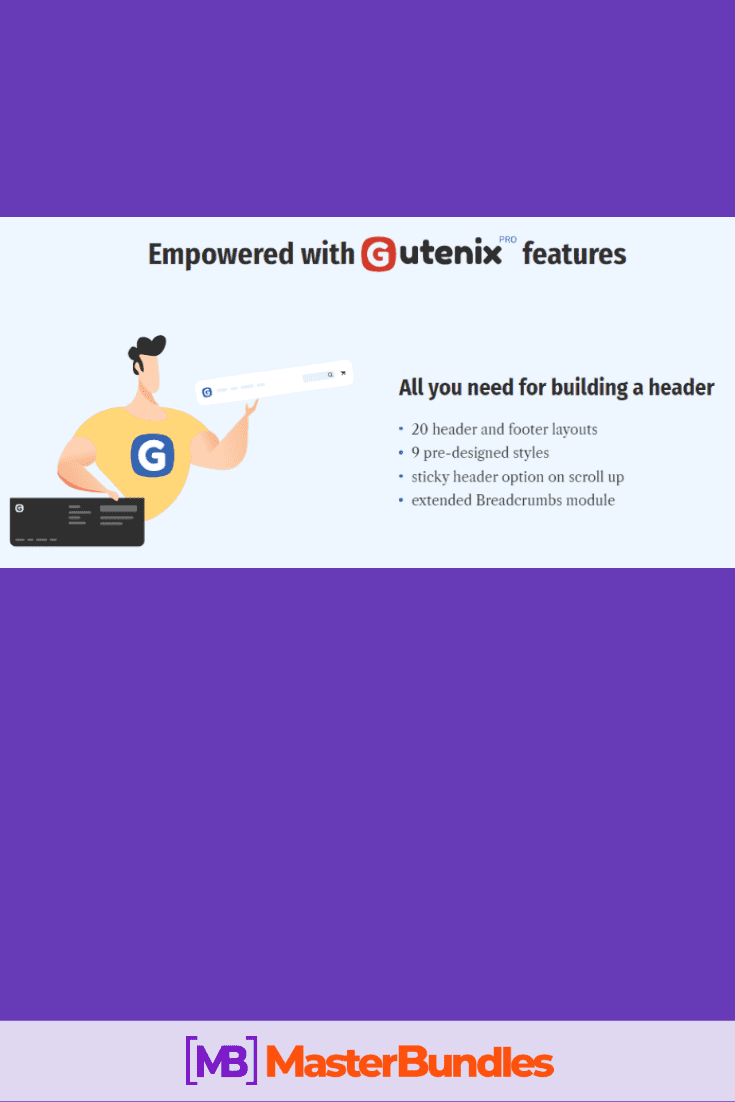 Working together, the theme and the plugin will let you do incredible work, like edit Blog, Single Post and use different styles for the Sticky header and breadcrumbs.
The theme also has immense settings for styling layouts and content when you work on WooCommerce products and Product archive.
What's more important, working with Gutenix, you know it's always 100 percent compatible with any builder you choose to use, be it Gutenberg, Elementor or Brizy. You're confident that the theme is fast and SEO-friendly.
Deciding on a subscription plan
Working with Gutenix subscription, you get everything to build a website from scratch. Moreover, if you're in web design field, it's good to know that paying once, you access so many templates and products, and it's possible to use all of them on an unlimited number of sites and domains.
Right now Gutenix offers a very simple pricing: you can get Annual subscription for 1 year of Gutenix subscription for $99, and you can buy a Lifetime subscription to use Gutenix and get all the updates and support as long as you need for $249.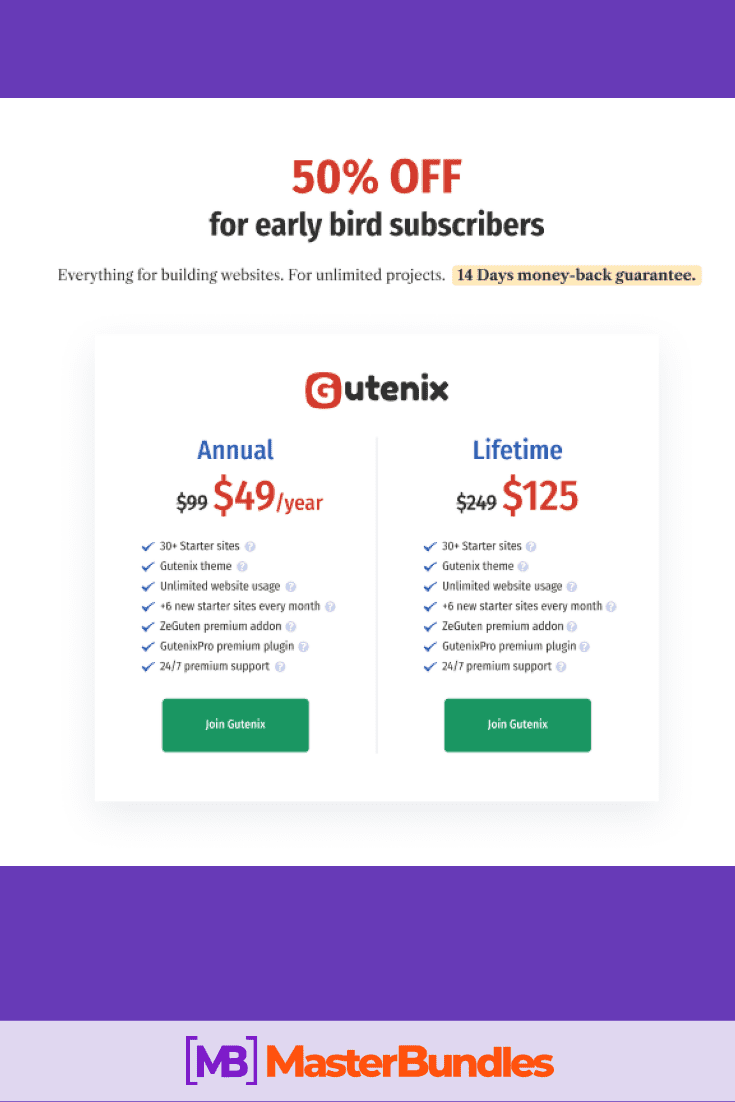 If you've decided to get an Annual subscription for one year, you'll still be able to upgrade to a Lifetime subscription and pay only the difference in price.
Another great thing is that Gutenix subscription is now available for preorder with 50% discount, so the price is a steal now, and it's time to make a purchase while it's so affordable, and you get an Annual license for $49 instead of $99 which is its regular price.
Both Annual and Lifetime subscriptions offer the same options:
30+ starter sites to any topics
Gutenix free theme
Unlimited website usage
6 new templates monthly
ZeGuten premium plugin
GutenixPro premium plugin
friendly and competent support team.
That's a point to consider.
A year of regular updates will extend the templates library to 100+, and even more to come in the upcoming years. As we see with ZeGuten, that gets one new block every month, it will soon also be immensely extended, becoming the fullest multi-purpose blocks plugin for Gutenberg.
If you ask me, if this subscription is worth its price, I'd say it's so much more than it seems on the surface. The price is really good for the number and quality of products in the subscription. It's definitely worth checking and trying out.
How to Use Gutenberg WordPress Editor

Check the Gutenberg WordPress overview that uncovers the most basic principles of working with the latest blocks editor in detail.

Please take a moment to pin this post to Pinterest
Article References
The article is based on the following resources:
Official Website: https://webcodebuilder.com/
Gutenix Youtube Channel: https://www.youtube.com/channel/UCLwhRFuwrT2sEfkRZ6kSSKg
Gutenix Facebook: https://www.facebook.com/Gutenix-104586581102789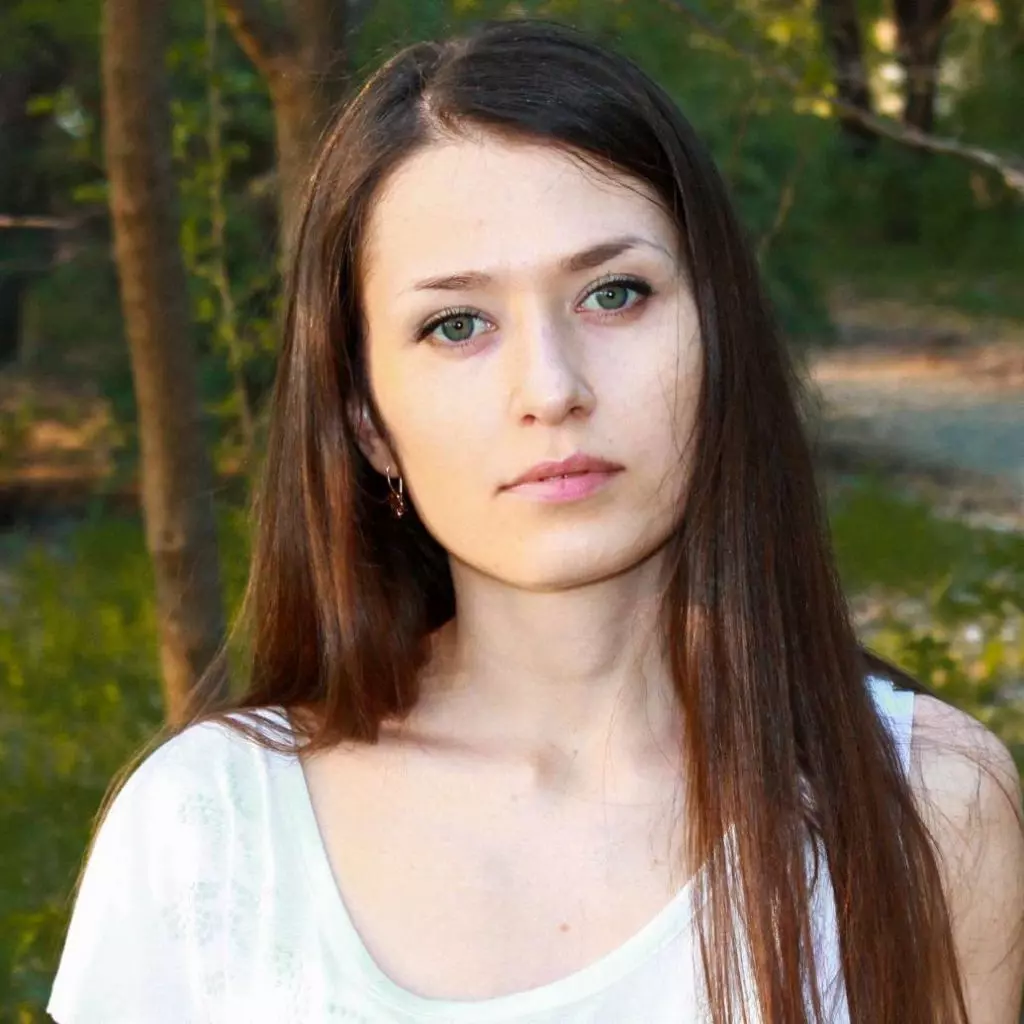 Article reviewed by
on June 15, 2020
6 years goes hand-in-hand with WordPress. Manages a team of WordPress-obsessed developers and designers. Has released dozens of plugins and thousands of templates.
Learn about comment
Disclosure: MasterBundles website page may contain advertising materials that may lead to us receiving a commission fee if you purchase a product. However, this does not affect our opinion of the product in any way and we do not receive any bonuses for positive or negative ratings.