Gift Box Ideas for All Occasions
The holiday season is truly marvelous. The streets are decorated with fancy lights, happy people are skating at the ice rink, kids eating candies and gazing at the huge Christmas tree. Even though it's so cold, people still go outside in order to enjoy this truly fantastic atmosphere.
Indeed, there are thousands of valid reasons to love Christmas, yet there is one little thing that can sort of spoil your holiday spirit and this thing is choosing the gifts for your friends and family. Well, I do agree that for some people picking the presents for their loved ones is an essential part of the holiday season, which they really enjoy. Yet there are so many people who get so stressful just because they do not know what to give to the people they love.
Well, if you are one of these people who cannot decide what to give their loved ones, then lucky you, because we have some tips for you.

How to Pick the Right Gift:
Take into consideration the stuff a person you are looking for a gift for likes;
Think of the things the person might actually need;
Stalk the person's social media in order to figure out what they love as well as what they would like to get;
Be creative and do something by yourself;
Think of the experiences you can give them such as skydiving, traveling, or their favorite band's show;
Do not limit yourself with one gift and consider getting a gift-box.
Gift box: The Ultimate Present or a Bag of Junk?
While some people think that gift-boxes are great presents, others claim that they are literally bags of junk. But who's actually right in this situation? Well, all of them because everything depends on the stuff that is inside a gift-box. In other words, if you put a whole bunch of stuff the person you are going to give a gift-box to loves in that box, then it is the best present in the world. At the same time, if you put in there some junk, then obviously that person will not like such a gift.
As a matter of fact, gift-boxes (the good ones) are gaining more and more popularity all over the world. Most people choose a decent gift-box over a single present mostly because unpacking such a box and finding all that fancy stuff is more exciting and fun.
Well yeah, a decent gift-box is the ultimate present and definitely not a bag of junk. So why don't you try and find some cool gift-boxes for your loved ones this holiday season? Certainly, we will help you with that.
Gift box ideas
I bet that you have already decided to find some fancy gift-boxes for your friends and family, so here are some dope ideas that you might like.
Amazon Gift box Ideas
Well, let us start with gift-box ideas for all occasions from Amazon, shall we?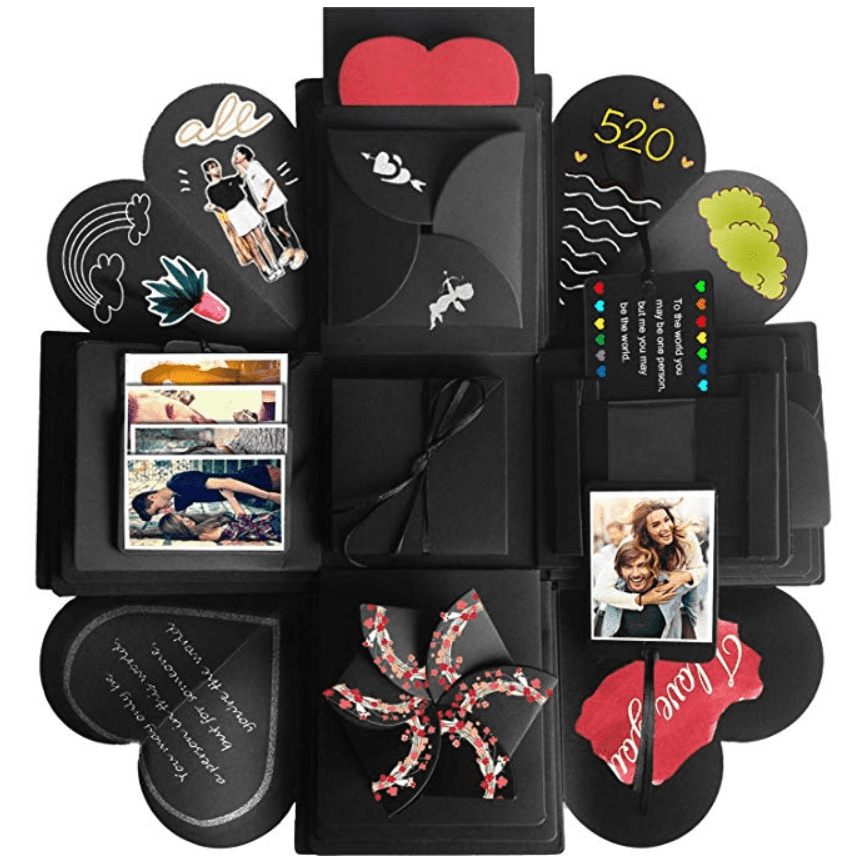 Focus on creating a fun memories gift-box for the people you appreciate. This very gift-box is perfect for some photographs as well as little things that your loved ones like. So make something special for the people you love by yourself with this lovely gift-box.
Price: $68
This very gift-box from Amazon will serve as a perfect gift for coffee addicts. So get some decent coffee and tasty cookies in a fancy box for your beloved coffee lovers.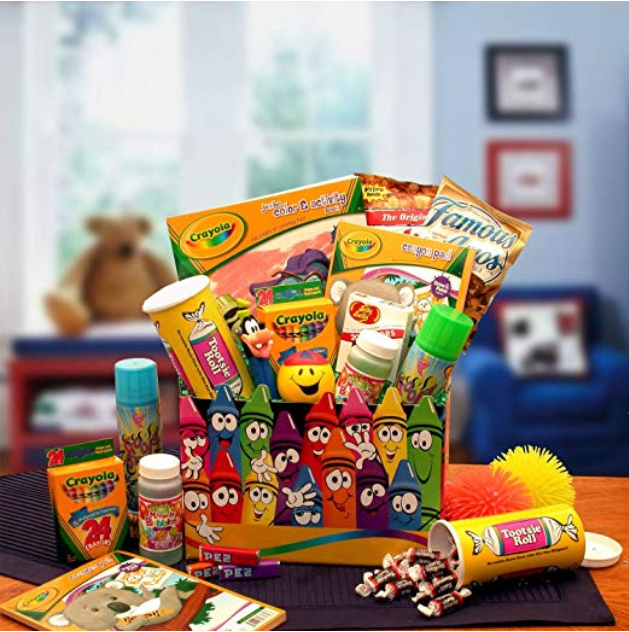 Price: $51.99
If you are looking for the ultimate present for your little sister or brother, then this very gift-box is no doubt the way to go for you. Impress your sibling with some drawing supplies, creative toys, and candies.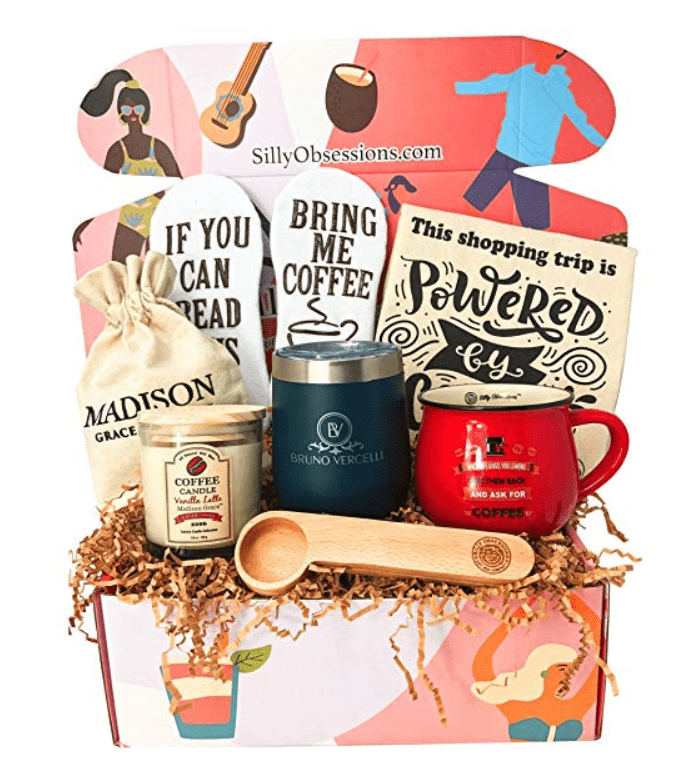 Price: $45.99
Another fancy gift-box for coffee lovers. This very box includes such dope items as "If you can read this bring me coffee" socks, wood coffee measuring scoop, stainless steel drink tumbler, coffee scented candle, and a fun coffee mug.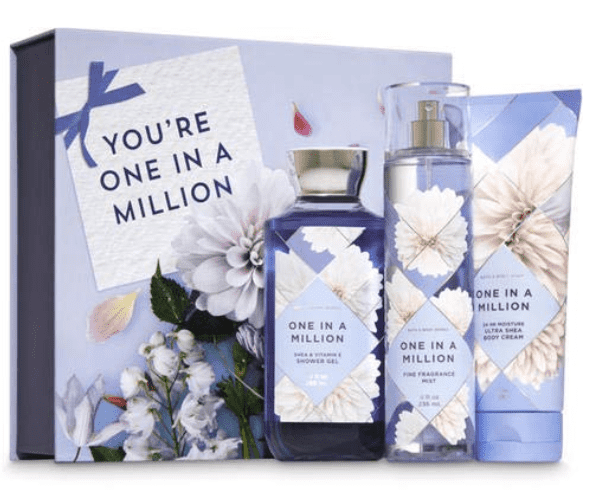 Price: $42.80
A simple, yet pretty practical gift-box for those who enjoy bubble baths. So actually why not?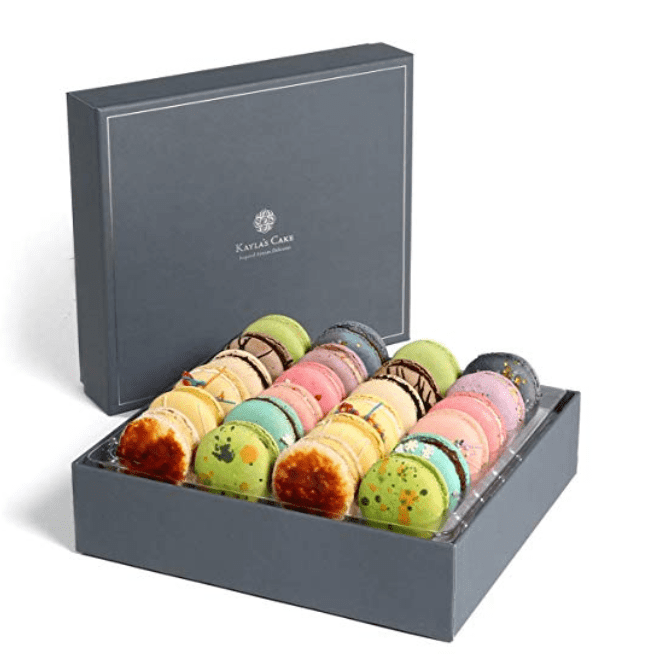 Price: $62.99
This is a luxurious gift basket for all your friends who have a sweet tooth because what gift can possibly be better than fancy cookies for them?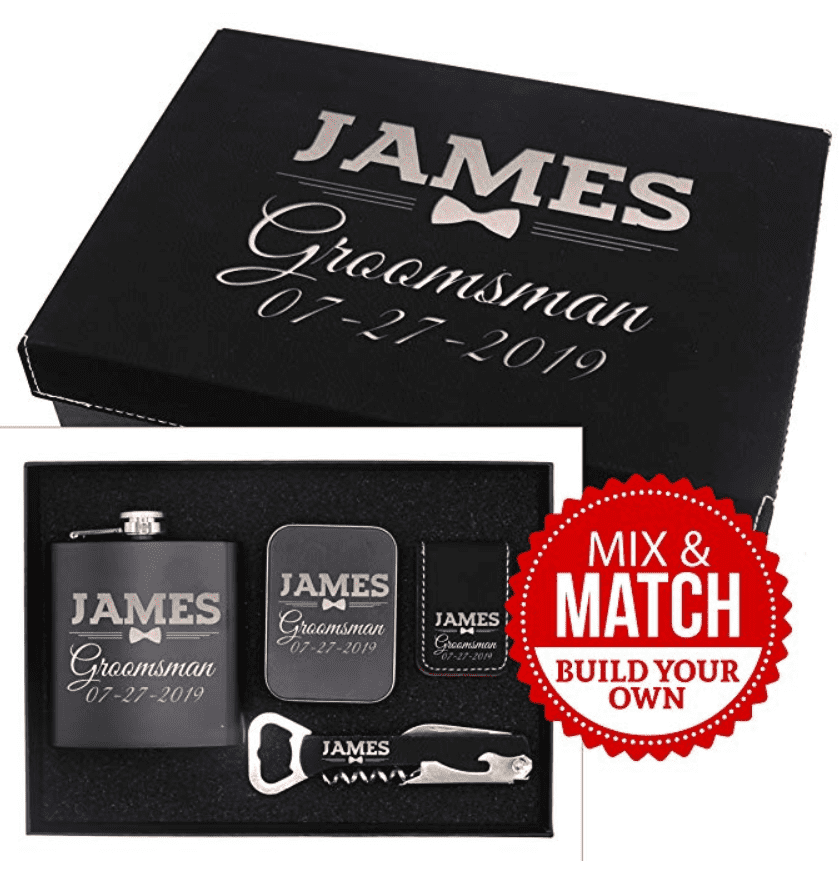 Price: $19.99
Finally, a fancy kit for those who enjoy occasional recreational drink.
Birthday Gift Boxes
As you can see, there is a vast variety of gift-boxes for literally all occasions, but let us concentrate on the birthday boxes in particular now. So here they come – birthday gift-box ideas.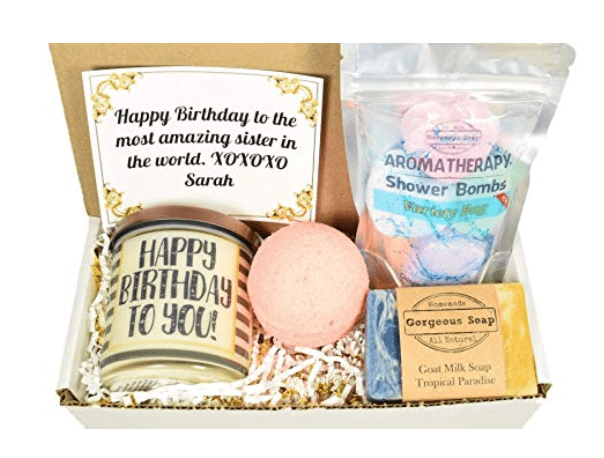 Price: $16.95
This very birthday gift-box is simply perfect for those of your friends who adore taking bubble baths. So there is actually no reason against giving them this fancy bath set.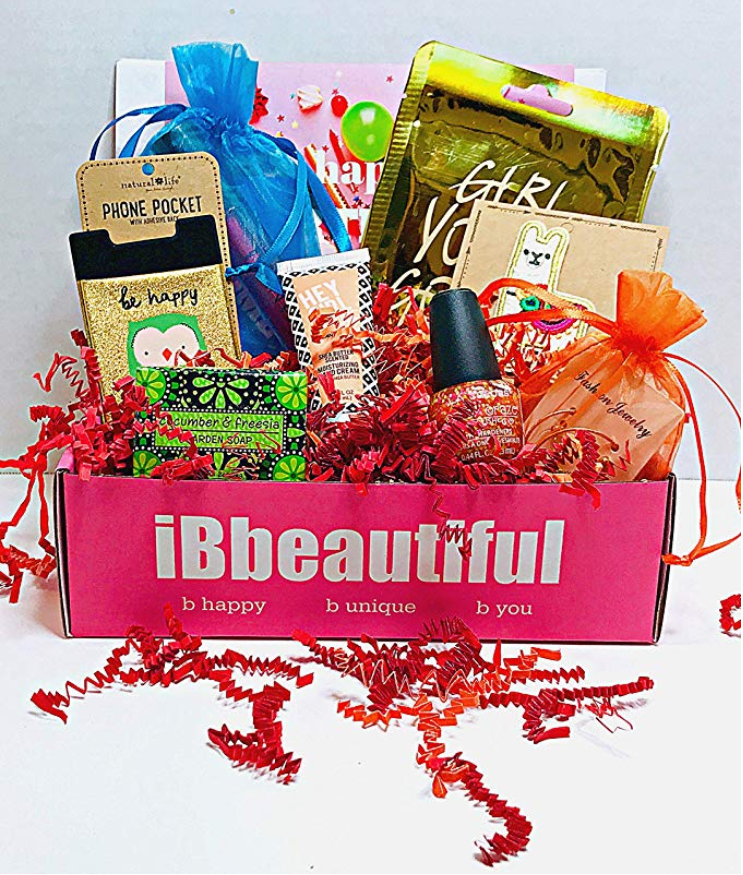 Price: from $36
Do you need a cool gift for your teenage sister? Then stop struggling with figuring out the best present and just get this dope birthday gift-box for her!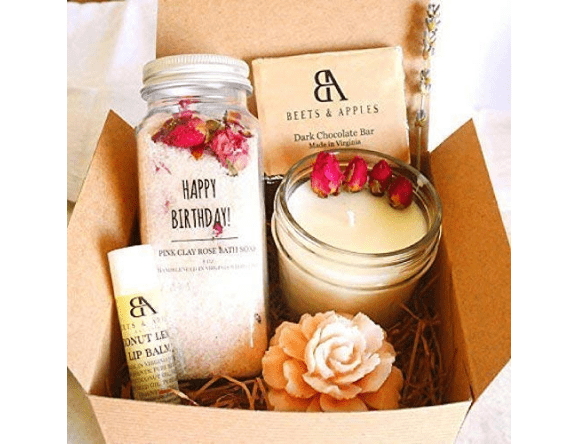 Price: $29.99
Are you struggling with finding a present for your mom or aunt? Well, you might want to stop because this very gift-box will come to rescue you.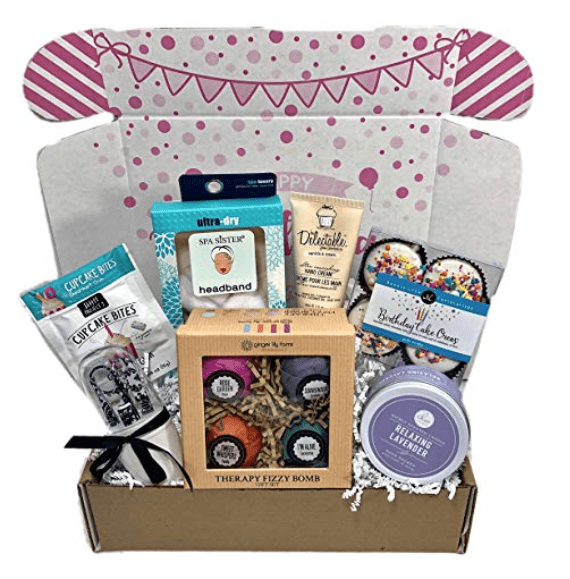 Price: $54.95
Another great bath set for those of your friends or family members who love taking baths. The gift-box includes many dope bath accessorizes and even a couple of cupcakes, so do not underestimate this fancy spa set.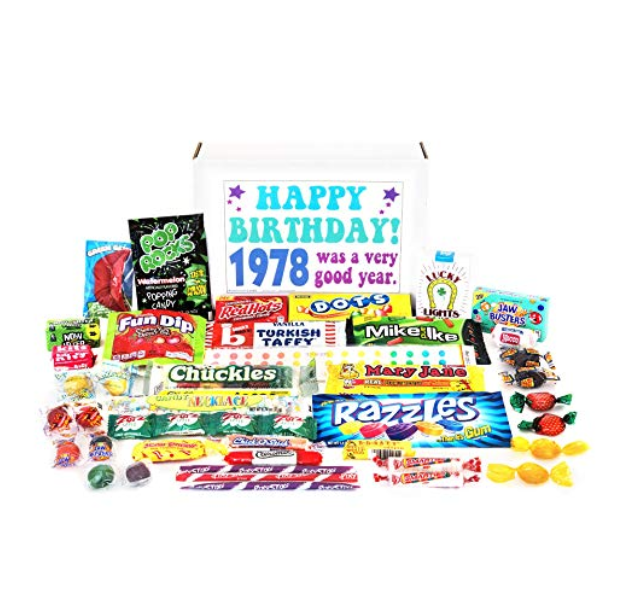 Price: $27.90
Well, if somebody you know turns 41, then this very retro candy assortment from childhood is definitely the way to go. Such a gift-box will trigger so many good memories, besides, this is the ultimate present for those who have a sweet tooth.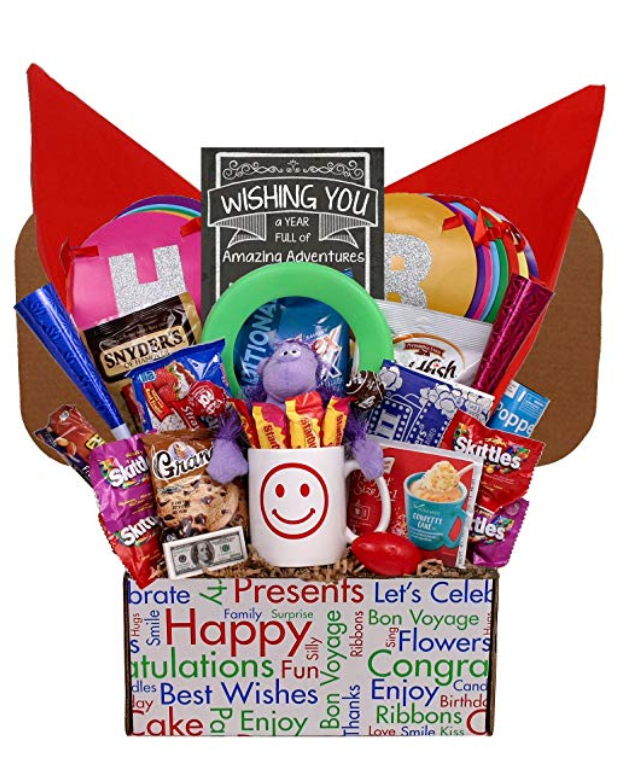 Price: $47.97
Make a wild birthday party with this very gift-box, which includes such items as a Happy Birthday banner, smiley face mug, party horns, as well as a whole bunch of snacks and candies.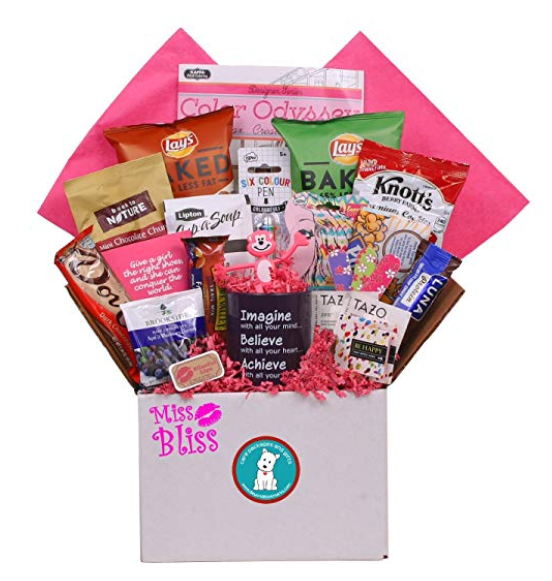 Price: $49.97
Just a super creative and fun birthday gift-box that literally anyone will fall in love with.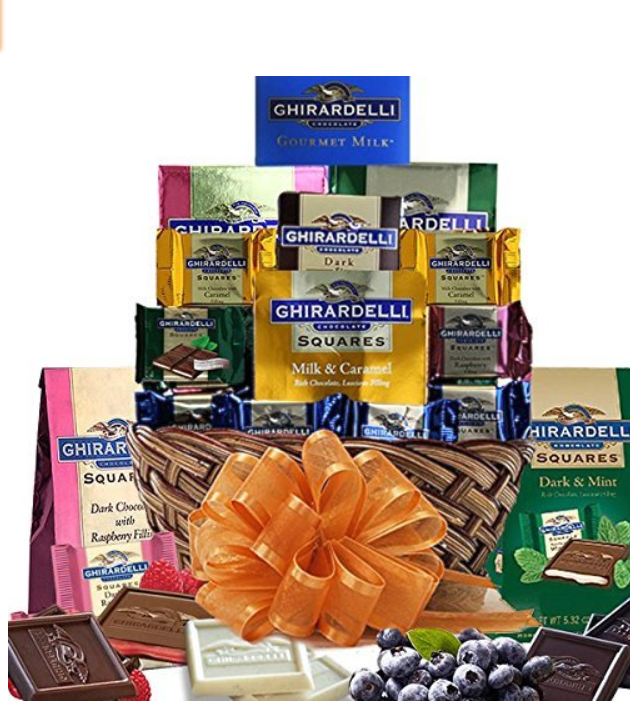 Price: $54.95
This very gift basket is simply the best possible choice for all your friends or family members who adore decent chocolate. So why not make them happy on their birthday with such a gift-box?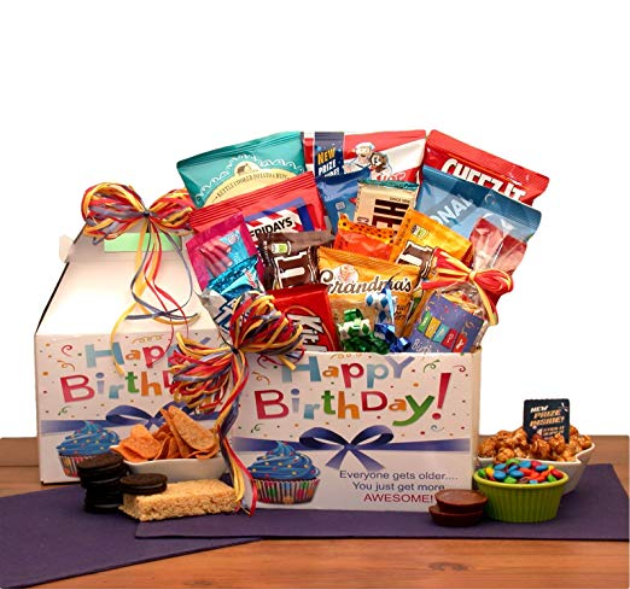 Price: $49.99
Last, but not least, this super dope birthday gift-box. The box includes lots of snacks and candies that will no doubt make anyone super happy.
Wedding Gift boxes
In terms of weddings, gift-boxes have a slightly different meaning. So basically, a wedding gift-box is just a fancy box for actual presents. Well, let us have a look at some of these boxes that Amazon offers.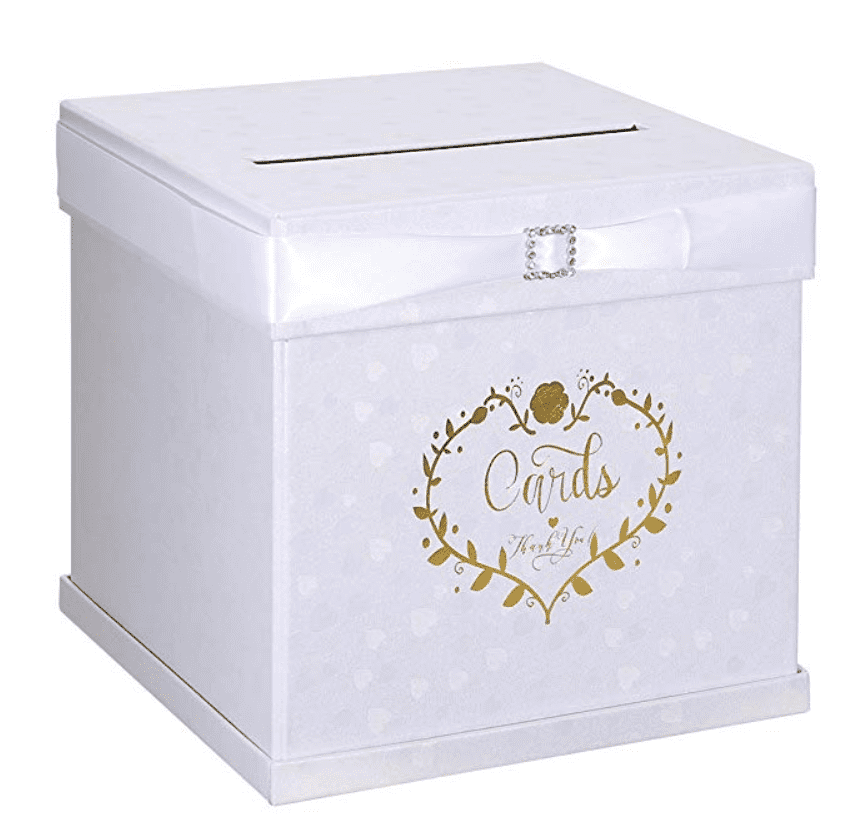 Price: $20.99
A simple classic white, yet pretty lovely, wedding card box with lots of great customer reviews. What else you might possibly need on your wedding?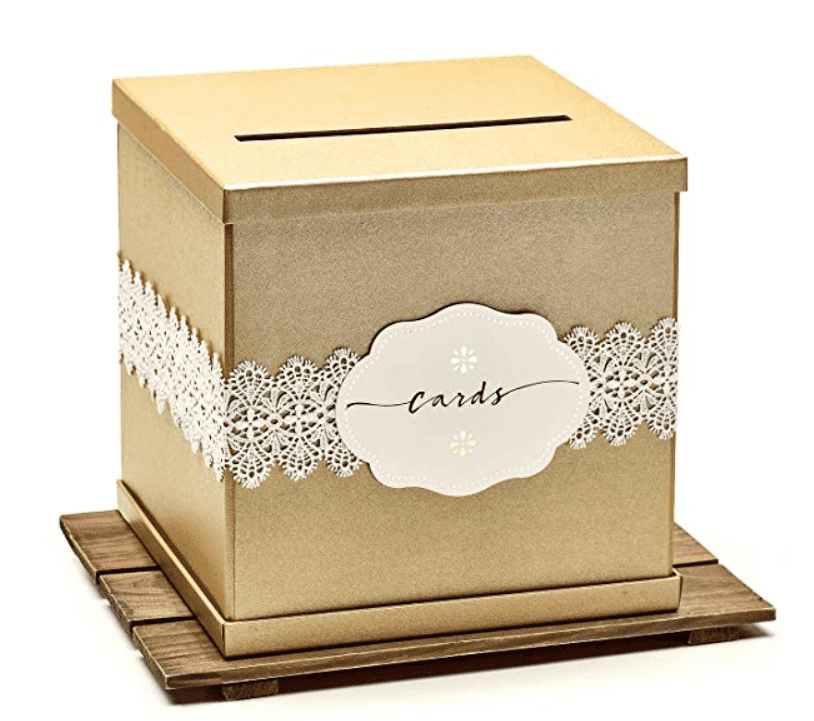 Price: $23.99
If you are looking for something less conventional and more crafty, then this very gift card box is surely the way to go for you.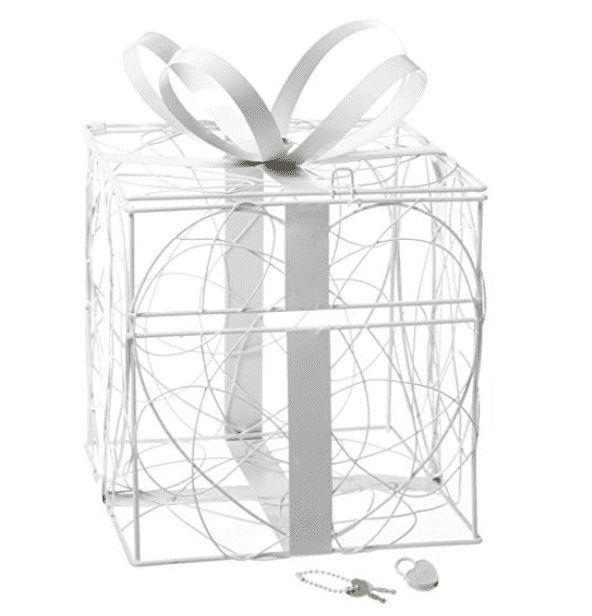 Price: $36.78
This very gift card box is definitely not something you will see on pretty much every wedding, so go ahead and get this lovely box.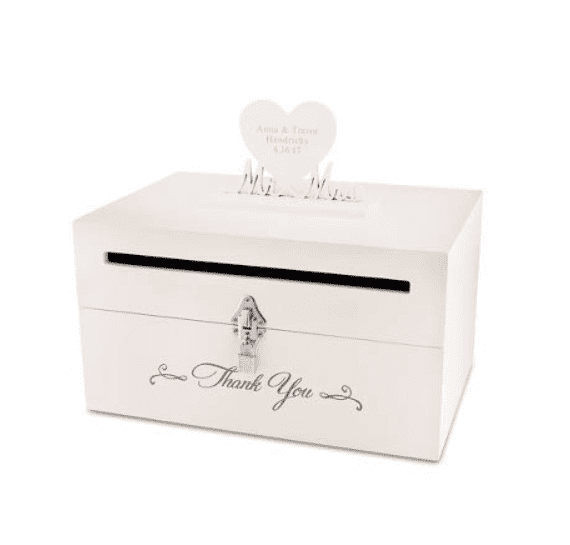 Price: $80.00
Another classic solution that will no doubt work for any type of wedding.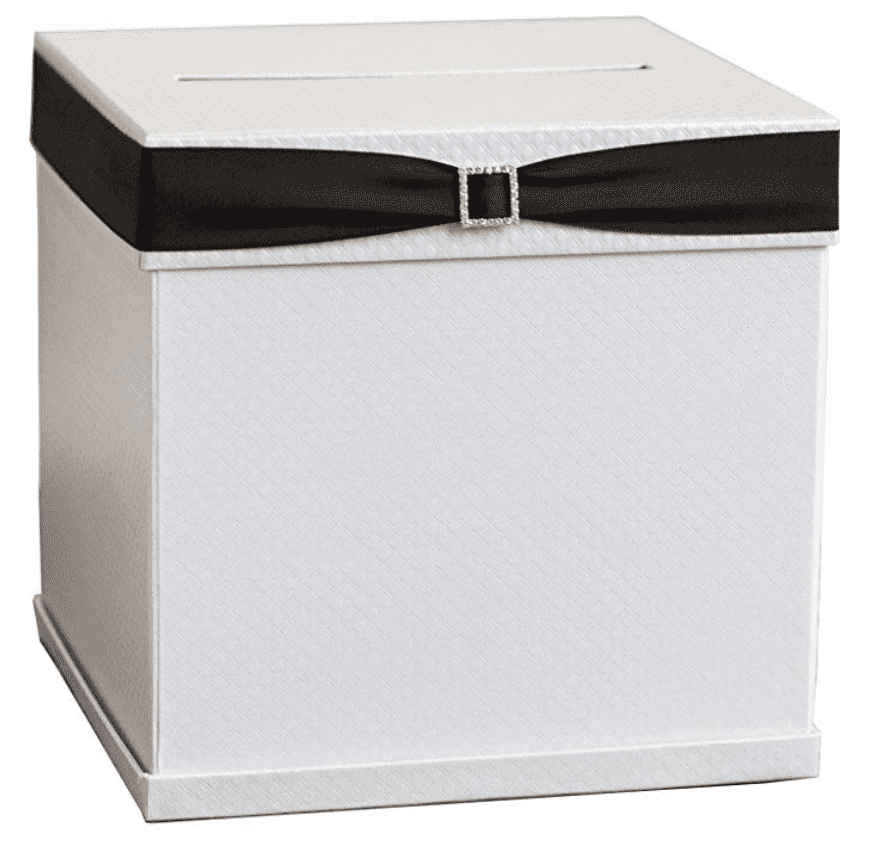 Price: $19.99
Last, but surely not least, a lovely classic wedding gift card box that definitely will not let you down.
Christmas Gift box Ideas
Spooky season is almost over, which means that Christmas is coming. But it also means that you have to look for some lovely presents for your family and friends. So let us have a look at some of the dopest Christmas gift-box ideas. Here they come!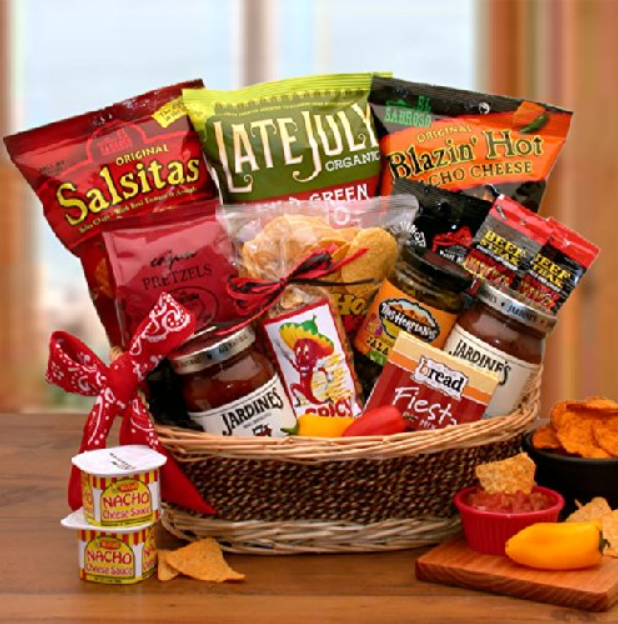 Price: $85.74
This very gift basket is the perfect choice for those of your friends who love Mexican food and snacks. The basket includes such items as Salsitas salsa tortilla chips, guacamole tortilla chips, Blazin hot nacho tortilla chips, Nacho cheese dip, Spicy taco seasoned gourmet snack mix, and many more.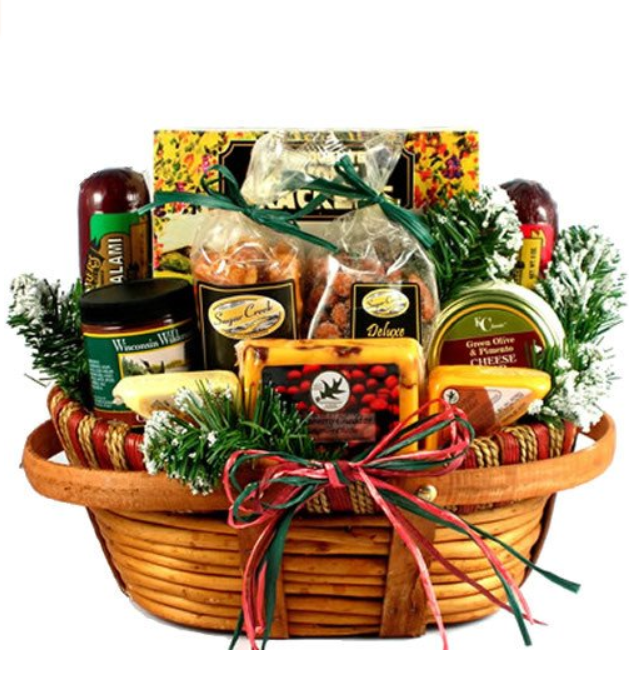 Price: $78.00
This Christmas basket is simply the best idea for cheese lovers. The basket is filled with lots of tasty stuff like various cheeses, sausages, sauces, and snacks, so you can be sure that your cheese lover will be truly pleased with such a present.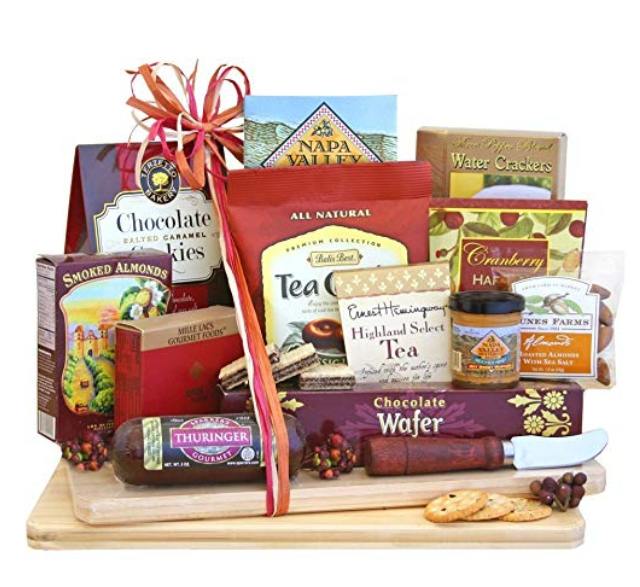 Price: $54.19
Another gift-box idea for foodies from Amazon. This very box contains such goodies as Salami, Sourdough Nuggets, Napa Valley Mustard, Cheese Knife, Cheese, Wood Cutting Board, Crackers, Chocolate Cookies, Smoked Almonds, Tea, Cranberry Harvest Snack Mix, Tea Candies, as well as Chocolate Salted Caramel Cookies. So it is needless to say that such a gift will no doubt impress every foodie.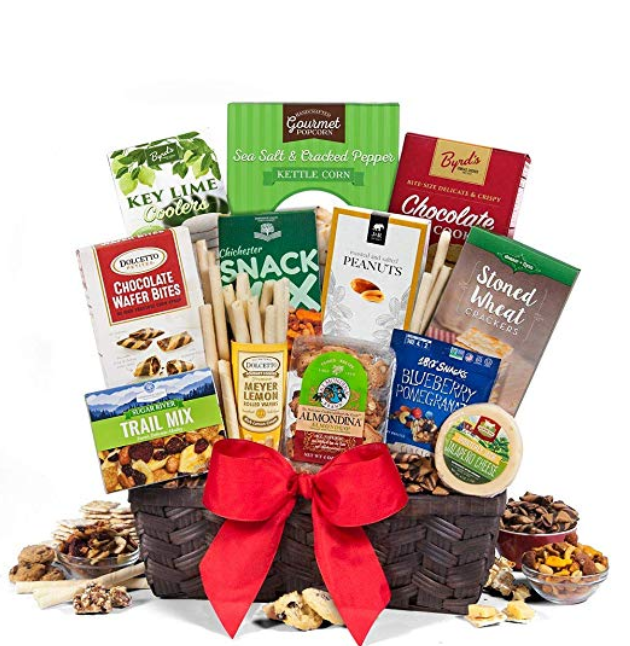 Price: $89.99
This very basket is definitely the right choice for snack lovers. So if you have some friends who always eat snacks, then why not give them a basket with premium snacks for Christmas?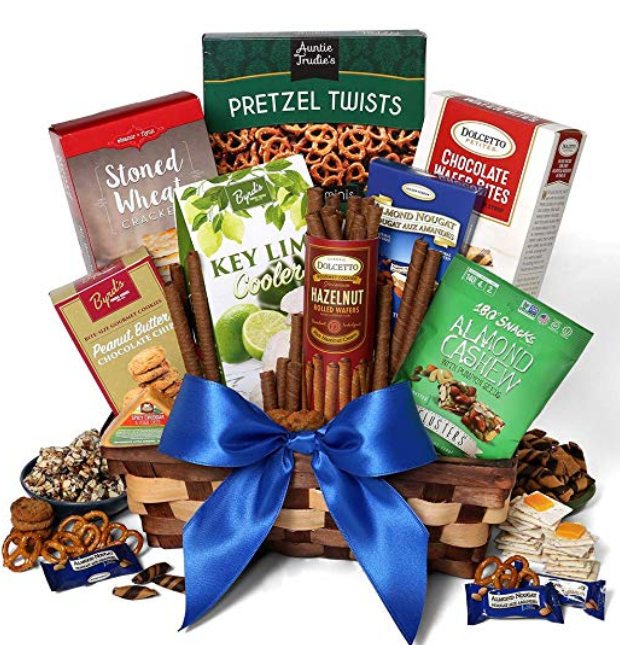 Price: $69.99
This one is just another cool option for all the snack lovers you might know.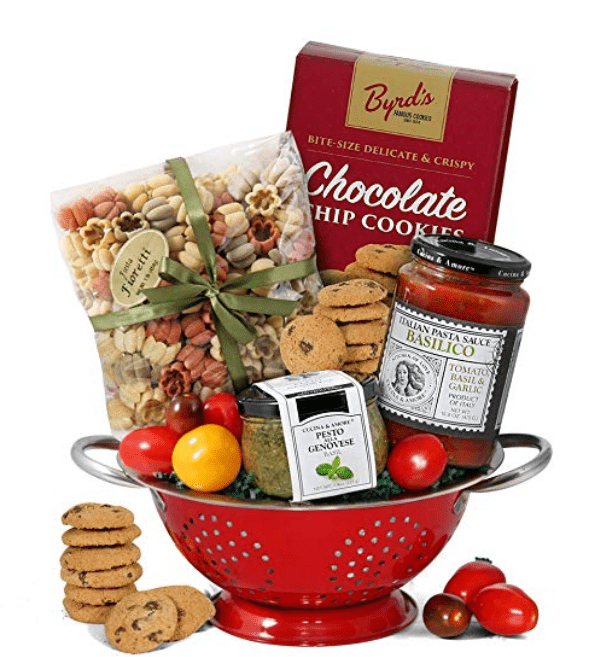 Price: $79.99
Well, let's start with a simple question: "Who doesn't like Italian food?" Is it even necessary to answer this question? Because it is obvious that pretty much everyone loves decent pasta and delicious cheesy pizza. That is exactly why this Italian gift basket is a simply magnificent gift for your friends or family members. The box includes such gourmet foods as Basilico tomato pasta sauce, basil pesto alla Genovese, handmade artisan pasta, and surely some chocolate chip cookies.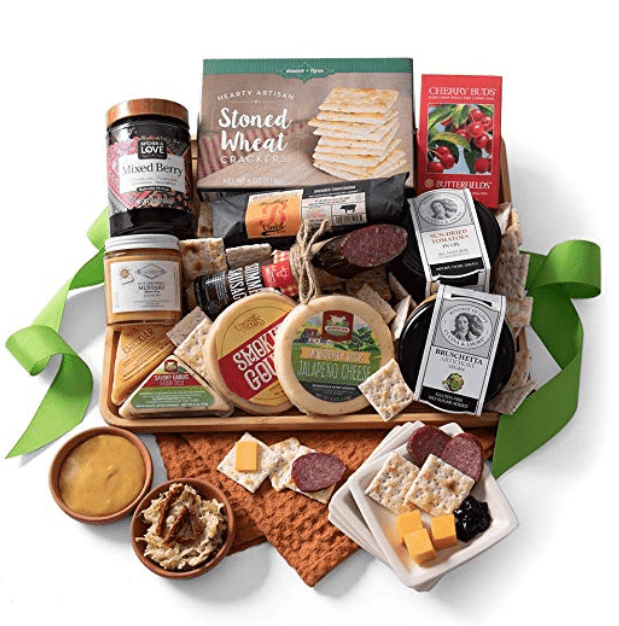 Price: $99.99
Last, but definitely not least, Artisan Meat & Cheese Platter. This very Christmas basket is another decent choice for meat and cheese lovers. In fact, the box includes various gourmet foods like artisan cheeses, crackers, antipasto items, gourmet meats, summer sausage, smoked pepperoni, Monterey Jack jalapeno cheese, garlic cheddar cheese, ultra-sharp cheddar cheese, mixed berry preserves, stoned wheat crackers, cheddar cheese, artichoke bruschetta, sun-dried tomatoes, hot and sweet mustard, as well as some cherry hard candies for dessert.
Making a Gift-box by Yourself
Certainly, the best way to make the ultimate gift-box for your friend, significant other, or family member is to make it by yourself. You know your loved ones the best and that is why you know perfectly well what exactly they would want to find in a gift-box. So think about the stuff the person you want to make a gift-box for loves, get some of these items, and put them in a lovely box you can find on Amazon.
Here is a good article with 120 DIY gift-box ideas for you to find some inspiration and creativity.
Final Word
Figuring out a decent present for your family members, friends, or significant others is not an easy task at all. Moreover, finding the very gift will definitely take you so much time and energy. Luckily, today there is a whole bunch of gift-boxes for literally all occasions, so you can find something truly dope for your loved ones. A gift-box with the stuff the person you are going to give it to loves is no doubt the ultimate present. Besides, you can even make such a box by yourself in order to make sure that the person will like all the items within the box. So why don't you get some gift-boxes for your loved ones this holiday season?
Will you consider getting a gift-box for your loved ones? Let us know in the comment section below!
Please take a moment to pin this post to Pinterest
Was this page helpful?
We will be happy if you decide to share this article with your friends on Facebook. Just click on the button and you're done
What are your concerns?
Thanks for your response!
You have already left your review.
If you are one of those who can't decide on a gift for your friends and family, then this article is sure to be useful for you. Gifts are always pleasant to receive, but it is even more pleasant to give them. That's why I was inspired by many articles about gifts, their choice, and about how to understand what is suitable for a person. By writing this post, I tried to find as many gifts as possible that will suit literally everyone, and I hope that I coped with this task.
History and Traditions of Gifting from Around the World. (https://www.joigifts.com/blog/history-traditions-gifting-around-world/)
12 ways to find the perfect gift for anyone. (https://www.redditgifts.com/blog/view/12-ways-find-perfect-gift-anyone/)
How to Choose a Gift. (https://www.wikihow.com/Choose-a-Gift)
Why Do We Give Gifts at Christmas? (https://www.thefactsite.com/the-tradition-of-giving-gifts-at/)
5 Interesting Facts About Holiday Gift Giving (http://www.quick-good-fortune.com/5-Facts-Gifts-Giving.html)