20+ Icon Packs for Android to Spice Up Your Designs in 2023
Do you want to add some creativity to your smartphone? Check out these cool icon packs for Android. This system is open-source – you can change everything to your liking, including icons. Try to change the style, transform your already long-established interface and you will surely like it. In this article, we'll also tell you how to do it, so you can quickly add new aesthetic elements to your mobile device.
In this selection, we've balanced for you both premium and free products for all tastes. With affordable prices, fast downloads, and easy installation you can enjoy the selected set of beautiful icons as soon as possible.
Best Android Icon Packs to Customize Your Phone
In this section you will find premium products that are constantly updated and of course of high quality. Some of them also have the possibility of additional customization without any restrictions.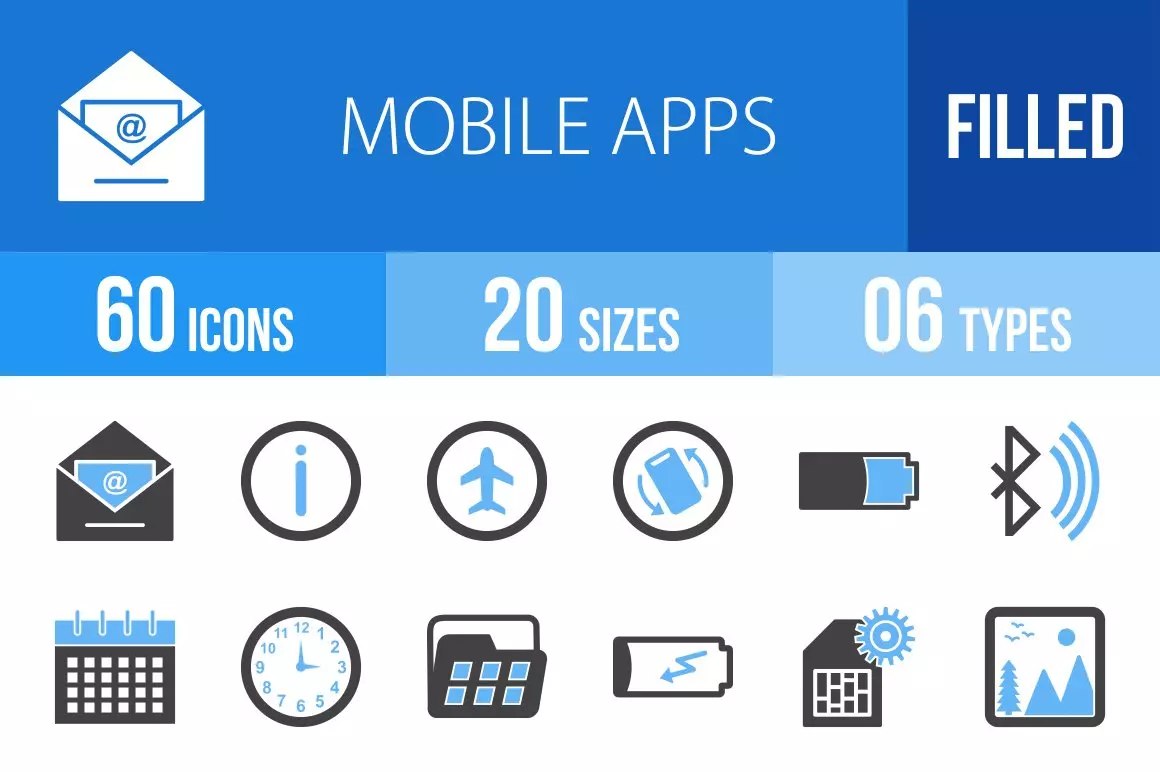 110 Mobile Apps Blue & Black Icons
| | |
| --- | --- |
| Price | $9 |
| File type | AI, EPS, JPG, PNG, SVG |
| Date | April 27 2023 |
| Colors | |
| Rating | |
If you need custom app icons for Android, then this huge set is perfect for you. Here you will find more than 100 items for mobile applications available not only in PNG format but also AI, EPS, JPG, and SVG, which allows them to edit and modify, if necessary.
Show More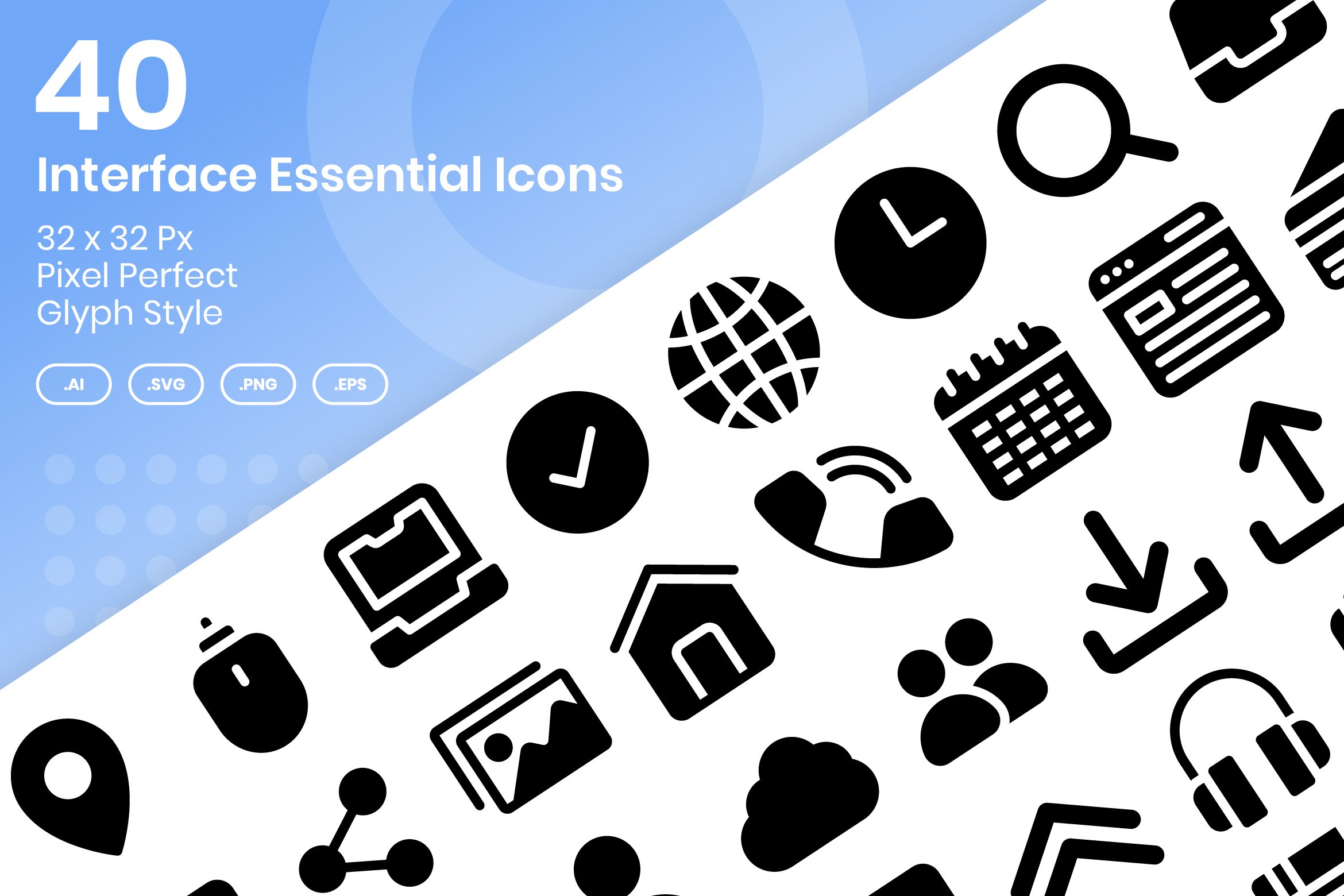 40 Interface Essential – Glyph
| | |
| --- | --- |
| Price | $17 |
| File type | AI, EPS, PNG, SVG |
| Date | April 27 2023 |
| Colors | |
| Rating | |
This is another cool set for Android. There are 40 items that are easy to edit, change color, or size. They are available in AI, EPS, SVG formats, and PNG files in sizes 32 Px, 64 Px, 128 Px, 256 Px, and 512 Px.
Show More
100 Material Design Filled Icons
Price

$9

File type

AI, EPS, JPG, PNG, SVG

Date

March 16 2023

Colors

brown

green

orange

pink

purple

Rating
This is one of the most interesting icon packages for Android because you can choose for yourself as many as 100 different options. The items are available in 6 different formats, namely AI, CDR, EPS, JPG, PNG, and SVG. In addition, they are very easy to edit and scale to suit all your needs.
Show More
Minimalist Pack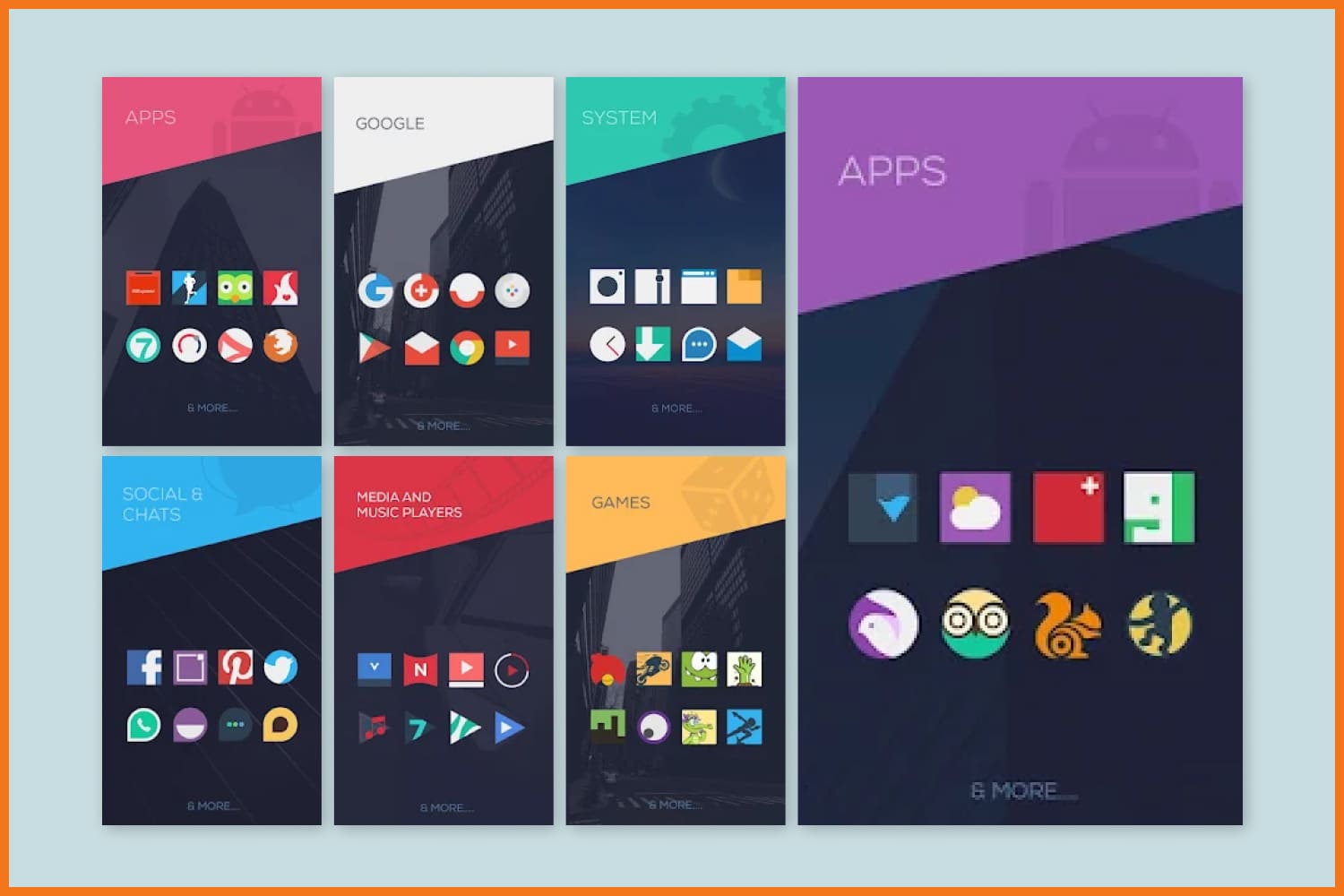 This is an attractive product that will suit solo launcher icon packs. If you like minimalist style, then this set is definitely for you. These rounded items will add modernity and uniqueness to your smartphone interface.
Dove Light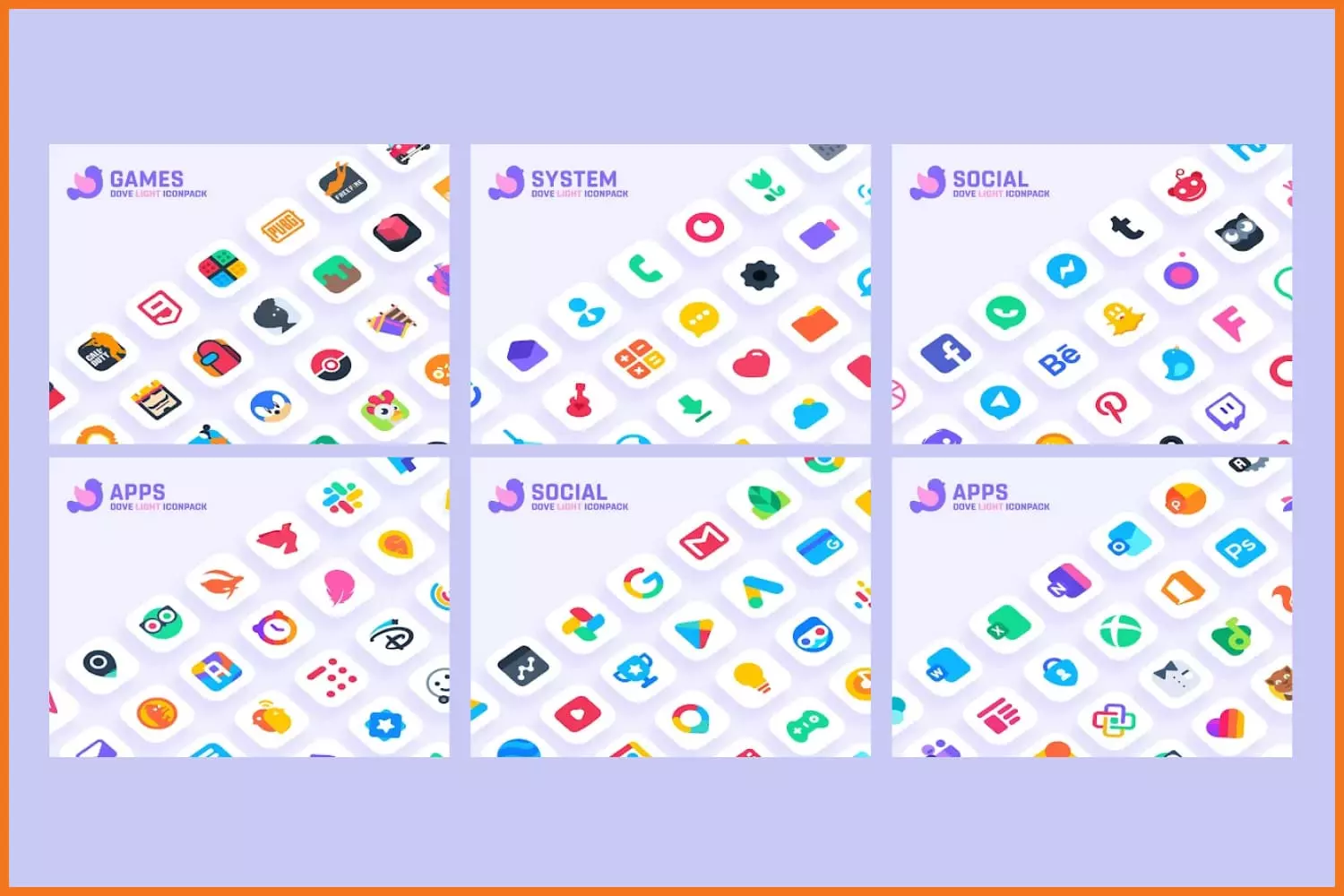 In this set, you will find minimalistic and simple, but very attractive product for your favorite smartphone. It is regularly updated and already has more than 3,000 different variations of icons.
BeeLine Pack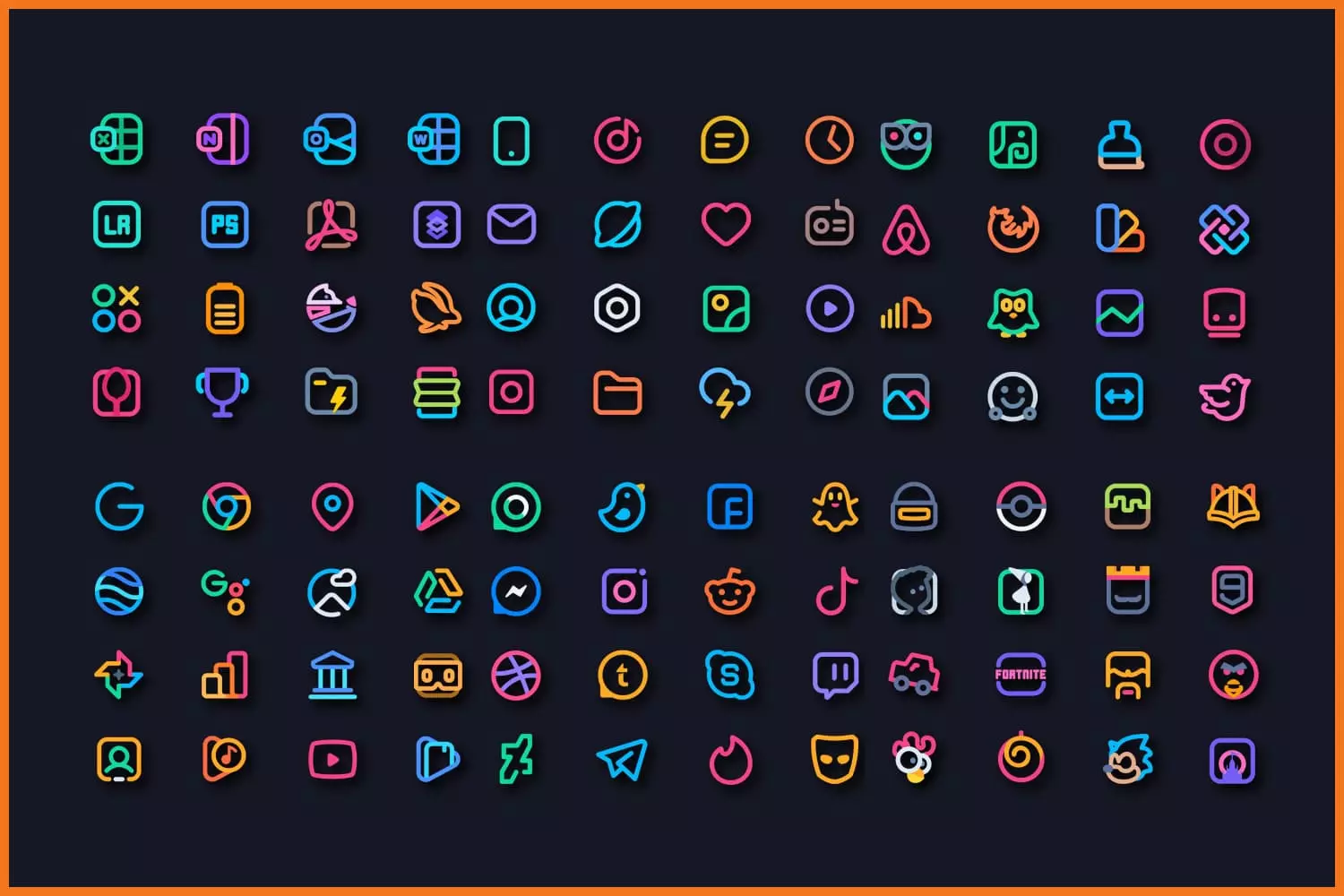 If you want to try something unusual and new, then BeeLine is a cool choice. You'll find more than 3,000 different icons in this set. Moreover, in the settings, you can also add neon lights and other interesting features without any difficulty.
Borealis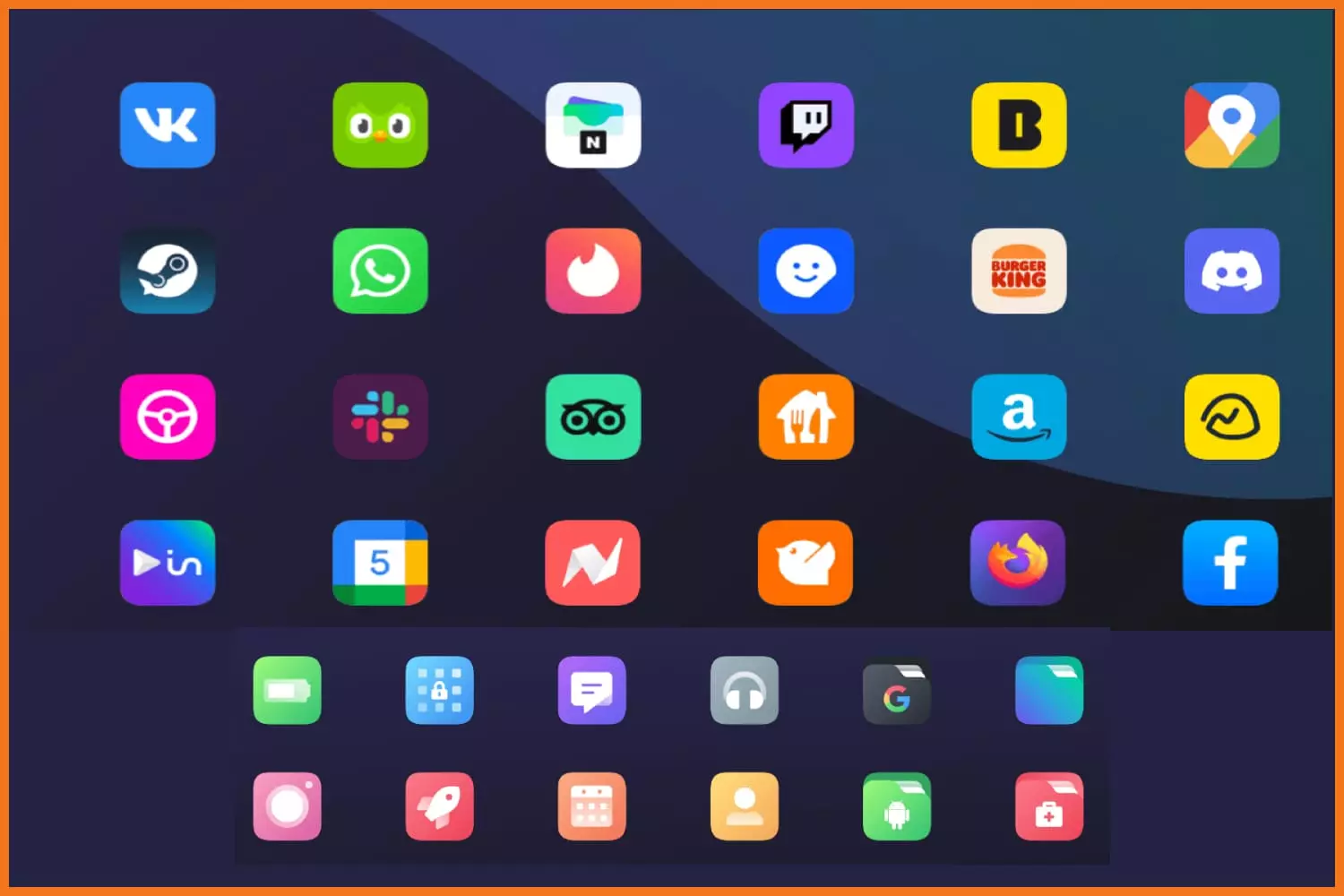 Borealis is a huge set of square slightly rounded icons, of which there are more than 25,000! Here you will find all the variations to your taste and you won't be left without a choice.
Ciclo Package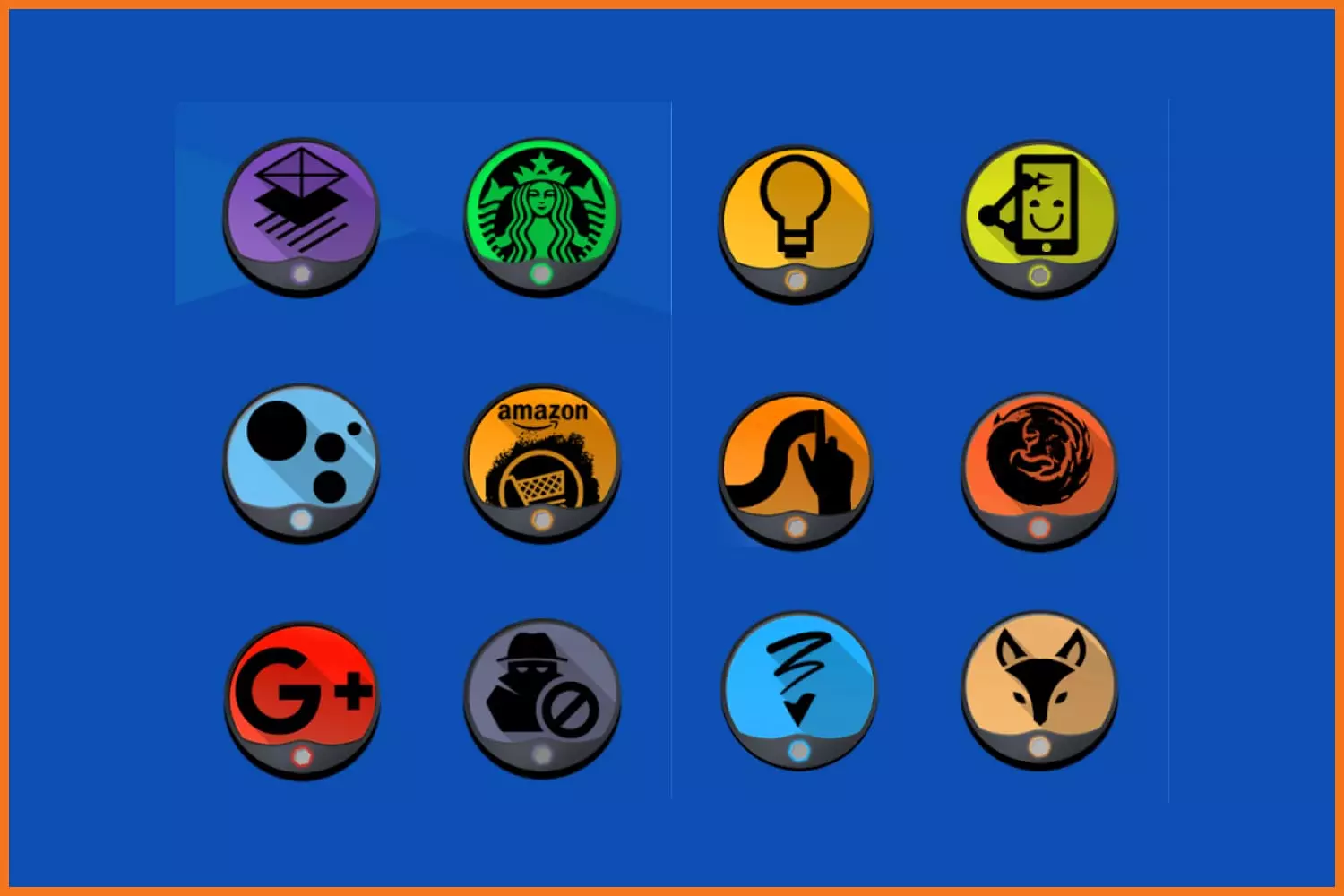 If you want it all at once, then Ciclo is the perfect choice! Here you will find hundreds of widgets, and even wallpapers. So don't hesitate to try this great set in action and enjoy the result.
Ombre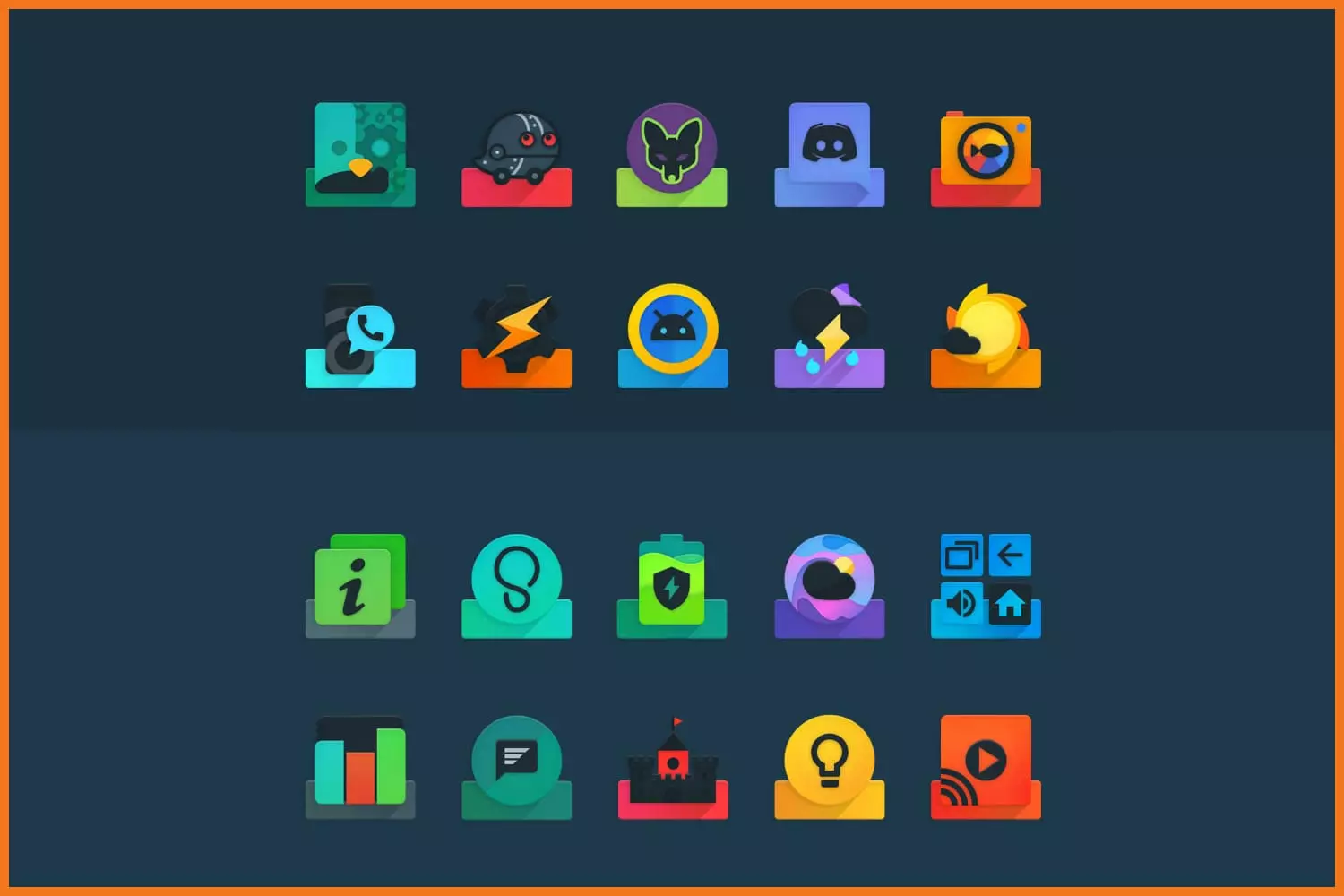 Unusual colors, layering, and individuality are the key to the success of Ombre. This is a really beautiful set of icons, which has more than 4000 thousand units, as well as about 100 different wallpapers. It's simple to customize, and if you're an enthusiast, you can also edit it.
Pix Material

Pix Material is the newest icon set for your smartphone, especially if you need a theme for Android 12. Not only do they support different background colors, but also icon shapes. So don't hesitate to pay attention to this novelty and be sure to try it out.
Android Icon Set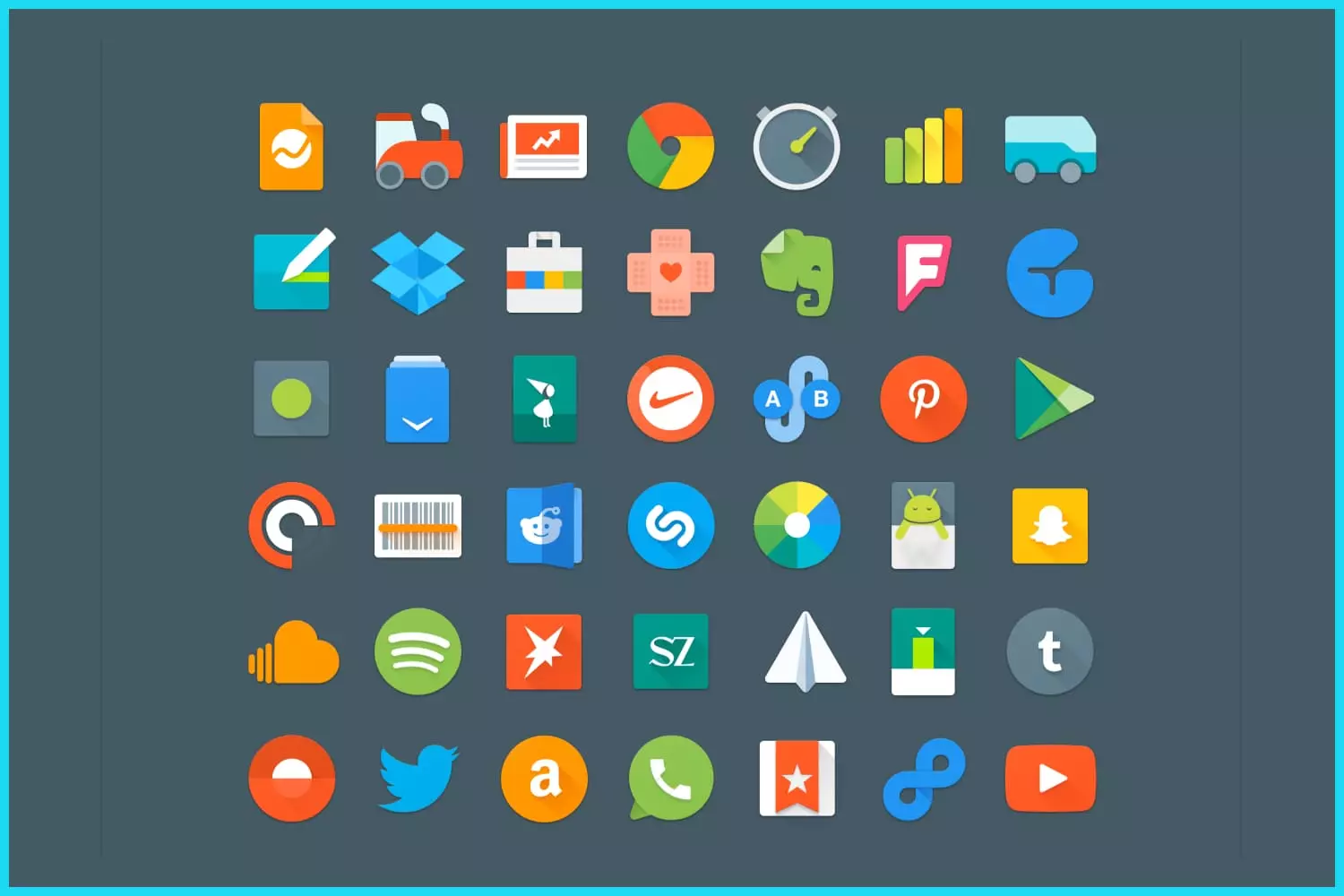 In this set, you will find unusual and quite attractive icons that basically copy the default style. There are only 47 units in the set, so you can rest assured that you won't have enough.
Premium Vector line Icons For Android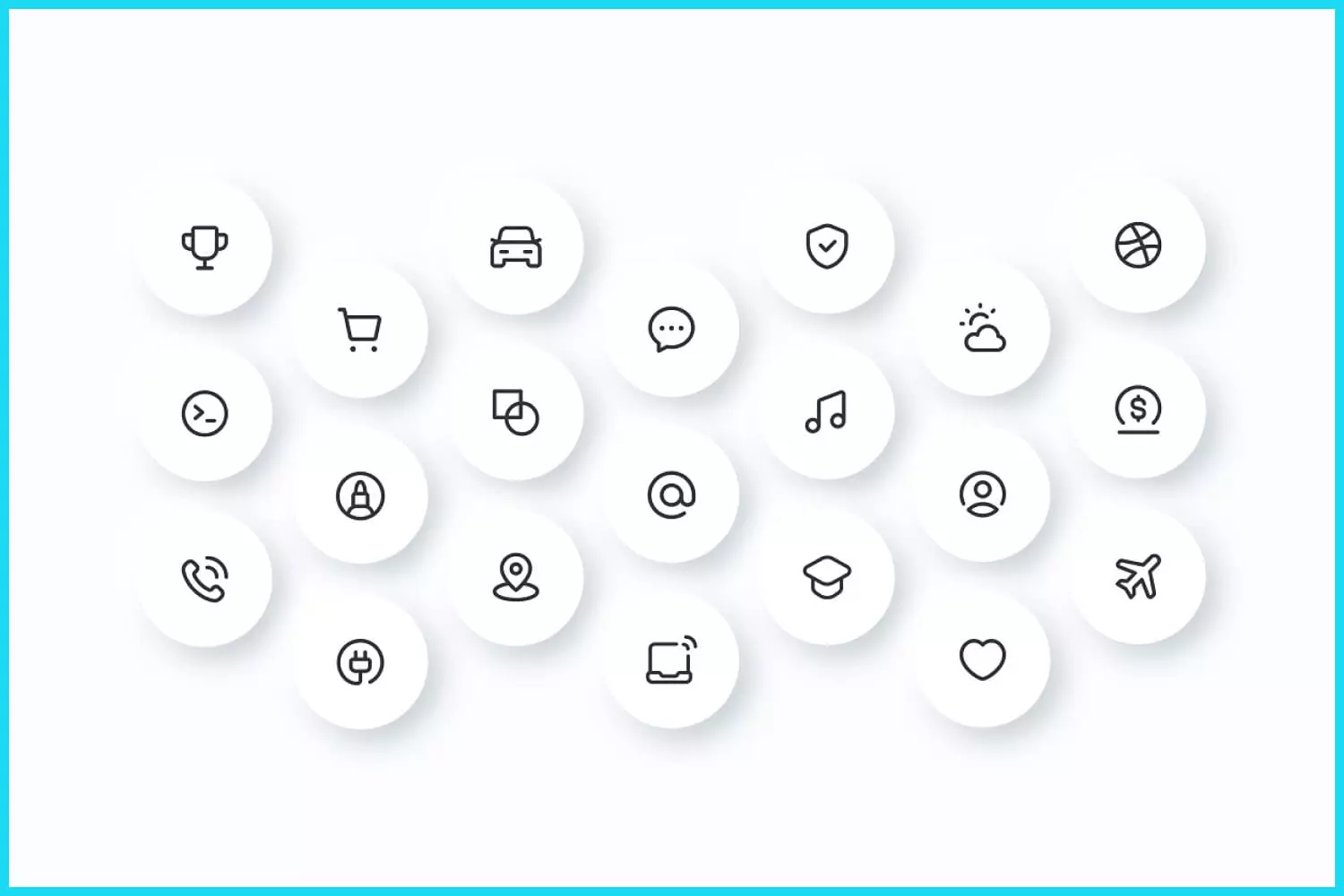 This is just a huge set of all sorts of icons for absolutely every requirement. With this package, you're sure to find everything you need. The icons here are minimalistic and made in black and white style.
Best Free Icons For Android
In this section, you will find completely free and high-quality icons for Android. They are almost in no way inferior to their premium counterparts and will help transform your smartphone in a matter of minutes.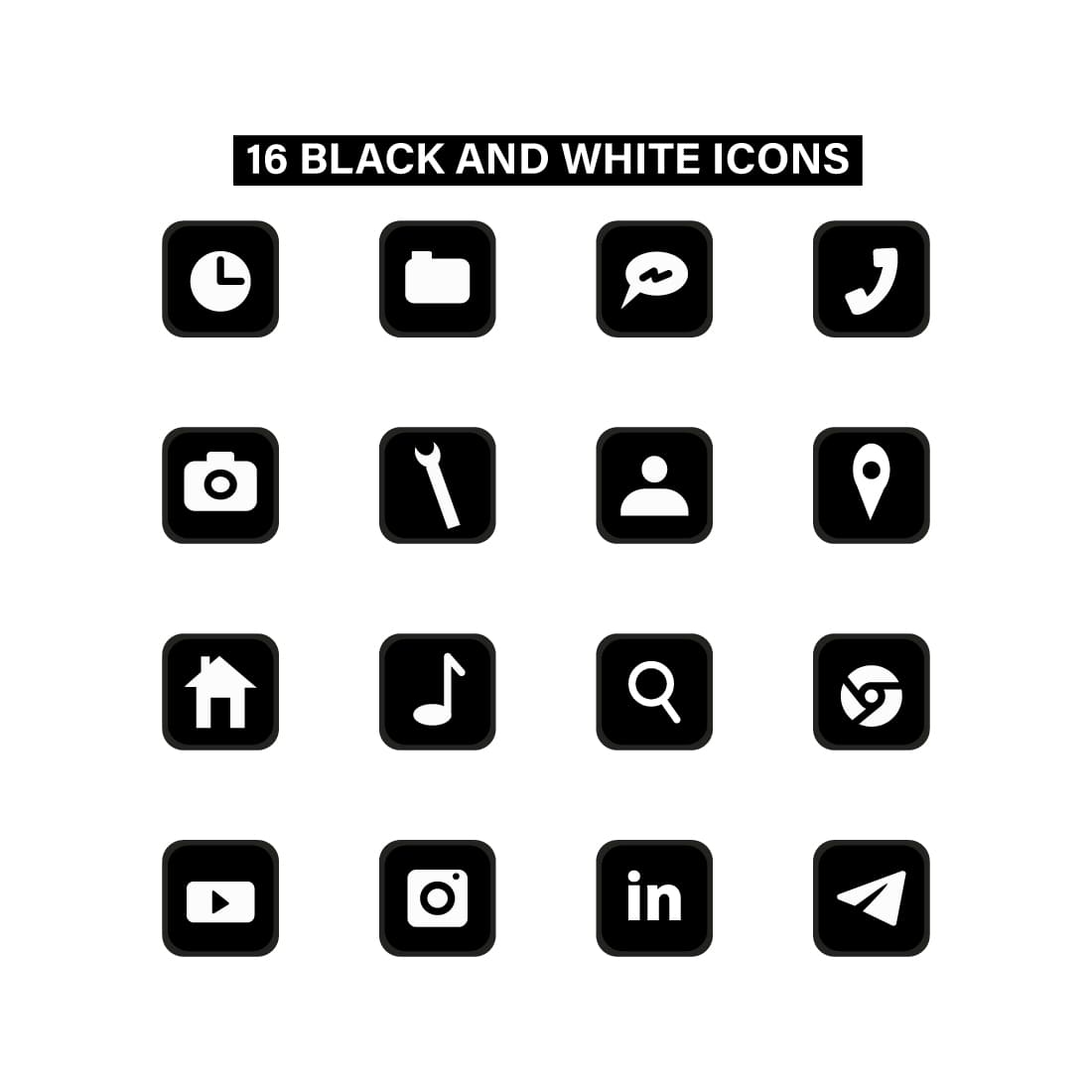 Free Black and White Icons
| | |
| --- | --- |
| Price | $0 |
| File type | AI |
| Date | February 10 2022 |
| Colors | |
| Rating | |
This is one of the minimalist options for free icon packs for android. This set does not contain a large variety of items, but they are all great for basic applications.
Show More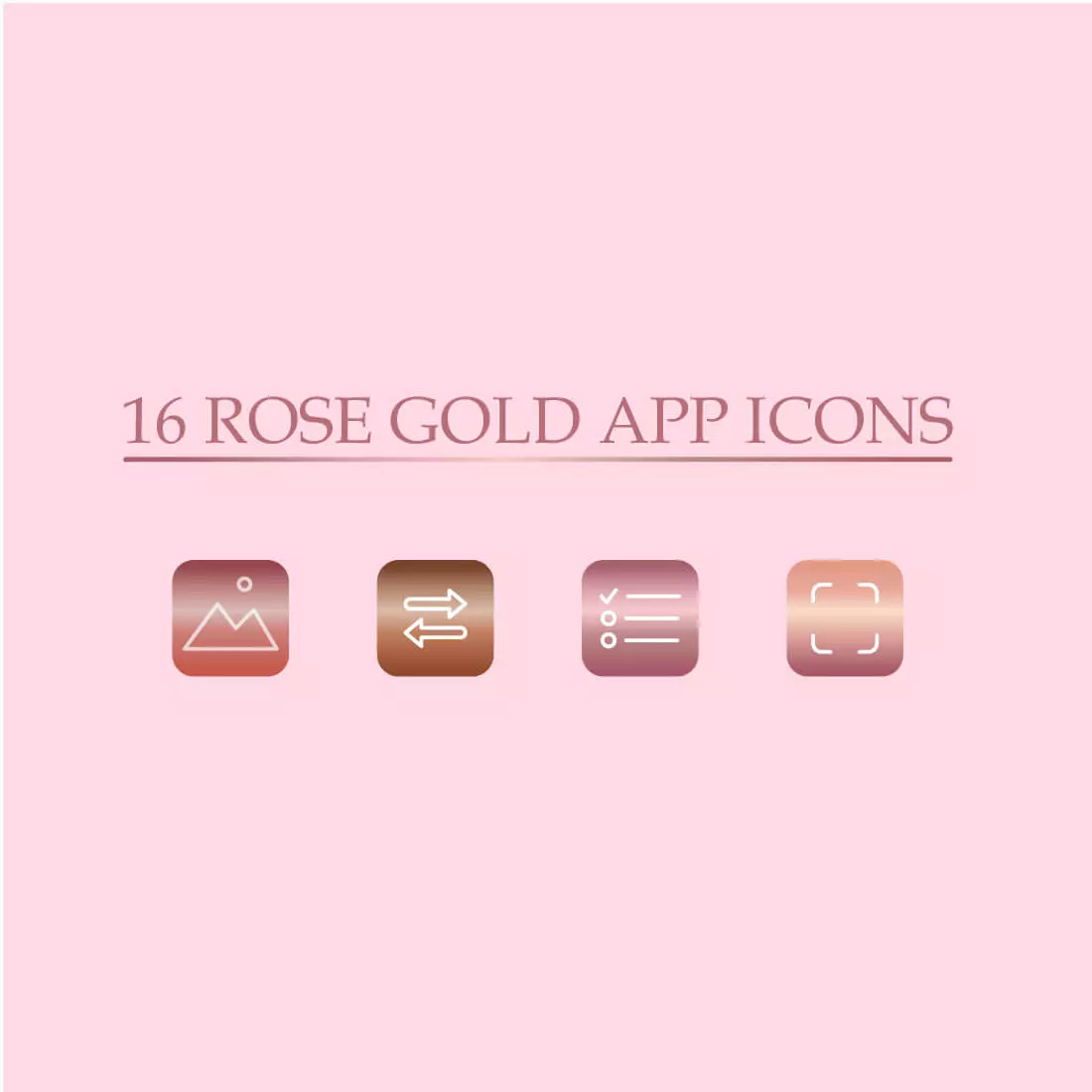 Free Rose Gold App Icons
| | |
| --- | --- |
| Price | $0 |
| File type | AI |
| Date | January 27 2022 |
| Colors | |
| Rating | |
If you are looking for an interesting android icons pack, then you should pay attention to this option with a pretty cute pack. This option will be perfect for those who are looking for something unusual in a minimalistic style.
Show More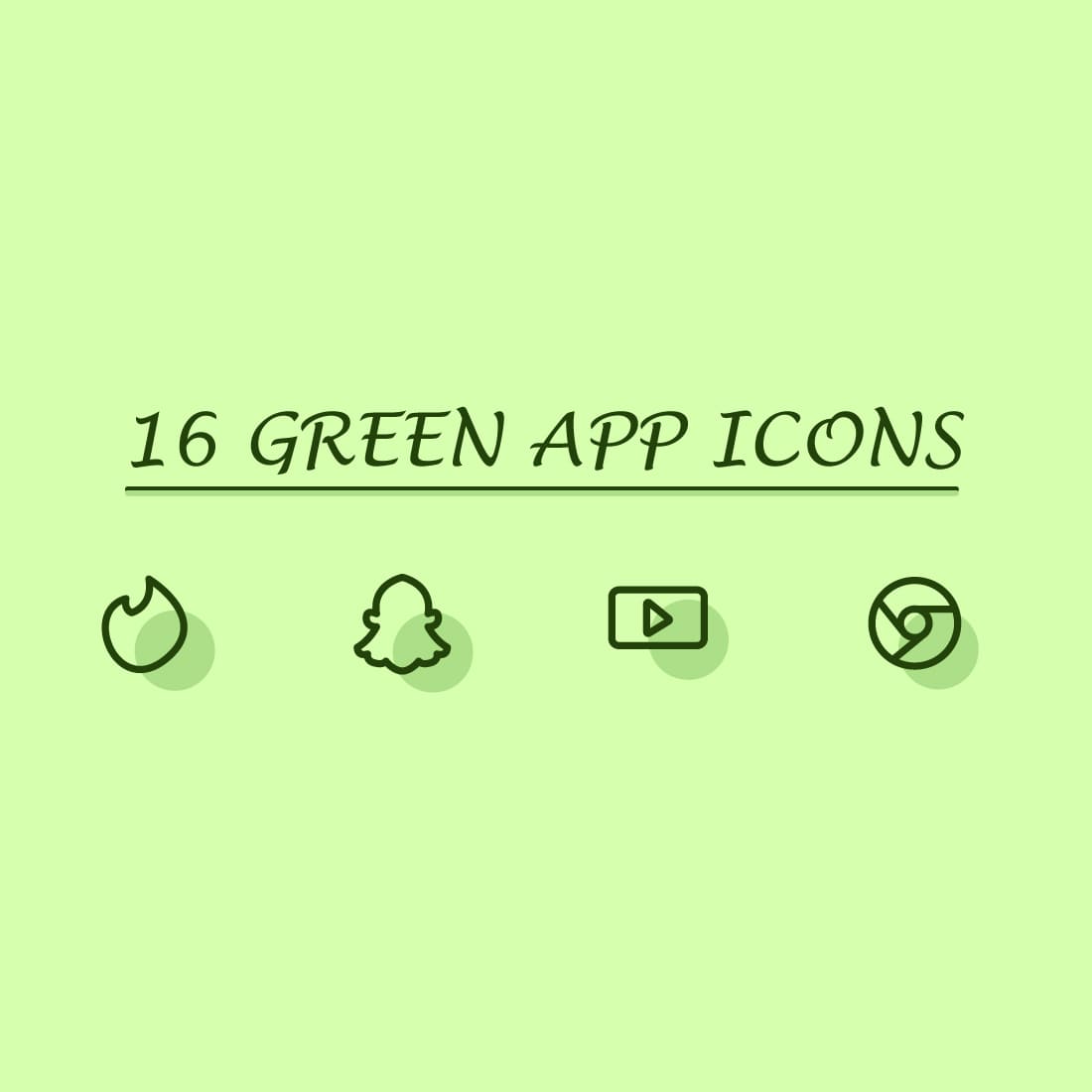 16 Green App Icons Aesthetic
| | |
| --- | --- |
| Price | $0 |
| File type | AI, JPG |
| Date | January 8 2022 |
| Colors | |
| Rating | |
In this beautiful android pack set in green style, you can find everything you need for yourself. All icons are available in AI, JPG, and PNG formats, so you won't have any trouble installing or even editing them a bit.
Show More
7-Bit Retro Set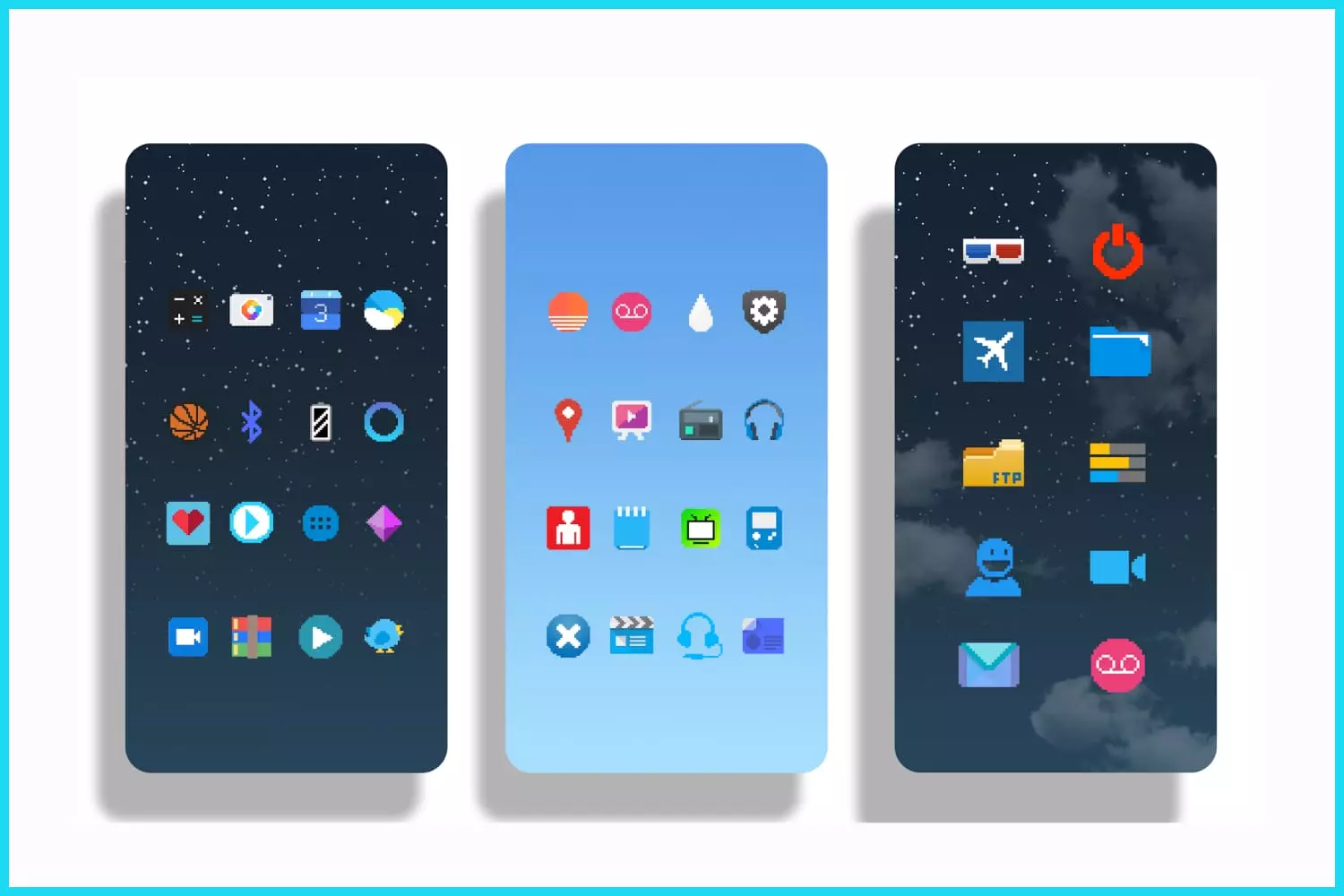 If you love retro aesthetics and want to embellish your smartphone with it, then this is one of the best Android icon sets you can find on a similar theme.
Juno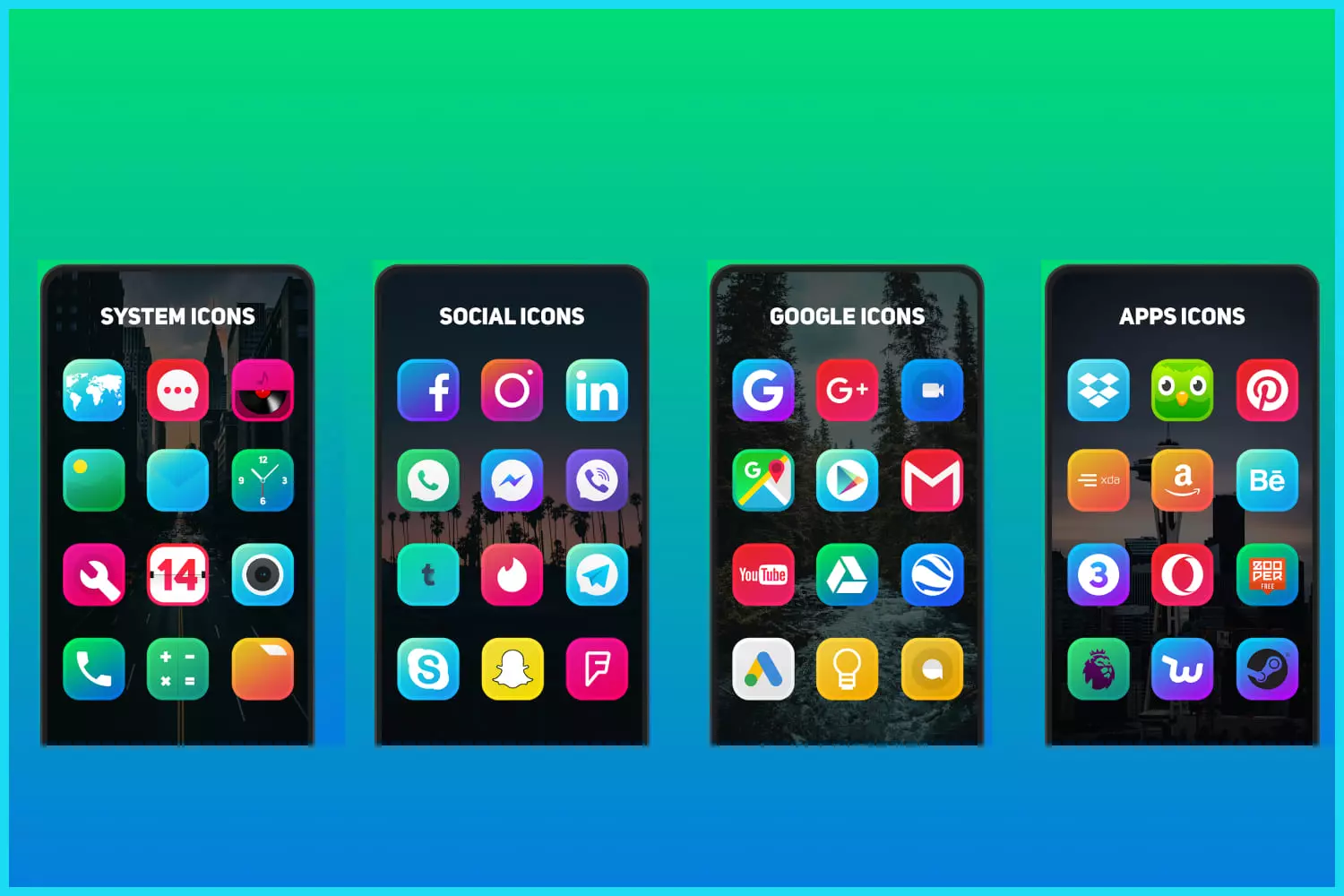 Change your interface and bring cool and attractive gradient icons from Juno. There are over 2,500 different options available, as well as lots of cool, minimalistic wallpaper.
Rondo Flat Style Pack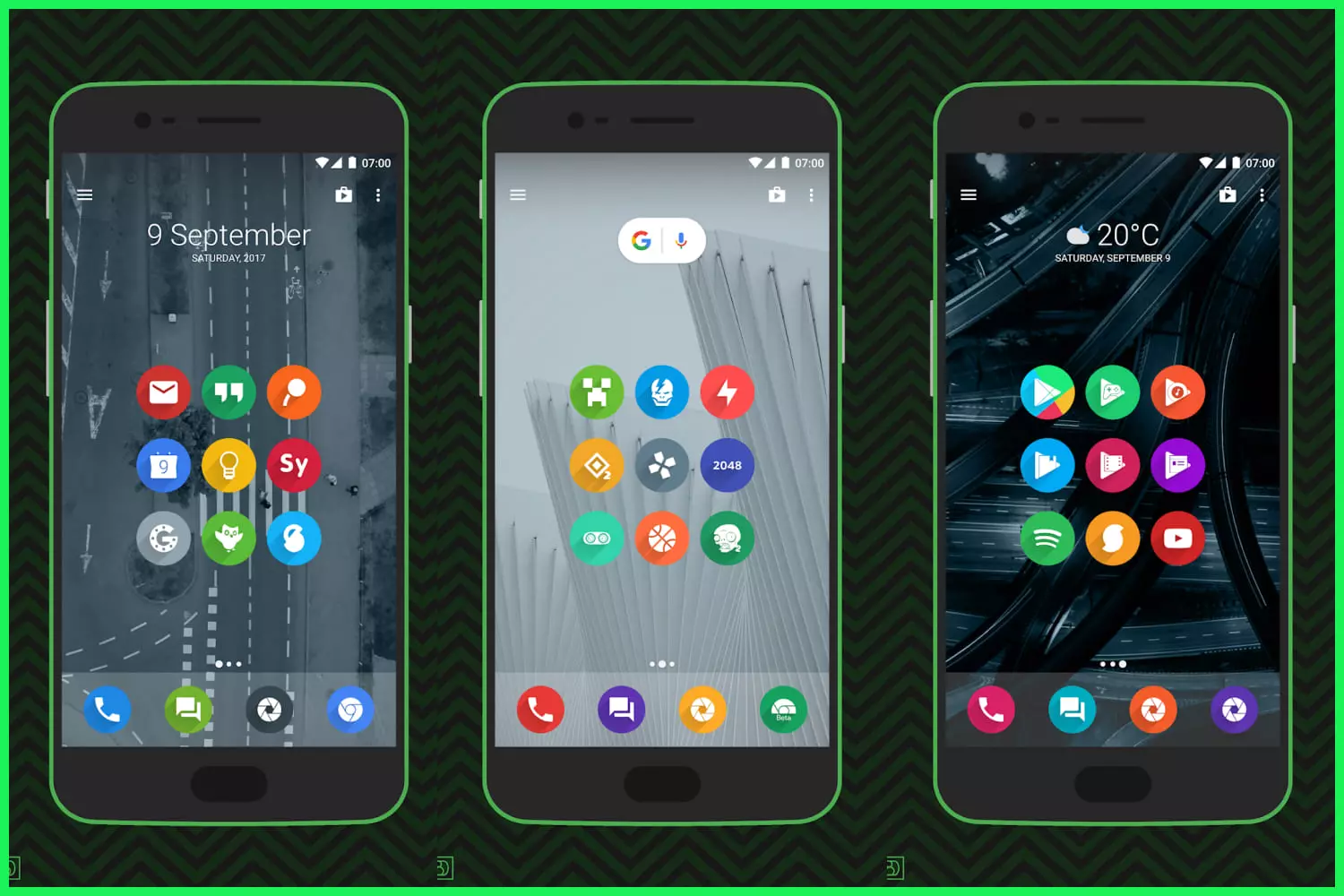 If you are looking for free icon packs for Go launcher, then Rondo is a great choice! It's a versatile pack in a minimalist style that you'll definitely love.
Icon Pack Studio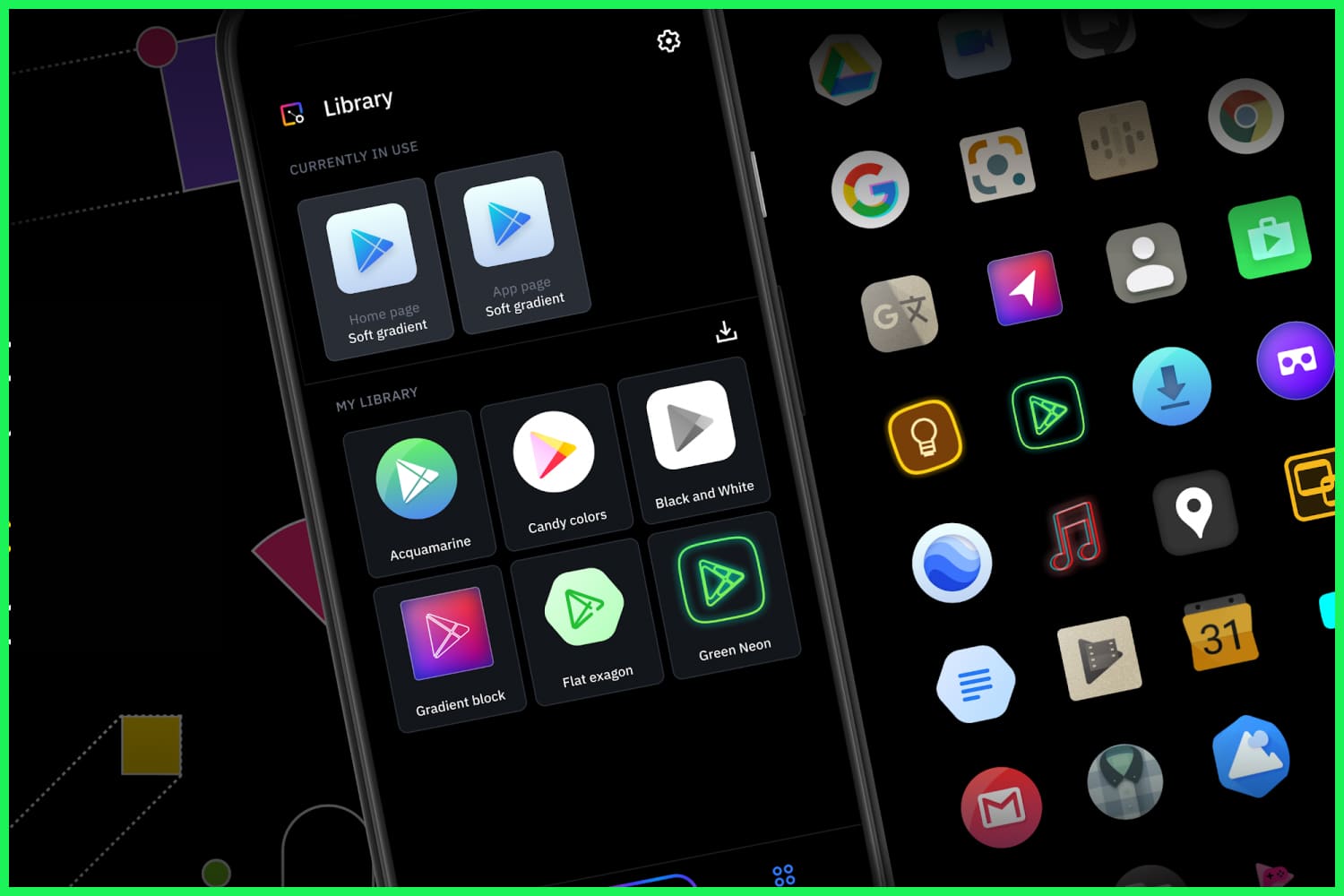 This package is not just downloadable icons for Android, it is a universal product. You can also use it to edit colors, shapes, and even add cool custom fonts. This is a solid application for those who like to experiment.
Moonshine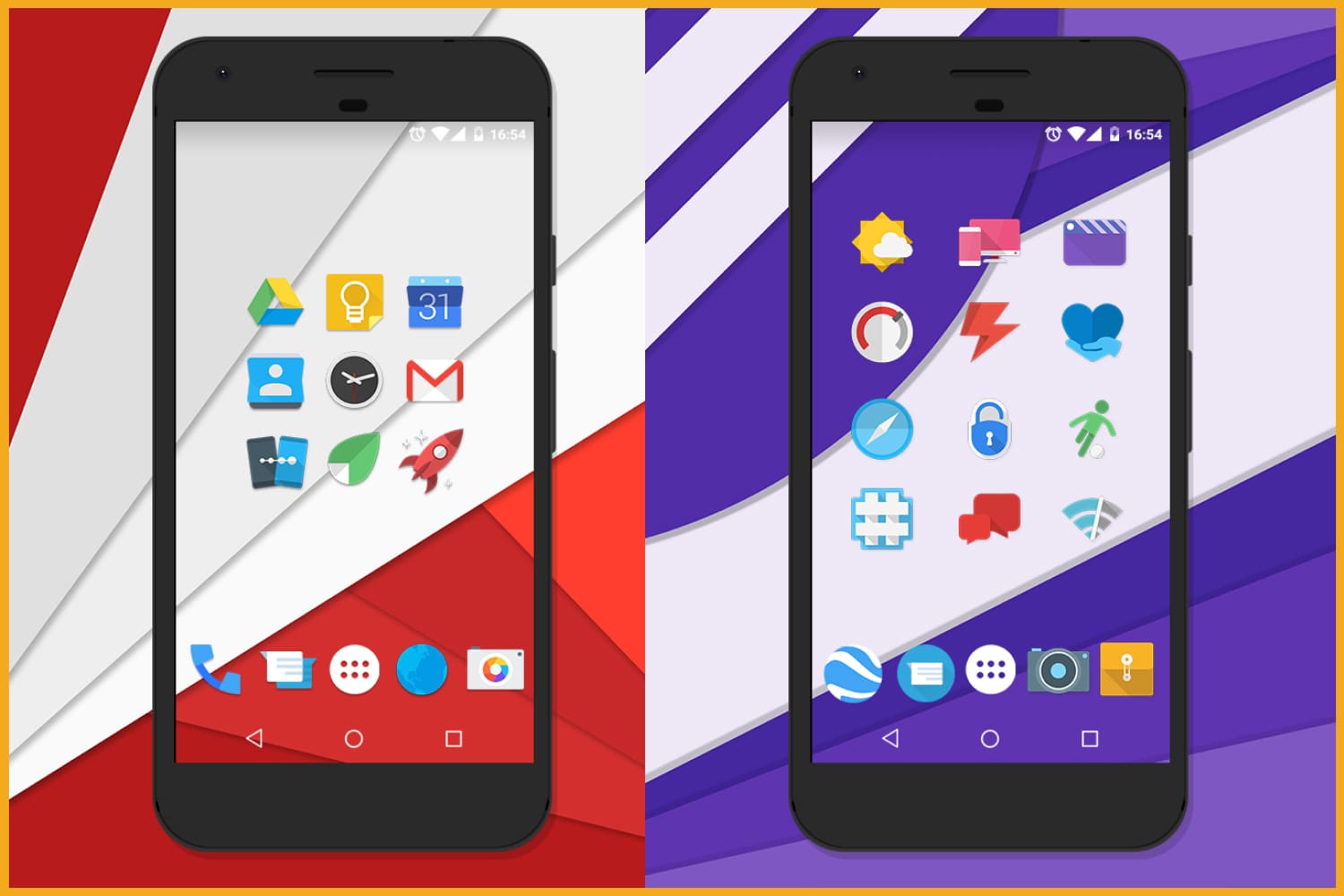 This is already quite a well-known icon package, which has been updated for several years and is loved by many because of its unusual style. The sharp edges and bright colors are just what you need right now!
Pix Icon Pack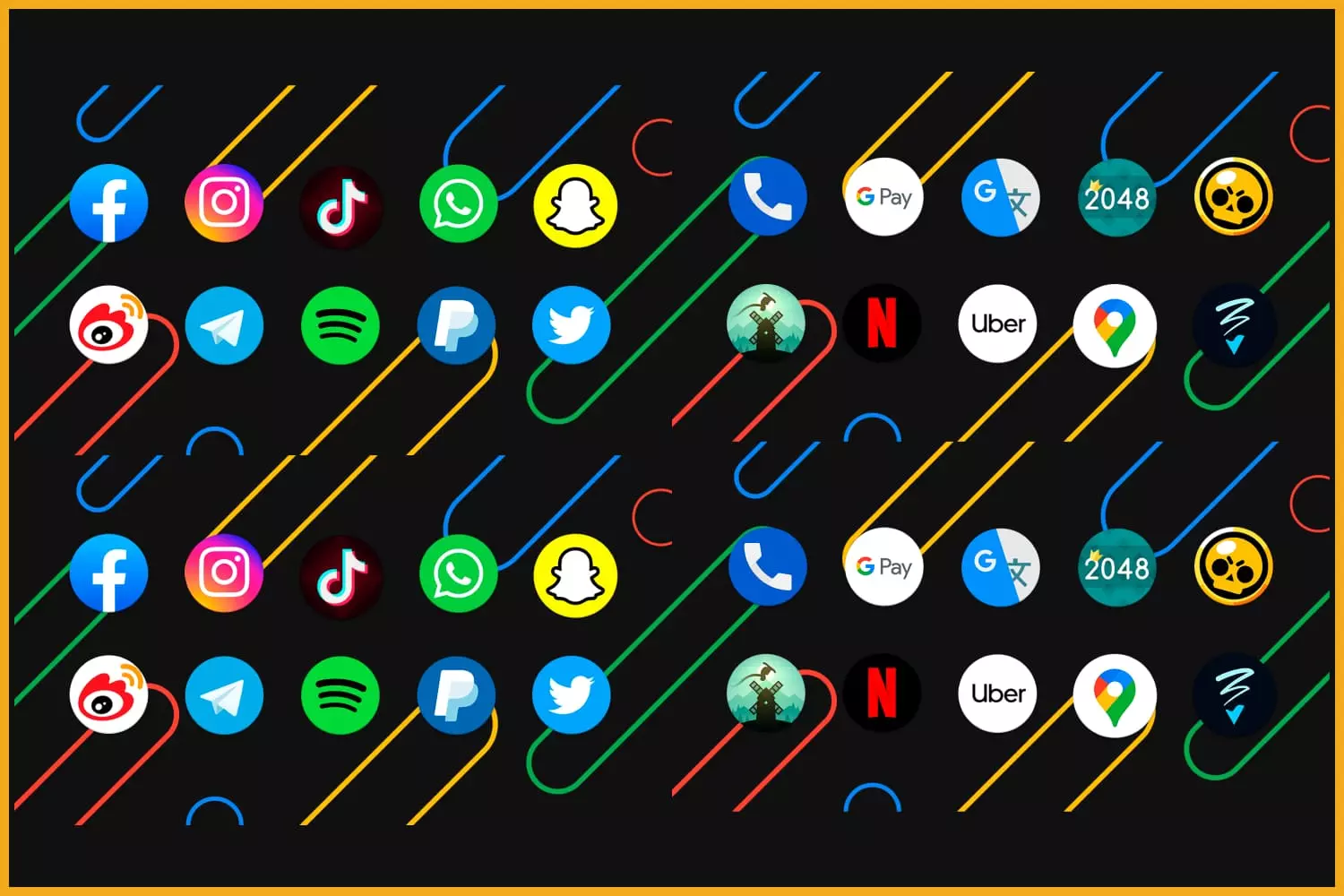 Pix is the best icon pack for nova launcher which is sure to please you with its contents. With it, you will be able to change your icons on your smartphone quickly and without any difficulty.
White Icon Pack Free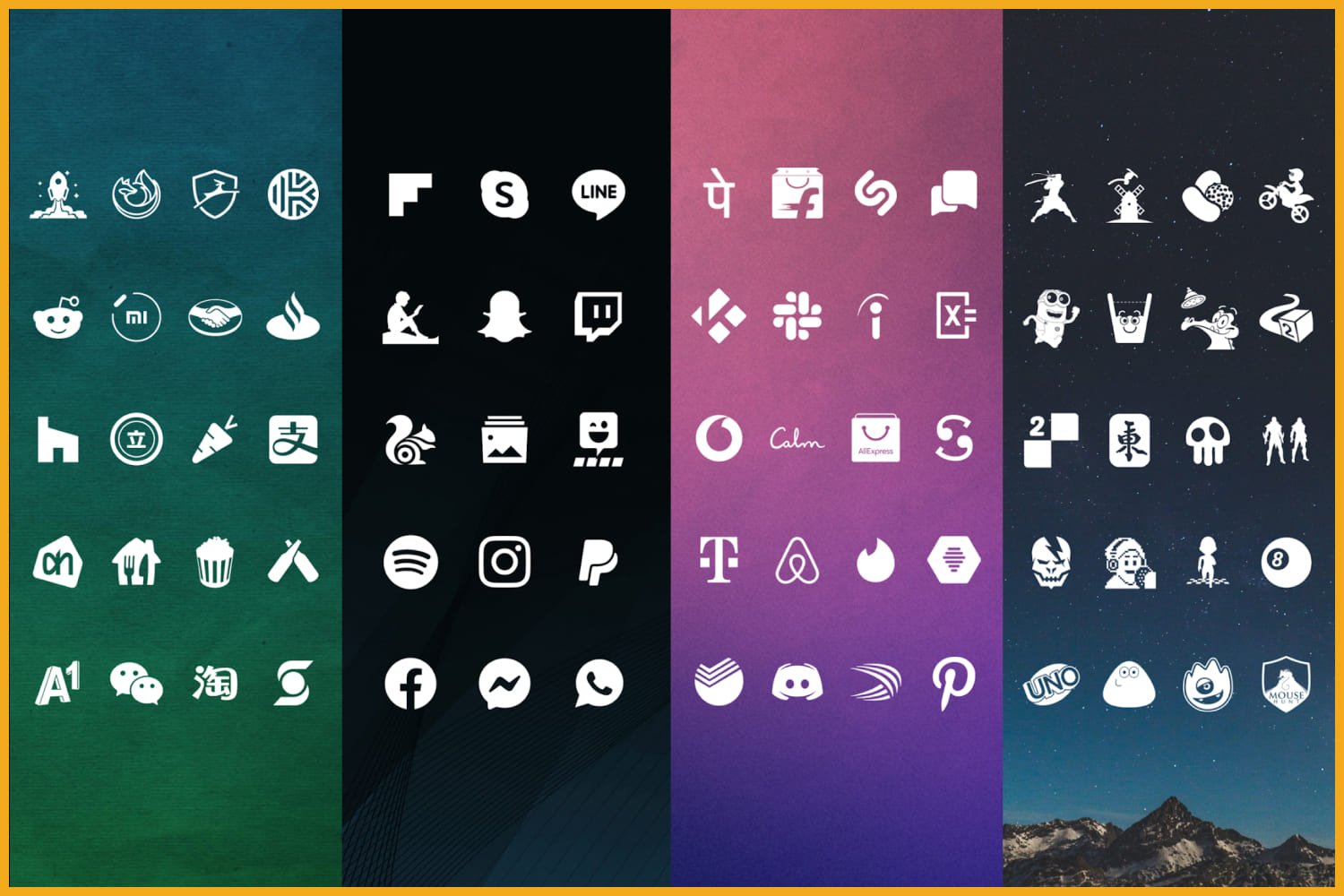 If you want something both simple and attractive, then Whicons is the perfect solution. This is one of the best free icon packs in minimalist style at the moment.
How to Customize App Icons on Android
Installing and customizing icons on your Android is a very easy task. All you need is the icon pack itself and the Launcher to set it up. Some of the most famous third-party installers are Nova, Apex, Go EX, Action, Solo, ABC, and other launchers. So how to do it?
Step 1
First, you need to download the icon pack you like. This can be a product from Google Play or any other resources.
Step 2
Now you need to download and install the Launcher on your device. This can also be done on Google Play without much effort. Choose the variant that suits you best in terms of functionality. It is worth noting that with the help of standard launchers, such as Google Now launcher or, for example, Samsung TouchWiz, it will be difficult or impossible to apply third-party icon packs.
Step 3
Now you just go into the Launcher and look for the downloaded package with icons (it should appear there automatically) and apply the style. They all have similar functionality, so regardless of the application, you can easily apply the changes.
If you too design cool and beautiful icons for Android, make good money on it. You need to fill out the Sell Your Deal form and wait for your first customers. We offer favorable terms, good payment, and fast moderation.
Some Awesome Videos about Android Icons
how to change app icons on your android 🌿 aesthetic phone customization 🍃
hi internet friends ٩(◕‿◕)۶ another day, another video! this video will show you how you can customize your app icons on your android phone. and for those who are having a hard time removing the watermarks, hope this helps. watch til the end of the video 
How to Change App Icon Size for Your Android Device !
This video guides you in an easy step-by-step process to change the app icon size for your Android phone. So make sure to watch this video till the end 
FAQ
Where to find icon packs for Android?
You can find a lot of different icons on MasterBundles, CreativeMarket and of course on Google Play.
How do I Download icon packs for Android?
There's nothing easier, you just choose the product you like and download it. After that, using a third-party launcher, you can apply it and you're done.
How to use the IOS icon pack in Android?
Since Android is a flexible operating system, you can use icons and IOS on your smartphone. To do this, you can download ILauncher or just any Icon Pack ISO you like and install it.
How to get free app icon packs?
You can always find free icon packs on MasterBundles or download them from the Play Store.
How to make icon packs for android and sell them?
You can make your own icons, for example with Icon Pack Studio, where you just have to create the design. Or you can create them from scratch with Compose or with Image Asset in Android Studio. You can easily sell your creations on MasterBundles.
Was this page helpful?
We will be happy if you decide to share this article with your friends on Facebook. Just click on the button and you're done
What are your concerns?
Thanks for your response!
You have already left your review.
Disclosure: MasterBundles website page may contain advertising materials that may lead to us receiving a commission fee if you purchase a product. However, this does not affect our opinion of the product in any way and we do not receive any bonuses for positive or negative ratings.