How To Install Fonts on Android: Step-by-Step Guide
Standard fonts and design themes are not preferred by all users. Some people want their smartphone or tablet interface to look original and fresh, while others are forced to look for a substitute for the standard system typeface due to vision problems.
There can be many reasons for this, but there are only a few solutions. All manipulations with scripts should be done so as not to disrupt the normal functioning of your tablet or smartphone. MasterBundles offers you a step-by-step guide on how to install fonts on Android.
Install Custom Font Styles on "Non-rooted" Android Mobiles
You can change the custom font on your Android smartphone or tablet by obtaining root rights, but you need to know a lot of technical details and a few software tricks. Muggles (ordinary users) cannot typically perform this magic, so let's see how you can achieve the desired result using more simplified methods.
Method 1
Some Android device brands (Samsung, HTC, LG) give you the option to work with Android scripts and change them at will.
This option is found in the screen settings:
Open Settings.
Then enter the "Screen" section.
Go to the "Font Style" subsection (the exact path depends on your device model).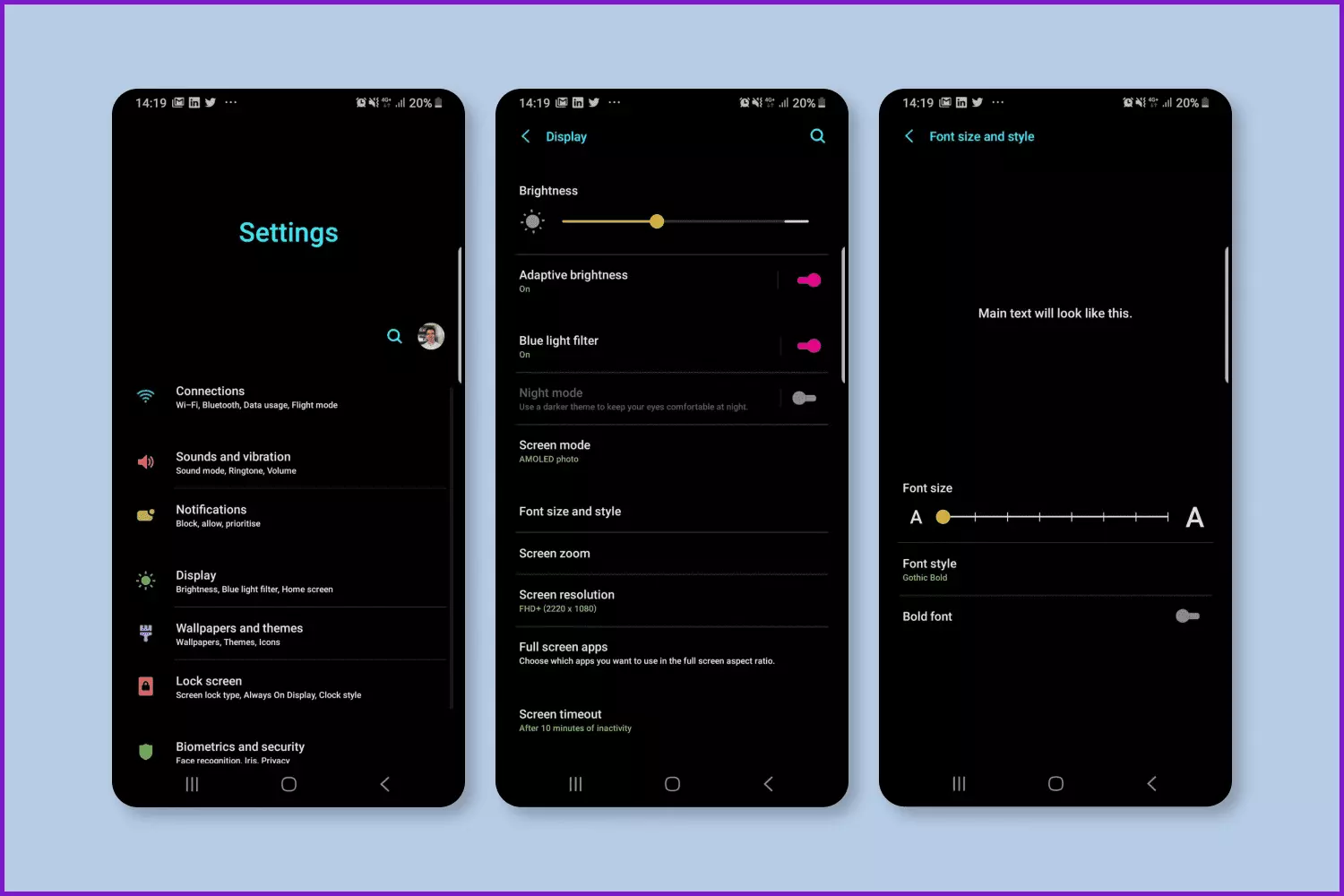 Image by MasterBundles
Method 2
Another method, which does not require you to root your device, uses different launcher applications. Some of them have a typeface-changing feature, but many do not.
One of the most popular launchers that support typeface changing is GO Launcher EX. Its only disadvantage is that it doesn't change the font in applications and in the Android system menu. Other display fonts apply only to certain parts of the launcher interface, but not to the whole system.
Perform the following steps:
Copy the TTF file of the typeface to the directory: ../sdcard/GOLauncherEX/fonts.
Open GO Launcher EX.
On the home screen, press the "Menu" button (represented by 3 dots) or drag the screen up.
Now tap the "Preferences" button to go to the GO Launcher settings page.
Select "Visual Settings."
Select the "Font" tab, on the left.
Click on the "Scan Fonts" button so that the app can find the available typefaces that you copied into the folder: ../sdcard/GOLauncherEX/fonts.
After scanning, select the script that suits you best.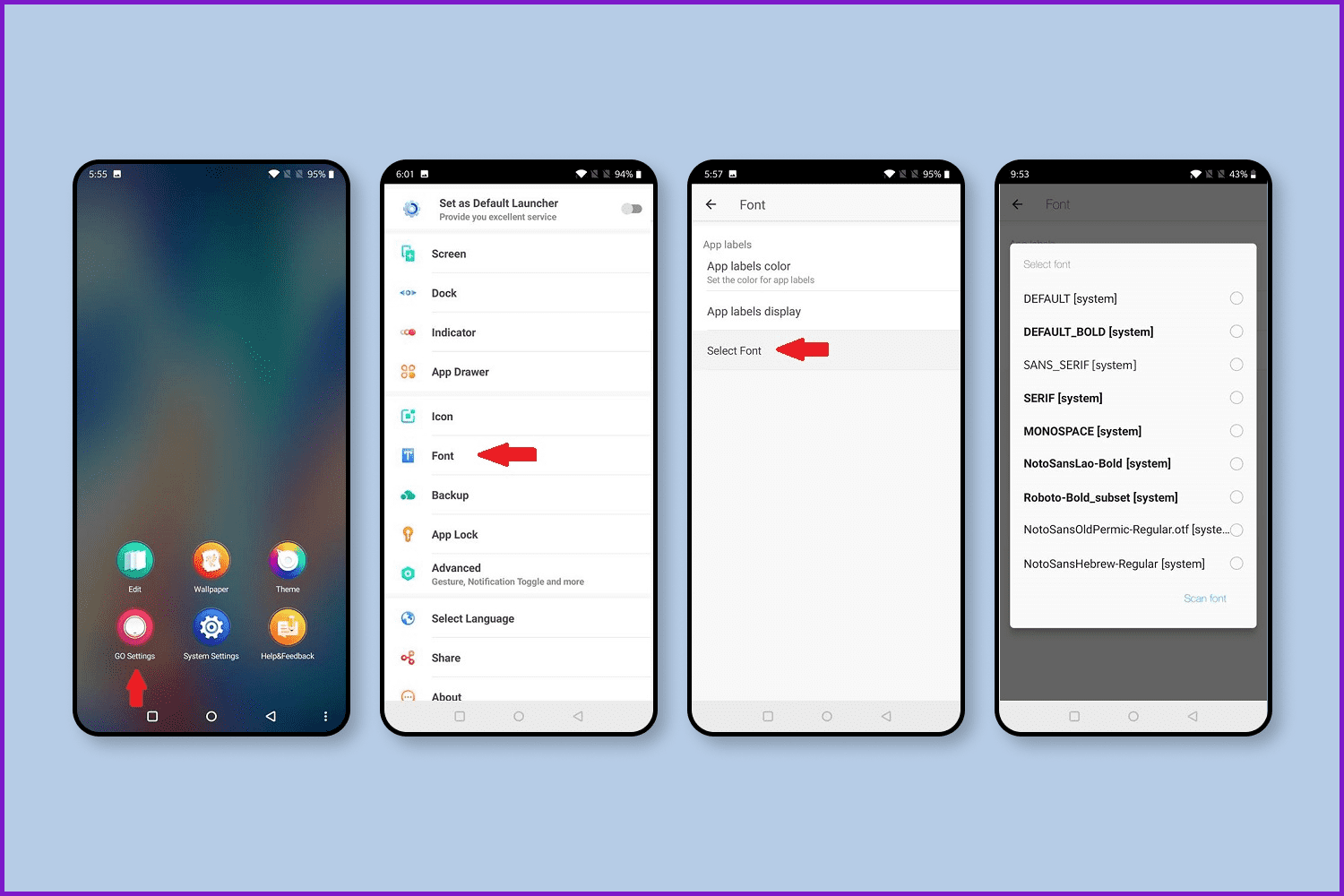 Image by MasterBundles
The same can be done with other launchers. Be sure to carefully examine the settings.
Method 3
The answer to installing ttf scripts on Android without root is the popular iFont app, which can also be used to change the typeface, but only on Samsung devices. Although, sometimes this application will work on some non-Samsung devices.
Follow these steps:
Allow installation of applications from "Unknown sources" (usually this feature is enabled).
Settings->Security.
Load iFont—the font installer for android—and click on the Online tab.
Now click on the name of the font you want to install.
Click on the Download button.
Next, click on the Set button, or go to: Settings->Screen->Font Style (Settings > Display > Font Style) and choose the downloaded script.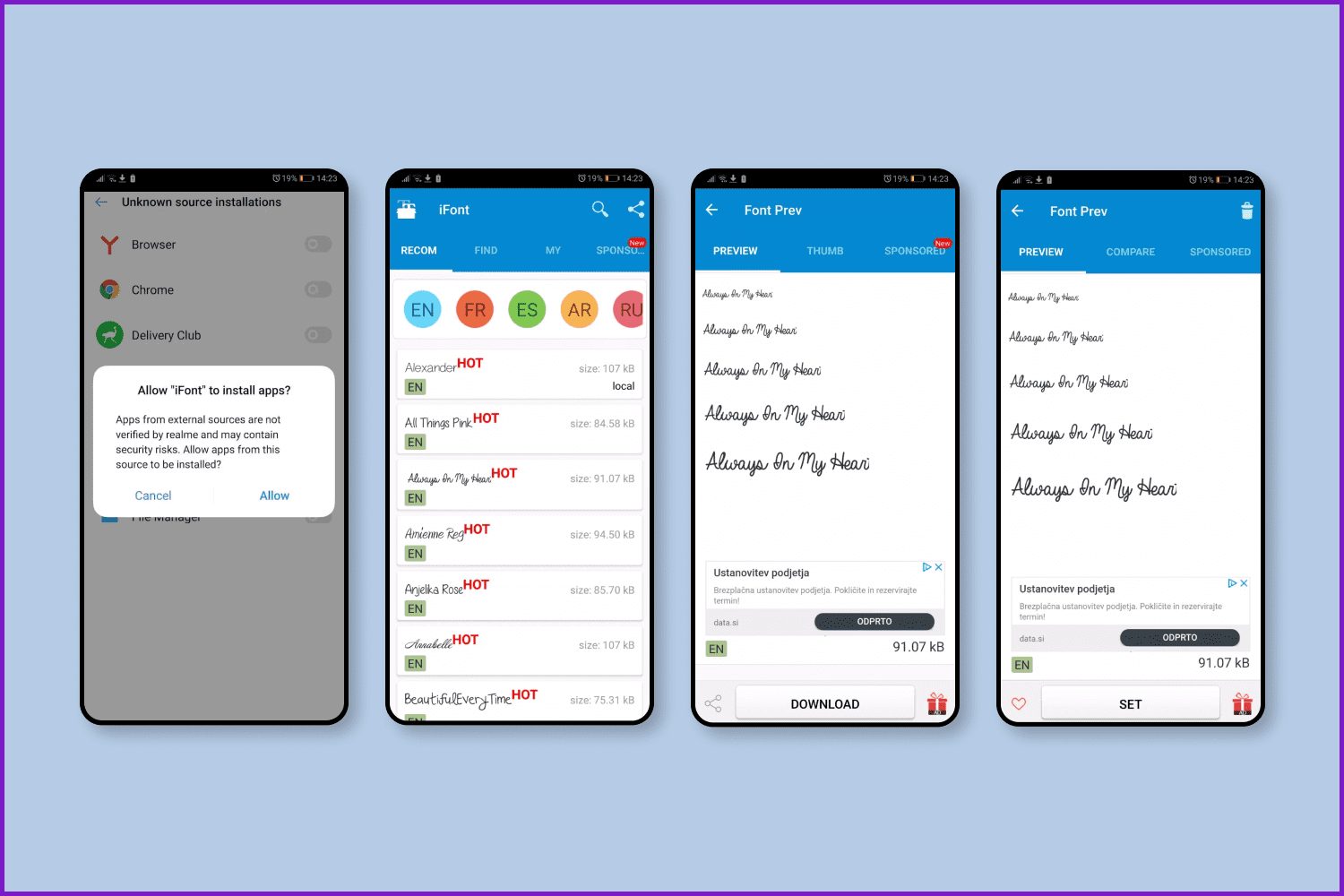 Image by MasterBundles
By the way, you can also search for perfect sans serif fonts on MasterBundles.
Method 4
HiFont is a simple utility with an extensive catalog of typefaces. It has more than 100 items. Its advantage is that the styles are installed independently of the program; that is, the application can be removed after changing the text and it will not affect the work of the font.
Method 5
Download, install, and apply a script from the Online tab:
Choose a font.
Press the Download button.
Now press the Set button.
If a pop-up window pops up asking about setting mode, click System Mode.
Now the device will reboot to apply the new typeface.
How to install custom fonts on "rooted" Android devices
If you are looking for an app on Google Play to change fonts, you will find many options, with some requiring root rights to access certain options while others do not. You'll probably go through a series of trials and errors until you figure out which app works best for you. To save you time, MasterBundles has already checked out many apps and chosen the best for you.
Option 1
FontFix is a great application for replacing system fonts on Android with a nice interface. The program downloads them from three sources: Google Fonts, Font Squirrel, and DaFont. That's more than 4,000 different scripts available for free for your smartphone.
The app allows you to sort fonts by tags and popularity. However, there is no filtering of the search by language. In addition to the online database, you can also upload your own typefaces to the program. Thus, if this app's catalog is not enough for you, look for some fantastic MasterBundles script fonts.
Like the previous application, FontFix supports two typeface installation methods: (1) with ROOT access (for most devices) and (2) on smartphones whose shells have FlipFont, which allows you to change the font without ROOT rights (Samsung, HTC).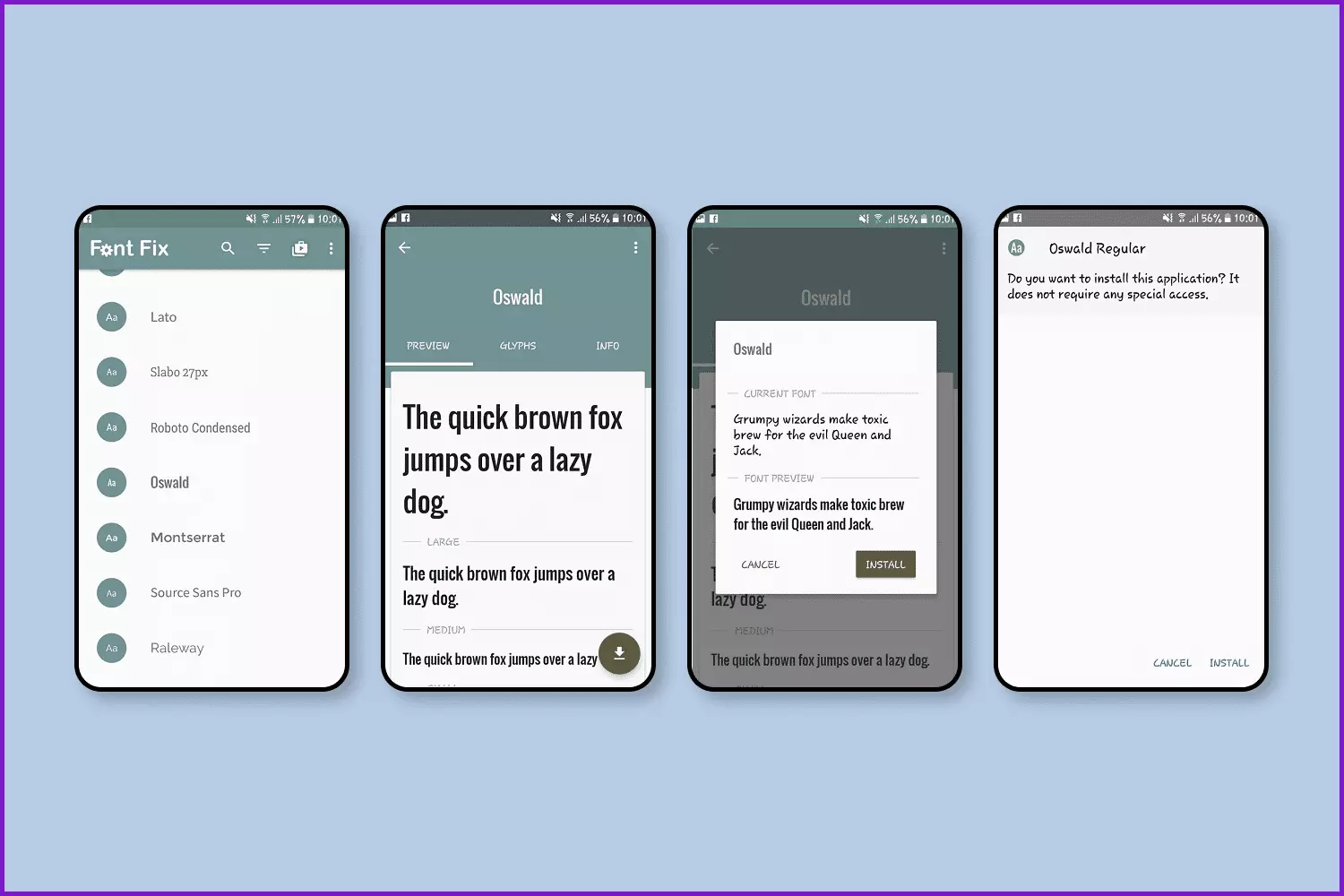 Image by MasterBundles
Overall, the main and perhaps the only advantage of FontFix is the number of typefaces available for download. Otherwise, this application is slightly inferior to iFont in terms of functionality.
Option 2
Stylish Text is a decent application with a huge set of styles. It cannot completely replace the script in the operating system but allows you to quickly make a text with a unique design. You can also choose from a wide variety of serif fonts.
How to write a beautiful font on your phone through Stylish Text:
Install the app from Play Market.
Open the utility and skip the learning steps.
Enter the phrase in the line at the top
Choose the font in which the text looks best and click the button to copy.
Go to messenger, hold your finger on the text area, and choose Paste.
Option 3
Fonts – Emojis & Fonts Keyboard application replaces the standard keyboard with your own, in which all kinds of characters, signs, and unique text designs are available. The program is stable and includes a lot of interesting features. Its only drawback is the difficulty in switching between languages, and sometimes the button does not work. By the way, MasterBundles has a great collection of symbol fonts worth looking at.
Wrap Up
As you can see, there are eight ways to change typefaces on an Android device without getting superuser rights, and each one is quite simple. Experiment and let your device reflect your personality.
FAQ
How can I revert my Android phone to its default font?
To do this, go to Settings > Show and find the option named "Font Style." If this option is available, enter it and then select the typeface from the "Default" list and restart the phone if the changes don't take effect immediately. After restart, the font will be restored.
How to apply downloaded fonts in Android
Download Font Installer from Google Play and choose the TTF typeface you like. Go to "Local" and find the TTF typeface file you downloaded earlier. Click on it and the "Install" command will appear in the popup menu.
How to get an iOS font on Android – No Root?
You can download and install an iOS typeface for Android with the help of Magisk Manager. The full guide on how to do this is here.
Is TTF supported by Android?
Yes TTF files are supported by Android.
Some Awesome Video About Installing Custom Fonts on Android
Install Custom Fonts TTF On Every Samsung Galaxy & Every Version Of One Ui

In this video you will find guide how to install custom external fonts on your Samsung galaxy device using every version of One Ui 1, 2, 2.5, 3, 3.1 and Android 10 or 11. Simple and easy trick with just one application #mono_ 2.1 version by @sathishtony from XDA Developers. Download every font TTF from Google and just import it with Samsung Cloud Sync and Backup.
 
How to install New font on all ANdroid phone (No Root)

This is how to install New font on all Android phone without Root.
 
Please Take a Moment to Pin This Post to Pinterest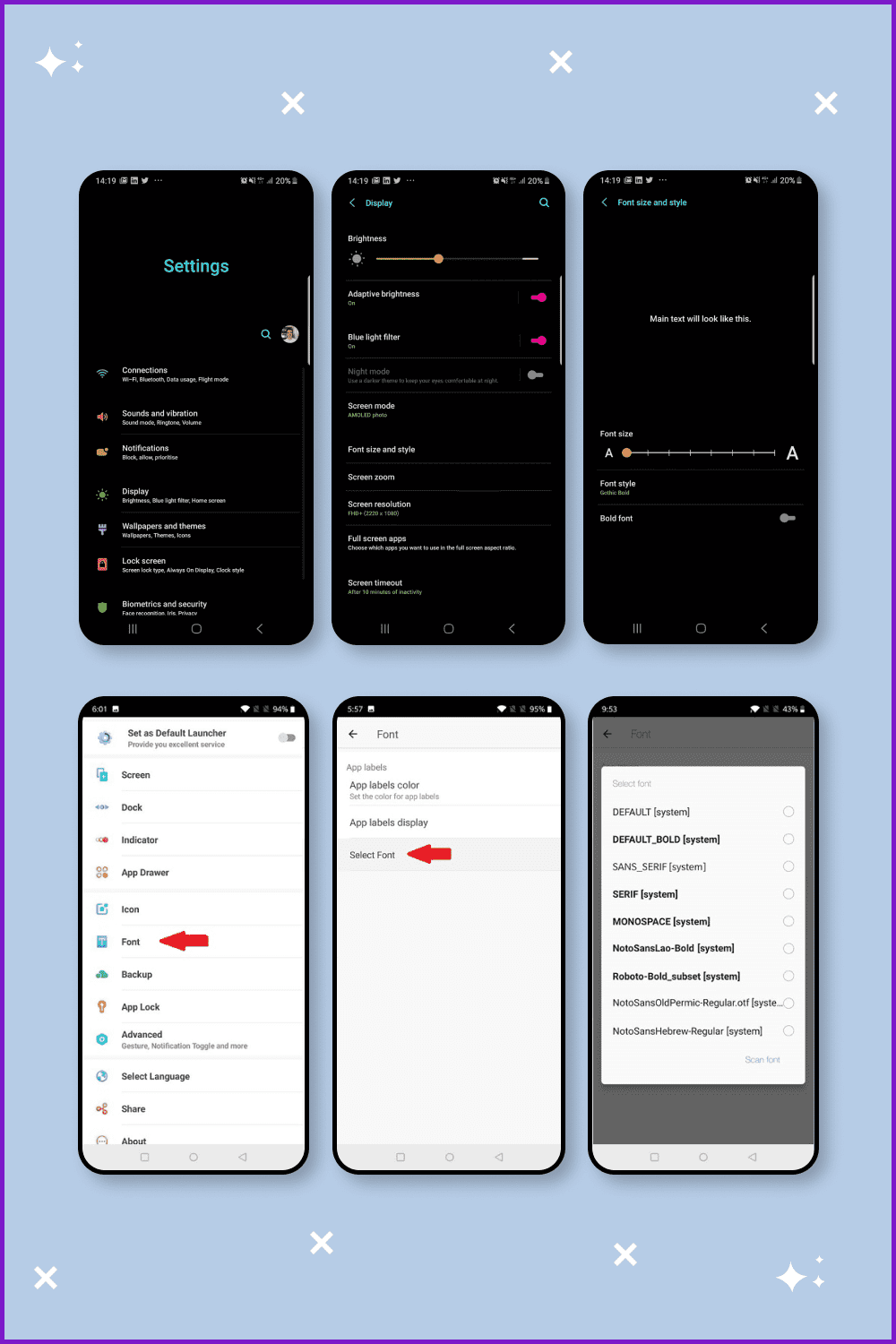 Was this page helpful?
We will be happy if you decide to share this article with your friends on Facebook. Just click on the button and you're done
What are your concerns?
Thanks for your response!
You have already left your review.
Disclosure: MasterBundles website page may contain advertising materials that may lead to us receiving a commission fee if you purchase a product. However, this does not affect our opinion of the product in any way and we do not receive any bonuses for positive or negative ratings.