7+ Social Media Icons Bundles To Boost Your Online Presence
Social media has become a lot more than a means of communication. Today, it is used as a universal instrument to fulfill a variety of purposes including branding, self-promotion, and sales. Are you looking for a way to attract more audience to your Facebook, Instagram, or YouTube profile? Without a doubt, choosing high-quality social media icons is one of the ways to catch the eye of your prospects.
Graphics resources providers like MasterBundles can offer you social media icons vectors that look pixel perfect no matter the screen size and resolution. You don't need a lot to make your social profiles more attractive. With high-quality sets of icons, logos, covers, patterns, and fonts you will be able to create a presence on social media with minimal effort.
Why Should You Invest In Social Media Icons?
In the collection below, you will find premium and free social media icons available in a variety of formats. Pay attention to the license agreement to make sure you can use these graphics for commercial purposes. Here you will not only find social media icons png, but also other popular file formats that can be altered in graphics software of choice.
With beautiful social media icons, you will easily boost your clientele and increase conversions. All you need to do is choose the bundle that fits your project and use it for your business!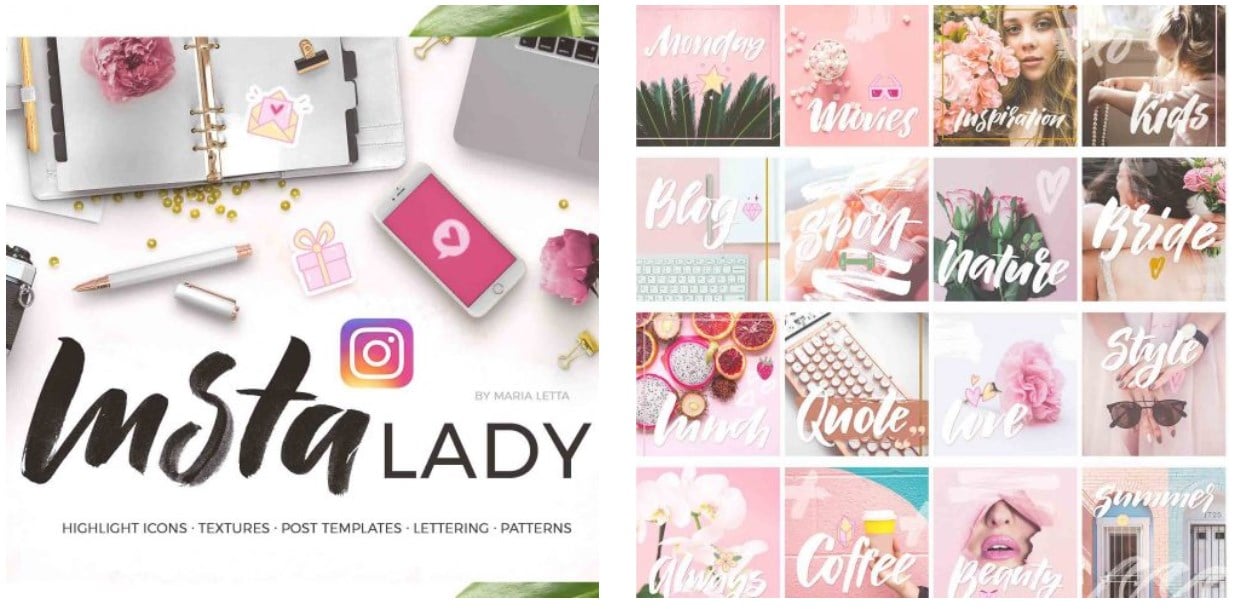 If your Instagram business is targeted at women, then Insta Lady social media icons will be just perfect to attract more new customers to your profile. Vibrant pink and white colors, eye-catching fonts, and textures will only play to your benefit. For $22 only, you're getting a premium bundle with multiple icons, photos, and patterns that will attract crowds to your Insta profile. Purchasing this bundle, you get a variety of 100% customizable JPG, PNG, SVG, and PSD files to use at your discretion. All of the included photos are allowed for personal and commercial use, so you can recycle them for your future projects. In the download package, you get:
74 PNG high-resolution icons with transparent background + 74 SVG vector files;
74 JPG highlight icons with red background + 74 PNG icons of the same size with transparent background;
1 well-layered PSD file containing all icons with custom backgrounds;
71 PNG high-resolution icons with black ink lettering and extra elements;
20 PSD well-layered files with post templates with 20 JPG previews;
10 PNG high-resolution textures;
14 PNG high-resolution patterns with transparent background + 14 SVG vector files;
All files are compatible with Adobe Photoshop CS and higher, so you can alter them as you see fit.
Price: 72% OFF – $22
With the introduction of Instagram stories, you can include stories highlights into your Insta profile and keep them there forever more than 24 hours. For only $8, you can purchase a set of cute icons that will help you emphasize Insta stories for your customers to make them easier to find.
Make use of an awesome discount to get over 50 icon categories which include spot, medicine, fashion, blogging, and whatnot. The bundle includes 100% customizable PSD files with JPG previews to apply to your Instagram profile. All you need to do is alter the colors, throw in some text, and you're done! Don't miss 84% discount to get a great designer deal!
Price: 84% OFF – only $8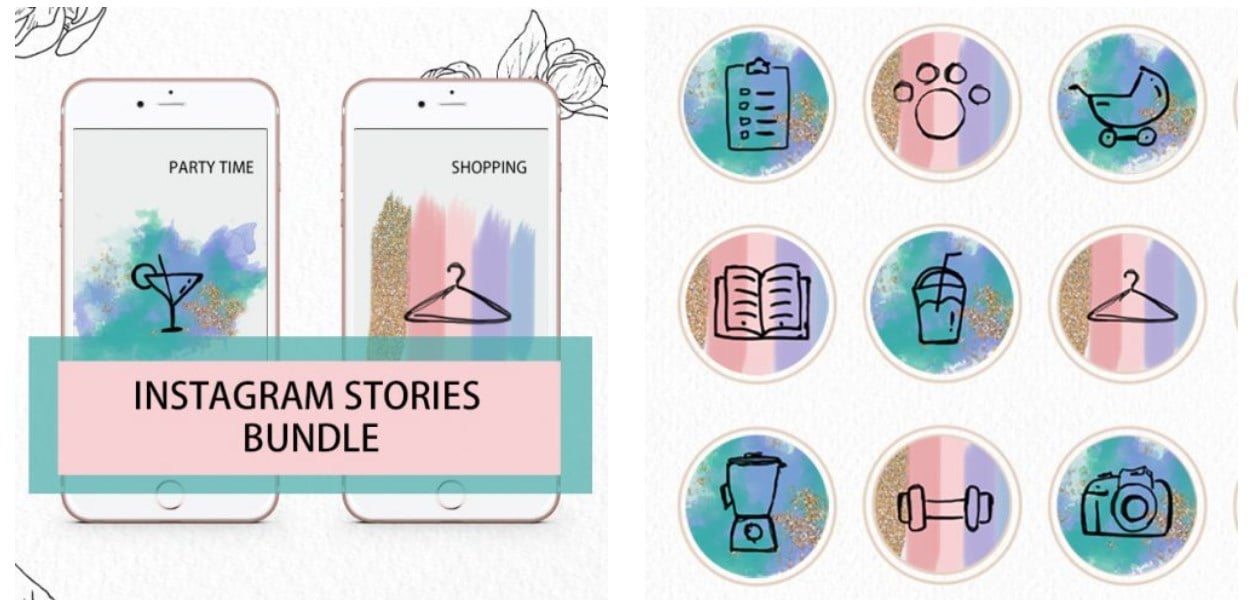 Are you a lifestyle or beauty blogger looking for Instagram stories covers? Take a closer look at the Ultimate Instagram Highlight Icons bundle! With these unbelievably easy to customize social media icons, you'll create an eye-catching stories highlight in no time.
For only $24, you'll get 54 Instagram Highlight template files. These items will suit creative professionals, photographers, designers, entrepreneurs, and just anybody who's eager to upgrade their Instagram to make it look stylish and professional!
Price: 81% OFF – only $24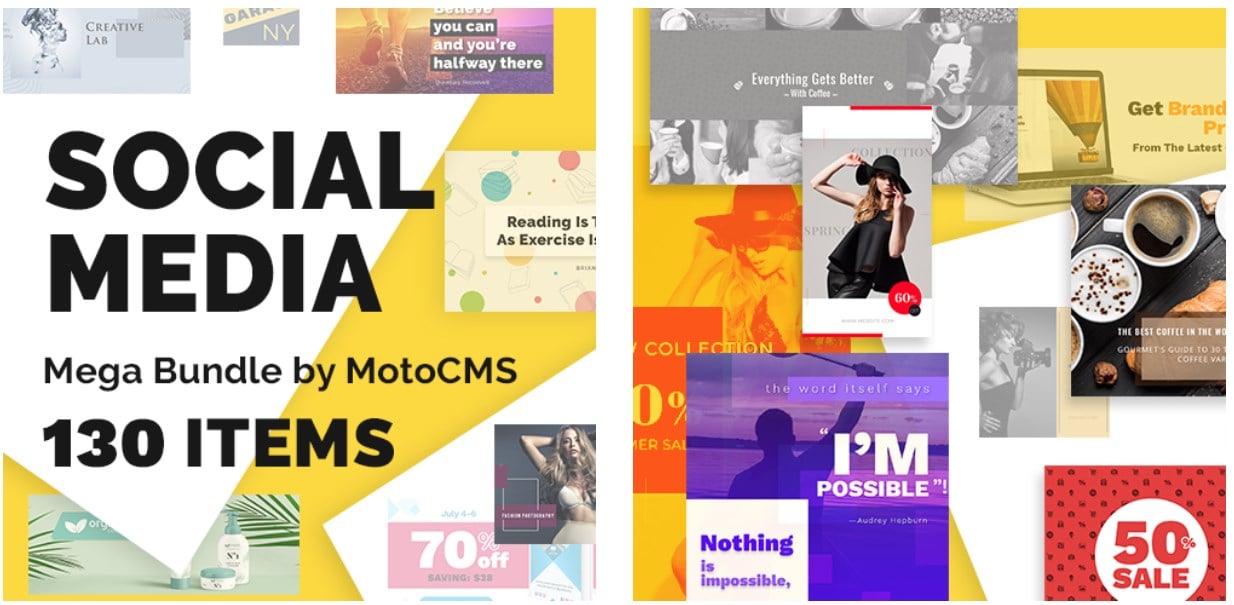 This deal is just unbelievable! With 88% discount, for only $19, you can get a Mega Bundle of social media covers created by MotoCMS designers. With 130 items packed in the bundle, you'll be able to create a staggering social media campaign to promote your brand. Top-notch graphics will allow you to reinvent your social media profiles and provide a more attractive cover for your content. In the bundle, you'll get a variety of files which includes:
29 Instagram Story Highlight Covers. Revamping your Instagram profile using any of the 29 social media icons will be easy as pie. Use them to create an eye-catching presentation for your brand on social media.
Social Media Icons Pack. If you wish to personalize your Instagram, Facebook, or YouTube profile, MotoCMS social media pack will definitely help you out. In the bundle, you'll get a variety of styles suitable for multiple purposes.
10 Facebook Covers. Use ready-made Facebook Covers as the perfect space to introduce the audience to your business. In the bundle, you'll get pre-made Facebook cover pictures applicable to various micro-niches.
6 YouTube Covers. Update your YouTube profile with ready-made YouTube Covers to increase user engagement and conversions.
20 Instagram Post Templates. With just a few tweaks, you can use editable Instagram Post Templates to create an ideal visual presentation of your brand.
Price: 88% OFF – only $19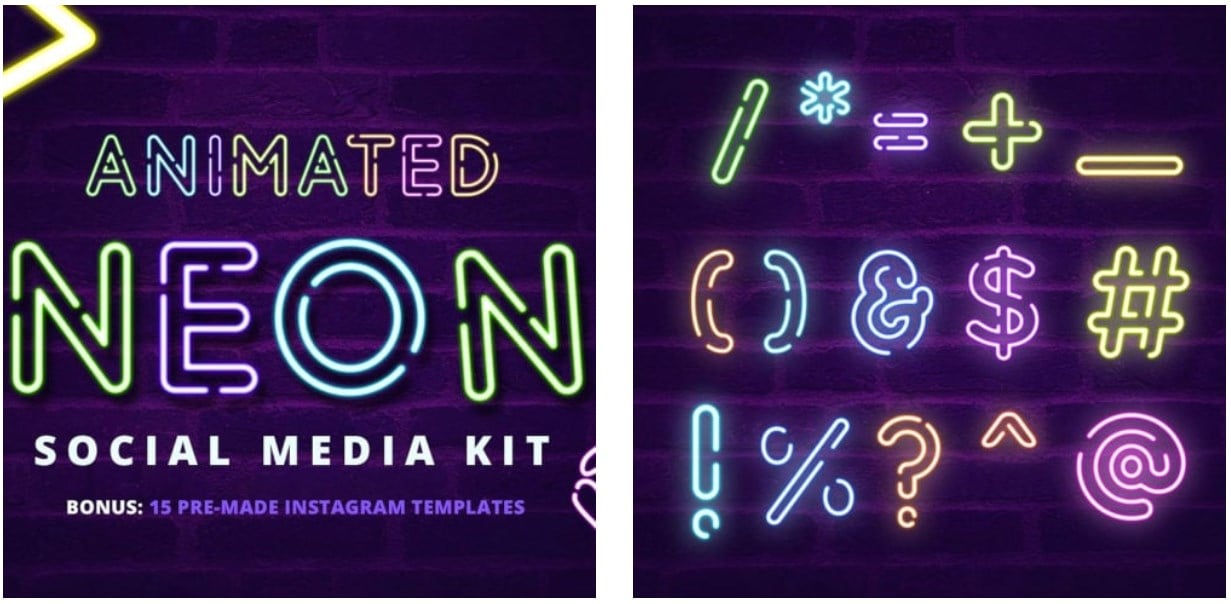 Are you looking to amp up your social profiles with extraordinary icon designs? Take a closer look at social media icon vectors and fonts from Neon bundle. Feel free to use them in your Instagram posts and stories to attract maximum attention to your products and services. As a bonus, you get 15 pre-made Instagram templates to get your profile going. So, what else is there in the bundle?
Full Animated Neon Alphabet (Including Numbers and Symbols);
15+ Pre-Made Animated Instagram Posts;
20 Animated Neon Icons;
20 Vector Icons;
Bonus OTF Font
Also, the bundle includes download links to photos plus a detailed tutorial covering how to use the items in the bundle.
Price: 71% OFF – only $19