190+ Photography Bundles in 2021. Premium Resources for Photographers: Actions, Overlays, Presets and Tools
Most people, both photographers and those who have seen a camera for the first time, are aware of the need to post-process the photos in photo editors. We thrive to give the photos some mood that the camera was not able to capture with automatic settings. Image processing for the photographer is like brevity for the writer, which helps the target audience understand what exactly the creator wants to say with his work.
A photo can contain a large number of elements, or it can be built on the same shapes and shadows, it can be bright and colorful, or it can be monochrome and low-contrast. But whatever the picture is, the viewer should immediately understand why the photographer took this photo. And the proper photo processing will help.
In our digital time, most people want to make their work easier and enjoy ready-made solutions. Why not?! As a photographer, if you have a gigabyte of raw photos, you have a good idea of how much time it will take to process them manually. In this light, the ability to give your photos a more aesthetic appearance with a few clicks looks very attractive.
Many people, who are interested in professional photo processing, are aware of the word 'preset' in conjunction with the Lightroom software. And it is not surprising since Lightroom and Photoshop are the main tools for a photographer. A preset is the saved configuration of settings for your photo. You can copy the specified parameters from the preset and apply them to your photo. The file can contain all the standard settings: white balance, brightness, shadows, exposure, and any other parameters.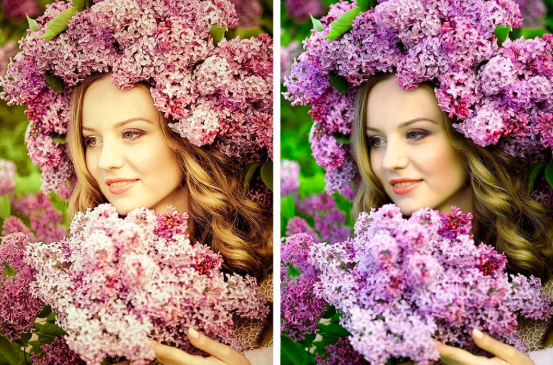 Thanks to the presets, you do not have to spend time on processing photos in the same style every time – you will just use the ready-made settings. This is a great solution to keep the style and harmony of your photographs. Usually, the presets are compatible with both a Mac and PC, work on RAW and JPEG images, and can be easily modified to fit your image.
Where to get a preset?
You can create your own file if you know how to process it.
The easier option: buy a cool preset created by the professionals or download it for free on the Internet.
You can change any image unrecognizably if you use the features of Adobe Photoshop. This program allows you to create incredible effects, blurring the lines between reality and illusion. Any photo taken in a hurry can turn into a real masterpiece if you are using the possibilities of Photoshop.
Photoshop photo overlays are images that are added to your original photo as an extra layer. With the help of Photoshop overlays, you can create an extra dimension or add texture to your photos. You can play with different effects such as fog, feather, snow, haze, rain, or sun flares to reach the desired result. Whether you are working on a fantasy composition, portrait, nature, an interesting effect or texture is always something unique.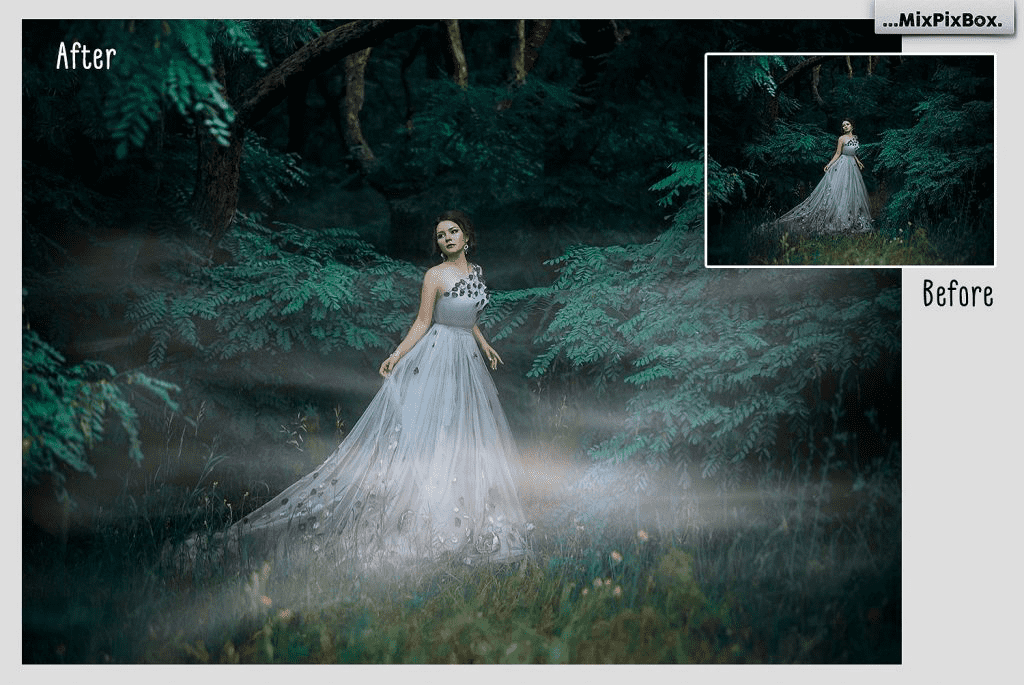 This is one of the easiest solutions to add effect to your image – you just need to drag the Photoshop overlays, drop them onto your photo and adjust them to get different effects.
Where to get a photo overlay?
A number of photo overlays are available over the Internet. You can choose either free or premium options.
You can create your own photo overlay.
Photoshop actions are a sequence of tasks for a single file or for a batch of files — menu commands, palette options, tool actions, and so on. For example, you can create a Photoshop action that changes the size of an image, applies an effect to an image, and saves the image file in the desired format.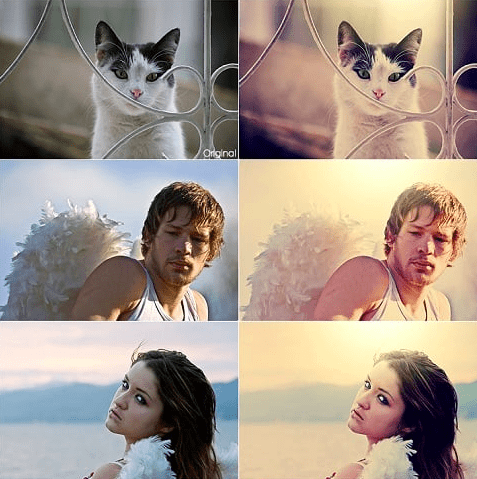 Such Photoshop actions can be edited and processed as a batch, and you can also manage groups of actions by working with sets of actions. Do not lose a chance to record all your actions step-by-step in order not to repeat them next time.
Where to get Photoshop actions?
By default, Photoshop has a lot of standard in-built actions.
If you want to be unique, you are welcome either to create your own actions or buy beautiful ready-made ones. A number of free options are also offered on the web.
No doubt, you will get an incredibly powerful toolkit to be even more creative.
Sure thing, you can surf the Internet endlessly in search of free and premium tools for photographers. There is a better offer for you. MasterBundles, as a creative platform of chic bundles for photographers and designers, is happy to offer beautiful actions, overlays, presets, and other tools to add a wow effect to your photos. With MasterBundles, you will save money on package deals and enjoy fantastic possibilities for your projects.
If you are a photographer and got to this page – congratulations, your torment in searching of excellent tools is over. Presets, selections, effects. Lightroom and Photoshop. Planners and checklists. Even gifts for photographers. All this you will find on our website at the best prices on the Internet.
Let me introduce myself – MasterBundles. We are a platform that collects the most popular tools for designers, marketers, developers and sells them at a affordable price: fonts, icons, logos, graphics, photo stocks, presentations, resumes, website templates, coupons, promocodes, and much more. To all this we added also tools for photographers.
What are bundles? These are sets of several products that are sold for a limited time, but at a very bargain price. Product discounts can reach 90-95%. It's not unusual when fonts priced at $600-700 are sold for $10-15.
In order to keep pace with the sale, subscribe to our mail list, follow us on Facebook and Instagram, and of course add the site to bookmarks and go regularly.
Oh yeah, if you're not a photographer and you're not interested in our chic bundles for photographers at super prices – be sure to send a link to this page to your friend photographer.
FAQ
Why is it convenient to buy bundles?
You will get the sets of several products that are sold for a limited time, but at a very bargain price. Product discounts can reach 90-95%.
Where are Lightroom presets stored on a Mac?
To find where your Lightroom presets are stored, choose Edit > Preferences (Lightroom > Preferences on the Mac) and select the Presets tab. Click the Show Lightroom Presets Folder button to be taken to your Lightroom presets folder.
Does Photoshop come with overlays?
Because overlays are images files themselves, they are not actually installed in Photoshop – and just need to be stored on your computer in a place you can easily recall when you want to use them.
How do you add multiple actions in Photoshop?
To apply any action to an entire folder, and sub-folders go to File > Automate > Batch. In the Batch window, choose the action you would like to apply and the source folder. You can do the same in Adobe Bridge by going to Tools > Photoshop > Batch.
How do I load multiple actions in Photoshop?
Just drag the individual actions from set to set in the Actions palette. Don't forget to save them. If you store your actions in the Photoshop Actions folder in Presets they will appear in the flyout menu and can be loaded just by clicking on the menu item.