I Tested 4 Free AI Software for Designers & Here Are My Thoughts
AI will replace designers. You can look for a new job – the machines will do everything for you!
Aren't you tired of hearing it from all sides? Let's take a look at these headline-lovers' triggers. We'll dig deeper to understand why AI won't replace designers and how it can break the ice.
I'm Lera – a graphic designer. I got hooked on self-flagellation, but then I realized – it's all about attracting attention through pain. It is better to learn new tools and improve your skills.
AI is another tool that will simplify the work and help the designer. It's like Figma or Photoshop, which you use to make an idea out of your head. This is more than generating a cool picture.
So, let's digress from the catchy headlines and break down some AI tools. They are less well-known than ChatGPT but will be helpful for your work. I will share my experience, its advantages, disadvantages, and tips.
Have a nice dive into the world of free AI software for designers 🙂
Lexica.art
Lexica.art is a search engine for images and tips created by artificial intelligence. Lexica Aperture is capable of producing both realistic photographs and flat images. You describe the desired image, and AI art software generates an image.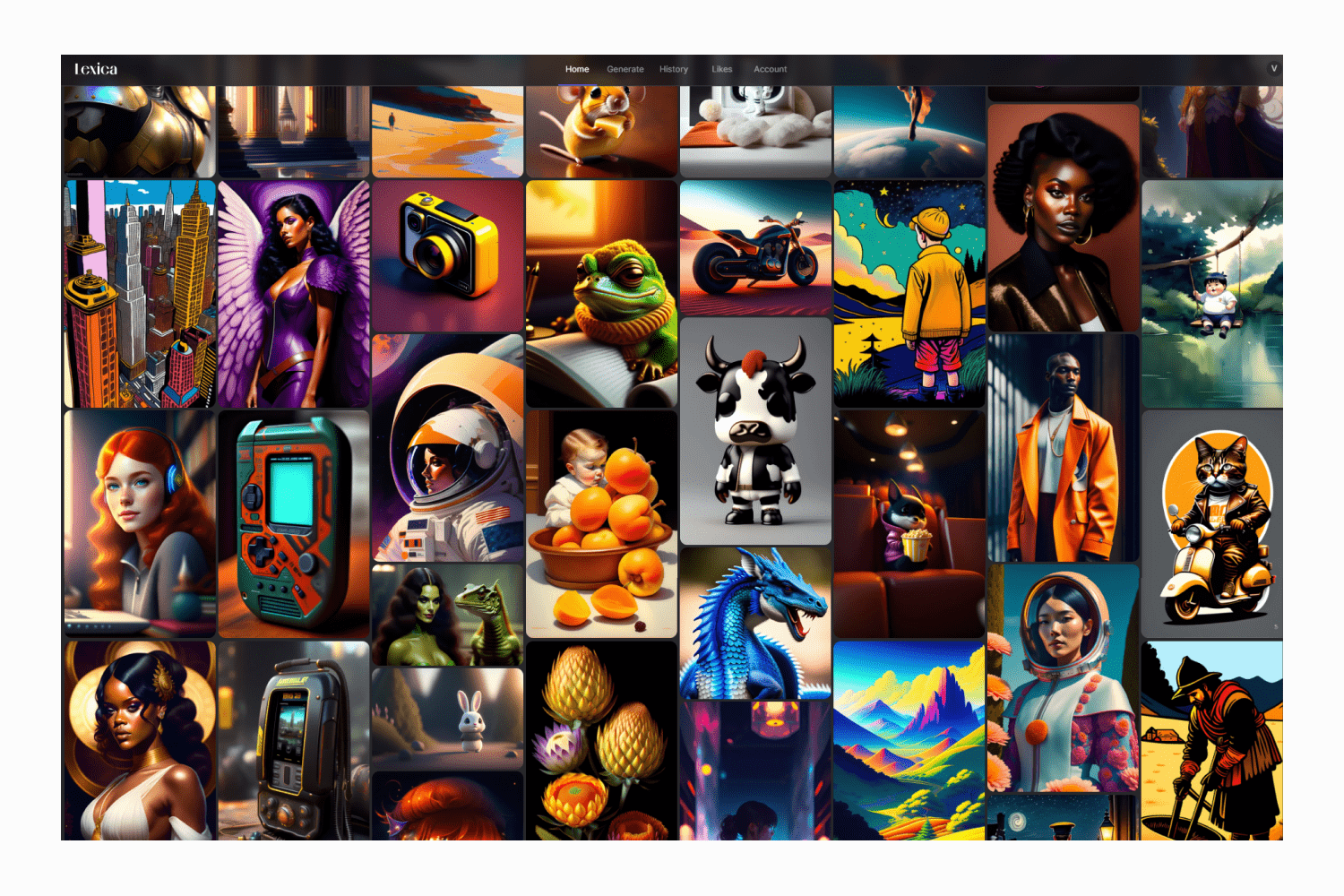 In this case, communication is the basis of good results in AI tools. You need to learn how to speak the language of AI for it to work for you. If you want to know more about prompts for Chat GPT, Midjourney, Dali, and other tools – check out this category with prompts and blog posts. They will save a lot of time and improve the result.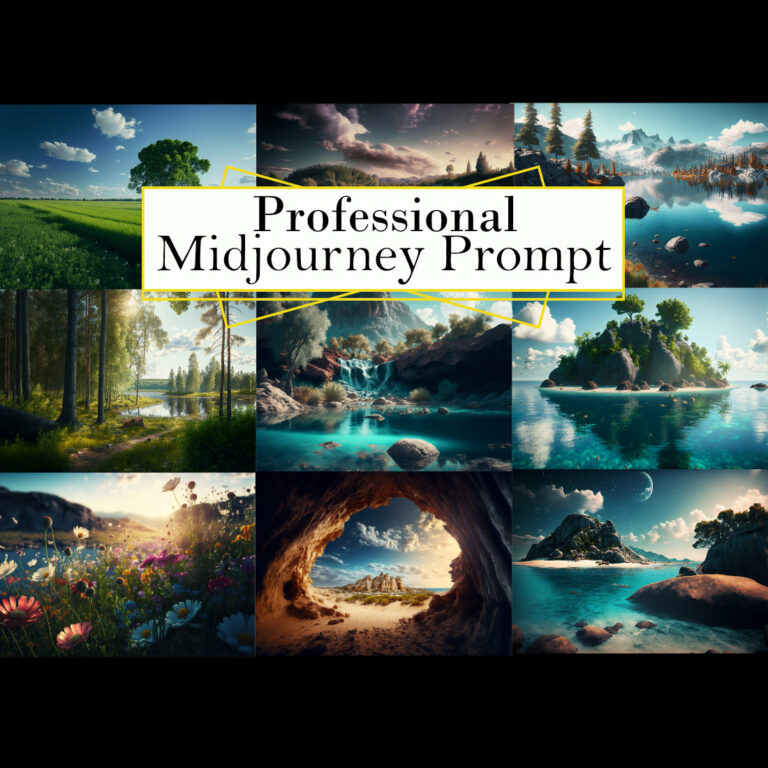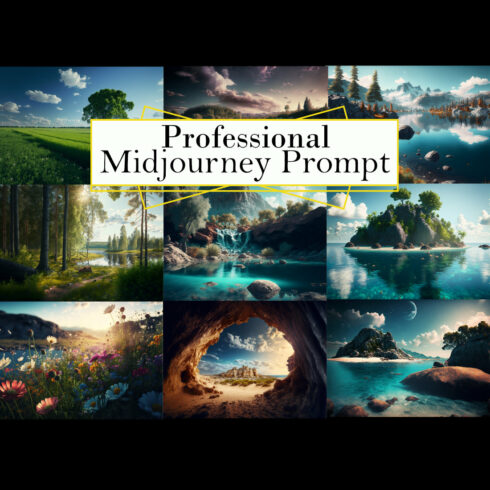 Paradise Photography Midjourney Prompt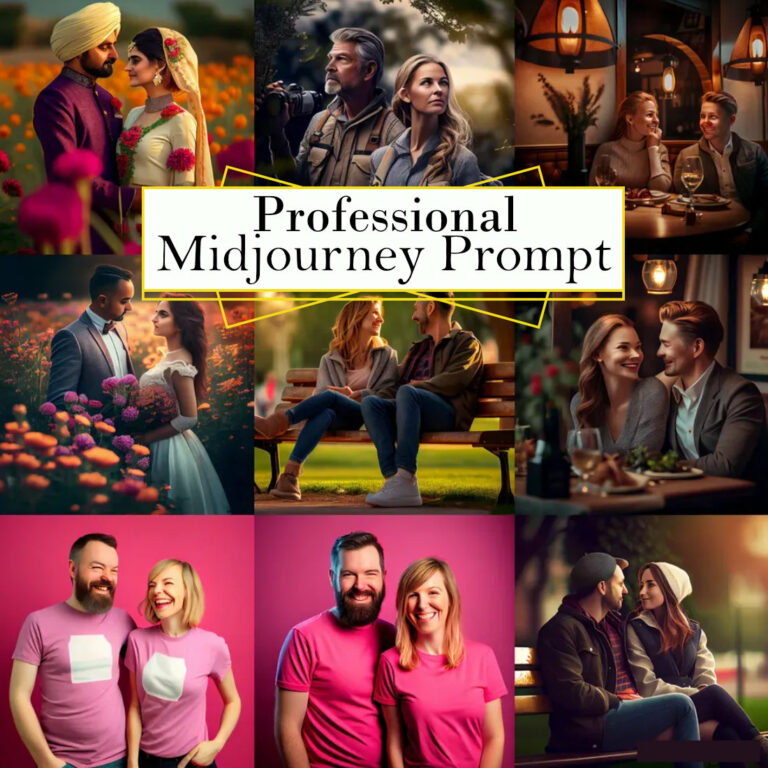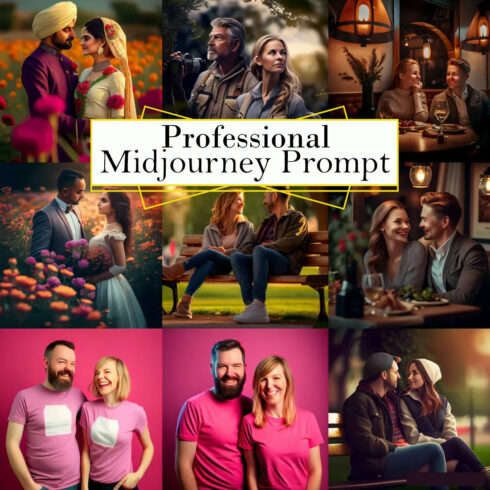 Couple Portraits Midjourney Prompt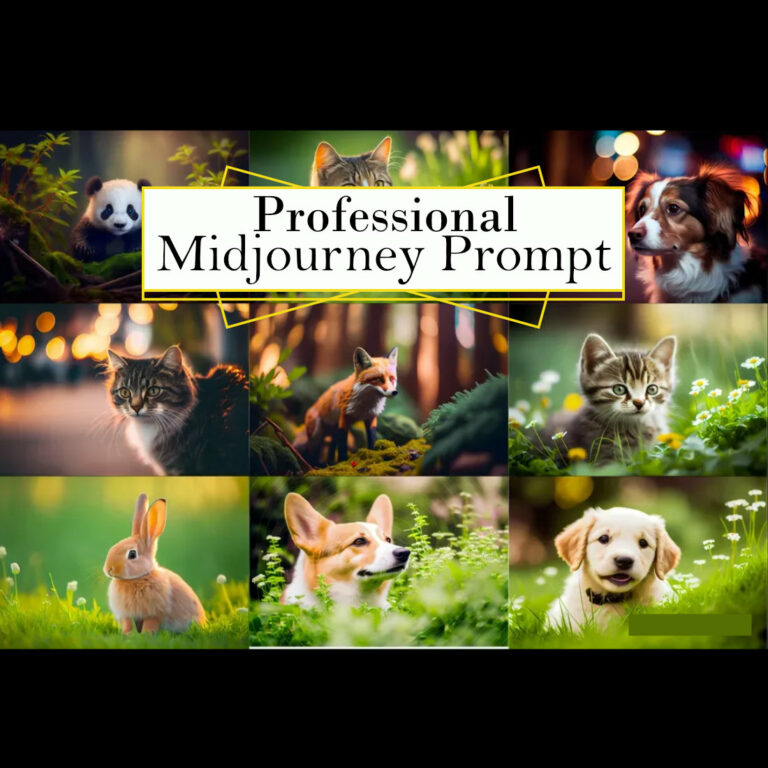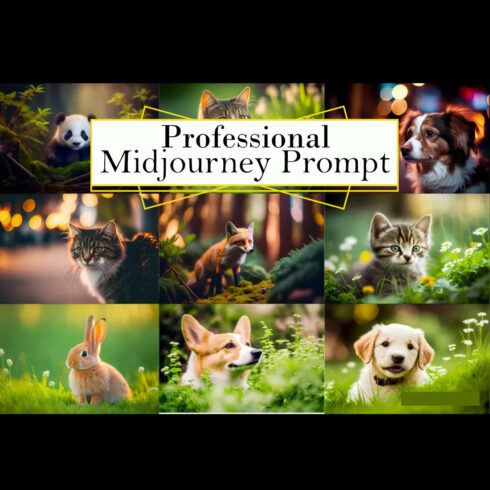 Cute Animal Wallpapers Midjourney Prompt
We prepared it because the language of love on MasterBundles is caring. We do our best to make you feel it.
How to use Free AI Software designers?
This free AI tool can generate ideas/references, and images for commercial and creative projects. For example, you can find examples of NFT symbols, create course covers, find poster-style ideas, and more.
A commercial license is available for Pro ($30/month) and Max ($60/month) packages. You can only use it for personal projects if you generate it for free or on a starter plan.
The program is easy to use, but the instructions describing the settings were insufficient for me.
Upon registration, you have access to 100 free generations per month. You can also access a library of already-created art with a built-in search. You can save the one you like from the library, find examples on your request or generate them at your prompt.
The coolest feature of this AI software is to edit already generated art. For example, I liked someone's already-generated robot but want to fix it a little. And I can do it on the edit page.
On this page, you can view or edit the prompt for this art. You can also edit already generated images – add variations, resize, and create in a different style. The entire change history is on one page consistently. You can restore the desired version and edit it.
You can generate art based on the style of the image you uploaded. For example, there is a generated robot, but you need it in a particular style. You add an image with this style/color scheme and generate your options to do this. This saves a lot of time on a detailed description.
All options are saved in the history and can be downloaded/deleted immediately in the pack using the multiplayer selection.
This AI software is worth exploring and testing for your projects. I plan to use this platform to find inspiration and generate art for some projects.
Advantages and disadvantages
When testing this free AI software, I really liked its convenience and access to the database of generated art. But there were moments that I attributed to the minuses.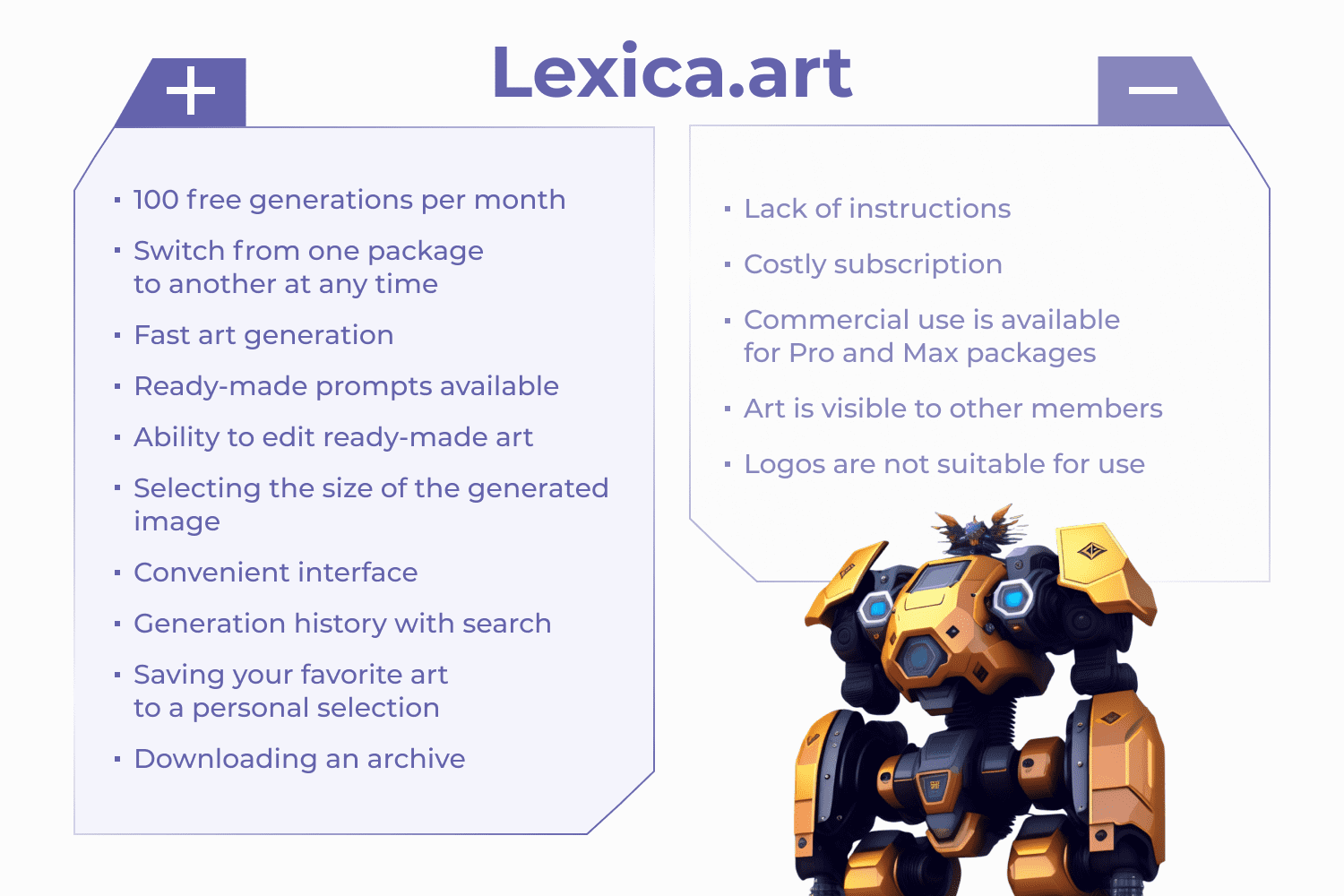 PhotoRoom
PhotoRoom – the website/app that replaces the background and cuts out objects in seconds for free. This is one of the AI-based tools that I use in my work.
All functions are available on the site for free, while you can subscribe to the application. Subscription expands the ability to create a new background on your request.
How to use Free AI Software for designers?
Let's take a closer look at the features available on the site and how they make life easier for the designer.
The main thing is to cut out the background. I use this feature all the time in my work. On average, cutting out an object in Photoshop/Figma can take 2 minutes, but in Photoroom, I can do it in a few seconds without registering.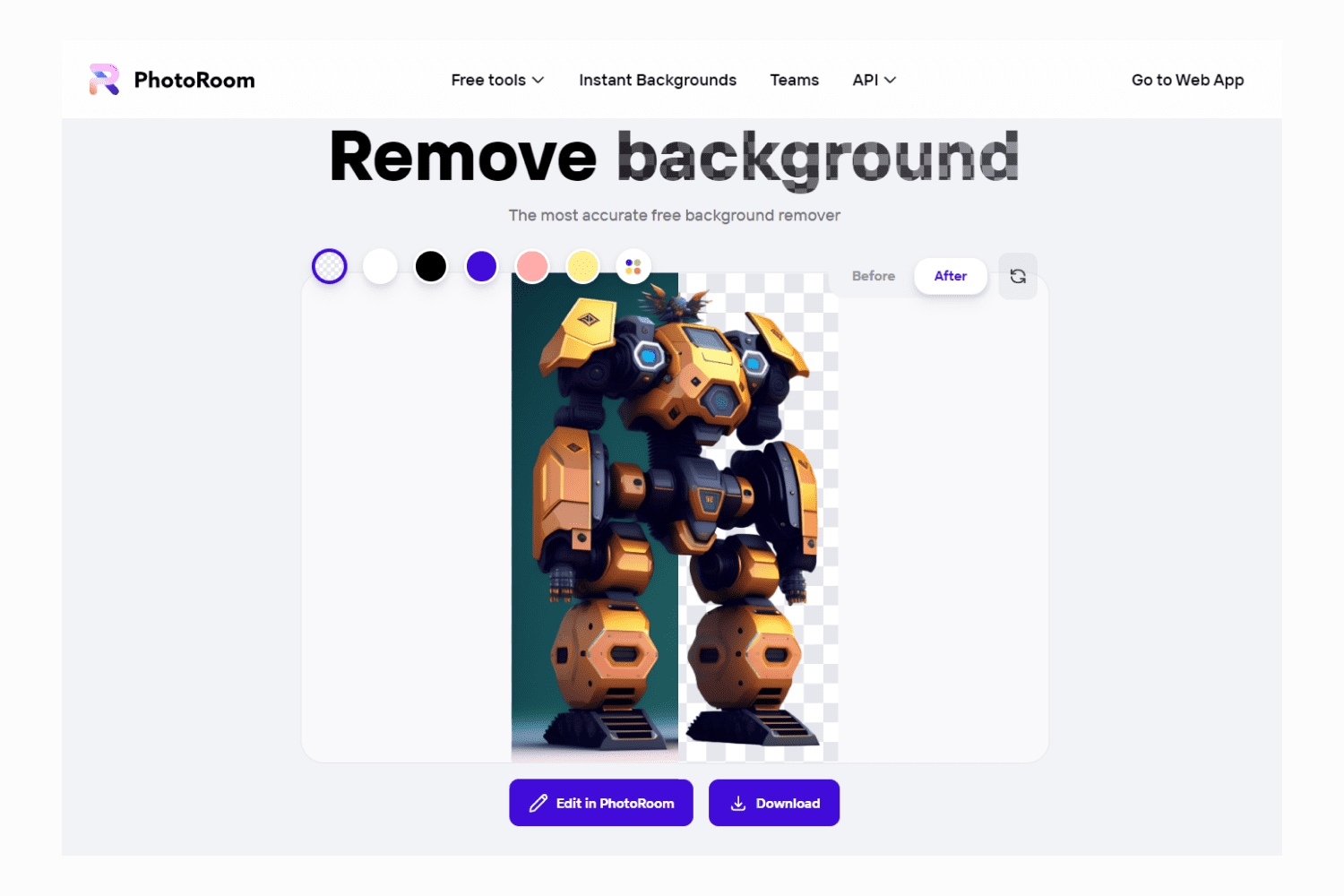 It is possible to cut out objects and people from the background. To do this, select a photo that shows the cutout object and a minimum of other details. The software will not cope with a complex picture.
Tip: Add the result to the project through a mask on the original photo. This way, the quality and color reproduction will be better.
Background replacement is also one of the main features. For example, you took a picture of a jar in your room, but you need a white background. Just upload a photo to the page and change the background to white or the color you want.
You can use the Instant-backgrounds feature to make the background more interesting.
This feature is similar to Midjourney but limited to ready-made topic queries. You choose a frame size, add an object, choose a theme, and get four generated backgrounds with your object. One will be free with a watermark, and the rest will be available in the pro version.
I was pleased that the AI tool added natural shadows and tried to insert the object realistically. The program doesn't change your object, so check that the tones of the objects and the background match.
It is convenient that when adding objects, layers are created. So you can easily edit and move them. But I noticed that a bug with shadows appears when adding several objects.
Tip: If you have several objects, group them separately in advance on one layer, save them as such, and add them to generate the background.
Another tool of the software is the removal of objects. It works simply: add a photo and drag the object you want to delete with the mouse.
This is a good alternative to Photoshop if you need to remove a small detail in a photo quickly.
But the result could be better. When removing objects from the edges of the picture, it leaves more blurry traces. The program copes with large objects quickly but adds repeating patterns of stripes, etc. I would give it a 7 out of 10.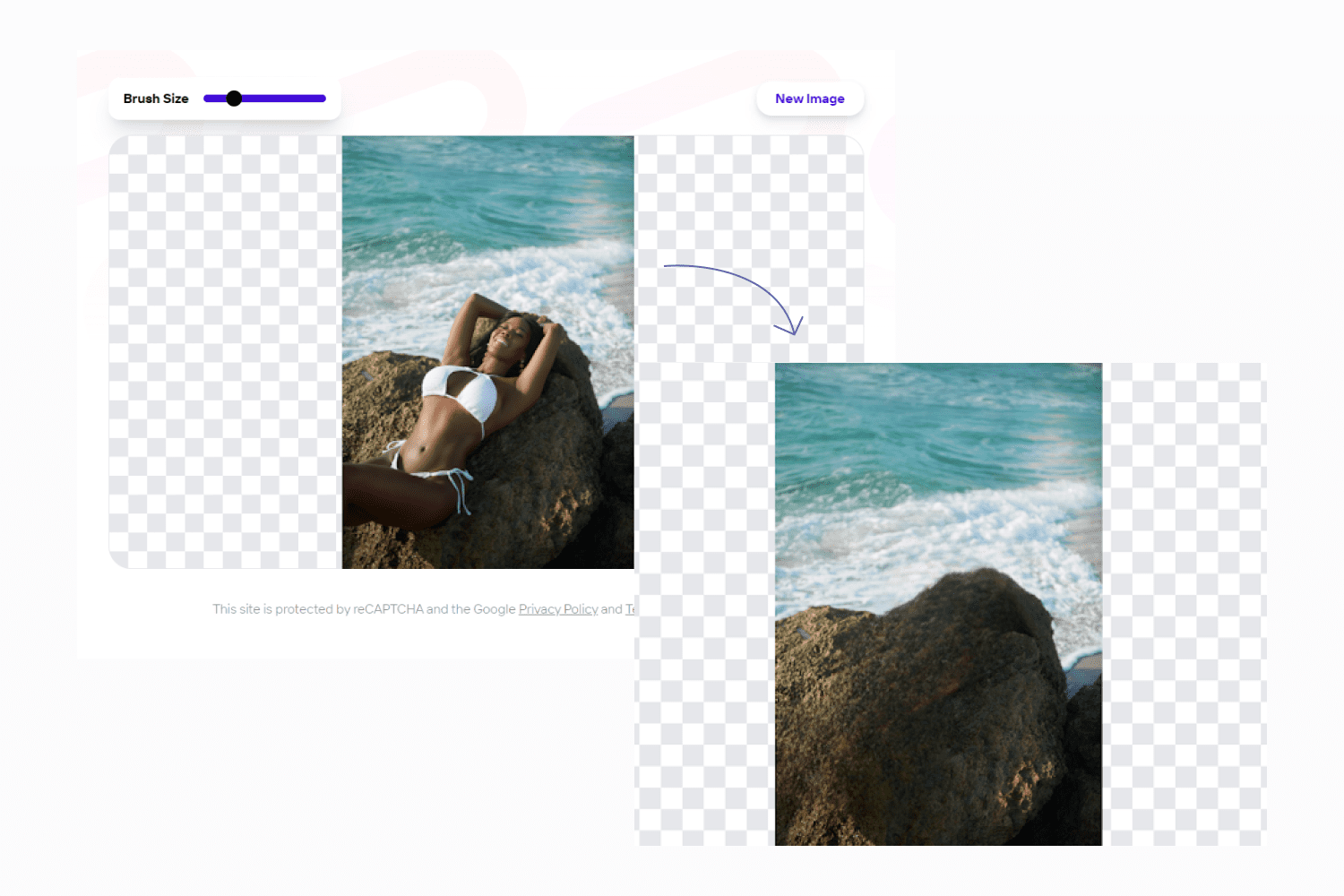 It works simply: add a photo and drag the mouse over the object you want to remove. Cool animation of magic accompanies this.
Advantages and disadvantages
I use this AI tool every day, but I have not tested it in such detail as for this article. So, despite all its advantages, it still cannot replace Photoshop.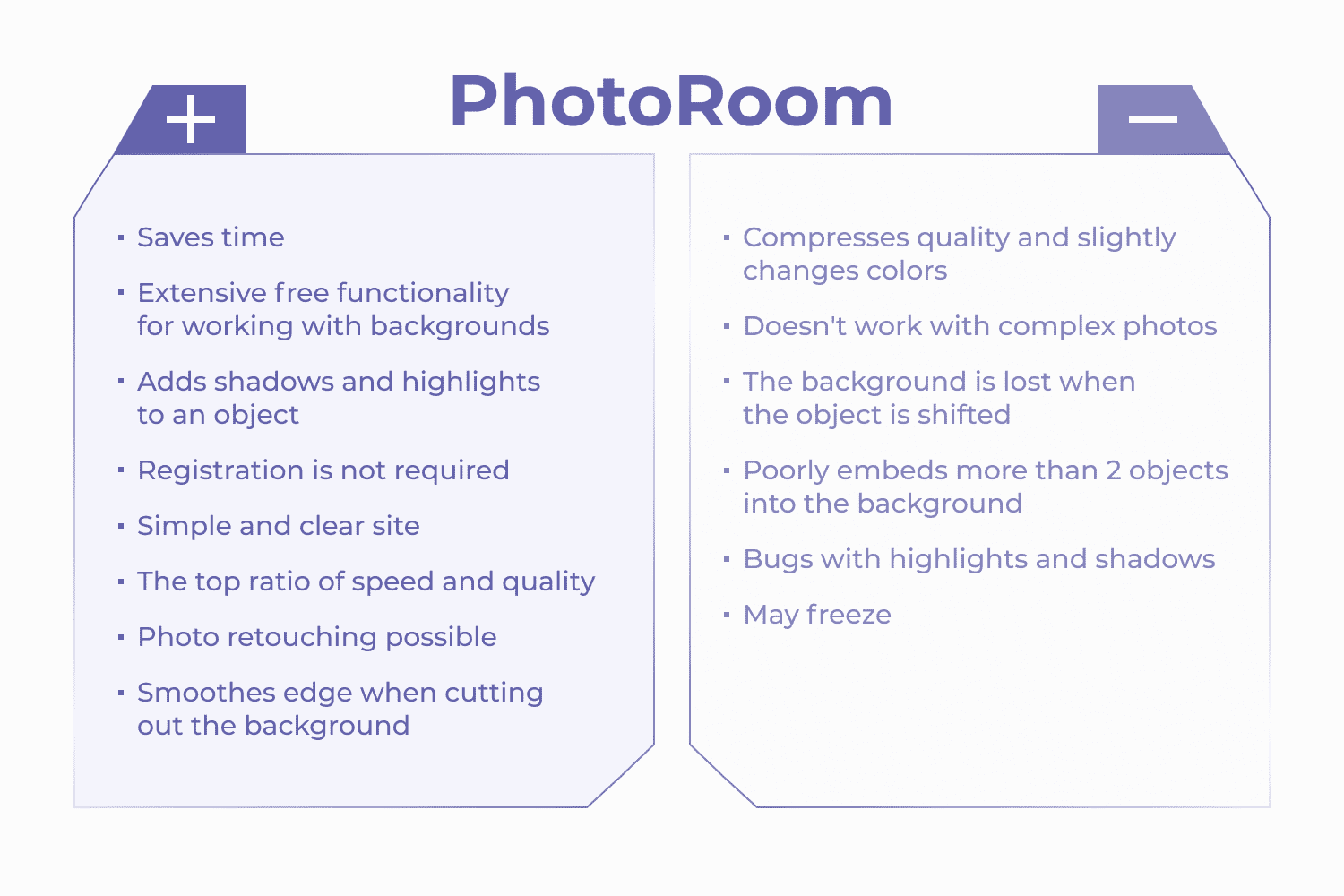 Fontjoy
Fontjoy is a mega-simple and widespread software for choosing a font pair. Usually, it takes me a lot of time. But this site can save hours for a designer.
Fontjoy uses machine learning algorithms to analyze and learn thousands of font pairs. The Generative Associative Neural Network (GAN) technology analyzes fonts and finds signs of similarity and difference (size, slant, serifs, contrast, etc.). Based on this, contrasting fonts are selected, and different contexts are offered at your request.
So you get access to many fonts and combinations that go beyond what you are used to.
How to use Free AI Software for designers?
Using this software is very easy, especially if you know the basics of font theory. So you can quickly weed out inappropriate options and choose something that conveys the idea of your project.
Tip: Study real projects, read about font types, and keep track of the emotions that fonts evoke. When choosing fonts, try to give yourself an answer to the question: "Why is it suitable?". Just a beautiful font is not yet a sign that you need to choose it 🙂
When generating, you get a couple of fonts for three categories: title, subtitle, and body text. They are marked with a visual hierarchy that immediately visualizes their possible uses.
It is convenient for you you can write the text in your language. Do this to check the display of fonts right away.
There is a font contrast slider next to the generate button. Here you can choose how different the selected fonts will be.
I recommend setting it to "high contrast" or "more contrast" first. When using it, I noticed that the font pairs look more harmonious and enhance the visual hierarchy.
Tip: Don't choose accent/handwriting fonts for body text. It is better to stick to grotesque (sans-serif) or close to classical (serif) font so that the text is readable.
It's best to avoid overly subtle styles, especially for headings and subheadings. This way, you will preserve the visual hierarchy and make navigating the information easier.
If you like some font, I recommend fixing it by clicking on the lock. Next, the AI will select the fonts for the fixed one.
You can also go to the page of the font you like and download it. The fonts are likely taken from the Google Fonts database, which will be free for commercial use. But it's better to read the license before using it.
You can search for a match for the selected font. Click on the settings icon (next to the lock), and the search bar will open. Enter a name for the font and choose the one you want. If the software doesn't find a perfect match, choose a couple of fonts manually.
Keep this free AI program for designers in your notes to find the right font pair.
Advantages and disadvantages
This free AI software for designers is definitely worth your attention, but it does not provide 100% cool solutions. To use it correctly, you need to understand the base of fonts and how they fit together. You can read more about the pros and cons below.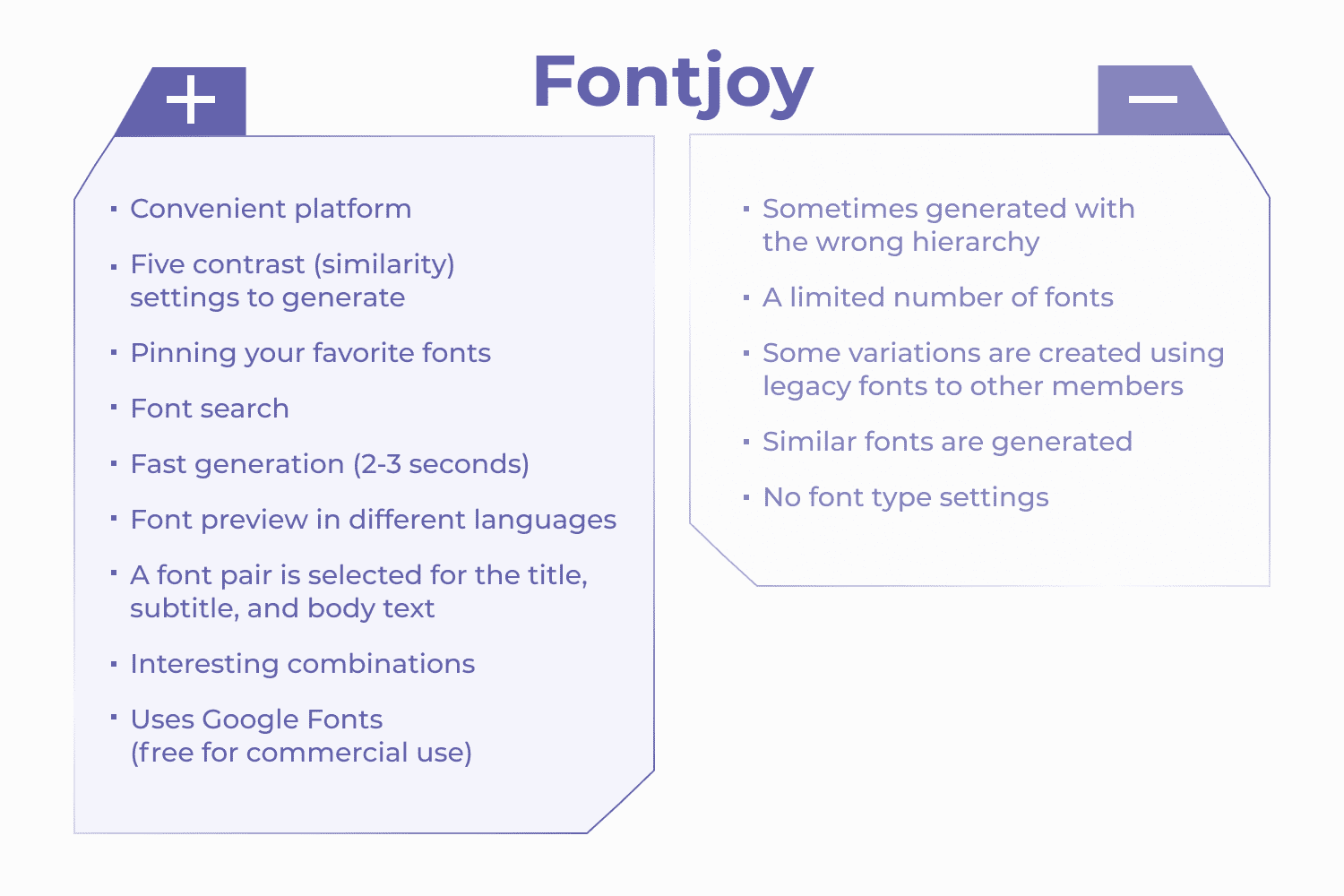 Huemint
Huemint is a next-level color generation service. Usually, you get a flat palette on websites, and you still need to imagine how it will look in the project.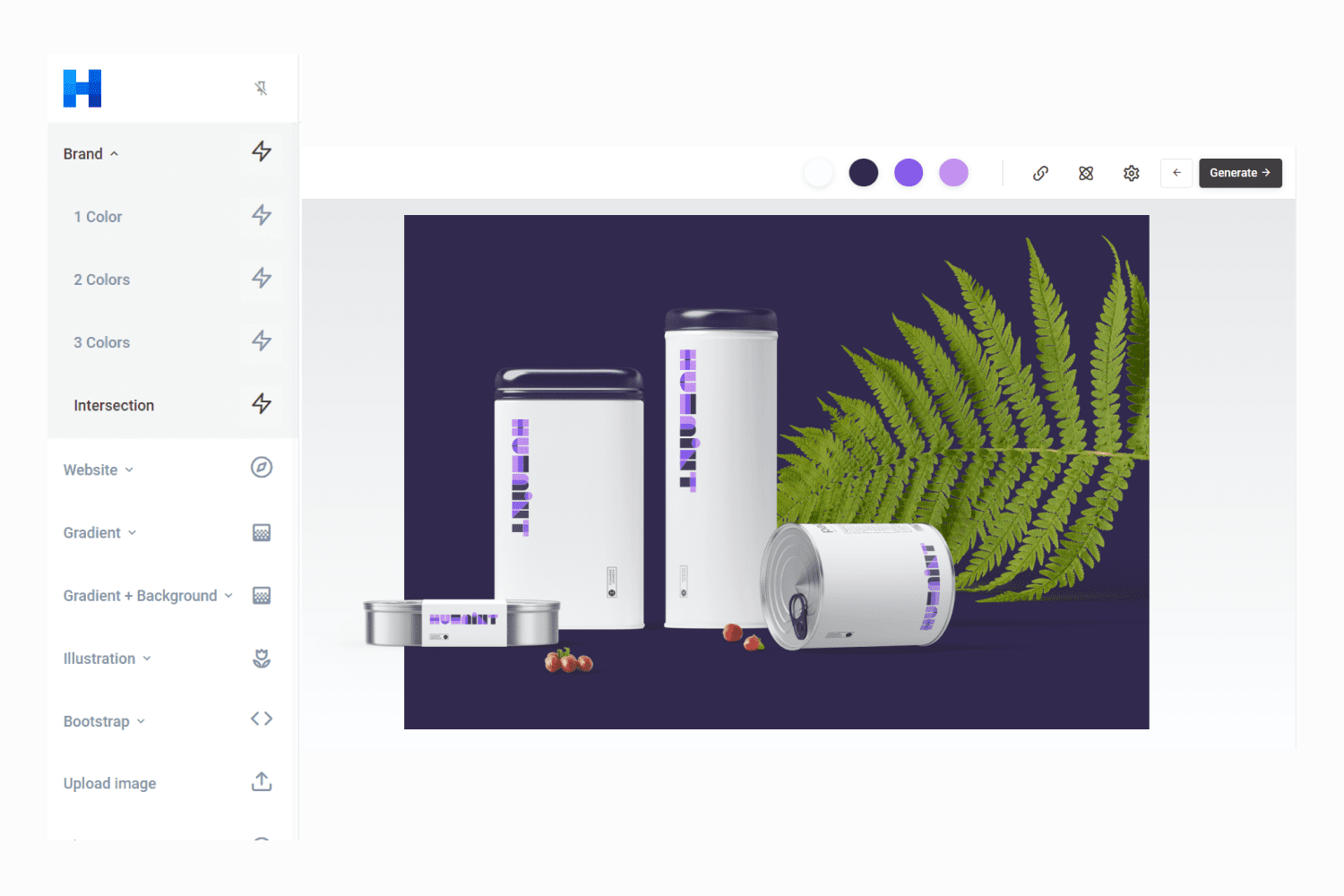 This AI software solved this problem – you can immediately view all the generated palettes on thematic mockups. Huemint immediately distributes colors into background, primary, and accent colors for the project. This helps to understand if they are suitable for the project quickly.
Huemint uses three machine learning methods, which I decided to test and share the results with you in the next block.
How to use Free AI Software designers?
In Huemint, you can generate colors for:
branding,
website,
illustration,
patterned background,
gradient,
bootstrap,
choose new colors for your image.
Tip: pay attention to the contrast of colors. Remember that people will look at it. Some bright neon or low-contrast colors can be found in creative work where readability takes a backseat.
You can choose the number of generated colors. There are quantity limits for each type of design, and I assume this is due to the use of colors in real projects. Because in branding, we are unlikely to use 11 corporate colors.
Three color palette generation models are available in this AI tool: Random, Transform, and Diffusion. You can read more about the differences here.
You can also customize the generation creativity for any model. This indicator affects how colors will contrast and differ from each other. The higher the score, the more non-standard the generated colors will be.
When generating, you can use advanced solution settings;
Presets – brightness, tonality, and contrast of the generated palettes.
Simple – the primary color with shades of which palettes will be generated
Extended – the ratio of color contrasts in the mathematical model
It is convenient that during generation, you can return to previous palettes if you liked them, but you did not save them for yourself.
If you like the shade, click on the circle with the color, then click on the lock. This way, the color will be fixed, and new generations will respect these colors.
I became interested in how the results of generating different models and degrees of creativity differ. So, I did my research.
To do this, I divided the degrees of creativity into low (0), medium (1.2), and high (2.4). Further, 100 color schemes I generated for each model in these degrees. In general, for the analysis of this AI software, I generated about 1500 color schemes:)
This experiment was carried out for branding with a color palette – intersection (4 colors). But the generation models themselves are the same for all categories.
I've packaged the results into an infographic, so swipe through the carousel to find out which option is best:)
As a result, the best selections were for the transformation method with medium creativity and the diffusion method with low creativity.
In addition to creating palettes, you can change the colors in your flat illustration. For example, you want to preview it in a different color quickly. To do this, you can not go into Illustrator but upload it to the site and generate a new look.
The result is more like colored spots and is only suitable for a quick sketch of new color solutions.
After testing this free AI software for designers, this AI tool will free up your time and energy to spend on other things. One option is to create your work for sale on marketplaces. Start with MasterBundles! We have a nice attitude to AI tools, low competition, reasonable commissions, help from the vendor manager, and a friendly community of vendors.
Advantages and disadvantages
When testing, I had mixed feelings. On the one hand, the software has many advantages that I have not seen in such tools, on the other hand, it takes enough time to select the color if you do not know the settings. I have detailed my experience below.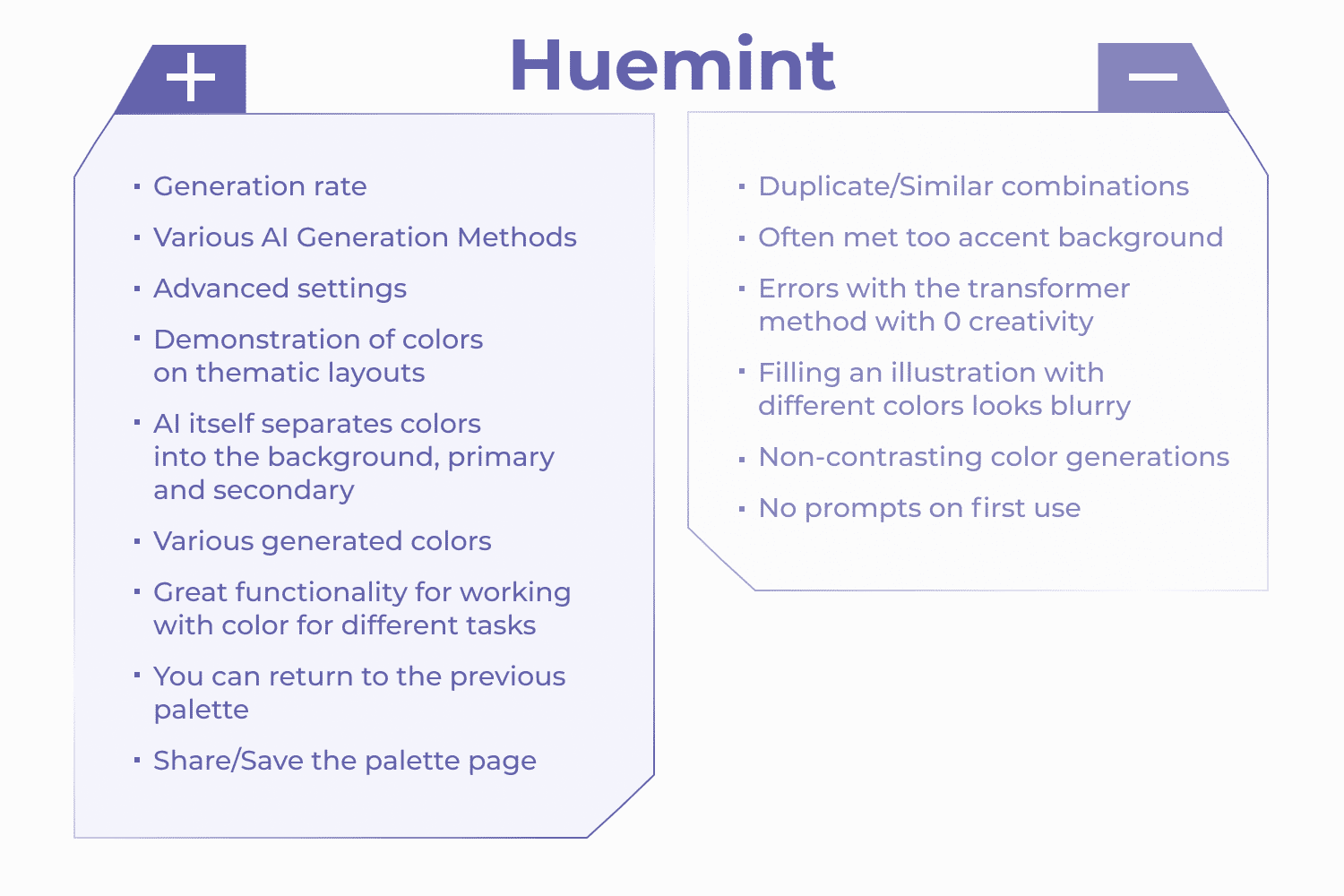 In conclusion, all AI design tools are just new tools for work. No need to be afraid that they can replace you – get to know them better, study and make the process easier for yourself. The saved time can be spent on boosting hard and soft skills in design, creating work for sale on platforms, relaxing, and yourself 🙂
FAQ
Here are a few frequently asked questions about the best AI Software for Designers
Is there any free AI software?
There are many fresh online services for designers for various tasks:
Converting text to image – Midjourney, Lexica.art.
Remove background – PhotoRoom, Remove.bg, Removal.ai.
Color generation – Huemint, Colormind, Aicolors.
Font selection – Fontjoy, Monotype.
Generation of the description of brands, etc. – chat GPT, Copy.ai, Conversion.ai.
Can I use Google AI for free?
Google's mission has always been to organize the world's information and make it public and valuable. So, the new AI Bard is free to use.
AI Bard – is being developed to help people reach their human potential. This AI software is already showing effectiveness and improvements in people's lives. But there are restrictions on the countries where AI Bard works.
What free AI app is everyone using?
The top free AI apps that almost everyone uses include:
Google Assistant is a virtual assistant that helps with everyday tasks (setting an alarm, calling someone, etc.).
Siri is Apple's voice assistant that helps you control your phone and chat with someone.
Alexa is Amazon's voice assistant that can help with various household tasks (turn on music, order groceries, or turn off the lights in a smart home).
What is the best free AI copywriter?
The top 5 free AI software for copywriters include:
Copy.ai – a platform to create social networks, advertising, and blogs.
Writesonic is an AI tool for creating text types such as headings, product descriptions, and landing pages.
Conversion.ai – a godsend for creating marketing texts such as ads, product descriptions, and email subject lines.
ShortlyAI – a content creation tool for various purposes (blog posts, social media posts, and emails).
Kafkai – a tool that generates content (blog posts, product descriptions, and social media posts) using Natural Language Processing (NLP) algorithms.
Some Awesome Videos about AI Tools for Designers
Best 5 Ai Tools for Designers

Best Ai tools for designers will point you toward tools that vary in terms of functionality, usefulness, and results. However, among all the available tools out there, choosing the right one can be overwhelming. With that in mind, here is our list of the 5 best AI Tools for Designers. 
Best 6 Ai Tools For Designers

For designers to produce their best work efficiently, they need to stay on top of new tools and resources. A.I is already providing new tools to become better designers. In this video, I'm going to share with you 6 A.I tools that you need to pay attention to if you want to stay at the cutting edge, produce the best work and do it most efficiently.  
Was this page helpful?
We will be happy if you decide to share this article with your friends on Facebook. Just click on the button and you're done
What are your concerns?
Thanks for your response!
You have already left your review.
Disclosure: MasterBundles website page may contain advertising materials that may lead to us receiving a commission fee if you purchase a product. However, this does not affect our opinion of the product in any way and we do not receive any bonuses for positive or negative ratings.