Web COVID Design for Business Growth
Not so long ago, no one could have imagined that the effects of the COVID-19 virus would threaten the whole world. One recorded first in China, and now affects more and more countries. Coronavirus poses several types of threats to the planet at once, and one of them is economic. In just a week, the ten wealthiest people in the world lost a total of about 83 billion dollars, according to Forbes. It indicates severe problems and a possible imminent financial crisis that will hit almost all people, from billionaires to average workers.
How did COVID-19 affect the IT industry and the niche of web design in particular? Are there any positive changes and how to keep the business during a global pandemic? Let's figure COVID design out together!
Top Designers' Purposes with Coronavirus Theme
Every day, the number of sites devoted to coronavirus is growing exponentially, forcing web designers to seek the necessary solutions urgently. Newsletters, news portals, landing pages for crowdfunding, and charitable foundations – this is just the minimum that needs to be mastered and launched as soon as possible. Is it worth talking about the many online stores that have been heavily burdened by quarantine measures in many countries?
Top managers and marketers have already managed to speak out about the impact of coronavirus on the business niche of IT and web technologies, which you can find on such popular sites as Business Insider and Hubspot. However, despite the projected crisis and the associated difficulties, there are predictions that it is the web designers who will be able to save the situation. It is stated in his article for Fast Company by Dr. Evergreen, who is a data visualization pro.
4 Best Medical Infographics Bundles
| Product Image & Rating (Out Of 10) | Product Name | Price |
| --- | --- | --- |
| | Best Medical Infographics 2021: XML, AI, PSD, EPS, KEY, PDF | |
| | Medical PowerPoint Templates in 2021. Ultimate Bundle to Create an Amazing Health Presentation | |
| | Medical WordPress Theme | |
| | 100 Royalty-free Medical Photos! | |
Coronavirus Topics & Website Templates
Although to the fact that many topics with COVID design for medical institutions and information portals have appeared in the tops of popular marketplaces, inexperienced users may not notice significant changes that have affected the functionality. However, speed and adaptability as technological requirements began to be in particular demand, changing the approach to web design as a whole.
Interaction with customers. The need for constant communication brought to a new level blogging and page design with contact information. Detailed customer comments and FAQ accordions replaced the laconic structures.
Reliability and protection in real-time. As the number of cash transactions online has increased significantly, the protection of the data of your customers is especially important. Dealing with this is much easier when you will work with reliable CMS.
Support and communication. It is crucial to respond to incoming applications on time to work effectively with a large number of customers. Therefore, the contact forms and email subscriptions have undergone personal changes, which have become more convenient and more comfortable to fill out.
COVID Design for PPT
Unlike regular website projects, creative PowerPoint templates are more interactive, combining many media content, hyperlinks, and a convenient structure. Also, these solutions are multifunctional, which allows you to use them as additional visual material, as well as a useful tool for advertising campaigns and distance learning.
Presentations became especially relevant during the period of the coronavirus pandemic, being a powerful tool for data visualization. Since the dissemination of critical information to the society is a priority, well-structured graphics help maintain user attention and better manage large volumes of content. High-quality images blend well with large typography and handmade marker lists. It is especially convenient for working with statistics and analytics. Therefore, designers of popular marketplaces prepared ready-made medical PowerPoint templates with COVID design for the medical industry, which you can use to inform your customers or visitors of the news portal.
Coronavirus Influence on Graphic Materials
The coronavirus has already managed to have a significant impact on the design and change some of the popular trends radically. Nevertheless, some can benefit from the current situation, for example, eCommerce solutions, which has become even more convenient and minimalistic due to the increased load on the site. For the same reason, increasingly animated infographics and dynamic illustrations began to replace integrated videos, which slow down the loading of the website significantly.
The following features gained particular popularity for coronavirus disease 2021 in graphic design:
Parallax effect. The game with the movement of backgrounds refreshes the look of the site, attracting even more attention. Therefore, parallax looks especially beneficial on landings, which are the most affordable and profitable solution for new web projects.
Hover change. This trick is an excellent alternative to animations and complex transitions. Highlighting, changing colour, or size realizes simply, do not load web pages, and, together with this, look beautiful.
Focus on mobile-first. Of course, quarantine makes it possible to sit at a computer 24/7; however, the dominance of mobile devices is still growing. Therefore, when working with the graphical shell, do not forget to adapt it for smartphones and tablets.
Scalable vector graphics. With SVG images, it is possible to ensure consistent user interface quality for all mobile visitors.
Handmade illustration. Hand-drawn pictures possess personal charm and warmth, diluting the cold perfection of chiselled lines and shapes.
Game of contrasts. One of the most sought-after trends in COVID design is simplicity and accessibility, which you can achieve quickly by replacing many large media files with contrasting colours, vibrant accents, and unusual shapes.
All this is involved in examples of templates that we have selected especially for you. Unique authoring solutions with coronavirus design cleverly combine both traditional techniques and current trends.
How to Reach New Heights #StayHome
Coronavirus disease broke into ordinary life and changed the course of world history in just a few months. In times of crisis, uncertainty, and panic over quarantine, people have to invent new ways of interacting with everyday things to adapt and maintain social distance. The field of IT and web design was no exception. The COVID design traits influenced all directions, changing current trends, and dictating their conditions. However, we got the opportunity to change our world for the better and learn something new, which you can take benefits! It means that right now, you can grow your business to new heights with the help of modern Internet technologies.
It is noteworthy that the ban on visiting public places had a positive effect on Internet activity. Experienced marketers quickly changed their strategy, switching communication with customers online, which allows not only to retain customers but also to establish better relations with them due to business continuity. Thus, even inveterate skeptics looked in a new way at the renewed world of marketing on the Internet.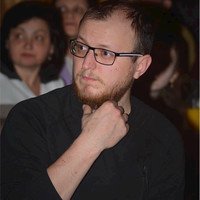 More than 7 years experience in web development and creation of online stores. Specializes in such platforms as: Shopify, Prestashop, Magento. Responsible for the complete product development process in the ZEMEZ company.
New ECommerce Features
«Right now, we are living in new realities, new conditions – when everyone's safety is at the forefront. Businesses are forcing to change and revise their models to ensure this same security. That is why more and more representatives of commerce go online, where absolutely everyone can safely get those goods and services that he needs. The medical sector is one of the most active in this regard. After all, many categories of people need medicines and medications every day, and in a regular pharmacy, the risk of meeting the virus is much higher than in other institutions.
To facilitate the transition to online, we created CoronaV. It is a multi-platform solution for creating an online medical store. It may be a simple pharmacy, a medical store, medical equipment, and other medical-related products. Our solution will allow you to choose a platform that is convenient for you and the most suitable design.»
Previously, in traditional marketing, the Internet component was only addition and decoration. However, the current situation with #stayhome calls is changing direction from our usual buying processes increasingly, forcing us to look for alternatives on the Internet hurriedly. The winners were the owners of online stores, whose influx of customers increased significantly. Discover the world of fantastic opportunities with full-fledged website solutions from leading web designers.
Ready-to-use templates are an excellent alternative to coding and the services of expensive specialists, allowing you to transfer your business online and start to get more benefits. Moreover, they are the best helpers in the fight against competitors, because sites created in this way are much cheaper and run much faster. Try and make sure that conducting an online store is much more comfortable than managing a trading network in reality!
TOP 10 COVID Design Website Templates for Business in 2021
The ready-to-use website templates are full-fledged web projects that need minimal editing to become a complete website. In just a few days, you will develop a high-quality personal web resource without having any programming or web design skills. Perhaps the most challenging thing when working with unusual solutions from leading designers is the choice. The vast majority of users are stewed when exploring a considerable assortment of web development giants with more than tens of thousands of samples.
Of course, now we will not look at all the available medical infographic templates, as it is a very time-consuming and energy-intensive activity. However, we can offer to get acquainted with the best samples from the top selection, differing in functionality. Thus, you can find topics for any field, including eСommerce and medical ideas.
1. CoronaV – Medical Supplies PrestaShop Theme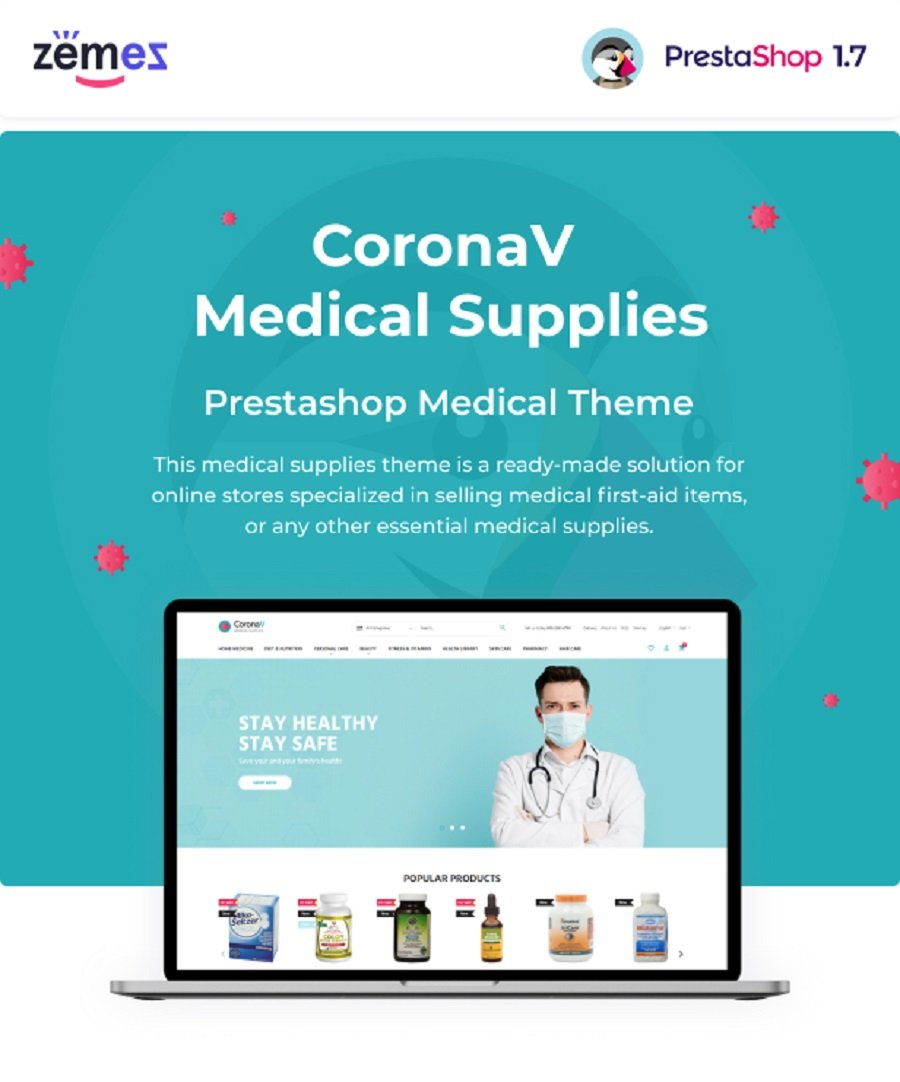 Themeforest opens a selection of the best themes for site templates. A full-fledged online store dedicated to the supply of medical goods, which is especially true during the quarantine period. The CoronaV offers a large number of ready-made modules for content placement, promotion and interaction with visitors. The COVID design template is also equipped with built-in eCommerce tools, including a basket, products and categories. You can also set up product comparisons to make it even more convenient for users to shop remotely.
2. KarDone Medicine Online Store Template Shopify Theme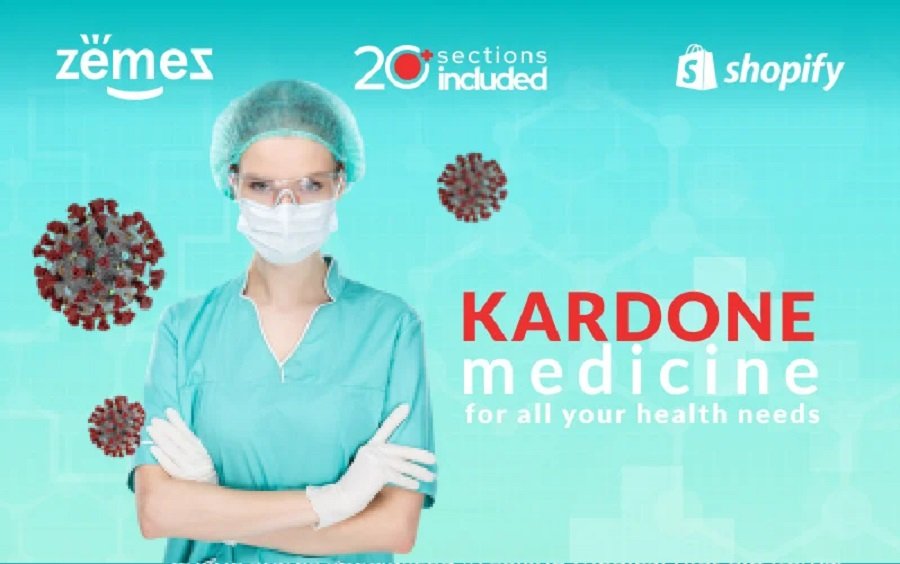 KarDone medicine online store template is one of the best Shopify themes for the medical store. Choosing one gives you a great professional website with a unique set of features.
Beautiful widgets are available in the template, such as a section about your store, galleries, reviews, and a catalogue with structured product groups. In addition to copyright COVID design, you will receive a full-fledged web project, adapted for mobile devices initially. Your site will look fantastic when people check it out on their smartphones and tablets.
The template also has a blog function with the ability to comment on publications, which simplifies interaction with visitors. Since the solution has a built-in eCommerce plugin, you can set up your online store on the site, which allows you to display and sell your services and products on the Internet.
3. KOVID19 – Coronavirus (COVID-19) Prevention & Awareness HTML Template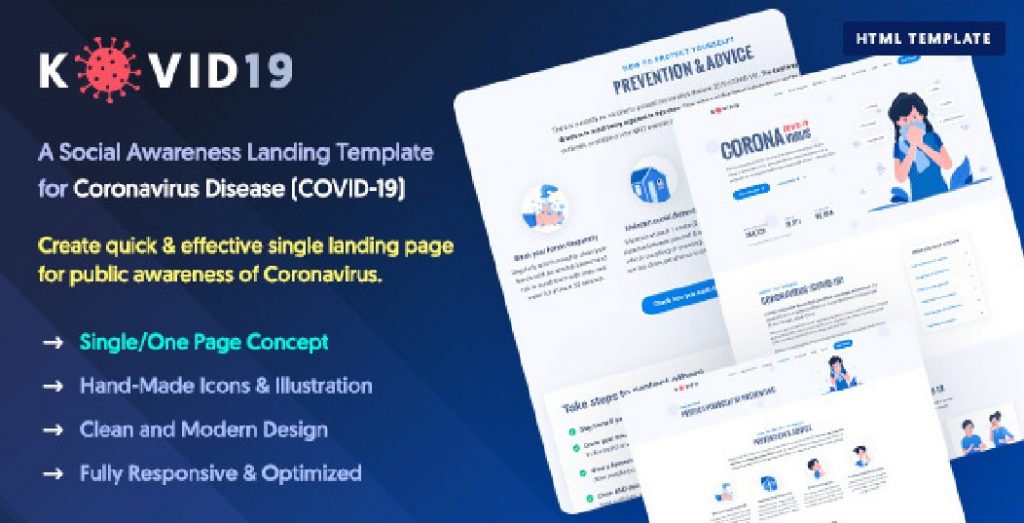 Coronavirus (COVID-19) prevention & awareness HTML template is a simple, adaptive medical theme for informing the public about coronavirus. The low price, conceptual design, and handmade graphic elements make this solution especially exciting and attractive. Besides, simple customization and elegant presentation of animated infographics make the COVID design template an ideal option for the website of any medical niche. Of the main features of one, it is worth highlighting fast loading, cross-browser compatibility, and 100% responsiveness. Besides, theme supports colour and font options, so you can customize one depending on your needs easily.
4. BeClinic – Multipurpose Medical WordPress Theme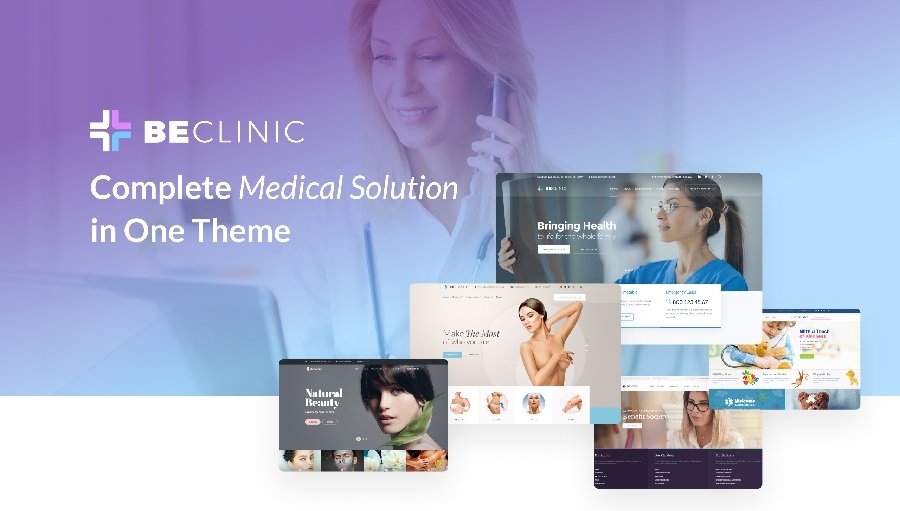 You can find BeClinic on the list of the best medical WordPress themes. This COVID design template is suitable for websites of hospitals, doctors, surgeons, general practitioners, pharmacists, practitioners, medical centers. The solution includes features such as an advanced theme panel, a call to action, a call section, custom widgets, which makes it the best WordPress solution to showcase your medical services. The layout is well structuring with a vast number of widgets. The template also equips with SEO tools, which increases the chances that your site will be able to take top positions in Google search results.
5. Magetique – Medical Equipment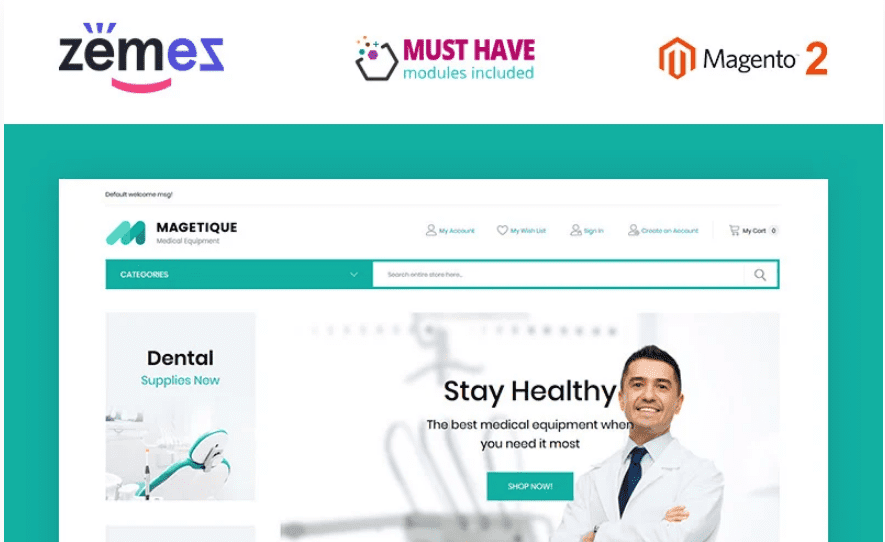 Magetique medical equipment is a flexible medical template for Magento. The theme includes content boxes, the latest news, many social icons, and other amazing features that you can familiarize yourself with a live demo without registering. Thanks to easily customizable parameters, you can personalize the template without programming skills and web design knowledge. Using this theme, you can create your functional and convenient medical website quickly. The web project also has eCommerce support, which allows you to create a complete online store with many useful features.
6. Coronavirus (COVID-19) Donation Landing Page Template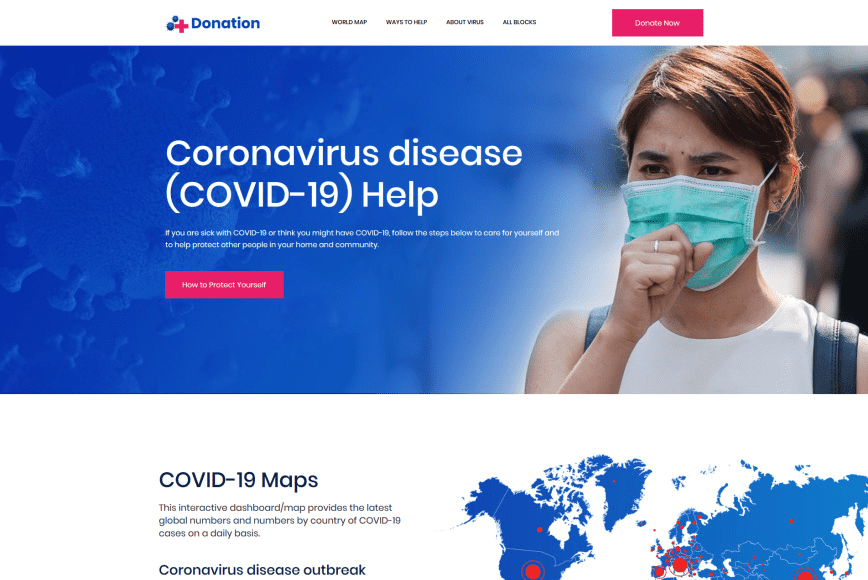 An informative and straightforward COVID design landing template for charitable foundations and organizations is not only convenient to operate, but also ideal for providing information about the spread of the virus. Animated infographics emphasize the seriousness of the situation by visualizing the data, and the bright accents on call-to-action buttons motivate you to take part in raising funds to help. The intuitive CMS control panel accelerates the launch of a web project, which is especially important in a pandemic, allowing you to focus on the quality of the delivered data.
7. Private Medical Lab Website Template for Landing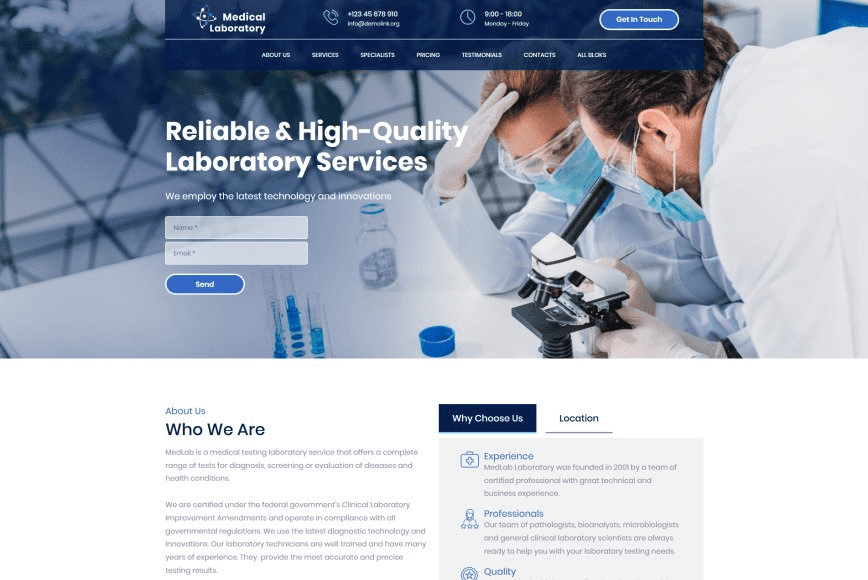 Private medical lab website template is a professional and easy-to-edit web solution that inspires confidence in your customers instantly. The contact form for feedback is highlighting on the main page, which will help customers quickly contact you and make an appointment to solve problematic issues promptly. This theme with COVID design will look great on mobile phone screens due to its adaptability. Functionality MotoCMS online builder will allow you to customize the site at your discretion by dragging and dropping interface elements.
8. Bettum – Clean Medical Elementor WordPress Theme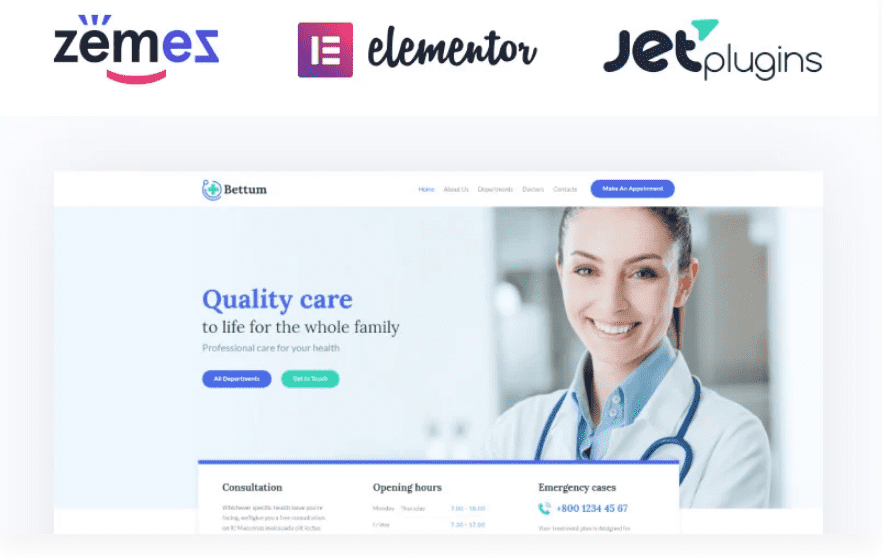 During global quarantine and constant restrictions, remote work has gained considerable popularity. Easily customizable Bettum is well suited for those who provide services remotely and advises on medical issues. The well-thought-out structure of the site and easy navigation make this topic especially attractive and user-friendly. Separate pages for describing proposes and contact forms for feedback are supplemented with gallery widgets to post your achievements and visualize your successes. The COVID design website template also has highlighted elements that emphasize your professionalism and make the web resource more attractive.
9. MedClinic – Private Medical Clinic HTML5 Landing Page Template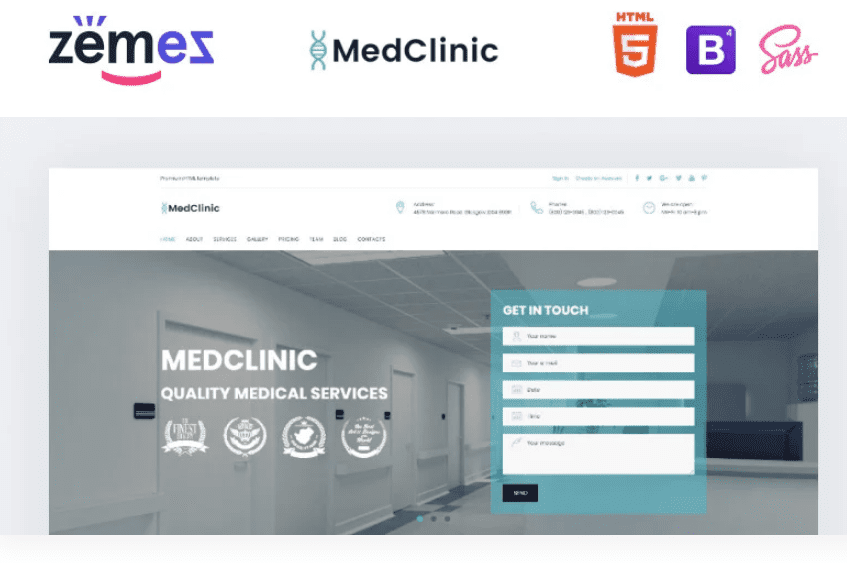 Since the topic of health is now in high demand, the site of a private medical clinic is a useful tool that will help bring your business to a new level. The minimalistic design and neutral colour scheme make a good impression. A competent structure and well-made contact forms will simplify making an appointment, an online consultation, and getting to know your services. MedClinic not only meets the current requirements of COVID website design, but it is also a ready-to-use solution, editing one does not take you much time.
10. Boutique Website Template for Fashion Store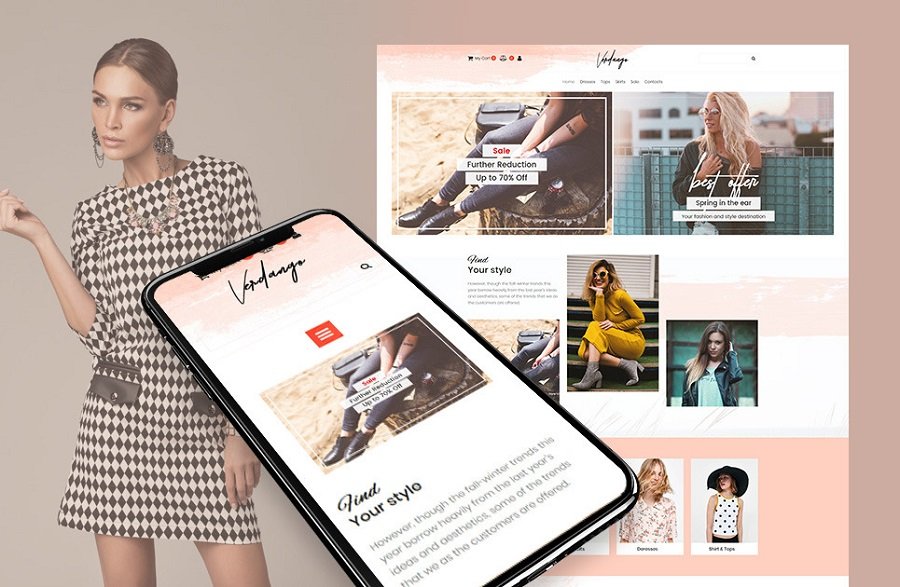 Since the purchase of things on the Internet became especially urgent during quarantine, the themes with COVID design should also include templates with eCommerce plugins for selling stylish goods and useful services. In the assortment of popular marketplaces, you will find many ready-made solutions for any of the industries. The boutique website template is a multi-page solution, cross-browser, and responsive. Thanks to simple editing and intuitive tools for working with functionality, you can create your online store in just a few days.
Answers to Frequently Asked Questions
Finally, after we figured out the current trends in web design and reviewed a selection of the best examples of spring 2021, let's look at the most frequently asked questions.
🦠 What colour scheme is most often used in designs related to coronavirus?
Visiting a medical site, users expect to see something calm to help convince them that their health will be alright. What could be more relaxed and peaceful than the classic white colour? One is excellent for both background decoration and individual content blocks. Blue is one of the range colours that influence on society from all cultures positively. This colour causes calm, confidence, reliability, importance, and carefree. No matter how much you shift the emphasis within the blue spectrum, all shades will represent a positive attitude. If necessary, you can use blotches of bright accents to emphasize elements of a call to action and emphasize them.
If you plan to design a site from scratch by yourself, then ready-made selections from leading developers will be useful life hacks.
🦠 Which of the form factors is most in demand? Templates, presentations, infographics? Why do you think so?
It is noteworthy that the form factors used in COVID design are still subject to the general influence of fashion. The most popular web design trend in 2021 is animated infographics. It is the best analog to traditional videos, as it provides interactivity with the site and does not annoy visitors. In turn, presentations, groupings, and templates are a great way to structure content without the effect of congestion on web pages.
Therefore, it is challenging to single out one form – it depends on the amount of content used, including media, and the concept of the site design as a whole. You can combine logical groupings in the form of presentations safely, complementing them with animated infographics for clarity carefully. So your site will be trendy and, along with this, informative.
🦠 Does the site template for a coronavirus theme differ in price from the usual? What cost of this?
No, absolutely! In our case, coronavirus infection is another example of a thematic niche that requires a unique approach. Only the shell of the web resource changes, but the functionality and the used auxiliary tools are the same. As with standard solutions, the price of one depends on many factors directly. Speaking of ready-made web projects where design presets, SEO tools, functional kits, adaptation for mobile devices are available by default, the price of the solution varies from the size and type of one.
So laconic landing on average will cost $30-50 for a license of one template. Multi-page site prices vary depending on their complexity. However, you can find a suitable one for $150-250 easily. Online stores usually cost the same as standard multi-page designs. Even taking into account associated costs such as installation and hosting, the price will not increase much. In any case, a comprehensive web project based on ready-made templates will cost much cheaper and faster than with developers.
🦠 Where is the most extensive collection of coronavirus designs?
Website creation with COVID design accents is the top trending trend in the industry. Therefore, probably, every well-known development company managed to release several new solutions. Thus, the number of finished projects on coronavirus directly depends on the total amount of developer works. Here, the undisputed leaders are such giants as WordPress.com, TemplateMonster, Themeforest, Wix, Squarespace, and others. To find a suitable template, simply use the search on the home page of one of the sites or browse the section of current updates. Moreover, some charity solutions are delivered free of charge, which simplifies the creation of a web resource significantly!
Please take a moment to pin this post to Pinterest