Book Clipart. If history is any guide, one day Cicero said "A room without books is like a body without a soul".
Maybe this is exactly what you are looking for your "WEB room": website, blog, advertising, letter, logo, etc. Or maybe you need ideas for the sign of the stationary building of your bookstore or maybe you want to prepare a Flash-presentation?!
In any case, you somehow got on this article from our blog. Therefore, we are glad to present to you the huge Book Clipart selection divided by main criteria. There is no unique classification of types of clipart, everything is individual and depends on the author.
But we hope that we will be able to facilitate your daily design work so as not to draw a new picture each time or just help you to get some ideas. You are welcome)
Book Clipart for All Occasions
Books flat vector illustrations set stock illustration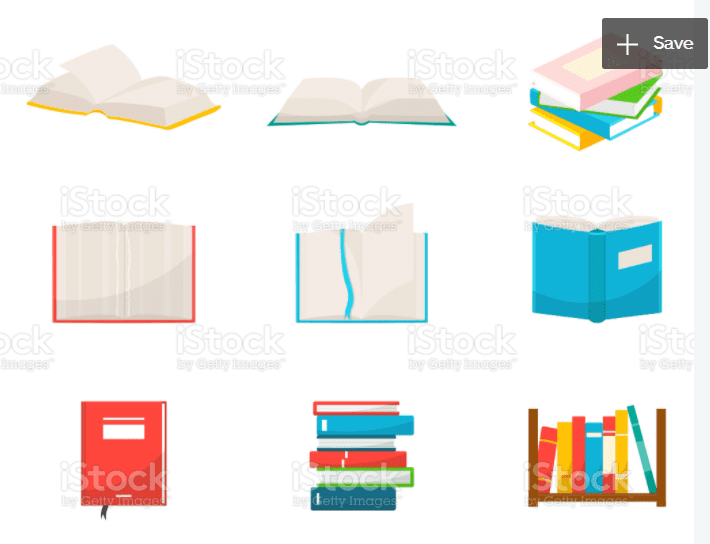 Price: $9.99
Graduation cap and books. The concept education. Stack of books, stock illustration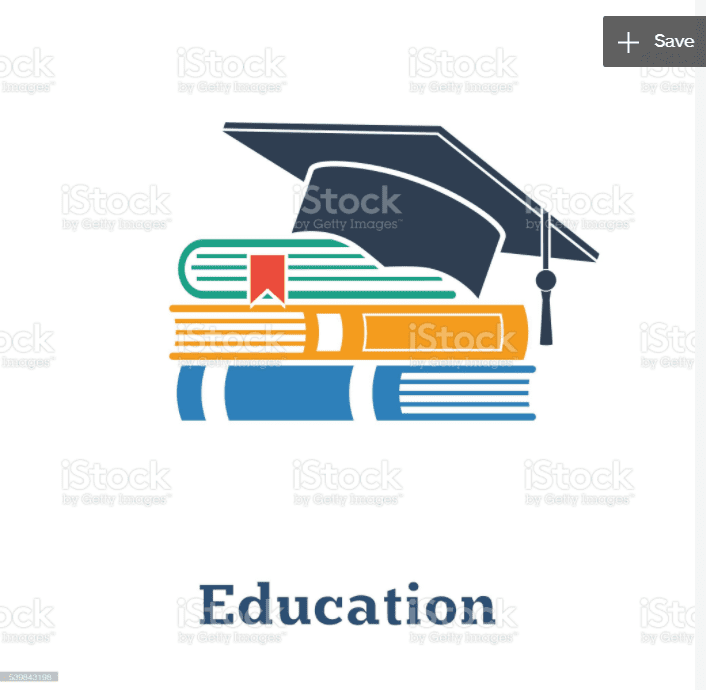 Price: $9.99
Genres of books color line icons set. Collection of all genres in literature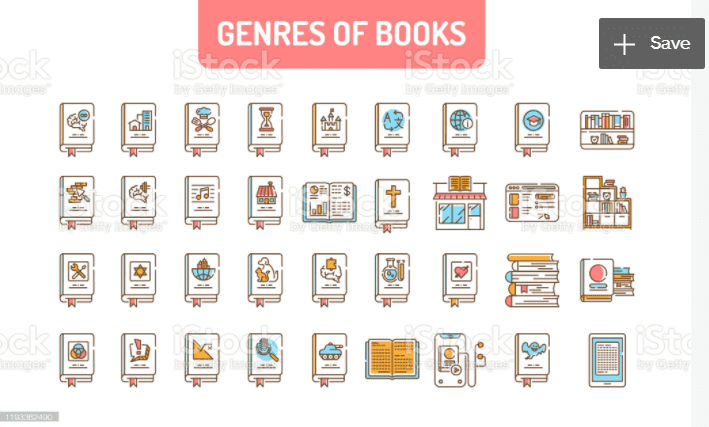 Price: $9.99
Education concept tree with books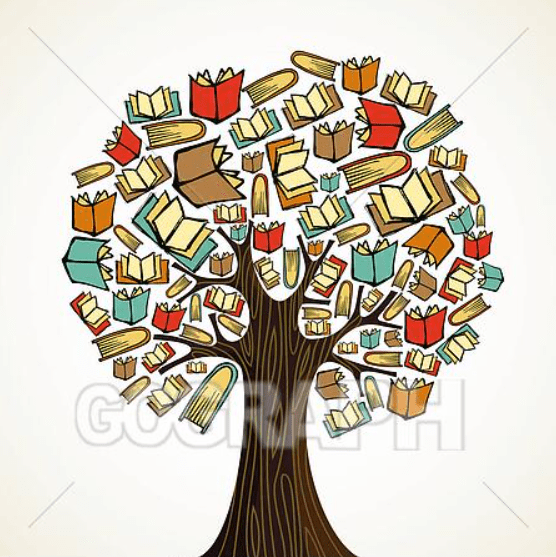 Price: $3 – $12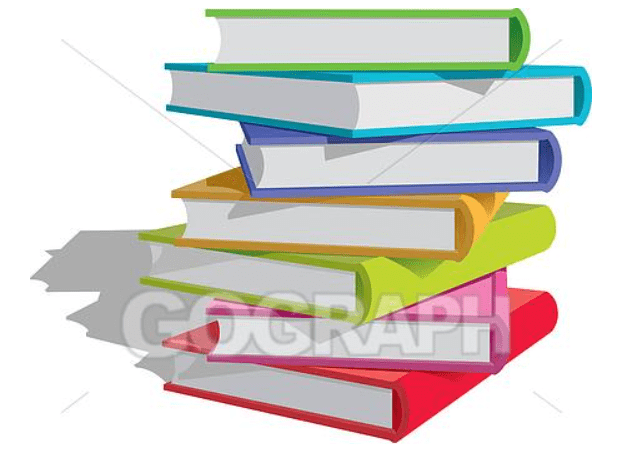 Price: $3 – $12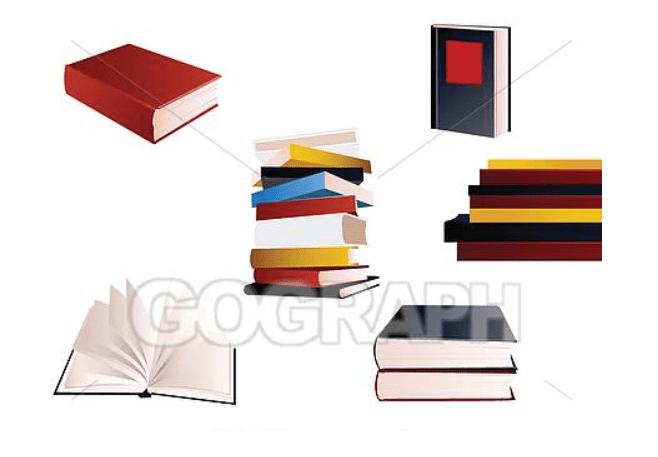 Price: $3 – $12
Bibliophile: watercolor books by Winged Graphics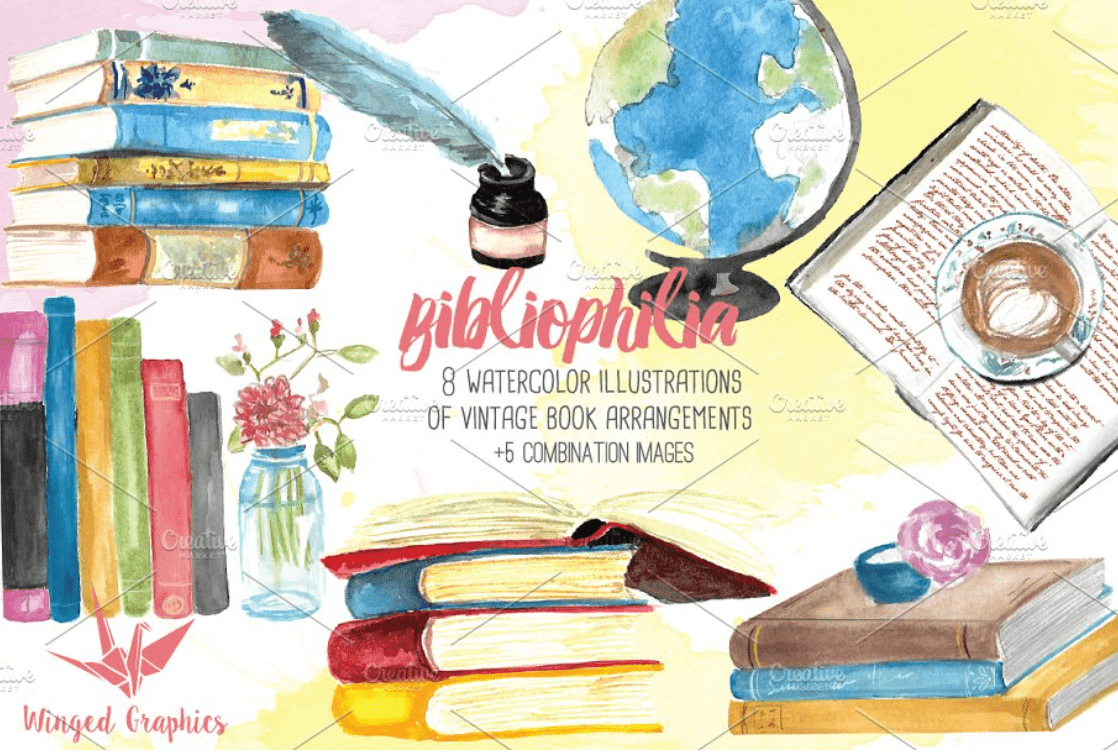 Price: $12
Watercolor Books Clipart by DigitalArtsi
Price: $8
My Bookworm Life Clipart & Patterns by Tanya Kart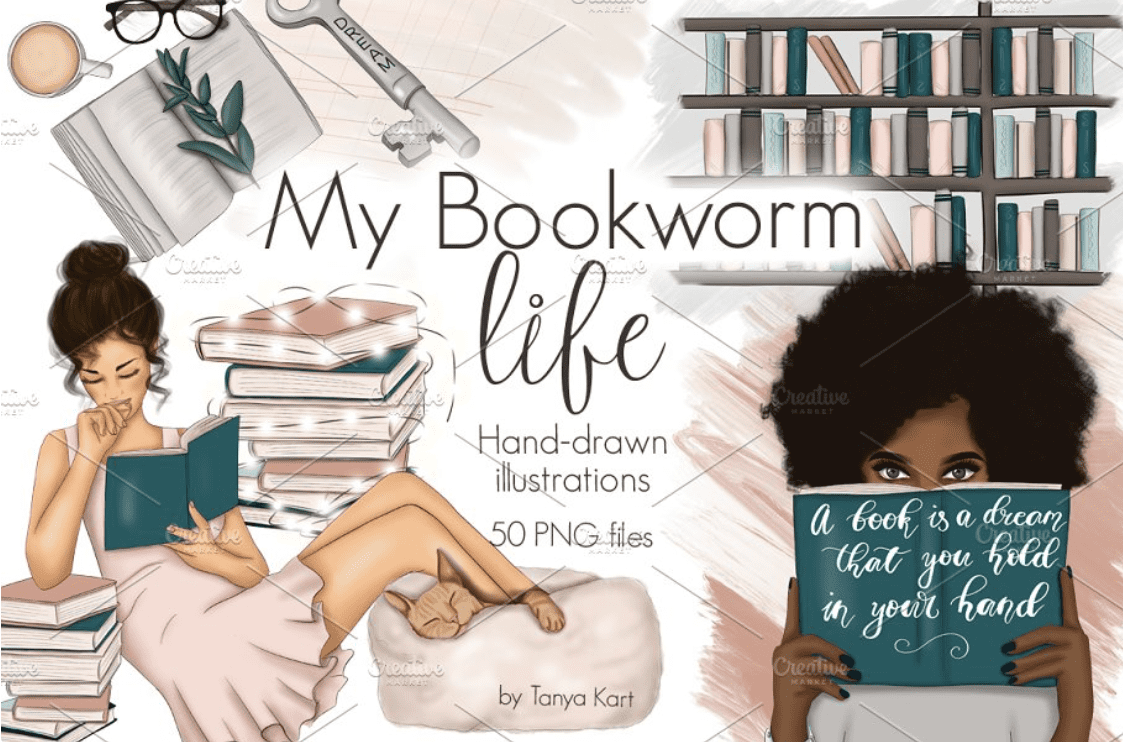 Price: $15
Book, Book Club, I Love Books by Mia's Graphic Design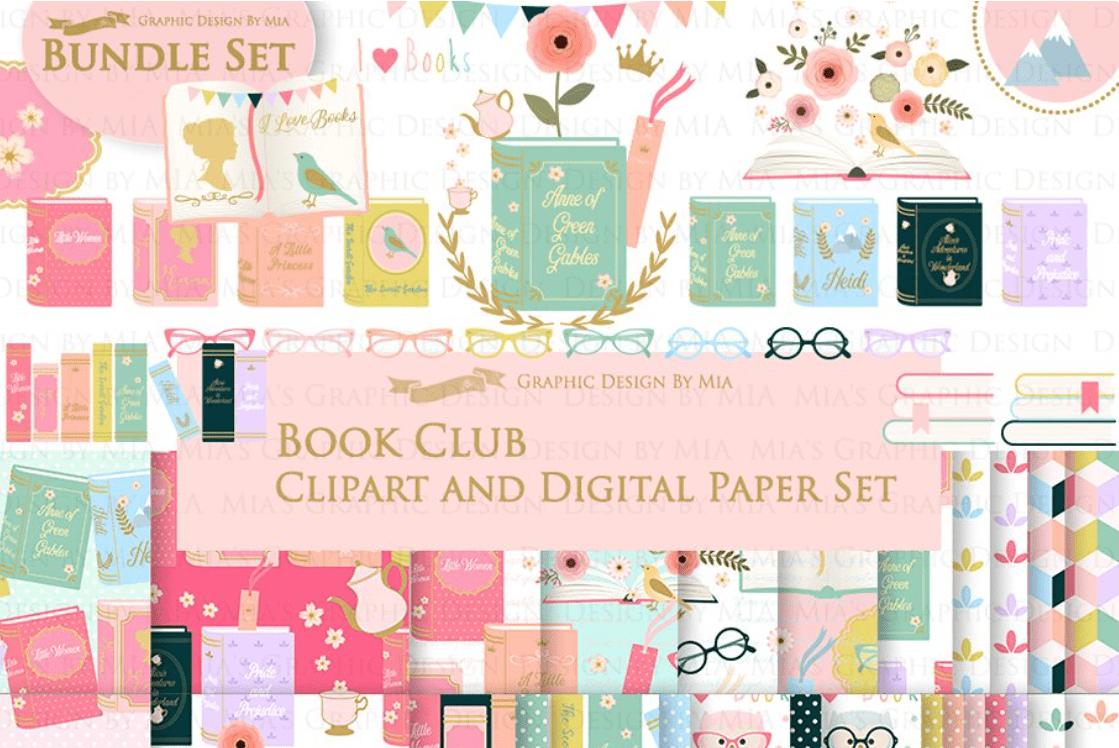 Price: $26
Top 10 Most Creative Book Clipart Graphics for Your Inspiration
Clipart in the modern sense is an element of design. It can be presented as a set of pictures, or a separate image. If you need to make the design of any printing products (invitation cards, website design, brochures, banners, magazines, and etc.), clipart will add more "cartoonish" look to the page. In simple words, this is a collection of illustrations on a specific topic (flowers, emotions, animals, business, and others) which are used for various design purposes.
Created by artists and illustrators, clipart is a good basis for a quick design of your own projects. Compared to the stock photography of a rectangular shape, clipart can easily fit into the text and allow the designer to create more interesting and attractive pages.
Visuals are an important part of any marketing program. As an author, I am sure, you have run into the need for book clipart to use in your promotional materials. Give a magical feel to your page with the following 10 most creative book clipart elements. Think about your target audience and choose the best variant for your project.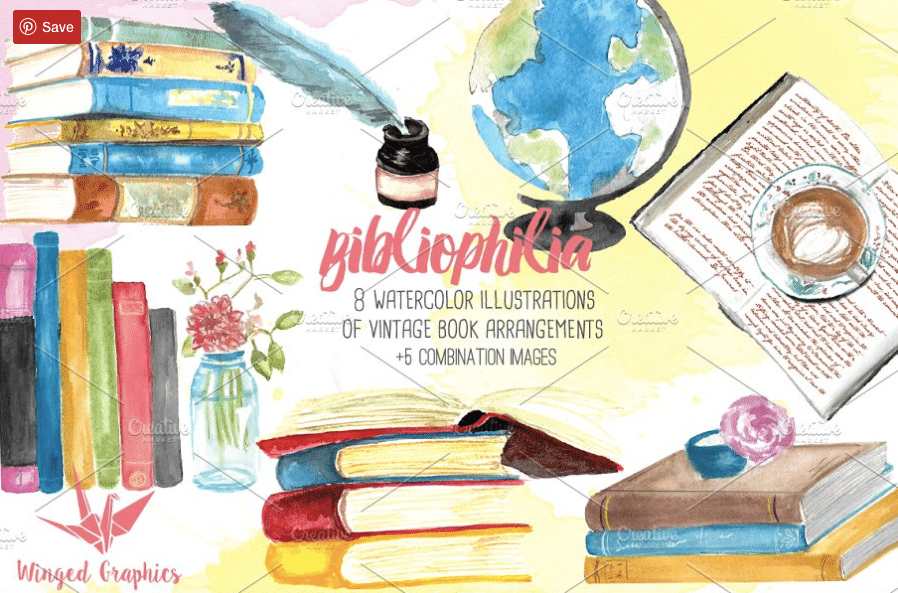 Meet digital watercolor illustrations clipart – watercolor books and writing supplies. The set includes 7 high resolution 300 dpi transparent background PNG images. Each element is about 3″x5″ to 11″x11″ if printed at its original size. The package provides designs and illustrations for immediate use by designers and artists. Authors with strong brands get more influence in the literary world, so you definitely want to brand well. Choose Bibliophile to stand out from the crowd of competitors!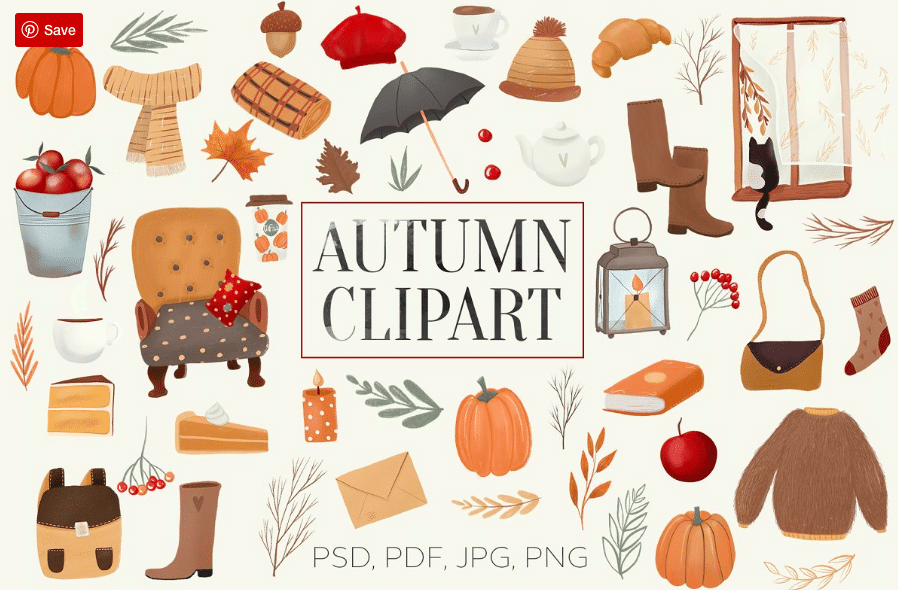 Fall clipart includes 50 hand-drawn elements. The package is ideal for invitations, greeting cards, wedding invitations, photos, planners, and much more. ZIP-file will include 50 PNG files with transparent background, PSD/PDF/JPG files with all elements, 3 PSD/JPG files with cards, 2 PSD/PNG/JPG files with seamless patterns. Use your fall favorites to add an eye-catching look to your book project. Fall clipart is an excellent solution for perfecting your web page or graphic.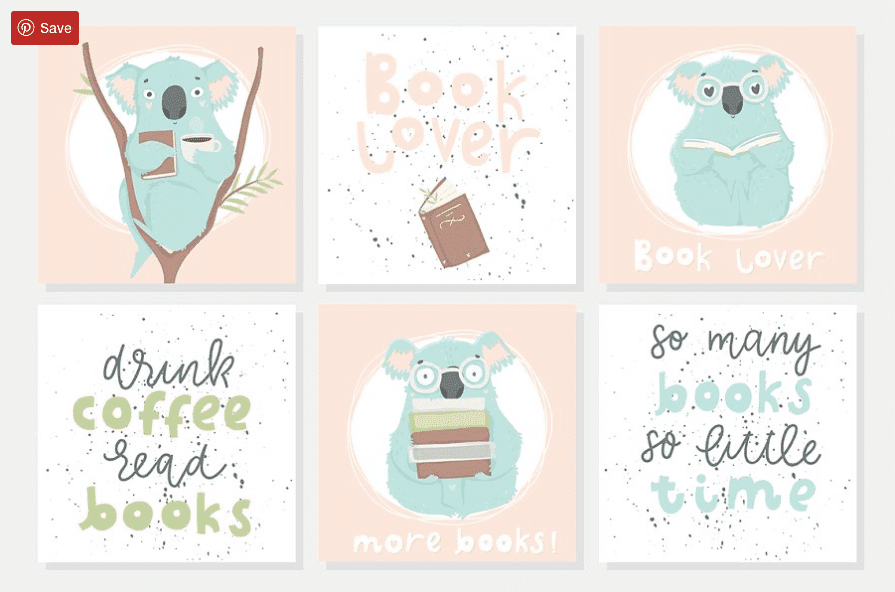 You will fall in love with this cute koala! The package includes 10 koala character illustrations, 6 ready to use cards, 2 patterns, 10 words and phrases about books. This collection is perfect for greeting cards design, nursery home decor, stickers set, printed paper items, blog, web design, graphic design, and much more. All elements are hand-drawn so you will never go wrong if you choose Koala illustration set.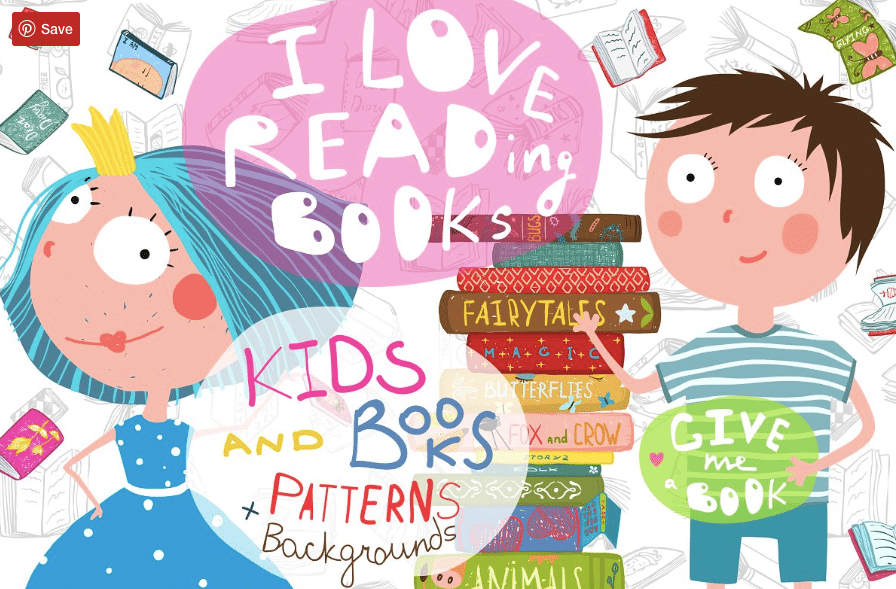 If you are looking for hand-drawn books, reading hobby and library-related images with a little girl and boy characters, this huge reading bundle is for you. Patterns, ready designs, backgrounds, separate items on transparent background for your design include EPS10, JPG, and PNG files. All the files are created in Adobe Illustrator. No doubt, your readers will enjoy these cartoon clipart images.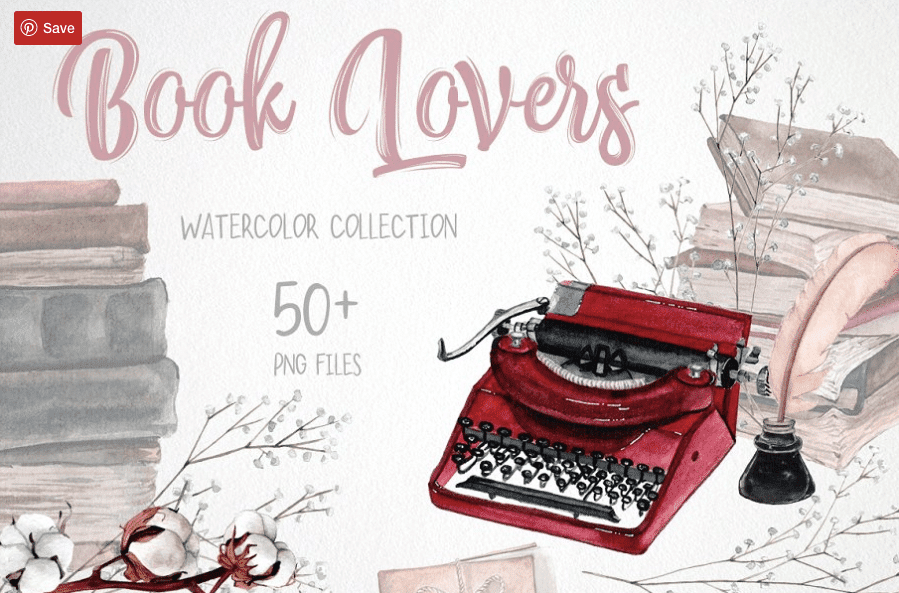 Book lovers should not miss this attractive watercolor set. Use it for scrapbooking, greeting cards, invitations, wrapping paper, textiles, and etc. These wonderful, inspiring illustrations include PNG file with a transparent background and a high resolution. The package comes with 31 PNG high-quality files with individual elements, 3 PNG high-quality files with pre-made compositions, 6 PNG files with seamless patterns + 11 color variations in JPEG (5000×5000 px, 300 dpi, RGB, transparent background). Reflect the beauty of antique books with this vintage books illustrations.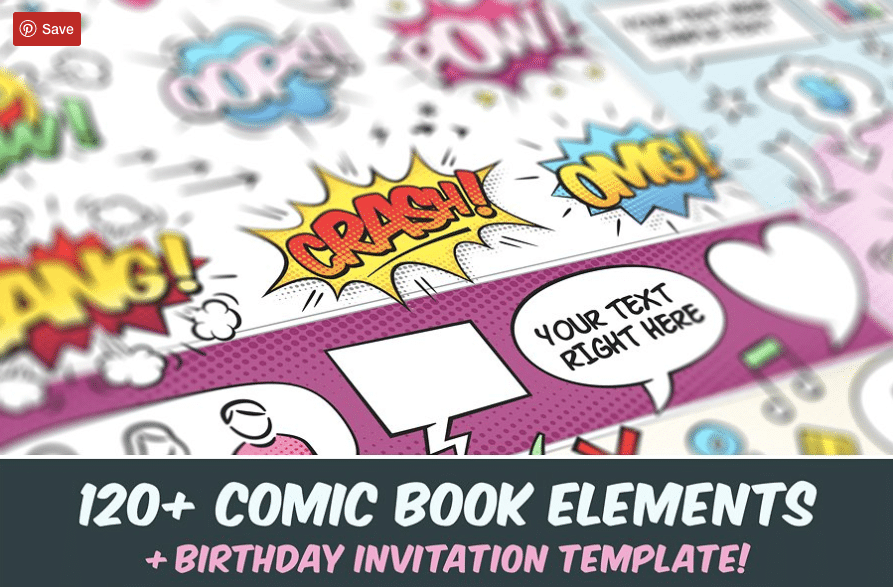 The next great solution is comic book elements and speech bubbles, along with a bonus template suitable for birthday invitation cards or other kids events. Are you curious about what is inside? All the objects within vector files are grouped and layered. File format EPS8 can be opened in all the common vector editors. The smallest objects are about 500×500, and the largest ones are around 4500×5500. Invitation template is in three different formats: Illustrator CS1 (.ai) with text paths in the speech bubbles, Illustrator 10 (.eps) with blank speech bubbles and a JPG (4675×6000 px) with blank speech bubbles. Set the comic mood with the help of these beautiful elements.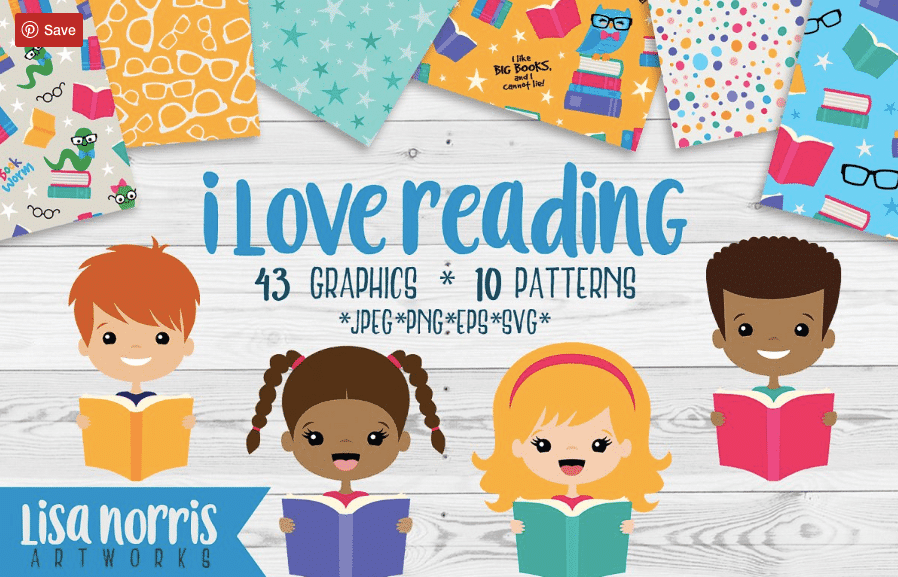 Decorate your fabric, home decor, scrapbooking, paper crafts, and child/school related products with beautiful book clipart. The package consists of 43 graphics and 10 seamless patterns. Moreover, you will find 2 seamless border patterns as a bonus. Created by a talented artist and illustrator who loves to create cute graphics, this set will become your win-win variant to brisk the project.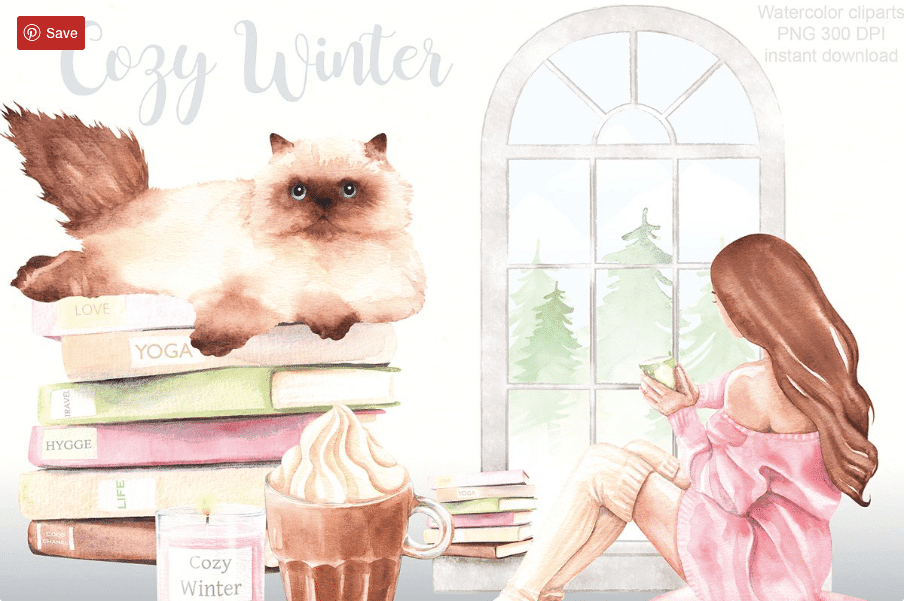 If you are still in search of cozy winter clipart, fashion girl clipart, hygge, watercolor cat, winter graphics, you have just found an excellent set. Every design element is so cozy, and you will definitely like them. The package is perfect for Christmas stationery, invitation card, website, book, fashion blog, label, scrapbooking, and etc. You will get 1 ZIP file which includes 17 PNG files of high definition, RGB, 300 DPI, transparent background. The size is 8"x 8". Drawing has always been the author's favourite means of expression, and a catalyst for emotions. Download this winter clipart to dive into the atmosphere of warmth and coziness.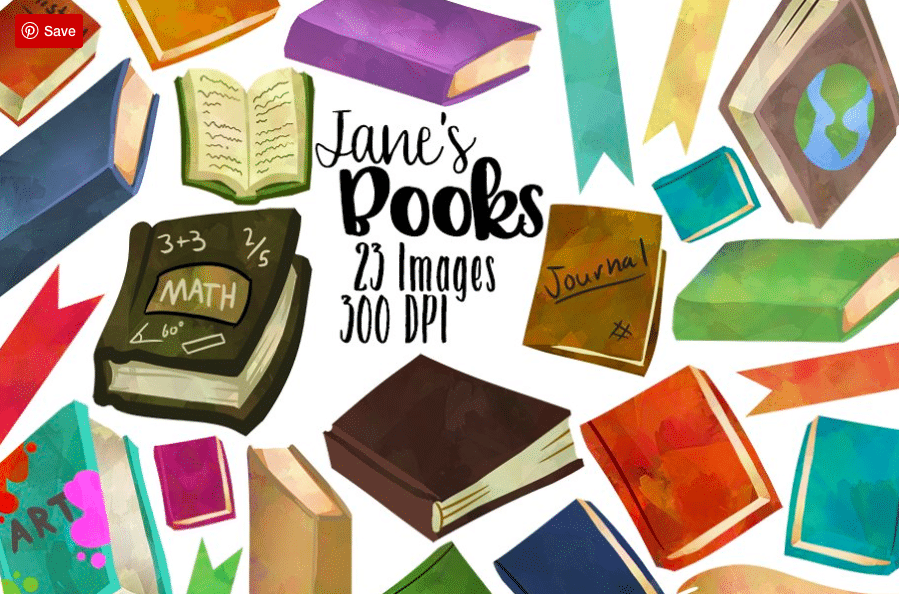 The next wonderful product Watercolor Educational Books Clipart will definitely help you in your own creative ventures. 1 ZIP file with 23 transparent images of 300 DPI is included in the package. The graphics are fun and eye-catching, so you will stay trendy when you are assembling your web page. Think about what exactly appeals to your audience to make the right choice.
"Book, Book Club, I Love Books" is a quality book-related clipart by Mia's Graphic Design. The set will come with 111 Clip Art Images (59 Books) 0.87" (2.2 cm) – 12.33″ (31 cm) in size and high-quality PNG format with a transparent background (300 DPI). High quality 28 patterns in 12″ x 12″ (30.48 cm X 30.48 cm) in size and JPEG format (300 DPI) will help to better reach all the people who need to read your words. Try this digital paper set to enhance your project.
Book clipart is an excellent solution when you need to save time and effort, and get your project done on time. Being a composite object, you can "break it down" into components, edit its elements separately, create compositions from the elements taken from different cliparts. There is no need to search anymore. A beautiful selection of 10 interesting and inspiring book clipart elements is collected in this article. Choose the best one for your project and do not be afraid to be creative!
Black and white Book Clipart
Open Book Icon on Black and White Vector Backgrounds stock illustration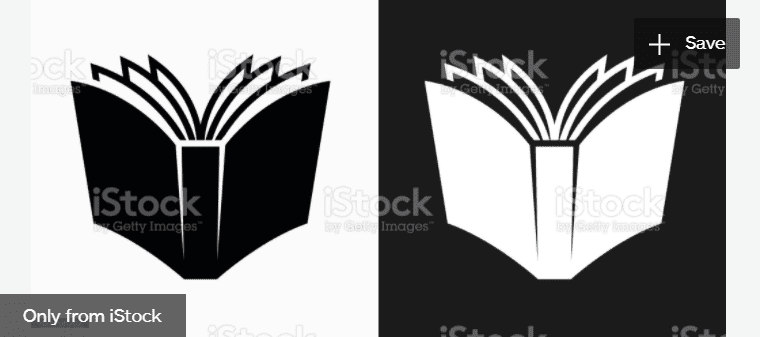 Price: $9.99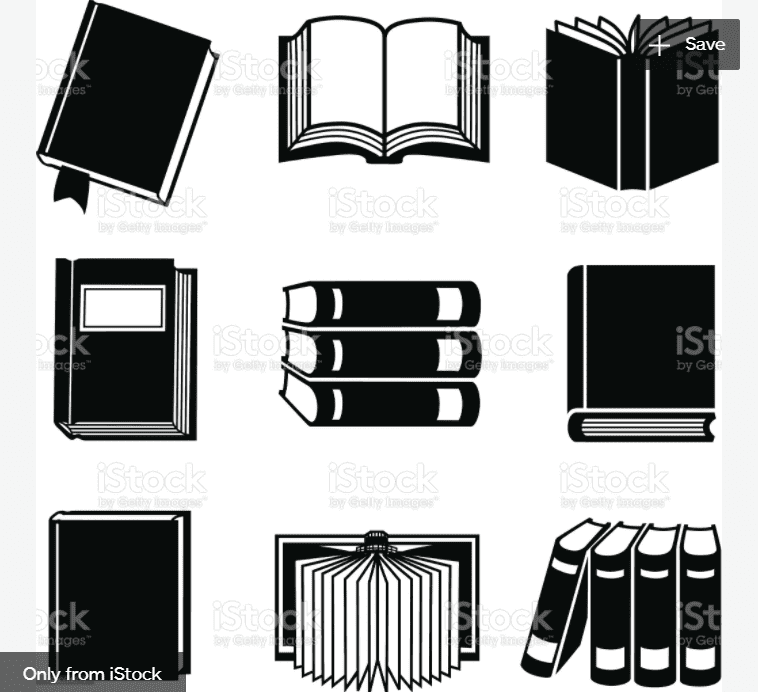 Price: $9.99
Book icon set stock illustration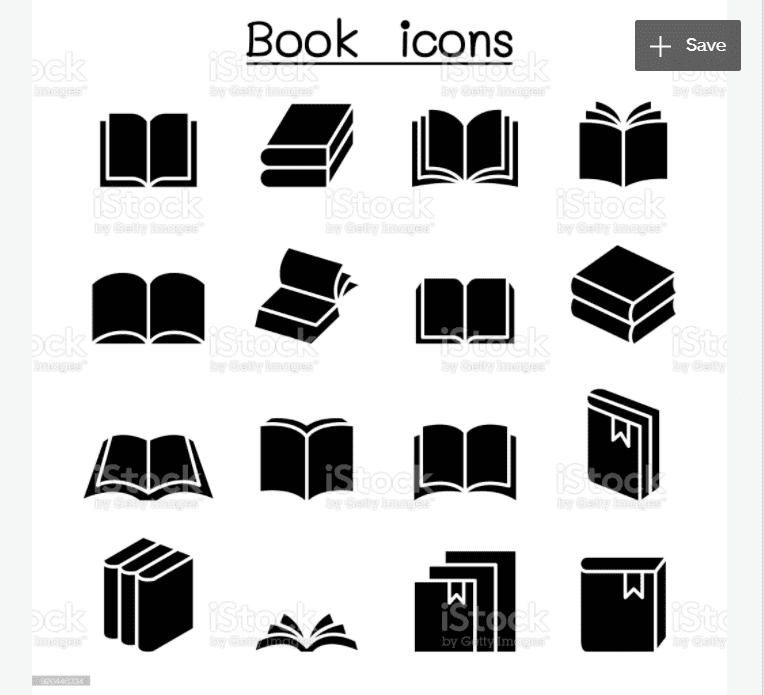 Price: $9.99
Stack of books sketch engraving vector illustration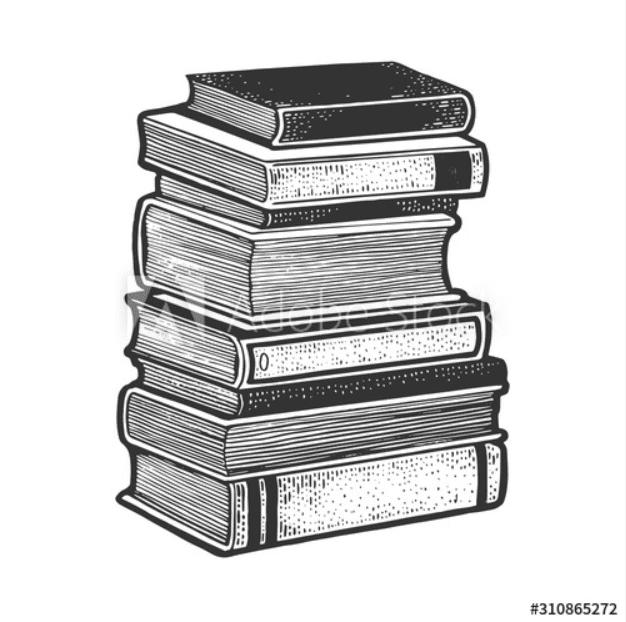 Price: available with Adobe Stock subscription
Open book vector clipart silhouette, symbol, icon design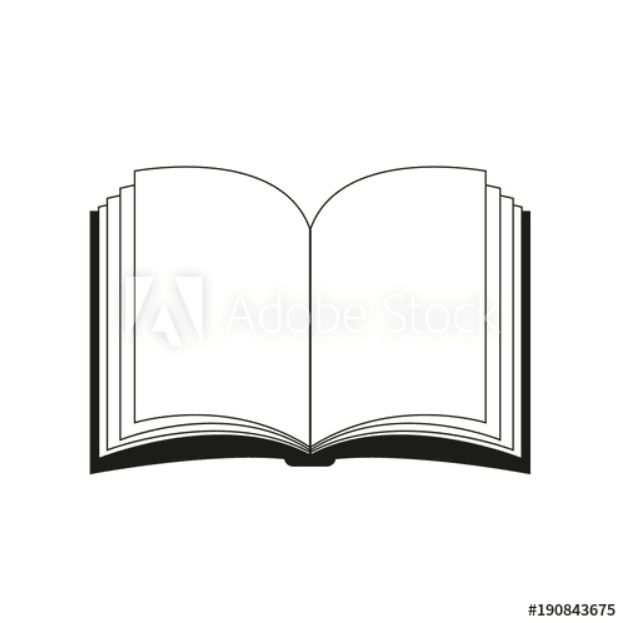 Price: available with Adobe Stock subscription
Book icons set in thin line style, isolated on white background, vector illustration

Price: available with Adobe Stock subscription
A collection of books sketches.Various books in vintage style. Hand-drawn vector design elements. Clipart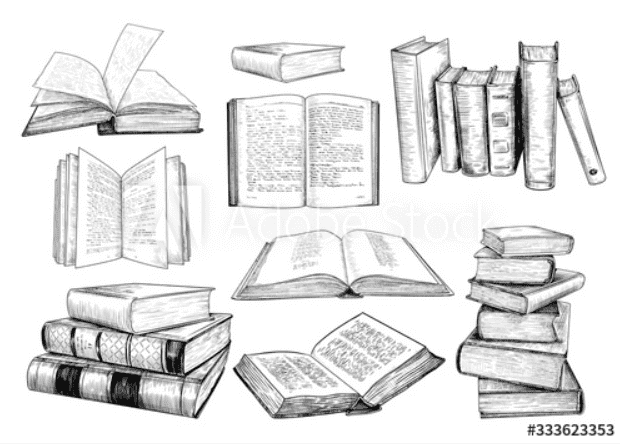 Price: available with Adobe Stock subscription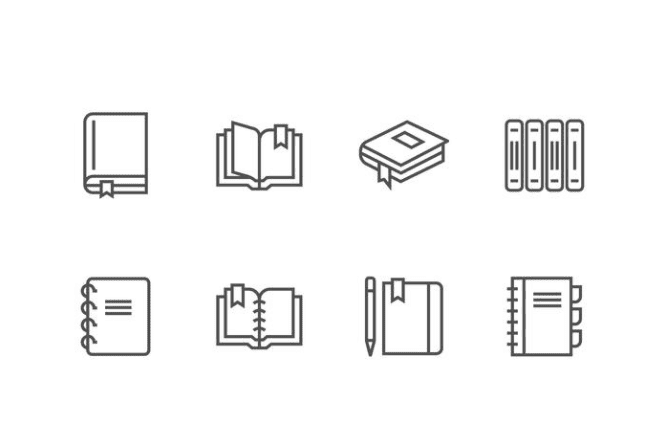 Price: available with Vecteezy License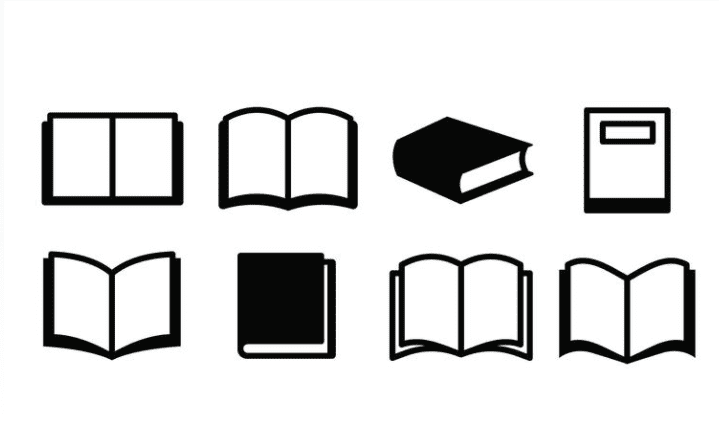 Price: available with Vecteezy License
Hand drawn books vintage open and closed doodle vector image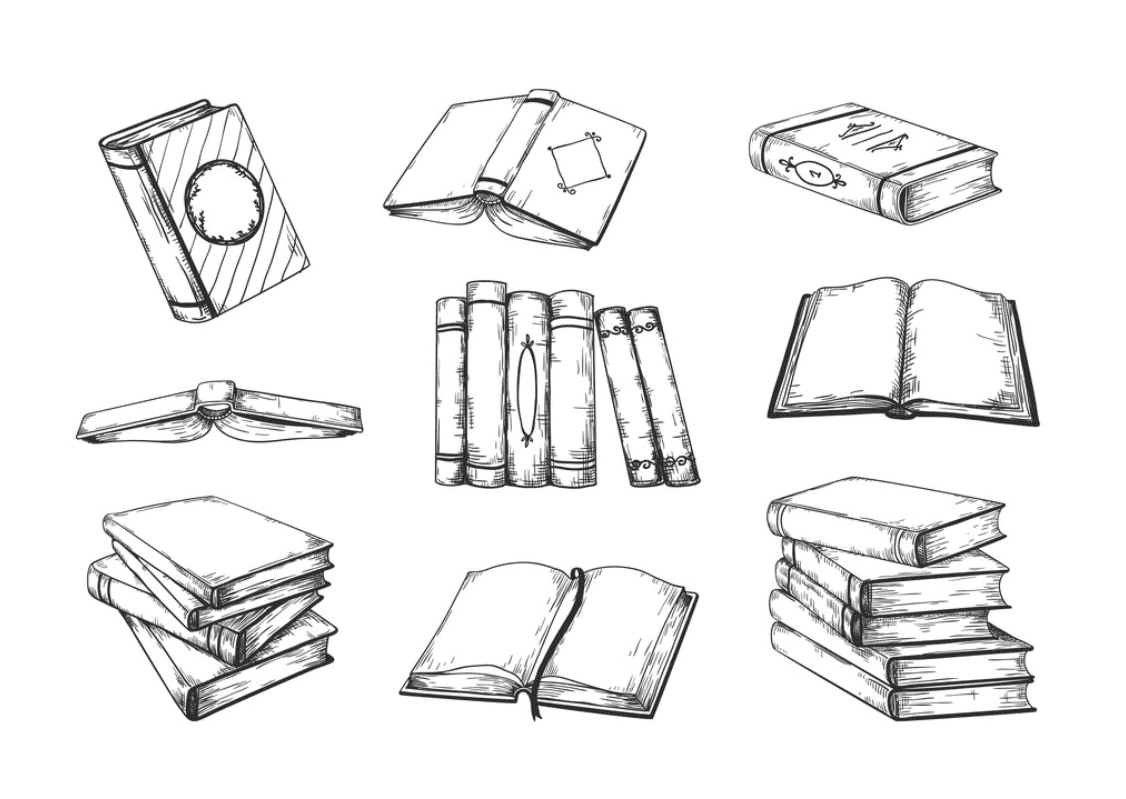 Price: $14.99
In the era of Instagram and its filters, we are accustomed to look at the world in the most vivid and multi-colored frames. But sometimes you need to remove distracting colors to see the true merits of the image. Black and white is a classic, is always stylish, is always elegant! You can not go wrong with black and white art style! Find the most beautiful black and white book clipart on this list:
By the way, do you know that one of the most debated issues about color is "Are black and white colors"? And what do you think about this?
Transparent Book Clipart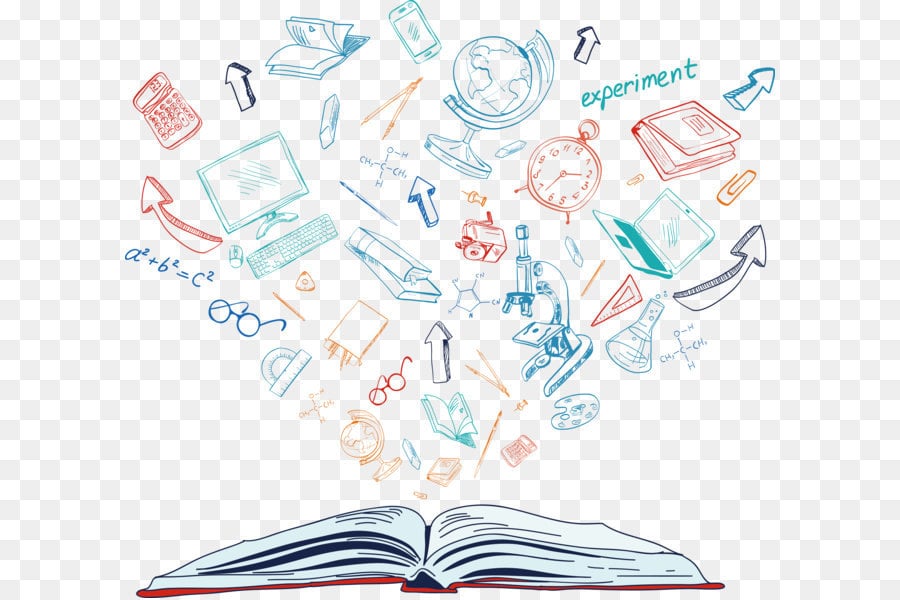 Experiments with transparency can significantly improve the design. Like many other effects, use this technique in the right place and check the result to make sure that the transparency works and looks like you wanted.
Kids Book Clipart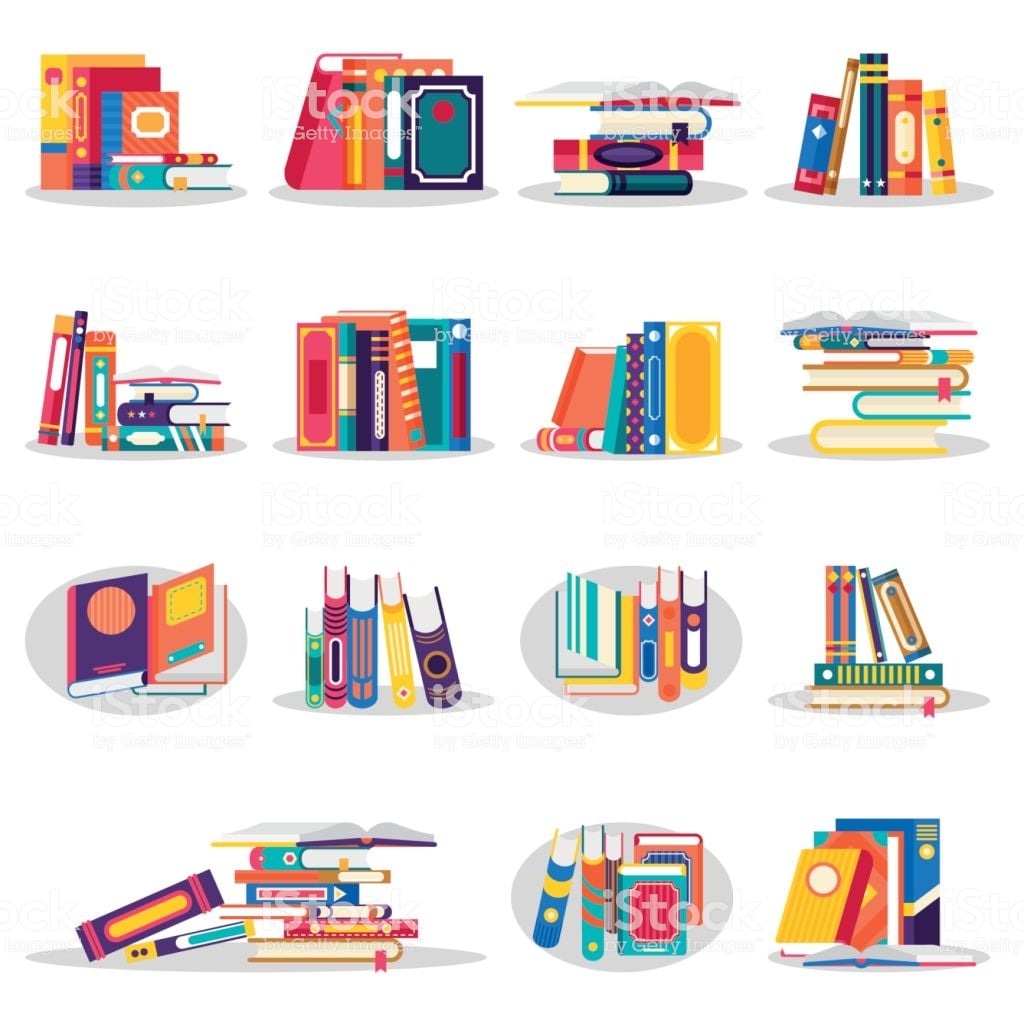 Colored books icons set in flat design style isolated. Open book with bookmarks. Concept for education and study back to school, knowledge, e-book. Vector illustration.
Children are the flowers of our lives, are not they? Therefore, we must do everything possible for them to be happy. After all, the books that we read in childhood influenced us so much thanks to memorable pictures with our favorite characters. Bright childhood and colorful pictures develop imagination. There is no universal recipe for a perfect illustration. But there are two rules that allow you to create attractive drawings for children. First, the children's illustration should be contrasted. And second of all, the composition should be clear and well designed. If a kids theme clipart is what you are looking for – you need to come here:
Cartoon Book Clipart
This kind of clipart is also suitable for use in the previous "Kids" type, just more cartoon characters are used. And to be honest, now a lot of adults are cartoon fans too. It is a more focused sphere, but also more original. This is the perfect decision for creating collages or posters and decorating sites on relevant topics.
Children education Premium Vector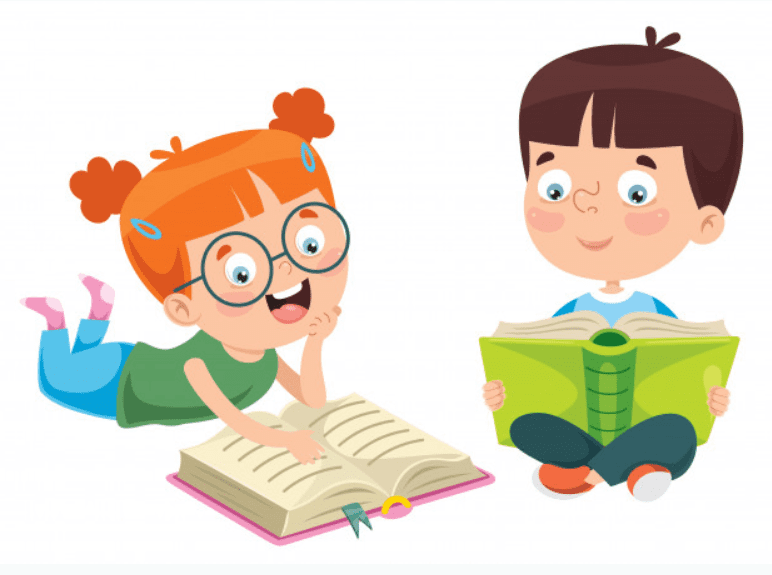 Price: available with Premium Freepik License
Children reading book various actions Premium Vector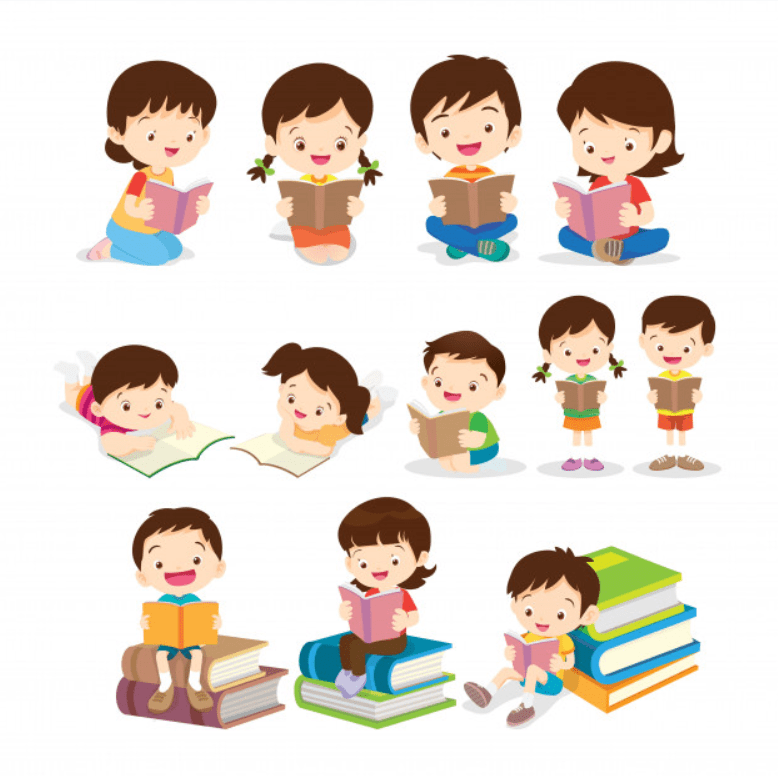 Price: available with Premium Freepik License
Flat books set. Book school library publishing dictionary textbook magazine open closed page studying vector collection stock illustration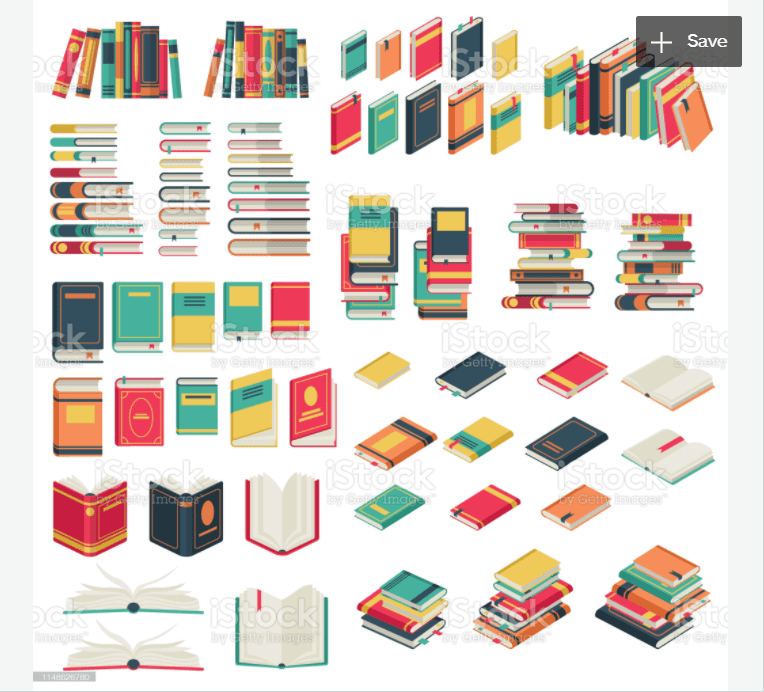 Price: $9.99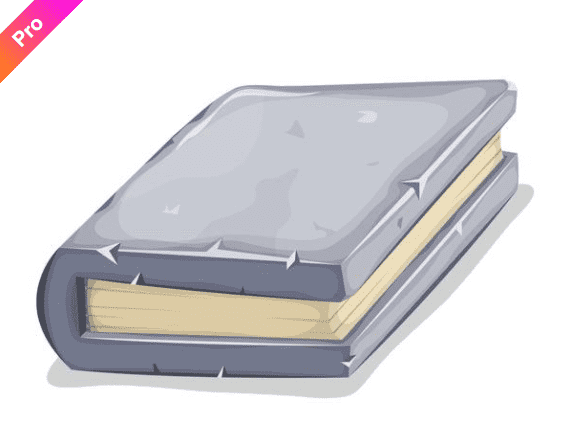 Price: available with Vecteezy Pro License
Set of colorful books on shelves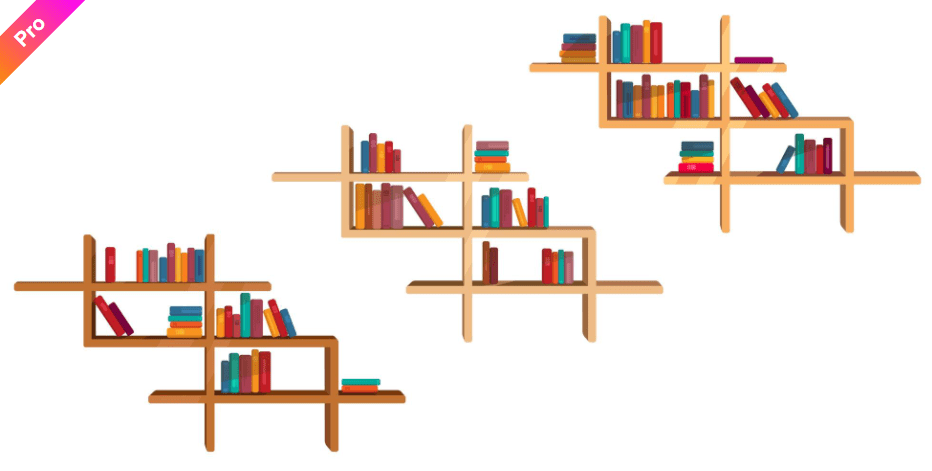 Price: available with Vecteezy Pro License
Book with fairies flying in garden vector image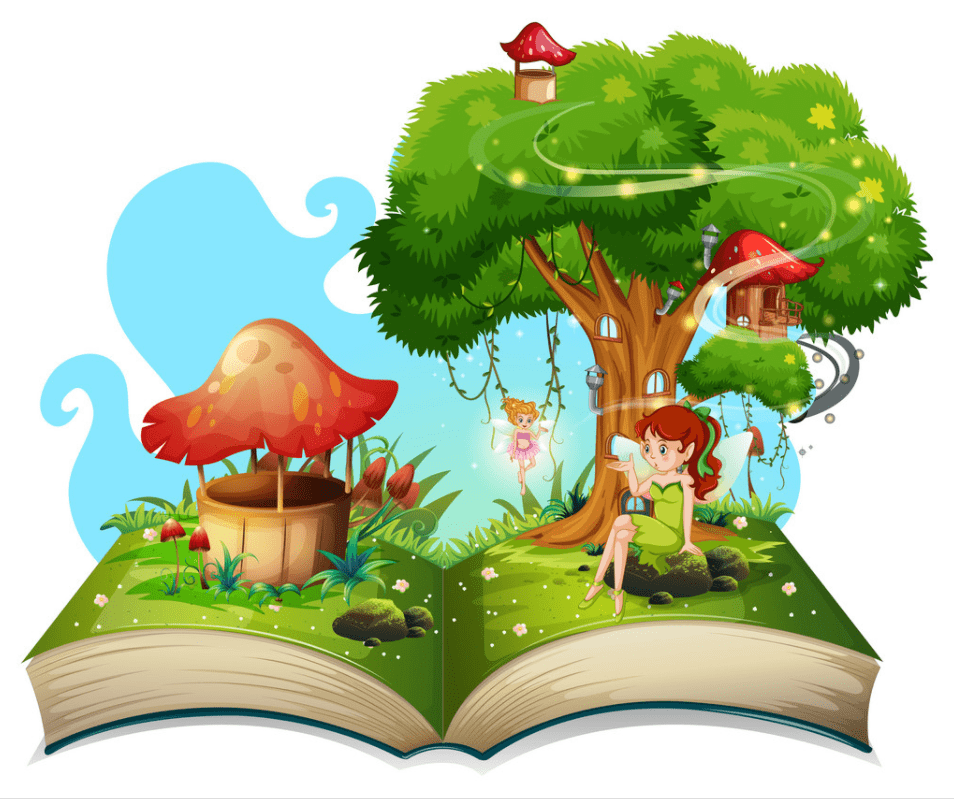 Price: $14.99
Kids reading books vector image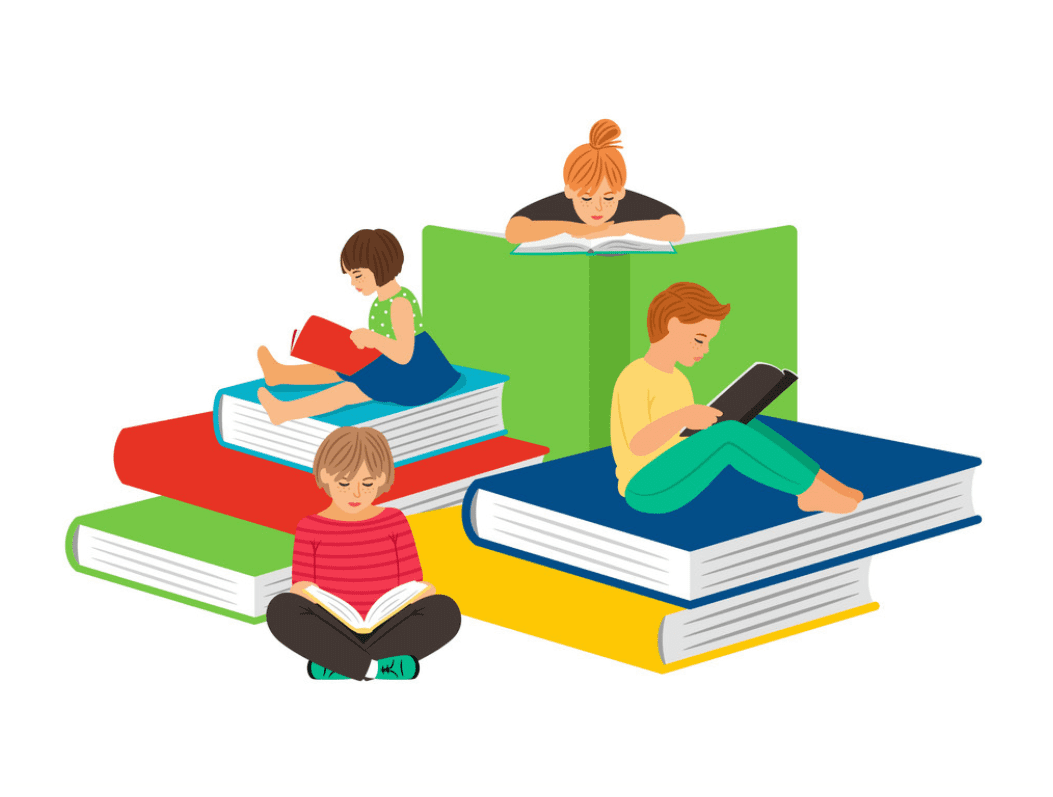 Price: $14.99
A boy reading a book vector image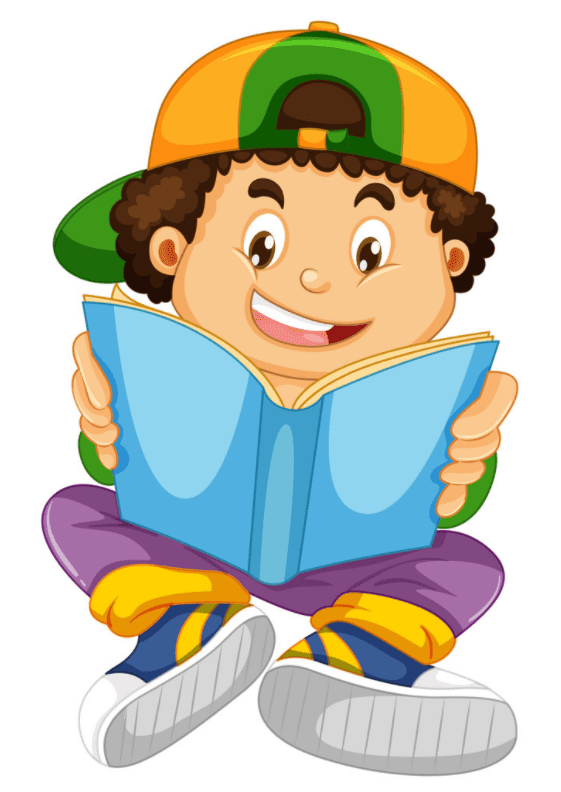 Price: $14.99
Pop up book space scene vector image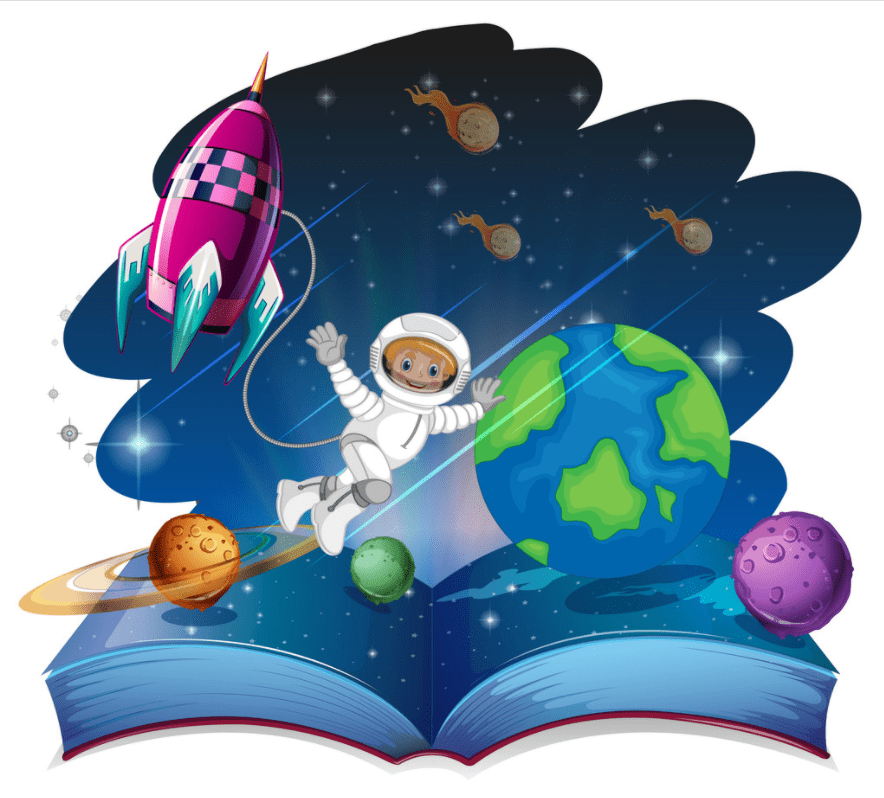 Price: $14.99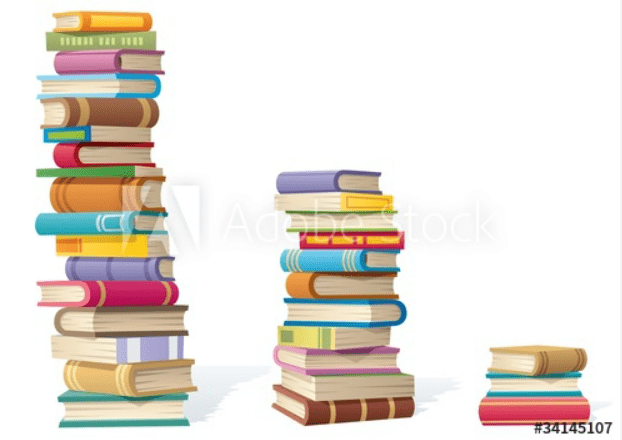 Price: available with Adobe Stock subscription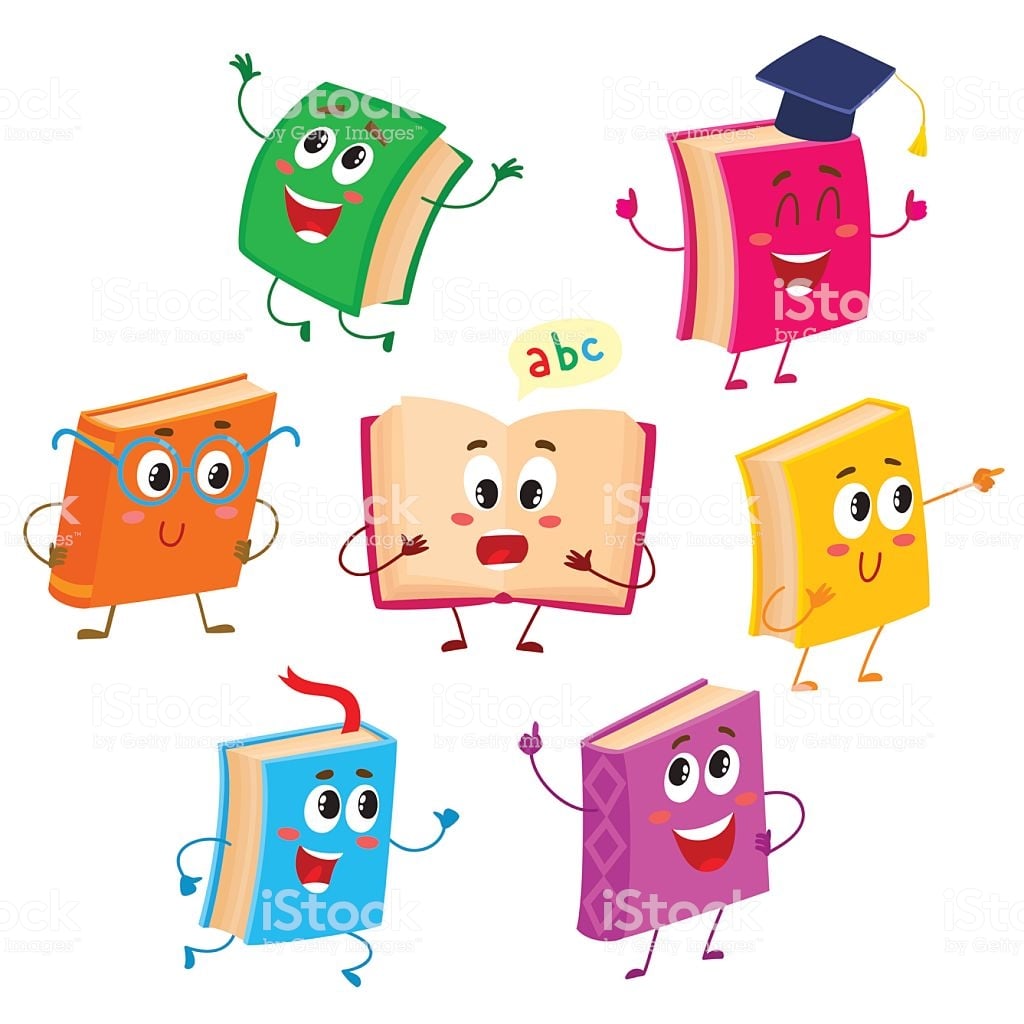 Set of funny book characters, mascots, cartoon vector illustration isolated on white background. Humanized, childish books with smiling faces, arms and legs, school, education concept, design elements
Library
Libraries … For most people, this word causes at least nostalgia. After all, today all the information and any book you can get in one click, sitting on the couch. Therefore, libraries are faced with the task not of organizing the interaction of readers and books, but of establishing a connection between space and learning. To create a "place" where you "gain knowledge". Because sometimes it is so hard to concentrate… This concept was suggested by Scott Bennet in order to save the buildings of huge libraries, which every year lose their value and become unnecessary.
Logo
We often have cases when clients apply for the development of layouts already having their own logo. It just crumbles when we start working with it. Our advise: a huge number of objects put into one, do not forget to remove garbage from the file (transparent layers or some inconspicuous points) and carefully with the effects. And we offer you to find the right book for your order logo here:
Vector Book Clipart
And last but not least. Vector graphics. To summarize, we chose to consider it in the end. Vector graphics have many advantages. Unlike raster images, vector images are more flexible, easily scaled, maintain quality, etc. Below is a selection of web resources with vector book clipart for personal and commercial use. Enjoy!
Free Book Clipart
Little boys turn pages great book Free Vector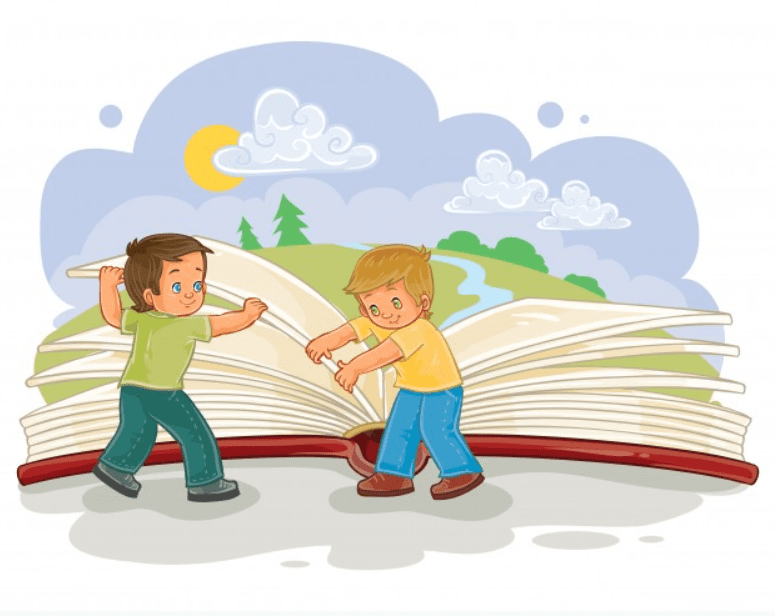 Set of different book Free Vector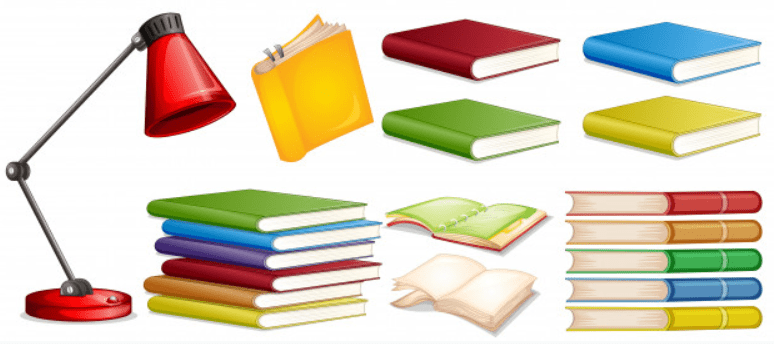 Modern school education and knowledge concept Free Vector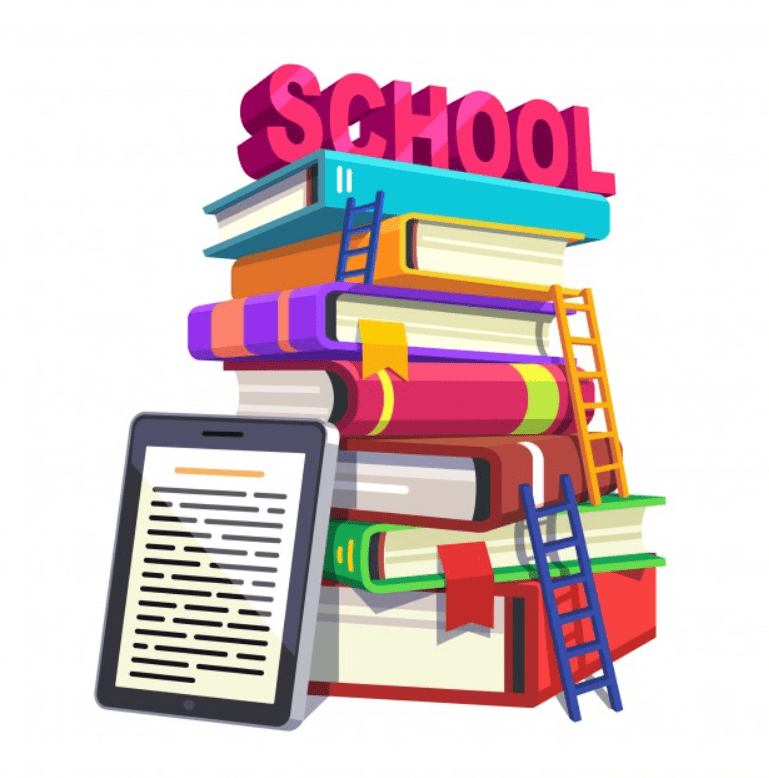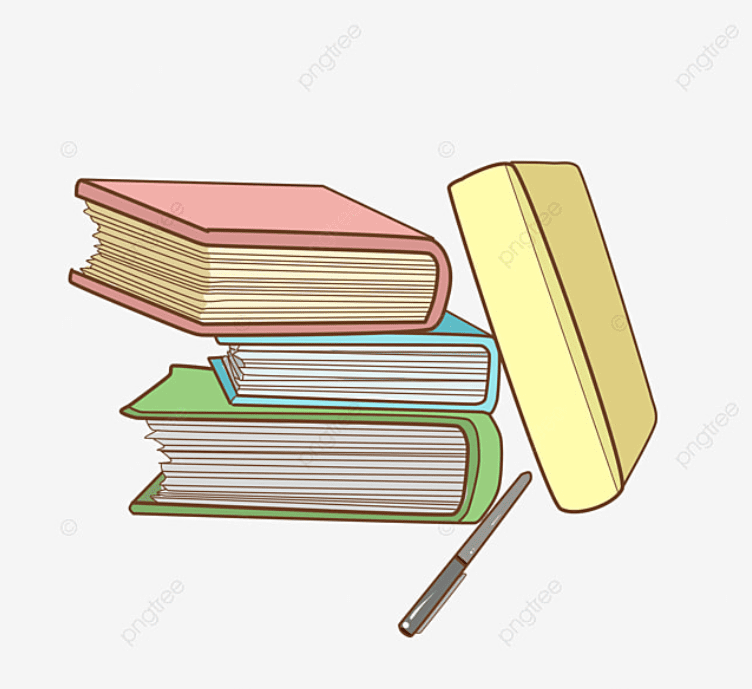 Pile Of Books Free PNG and PSD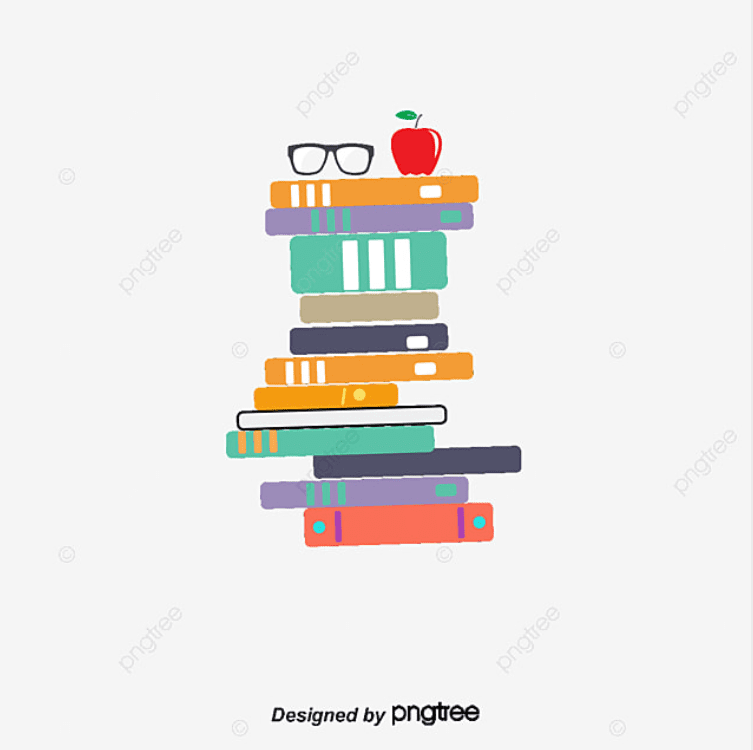 Books Pile Of Books Books Color Free PNG and PSD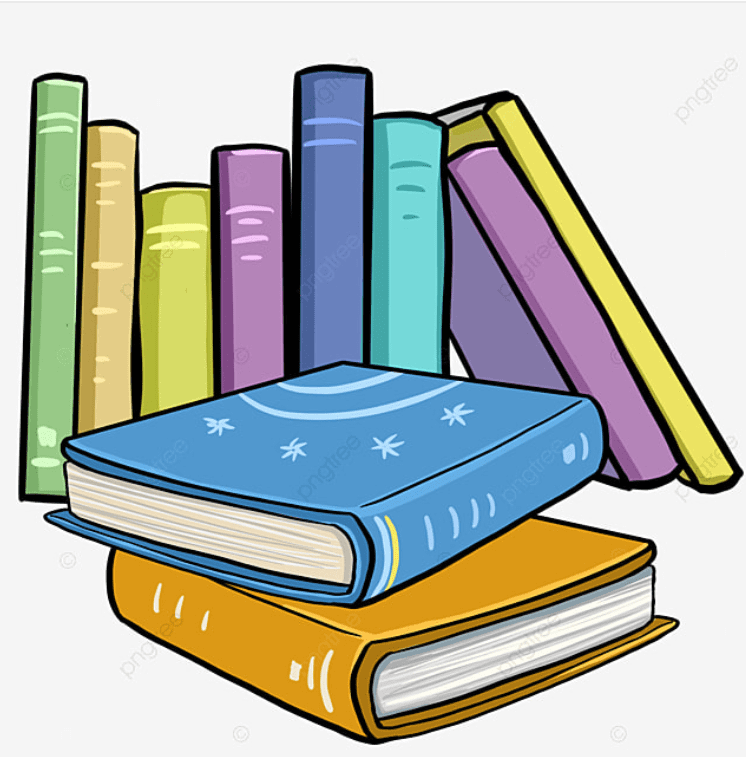 Cartoon Book Stacked Education Illustration Free PNG and PSD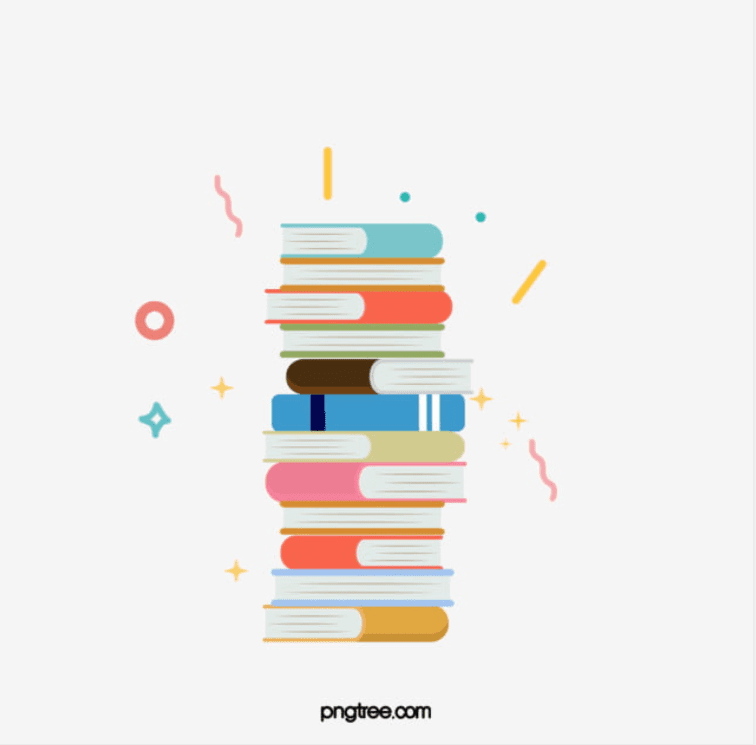 Open Old Books Free PNG and PSD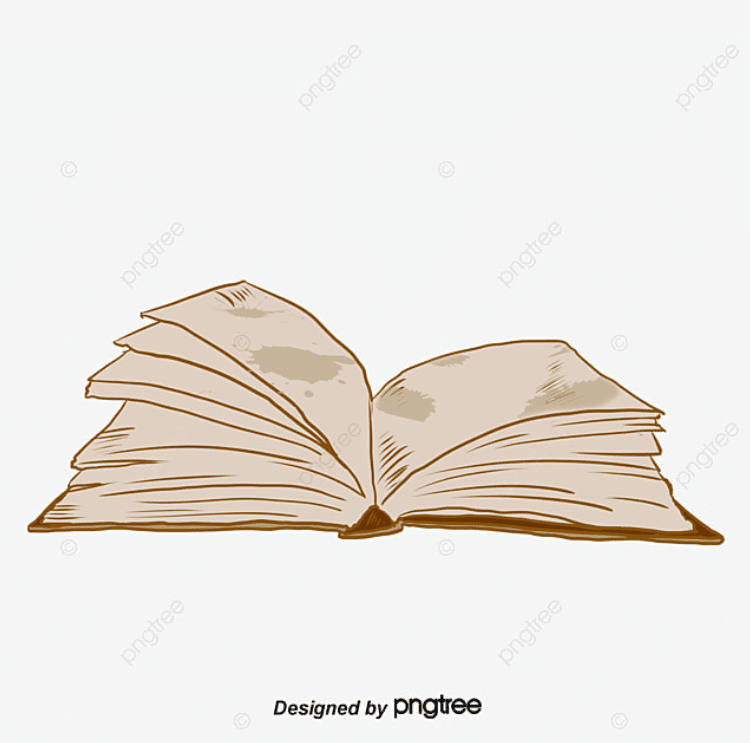 Collection of Free Book Clipart (84)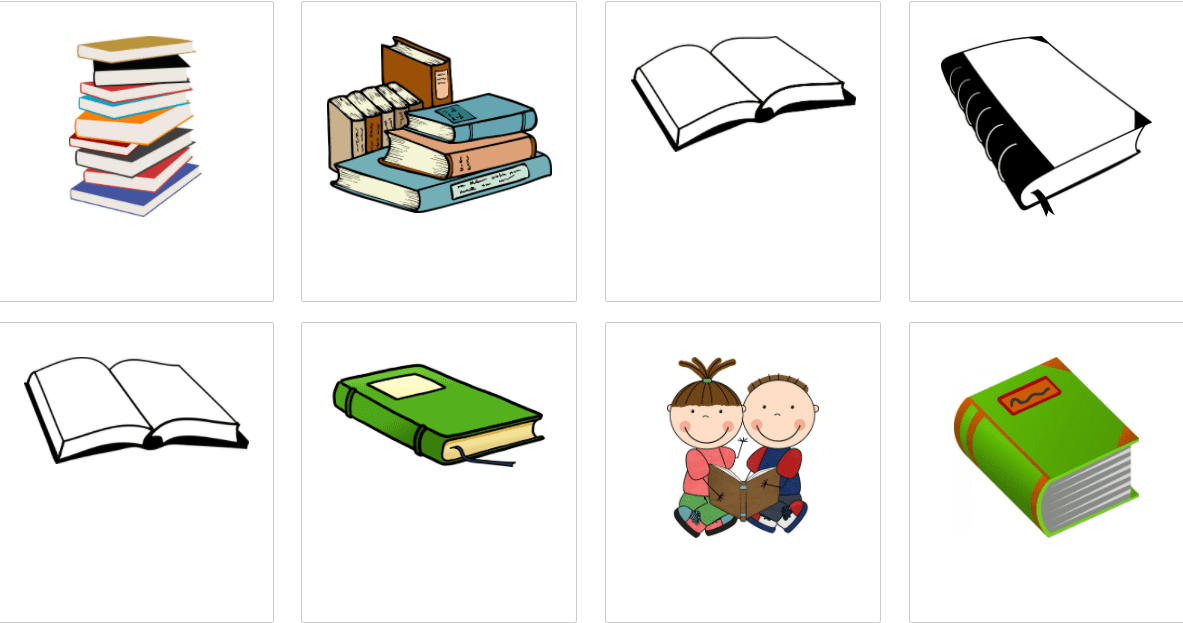 Collection of Free Images Of Books (66)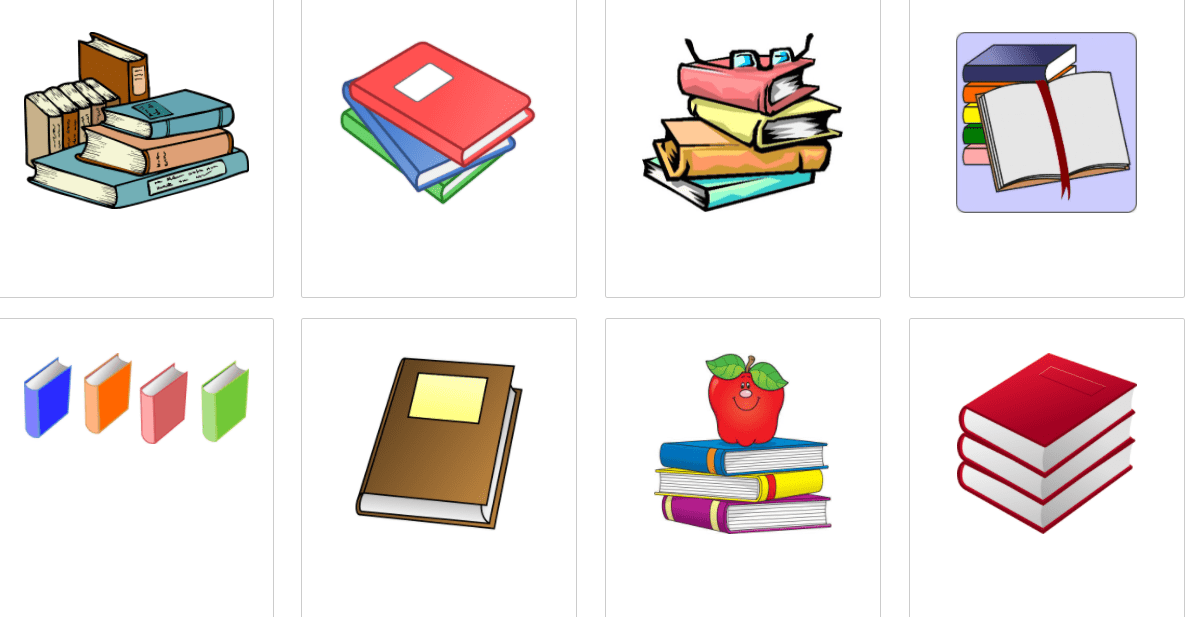 As a bonus, we offer you to watch several videos with drawing graphic images of books in various programs. Enjoy the tutorials demonstrating how to create a simple flat style book icon:
Inkscape Tutorial: Book Icon

In this tutorial I'll be demonstrating how to create a simple flat style book or magazine icon using Inkscape.

Book – Adobe Illustrator cs6 tutorial. How to create nice vector illustration with 3d tool

Please watch: "How To Draw A Realistic Eye In Illustrator".

GIMP Tutorial – Create Books In GIMP

In this video, you will learn how to create a book in GIMP. GIMP version 2.8.20 is being used while creating this video.

While it is possible to design an attractive and powerful "something" with nothing but words – or mostly words – most ads, blogs, articles need pictures, either photographs or illustrations. In general, all graphic pictures that are in a digital format can be attributed to such a concept as a "clipart". Our blog has all the latest info in the fascinating world of images! And our goal is to offer instructional information and glimpses of some of the best clipart online. Therefore, we are glad to help you with the creation of this collection of clipart with books. We hope this will be helpful for you. MasterBundles – smart deals for Web professionals.
Wrapping Up
Book clipart is an important graphic element that has to be in every self-respecting designer's graphic elements collection. As a matter of fact, you can utilize such clipart in a variety of projects. However, it works best for the projects on education topics such as back to school ad banners, language courses brochures, online schools' websites, or various courses' logos. So if you still don't have enough book clipart in your graphic elements library, go ahead and get some among the lovely options that we mentioned in this article.
How often do you use book clip art in your projects? let us know in the comment section below!
FAQ
📗 What can I use a book clipart for?
Book clipart will perfectly work for the projects that are somehow connected with education. For instance, you might want to use this type of clipart in advertising banners, leaflets, or brochures for an online school. Apart from that, book clipart will also be a great element of a school's logo. Finally, you can utilize this clipart in various back to school projects too.
📘 Can I use free clipart in my commercial projects?
Unfortunately, most free clipart is only free for personal use, which means that you cannot use those in commercial projects. Luckily, premium options are quite affordable, so in case you need a book clipart for a commercial project, you can always get a premium license.
📙 What is an example of good book clipart?
I do believe that all the items on this list are examples of good book clipart. However, I have my personal favorites, which are Watercolor Books Clipart by DigitalArtsi, My Bookworm Life Clipart & Patterns by Tanya Kart, and Book, Book Club, I Love Books by Mia's Graphic Design.
📕 I create clipart myself, is there a marketplace where I can sell my products?
Yes, there is a trustworthy marketplace where you can sell your graphics and this marketplace is MasterBundles. You can easily and quickly sell your gorgeous products through the Sell Your Deal service. Selling your goods through MasterBundles is safe, legal, and simple, so leave all your doubts and fears behind, create a vendor account, and start making money on your graphics today.
Please take a moment to pin this post to Pinterest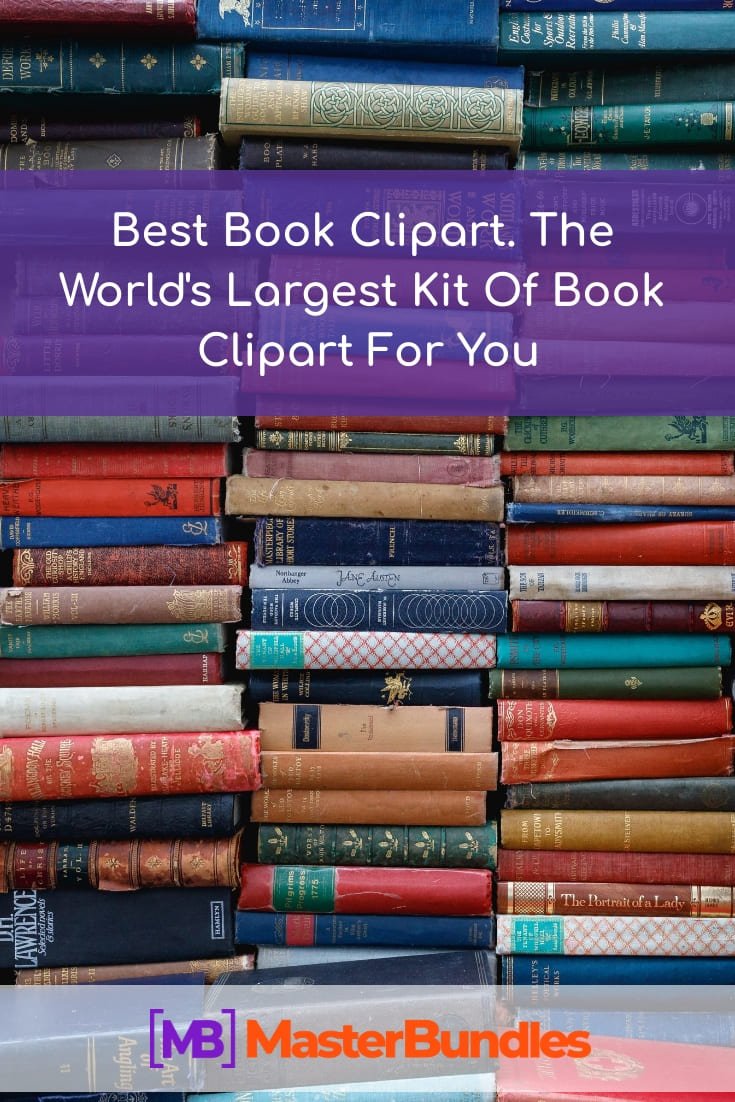 Was this page helpful?
We will be happy if you decide to share this article with your friends on Facebook. Just click on the button and you're done
Thanks for your response!
You have already left your review.
Any article requires deep research on the topic an author is going to write about and, obviously, this one is not an exception. Therefore, as my sources of inspiration as well as up-to-date data I utilized the following resources:
Airey, David. Identity Designed: The Definitive Guide to Visual Branding. Rockport Publishers, Illustrated Edition, 2019.
Bierut, Michael. How to Use Graphic Design to Sell Things, Explain Things, Make Things Look Better, Make People Laugh, Make People Cry, and (Every Once in a While) Change the World. Harper Design, Illustrated Edition, 2015.
Caldwell, Cath. Graphic Design For Everyone: Understand the Building Blocks so You can Do It Yourself. DK, Illustrated Edition, 2019.
Dabner, David, Sandra Stewart, Abbie Vickress. Graphic Design School: The Principles and Practice of Graphic Design. Wiley, Seventh Edition, 2020.
Heller, Steven, Gail Anderson. The Graphic Design Idea Book: Inspiration from 50 Masters. Laurence King Publishing, 2016.
Samara, Timothy. Making and Breaking the Grid, Second Edition, Updated and Expanded: A Graphic Design Layout Workshop. Rockport Publishers, Illustrated Edition, 2017.
Disclosure: MasterBundles website page may contain advertising materials that may lead to us receiving a commission fee if you purchase a product. However, this does not affect our opinion of the product in any way and we do not receive any bonuses for positive or negative ratings.