Best 40+ Free February Calendar Templates 2023
Whether you're a busy mom, a business professional, or simply someone who likes to keep your life organized, having the right February calendar template can make this month easier to manage.
With all that's on our plates these days – meetings, school, work schedules, and deadlines – it's nice to avoid the hassle of manually creating a custom schedule each month.
Calendar templates can save you time by enabling you to enter important dates and activities into a preformatted document quickly.
To help out with this task, we have gathered 40+ different February calendar templates designed for planning specific topics such as fitness goals, work tasks, or students completing projects throughout the month.
Keep reading if you're looking for ways to organize February 2023!
Printable February 2023 Calendar Templates from MasterBundles
If you're looking for a quick way to organize your life in February 2023, you can't go wrong with our free February printable calendar templates. MasterBundles has gathered various templates you can easily download and print them for free or use them as desktop wallpaper!
Free Blank February Calendar Templates
Whether you are looking to organize your monthly tasks or plan out upcoming events, our selection of blank February calendar templates is a great way to get started.
Blank Calendar
This February blank calendar is the best option if you need a simple, uncluttered template. This calendar is perfect for anyone who just wants to get started and have a clean slate to work with!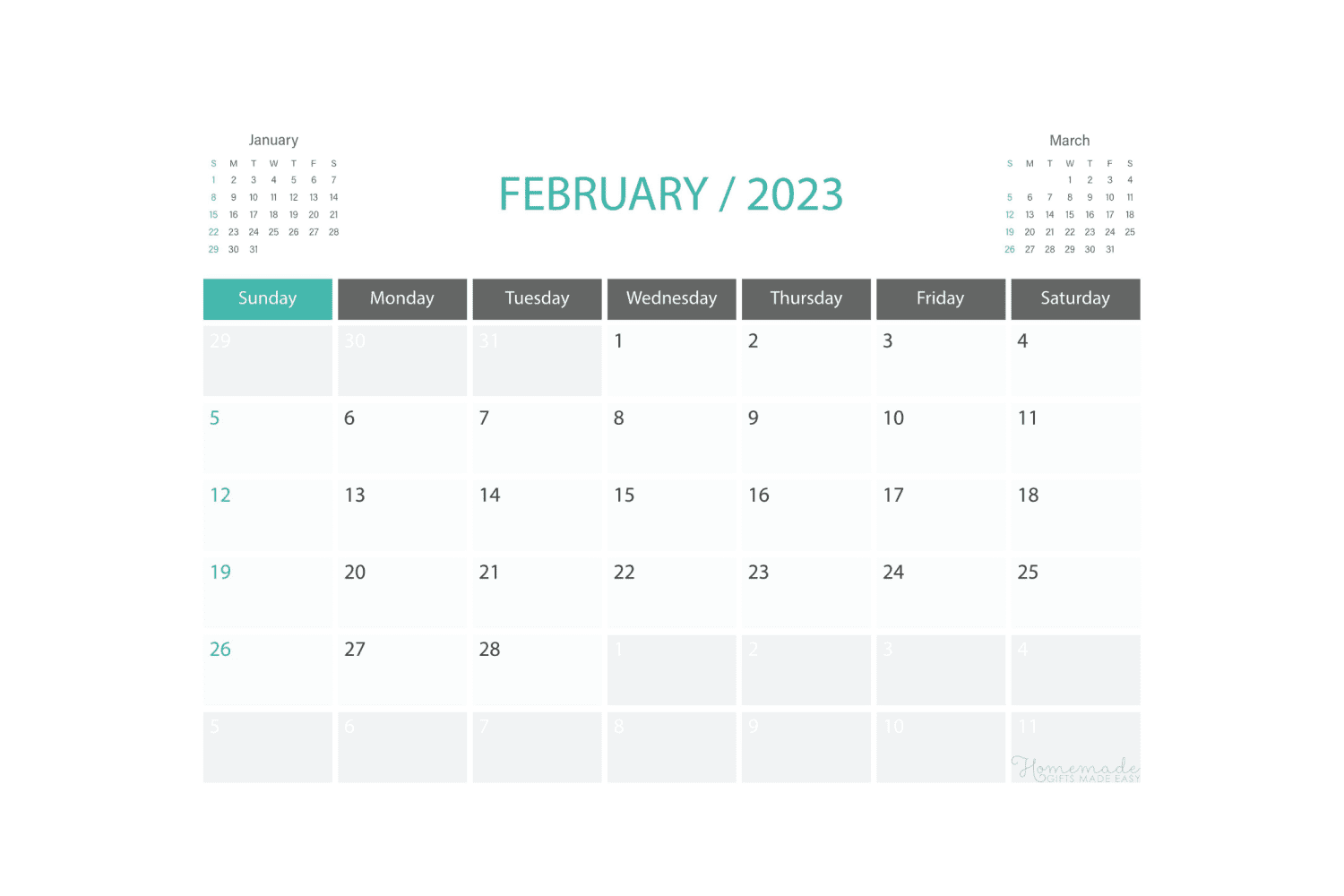 This blank February calendar template provides you with a quick and easy way to track the important dates in your life.
Printable Calendar Template – Printabulls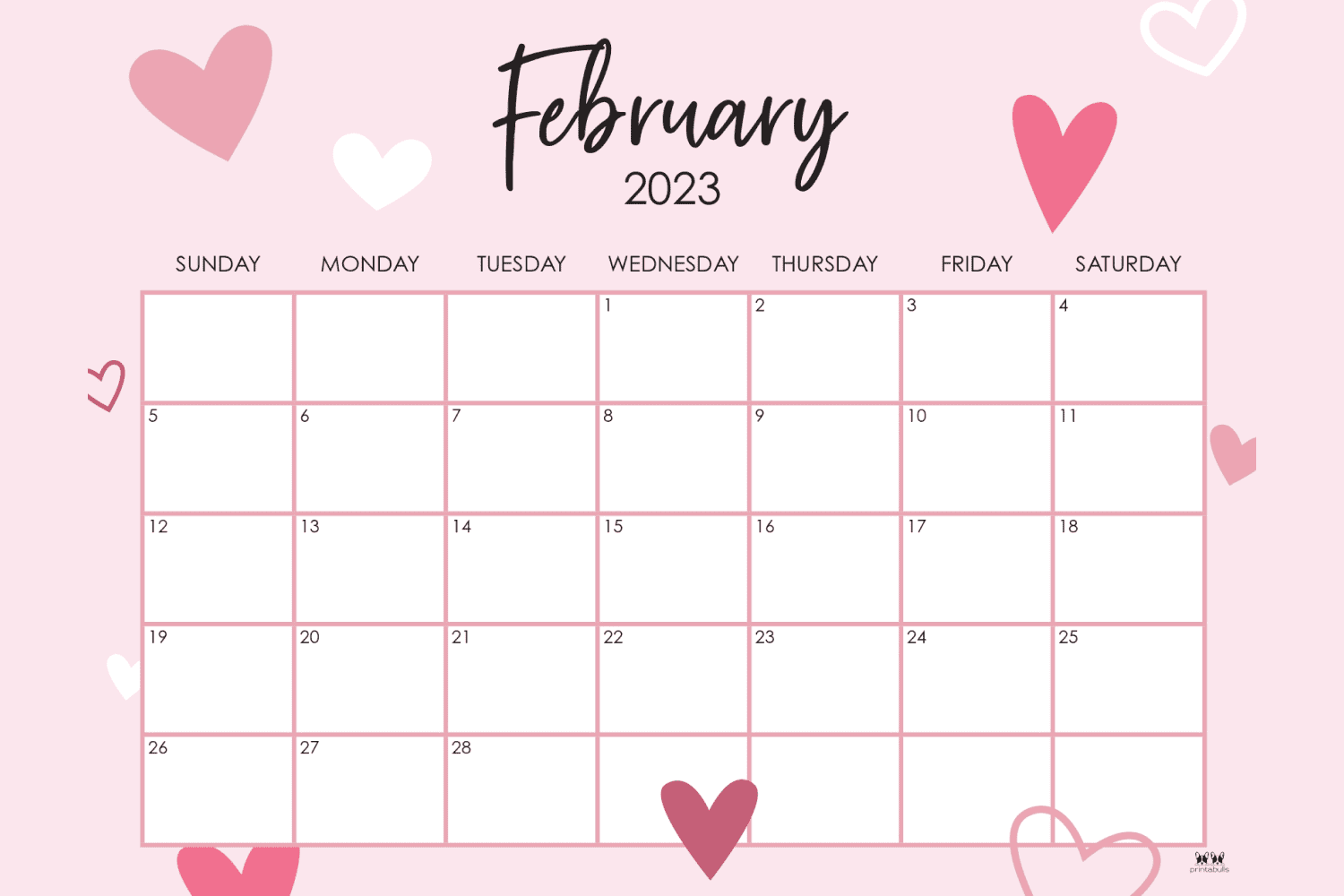 This option with hearts is a perfect choice if you need a blank but nice Feb 2023 calendar template! The cute design will make it easy to print and hang at home or in the office.
Gray White Monthly Simple February 2023 Wall Calendar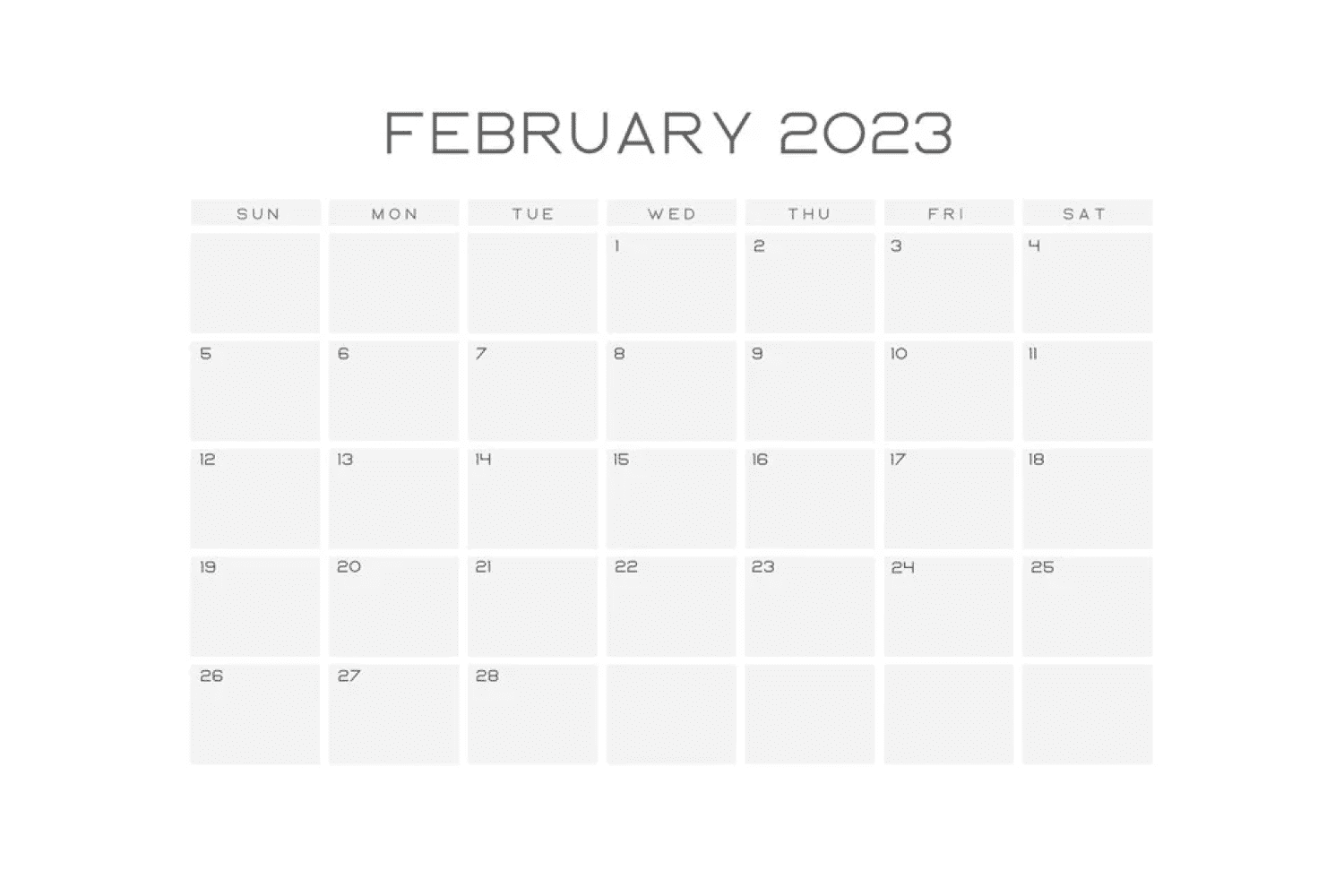 For a minimalistic approach to planning the month of February, this gray and white calendar template is perfect.
Aesthetic Minimalist Clean Planner February 2023 Calendar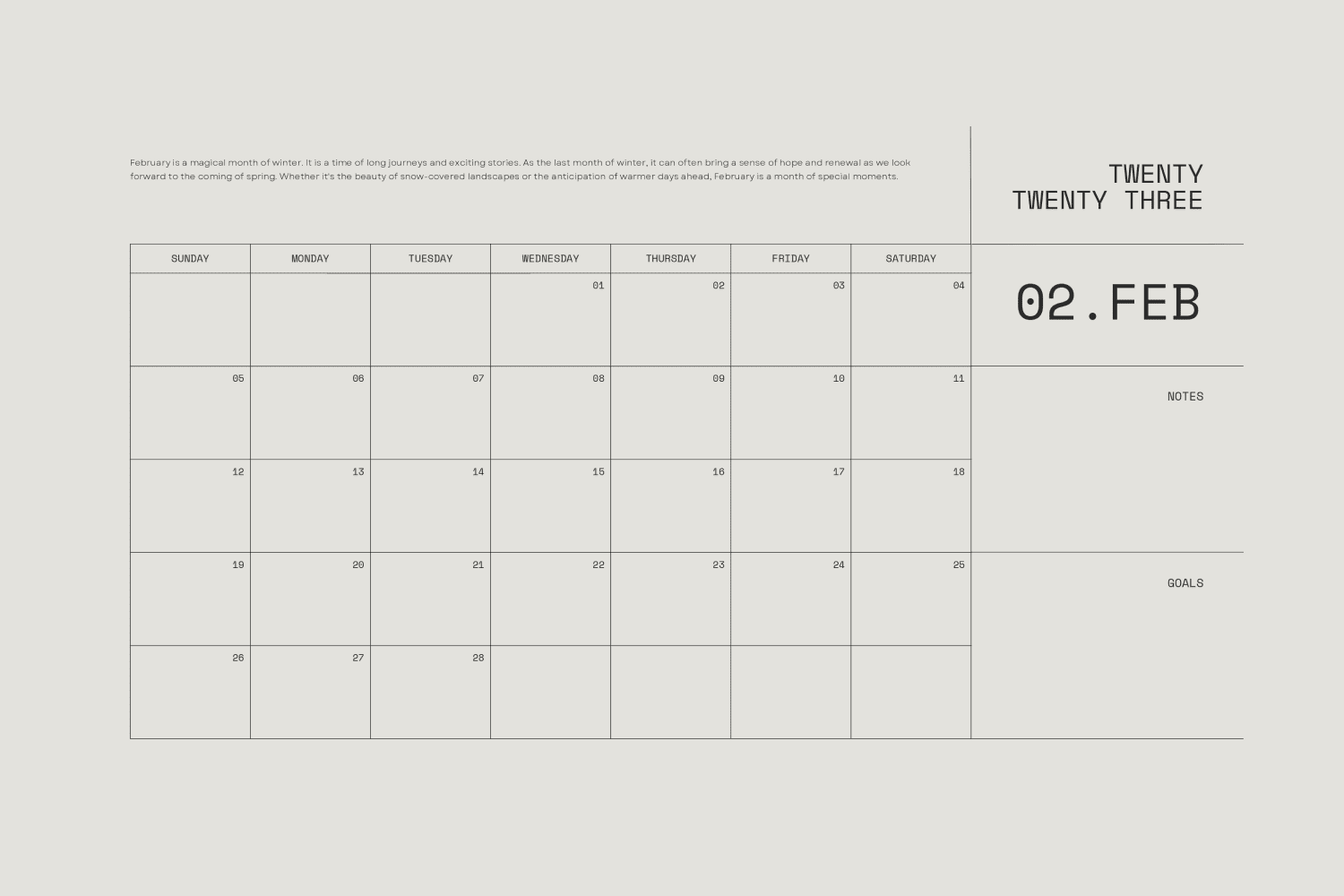 Next, this unique and aesthetically pleasing clean planner calendar is perfect for February 2023. With a contemporary design, this calendar offers a lot of space to write your notes and goals!
Printable February Calendar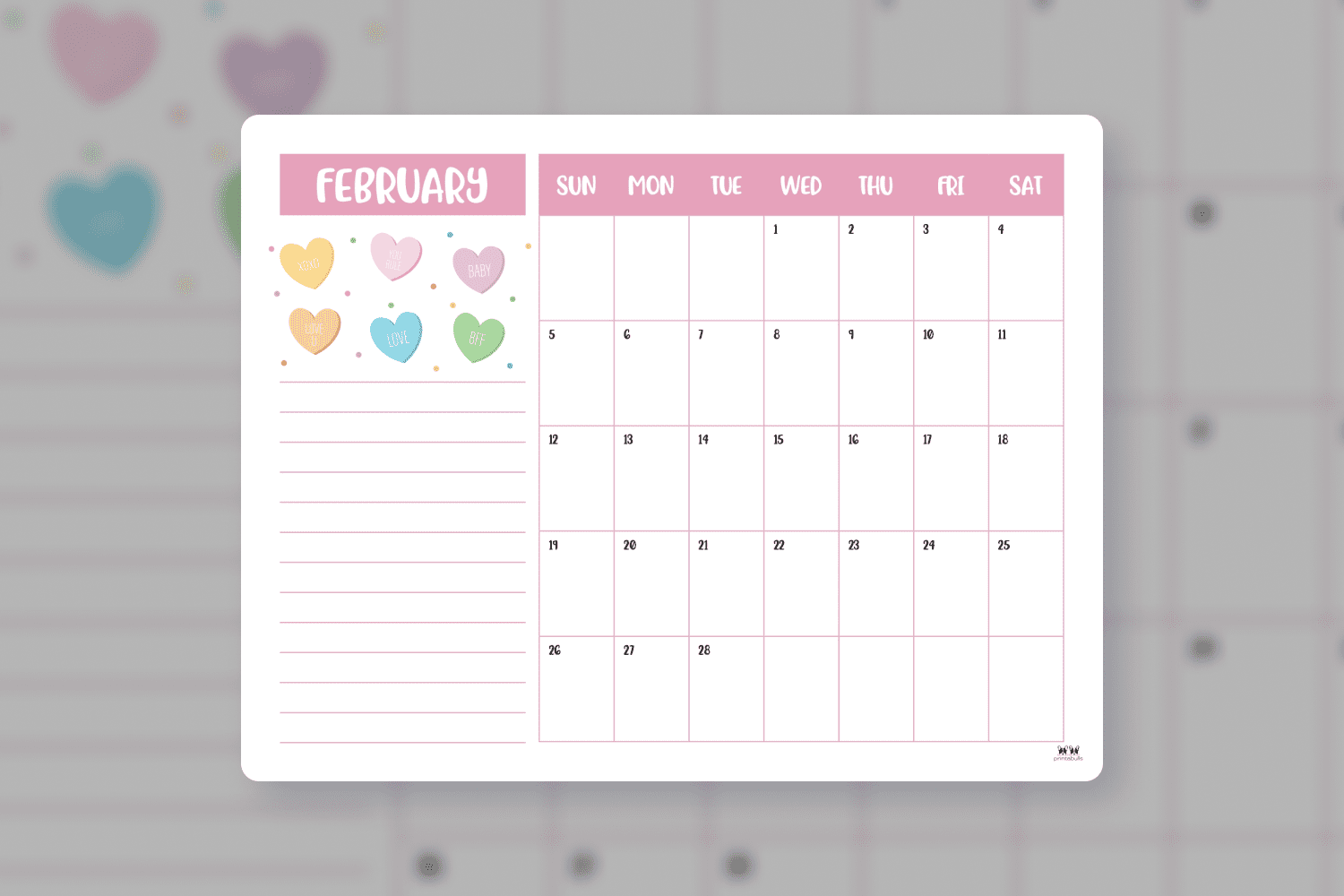 If you love pink, this template calendar for the month of February is perfect. It has a lot of space to write important notes and tasks, and the design is perfect for anyone who wants to stay organized in style.
Printable Template in Valentine's Day Theme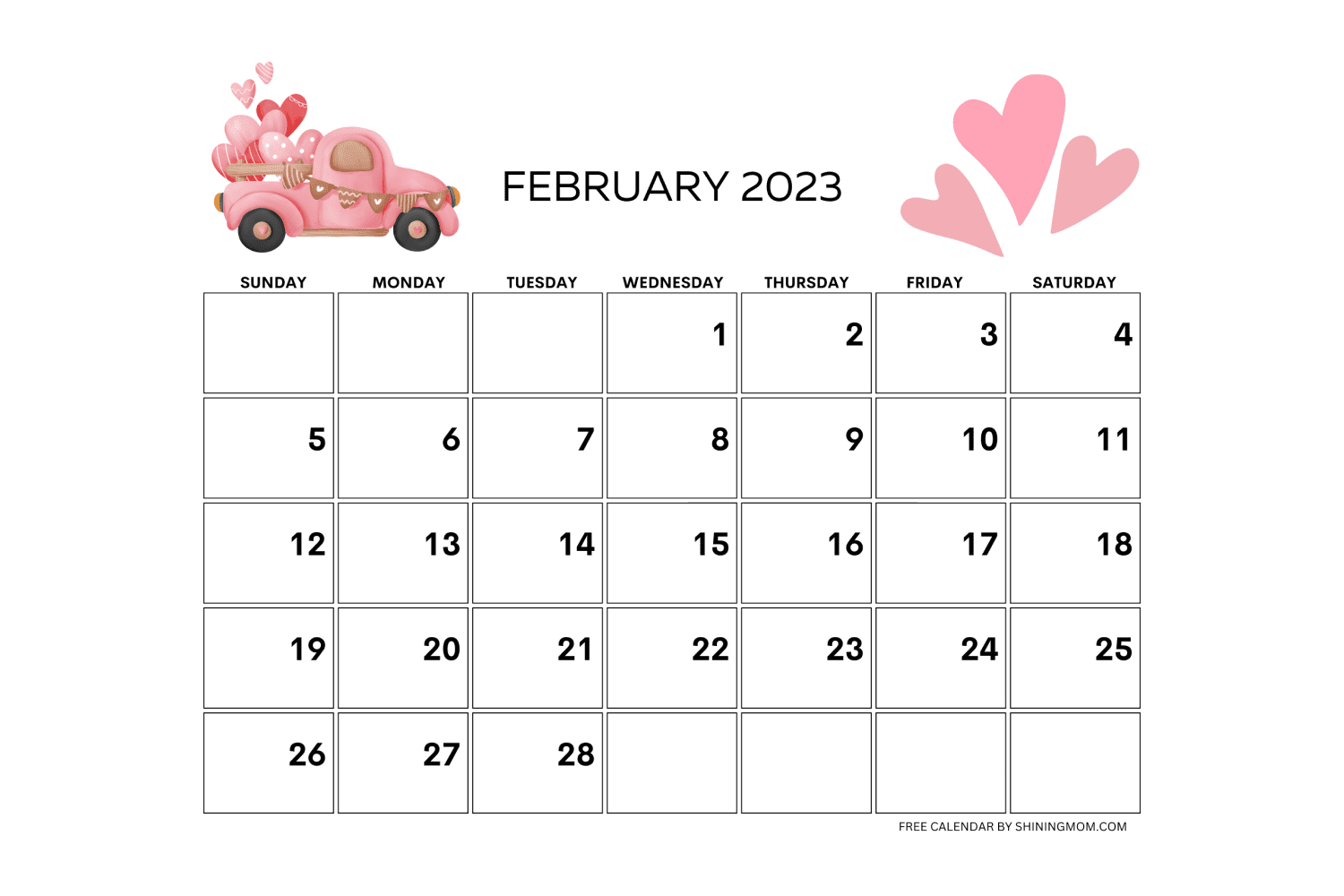 Make your February 2023 extra special with this Valentine's Day-themed printable calendar template. It has plenty of space to write important dates, and the cute design will surely put a smile on your face!
February National Day Calendar Templates
Need to keep track of national holidays and other special days? Our National Day calendar February templates will be your go-to resource for planning events!
February National Calendar with President's Day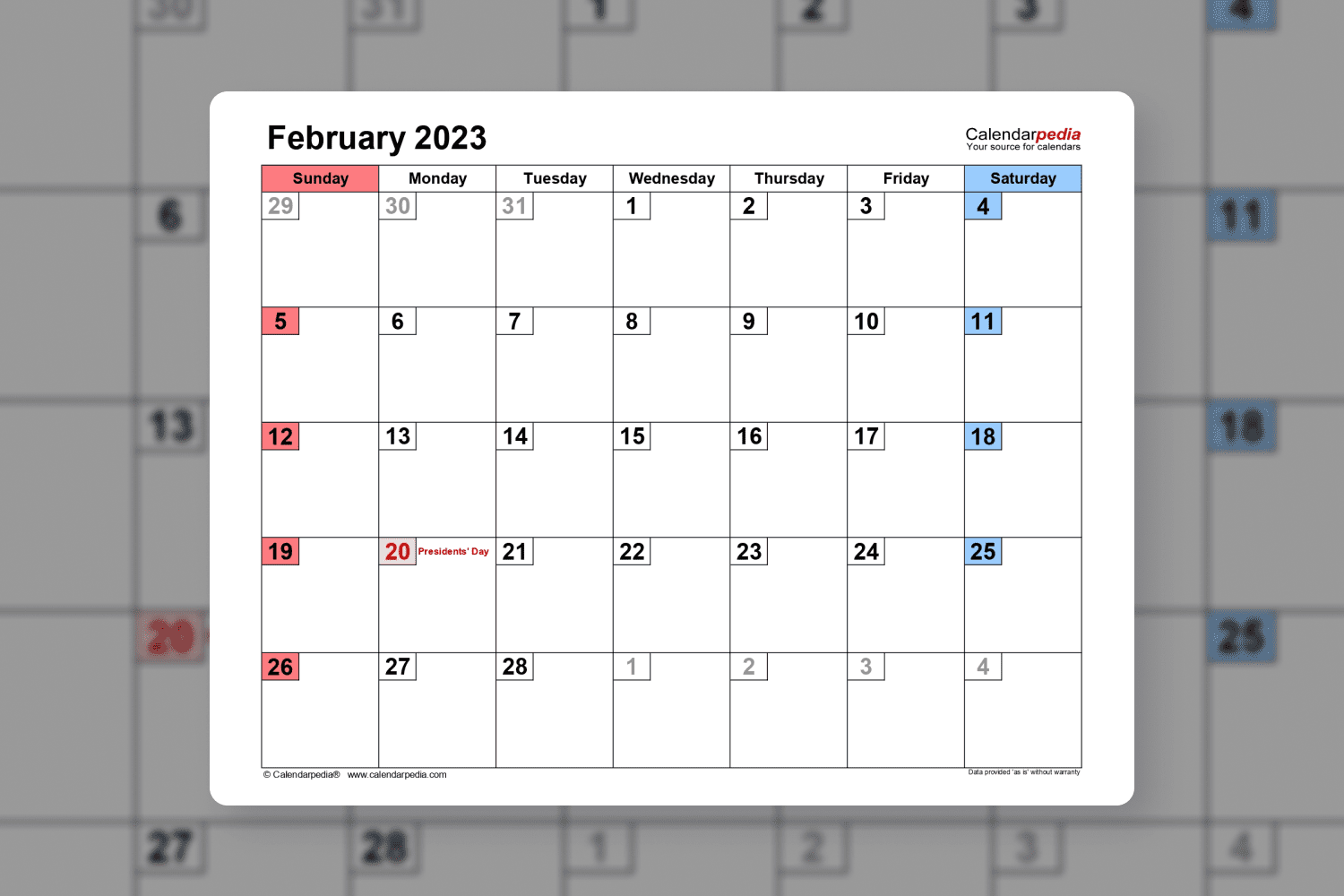 If you need to keep track of President's Day, this free printable february 2023 calendar template is the perfect option. It will help you stay on top of all your holiday plans!
Printabulls Template with Dogs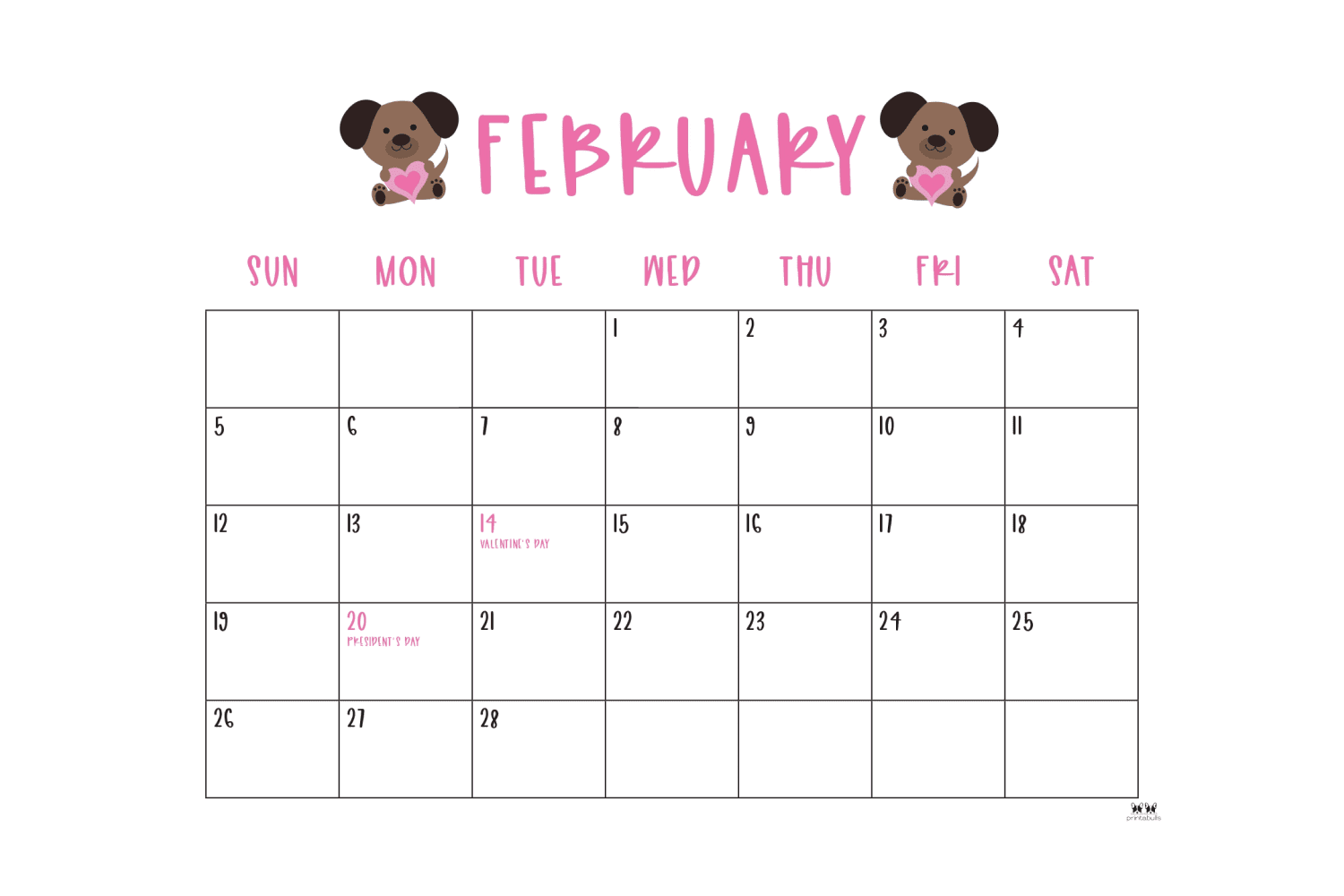 This funny template with dogs will not only raise your mood, but also won't let you forget about national holidays!
Printable Calendar – February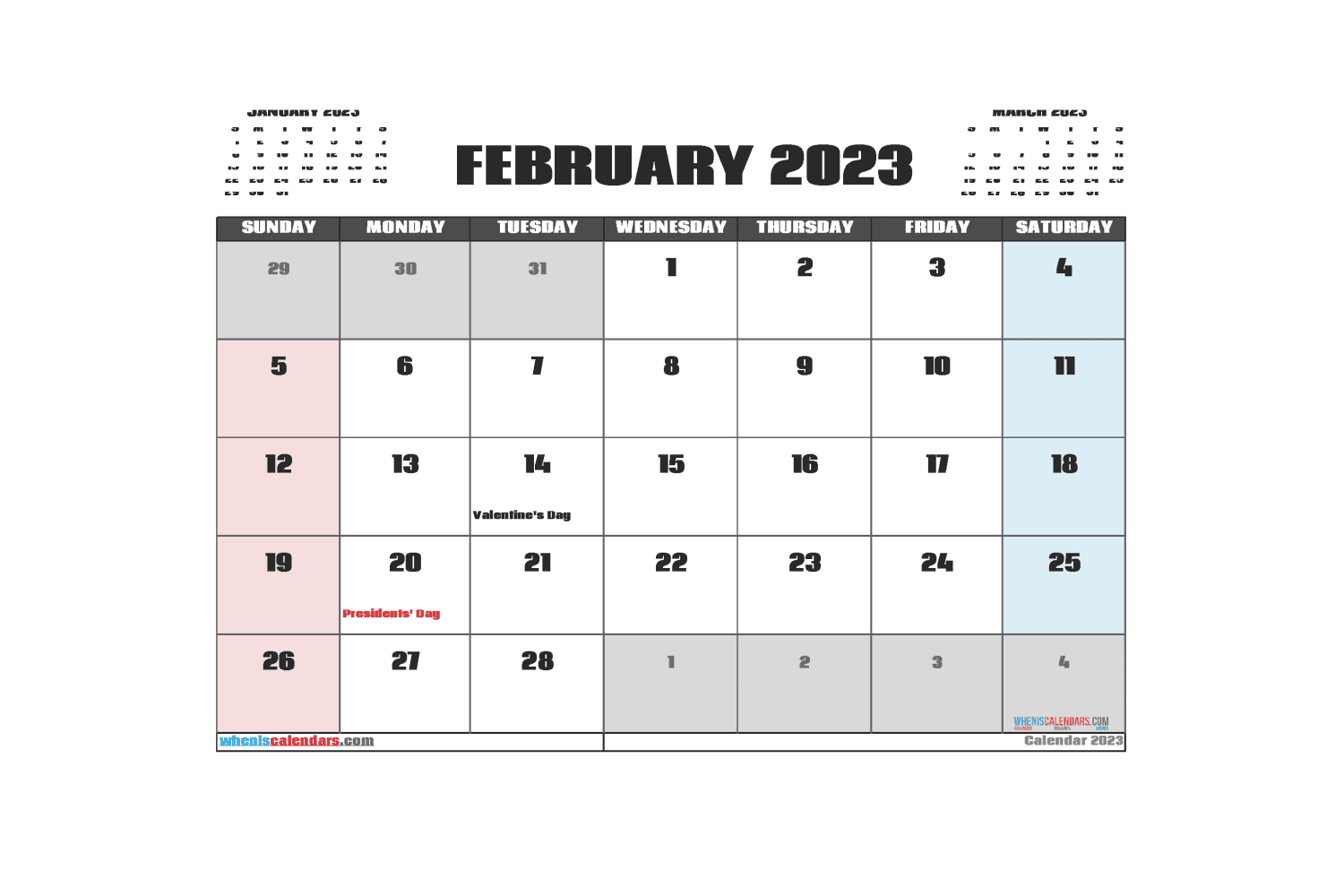 Simple and blank, this February calendar is great if you're looking for a February 2023 calendar template with important dates and holidays!
February 2023 Printable Word Calendar Templates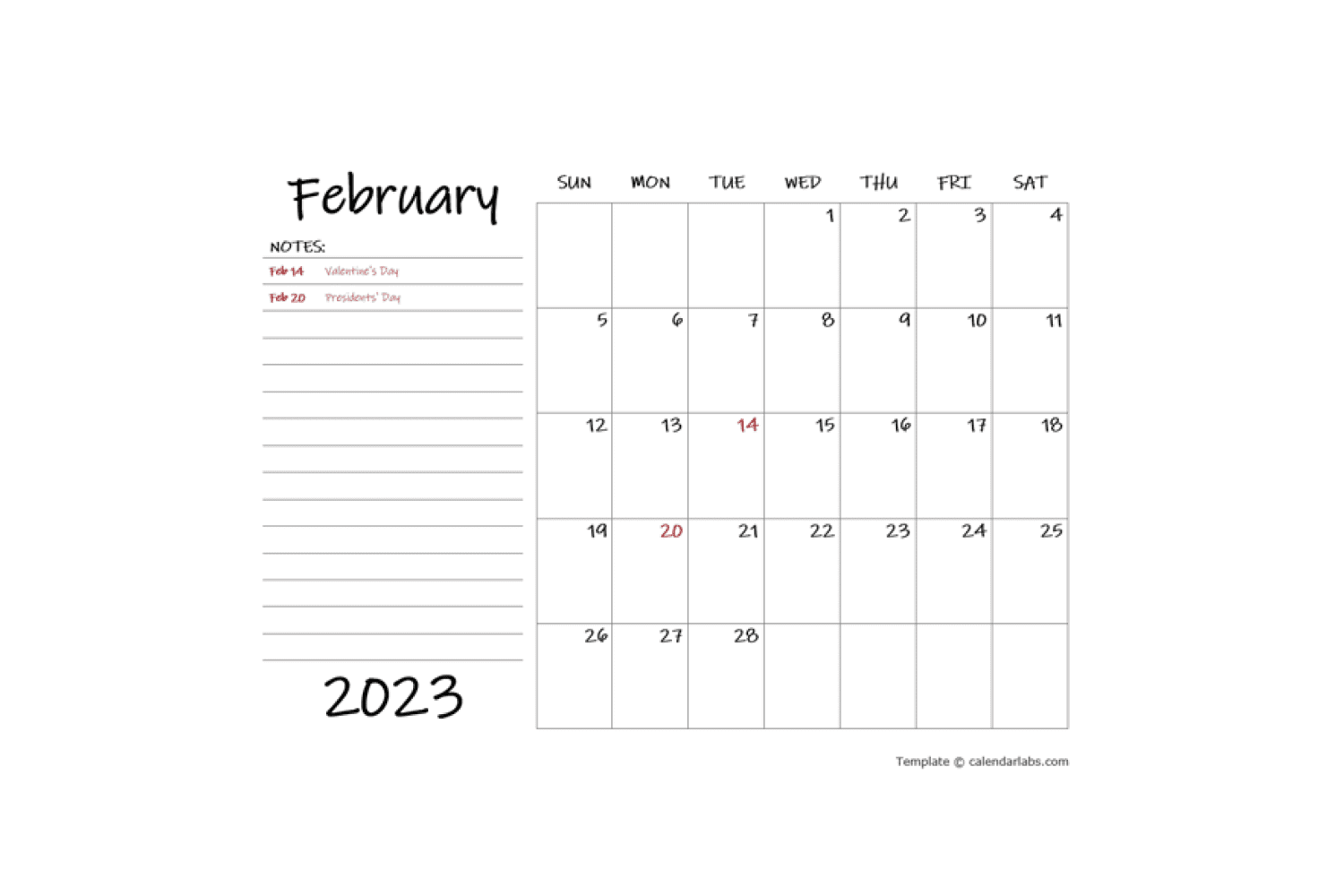 This option is perfect for those looking for a digital calendar. You can easily download and print this template in Word format or add it to your Google Calendar for easy access!
Beautiful Roses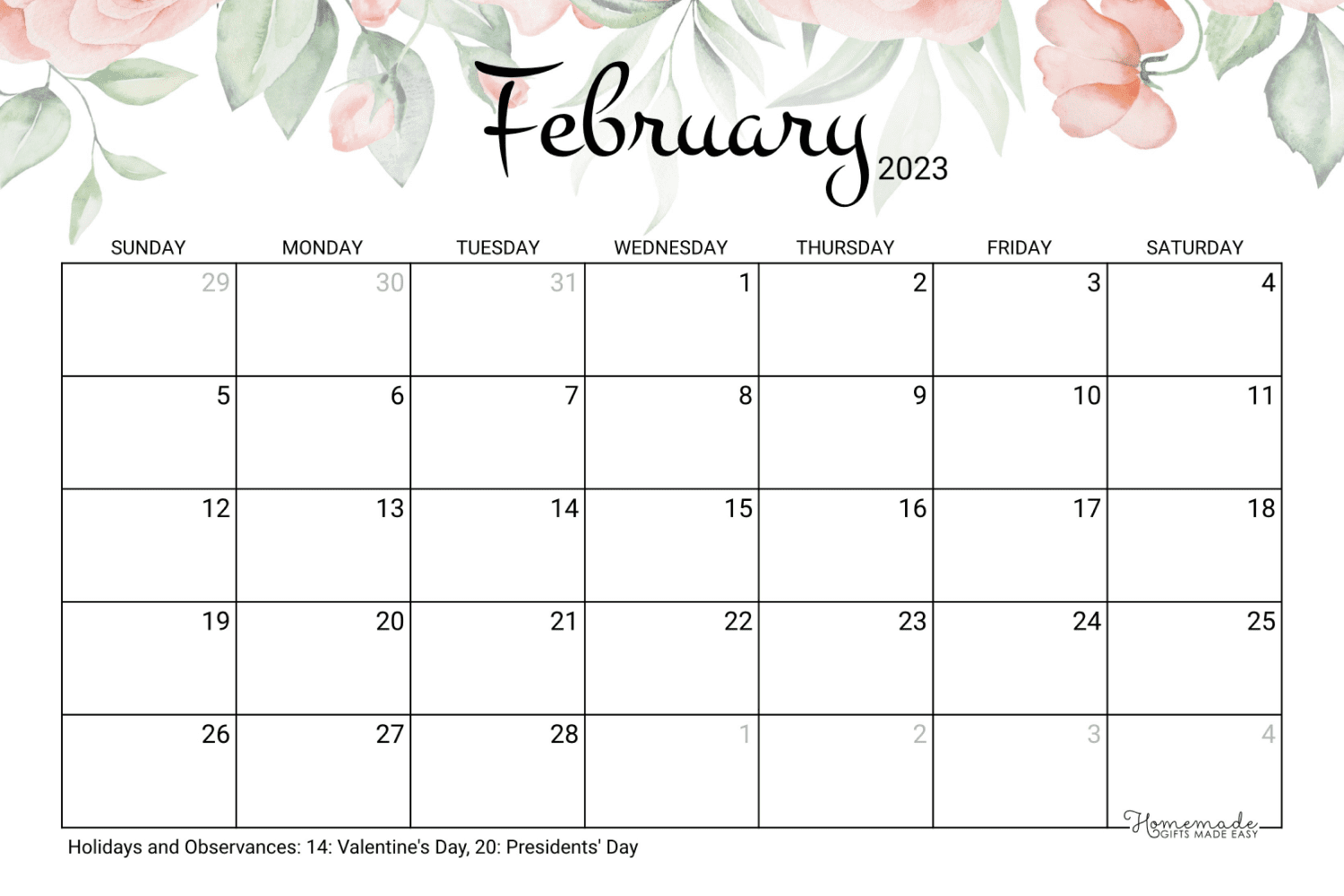 This beautiful roses-themed February calendar template is perfect for anyone who loves pretty designs. It's an ideal option for those who want to organize their February 2023 and don't forget about important dates!
February Calendar with Holidays Templates
Are you looking for a specific holiday? Our February calendar templates with holidays will make it easy to keep track of important dates like Valentine's Day, Presidents Day, and much more!
Red and White Photo Valentine February 2023 Calendar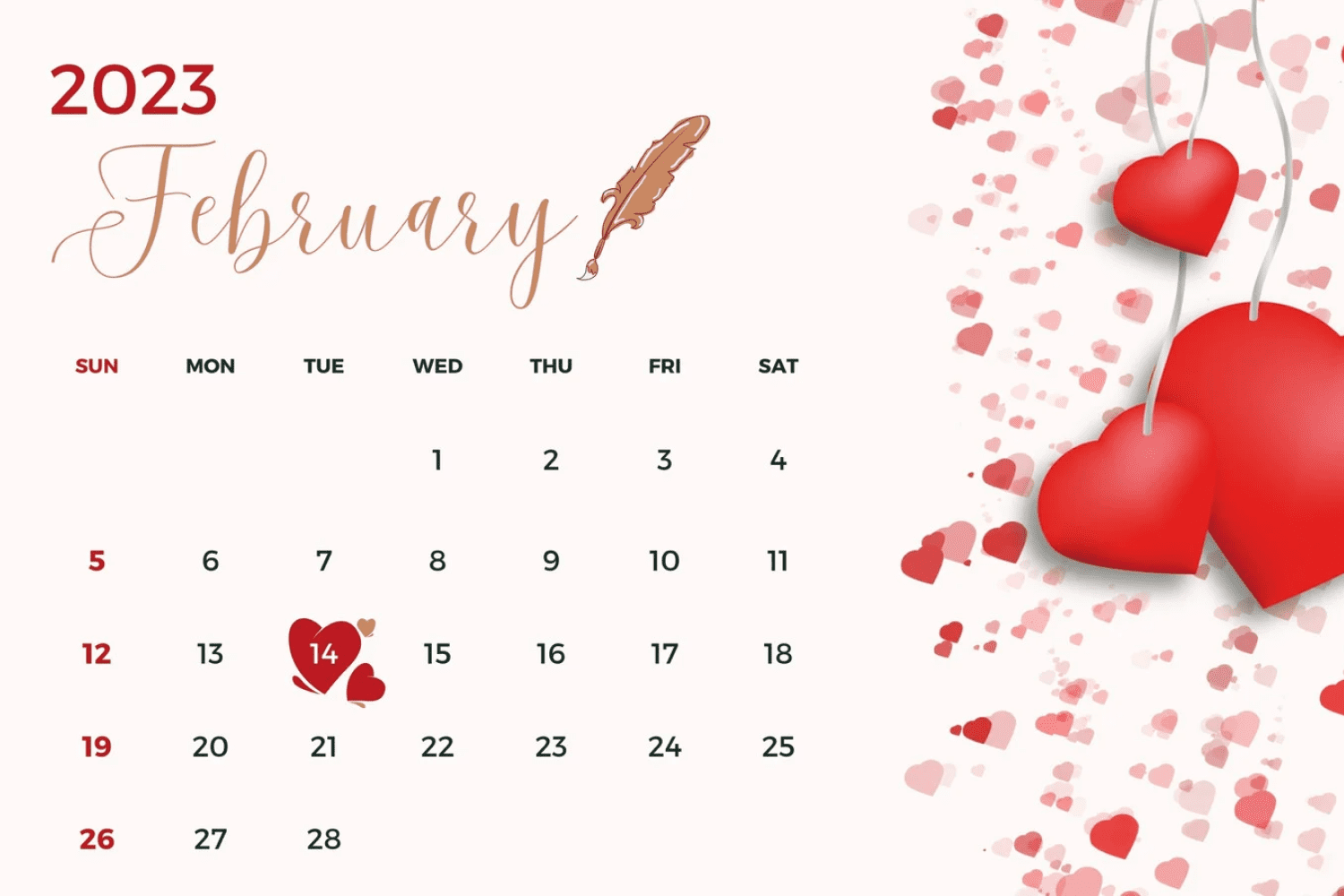 Valentine's Day is just around the corner, and this red and white calendar template is the perfect way to plan your month. It won't let you forget about this holiday!
Cream Aesthetic February 2023 Calendar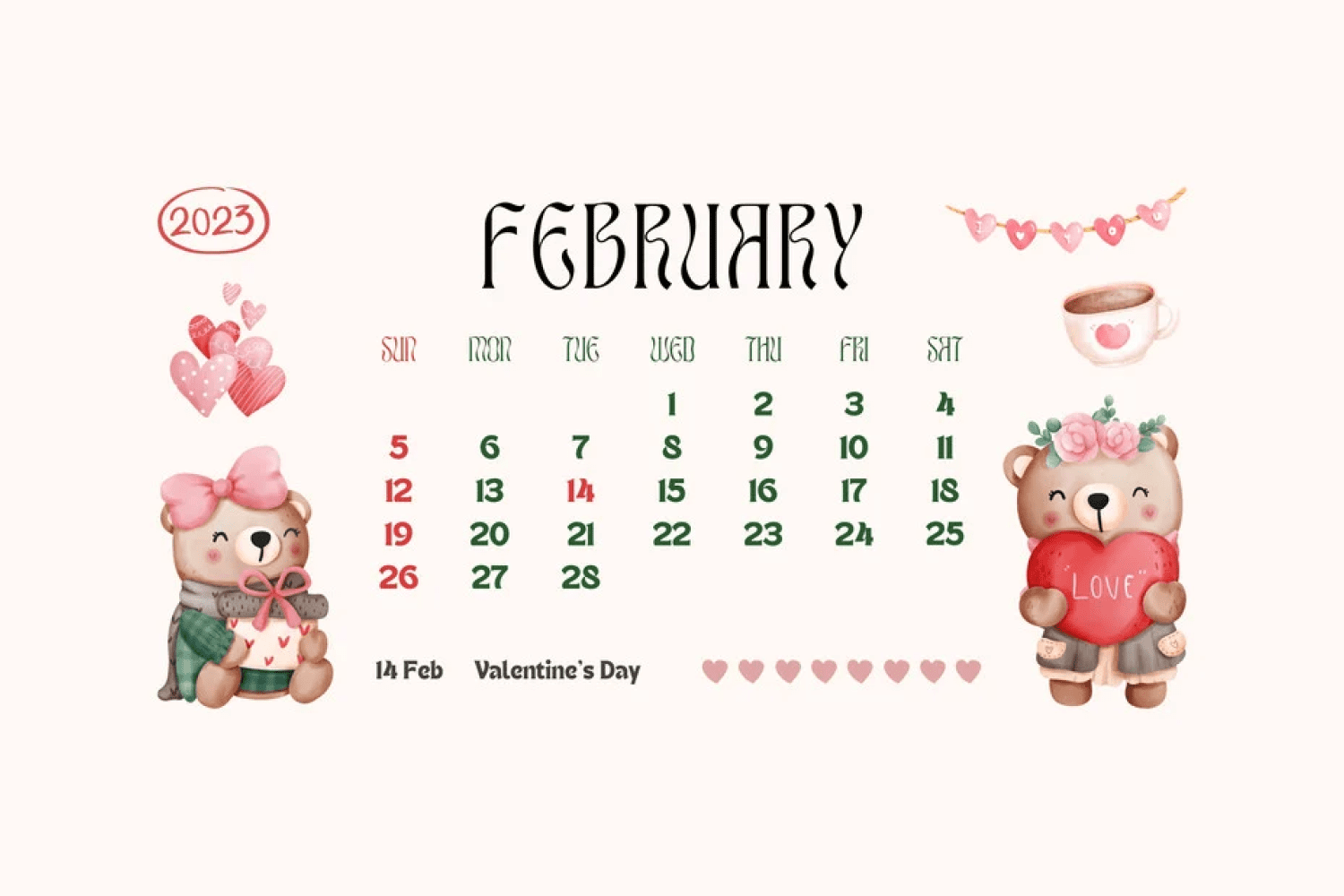 If you need a calendar template with a nice and funny look, this cream-themed design is an ideal option. Besides, it shows you the national holidays and other important dates, so you don't miss out on anything!
Colorful One Photo February Calendar 2023 Desktop Wallpaper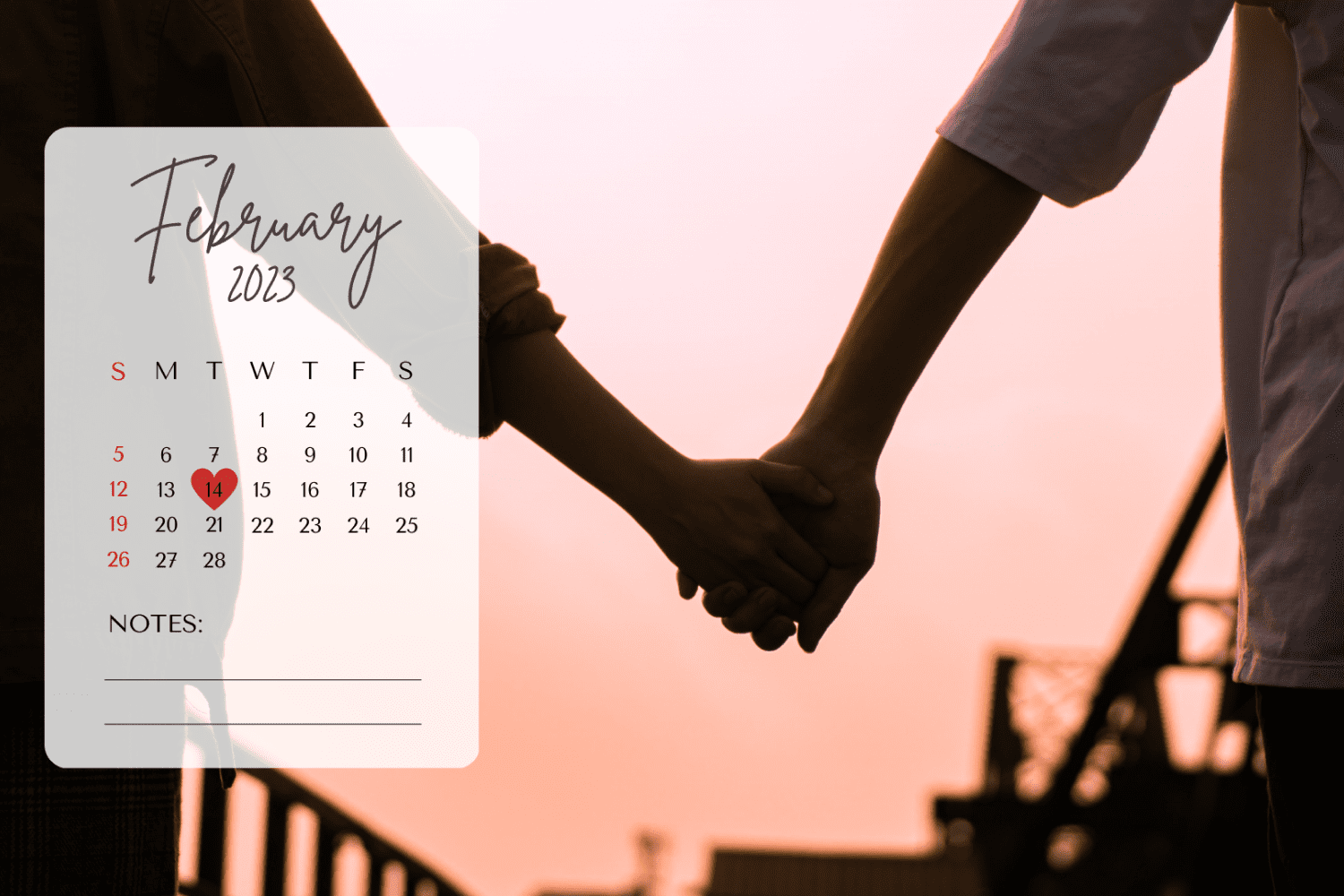 Since February is a month of love, this one-photo calendar template is perfect. It will give your desktop wallpaper a colorful and romantic look that is sure to make you happy!
Tropical Hibiscus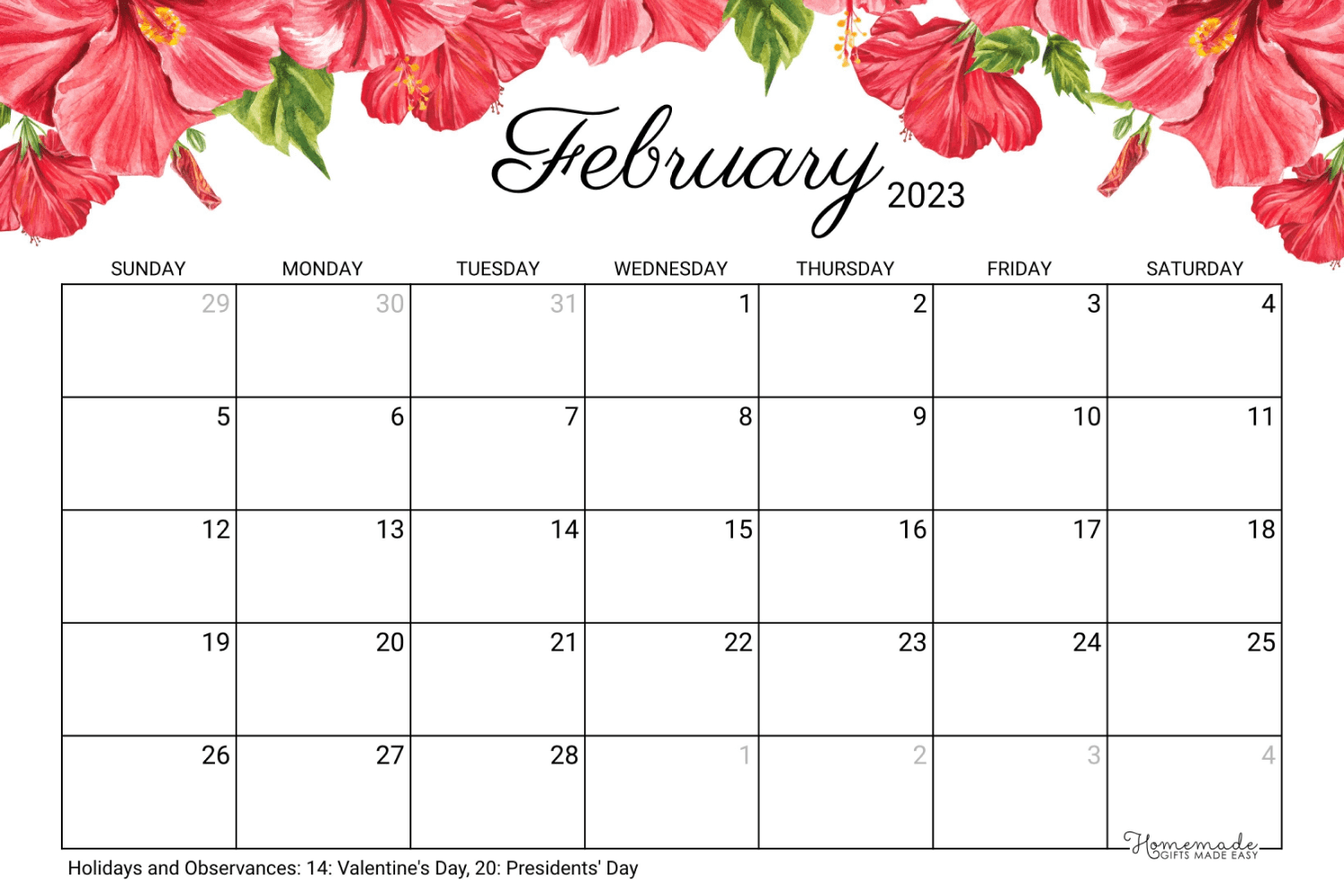 Next, this tropical hibiscus template is perfect for anyone who loves the beach and sunshine. It's an ideal option for planning out your February, taking into account all national holidays!
Printable February 2023 Calendar With Notes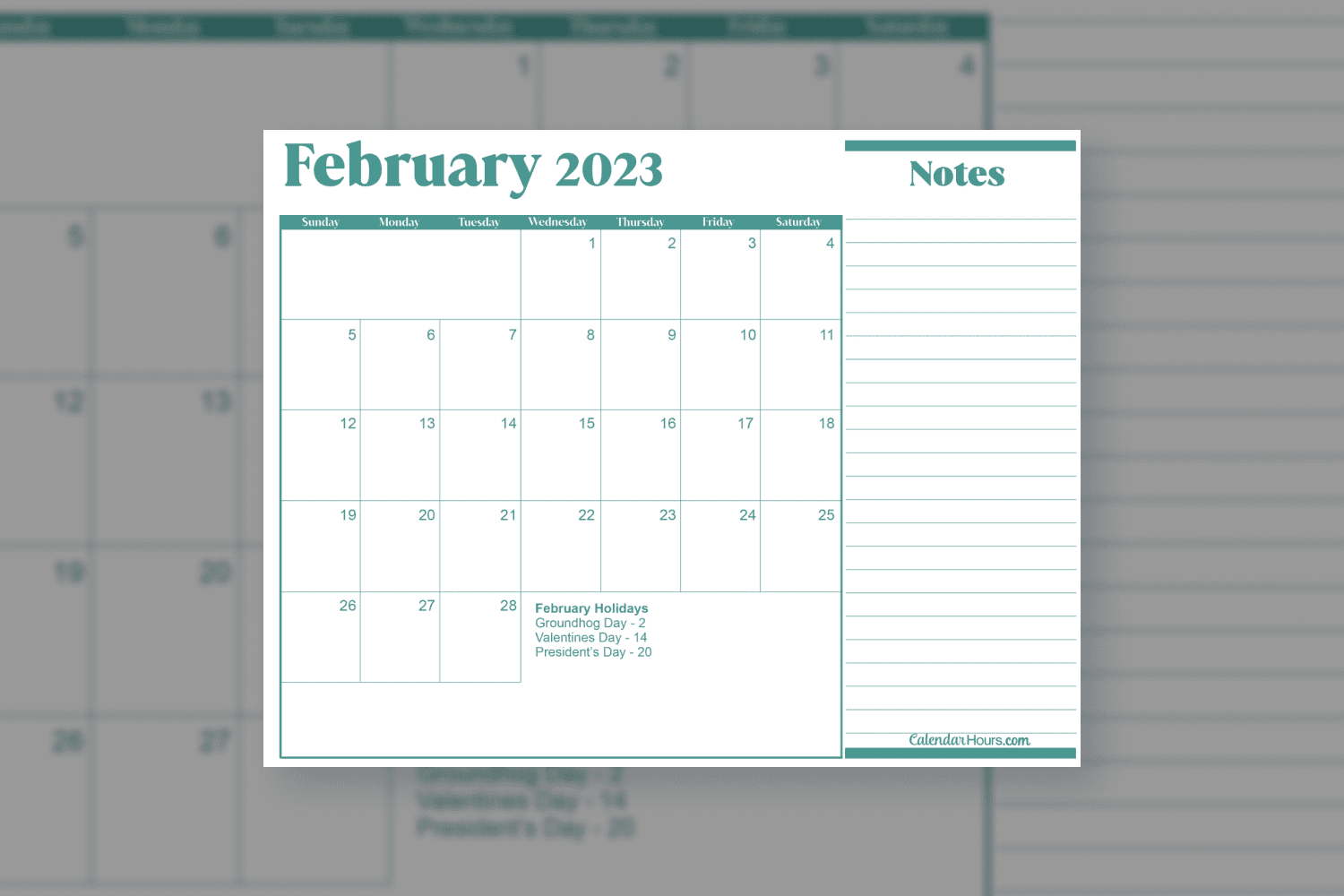 Finally, this printable calendar template with notes is the perfect option. It's great for staying organized and on top of tasks while also having a beautiful and bold design.
Conclusion
Having a February 2023 calendar template is an easy way to keep all your important dates and activities organized. With MasterBundles' selection of free printable February templates, you'll find the perfect template for any type of planner.
So don't wait any longer – download our free calendar templates today and get organized for the new year!
Are you creating your own templates and want to get additional profit? If your answer is 'yes,' then download them via our Sell Your Deal form, and we'll add them to our collection! Soon, you'll be able to get an additional income while making life easier for thousands of users!
And to be included in one of our monthly listicles, reach out to our CCO Anastasia at anastasia.content@masterbundles.com and get started!
Disclosure: MasterBundles website page may contain advertising materials that may lead to us receiving a commission fee if you purchase a product. However, this does not affect our opinion of the product in any way and we do not receive any bonuses for positive or negative ratings.