Applying For The Job Of Your Dreams
Contents:
To get your dream job, you've got to customize your resume to make sure that it 100% matches the opening and presents relevant skills, background, and working experience.
If you apply not for one, but for several different positions, you'll need several resumes that each center around the position you apply for. This is what maximizes your chances for success in the digital job market and shows that you're invested into getting the job.
Creating The Resume of Your Employer's Dreams
Your resume/CV is what decides whether you get an invitation to the subsequent job interview or lose the competition game to other applicants. To get yourself one step closer to the job of your dreams, you've got to create a well-thought resume that shows employers why you (not somebody else) are the best candidate for the position.
So, let's talk first about the content of your resume. In this section, we cover top 10 resume creation tips that help you win the game and get the job of your dreams.
Top 10 Tips For Creating a Killer Resume
Keep It Professional
First of all, you've got to keep in mind that a resume is business document aimed at showing your aptitude to perform job-related tasks. With resume formatting becoming less restrictive, some think that they can win over the employer's heart with real-life imagery, professional humor or with a fun e-mail address.
On the contrary, it's recommended that you keep all the details that may undermine your professionalism outside the resume. Sticking to the facts and making it the most professional resume you can create is the right strategy when applying for next to every job.
Keep It Short
Respect the time of others and keep the contents of your resume concise. For example, if you're a recent graduate, keep your resume one page long. If you're an experienced professional, your resume may take up two pages but not more than that.
Think about the wording
As a resume is a concise document, you've got to double-think each word you have there. Your main task is to show your skills and achievements, rather than give yourself a lavish positive description. You've got to talk facts rather than describe what kind of a person you are. So, make sure you use concise wording in your resume and infuse it with positive action words, such as 'attained', 'enhanced', 'improved', etc.
Don't shy away from your achievements
Think twice what position-relevant accomplishments you have on your profile. Then, make sure that they shine brightly at the top of the sections where they belong. Keep in mind that your employer doesn't read between the lines. If you can boast of some professional achievements, make sure you tell enough to get your employer to appreciate what you've accomplished.
Tweak Your Resume For Every Particular Job
Every job is different. That's why you've got to tweak your resume to a certain degree each time you're about to send it. Tweaking your resume for each particular job shows the employer that you're serious about occupying the position you apply for. So, make sure that each time you send your resume you have the position-related experience and achievements sitting at the top of the relevant sections.
Make It Understandable
As you create your resume, make sure you provide the employer with all the information they need to understand the value of your experience, skills and achievements. Be specific as you delineate your prior working experience. Don't use uncommon contractions and abbreviations without providing an understandable expansion.
Double-check Your Resume
As a rule, resumes with lame spelling, punctuation or grammar end up being trashed. Not proofreading your resume to get it all shiny is a sign of disrespect to your employer and, first of all, to yourself. So, make sure you double-check each word and comma you have in your resume, as well as get it proofread by someone else.
Mind Consistency
Logical structure and consistent formatting is what minimizes unpleasant distractions and turns reading your resume into a pleasing experience. Make sure that every detail of your resume goes in line with the others and that not a single fact contradicts the message you send to your potential employer.
Don't Mention Money
Do not include any salary information unless you're directly asked to do so. High salaries you had in the past won't convince anyone that you're a good professional.
Include Relevant Keywords
Including the keywords used in the job description to your resume is a smart strategy. This way, you boost the likelihood to be selected for an interview and to be hired for the desired position.
Mind these tips as you work on the content of your resume. Take enough time to make sure you take every piece of the suggested advice into consideration.
To get the job of your dreams, you should avoid typical resume mistakes while you work on it. We've created a checklist of common resume don'ts for you below.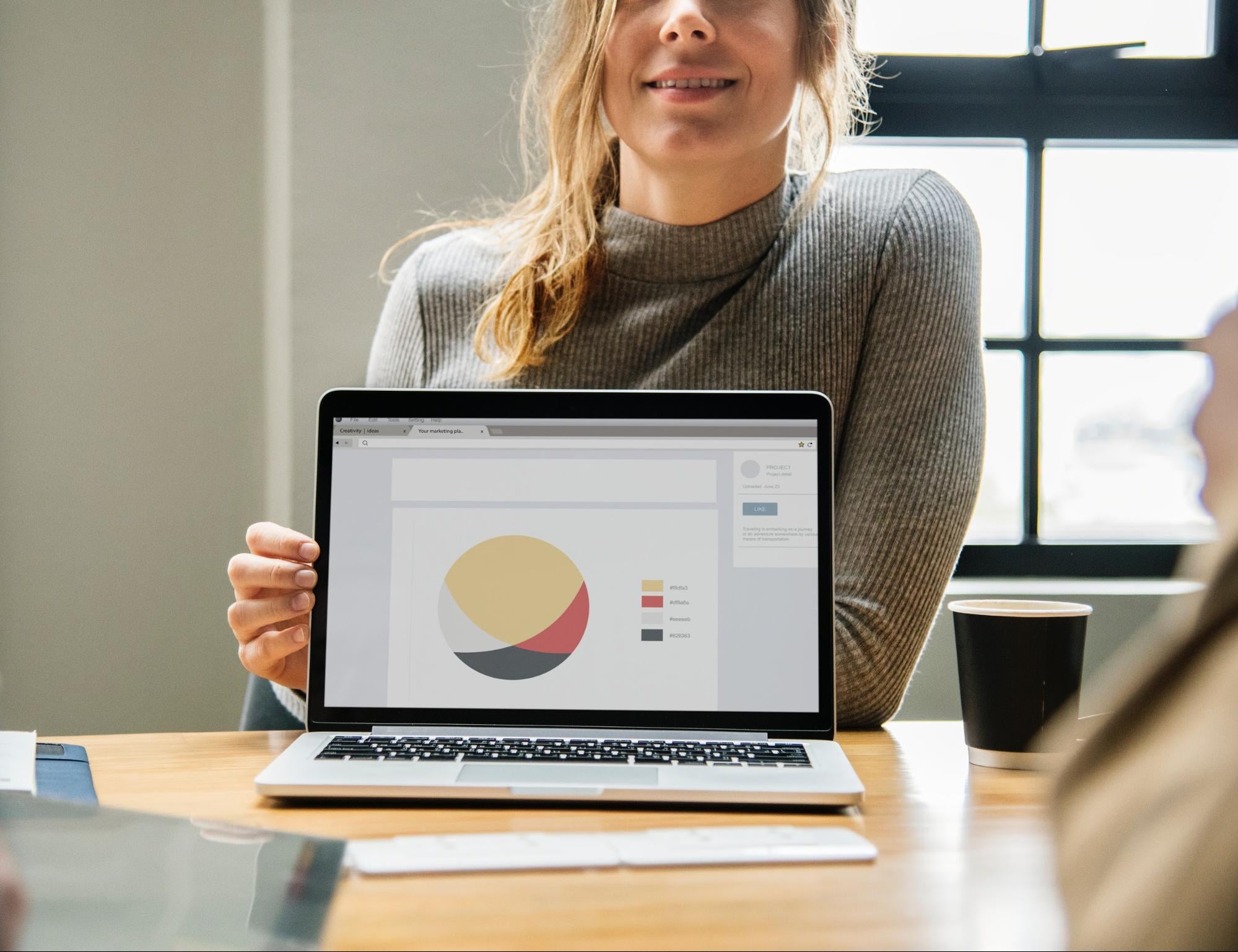 10 Worst Resume Mistakes You Should Avoid
Typos and grammatical errors;
Lack of specifics;
'One-size-fits-all' approach;
Being too wordy;
Cutting things too short;
Featuring duties instead of accomplishments;
Using no action verbs;
Providing incorrect contact details;
Leaving off important information;
Creating a visually unkempt and unattractive resume.
Now, as you know the dos and don'ts of a well-written resume, it's time that you create your own one. Don't bother much about the styling and formatting of your resume right now as these aspects are covered in the next section of this e-book.
Designing a Modern Resume
Now, it's time we talk about the appearance and formatting of your resume. Every day, employers in prestigious companies look through hundreds or even thousands of resumes. It's hard to impress them with a paper-copy resume. What's more, it's equally hard to impress them with a .doc resume with minimal formatting and next-to-absent visual organization.
Are there any alternatives? To impress modern employers, you need a modern digital resume with formatting and design that match the position you apply for.
Modern Resume is a Digital One
Job market got strongly digitalized in the recent years. As a result, you're likely to find a wider job opportunities' pool online. Applying for a job, you need a digital resume that your employers can open on any device and in any location.
This being said, the resume has evolved and now comes as a personal landing page, a landing page for selling you in your own best interest. A landing page resume makes sharing information about you simple, and its presentation is more visually appealing. This goes without saying that employers pay more attention to such resumes than to the simple .doc ones. For them, an online digital resume shows that you're a professional in your niche and have a lot to tell about yourself.
What's more, it's great if you design your resume in multiple formats, so that you're always sure that it took your employers one click to see your resume. It's a smart strategy to make your resume available online, as well as have it handy in a number of popular formats, such as .doc, .pdf, .ps, etc.
Check this detailed instruction on How to edit a PDF in Adobe Acrobat, on Mac and Windows etc.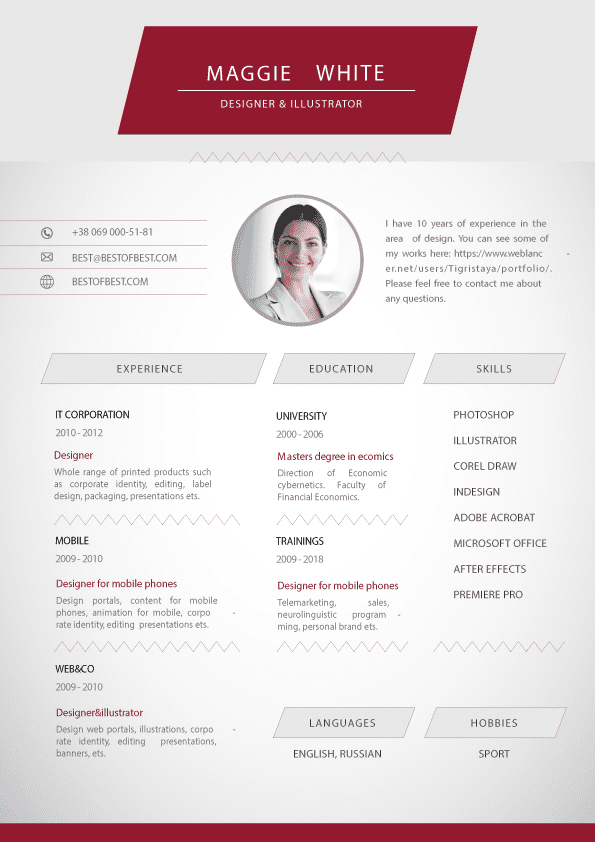 Benefits of Having a Modern Digital Resume
Creating a modern digital resume is a worthy time investment for a number of reasons. If you have it, you get a higher chance to attract the attention of the worldwide job market and get the position of your dreams. However, this is not the only advantage of having a modern resume. Let's review all the advantageous points of having a modern digital resume:
A modern resume is one of the best ways to advertise yourself as a professional. You get a chance to make it more tailored. For instance, you may use subtle hints that uncover your exceptional expertise and creative approach to work.
A modern resume lets you lie back and relax while it's working for you. It makes you sought after, rather than tirelessly searching for your perfect job offer.
Next, creating a resume lets you recognize your strengths and build upon them in future. As you input your job experience, certificates and skills into a resume, you shape the image of yourself as a professional and feel more confident at the upcoming job interview.
What's more, while shaping a resume, you get an opportunity to re-evaluate your expertise and skills. If there's something missing, you might grasp that there is an educational course or other training that should be completed to get your dream position.
Last, a modern resume is a great chance to demonstrate your digital literacy. As we all live in the world of modern technologies, this point will be also taken into account by your future employers.
How Your Modern Digital Resume Should Look Like?
If you're versed in designing digital products and apply for a related position, you may want to design an advanced digital resume yourself using Photoshop or similar software. Treat this as an extra chance to demonstrate your aptitude and professional skills.
However, if you're not a web designer, you can save yourself a lot of time and headache, and still, get a resume that looks just perfect for the position you apply for. Wonder how? You can simply get a ready-made resume design by going for a resume template.
Resume and CV templates are the ready-made designs that let you get your resume done within a couple of hours. They are designed by professionals and have the looks that help you stand head and shoulder above the rest of applicants. So, why don't you make your task simpler and reinforce your resume with a ready-made professional design?
So, think which of the resume template examples below will best suit your needs. Moreover, do not hesitate to check out all the resume and CV templates available in the MasterBundles
Business & Services Professional Resume Templates
If the main purpose of the resume design you need is highlighting your professionalism and expertise, you'll nail it down with one of the following resume templates: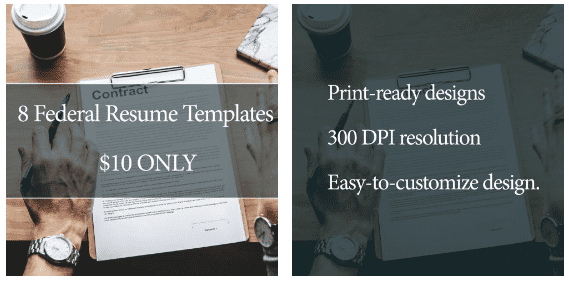 Resume Bundles
If you just can't decide on a single resume design for all of your purposes, why don't you go for a penny-wise resume templates bundle? Most excitingly, the whole bundle will cost you less than a cup of coffee. We feature some best-priced and well-thought options for you below.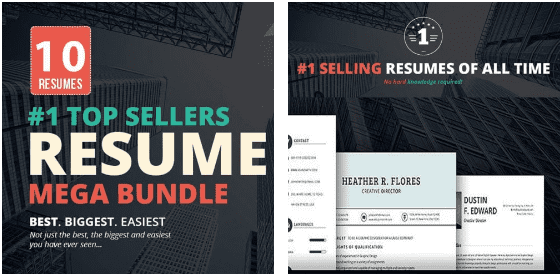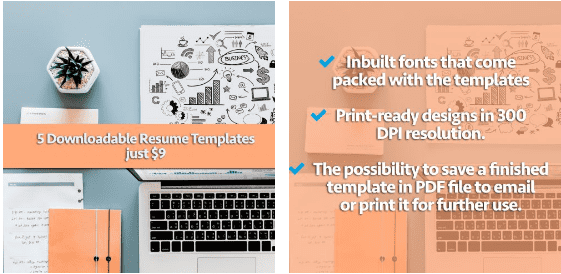 We hope that now you know how to choose the design of your resume that immediately gets the attention of potential employers. By using an advanced resume template you effectively maximize your chances of being invited to a job interview and finally getting the job of your dreams.
Passing a Job Interview
So, let's say you've sent your resumes to your top selected openings and got invited to several job interviews. Now, it's important that you get yourself well-prepared for all the tricky questions and tasks you may be offered.
A job interview is the last stage of the job application process. It's an indicator of a great deal of work you've accomplished to get this far. Now, it's important that you differentiate yourself from the remaining candidates and pass the interview the way that gets you hired.
Below, we've compiled a list of the top 10 most important job interview tips to help you nail it down with flying colors.
Top 10 Most Important Job Interview Tips
Learn More About The Company and the Interviewer
Read about the company on the Internet, check out the latest related news and find the company's accounts in social networks. You can use this information to ask relevant questions during the interview.
If possible, find out what kind of a person will conduct the interview and what the qualities they value most in their employees are.
Make Contact
Say hello to the recruiter, make a joke. The recruiter should like you not only as a professional but also as a person. No matter how good you are as a professional, you may be disqualified if you act too arrogant and don't treat other people well.
Provide Relevant and Precise Answers
Oftentimes, the candidates don't focus on the interview questions. They are eager to tell as much about their greatness as possible. More than 80% of candidates start to make digressions when they are asked simple and clear questions.
Therefore, before you answer an interview question, take a small pause and answer the question as briefly and as clearly as possible. If you're asked to continue, cover the matter in more detail.
Maintain Dialogue
Many candidates come to a job interview with the mindset of telling about themselves and sharing their success stories. In the end, this turns into a self-praising monologue.
However, the best interview is a dialogue. Do not hesitate to ask questions about your future duties and company plans. This will show that you're deeply interested in working for this company.
Know Your Strengths And Weaknesses
Make a list of your strengths. 6 to 8 items will be enough. Then, think of the situations or achievements of yours that best illustrate the qualities on your list. The interviewer will, rather, remember a specific example than a description of the strength.
Do the same for the weaknesses. However, in this case, you've got to jot down how you've overcome a weakness and grown as a result of a certain situation.
Know Your Achievements
Write down your two major achievements at each of the previous jobs. Also, be prepared to discuss the most significant personal achievements over the past couple of years in detail.
Answer Questions The Right Way
There's a universal scheme for answering any question during a job interview. First, you should answer with a short general statement. Then, provide a vivid example and answer the question in detail.
Discuss The Requirements For The Candidate
Discuss the requirements for the candidate at the very beginning of the interview. Ask the interviewer to cover the main job-related difficulties, the specifics of working with the team and the kinds of problems you will be solving as an employee. Then, use the list of your achievements to prove that you have successfully solved similar problems in the past.
Don't Cover Up For Past Mistakes
Don't try to cover up for past problems, such as dismissals, lack of education or the mistakes you made. Instead, you need to be prepared to answer the questions about these problems showing that they've helped you become a stronger, more experienced and more skilled employee.
Ask About a Follow-up
At the very end of the interview, ask the interviewer about how they'll arrange a follow-up. If the interviewer can't provide you with a clear answer, ask them if there is anything that causes concern in your resume or in the answers. This can be your last chance to amend the situation.
Free eBook "How to Find the Job of Your Dreams?
Reading this e-book, you've learned all the steps it takes to get the job of your dreams. You've got to figure out what kind of job it is, create a stellar professional resume and pass the job interview with flying colors. Hopefully, you've found this piece of reading useful.
We wish you good luck in finding your dream job and getting it!
Download our free eBook to continue reading: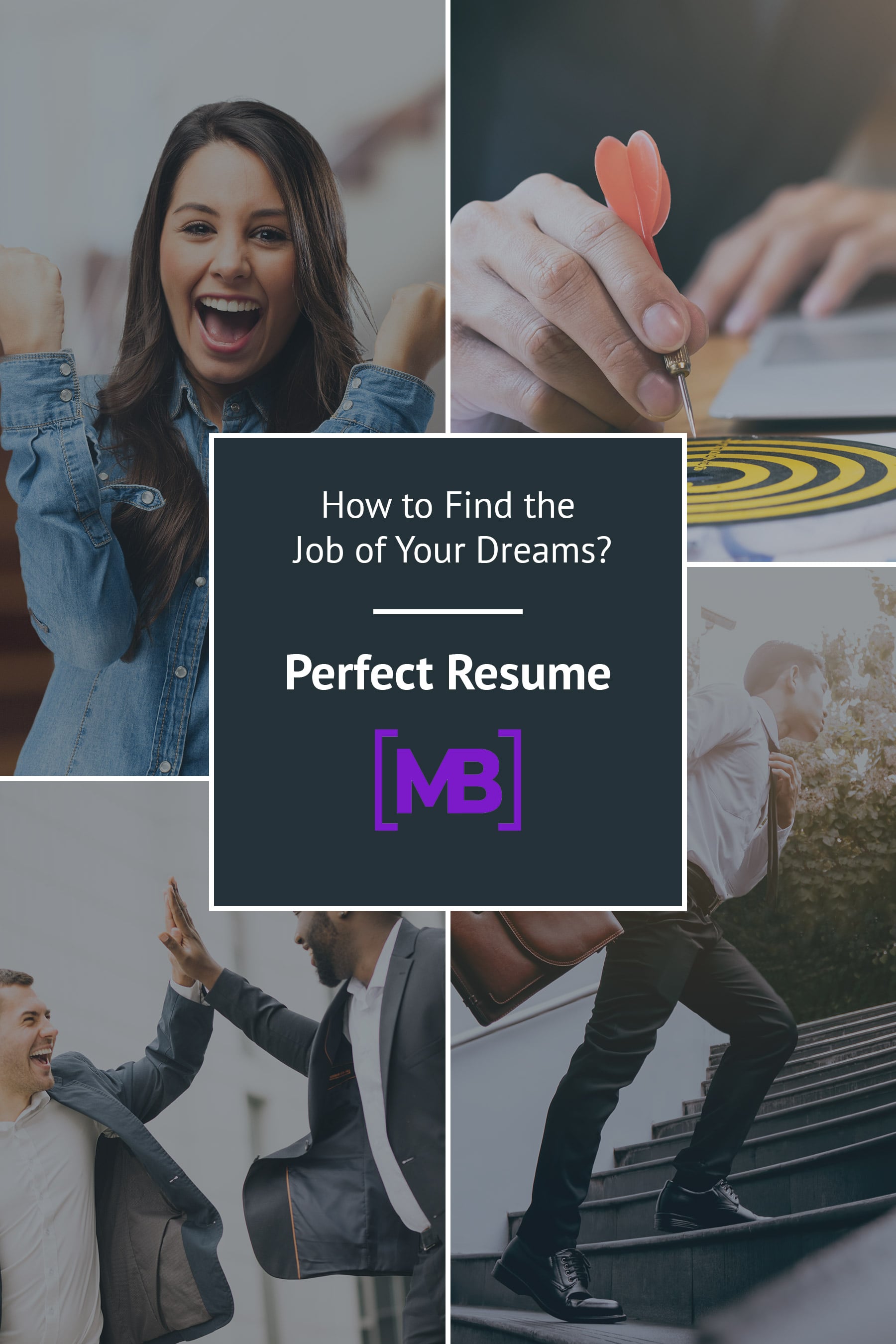 Video About Applying For The Job Of Your Dreams