60+ YouTube Channels For Learning Digital Marketing in 2021
Intro
Today YouTube is for more than just watching funny videos of animals. It is an incredibly useful and free video resource for learning and staying up-to-date with any industry from all over the world.
Having a career in digital marketing is rather new and unique. A marketer is a specialist who studies buyers' preferences and increases the level of the turnover of the company he works for. Not every businessman beginner can afford the services of a specialized marketing agency.
You should remember, there is a ton of information online that can help us in our jobs. Today we will talk about cool digital marketing YouTube channels with interesting content uploaded on a regular basis. Whether you are a beginner in digital marketing or you have some expertise, you will find our list of the video channels useful and interesting to flex your marketing skills.
YouTube offers everything you need for an effective learning: lessons, reviews, cases and video from conferences. To make it easier for you, we have collected 50 most interesting YouTube channels about Internet marketing.
Here you go.
TOP 10 YouTube Channels in 2021
Unbounce is the very channel that will help you learn the latest marketing tactics and useful tips and tricks that will help you easily bring any project you will ever work on to the top. The channel has a vast variety of videos that will surely back you up in any marketing emergency. Apart from that, Unbounce offers webinars with successful marketing experts. So if you want to unveil marketing top secrets that will help you become a true pro as well as to develop as a professional, this very channel is no doubt the way to go for you.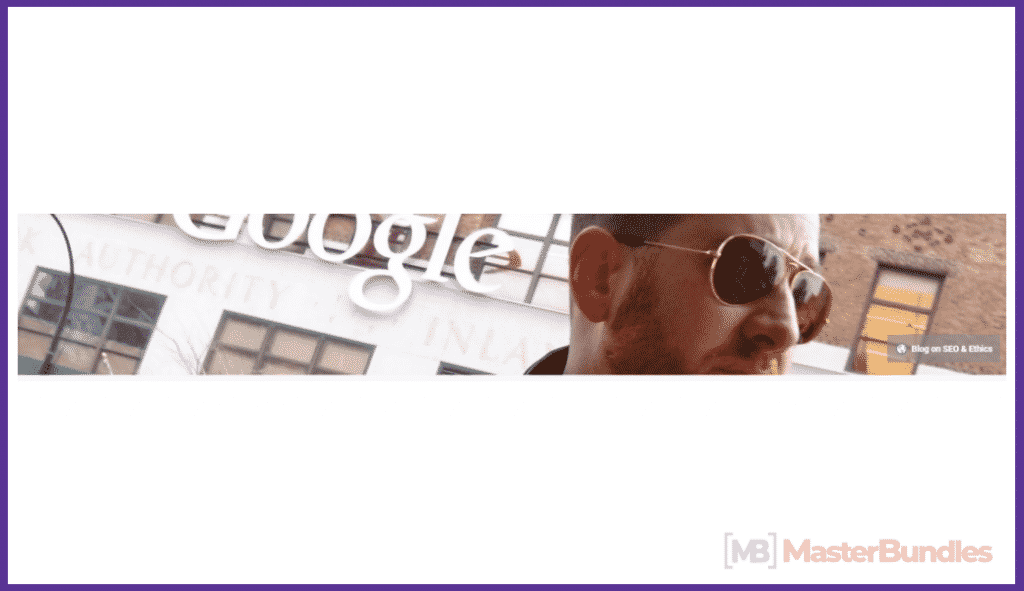 Josh Bachynski is a leading digital marketing expert and blogger who is willing to share his vast experience and exclusive knowledge with everybody who wants to learn more about marketing. Josh's relatively new channel has a pretty decent library with videos on different important topics. Thus, if you are one of these people who would like to develop their skills and grow as a professional, make sure to check out this very YouTube channel and subscribe to it not to miss the latest videos and updates.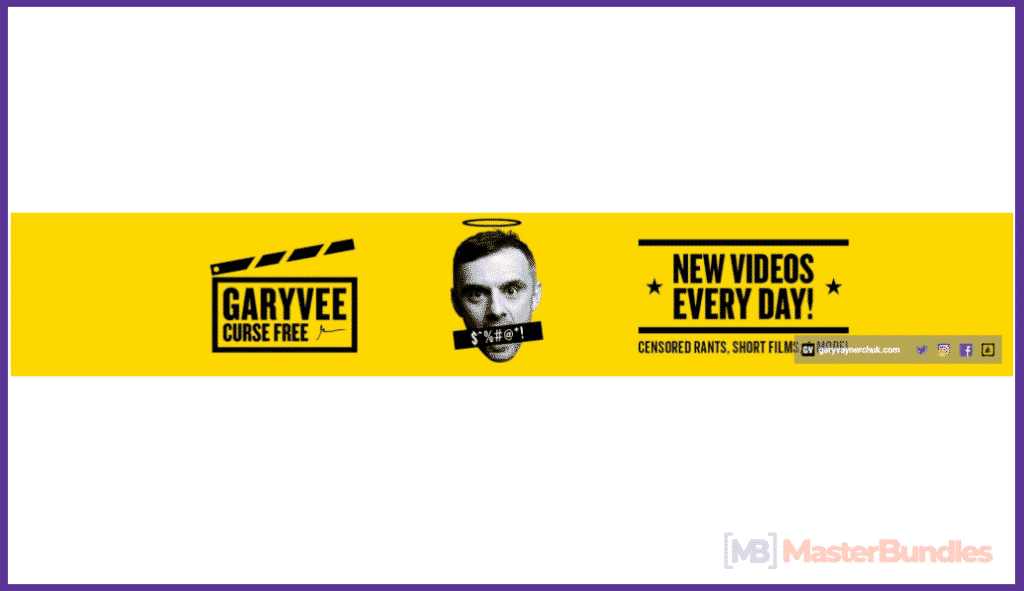 Well, we have already mentioned this digital marketing guru's channel on our list, yet this one is a channel for those of you who would like to learn some of the pro tips in a more comprehensive way, which is uncensored. Yeah, Curse Free GaryVee is another Gary Vaynerchuk's YouTube channel that contains uncensored videos, in which this truly epic marketing expert shares his secrets of success. So if you belong to that category of people who learn better from expressive explanations that contain curses, go ahead and subscribe to this very Gary Vaynerchuk's channel right now.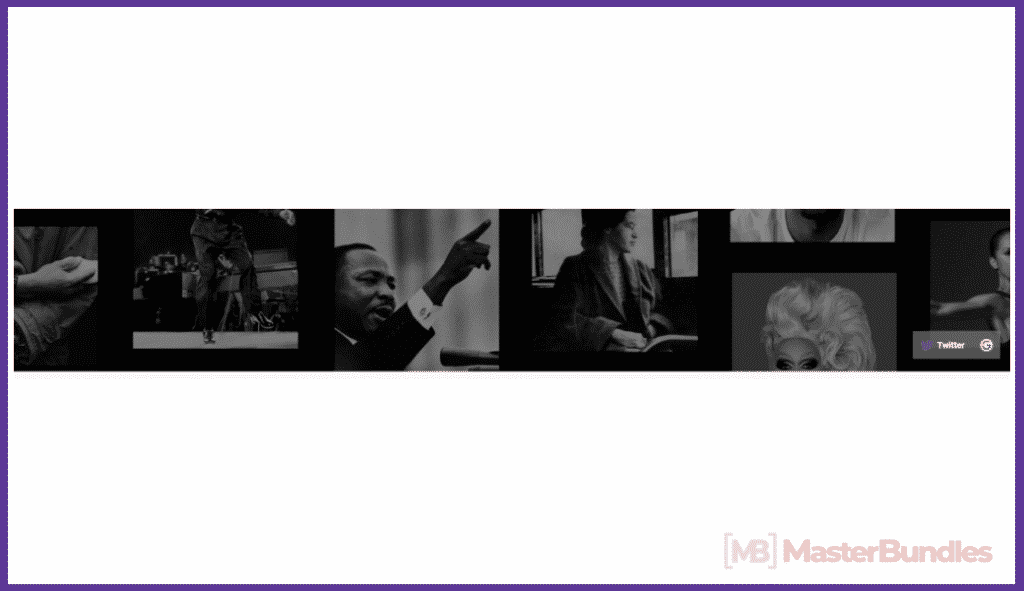 Well, if you ask me, Google is perhaps the best channel ever to learn about search engine optimization, digital marketing as well as many more cool stuff simply because who except Google developers know better how to promote a website in this very search engine? The channel has a really huge library that contains various useful videos made by true professionals and guarantees quality content. New videos come out several times a week and their quality, as well as up-to-date info presented in them, are definitely worth checking out. So if you would like to find out how to bring a website to the top search results in Google, go ahead and subscribe to this channel.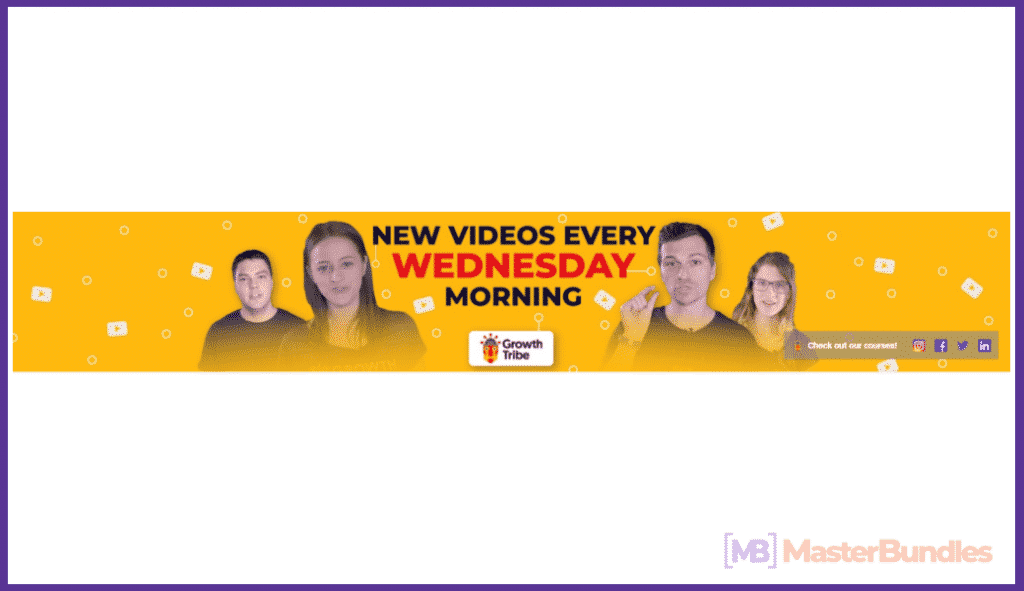 Growth Tribe is a channel that will not only help you learn all the marketing details but also a whole bunch of cool stuff about self-development, artificial intelligence, products and software reviews, interviews with experts, as well as many more. Growth Tribe posts new videos every Wednesday morning, so you'll have something useful and interesting to watch while having lunch at work. Well, if you want to find out more about the latest modern technologies and become a true digital marketing guru, do not hesitate and subscribe to this stunning channel.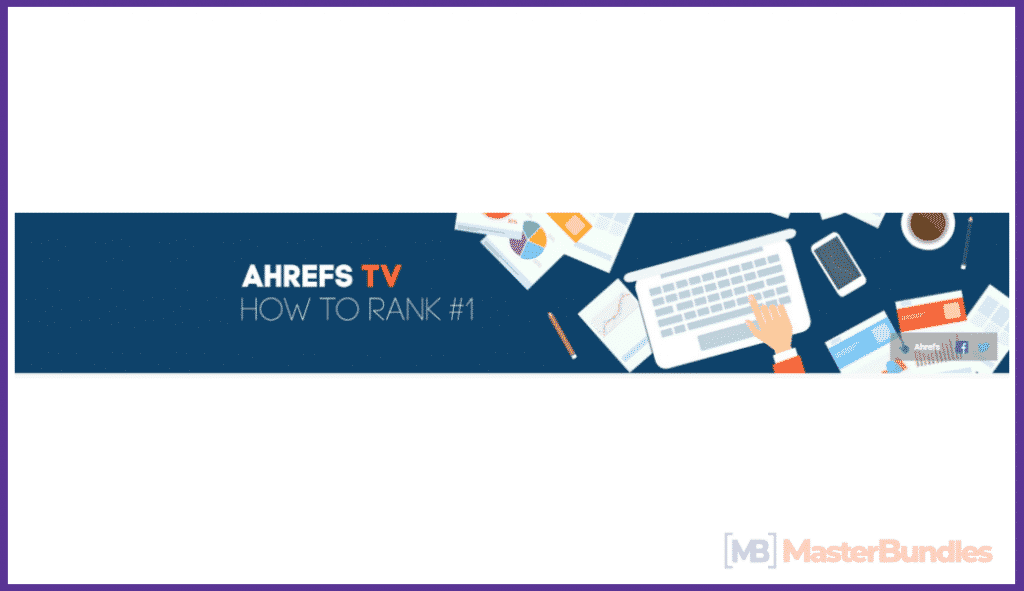 Ahrefs is a YouTube channel, on which you will find out everything about SEO, social media marketing, email marketing, PPC advertising, as well as many more. The channel will help you understand how to start a marketer career and become a true professional who'd be respected by their colleagues. Not only is this channel useful for the beginners, but also for experienced marketing managers who would like to learn some exclusive tips and tricks. To cut long story short, if you want to become an SEO god and a true expert, Ahrefs is the very channel you must subscribe to.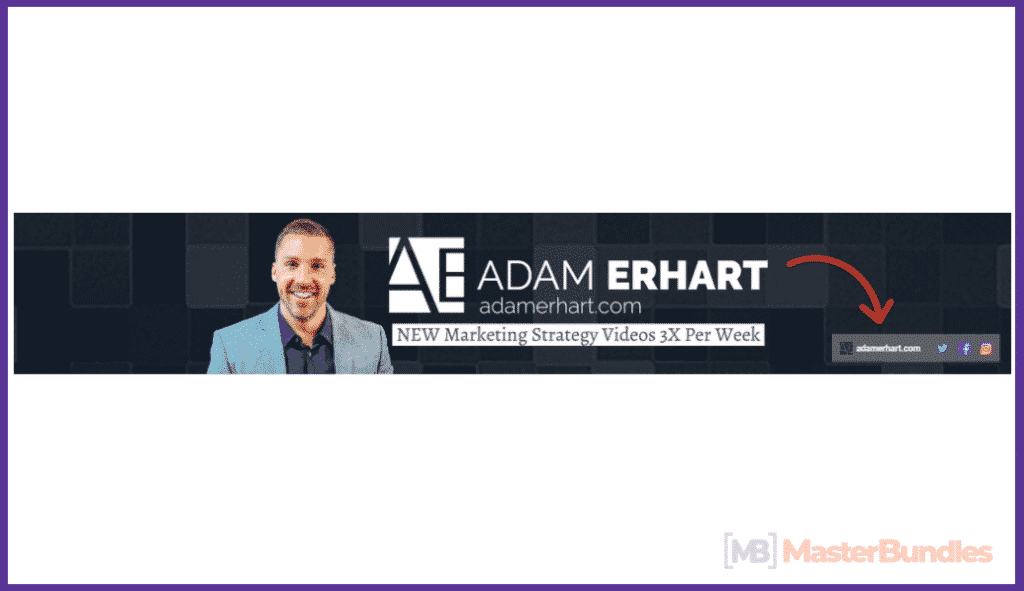 Adam Erhart is another marketing expert who shares his tremendous experience and knowledge with all the people who are eager to learn more about marketing. In fact, Adam's channel will help you learn pretty much everything about marketing starting with basic information and ending with new sophisticated strategies. On Adam Erhart's channel, new videos come out three times a week, which is actually a lot. So if you do not want to miss another super useful video from this expert, make sure to subscribe to this channel and turn on notifications.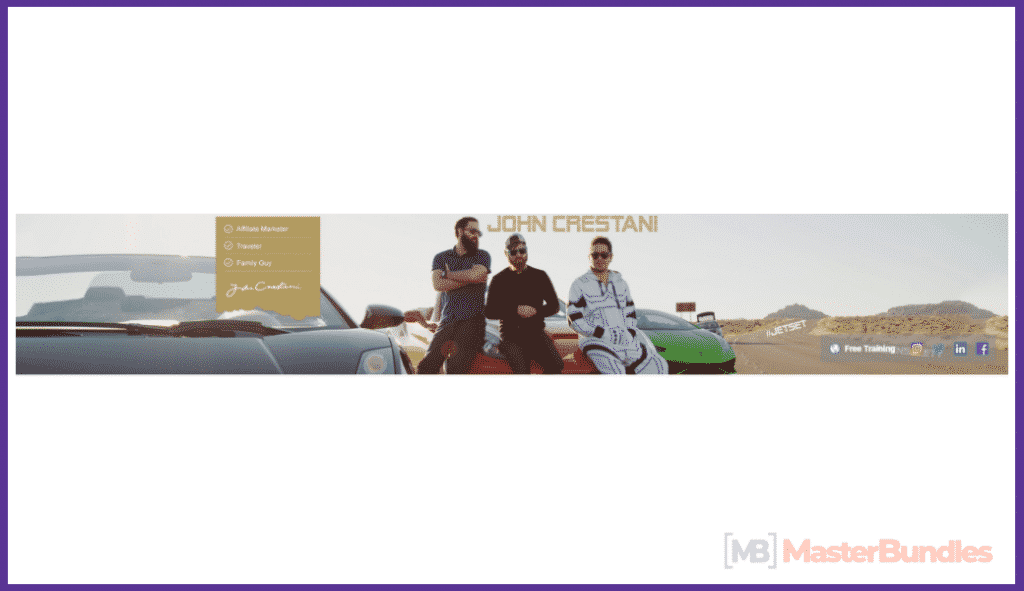 John Crestani is not only a great marketer but also a successful YouTuber who has more than 250k subscribers. On his channel, you'll find a huge amount of videos on such topics as affiliate marketing, social media marketing, as well as lifestyle and traveling. The blogger posts new videos quite regularly, which means that there always will be something to watch for you. So if you would like find out how digital marketers actually live as well as to learn their pro secrets, you should follow John Crestani.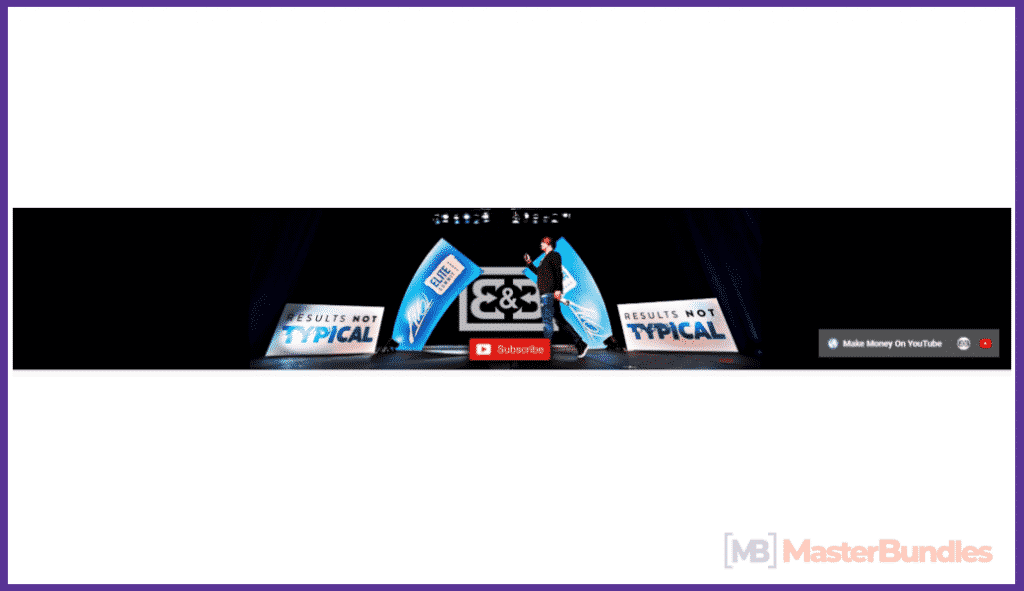 This very channel is highly recommended by other famous YouTuber that we have already mentioned on our list, John Crestani. Benjamin Jacques is a marketer who is no afraid to share his success secrets with you. The blogger uploads new videos a couple times a month and provides quality content. Among the topics Benjamin Jacques covers in his videos are social media marketing, advertising, various types of promotions, ways to earn money from social media, as well as many more. So if you are a blogger who wants to find out how to upgrade your social media accounts so you can make money from them or a social media manager, you simply cannot afford to miss this channel.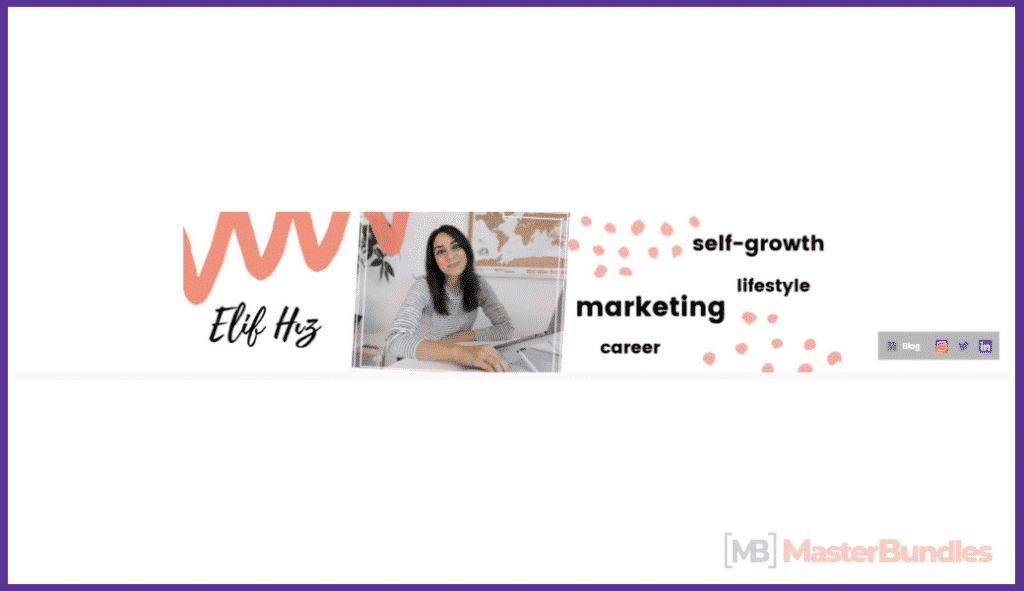 Elif Hız is a YouTuber who will teach you how to become a digital marketing god. She posts new videos on a regular basis and explains the hardest to understand marketing strategies in a simple and comprehensive way. In her videos, Elif covers a vast variety of topics such as alternative marketing, sales on Instagram, resume tips and tricks, different types of employment, lifestyle, traveling, and many more. Well, if you would like to learn more about self-growth, career building, and expert marketing tips, this channel is definitely for you. So do not hesitate and subscribe to Elif Hız.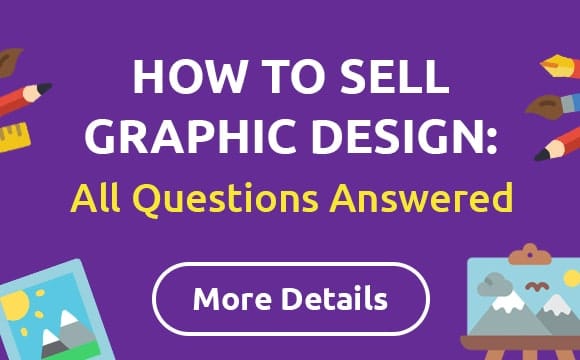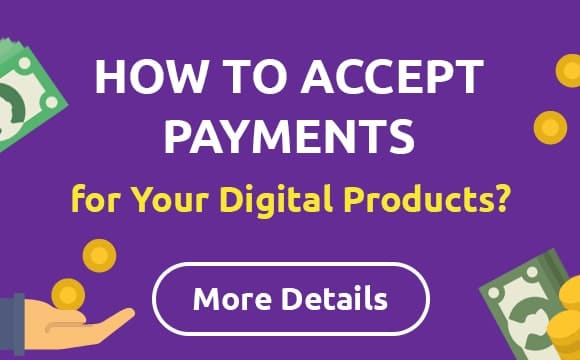 Review of 50 YouTube Channels For Learning Digital Marketing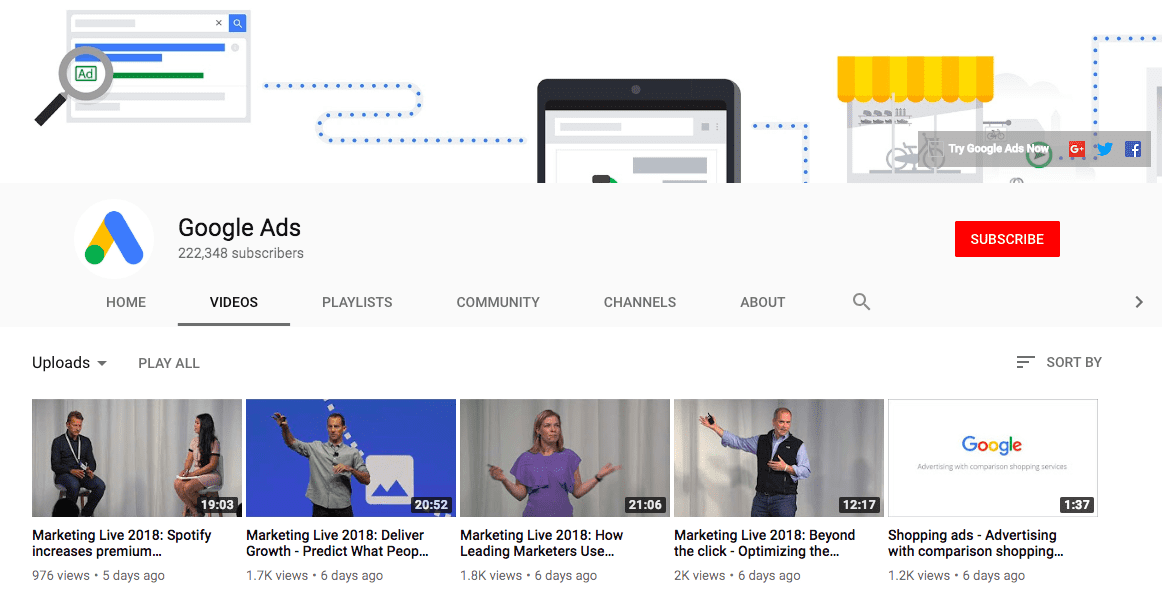 The Google Ads video сhannel is created to teach you how to work with Ads and use an efficient online marketing to develop and grow your project. Do not miss interesting educational videos, detailed demonstrations, and gurus' reviews to learn how to make AdWords work for you and your business. Subscribe to Google Ads channel to stay up-to-date on the latest Ads news and trends. It is a perfect place for entertaining and extremely informative learning.
American Marketing Association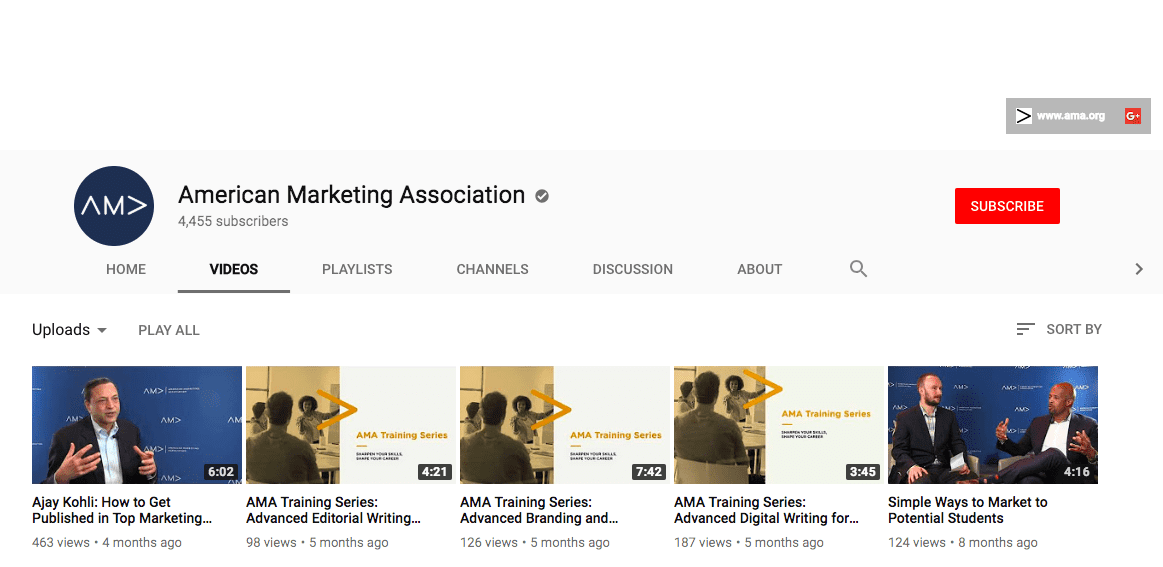 With a huge number of members globally, the American Marketing Association is the largest marketing association in North America. It is a professional community for companies and individuals who are involved in the marketing industry. The association provides essential information, high-quality education, and networking opportunities for all the members. Subscribe to the channel and join the American Marketing Association to improve your career and enrich your life.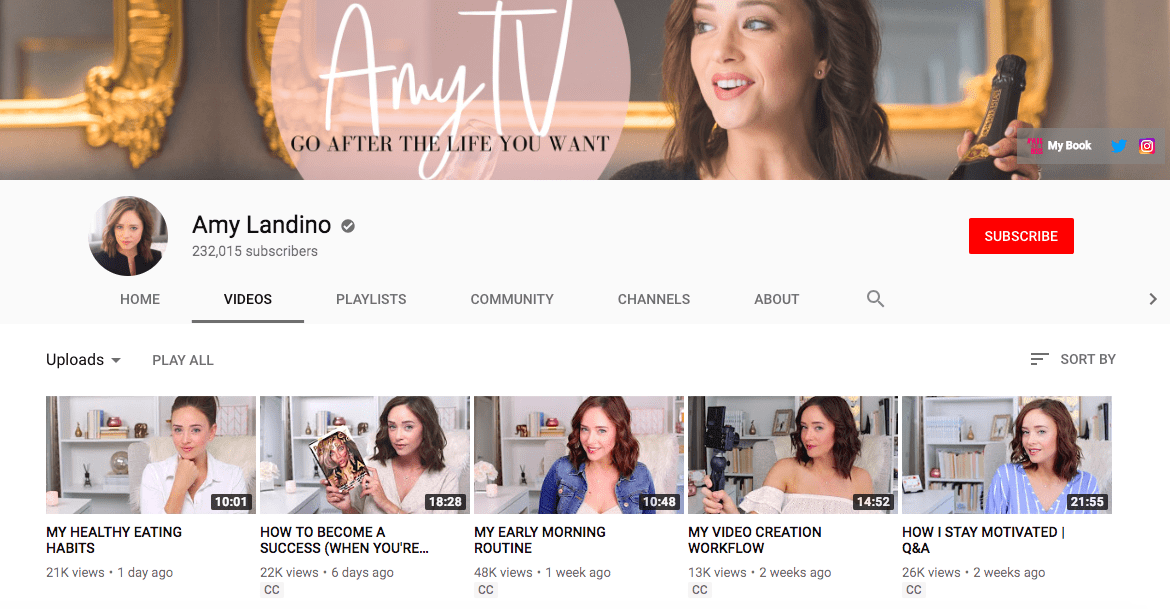 Amy Landino encourages to go after the life you want. She is a popular blogger, speaker, and coach. Amy owns two marketing companies – Aftermarq and Vlog Boss Studios – and works with a global community about leveraging online communication for brand awareness. She is sharing her collection of tactics and strategies to help you to grow in a social marketing world and get the attention you deserve.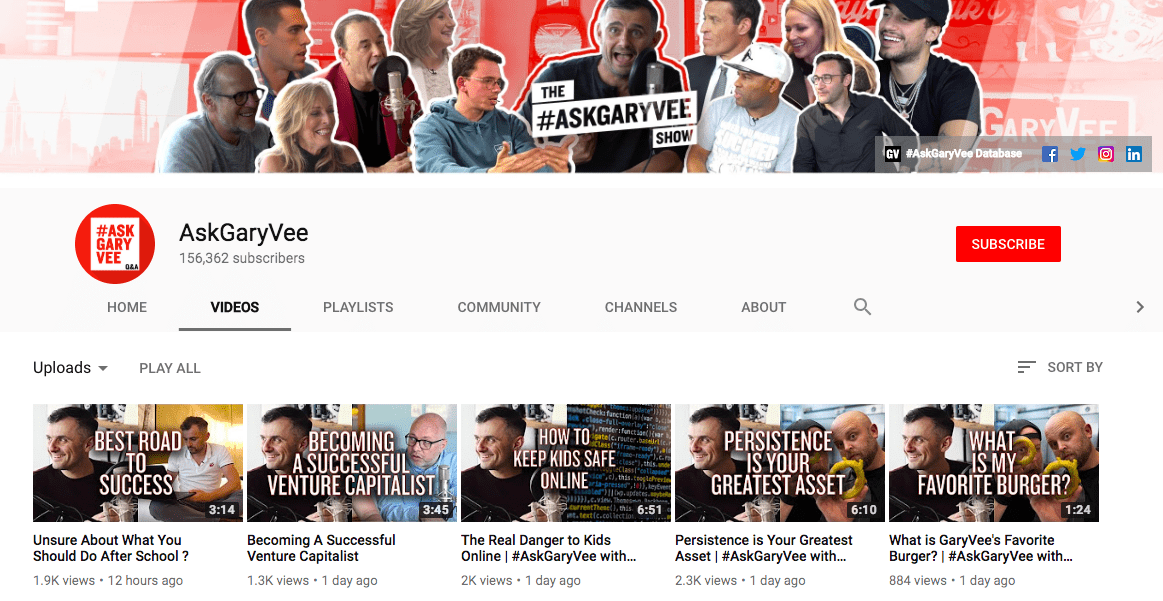 Gary Vaynerchuk is an entrepreneur and the CEO and founder of VaynerMedia. He is uploading long-form content on a daily basis. The topics are ranging from business meetings with clients and fans to keynotes at various events. Subscribe to the channel, expand your knowledge base, and share your learnings with those who are involved in the industry and eager to learn more. Social media platforms, growth and strategies, startup success and branding, and much more are waiting for you on the channel.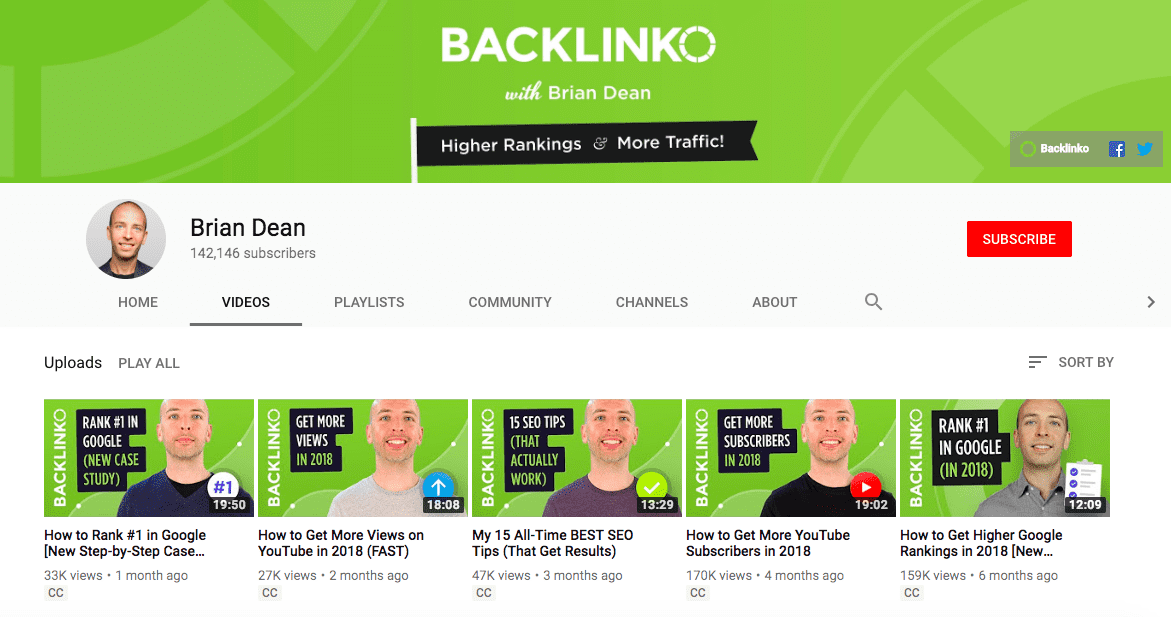 The channel is hosted by Brian Dean. It is all about SEO and content marketing strategies that should be used to grow your business.
If you are a marketer or business owner and you want to use search engine optimization to get more traffic to your website, make sure to subscribe to his channel and watch the tutorials uploaded. You will find a lot of useful information about SEO case studies, real-life examples, industry tips and tricks and etc.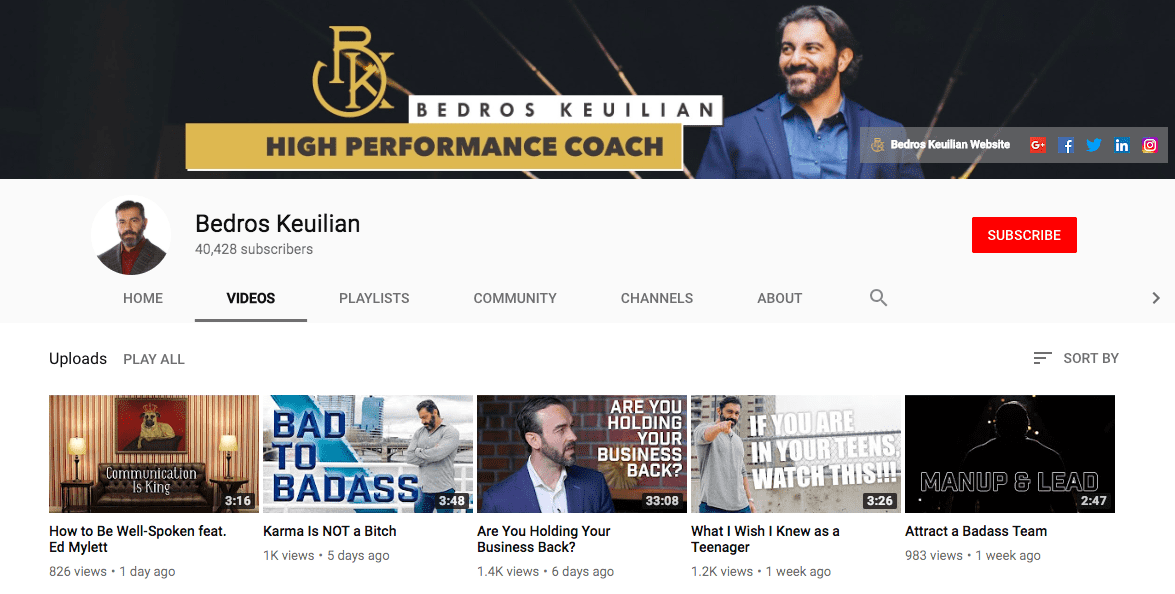 It is a great example of a video channel that provides you with the tools, strategies, and mindset you need to turn your project or idea into a massively profitable business. 3 days a week new videos are uploaded.
Do not hesitate to subscribe and comment. Bedros is happy to teach and keep in touch with those who are eager to learn, develop and be successful in the industry.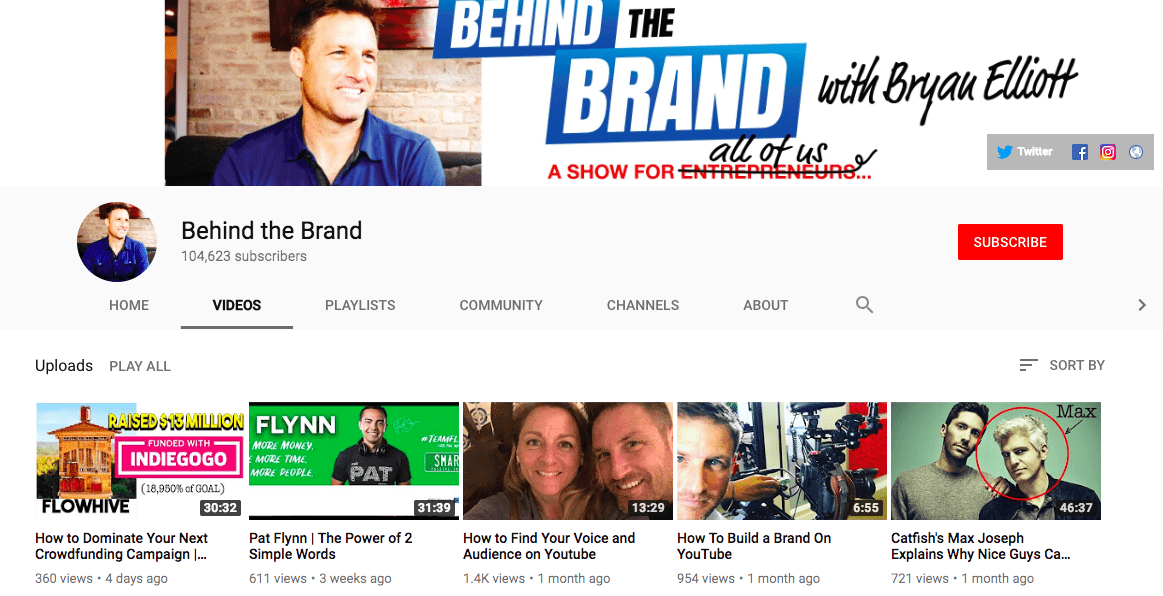 Behind the Brand is a video blog about innovators, entrepreneurs, and successful stories. It's a great collection of the minds, companies, and lifestyles of the most interesting and smartest people all over the world. Subscribe to the channel to watch interviews with the ones who built big businesses and brands, sports people, celebrities, artists and more, to learn their tips and follow their advice. Watch the videos to get a dose of inspiration and secrets from the most successful ones.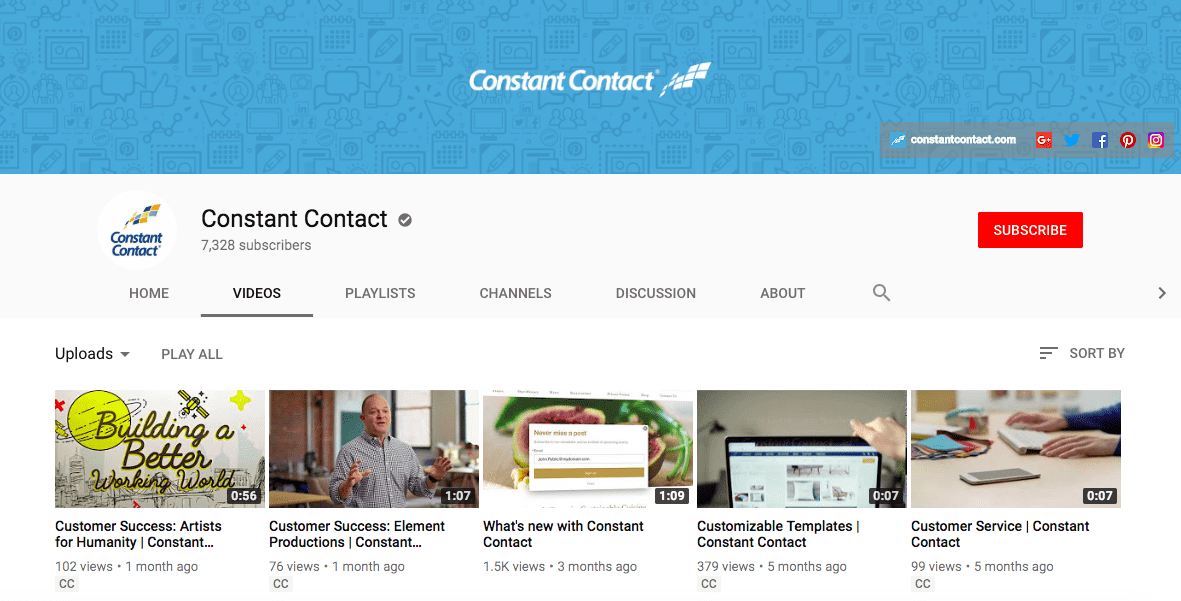 Constant Contact is a success formula for small companies through affordable, easy-to-use Engagement Marketing™ tools that help create and grow customer relationships. A huge number of small businesses all over the world rely on Constant Contact in relates to email marketing, social media marketing, event marketing, and online surveys. All Constant Contact services and products come with a great customer support and education with a personal touch.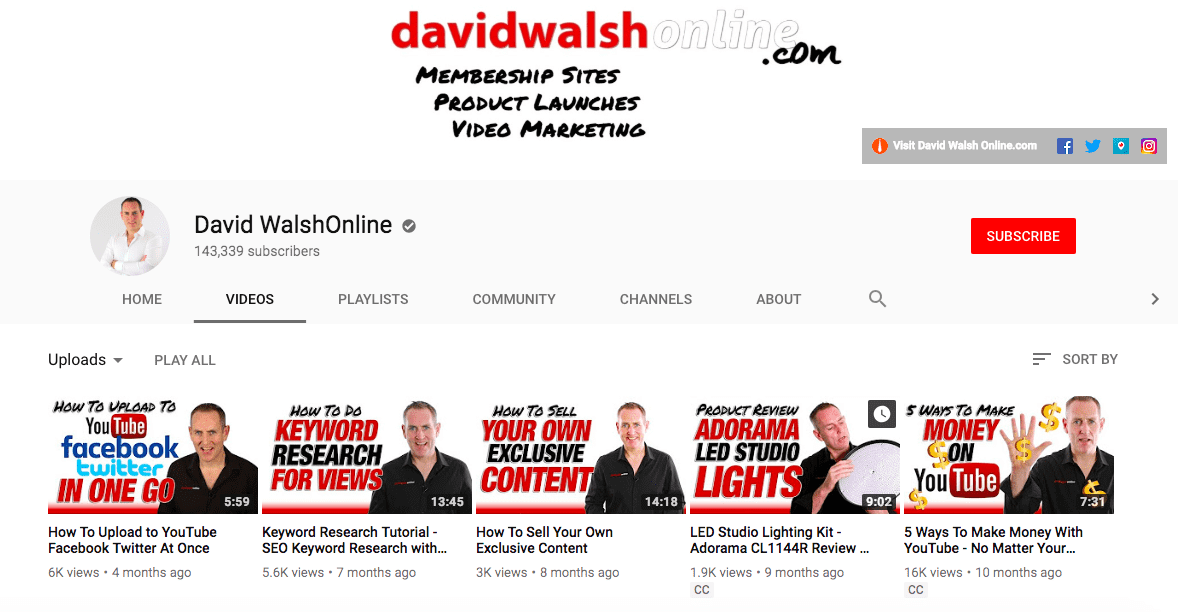 If you are searching for the latest news about video marketing, membership sites or product launches/marketing your business, then it is the right channel to subscribe to. David is glad to share his tips and tricks and give you strategies you can use in your online or offline business. With updates on a regular basis, this video channel is definitely worth following to learn more about the industry and master your skills.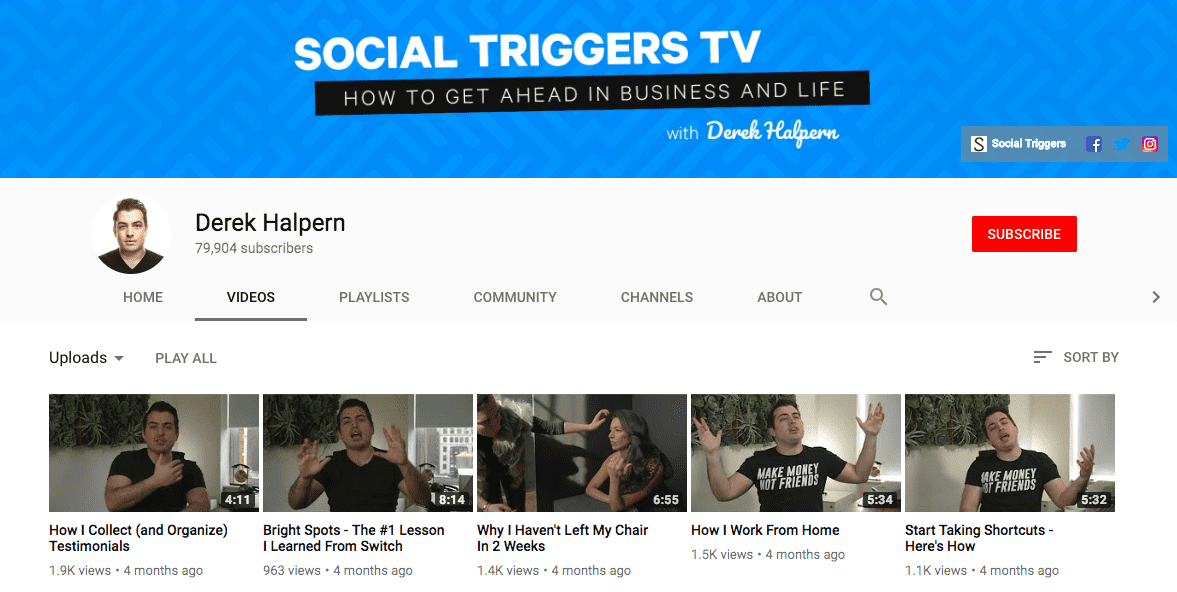 Subscribe to Derek's video channel to master the skills in psychology, marketing, and human relations. The blog is full of marketing and networking tips for business people, pricing strategies and tips for your business, the psychology of persuasion and negotiation lessons, tuts on how to become an expert, how to sell anything to anyone, and much more. Most of his videos get close to 5 mins so it will not take much of your time to learn something new and useful.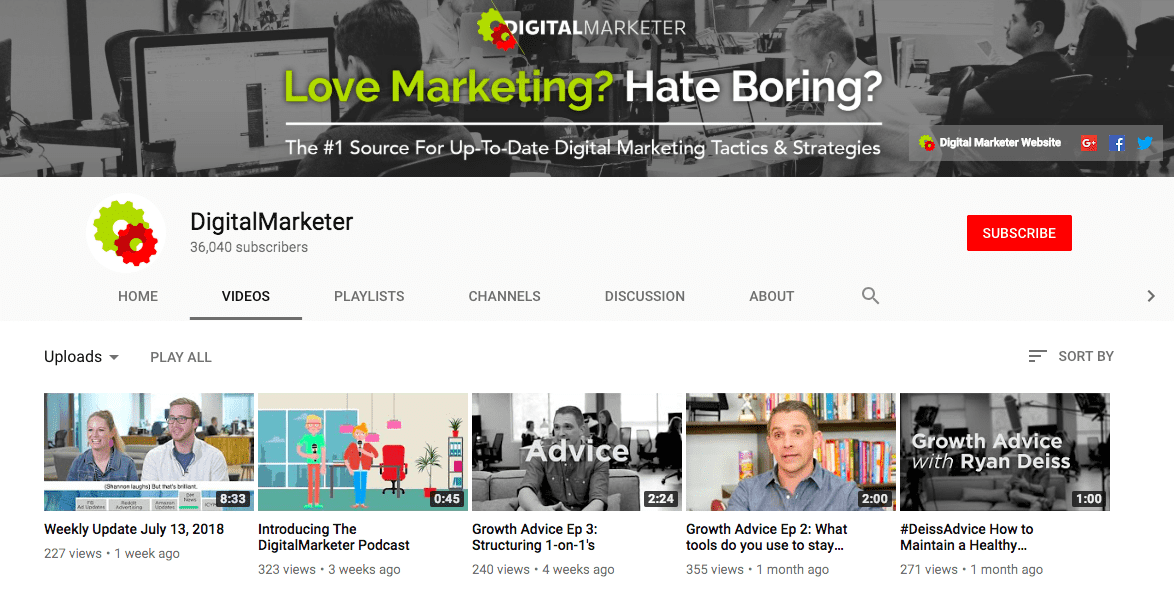 Welcome to the video blog Digital Marketer! The smartest marketers share their tips and tricks here. Develop and grow your business with digital marketing tuts. You will be able to learn everything from website optimization to social media to data analytics. The channel is helpful for digital marketers who can learn the strategies of industry leaders and innovators, and improve their campaigns. Now you can stay up-to-date with marketing data and follow the trends before they sweep the industry!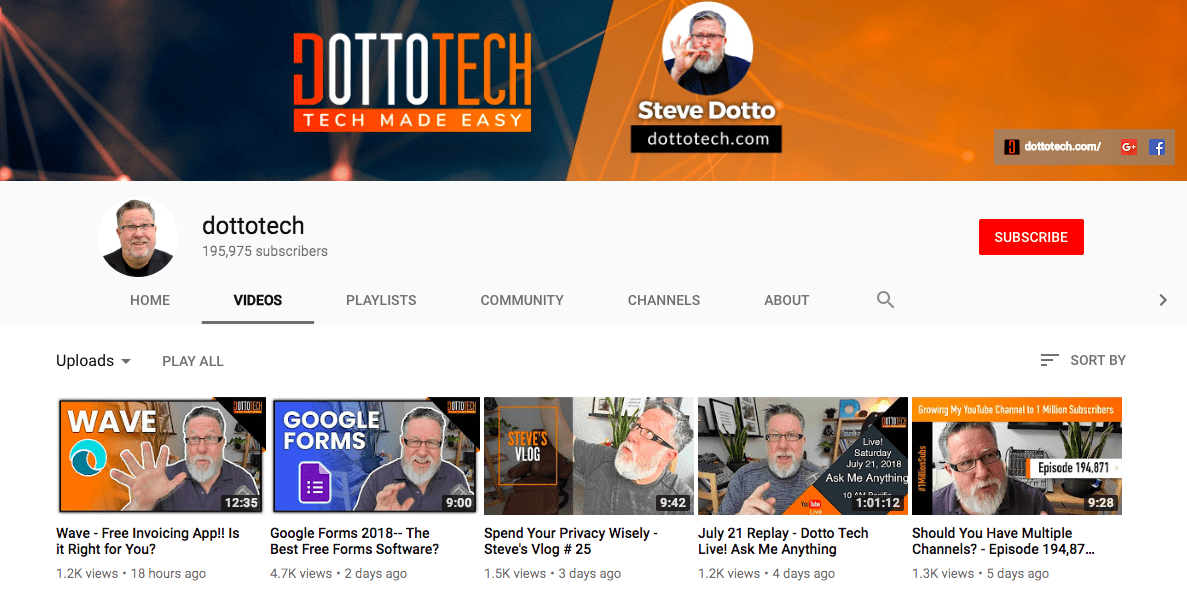 Dottotech is all about delivering excellent how-to tips on YouTube. 2 productive videos are uploaded on a weekly basis. Most of the material is focused on efficient using of a computer and other devices for personal productivity and development. More than 195 thousand of subscribers are following the blog and know how to achieve digital marketing success. Do not hesitate to learn more and gain new skills.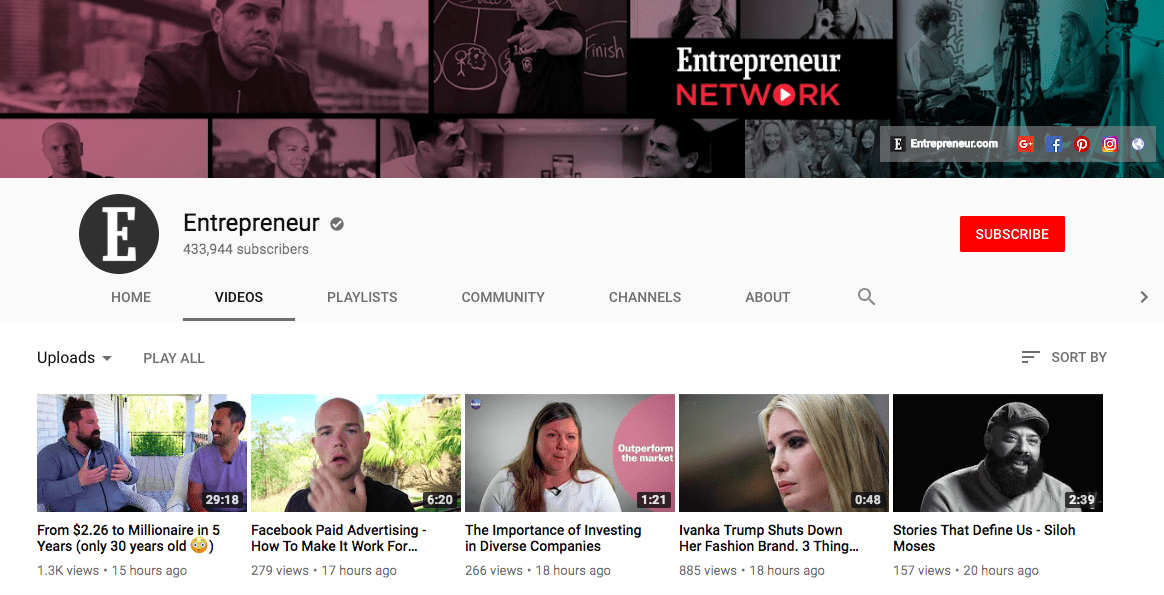 Looking for business ideas and trends from Entrepreneur Magazine and Entrepreneur Network partners? Here you go – subscribe to the Entrepreneur channel to know the latest news, expert advice, and growth strategies for small business owners. It is still worth taking a look through them to find useful tips and jumpstart your dreams.
Eric Worre – Network Marketing Pro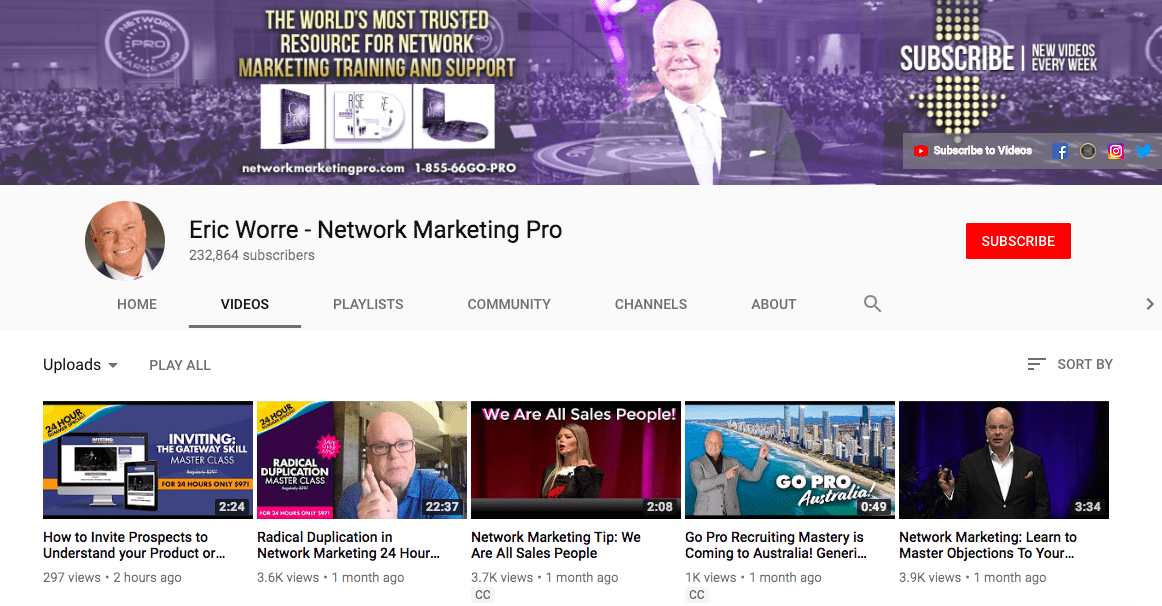 Network Marketing Pro is one of the world's most popular resource for Network Marketing training and support. New content is uploaded on a daily basis to help you grow your skills and develop your business. The trainer and expert, Eric Worre, is sharing his tips passing on his knowledge and experience. Do not hesitate to subscribe to the channel and learn from Eric Worre and other top experts in the industry.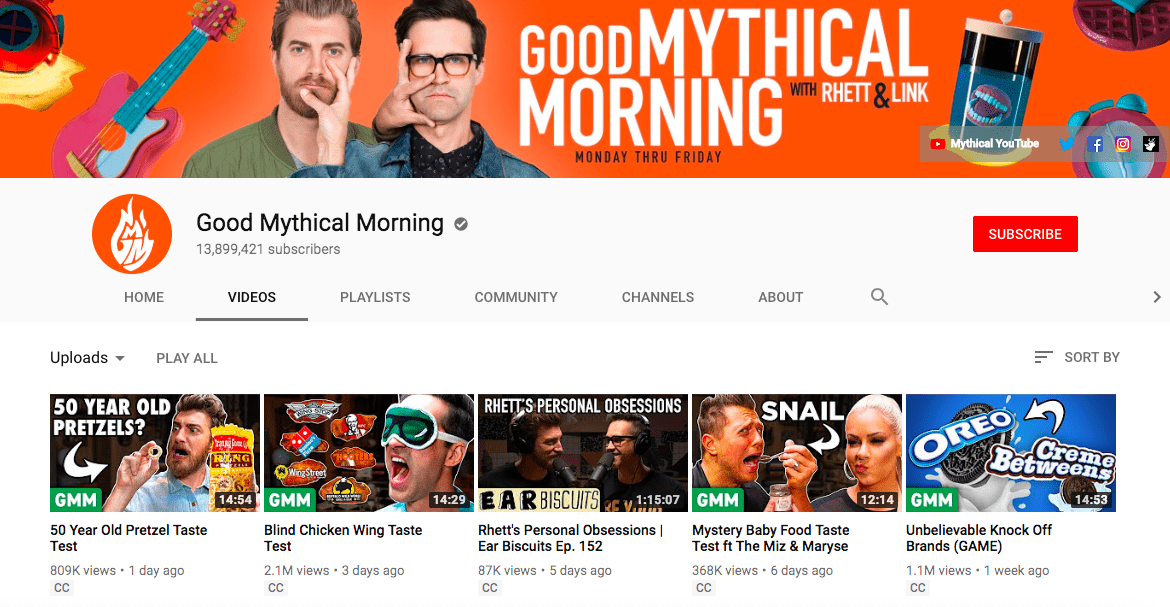 Good Mythical Morning is a daily morning talk show hosted by Rhett McLaughlin and Link Neal. The show first appeared on YouTube on January 9, 2012, and from now on it is uploaded every weekday. Over 13 million subscribers are following the channel. It offers a great number of informative discussion topics in the science, technology, lifestyle, and pop culture areas with quirky, entertaining twists. Subscribe right now and have fun.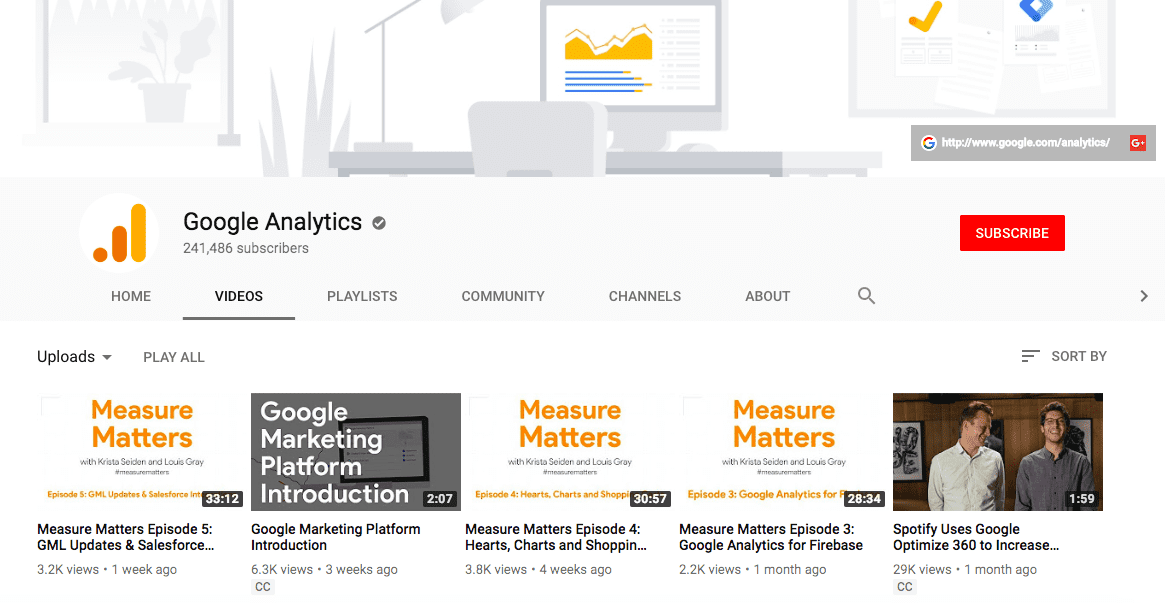 You are welcome to subscribe to the official YouTube channel for Google Analytics, where you will have a free access to the videos and product tips for Analytics, Data Studio, Optimize, Surveys, Tag Manager, and much more. The blog offers a great collection of the tuts for beginners in the industry. Subscribe to get the tips and guides on how to achieve success online.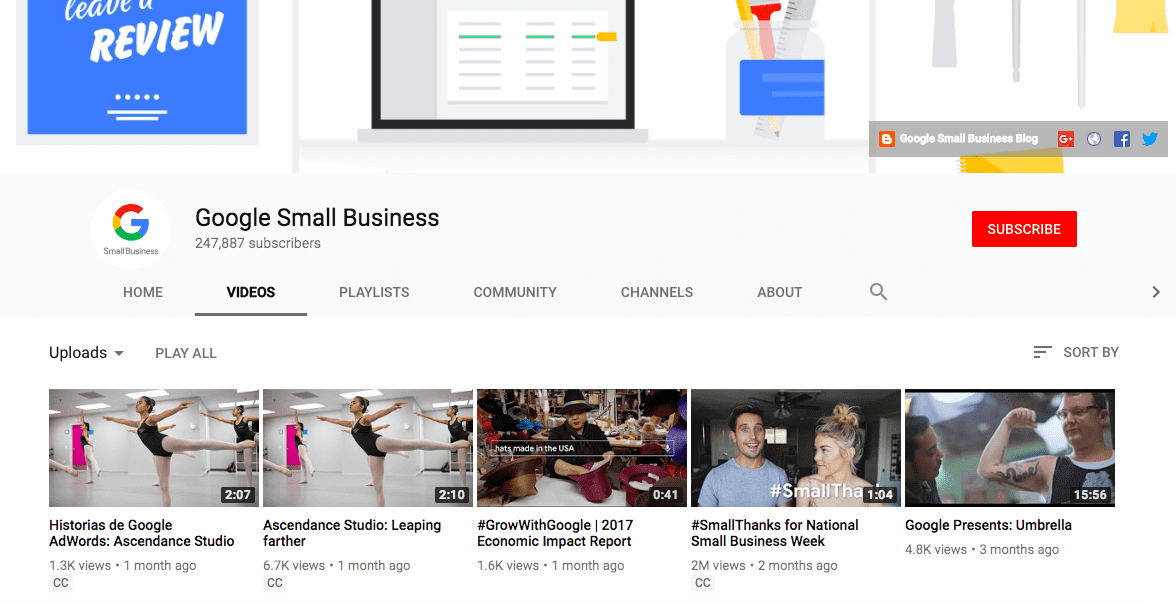 It is a great place for entrepreneurs and small business owners to get tips, tools, and resources to run and grow their businesses online. Free lessons and in-person workshops are available for those who are willing to develop their project. The topics cover hiring, managers, people, analytics, and case studies. You will have a regular guidance on how to find, review and develop your business online. Subscribe right now!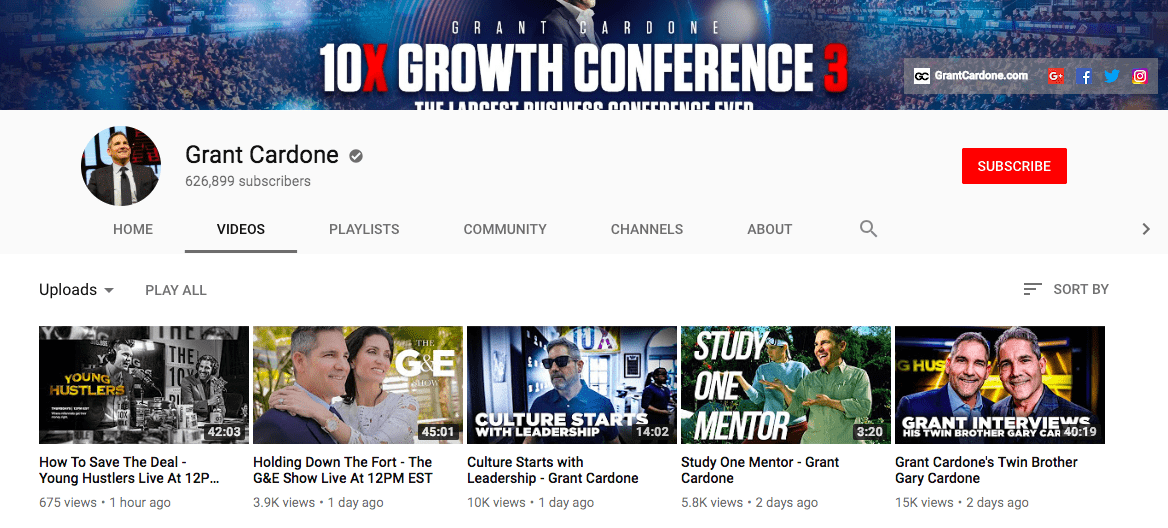 Grant Cardone is a NY Times Best Selling author, international sales training expert, and popular motivational speaker on sales, finance and business expansion. He is the founder and CEO of three successful businesses. You can watch him on the Today Show, Fox and Friends, CNBC and others.
Visit his website http://grantcardone.com to get his latest blogs, news, tips, training live. Grant is ready to help you to become financially prosperous.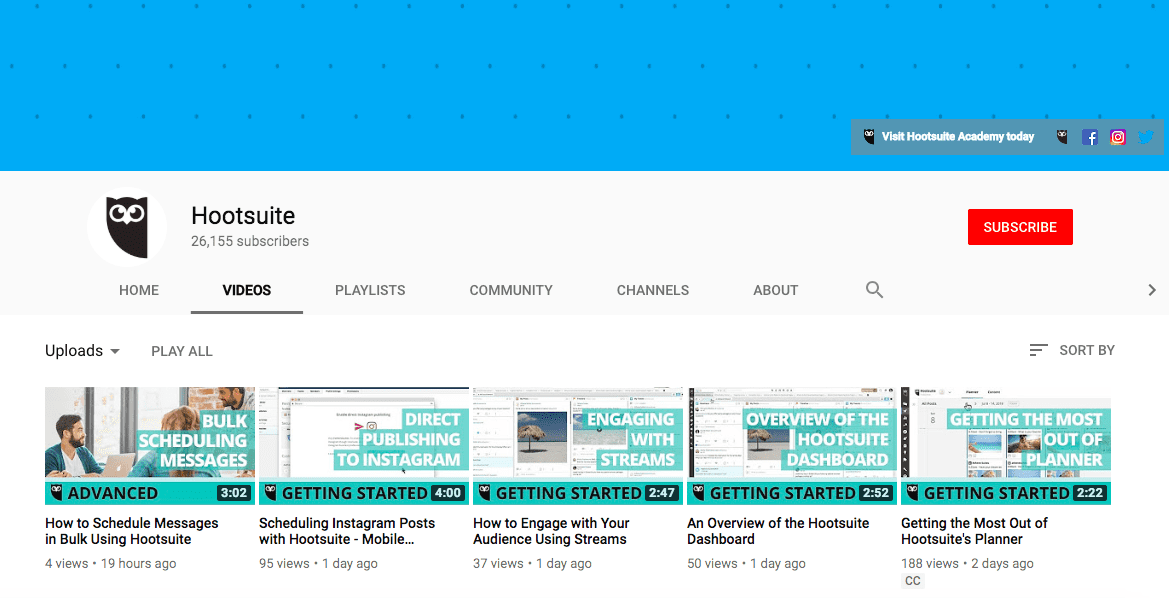 Hootsuite is the most popular and widely used platform for managing social media. A huge number of people all over the world trust and love it. With Hootsuite, brands harness the power of social. Using the platform you can bring together your social networks and integrate with hundreds of business applications. Here you build customer relationships, listen to the needs of the market and grow your business. Subscribe to get a digital transformation.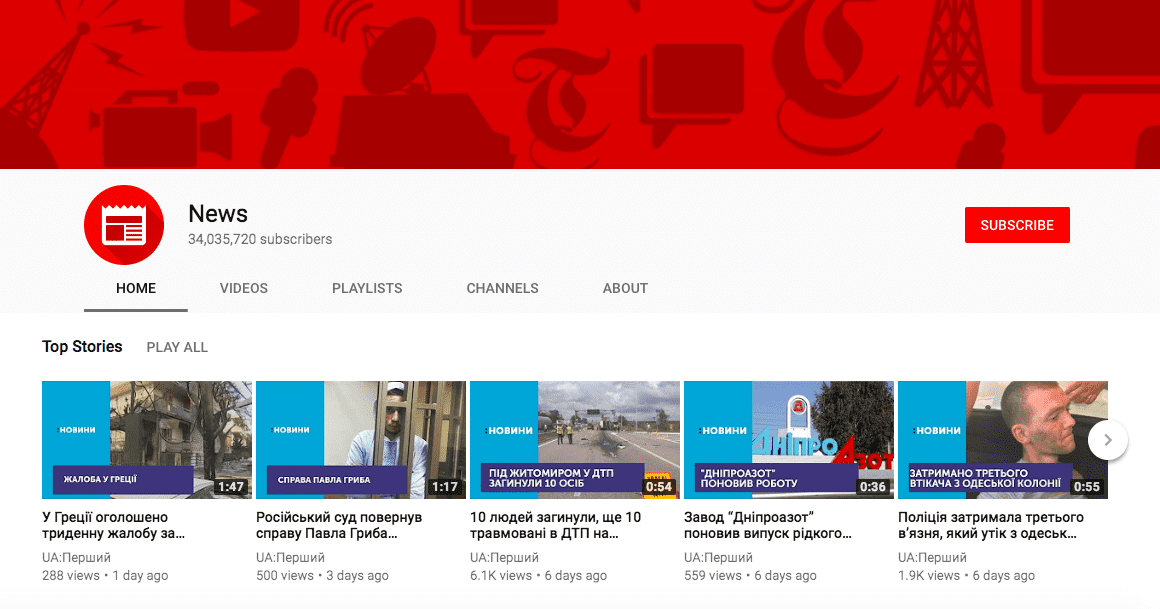 HubSpot's YouTube channel is a great resource to get more knowledge about attracting high-quality leads using blogs, social media, and search. It is the place to get top stories, sports, business, entertainment, politics, and more. The channel features a good number of smart speakers, who are glad to share their marketing tips. Discover a wealth of useful marketing knowledge that you will learn a lot from.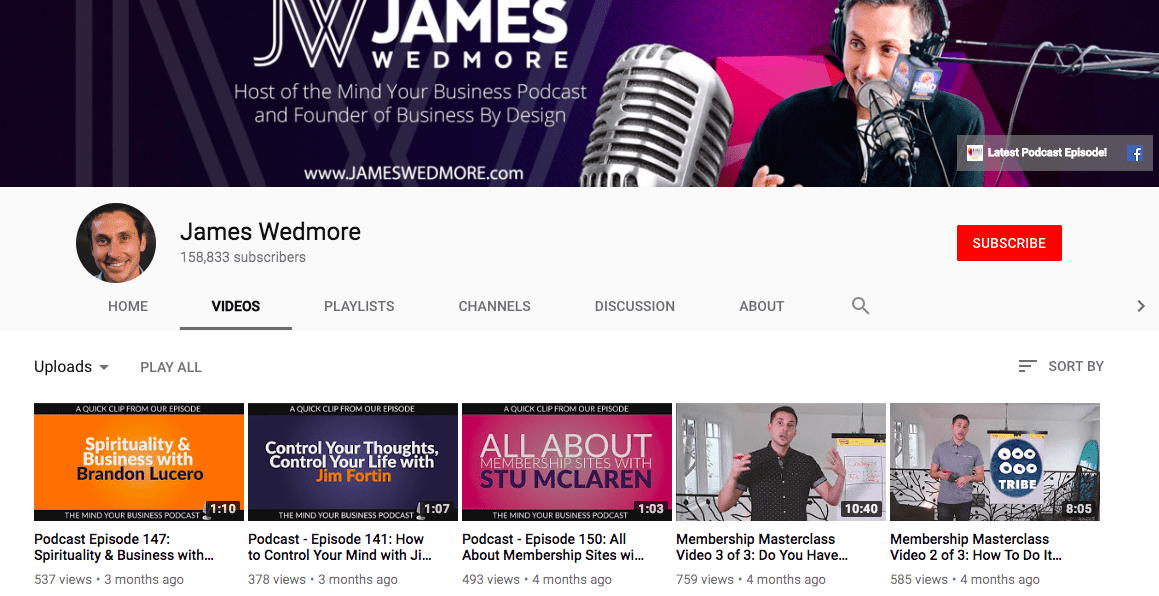 Subscribe to the official YouTube Channel of James Wedmore where he shares his helpful videos, marketing, and other great discoveries online. He will teach you how to turn failures into opportunities and create your breakthrough year in business. Do not lose a chance to learn effective lessons and outperform in our campaigns. Take your business to a new level with awesome lessons and tips learned on the channel.

Jay Baer is a popular business strategist, keynote speaker and the New York Times best-selling author of four books. His mission is to help businesspeople get and keep more customers. Jay continues to advise well-known prominent brands to get more and more clients through the smart intersection of technology, social media, and customer service. You will definitely enjoy his educational resources to flex your skills and business abilities.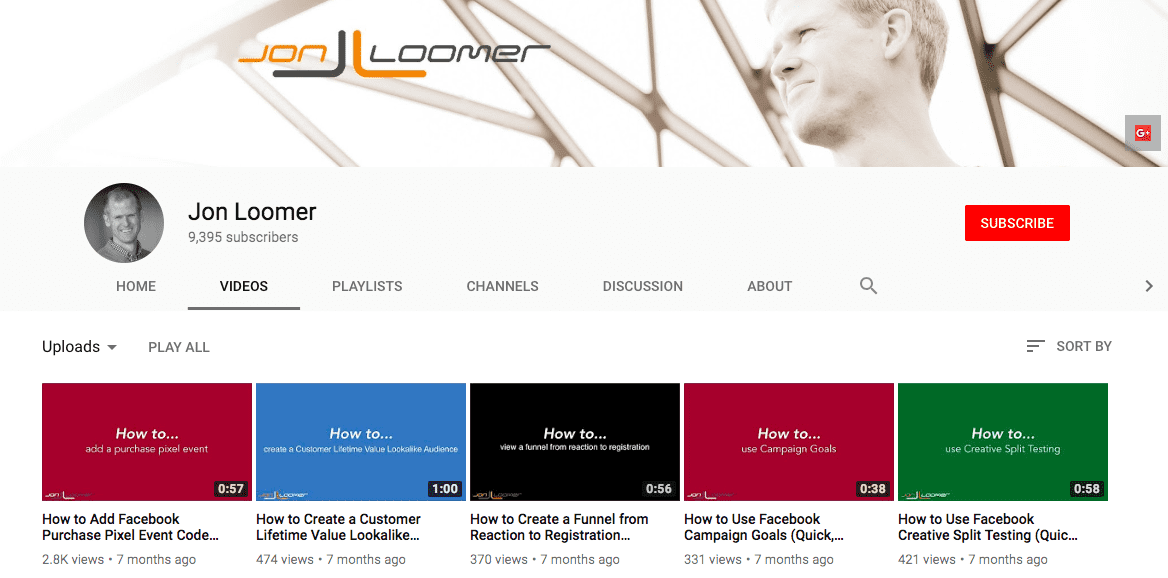 Jon Loomer
This is a great YouTube channel hosted by Jon Loomer. Jon's tuts are focused on advanced Facebook marketing tactics to help marketers. He is waiting for your questions to respond in the form of a blog on the weekly basis. Jon has been using Facebook since 2007 and advises everyone to maximize your Facebook marketing efforts. His blog was named one of the top Social Media Examiner's Social Media Blogs of 2013. Subscribe!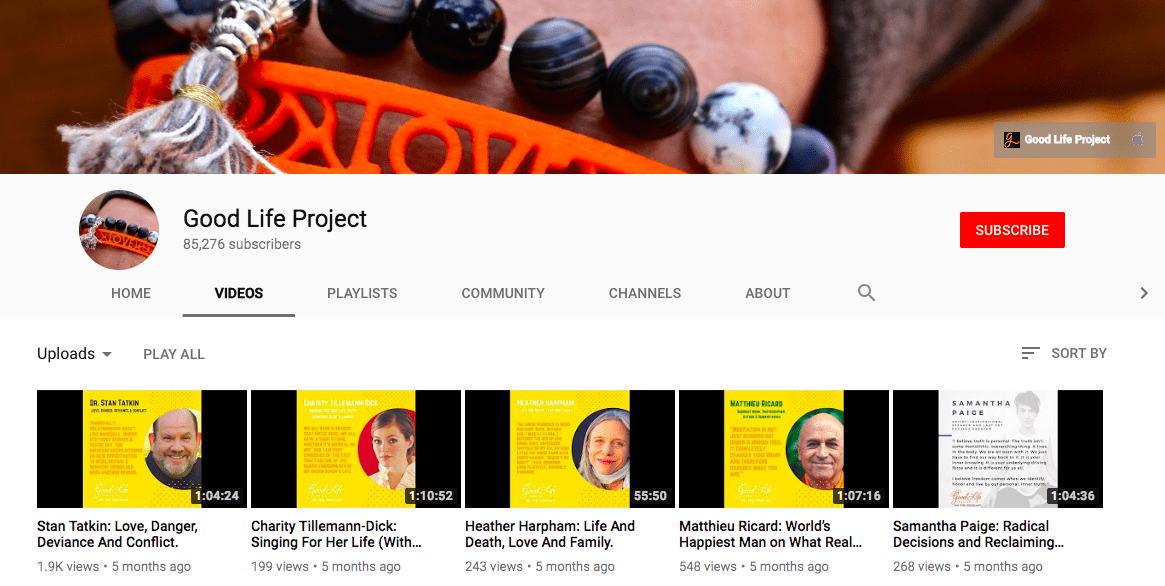 Subscribe to the channel to get weekly interviews with the best and most successful entrepreneurs, industry leaders, and artists exploring what it means to live a great life. You will get the answers to the questions how to live a happy life using media, tools, programs, and experiences GLP creates. Community, media, and education are all about this channel. The project shares validated tools, strategies, and practices to make a real difference in your life.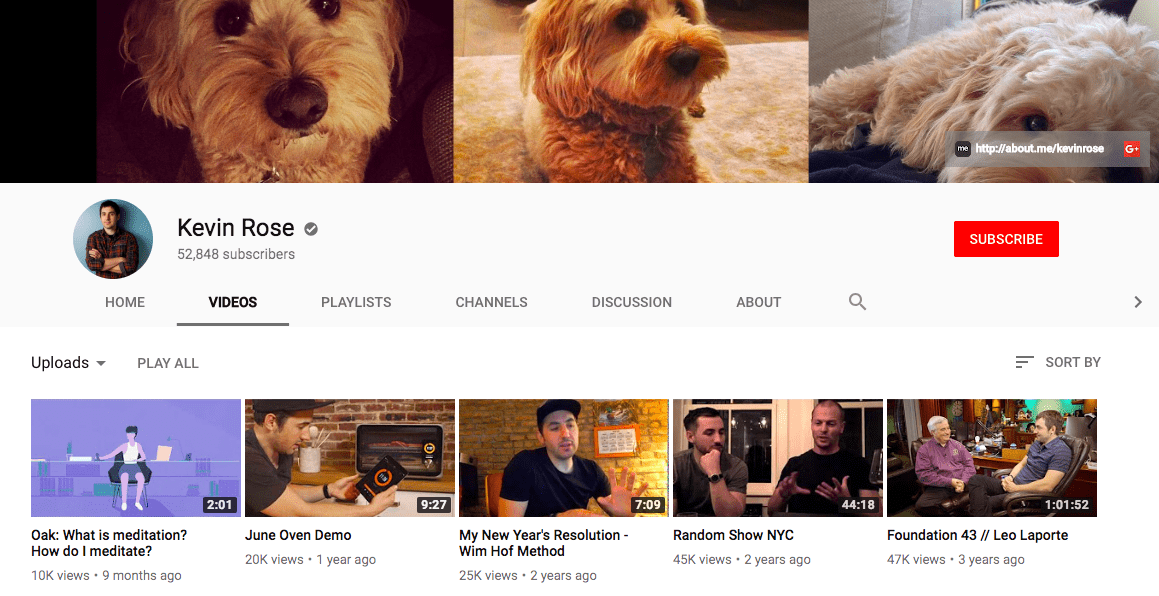 Kevin Rose is a successful entrepreneur and General Partner at Google Ventures. Kevin was included into "Top 25 Angel Investors" by Bloomberg, "Top 25 Web Celebrities" by Forbes, "Top 25 Most Influential People on the Web" by Time and BusinessWeek magazines, and one of MITs "Top 35 Innovators under 35". He interviews technologists, businessmen, self-experimenters to discover insights that you can incorporate into your daily business life. Learn from Kevin Rose and subscribe to his channel.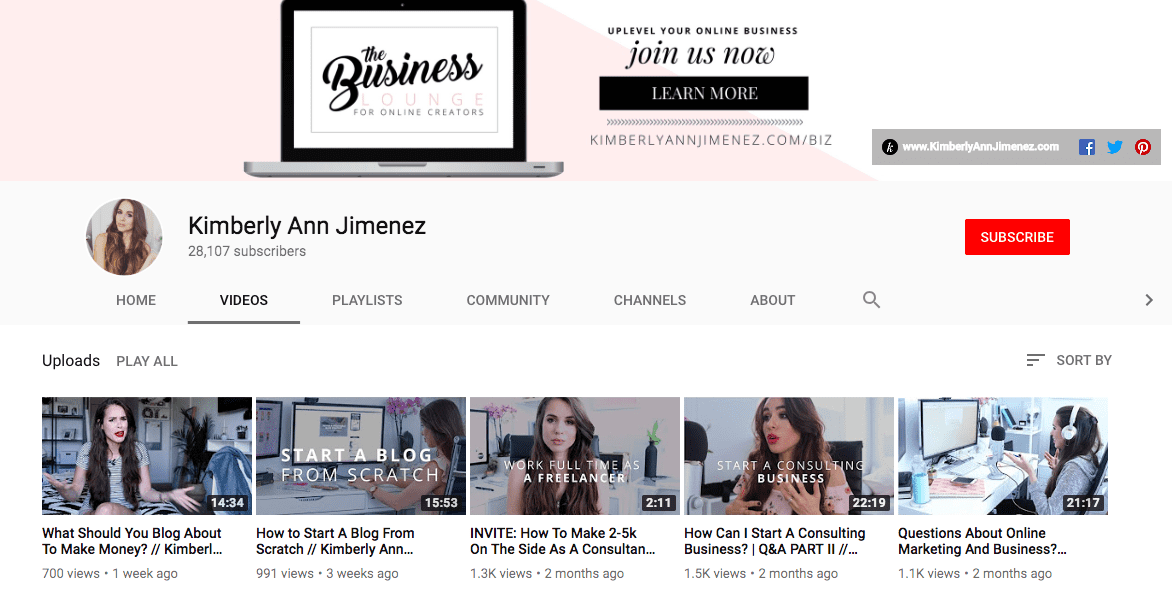 Kimberly is the founder of The Business Lounge and expert in a digital marketing. If you are growing your business online, she will teach you how to find your perfect customers and develop your business online. Some of the topics include the information on social media strategies, networking tips, and blogging. This channel is designed for everyone involved in digital marketing so do not forget to subscribe!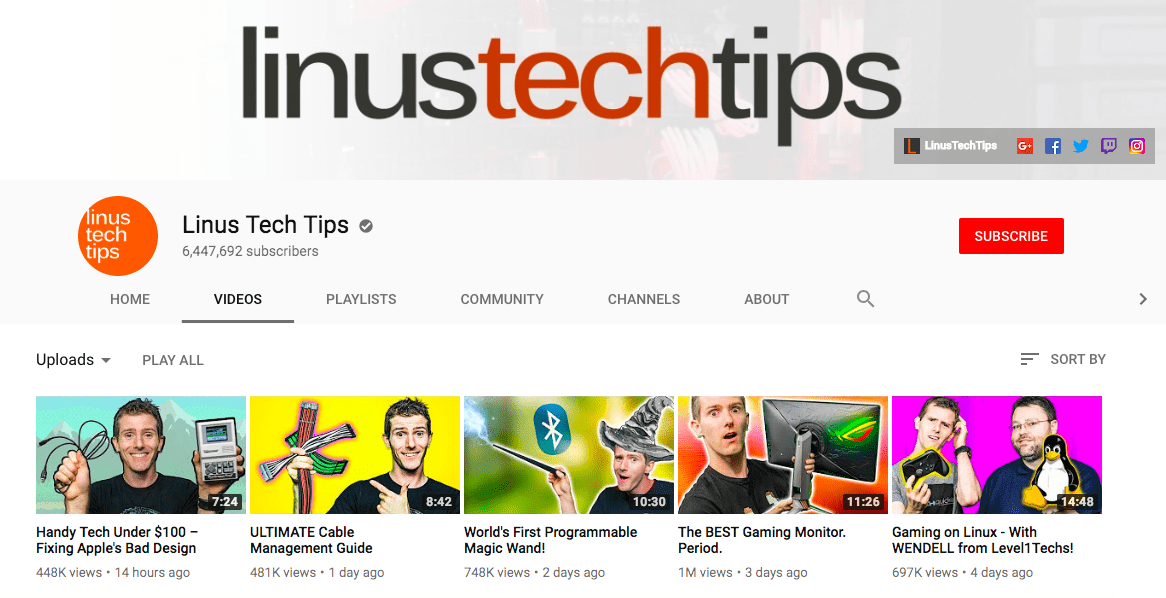 Linus Tech Tips is an excellent resource of entertaining videos about technology, tech reviews, showcases and other content. You will have a free access to how-to & educational videos in a few minutes. The channel was created by Linus Gabriel Sebastian, a popular Canadian YouTube personality, presenter, producer, and founder of Linus Media Group. Linus Tech Tips is ranked the 7th most watched technology channel on YouTube. Join the IT community!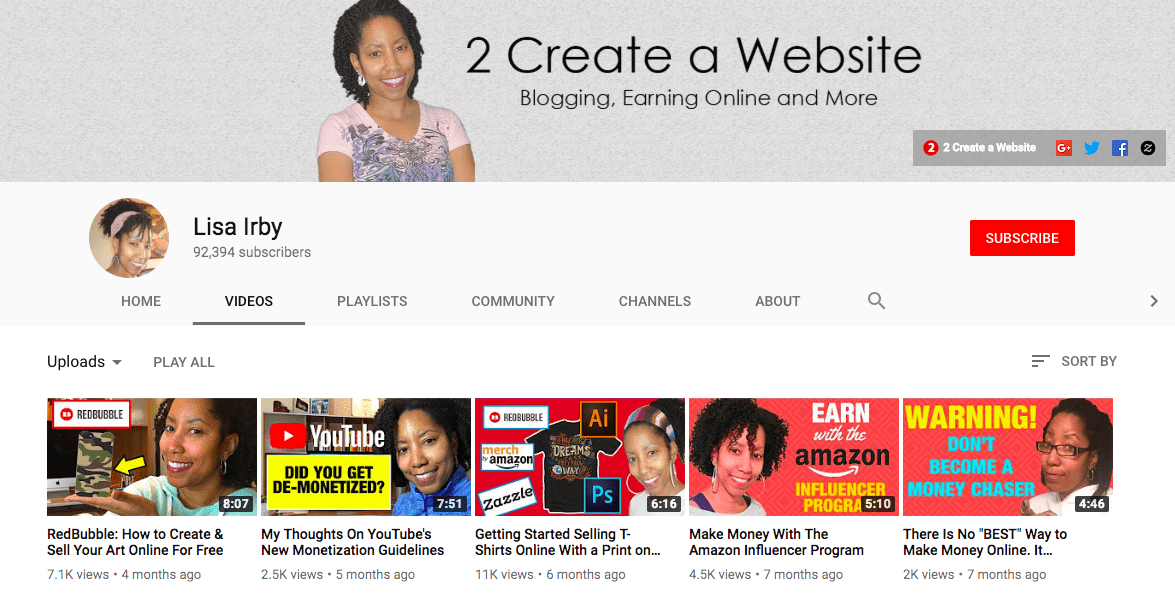 A cool channel about website building, promotion, and marketing. You are welcome to take Lisa's courses at www.2createawebsite.com/courses. She earned her first money working online back in 1998 and since that moment she has been addicted to Internet Marketing. Subscribe to the channel to get a guide to building a website, be up-to-date about the latest and greatest tips on Internet Marketing, learn how to make passive income through print on demand t-shirt sites, and much more.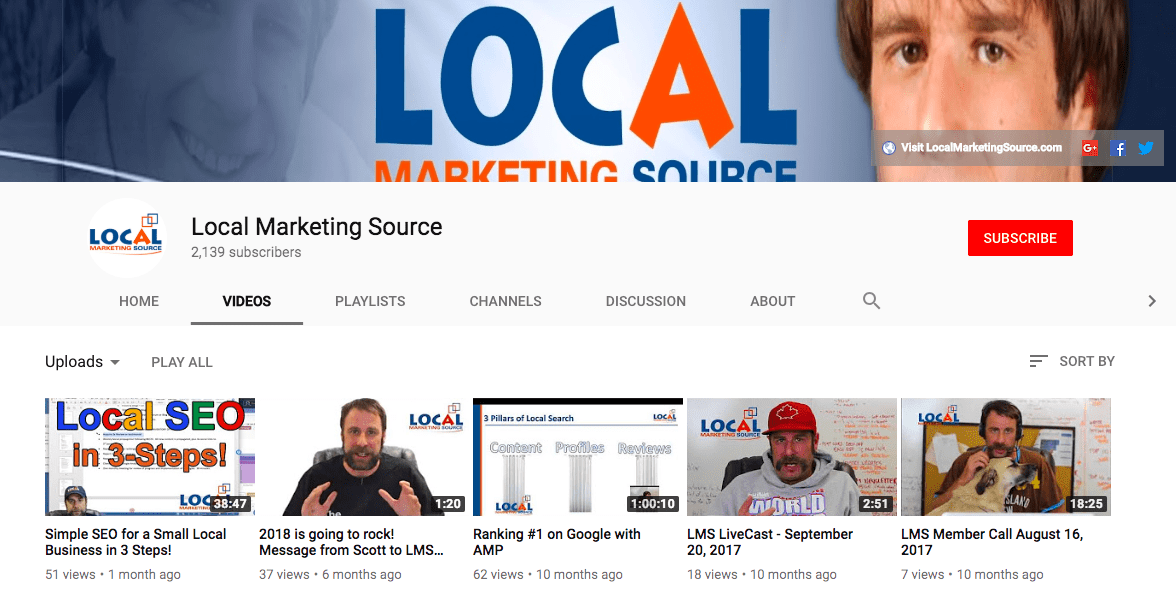 Local Marketing Source is founded by Scott Gallagher, who is a recognized leader in the industry. Subscribe to this channel to get the updates, tools, tips and tricks, and strategies to market your business on the Internet. The blog is helpful for marketers, agencies and local business owners. New videos are uploaded on a regular basis. You are welcome to comment and ask questions to let them know what you'd like to hear in the blog.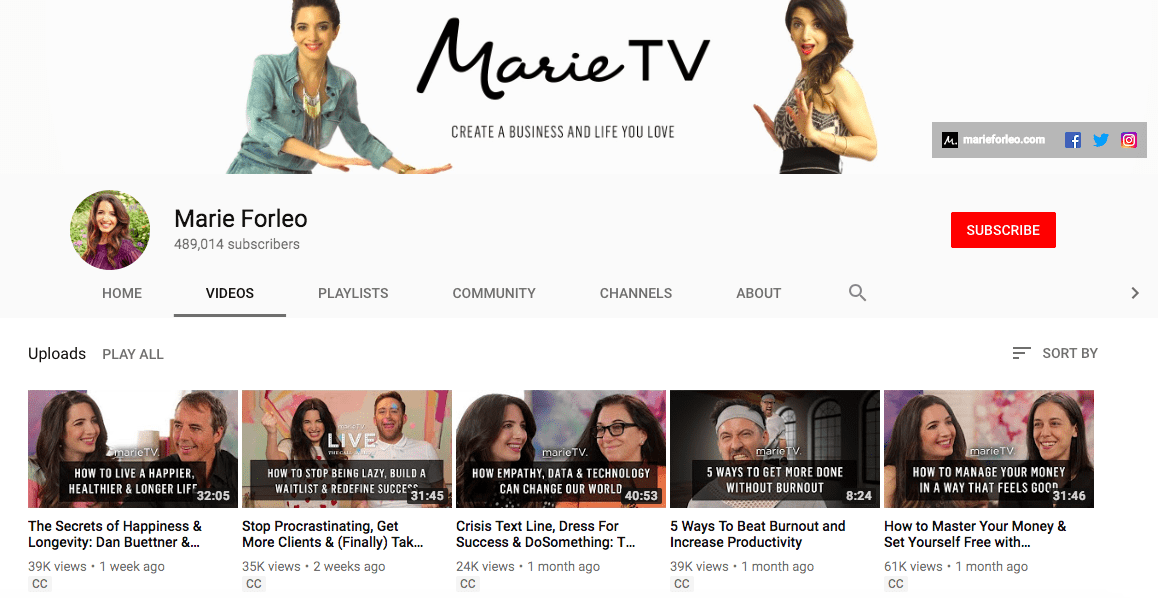 As per Oprah, Marie Forleo is a thought leader for the next generation and one of Inc's 500 fastest growing companies. Her motto is everyone has the power to change his life and change the world. She encourages to explore the ideas, tools, and strategies to create a business and life you love. Marie is one of the world's leading lifestyle and online marketing experts. In her blog, Marie answers the most frequent questions and provides tips for living life to the fullest, and turning your dreams into a profitable reality.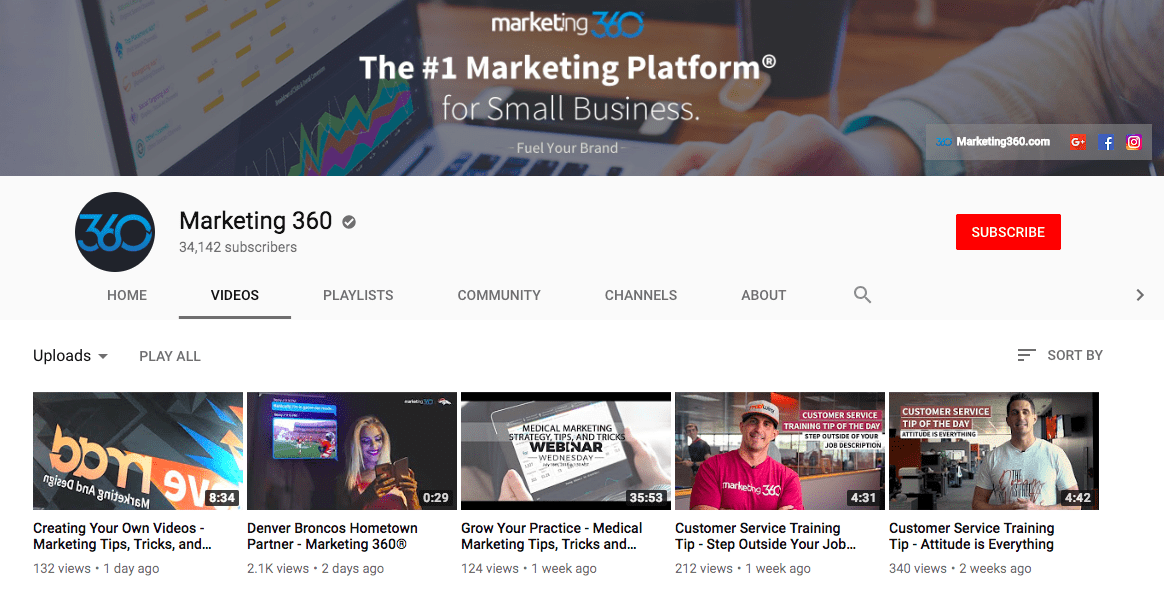 Marketing 360®, #1 marketing platform for small businesses, is a combination of software and professional marketing talent (services) provided through one platform. The platform allows companies to optimize their most important marketing channels. The platform is full-service and guided by a certified digital marketing executive to help facilitate the brand marketing goals and objectives. Subscribe and fuel your brand!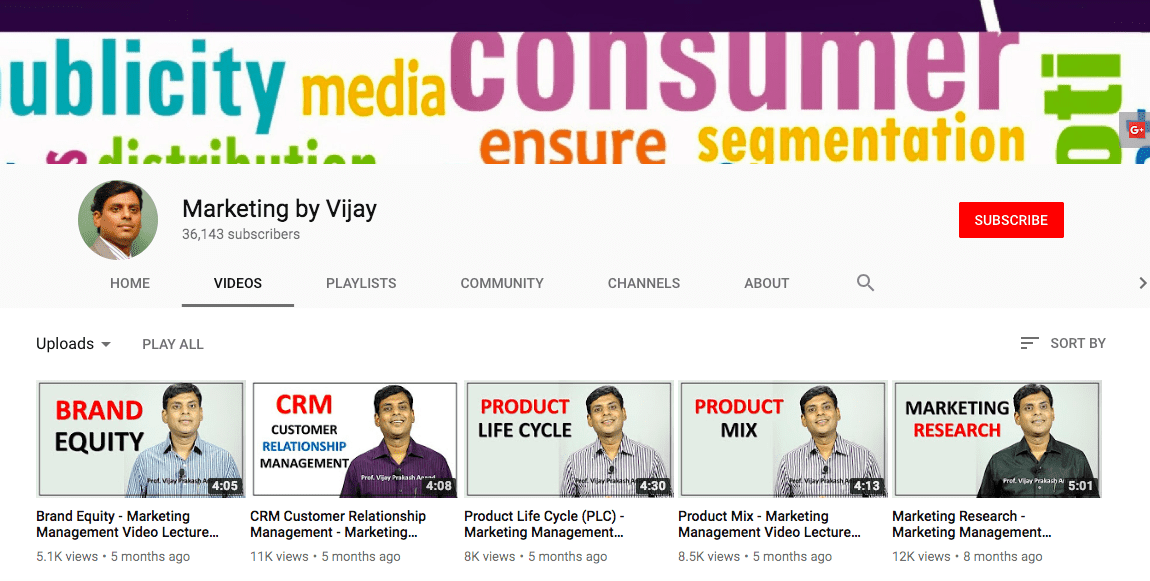 Vijay Prakash Anand invites everyone to join his official Youtube Channel – 'Marketing by Vijay'. This channel is created to answer your most common question and simplify the subject area of digital marketing. This blog will be very useful for the marketing students and management specialists. You will find theoretical knowledge of marketing, along with a real-world picture to understand it better. No doubts, please subscribe to the channel to stay updated.
Subscribe to Matthew's award-winning internet marketing blog & YouTube channel to learn a range of marketing techniques step by step. He offers the tutorials covering topics like SEO, link building, traffic generation, email marketing, social media marketing & more! With frequent updates, it's definitely worth following the channel to learn more about the industry. Optimize your online presence to make more money for your business.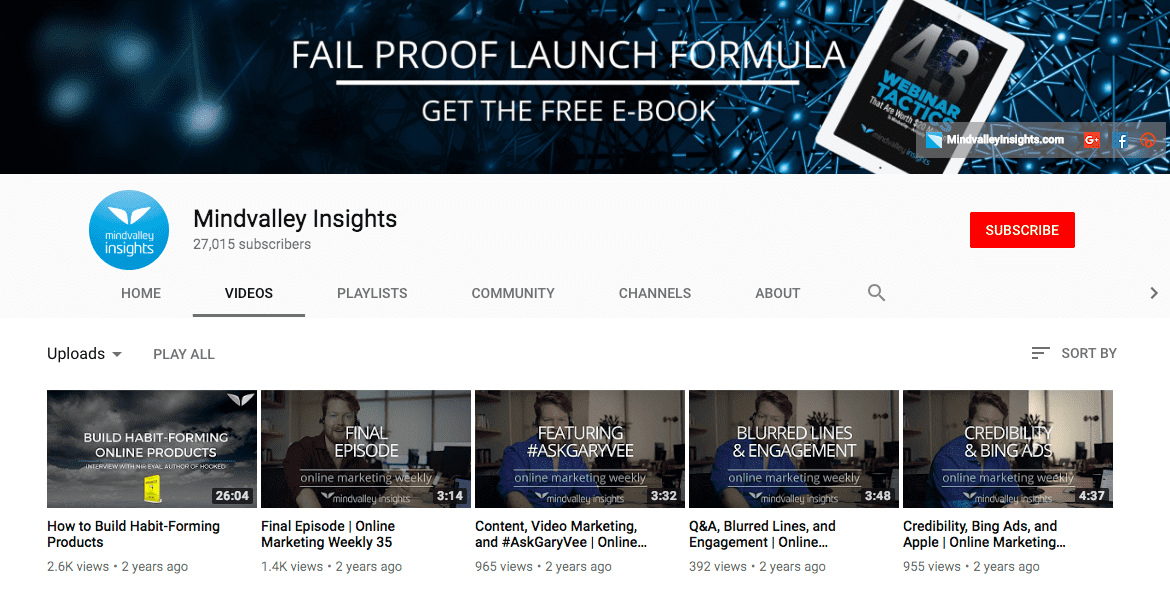 Mindvalley Insights was created in 2011. It is all about a company's culture, marketing, business models, and tech strategies. Join the blog and emulate some of the best practices to push your businesses forward. No doubt, you will be inspired to have the knowledge to spread your ideas to empower the world. Learn the lessons of online marketing, tech, and company culture to achieve success online.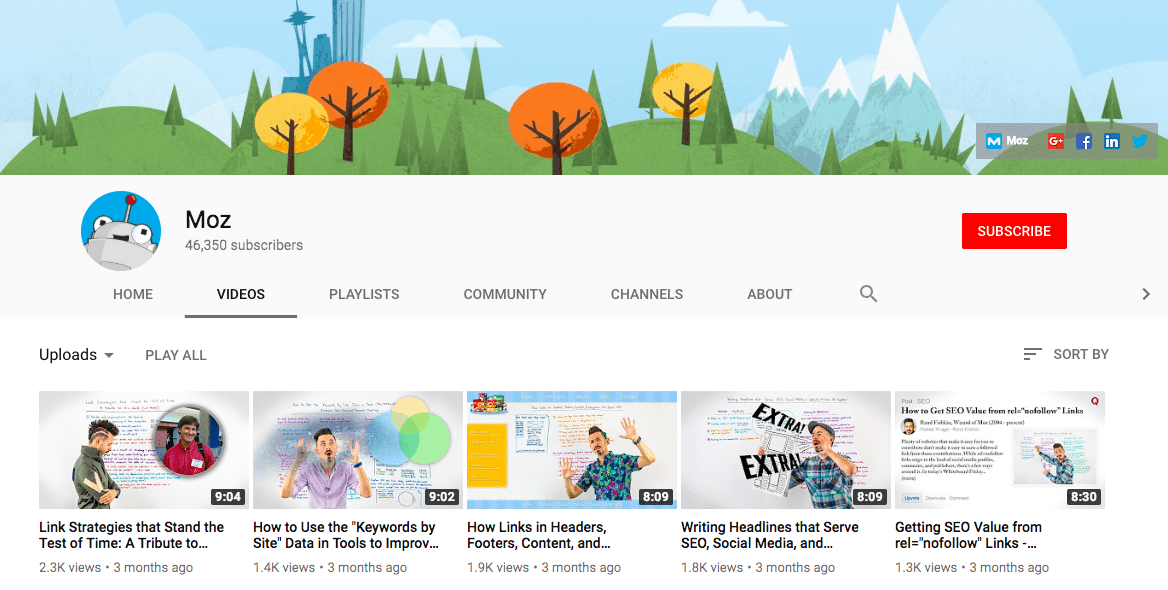 Moz belongs to the one of the highest quality YouTube channels for SEO-related information. It is full of helpful content for improving your business's online presence. Subscribe to get daily quick and actionable SEO tips that you can implement into your business almost immediately, like using keyword difficulty tools more effectively or running SERP reports. You are welcome to watch "Moz Presentations", piloted by experienced members of the Moz team, covering topics like customer relations and predictions for the future of SEO.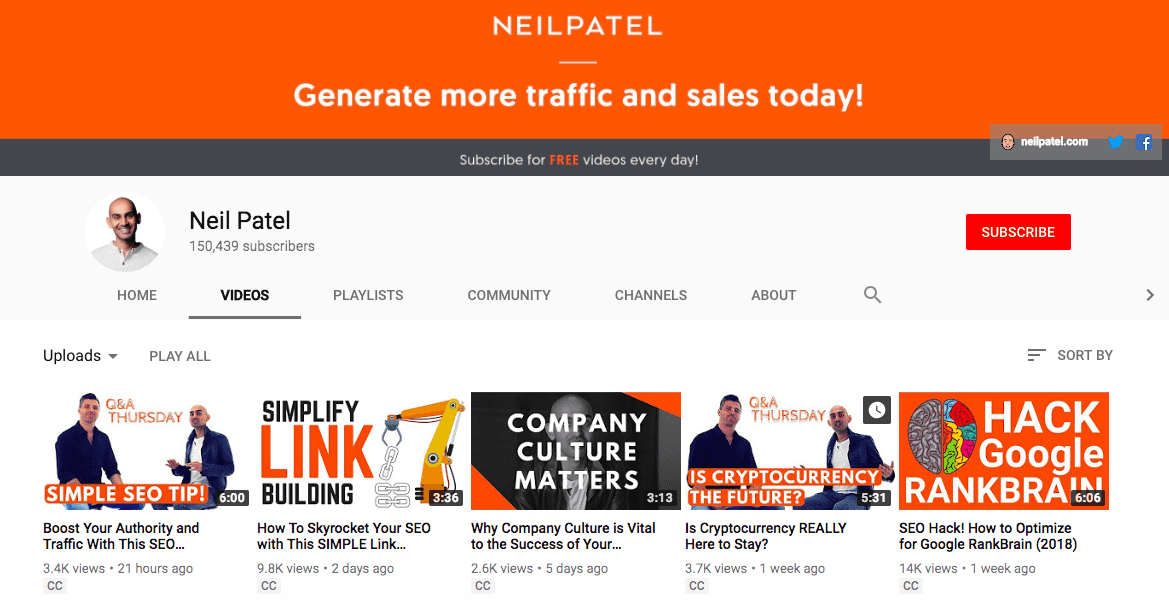 Do you want to learn how to generate more leads, traffic, and sales? Welcome to the channel of Neil Patel whose goal is to teach you a new marketing tactic every day. He was recognized as one of the top 100 entrepreneurs under the age of 30 by President Obama and the top 100 entrepreneurs under the age of 35 by the United Nations. The blog is definitely worth following.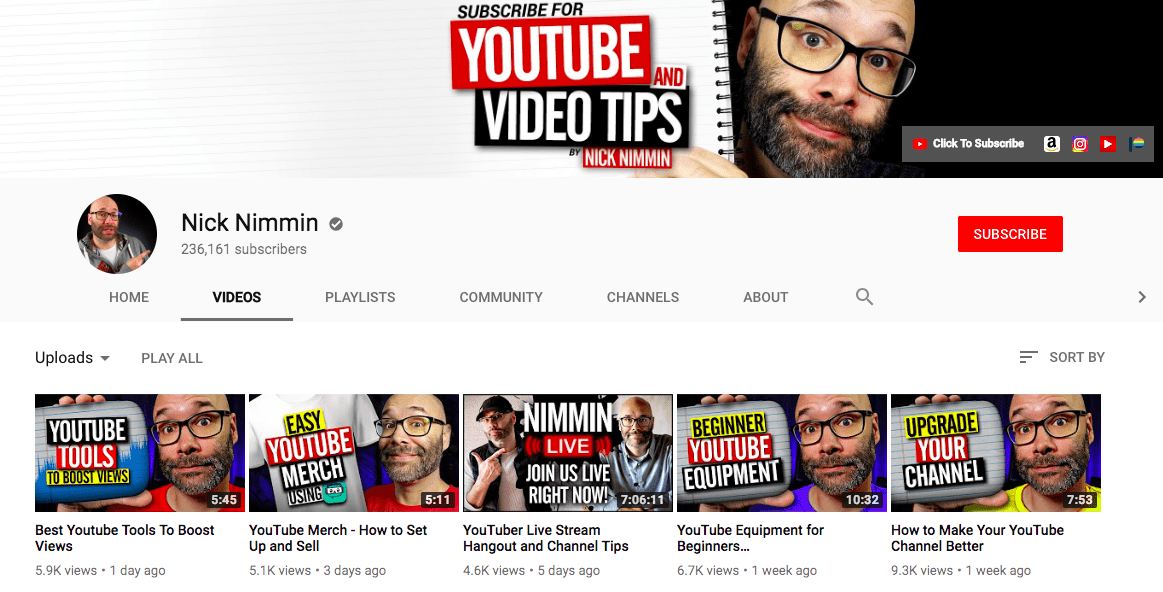 Nick Nimmin is glad to share his YouTube tips, video tips, video ideas and much more to help you grow your YouTube channel by getting more subscribers and views. If you're a blogger, business owner or hobbyist who is interested in making videos for YouTube, make sure to subscribe to these helpful training videos. Nick helped numerous companies and businesses to grow their presence online. Join the blog to be one of the successful business owners.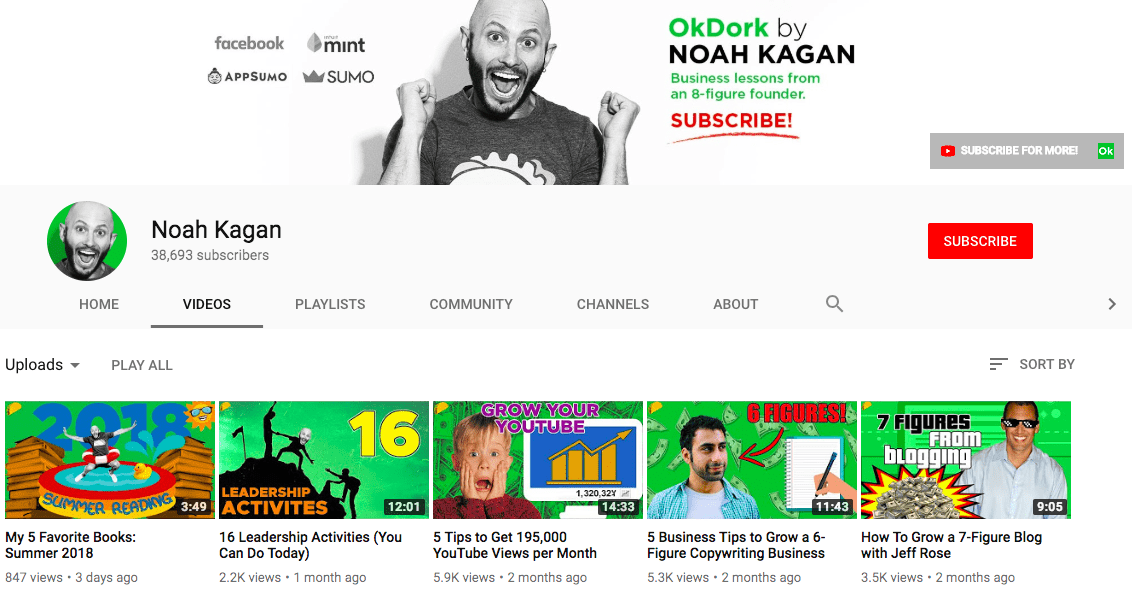 Do you still have any questions on how to start a business, run and grow a business, improve your marketing campaign, and more? Then, it is your YouTube channel to subscribe to. The video blog is hosted by Noah Kagan, a chief Sumo at Sumo.com and AppSumo.com, who is happy to share his stories on marketing, starting a business, personal improvement and productivity tips. Subscribe to flex your skills and take your business to a new level.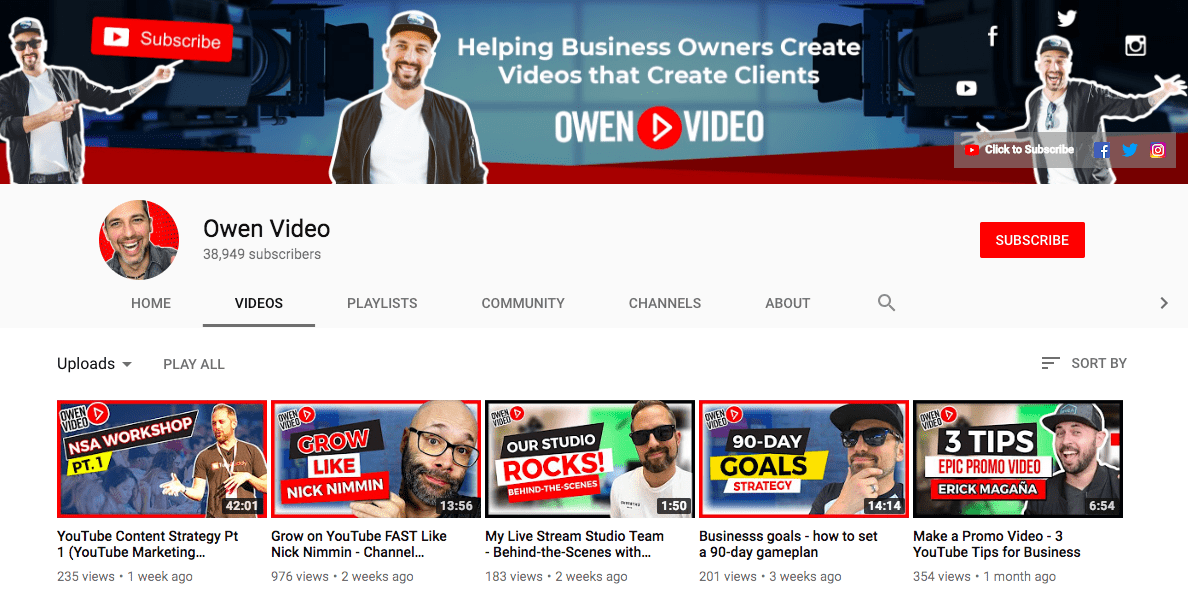 The blog is created by Owen Video, founder of BizTube Academy – a popular YouTube Marketing Course made for business owners. Subscribe to the channel to learn how to properly plan, promote, produce, and run a professional video marketing campaign that generates revenue. Do not lose a chance to increase the number of your clients, boost your sales, and meet your business objectives. Owen will help to drive traffic, generate leads, and succeed in your project.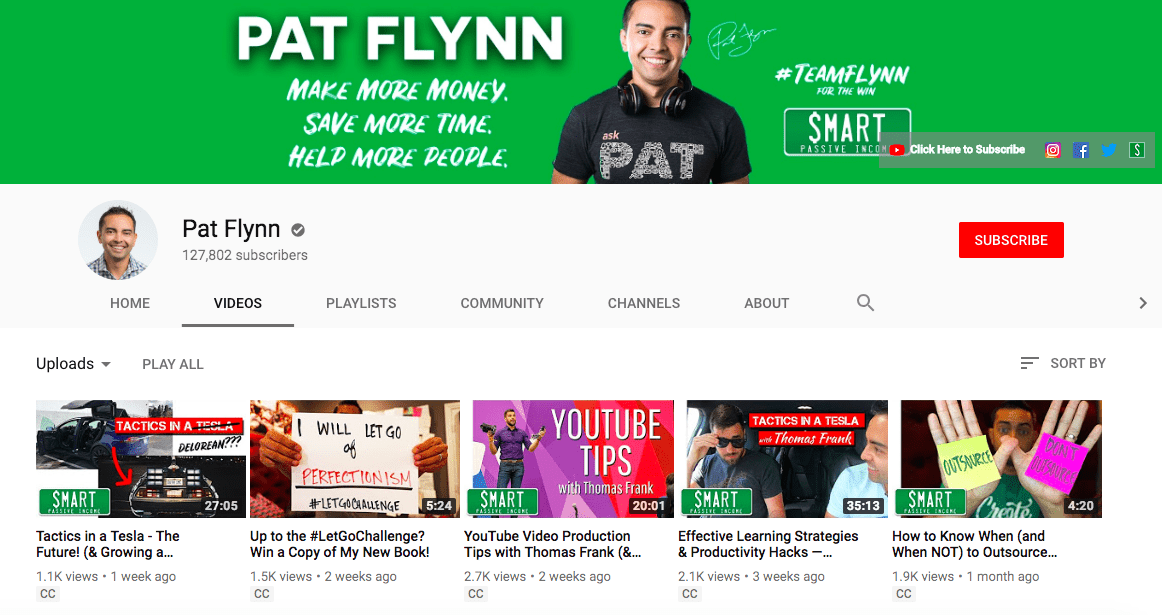 Follow Pat Flynn and his channel to earn more money, save more time, and grow your business. Pat is a happy owner of a successful online business, so he is glad to share what he has learned along the way: his wins, his failures, and even how much money have been spent. His income comes from different areas: digital products, affiliate marketing, software, books, coaching, public speaking, advertising, and more. Subscribe to the channel to learn from the successful business person.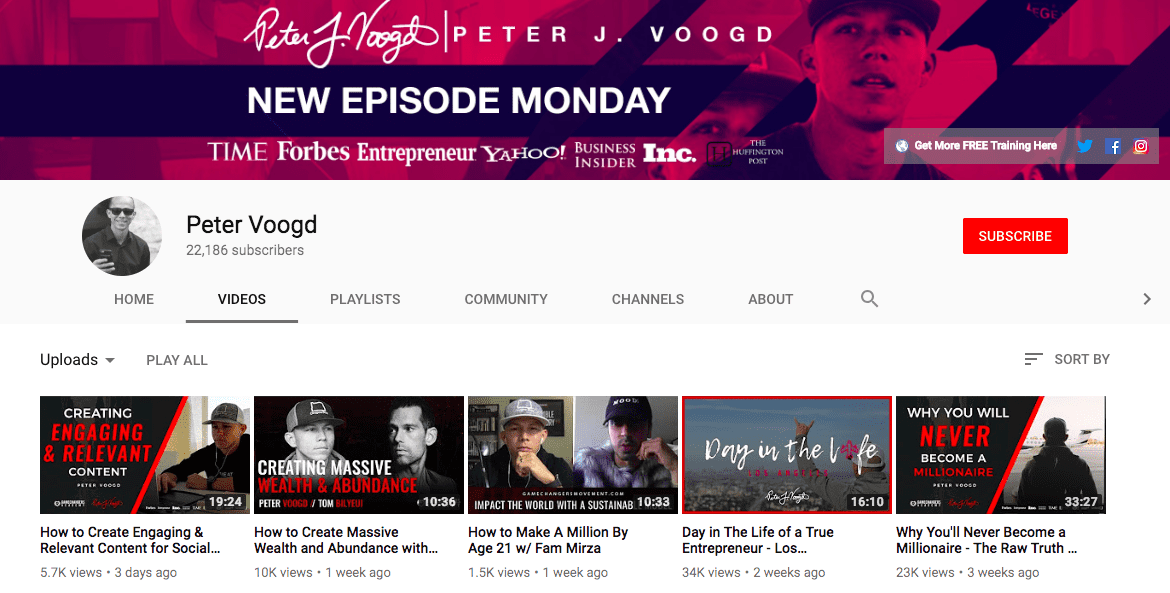 Looking for inspiration and a breath of fresh air for the entrepreneur world? It is definitely your channel then. Here you can get tactical, practical, and extremely valuable content for those serious about success in business.
Watch Peter Voogd's new weekly show, "The Gamechangers Movement". The Gamechangers Movement will inspire you to re-think everything you have learned before and focus on success. Peter Voogd is the author of the best selling book and the founder of The Game Changers Academy.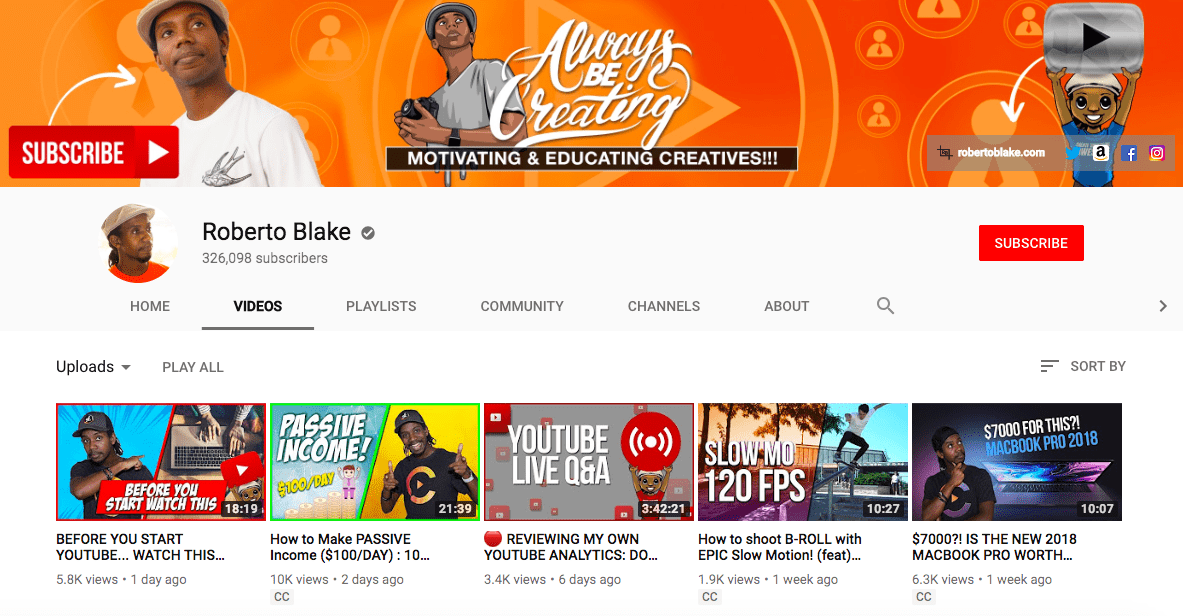 You are welcome to join a video channel of Roberto Blake. Roberto is a creative entrepreneur, public speaker and author, who creates awesome things and shares them with the world. He focuses on educating and motivating young people to stand up for the future of creativity. If you are creative, if you want to launch and run your own business, successfully run your marketing campaign, if art beats in your chest, this channel is definitely for you to subscribe. Learn with Roberto Blake and build a mindset for success!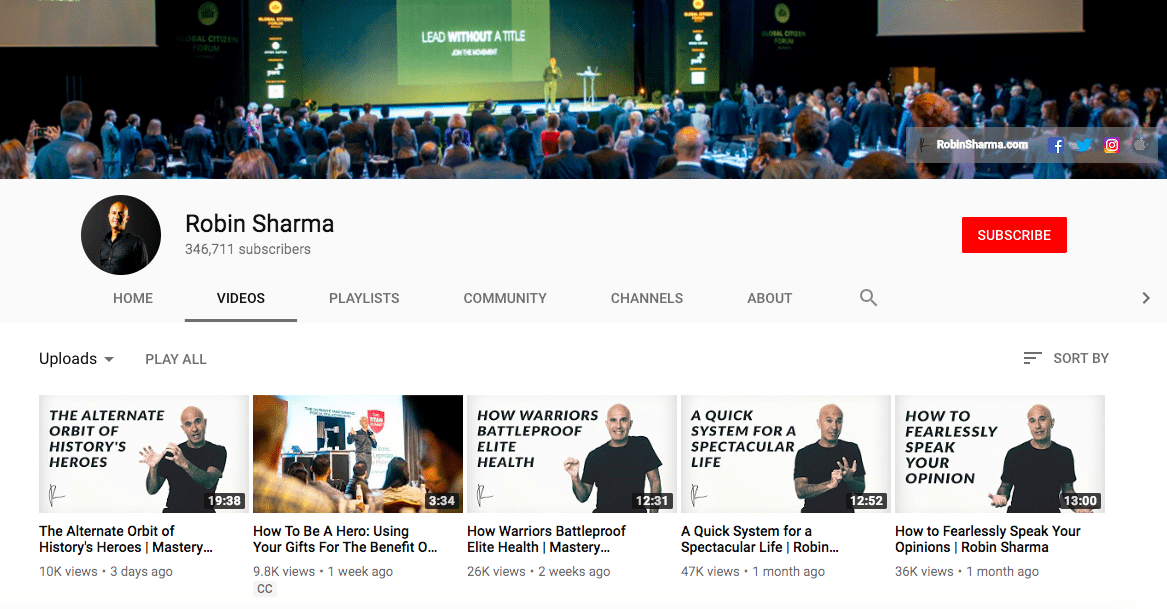 Subscribe to the channel of one of the world's top leadership experts. His 15 million books were sold in 96+ countries. Robin has a rare talent to electrify his audience while delivering game-changing insights and providing real-world tactics that lead to achieving epic results and making history. For 30 years, numerous successful companies all over the world have chosen Robin as their mentor so they can move to the next level.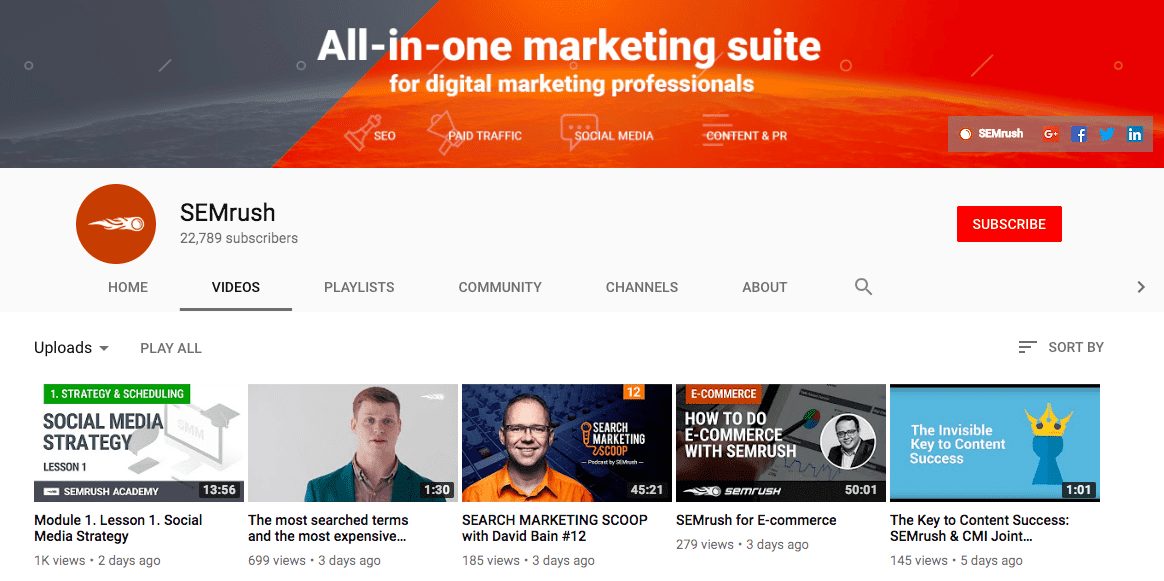 You are welcome to subscribe to the official SEMrush Youtube channel. Do not doubt, this is your video resource for all the marketing-related content. Here you will find lectures, video tutorials, webinars, pro tips and much more. If you wish to dig deeper into online marketing, from SEO and PPC to social media and video advertising research, we suggest you follow the blog.

Social Media Examiner is the world's largest online social media magazine, which is very helpful to discover how to use social media, blogs, and podcasts to connect with clients, drive traffic, generate awareness and increase sales. The goal of the channel is to help you navigate the constantly changing social media changes and effectively utilize all the marketing tools. The blog includes comprehensive articles, original case studies, reviews of the latest industry research and advice direct from the world's leading experts.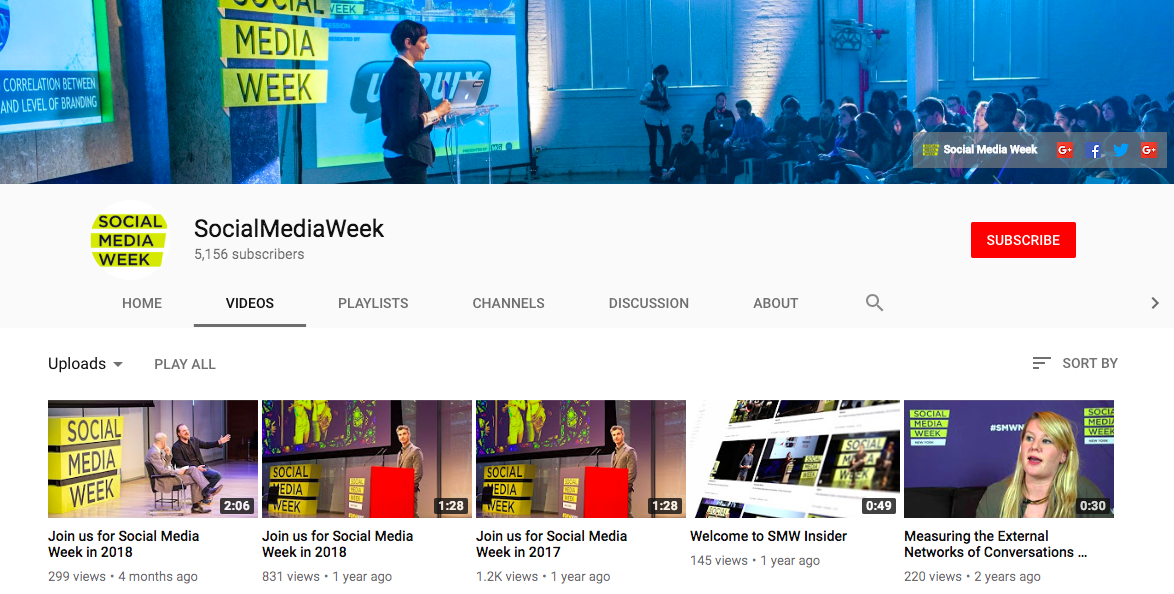 Social Media Week is the leading media platform and worldwide event with a local presence on six continents, including Europe, North America, South America, Africa and Asia. Social Media Week's aim is to capture, curate and deliver the most meaningful ideas, tendencies, and best practices with regard to social media's impact on business, society, and culture. Subscribe to the channel to be on the top of the wave.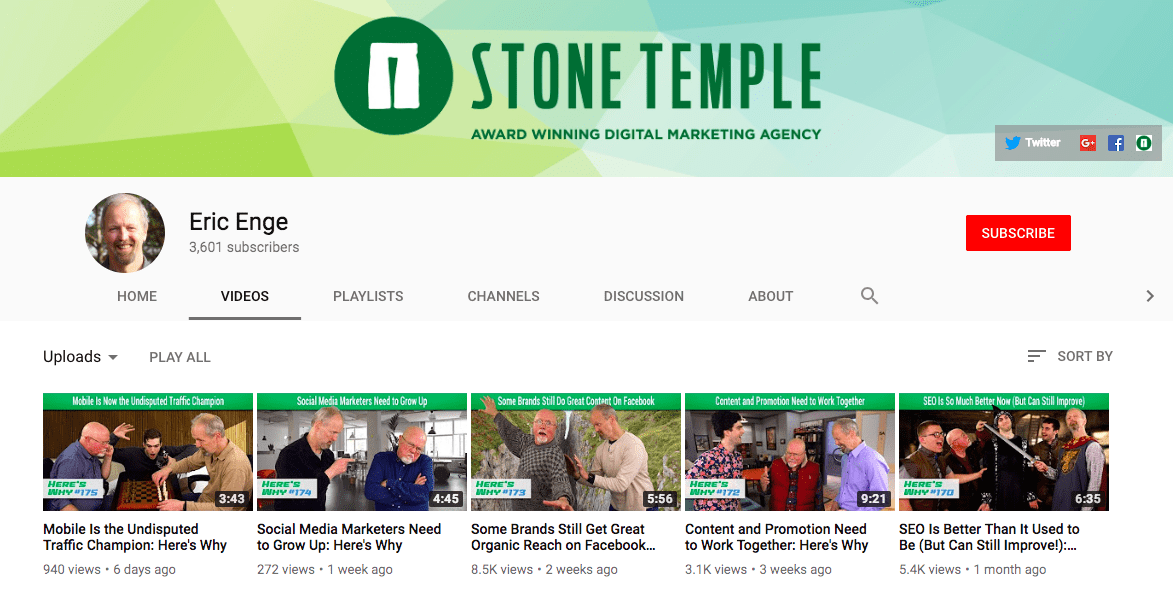 You are welcome to join Stone Temple Consulting, a digital marketing agency serving companies and major brands with SEO, Content Marketing, and Social Media tools and services. You will find it helpful to follow 'The Digital Marketing Classroom' with Professor Enge. Eric will share his thoughts about the future of digital marketing and SEO. Be up-to-date, subscribe and enjoy watching.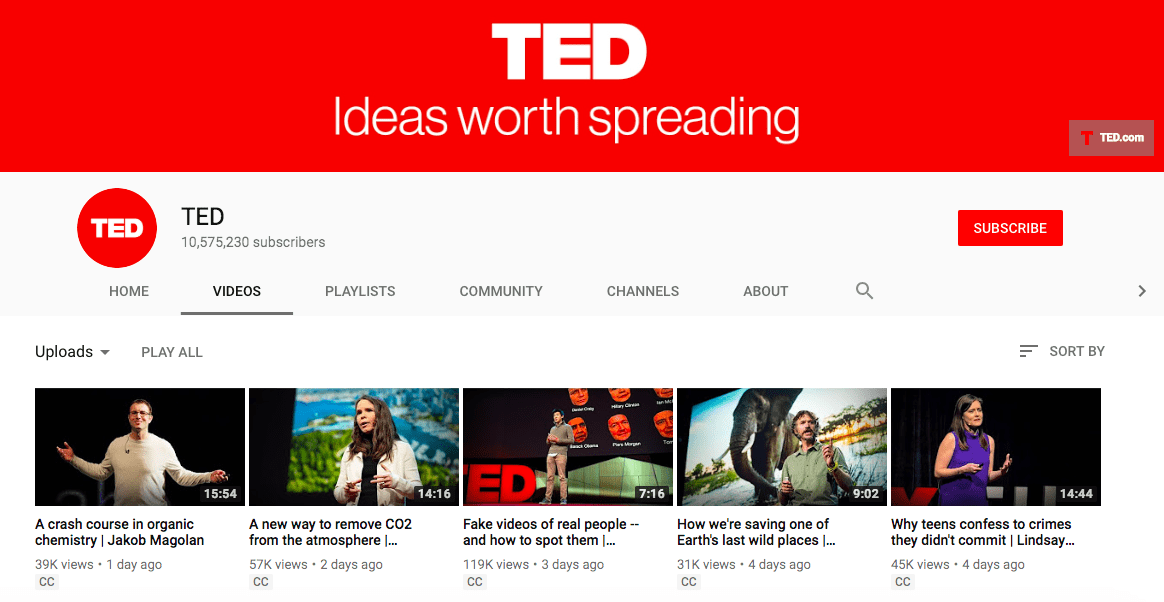 'TED Talks' video channel shares the best ideas from the TED Conference with the world. Fresh TED videos are uploaded every weekday. TED Talks are licensed under Creative Commons, so you can link to or embed these posts, forward them to others involved and share these tips and tricks with the people you know.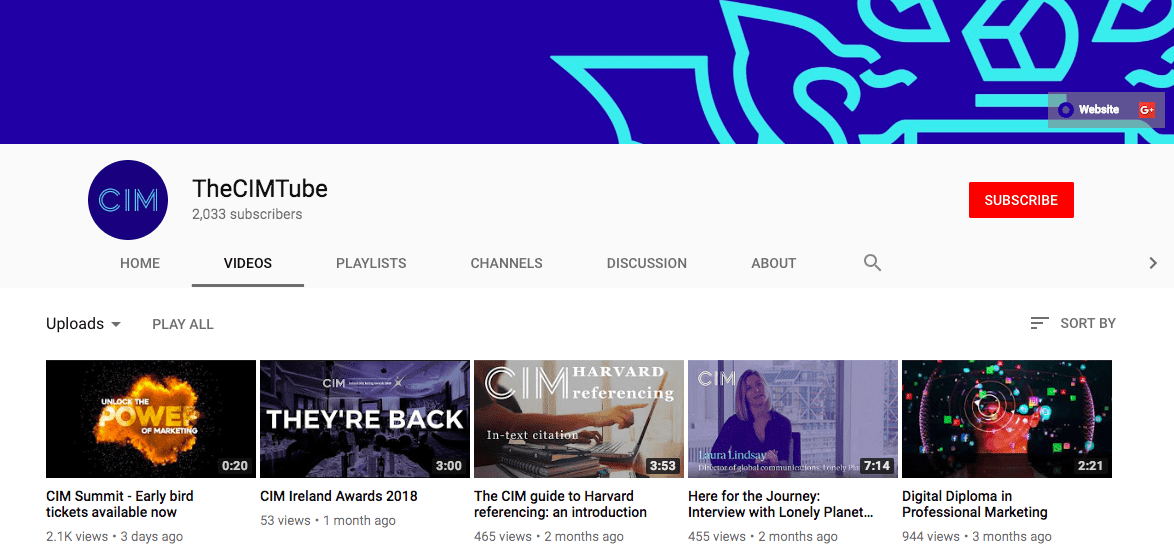 For over 100 years, CIM has supported marketers, teams, leaders and the profession. It is the world's leading professional marketing body. Their goal is to create the marketing advantage for the benefit of professionals, business, and society. CIM study centers keep improving marketing capability at an individual and business level. Join the community and do not stop learning!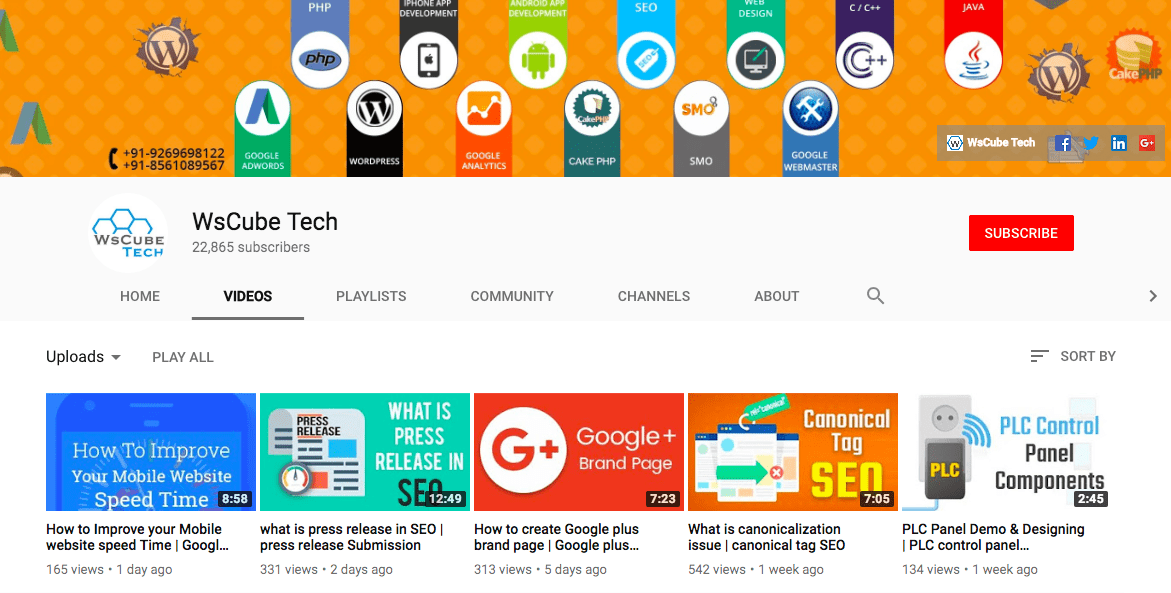 WsCube Tech is known as an Informational technology company in India. Their business model is based on the building a Website, Mobile Application design & Development & Internet marketing. The channel was created to provide a platform where any user can get a free access to the latest technology and continue learning. The goal is to provide the best learning experience to the subscribers. If you have any questions or concerns, WsCube Tech offers an exceptional customer service.
Conclusion
Good YouTube channels are created to inform and entertain. Perfect ones talk about trends, take care of your mood, inspiration, and provide useful tips and tricks from the industry. We have collected the most interesting, inspirational, and effective YouTube channels for marketers. Subscribe to the channels to evaluate the quality and advantages of the content on each of these channels.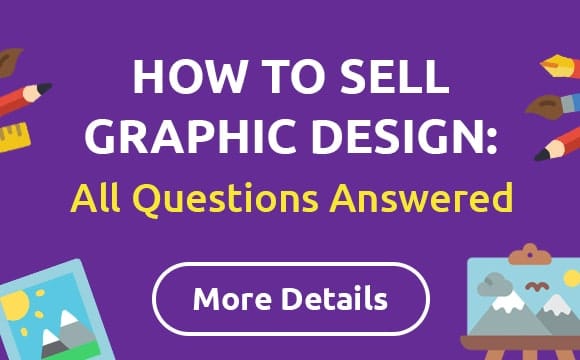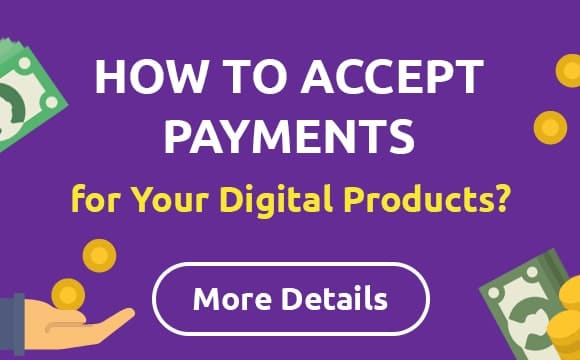 Related Product Categories
Please take a moment to pin this post to Pinterest.