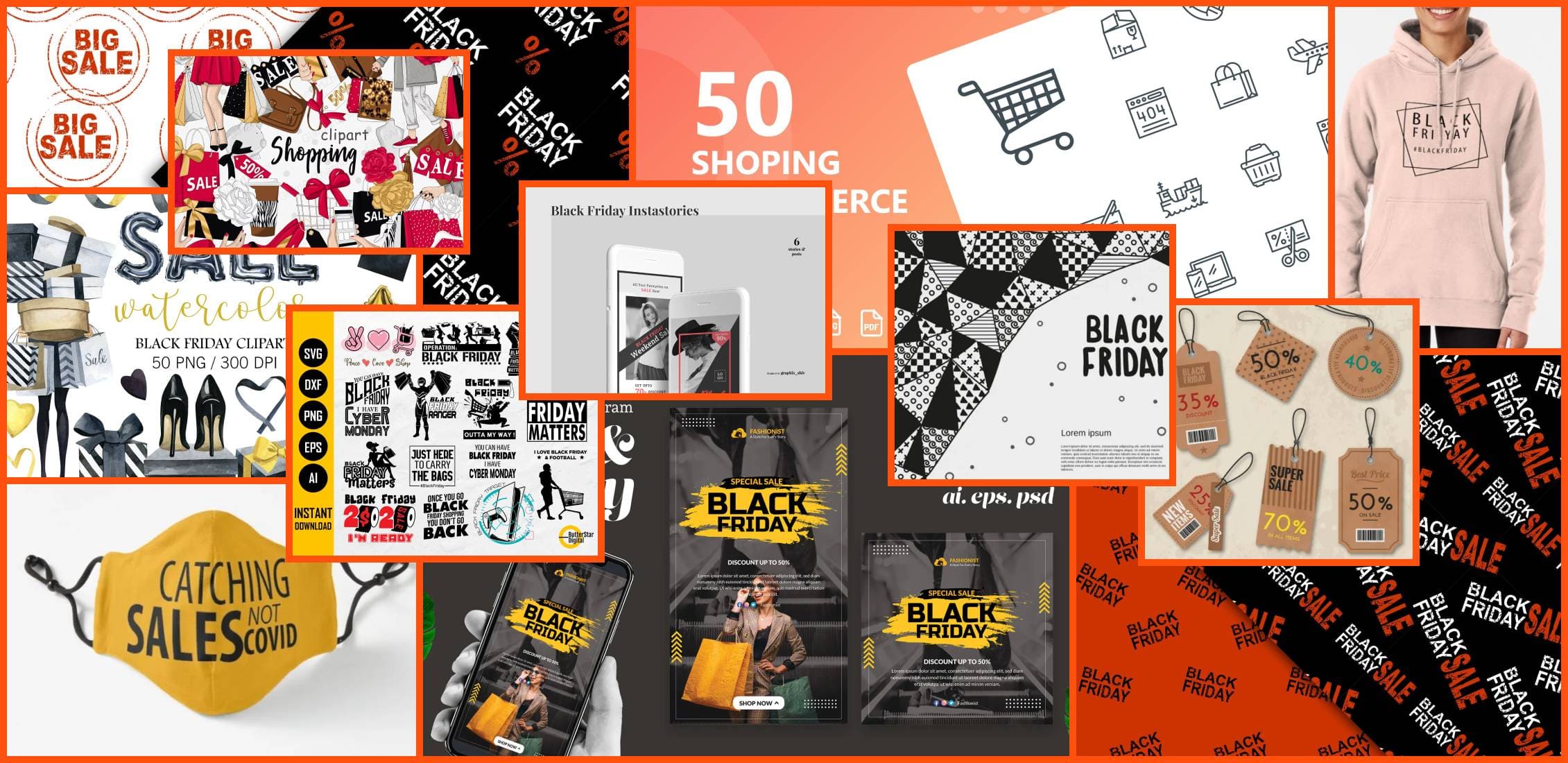 20+ Best 2021 Black Friday Clipart: Free and Premium
November 26, 2021
March 14, 2022
11 min
Black Friday Clipart. Black Friday is the first Friday after Thanksgiving in the United States. From this day, the Christmas sales season begins in European countries, which has become a tradition since the 19th century. Nowadays, grandiose discounts on Black Friday have become a regular practice in many e-shops around the web. To generate activity among the audience, it is necessary to carefully work out an advertising campaign. One of the most important components is the visual part. Wonderful clipart for Black Friday 2021, carefully gathered by MasterBundles in this collection, will help make your e-commerce page on the Internet and social networks memorable.
By the way, all designs that you will find on the MasterBundles marketplace can be purchased with 30% off during Black Friday hype! Pick up a promo code, apply it in the shopping cart, and see the magic happening!

We also recommend that you take a look at the current trends in visual design for the years 2021-2022. This will help you create a truly stylish, eye-catching, and sellable ad. Please, sit back, relax, and let's get started!
4 Current Trends in Visual Design for Social Media Pages
Naturalness
It would seem that naturalness has always been in demand. In fact, it is in the era of social media that the most important trend in both visual and textual content is real, live emotions, and poses. Therefore, try to show your audience real, unstaged moments of life through your ads. They will immediately feel comfortable, will be likely to stay on your site longer, and hopefully buy from you.
Gamification
No matter what age a person is, they have a positive perception of turning advertising into a creative interactive game. The more gamification there is in the stories and the more varied they are, the more interesting it is for the viewer to spend more time watching. The author gets more interest and more involvement from each user.
Blurred Effect
This trend is suitable for almost all blogs because it shows the person, the clothes, and the location. This trend can be used by bars, restaurants, or showrooms if they need to show that they have a fun, cool, and dynamic atmosphere. This trend looks cool when it is overlaid with noise, and you can see that it is not just a random photo defect, but a unique and creative effect that will get attention.
User-generated content or UGC
This is first and foremost about trust. Ask your subscribers to submit a photo of your product, ask for a review, use their feedback, get their opinion, and you'll gain the most loyal audience.
Content is always more important than any trend. You can make the most stylish, beautiful, and gorgeous visuals, but if it doesn't fit the overall concept and strategy of your brand, it will be a useless job. Watch the trends and use them if it suits you. But most important of all, follow your strategy.
That's why we say that the use of good clipart will help you create original content for your blog or e-shop. And now it is time to pick the best ideas among the big collection of the best Black Friday clipart from all over the web 😉
In case you are creating Black Friday presentation or Cyber Monday banner, check out these bundles to create an eye-catching product in a matter of a few hours!
15+ Top Premium Black Friday Clipart
Best Free Black Friday Clipart
We hope that our recommendations for visuals and a selection of ready-made clipart will help you get ready for Black Friday. Create a buzz before the sale on your site and on social media!
Where to Sell Your Deal on Black Friday
Do you want your designs appear on the MasterBundles marketplace? Don't hesitate to submit your bundle via this form! Thus, you will make our world more beautiful and, of course, make some money 😉