Black Friday banners. Black Friday is the main fall event after Halloween and Thanksgiving in the U.S. This year it comes on November 26 and runs through November 29. Just after Thanksgiving, the Christmas sales season begins, but it's the first few days that have the biggest discounts. If you are the one launching massive discounts, draw the customer's attention with the help of Black Friday banners! Here is a selection of top-notch banners and Cyber Monday templates, as a bonus! Browse, choose the perfect fit for your website, and make the digital world more beautiful 🙂
The Bright and the Dark Sides of Black Friday
Nowadays, the attitude towards Black Friday is ambiguous. Most Americans associate it with a holiday and a chance to make some good purchases. Some American newspapers even call Black Friday "the best day to buy a TV".
However, there is an opposing point of view. In recent years, U.S. stores are beginning to abandon Black Friday, arguing that after Thanksgiving it is better for employees and customers to spend time with family. The bad reputation of the event is also created by the cases of injuries and deaths that occur every year due to huge crowds lining up at the stores.
Nevertheless, Black Friday remains the most profitable day of the year. According to statistics, U.S. sales total billions of dollars in just one day.
What Is Cyber Monday About?
Cyber Monday was invented at the beginning of the 21st century by the owners of online platforms after they noticed that sales after Black Friday increased not only in offline stores but in some online stores as well. People returning to work on Monday after the Thanksgiving weekend often spent their workday online shopping for deals they couldn't get at the stores on Black Friday. Hence, online stores began to hold sales on the Monday after Thanksgiving.
Nevertheless, many bloggers and professional shoppers advise shopping online during Black Friday, too. You avoid the crowds in the malls and can make a more thoughtful choice.
To draw attention to their online store and get as many customers as possible, owners often think about how to decorate their site on Black Friday and during Cyber Week.
Banners and promotional posters should be not only eye-catching but also selling. So, in this compilation below, we have chosen some attractive-effective banners and promos for you.
Found cool banners from MasterBundles? Apply our promo code in the shopping cart and get a 30% discount!
Let's check them out 😉
Black Friday Banners and Promos
If you want everyone to notice your offer for Black Friday and rush to take advantage of it, you have to try very hard. Without a creative, tenacious, and engaging marketing campaign it is not possible to stand out from your competitors.
How do you do it? Check out our selection of free and premium banners, and a special promo, and find your match! By the way, on our marketplace, you will find even more Black Friday and Cyber Monday freebies!
Premium Banners and Promo for Your Black Friday Campaigns
Free Banners and Promo for Your Black Friday Campaigns
Cyber Monday Banners and Promo
When planning Cyber Monday promotional events, one of the most important and difficult things is to compete for customers' attention with dozens of similar banners and promo posters, trying to make your message stand out from the crowd. Below we've listed some of the most effective banners for these purposes, as well as promo templates that you can use in your own marketing campaigns.
Premium Banners and Promo for Your Cyber Monday Campaigns
Free Banners and Promo for Your Cyber Monday Campaigns
Where to Sell Your Deal on Black Friday
Do you want to make our digital world more beautiful? Let's do it together! Collect your logos, icons, patterns and textures, fonts, banners and other splendid design elements into bundles and upload them to our marketplace via this form! Earn money, get noticed and help people create amazing products!
Please take a moment to pin this post to Pinterest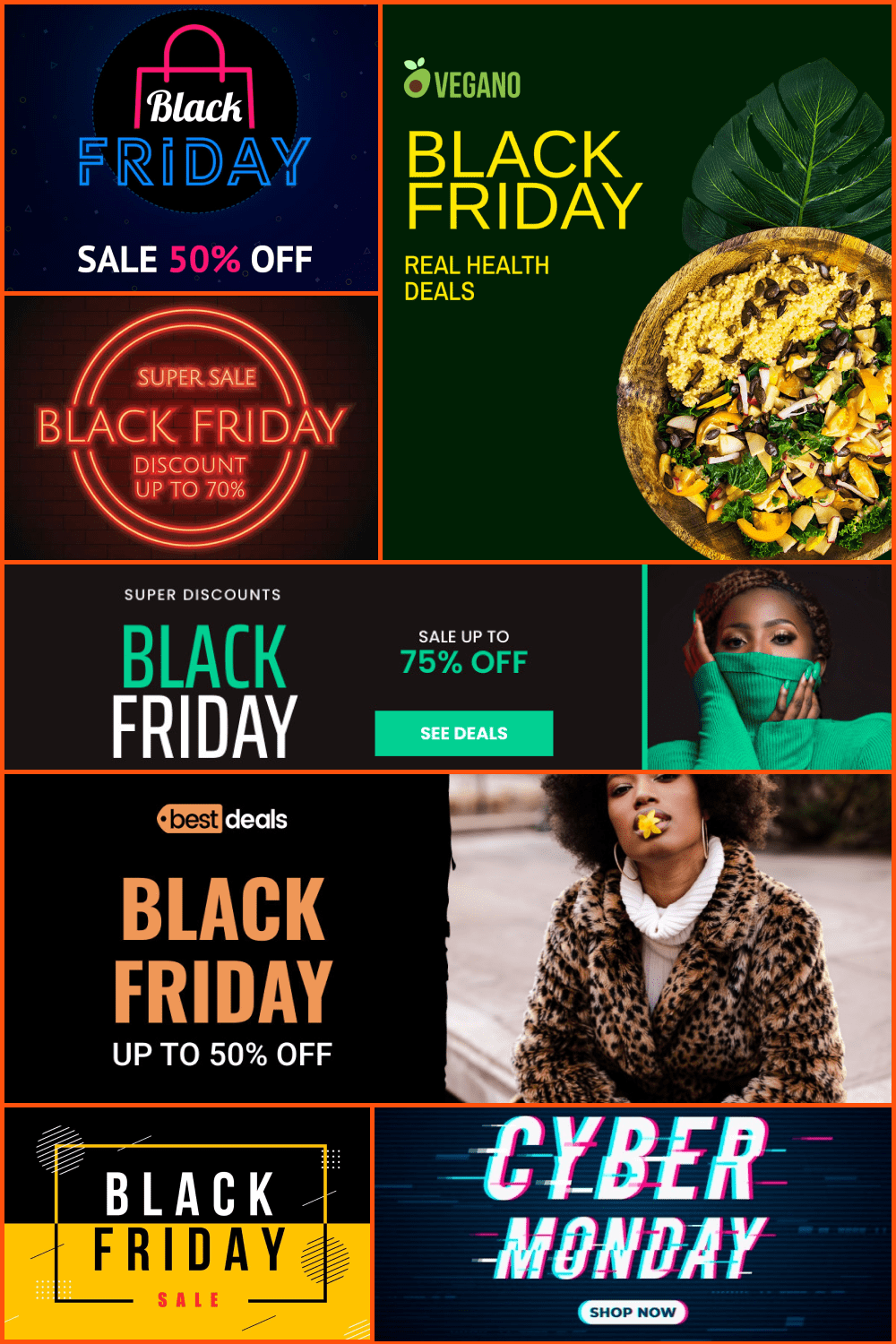 Disclosure: MasterBundles website page may contain advertising materials that may lead to us receiving a commission fee if you purchase a product. However, this does not affect our opinion of the product in any way and we do not receive any bonuses for positive or negative ratings.