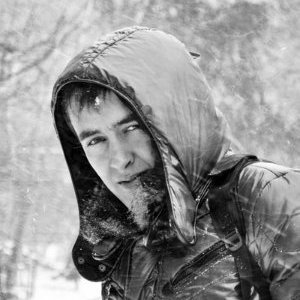 Article reviewed by
on May 01, 2020
My name Ilya and I am in web development for more than 15 years. In the large international team Novi Builder I am responsible for ensuring that the product becomes better every day and customers are happier.
Learn about comment
Novi Builder Review. Novi Builder belongs to the top novelties in the web development world. This builder has already won the trust of thousands of web users across the globe. How so?
Well, Novi Builder is believed to be a feasible solution to sophisticated web design challenges. In this post, we will check up on factors that predetermined the success of Novi Builder. At the initial phase of our investigation, product highlights are discussed.
The membership in the Novi league is #2 item on our agenda. After that, we will cast an uncompromising look at templates from Novi and their design features. Finally, we will shed light on a handful of Novi plugins that customers prefer. Keep on reading to learn about the fast-growing Novi league.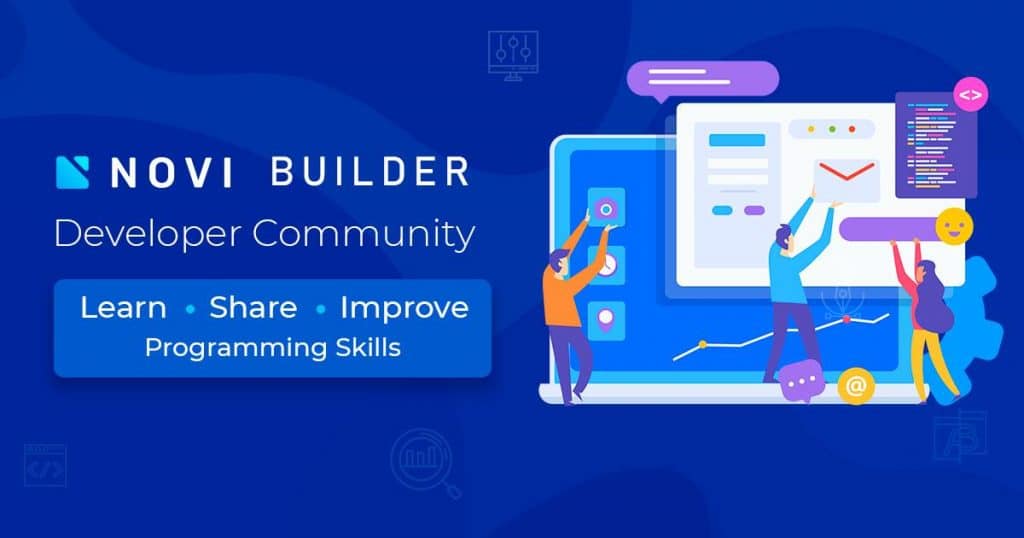 Novi Builder: Product Highlights
Let's start the analysis with a general definition of the builder under consideration. Novi Builder is a visual HTML web development tool with the visual editing functions. In other words, if you work as a freelance web designer or a dev, Novi Builder is a smart way to optimize your workload. Currently, the spectrum of Novi Builder products consists of HTML website templates and plugins. So, how exactly can Novi Builder be of help for you as a web non-amateur and optimize your workload efficiently when creating a website?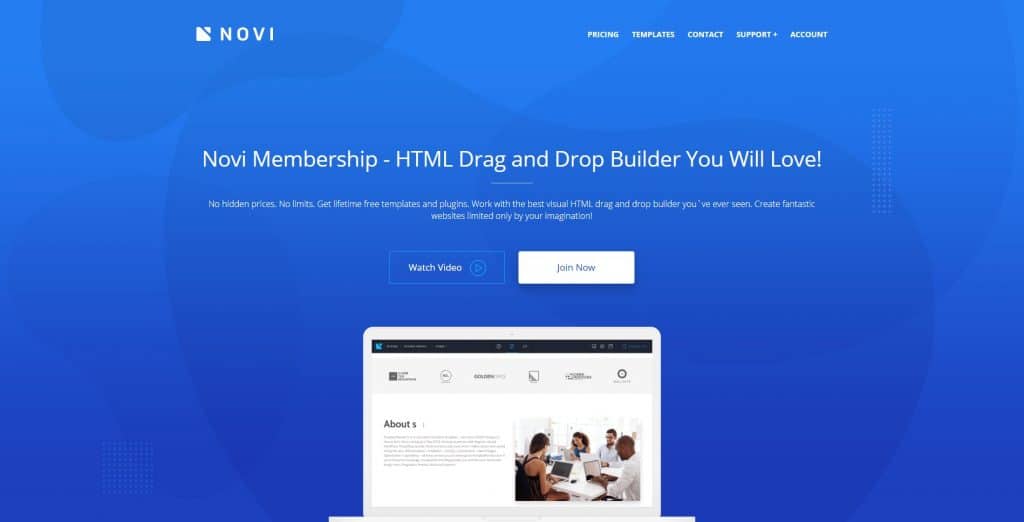 Novi is an Editor
For starters, Novi Builder is one of the advanced web-specific mechanisms. One can apply this mechanism to adjust a template's overall style visually. In layman's terms, you can see right away all the edits you make. After that, you can either continue editing your website or make additional changes. The visual advantage is backed up with the user-friendly character of Novi builder. To use Novi to the fullest, you do not need any super skills or a degree in programming. Put simply, the admin panel of Novi Builder is a dream come true for any prospective website owner.
Novi Uses a Visual Editing Interface
Besides, the editor under discussion is powered with the visual editing functions. For most customization operations, all you need is to move a specific content block to a particular layout position. How great is that, right? Thanks to the visual editing interface, the whole process of customizing a template can take you less than an hour. Of course, the amount of time you spend on one template largely depends on your talent in web design. But the general tendency remains the same. Any web designer who deals with the immense workload will label Novi Builder as quite handy.
Novi Includes a Vast Set of Features
Novi Builder provides both website owners and developers with an immense set of tools that aren't limited by just adding images and changing text. But if these two options are decisive for you, then you will find this website builder really useful. And these are not just words. The developers of Novi team have integrated full the support of image cropping, resizing, and changing the letter spacing and font weight. These seemingly simple tools are irreplaceable if you don't have any special software installed on your PC. Still, Novi Builder gives you a lot more than any other software. For example, you don't have to upload your website manually thanks to the publishing feature allowing you to make your website visible after editing it.
Video About Novi Builder

Novi Builder provides both website owners and developers with an immense set of tools that aren't limited by just adding images and changing text. But if these two options are decisive for you, then you will find this website builder really useful.

This website builder is a great choice if you are looking for a tool that supports slight appearance changes (e.g. include your brand logo instead of the default one). The Novi Builder's "White Label" feature (available for just $79) allows you to do just that. Also, Novi Builder can generate your website's sitemap and robots.txt file. It will ensure that your website is ready for proper search engine optimization prior to its publication. And after your site is published and visible, its statistical data can be easily tracked thanks to the latest feature – Analytics. It is available since the version 0.9.9. It is well-integrated with Google Analytics and Facebook Pixel as well as other important tools to provide full control over your website visibility and conversion potential.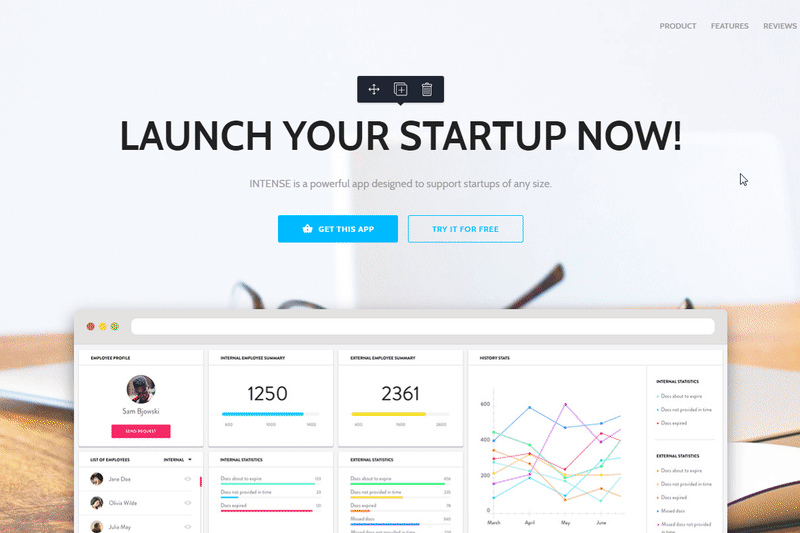 Novi is a Revolutionary Product for Web Developers
It is of note that Novi Builder is flexible, like any other polished HTML tool. It implies that with some expertness in web development, you can work customization miracles with any template in the Novi assortment. As a specialized web development tool, Novi has unlimited potential! The flexibility of Novi templates goes beyond expectations. In other words, all the Novi products are created by non-amateurs for a demanding audience of modern web developers. All in all, Novi Builder is a revolutionary web product. It allows an end user, like a dev or a website owner, an unprecedented level of freedom when figuring out a design and a layout of a website.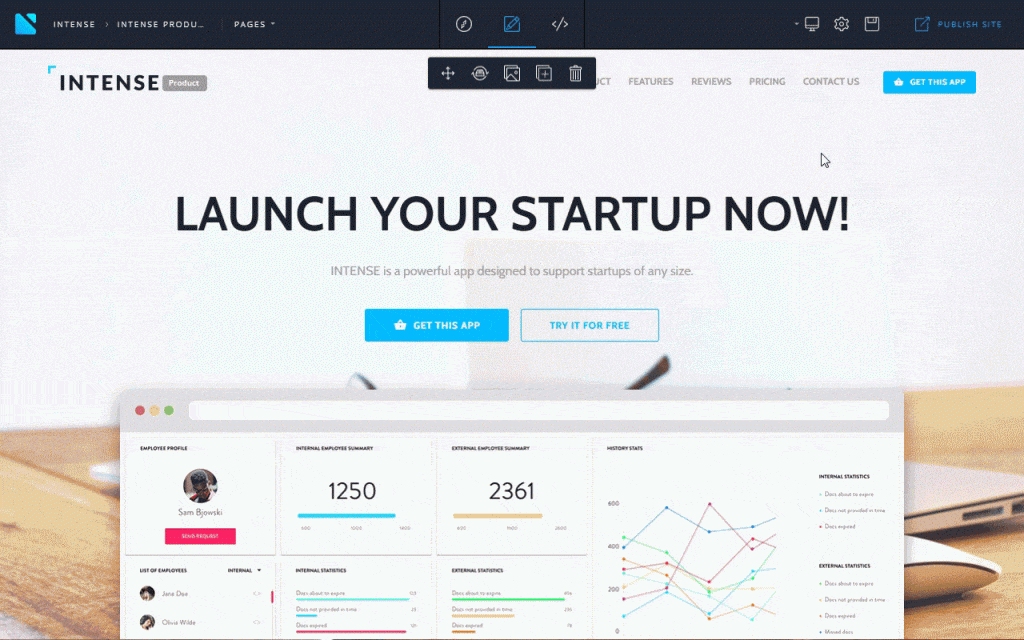 How to Join the League of Novi
Now you know why people choose Novi to manufacture HTML websites. So, it is high time to learn how you can become one of these lucky guys. To become an owner of the Novi Builder, you need to choose a pricing plan. At the moment, the Novi team offers three different pricing options. However, we also recommend you to join the Novi Builder community where you can get additional help and ask any questions about the builder. Now, let's have a look at what these three pricing plans are about, shall we?
#1. Startup
The Startup plan for $29 per year is an excellent idea if you intend to bring into being only one website. This plan allows an end user to work on one template at a time. Fortunately or not, this "one" template is already cherry-picked. All Novi plugins are a part of the deal too. Usually, the Startup plan works best for non-programmers. So, if there is a need to create a web promotion product that runs smoothly to market your services, the Startup plan is your #1 choice.
#2. Advanced
The next pricing plan is called Advanced. It is available for $49 a year. The most obvious difference between this plan and the one we discussed above is the number of templates. You remember that the Startup plan includes only one website design, don't you? Well, with the Advanced plan you get to enjoy more than a dozen of web products. The rest of the package is the same for both Startup and Advanced plans. Unlimited projects, free updates, developer support, one-month money-back guarantee, etc. – it is all identical.
#3. Developer
Finally, another pricing option is the Developer pricing program. It will cost you $149. What we like about this option is that you pay once. To rephrase that, the Developer pricing plan is a guarantee that you can use Novi as long as you need. No need to reanimate your website after the current Novi subscription is over! Isn't it a huge relief for busy developers, like you and me? Another impressive feature of this plan is that you are given control over all 25+ (yes, you heard it!) Novi templates.By the way, only on MasterBundles you can get 41% off the Advanced membership.
As you can realize now, the setting a price of Novi is pretty straightforward. No additional fees, zero hidden implications. This is quite refreshing after all that painful experience when you get charged for the smallest updates. This is another reason to choose Novi Builder as your web development as their membership pricing doesn't change, especially if you have already purchased it.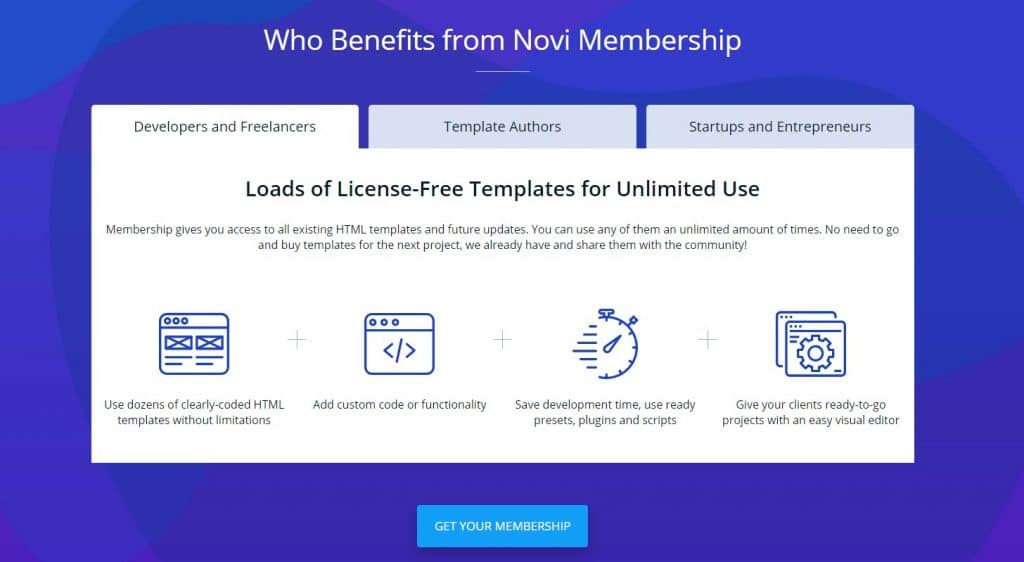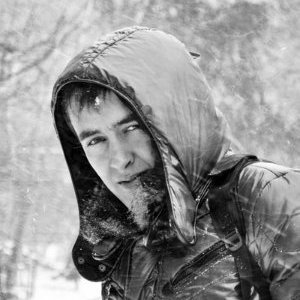 My name Ilya and I am in web development for more than 15 years. In the large international team Novi Builder I am responsible for ensuring that the product becomes better every day and customers are happier.
What Clients of Novi Say
To give you a better understanding of what working with Novi Builder is like, here are some of the recent testimonials. These are submitted by the real Novi customers via Trustpilot.
Recent Novi Testimonials
"The Best Friend for web developers! Save lots of time and work, really well done, intuitive and rich of contents. I suggest everybody in the market to buy this builder, expecially if you are searching for really professional templates to customize!"
Pe Pe Rossi, Italy
This is a great way to build visually appealing sites without learning HTML/CSS or dealing with the headaches of WordPress. I would definitely recommend Novi to other small business owners, as it is easy enough to figure out on your own without hiring a Web developer. The installation process is a little cumbersome for a non-technical user, but with a little bit of help, I was able to get it up and working.
Matthew May, United States
It is very intuitive and easy to use visual and code website editor. Really user friendly. I like to work with it. No coding skills needed to update the web.
Jozef Búry, Slovakia
Novi Builder vs. Other Website Building Tools
Now let's compare the Novi Builder to some other website builders and editors that are widely known. As the best examples for comparison, we've decided to take Wix and Weebly as the two most popular Novi Builder alternatives as stated by various online publications.
But are these builders really different from Novi and from each other? Let's find out.
First of all, it is necessary to mention that Novi Builder perfectly meets the needs of a web developer. However, even if you have little to no knowledge in coding, this builder will allow you to customize your website quickly. But what differentiates it from other popular builders is that it is an online application that should be installed on your own hosting to work properly.
Unlike Novi, such services as Wix and Weebly provide some disk space on their servers to host your website. This is a great option if you don't have funds to run your website on a separate hosting. Still, there are many hosting providers that offer affordable pricing options and supports all technology that Novi Builder requires. By the way, the Novi team recommends to use Bluehost as the hosting provider for your Novi Builder installation. It's complemented not only by an affordable hosting plan ($2.95 per month) but also by the pre-configured settings. That means you just have to unpack the Novi Builder package and you're ready to go.
Another few factors that make Novi Builder stand out is its pricing policy. While most website builders provide only annual subscriptions or monthly payments, Novi has a great addition to its Startup and Advanced annual plans. Its Developer lifetime membership is only billed once and it grants full access to all features Novi can offer. The plan's price is $149 that may seem a lot, to be fair. But if you compare it to Wix or Weebly, Novi Builder provides a lot more features for a lower price. Also, the lifetime updates and support are included meaning you don't have to pay for them at all in the future.
The only possible drawback of Novi Builder is the lack of a free plan, which may deter some users. However, if you are aimed at serious website customization and are looking for a website builder that allows you to gain full control over each element, image, and text block, then Novi Builder is the right choice.
The Newest Creations from the Novi Team
Novi Builder Templates
At the moment, the overall classification of Novi templates contains 35+ sharp open-source web products. All of these templates allow you to edit every single line of their code to get the very functions one needs. All created as separate products, Novi templates are irresistible in terms of visuality and easy to manage. These templates are available as a part of Advanced subscription plan that Novi offers. So if you decide to get it, you also get access to over 35+ different HTML templates.
What is more, every creation in the Novi list boasts a predetermined, or put simply, pre-written, niche content. Make no mistake – you will not find any duplicates, even if you try hard enough. We have chosen a random set of templates so that you could develop your own concept of what Novi is like. A look at these attention-grabbing layouts and elegant designs will not hurt, will it?!
Webline Project
This startup HTML landing page template is a perfect pick if you need to build a trustworthy website with a variety of informative sections. This 100% responsive HTML solution allows you to showcase your services and tell your customers more about your team and the office location in the user-friendly way. Also, Webline Project allows you to integrate gallery and news blocks in your page and footer as well as to decorate it with a full-width slider.
FinPRO
FinPRO financial advisor website template is a multipage solution with detailed layout, footer, and header. It can provide your customers with necessary information right after they enter your website. Also, like all the templates crafted by the Novi team it is highly optimized. And with Novi Builder, you can customize the template any way you want just by dragging blocks. It's also possible to completely modify the layout and embedding various UI elements such as forms, galleries, maps etc.
Fasteria
When you own a restaurant or a bar, impressing your clients to attract their attention is a must. And besides being impressive this fast food website template also gives your visitors plenty of information about the dishes you serve, pricing, your team, and other important facts. With this template and its variety of content blocks, you can surely build something spectacular. Even if you are looking for a ready-made responsive HTML template, Fasteria has a lot to offer.
PixLab
Any software development company needs to represent itself properly on the Web. To simplify your way to online success, the Novi team has recently introduced PixLab software company website template. It was created to help developers promote their apps, services, and solutions to a larger number of users online. Also, this template allows for the direct interaction with your customers and even potential employees. PixLab includes the "Careers" page, blog & gallery pages as well as a variety of blocks to make your website look fully functional and informative.
Principle
This law firm website template contains the kit filled with everything a potential web owner needs to build a prominent online presence. If you want to rock the legal market within the shortest terms, choose Principle. Feel free to experiment with different types of headers and footers. This is the easiest way to make your law website as informative as possible.
TabAccount
Created as an auditing website template, TabAccount can be transformed into all sorts of corporate templates. Both a real estate agency and a medical establishment will find TabAccount appealing on many levels. Check out the beauty of different sliders. Navigation, pagination, and video sliders are available!
CarRepair
As you can guess from the template itself, CarRepair is an auto repair landing page. The feature of this template that we personally find blindsiding is how unambiguous CarRepair is. For example, CarRepair allows your future clients to leave you a quick request. Located in the very heart of your web page, this request web form will serve you well.
Immovables
This commercial real estate website template is a real bargain if you need to download all sorts of visual data like an instructional video, an image that is a crystal clear or an audio file to your website. To help you with this data, the Novi team created different galleries. For example, one of the gallery options is a gallery album with Winston effect. Winston effect sounds intriguing, doesn't it? Thanks to various galleries, your website can contain big data and load lightning fast at the same time.
Massive
In case you are searching for a universal all-in-one web product, try the HTML template for a startup company website. View the live demo to get amazed with ready-made CTA (aka call-to-action) buttons. All different in terms of design and layout, these buttons will bring you hundreds of satisfied customers!
The examples provided convincingly demonstrate that the assortment of templates that the Novi team has to offer is of the sensational quality. Feel free to play around with the never-to-be-forgotten designs and various content coding blocks that Novi Builder boasts. Building your own one-of-a-kind web project can be a lot more rewarding with Novi!
How To Get Novi Builder Promo Code?

Buying Novi Bundle with Promo Code, you receive an easily understandable drag and drop builder, and an opportunity to utilize all current and further added templates, handy plugins, and necessary details.

Plugins from Novi
Plugins from the Novi Builder team are created for both seasoned web technicians and novices. This is precisely the reason why all the plugins from Novi are so easy to configure and edit. Do you still get confused about how to decipher CSS? (Yes, these abbreviations are so confusing…) No worries! All the documentation for Novi plugins is manageable regardless of your expertise. Also, the Novi team has prepared detailed video tutorials and guidelines. Not overburdened with technical terms, these resources will help you master any plugin within minutes. Run through a collection of Novi plugins that contains 20+ items. Believe it or not – here you will find swift solutions for your current web project.
Some of the most popular Novi plugins at the moment are:
A Countdown plugin. Switch between countdown and count up options. Set time for your counter using jQuery.
A Google Map plugin. Choose different styles of your map. Define description and location on each map marker with your eyes closed!
A Vide plugin. Change a video source. Edit a poster image. Every operation can be less time-consuming with Novi!
A Light Gallery plugin. Experiment with different animations and gallery autoplay and configurations with ease.
Do you know what the icing on the Novi cake is? No, it is not that it takes you up to a minute to install and configure them. What is really amazing is the quality of the open-source code behind all Novi products.
With this bundle you'll get 41% discount on Advanced Plan ( old price $49 / year – New Price: $29)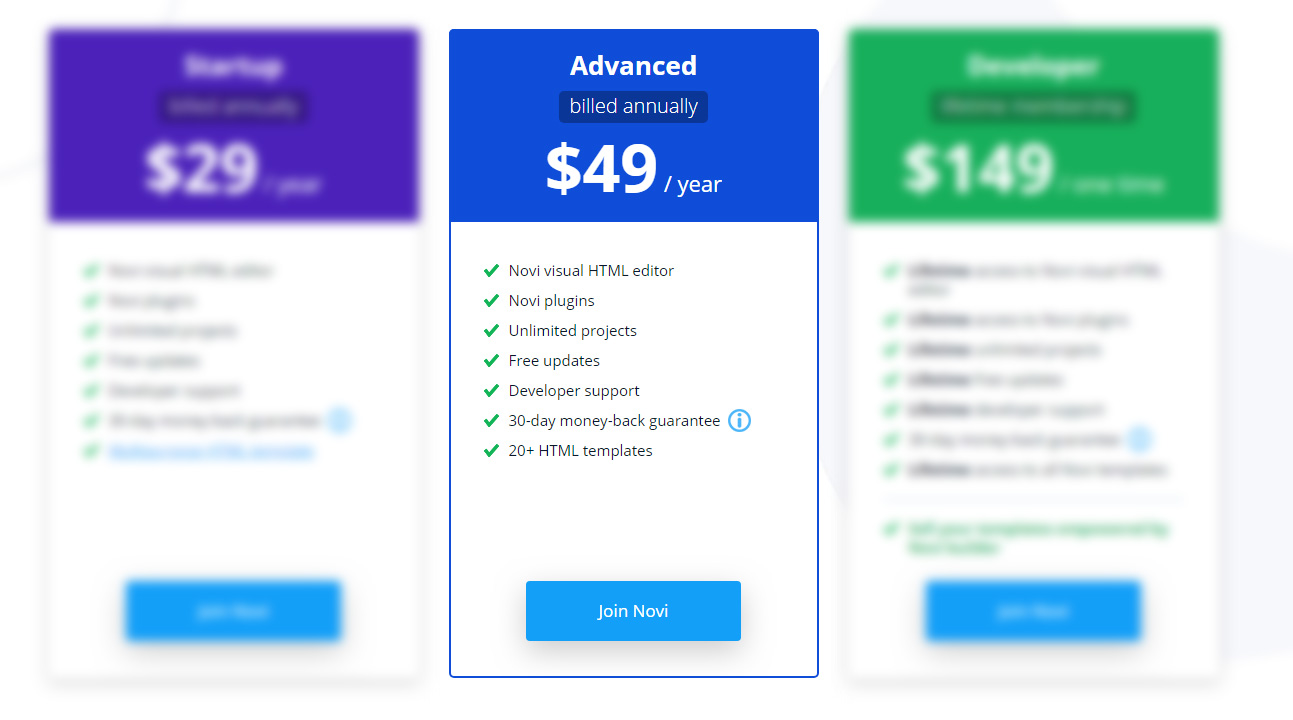 Top 3 Popular Questions About Novi Builder
If you have any questions about Novi Builder, we recommend to take a look at these 3 most frequently asked questions regarding Novi Builder and its functionality. Besides, you can always ask for the support in the Novi Builder community on Facebook especially if you have any extra questions.
🛠 Can I resell the templates on third-party marketplaces?
Reselling templates for commercial purposes or on third-party marketplaces is strictly prohibited. Novi Builder company keeps an exclusive right to sell those items.
🛠 Is it possible to sell templates empowered with Novi Builder?
Sure, you can upgrade to the Developer plan that gives all the members the rights to create and sell their templates empowered by Novi Builder on any third-party marketplaces. Please note: the templates are obliged to use the Novi brand name and logo with each of the items.
🛠 If I buy Novi monthly or annual membership at a discount price, can I expect the same discount for the license renewal?
If you are lucky to buy our yearly or monthly plan with a reasonable discount, that's an excellent motivation to use Novi including the set of web templates and widgets regularly. So, the best idea is to choose a lifetime plan after you've tried Novi for the first time. As the period of your purchase plan expires you will have to pay the standard price that is valid at the time of license renewal.
Novi Builder: The Future of of Website Development?
As you now realize, Novi Builder is a trustable mechanism for developing website projects. It allows you to develop a liking for the flexibility of templates and plugins coded with HTML to the fullest. Built by non-amateurs, Novi is powerful and user-friendly at the same time. It offers any user with zero web skills to have a website in the palm of their hand. With the Novi team, you finally have the right to stop settling for something less than the best!
Please take a moment to pin this post to Pinterest
Was this page helpful?
We will be happy if you decide to share this article with your friends on Facebook. Just click on the button and you're done
Thanks for your response!
You have already left your review.
Article References
This article was written according to Novi builder official website information, real and honest customer reviews and Novi builder community.
Official Novi Builder website: https://novibuilder.com/.
Facebook Community Novi Builder: https://www.facebook.com/NoviBuilder/
Twitter: https://twitter.com/novibuilder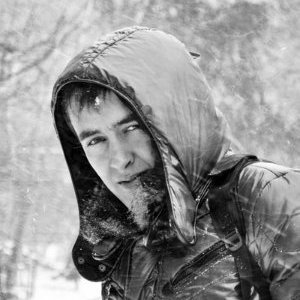 Article reviewed by
on May 01, 2020
My name Ilya and I am in web development for more than 15 years. In the large international team Novi Builder I am responsible for ensuring that the product becomes better every day and customers are happier.
Learn about comment
Disclosure: MasterBundles website page may contain advertising materials that may lead to us receiving a commission fee if you purchase a product. However, this does not affect our opinion of the product in any way and we do not receive any bonuses for positive or negative ratings.