My hobby turned into my favorite job – Sun Ra
Meet Sun Ra, an artist, illustrator, and graphic designer born and raised in Tajikistan, currently living in Uzbekistan. Many of his arts are strongly inspired by the culture and customs of Central Asia. Graduating from art school in 2010, he has since specialized in digital illustration, vector illustration, line and dot style, and sepia illustration.
He demonstrates this great versatility in both digital and hand-drawn tools, making from dreamlike illustrations with a strong symbolic charge to portraits of artists, football players, superheroes, and other fictional characters. Don't miss the video in this interview, where you can enjoy a timelapse of him developing a watercolor portrait of actor Tom Hardy.
His art has been printed on music album covers, packaging, web illustrations, and also in his illustrated stickers and shirts on his personal store on Redbubble.
He is also an amateur photographer, mostly specializing in street photography. His artistic photography stands out for a very particular cinematic atmosphere, generated by the way he works with lighting. Be sure to stop by his Instagram account to learn more about his photographic work!
What life events influenced your decision to become an illustrator?
Of all the subjects at school, I loved the drawing class. My love of visual art continued growing more and more as I grew up. When I realized that, I felt with all my soul that art was my thing. So, gradually, my hobby turned into my favorite job.
How would you define your illustration style?
It can be digital illustrations, illustrations on paper, or on canvas. I actually depict illustrations in very different styles: art grunge, line art, watercolor, vector illustration.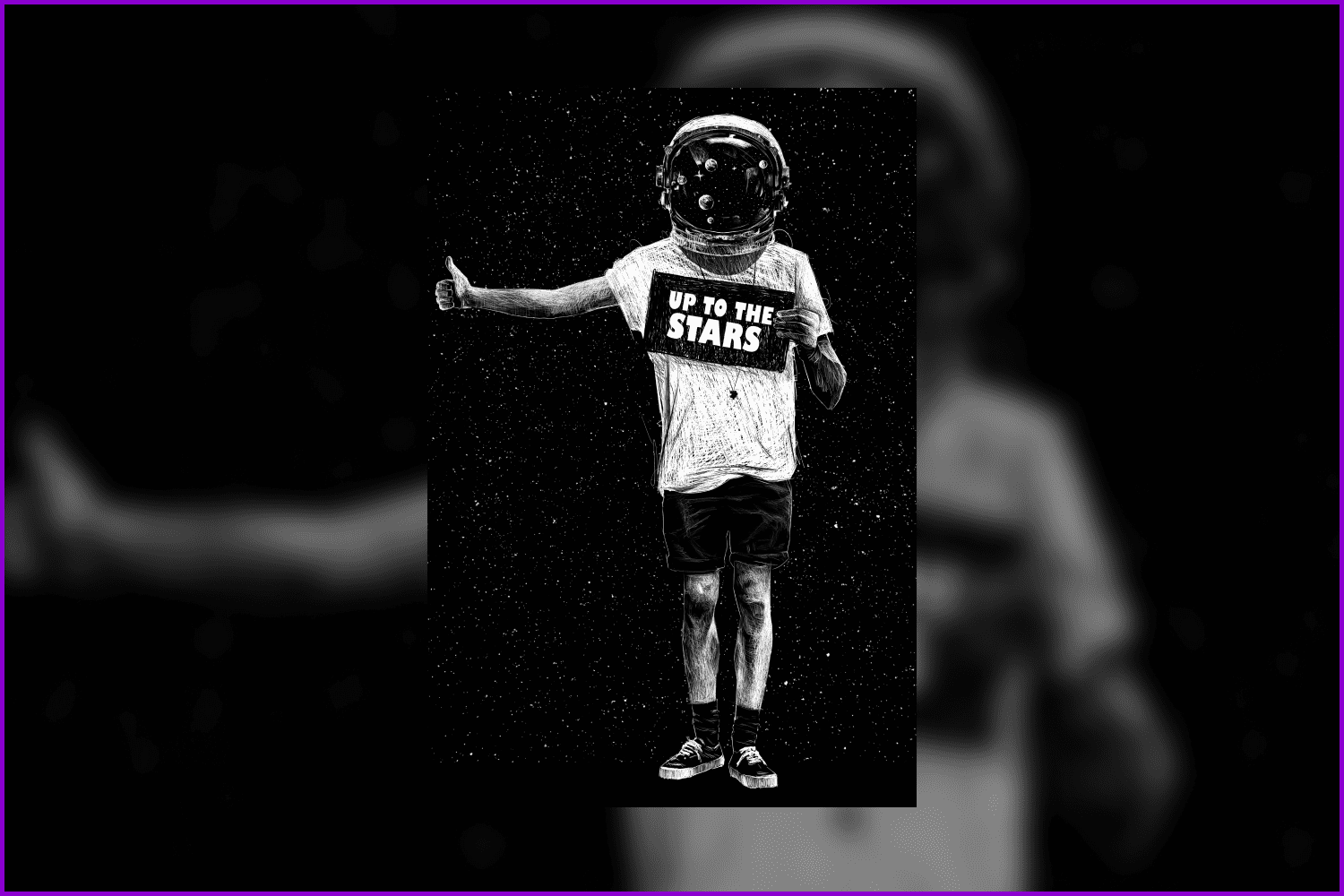 "Each of us is a dreamer, and each of us merges with the universe". That's the inspiration behind "Up to the stars" line art style illustration series.
What is the first thing you do when starting a new project?
The first thing I do is create a mood board for myself. I thoroughly research and search for information on the topic of the project, take notes, collect pictures of different objects. This all helps me to translate the idea for future illustration into reality. Only after the process of gathering information do I realize that I am calmly ready to start and finish the illustration.
What are the projects you are most proud of, up to date?
Whisky packaging design for a London-based brand, illustrations for MTS Russia, illustrations for Coca-Cola Uzbekistan, My Comments, My Polyclinic, Russia. Designing the packages of sunflower seeds for "Smile" company, Tajikistan. And many more.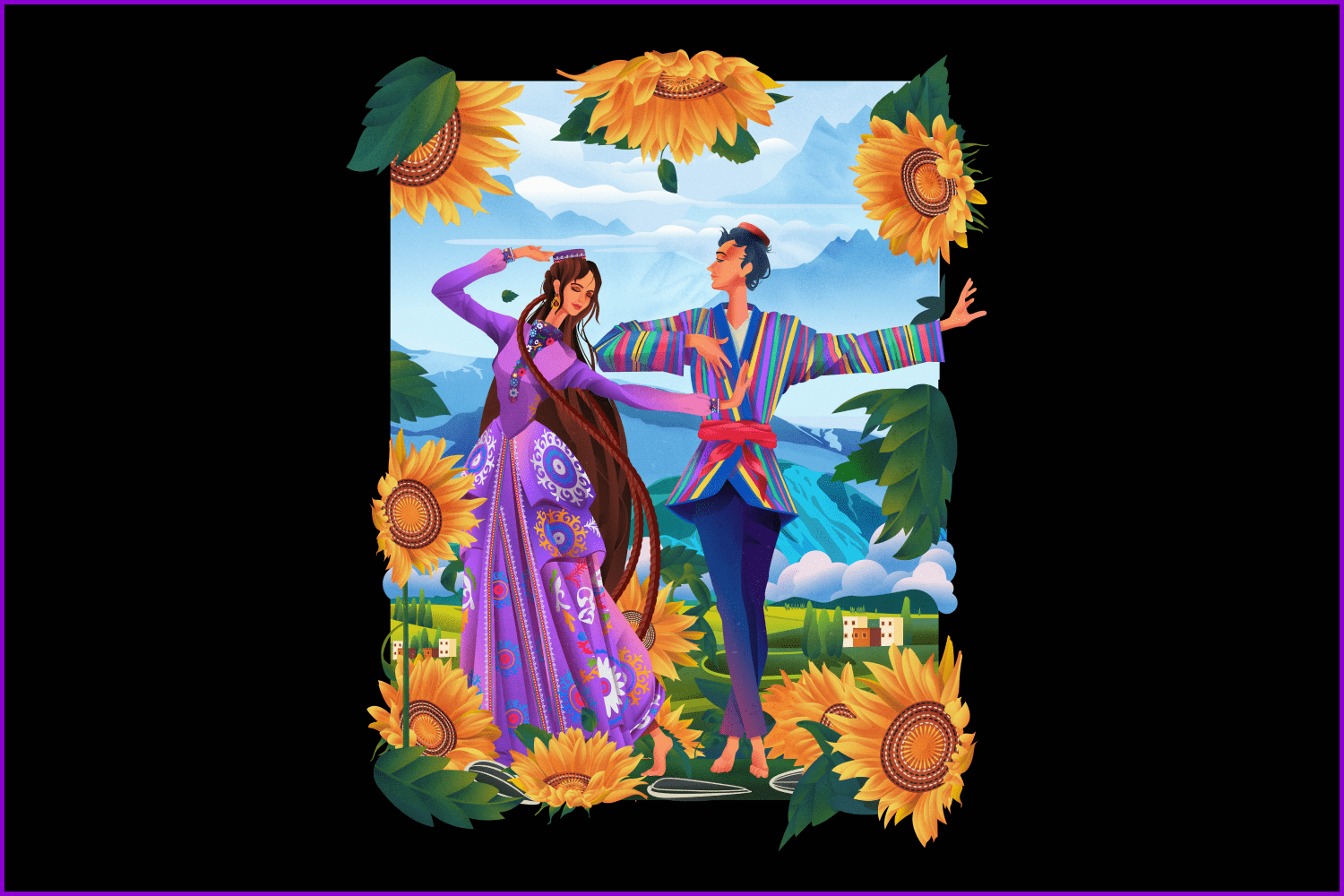 One of the 3 packaging designs developed for Smile's sunflower seeds.
What inspires you or motivates you to create?
First of all, music. Without music, it's hard for me to tune in.
Also films: frames, light, composition, perspective, characters, plot, and locations.
Finally, artists and illustrators. Getting to know their work, studying and looking at their illustrations, I get to discover a new vision.
What is your favorite drawing or painting in your portfolio and why?
The painting "The Boy with the Alien Mask." It describes an immersion in your own familiar world, where you can seclude yourself with your thoughts, in search of the unusual and something new.
By the way, it is this painting that stands on my avatar. I adore everything connected with space.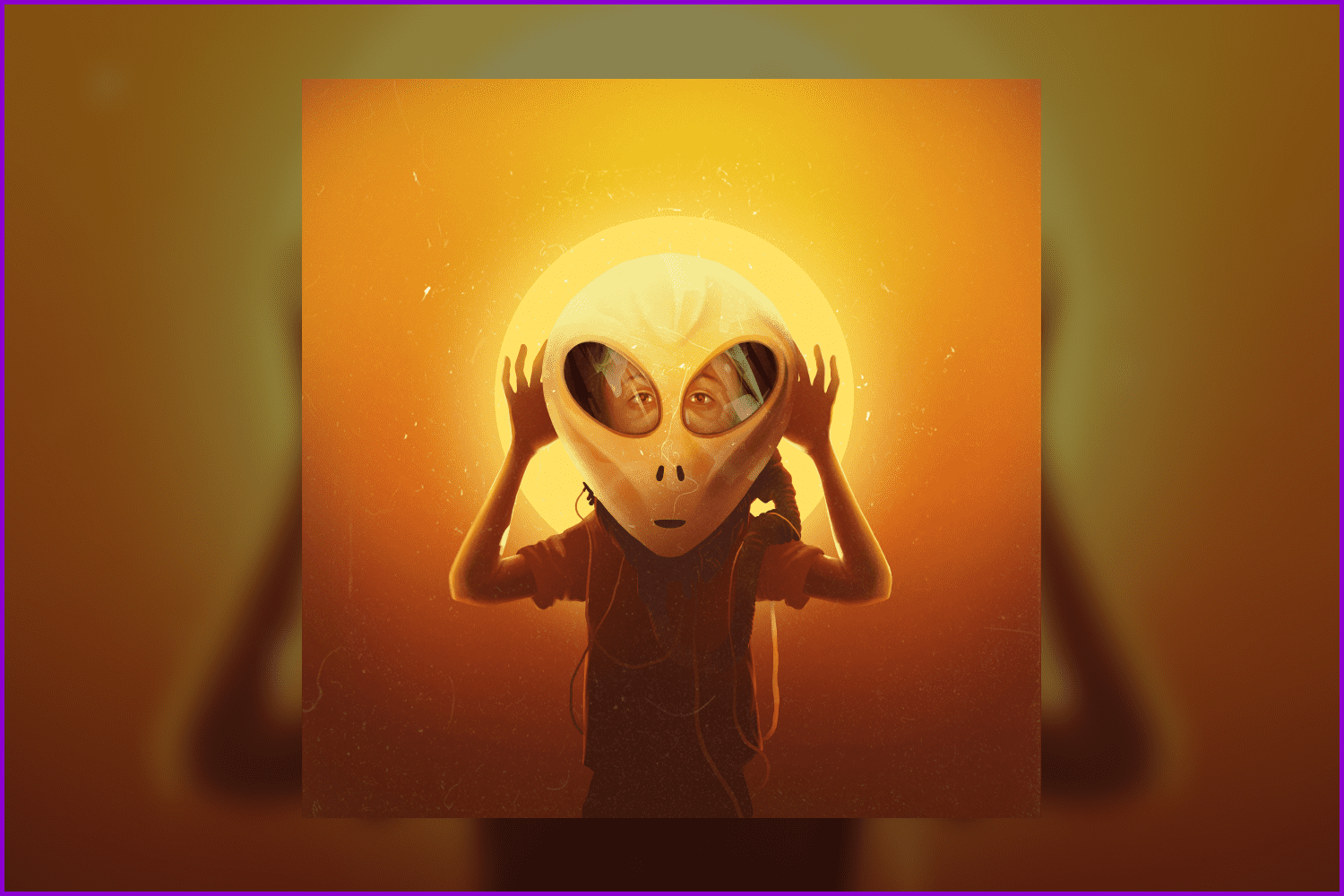 "The Boy with the Alien Mask."
Do you think habits help (or hinder) creativity?
I think habits get in the way of creativity. This is because, as I see it, a habit is holding on to something old.
What is the hardest part of creating an illustration?
The hardest part is finding the idea and making the first step, then creating the sketch itself, then only your patience to implement the final result of the illustration.
Do you believe illustration is a form of art?
Illustration is an art form. A type of art of its own!
Can you name some of the designers or artists that influence your work?
I often follow the work of different artists and illustrators. I like Jama Jurabayev's work in terms of form, dynamics, and brushstrokes.
I also follow the work of Lora Zombie, her watercolor technique. There is a colorfulness of colors, grunge, and dynamics in her work.
I can also list a few artists I enjoy watching, their works give me powerful inspiration, they are Vincent van Gogh, Juan Ruiz, Aaron Griffin, Jeff Roland, Kasiq Jungwoo, Muhammed Sajid, Sam Chiver.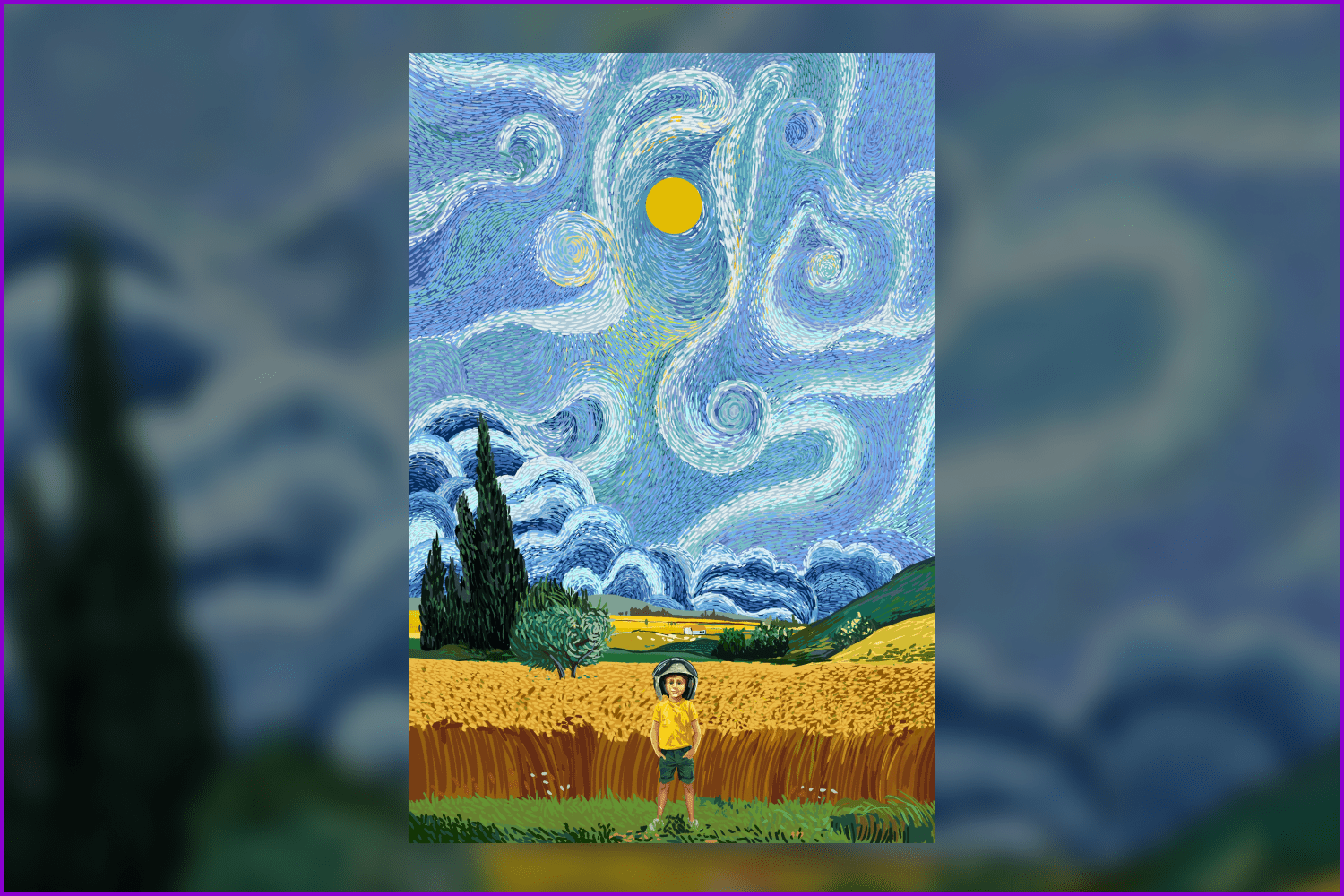 Some Vincent Van Gogh inspiration on "Each of us is a child and a dreamer" illustration!
Do you follow any illustration blog, magazine, or social media, to keep up with art trends?
Yes, I am registered on some online platforms and I am constantly following people's work, trends, and innovations. These are platforms such as behance.net, and Instagram.
What illustration software are you familiar with? Which do you prefer to work with?
Most often in my work, I use Photoshop and Illustrator. Also Blender as an additional program that simplifies many tasks in illustration.
How do you learn about new techniques and tools?
I constantly study the literature, get knowledge and news from the Internet, visit art exhibitions and seminars.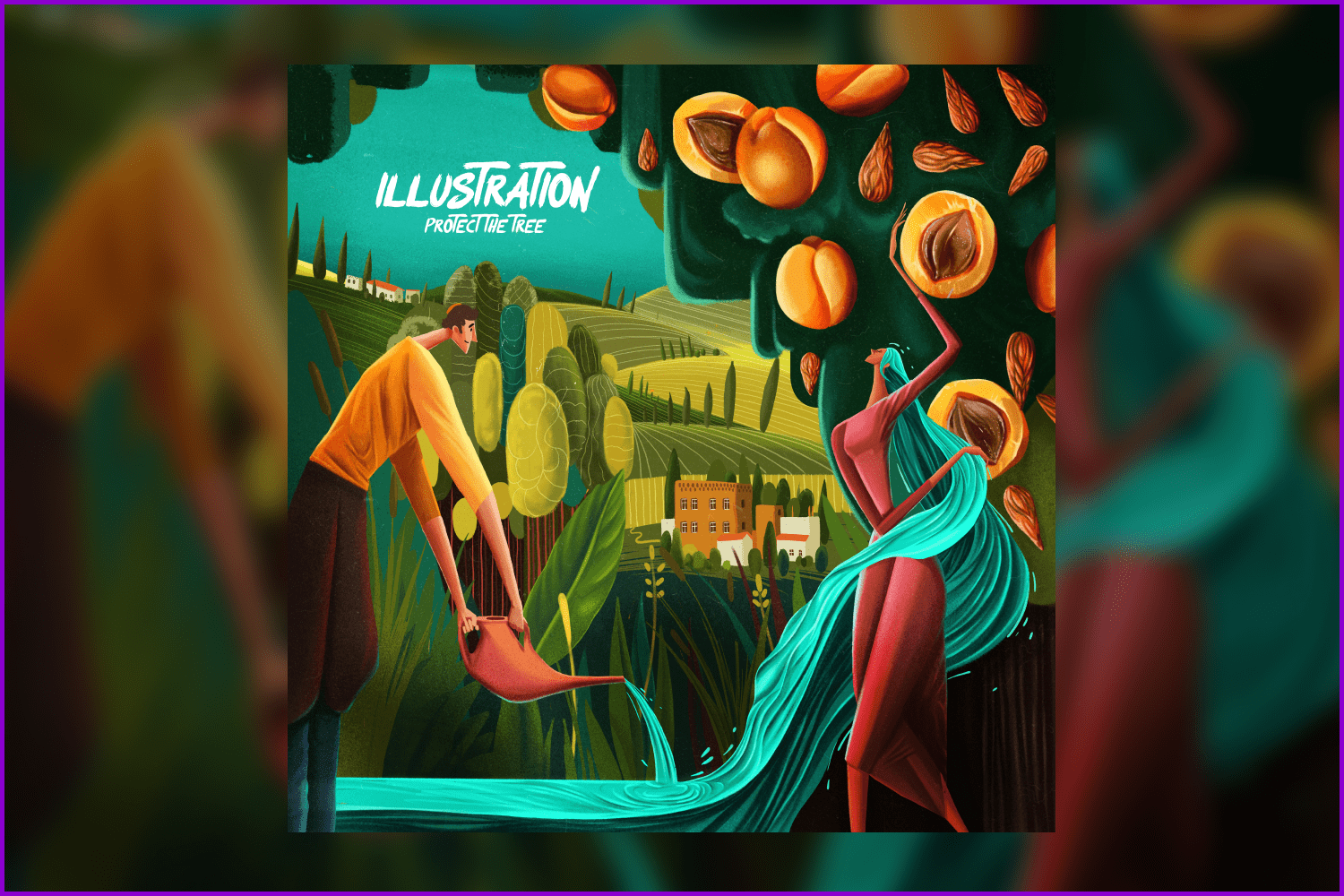 "Protect the tree" illustration.
How has your practice changed over time?
I'm always improving, never standing still. I am constantly interested in new things. So I can assure that my practice is getting better and better over time!
What's the best piece of advice you've been given?
To go only forward and never look back!
What work do you most enjoy doing nowadays?
Just drawing, drawing, drawing. Creating in general, creating something new.
I've seen you sell your art applied to different products on Redbubble. What things do you consider when designing an artwork that you will apply to a T-shirt?
I just draw as I feel. I don't take anything into account. Just try to put my soul into it.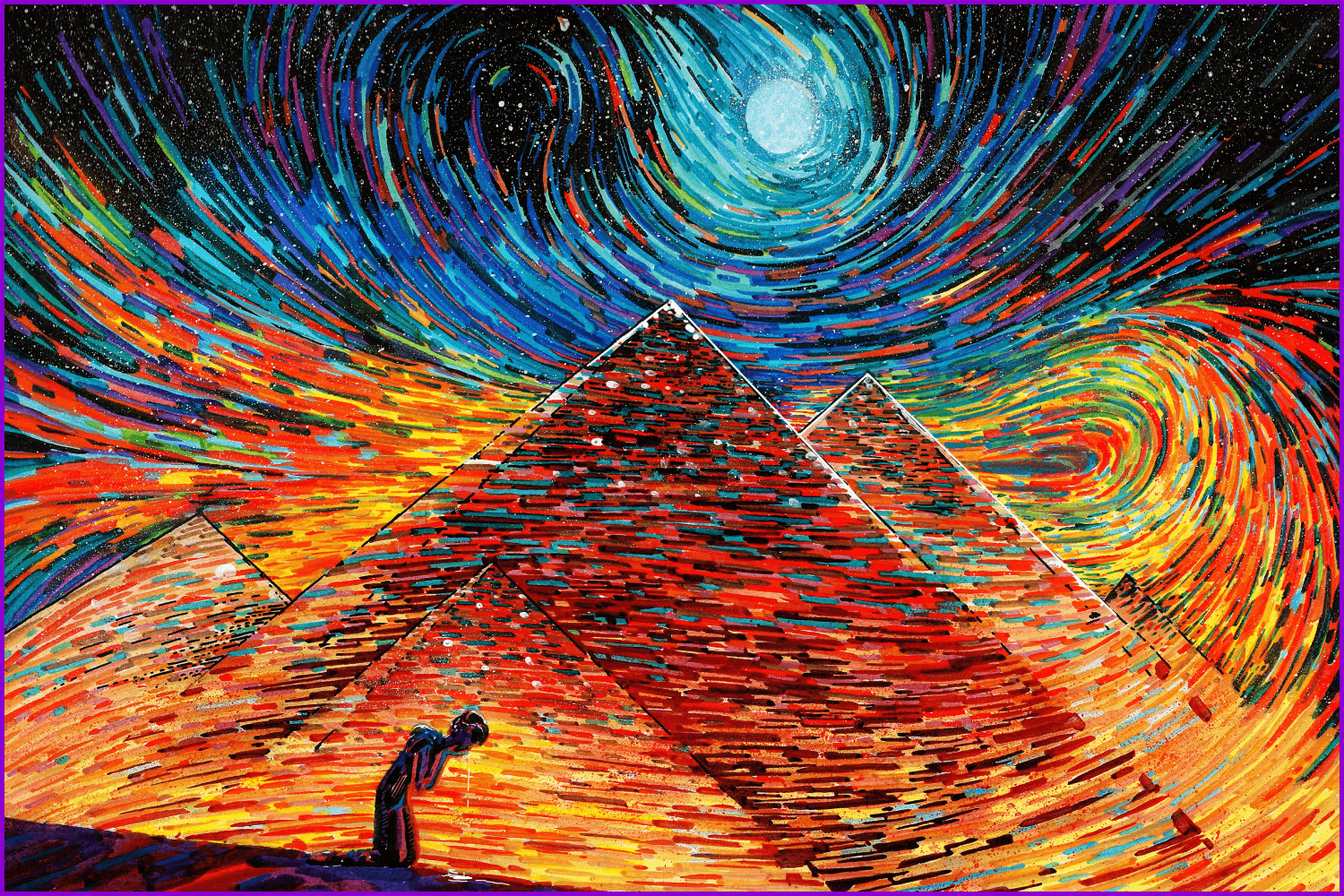 "The Alchemist", acrylic painting also available as a t-shirt on Sun Ra's personal shop.
What do you dislike about being an illustrator?
I don't like that it can be harmful to my health. I often suffer from insomnia.
How do you handle clients that continually reject your presented drafts?
Honestly, I haven't come across this kind of situation.
Do you have a network of designers with whom you collaborate? How do you support each other?
No. I'm self-taught and freelance.
Do you think our project MasterBundles is a good way for new designers to start selling their work online?
MasterBundles is a good platform. I think an illustrator who joins this platform should understand and anticipate what's in demand right now – styles, trends. See what people are picking up and buying the most. It is also important to study the famous authors of this platform.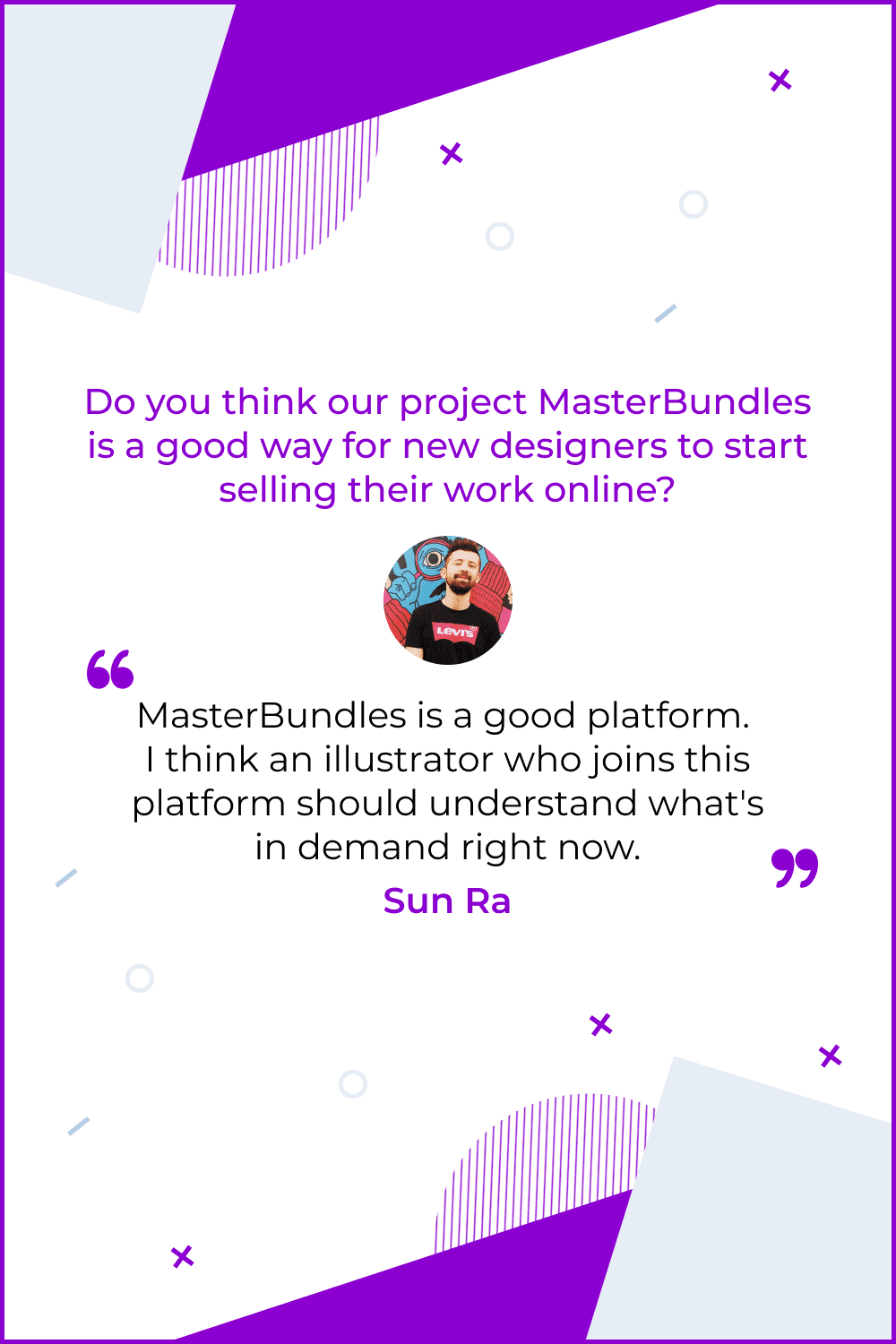 Sun Ra Shows his Workflow

Meet Sun Ra, an artist, illustrator, and graphic designer born and raised in Tajikistan, and currently living in Uzbekistan. Many of his arts are strongly inspired by the culture and customs of Central Asia. He specializes in digital illustration, vector illustration, line and dot style, and sepia illustration. 
Was this page helpful?
We will be happy if you decide to share this article with your friends on Facebook. Just click on the button and you're done
What are your concerns?
Thanks for your response!
You have already left your review.