Table of contents
Marble background has been around for quite some time, as designers keep using it for a variety of projects. Whether a white marble background serves as a reminder of ancient Greeks or a kitchen tabletop, you can't deny it is something to feast one's eyes upon. Over the years, marble has become an inspiring texture used in interior design, fashion and apparel design, print and digital design.
If you're looking for a high-quality marble background, see what's good on MasterBundles. Being one of the most credible graphics resources providers, it offers a vast range of design elements for any type of project. Here you will find plenty of bundles with pink marble background, black marble background, and even marble iPhone background.
Origins of Marble Background
Before you start using the marble background in your projects, it's worth taking a moment to figure out why designers draw so much inspiration from it. The word "marble" derives from Ancient Greek meaning "crystalline rock, shining stone." Marble is a metamorphic rock composed of recrystallized carbonate minerals, most commonly calcite or dolomite. Geologists believe that it forms when limestone is subjected to heat and pressure.
But where do the contrasting marble veins come from? The signature marble veins are coming from the different beds of the rock formation. Marble is rarely pure, so it has clay, sand, iron oxides, and other minerals contributing to any linear features. As a result of the fascinating process of the natural marble formation, unique patterns of heated crystalized rock emerge to make a marble texture.
How To Use Marble Background In Design?
Now that you know a bit about the origins of marble, it's time to learn where, when, and how marble backgrounds are used to their most benefit. No matter if fashion, interior design, or printed design, take a look at the examples below to see how aptly marble textures are employed.
How To Use Marble Background in Fashion Design?
Credit: DesignScene
Marble textures are favored by fashion designers, so you can often see the haute couture garments on the catwalk. Fashion designer Christine Phung presented her Autumn Winter 2017/18 collection during the Paris Fashion Week. The peculiarity of her design choices lies in the use of white marble background for the majority of clothes.
Apart from high fashion, marble background is used in jewelry and accessories design. Marble iPhone background that comes in abundance of colors has long been an absolute hit as well as the marble iPhone case. For instance, pink marble background for iPhone holster is among the top rated products in Urban Outfitters online store.
Credit: Urban Outfitters
Credit: HappySannie
Credit: Urban Outfitters
How To Use Marble Background in Web Design?
Using marble backgrounds in web design may be considered an overkill. However, like with everything else, marble design elements can become an asset if used wisely. Whether you choose in favor of a full-blown marble background, or specific design elements, take a look at a few great examples of marble used in web design.
Source: The Outline
The Outline magazine used a vibrant marble background for its online version, and it doesn't look distracting at all. The website has neon color scheme with hues that go well with each other. Prominent text, eye-catching graphics, and fantastic color combination all contribute to the look and feel of the website.
Source: LeuJ's for Hoppers
In this Hoppers website mockup, white marble background for the header area looks stylish and concise. Being subtle and clean, it doesn't distract the viewers from the header menu and other elements placed in the header section.
Source: Designerie & Co
The moodboard for Designerie & Co might serve an inspiration for web designers and those involved in branding. Black marble background with gold veins looks chic and luxurious. Paired with feminine pink, and several tints of grey the overall color scheme looks absolutely gorgeous for design purposes.
How to Get Started Designing With Marble
As you can see from the above examples, marble background is quite versatile in terms of design. It is important, however, to keep it subtle and avoid overkilling the design with distracting elements that look out of place. As marble texture itself attracts attention with its contrasting veins, a designer has to be careful creating the composition. Excessive details can easily turn a masterpiece into a failure.
Luckily, graphics resources providers like MasterBundles offer a variety of marble textures to use in all kinds of design projects. Whether you're looking for styled shots, abstract shapes and pastel colors, you can find plenty of design solutions on the website. Some of the items below look very much like natural marble, others are digital replicas of marble texture. Take a closer look at the resources provided below:
Marble, Rose, Gold, Navy Blue & Luxury Textures – $4
If you're looking for luxurious marble backgrounds in feminine colors, check Marble, Rose, Gold, Navy Blue & Luxury Textures. Use them for website backgrounds, scrapbooking, printed invites, etc. For only $4, you get 40 high-quality JPG files (300 dpi) which include pink marble backgrounds and white marble backgrounds.
Price: $4
Black Marble Background Digital Paper – $4
This smizing collection right here is a must have, if you're hunting marble backgrounds! For only $4, you can get high quality 300 dpi Black Marble Background Digital paper that will fit any digital or printed design projects. Whether you want a spectacular website background, a business card design, or a textile print, any of these 14 JPG files size 12"x12" ( 30.5cm" ) will suit your purpose.
Price: $4
Marble Digital Paper – $4 ONLY
If you're looking for navy marble background, check the Marble Digital Paper collection. For only $4, you get 12 high quality 300 dpi JPG files size 3600×3600 px 12"x12" ( 30.5cm" ). Grab this gorgeous collection with 50% discount to use these items in digital and printed designs of any complexity!
Price: $4
Marble Backgrounds & Textures Bundle: 110 Items – $12 ONLY
In case you've been looking for a mega marble backgrounds bundle, take a look at Marble Effect Ink Textures right here. Please mind, this pack doesn't contain natural marble textures. All graphics included have been created by the technique of painting on the water surface by ink and gathering this abstract flows by dropping paper into. After that these papers were scanned, edited, and turned into high-resolution textures.
In the package, you will get:
110 Marble Effect Ink Textures
Size 6000×4000 px (20"×13,3")
Print-ready (300 dpi)
Price: $12
108 Flow Liquid Marble Backgrounds & Textures – $10 ONLY
Flow Liquid Textures are hand-painted acrylic backgrounds turned into digital textures. Still, you will be amazed by their striking resemblance with natural marble stone. Whether you use them for digital design, branding, print projects, or merchandise, they will look perfect. Available in all imaginable colors, these high resolution marble textures (6000x4000px) will let you scale and crop images in many ways.
In the download package, you get:
12 Black marble backgrounds
12 Blue textures
12 Colorful textures
12 Green textures
12 Yellow textures
12 Grey textures
12 Orange textures
12 Pink and Violet
12 Red textures
Price: $10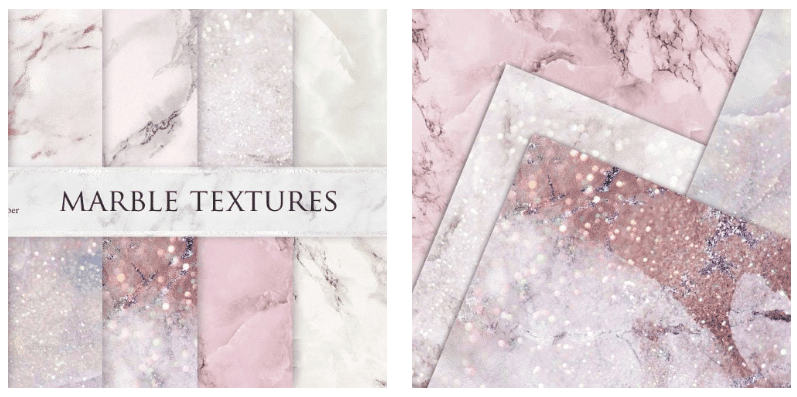 Every designer should have a textures package like this. Pink and light-beige background samples look very fashionable and solid. There are a few sparkly textures and in combination with others, they will create an astonishing effect. This vivid bundle contains 12 patterns in 300 dpi quality. The size of the pictures is 3600×3600 px or 12"x12" and they are offered in .jpeg format.
Price: $4.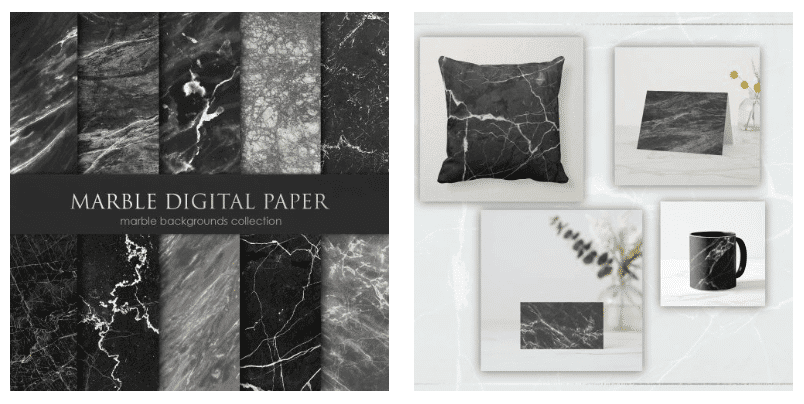 Those are absolutely marvelous textures that could make your design project look exceptionally luxury and solid. Either respectable law company website, professional business cards or elements of interior design will look gorgeous with this black marble patterns. There are 12 JPEG files in this bundle, 30.5 cm" each in 300 dpi quality.
Price: $4.
Wedding Rose Marble Digital Paper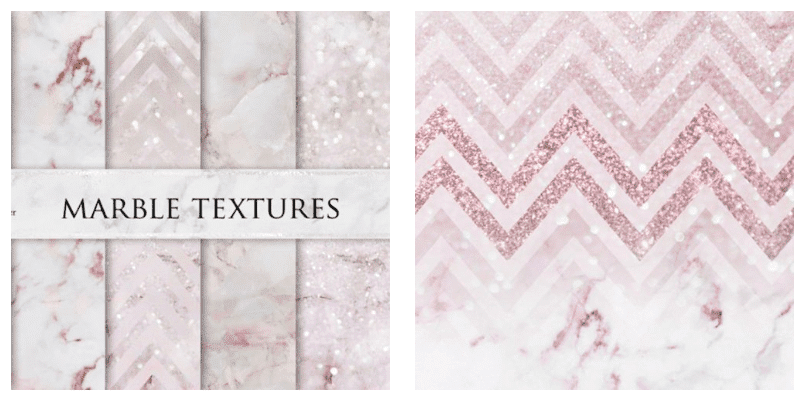 Astonishing marble with rose veins and glossy textures with sparkles will be a perfect choice for wedding invitations and wedding website design. Not only it looks festive but also very gentle, which is exactly what one could want from wedding stuff. The collection consists of 6 high-quality (300 dpi) pictures 3600×3600 px size.
Price: $4.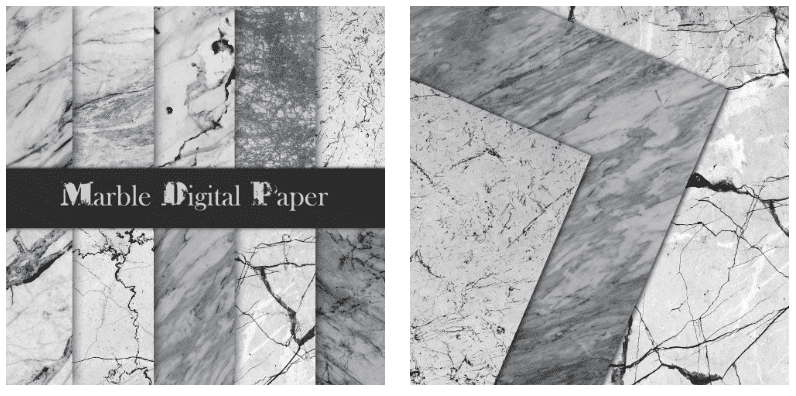 Pompous grey marble could be defined as a symbol of reliability and solidity. Many government buildings are decorated with it and that image has a strong connection to something you can rely on. Black and grey color scheme is also very noble and makes the design generally stricter. This bundle offers you 14 .jpg pictures in high quality and convenient size.
Price: $4.
Silver and Black Marble Textures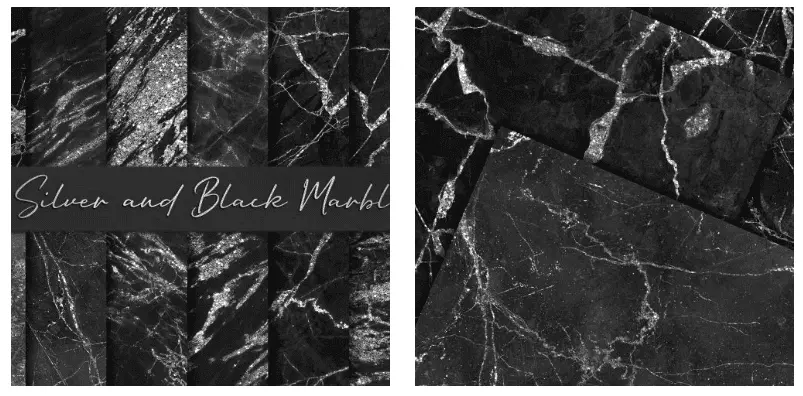 Black and silver is a quite popular combination of colors – it looks classy and elegant. If suits to most of the designs because it is really versatile. With the 14 marble silver and black patterns, you will be able to create a breathtaking website, scrapbook cover, invitation or business card design. All the pictures have similar size (3600×3600 px) and professional quality.
Price: $4.
Rose Marble Textures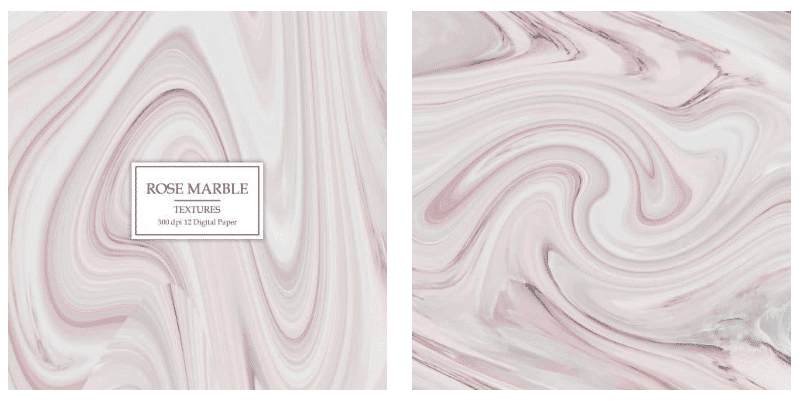 Marble textures don't always have to have some additional decorations like sparkles or overlay patterns. Just different views of a rose marble surface are also very useful textures that you can add to the website background or to the gift cards design. The bundle contains 12 great JPEG pictures.
Price: $4.
Purple Marble and Stone Textures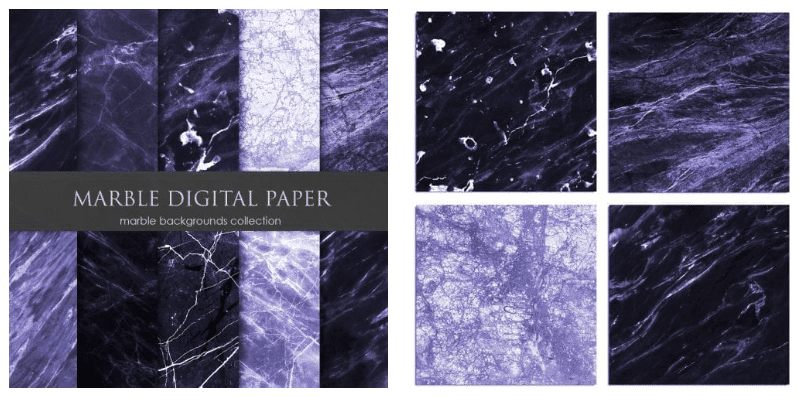 This bundle offers you 14 professionally created textures of not only marble but raw stone too. The fact they are purple make them more versatile – you can use the different design tasks from interior accessories to postcards. The pictures have a high quality and convenient size.
Price: $4.
Rose Marble Textures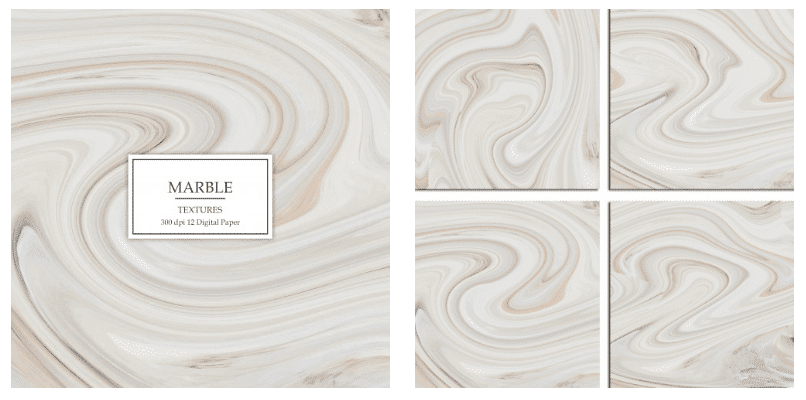 The most classic of all marble textures are white and beige ones. White marble is used in a huge number of old houses, statues, and different house stuff is often made of it. That's why using it for a project is like choosing a classy black & white color scheme. Purchasing this bundle, you get 14 elegant and high-quality .jpeg items.
Price: $4.
Burgundy Marble and Stone Textures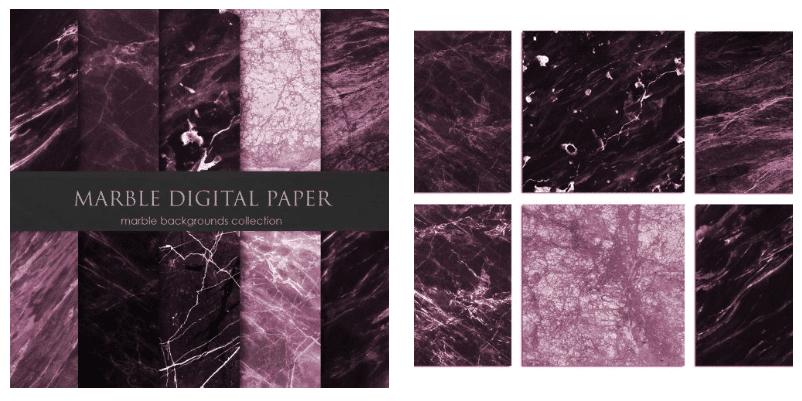 If you love burgundy color and want to use it your website design – this bundle of marble textures is just the thing that could make your design more interesting and attractive. The collection has 14 digital pieces of paper that could be used like an astonishing website background, for present wrapping or wedding invitations.
Price: $4.
Video About Marble Background In Digital and Print Design