We live in the era of memes right now so you might be asking: Does someone still receive cards?
Yes, we do!
Sending a card by mail or an email is something special, something different from exchanging emojis in messengers. A good card can say more than you could have said in person or even in an online conversation. And some of them are true works of art!
In this post, I will hope to share my passion for greeting cards with you. We will be exploring free cards because there are so many of them available today.
First, I will compare the online resources that offer free cards to help you choose the best one.
Next, I will suggest the services that will print, stamp and mail a card for you. A good old-school paper card! Who wouldn't love to get one?
In the third section, I will share my collection of favorite ecards. These gems are good for all occasions! You may use the navigation to move to this section right now you want to.
Many cards have cutest and funny insides, so make sure you press DETAILS to see more.
A few cards couldn't be linked directly, you will need to find them in the card directory. Sorry about that.
I've picked out these cards following my personal taste and I very much hope you like them. If not, please use the websites I've listed in the first section of this post to make your own collection!
Overall, I hope you have a good time looking through these chic, touching, and hilarious card designs. And if this article inspires you to show a small sign of affection to someone, I will be very happy.
And please, drop me a line in the comments if you enjoy this read!
TABLE OF CONTENTS:
1. FREE ECARD SERVICES
First of all, let's discuss where you can get awesome free cards. There are so many such resources, all different in style and options. I've tried to sum things up for you below.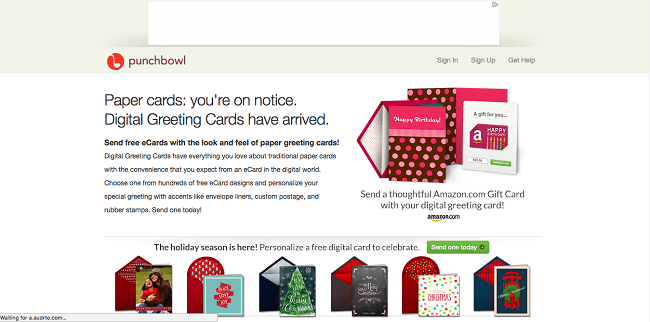 Those who prefer more traditional card designs will love this service. It offers a big set of free ecards for every occasion. You can customize your card and the envelope a little, add your name or a greeting to it and send it away in a few clicks. You can also add animation and have it played out when the receiver opens the envelope.
Pros: Classic, professionally made designs. Quick and easy customization.
Cons: You won't find too many customization options on this resource.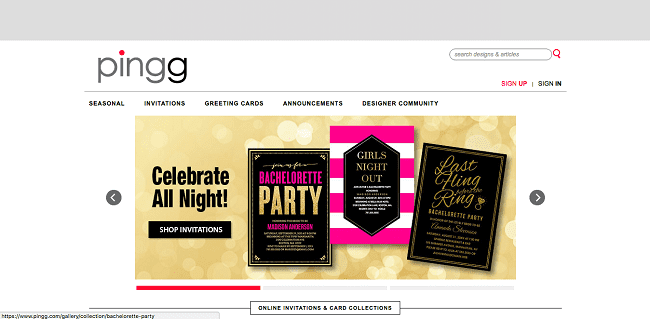 All cards offered by this service were designed by professionals and can be easily personalized. You can also send out multiple invitations and get RSVP's to your mail address. There are premium cards that require a membership that can be filtered out if you are looking for free designs only.
Pros: All cards are created by different designers, so each of them looks rather unique.
Cons: The number of cards is limited.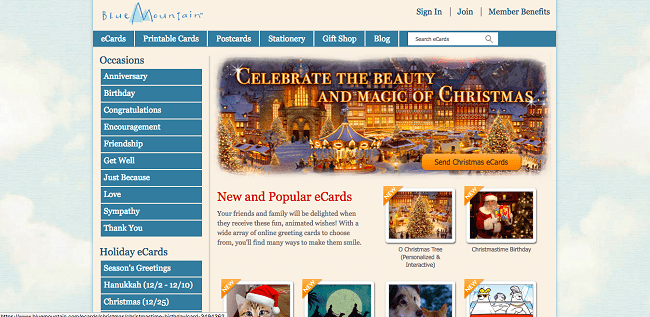 This resource has been around for a while and is still popular. You can find some nice animated cards there and send them out for free. Most of the designs require a paid membership, so you can enter the keyword FREE in the website search.
Pros: Animated and interactive cards, video cards. Sharing a card across social media.
Cons: Many items and extra services like scheduling and adding gift cards require membership.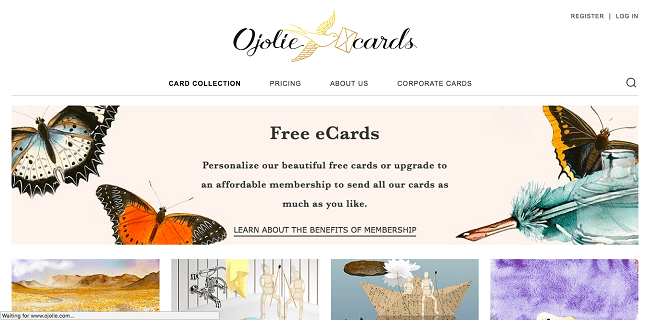 On this website, you can also choose a free ecard with or without animation and send it to up to 40 people on a certain date. Of course, your message and some customizations can be added.
Pros: Scheduling is available for free cards also. You can customize the greeting voice for some ecards. Fullscreen preview of animation is available.
Cons: Not so many free items.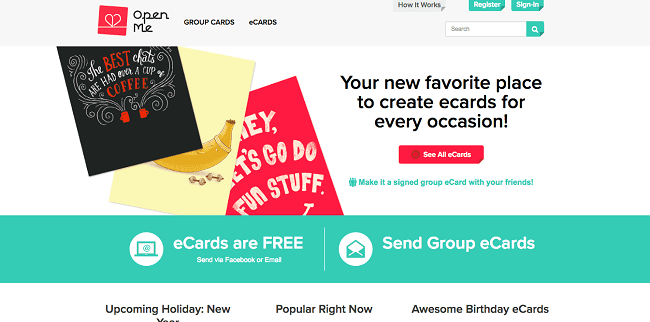 Here you will find many cute and bright card designs and fewer animated options. You can team up with your friends or colleagues and send out free cards together. There are blank versions ready for you to add your photo or some other image.
Pros: Free group ecards service. Big enough selection of free cards in different categories. Scheduling and social media sharing available.
Cons: Smaller range of animated cards.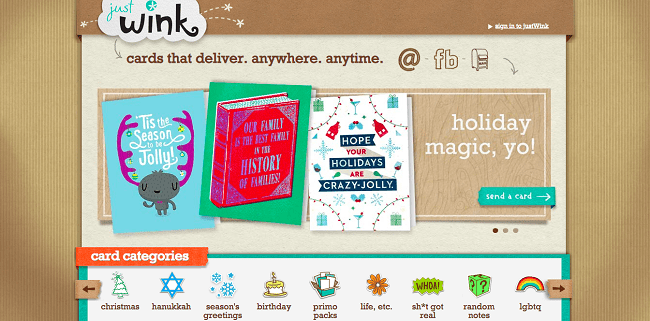 Here you will find a big variety of free cards. You can add your message, photo, or a custom signature. There are many different categories and hilarious designs that young people will appreciate. While customizing your card, you can add images from files and from Facebook.
Pros: All cards are free and can be shared via email or social media. "Random notes", "LGBTQ" categories. Physical delivery possible for a fee across the US.
Cons: I didn't find any.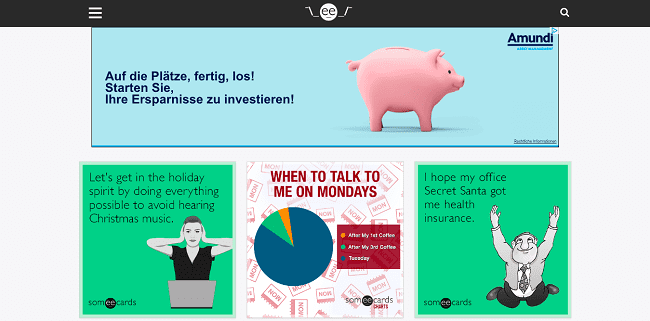 These cards have a unique twist: they are drawn as if by a pencil and contain funny jokes and sassy quotes. You can also create a design of your own by entering a text, picking a background color and an image.
Pros: This ecard resource has turned into a meme platform. You can share all designs via email or social media.
Cons: Not so many ecard designs.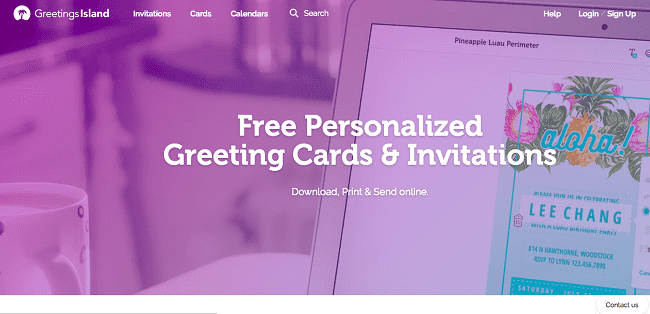 A big variety of customizable ecards that can be sent out for free. You can even change layouts and add stickers to make the designs unique. The resource offers many categories to choose from.
Pros: All images are free.
Cons: You cannot see the authors and many cards are in one style.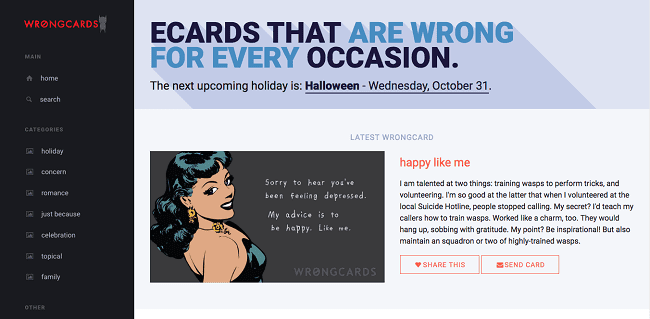 Witty and sarcastic designs that will impress even those who aren't into greeting cards. The site has lovely categories like Thank God It's Friday, Zombies, WTF, and many more. There are interesting comments to each card from their authors and a blog you can follow if you have a similar sense of humor. Overall, it's one of the best free ecard websites out there.
Pros: You can schedule the delivery and get notified when the card it opened.
Cons: If you need a traditional romantic greeting card, there will not be too many options on this resource. Also, you cannot customize the cards.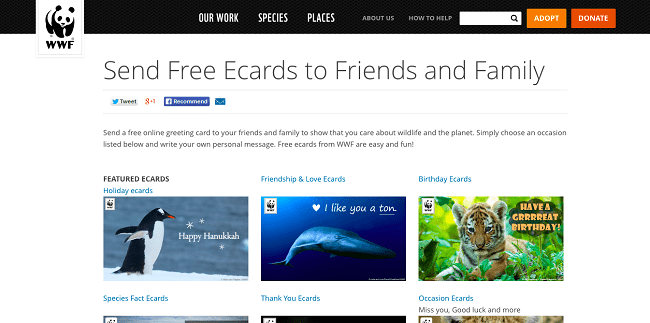 If you had any problems with picking cards and greeting for your animal-loving friends and relatives, this resource will solve the problem for you forever. These designs feature wild animals in their natural habitat and lovely captions on each of them. The gallery has many traditional ecard categories. You can browse the Species Funny Fact category, learn something interesting about animals and share the cards with those you love.
Pros: Unique designs that are good for children and adults alike. You can schedule delivery and send out to multiple recipients.
Cons: The cards are not editable and there are very few free options.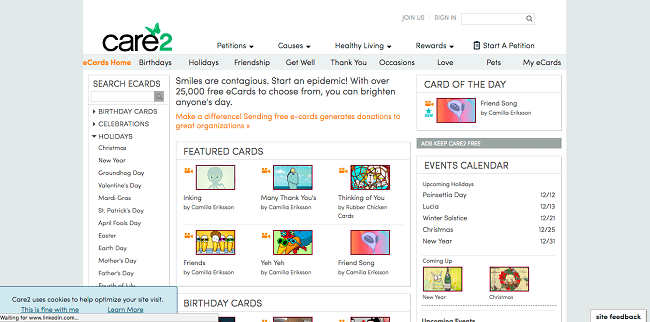 This website allows you to combine greeting your loved ones with doing the greater good. By sending a free card you make a donation to a charity fund. The website has a huge gallery of ecards with every category you could imagine. Also, you can see the authors of the cards and view all the designs by your favorite artist.
Pros: Every ecard sent from the website supports the environment and contributes to a greater good.
Cons: You will need to use Flash to view the website properly.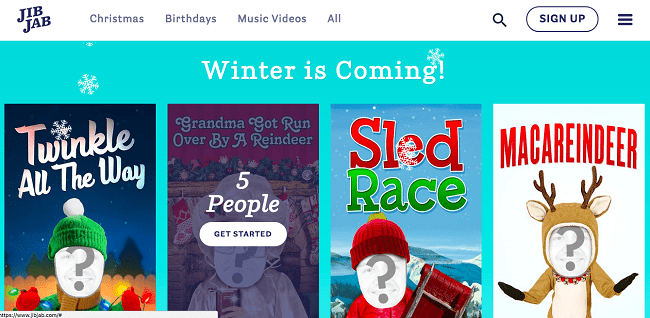 On this website, you can choose a free animated card and put your own or someone else's face into it. There are nice categories like Dance, Chippendales, You Rock, and many more. Many ecards contain high-quality video. All the cards are animated and really funny so you will have a good time browsing this website.
Also, you can download a free app and be always ready to send out hilarious cards from your phone.
Pros: You can add a face to a funny animated ecard and send it from a mobile app also.
Cons: With some browser, you may have trouble loading the ecards.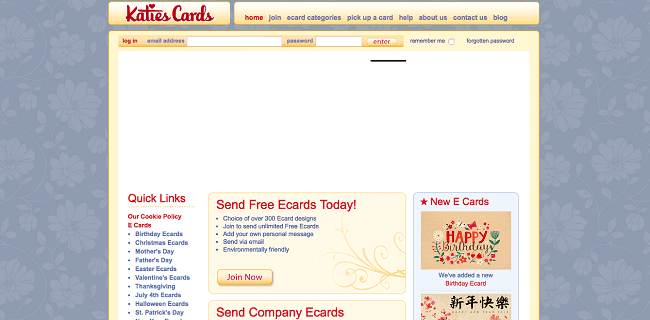 A small and cozy resource with free cards designed by a talented artist – Katie Davies. The collection is not so big, but larger than you would expect from a single author. There's a separate category for each and every holiday and a few more for other occasions.
Pros: You can add messages to all cards and send them out for free. All the cards are unique.
Cons: All the cards are created by one designer. So if you want something very different in style, you will have to go to another resource.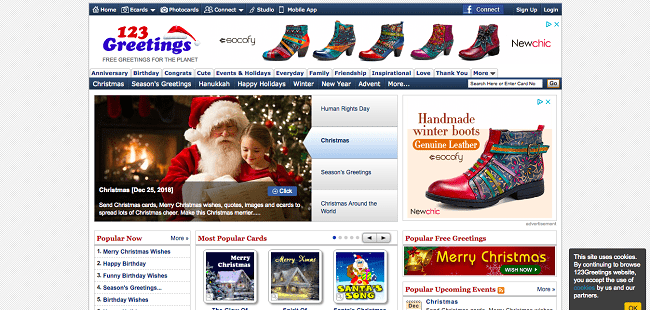 This is a huge resource with thousands of cards in every category. To help you navigate, there are Most Popular, Most Viewed, Latest, and Highest Rated lists. All designs are customizable, so you can add your own text or change the music if you want to. Because the collection is so huge, here you will find a card for any occasion, even the rarest one.
Pros: The largest collection of free ecards.
Cons: The quality is not consistent: you will find many awesome designs, but some of the cards are poorly made.
2. SEND A PAPER CARD BY MAIL
What was the last time you received a paper letter? Do you remember that feeling when you open the envelope and hold your breath for a second?
Here is the list of services that will help you arrange such happy moments for your friends and loved ones!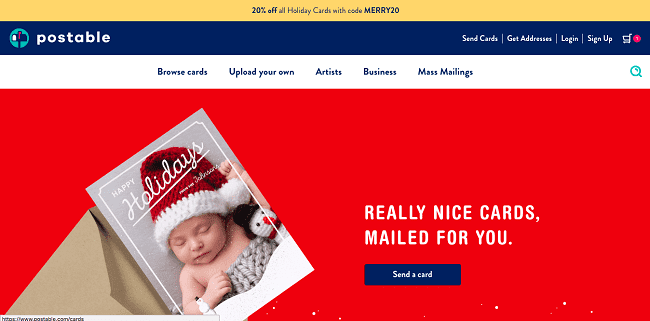 Who wouldn't want to receive a beautiful greeting card printed on a 100% recycled paper? Postable allows you to create your own design or easily pick something from their large collection.
The cards are created by professional artists and are of very good quality. You can choose a beautiful handwritten font and use their online address book to find the mailing address. If you need to send out many cards, the service will plan and execute the mailing for you.
Prices vary from $1.49 to $3.99 for a card plus about $1.5 for a postage stamp. The more cards you send out, the less you pay for each item.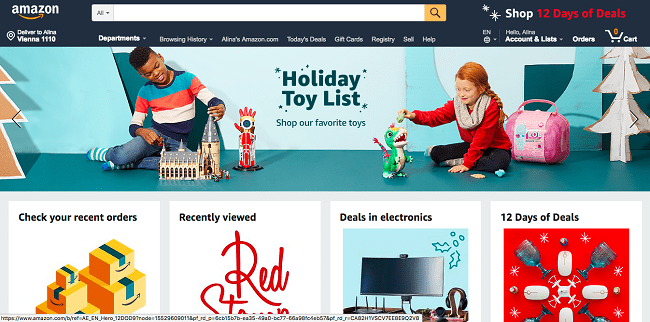 This resource offers a gigantic collection of cards that can be delivered to most countries. Once you pick a card, you will be able to add your photo, text, change font and font size. To find your perfect card, you can filter the collection by the number of photos, color, orientation, etc.
Orders above $15 and members of Amazon Prime get free delivery. There's also a free trial month for Amazon Prime membership. If you need wedding invitations or greeting cards for a business, you can pay $18,75 and get 25 beautiful cards.
Amazon does not deliver the cards separately but allows a huge saving on a large number of them.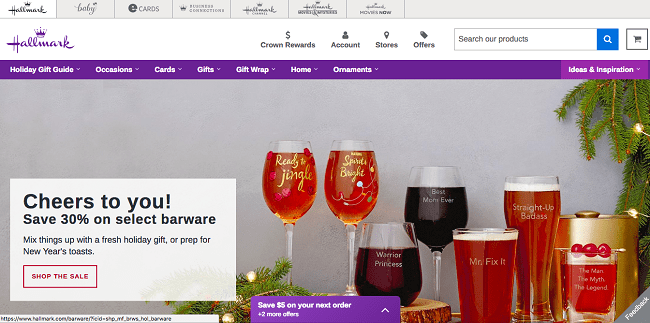 The iconic card company has everything thought out for you. First, you need to browse their card gallery using Type, Occasion, Recipient, and Tone filters.
When you've chosen a card, you can add your message to it, and the Hallmark team will have it written inside the card by hand. How cool is that in the age of digital technologies? All the cards are very high-quality.
A card will cost from $0.99 up to $5.99, plus minimum $1.99 for signing and delivering it. All cards can be picked up from Hallmark stores without paying for delivery.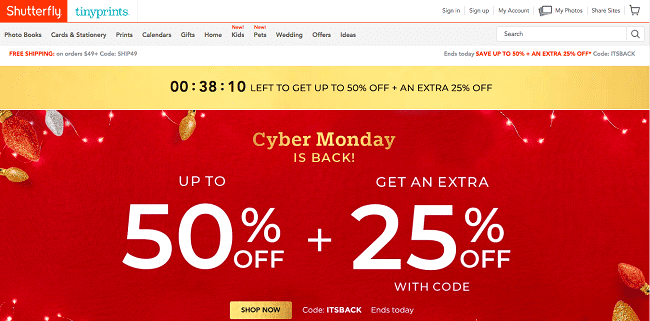 Here you will find many good-quality greeting cards at affordable prices. The service lets you add your own photos and greetings, choose the color scheme for most of the cards and play with the card shape a little.
There are pearl shimmer versions for every card if you want to get really extra. The prices range from $0.4 to $3.00 for a single card. The resource delivers both across the US and internationally. Shutterfly also has a free app so you can manage the greeting frenzy on the go.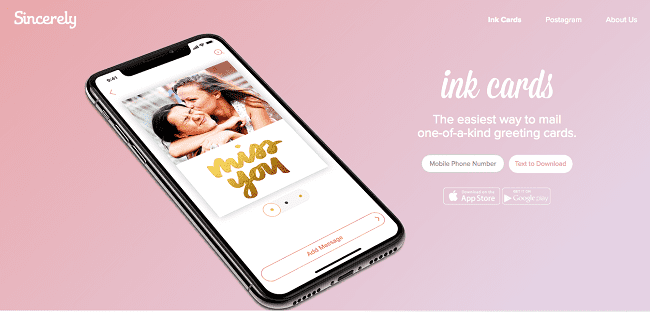 This mobile app for Android and IOS has about 500 cards. The cool thing is that you can customize and send them out right from your smartphone.
Traditionally, you can add your photo to the design, change color or write a message. If you go Premium, your card will be printed on a sicker card stock and sent in a designer envelope. The prices start from $2 for one card delivered in the US and $3 for international posting.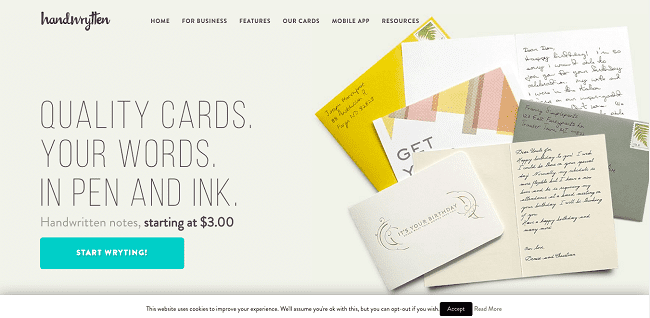 Here you can also choose a pretty design, customize it, and add your text. The resource uses "robotic hand-written machines" that are basically there to give you that perfect cursive on the card. There are multiple writing styles you can choose from to create a unique card. The prices start from $3.5, postage included.
3. FREE ECARDS FOR EVERY OCCASION
Finally, let's looks at the cards!
WINTER HOLIDAYS
Winter is the hottest season when it comes to greetings and celebrations. The whole Western world is getting a little frantic with holidays and festivals. We see lights and decorations everywhere we go. And most of us have been preparing presents for our friends and loved ones since Autumn. Even those who don't celebrate religious holidays will want to say goodbye to the old year and greet another one!
Let's have a look at beautiful and traditional ecards that will help you create that magical Christmas mood. With these cards, you can greet your colleagues, business partners, or more traditionally-minded family members.
1.
This classic card design conveys the magical Christmas atmosphere by transporting you into a wonderful winter forest.
2.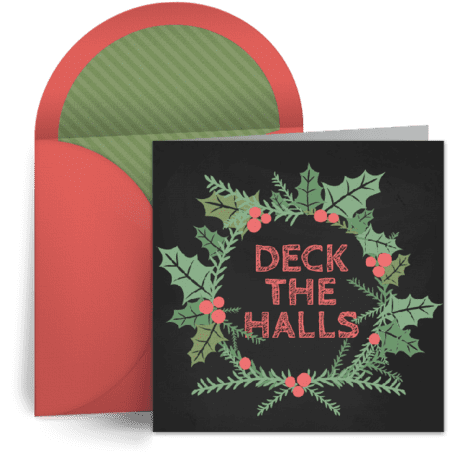 Holidays are coming and we all know what to do. Decorate and be merry! And if someone forgets the algorithm, there will be your card to remind them.
3.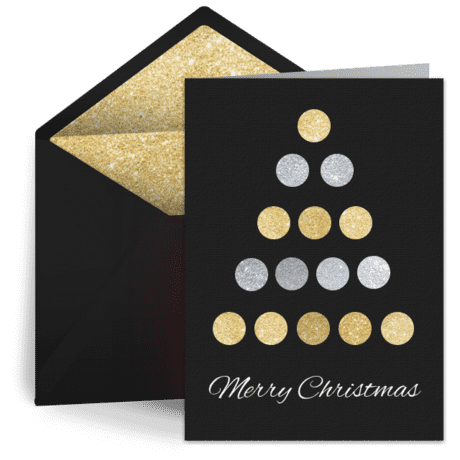 It's amazing how geometry and holiday glitter can balance each other and create a beautiful and meaningful composition. This design is for the elegant.
4.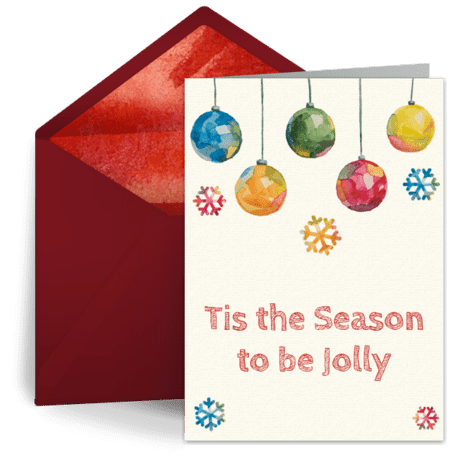 A classic ornament and greeting on this card have such a cozy feel to them that you can't stop looking. Let's be jolly indeed.
5.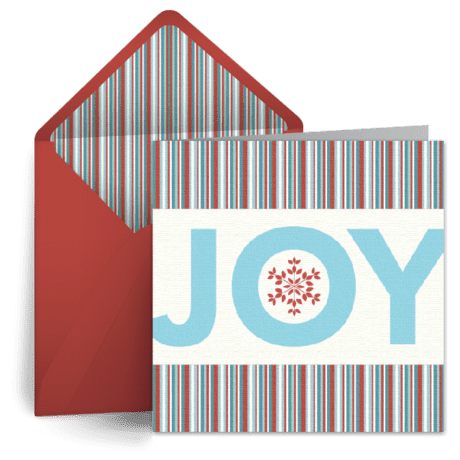 Seeing the combination of bold typography and cute pattern gives me joy. And the color combo is strangely satisfying. Who wouldn't want to share this design with the world?
6.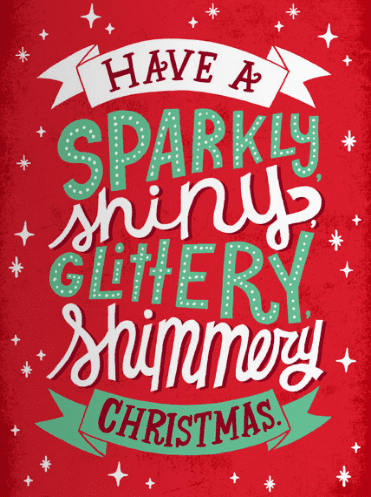 Well, I felt I needed to include this card because I love glitter. And Christmas is the season when all glitter-lovers come out.
The greeting cards below are a little different. Perhaps, someone with a taste for naive art will love them just like I did. And if you want to greet children, these magical winter characters will do the job.
7.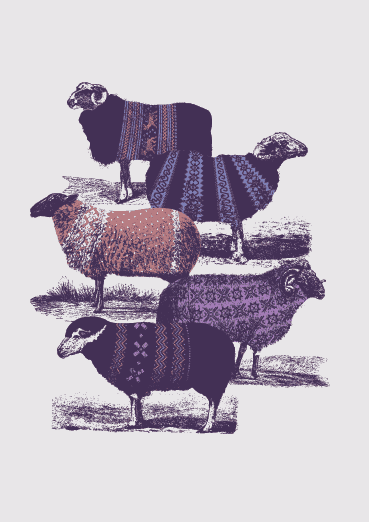 Well, it's that time of the year when sheep are wearing sweaters. If there's someone you don't want to get cold on these winter nights, send them this card.
8.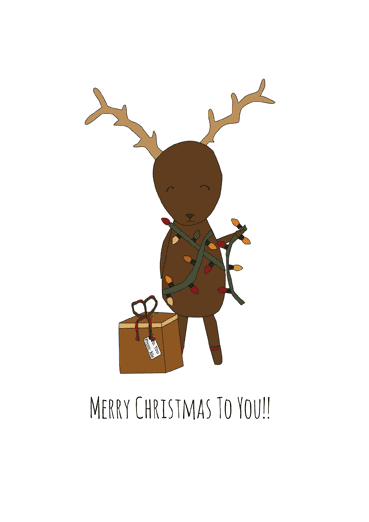 This festive dear is so cute you I can't stop staring at him. If you feel that this deer is your spirit animal too, give this card to someone you care for.
9.
Wow, and that is the prettiest monster you've seen for a while, I bet. Do you have a friend who is also warm, cozy and a little grumpy? Maybe he needs this card for Christmas.
10.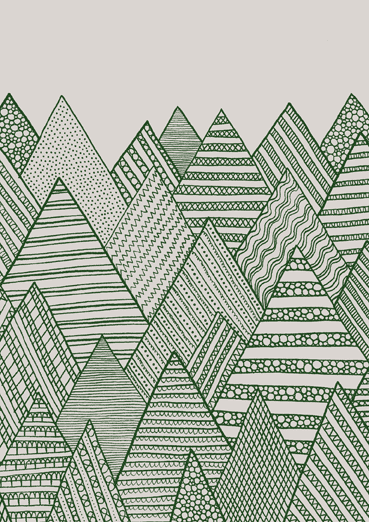 This mesmerizing pattern is for someone who appreciates minimalism. This is the magical forest you can dream about in 2019.
Next, I have Christmas cards for lovers. Every day is a holiday when you are in love. You don't have to spend time picking greeting cards for your crush, just go savor your time together.
11.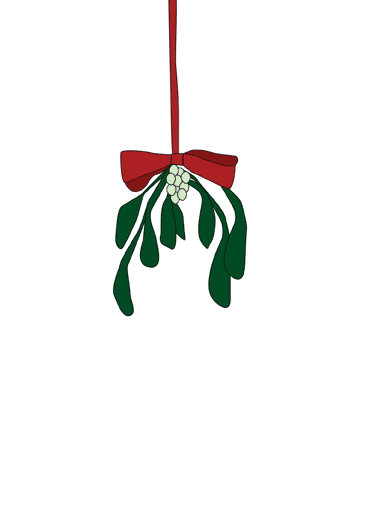 This card design focuses on the one big question that bothers anyone who's seriously in love. Wanna know what it is? Then press DETAILS.
12.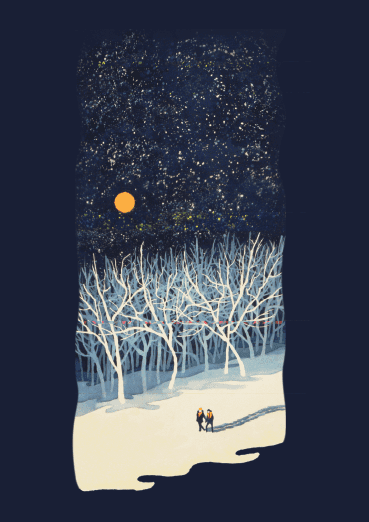 I look at this couple on the card and wonder whether they even notice the beauty of the night and the full moon. Sometimes your entire Christmas is about one person.
13.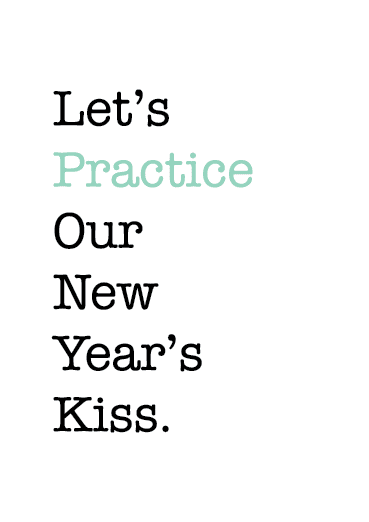 Because you should be ready for Christmas, shouldn't you?
Next, I have Christmas cards for friends. Anyone with a similar sense of humor could be a friend, right?
By the way, friends get the coolest cards for any holiday, including Christmas. These cards can be as bright and funny as you dare them to be.
14.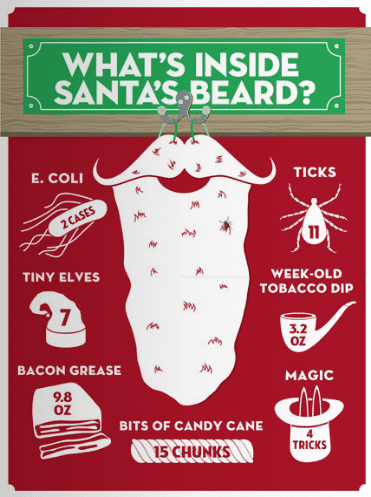 There are things you better not know – what's at the bottom of my handbag and what's inside the Santa's beard.
15.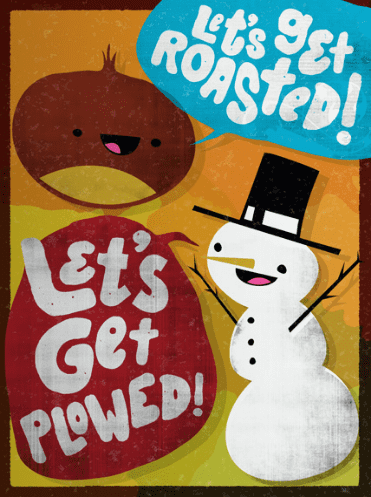 Here is the alternative version of "Be Merry" for you. Do you know someone you could try this out with?
16.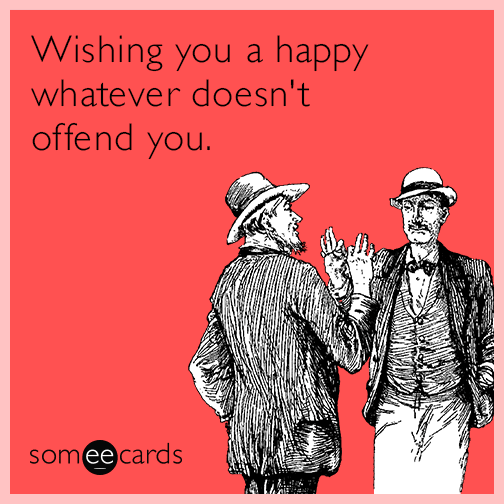 Because you cannot assume anything these days.
And of course, dark humor is what makes this life worth living. Do you have a few people around who would giggle with you at a dark joke? Get them a nice Christmas card!
17.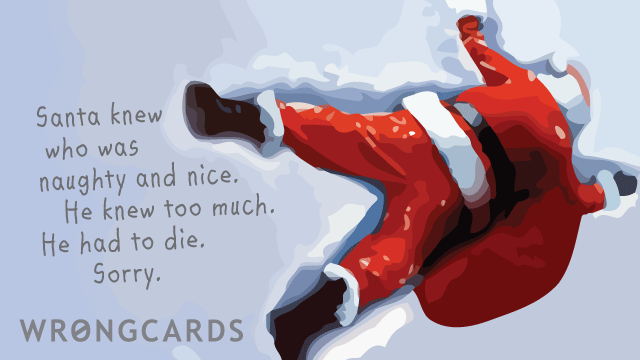 What happened in 2018, stays in 2018!
18.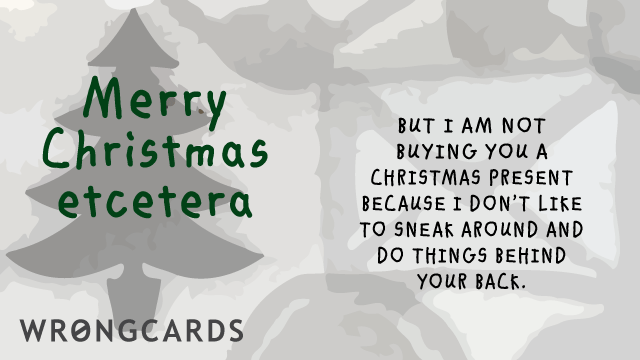 This is my favorite Christmas card from this collection and I will not send it to anyone. Because I've already bought all the presents. And what about you?
BIRTHDAY
Birthdays card may and perhaps should get personal. But sometimes we need a nice traditional design to greet someone we are not very close to. The designs below will work nicely for a colleague, an extended family member, or simply someone who appreciates classic. The cards look cute and cheerful enough to be a nice holiday greeting.
19.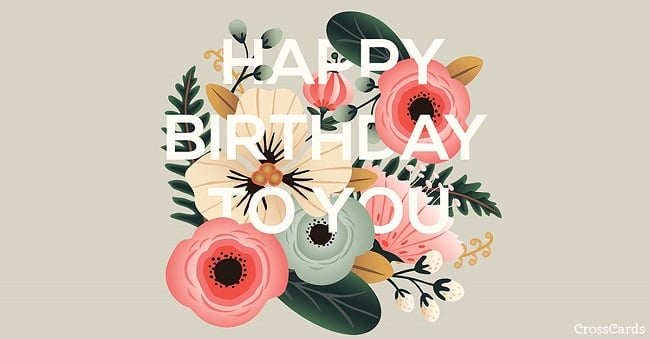 This card is chic and elegant. Someone who identifies as a peony lover (it's definitely me) would be happy to receive such a greeting.
20.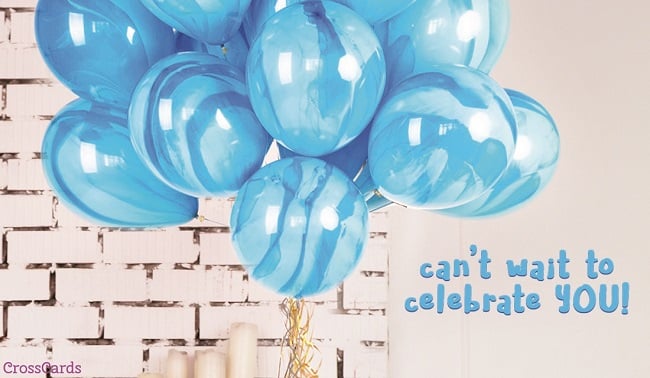 Actually, we can celebrate each other every day, can't we? I love this card for the balloons, they made me feel like a 7-year old again.
21.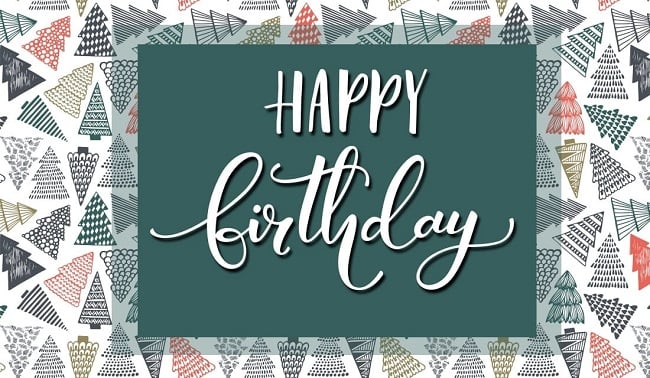 Is someone has a Birthday in winter, they get a nice combo of New Years/Birthday celebration. Get this lucky person a Birthday card with Christmas trees!
22.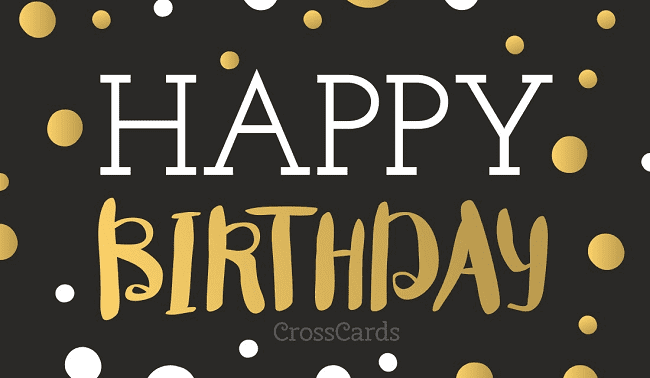 I love this design for being chic but not extra. Just a few more golden dots would be too much, don't you think?
The cards that come next would work for children, significant others, and anyone who's young at heart. The cards are funny, positive, and artsy. With such a gift, you will deliver birthday cheer to anyone.
23.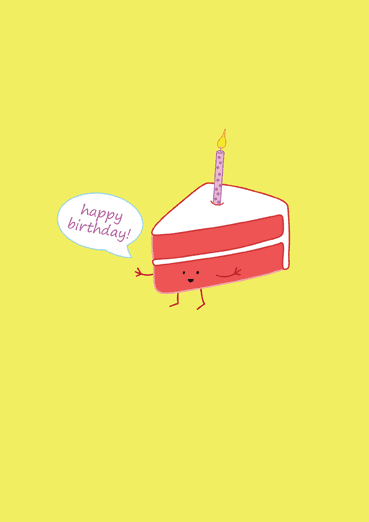 Send this one to a friend and make this/her life sweeter and brighter. Such small gifts have the power to communicate deep affection.
24.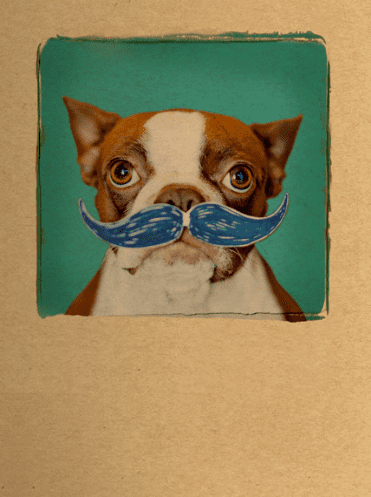 This is not an ordinary dog with a mustache. This is a birthday dog! Does it remind you of someone? If so, let them know about it!
25.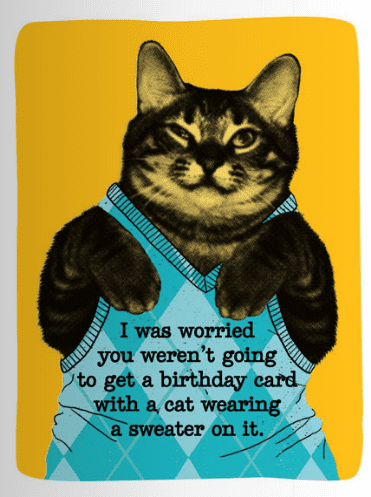 This card speaks for itself. There are certain thing one should do before getting old, and gathering a decent collection of cat cards is one of them.
26.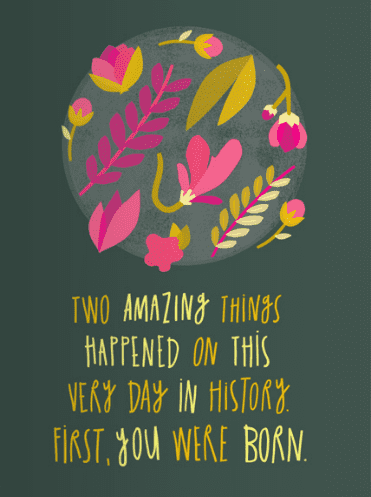 And what is the second one? I'm sure your birthday person will want to know!
27.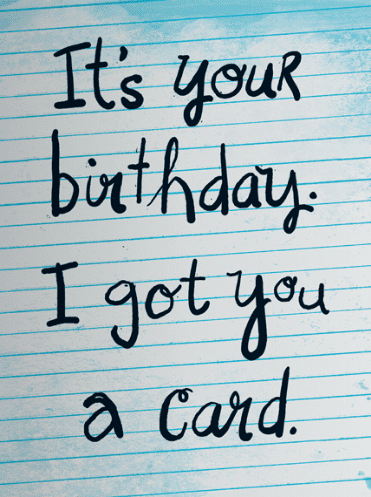 Here's an alternative way of being friendly. Like when you want to greet someone but also need to true to your misanthropic personality.
Next, I have beautifully made and borderline funny cards for your close friends and drink buddies. The cards are cute and ironic, with a sightly noir twist to them. If you want to light up someone's birthday, you can start with sending one of these cards.
28.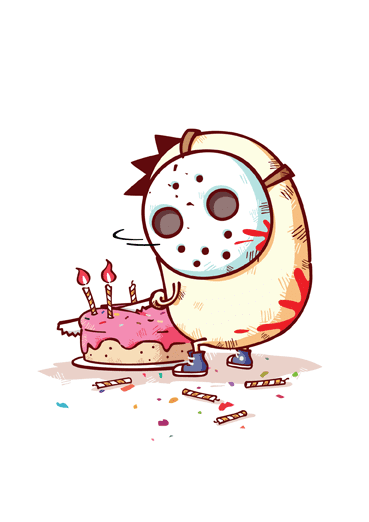 This card reminds us that we all need to feed our inner demons, especially if they look as cute as this one.
29.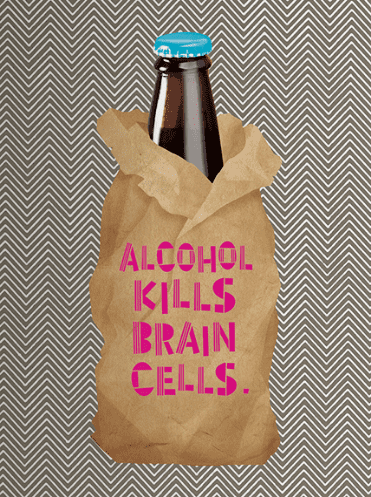 This card is a friendly reminder that you and your friends may have some more brain cells to kill.
30.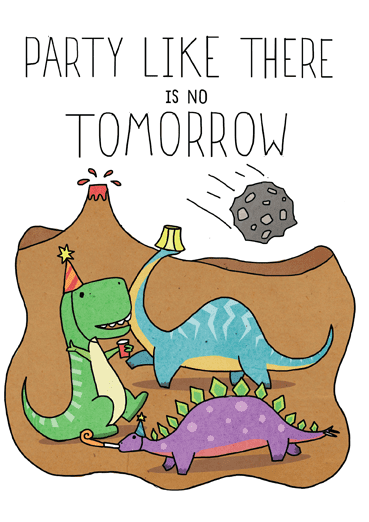 I love this sketch, it looks so cheerful and optimistic. Add a photo of your birthday person inside and prepare to party hard.
31.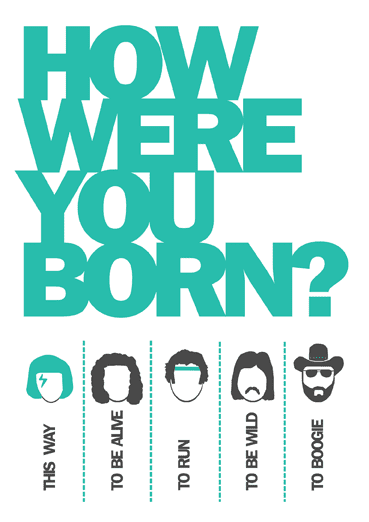 Birthday is the perfect time to meditate on one's true calling. This card can help with this.
32.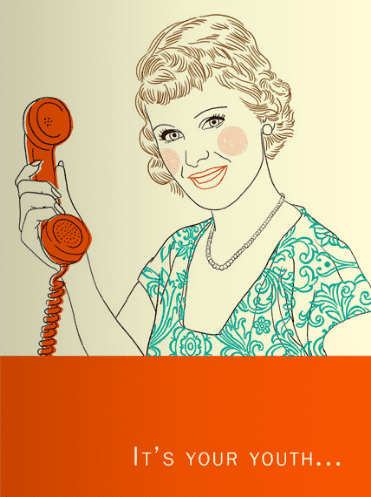 This one made me cringe a little but maybe it's not a bad thing. If you want your birthday greeting to be remembered, you can get this card.
As we move on with our birthday collection, the humor gets even darker. I've picked the cards below because they are sarcastic enough to make even the grumpiest birthday person smile. Your friends who have the taste for the darker side of things will like these designs.
33.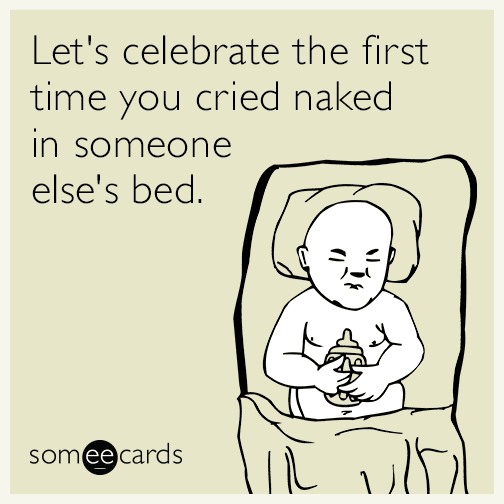 We all have been there and done that, let's face up to it.
34.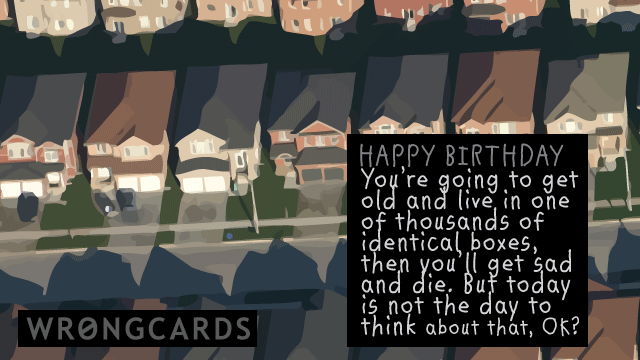 I can't tell what I like more: the text or the color palette of this ecard. You have to grow out of optimism someday, don't you?
35.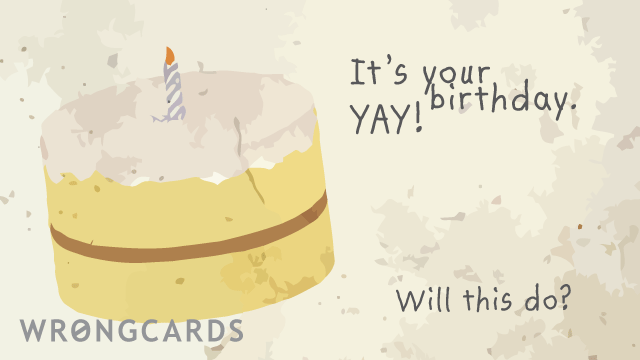 Yes, It will do. You can always send this card to someone to let them know that you remember about their existence and even care enough greet them with their birthday.
ROMANCE
There's nothing more romantic than sending a love message to your crush. Okay, it's almost 2019, so you can skip the stamping and mailing part. But what about social media? Do you have someone you want to share these cute and romantic cards with?
Scroll down to get inspired!
36.
People get tired of generic compliments, so you have to get creative to keep impressing your significant other over and over again.
37.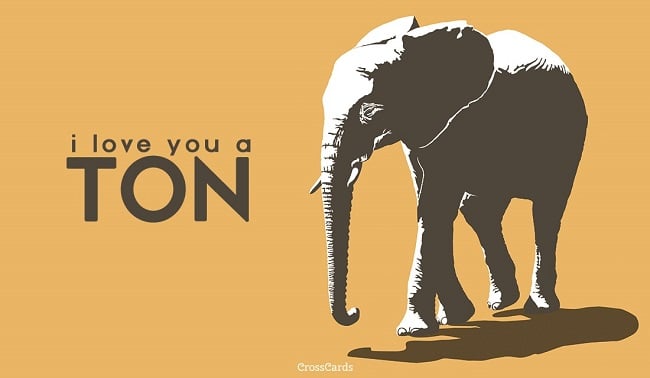 When your passion is huge, why should you keep it in secret?
38.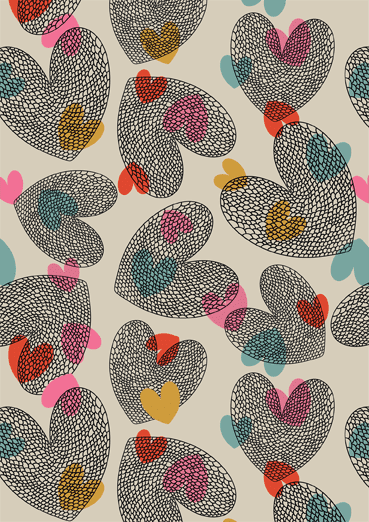 This is just an artsy pattern that will not distract attention from the message you write inside this card.
39.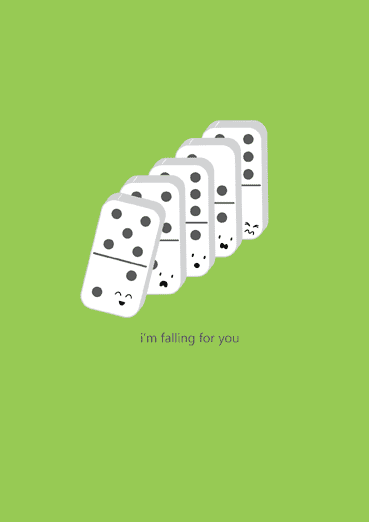 Loving is a risky business, you never know how far you can fall. But still, if you have someone who's worth taking the risk, let them know!
40.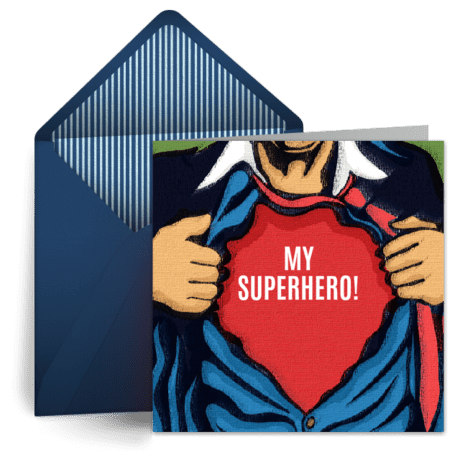 The only problem I have with this card is that there's no female alternative on the website. Because I know quite a few superheroes, for instance, mothers holding a full-time job.
41.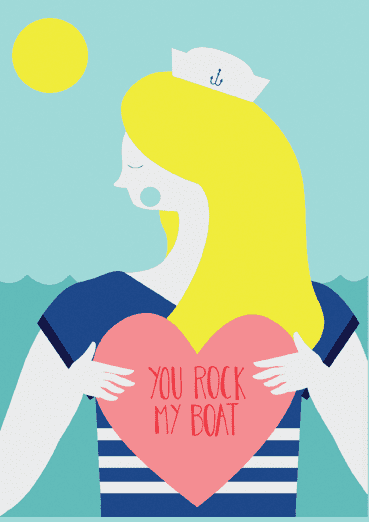 I think this card is cute and flirty. Somehow it makes me think about summer, hot romance and long walks by the sea.
42.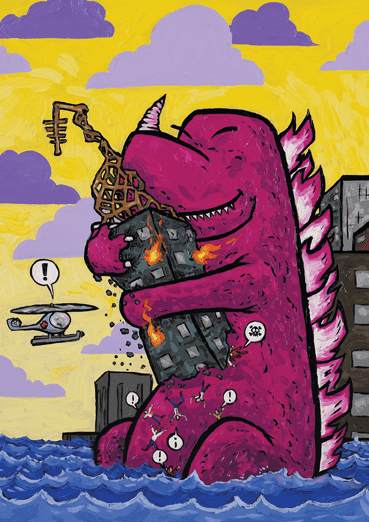 If you have that one person in your life whom you want to embrace with the same passion as this lovely Godzilla, you are lucky! Do not keep your feelings in secret!
43.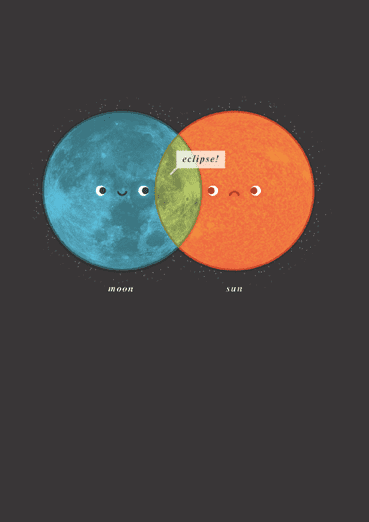 This card tells explores what happens when two people meet: will we call it a crush? An eclipse? Or maybe a tango?
44.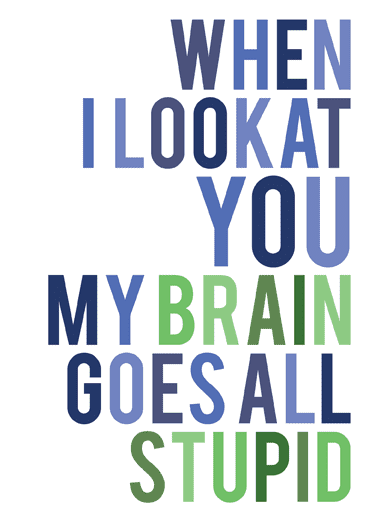 Anyone who's ever been in love knows how it feels when you look at the person and go all numb.
45.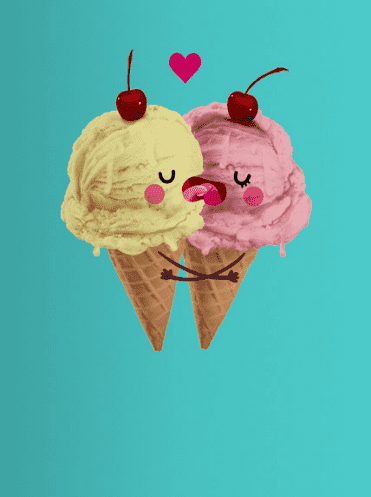 This card features two beautiful things at the same time: there's food and there's also a kiss. Perfect.
46.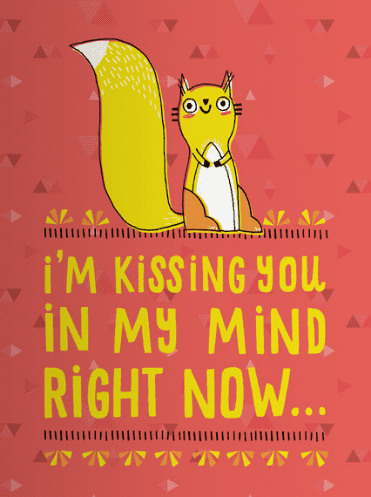 Well, we all do that to other people but not everyone has the courage to confess.
47.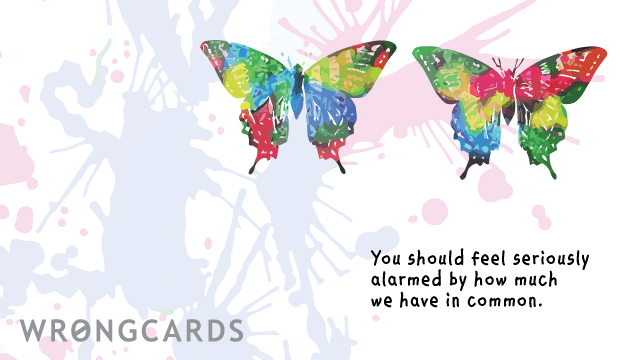 I'm not sure, maybe it's more of a friendship card. I'm not even sure that having a romantic partner who's a lot like yourself is a good idea. But still, the card is beautiful.
48.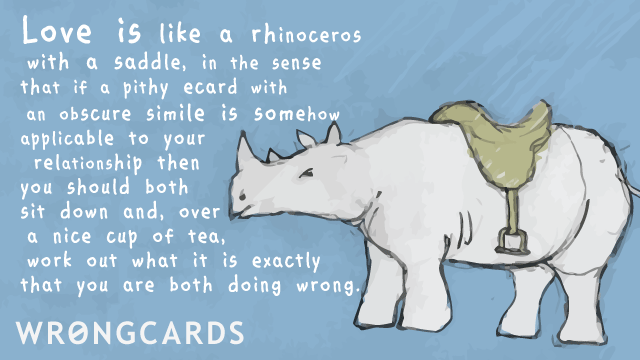 With this card, you basically invite your romantic partner for a nice cup of tea and some relationship talk. What could be better?
49.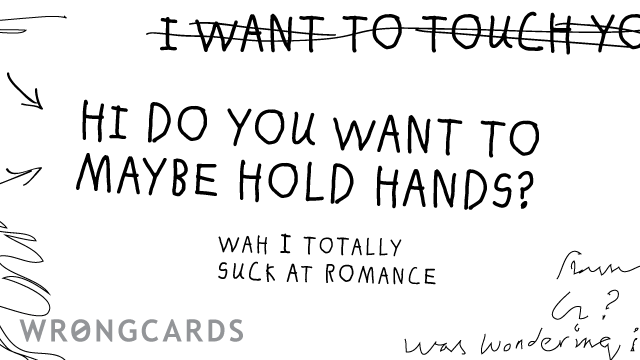 Make sure you pick the right person to send this card to. And by the way, the person who can send a card cannot be that bad at romance.
50.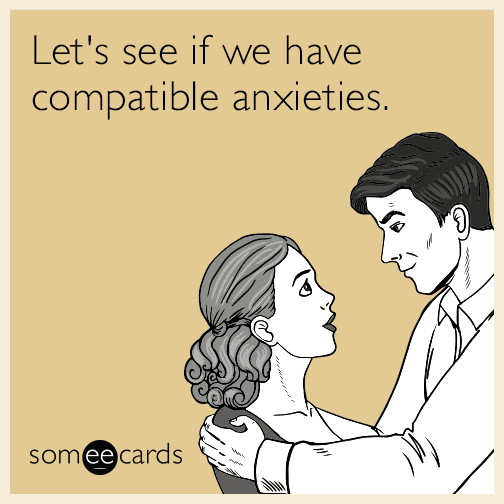 No one should underestimate the role of shared anxiety in building a lasting relationship.
FAMILY
It is a well-known paradox that the ones that we most care about often get the least of our attention. Sending a card is not enough to change that.
However, if you start with a small greeting and let your family feel that you love them,
Magic may start to happen in your life.
51.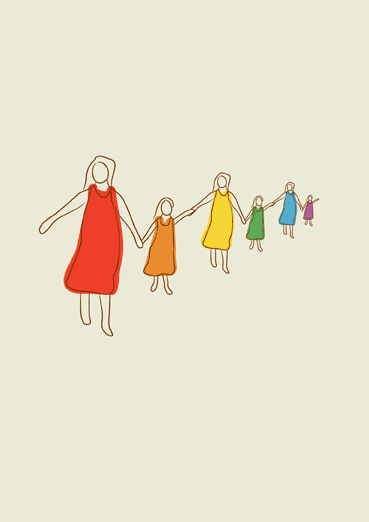 This Mother card is a small masterpiece. With this artwork, you can honor all the beautiful and courageous women you have had in your family for many generations.
52.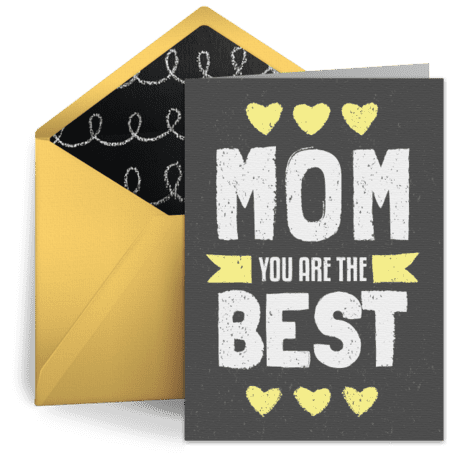 Just a cute card to emphasize the obvious facts.
53.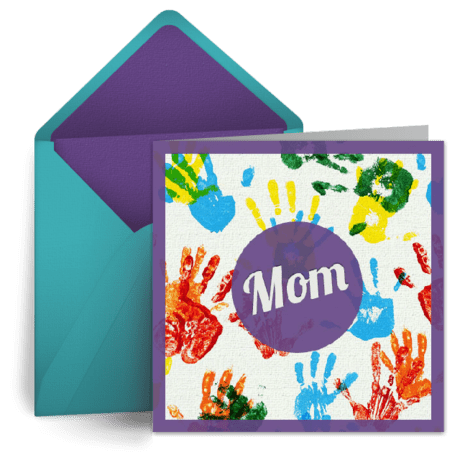 This card brings you back to the times when your random doodles were seen as a valuable by at least one person in this world.
54.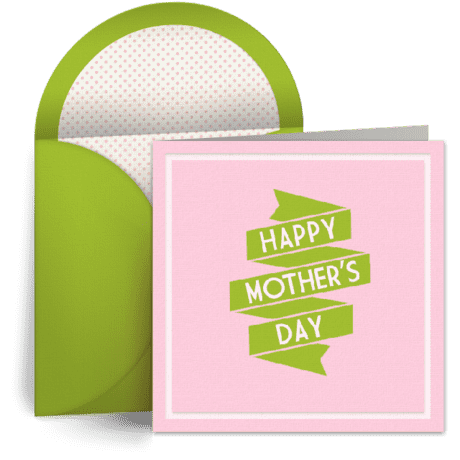 A lovely classic design for a beloved mom.
55.
This one shows more passion but is still very traditional and elegant.
56.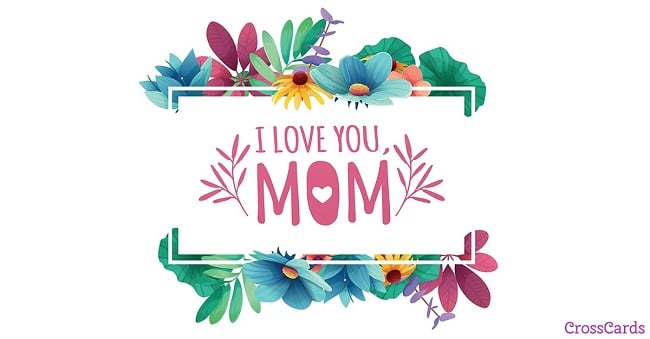 Why not send such cards every day? I'm sure moms will never get enough of them.
57.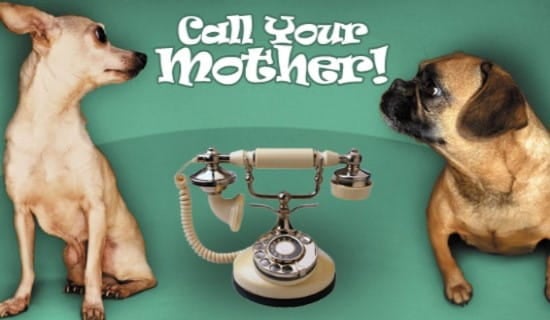 One more kind reminder. And the lucky people who have families can use this card to check on their parents and remind them to talk call the grandma.
58.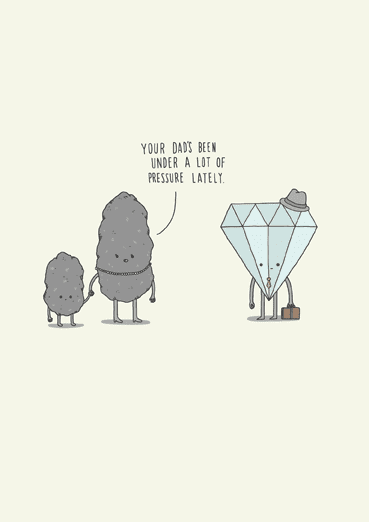 Now we are moving to the Father's part of this collection. I find this particular card very touching and inspiring because fathers need our appreciation and affection no less than mothers do.
59.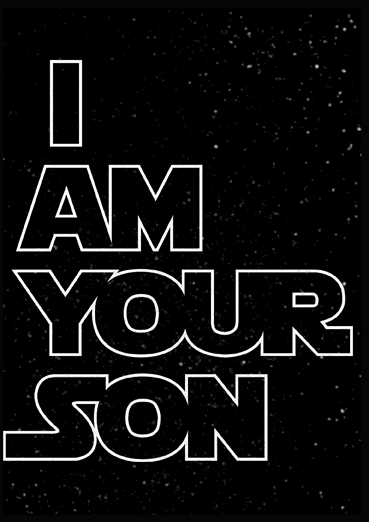 Well, here's a nice allusion to Star Wars and an awesome greeting card.
60.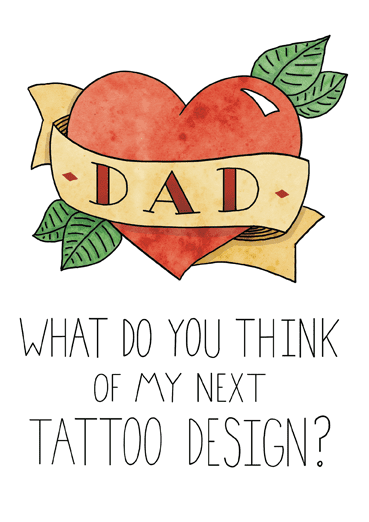 I'm not quite sure making a Dad tattoo is a good idea. Maybe a greeting card will do?
61.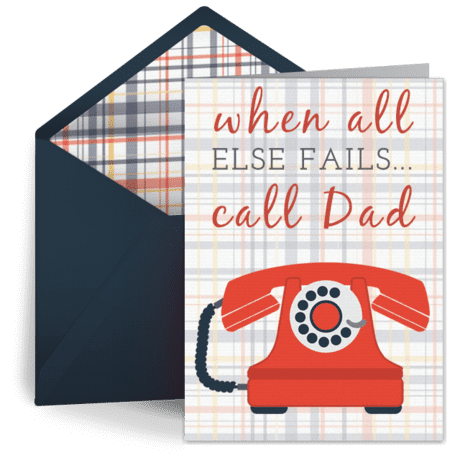 I love this one, it pretty much sums up parenting when your children are grown up and independent.
62.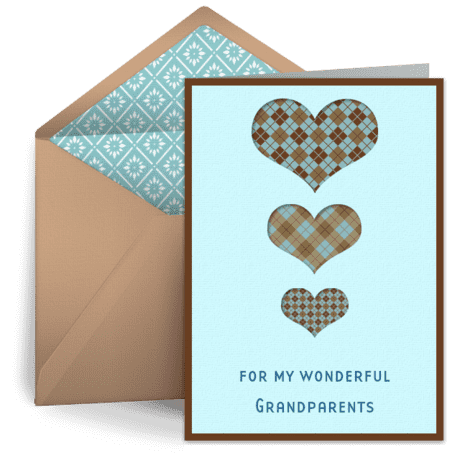 An elegant card design for grandparents.
63.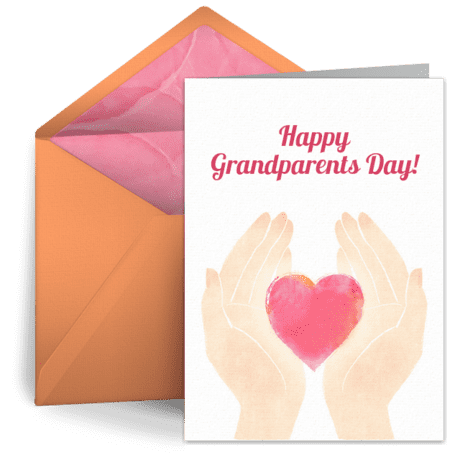 This card gives you a chance to share your heart with your loved ones.
64.
A chic card for your sister. And every day can be a Sister's day if you want.
65.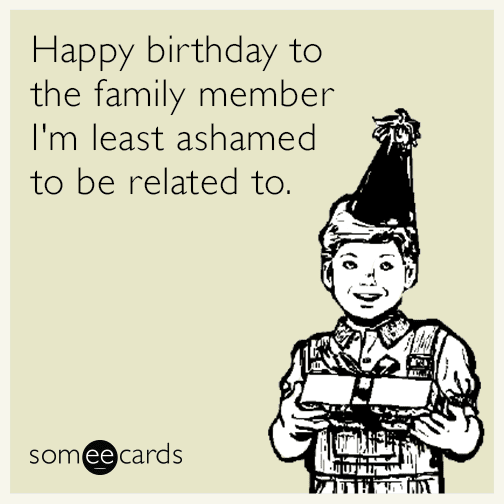 Well, you can probably address this card to any family member or to all of them at the same time (because you appreciate them all, don't you?).
66.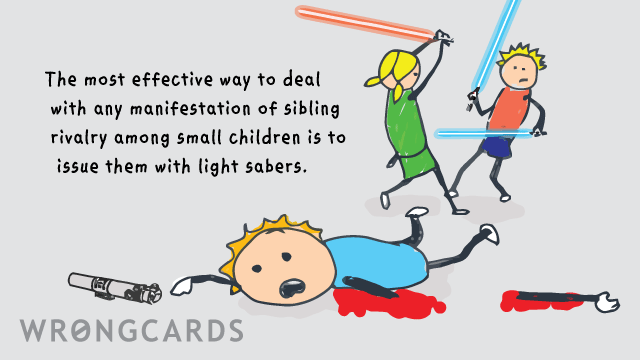 There were times in my childhood when I really wished I had a lightsaber. And now this card makes me a little nostalgic.
COLLEAGUES
67.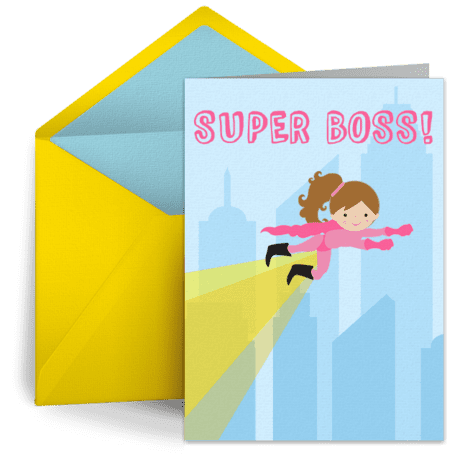 A colorful card to remind your boss of her superpowers!
68.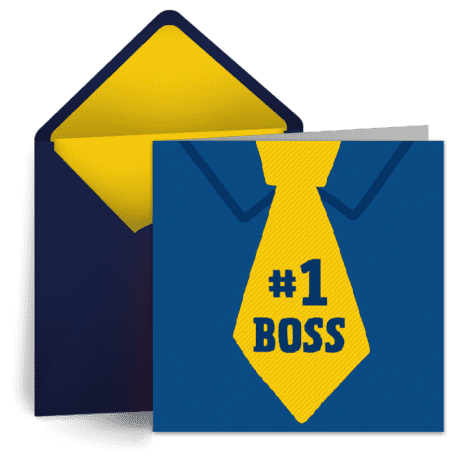 A bright ecard for that one big boss in your life!
69.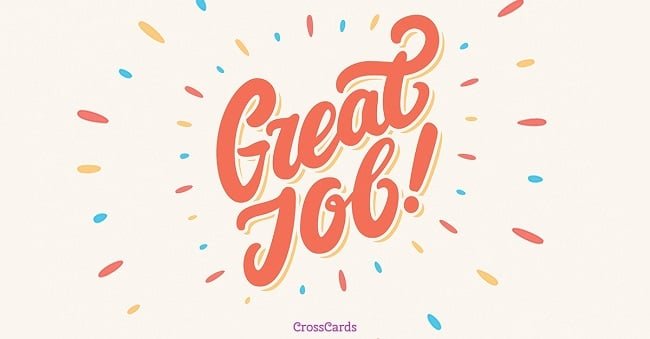 A card of encouragement and appreciation for colleagues. And sometimes you need to send one of these to yourself.
70.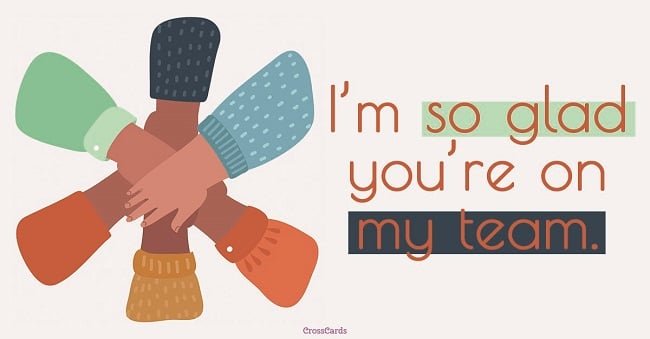 A lovely card for cheering up your colleagues!
71.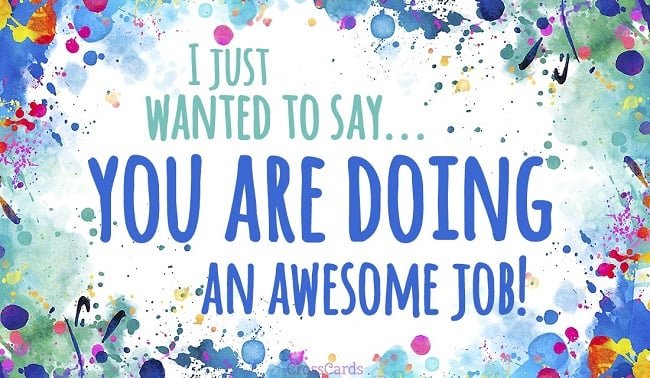 Again, I would love to receive such a card myself. It's just beautiful!
72.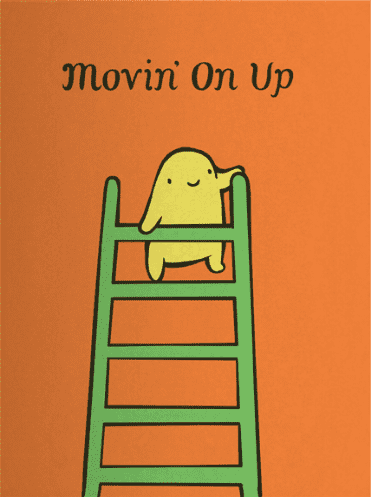 You can congratulate your team members with promotions with this cute ecard.
73.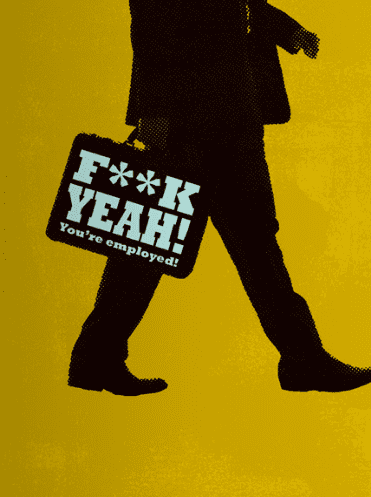 Send it to that one friend who can never find a job (even if that friend is you).
74.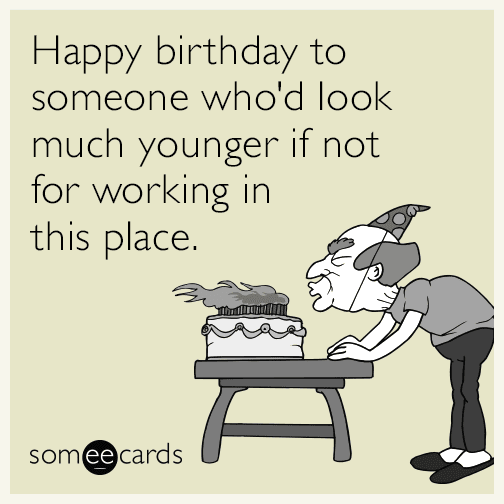 For those who don't want to leave their sarcasm at home.
75.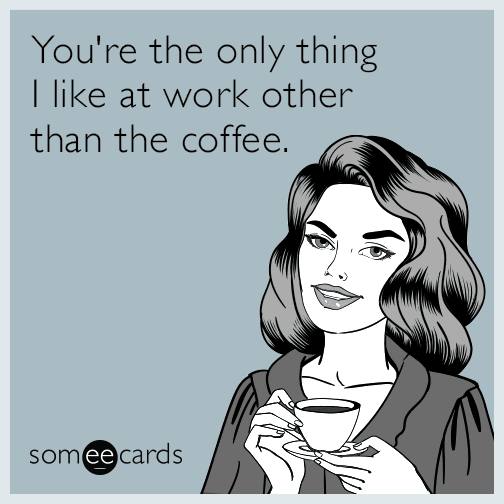 Such a card could be the greatest display of affection permitted among colleagues.
76.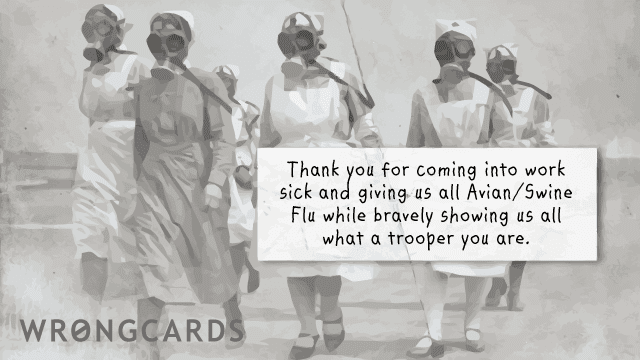 No, I don't suggest you send this to anyone, I just like the design.
77.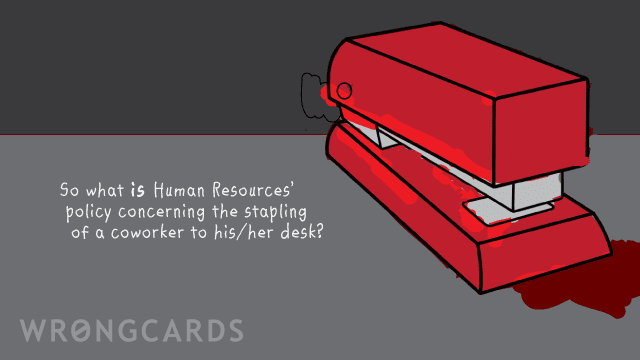 Sometimes I feel I need a clarification of what I can and cannot do at work. Can you relate?
FRIENDS
Most of the cards you've already seen in this collection would can be sent to a friend, but I have some more designs to show you.
Do you have that one person who means a world to you?
Sometimes, it's a love partner you see every day. But what if it's a friend you haven't met for months? If so, these cards might inspire you to you get in touch again.
78.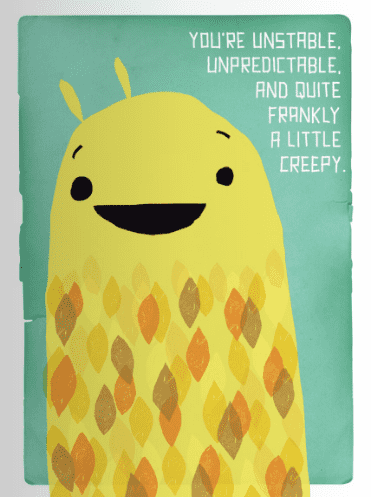 You need to let your friends know how unique and dear they are to you.
79.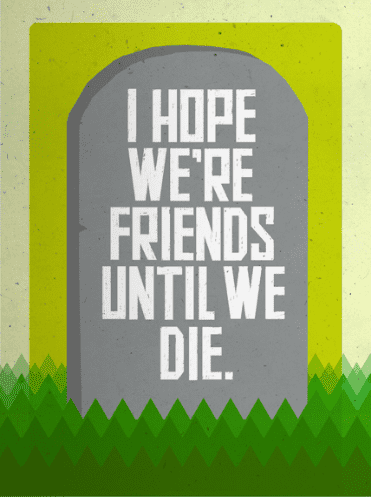 Friendship is a serious thing, you have to make plans for the future.
80.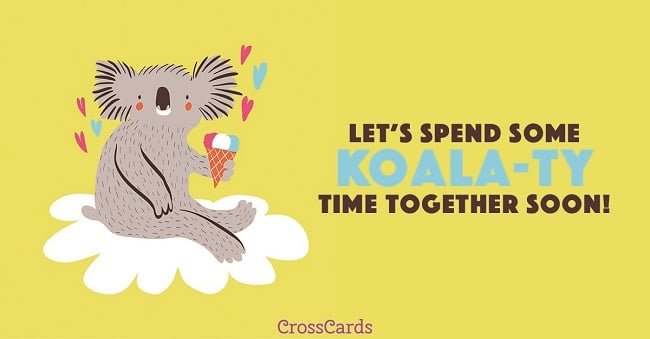 There can never be enough koala-ty time with your best friends! Do koalas watch Netflix, by the way?
81.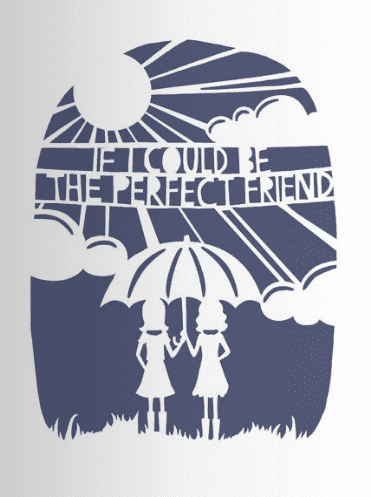 With this card, you can let your friends know how precious they are to you.
82.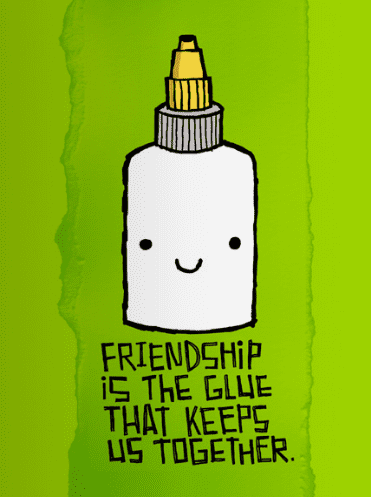 Maybe you need a card to remember how strong your connection is? Look what's inside!
83.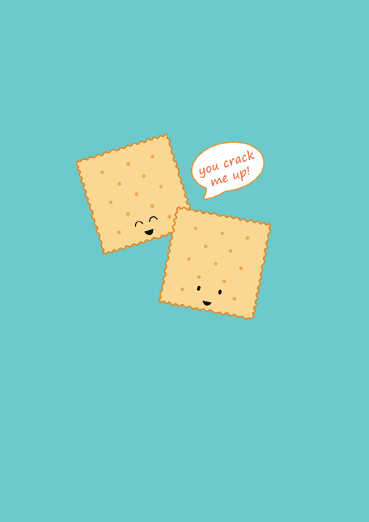 A card for that one friend that makes you laugh until it hurts.
84.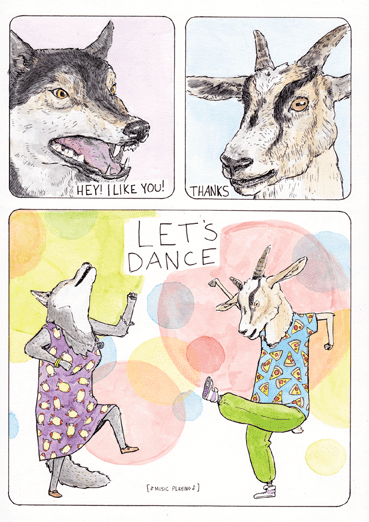 I love this card, it very much sums up friendships to me. You just need to find another weirdo and rock that party!
85.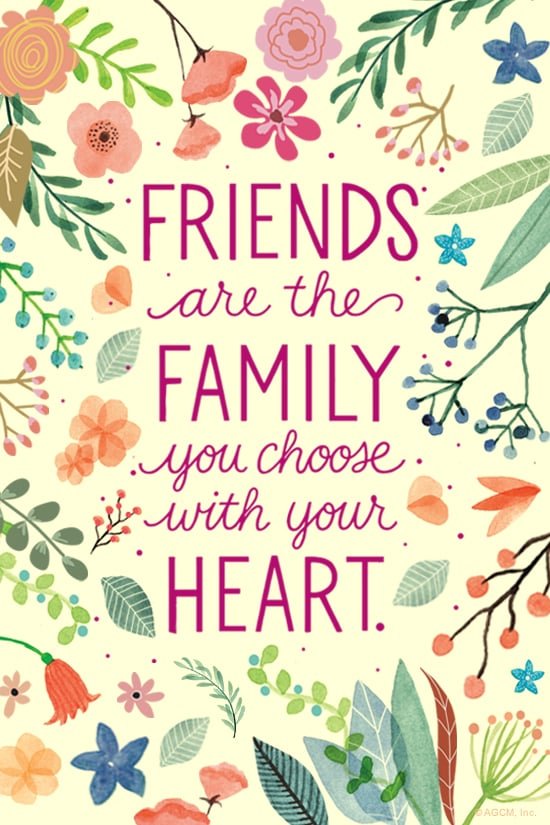 A nice card for reminding yourself why you even made friends with these people.
86.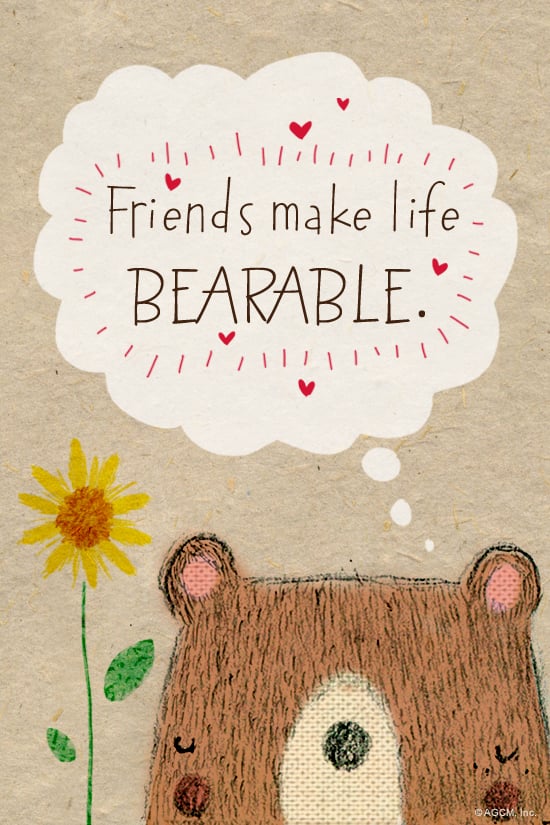 Who would argue? And if you add chocolat and some koala-ty time like on the previous card, life can be even nice.
87.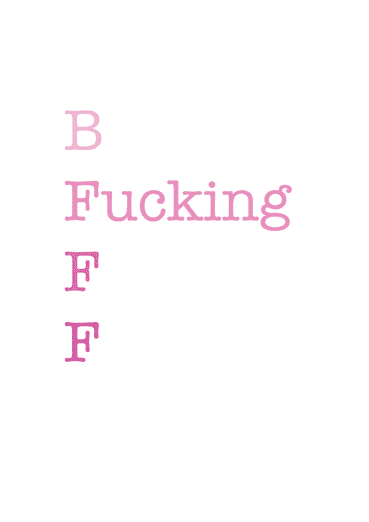 When the feelings are strong, you might need a special card to communicate them.
88.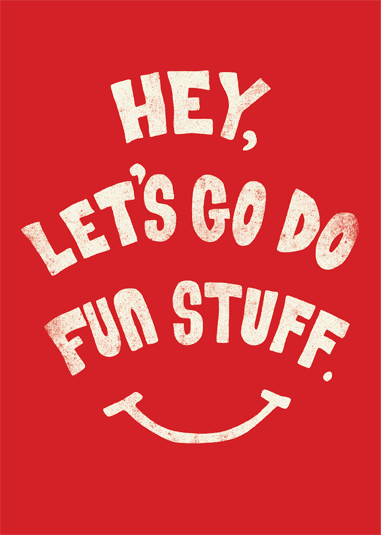 If you and your best friend haven't been in touch for a while, you can start by sending such an e-card.
89.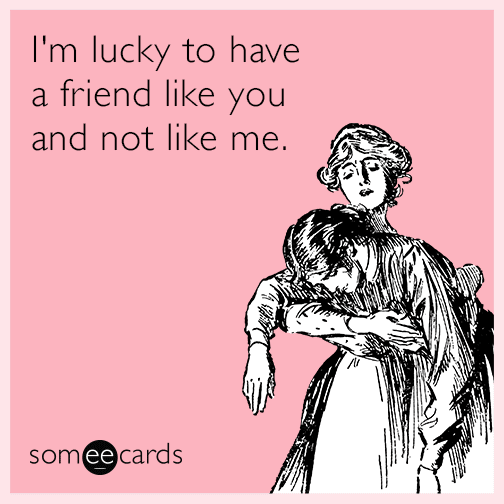 One more card to state the obvious.
90.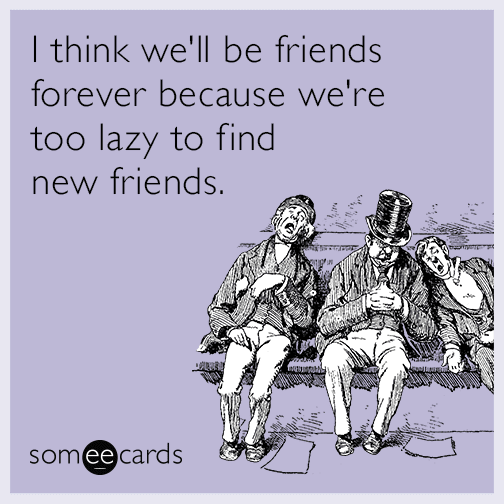 Or because you are weird in a similar way! You need to talk about the origins of your friendship with your BF, don't you?
So, this is the end of my collection. Thank you for scrolling down this far!
If you enjoyed reading this post, please drop me I comment. I will be very glad to know!
I hope these cards at least made you smile and maybe inspired you to be more open about your feelings.
Stay tuned!
Postcards with delivery option
Video About Free Greeting Cards