Intro
We all love holidays, holiday cards and illustrations. The attributes of celebrations originate that special atmosphere that makes the pleasant feeling of anticipation of something fairy. Using the holiday vibes to create illustrations, patterns, and backgrounds is practiced by various designers. It is very popular and reasonable to apply the holiday mood illustrations to display in various media types. One of the most beloved and truly spiritual holidays in many countries is Easter. Easter background patterns, vector art pieces, design elements, and other visuals provide a variety of beautiful components that are used for the festival celebrations.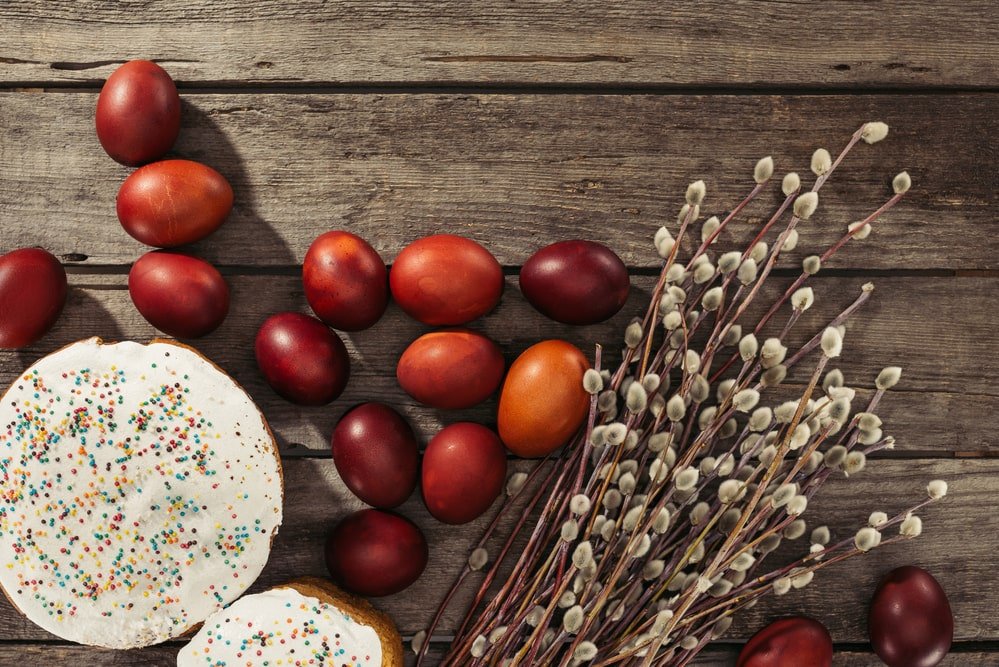 Image source: DepositPhotos
TOP 5 Easter Graphics Bundles on MasterBundles
| Product Image & Rating (Out Of 10) | Product Name | Price |
| --- | --- | --- |
| | 10 Best Easter Patterns 2020: .SVG, .JPG Formats | |
| | Easter Stock Photos & Images. Photo Deal: 100 Royalty-free Photos & Vectors | |
| | Easter Vector Clip Art | |
| | Happy Easter Images Clip Art | |
| | Easter & Spring Bundle | |
Some facts behind Easter traditions
Easter or Resurrection Sunday is celebrated by all Christians on the Sunday at the and of the Holy Week. It celebrates the rebirth of Jesus Christ and is very important for all believers. There are special traditions like visiting and bringing flowers to the church, asking to bless food and drinks, decorating eggs. Notably, egg here symbolizes new growth, life, rebirth due to the nature of the egg. The other attribute of the Easter celebration is Easter bunny, which takes us back to the pagan rituals and the goddess of fertility that is closely associated with one of the most fertile animals, rabbits.
All these easter eggs, bunnies are put into the Easter baskets and brought to the church. Interesting, the baskets are the personification of the nests with eggs. There are also special hot cross buns or Easter bread in some cultures. These are the tasty buns with raisins or else inside and with a special sweet cover on top. There are numerous recipes that are immanent to various traditions. Easter is the holiday full of joy and happiness so even ham has found a place among the traditional attributes of the celebration.
No matter the fact most of the traditions are pagan by their origin, they are lovely and most of the people follow them from year to year, which brings joy to their hearts, which is probably one of the main intentions of every holiday. All these attributes of Easter can be found on a number of examples of Christian Easter background patterns and illustrations intended for the media.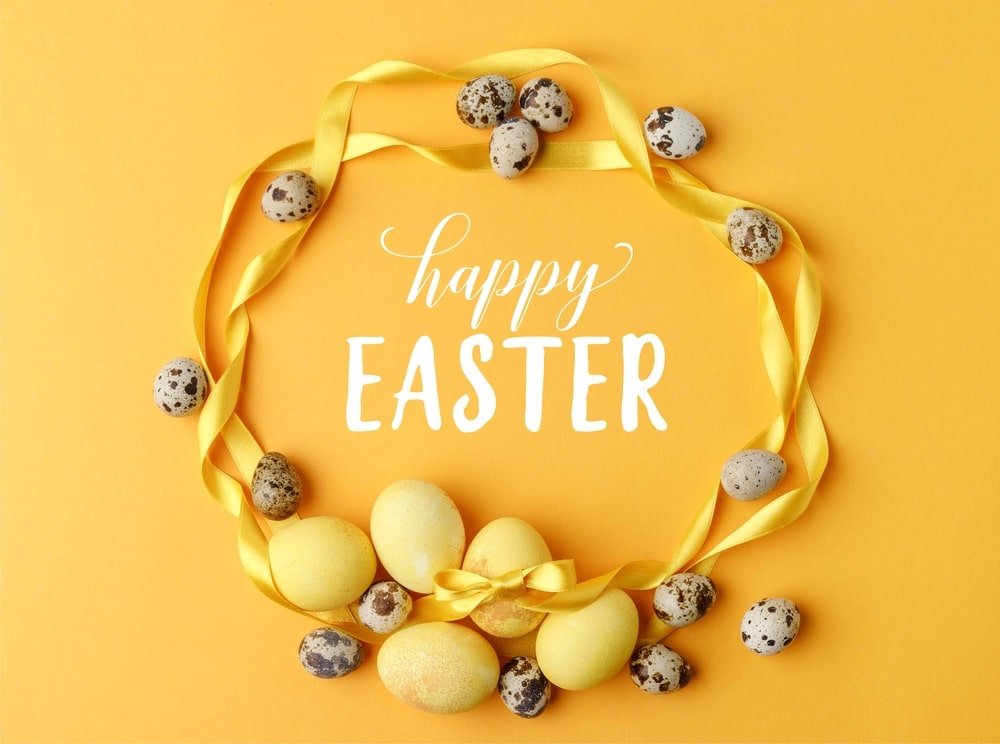 Image source: DepositPhotos
Easter background patterns – dos and don'ts
Religious Easter background should convey the intended atmosphere of the celebration and joy; it should use the special components related to the holiday. Thus, there are certain pieces of advice that can be applied when creating or choosing a background Easter pattern.
Do
Add Easter egg background as decorated eggs are among the most recognizable attributes of the festival and they look great on the illustration. View these Easter egg hunt background images that look bright, colorful, and joyful.
Use bright and light colors, which is the main thing for Easter background images. The holiday is celebrated after the Holy Week, which is the special time of solemnity and Lent. After this period, believers feast and rejoice. Thus, the mood of the images should reflect the feeling of the celebration.
Add flower patterns. Easter is a spring holiday, and everything flourishes around, so adding flowers displays liveliness and prosperity. For instance, Easter lily background pictures are quite popular.
Consider using animals for the Christian Easter background images. Of course, Easter bunny and other animals like birds, chickens, pigs, fawns, etc. are also welcomed.
Use Easter traditional attributes like bunnies, buns, Easter bread, gifts.
Use watercolor style as it looks amazing, fairy, and light, which is exactly what is needed to express the holiday mood.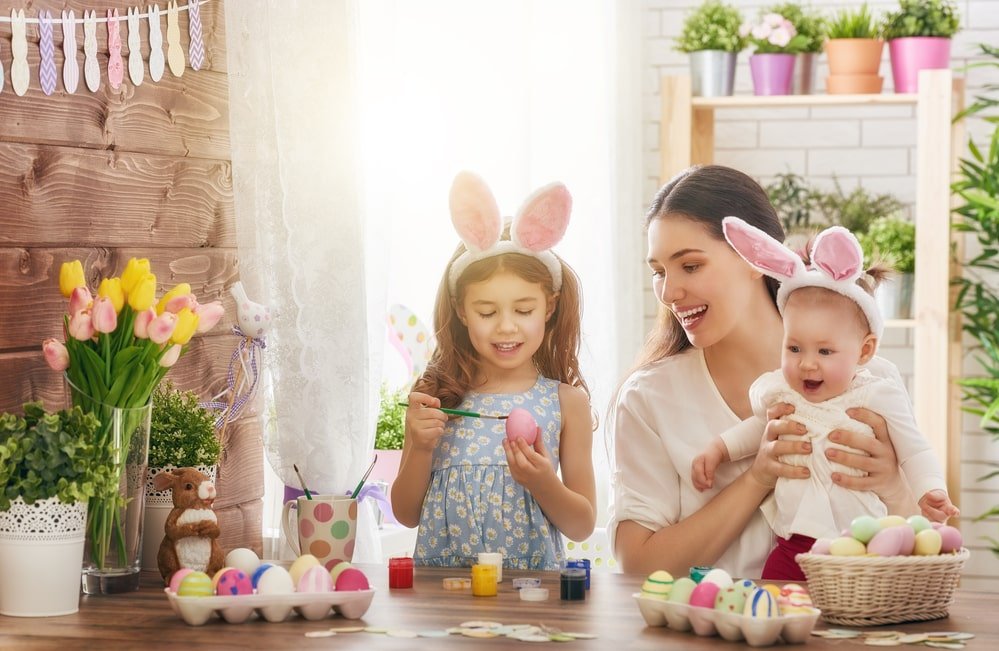 Image source: DepositPhotos
Don't
Use dark and cold colors as this doesn't bring joy to the viewer. The colors convey a certain message to the viewers, so be accurate and avoid some seriousness on the Easter background themes. This shouldn't look rigorous, valid, or credible. So, the colors that are used for the designs to perceive the subject matter as something serious are not appropriate in this case.
Use minimalistic designs. This is almost the same issue. Minimalism uses simple shapes and minimal colors. It looks great and stylish, but when it is applied where suitable and if it matches the purpose. In the case of Easter background pictures, it should look bright, colorful, with lots of details, energizing, and inspiring.
Use many crosses. Well, you may use them in the church Easter background illustrations, but not too much as they make a rather dramatic impression that doesn't suit the purpose of the holiday.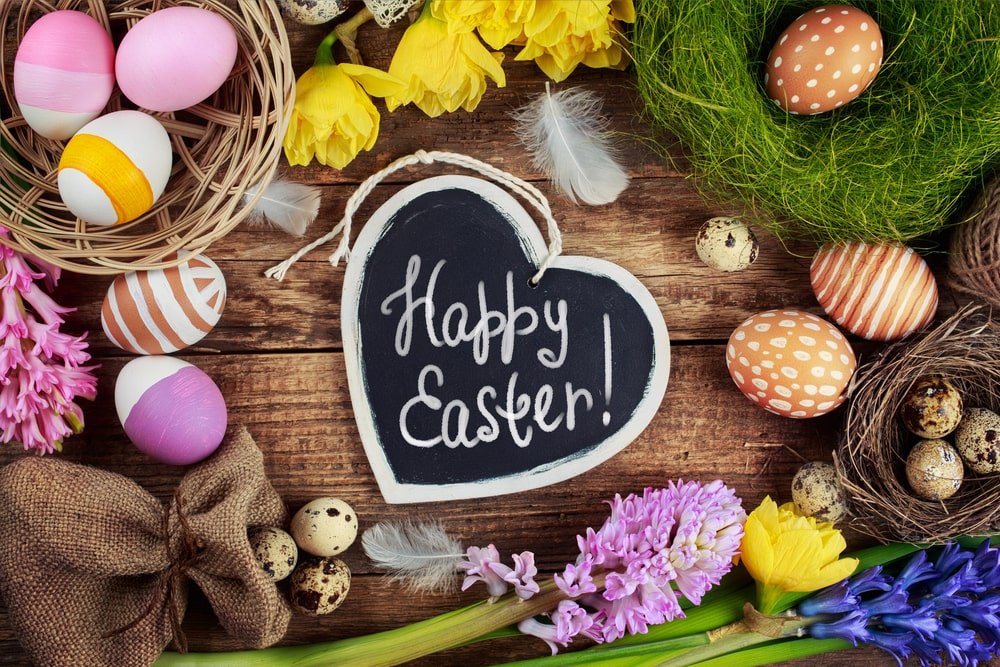 Image source: DepositPhotos
What to combine Easter backgrounds with – icons, shapes, and fonts.
The icons that can be used with simple Easter backgrounds are numerous, and they all should be related to the character of the festival. Thus, there are such elements used in Easter background vector art as an egg, flower, candle, rabbit, fish, candle, cross, church, balloon, bread, a glass of wine, chick, basket, calendar day, angel, bible, bells, bird, and so on.
The shapes that are used for the creation of Easter background Christian illustrations are ellipses of all kinds, circles, stripes, etc.
If you want an inscription or Easter greeting, there a number of beautiful and free Easter fonts. For instance, Eggs Easter font is so cute, and the letters are included in the egg-shaped ellipses.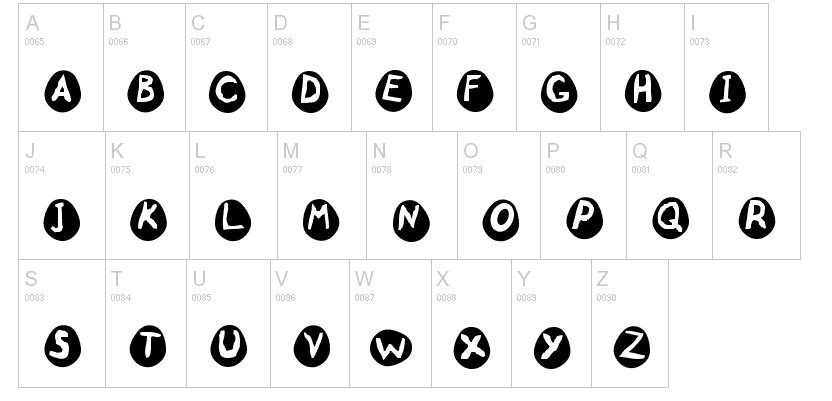 Hunny Bummy Easter Crafty Font is really charming as it puts the ears and tails of bunnies with the letters.
Hunny Bummy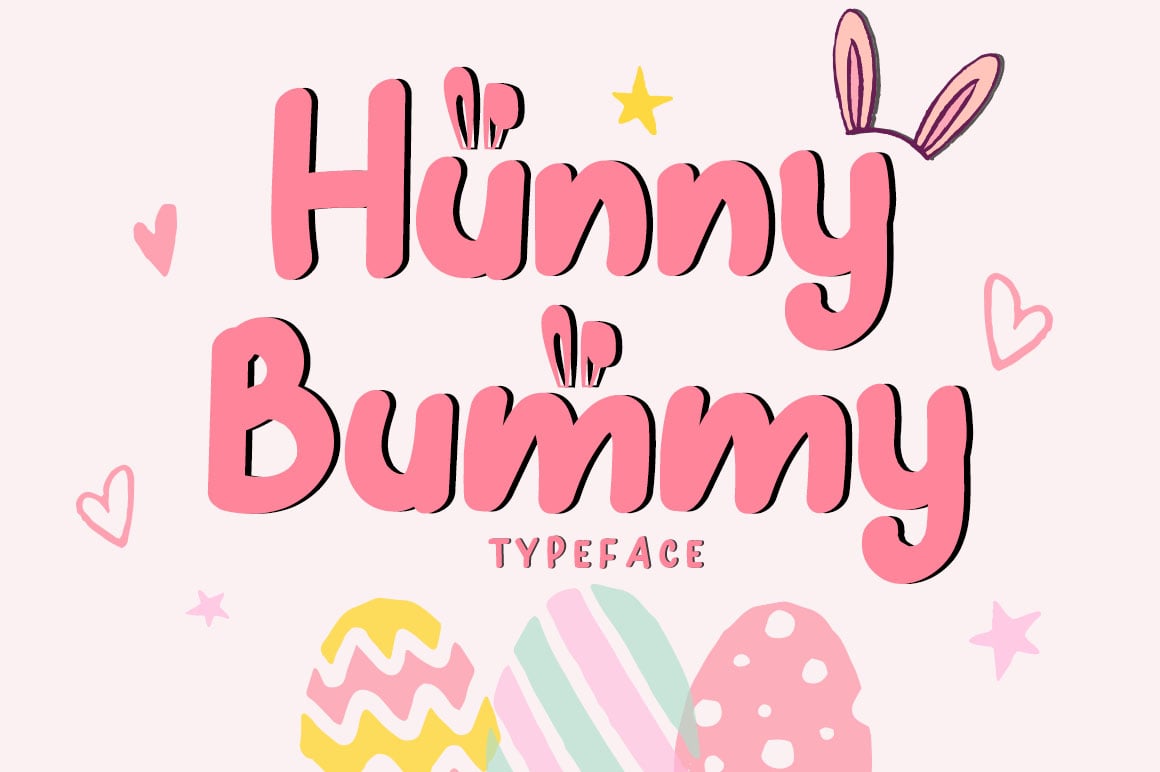 Look at this funny Easter Bunny font that creates letters from rabbits and different decorated eggs.
Funkie Bunny Font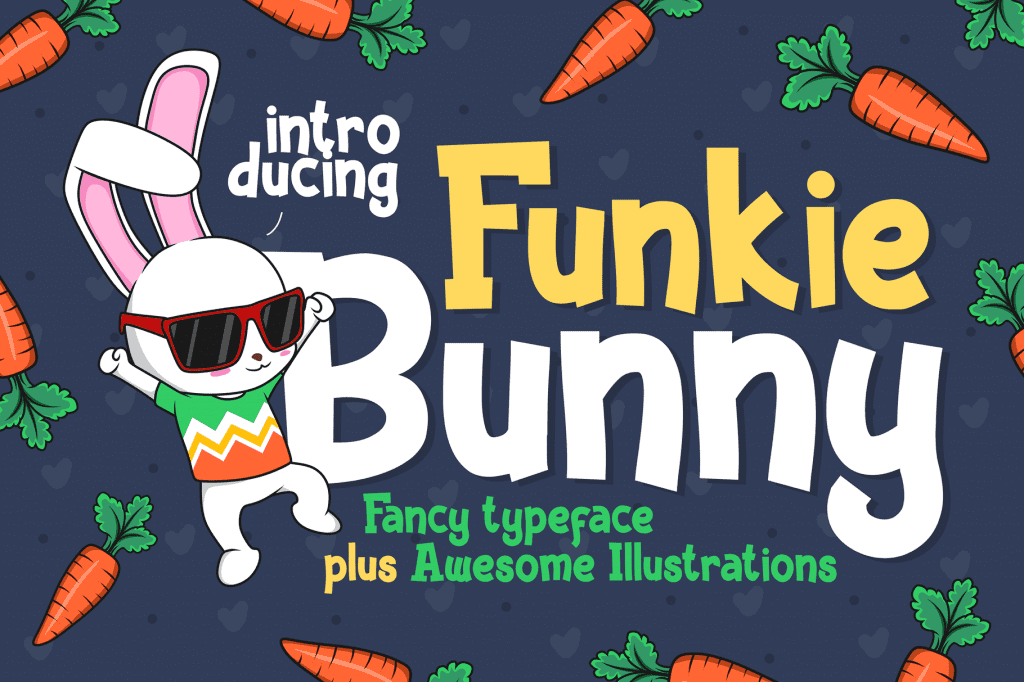 KB Jellybean is simple and fun; it will suit most of the Easter backgrounds. Furthermore, RM Egg looks very joyful as there are eggs standing on the chick feet. ADBF font will make the inscription fancy, bright, and proclaiming happiness all the way around.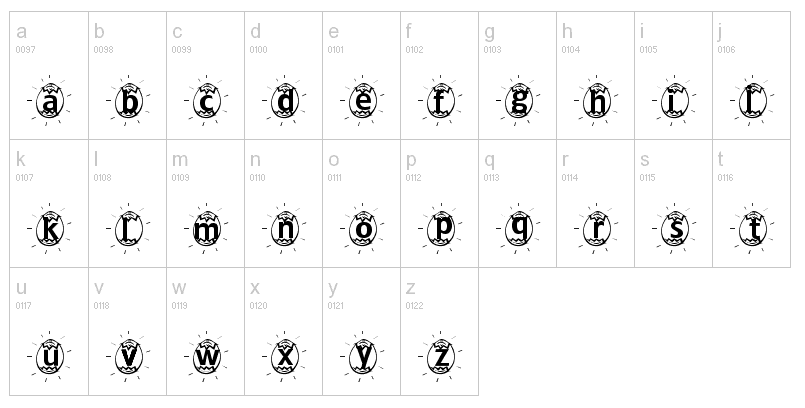 Spring mood and lightness will be brought to the greeting written with the application of New Garden. KG Hippity Hop has the letters with decorated eggs and with each capital letter accompanied by a funny Easter rabbit.
How to create photoshop Easter egg
If you want to create Easter photoshop illustration and draw an egg, this will be an easy task with the following guide. We'll photoshop Easter egg drawing using Easter photoshop brushes.
Create a new PSD file. Consider choosing the sizes like 500 x 500 pixels.
Use the Ellipse Tool to paint a simple shape. The choice of color is on your own. It can be blue, yellow, pink, brown, or orange, or else as decorated eggs can be of any color. Also, make a name to the layer, such as the Egg layer.
But the egg is not of the standard ellipse form, so you should use Convert Point Tool to make the top of the egg sharper. You'll see the anchor point and adjustment handles. Now you can drag the adjustment handle to alter the egg to the needed form.
To make the egg even more realistic, use the same tool and find two anchor points from both sides of the egg (left and right) and change them to adjust the image to the required egg form.
What will make your egg more beautiful is the volumetric image. For this aim, open the Egg Layer Style Window and add Gradient Overlay, attaching two tones of the color you've chosen for the egg. Add Inner Glow and Inner Shadow using the appropriate tones.
We've created a colored egg, but it wouldn't have been Easter egg if it was not decorated.
Prepare the layer with the decoration; you may create it on your choice or use some custom shapes. In the new layer called the Decoration layer, choose the color of the shape.
Then go to Edit – Transform – Wrap to make a round curved shape.
Consider changing the opacity of the decoration layer and adding a little black Stroke.
Then press CTRL and choose the Egg Shape Thumbnail.
Turn to the Decoration Layer, and press Add Layer Mask.
As the final step, consider adding a shadow. Select both layers and make a group, converting them into smart objects. Flip Vertical and make a selection with the Rectangular Marquee Tool.
After that, add Layer Mask and lower the opacity level.
Now your egg is ready.
You may create other vector art pieces such as Easter bunny photoshop using photoshop, and illustrator tutorials if you want to make the image in this graphic editor.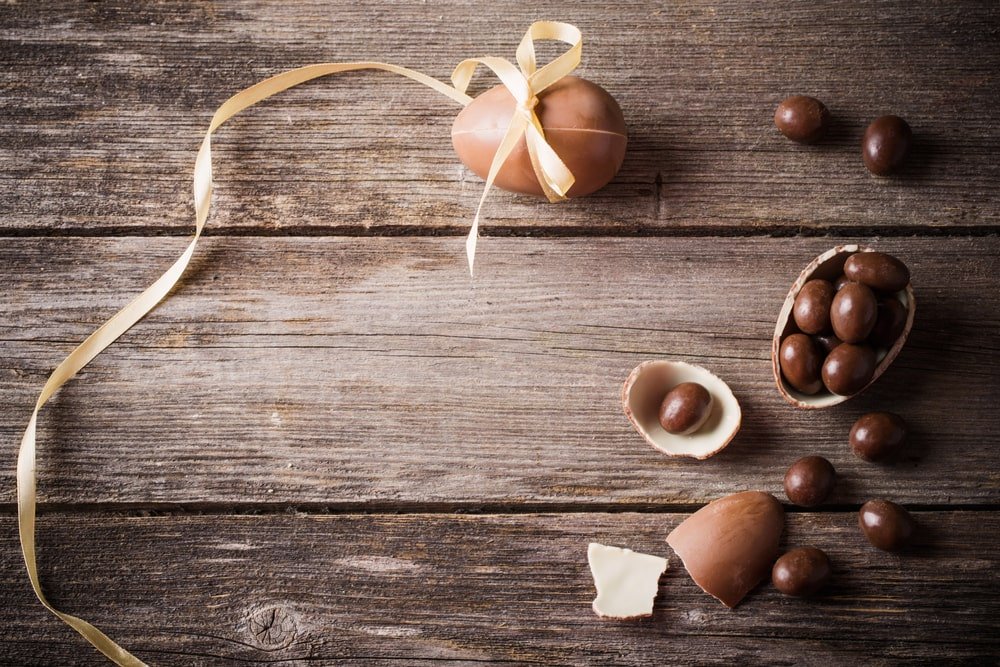 Image source: DepositPhotos
Easter background custom shapes – freebies
Consider using some photoshop or illustrator freebies. Thus, this Pinterest collection contains many free packs of custom shapes that can be used for Easter illustrations and backgrounds. Also, there are some good ones in the resource Shapes4free. View the site ShapesforPhotoshop that offers several good free packs.
Easter background wallpaper
Overall, there are a number of illustrations and background themes that can be found on the topic. Thus, choose from these Wallpaper Abyss free easter wallpaper background images. Easter desktop background themes are highly popular on the holiday eve, as they'll make anyone more joyful and energetic with their sunshine style and colors. On Pixabay, you may also find some beautiful and tender Easter lilies background images and some looking very spiritual Easter sunrise background visuals.
Easter elements bundles
If you like professionally crafted pieces of art and design, then consider the following collection of Easter elements bundles. Taking the bundles offerings is very convenient and time-consuming rather than searching for each separate element and making sure they are of the same style. What is more, getting the elements bundles is rather cheap.


Thus, 103 Sweet Elements Bundle: Think Happy Thoughts [Easter edition] will definitely make you think happy with the set of neatly designed and amazingly looking 75 individual elements, 11 floral arrangements, 1 floral arrangement set, 3 pre-made bunny characters, 5 wreaths, 6 text bubbles, and 1 bonus graphic. These cute elements are created for your décor items, logos, cards, packaging, and other goals. You can combine the items according to your choice. This collection contains PNG and EPS files.
Little cuties – Easter edition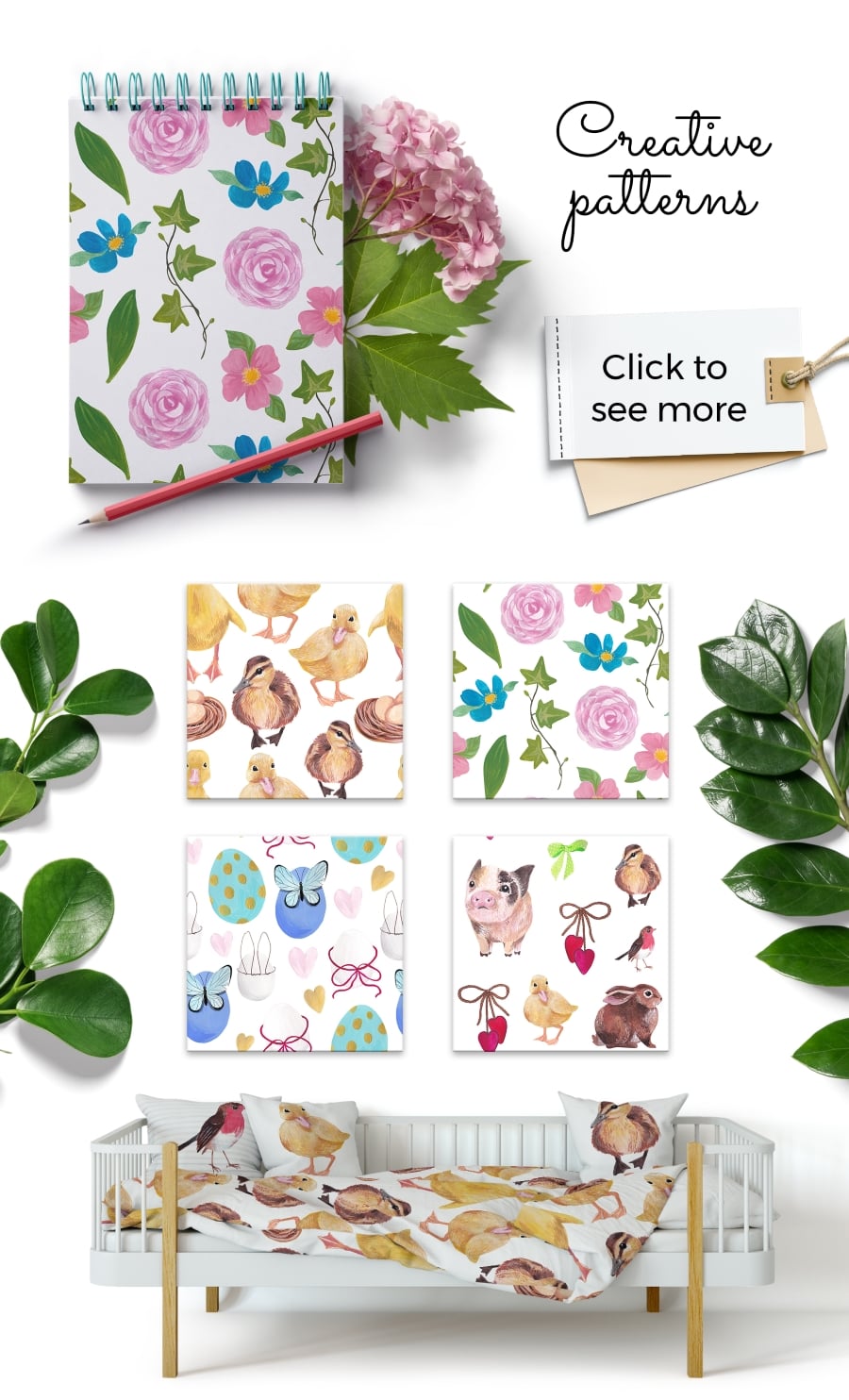 The next collection called Little cuties – Easter edition is indeed the bundle of cute little images. The pictures are hand-painted gouache visuals intended for different purposes, such as Easter greeting cards or baby bedding. You'll be able to choose from 28 PNG paintings, 1 PSD with all elements on separate layers, 4 PNG contour seamless patterns, and 6 PNG compositions with transparent background. These pre-made graphic elements will help you to save your time and create own graphic design selecting the needed elements from the bundle, which is so simple.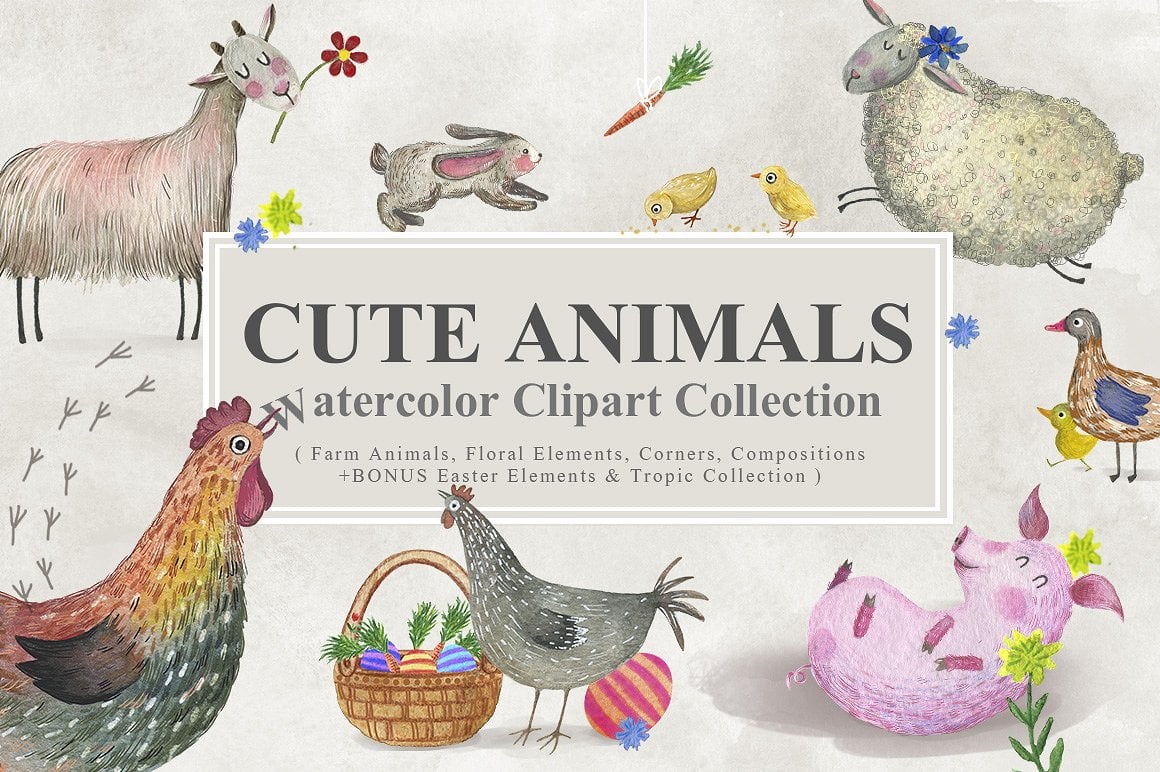 Easter Animals Watercolor Collection includes 65 clipart elements made in PNG format. The images are hand-painted with watercolors. The latter technique is widely popular in web design and various media types with its light and airy look. Moreover, it is highly recommended for Easter background. The bundle has the images that are opened in Photoshop and can all be used for your creation. There are 19 Farm animals, 12 Decorative floral elements, 4 flower&see corners, 4 huge flower&see central composition, and many bonus elements.
The real mood-maker is the collection Easter & Spring Bundle, which contains 65 mock-ups in PSD and JPEG format. They are made using various styles, so you'll definitely find the one you need for your memorable designs.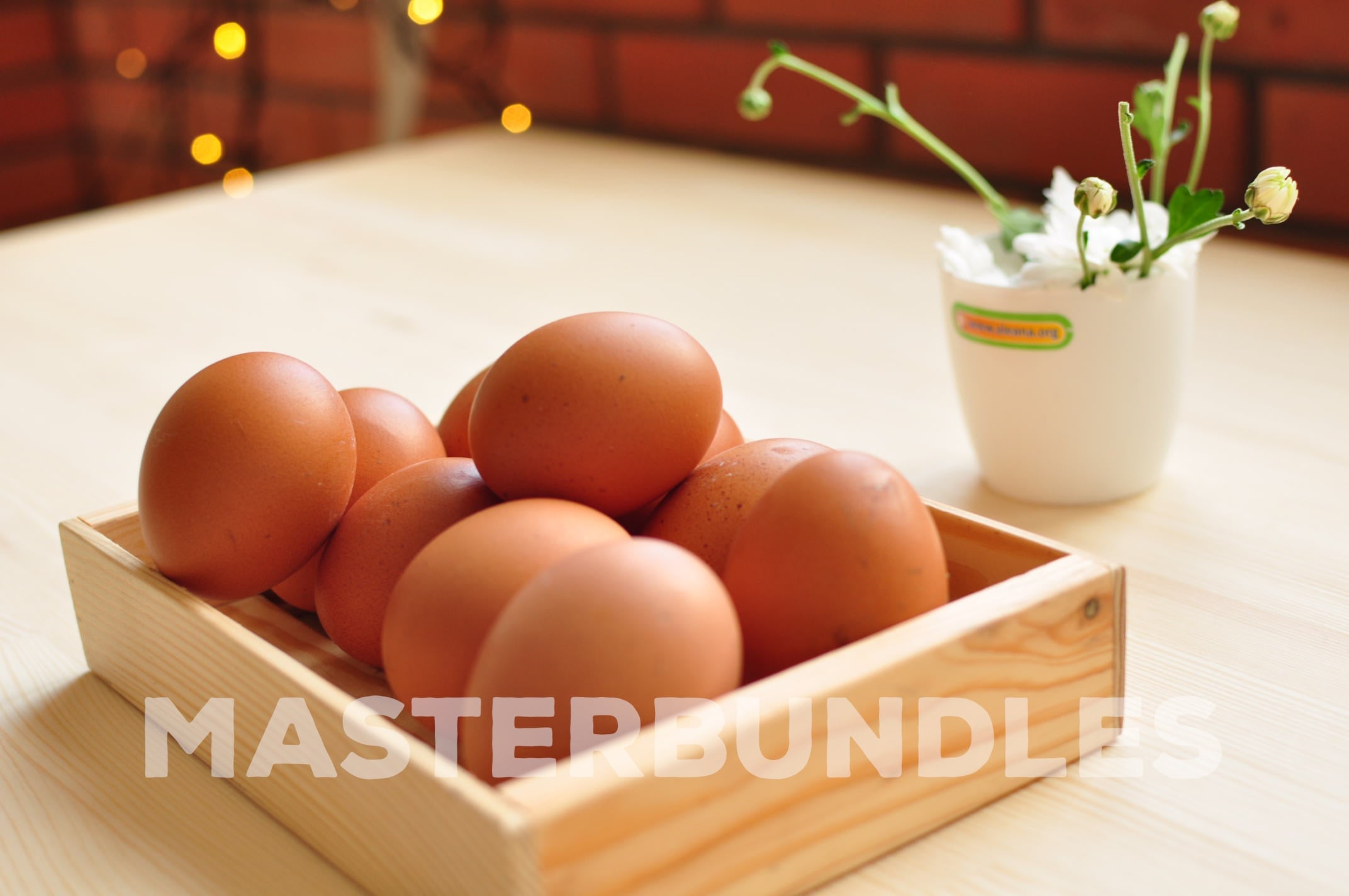 Furthermore, 60+ Easter Photos Bundle in 2021 is the collection of great professional pictures, so that you can use the chosen ones for different projects on the web.
Where to use the Easter background?
Modern design only requires bright and extraordinary solutions. It is a real art. Using different textures, backgrounds, illustrations, and similar elements can be one of the best ways to add depth to your design. All these elements are the source for various design experiments.
This trend of web design has been fashionable for many years. The backgrounds are able to make the site more individual and attractive, bring some originality and mystery. Using Easter patterns, for example in the design of the site, helps to direct the user's view to the goal and encourage him to action. Due to this web-designer can emphasize the importance of individual elements of the site.
Easter backgrounds are quite specific products. You will not be able to use them all the time (unless you are a specialized website or shop) and for any reason. But in the run-up to such a Light Holiday as Easter, you can unusually present some of your products, or projects. And in this way you will definitely interest your audience.
Easter backgrounds are mainly associated with certain products, so it is very important to know where exactly to use them:
Sites that specialize in selling products related to Easter. These can also be online shops. In most cases, simple Easter backgrounds are used here, but there may also be some unusual and creative ones.
Posters and banners. There are many such examples. In the in the run-up to the holiday you can find a huge number of banners and billboards that advertise Easter products, shops, or some activities related to the holiday.
Business card, and a flyer. To promote your shop, or an Easter event.
Prints. These may be a variety of prints. For example, for notebooks, cups, textiles, wallpaper, gift boxes, phone cases, etc.
Books. Specifically for illustrations in a book. It will look very bright and colorful, especially if it is a children's book, or a thematic newspaper for the holiday.
As you have understood Easter backgrounds can be used anywhere, the main thing is to use them correctly and wisely.
How to create an Easter card in Photoshop?
An Easter card is a very simple way to congratulate your friends, relatives, loved one or colleagues on Easter. But it is much better to create a card by yourself. That's why read this instruction on how to quickly make a nice, bright and funny Easter card.
So this greeting card includes the following elements: Easter eggs, rabbit ears, and grass (which is the frame of this card).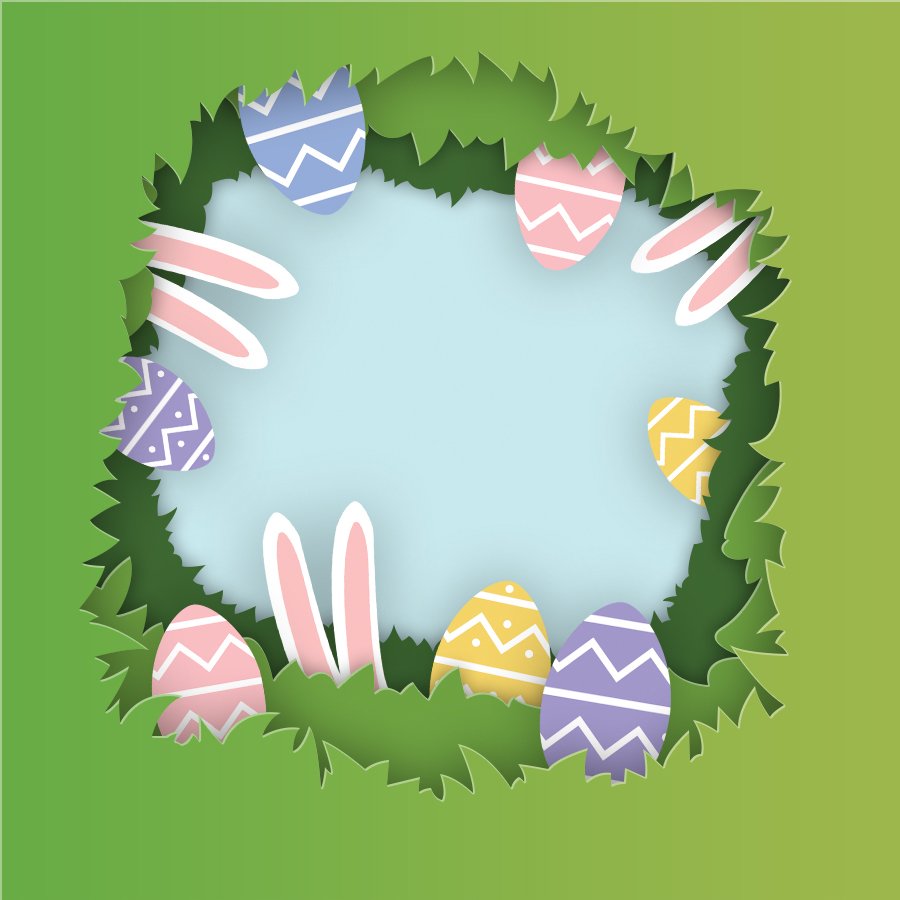 In the middle of the card you can add some inscription, it can be a standard "Happy Easter", or you can add some personal wishes.
So, to create such a card you need:
Preparation:
Open Photoshop for a start, and create a new document. To do this, go to File – New or press the Ctrl+N key combination. In the window that opens, set Width and Height to 900 pixels. (If you plan to print an Easter card, set Resolution to 300 pixels/inch and Color Mode to CMYK. Just keep in mind that this will make the shades less bright).
Next, fill in the background layer with color (you can change it, and choose a more appropriate one for you) using the Paint Bucket Tool.
Grass:
First of all, let's create an ordinary square according to the size of our document. Take the Rectangle Tool and with the Shift key pressed, draw a shape so that it covers the entire working canvas. On the panel, set the fill color and turn off the outline.
Then take the Pen Tool. In the panel select the Subtract Front Shape mode and start drawing the first lowest grass layer.
To get sharp angles on the grasses, place the reference point and then press the Alt key so that an arrow appears near the pen. Then click on the reference point to be sharpened.
Right-click on the grass layer (for convenience, you can rename it Layer1) and select Blending Options.
In the window that opens, activate the Drop Shadow layer style and adjust it to your preferences. (The example uses such parameters: Blend Mode – Multiply, Opacity – 47%, Size – 21 pixels).
Draw Layer2 in the same way. Set the color of the fill. Note that the second layer must be over the first one.
Then you need to apply the styles of the layer again. See step 5 to set up Drop Shadow. For Inner Shadow: Blend Mode – Normal, Opacity – 40%, Angle +-120, Offset – 1 pixel, Stretch – 100%, Size – 1 pixel.
Create Layer3 in the same way. Layer3 is the same as the previous layers, only in Drop Shadow: Size – 57 pixels. In addition, you should add Gradient Overlay: Blend Mode – Normal, Opacity – 100%, Style – Linear, Scale – 100%.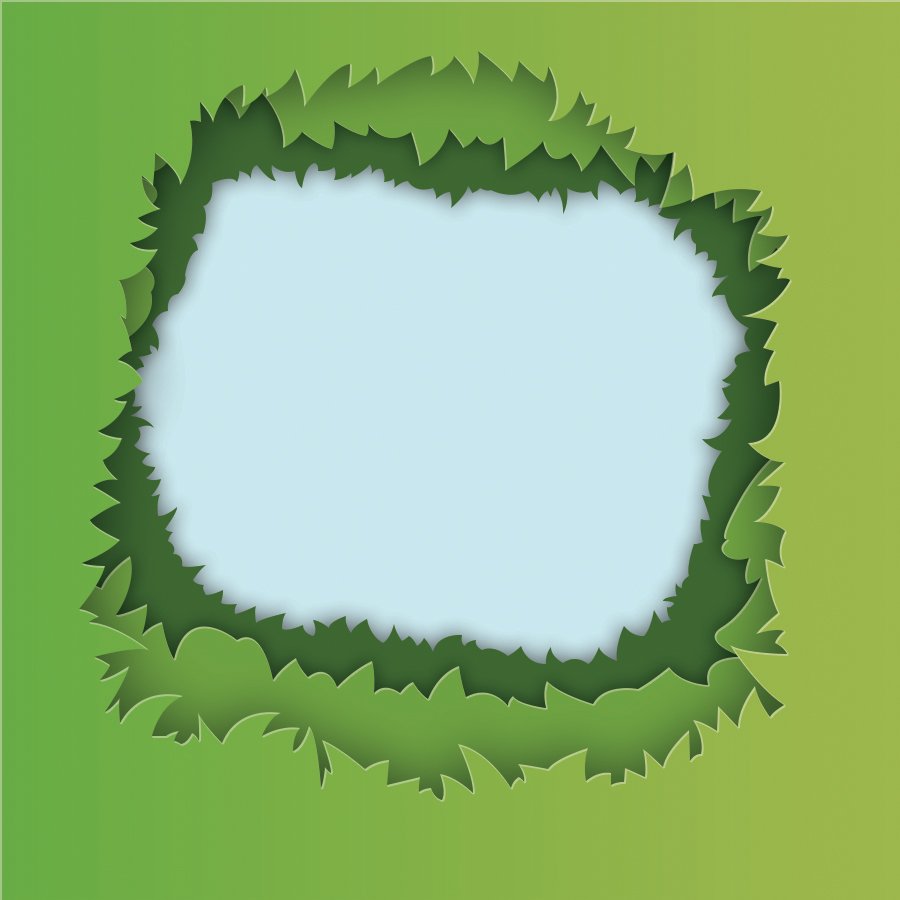 The details of the card:
Easter eggs:
Take the Ellipse Tool and draw an oval. Set the color of the fill. Use the Direct Selection Tool to narrow down the top of the oval and shape the egg.
For patterns, take the Rectangle Tool and create a small narrow segment. Then activate the free transformation (Ctrl+T) and on the top panel rotate the figure by 45 degrees.
After that duplicate (Ctrl+J) the layer with the line segment, activate free transformation, right click on the shape and select Flip Horizontal. Then activate Move Tool and use the arrows on the keyboard to move the copy to the right to get an arrow out of the lines.
After that duplicate both lines and move the copy to the left or right in the same way. Continue to copy the arrow until you get a zigzag pattern.
In the layers panel with the Ctrl key pressed, select all the layers with lines and combine them into one layer (Ctrl+E).
Place the pattern above the layer with the egg and press Ctrl+Alt+G. Change the color of the lines to white.
Then take the Rectangle Tool and draw a horizontal line of white color. Also add it to the Easter egg.
Continue alternating the lines to get the desired result.
Create some more eggs in the same way. Change the colors, the type of stripes or add some small details to make the Easter eggs nice and bright.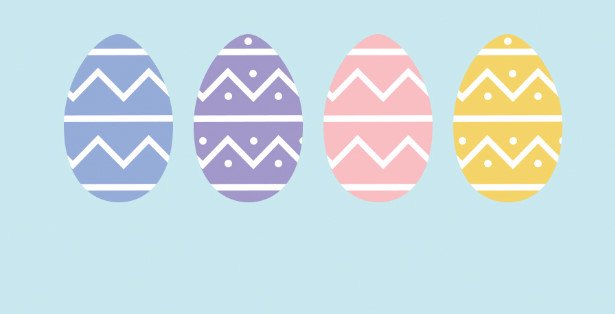 Rabbit ears:
Take the Pen Tool and draw a white figure to make it look like an ear.
Inside the figure add a similar figure and change its color to pink.
Duplicate the resulting ear. Activate the transformation of the copy and slightly change its tilt and position.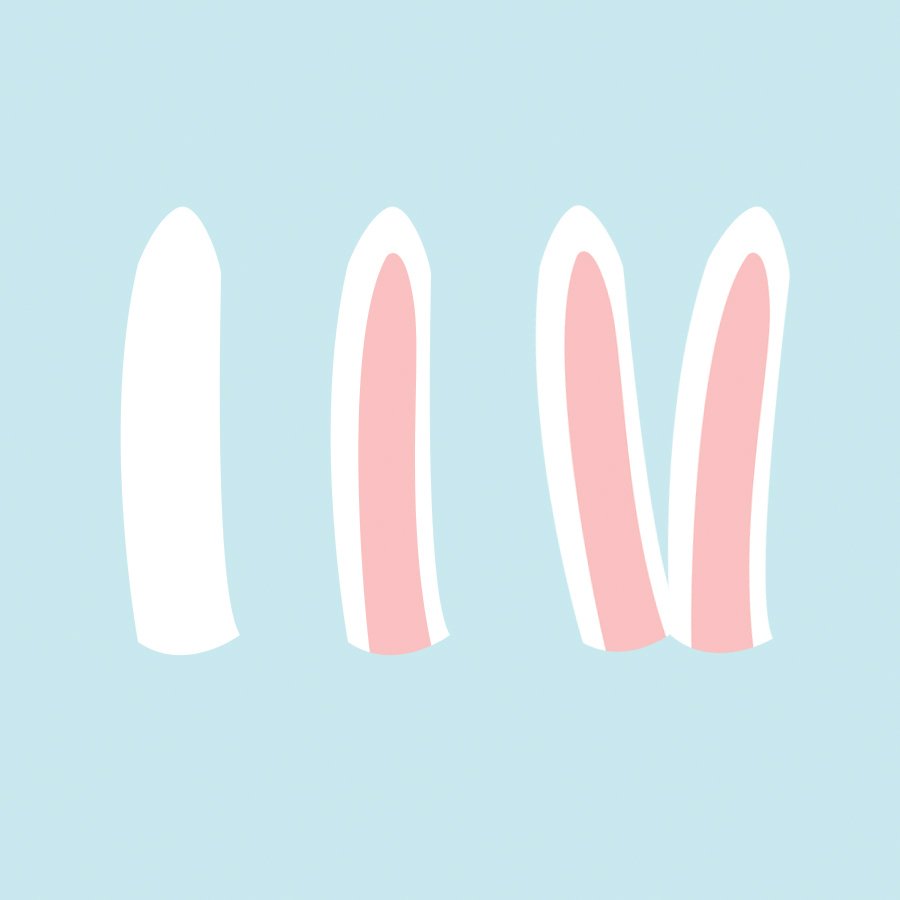 The last step:
Activate visibility of all layers with grass. In the Layers panel, move the eggs and ears between the grass layers to get the final result. Don't be afraid to copy, rotate and scale the elements. Allocate them so that the top part is directed to the center of the card.
Once finished, apply the Drop Shadow layer style to all copies of ears and eggs.
Done! As you can see it is not as difficult as it may seem at first sight.
Photoshop and Illustrator tutorials
There are a lot of useful lessons on the Internet to create eye-catching, unusual and impressive backgrounds, patterns, postcards and much more. For you we have selected the easiest and fun ones:
Draw An Easter Egg In Photoshop. Here you will find detailed instructions on how to draw an egg, lines, and patterns on it. Also in this tutorial you can learn how to add a 3D effect to an Easter egg. It seems to be quite unusual and funny!
How to Create Vintage Styled Easter Card. This is a lesson on creating a light, vintage and creative card. All the steps are quite clear and understandable, so it is unlikely that you will have any problems creating this awesome card.
Design a Custom Easter Egg. This is a very simple tutorial for creating an Easter Egg. It's pretty easy and uncomplicated.
Design an Easter Egg Hunt Flyer in Photoshop and Illustrator. It's a very useful and cool tutorial. [Egg Hunt is a traditional game where children can find decorated eggs or Easter eggs. Hidden eggs can be either just regular eggs or chocolate eggs wrapped in colorful packaging, etc.]
Best Easter backgrounds list
On MasterBundles website you can find eye-catching and interesting Easter backgrounds. And notice that every bundle is different and you have many choices!
Best Free Easter Patterns: Egg and Bunny.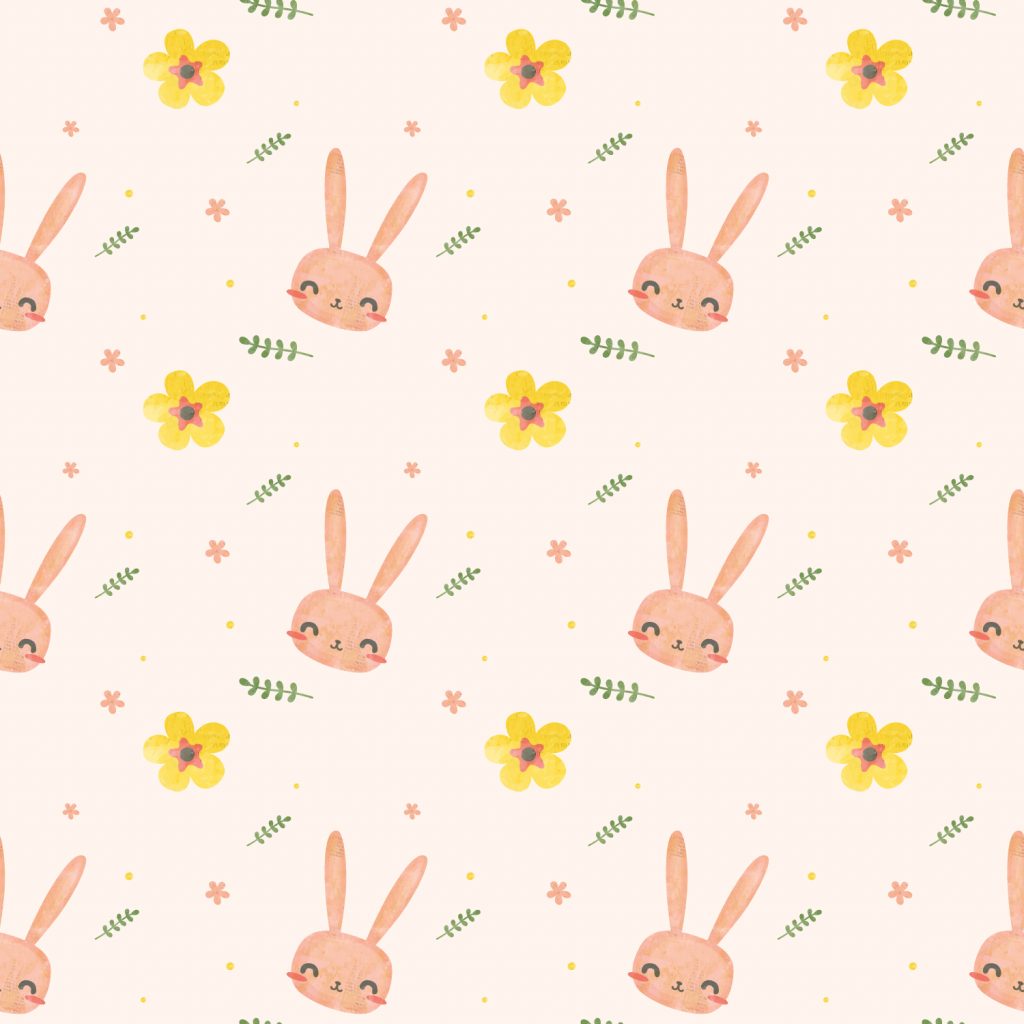 Easter Stock Photos & Images.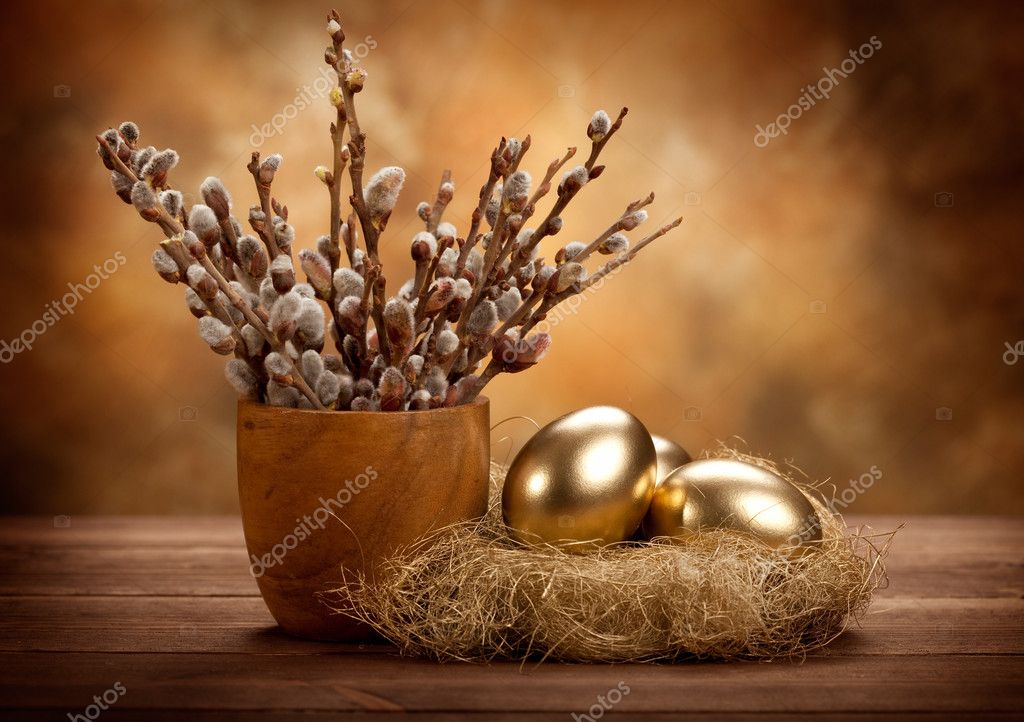 10 Best Easter Patterns 2020.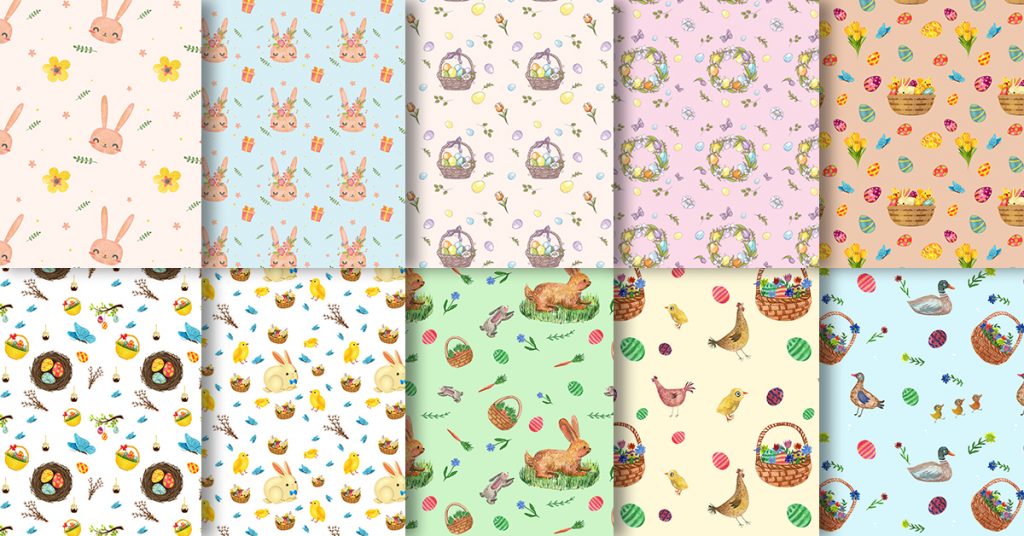 Easter Design Bundle.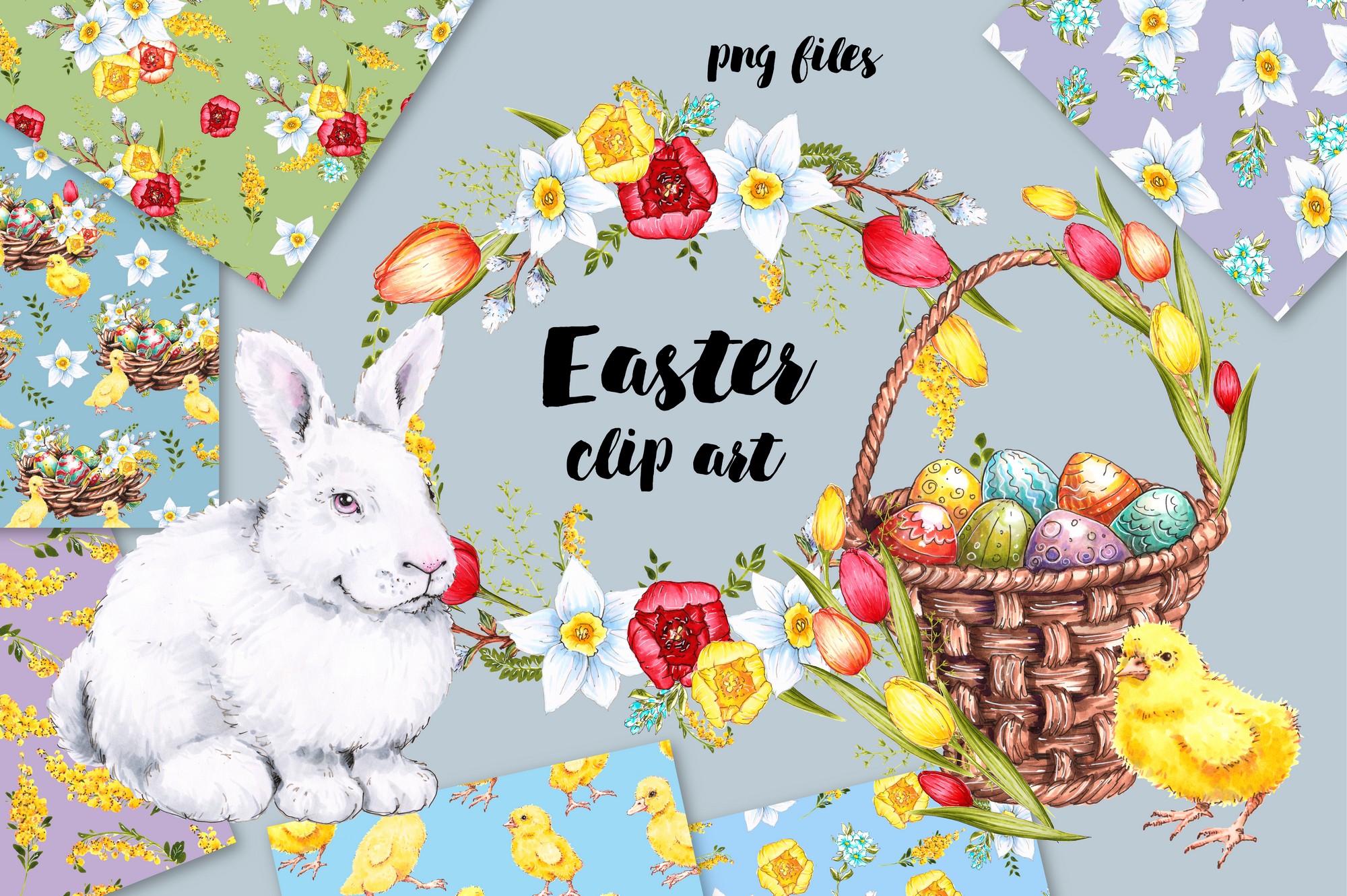 Happy Easter Images Clip Art
You can also find a lot of funny free backgrounds on the Freepik website:
Easter Day Patterns:

Happy Easter: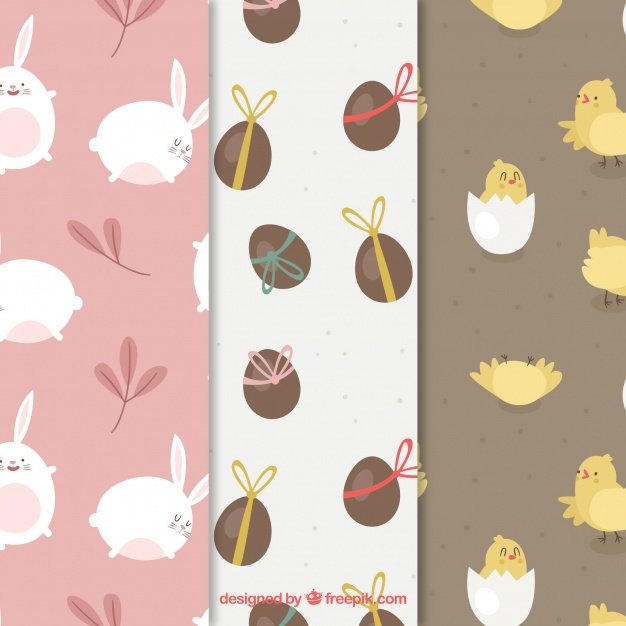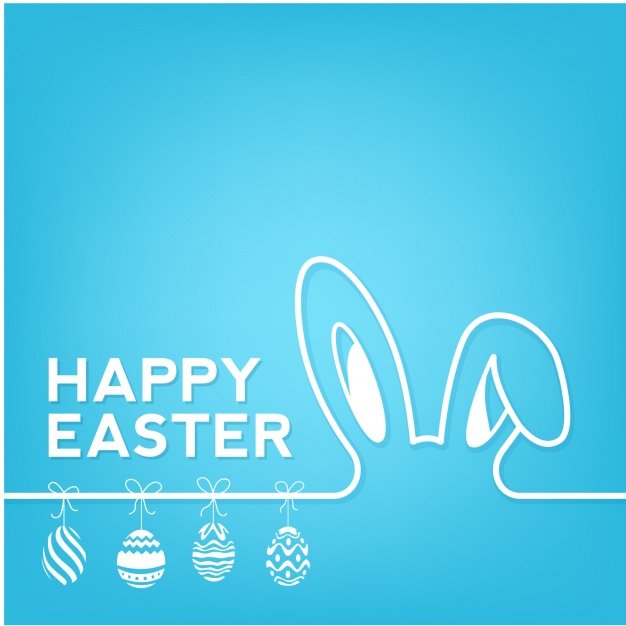 Concluding thoughts
Easter is a joyful spring holiday, which is spiritual by its nature and accompanied by many traditions. Believers all around the world are waiting for the celebration to spend a great time with friends and family. During the entire spring and especially the days of the Easter festival, thematic Easter background illustrations and design elements can be met on the web, cards, packages, and other visuals, which enhances the special feeling of the upcoming event. Thus, these elements are highly welcomed to be used in your design.
Easter Background FAQ
What's an Easter background?
The background is a static image, against which other objects are displayed. Unlike conventional images, the background is not set in width and height and is always displayed in its natural size. In turn, the Easter background is an image on which various Easter-related elements are placed. These can be rabbits, Easter eggs, different ribbons, flower patterns, candy, etc.
Which is better to choose premium or free?
It all depends on your budget. But often it's the free elements that everyone uses. So if you still want to be unique, then buy a bundle from the MasterBundles site. Prices for such products are inexpensive here, and in addition, discounts are always available.
How do you use Easter floral backgrounds?
1. Know the measure.
You should not too abundantly saturate your project with such patterns. It's better if the floral motifs are present in small quantities.
A little more actively apply the pattern, in bright and juicy colors, and combine them with elements in a neutral range.
2. Combine correctly.
Flower patterns are good paired with graphic prints that emphasize the beautiful shape of the flowers. You can combine flowers with different Easter elements. And it will look very bright, fashionable and original.
3. Experiment.
Take a chance and choose a completely unusual flower pattern for you with a combination of Easter elements. In any case, to stand out you need to take a risk and surprise the audience.
Please take a moment to pin this post to Pinterest.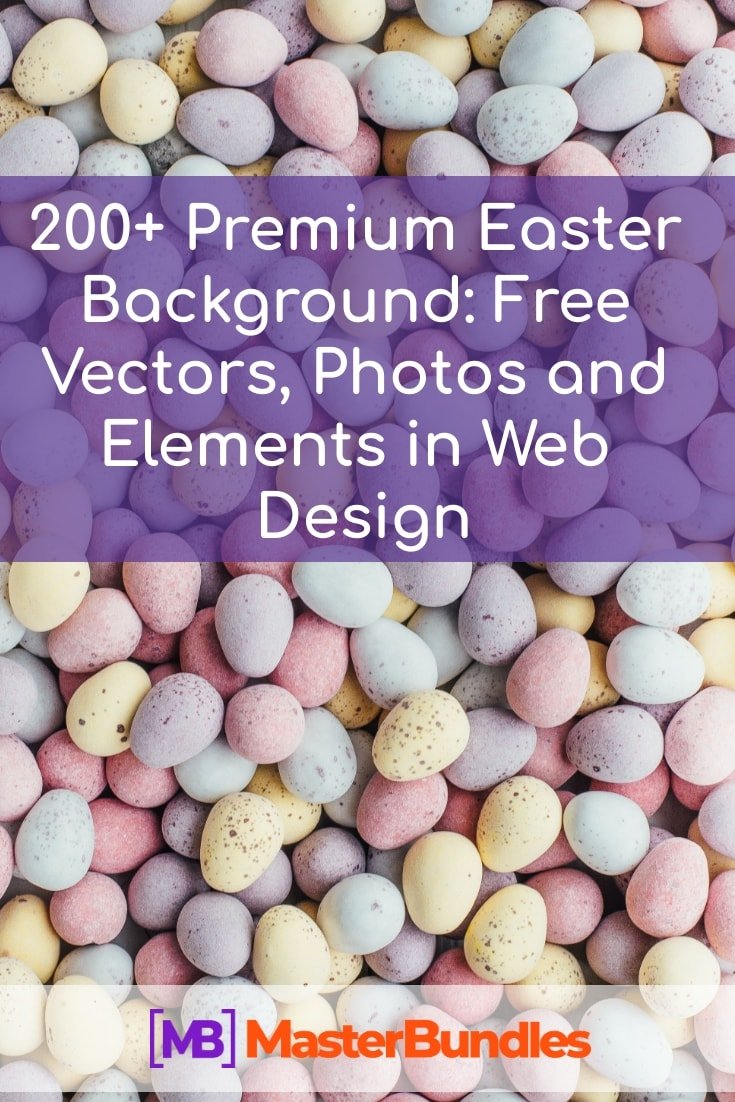 Easter is a very happy and family holiday. Therefore, the choice of patterns, textures and backgrounds need to be considered more carefully. But do not forget about the bright elements that may be of interest. The choice of such elements is a real creativity, because you put all your soul into it. Inspiration for this post, and this great selection of backgrounds and the like were different articles about the traditions and history of this holiday.
The article about Easter. (https://en.wikipedia.org/wiki/Easter)
What Is Easter: Understanding the History and Symbols. (https://www.crosswalk.com/faith/spiritual-life/undertanding-the-history-and-symbols-of-easter-1256039.html)
The Meaning of Easter. (https://www.allaboutjesuschrist.org/the-meaning-of-easter-faq.htm)
Why is Easter? Significance, history, meaning of Easter eggs. (https://www.hindustantimes.com/art-and-culture/happy-easter-2019-significance-history-celebrations-easter-eggs-in-films/story-3hTY90TOcebSBgMlrkwcsL.html)
Bread and Wine: Readings for Lent and Easter. Orbis Books; 2005.
Liz Curtis Higgs. The Women of Easter. WaterBrook; 2017.