Intro
Spring always comes with sunlight, flowers, and our favorite holidays. Which one of the seasonal holidays do you like the most? Today I want to talk more about Easter, the most delightful and cherished day. By the way, the Easter holiday is one of the most widely celebrated all over the world. And the real meaning of Easter is to celebrate the resurrection of Jesus.
Now, when the Easter is around the corner, let's be prepared. People will have 4 days weekend, so good to spend these days happy and with no rush. Take care of all the details in advance. I'd love to share a bunch of freebies with you. There's everything you might need – cards to congratulate your friends, relatives or colleagues, backgrounds for your own holiday mood, patterns, icons and many more.
Be ready to find a huge amount of cute bunnies, painted eggs, flowers and cool ideas for the holiday you can't stand for.
Moreover, you will find information and inspiration on how to paint eggs, create greeting cards, backgrounds, and other Easter decorations.
The Best Easter Graphic Bundles in 2021
| Product Image & Rating (Out Of 10) | Product Name | Price |
| --- | --- | --- |
| | 10 Best Easter Patterns 2021: .SVG, .JPG Formats | |
| | Easter Stock Photos & Images. Photo Deal: 100 Royalty-free Photos & Vectors | |
| | Easter Vector Clip Art | |
| | Happy Easter Images Clip Art | |
| | Easter & Spring Bundle | |
The best thing about the bundle is that all of its designs are drawn from a blank canvas. Basically, the set consists of various compositions, patterns, and graphics. Each item comes as a separate PNG file on a transparent background. Plus, you also get other popular formats, like JPG or SVG. So what is inside the collection?
8 Floral Compositions.
24 Egg Templates.
30+ Frolar Elements.
10 Versatile Patterns.
All the named elements have rich customization settings. They would be perfect for gift cards, labels, stickers, tags, etc. No need to say, the collection ideally suits handmade needs. The price is $14 on sale.
Easter Design Bundle

Here is another hand-drown holiday collection. It is bright enough to catch the eye of today's prospect. To do it, you can choose from high-quality pre-styled elements, including:
14 Floral Compositions,
14 Basket Options,
14 Board Options,
29 Floral Items,
9 Nets Options,
6 Patterns,
3 Wreaths.
Looking for something to enrich your business card or invitations? Don't miss the bundle details in this case. By the way, this set suits eCommerce needs as well. It would be a nice addition to your banners, labels, or presentations.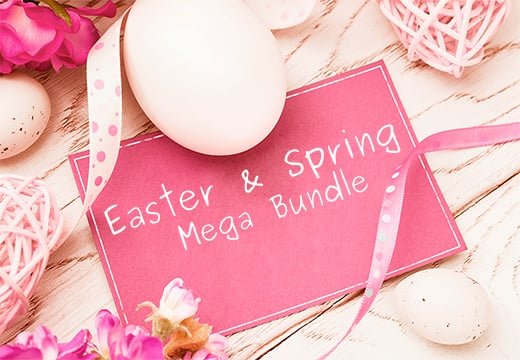 Would you like to add some spring magic to your promos? This collection comes is a soft, elegant design. You have 65 stunning mockups to select from. All the items are ready-to-use. They would be awesome time-savers for those who wanna further their work. So, the elements inside the bundle are JPG and PNG files. You can edit them via Adobe Photoshop or any other tool that works with layers. These mockups suit any kind of promo. You can use them to style anything, from CV to web design. Needless to say, the components are wholly printable. It means you can use them for flyers, cards, etc.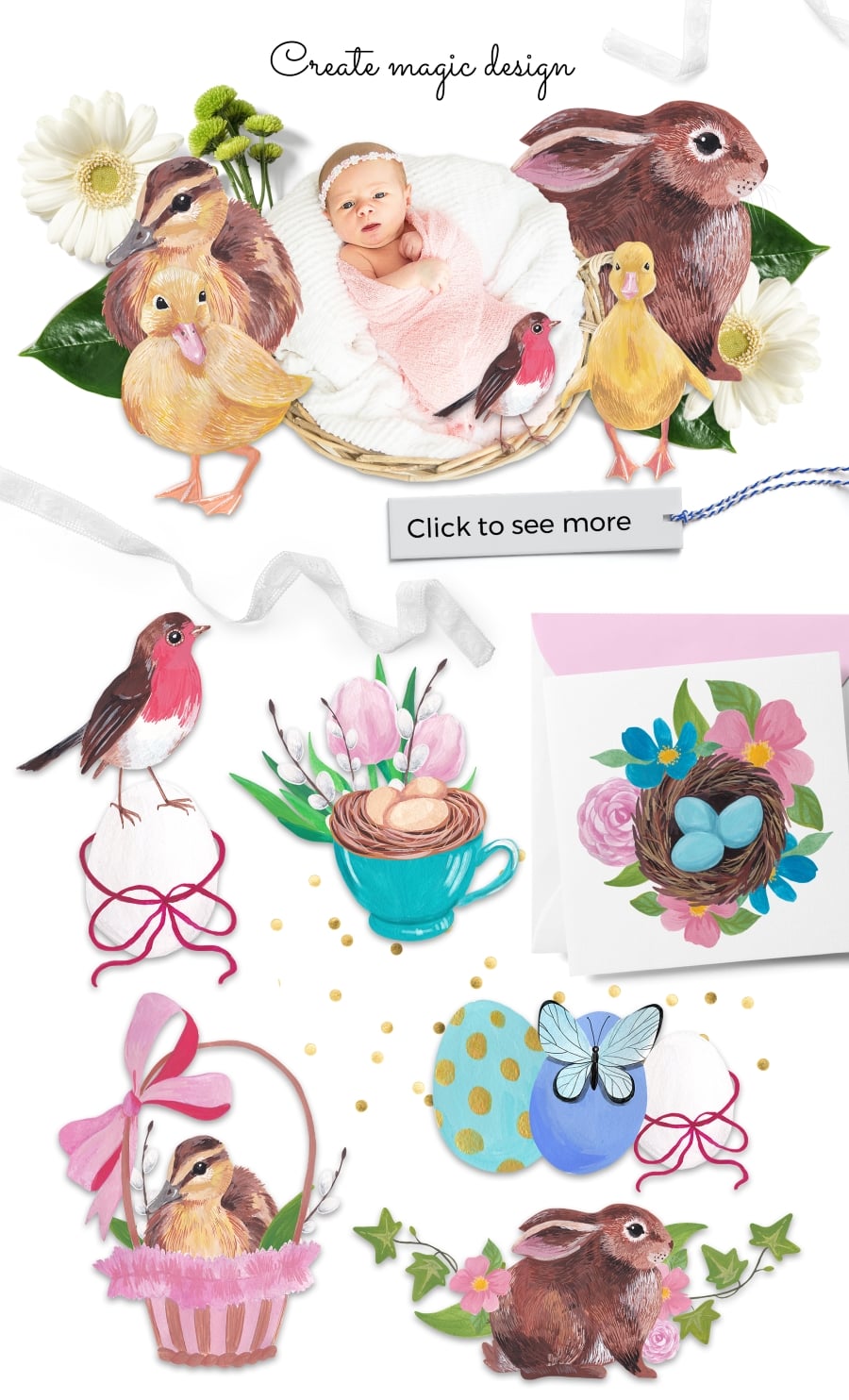 Cute things are what everyone likes to see. They awoke pleasant emotion, and that is what you need for the right promo. Long story short, Little Cuties is a hand-painted gouache pics bundle. It contains lots of eye-pleasing visual elements, like birds, babies, or bunnies. Who may need the set? Actually, Little Cuties is a must-see for anyone who needs a nice design this spring. The items inside the bundle are pretty flexible. Thay would satisfy the needs both of beginners and pro designers. Here is what you get in the Little Cuties pack:
28 Paintings,
4 Patterns,
6 Compositions,
Well-layered elements.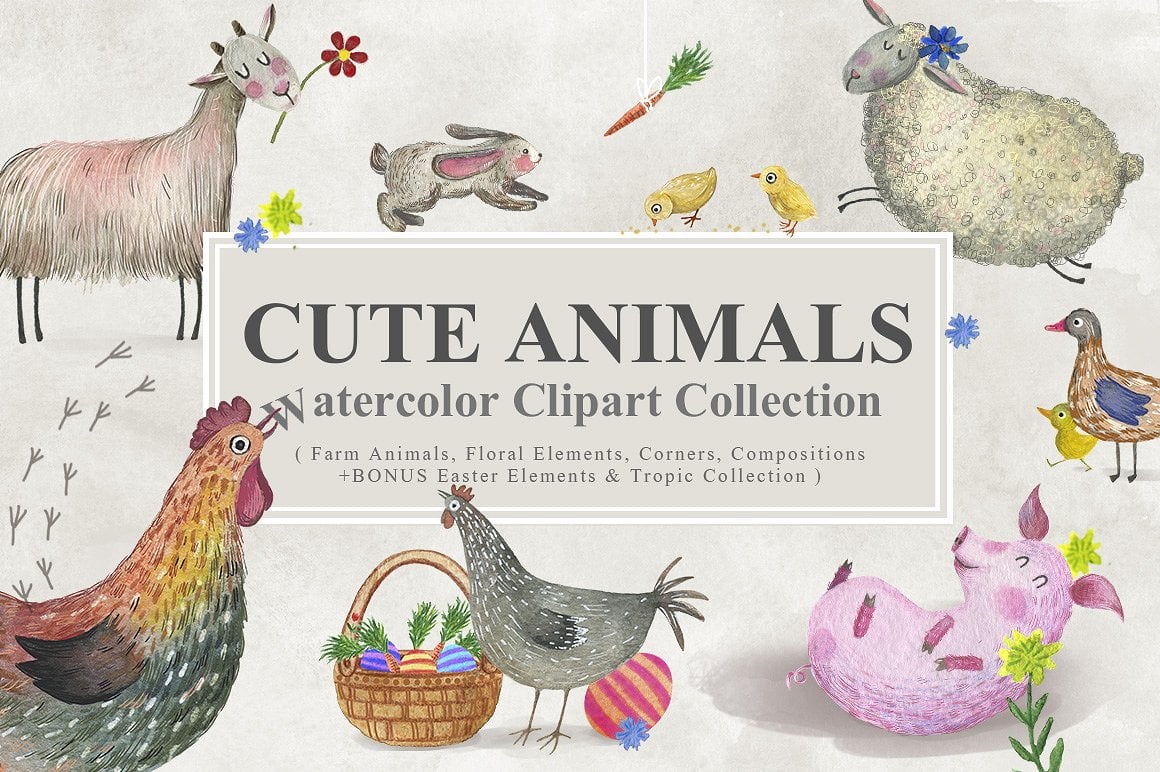 As you can see, old-fashioned watercolors make a comeback in 2021. They are extremely popular among different business niches. So what does the set contain? There are 65 clipart elements on average. They come in high resolution and can be used for different print projects. Also, all the elements have a transparent background. Here is what a collection includes:
19 Farm Animals Items,
12 Decorative Floral Elements,
4 Flower Corners,
4 Flower Compositions,
15 Easter Elements.
To say more, by choosing the Easter Animals Watercolor Set, you get a cool bonus. There will be 15 FREE ocean creatures and floral elements for you.
Still searching for illustrations to craft a trendy spring promo? Creating campaigns becomes easy with Happy Easter. In a word, the bundle is meant to further the design process. It can be used by creators of all skill levels or ages. The set contains different patterns, including rabbits, eggs, birds, and floral components. Here are some of the unique designs you get by purchasing this Happy Easter Illustration Bundle.
22 Easter Illustrations.
50 Flower Elements.
100 Birds Illustrations.
10 Floral Branches.
Obviously, holidays are the best time to promote. However, an Easter sale can't last all spring. Would you like to be voguish all the time? In this case, don't miss this gorgeous watercolor collection. Before everything else, it brings you lots of handmade bonus elements. They come for holidays, restaurants, flowers, and many other needs. It is possible to add the stylish WC effect to any image. You can do it with a single PS action. Here is what the pack contains:
40+ Vectors
25 Handmade Textures,
35 PS Styles
40 High-Res PS Brushes.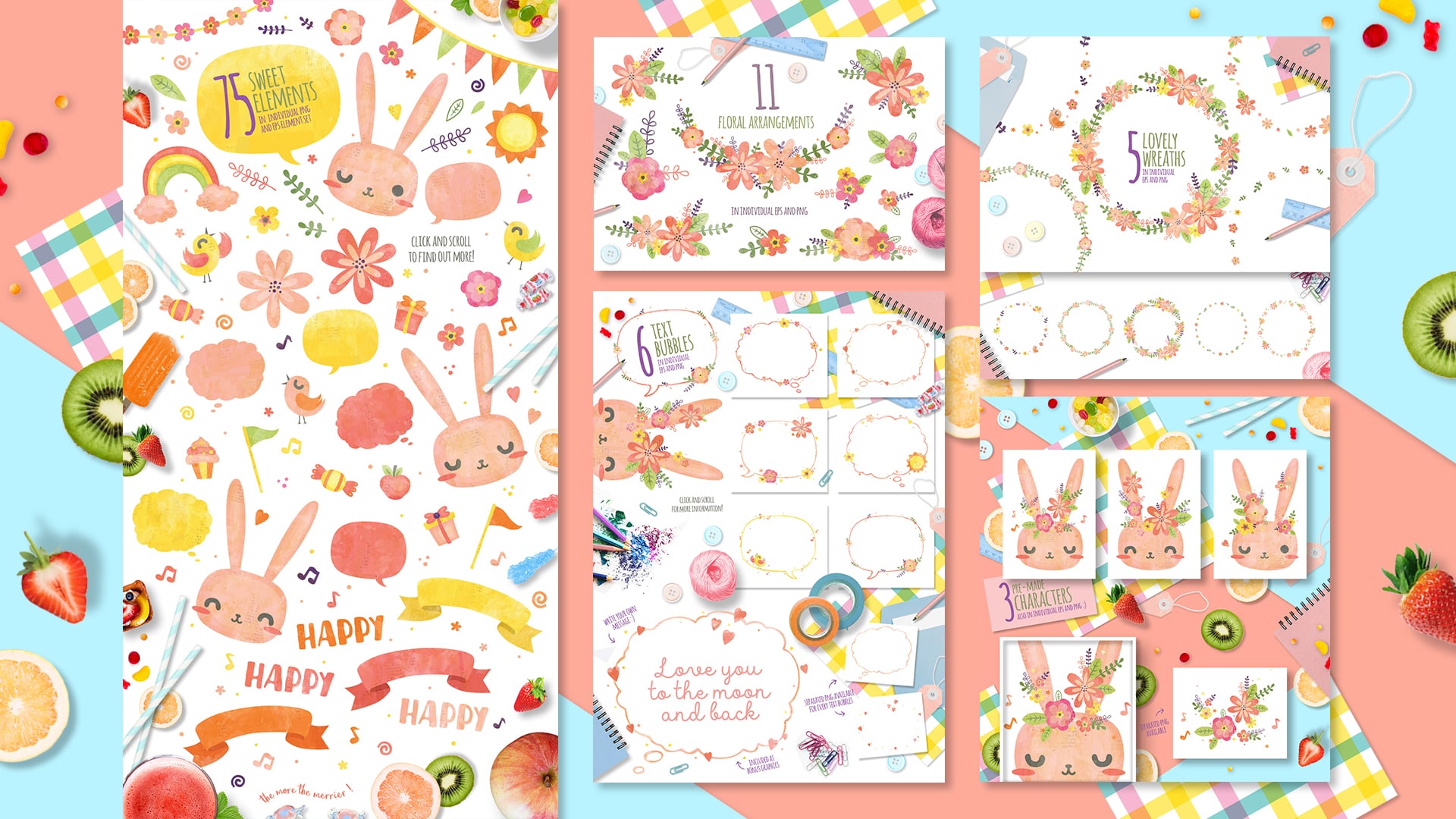 As the name of the product promises, the bundle contains 100+ elements. These are the following:
75 Individual Elements,
Component Sets,
11 Floral Arrangements,
6 Text Bubbles,
5 Wreaths,
3 Bunny Characters.
All of these are pre-made and 100% versatile to any size. You can change the element settings according to personal needs rapidly.
Free Easter Banners
Do you think banners are not that important? It's a kind of a detail that cannot be underestimated and I couldn't miss it in my Easter collection.
Why you should use it? Just take a look at these banners, so you will definitely choose to hang up the most suitable for your Easter related events.
This is what people will notice and it will help you to stand out of the crowd.
Easter day banners
This is a thing, you will definitely be grateful to find. Amazing banners to help you with your holiday designs.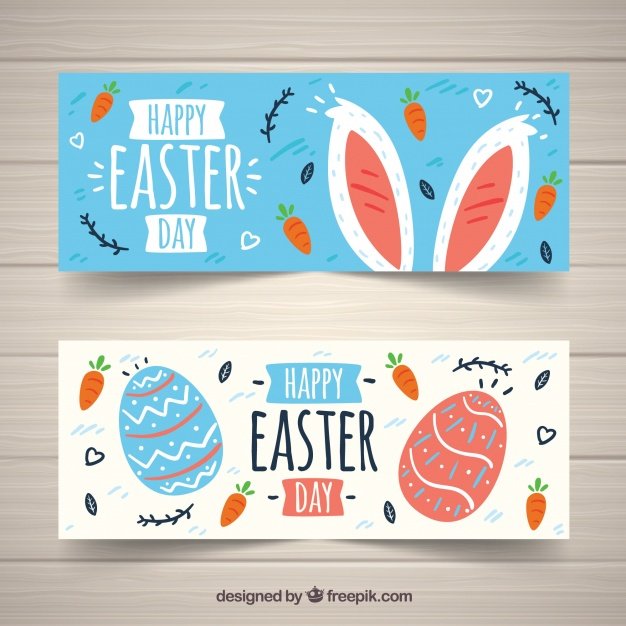 Banners sketches easter eggs
A well-designed banners can make a great effect and change all the impression. Just imagine these banners as a part of the invitation to your Easter themed event.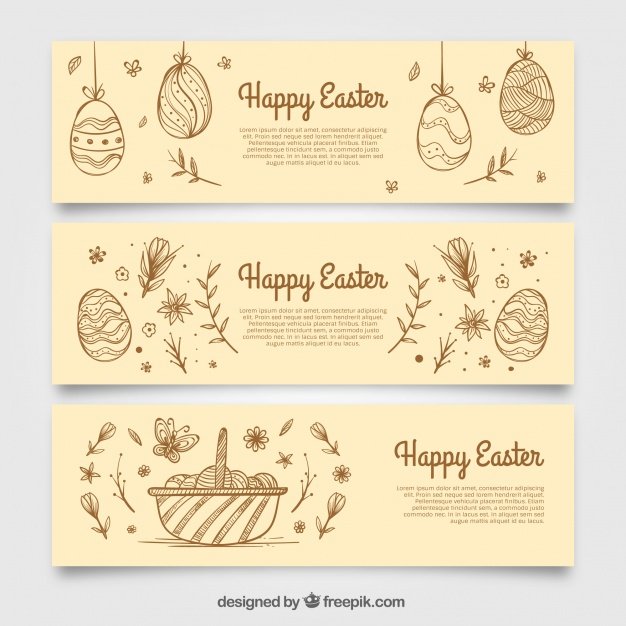 Cute easter bunny happy banners
For those who organize Easter events for kids this link is highly recommended. Cute and friendly bunny on the banner will attract anyone's attention.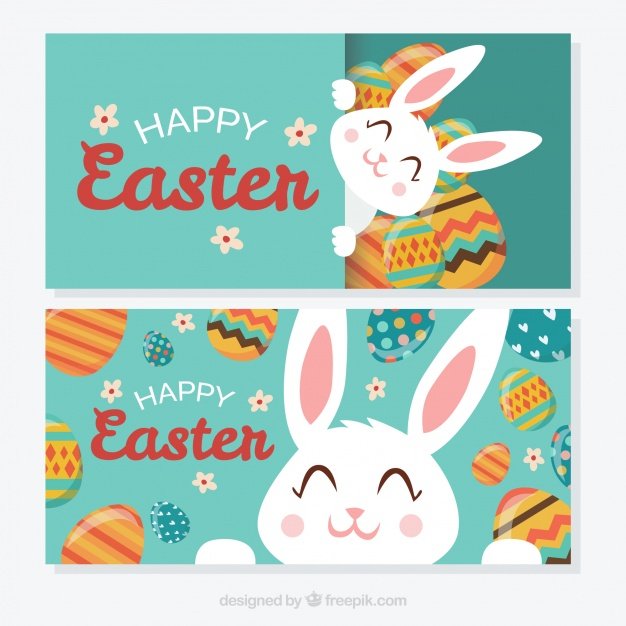 Creative easter banners
The variety of places you could use these banners impress! Just imagine how it will change all the outlook.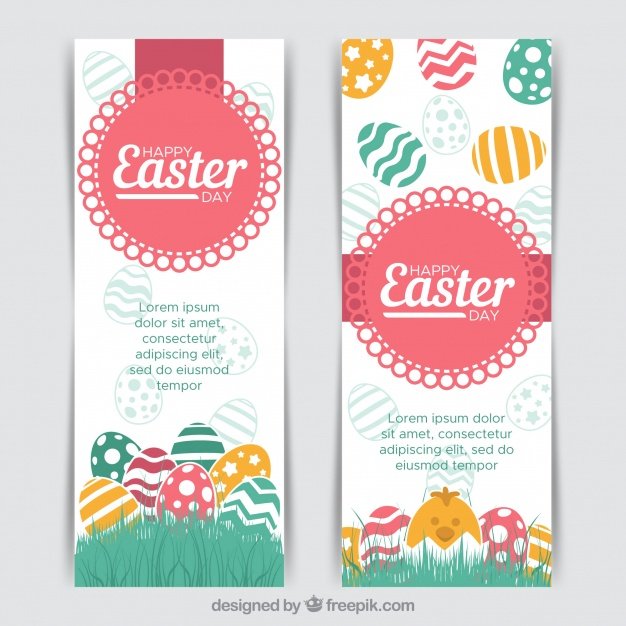 Cartoon rabbit easter banner
Make your celebration more stylish if you use themed banners, so it would keep the spirit of the celebration. Cartoon Easter rabbit will go for you, especially when kids are up to celebrate with you.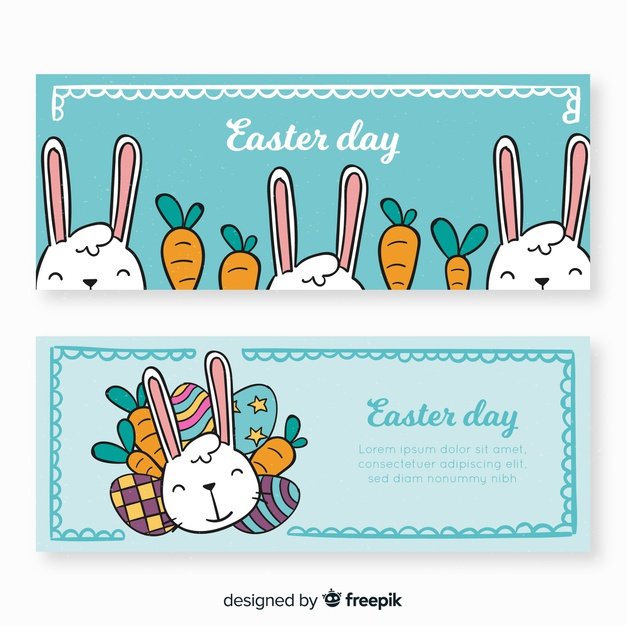 Easter banner
Print it or use online. A banner is available in eps format, that allows you to edit each detail of it.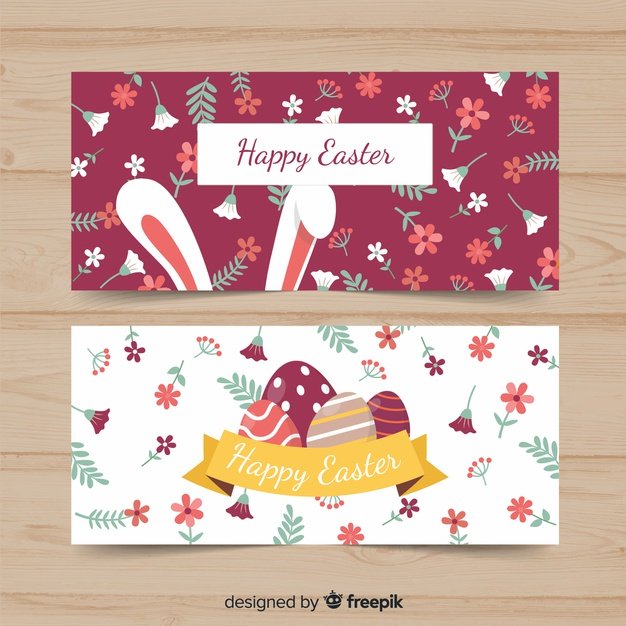 Easter day banners
Want to stand out of crowd with your Easter celebration? Use a special holiday banner. No chances to stay unnoticed with any of these cute banners.


Cute easter banners with rabbit
Add necessary information if needed and the perfect banner is ready. Besides, it's free of charge Isn't it a great plus?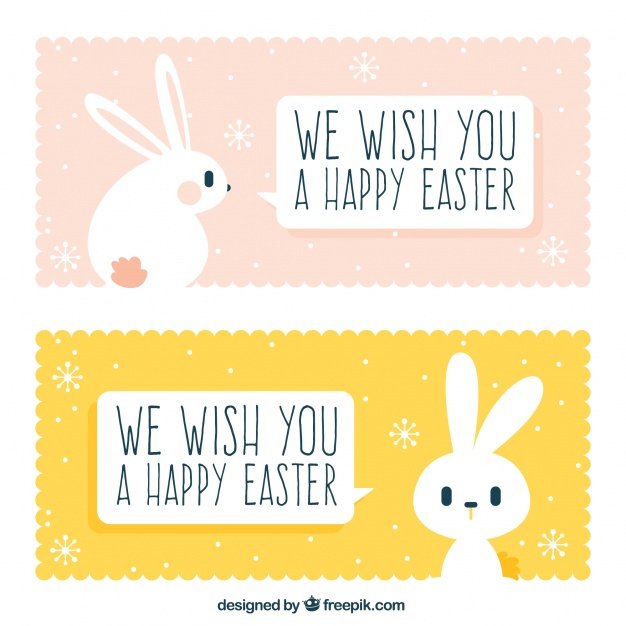 Easter postcards
You are a lucky one to find this article, as I picked the most exquisite Easter cards for you to make use. You can always add some text to the card you choose, and change any detail, as cards are fully editable.
In a matter of a few clicks, your perfect greeting card is edited and ready to be used on purpose.
What a cool and useful idea to get this card for your dear friends who live too far from you, but you still want to show your affection and love for Easter. Bunnies and Easter eggs, flowers, and a "Happy Easter" sign. Grab this fancy picture.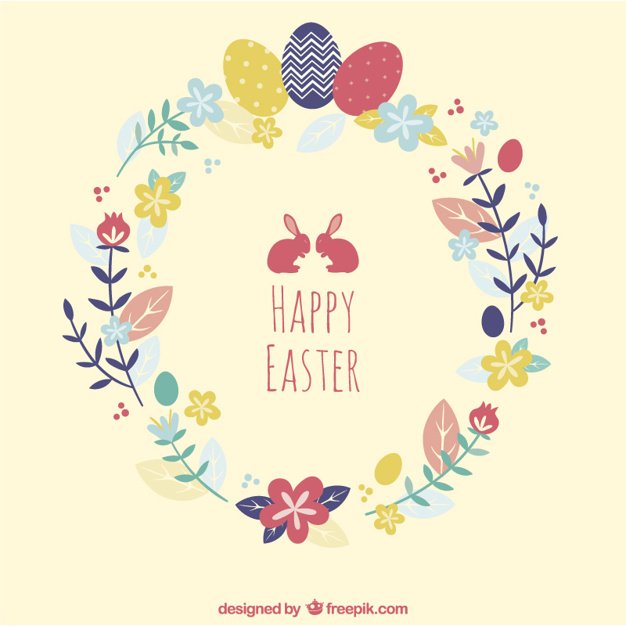 Bright colors after a long winter are what we all missed for. Send your friend a colorful card for Easter. You can download it for free. Click the link.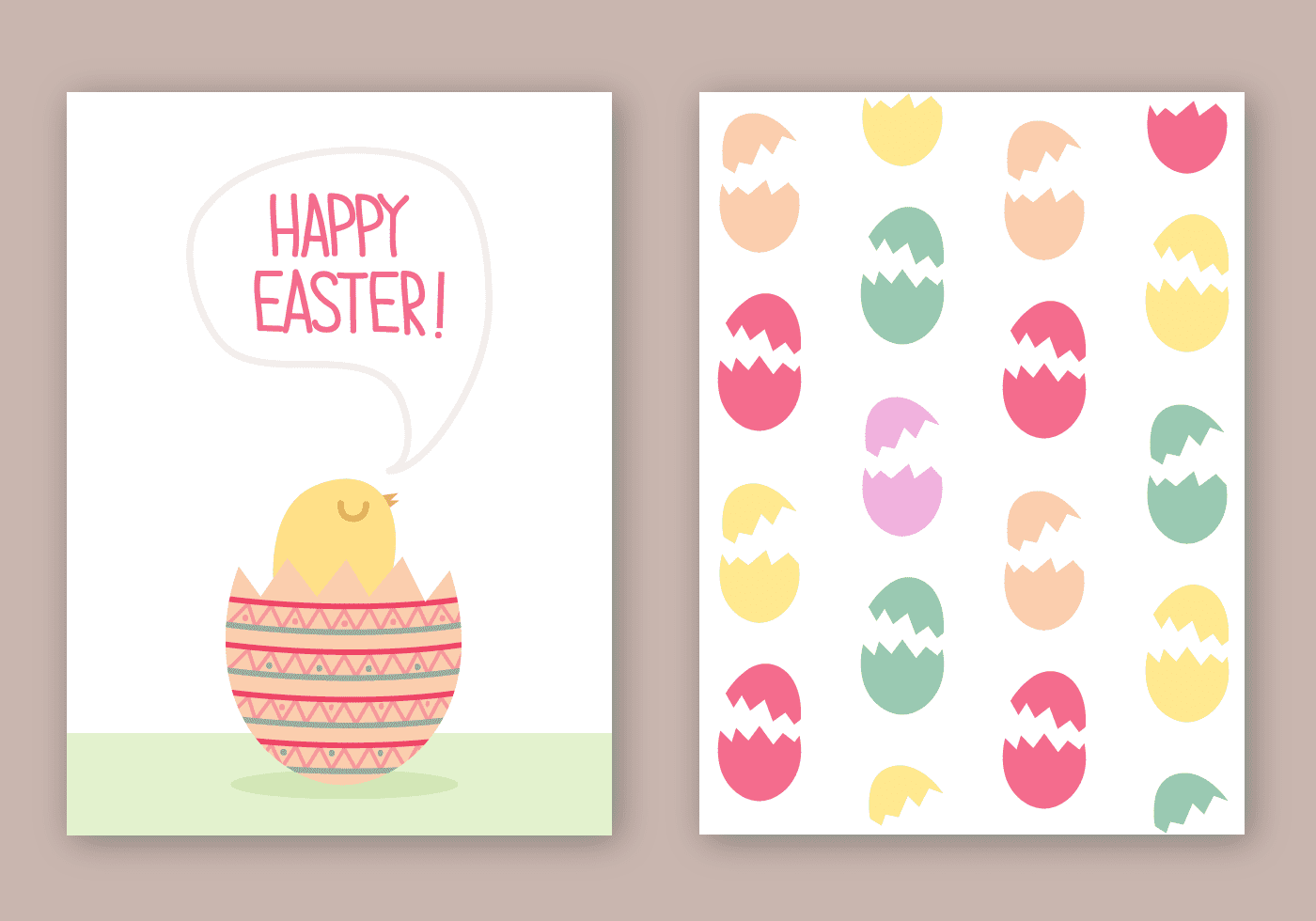 The cutest set of 4 cards for Easter cards is here! Happy bunnies and a Happy Easter sign. The cards are ready to use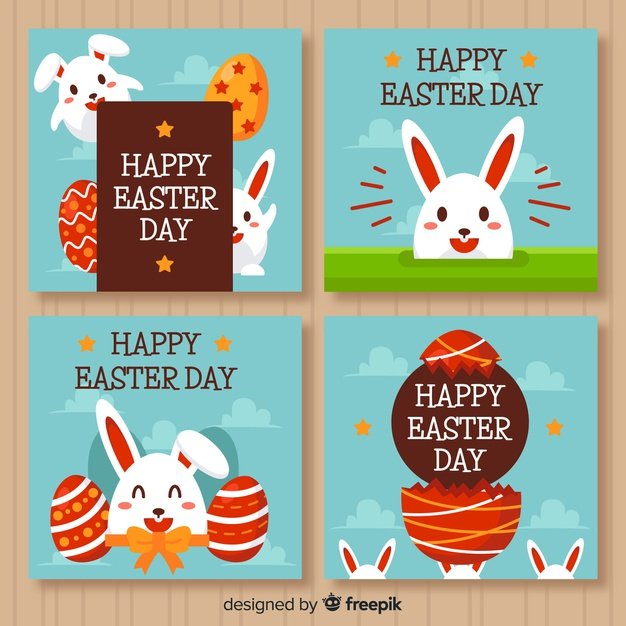 Abstract swirly flowers and birds are ready to send your best Easter wishes. Beautiful card that you will definitely download.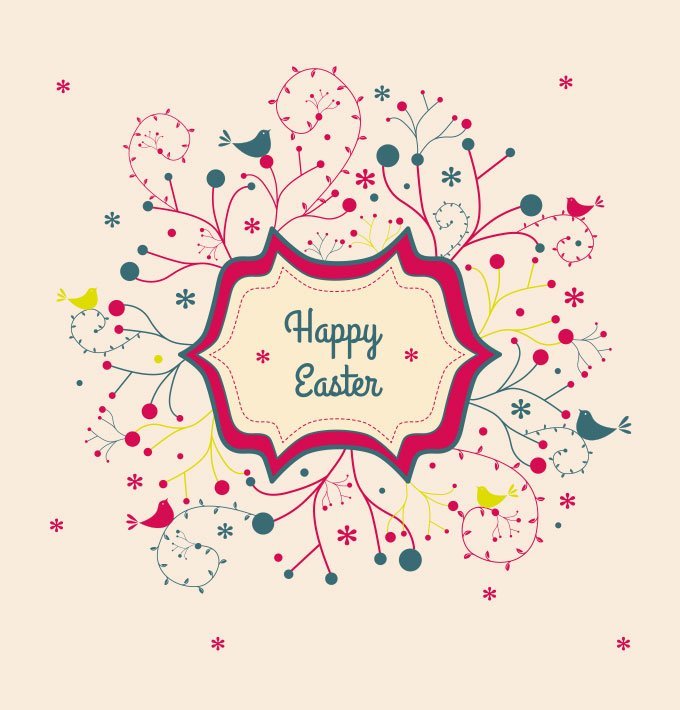 What I love the most, is a magnificent atmosphere and uncountable amount of bunnies around. The spirit of Easter is so close…Are you excited?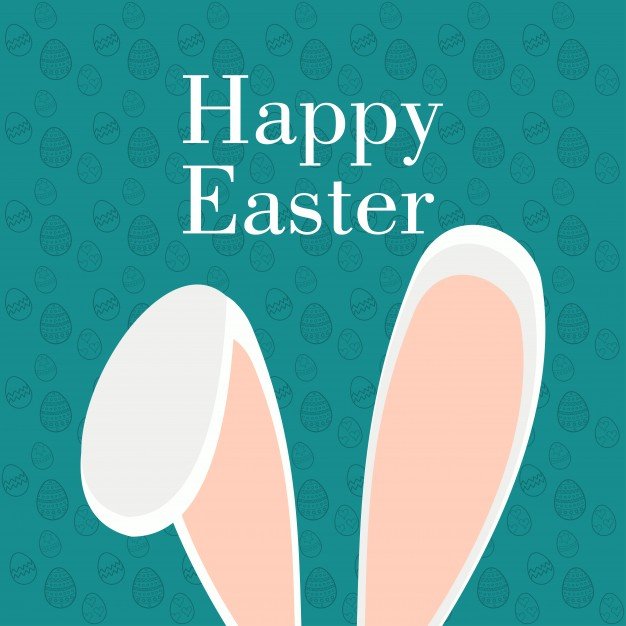 You can change any card from the set, change details or colors. Though they all are pretty nice. See which one you like the most.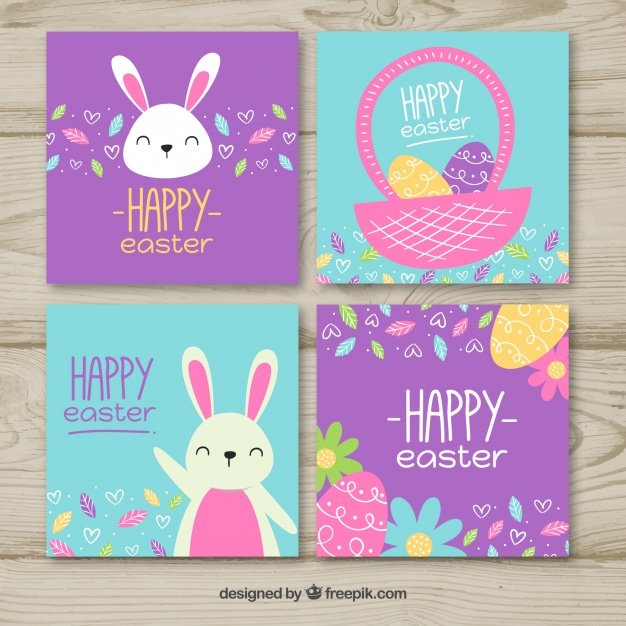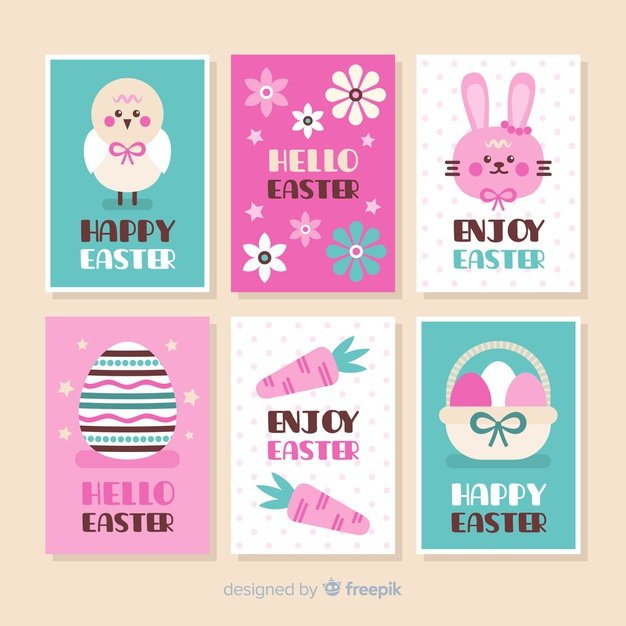 Adorable cards in pink and blue. The colors and design are awesome. Don't miss a chance to download those and send to your friends.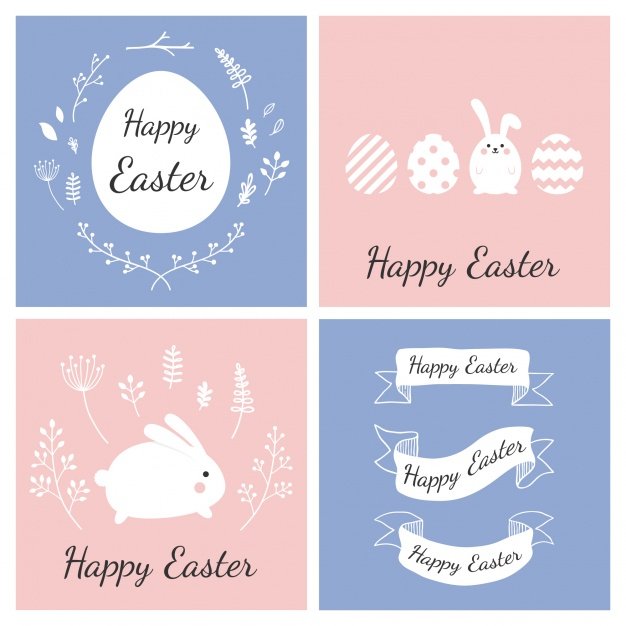 Add your creativity to the card. A greeting sign, for example. It's always a good idea to compliment a card with warm wishes.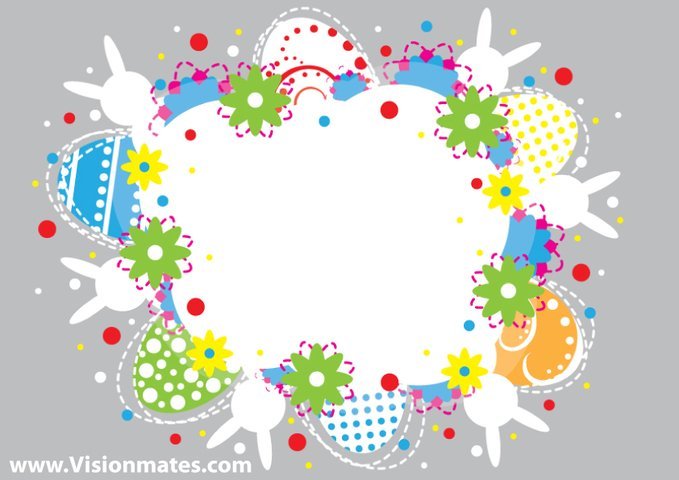 Let the card do the talking. Laconic design without lots of unnecessary details. The combination of gold and pink is awesome. And few hearts, to show your love.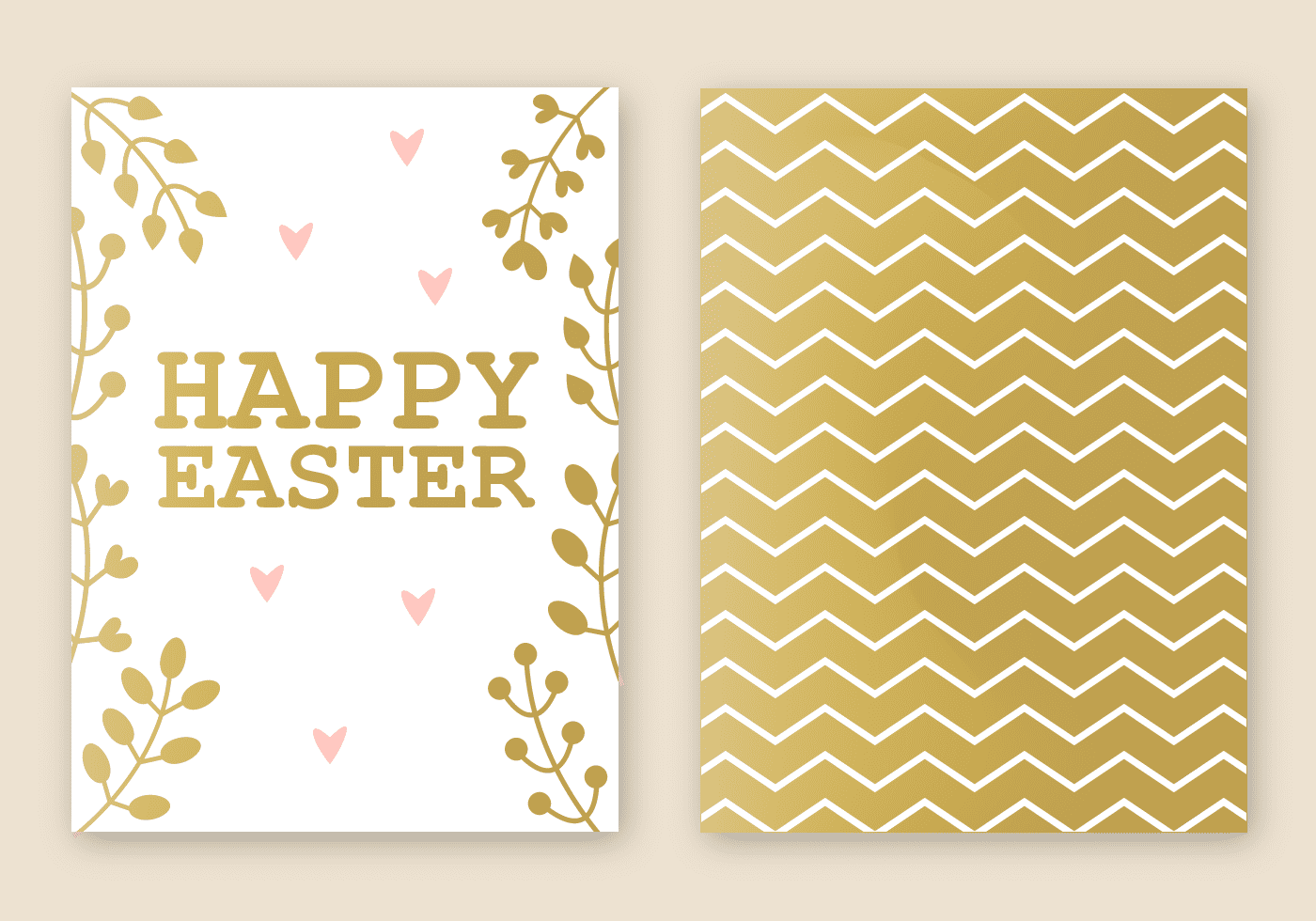 Polka dot never going to be out of fashion. The image in .eps format allows you to make your own changes with it. In case you like the picture the way it is, feel free to download and to use whenever you wish.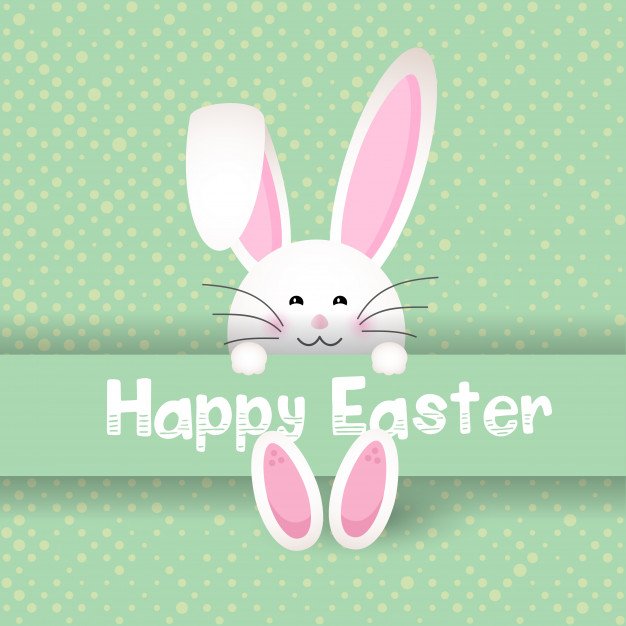 I wish I could draw myself. If you are not that talented artist as well, you can choose some card following the link. Is a set of six enough?)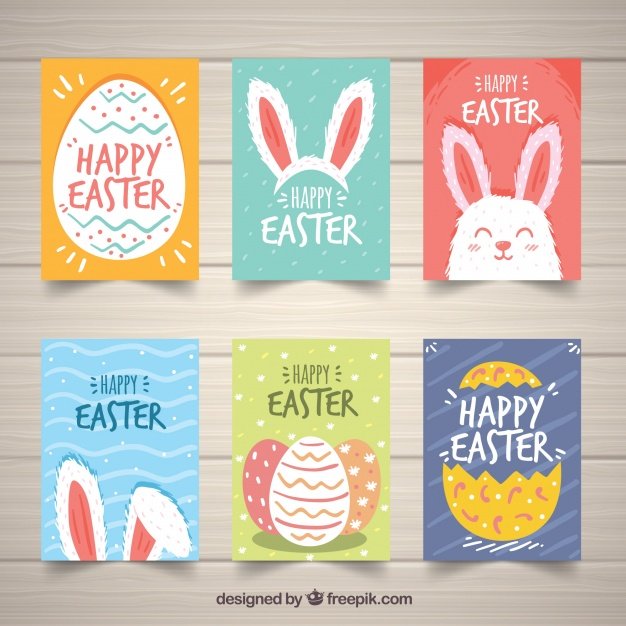 If you like Easter, but prefer discreet style, and don't like multicolored cards, you will definitely like the black and gold Easter cards! This vector images can be changed the way you like it, to make it more your style.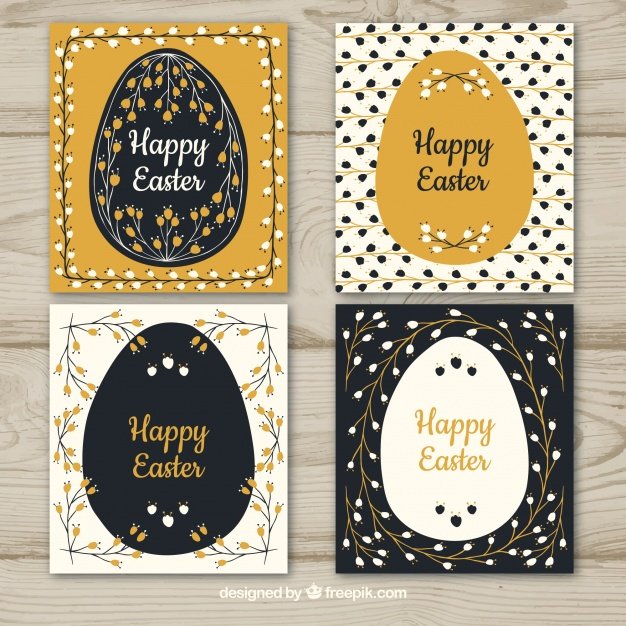 Cheerful bunnies are there ready to send your kind words to your dearest people. A set of six cute cards goes in eps format.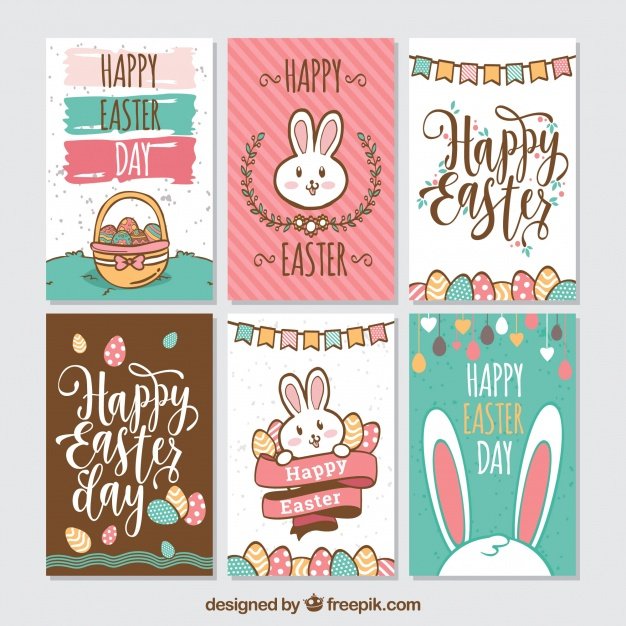 Easter day cards collection with cute birds
A chicken or an egg? Well, whatever your answer is, these cards have both)) Download this collection of six super cute Easter cards.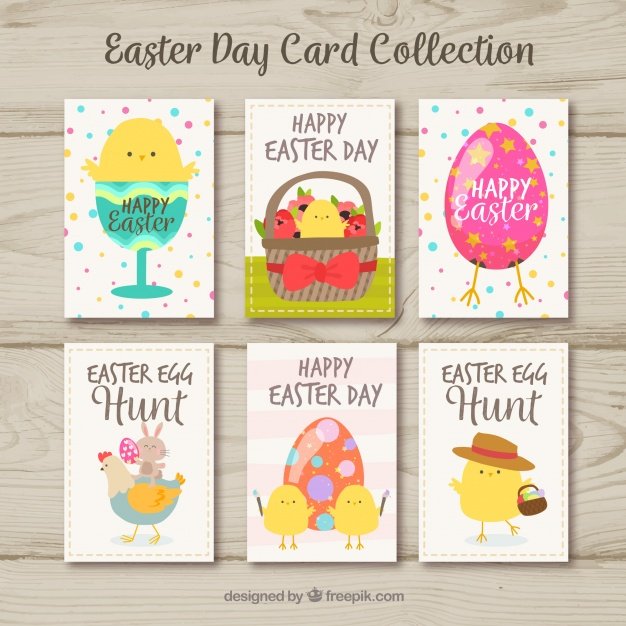 I'm obsessed with cute bunny ears. Oh look, this collection includes 6 amazing Easter cards, with bunnies and Easter eggs. What color would you choose? Or maybe you would change something? Check it!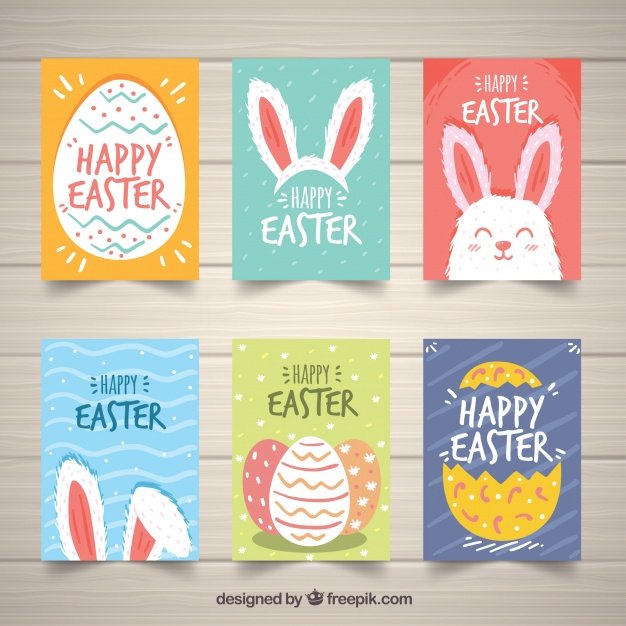 Could you look at these cards without a smile on your face? I couldn't) Look how cute are those bunnies, and what a stylish cards pack I got here.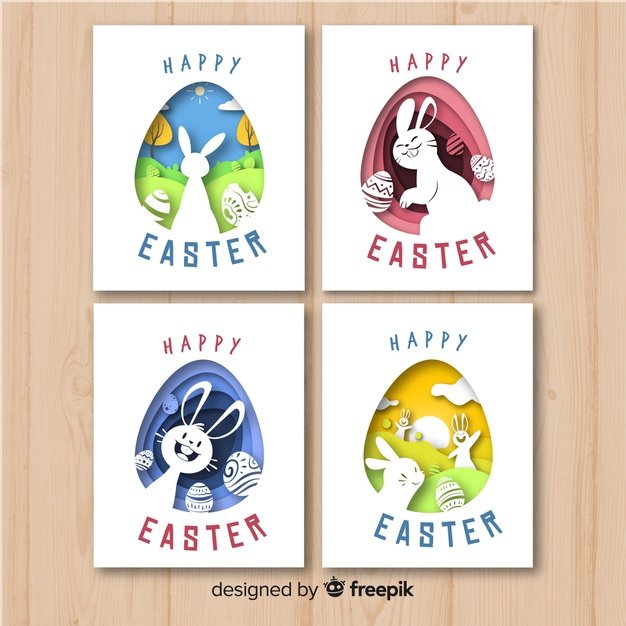 Easter card sets with cute colored design style If you need more cards, there's a set of 8 colorful cards in eps and ai formats. Click the link to check it, and download for free.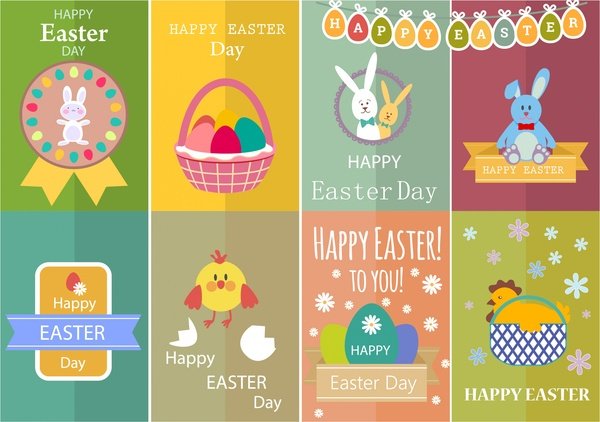 Laughing easter rabbit
There's nothing to add to this sweet Easter card. Happy Easter bunny is absolutely the cutest.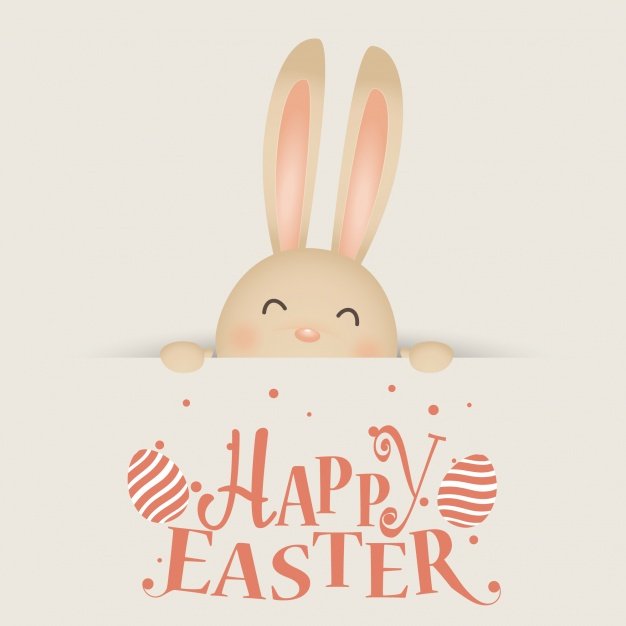 Easter Backgrounds
Are you hunting the coolest backgrounds? Well, my dear friend, I know where all the superior pictures are.
Just click the links below to see all sorts of amazing free Easter backgrounds.
60+ Easter Photos Bundle. Stock Photos Bundle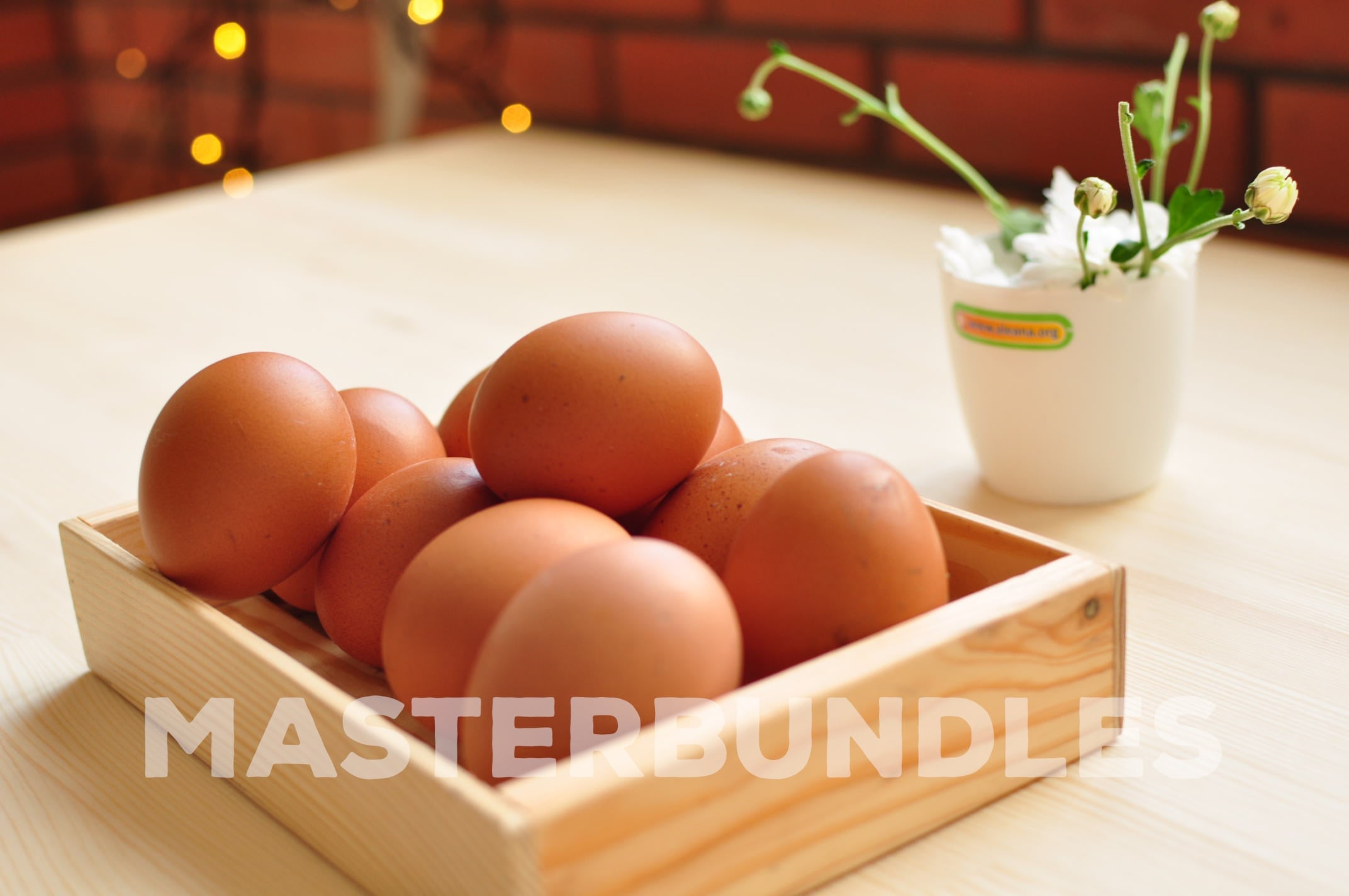 Bright easter eggs
Go to the following link to grab some cool background, to feel Easter vibes. Maybe you'd like to share it with friends?

Watercolor easter background
The background looks like a picture from a cartoon. Two little bunnies holding a star. Perfect for kids.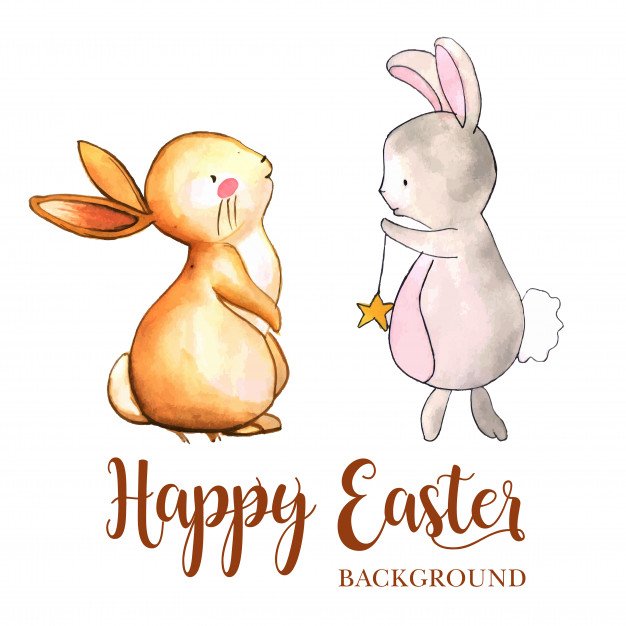 Happy easter background
Time to update your background? What about a pinch of Easter mood created with a cool background?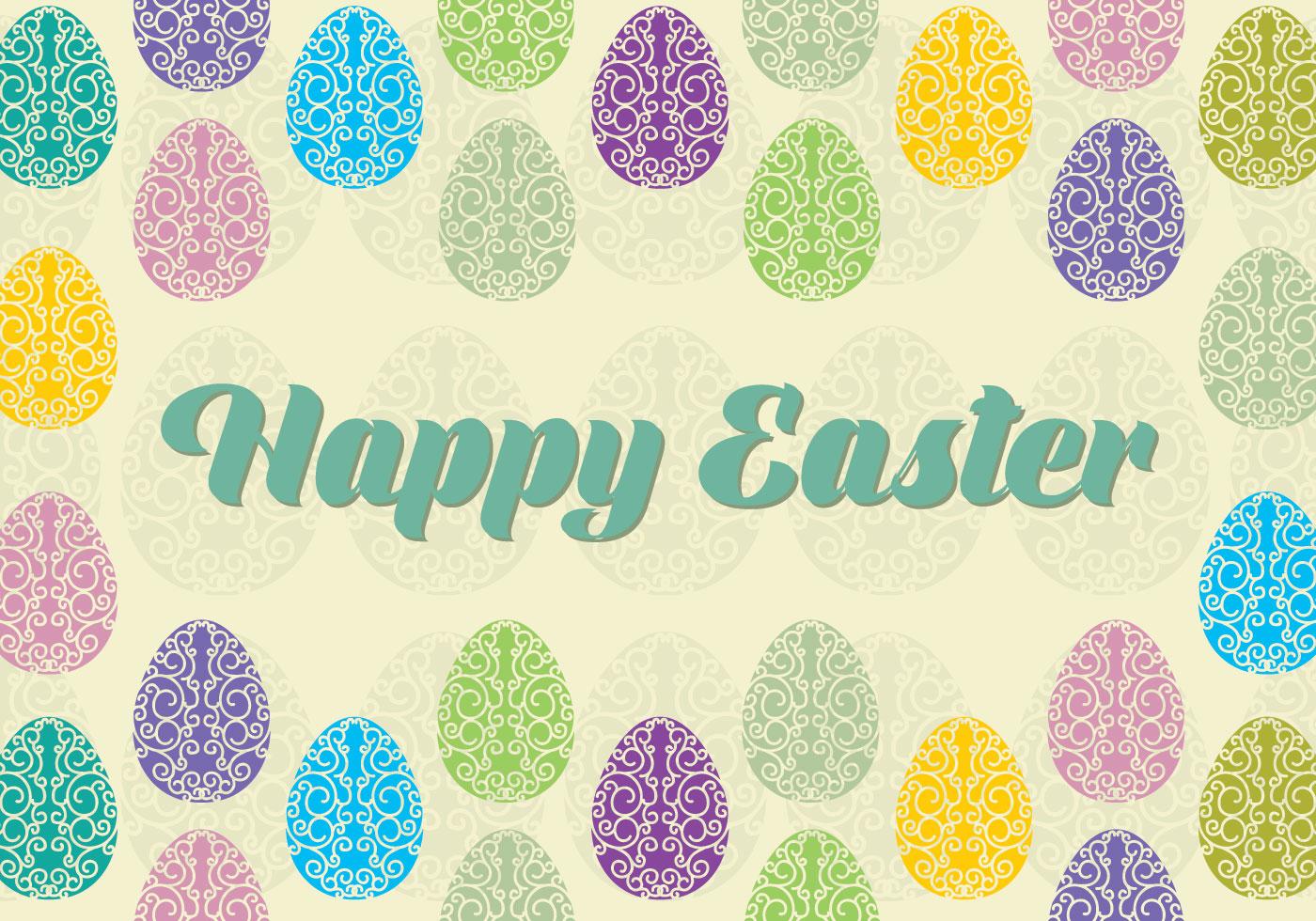 Easter writing on white wall
Image is available in jpg format. It could become your Easter decoration, wallpaper or header image. Beauty is simple, isn't it?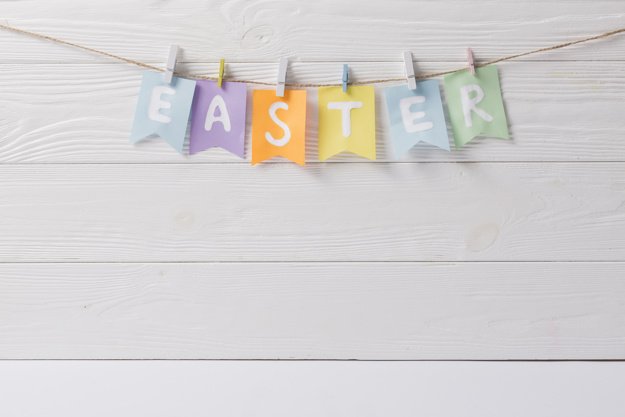 Colorful easter eggs in a small basket
A splash of colors makes me anxious to celebrate Easter. The image is available in jpg format and ready for download.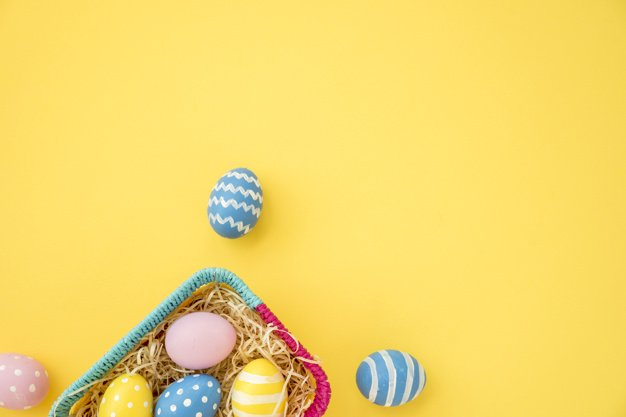 Bowl with eggs straw flowers
No doubts Easter is one of the most expected spring holidays. It's all about life, flowers, tasty food, and love. Take this beautiful Easter image, and use it for your holiday decorations and a magical mood.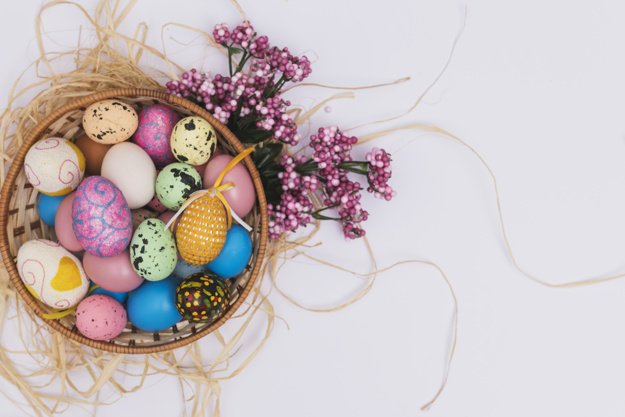 Bright easter eggs nest container
I think the fact that eggs are the symbol of a new life, won't surprise you. That is why they are an important part of the Easter day. So why not to have a cute painted eggs as a background for Easter?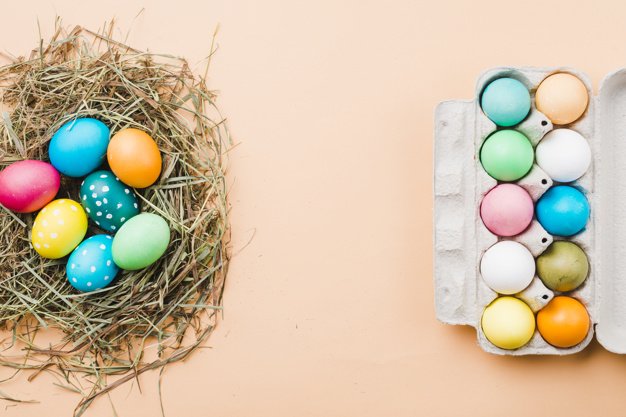 Violet background easter with funny rabbit
A smile makes every day better. Even this easter rabbit is smiling to you. You will also smile when you find out the image is free and available in .eps format.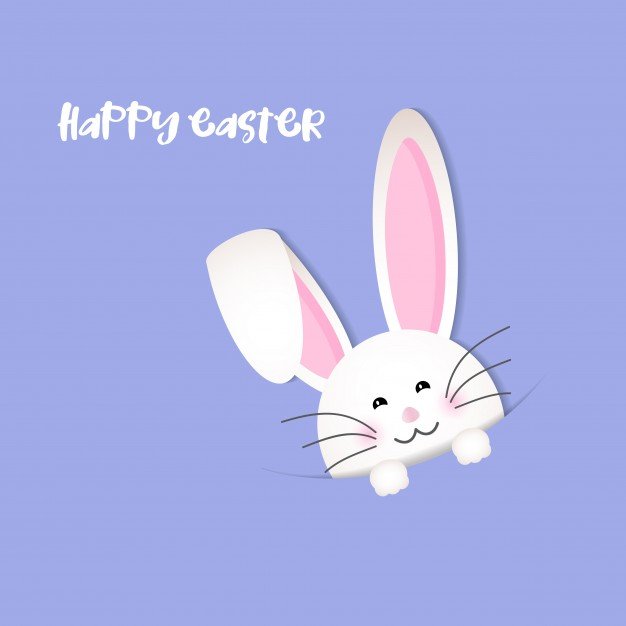 Easter bunnies and easter eggs vector
What time is it? Time to celebrate Easter and download some graphics. The illustration is available in different formats AI, EPS, JPG, PNG and the size is 2.93 MB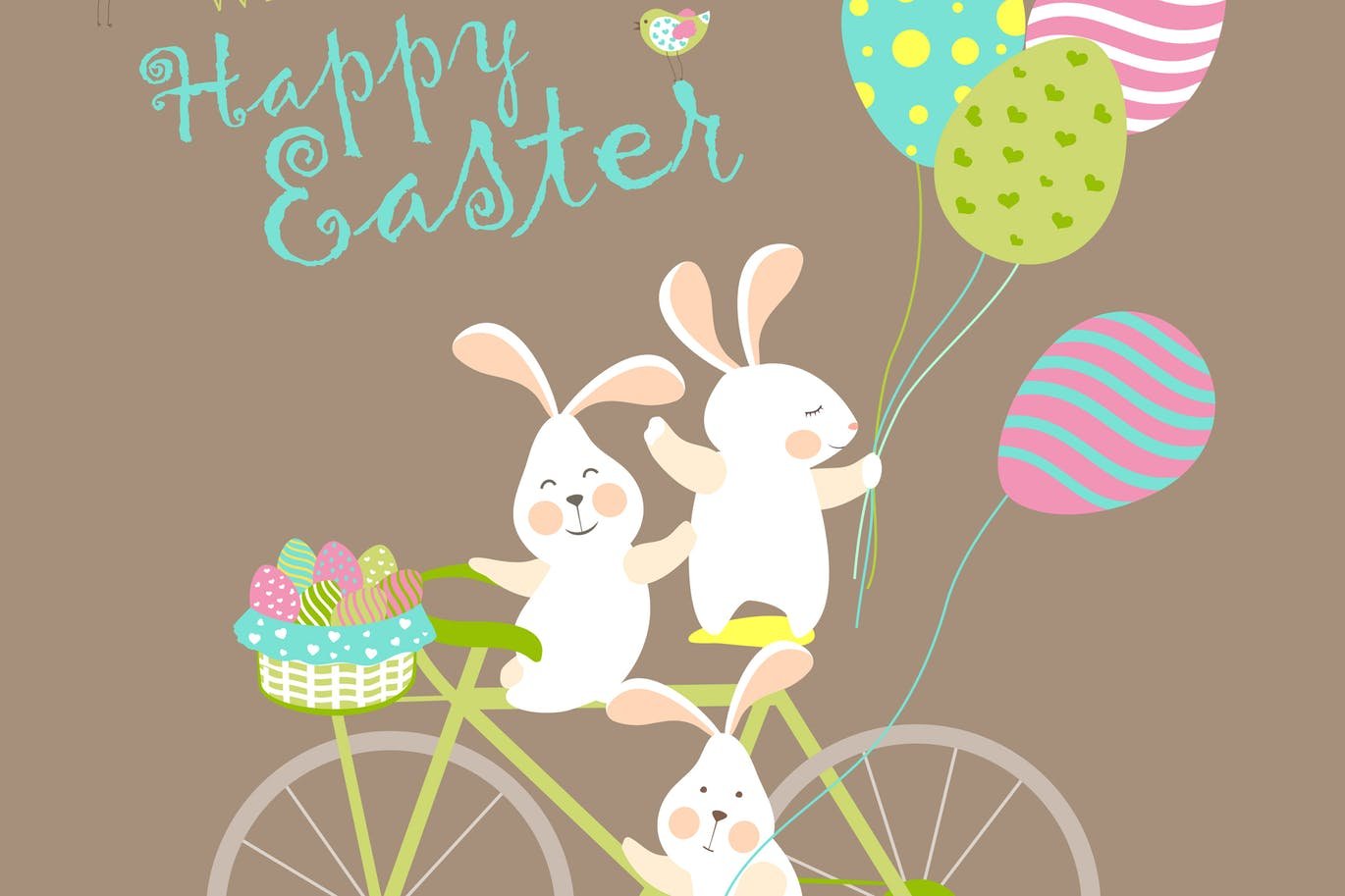 Garland with paper rabbits wood
Super cute bunnies tails are there to become your wallpaper, there is also some space if you would like to add some text or a greeting.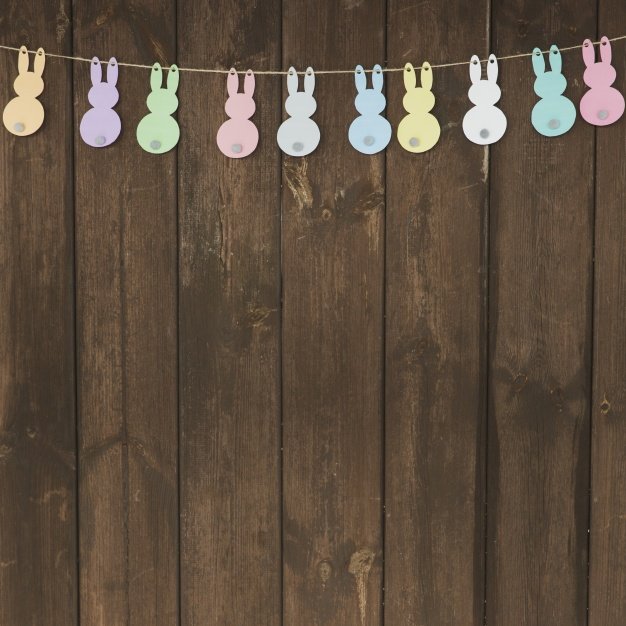 Hand drawn easter bunny retro background
The coolness of this rabbit is on top. Retro style for your background. The hand-drawn image in .EPS format is ready to download.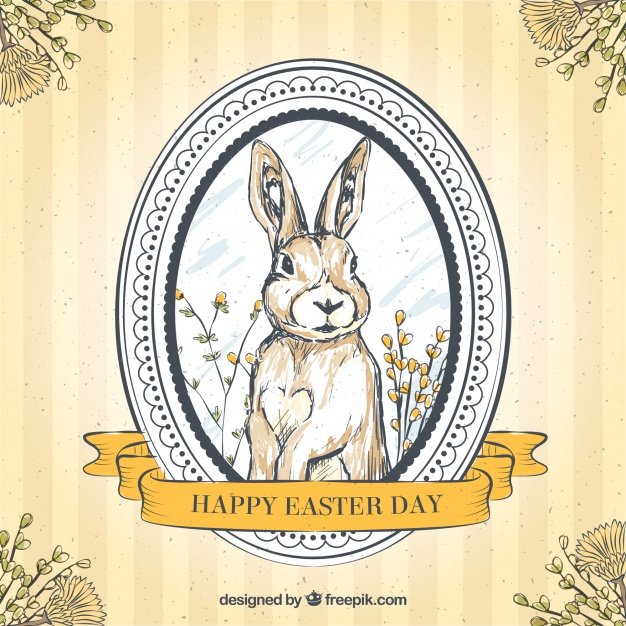 Easter egg background
Stop and look at the background you have. Maybe it's time to change it? The image goes in eps format, ready to download.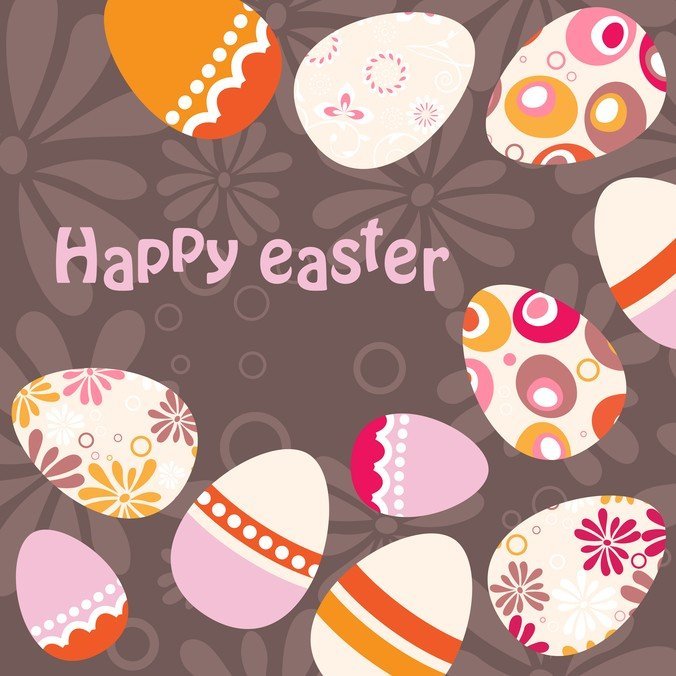 Easter background design & Happy easter background
Perfect background for Easter. Muted colors and a greeting sign is here for you. The image goes in .EPS format so that means you can edit it as you wish.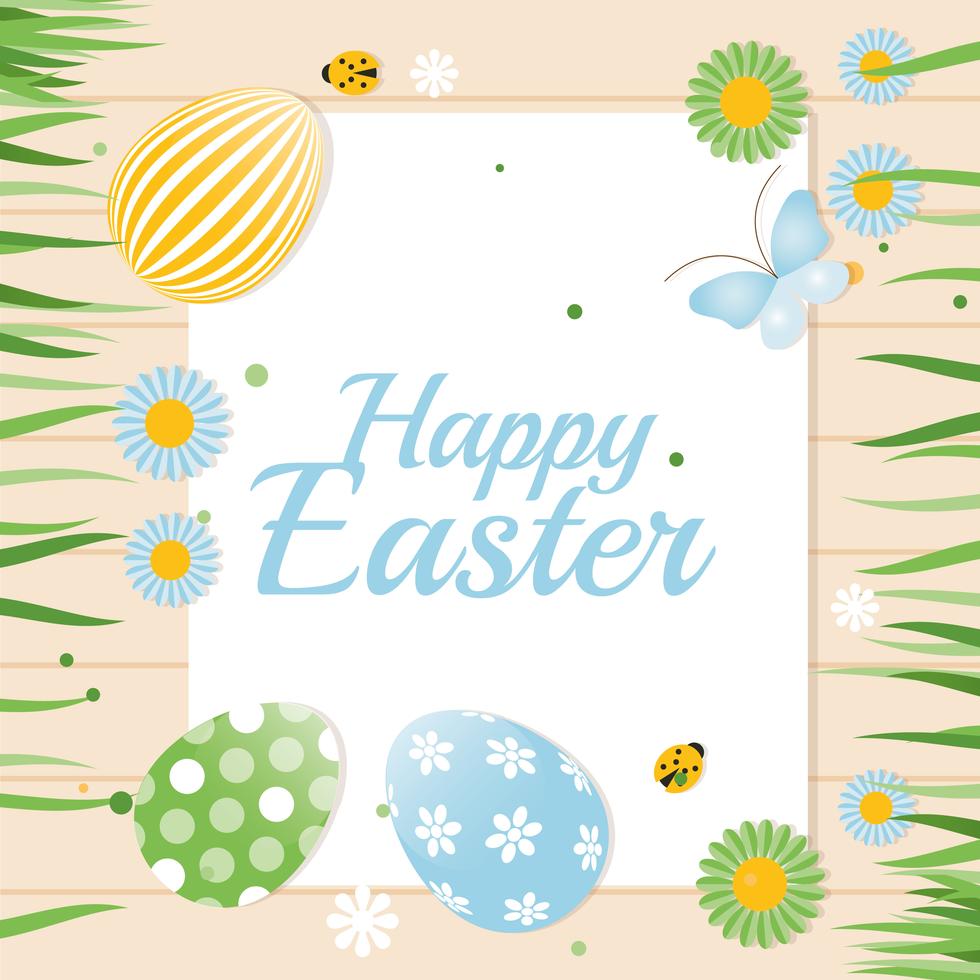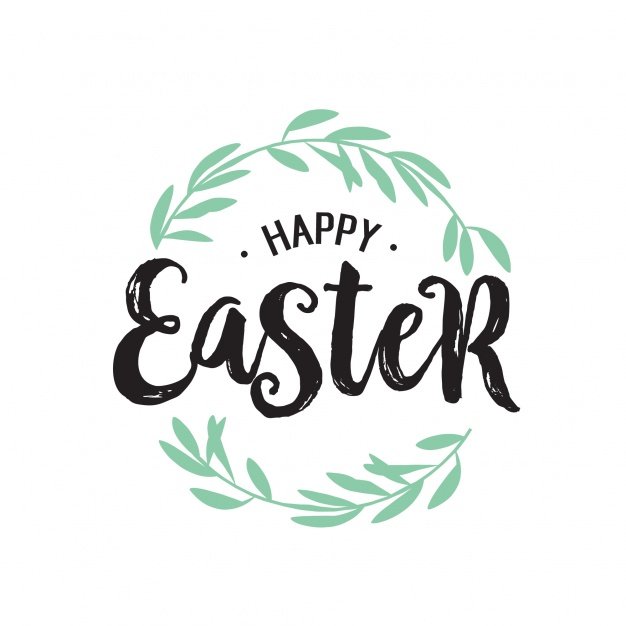 Frame from easter eggs basket table
To make your Easter preparations accomplished, you need to take care of all the details. Start from your background.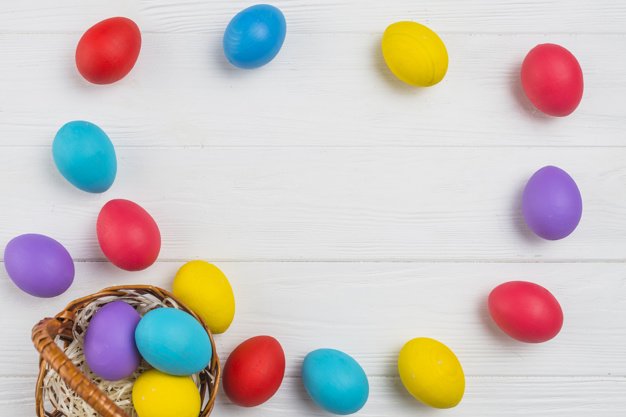 Decorated easter eggs with ribbon
The beauty is about details. The image looks completed itself, so you can download it, and use as a background or even a greeting card.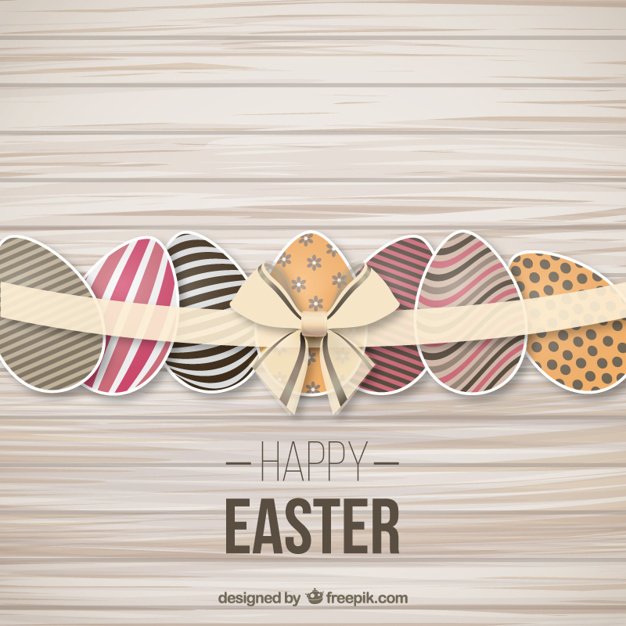 Free Easter icons
All the best Easter icons are considered in the list below. Scroll down and choose what you need for creating outstanding designs.
Even if you have never experienced working with icons before, you will find out it's very easy and exciting.
Easter rabbit Do you know why bunnies are one of the symbols of the Easter? It's been the Egyptian symbol of fertility. So since the Easter is about celebrating a resurrection of Jesus, and a new life, I think it's more obvious now.
Icon rabbit The rabbit icon is available in SVG, .EPS, .PNG and .PSD formats. You can have it in a matter of a couple clicks.
Free icon rabbit That's what we call super cute) The Easter bunny's head icon goes in different formats. Choose the one that suits you better.
Easter Bunny Icons "Follow the White Rabbit" they said. Follow the link, to grab some cute easter icons – that's what I tell you)
Happy Easter icons A set of icons you would need for Easter preparations are here. Click the link and download it.
Free icon easter bunny Never enough bunnies, especially for Easter. So here's a link to another bunny head icon in different formats for free.
Free icon happy easter Black and white or colorful? How would you like to have this image? Thanks to the opportunity to download it in different formats you can choose and change the icon color and size as you wish.
Easter egg with stripes Are you ready for an egg hunt? Start from grabbing this icon of an egg with stripes for free.
Easter egg with hearts Do all things with love. Probably that was on the mind of the person who decorated an egg with the hearts.
Free icon painting egg What color would you choose to paint an egg? It's up to you now, as you can change it the way you wish SVG, EPS, PNG and PSD formats are available.
Icon easter What is there in a box? Surprize! Check this cute icon. Notice, it's available for free and easy to edit the size a colors of every detail.
Icon cake Don't forget about the Easter cake. The icon is available in 4 formats for your convenience.
Free icon easter egg of dark chocolate with white chocolate melting on it An Easter egg made of dark chocolate, that goes with the white chocolate melting on top of it. You can have this icon and use it in your designs for chocolate lovers.
Free icon egg What do you think was first? A chick or an egg? While you think on what is the right answer, look at this editable icon. Easter is close, so don't forget to get a few cool icons with the Easter element.
Free-icon easter egg with daisies design Use your favorite flowers as an inspiration for Easter designs. What about daisies?
Easter egg design Brush lines and dots decorate this Easter egg icon. Fully editable.
Free Easter Clipart
What is your vision of good clipart? Explore a bunch of freebies I have for you below.
Easter rabbit with tulips Take a look at this cute Easter rabbit and tulips. It could be something you've been looking for to create some nice designs for Easter.
Clip art illustrations with young children easter theme If you think something is missed on these cliparts, you are free to add some details to any from the set. When it goes in .EPS formats it's very simple.
Easter If you are looking for clipart to decorate Easter celebrations for kids, you should pay attention to this wonderful image. Will go for the smallest kids especially.
Easter This friendly Easter chick is waiting to be the part of your Easter decoration. The image goes in .PNG format, super easy to download and edit.
Free Easter Patterns
These patterns are everything! Variety of marvelous designs will touch your heart. which one would you prefer to download?
Let's start from this editable colorful Easter patterns. You will find dots, lines, rabbits, Easter eggs with different designs. Being able to edit any detail of the pattern is priceless.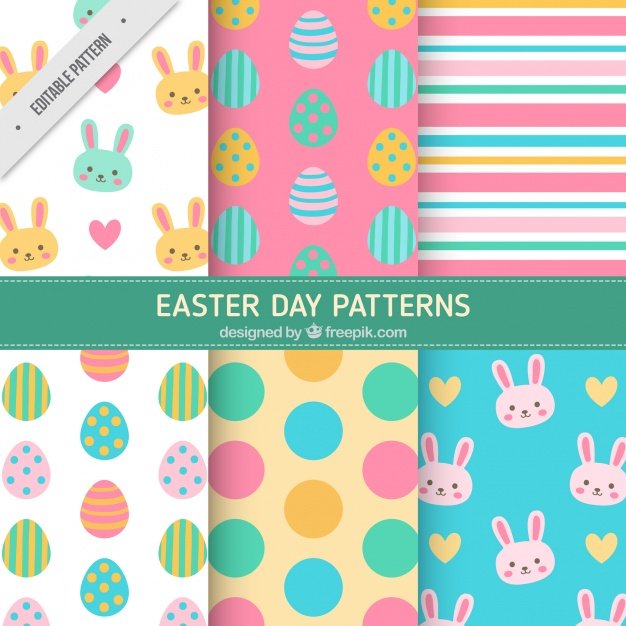 Free vector set easter day patterns
Another set of cute editable patterns is here ready for download. Check how cute it is.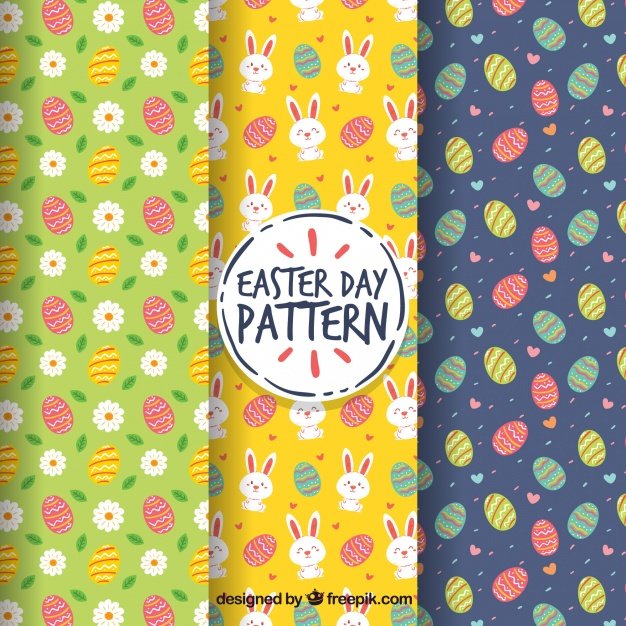 Easter day pattern collection
Next set which is going to grab your attention is a girly pink Easter pattern. Available in .EPS format and is absolutely free of charge.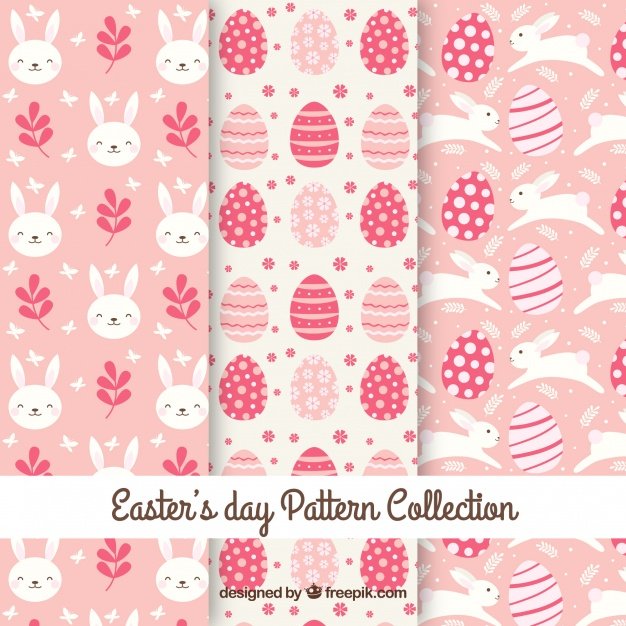 Collection nice easter patterns flat design
This set of patterns is absolutely amazing. You will be in love with those rabbits and chick. And the color palette is so nice.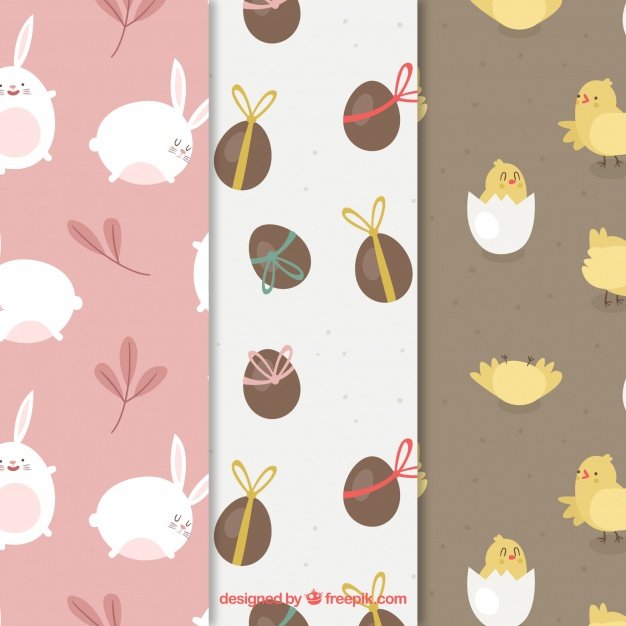 Easter pattern collection
Fully editable Easter pattern is the coolest thing you could dream about. Just a few steps to your beautiful design. Click the link, download the image, change any detail if needed. That's it. Enjoy your cool pattern.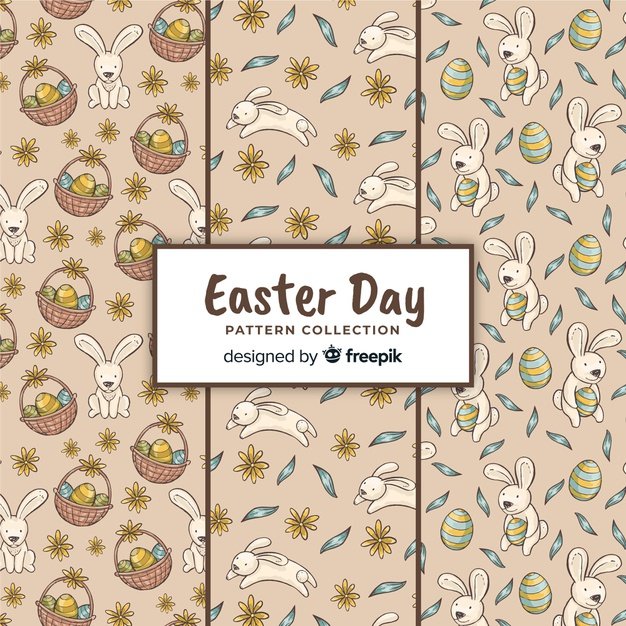 Hand drawn easter day pattern collection
Hand – drawn pattern is here to your attention. These rabbits go in black and white, but
remember the pattern is fully editable, so you can add your unique touch to every detail.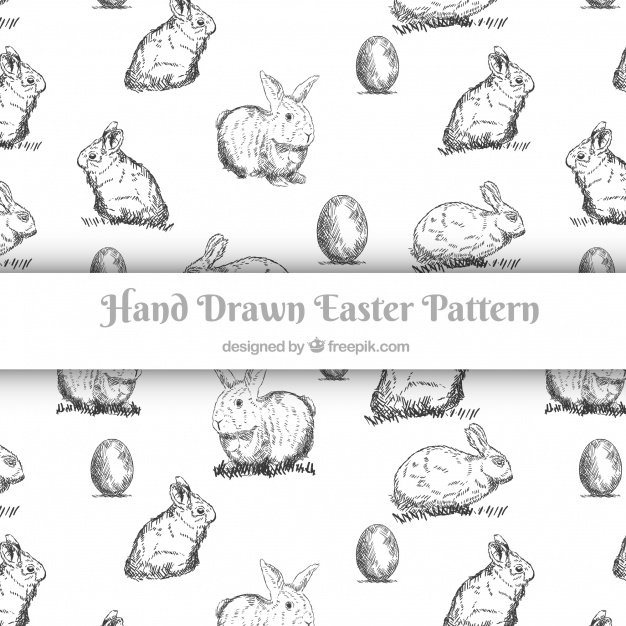 Easter pattern collection
The set of 4 cute patterns will easily complement your Easter invitation card, poster or a flyer. Perfect for any Easter related assignments for kids.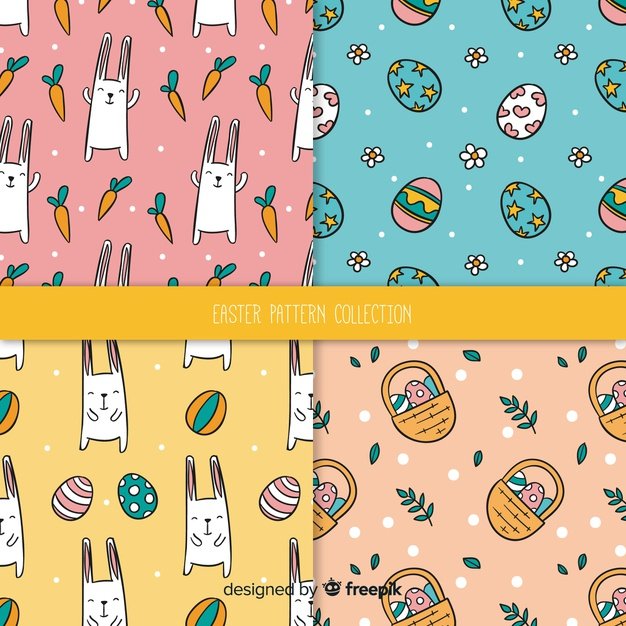 Free Easter Vectors
Check these Easter images made of vector objects. I wanted to choose the best vectors I could find all over the Internet, so that you may have access to it anytime, and use it without losing the quality of the image after resizing.
Several pretty easter rabbits
Happy or timid? Red or gray? Each rabbit is cute, so it's up to you choose.Eps format is available.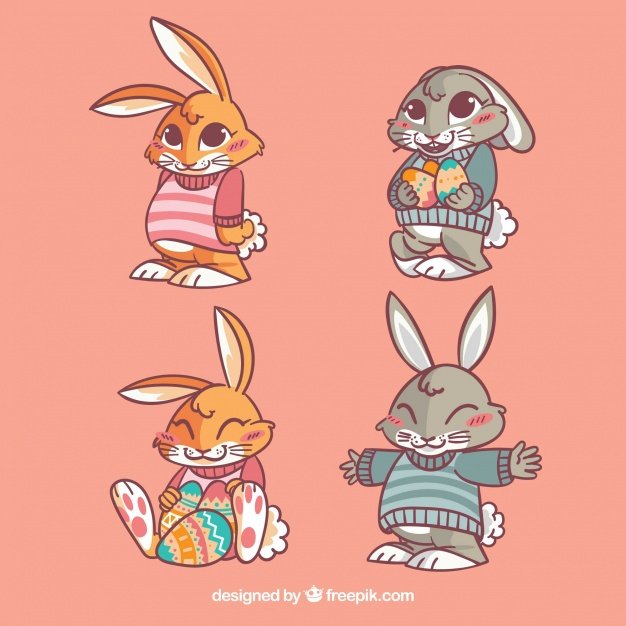 Easter bunnies Free bunnies images and cracked eggs. Available as PNG graphics as well as an .eps file.
Easter bunny collection The Easter bunnies can melt your heart in a second. Vector image in .eps format. Download and edit any bunny)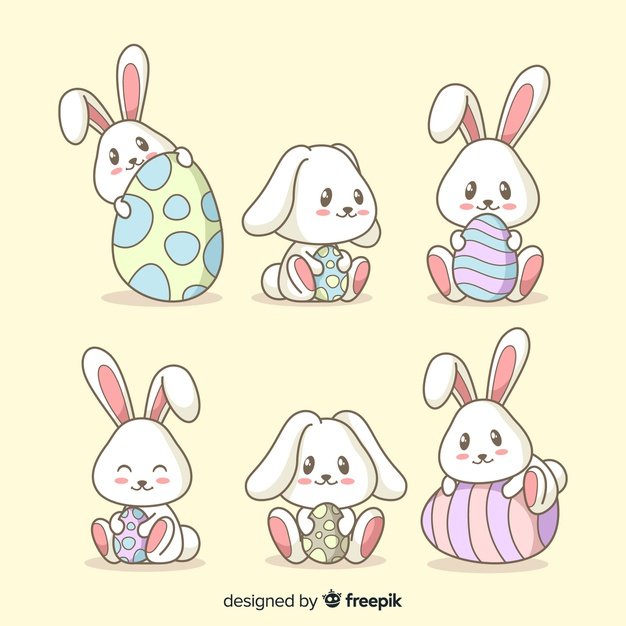 Happy Easter
Smooth lines, some flowers and the image is ready. If you feel like change some part of it, feel free to do it! This bunny is waiting to become your Easter symbol.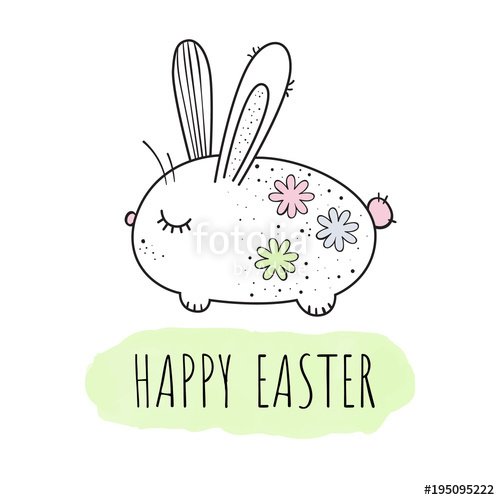 Easter eggs vector set (free) Never enough of eggs, when it's Easter. That is why a set of different egg designs is what you will definitely like, especially if you need something other than monophonic eggs.
Set of twelve easter eggs I am always looking for ideas on how to make my Easter basket more beautiful. So the design of these eggs is just amazing. Flowers, dots, stripes, and stars. Change some color or detail if you wish. With the vector image, it's super easy.
Free easter vector graphics you won t have to hunt for Bright colors will definitely attract attention. There's a free space for your text or picture, so you can easily edit the image.
Free Easter Fonts
Don't forget to check these fancy easter fonts. You might add it to your beautiful greeting cards, banners or invitations. See how the right font changes all the impression of your text and design.
EasterFont How fun would it be to play with this Easter font? Each letter is inside of an egg. Try a different color, change size to bigger or a smaller to reach a suitable result. The font will look super cool on many designs, especially for kids.
HAPPY EASTER Looking for a cool font might be tough. Not anymore! Happy easter font includes 26 super cute Easter elements and looks so lovely!
Easter Bunny font The cutest font with bunnies and eggs silhouettes.
Kingthings Eggypeg font Just to remind you how unique fonts can be. Check the Eggypeg font. General punctuation is in a package.
Easter Sunrise font Check this beautiful font. Does it look like the one you've been looking for? Grab it and use for your needs.
ADFB Easter Egg Creating a holiday mood is a science)) With a wrong or not suitable font on your sweet card, it all can be not that perfect. So choose carefully) Check this super Easter font, and download it for your perfect cards or banners.
EasterSurprise font Never know what you can see inside of Easter eggs)) But you will never be disappointed to find out how this font looks like. Check it out now.
JLR Easter Peeps font Create and try new things this spring. Start with this spectacular font.
KR Easter Rabbit Rabbits are super popular when the Easter is around. I don't mind this fact at all. Don't miss a chance to play with the rabbit font.
KG EASTER1 font A lot of rabbits around each letter. The font will be perfect for Easter invitations, especially kids will love it. Play with the background color, which you can choose from the palette.
Spring Time font Feel spring and use this awesome font for your greeting cards, invitations, or some spring activities. Denty and full of spring feminine font. Easy to change the color of each symbol or background.
New Garden Easter and spring are inseparable. That is why you will need this springtime font for sure. Try this font to attract attention to your text. Good for short sayings or titles.
JI Bunny Caps font These bunny ears and tails are the cutest, that is why this playful font is absolutely a good choice for Easter designs. Notice that bunny ears and tails go only with the uppercase letters, and aren't included to the lowercase letters.
Goo Easter Handwritten fonts are my favorite. Check Goo Easter font, and your search might be over. The font can be used for many designs, mild curves look stylish. Numerals are included.
HAPPY EASTER font Among all the super cool fonts I collected here, this one takes a special place in my heart. just check it, and fall in love with it as well.
Happy Easter You are welcome to try this pretty font and add it to your Easter card or banner. Thin fancy lines look very cute. Uppercase and numerals are in a package.
KG Hippity Hop font Accomplish your design with the right font to see the difference of using an ordinary one. What about this one? Easter bunny with a wheelbarrow full of Easter eggs is waiting to complete your Easter sayings and greetings.
Easter Fun by Tom Welcome another stylish font that can help you in your designing. Good for headlines, it will definitely attract attention.
Premium Easter Fonts
Hunny Bummy Easter Crafty Font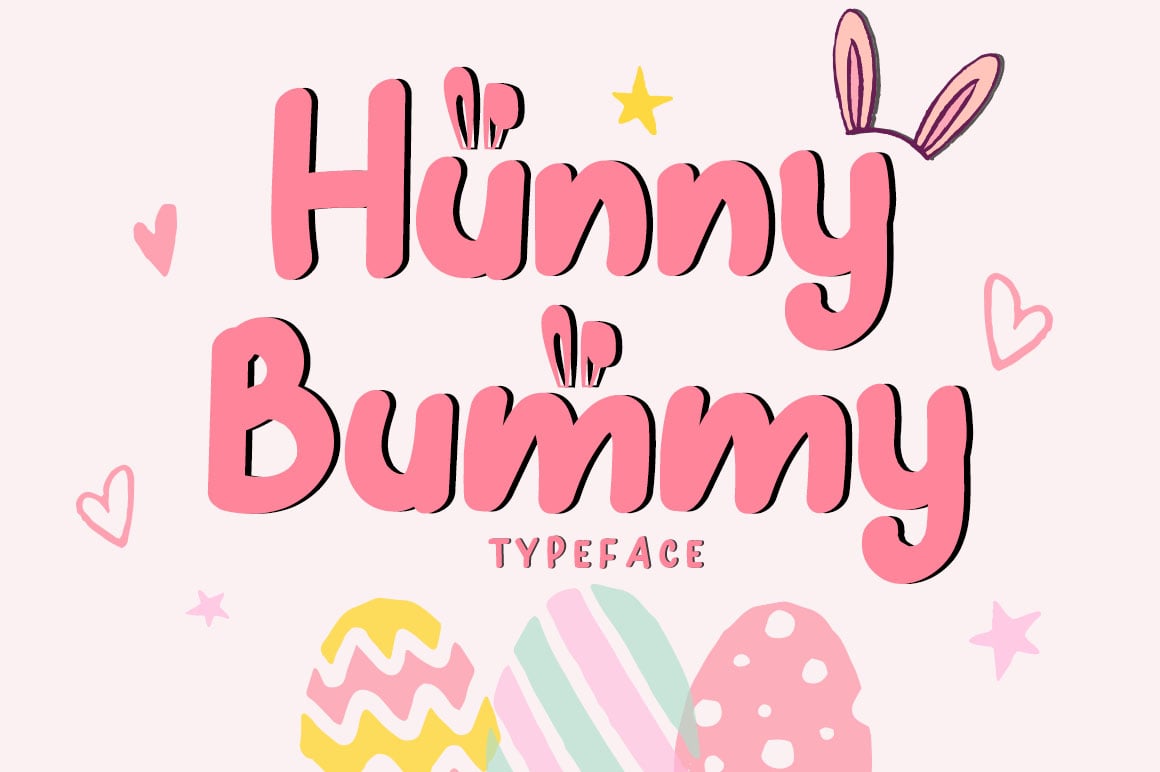 Funkie Bunny Easter Font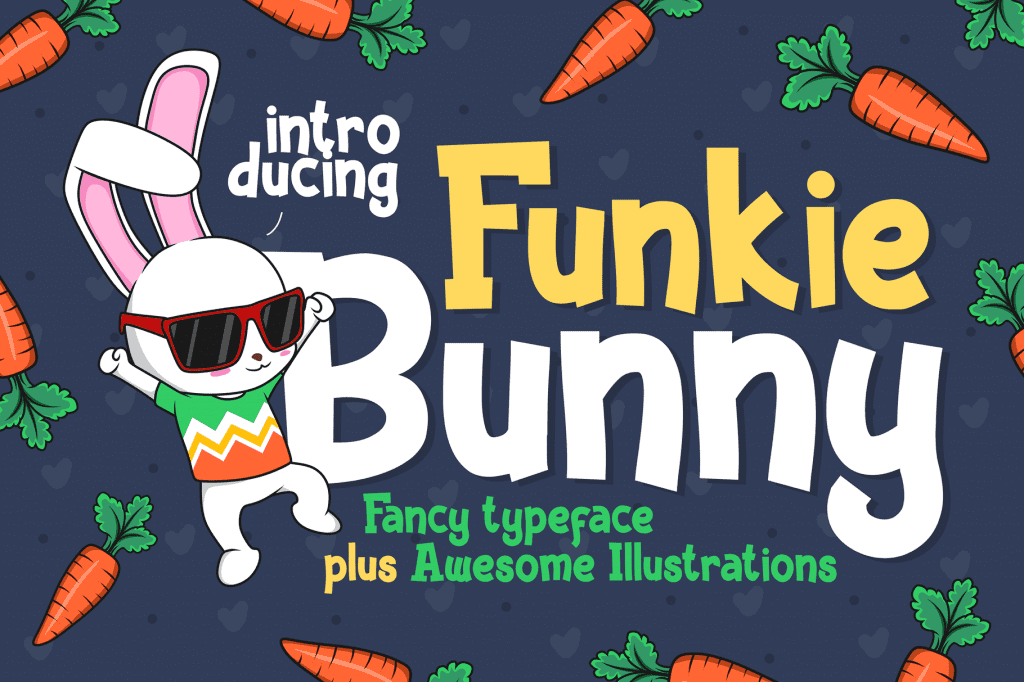 Free Easter Badges and labels
Easter day badges
Easter elements such as bunnies, carrots, eggs and flowers are on each of 9 badges in a set.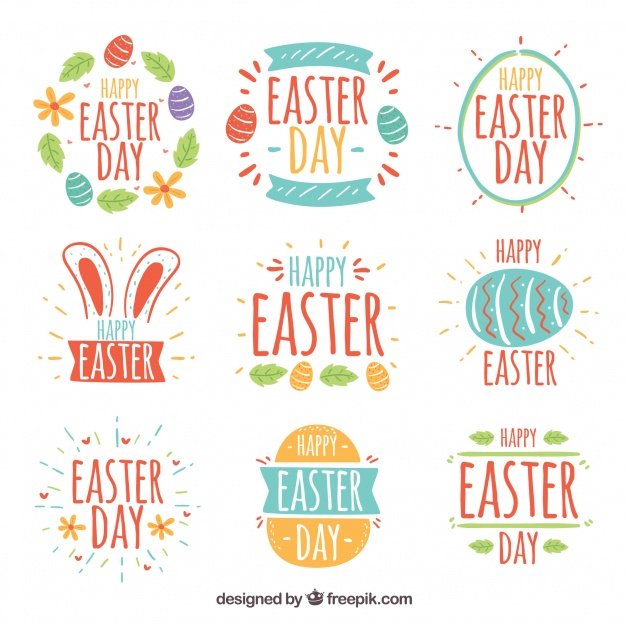 Easter day badge collection
A collection of Easter badges in mild colors. Each element is editable.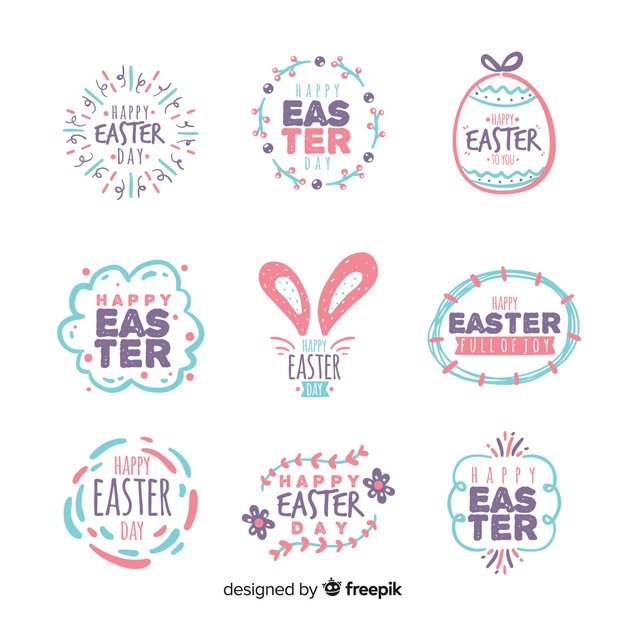 Elegant easter badge collection
The set on badges in EPS format. Each element can be edited up to your vision.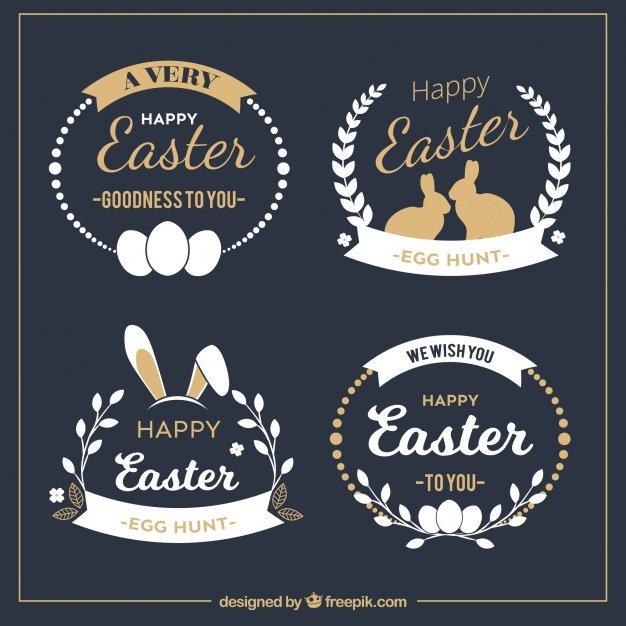 Easter day badge collection
Download now, or cry later. You will definitely need those badges to complement the sophisticated atmosphere of the holiday. Look at these cute badges) It will be hard to choose one.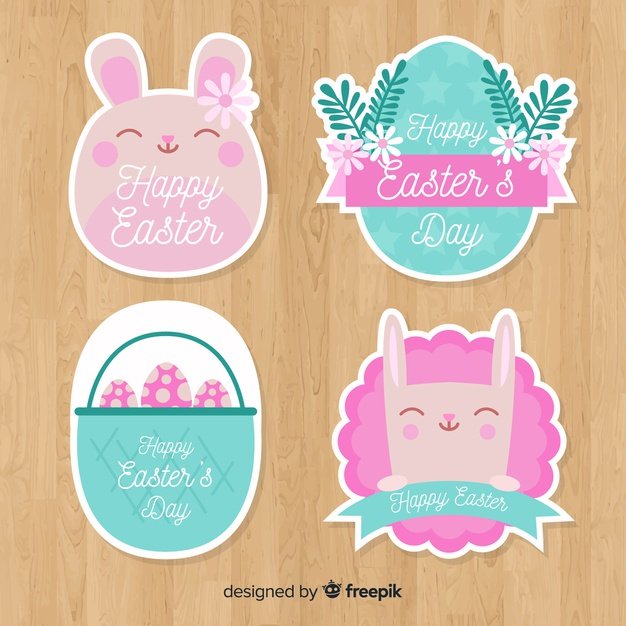 Hand drawn easter label collection
Don't underestimate the meaning of a small detail. Put a label on a gift box, or anywhere it would go for. Enjoy the beautiful decoration.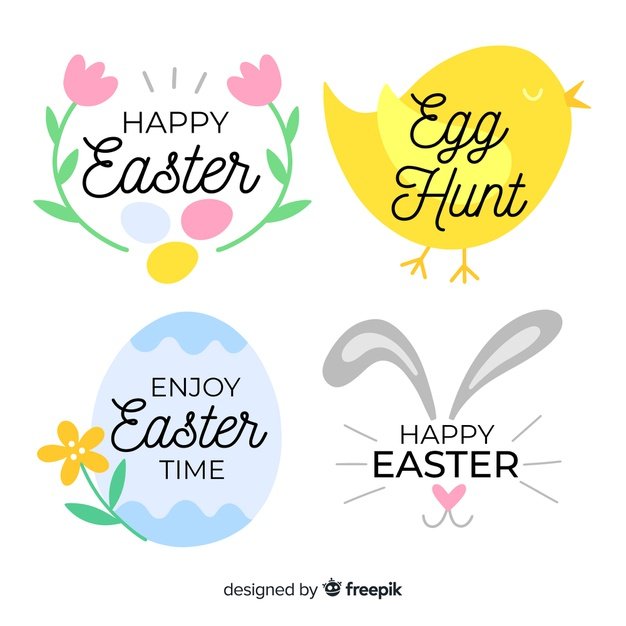 Hand drawn easter label collection
Super cute hand drawn Easter elements to help you with the Easter preparations. Will be a great addition for decoration kids gifts, in case you want to print it.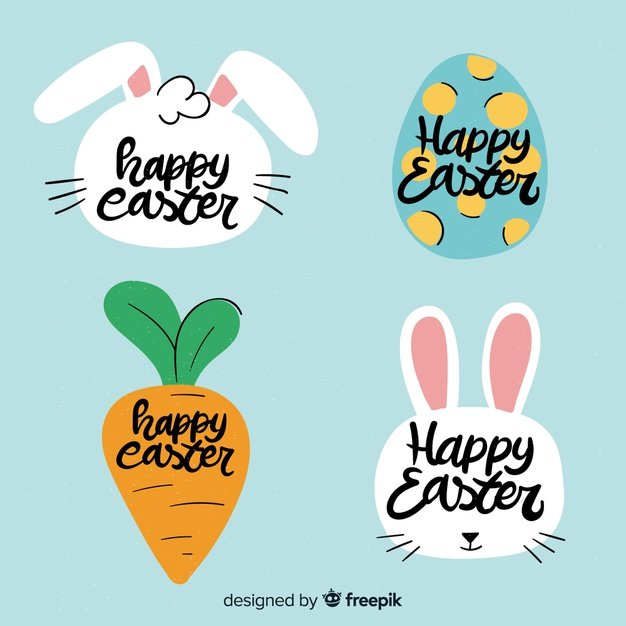 Colorful easter labels
Anything you would use these labels for would be much cuter than without it. Any doubts? Check these labels, and fall in love with those shapes and colors.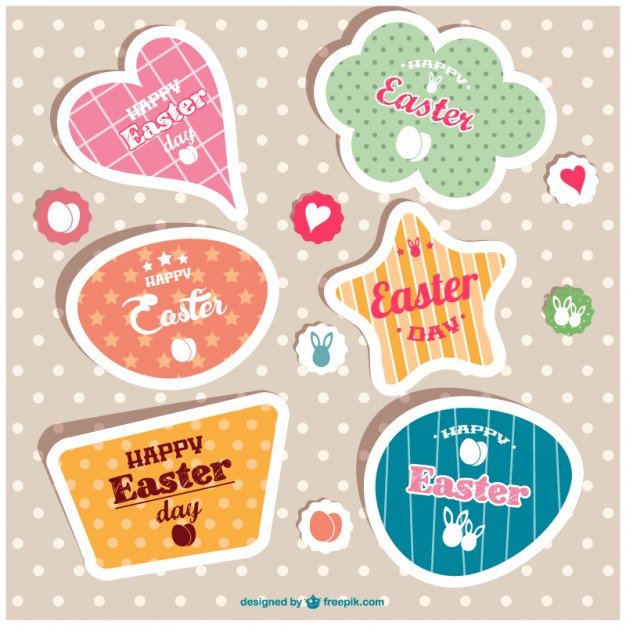 Easter label collection
A greeting labels in pink and blue, with all the Easter elements. Fully editable and goes in EPS format.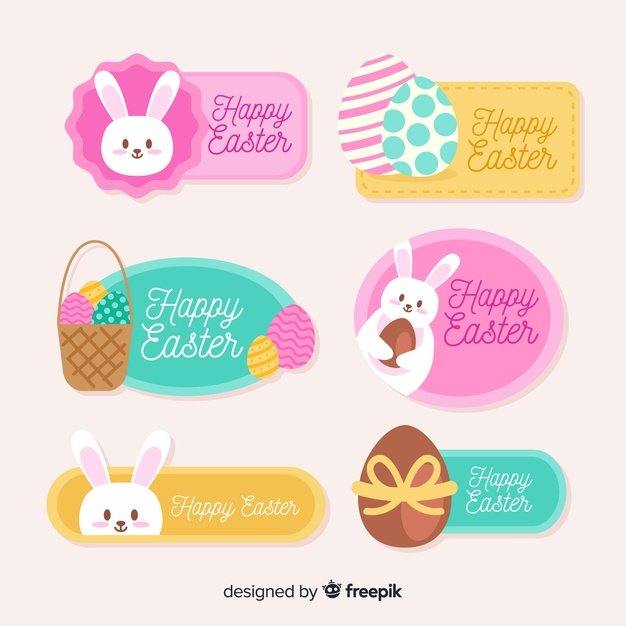 Flat easter label collection
A girly pink is a color of this set. You won't face any problem with editing any element.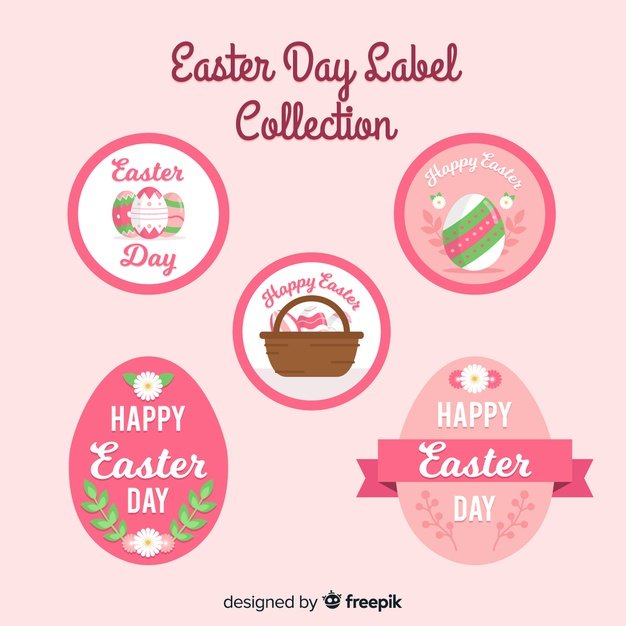 Free Stickers, tags
Stickers with happy easter bows
This set of astonishing Easter stickers is my favorite. Deep colors and the egg-shaped background is absolutely Easter style.
Decorative easter stickers vintage design
No chance this cute stickers did not appear on my list. The collection of 9 pieces, each is cute by it's own. The EPS format allows you to edit each element.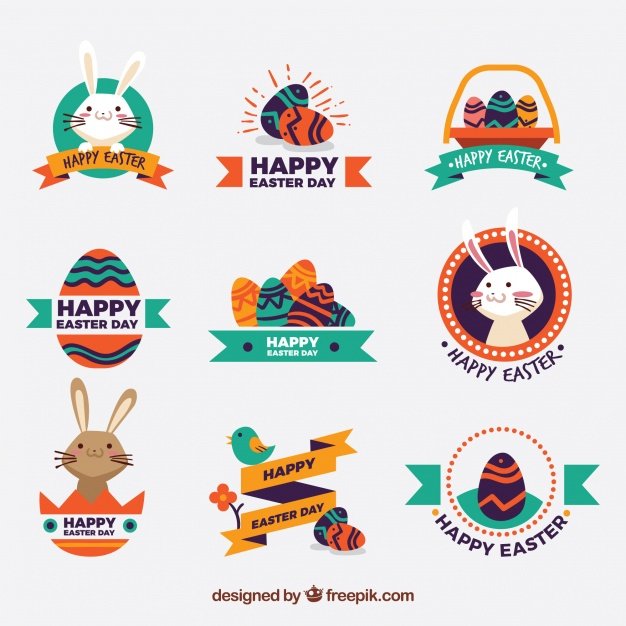 FREE Happy Easter Bunny SVG Cut File
In addition to your collection of Easter bunnies, let me introduce you few more. SVG, PNG, EPS, DXF formats are included in a package.
FREE BUNNY FACES SVG, PNG, DXF & EPS
I can't hide these bunny faces anymore. The collection of 4 is ready to download.
FREE EASTER MONOGRAM SVG, PNG, EPS & DXF A chick or a bunny? Maybe you need both? Check these elements, and don't forget to download it.
FREE HAPPY EASTER SVG CUT FILE (DXF, EPS & PNG) Easter is close, don't miss a chance to grab some freebies right now.
Why would you need some Easter stickers? Some people pay a lot of attention to decoration gifts. Add your finishing touch with the Easter themed stickers, which you can add to a gift box, for example. I have found for you printables, so that will be easy to print and use.
Printable funny bunny I'm sure you'll be obsessed with these bunnies. Despite those are printables!
Easter Tags Printables
You can download these tags right now, and then use for anything you like. The real fans will appreciate the vintage style.
Happy easter gift tags
Don't miss a chance to embellish gift box with a beautiful 'Happy Easter' tag. Here's a link to 8 colorful tags, so you can choose any design. Moreover, tags from this set are layered and fully editable
Pack easter tags
Your guests will appreciate the fact you cared about each element, when they see this beautiful tags on their box with Easter treats.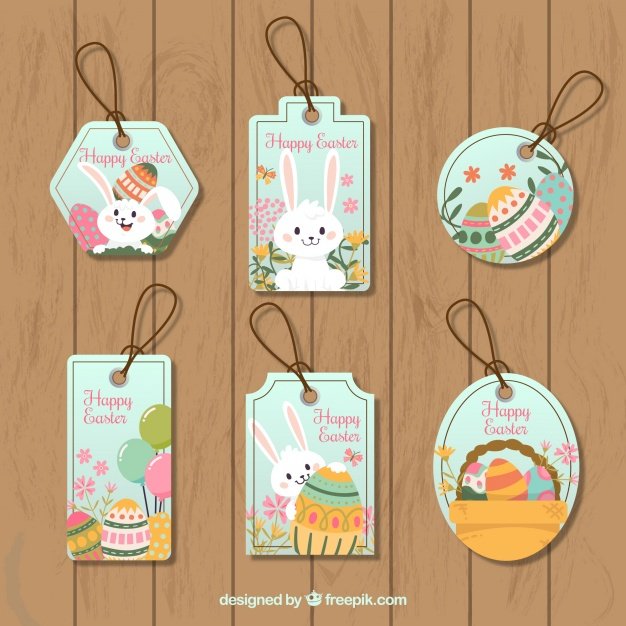 Easter invitation templates
If you decide to host some Easter even of your own, you might need some invitations for your dear guests with all the details. So when the guest list is ready, time to think about the visual part of invitation. And here are some Easter related invitation templates, which you can download, print and send to your relatives and friends.
Easter Invitation Template
Add all the necessary details, such as place, time and date your guests need to know to visit your event.
Sunday Invitation Template
Perfect for Easter Sunday brunches or any other Easter events.
Easter party invitation
If you planned Easter event for kids, this kind of invitation is exactly what you need to attract your little guests.
Easter party invitation
Could you resist this adorable bunny invitation? Neither do I! So get ready, the party is about to start.
Best Related Easter Posts
From now on you are absolutely prepared for Easter holiday creativity.
I hope you've found this article useful, got inspired and will use nice graphics for your Easter designs and creating unforgettable memories.
Happy Easter everyone!
Easter Graphics FAQ
🐣 What Are Easter Graphics?
Shortly, these are the pre-made elements modern marketers use for various promos. You get them separately or in a set. Whatever you choose, easter graphics are meant to save time. Being ready-made, they allow crafting promos and designing different projects rapidly. That is why such holiday sets are popular both among beginners and skilled designers.
🐣 How To Work With Easter Graphics?
Today all professional digital products are creator-friendly. When chosen properly, Easter graphics do not require special skills or experience. You can use the templates the way they are or customize the settings via any modern editor. Just make sure you have checked the item details. There should be versatile components, changeable sizes or colors, etc.
🐣 Where To Buy Easter Graphics?
Well, holidays have always been the most lucrative time for business promos. Thus, when it comes to Easter, the supporting products are everywhere. And, though most of these items look beautiful, not all of them are good enough for you. There are several requirements a product should meet in 2021. SEO, readability, and responsiveness are only a few of them.
🐣 How To Select From Easter Graphis?
To avoid low-quality services, you should work only with trustworthy companies, like MasterBundles. Make sure that your company has money-back guarantees, quality technical support, etc. Don't forget to read customer reviews. Also, always check if there are free products available. New-born companies don't have them usually.
Was this page helpful?
We will be happy if you decide to share this article with your friends on Facebook. Just click on the button and you're done
Thanks for your response!
You have already left your review.