Description: PixTeller is a tool that simplifies the design process from start to end, so it can be used by any marketer from the digital industry, any blogger or website owner, as well as anyone who needs designs for personal or business use.



Replace anything from images and shapes to text and colors using its design Editor and get inspired from a great variety of public designs and templates that you can use to create new personalized designs just in seconds.
You can create a bunch of engaging images, social media covers, banners, graphics for print or any other design with PixTeller.
We enable anyone to create amazing graphic designs in seconds.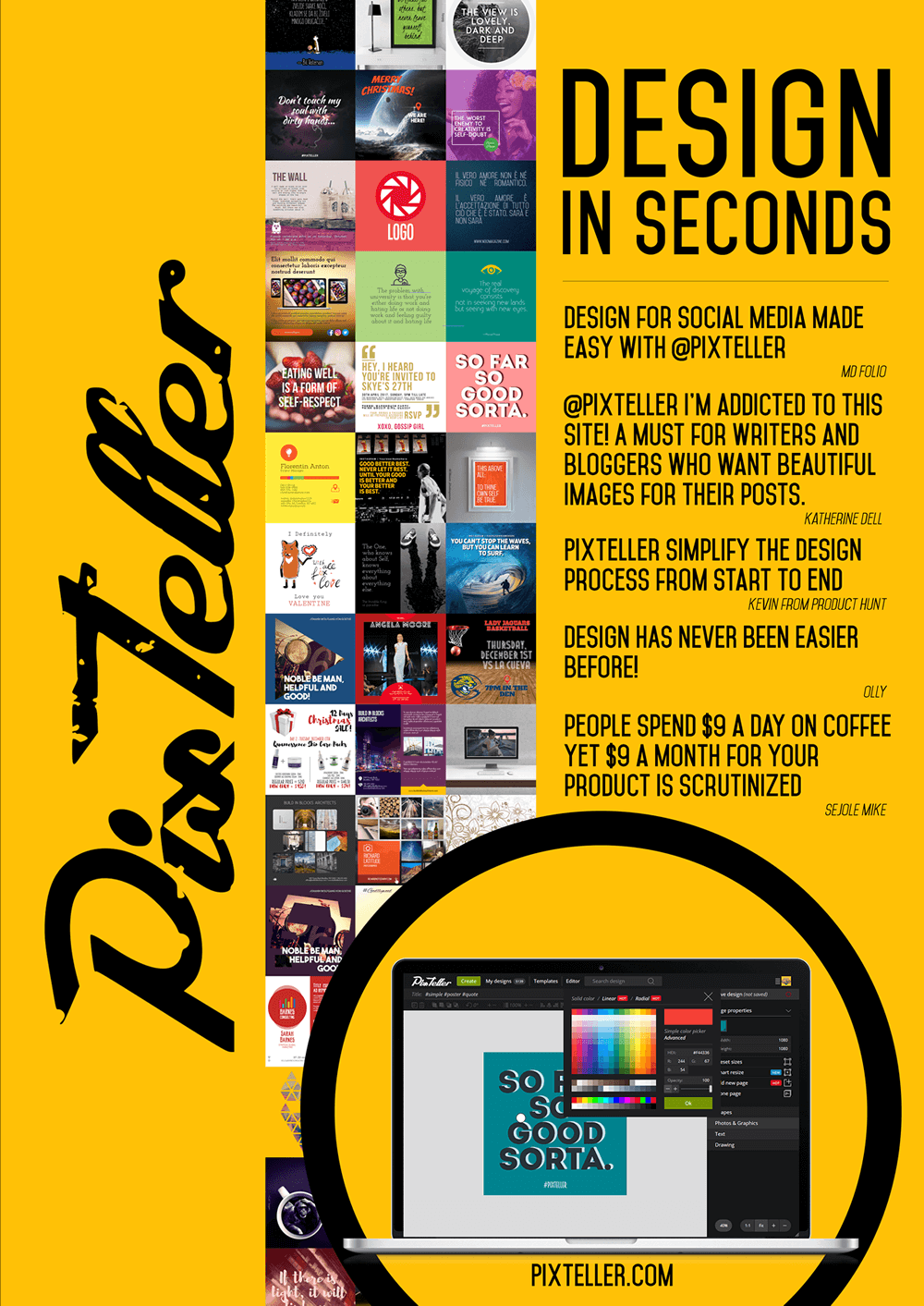 Main features:
– 1.000.000+ Embeded Photos throught PixTeller Editor
– 100.000+ Embeded Photos throught PixTeller Editor
– Smart resize
– Custom fonts
– Download PNG, JPEG or PDF
– Access to 7.000+ pre-made templates
– Gradient colors
– Multipage attributes
– Unique text properties
– Masking & Clipping Crop image techniques
– Use or Edit your designs from any modern browser
3.3. Regular Price:
– $15 per month [or] $120 per year
3.4. Deal Price:
– $39 Lifetime access
4. Some useful blog posts:
– https://pixteller.com/blog/learn-how-to-design-faster-on-pixteller-by-using-these-simple-tips-12
– https://pixteller.com/blog/inside-the-new-pixteller-10
5. Videos:
– Simple editor presentation: https://www.youtube.com/watch?v=ZGzFWwJgFKo
– Make text images using your own fonts – https://www.youtube.com/watch?v=_KmQeonHwwA
6. Press Mentions:
– TechCrunch -> https://techcrunch.com/2017/01/02/pixteller-makes-designers-almost-obsolete/
– Product Hunt -> https://www.producthunt.com/posts/pixteller
– Digital Trends -> https://www.digitaltrends.com/social-media/pixteller-redesigned/
– ImpactCEE -> http://impactcee.com/2017/01/02/pixteller-foolproof-graphic-design-tool/
– Whats New On The Net -> http://www.whatsnewonthenet.com/blog/pixteller-a-fusion-of-technology-innovation-creation-fun-6272017/#sthash.wd5EMDOT.dpbs
7. What customers say about PixTeller:
– MD Folio -> Design for social media made easy with @PixTeller
– Katherine Dell -> PixTeller I'm addicted to this site! A must for writers anb bloggers who want beautiful images for their posts.
– Kevin -> PixTeller simplify the design process from start to end
– Olly -> Design has never been easier before!
– Sejole Mike -> People Spend $15 a day on coffee yet $15 a month for your product is scrutinized"