40+ Amazing June 2022 Calendars
The most exciting days of the year are coming! We can't wait anymore for summer, so we can find a new swimming suit, buy SPF sunblock cream, get to know the best ice cream man in the neighborhood, and download the best June 2022 calendar templates. All of these things will bring you a real summer mood.
The first three things you can do on your own. The fourth one needs a different approach. Thus, we decided to take on this task for you.
Printable June 2022 Calendar Collection
Oh, there are so many different June calendar templates around the web! MasterBundles has carefully chosen the 40+ best of the best. Thus, in this collection of many different calendars, especially the ones with holidays, blank calendars, minimalistic, and cute ones, you can find a calendar for June 2022 that will be perfect for you.
Additionally, if you like designing cool calendars by yourself and you're looking for more people to see and buy them, you are welcome to upload them through a very simple Sell Your Deal Form on MasterBundles marketplace. Also, if you already have some original printable June 2022 calendars made by you and want to add your calendars to our collection, you can write an email with your request and send it to our CCO: anastasia.content@masterbundles.com.
Free Printable June 2022 Calendars from MasterBundles
Are you in need of a free printable calendar for June 2022? If you have known MasterBundles for quite a long time, then you should know that the best June 2022 calendar printable free can be found on the pages of our marketplace. You will also find more free calendars for the other months here.

Free June Editable Calendar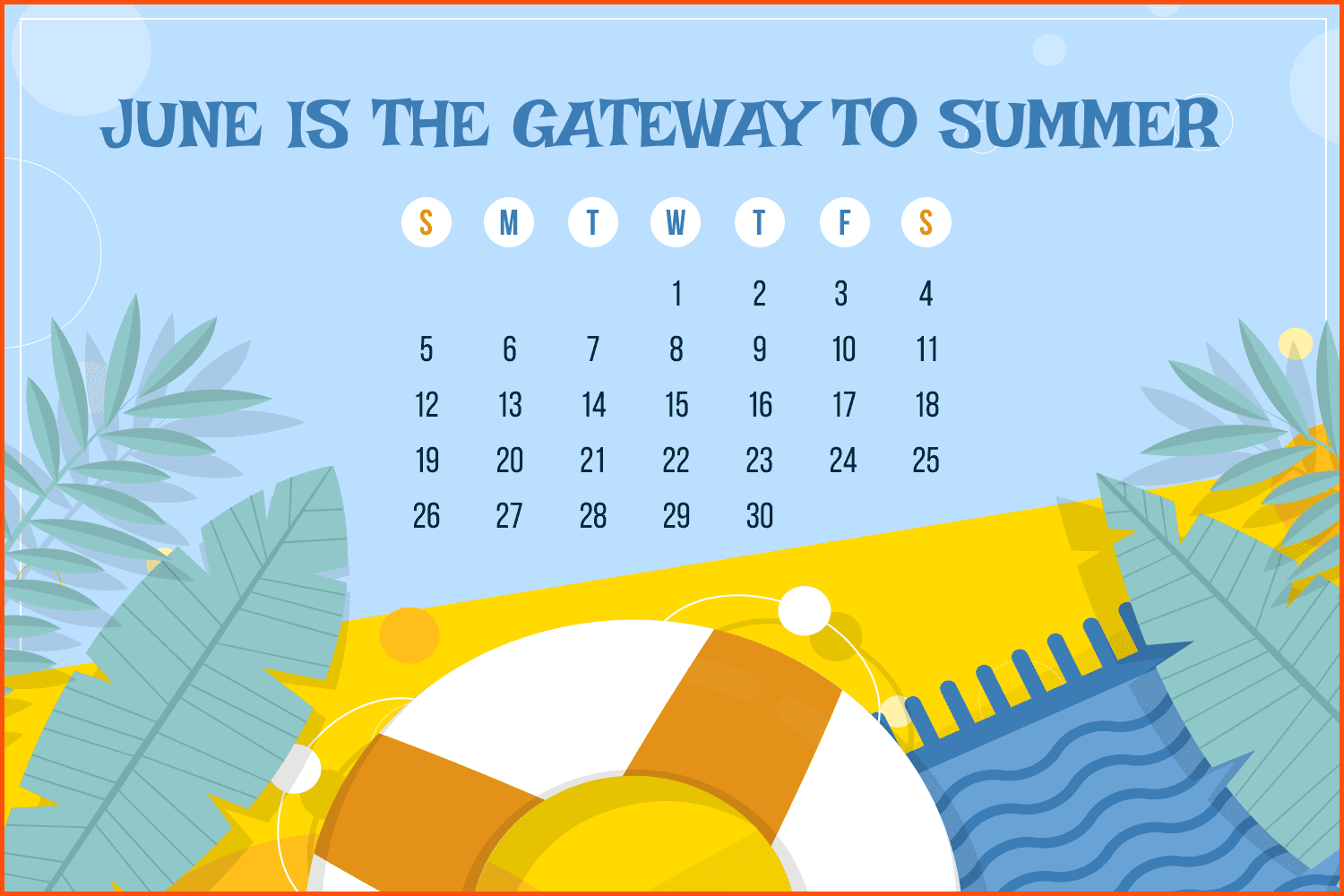 June is the a way to summer, don't you agree? If yes, this printable monthly calendar June 2022 is waiting for you—Absolutely free.
Free Hello June Calendar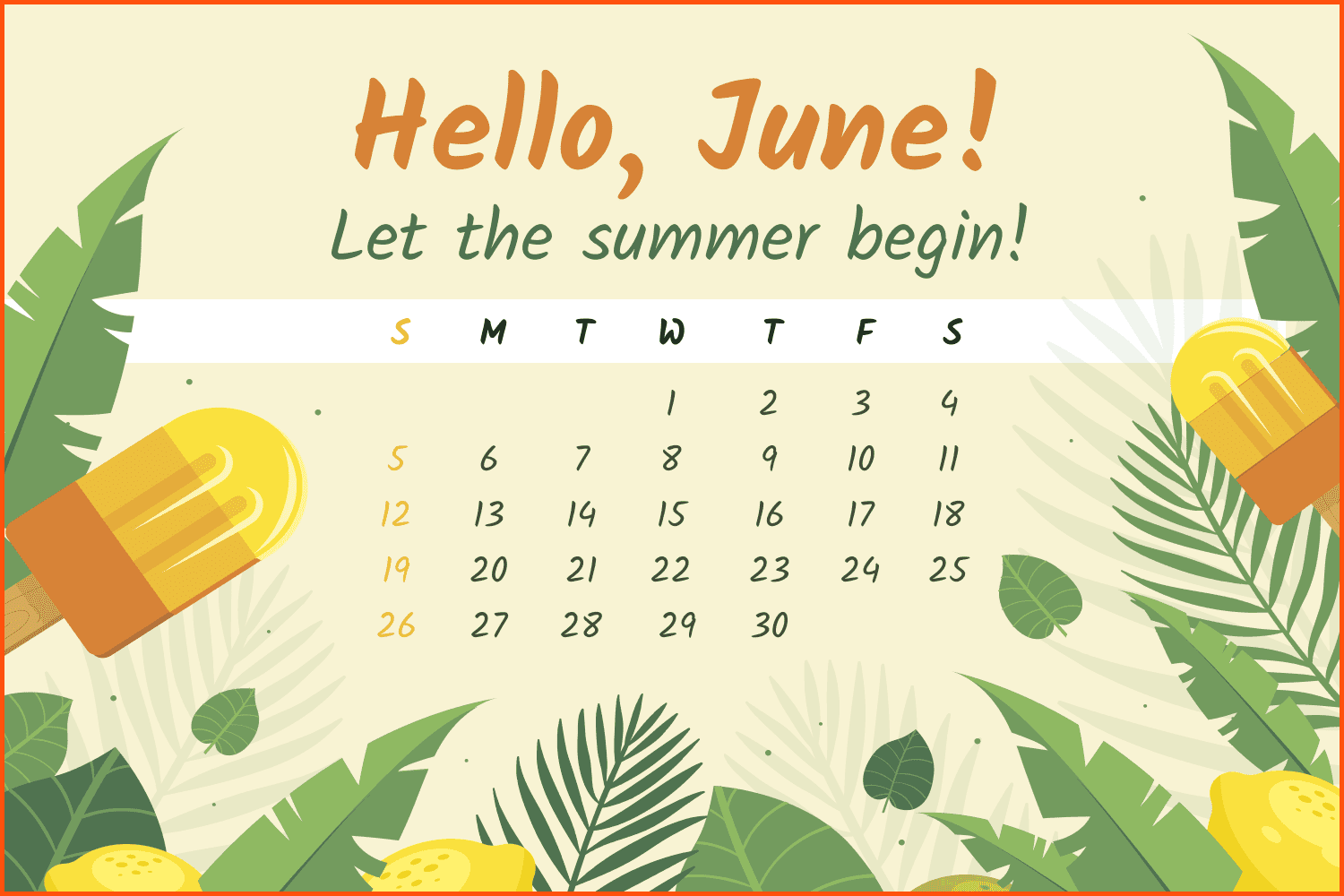 The combination of yellow and green colors on this June calendar 2022 is very summerish.
Ukraine Flowers Free June Calendar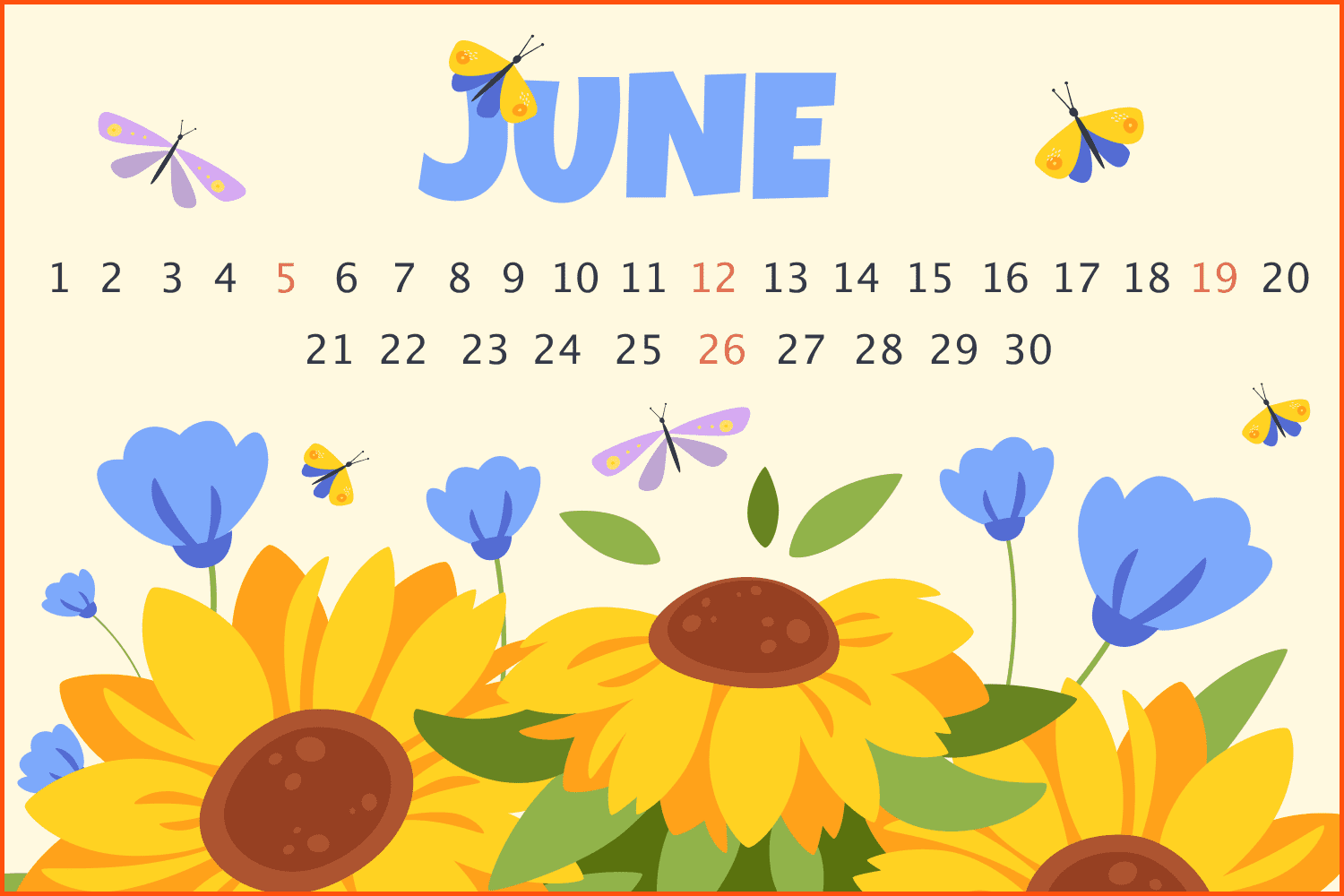 The sunflower is one of the symbols of Ukrainian culture. Thus, this calendar will remind you of Ukrainian sunflower fields in the summer.
Sunflower Free June Calendar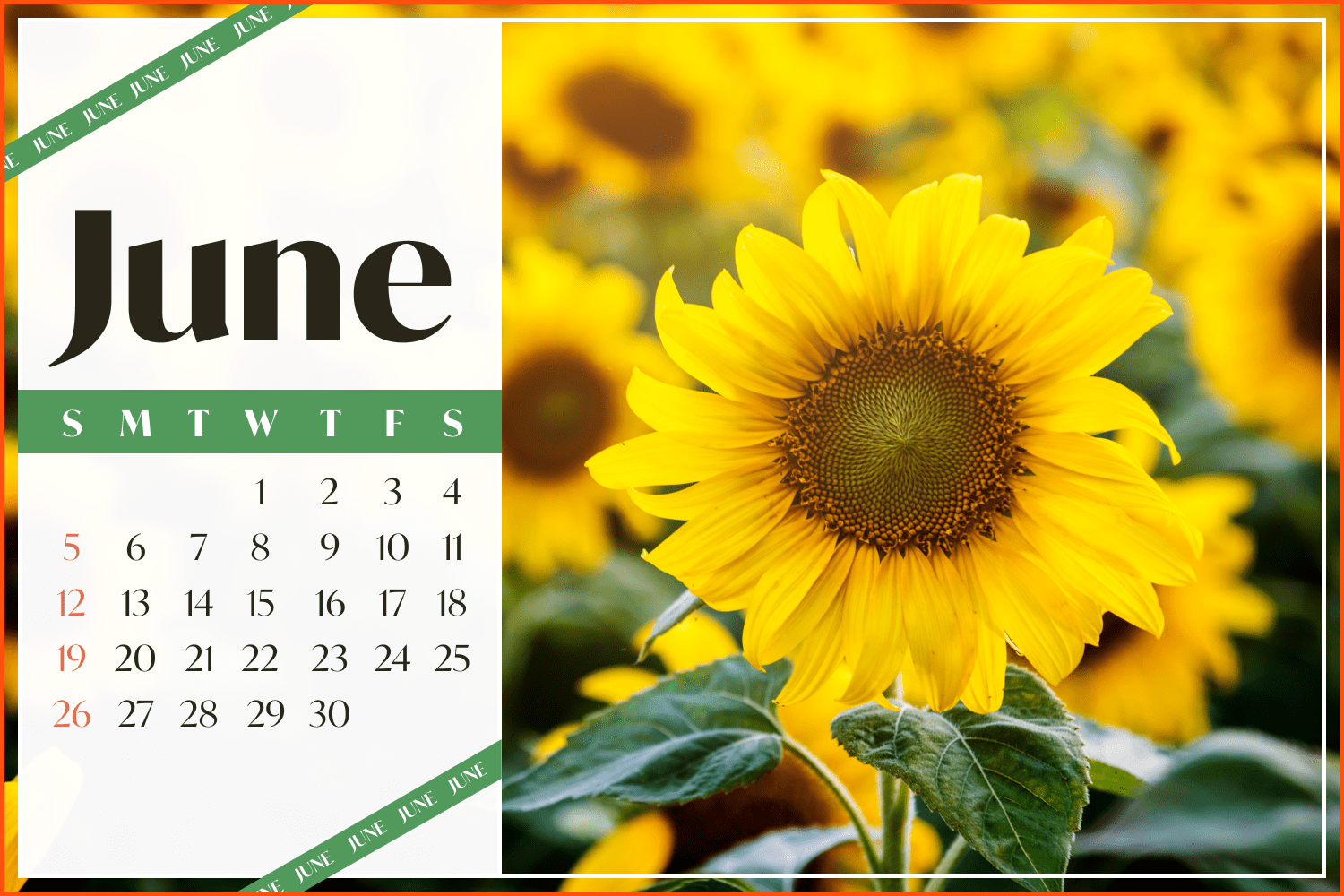 Again sunflowers, but here in a more realistic manner. This photo-calendar for June 2022 is very colorful and bright. It's exactly what you need for the upcoming summer.
Ukraine Free June Calendar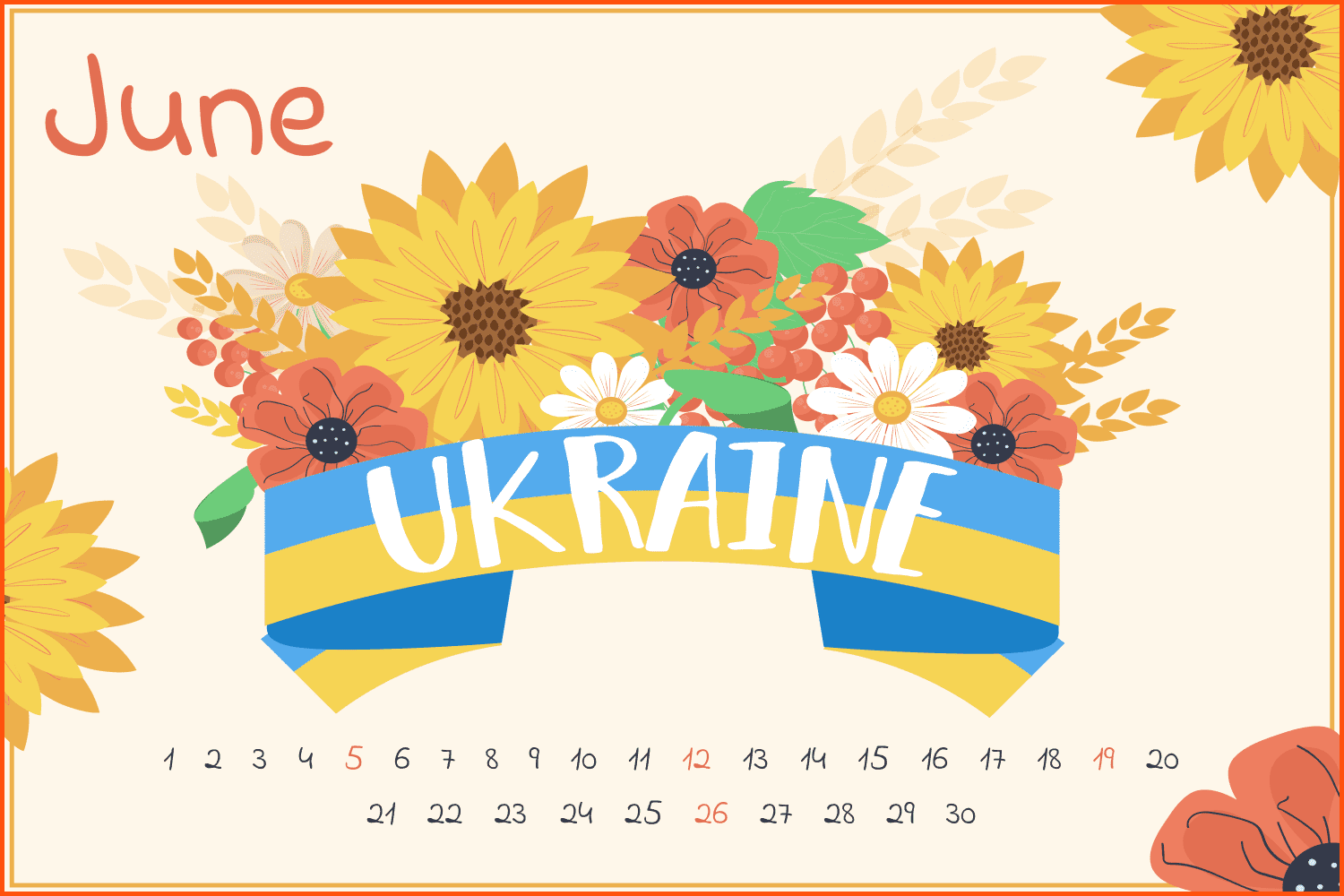 If your thoughts are with Ukraine, choose this adorable patriotic June 2022 calendar with holidays.
Free Watercolor Sunflower June Calendar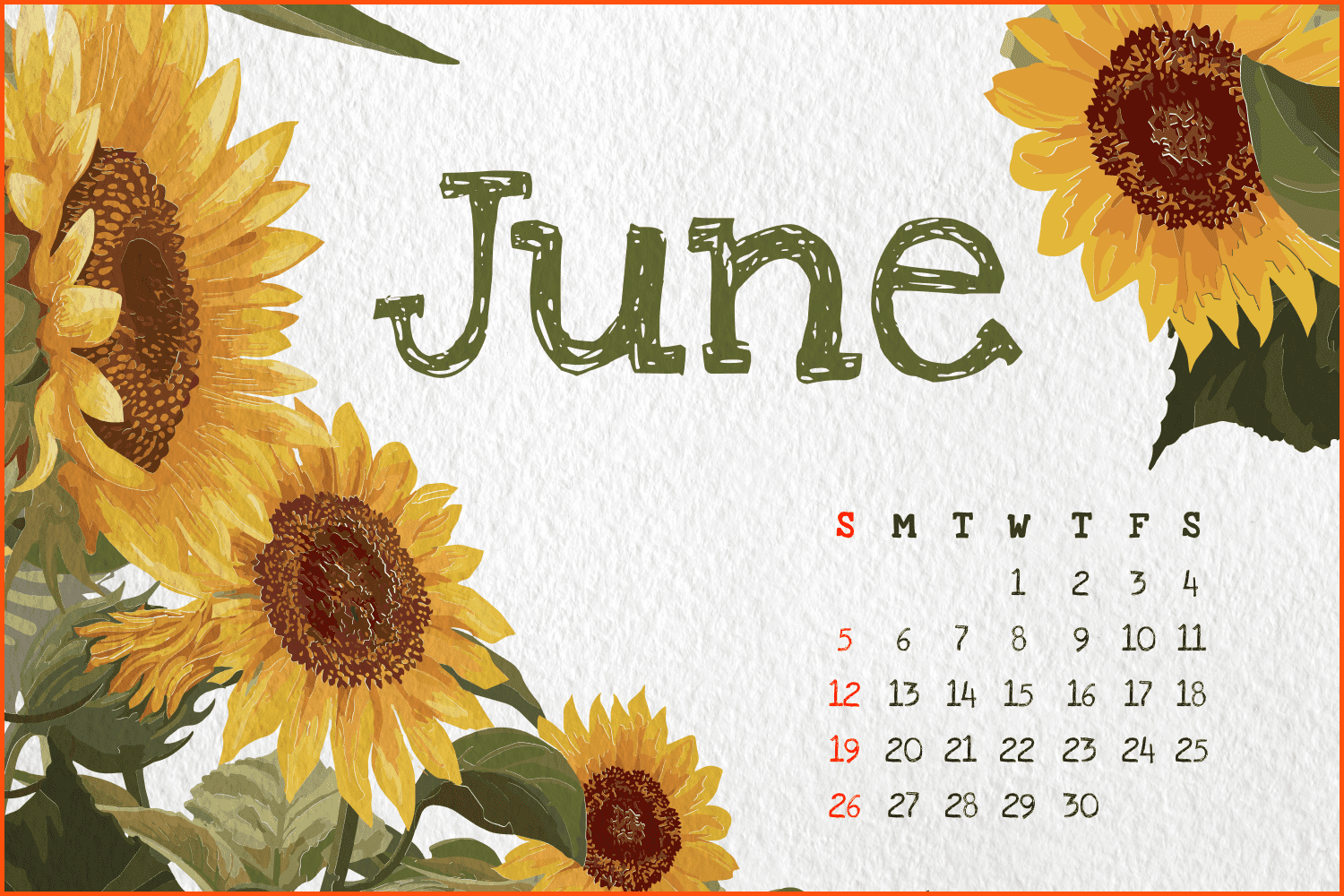 Sunflowers are the most popular summer flowers. That's why this watercolor illustration on the June 2022 calendar printable evokes warm and cozy feelings.
Free Stand with Ukraine June Calendar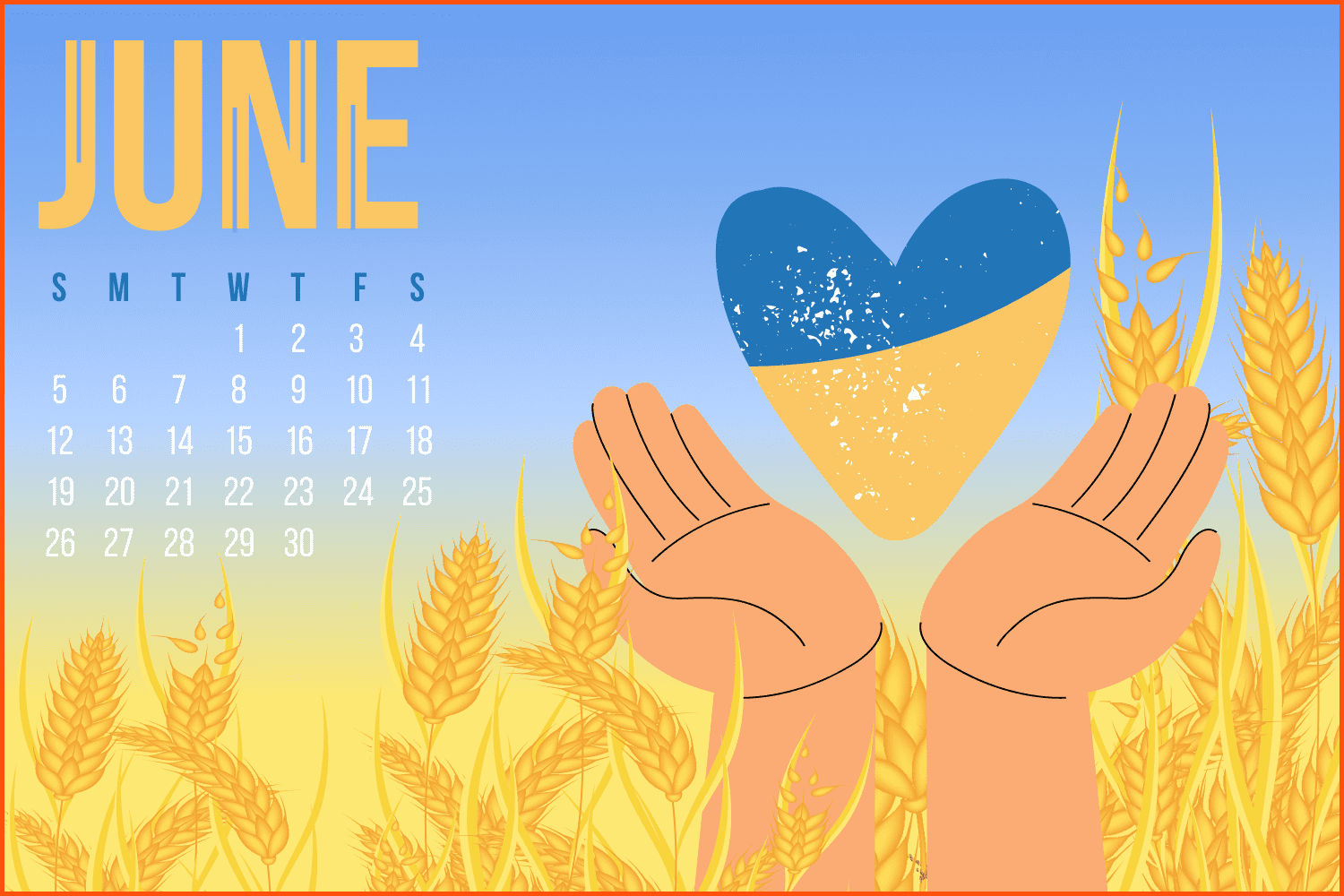 Do you know that the Ukrainian flag symbolizes the clear blue sky over the golden wheat fields? Well, this June printable calendar 2022 portrays exactly that.
Free Vintage June Editable Calendar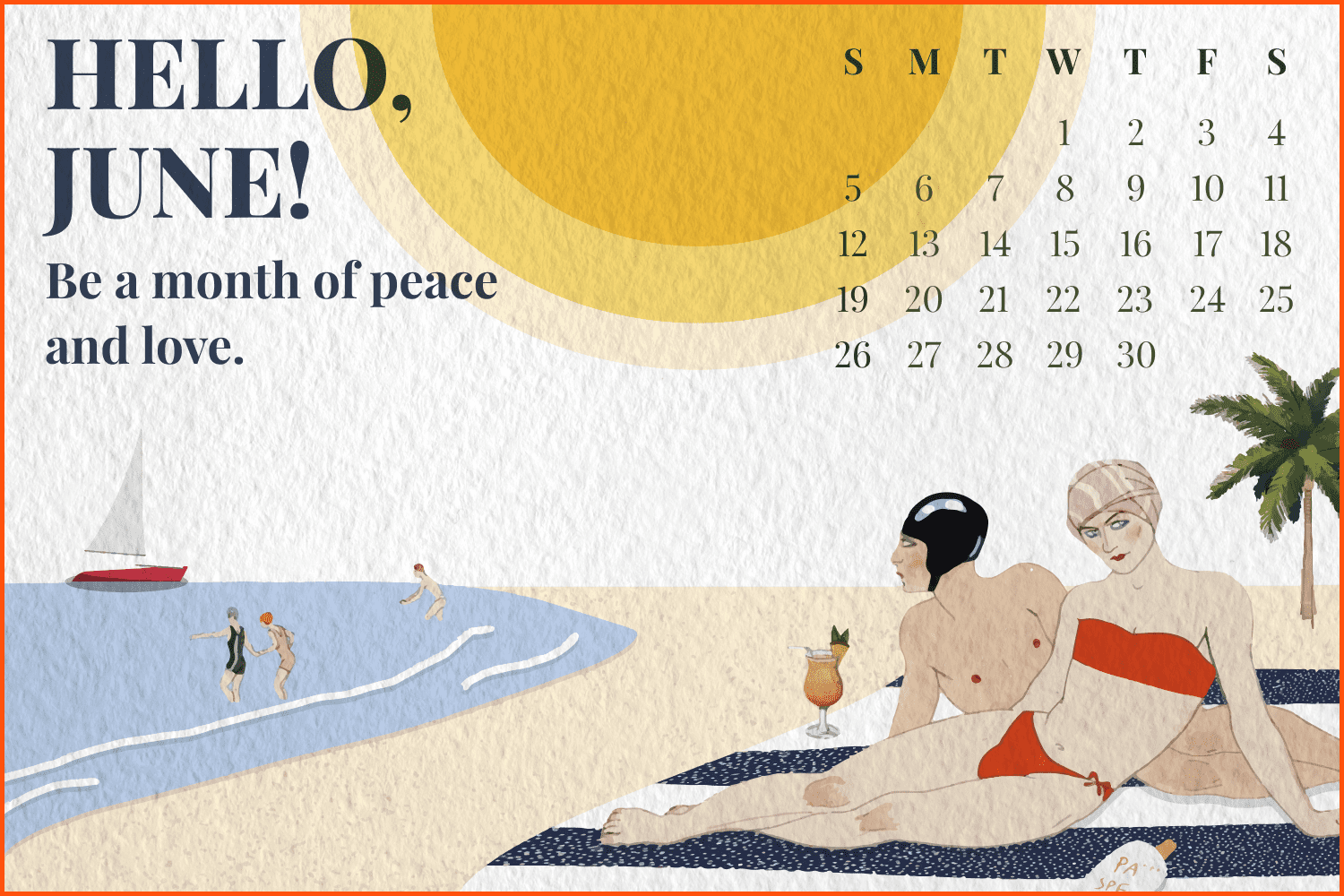 The adorable vintage hand-drawn illustration makes this calendar very attractive, don't you agree?
Free Beach June Editable Calendar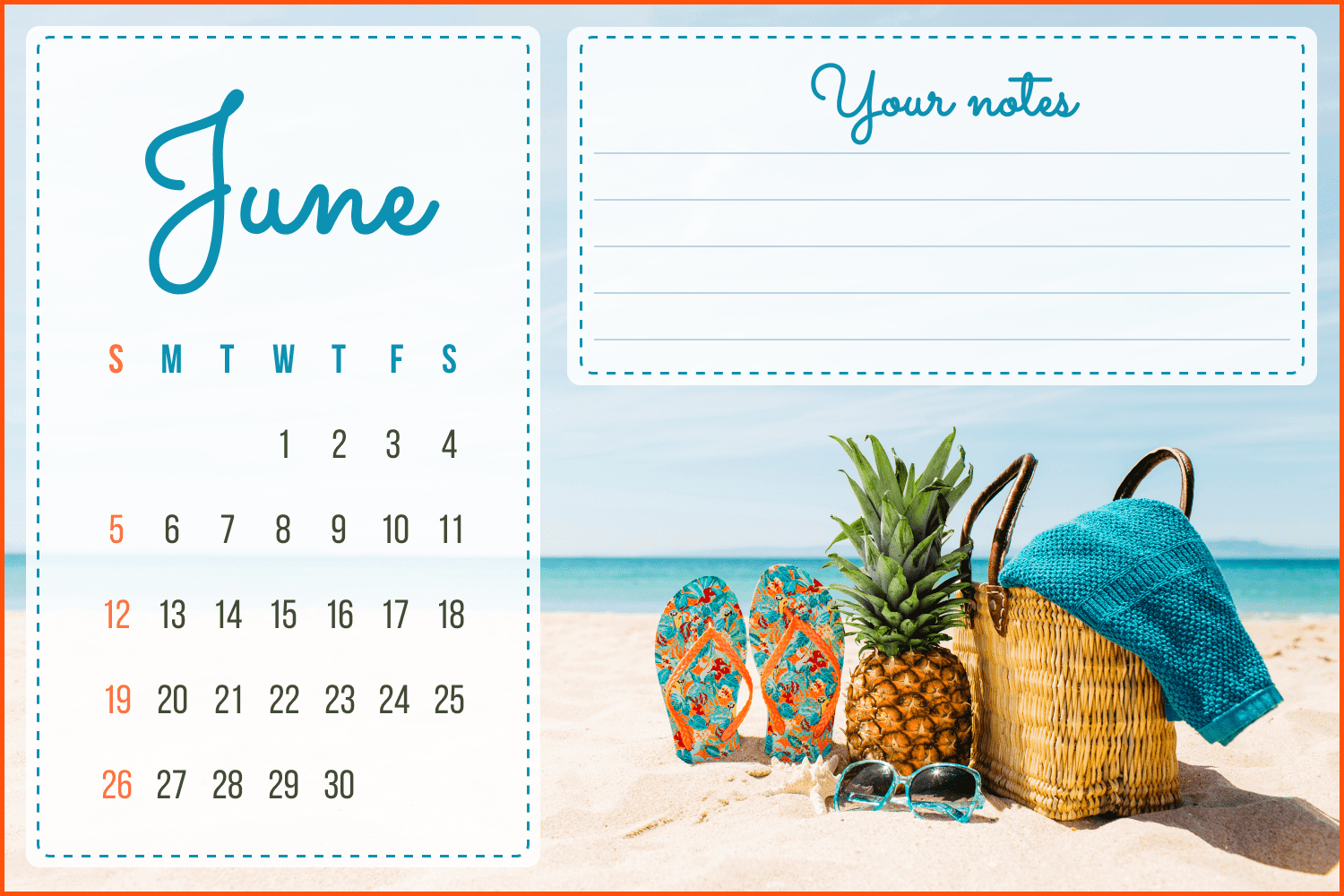 Looking at this fresh summer calendar, you can almost taste the pineapple juice that you will probably sip while relaxing at the seaside during your vacation.
Free Yellow June Editable Calendar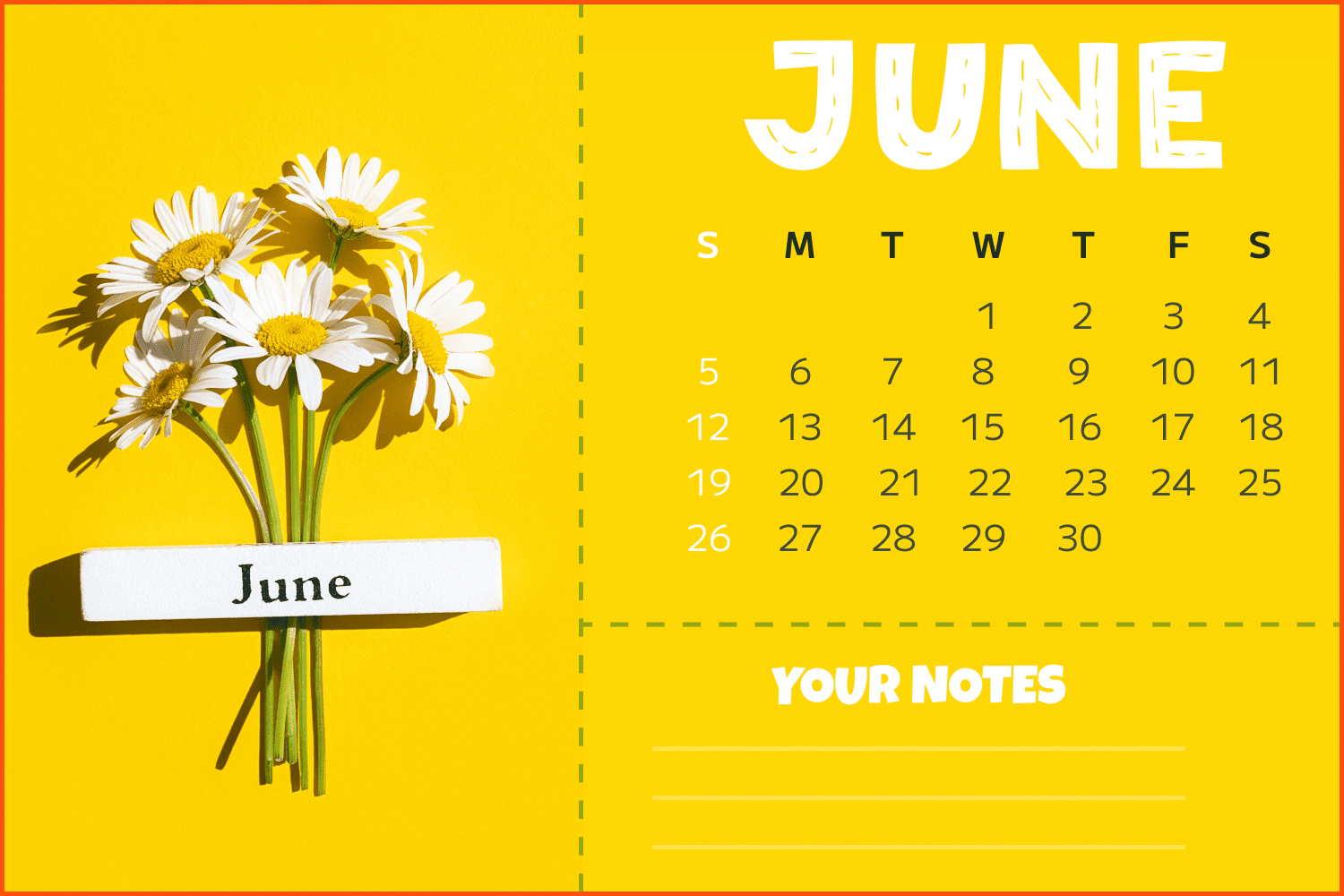 For all the fans of the color yellow, we prepared this camomile-decorated June calendar.
10 Free Editable June Calendars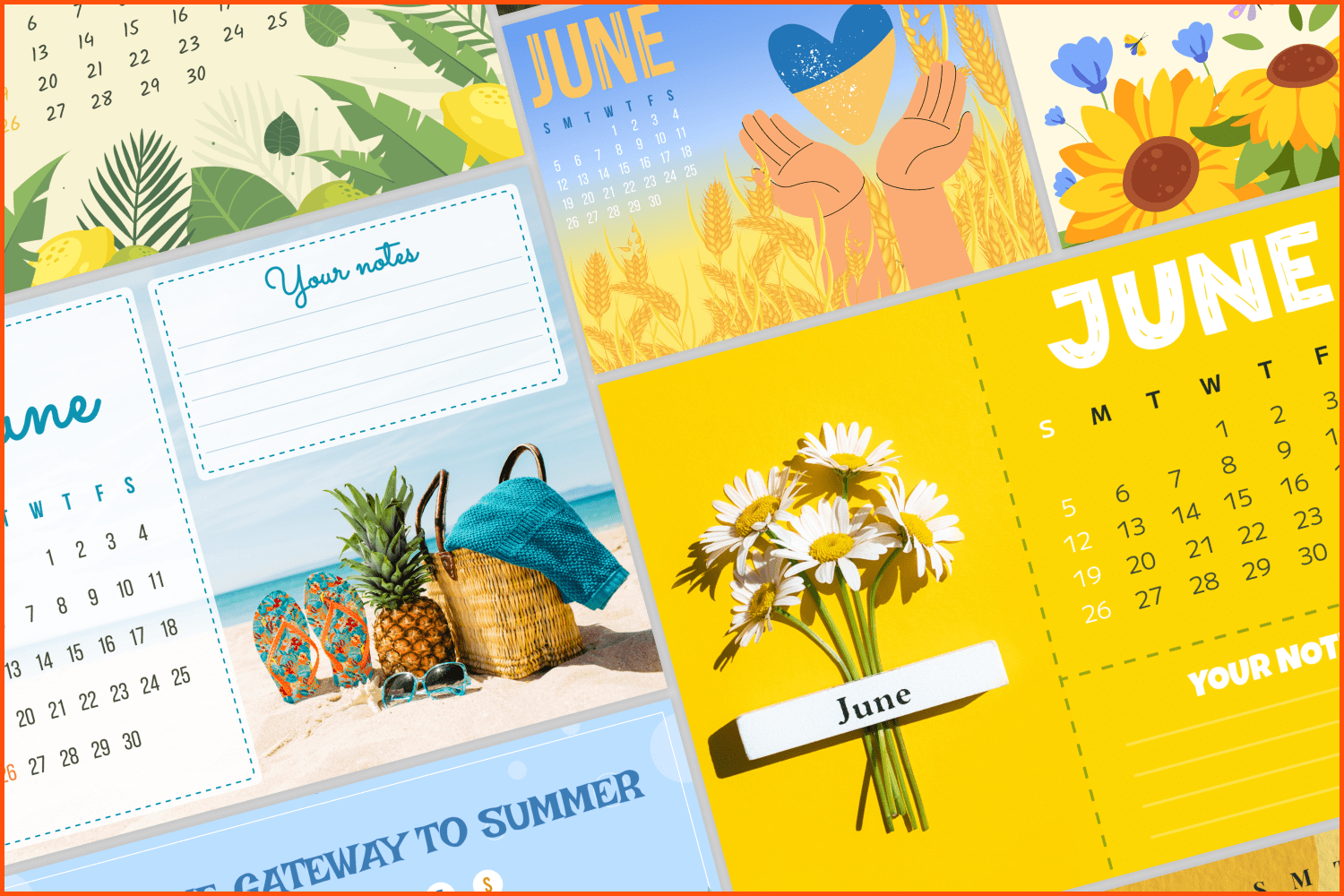 For those who want more than just one calendar for June, you are welcome to download all 10 amazing calendars in one bundle.
Cute June 2022 Calendars
Cute Summer Printable Calendar Editable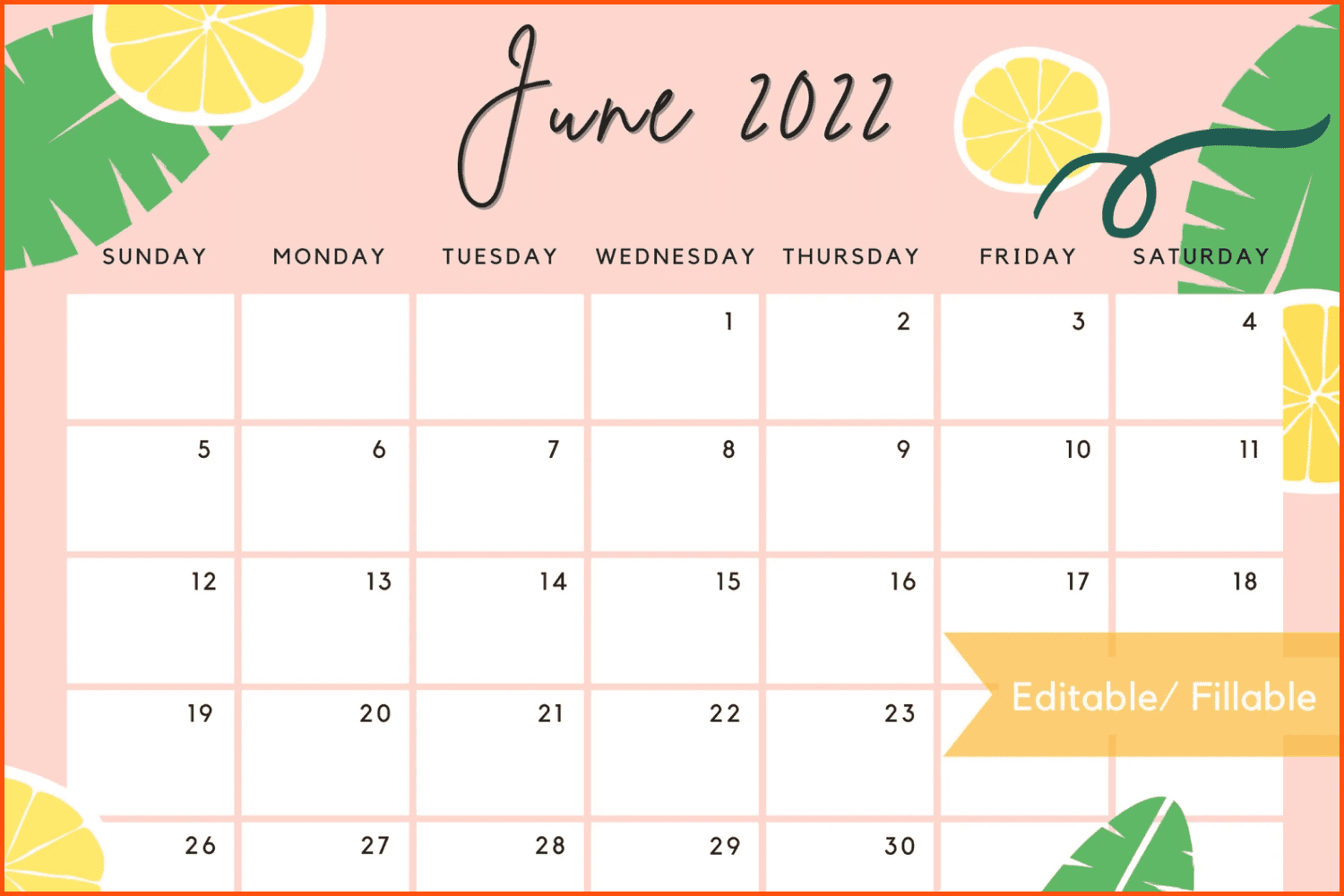 This calendar is all about fresh summer days! There are blank spaces on each day, so you can easily add some important events of June to remember everything.
EDITABLE June 2022 Calendar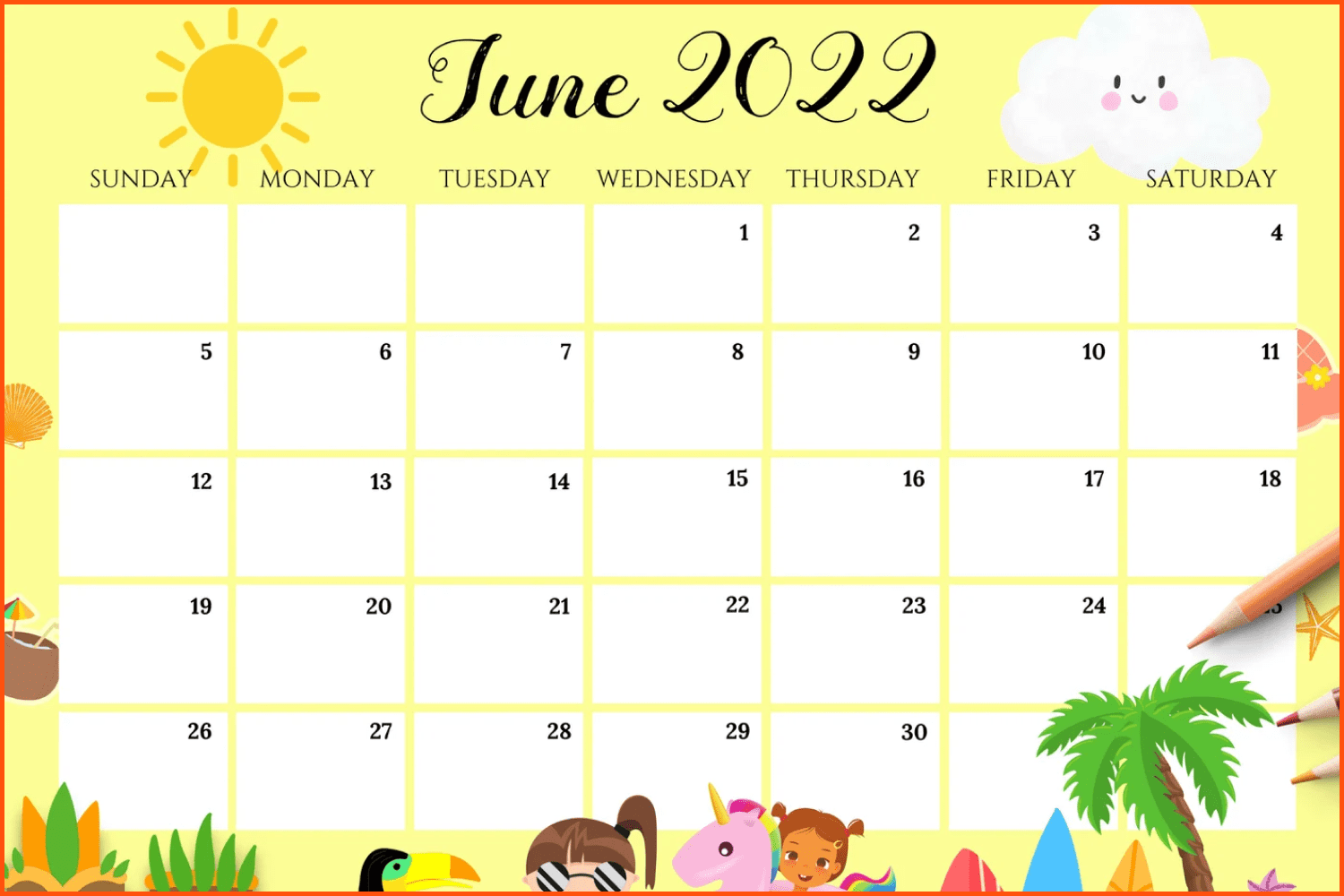 This funny and cute June 2022 calendar comes both in PNG and PDF formats, so you can choose the one you will be most comfortable with.
Happy Summer with Cute Sweet Desserts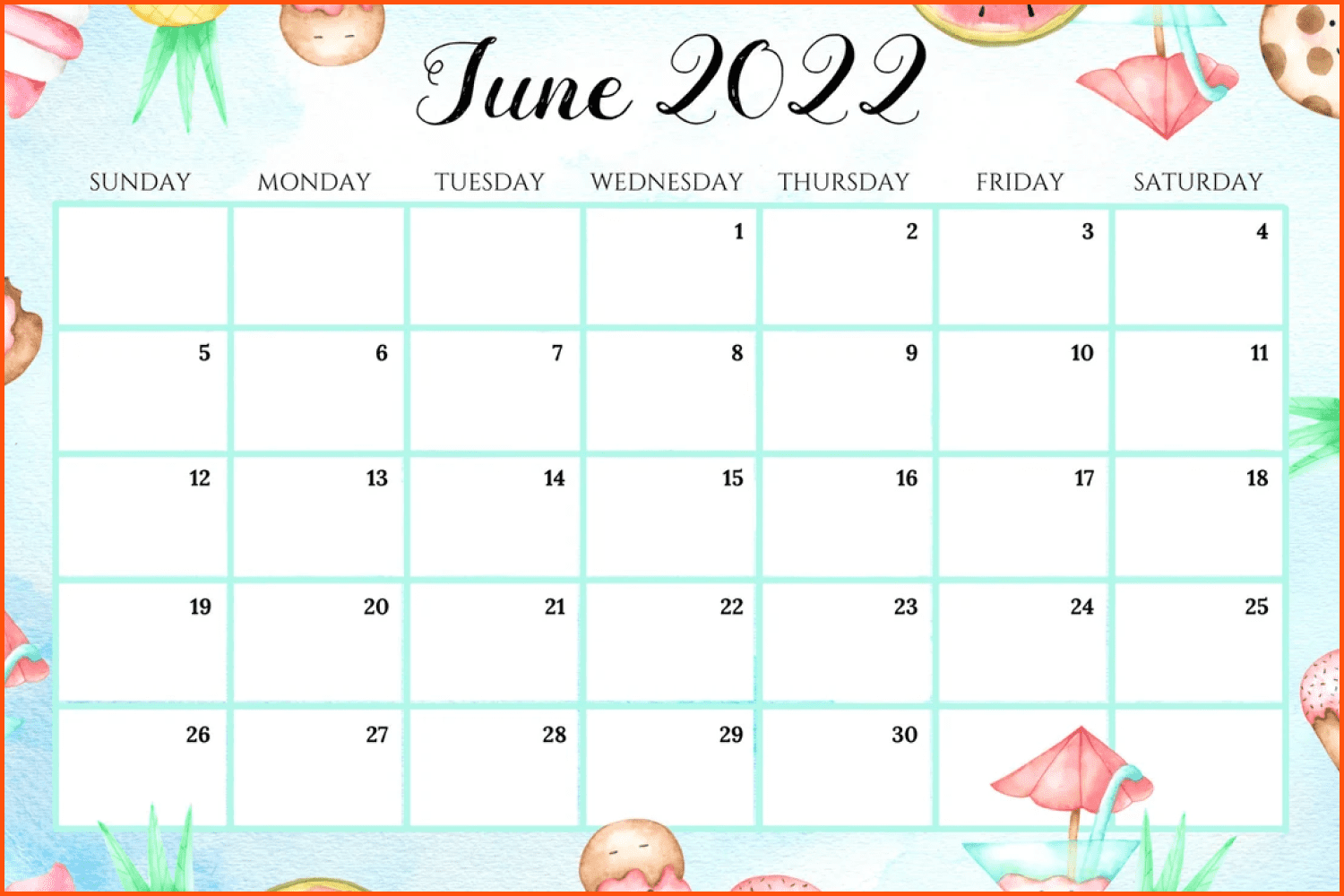 Made in the watercolor technique, this adorable blank calendar June 2022 with delicious desserts on it will be an amazing calendar for both children and adults.
Editable June calendar 2022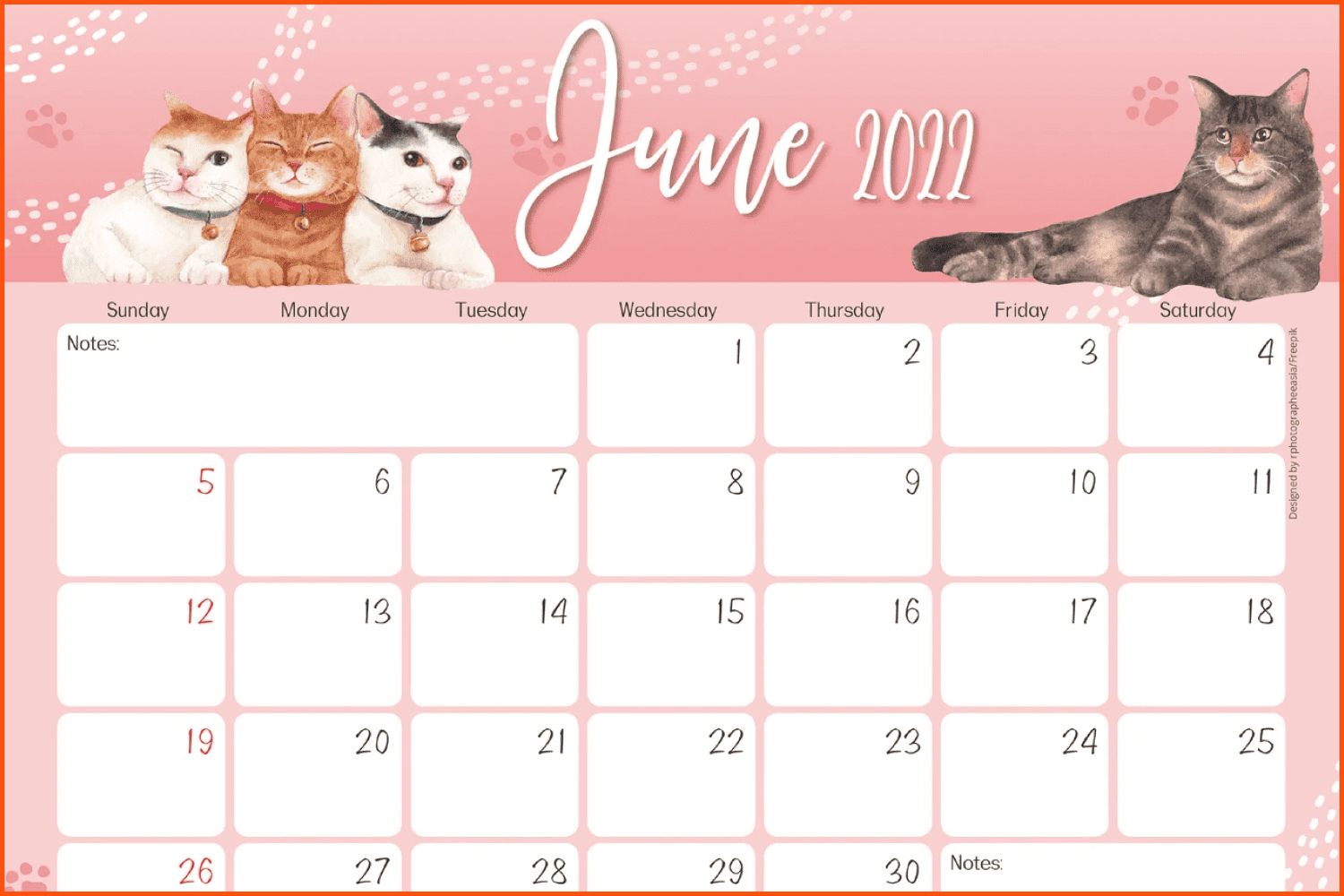 If you can't imagine your life without cats, take this adorable calendar with pretty kitties.
Turtle-Themed Calendar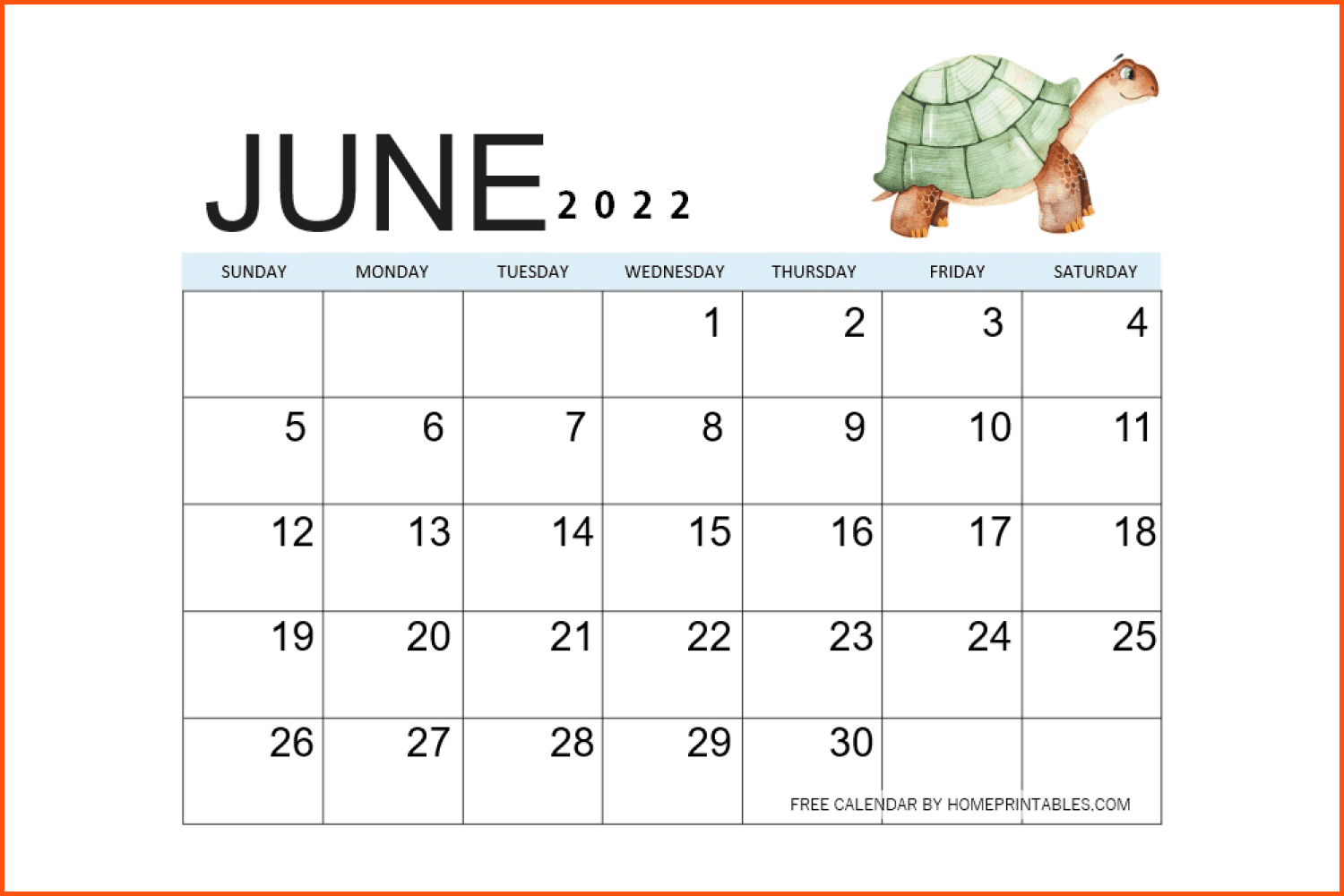 A cute turtle painted with watercolor will surely give you a joyful mood.
Gorgeous Undersea with Mermaids & Coral 2022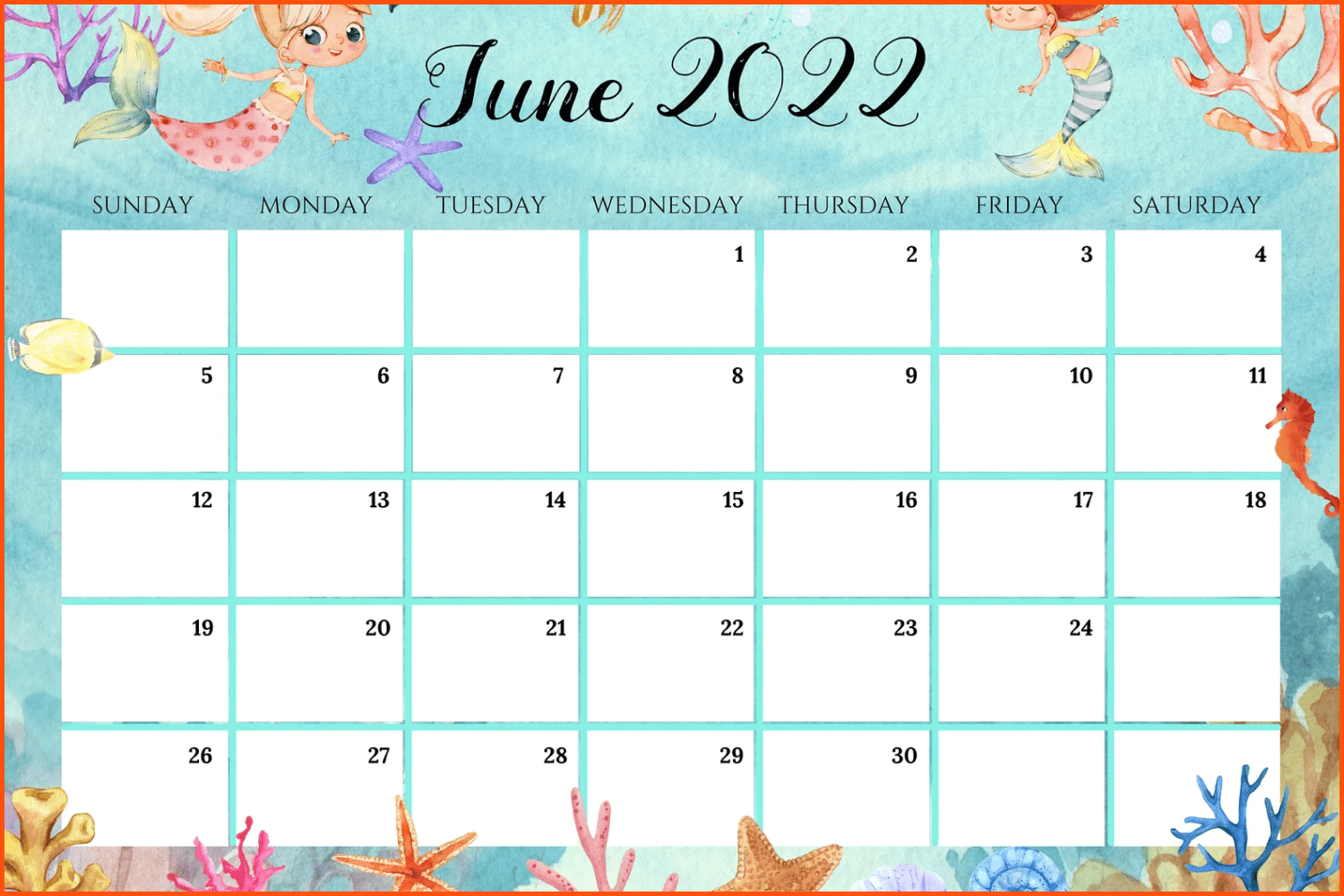 Almost everyone associates summer with a vacation at the seaside. Thus, inspired by such dreams, this unique watercolor June calendar was created.
Simple and Minimalist Calendars for June 2022
Hello June 2022 Printable Green Calendar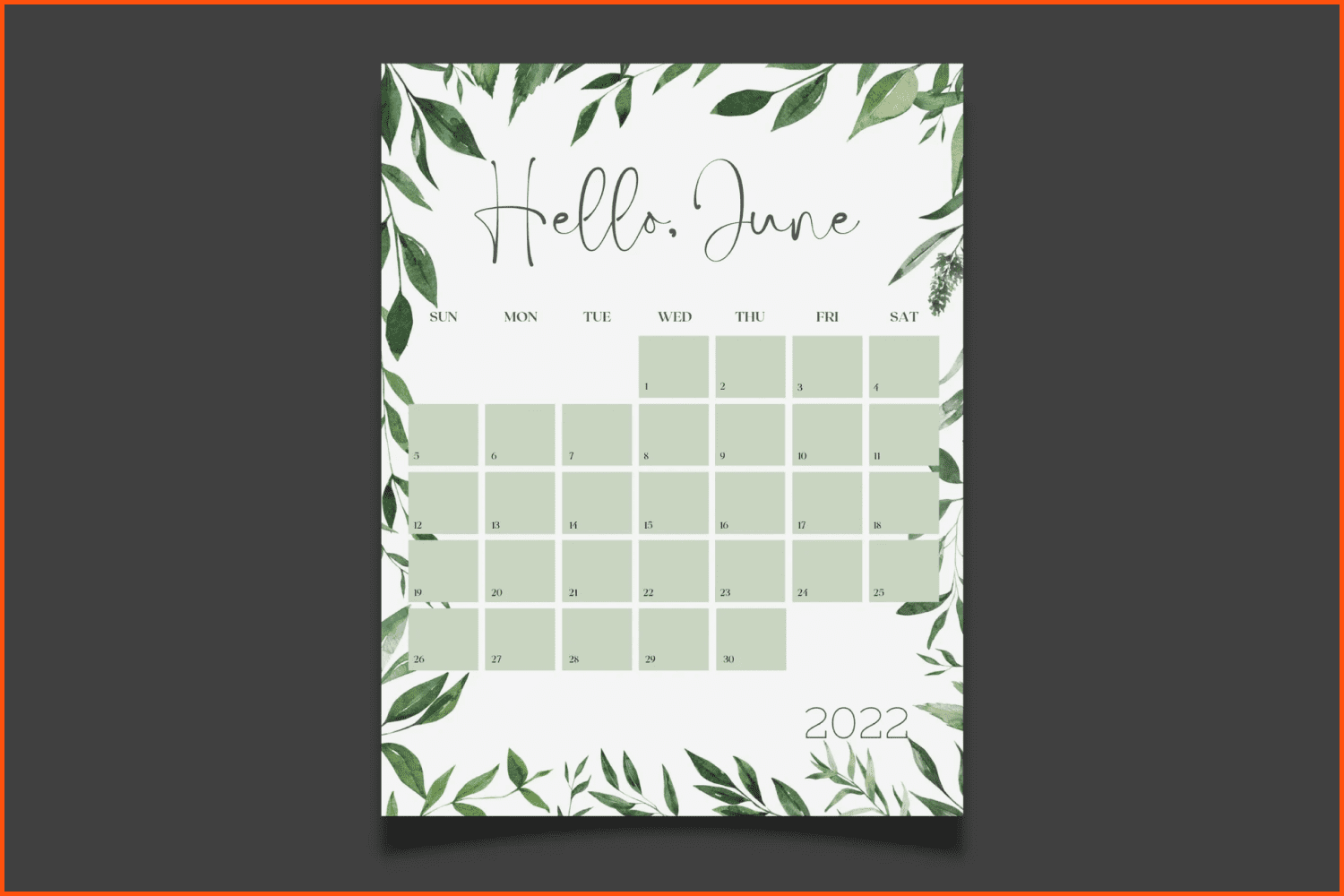 This simple June calendar will add a touch of beauty to your home or office.
Aloha Printed June Calendar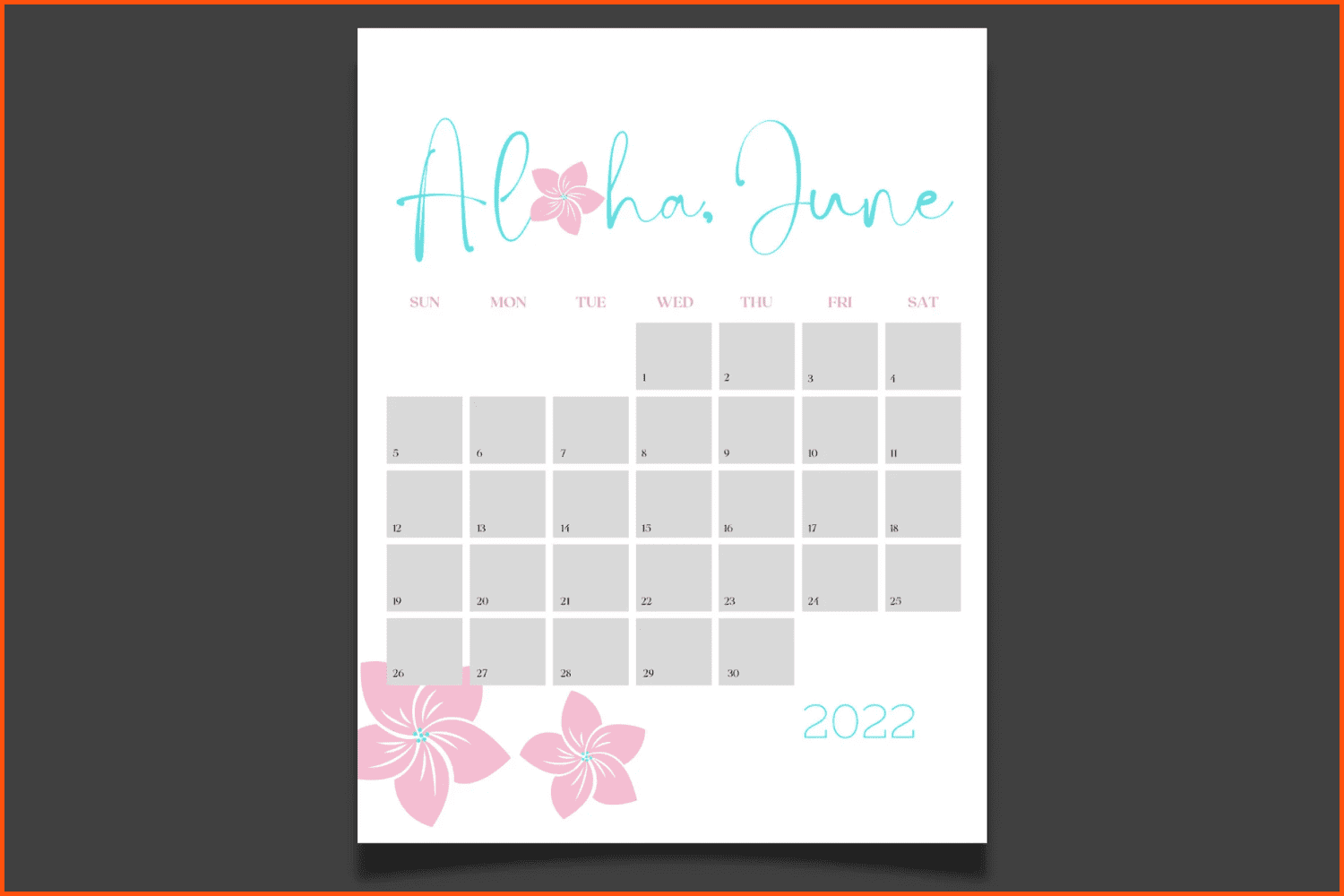 Amazing calendars like this one in tender colors will definitely make you feel warm in your dreams about the upcoming vacation.
Minimalist June 2022 Calendar Instagram Story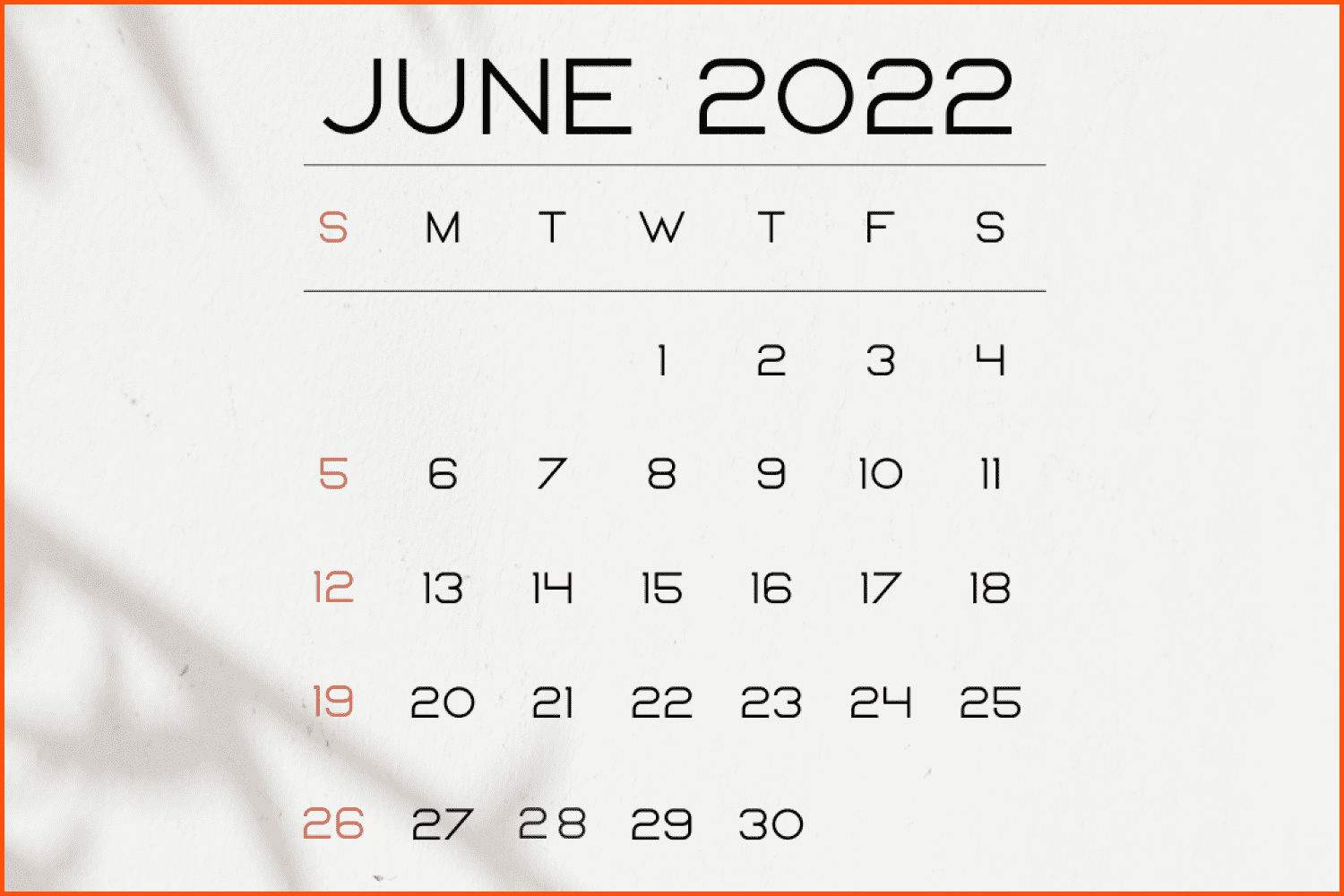 This simple calendar looks very aesthetic because of its simplicity and minimalist design.
Orange, White, Minimal, Floral June 2022 Calendar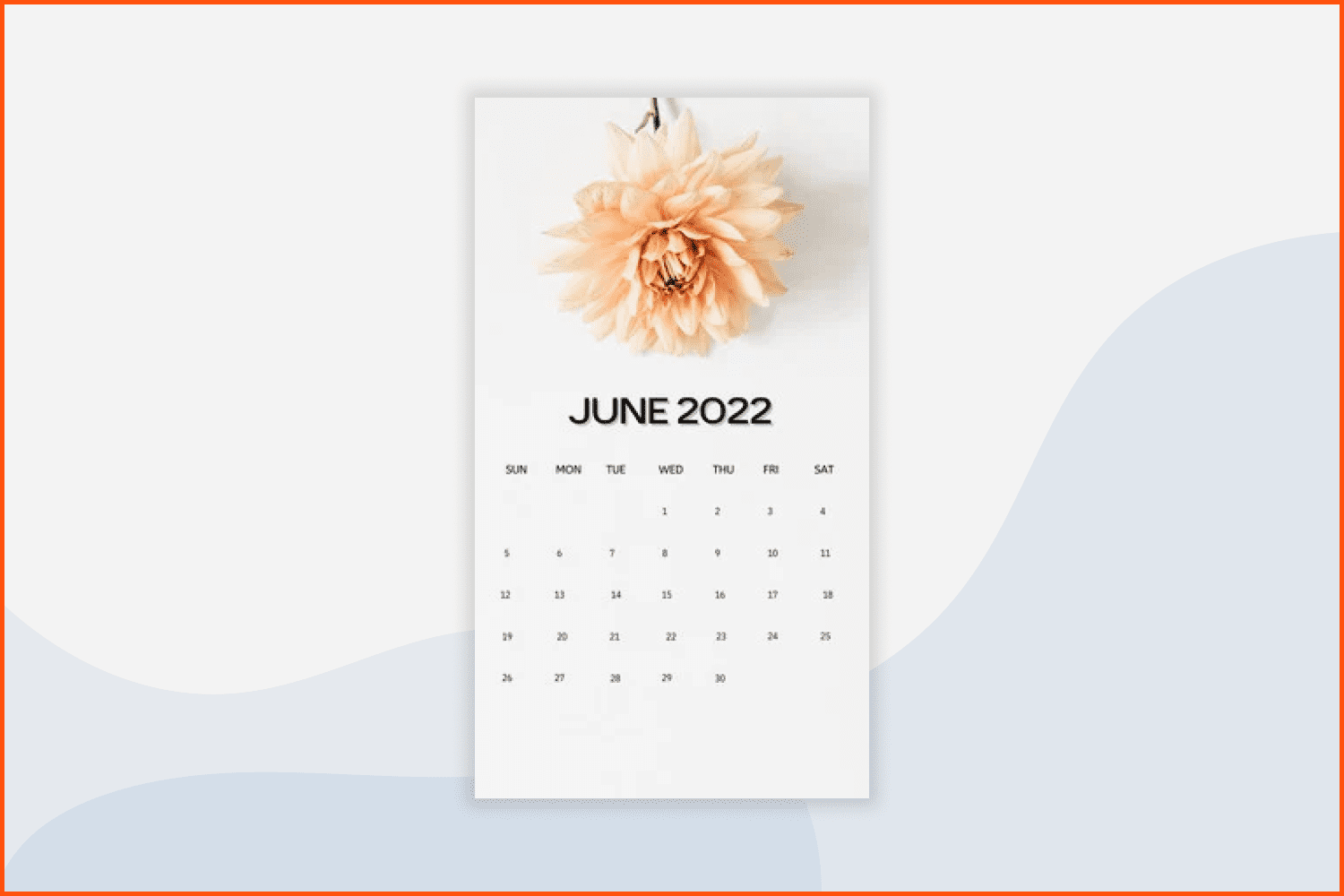 You can use this one minimalistic simple calendar as your phone wallpaper.
Blue Modern June 2022 Month Calendar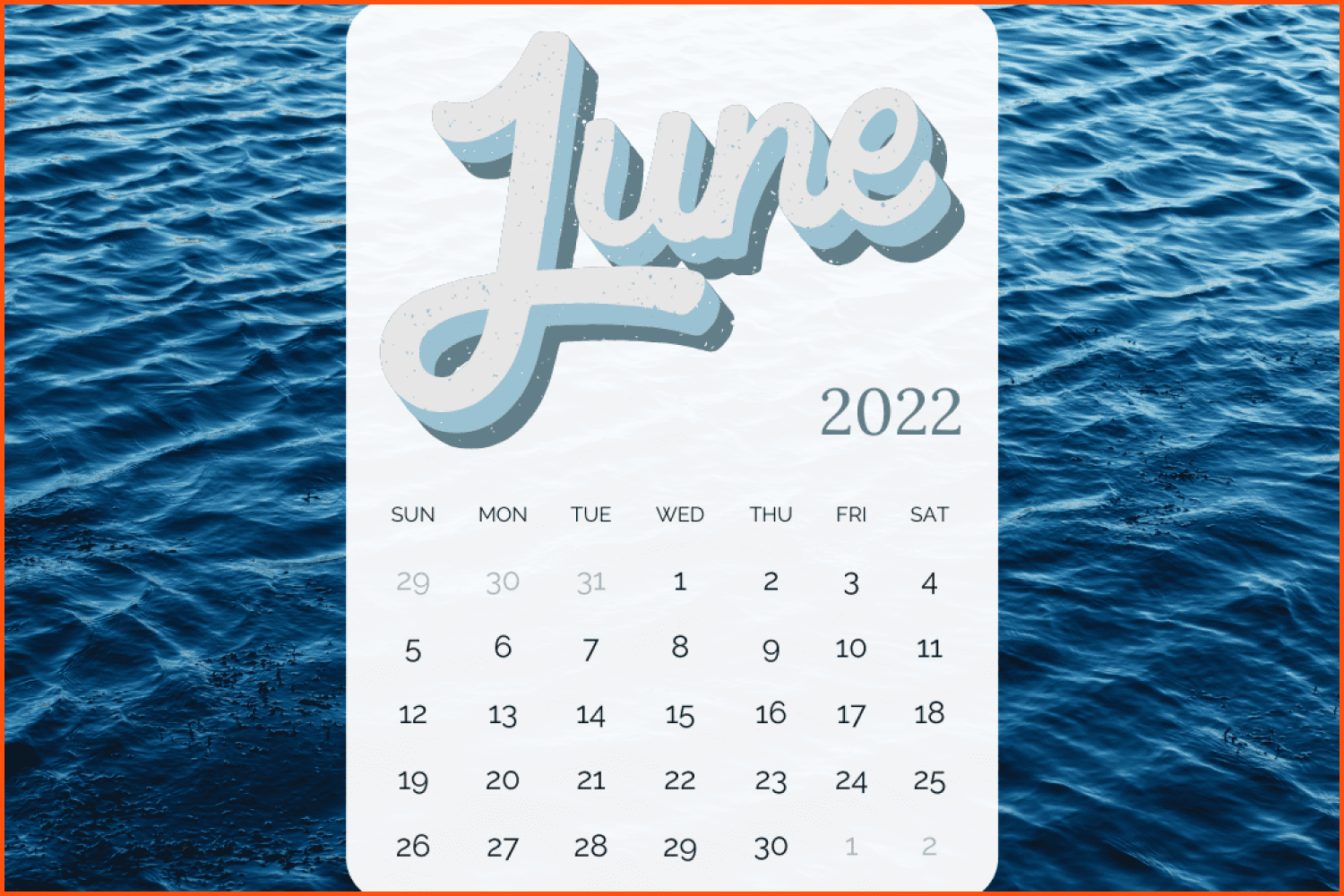 This calendar gives a vintage mood thanks to the font chosen for the June signature.
Colorful Calendars for June
June 2022 Calendar Minimalist White Orange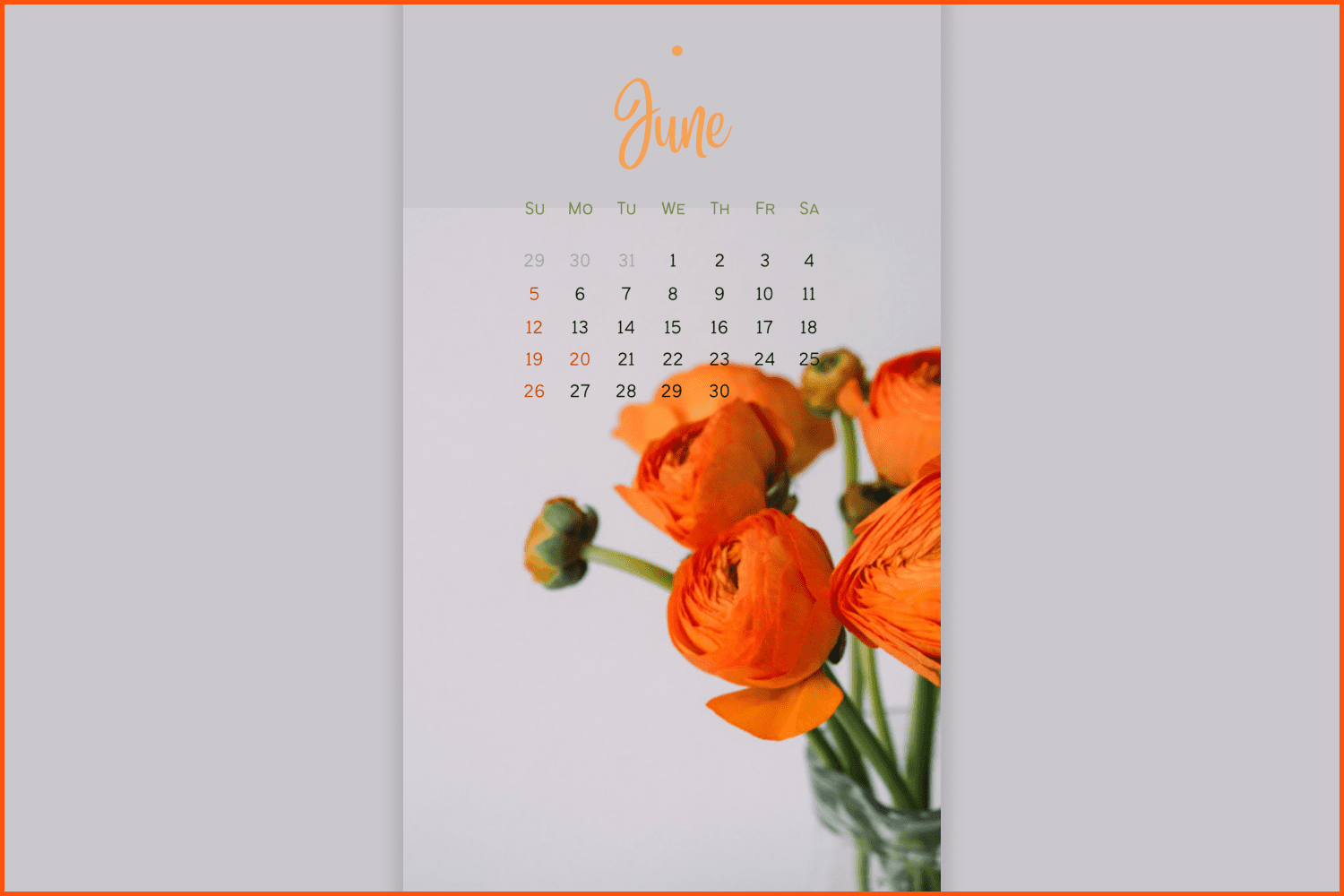 Cool colorful calendar for June in white and orange colors will definitely cheer you up every morning of the first month of summer.
Red Yellow Geometric June Calendar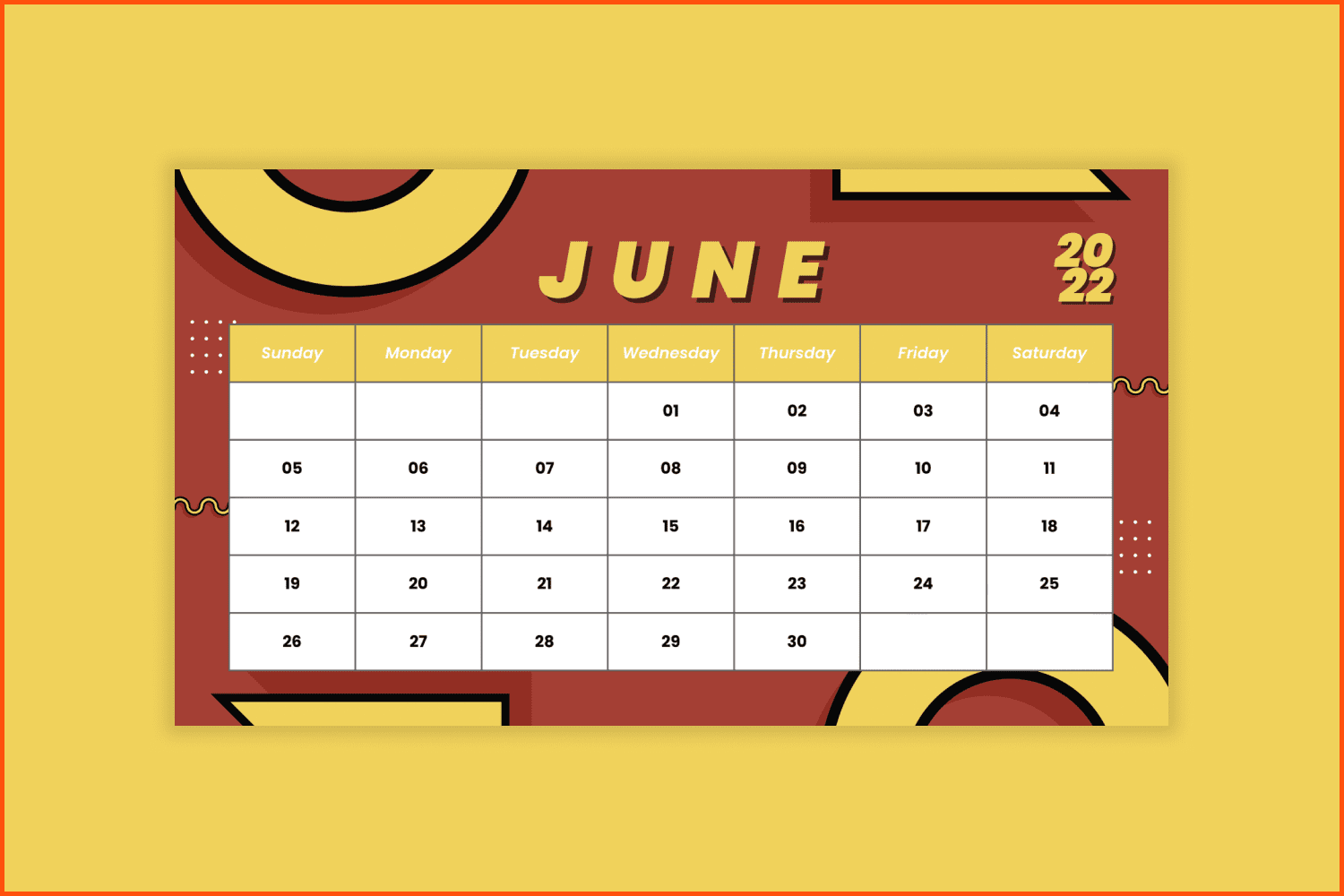 For those who like to stand out, we found this red and yellow geometric calendar.
Floral June calendar 2022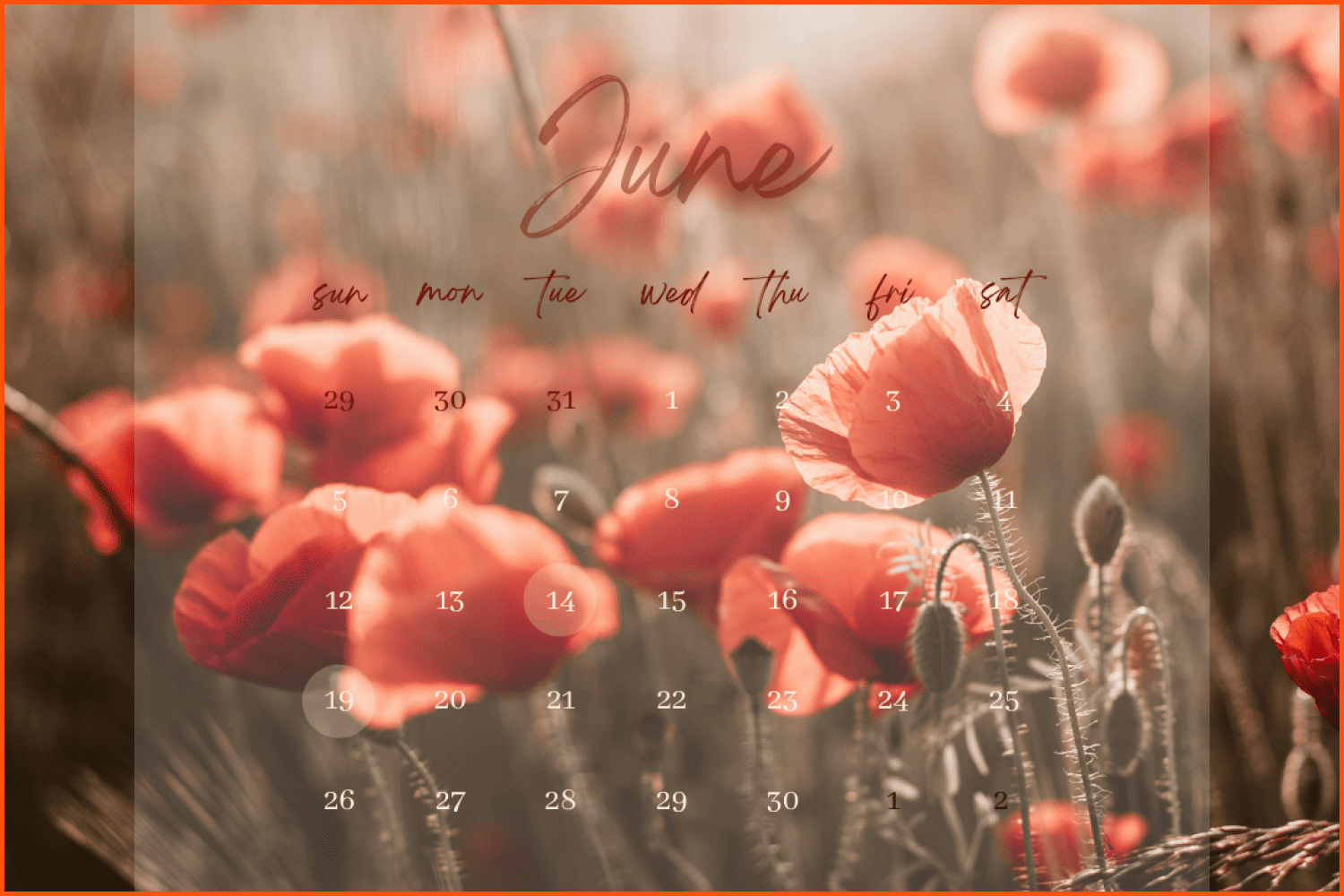 This calendar is very eye-catching. A colorful photo of the poppy fields in sundown light looks just marvelous.
Turquoise, White, June 2022 Minimal Calendar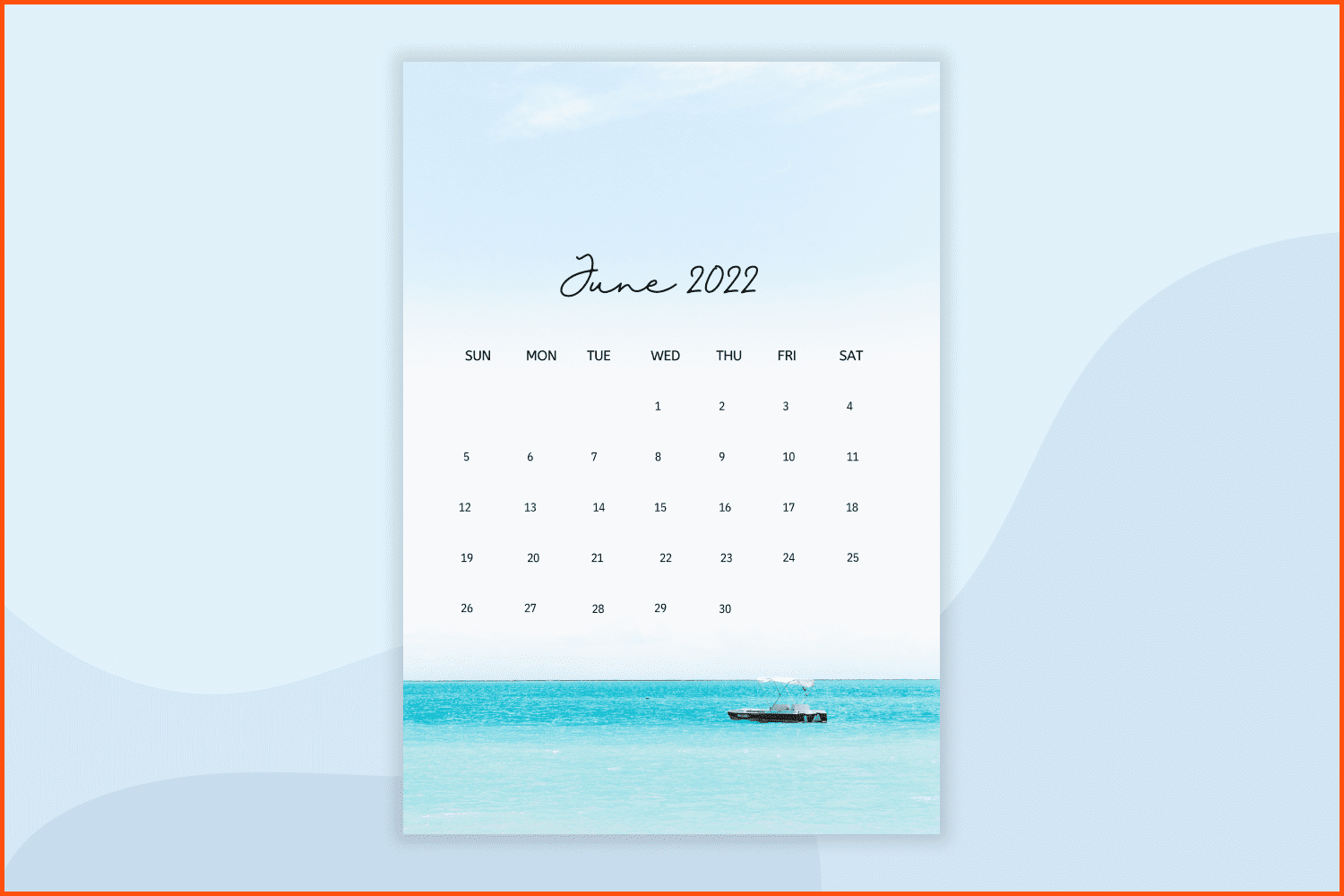 Want to get closer to the turquoise ocean? Then you should try this amazing printable June 2022 calendar.
Simple June Calendar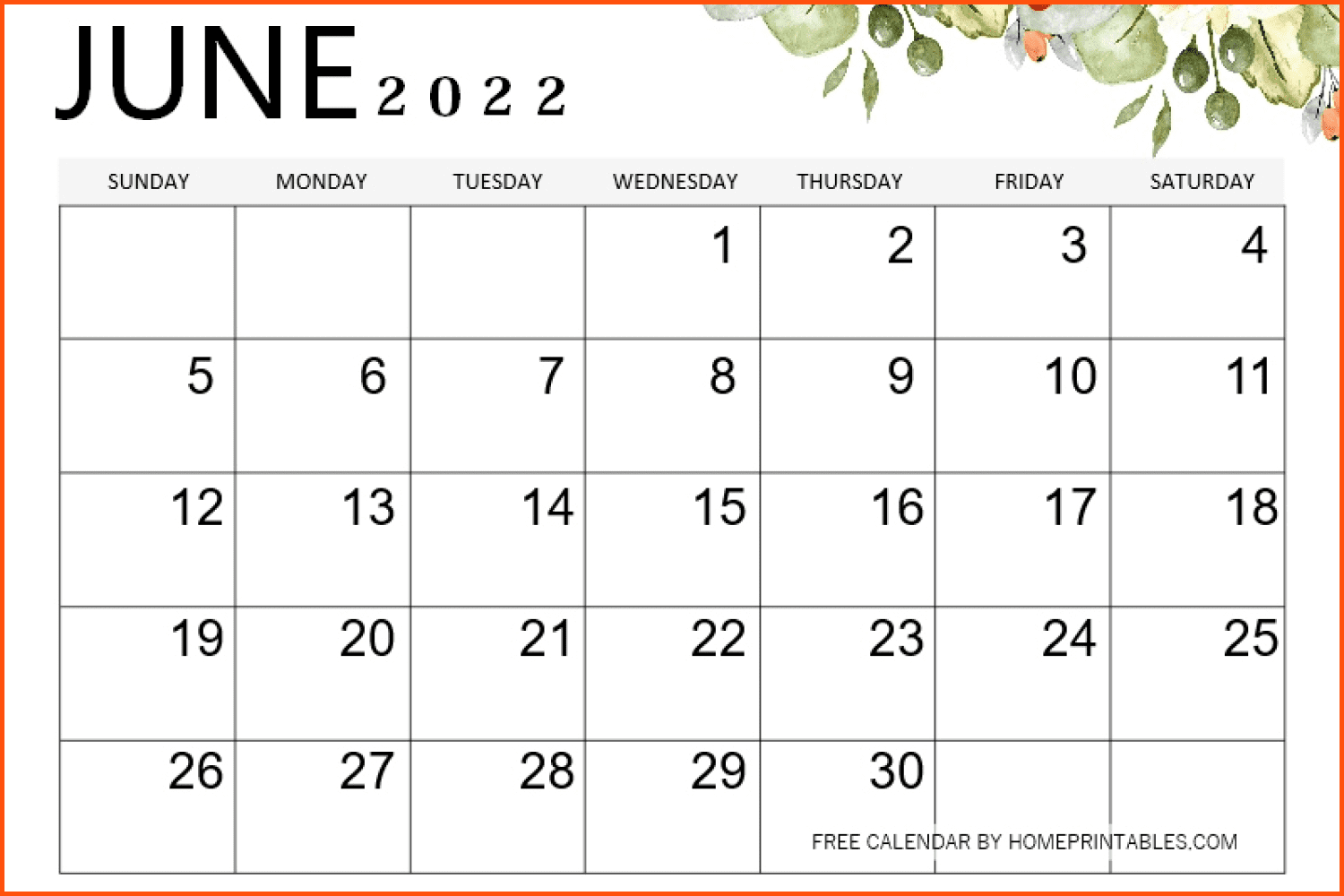 If you want something colorful and simple at the same time, this option is perfect for printing.
Calendars for June with Nature
Pink Floral June Calendar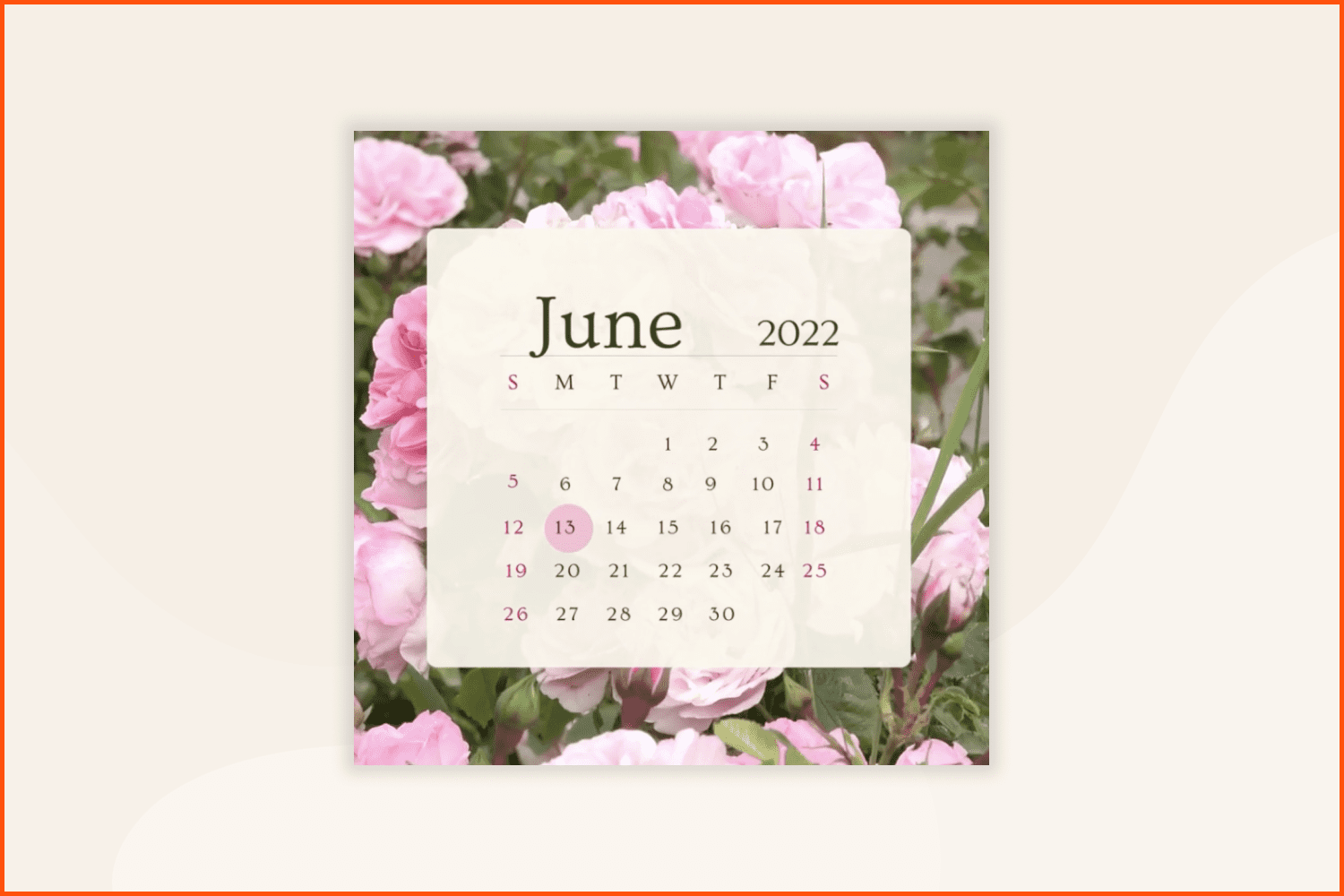 If you are looking for a digital version of a June calendar, this one with tender pink flowers is a great option to choose.
Light Gray Floral June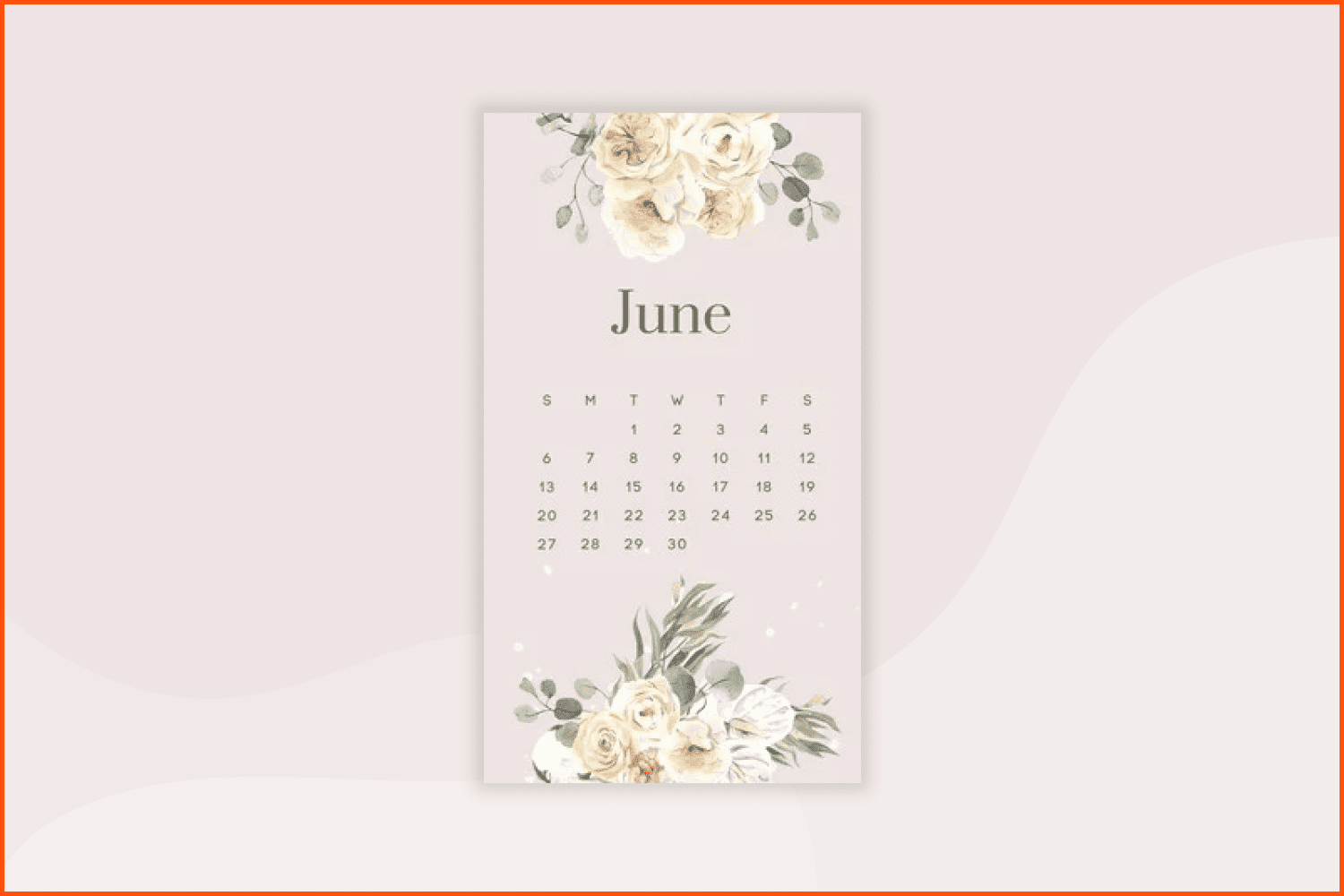 Such floral calendars are the best variants for nature lovers. It looks very light and aesthetic.
Pink Floral June Calendar Facebook Post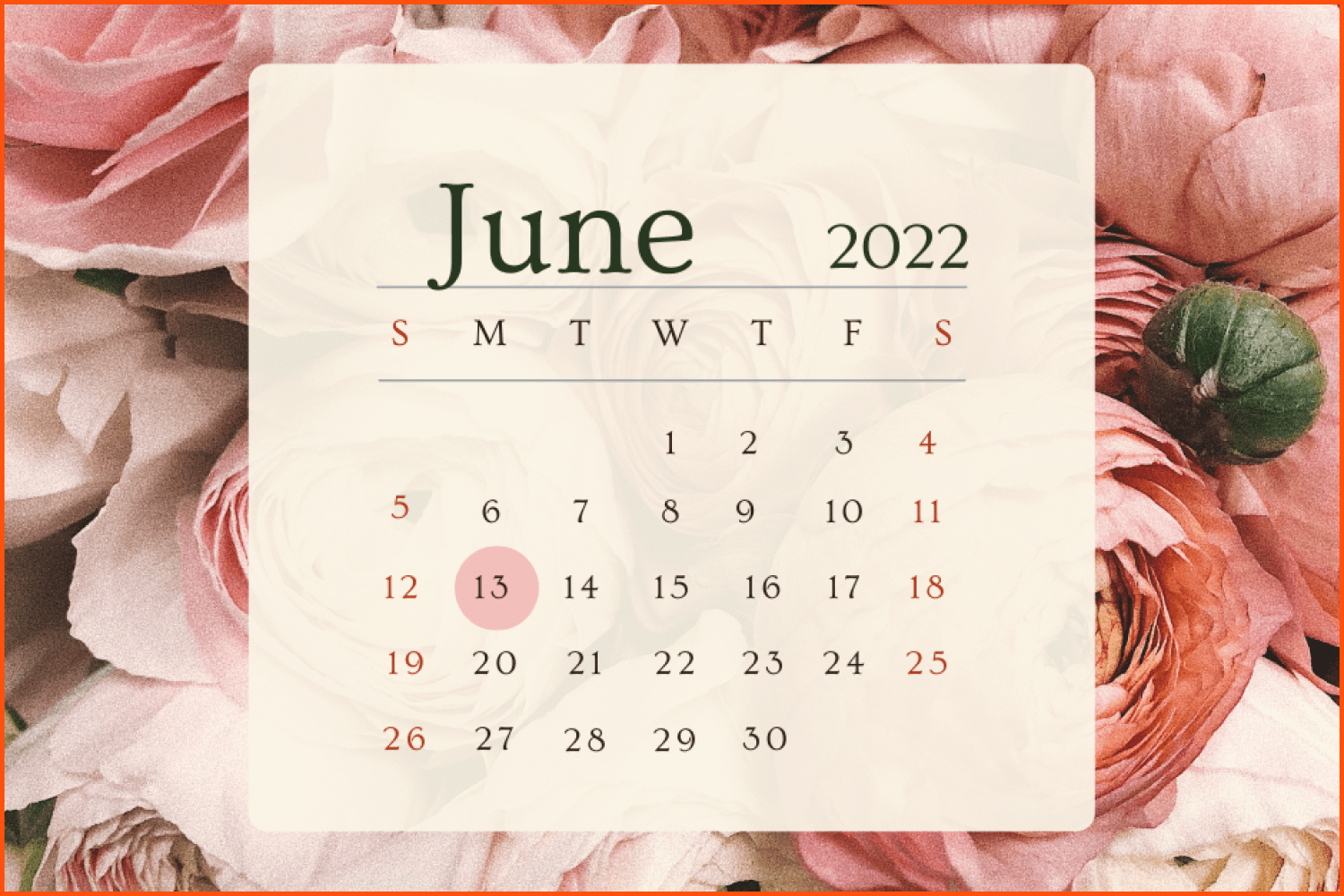 For those who like sharing beautiful calendars on Facebook, we decided to include this one in our collection.
June Calendar 2022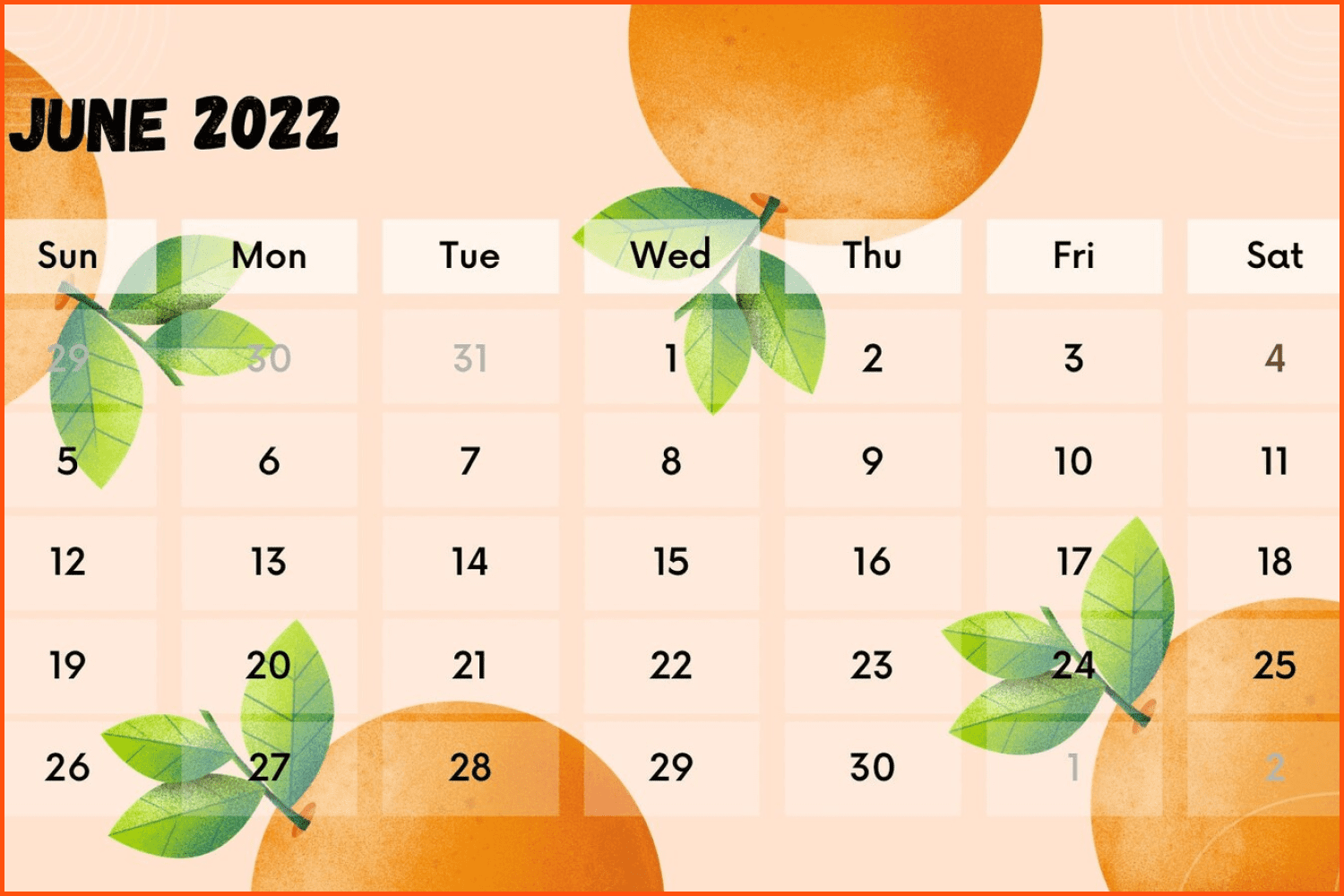 A juicy summer calendar with oranges will cheer you up anytime.
Black & White Magnolia flower drawings Calendar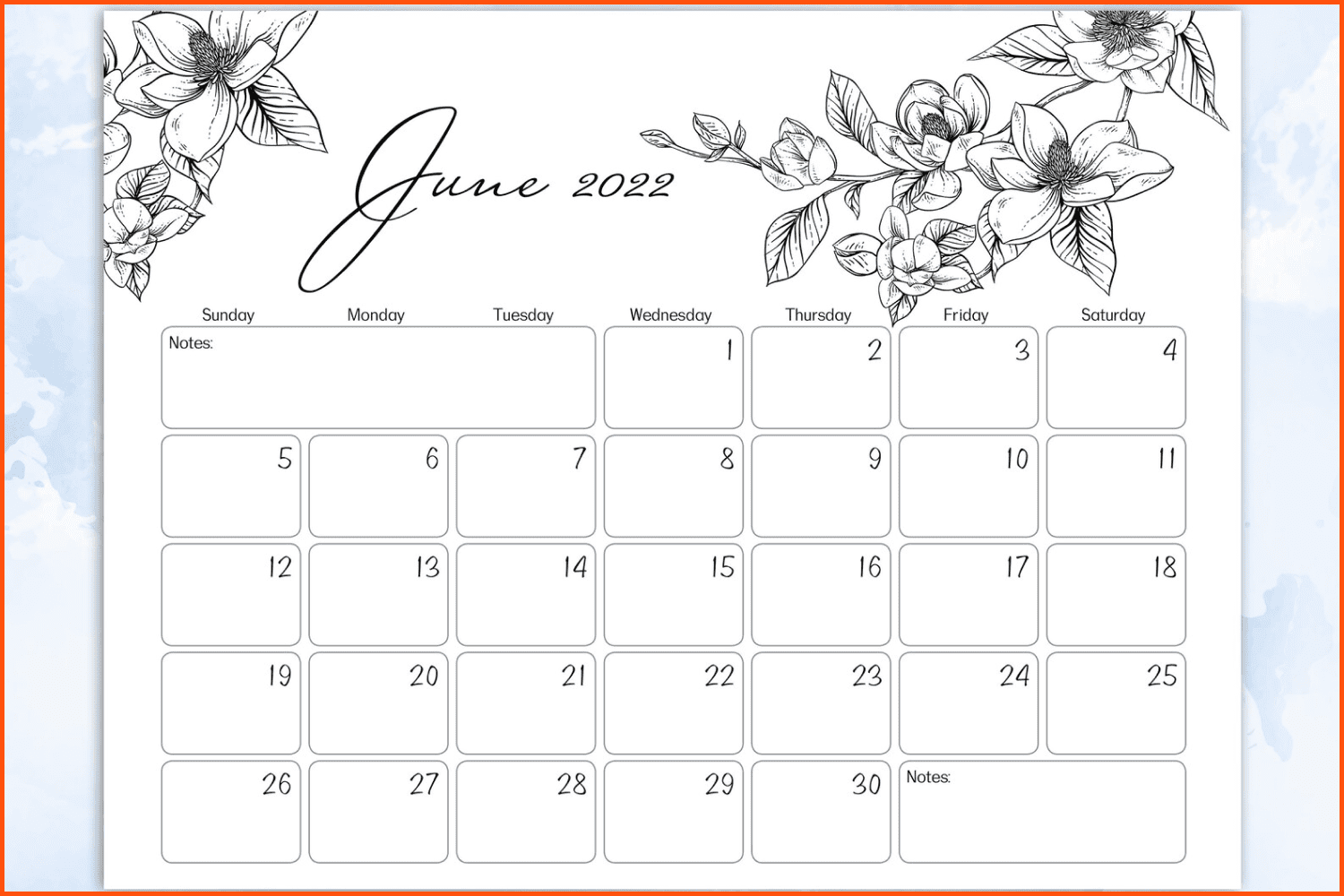 Magnolias are very tender and beautiful flowers and they definitely are symbols of the beginning of the summer.
Printable Blank June Calendars
Floral June 2022 Calendar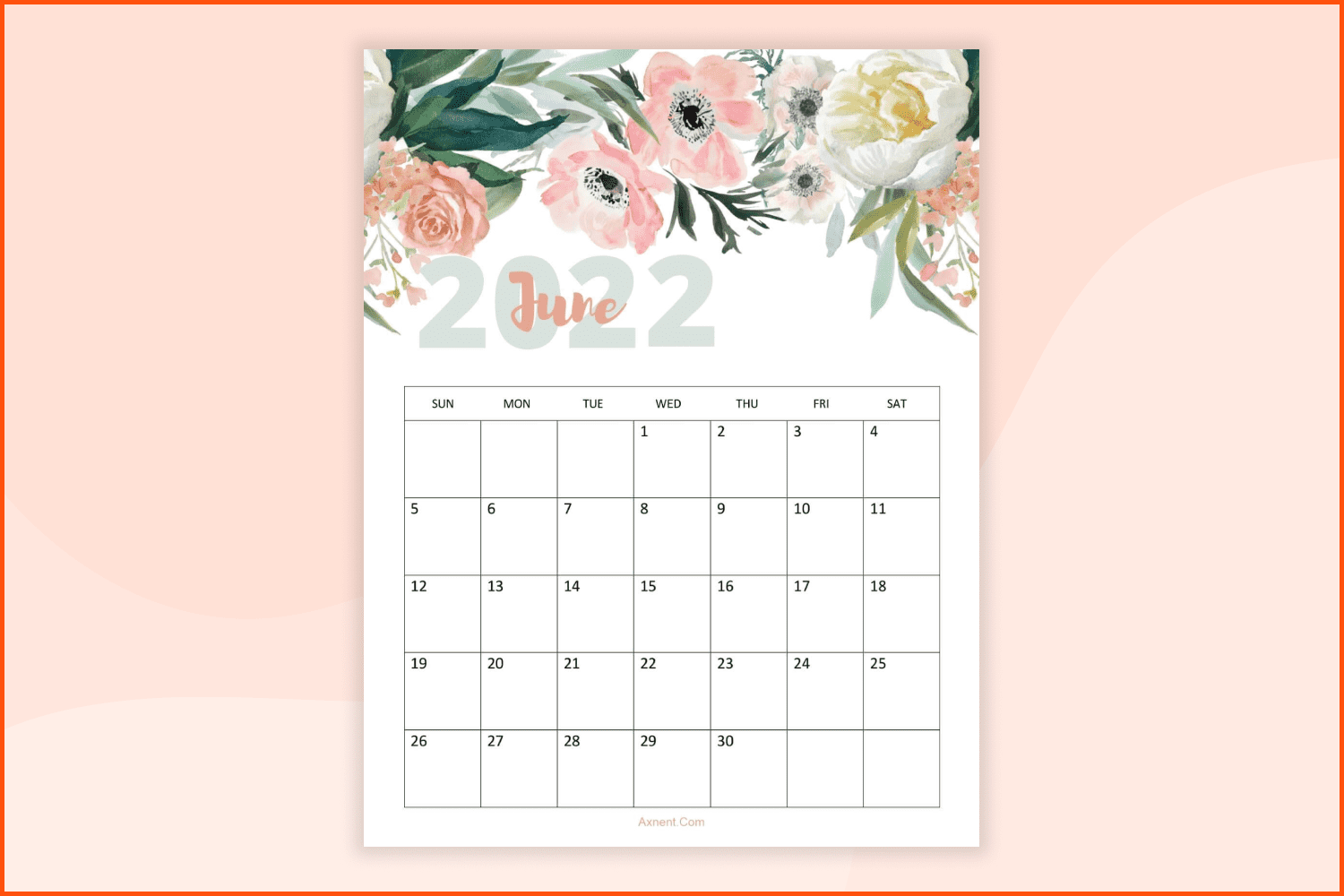 Such a tender free blank calendar is easy to download and edit.
Blank Kitty Calendar
These little kitties were created to make your mood brighter every time you look at your monthly planner.
Editable June calendar 2022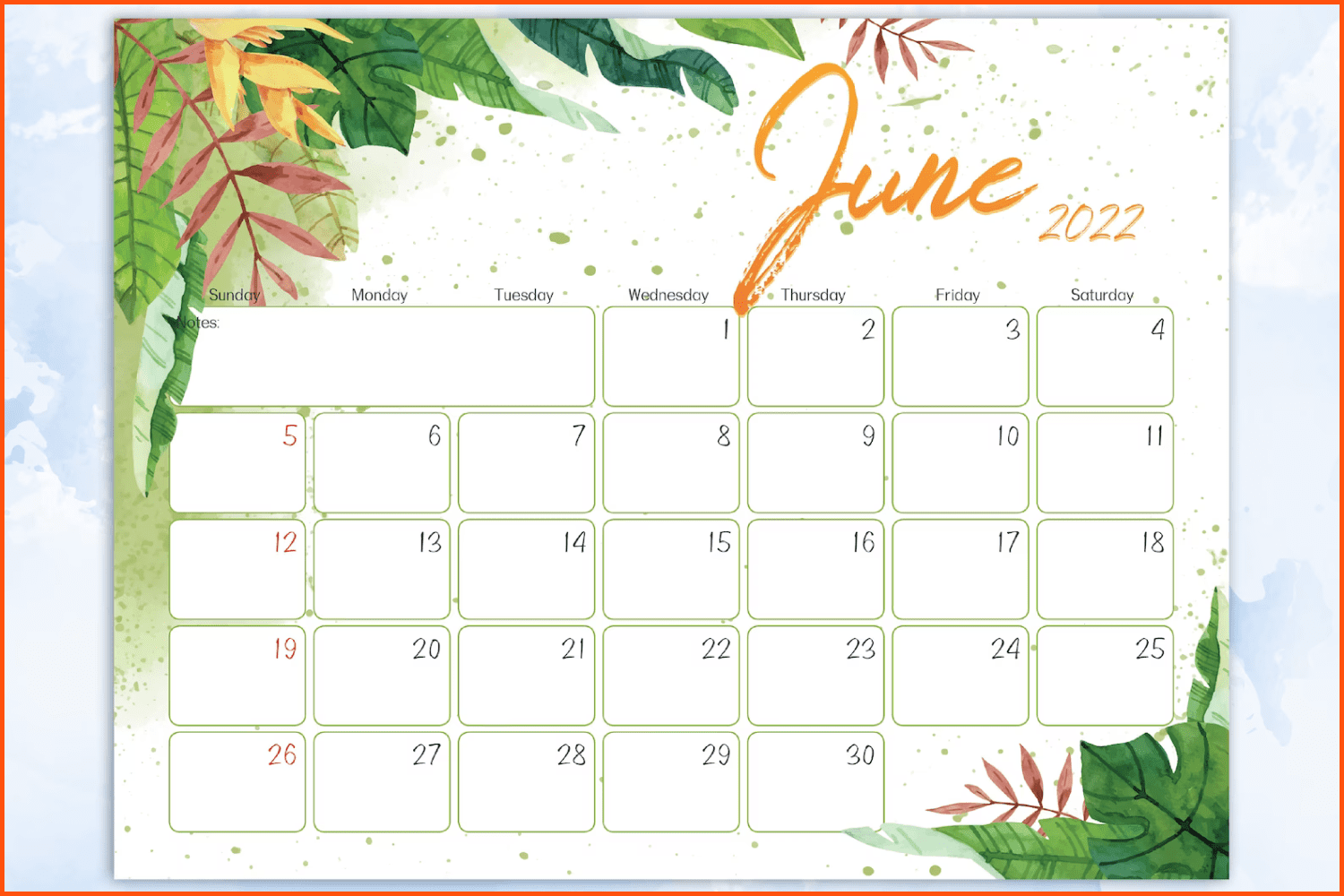 This festive summer calendar is very easy to edit, thus you will have no problems filling in your plans for June.
JUNE-2022-MINIMALIST-CALENDAR-PINK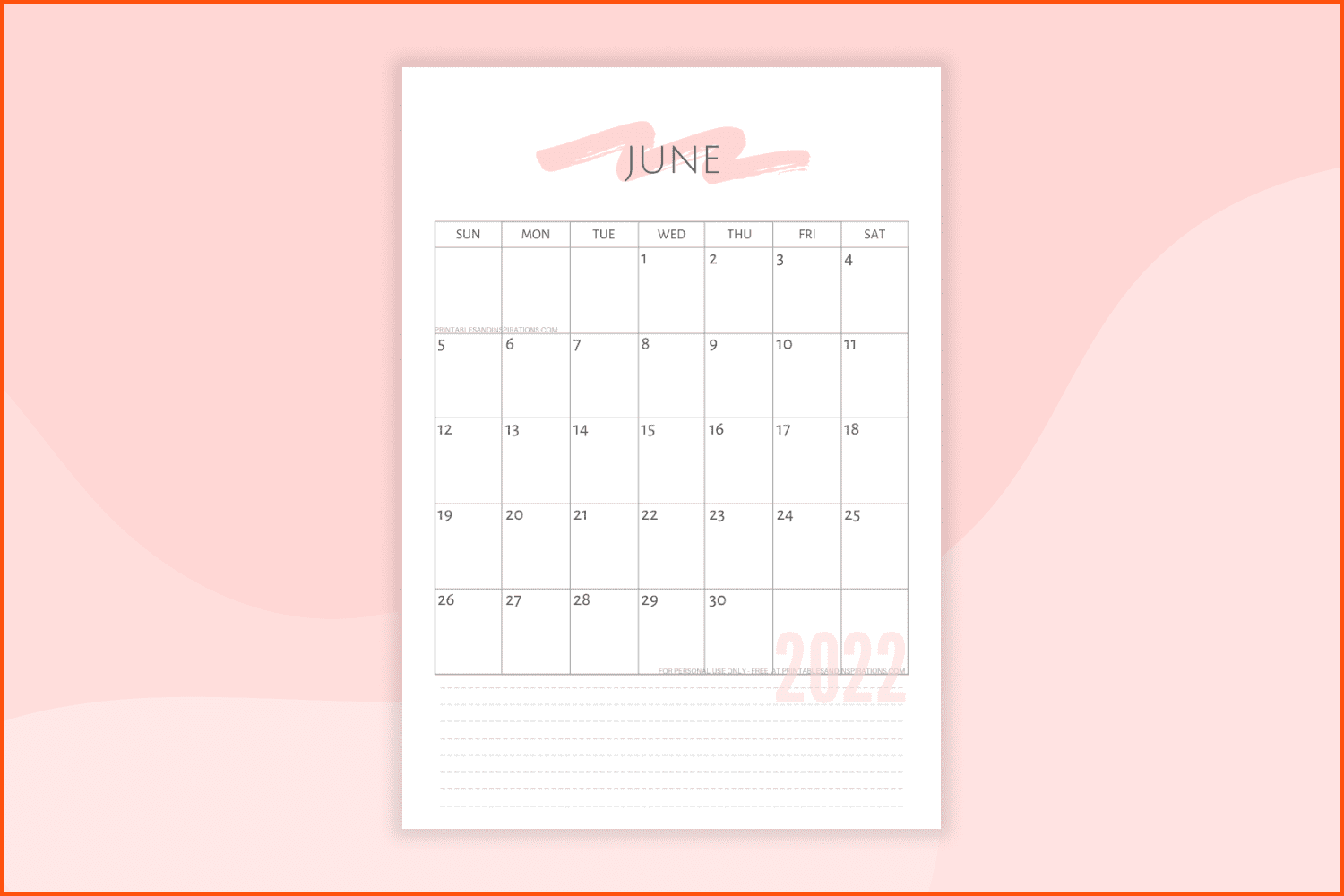 Minimal calendar for those who prefer to keep things in order.
Blank Calendar: Pretty Flowers, Undated Planner for Organizing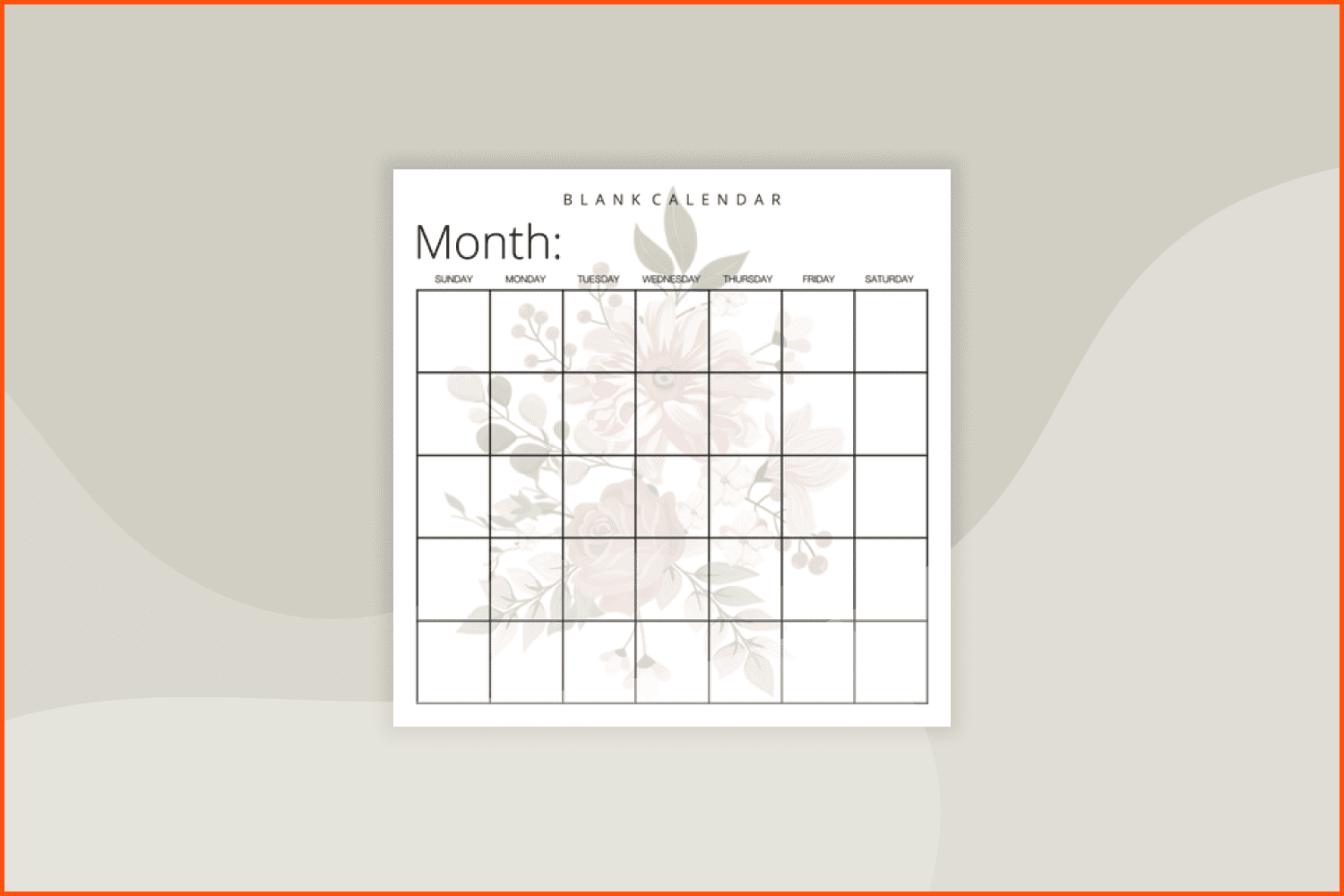 It is so easy to organize all your June events and all the deals with this blank planner.
Pride Calendars for June
June 2022 Calendar, Sweet & Colorful Pride Month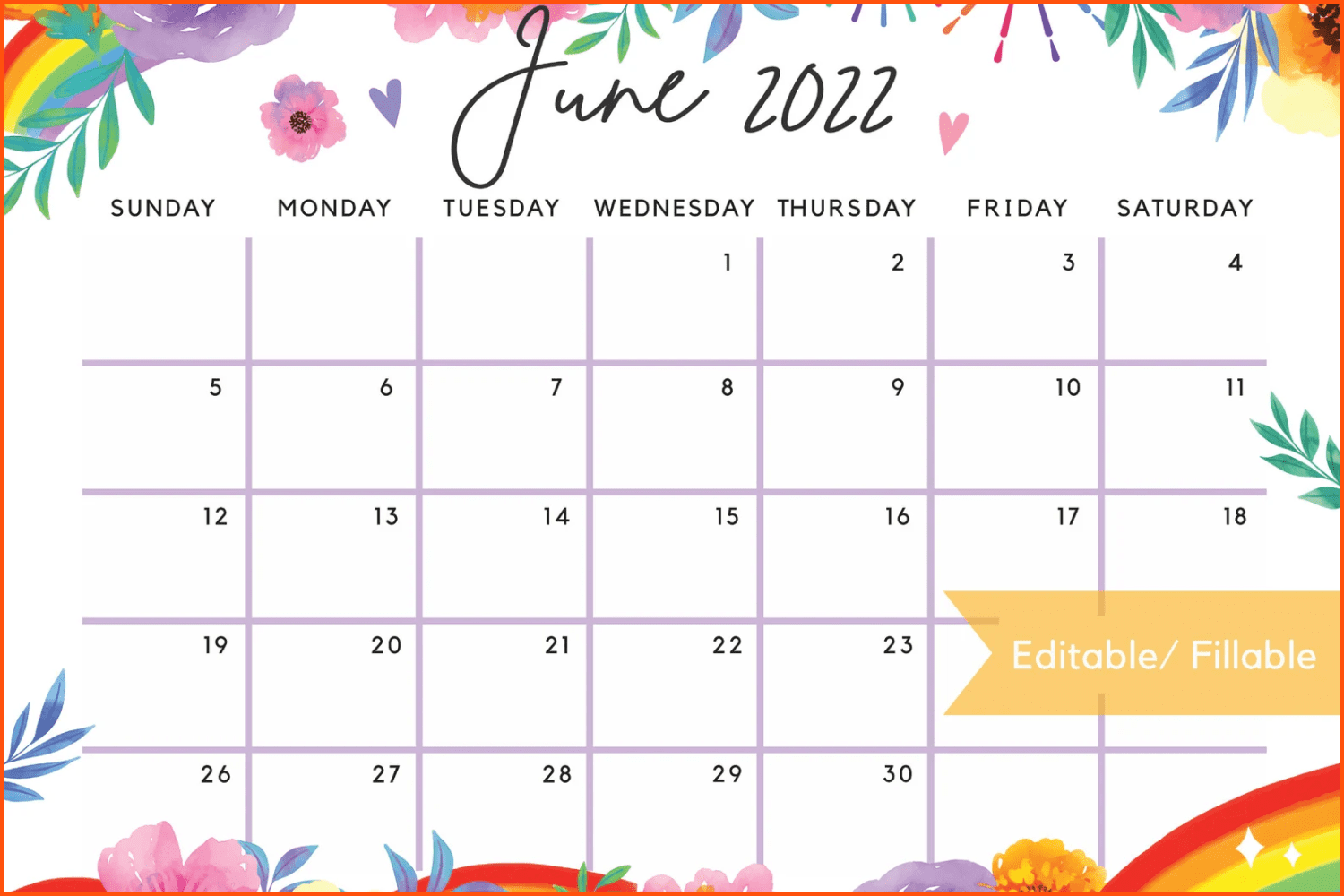 Edit and fill this cute amazing June 2022 printable calendar as you wish because it can be downloaded in both png and pdf formats.
Colorful Summer Rainbow and Heart Printable Calendar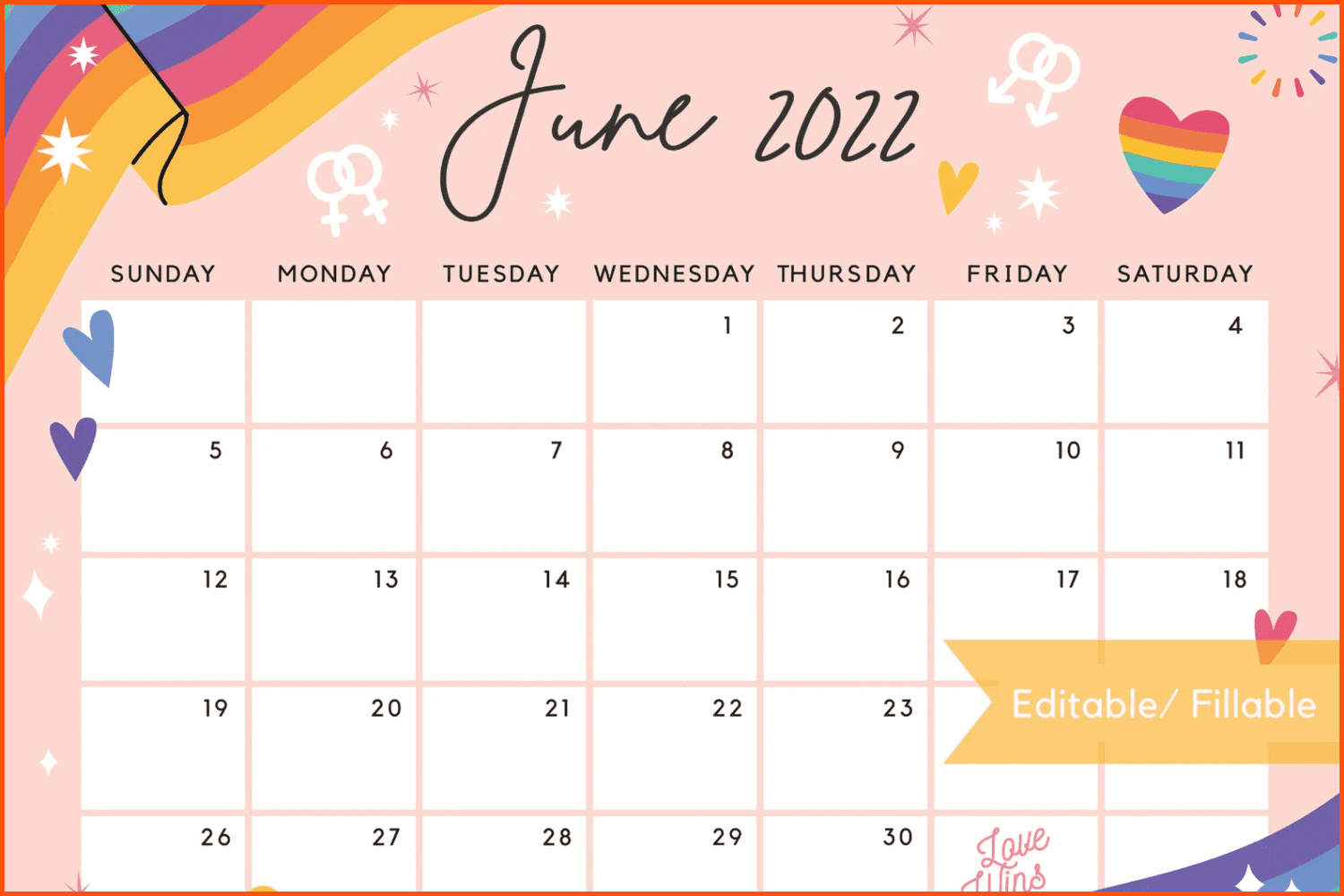 This rainbow calendar is also editable. And you can do it in a very simple way 🙂
June Pride Calendar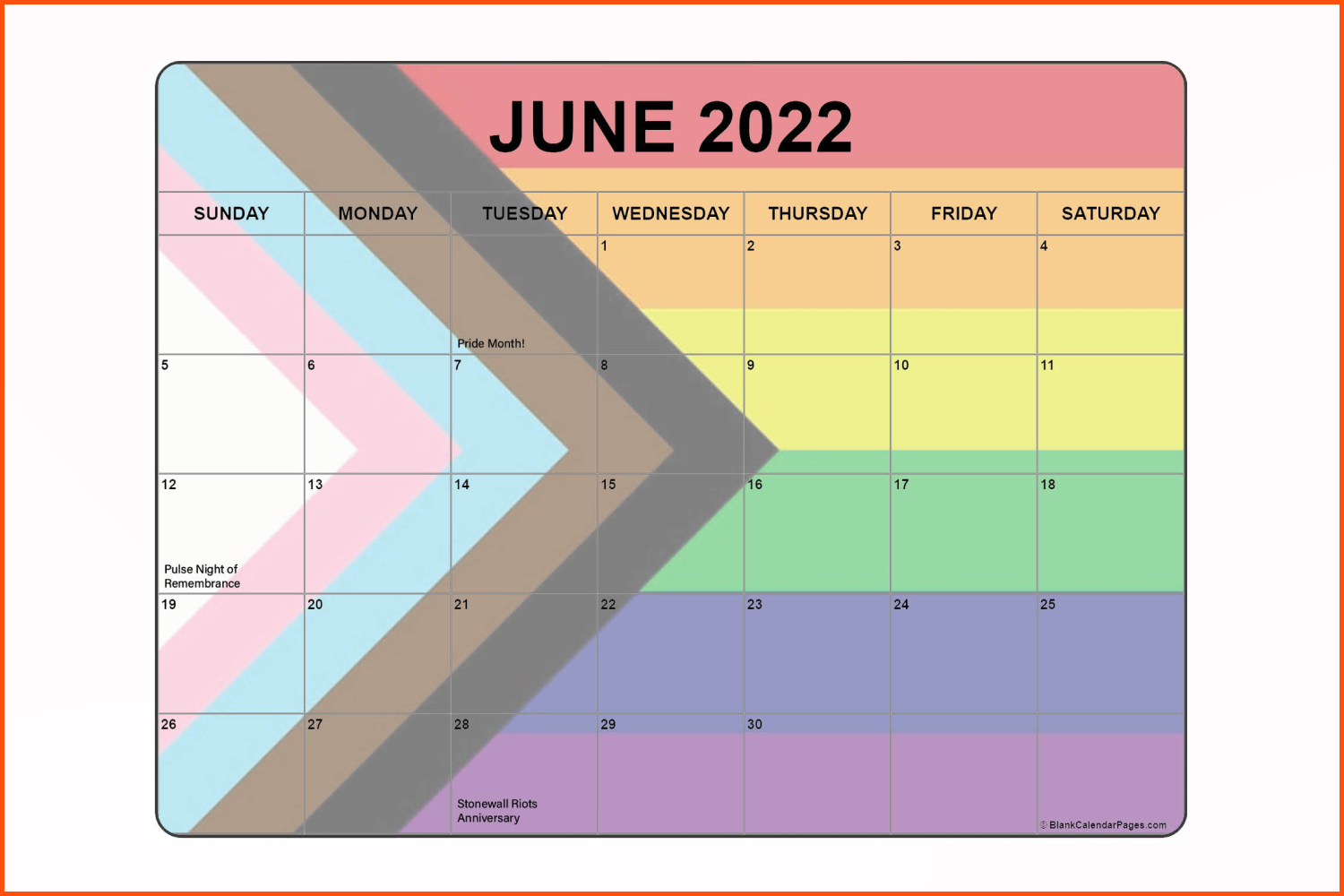 This marvelous pride calendar includes special days important for Pride Month.
Editable Pride Month June 2022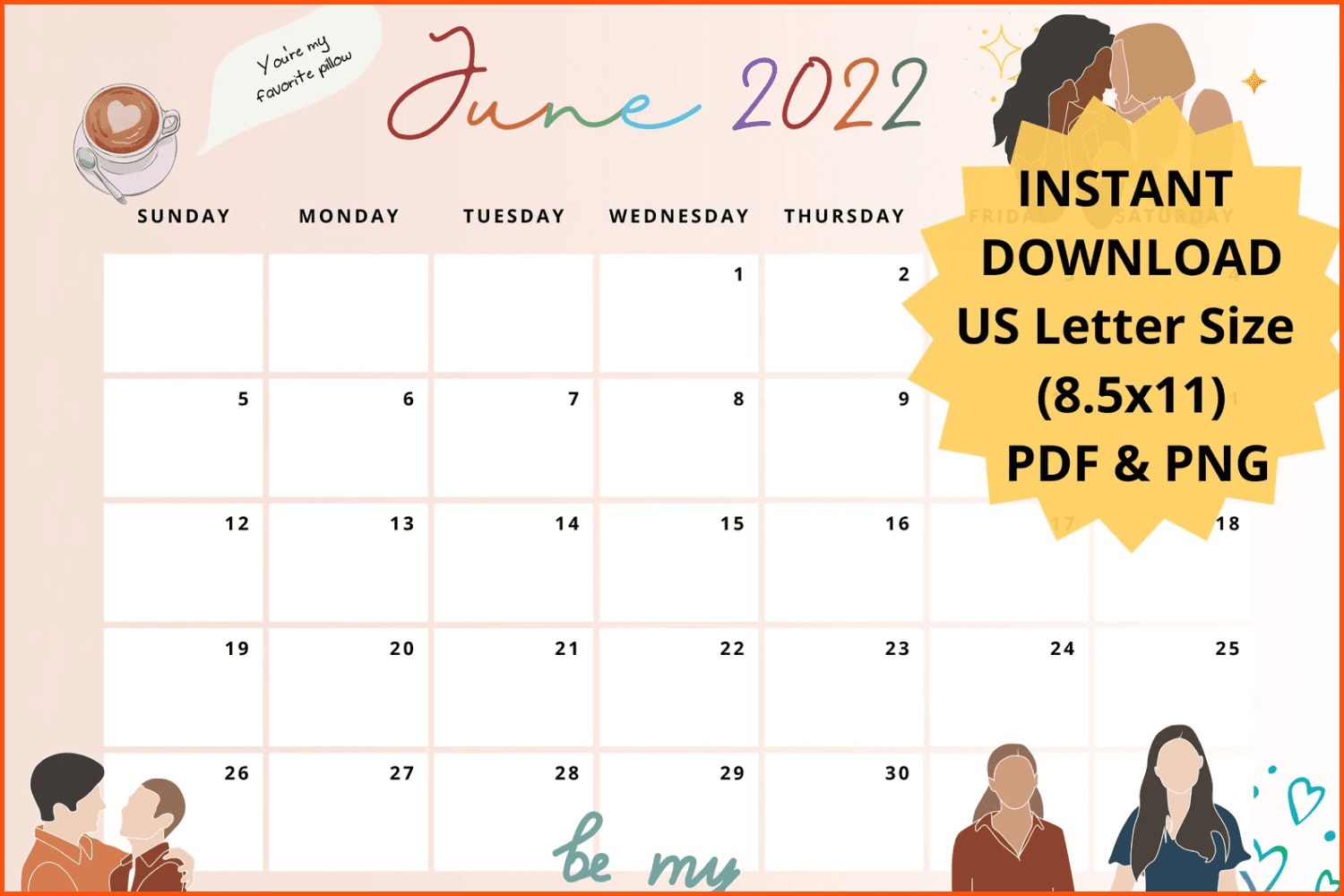 This calendar is all about love. And it reminds us that love is equal for everyone.
June 2022 Calendar with Holidays – United States
June 2022 With USA Holidays Calendar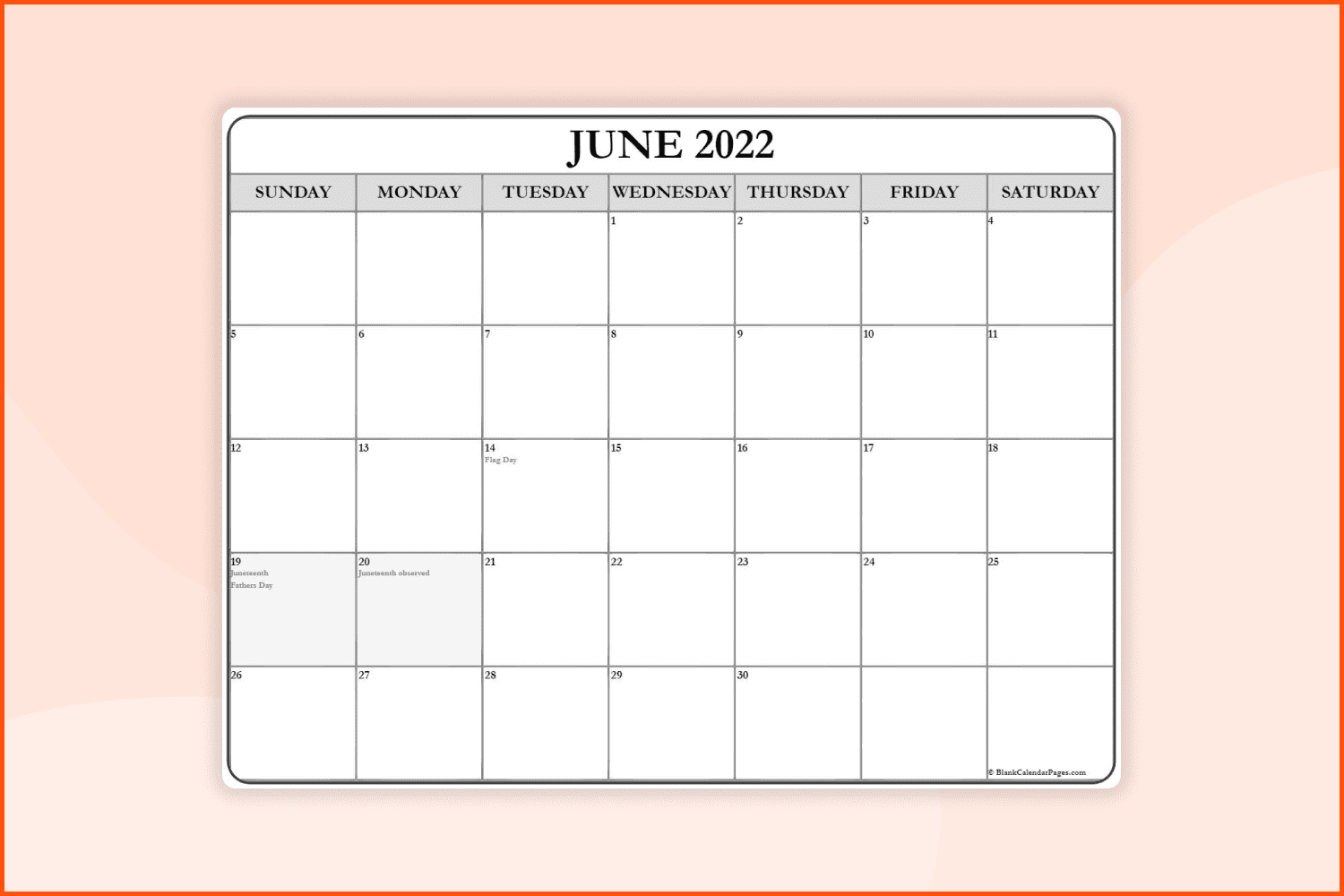 This free printable June 2022 calendar with holidays will suit anyone who appreciates simplicity and minimalism.
Year 2022 June international calendar with holidays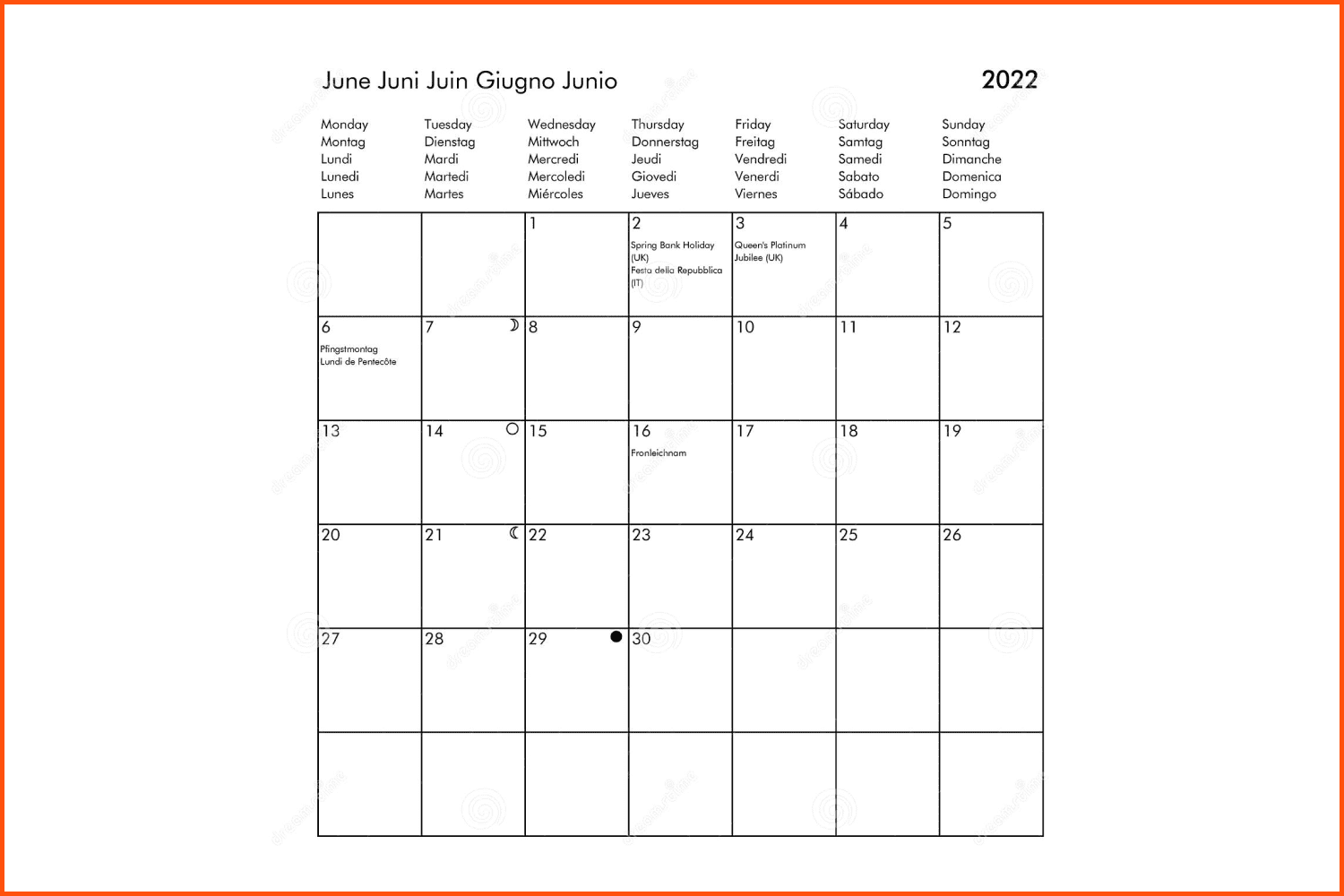 The calendar is simple, and it includes US holidays, so you won't forget any special date.
Editable Calendar June 2022 With Holidays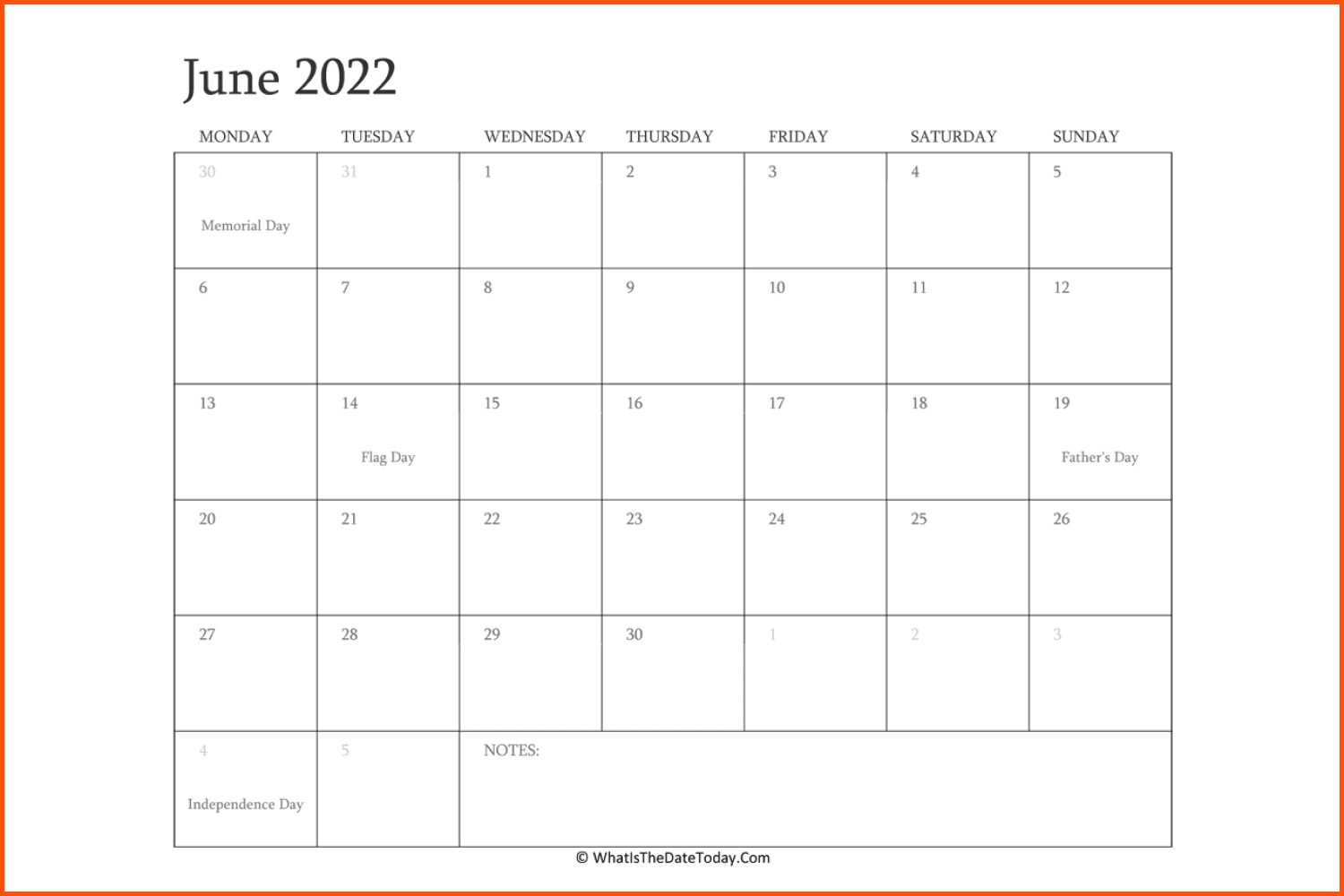 A simple calendar with holidays is also very easy to edit.
Special Days in June 2022
Modern Pastel June 2022 Calendar
This calendar is very cute and it also includes some special days of June 2022.
June Calendar Palm Trees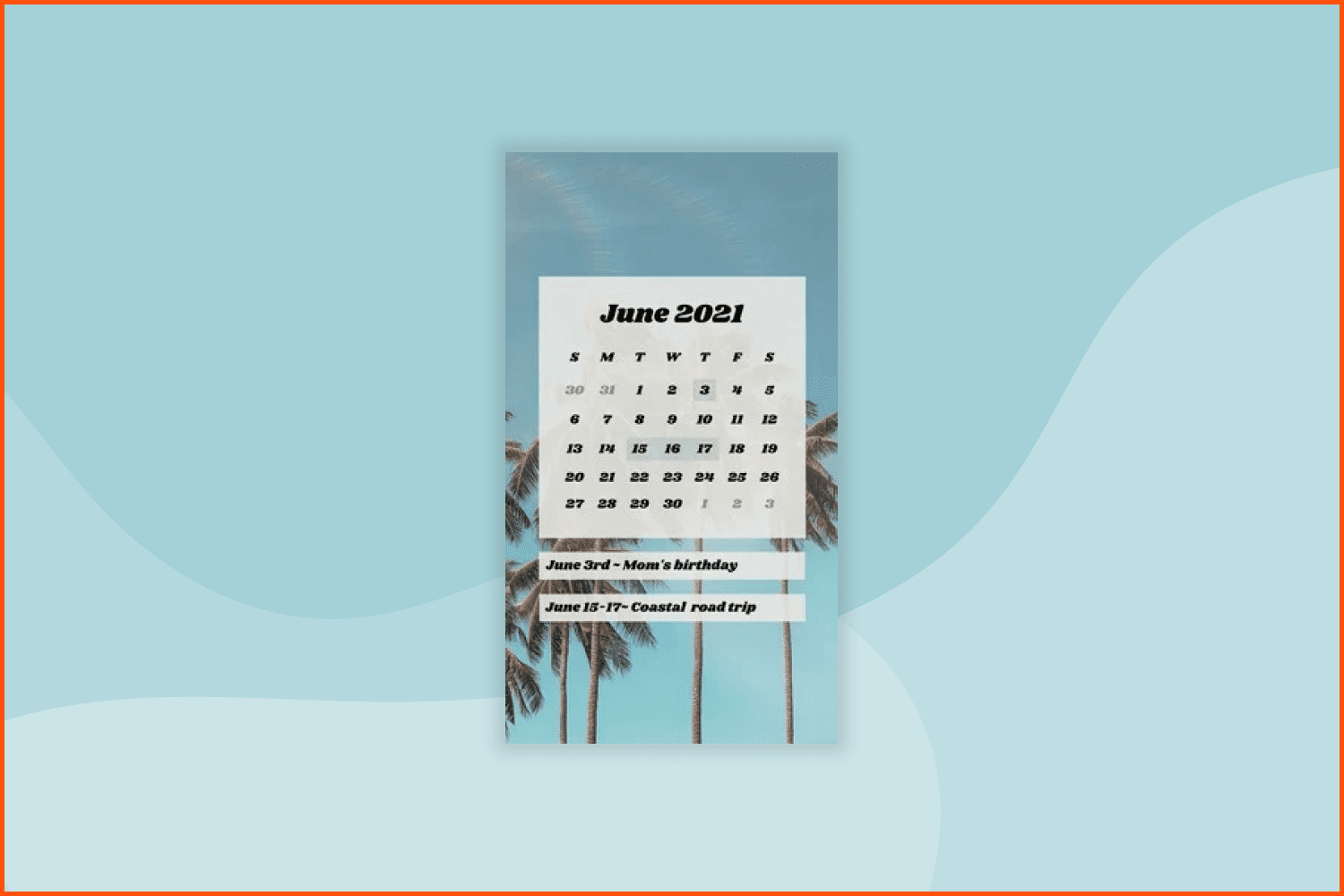 Add your special dates easily into this super simple to edit June 2022 calendar.
Pink Cute June Calendar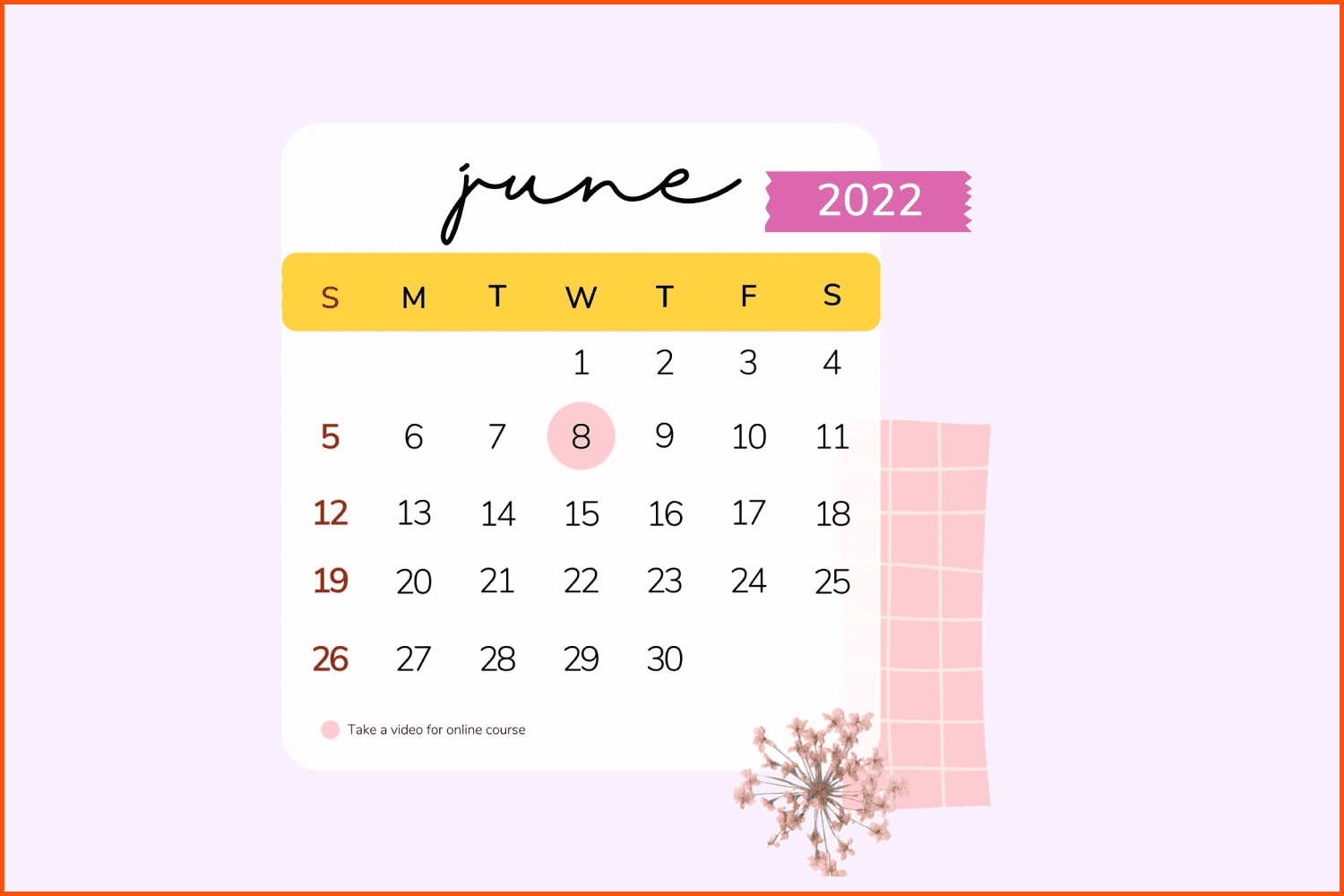 With this amazing pink calendar, you will never forget any special occasion.
So, it seems like we have finished our collection of the top June calendars for 2022. We hope that you will find something you really like. May your summer be very bright and joyful!
Disclosure: MasterBundles website page may contain advertising materials that may lead to us receiving a commission fee if you purchase a product. However, this does not affect our opinion of the product in any way and we do not receive any bonuses for positive or negative ratings.