Hand Drawn Watercolor BUNDLE: 632 elements
I am glad to present you a fantastic collection of my Hand Drawn Watercolors!
This set includes about 632 watercolor elements in PNG format. Roses, leaves, peonies, tropical leaves, parrots, orchids, a set of butterflies and succulents, Happy New Year BUNDLE.
All watercolors are painted by hand. All elements are separate! On a transparent background. The illustrations are characterized by watercolor and paper texture.
Requirement software: Adobe Photoshop or Adobe Illustrator.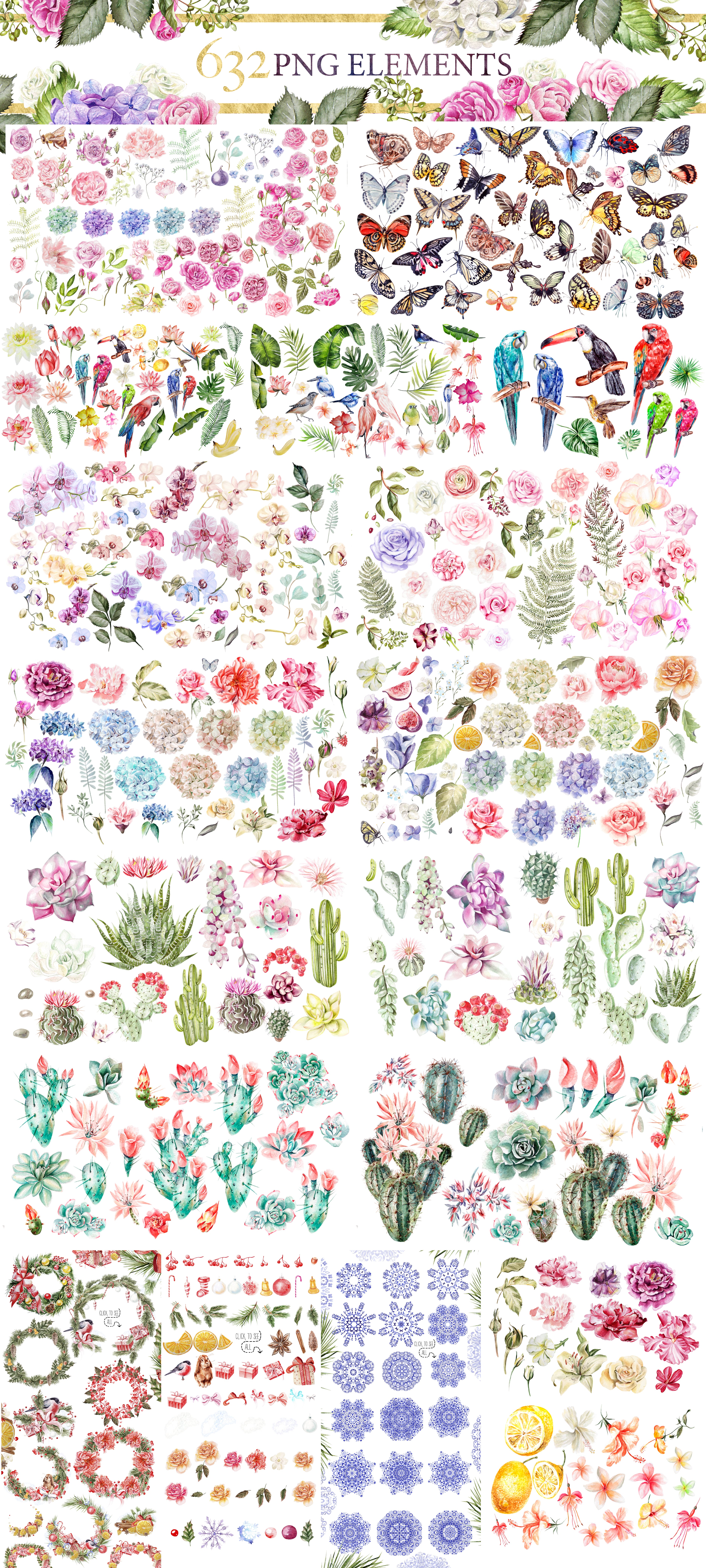 Explain what is a a graphic bundle?
Just about every pro designer, being an experienced specialist, undoubtedly can draw anything from a blank canvas. It really is unproductive, will take too much time. This is exactly why many of the web designers make use of ready-made graphics components – incorporate these graphic components, modify them and create the design with them. It is actually ineffective to purchase those elements one at a time, so that's precisely why they are put into graphic packages and offered for sale as a singular solution.
For what reason are graphic deals cost-effective?
For any design job, you will require a lot of elements – some icons, a font, a few photos, and so on. In case you'd want to shop for every one of them one at a time it can cost you a fortune! So, that's why skilled graphic designers look for some graphic bundles to purchase. They permit buying a big handful of various components for a very small price tag.
What types of graphic packages are available?
Due to the fact each of the bundle deals differ from one to another, every designer will find the required collection for a specific project. Exploring them you will uncover the selections including illustration swatches, social media infographics, PPT templates, plus much more. On MasterBundles , there are actually over 450 graphic package deals available.
How do you save money on packages?
Are you interested in a 5% additional discount on any package from MasterBundles? What you need to do is simply share the page with a package deal on social media (Facebook). When done, the price cut will be instantly included in your cart.
Other Deals of MasterBundles
The package deals of patterns, fonts, logo templates, icons, stock photos and textures are available . They provide limitless opportunities for the design of different web projects. On top of that, you may find packages of WordPress templates, courses and ebooks, resume templates, slides, and various other elements.
Watercolor package
The watercolor bundle is known to be the prettiest novelty in creative desgin. Painted by designers on the a piece of paper, the pictures get digitized and included in a package deal as templates for design projects. Watercolor components are just ideal for wedding invitations, blogs and greeting cards.
All-in-one solution
Whether you feel as if you've lost lots of time while searching for different tools and components for your own design jobs, it is high time to explore MasterBundles. It is a website providing the most widely used instruments (graphics, logos, presentations, fonts etc.) for graphic designers, online marketers, and web developers at a reasonable price for a short period of time. What's more, you can use coupon codes and promo codes for specific deals. In order to not miss out on important info about the future promos, we recommend reading our blog and signing up for the email newsletter.