Get your successful website right now with no hassle, no coding, no efforts! This outstanding bundle from MotoCMS includes all the stuff you need to create a website fast and easy.
Within this bundle you get a responsive MotoCMS 3 template that will be customized for you, filled with your content (up to 6 pages) and installed on hosting. One year of hosting is also included in this bundle. You get all this amazing stuff for $99 instead of paying a full price of $397. Save almost $300 for a website you can use right after the purchase.
What You Get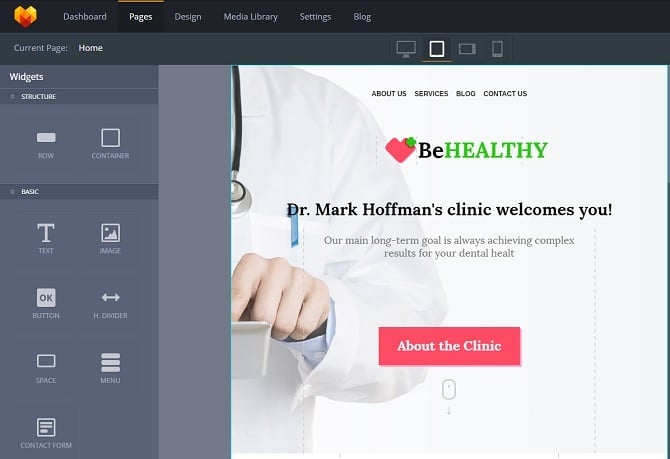 Included customization of your template with your logo, color palette of choice to make it look gorgeous.

Your website filled with unique content you submit to the team (up to 6 pages).

Installation of the turn-key ready website on hosting (1 year of free hosting included).

Full access to the admin panel of your website with its huge collection of widgets and options that include 42 animation types, parallax, sticky header and footer etc.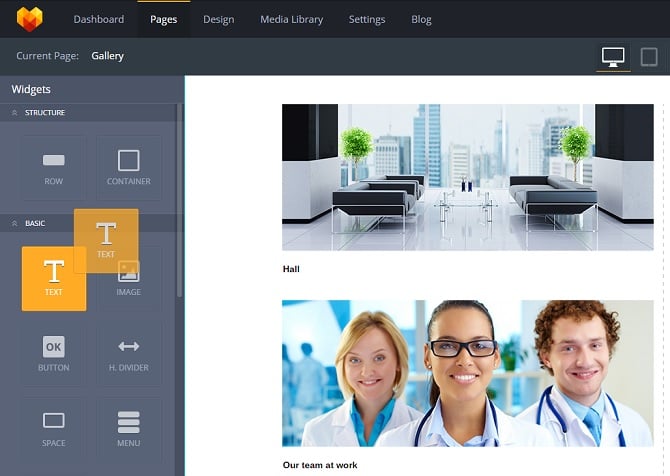 Design Section helps you tweaking your website color palette, fonts and other settings.

Social media and MailChimp integration with a two clicks. Code injection tab allows you adding more side-widgets to Header or Footer.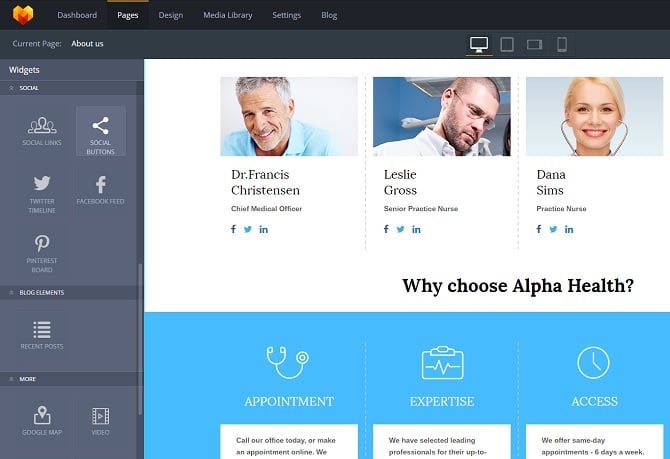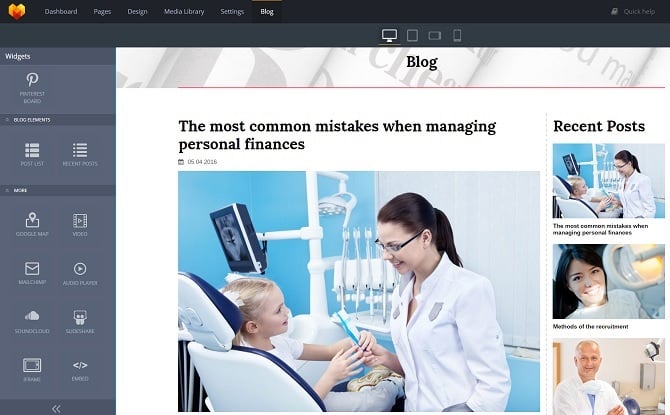 SEO options inside that allow you setting up your website for a perfect indexation by search engines. Keywords, meta descriptions, canonical attribute etc are onboard.

Lifetime updates every month and 24/7 tech support that will help you with any questions you may have.
Recommended Hosting:
Looking for the best hosting for your website? Go for a hosting solution tested by our QA team – Bluehost!
Main Features:
1. Unlimited Domain Hosting
2. Unlimited GB Hosting Space
3. Unlimited GB File Transfer
4. Unlimited E-mail Accounts
5. Free Domain Name
6. Free Site Builder w/templates
7. Free Instant Set-Up
8. 99.9% Network Uptime Guarantee
9. Anytime Money-back Guarantee
Deal Terms
After purchasing the bundle, you will get a 100% promocode for the pack of one MotoCMS template of choice, Ready-Made Website offer and Installation on the official MotoCMS website.
Template comes with a lifetime single-site license that means you can use it for one website.
Regular updates and 24/7 technical support included.
The Deal extends only to one template with the built-in admin panel, Ready-Made Website offer and installation. You can purchase other offers (Advanced Support, Ecommerce Plugin, SEO offer or White Label) separately.
What's Web Template?
As you can notice, this year, site themes are just about everywhere. In fact big corporations prefer to make their webpages with these trendy solutions. So, what exactly is web template and why do people might need it? For starters, website template is a variety of pages, modules, and UI kits. The pages a template contains are pre-developed and well featured. Additionally, these ready-to-create products are versatile, therefore it is easy to modify each page, each shade, as well as every pixel easily.
Speaking of the quality web templates, they are free of code as well. Due to this fact, a user receives their design just off the shelf without writing a single line of code. Besides, the package includes many of the necessary characteristics and the chic design components at the same time. Furthermore, opening the package of a professionally developed web theme, a user will find there premium plugins. And these are only for starters!
To sum up, a first-rate web design is your opportunity to set up the ideal project quickly and without spending all of the financial resources. Bear in mind that these templates are much more than the boring layouts with a poorly elaborated navigation!
Honestly speaking, this kind of products are one of a kind as a result of a built-in editor that enables you to adjust the website up to your branding or individual preference. If you are in search of a problem-free way to create a modern website, this is what you really need!
What Is heme?
To begin with, all the templates are usually called themes. In actual fact, the primary part of such items is multipurpose. It means that you are able to run a wide range of online projects for different intentions only using one single design. It can be beneficial not only for website owners but for web developers too considering that it is possible to build as many sites as you need. Talking about the tech side, WordPress web themes are easy to make use of, completely user-friendly and really uncomplicated in modification. That being said, which options you can find opening the pack of a WP theme?
Surely, the pack of a thoroughly picked premium WordPress theme includes all the must-have functions. For starters, your site has to look perfectly on all devices, especially mobile phones, considering that increasingly more customers surf the web on the go. For this reason a template has to be responsive meaning it's adaptable to any display dimensions. Secondly, there should be a mobile-ready design to make all the necessary parts scrollable from smartphones. Also, remember that your website definitely requires such important features as crossbrowser compatibility and search engine-ready program code. Because of the integrated Search Engines Optimization, Google, Yahoo, and other engines will quickly notice your website among competitors. Finally, inside the download pack of WordPress web template, you will find numerous styles for blog and portfolio to choose from. For extra interaction from customers, you should consider making a blog page. With its help, you can share all the information such as future giveaways and new products. Besides, you will find newsletter subscription option to keep your visitors interested. Needless to say, you'll receive lots of readable web fonts and easy on the eyes icons to level up your content and these are just a tiny part!
Undoubtedly, in 2018, you must have several trendy elements to stick out from the competitors. Due to these basic factors, these WordPress web templates come with multiple tasteful features. For example, there are many counters, (like Countdown Timer which is a great way to showcase a deal or promotion) charts, accordions, progress bars, and more. As a bonus, WP templates include gorgeous graphic effects. There's a well-known Parallax Scrolling, which enables you to create appealing and sleek backgrounds. Employing the function, you'll guide readers through the content of the site in an interactive way.
By the way, all the premium WordPress designs are packed with popular plugins inside. They supply a website with pleasant and easy-to-use navigation. It's a fundamental point in case you want the site to be a well-liked place. There's MagaMenu plugin, that allows webmasters building attractive menus of any complexity. Dealing with the function, you can classify the items or webpages using categories and subcategories if necessary. On the list of some other characteristics that will enrich the navigation of the site, there are such things as dropdown menu, sticky menu, back-to-top button, CTA buttons, Ajax-powered search, and so much more. And in case you wish to test a template before purchasing it, there's usually live preview available on the product description page..
How Much Do WordPress Designs Cost?
Normally, a WordPress theme with a single site license will cost you approximately sixty dollars. Needless to say, the final price normally is defined by the functions, UI elements, and extensions that the theme contains. When it comes to multipurpose WP web templates, one of them will be priced at $90 or more. Even though these rates sound quite fair, you can spend less on getting a WordPress theme. How? For these simple purposes, take a look at modern bundles.
What Is Bundle?
In short, item bundling suggests offering plenty of services or products for sale. With it, bundle is a set consisting of few (or multiple) various goods suitable for the same purpose. For example, if you are going to launch an online project, there are ready-made bundles that already contain such things as web templates, web typography, premium plugins, high-quality stock photos, and many more.
Another obvious advantage of selecting bundle is its price tag. Basically, bundle is priced like a couple of objects it consists of. That's why some people might think that as opposed to the price of some other products and services the price looks suspicious. What is the secret? Basically, bundle is usually a short time offer which explains why it's so inexpensive!
Why It's Preferable To Purchase WordPress Web Themes Bundles?
As you can see, choosing a bundle can be a time saver. To say more, it's really comfortable for web designers and developers because they will receive all the needed items just out of the box! Consequently, you won't need to waste time on hunting for every product one by one. By using these essentials, you will quickly create the needed online project.
Where To Find More Products?
In case you didn't see the needed items packed in this bundle, don't hesitate to browse the gallery, as there are lots of other bundles. For instance, you can select from items like CrocoBlock bundle, premium WP bundles, or mega bundles. Also, MasterBundles collection also contains bundles with UI elements, icons, fonts, mockups, presentations, images, and vectors.
What's MasterBundles?
As the title of the company says, MasterBundles is a cutting-edge resource that provides various ready-made digital goods for website owners. Browsing the collection of the company, you will notice numerous items that are available in a form of a bundle. As a result, you can easily create the website of your dream without running out of the budget.
Besides, MB suggests their clients to use exclusive discounts. Feel free to use them to get a price reduction! You can save up to 30%! MasterBundles has an active blog page, which would be helpful for everyone who needs to know current news about web design solutions, the hottest trends, etc. Moreover, MB crew post all of the new deals in the blog page, so don't miss your chance! There's a quick registration form in the bottom of the blog page. Make sure you insert your email and be the first to learn about new sales and special offers.