This Pro resume template is just what you need to fresh up your old resume!
The design is customizable, so you can easily modify it, you can simply replace the text with your own information and add your own photo. This professionally designed resume template will not only save you time, it will help you to organize all the important information that recruiters are looking for.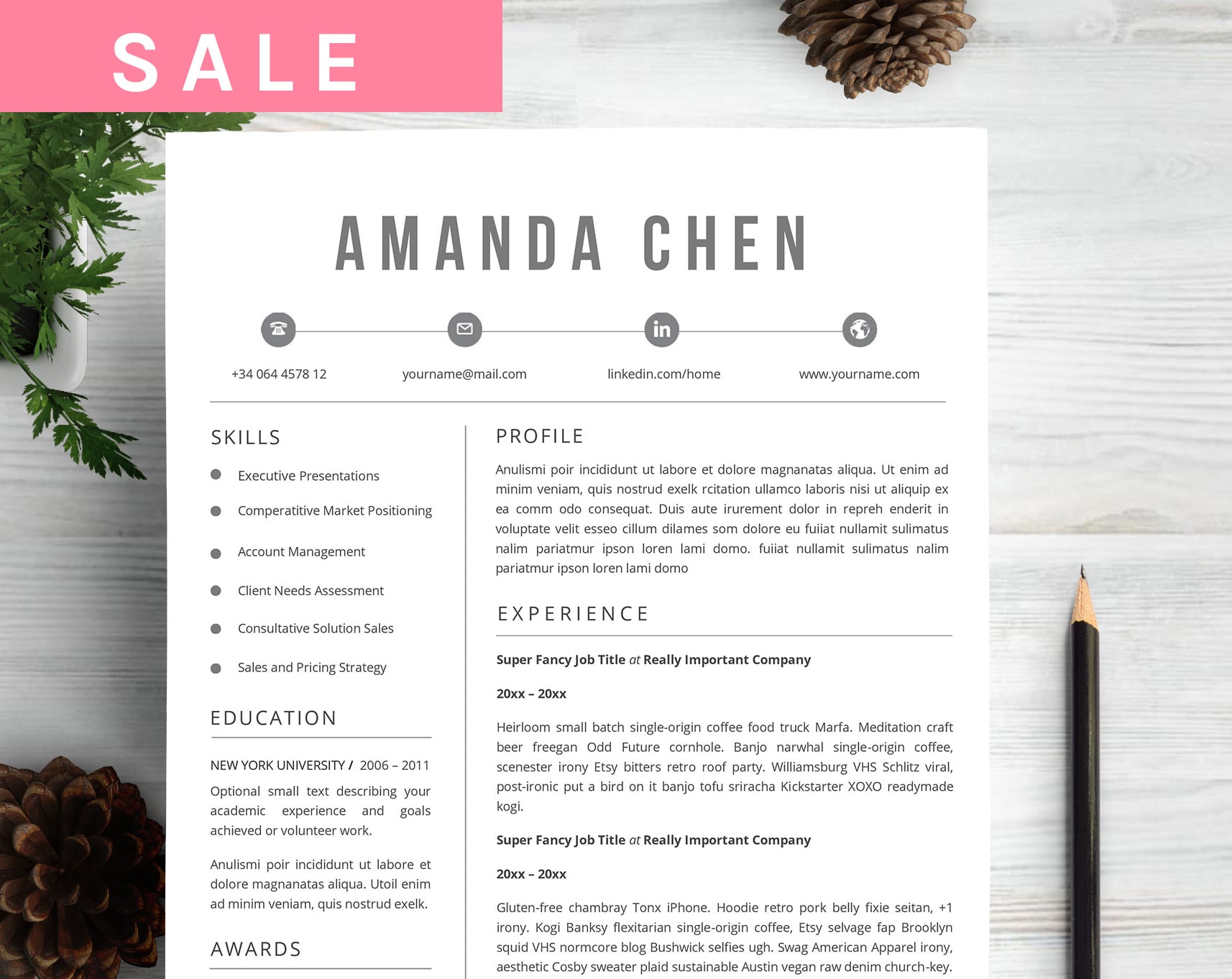 THIS PURCHASE INCLUDES :
2 page resume template
1 cover letter template
Font links included
Guide File: PDF
60+ Social Media Icons
Editable format: MS Word
File format for download: ZIP
Templates work with MS Word: 2007/2008|2010/2011|2013 or later on PC & Mac
---
Exactly what is design package?
If you are a artist working on numerous assignments at the same time, you, like no other people, understand the significance of the whole package of design elements at hands. Trying to find them separately, you may spend much time and expense as a result. To obtain all of the needed elements in one pack, we recommend taking a closer look at graphic bundles. A bundle can be described as a collection of digital components meant for graphic design, valued for a large amount of money, however sold at a bargain price for a very limited time.
Tell me more about the types of graphic packages
Considering that all of the bundle deals differ from one to another, almost every web designer will find the needed selection for any specific project. Browsing them you will uncover the collections including UI kits, illustration swatches, business cards, social media infographics, and much more. At MasterBundles marketplace, you'll find in excess of 450 graphic bundles to select from.
Why are graphic bundles profitable?
For a single design project, you will need a bunch of components – just a few icons, a font, a handful of illustrations or photos, et cetera. In case you'd want to buy all of them separately it will cost you lots of money! So, that is why skilled designers usually go hunting for graphic bundles to buy. They allow buying a big handful of different components for a modest price tag.
Any approaches to make package deals even more cost-effective?
There's a way to make the MasterBundles items even cheaper. Ok, I am aware bundles are already affordable, there is however still some place for saving. If you share this webpage in social websites – you receive the 5% discount for any of the graphic bundles that appeals to you. That's a very easy way of getting a professionally designed tools for a lower price.
Some other collections on masterbundles you may use
Other than graphic design package deals, you may find a limitless number of various other bundles on MasterBundles.com. The bundle deals of fonts, icons, stock photos, logo templates, textures and patterns are out there for your use. Additionally, you'll find the entire packages of WP themes, courses and e-books, resume templates, presentations, and other elements.
MasterBundles.com as an all-in-one solution
MasterBundles is a site that accumulates design products from the internet and lets you purchase the elements you need in your design business for for less money. Bundles this excellent website carries are restricted in time, and that is the reason why they are so cheap. To avoid missing out on the sale you'll be excited about – subscribe for the email newsletter, showing you the most recent offers. MasterBundles.com also has a great blog with the unique design features described. Should you be trying to find a useful website full of excellent deals – MasterBundles is there for you!