Say hello to this awesome set of 6 handwritten fonts! If you were looking for a perfect font bundle to match your needs, you're right on the spot. The fonts included in this bundle can be used in multiple kinds of projects: web designs, prints, greeting cards, invitations, stationery, posters, logos, blog post covers and so on. The only limit is your creativity!
Here's what you get:
6 fonts in otf format:
3 script fonts
2 display fonts
1 sans serif font
Exclusively at Masterbundles, you have an opportunity to take home this collection of beautiful fonts for a tiny $12! That's $2 for a font – is that even real? Grab this bundle now and make your designer's toolbox jump for joy 😉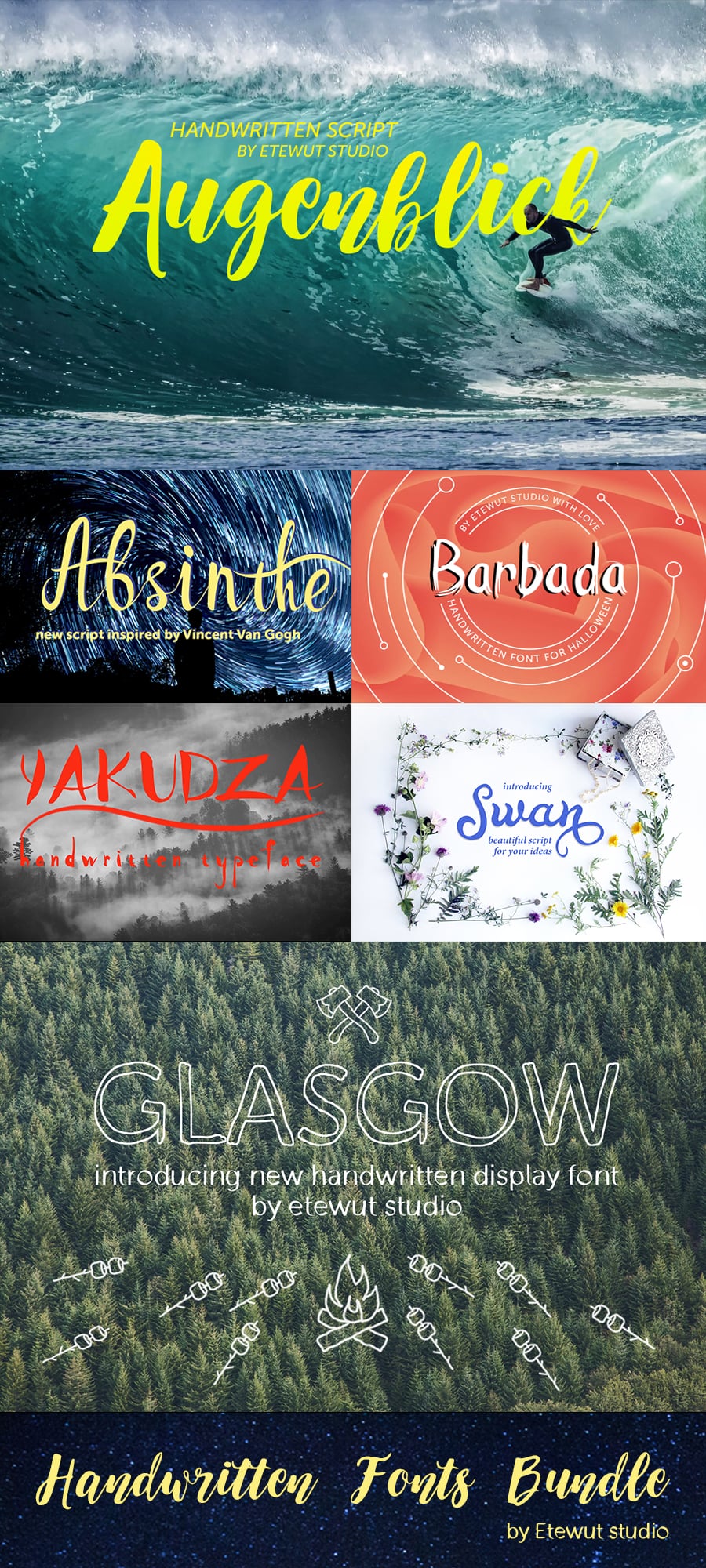 Deal terms:
* Delivered as an instant download, after completing your purchase.

* Can be used for both commercial and personal projects.

* Cannot be re-sold or shared in any way.
What Are Fonts and Why Are They Important?
A font is a group of symbols of some dimension and design that forms one thematic and structural system. The most crucial purpose of any font is to get the user's attention with its outline and shade and make him read the text. A good web font enables you to deliver not only the text content but also a particular vibe. Stylish and unconventional web fonts are more effective and more evident, so each company tries to actively work with its original one as an essential component of their brand identity. The cost of customized fonts usually varies from $0 to $100 .
How Can Fonts Influence The Perception of the Service or Product?
In the case of creating ad banners, one should pick a font really carefully. Ad banner creators should choose those styles of web fonts that will match the atmosphere of their ad.
The web font itself does not only carry data but also fills it on an emotional level, if one is chosen appropriately. Generally, the advertising text shows the audience a sense of the brand's product/service, which signifies a well-picked font will only contribute to needed visual impression.
In case the font matches the text and is also combined nicely with the image, it will contribute to the prosperity of your commercial plan. For that reason, one should not skimp on buying unique and tasteful fonts.
What Kinds Of Fonts Exist?
In case you're a typography artist or designer, you can probably recall a lot of various categories with their historical and tech features, for example Slab, Gothic, and the Geometric. But naming them all is quite difficult, so here are some of the key types to know about:
– Serif – the symbols have tiny serifs (or dashes) at their ends, meant to create more traditional typefaces;
– Sans-serif – the characters with no dashes at the ends, which offers a more modern, "minimalistic" look and makes easier the visual perception of large text pieces.
– Script – beautiful cursive or handwritten fonts in which symbols tend to be crossed with each other. Script is great for creating a classy, interesting and relaxed handwritten textual content.
– Decorative fonts – made mainly for luring the reader's interest or employed for another specific effect or goal.
What Are Web Font Packages and What Is Their Cost?
A font bundle is basically a range of multiple fonts sold at a significantly reduced price. The best part of getting packages is that they cost you just a little bit more than one web font does, as long as they are on discount. The regular price of a web font kit on our website is just two to twenty dollars. However, hurry up: the life cycle of each bundle lasts only five days.
How Do Web Fonts Influence Perception of the Product or Service?
In the case of creating ad banners, one should choose a web font rather carefully. Ad banner developers should choose those styles of web fonts that will correspond to the mood of their advertising campaign.
The web font itself does not only carry details in a form of text but also fills it emotionally, provided one is put to use correctly. Typically, the advertising textual content shows the audience an idea of the brand's product, which implies a well-picked font will only help with the wanted aesthetic impression.
I Haven't Discovered Any Worthy Fonts within This Specific Package Deal?
If you haven't located the right font within this bundle, don't give up hope! You can find lots of bundle deals produced by the greatest designers on our site. Invest time to take a look at them all and you'll discover the best suited package! It's extremely satisfying to eventually discover the deal that suits your creative and professional requirements.
What is MasterBundles.com?
MasterBundles.com is a web-based marketplace. On our website, expert graphic designers sell their designs at the best prices. We provide you with the very best deals on the market, and our bundles are highly praised by clients. Go look at our blog, it truly is filled with useful articles for pro graphic designers. Also, for those who sign up for our newsletter, you'll be the first to find out about our discounts. And we absolutely love discounts. There will always be coupons and promotional codes offered to chop the price to a bare minimum.