10+ Christmas Card Ideas & Step-By-Step Video Tutorial
Christmas, gifts, festive fuss… All this creates a special atmosphere of this period. Adding greeting cards to gifts for relatives, colleagues, and customers is already a tradition. So I decided to add a special atmosphere to you and prepared 10+ Christmas card ideas that you can use for both personal and commercial projects.
As a bonus, in the article, you will find 3 video tutorials on creating simple Christmas cards. Postcards from the tutorial are suitable for a gift to your loved ones. Also for these businesses: children's shops, children's clinics, pet supplies, family and children's institutions, holiday companies, women's clothing, candles, stationery, etc. Thus, I recommend reading to the end 🙂
Also take a look at the selection of templates, illustrations, patterns, etc. that you can use in your design and speed up your work.
Tutorial: How To Create a Digital Christmas Card?
We will create a postcard in Illustrator, but you can use the same principles to make postcards in Photoshop, Figma, Сanva, and even cut and paste cardboard elements 🙂 So don't switch and watch all the videos.
Create your unique postcards with these tutorials. You can change colors, fonts, illustrations, and backgrounds. Let your design bring joy to loved ones or additional finances you. After all, you can very simply place cool ready-made postcards on our platform through the Sell Your Deal form! This is a great way to earn extra money for the holidays 🙂
Let`s start!
Preparing for Design
At this stage, you need to look at examples of cards and New Year's designs to get inspired by colors, fonts, composition, style, etc. To save time, I used a ready-made Christmas color palette.
Next, we select cool and suitable illustrations for postcards. The fonts were selected from the Google fonts library so that they can be used for printing.
Be sure to read the license of products to avoid unpleasant moments. The license states the terms of how and where you may use the product.
Create a Workspace
For the postcard, I chose the size A6 – 148×105 mm.
Go to Illustrator and click "Create New Document". In the window that appears, select the "Print" tab, because I`m preparing a design for printing right away and we need a CMYK color profile.
I name the document and set the dimensions to the desired dimensions. But be careful, you need to add 2 mm on each side for trimming. Then the size of the postcard is 152×105 mm. Also, if you are making a design for a customer, then it is better to check these sizes with the printing house, because they may differ slightly.
I choose a vertical artboard orientation for my design.
I set ppi 300 because these creative Christmas cards will be small.
Press "Create".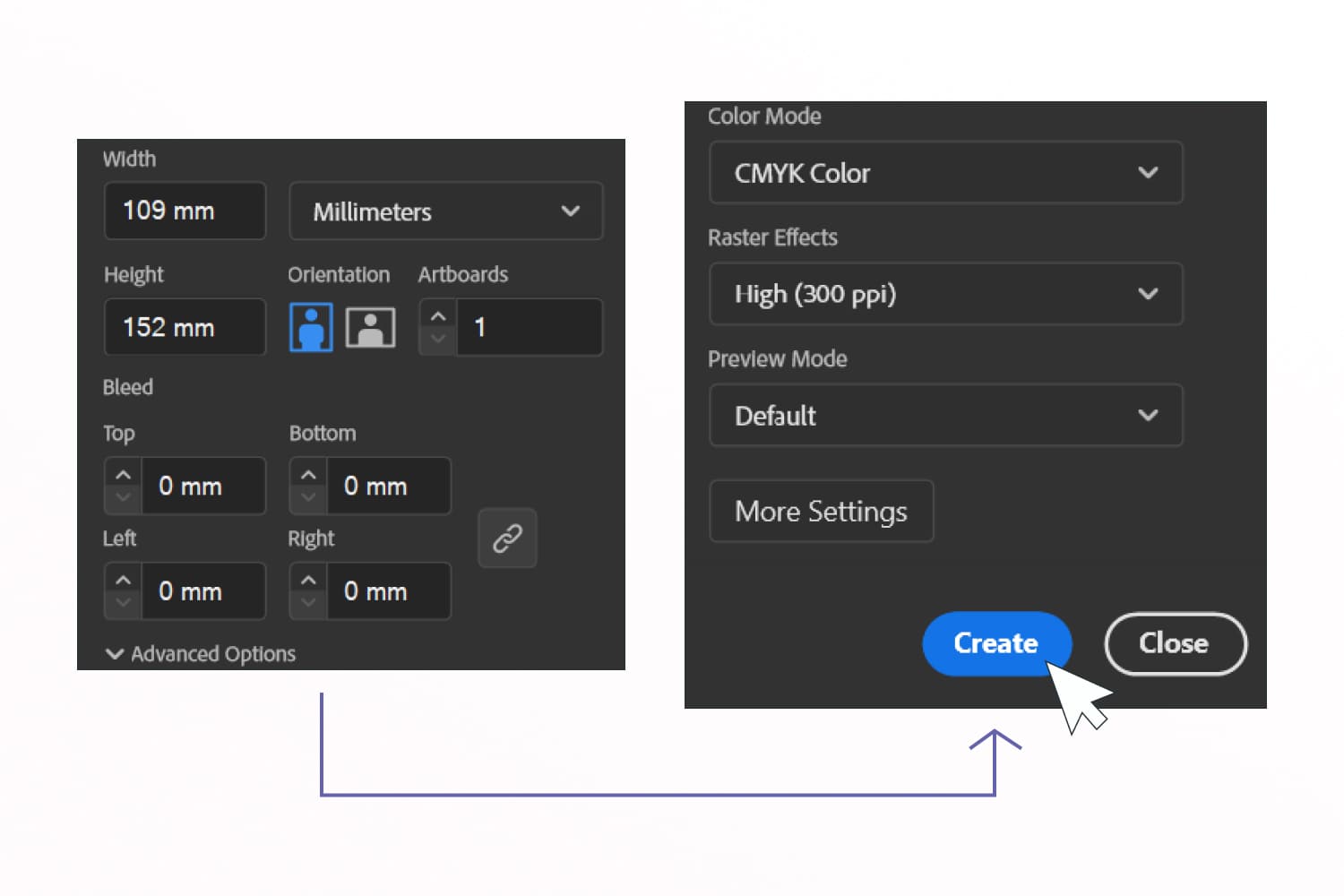 Digital Christmas Card Design
Great, I have created our document. Now drag here everything that we will use for the design.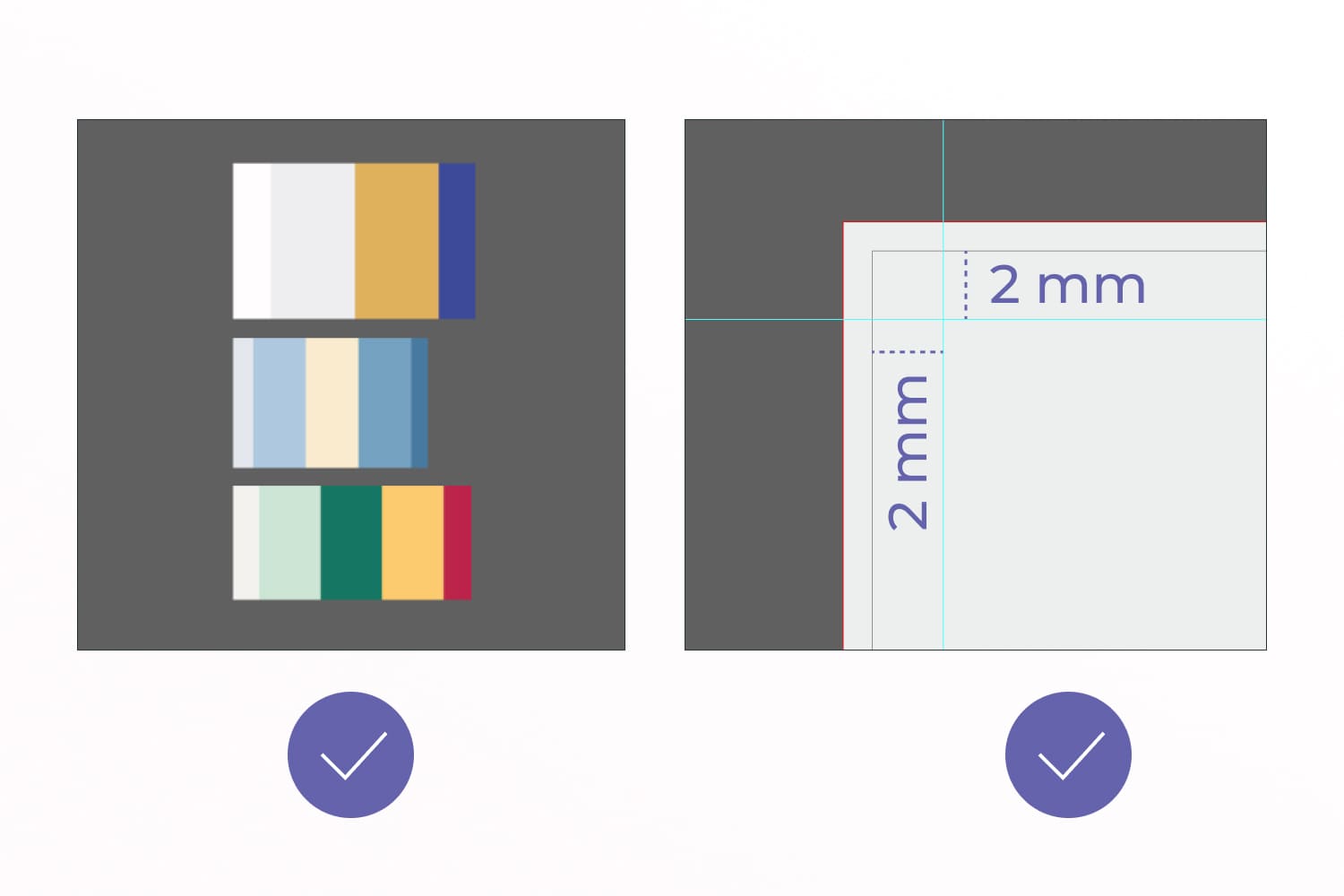 Create a new layer and add the background of our postcard. To do this, select the rectangle tool on the left of the panel or press the M key.
I will paint over the finished background in a gradient. To do this, select the gradient tool on the left of the panel, after that select the last type of gradient and click "Edit gradient" on the panel above.
Points appeared on the rectangle that needs to be painted over and moved in the order we like. Click 2 times on the point and select the pipette in the window that opens. Ok, now move the eyedropper over the prepared color and paint over this area of ​​the gradient.
Now I need to repeat this with all the points. I chose 2 shades of blue for this. The colors must create a smooth transition without muddy undertones.
Next, create a new layer and add an illustration to it, in my case, it's a super cute holiday llama. With the shift key held down, I increase its size so that it becomes large and occupies the main part of the postcard.
I also recolored the scarf and llama hat with an eyedropper to make it blend better with the background.
Now let's add some text. To do this, press the T key or select the tool in the panel on the right. Write a congratulatory text. It should be short because longer wishes are best left for the back of the postcard).
On the panel at the top, select the appropriate font. I used a combination of Random Grotesque Spacious Book and Allura Regular to create an interesting combination. Note that I added the bottom line in separate words to create an interesting placement effect. To do this, select the words and make them the same distance on the tab Properties – Aling.
Now you can move the elements of the llama snowflake so that they are positioned in a similar way as in the example. To do this, double-click on the group with the illustration, select the object, and move/delete/recolor it.
Be sure to remember to press Ctrl+S to save the document. If you need to save in some other format, then use the path "File — Save as — select the desired format" or "File — Save as a copy — select the desired format".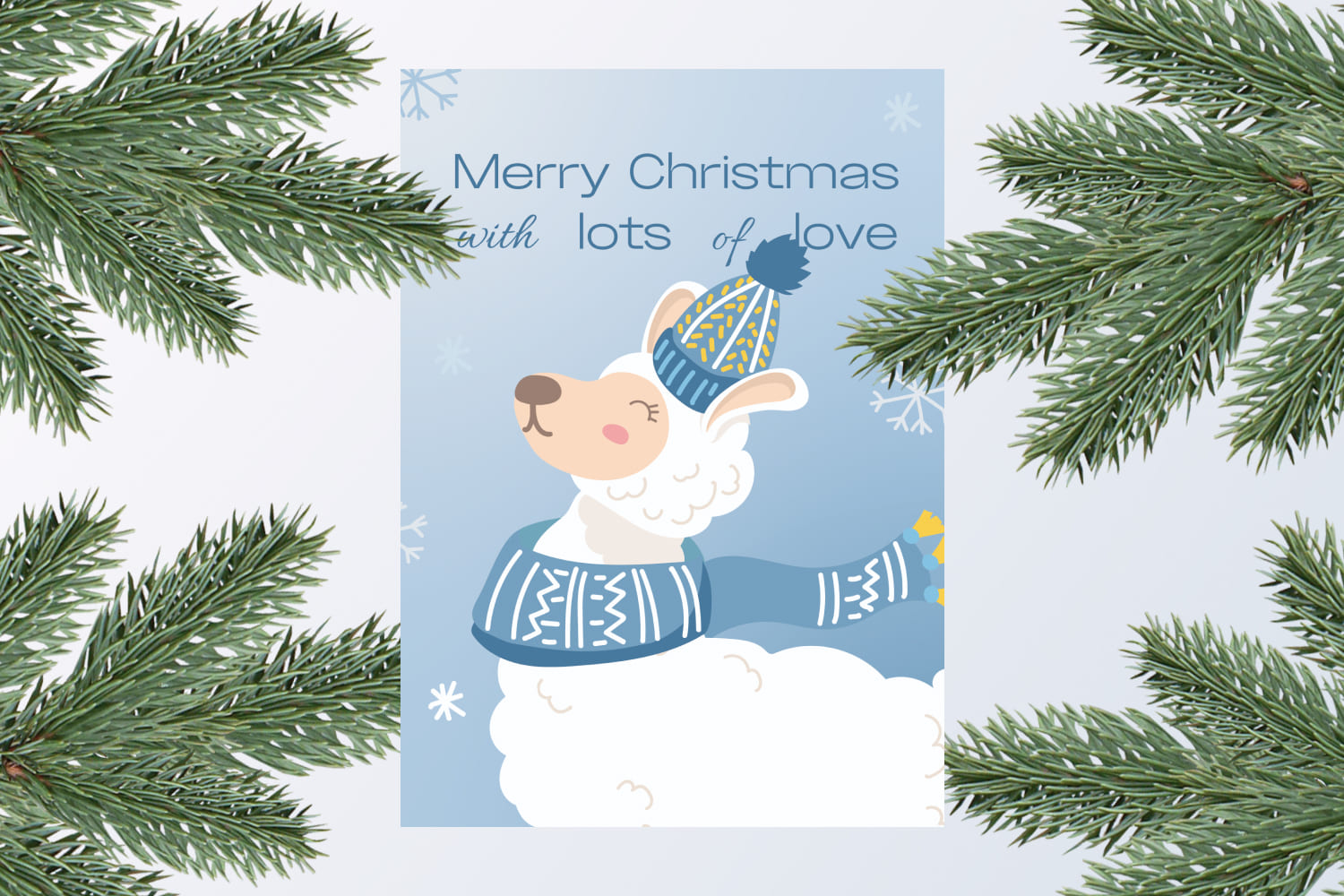 That's all — a cute Christmas greeting card is ready. I propose to watch now 2 short videos with other funny Christmas card ideas. For them, I picked up illustrations with Christmas penguins and cute gnomes.
Are you still here? Then take these postcards as a token of gratitude for watching our content. Use them for personal and commercial purposes. And if you need other designs, then you can always go to the tab with templates and choose the one that suits you.
Christmas Card Ideas
I decided to pick up beautiful Christmas card ideas for you for inspiration. You can adapt these examples for your designs.
Christmas Card Templates
The easiest and fastest way to create an unusual postcard is to use ready-made Christmas card templates. This saves you time choosing fonts, illustrations, colors, and styles, while you can customize them for yourself. This is a must-have now when there is little time left before the holidays.
If you are the owner of a small business and want to add a nice postcard to your order to create a festive mood, this section will help you a lot. These Christmas card templates can be used both for commercial orders and for gifts to relatives, friends, colleagues, etc.
Christmas Card Illustrations
Illustrations help make a unique and interesting design. But far from everyone, even senior designers can draw them from 0.
I have prepared for you a selection of cool paid and free illustrations that you can use to implement your Christmas gift card ideas.
I wish you a Merry Christmas and creative designs!
Disclosure: MasterBundles website page may contain advertising materials that may lead to us receiving a commission fee if you purchase a product. However, this does not affect our opinion of the product in any way and we do not receive any bonuses for positive or negative ratings.