Wanted! Graphic Design and Tech Bloggers to Collaborate on YouTube
It's 2022 and YouTube is still growing in popularity as one of the coolest platforms for bloggers, influencers, and artists. If you're an aspiring or already well-established design or technology blogger, you're the one we want.
Who Are We Looking For?
Today MasterBundles is looking for all the talented YouTube bloggers in the sphere of graphic design and tech. No matter how many followers you have, if you make creative and high-quality content, we want you for this collab.
Perks of Being a YouTuber With MasterBundles
Even if you have little experience in YouTube blogging but have live followers connected to the graphic design sphere, we are waiting for you. We appreciate the different video formats: full videos, pre-rolls, reviews, etc. We also appreciate any creative ideas and propositions.
While working with us you will have numerous advantages:
We pay for videos without delay. You even can leave the posted video closed until receiving your payment.
The MasterBundles team is ready to help you in the process of creating content and optimizing it for the audience. That will bring you more views and attract potential followers to your video blog.
The chance to collaborate with thousands of authors and tens of thousands of regular customers that visit our marketplace.
We offer a special referral program for customer-oriented channels.
We welcome an individual approach. Depending on the popularity and relevance of your channel, our manager will provide several solutions for cooperation. MasterBundles is ready to consider the media kit with your terms.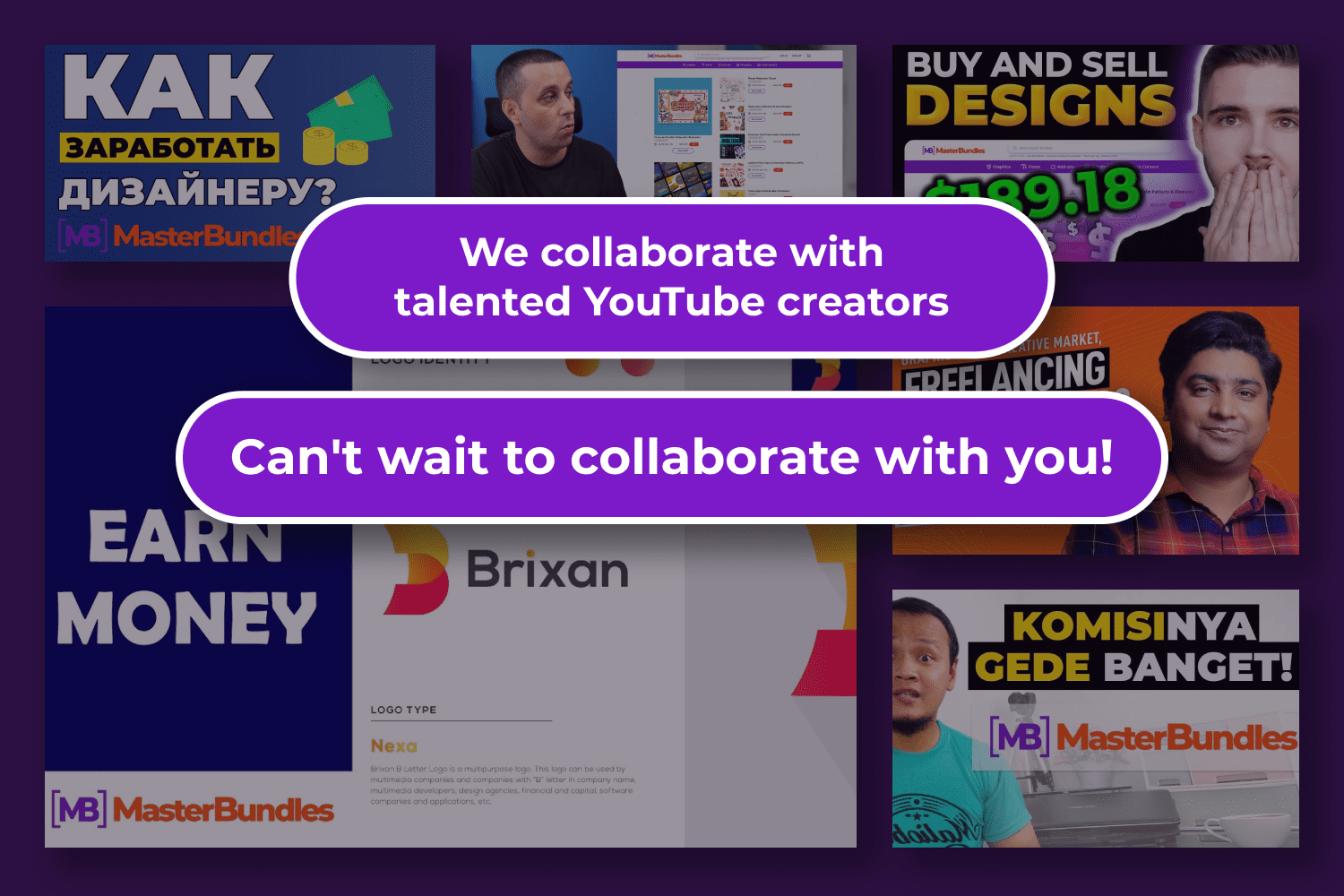 What Do You Need To Join?
If you are ready for a flexible schedule and know how to make video tutorials, time-lapse, reviews, and formats alike we will welcome you to our big creative family. We want you to shoot 1-2 videos on your channel mentioning us in the form of native integration. It can be a review of our marketplace, tutorial, or any other video with an overview of MasterBundles. Of course, the videos shouldn't have any destructive or negative effects on the project. However, they may contain constructive criticism.
Additional demand: We ask that your channel has been active within the last 3 months (there is at least one video uploaded no later than 3 months ago). And you agree to payment ex-post (video is uploaded on the channel followed by the payment received).
Collaboration with one of the coolest graphic design marketplaces is a great opportunity to get your first or additional income from creating videos for your channel. Start making additional profit from your favorite thing to do and become a successful blogger with MasterBundles. The only thing you need to do to get started is to contact Ivan (ivan.gumenyuk@masterbundles.com) and tell him about yourself and your YouTube channel.
The way to success begins with such a simple step, so what are you waiting for? 🙂
Was this page helpful?
We will be happy if you decide to share this article with your friends on Facebook. Just click on the button and you're done
What are your concerns?
Thanks for your response!
You have already left your review.
Disclosure: MasterBundles website page may contain advertising materials that may lead to us receiving a commission fee if you purchase a product. However, this does not affect our opinion of the product in any way and we do not receive any bonuses for positive or negative ratings.