Free Minimalist PowerPoint Templates. The minimalist presentation is the new black. The fewer objects, pictures, and text you have, the better your presentation will appear. You need to be quite clear in your presentation and stick to the topic so that everyone understands you easily and gets the main idea of your speech without much effort. Сonsequently, if you want to make a great PowerPoint presentation, you should follow these rules and try to be very creative, or you can simply choose one of the best customizable, professional, minimalistic PowerPoint templates available.
What is Minimalist Design?
First of all, minimalism means using fewer colors, text, and objects than we are used to seeing in ads, such as those on TV, and in presentations of the past. Today, everything is different in the design world so the main principle here is "less is more." The first wave of this new design trend appeared in the second part of the 20th century, for example, in The Beatles' White Album design, which was released in 1968. It's just a classic white background and the name of the band.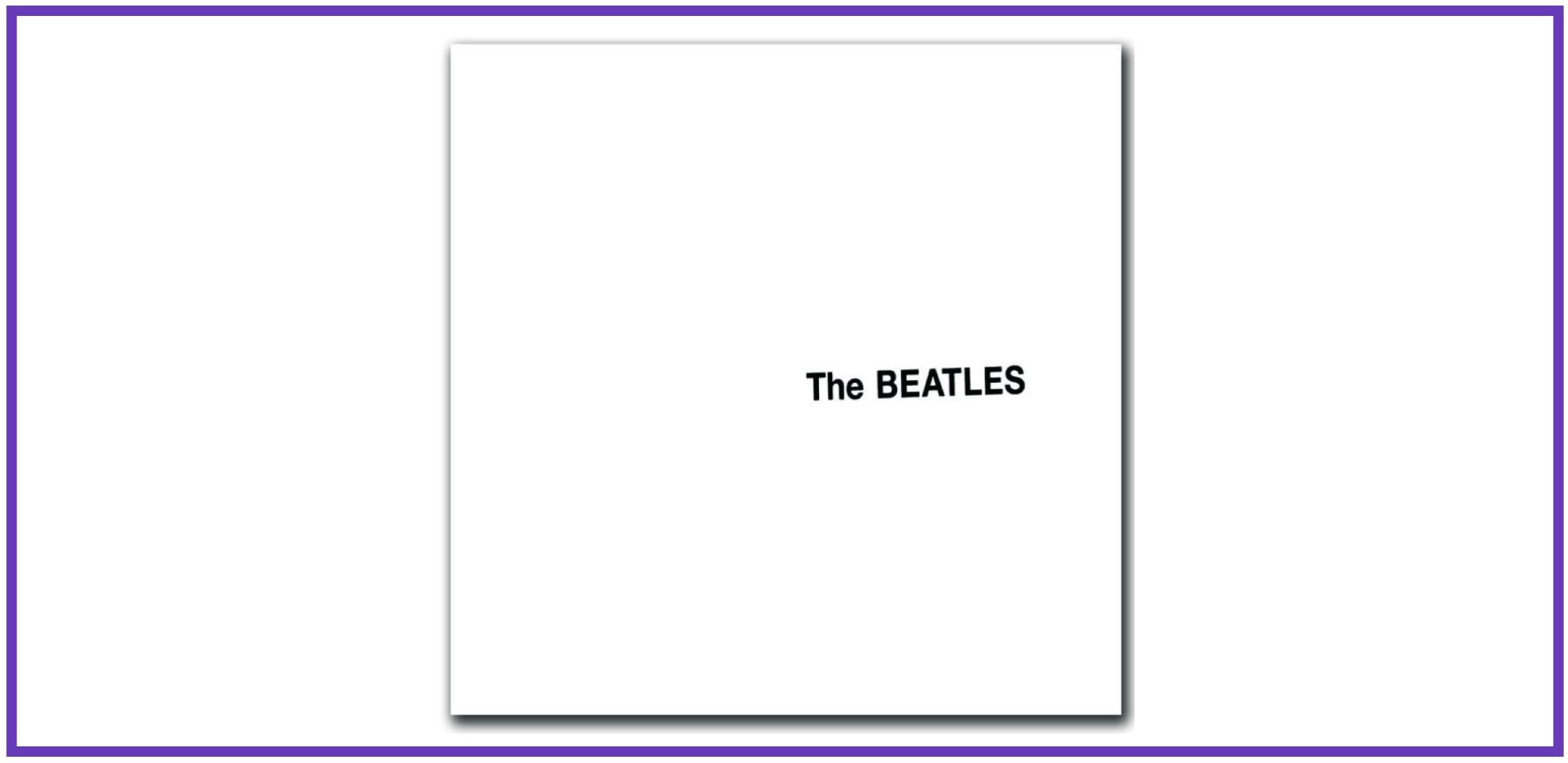 The Beatles' White Album cover.
Less text, no objects, and no colors exist on the background of this album. This is a good example of minimizing the number of elements used in design. Photographs, if used, are kept simple and lines and shapes are plain and basic. However, this is not as easy as it sounds. Creating a minimalist design, you have fewer instruments in your use so you must think more before you choose the right combinations. It's not enough just to take a random color and put it into action, because you need to impress more people and make the audience pay attention to your message. Of course, it's more difficult to do when you work with a small number of fonts, graphics, images, etc. So simple doesn't always mean easy; and complex doesn't mean hard. Many technology manufacturers tend to use minimalist presentations to impress new customers and sell their phones, laptops, computers, etc. For instance, this is the shot from Apple's presentation in 2019, where Tim Cook is trying to explain the company's view on their devices' improvement and development. It's just a circle and three words inside, but it gets to the point.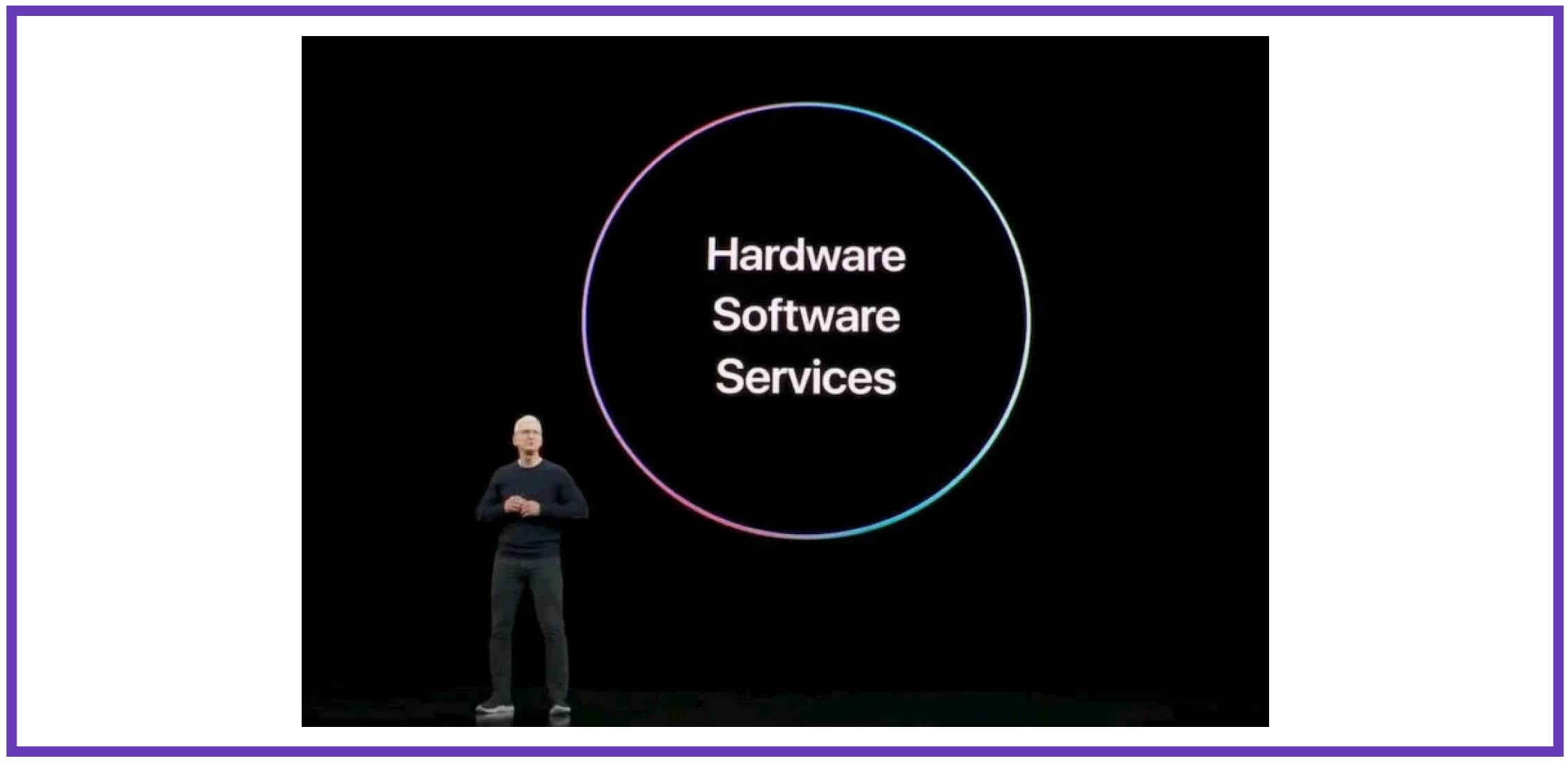 The Ultimate Tips and Tricks on How to Make a Stunning Presentation
In order to come up with a decent presentation, you can utilize the following tips and tricks:
Don't mess with colors, it's better to choose a monochromatic background for your presentation and work with it.
Avoid inserting too much text, because nobody wants to read huge passages of text on the slides.
Be creative with shapes and patterns; a simple square can give you more than a thousand others.
Best Premium Minimalist PowerPoint Templates
Now to help you create an awesome minimalist presentation, we've collected the best templates that will bring you to the top. Here they come – enjoy!
Business Ethics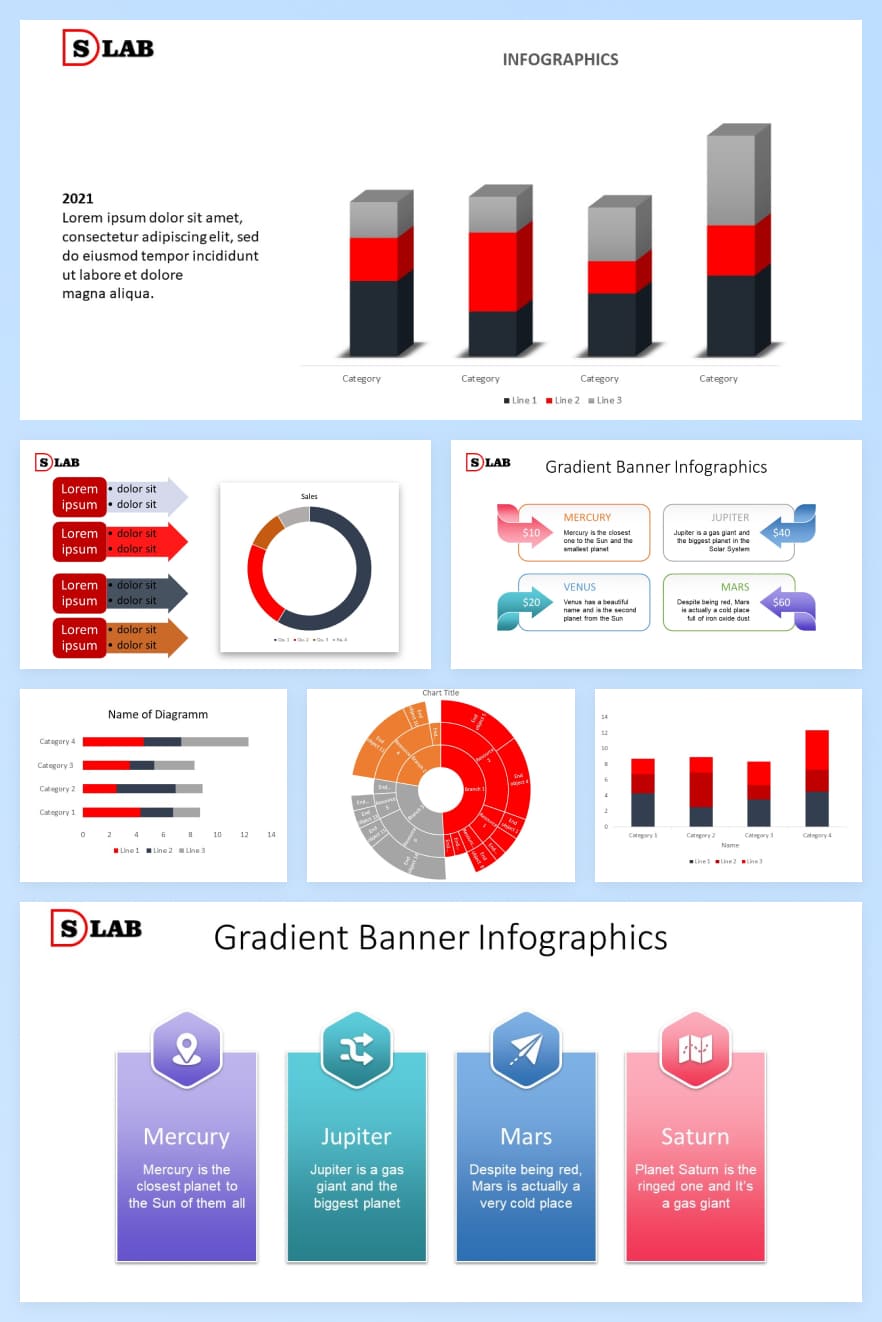 Price: $9
Attractive template in a minimalistic style that provides you all a place to provide report data and all the details about your business.
Features:
More than 80 slides.
Different color optimization.
Fonts are included.
Minimal Geometry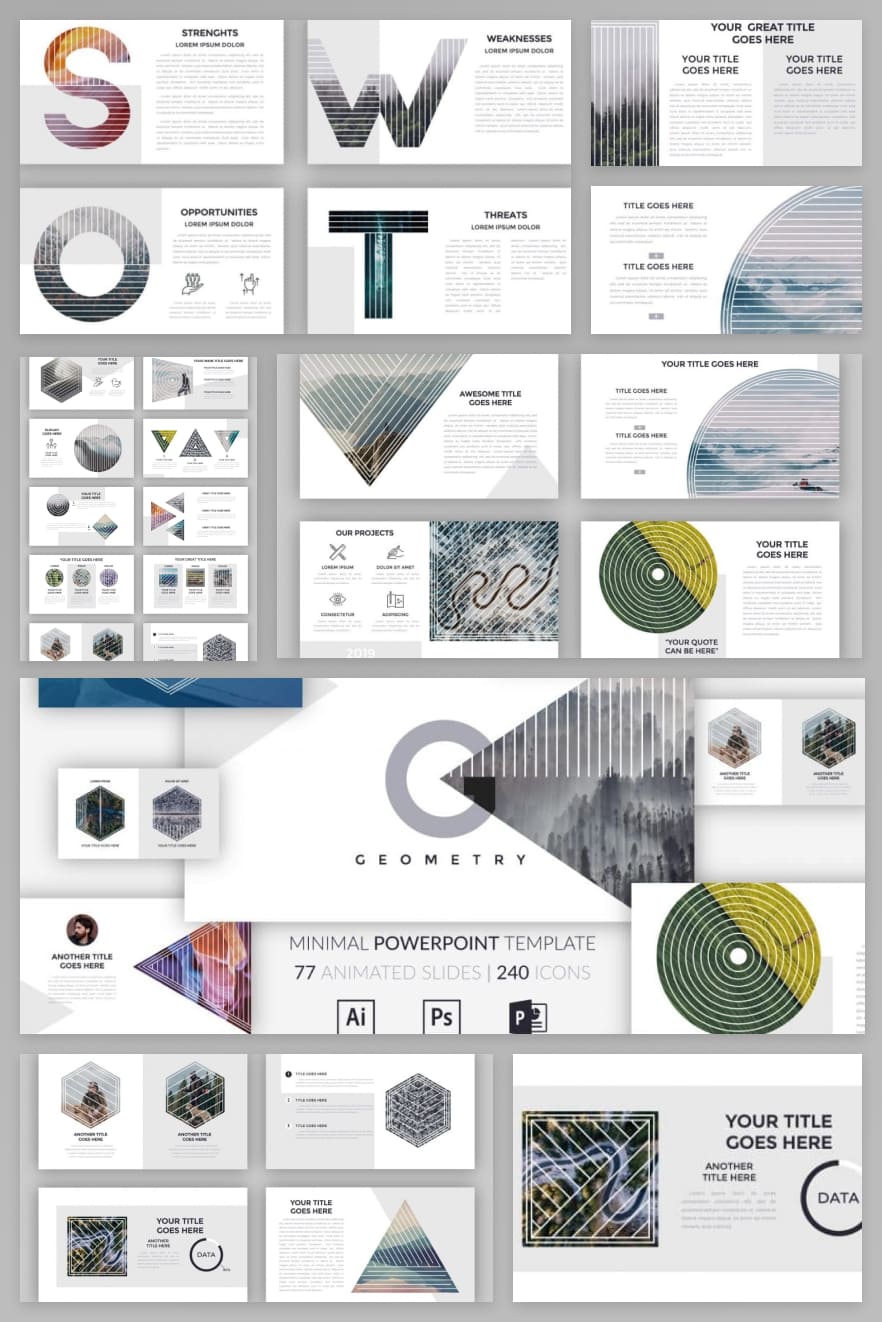 Price:$12
Smooth and straight geometric lines, mixed with beautiful images that you can put inside them, give you a unique style that you won't see in other PowerPoint templates. It's a good way to stand out at the office.
Features:
77 slides.
Full HD definition.
Vector graphics.
Video guide.
Best Book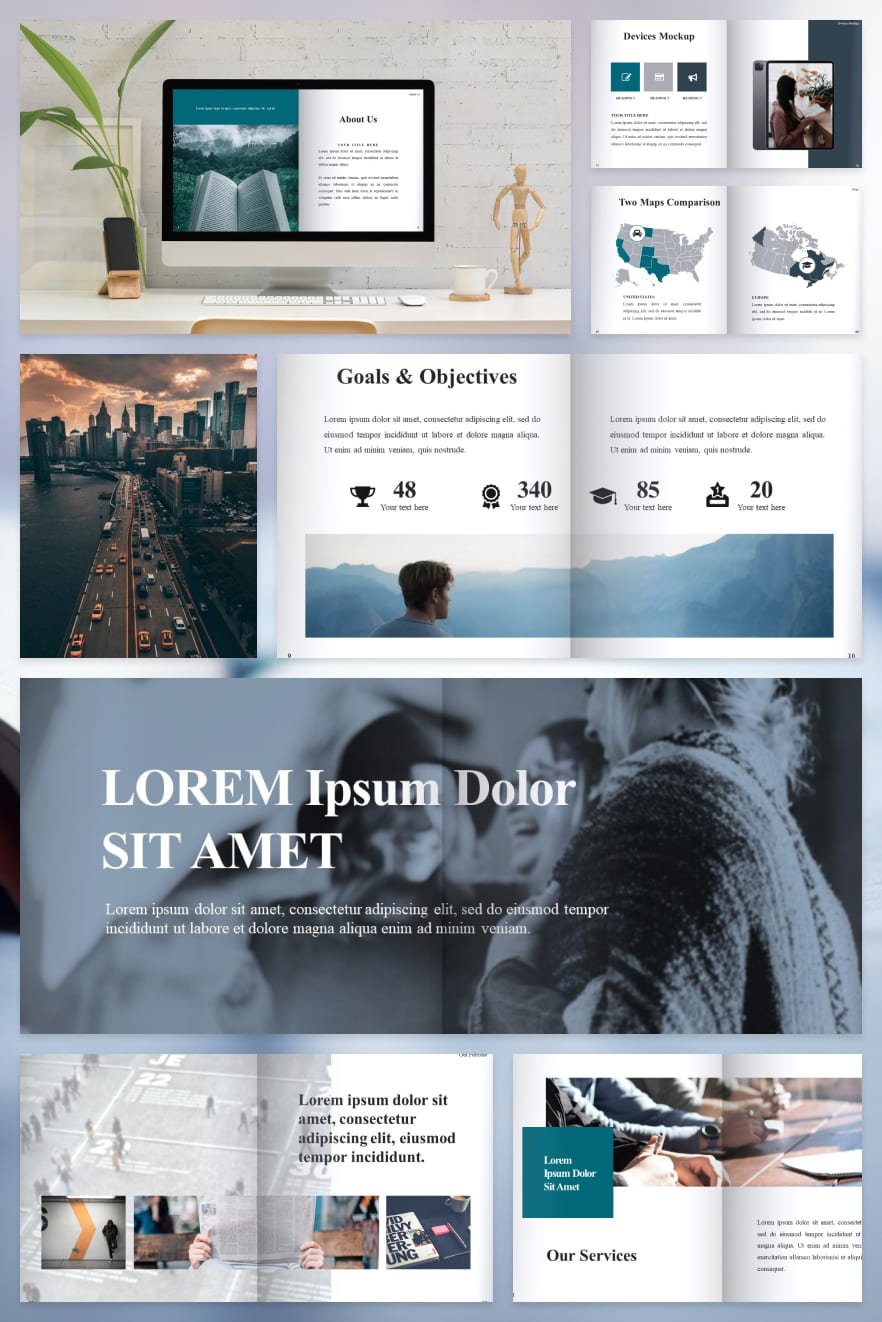 Price:$15
Tomorrow's leaders are always readers. The popularity of books is growing every year, although the modern world is digitalized. To give a decent presentation, you need a special PowerPoint template and Best Book is the solution.
Features:
50 slides.
Maps and other icons.
Classic Font—Times New Roman.
16:9 layout.
Engineering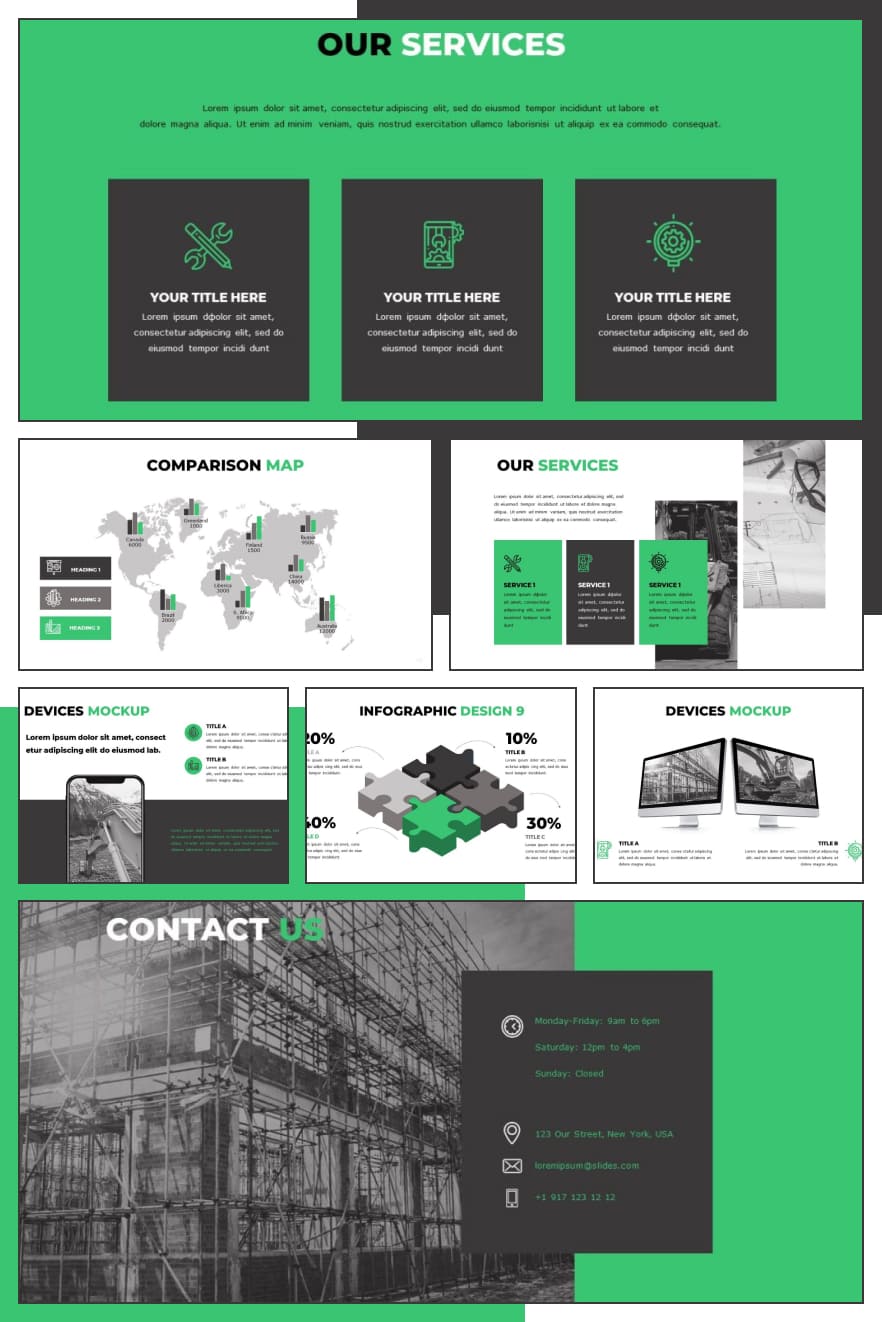 Price:$15
This template is a nice option for a construction or engineering presentation. It is no problem to present a draft for a future building or any other new facility. Do you have a construction company or a new fast-developing start-up? This template is supposed to present it the best.
Features:
50 different slides.
Icons in an authentic style.
Color of objects and text is easy to change.
Well-adapted for PowerPoint presentation.
Business Plan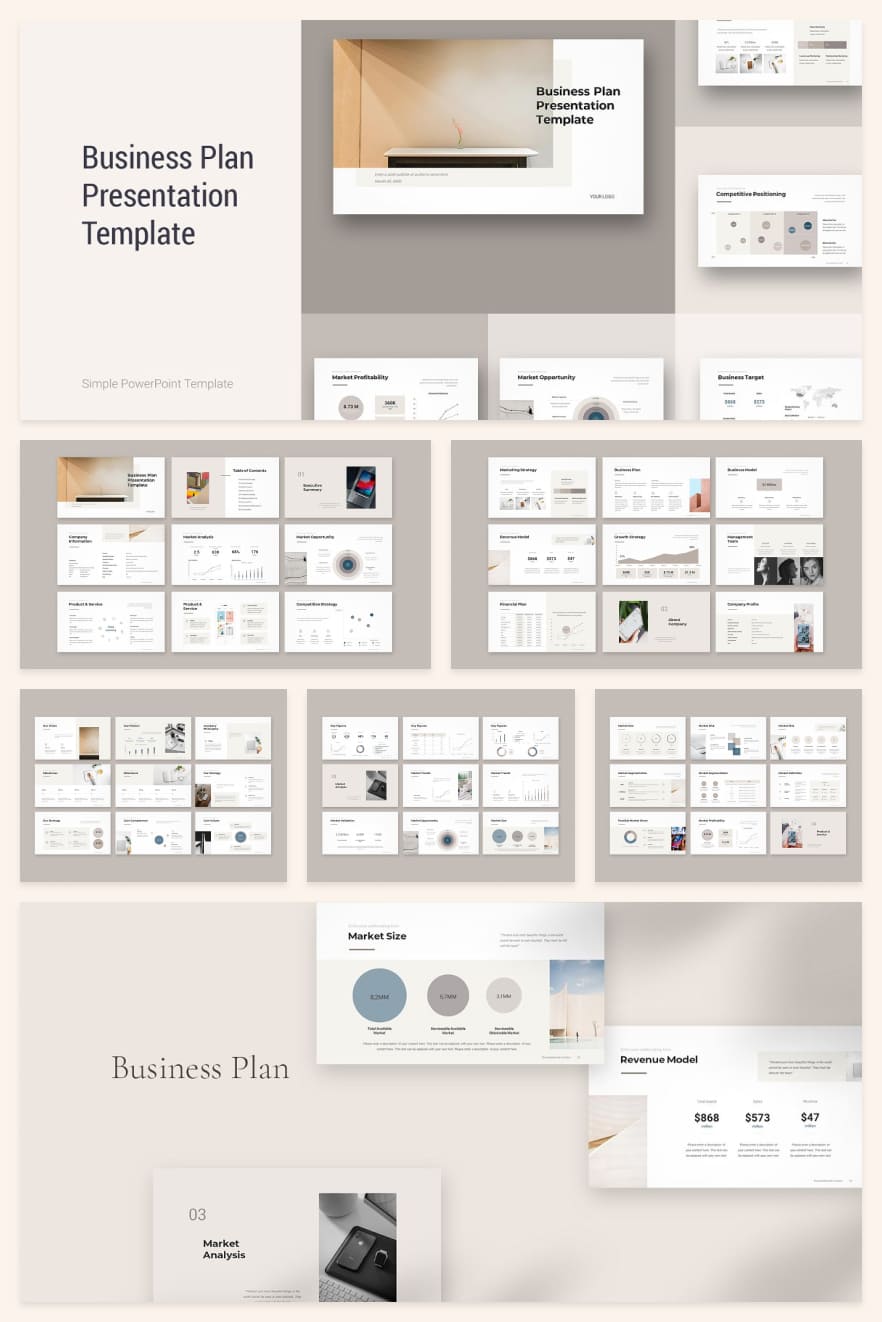 Price:$29
Nothing is easy when it comes to your business presentation. Everyone has special needs to be amazed by your ideas. The Business Plan template gives you nothing but minimalistic style and a whole bunch of instruments for making the right impression on your customers.
Features:
More than 500 icons.
120+ slides.
Fonts are included.
Changing 16:9 ratio to 4:3.
Neutral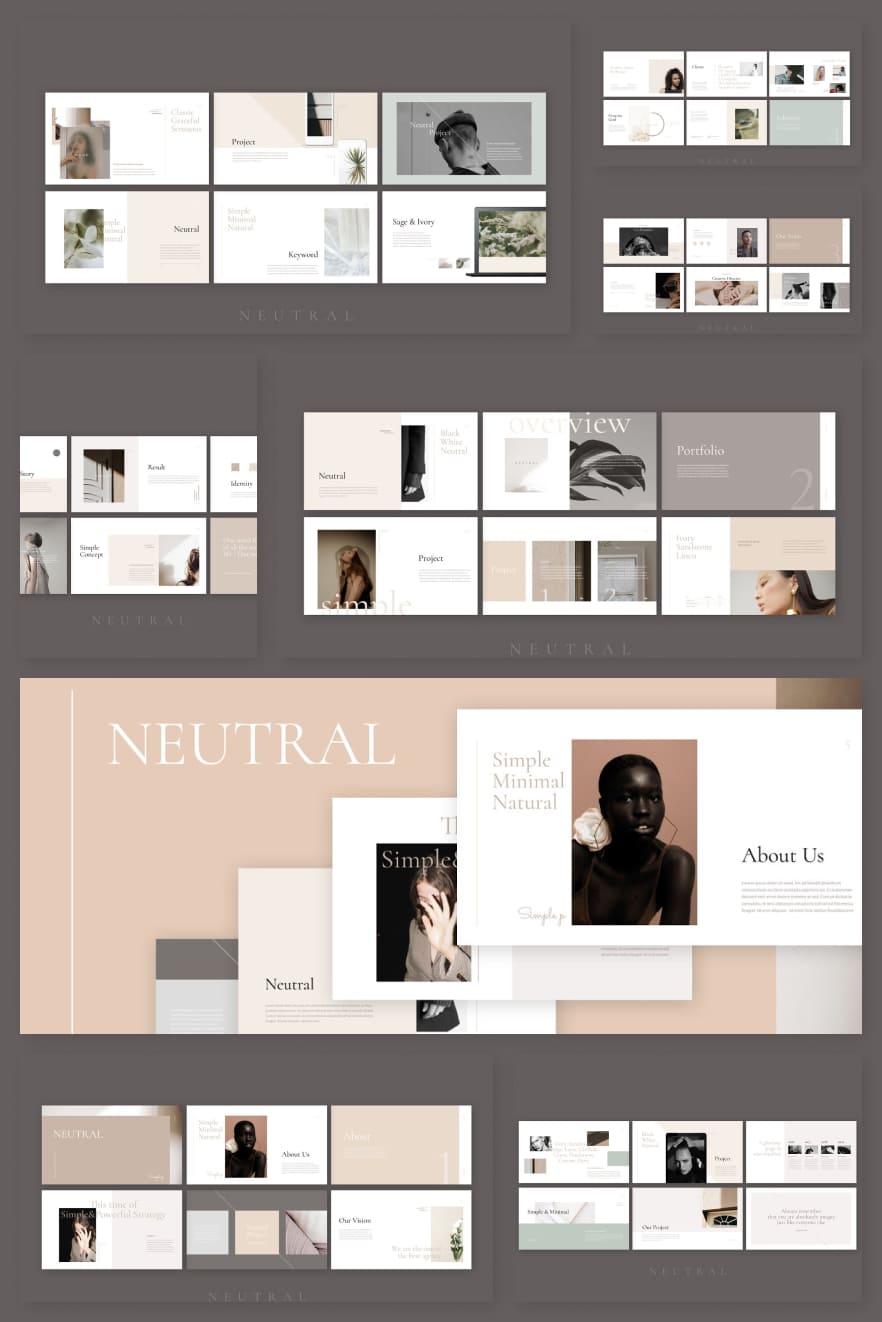 Price:$15
No matter what exactly you create, Neutral template makes your project look appropriate for everything. This is a great portfolio creator for your project. Beautiful fonts and design of the slides won't let you down in front of your students, colleagues, co-workers, etc.
Features:
500 amazing slides.
Easy to edit.
Vector graphic icon.
Full HD Widescreen.
Walden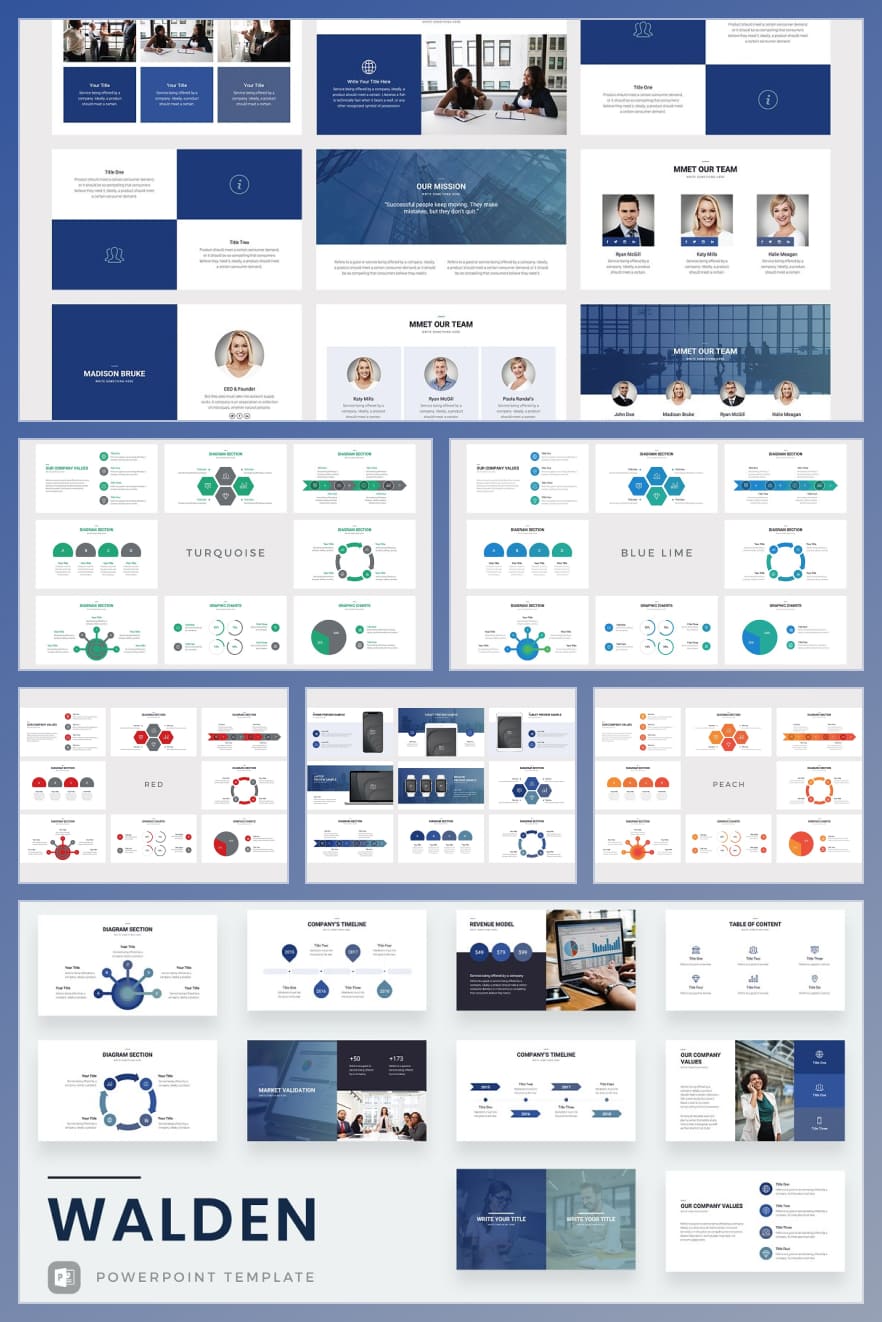 Price:$15
Walden template is a strict and cold minimalistic design that has a perfect combination of blue and white. Plenty of diagrams and charts may be a perfect solution for an accurate and relevant report, as well as showing all crucial details.
Features:
Thousands of vector icons.
80 Infographic objects.
Everything is editable.
Magnolia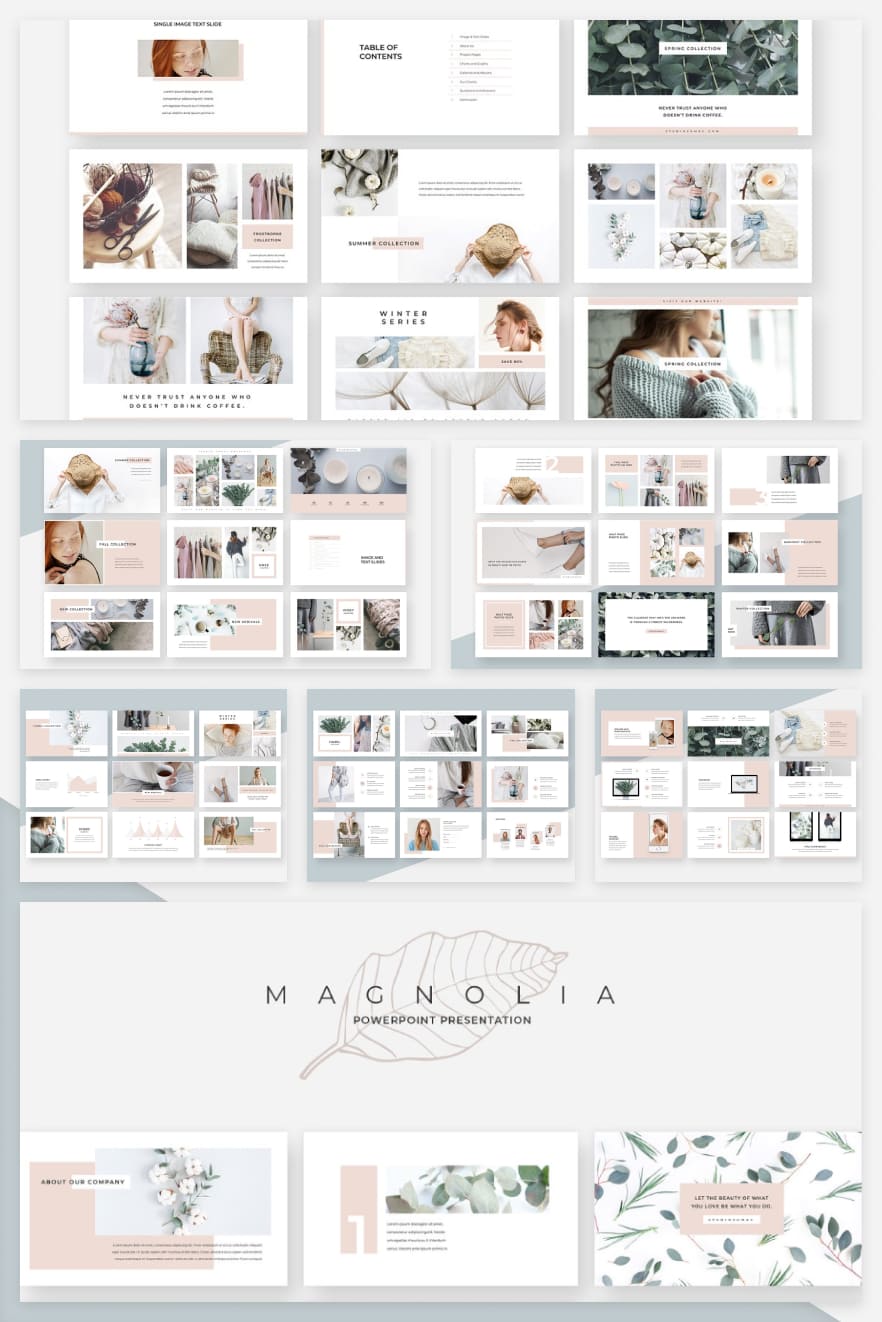 Price:$20
Very soft and sophisticated template with elegant tones and colors that provide a cozy atmosphere and make your audience calm and attentive. The unusual style of icons and diagrams is pleasant for the eye and makes anybody watch until the end.
Features:
100+ slides.
Fonts support different languages.
Customizable objects and charts.
Vegeta – Vegetables by RabbStock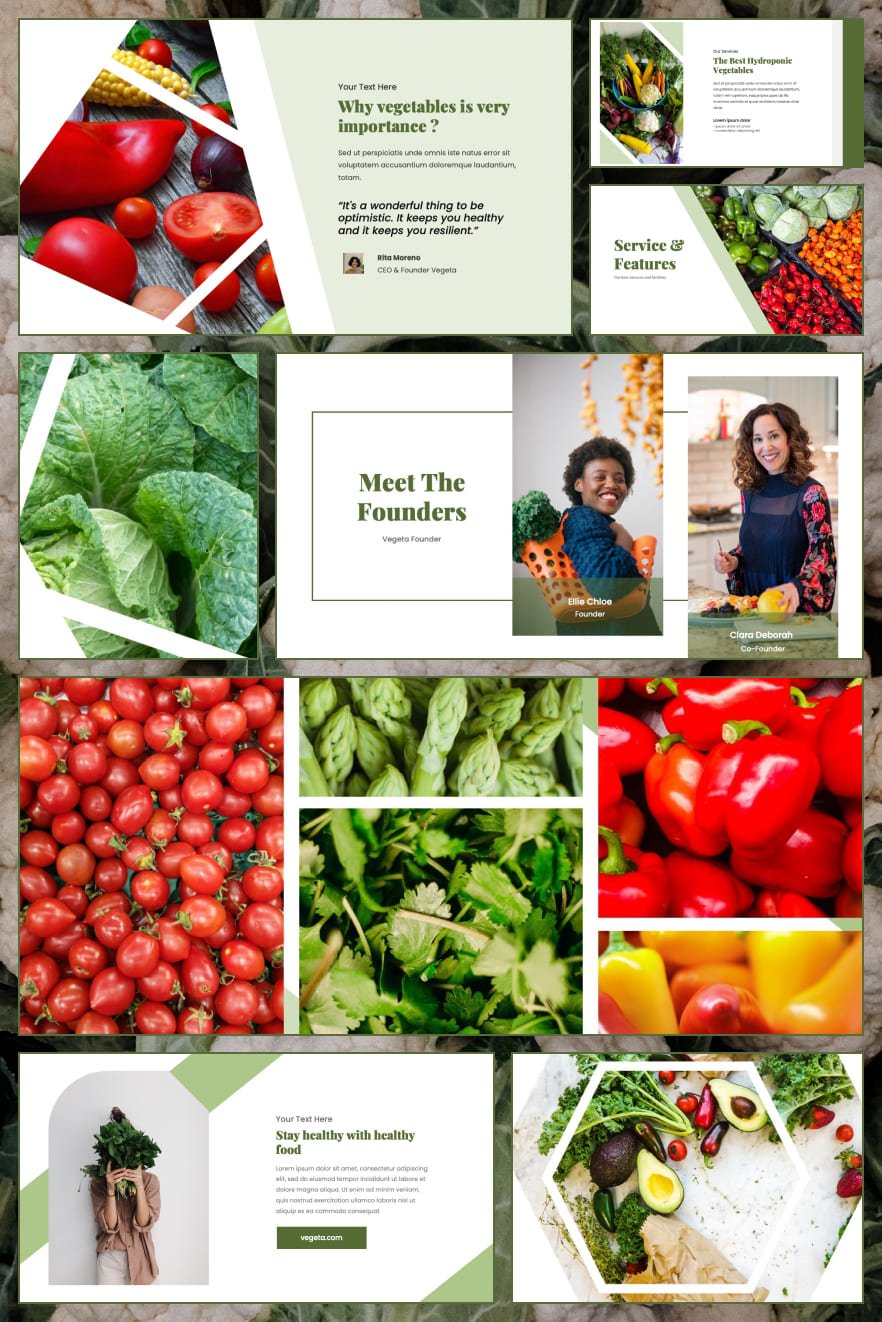 Price:$16
A pretty unique template that will be relevant for different food presentations, recipes, or even online farmer's market startups. There's a great combination of green colors and shades, so it'll be easy to attract the attention of vegetarians and nature lovers.
Features:
40 different slides.
Editable charts and colors.
Good for various topics.
Brasco – Construction by RaviraCreative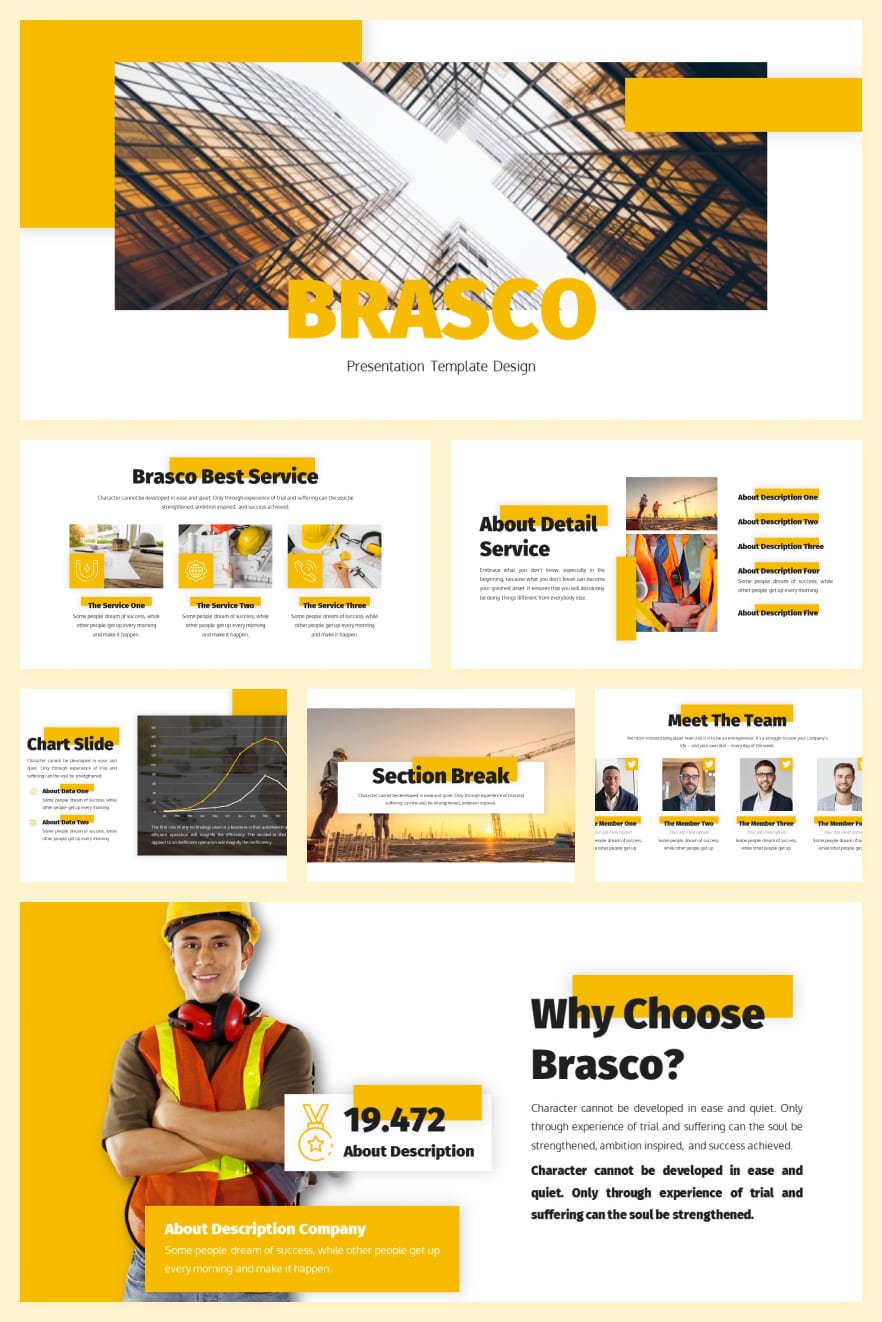 Price:$15
An industrial-styled minimalistic template for projecting and presenting new buildings and construction projects. It can be used for large companies or for personal use since with such powerful instruments no one will notice if it's designed for a huge corporation or one-man-project presentation.
Features:
30 slides.
Free fonts are included.
Editable vector graphic.
Free Minimalist PowerPoint Templates
Science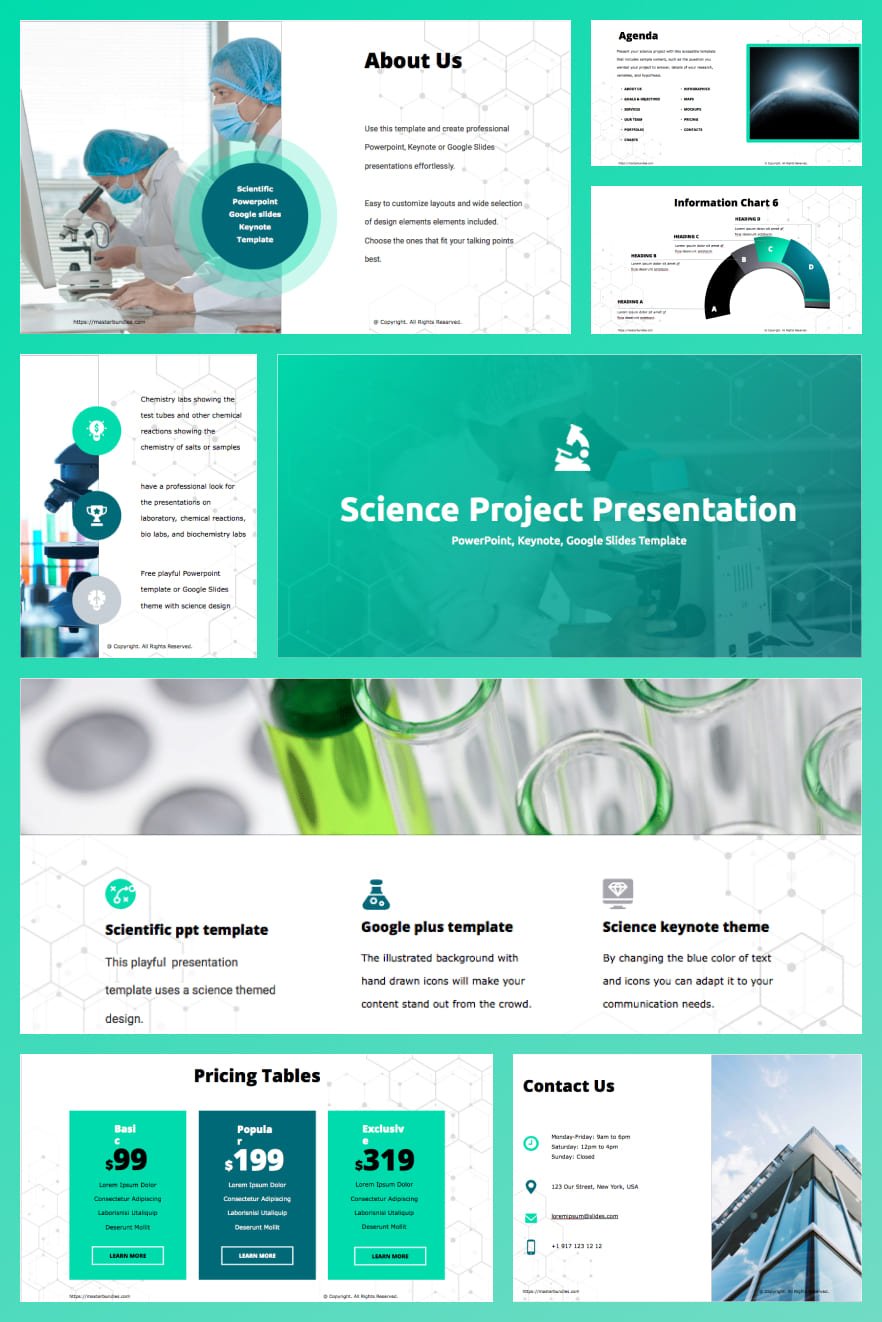 Price: Free
Scientific style and nothing redundant—that's what you need when you work in a laboratory on your new science project, and that's what you get in this template. Ideal for students and professional scientists to show their view of the world around us.
Features:
Text, colors, and photos are changeable.
Guides and instruction for your best presentation.
8 slides.
Free Engineering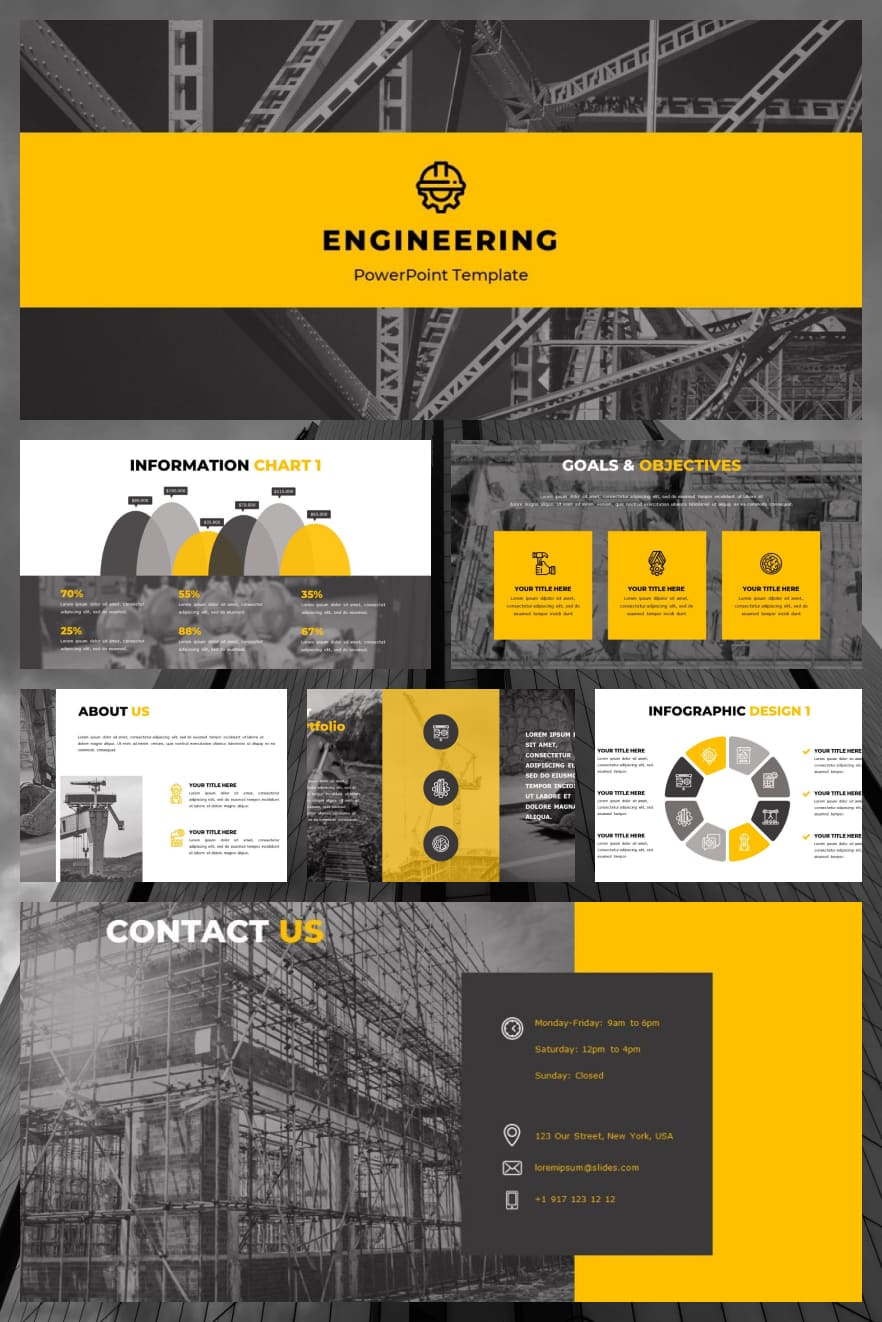 Price: Free
This is a free demo version of the Engineering template. All basic features are included except some additional materials, so you can create your projects for free. It's a good way to try your skills in a new field.
Features:
7 slides.
Professional charts and icons.
Changing colors.
Book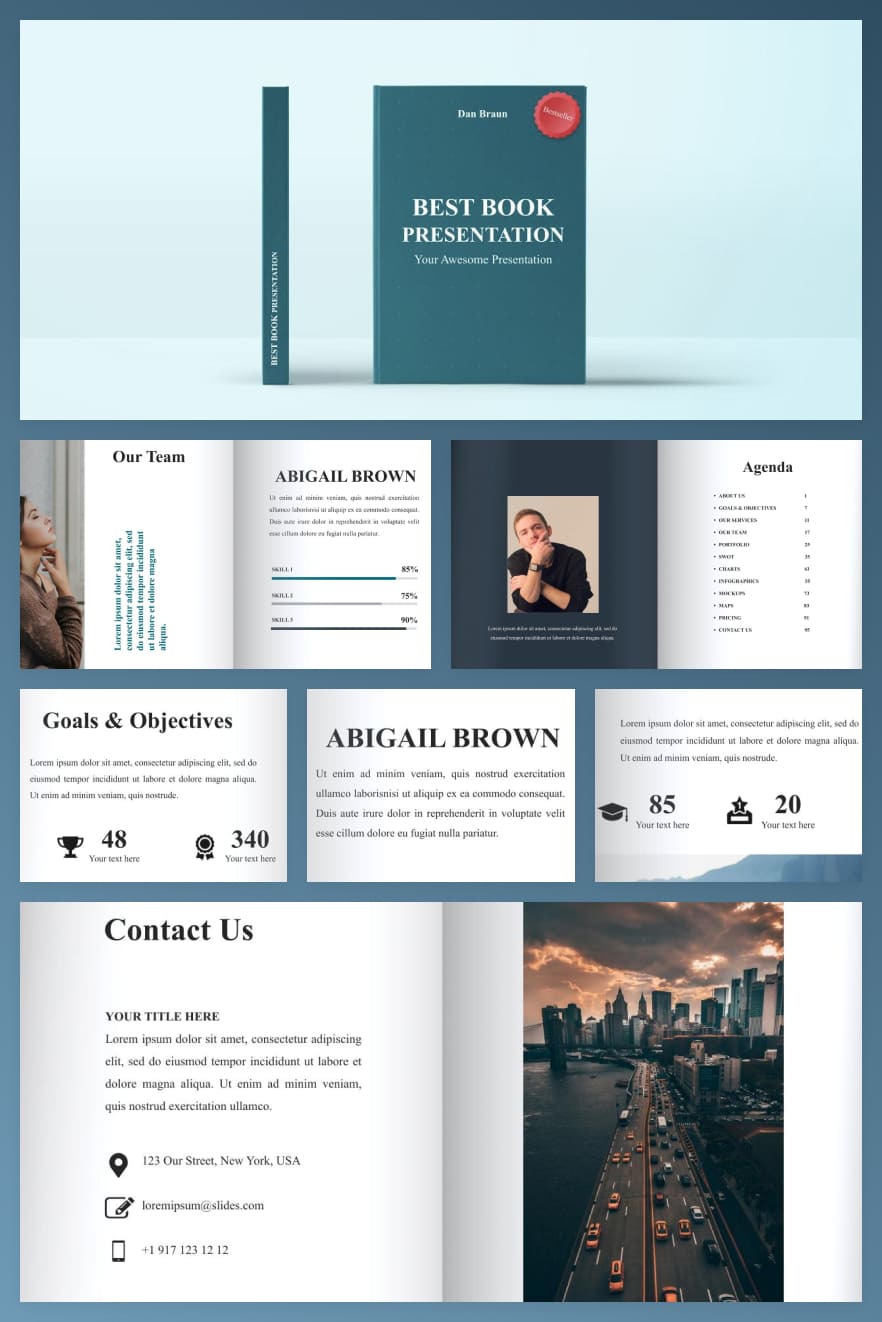 Price: Free
This is the trial version of the Best Book template. Although this isn't a full version of the product you can still make a nice presentation of your book in a professional way. If you are just starting on your way as a writer and want to share your book with the world, then this template is exactly for you.
Features:
Book-style format.
Custom fonts.
Icons and graphics included.
Creative Idea Bulb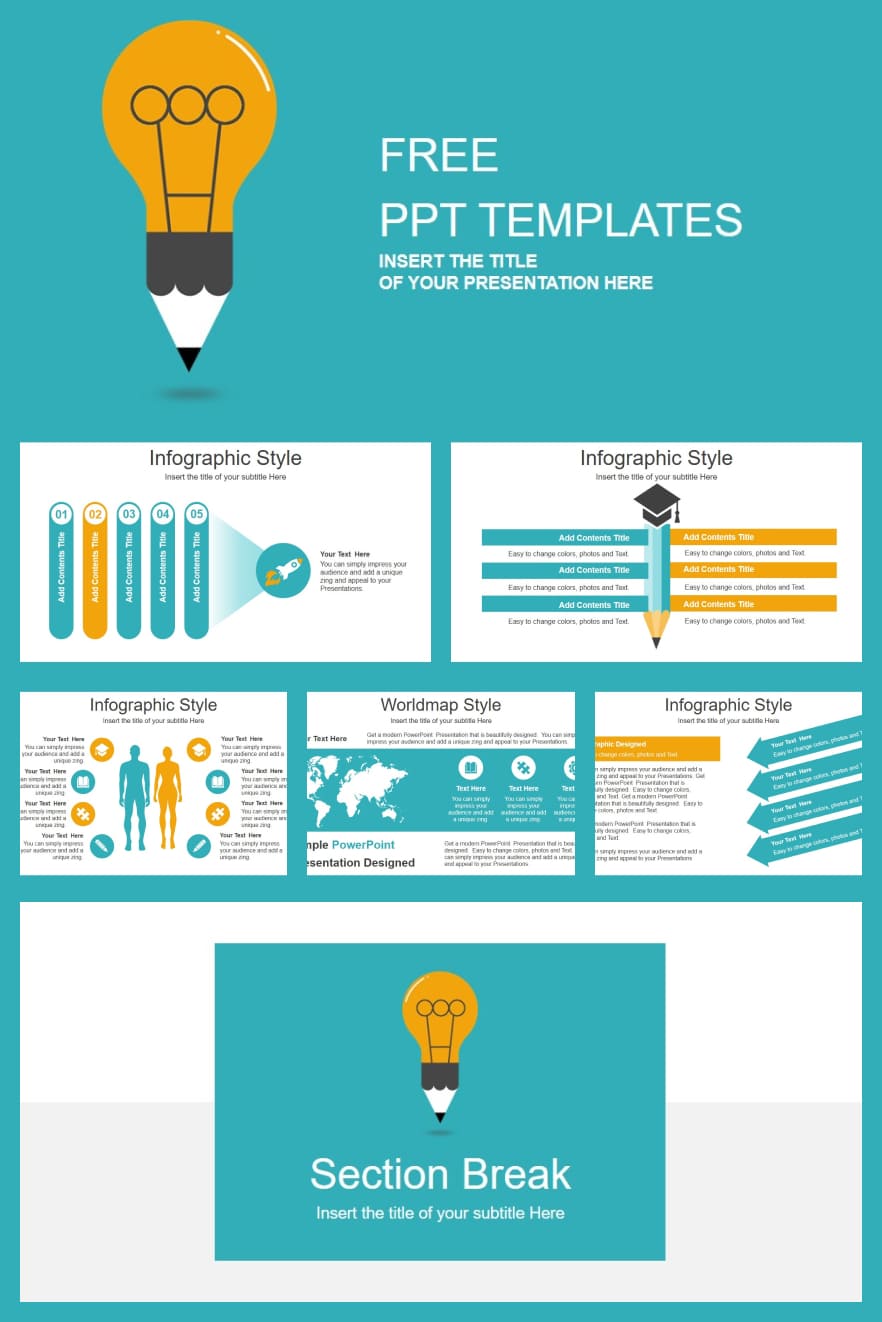 Price: Free
The perfect minimalist template for a school homework project. If you have to explain hard things with easy words you won't find a better way to do it. This PowerPoint template has a nice infographic style for all the topics you need, whether you are collecting data or showing chemical processes, it's valid for everything.
Features:
Full HD 16:9 ratio.
Editable vector graphics.
Image placeholder.
Charts that are easy to work with.
Rocket Launched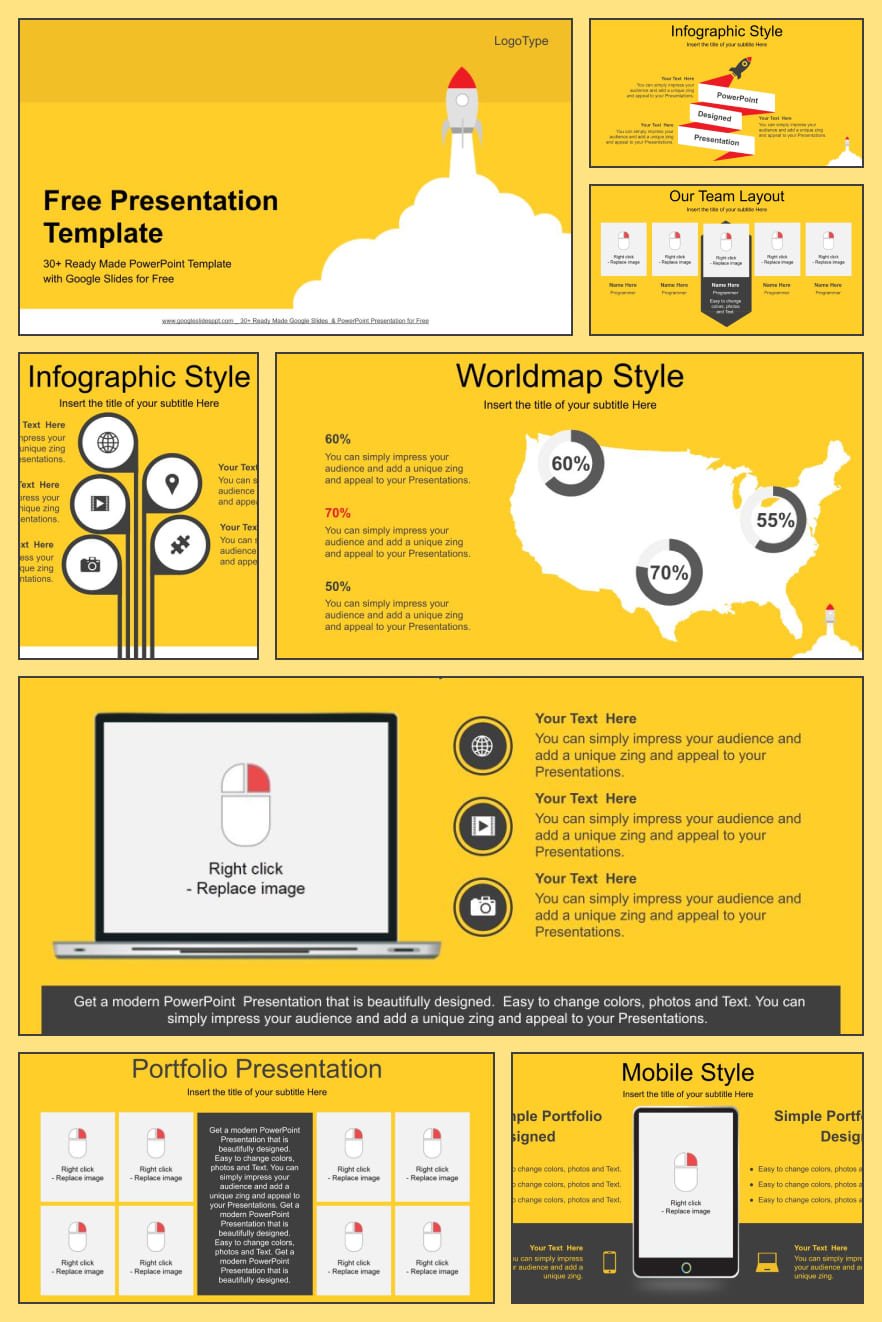 Price: Free
Sometimes ideas come to us with the power of light. Check out this Rocket Launched template. It's the best way to describe new ideas in the form of a rocket flying to outer space.
Features:
Images and background are added.
100+ icons.
Can be used for commercial purposes.
City Buildings Business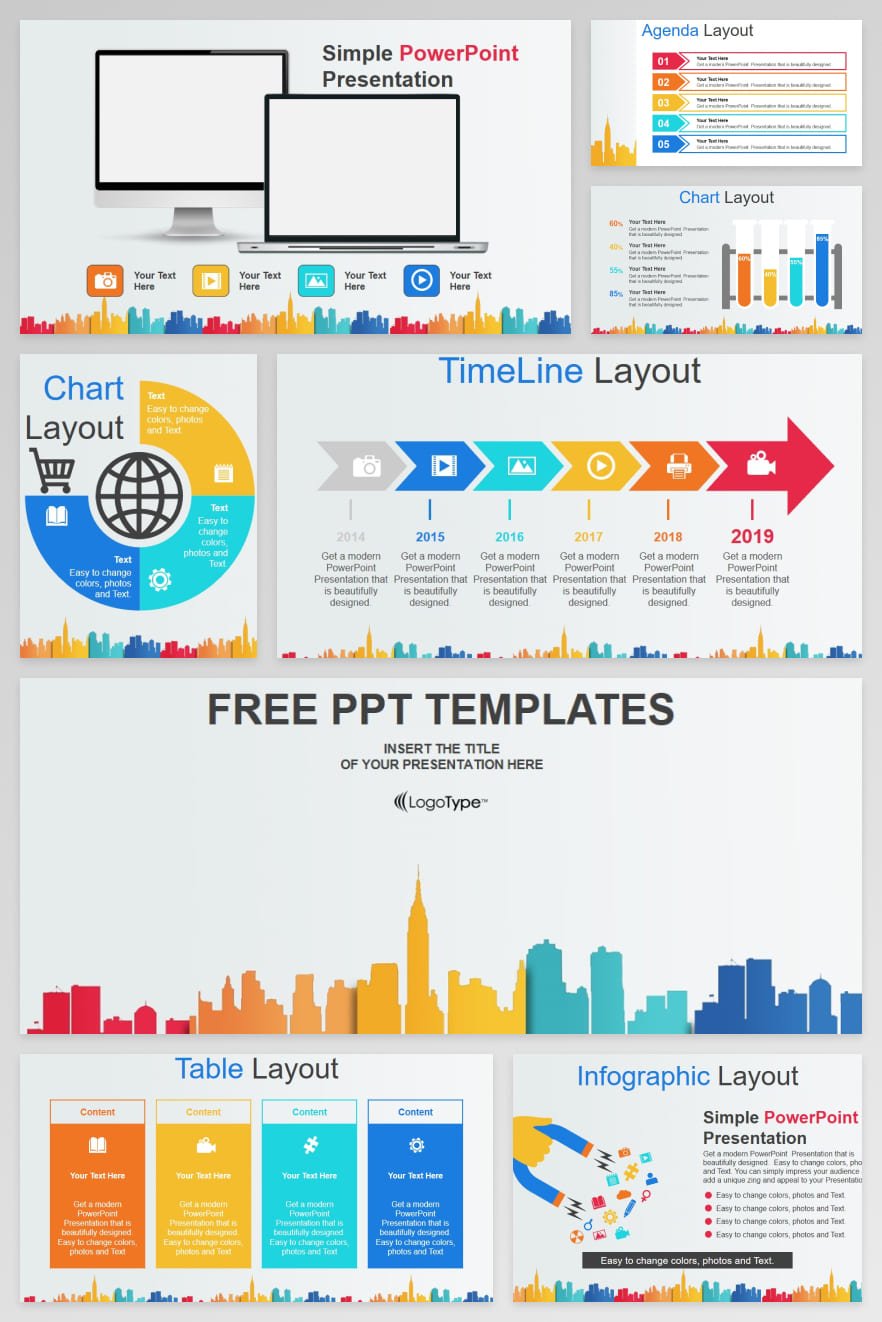 Price: Free
Very colorful and bright template with a bunch of additional materials that will help you emphasize all the important details of your performance. No matter what your topic is about, it's simple to keep your colleagues interested with such a unique style and creative objects, as well as various charts, icons, and pictures.
Features:
More than 100 icons.
Color optimization system.
May connect to your Excel file.
Goes with images.
Water Colored Splashes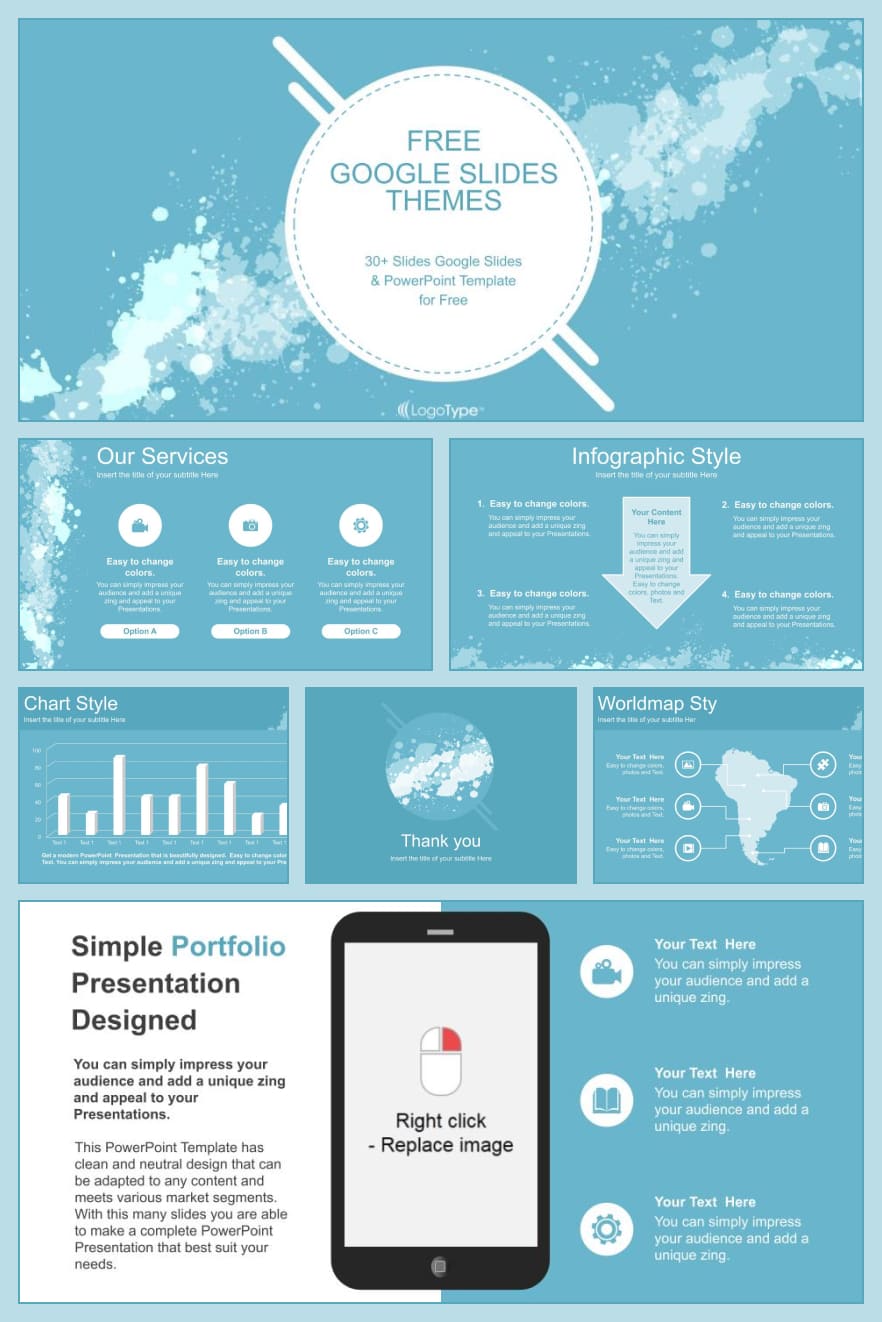 Price: Free
This design is inspired by the blue ocean that you can see only in pictures of travel agencies' advertisements. Watching this template is like swimming in the sea with no borders and no land around, only freedom and nothing more. It's nice for a soft and easy topic you want to discuss.
Features:
135 icons.
Backgrounds are included.
Editable vector objects.
Use for commercial purposes.
Global Recycling Day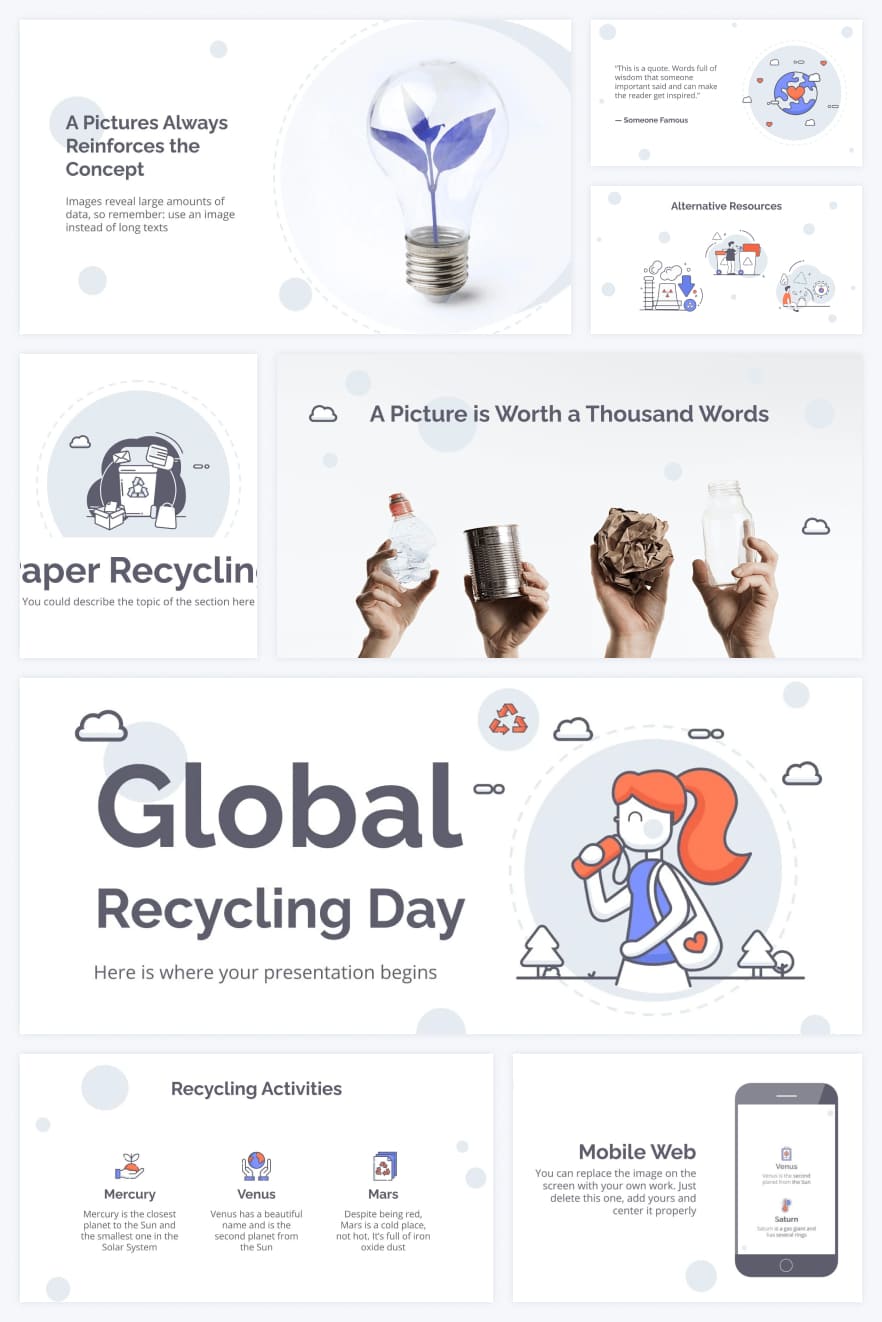 Price: Free
Do you want to show others the advantages of recycling? This template is exactly for you! Creative and attractive icons and infographics can easily persuade anyone. Artists tried to draw easy things to explain and describe difficult processes, so it makes it a nice template for a PowerPoint presentation about saving the Earth.
Features:
Beautiful images and icons for recycling topics.
31 unique slides.
500+ objects.
Fonts, colors, and credits for free.
Suits & Lawyers Firm Profile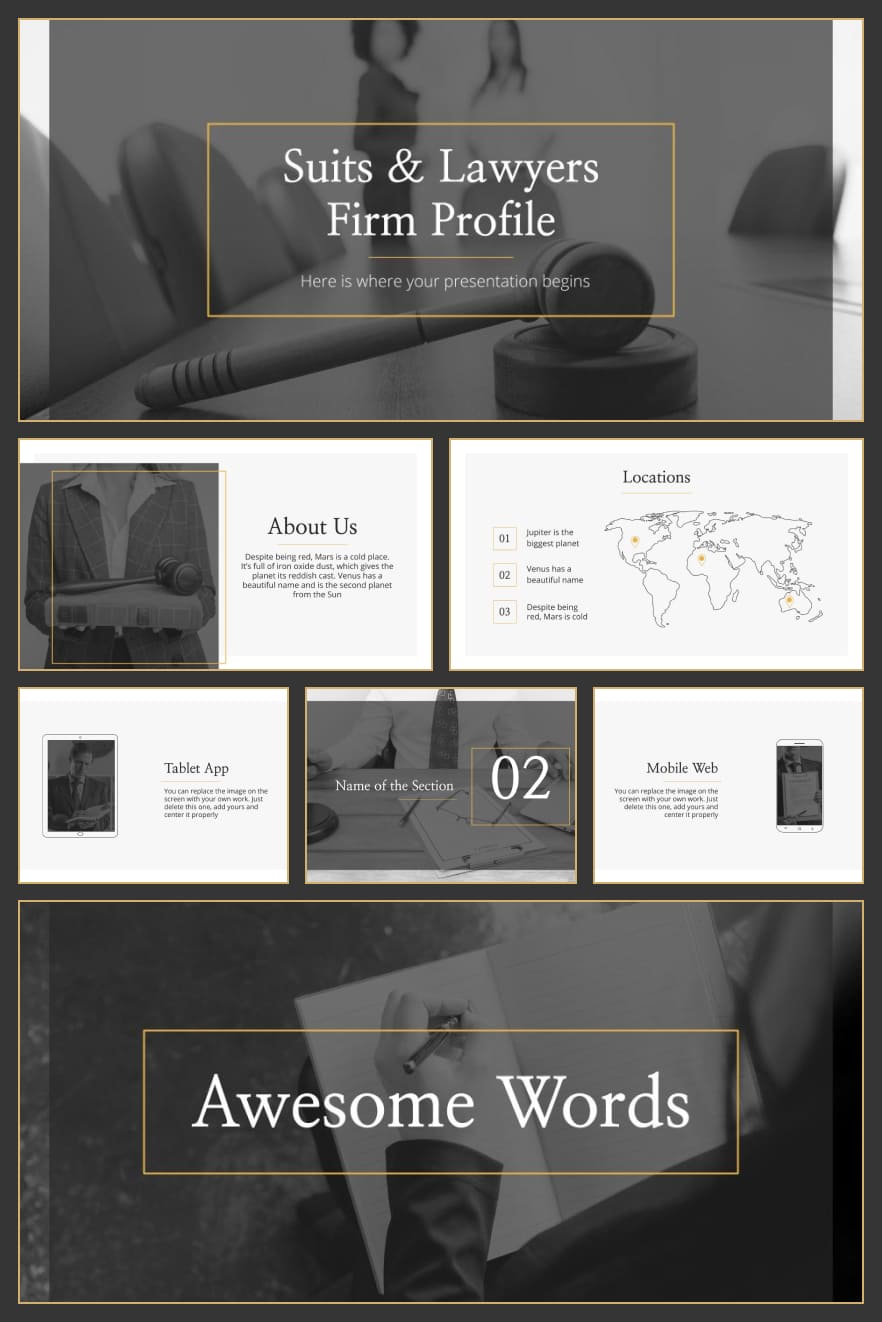 Price: Free
If you are working in jurisprudence and looking for a way to advertise your business, this modern minimal PowerPoint template was created for you. With all the necessary design instruments and free-to-use icons, fonts, and backgrounds, you will be able to promote your pro skills and assist people who need your help with legal issues.
Features:
32 specific slides.
Flaticon's extension.
Easy to modify.
16:9 screen support.
Could You Upload Your Mind to a Computer?

Price: Free
Cyberpunk is what we expect from our future. This incredibly stylish PowerPoint template puts your audience in the world of high tech. This futuristic way of presenting is super for new gadget presentations or your scientific projects.
Features:
36 slides.
100% changeable.
Suitable for different screens.
Nice Corp Management Consulting Toolkit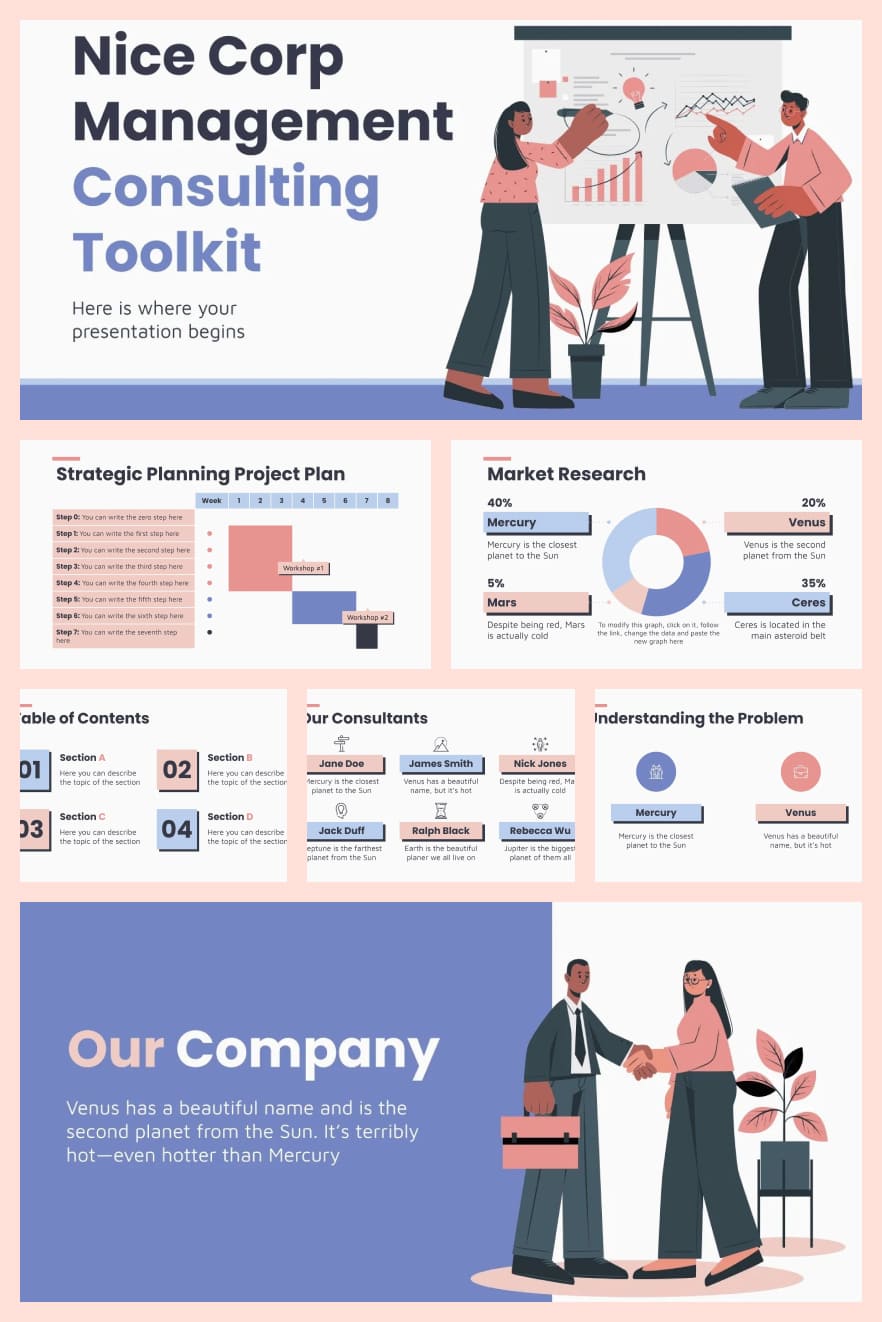 Price: Free
Marvelous template to report the data, numbers and figures in office presentations. Unusual pictures and unique infographics impress all the bosses and you won't get a lot of questions or negative remarks after a presentation like this.
Features:
50 astonishing slides.
Easy-to-customize graphs, mockups, etc.
Storyset's images included.
Jake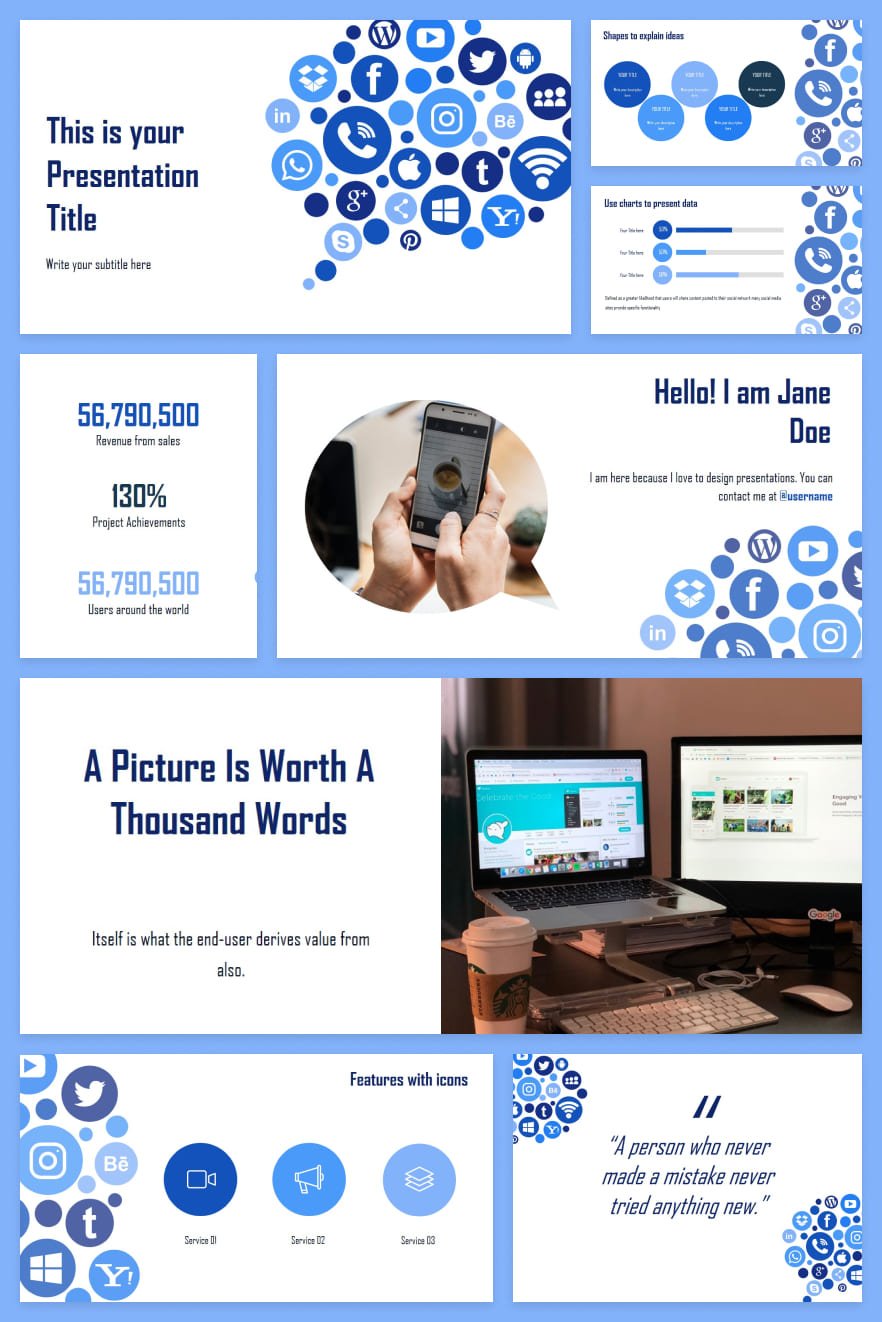 Price: Free
Nowadays, we live in a social media world and if you want to build your presentation on this topic, this is a good choice. The icons for social media are made in an impressive way that you have never seen before. Even if your topic is not about social media, you will probably need some of these items to create a contact form at the end of your presentation.
Features:
25 slides.
16:9 format.
Perfect for social media contacts.
Vector graphics in high resolution.
And a Few Bits of Advice for Your First Presentation:
It's easier to talk about something you fully understand so don't try to learn your speech word-for-word by heart since it's much better to tell what your topic is about and try to explain it in your own words casually.
Spend enough time before the performance to prepare well.
Imagine other people naked… but don't overdo it and don't forget to stop thinking about it after your performance.
Good Luck!
Some Awesome Videos About Minimalist PowerPoint Design
Powerpoint Minimalist Design ⚪ ⚫
How to make a Minimalist Powerpoint Presentation using "shapes"?

Let's go minimalist!! If you have any suggestions on how students and teachers can improve their presentations please do not hesitate to comment or message me. 🙂

Wrapping Up
In conclusion, we can see that minimalist PowerPoint templates are a new step toward the future. They are convenient, multi-tasking, and sophisticated. What do you think about it? Write your thoughts in the comments!
FAQ
👨‍💻 What are PPT templates?
These are templates for PowerPoint, a program for making a presentation. Read more here.
👨‍💻 How do I create my own template in PowerPoint?
You can create a template by yourself via PowerPoint instrument or you can download a professional one that has some preset features. Read more here.
👨‍💻 How do I download a PowerPoint template?
You should go to a marketplace or website that offers free or premium templates, such as MasterBundles, and download them. Usually, people just Google "PowerPoint template."
👨‍💻 What are the best free PowerPoint templates?
All people are different, so everyone chooses one that he/she likes the best. You can find a large variety of templates on the MasterBundles marketplace and choose the one that is perfect for you
Please take a moment to pin this post to Pinterest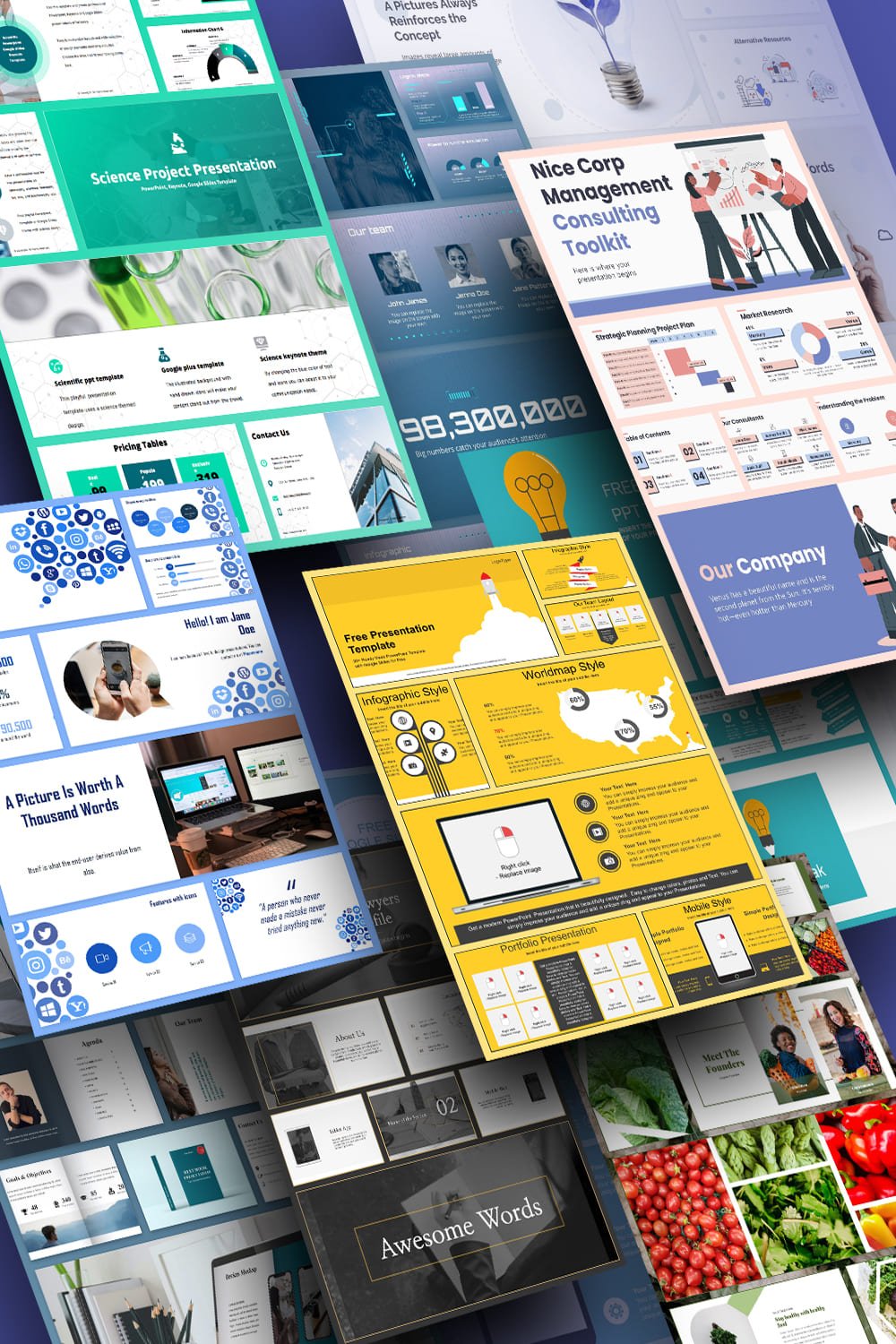 Was this page helpful?
We will be happy if you decide to share this article with your friends on Facebook. Just click on the button and you're done
Thanks for your response!
You have already left your review.
https://slidesgo.com/
https://graphicmama.com/
https://powerpointify.com/
https://templates.office.com/
https://designshack.net/
Disclosure: MasterBundles website page may contain advertising materials that may lead to us receiving a commission fee if you purchase a product. However, this does not affect our opinion of the product in any way and we do not receive any bonuses for positive or negative ratings.